Hello all, this is my first trip report, so if i do something wrong let me know.
I dont know all the technical details such as tail numbers and such. But i will do my best.
The purpose of this trip was a little business-related pleasure. Our machine tool distributor was taking on a tour of the Joe Gibbs Racing facility in Charlotte. I am not a huge racing fan, but i was interested to see their machining facilities, and i never turn down a chance to fly.
We got to the airport, and we had already checked in online. I had a carry-on with my clothes and things, and my camera bag. I decided to gate check the bag, so i could keep my camera with me at all times. We arrived at the airport and got thru security with no problem, although i forgot to take off my belt, and beeped the first time thru.
We had a quick drink with our salesman and another one of his clients, then made out way to gate A-10 where the flight was sitting. They were already boarding when we walked up.
Unfortunately i could not pick my seat, and i was in seat 7F. I like a window seat, but this seat did not recline because of the exit row behind. As we were boarding someone mentioned that it was the USAirway's representative's birthday that day. I said "You dont even look 24!" and she gave me a smile and said "You're my best friend, too bad we don't have first class!"
We pushed back, and taxied for a few minutes, the pilot barely said a word. the safety information was done by a recording.
The only interesting thing about takeoff is that the pilot didn't even stop or slow down, before gunning the engines. He swung around the corner and went to full power!
FLIGHT: US Airways # 2517 Operated by: US AIRWAYS EXPRESS-PSA AIRLINES
FROM: CLE-CLT
AIRCRAFT: CRJ-50
DEPARTURE (CLE): June 21, 06:45 EDT
ARRIVAL (CLT): June 21, 08:18 EDT
This is the plane waiting at the gate.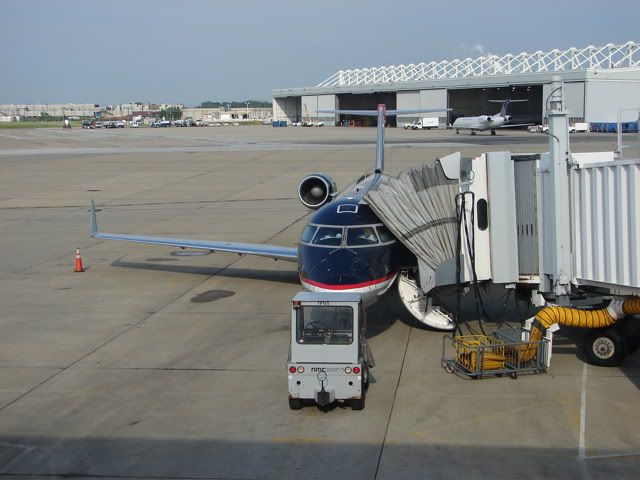 This is the cramped cabin.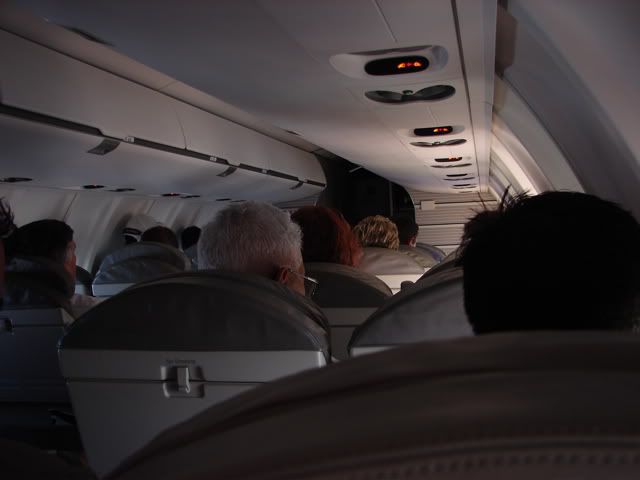 We encountered some clouds late in the flight, surprising to find those in the sky eh?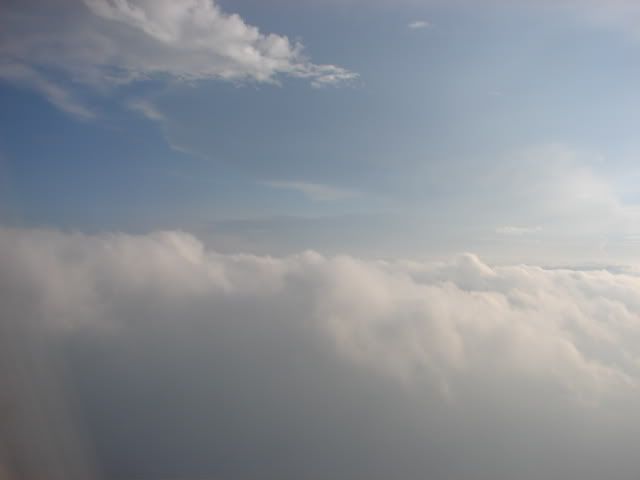 I saw this airfield, so i snapped a shot of it.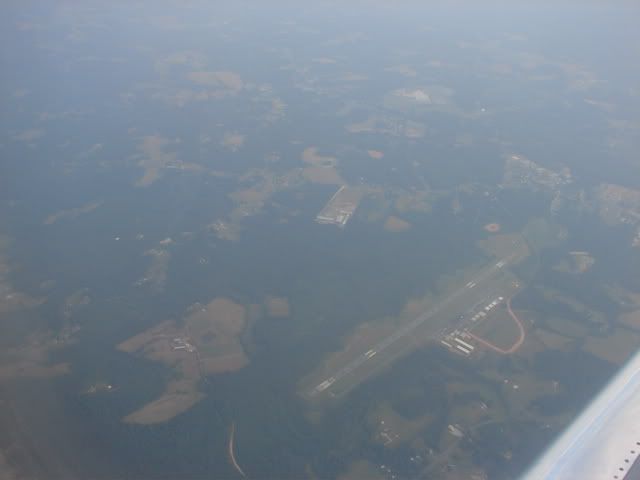 The flight was uneventful, i got a sprite and a small bag of pretzels.
The real fun started after the calm landing
We started passing a lot of interesting aircraft in CLT so kept snapping shots.
A Lufthansa airbus near a hanger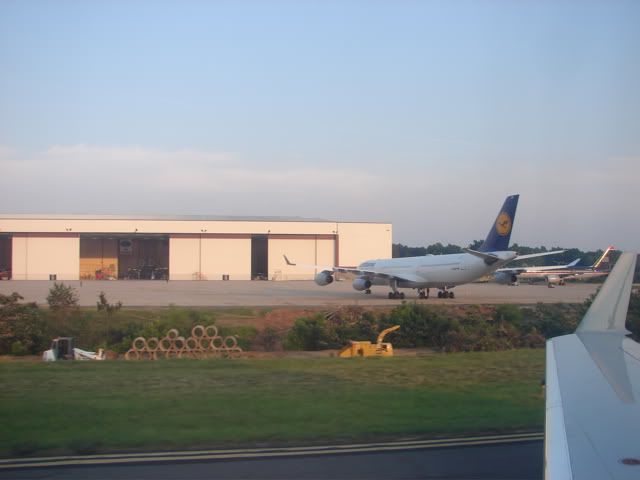 a FedEx jumbo waiting for cargo
a 727 with some engine problems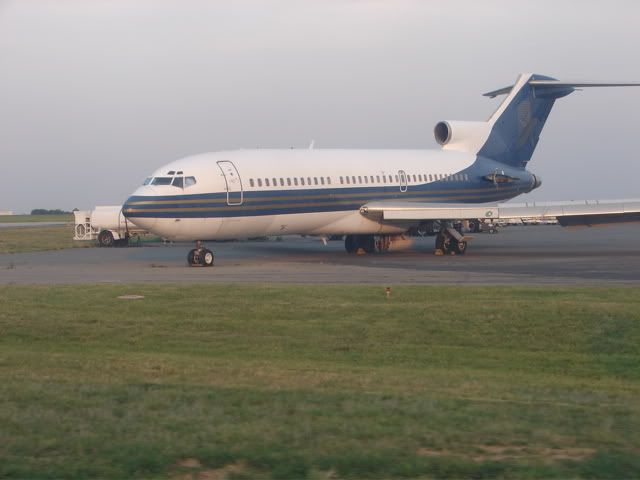 We who checked our bags at the gate were waiting on the crew to bring them up, and once everyone else had left the plane, i went back in and said hello to the pilot, and asked to take a picture of the cockpit. he had the co-pilot switch the electronics on so i could make it better.
i took one with flash
and one without
the pilot was very nice, and asked to see them on my digi-cam. he looked at them, and said "oh, those came out nice"
so that was the flight,
unrelated was my trip to joe gibbs racing, but i will share 2 pictures from there.
this is the car prep area, look how clean it is, and see how many cars there are. lots of money being spent there...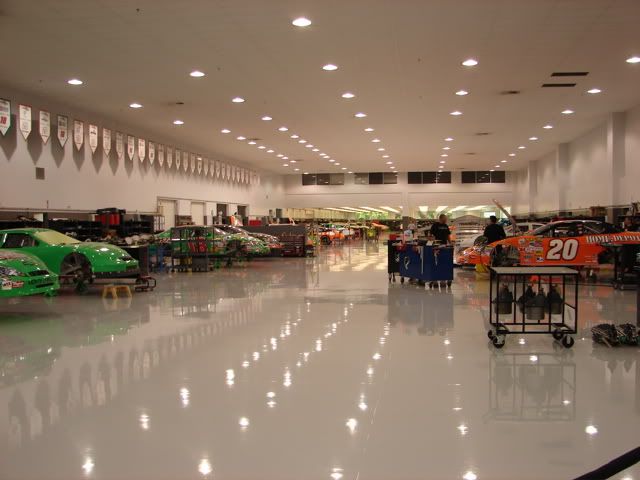 This is me next to the Tony Stewart #20 car.
i wasn't allowed to have my camera for most of the tour, which was disappointing, it was neat to see how much they prepare for each race.
our flight back wasn't until 9:55, so after a few drinks in a bar, and watching the Australia vs. Croatia match (rooting for the socceroos!) we ate dinner and headed to the airport in hopes of snagging an earlier flight.
well, as you may have read, there was awful rain in cleveland, with flooding. so the 4:30 flight and 7:30 flight were still grounded when we arrived at 7:00. Not only were they delayed, they were overbooked, so we hunkered down at the airport. this gave me plenty of time to walk each terminal and snap some aircraft shots.
CLT is a nice airport, and each concourse is different. A concourse reminded me of CLE a lot. The best shots i got were from C, the international departures for USAirways.
a B767 waiting to depart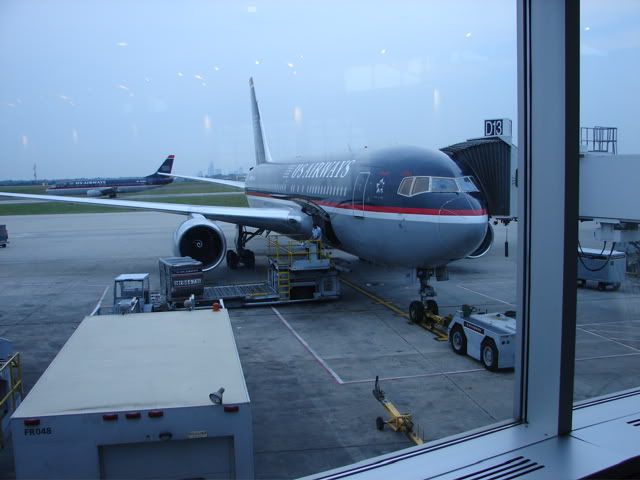 more USAir taking off.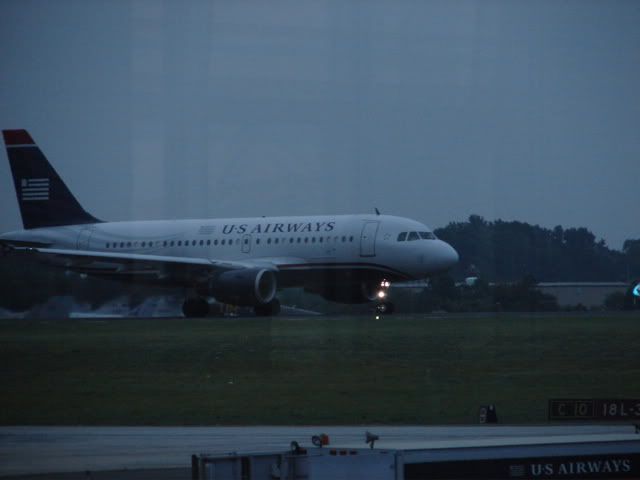 a few attempts at being artisitc!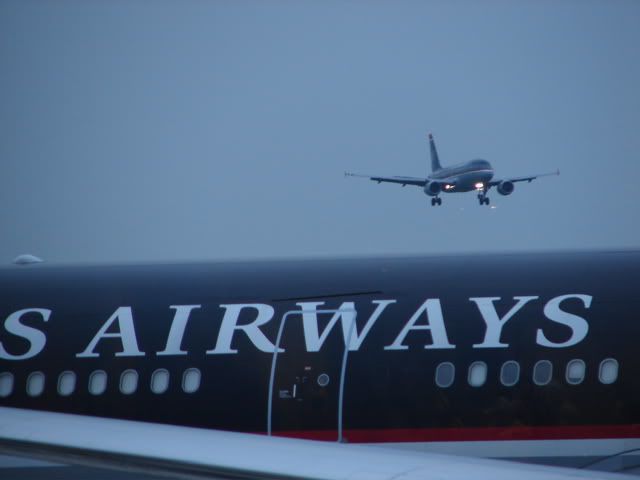 i have not seen this livery before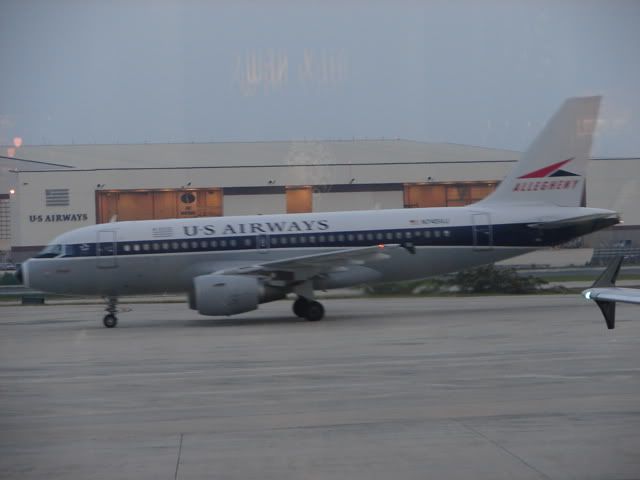 So the return flight
FLIGHT: US Airways # 2590 Operated by: US AIRWAYS EXPRESS-PSA AIRLINES
FROM: CLT-CLE
AIRCRAFT: CRJ-50
Departure (CLT): June 22, 9:55 PM EDT (evening)
Arrival (CLE): June 22, 11:28 PM EDT (evening)
Trip was a little bumpy due to bad weather west of us. We saw an amazing light show out the left side of the plane. the video isnt good, so i havent posted it.
We arrived in CLE right on time, and made our way home, and to bed.
i hope you liked my first report, i am planning a trip to England in the fall, and maybe that will be a more interesting report!
[Edited 2006-06-24 01:51:53]