This is my report of a recent trip to Asia on the Star Alliance in Business/First. It is very detailed and has plenty of pics, so enjoy! I apologize about the poor quality of some of the pics, which are due to bad lighting (I did not use flash), several cameras being used, and me being in a rush. Because I have so many pics, I have broken this report into several parts, and this thread only contains the outbound portion to ICN.
Booking:
As summer slowly approached, it was once again time to burn some of those hard earned United miles, and take a vacation to somewhere we would not otherwise go. Me and my dad decided that we wanted to go somewhere in Asia that we had not been, especially Bangkok and Seoul, so I started off by calling United International Reservations. We were very flexible, and especially wanted to try out Singapore Airlines in Raffles (Business Class), something I have not yet done. I started off by asking for a departure on June 12, and to my surprise, it was available with SQ. After some creative routing, I managed to get a Business Class award for the two of us to Bangkok and Seoul, flying five different airlines, namely US/SQ/OZ/TG/UA, all in premium cabins, being gone for a total of 11 days. Considering the routing and airlines, the award was a steal for 90,000 miles per person. United really is competitive in this aspect, with award redemption rates, especially to Asia, where we like to go.
Initially the award routed as follows:
June 12, 2006
TPA-CLT
US 121
Departure Time: 6:50AM
Arrival Time: 8:27AM
Aircraft: A319
Distance in Miles: 507

June 12, 2006
CLT-LAX
US 31
Departure Time: 9:35AM
Arrival Time: 11:38AM
Aircraft: A321
Distance in Miles: 2125

June 12, 2006
LAX-NRT
SQ 11
Departure Time: 2:35PM
Arrival Time: 6:00PM (next day)
Aircraft: 747-400
Distance in Miles: 5451

June 13, 2006
NRT-ICN
OZ 105
Departure Time: 8:30PM
Arrival Time: 10:55PM
Aircraft: 767-300
Distance in Miles: 765

June 18, 2006
ICN-BKK
TG 659
Departure Time: 9:30AM
Arrival Time: 1:05PM
Aircraft: 777-300
Distance in Miles: 2271

June 22, 2006
BKK-SIN
SQ 63
Departure Time: 11:15AM
Arrival Time: 2:40PM
Aircraft: 777-300
Distance in Miles: 894

June 22, 2006
SIN-SFO (stop in HKG)
SQ 02
Departure Time: 5:00PM
Arrival Time: 7:30PM
Aircraft: 747-400
Distance in Miles: 8444

June 23, 2006
SFO-DEN
UA 770
Departure Time: 12:35PM
Arrival Time: 4:01PM
Aircraft: 757-200
Distance in Miles: 967

June 23, 2006
DEN-TPA
UA 1478 (Operated by Ted)
Departure Time: 7:34AM
Arrival Time: 12:01AM (next day)
Aircraft: A320
Distance in Miles: 1513
After having it booked for about a month, I decided that I would try to change the domestic return portion of SFO-DEN-TPA, because I saw that UA was running 747's between SFO and IAD. After a quick call to reservations, I was able to change my return to SFO-IAD on the 747 in Business, IAD-ORD on the 777 in Business, and only do ORD-TPA on Ted. Thanks to my 1K status, there was no fee for the change, something which was nice for a change with all of the cost cutting the airlines are doing.
After logging onto united.com to check and make sure that they booked it right, I noticed that they booked the SFO-IAD for the right date, but the IAD-ORD-TPA for a few days earlier, which would not even be possible, given that we would still be in Thailand. After a quick call, they opened up some award seats on the right flights, and we were ready to go. The only part about this award which was not so great was the outbound domestic portion, which would be on US, which I have heard a lot of bad things about.
The new domestic return routing looked like this:
June 23, 2006
SFO-IAD
UA 950
Departure Time: 7:54AM
Arrival Time: 3:54PM
Aircraft: 747-400
Distance in Miles: 2419

June 23, 2006
IAD-ORD
UA 937
Departure Time: 5:25PM
Arrival Time: 6:42PM
Aircraft: 777-200
Distance in Miles: 589

June 23, 2006
ORD-TPA
UA 1448 (Operated by Ted)
Departure Time: 8:50PM
Arrival Time: 12:29AM (next day)
Aircraft: A320
Distance in Miles: 1012
A few days prior to departure I decided to "Book the Cook," which is Singapore's program whereby you choose what you want to eat aboard, as long as you call at least 24 hours in advance. The choices looked as follows:
Grilled free range chicken with fettuccine pasta and wild mushroom sauce

Peppered fillet mignon with mustard jus, chanterelle mushrooms, fava beans, and paprika red potatoes

Seared Chilean bass with creamy saffron sauce, baby vegetables and wild rice

Steamed crab ravioli in creamy lobster sauce with mixed vegetables

Beef Sukiyaki with steamed rice

Chirashi Sushi

Prawns with preserved cabbage, sugar snap peas, and steamed rice

Stir-fried pork with wood ear, enoki mushroom, bell peppers, and steamed rice

Sweet and sour fish with fried noodles

Wok-fried black pepper chicken with carrots, zucchini, gingko nuts, and steamed rice
We both decided to go with the fillet mignon for the first meal of the flight from LAX-NRT, and left the second meal of the flight open, so we could choose from the menu.
The morning of 06/12:
After having gone to bed at around 11PM the night before, I woke up at 3:45AM. I made sure that I had everything packed, and then headed to the computer for a bit. I was concerned by the fact that tropical storm Alberto was said to cause heavy rain and some winds in our area, which I hoped would not affect our trip. Flight status at usair.com showed us as being on time, and I had about twenty minutes to kill. I chatted with a few people online, and before I knew it, it was 4:35AM, and time to head to the airport.
My mom drove us to the airport, as we would be gone for 11 days. I drank a large bottle of Evian water throughout the morning, in order to stay hydrated. After a very rainy drive, we arrived there at around 5:15AM, pulling in at the blue terminal for USAir check in.
At TPA:
The check in area was pretty empty, with no one waiting in line. We reached the counter, at which point the agent said "Phoenix?" We responded that we were going to Seoul, and she asked for our e-ticket and passports. After a few minutes, she cranked out our boarding passes, but only to LAX. She took our bag, which weighed 52lbs, and placed a Star priority tag on it, and checked it all the way to ICN, our destination.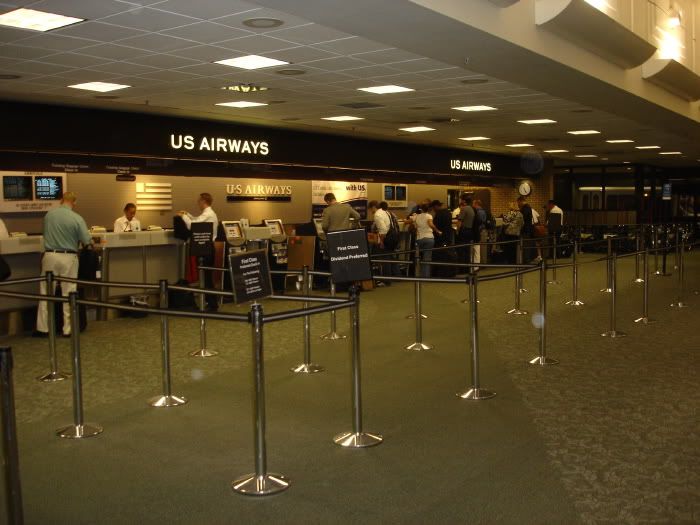 USAir check in
We would be departing the F concourse, so headed to the upper level, which is the departing point for all six concourses. We gave the security lady our boarding passes, and took the tram over to the F concourse.
Upon arriving there, we were greeted by the wonderful TSA agents, who were screaming, "Take your shoes off unless you want more screening." I contemplated for a moment leaving my shoes on just to annoy them and get the extra screening, but then I realized that I was way too tired for that. The line was short, and the whole process was done within five minutes.
We then headed straight for the USAir club, which is right behind security. At first I thought that it was closed since it appeared to have no lights on, and since it was a sliding door which did not open when I approached. Since it was only 5:35AM, and the club was supposed to open at 5:30AM, I thought they were just running a few minutes late. Then I saw a man come through and push the plate on the wall, which made the door open, so we followed him. I have never seen a sliding door at an airport lounge which requires the wall plate to be pushed, but I guess this was just an exception.
F Concourse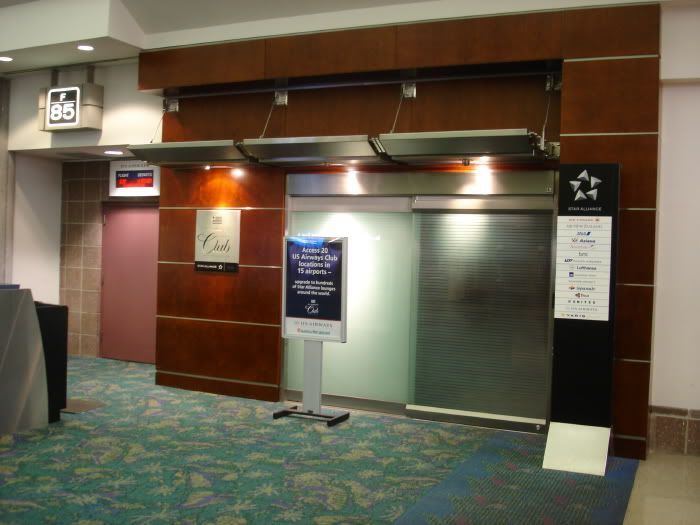 USAir club entrance
Soon to be boarding area
Upon entering the club, we took the elevator to the second floor, which is where the lounge is located. The agent, Charlotte, which I thought was an interesting name since it was our destination as well as a major US hub, greeted us. She looked at our itinerary, and I presented her with my Star Gold card, and she let us in.
Elevator to second floor
The club was a lot nicer than I expected, especially because it was USAir. It was nice with tall and curved ceilings, and extremely large given the location. It had a nice selection of food for a domestic lounge, including muffins, yogurt, and biscoff cookies. I took an orange juice and a couple of the mini muffins, yogurt, and biscoffs, since I would not be eating breakfast, and plopped down in a remote area. The club had maybe 10 people in it total, which was not a lot given its size and the fact that it was Monday morning. I watched some of the planes outside in the gloomy weather, including a new color scheme US aircraft coming in from a redeye.
Sitting area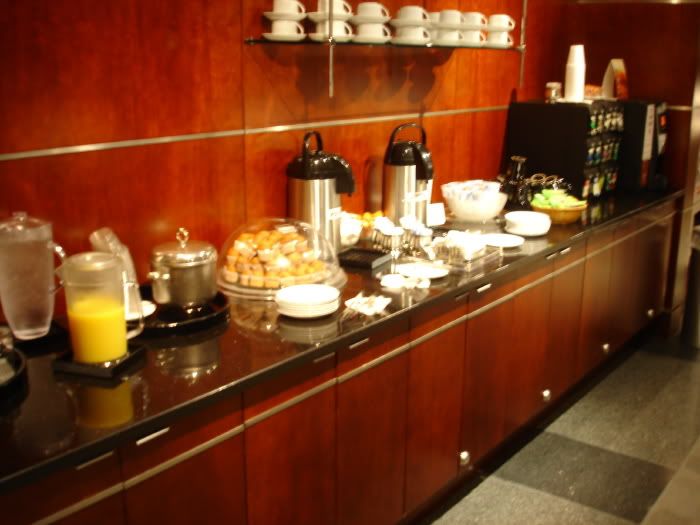 Food selection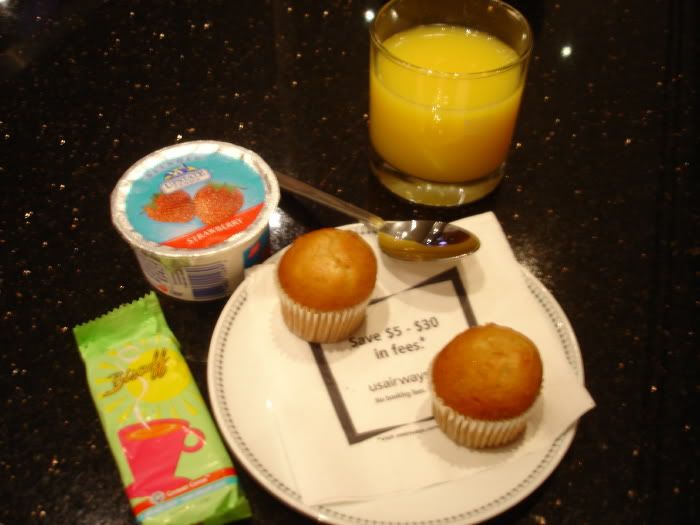 Breakfast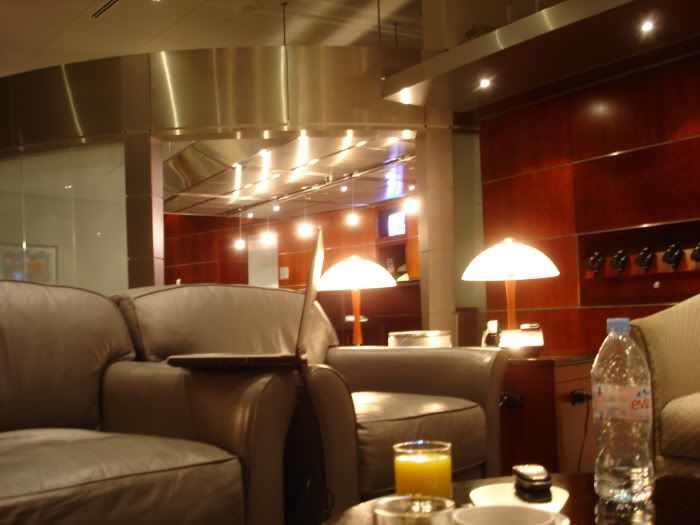 View towards the bar
After relaxing for a little over half an hour, we headed to the boarding gate, F85, which was directly adjacent to the lounge. Within five minutes, boarding started, and our long journey to Korea began.
June 12, 2006
TPA-CLT
US 121
Scheduled Departure Time: 6:50AM
Actual Departure Time: 6:48AM
Scheduled Arrival Time: 8:27AM
Actual Arrival Time: 8:24AM
Aircraft: A319
Distance in Miles: 507
Load Factor: 98%
Seats: 2 A&C (First)
Upon boarding, we were greeted by the friendly purser, who was an African American lady, maybe in her 40's, as well as a slightly younger male. I put my rollaboard in the overhead bin, and took out the usual, including my iPod, Bose headsets, and folder with all the flight information. I sat down in 2A, and immediately observed that the aisle seat across from me was broken, with a rope holding it down. The most striking thing about the cabin was how old it looked, especially the F seats. They had definitely not been refurbished in the past 15 years, but were quite comfortable nonetheless.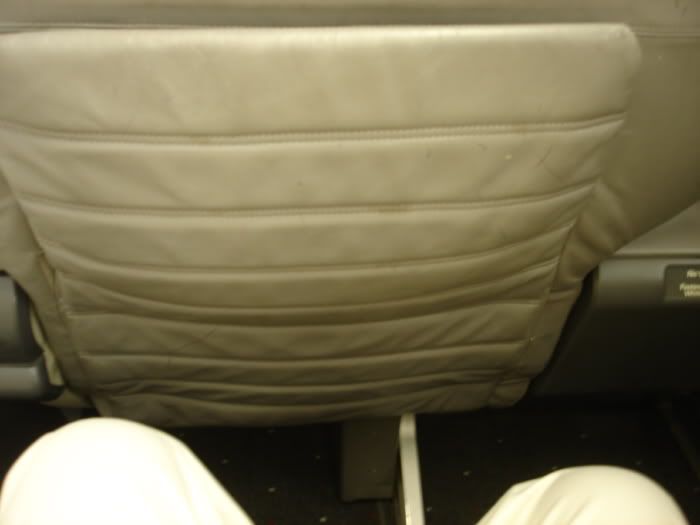 Seatback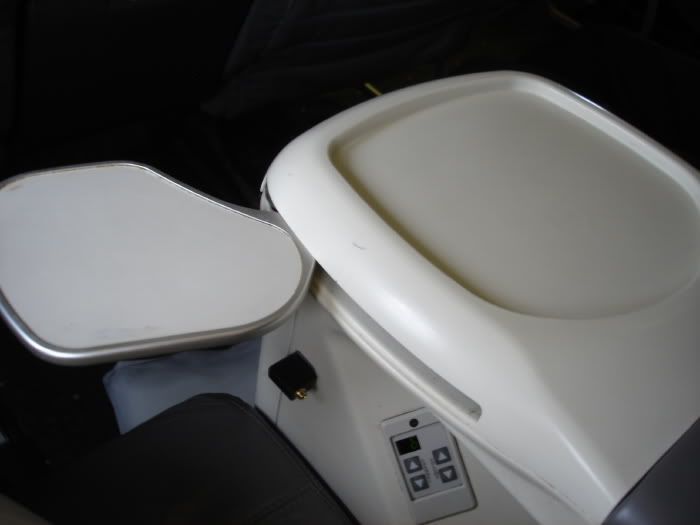 Seat panel
Safety card
Within minutes the very friendly and cheerful purser came around and asked to hang everyone's coat, followed by asking if anyone would like a pre-departure beverage, and I gladly accepted an apple juice, and my dad took a coffee. The Captain was also in the galley, getting himself and First Officer McDonald some water.
Pre-departure beverages
As boarding continued, I overheard a lady telling her friend that this was the same aircraft that she flew in on last week, because of the broken seat. I can't help but wonder how much revenue US is losing, or how many elites it is ticking off with a broken F seat for at least a week. The Captain then came on the PA and told us that we can expect a flight time of one hour and ten minutes, and that it should be a smooth flight, except for takeoff, and that we would be cruising at 39,000 feet. Before I knew it, the door closed, and we were ready for an early pushback. The safety video, which was very dramatic to say the least, began. We quickly taxied out to runway 18R in the light rain, and were number one for takeoff. We slowly started to roll down the runway, in typical Airbus fashion, and were off the ground within a mile.
I took out the USAir magazine, and flipped through the pages. I noticed an interesting article on "Flight Attendant of the Year," for which they chose Jan De Mets, a veteran of 16 years, who did everything she could to help inform customers about the merger taking place between USAir and America West, and how the changes would affect the customers.
USAir magazine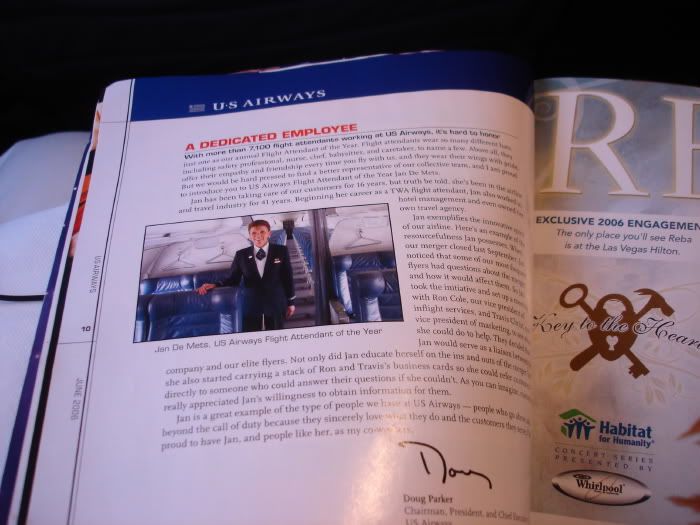 FA of the year article
Within twenty minutes we leveled off at FL390, and the Captain finally turned off the seat belt sign. He told us that we could expect a "dandy" ride up towards CLT, and that it was pretty foggy at the airport. The purser started serving the eleven person F cabin, with a cart, to my surprise. This seemed slightly odd, but it made the service quick. I went for another OJ, but had already had three, so my dad and I decided that we would share one can. My dad commented to the purser that "we are just trying to save USAir some money," to which she responded "Oh, don't listen to what CNN says." The service was with cups, which is abysmal for first class, but that is a whole different rant.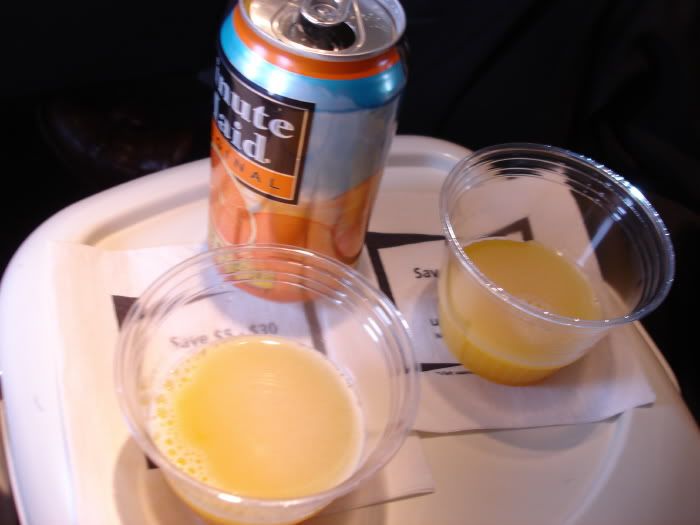 OJ
Wing view at cruise level
After beverage service, she came around with the snack basket, which consisted of peanuts, biscoffs, snack mix, and shortbread cookies. I took some shortbread cookies and a biscoff, which were quite tasty. The purser came around for refills, and was extremely professional.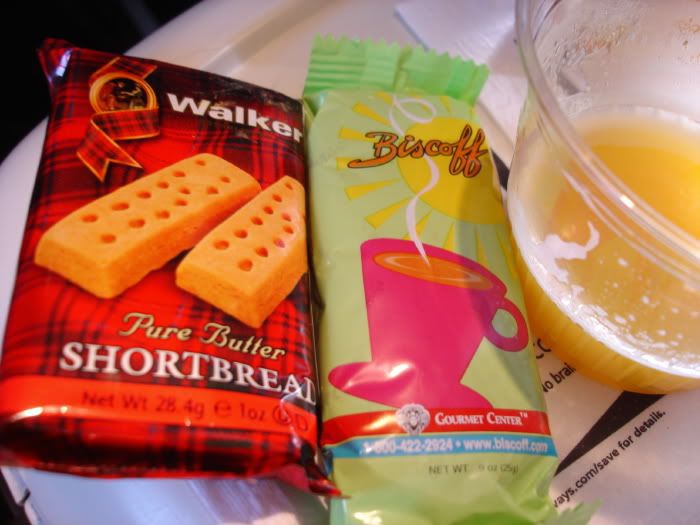 Snacks
My dad pulled out our boarding passes for the next flight, and noticed that we never got a luggage stub, used for verification at the destination or if any problems were to arise, back in TPA. This would be a problem since we had a very complicated itinerary, and our bags being lost would not be unlikely. We went to ask the FA what should be done, and she said to see an agent in CLT.
Within ten minutes the descent began, and the seat belt sign was illuminated. I packed up all of my stuff, and got out the connection info. Within another 10 minutes the Captain came on and said that we were only about 20 miles out, but were landing towards the South, so it would be another 10-12 minutes. The purser came back onto the PA and gave all of the connecting flight info, which was a long list. As we got below the clouds the fog was evident, and really limited any outside viewing. Within a couple of minutes we touched down, with a very smooth landing. We had a substantial taxi of about ten minutes to gate B13, and arrived about five minutes early.
View at the beginning of descent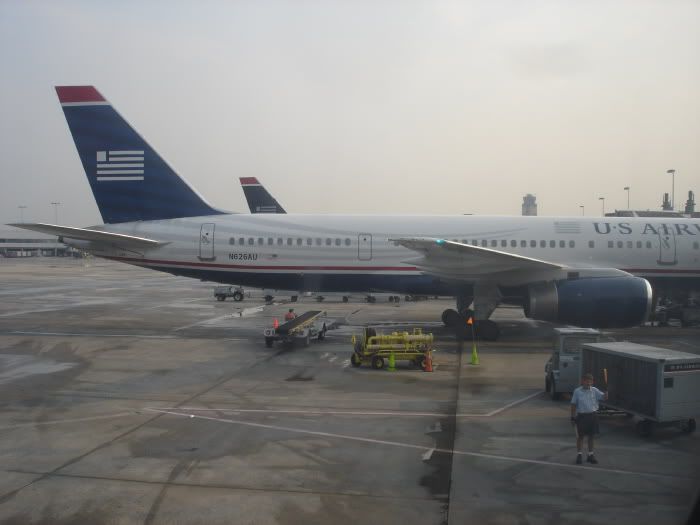 757 we pulled in next to at CLT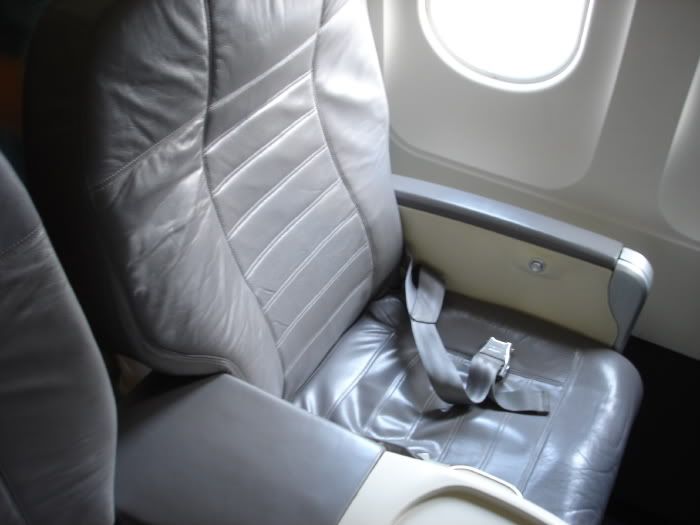 Seat 2A after landing
At CLT:
Upon exiting the plane, we headed straight for the USAir club in the B concourse. The concourse was not too impressive, pretty bland, with many vendors nonetheless. Our connecting flight would be leaving from B3, right next to the USAir club. We proceeded to the club, where the lady asked for our club membership. We explained that we were flying Business Class to Asia and were Star Gold, but she just asked us again for our membership card. After explaining it again, she let us in reluctantly. We also asked her what we should do concerning our missing luggage stub, and she said that it would not be a problem due to the fact that it would be in the computer system.
B Concourse
USAir club entrance
This club was not very impressive, especially for a hub club. The food selection was the same as in TPA, so I went for a muffin and yet another orange juice. After hanging around for thirty minutes, we went to the boarding gate for our flight to LAX. The area was packed, with people standing all around the gate. They started boarding Zones 1 & 2, but it was very hard to get through due to people blocking the gate reader. We managed to get through by the time they started boarding Zone 3, and we were once again on our way.
Club
Food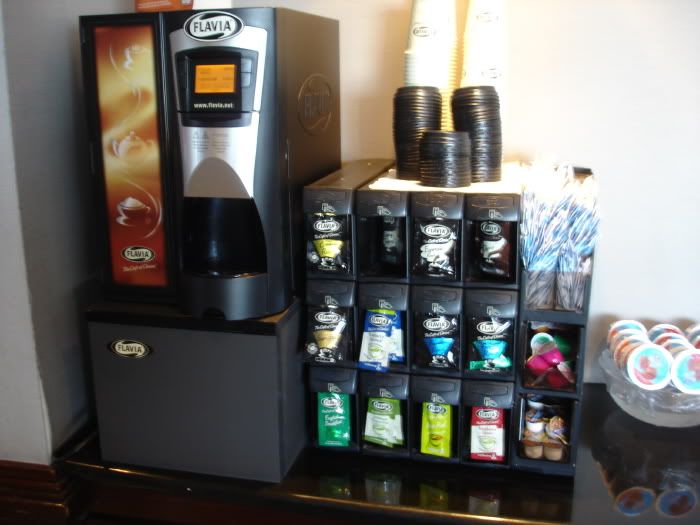 Coffee machine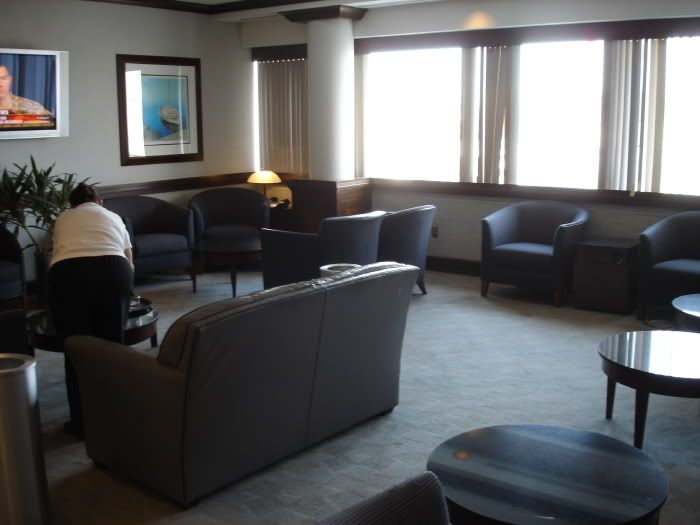 Sitting area
June 12, 2006
CLT-LAX
US 31
Scheduled Departure Time: 9:35AM
Actual Departure Time: 9:32AM
Scheduled Arrival Time: 11:38AM
Actual Arrival Time: 11:30AM
Aircraft: A321
Distance in Miles: 2125
Load Factor: 95%
Seats: 3 A&C (First)
We boarded through door 1L, and walked the short distance to row three. I quickly put my rollaboard in the overhead, leaving the aisle clear, since boarding was already in full swing. Within a few minutes one of the FA's came around hanging coats, and then came around with individual bottles of water for all F passengers, as opposed to a choice of pre-departure drinks. As soon as boarding slowed down a bit, I got up to retrieve my iPod, Bose headsets, and everything else I would be using in-flight from the overhead.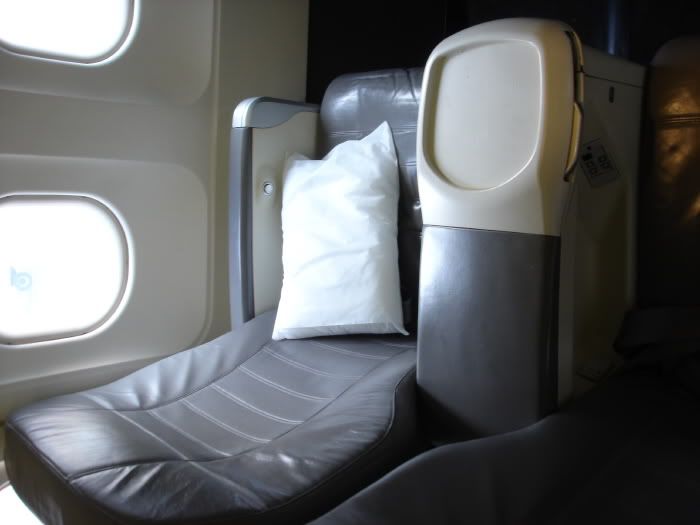 Seat 3A
Seatback
Water
About twenty minutes later the door closed, and we immediately pushed back. The safety video started, and we quickly taxied to runway 18R for takeoff. When we got there, we were number seven for takeoff, with plenty of regional jets as well as a couple of US A321's in front of us. Eventually it was our turn, and we slowly rolled down the runway, taking off with 4,000 feet of runway left.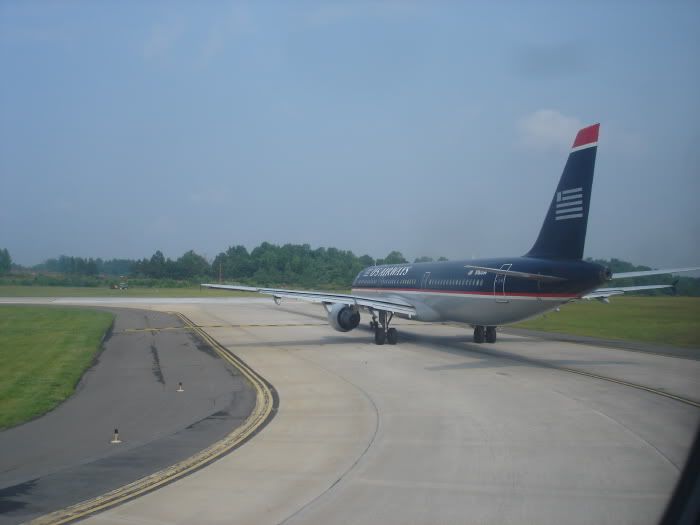 A321 in front of us for takeoff
Planes behind us for takeoff
We climbed out at an extremely slow rate, and reached our cruising altitude of 34,000 feet after what seemed to be eternity. The Captain came on the PA and gave us our route, as well as informing us that the flight time would be a short 4hr35min. The seatbelt sign was then turned off, and the purser made her announcements. She proclaimed to the entire plane that the First Class meal choices would be either portabella gnocchi or chicken with potatoes, and that "believe it or not, this is a lunch flight." I found this to be quite unprofessional, and that this should just have been told to the F passengers. She went on to say that the in-flight movie would be "Firewall," and that there would be a preview within a few minutes, and that we should all close our window shades for better viewing.
She then came around with complimentary headsets for First Class passengers. Following this, she took meal and drink orders. I went with a Diet Coke and the chicken with potatoes, and my dad went with the gnocchi. A few minutes later she returned with the drinks and a package of snack mix.
Drinks & snack mix
About twenty minutes later the food showed up. The tray consisted of the main course, a small salad with tomatoes, croutons, cucumbers, and Asian Sesame Ginger dressing, some "breadsticks," and shortbread cookies for dessert. The salad was pretty good, the chicken was fairly moist, and the potatoes were tasty. I also tried my dad's, which was not nearly as good.
My tray
My dad's tray
Unfortunately, this was a sad excuse for a First Class meal service, even compared to other American carriers. On the same flight on United there would have been hot towels, table linens, a separate hot nut service prior to the meal, a slightly more substantial meal, an ice cream sundae, real silverware, and real glasses. Overall, this was what I expected from USAir, but it was disappointing, nonetheless.
After the meal service I put on my Bose headsets and watched what was on the screen, which was "Gags," and was absolutely hilarious. After about twenty minutes of this I tried to get some sleep, since I was not very interested in the movie. Unfortunately, I could not sleep, so went up to the galley. I used the restroom, and then talked with the purser for a bit. I told her that we were going to Seoul, and she commented that two more passengers were heading there as well.
After talking for a bit, I headed back to my seat, and started reading the "Three Perfect Days" article on Seoul. These are always written by United in their Hemispheres Magazine, and are always excellent guides for exploring new cities. Whenever I travel, I print out the article from the online archive, and it always serves as a great general guide to the city.
After reading the article, the Purser came around with the snack basket, consisting of biscoffs, cookies, nuts, and snack mix. I looked outside for a bit, and there were some very nice views.
Snacks from the basket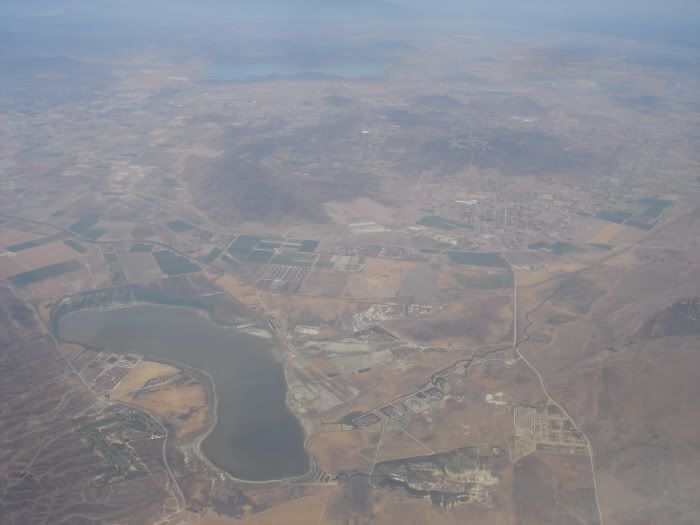 Outside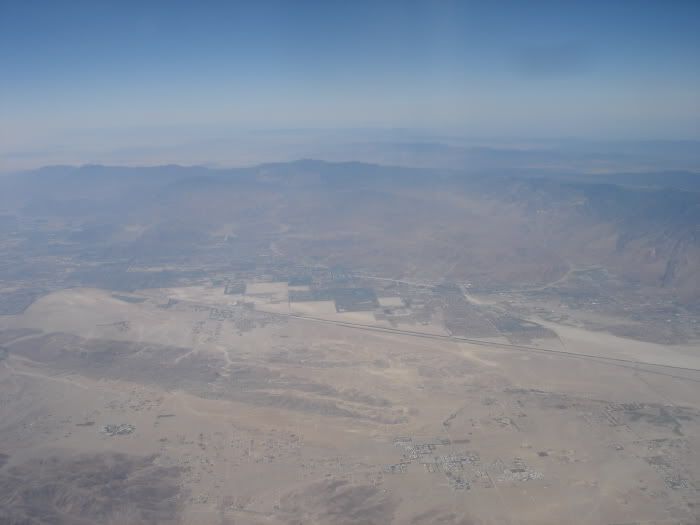 Outside
I just passed the next hour or so, and then the Captain came on and told us that we were just passing over Palm Springs, and that we would be beginning our descent shortly. The views were nice, and I just peered outside for the rest of the flight. I packed up all of my stuff into my bag in the overhead, and we landed on runway 25R within half an hour.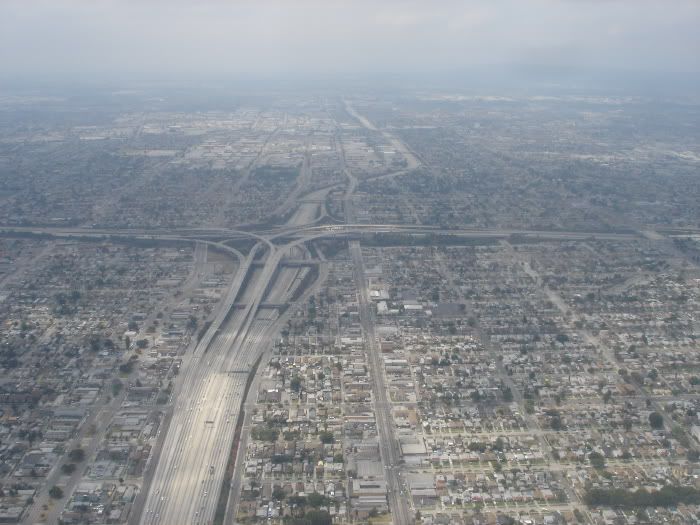 View before landing
Right as we touched down I saw Donald Trumps airplane, and was so angry that I did not have my camera handy. We taxied all the way to the north side of the airport, seeing some nice planes, including an Asiana 747, and got to the gate just a few minutes early.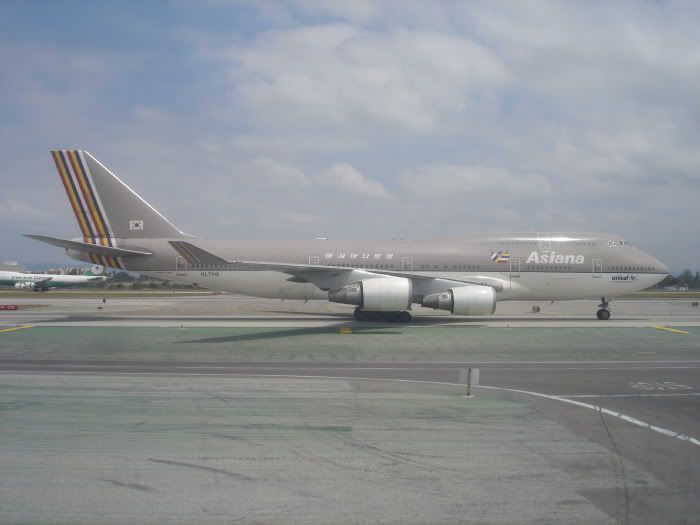 Asiana 747
Overall, US was just what I expected. The product was pretty bad, but the service was quite good overall, especially on the first flight. I knew what was to come would be a lot better, so I was really excited.
At LAX:
Upon deplaning, we tried to make our way through the herd of people in this part of the terminal. We headed towards the exit, since we had to go to the Tom Bradley International Terminal. On our way out, I saw a Southwest gate which had a ton of red, white, and blue balloons, and a lot of people. I don't know whether it was a pilot's last flight, or whether a soldier was either leaving or arriving.
After a ten minute walk we made it outside, and headed for the terminal connection bus. I was a smartass and insisted that one of the buses was the right one, so we boarded it, but my dad asked the driver, and he said that it would be the next one, and that this one would be leaving the airport. We got off, and within minutes the right bus pulled up. After about ten minutes, we pulled up to TBIT (Tom Bradley International Terminal). It was huge, and had around twenty airlines. They seemed to be going in alphabetical order, so we kept walking. Eventually Qantas came, so we though Singapore would be next. We kept walking, and eventually realized that we had gone all the way to Terminal Four. We went straight back, and decided to find Singapore Airlines check in from inside the terminal, this time.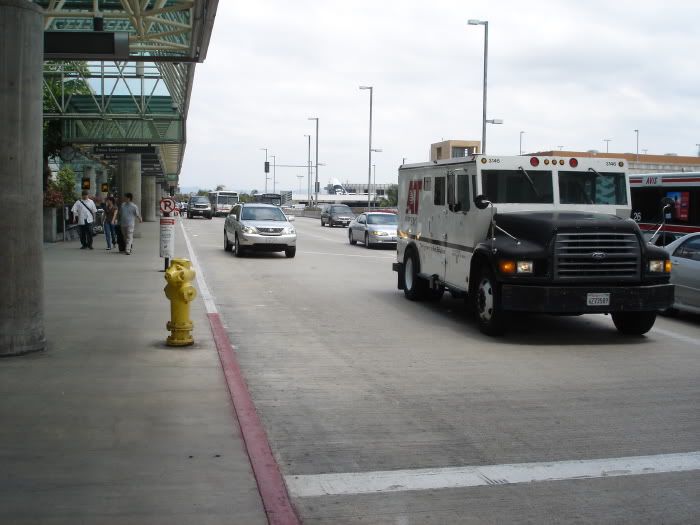 Outside the terminal
View towards the tarmac
Within a couple of minutes we made it to the Raffles check in area, and there was only one person in front of us. The First Class check in had only one person as well, and Economy was absolutely packed! I took two pictures with my small digital camera, and was quickly approached by one of the Singapore agents and told to please "not take pictures of Singapore airport operations." Whatever!
SQ Raffles & First check in
Economy
After waiting for a bit we were directed over to one of the Economy counters, and we showed the agent our e-ticket. She asked us if we were going to check any bags, and we told her that we had one that we had checked in at TPA, but that it was checked in all the way to ICN. We asked her if it would be a problem if we did not have the tag, and she said yes. She said that there was no way that she could access information on it, since the systems were completely different, and that the bag had to be retagged in LAX. Thanks US! She then took out a form to fill out, and asked us to describe the bag. After she filled everything out, she placed the sheet of paper as well as a First Class priority tag in a crate, through the baggage carousel. She said that we should see at the gate whether the bag would make it or not, and get the luggage stub there.
She printed out our Boarding Passes, which looked quite neat, and wrote on them our invitation to the Qantas Lounge, which was on the fifth floor. Boarding was supposed to be at 2:00PM, but she crossed that out and put down 1:45PM, due to the fact that we would be bussing over to the airplane from gate 117. We thanked her for her help, and went to security, which was only a few steps away.
We handed the Spanish speaking lady our boarding passes as well as passports, and joined the queue for security. It was quite long, but moved quickly, and only took about five minutes. Directly after security were a bunch of elevators, which had a sign that read "VIP Lounges," so we got on the elevator and headed to the fifth floor. This floor had many lounges, including Lufthansa. It smelled really bad, like an old attic. Each lounge was themed after a movie theater, with lights and a marquee. The Qantas lounge, which was also shared with British Airways, was the first one on the right, and we proceeded straight in.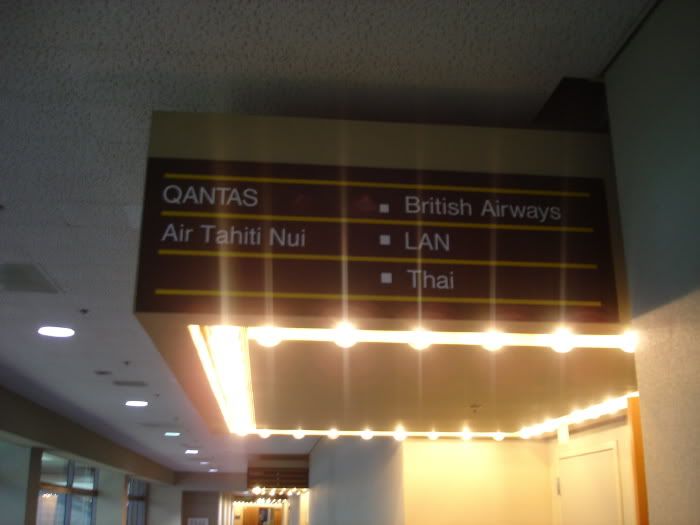 Lounge
The agent swiped our boarding passes, and we were in within a few seconds. She told us that she would make an announcement when boarding began for our flight. This lounge was relatively disappointing, considering that it was Qantas. The lounge had quite a few people in it, but was far from full.
We took a seat in the corner by the TV, where the Maury Show was playing. This episode was about "Who's your baby's daddy?" which seems slightly odd for an airline lounge. Anyway, I watched it in amusement, and went to get something to drink and eat. I got a Diet Coke, a danish, and some of the prepackaged snacks. Besides the snack basket and danishes, they had some finger sandwiches and the like, but nothing substantial. I did not eat a whole lot, since I was anticipating the fillet mignon that I preordered through Singapore's "Book the Cook."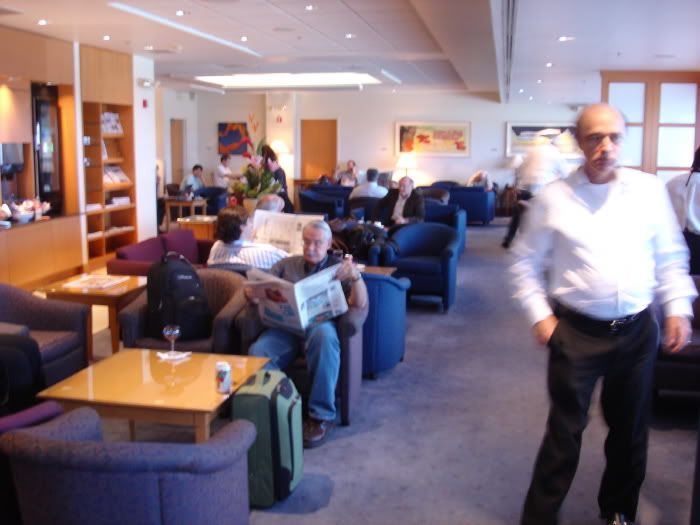 Lounge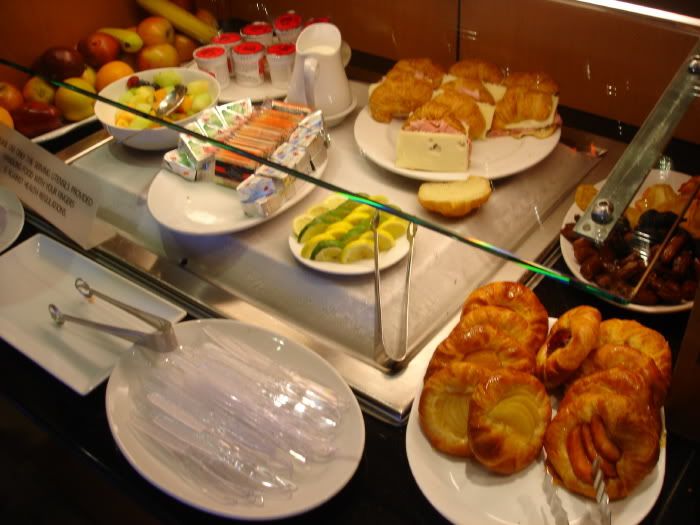 Food selection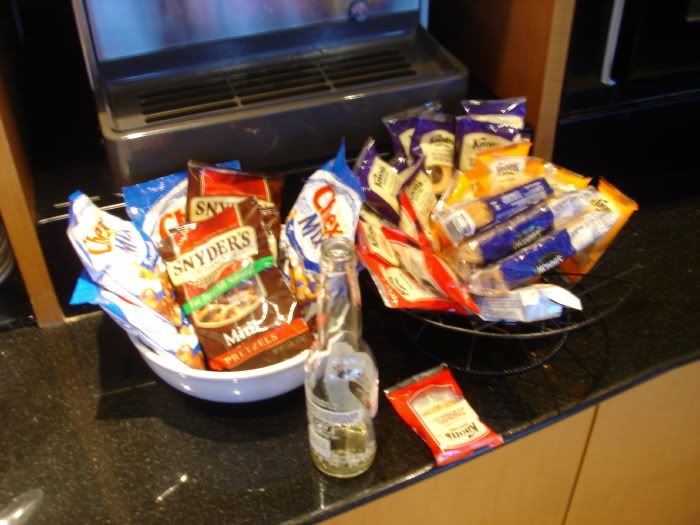 Snack basket
Snack with sparkling water
An Italian man came and sat in our area, and asked if he could turn on the World Cup. I agreed, since I was not watching the show too much anyway, was interested in the World Cup, and I saw that his home team was playing. I watched for about half an hour and made a few phone calls before leaving the country. In the meantime, I always kept an eye on the taxiway, where there were several international heavies taxiing by. I then went to use the restroom, which was located outside the lounge, and was very dirty.
Taxiway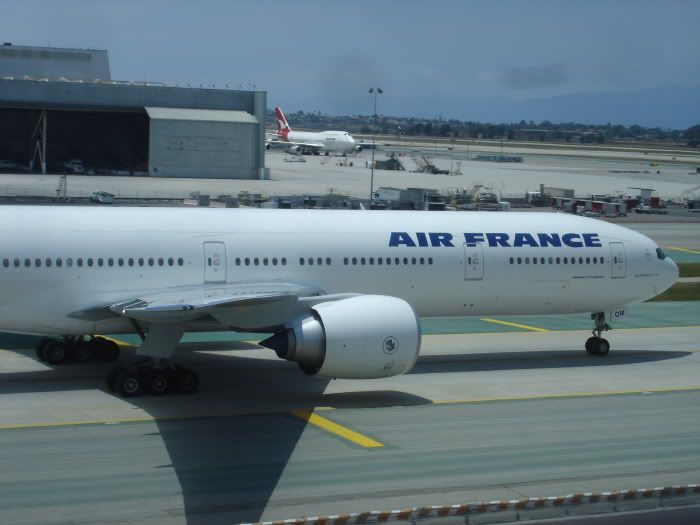 Traffic on the taxiway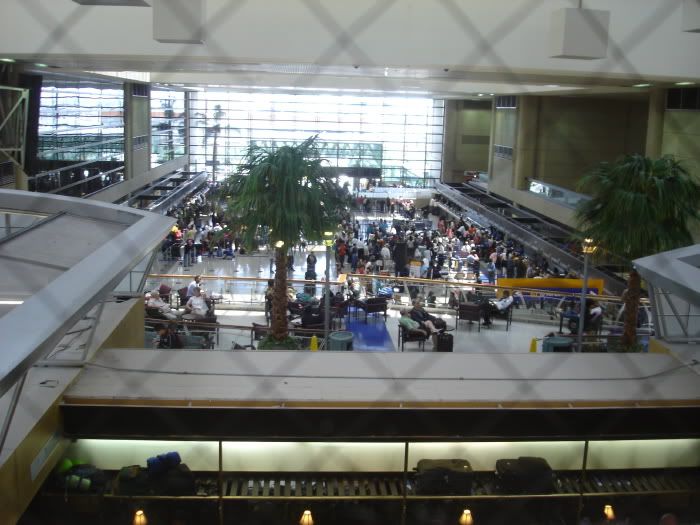 View of terminal from outside the lounge
I then wandered over to the Lufthansa lounge, which was not nice at all, and had a very meager food selection. I even checked out the First Class section of their lounge, and it was still not as nice as the Qantas lounge. After spending some time there it was around 1:30PM, and boarding would begin in 15 minutes. In order to beat the rush and make sure that our bag would make it, we decided to head straight to the gate.
Upon arrival there, we already saw a lot of people lined up in the economy line, ready to be bussed to the airplane. We then asked the agent if our bag had arrived, and she apologetically said not yet. At this point we got pretty worried, given that it had been over two hours, so I decided to call USAir baggage department to see if there was anything that they could do. The terminal was very loud and my phone was very quiet, and I could hardly hear what the rep. was saying, especially over his strong agent. While I was on the phone, the agent came up to us and told us that they had found the bag, so I thanked the rep. for his time and hung up. The lady from Singapore Airlines gave us the stub, and we were almost ready to go.
Boarding area
We were the first in line in the Business/First area, and within ten minutes they started boarding all passengers on the bus. We tried to stay in the front area, and made it out on the first bus, which left within five more minutes. I am not sure whether Singapore always does this bussing, and if so, whether it is to save money or because there is no gate available. After a long drive, whereby we passed about four Qantas plane and tens of FedEx planes, we finally made it to the incredibly huge seeming and magnificent Megatop 747. At this point I was extremely excited, and had my camera ready.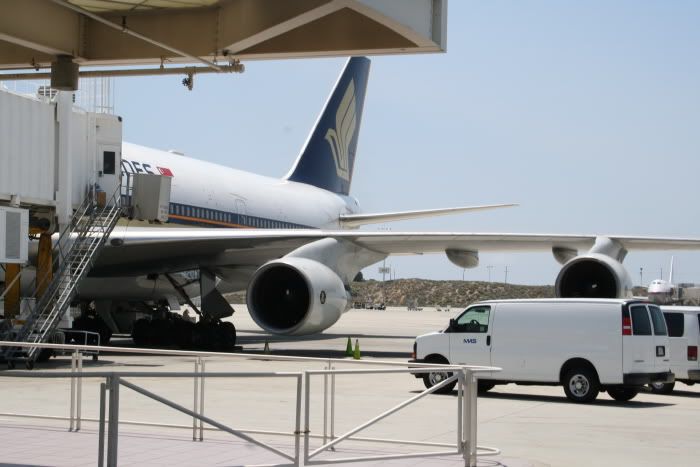 SQ 747
Upon getting off the bus we headed to the seeming maze, to get us up towards the aircraft. It was almost as if it was a normal gate, in the middle of the tarmac. I spotted an Air Tahiti Nui plane at the gate next to us. After going up several ramps, we finally made it to the jet way. I was among the first through the jet way, and was immediately impressed by the open space.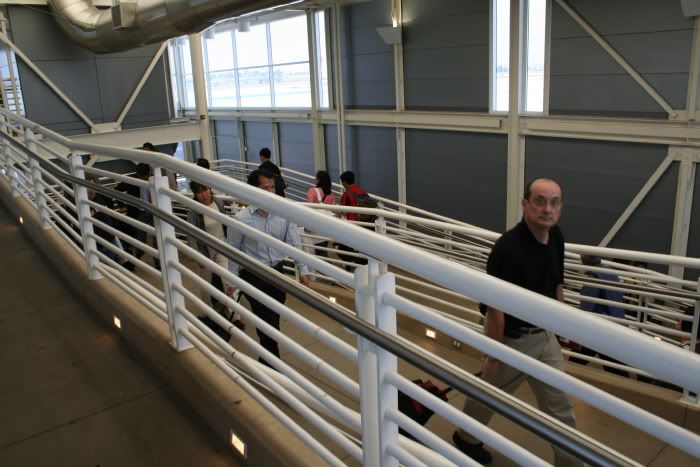 To the plane!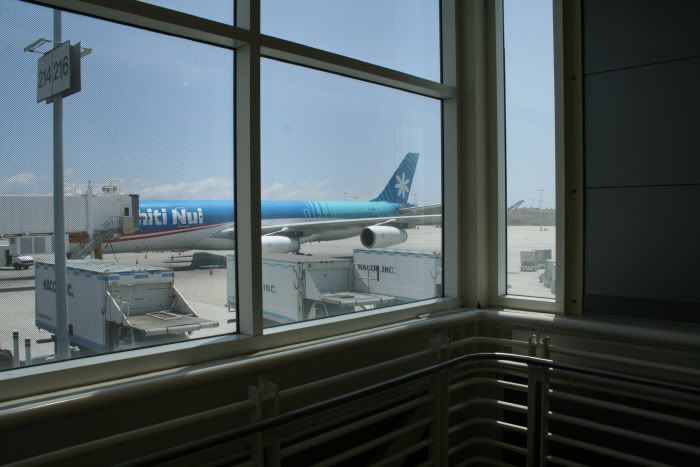 Air Tahiti
[Edited 2006-06-26 07:12:47]