The following is a trip report about a five-day trip I took from Bangkok to Hong Kong. It contains both photos and video viewable through YouTube.com. Click on images to enlarge them. There are also a few non-aviation paragraphs in the middle about my time in Hong Kong.
Your feedback and comments are always welcome and appreciated. Hope you enjoy!
Segment 1: BKK-HKG
Date:
1 June 2006
Airline/Flight:
TG606
Departure Time:
16:00
Arrival Time:
19:45
Aircraft:
B747-300 – HS-TGE "Chutamat"
Class/Seat:
Economy – 62K
With my partner Tawn heading off to Italy with his parents for eleven days, I couldn't very well just stay around Bangkok the entire time for fear of being bored. Plus, if I wasn't going to get to eat grilled Florentine steak under the Tuscan sun, I might as well take some sort of holiday.
Thumbing through my world atlas, my eyes fell upon Hong Kong – my former home and the residence of many friends – and I realized that a long weekend in the Pearl of the Orient was just what I had in mind.
A fifteen-minute call to United's award reservations desk secured an available seat on one of THAI Airways' five daily nonstop flights. A few emails later, I had an offer to use the guest bedroom at a friend's house. An inexpensive holiday: priceless.
My choice of departure time was based in part on not being rushed for an early morning departure. Every time I fly out of Bangkok it seems like I have to be there at the crack of dawn and, frankly, the photo opportunities just aren't that good before sunrise.
When Thursday the first arrived, my TravelPro was packed and waiting patiently by the front door as I returned from my Thai language classes, slipping out an hour early so I would have plenty of time to get to Don Muang International. Downstairs, I flagged a taxi and, as is the custom here, I opened the door to check to see if the driver was willing to take me to my intended destination, before climbing in.
"Pai sunambin, mai khrap?"
I asked in Thai.
The driver looked at me for a long moment.
"You want to go airport?" he replied, in English.
"Yes," I said, thinking that perhaps I shouldn't have left my Thai classes early after all, "to the airport."
The toll way to the airport was un-crowded, another advantage of a mid-afternoon departure. We bounced along like a flat stone across the surface of a glass-smooth lake. Wondering how fast we were going – it seemed just a little dangerous – I noticed that the speedometer indicated zero. For that matter, the petrol gauge was dead empty, too. Thankfully, Thai airplanes are maintained better than Thai taxis. Except perhaps the 747s at Phuket Air! (Sorry, cheap shot.)
An image of the King of Thailand on the THAI Airways International headquarters, celebrating His 60th Anniversary, as viewed from the back seat of my rocket-taxi to the airport.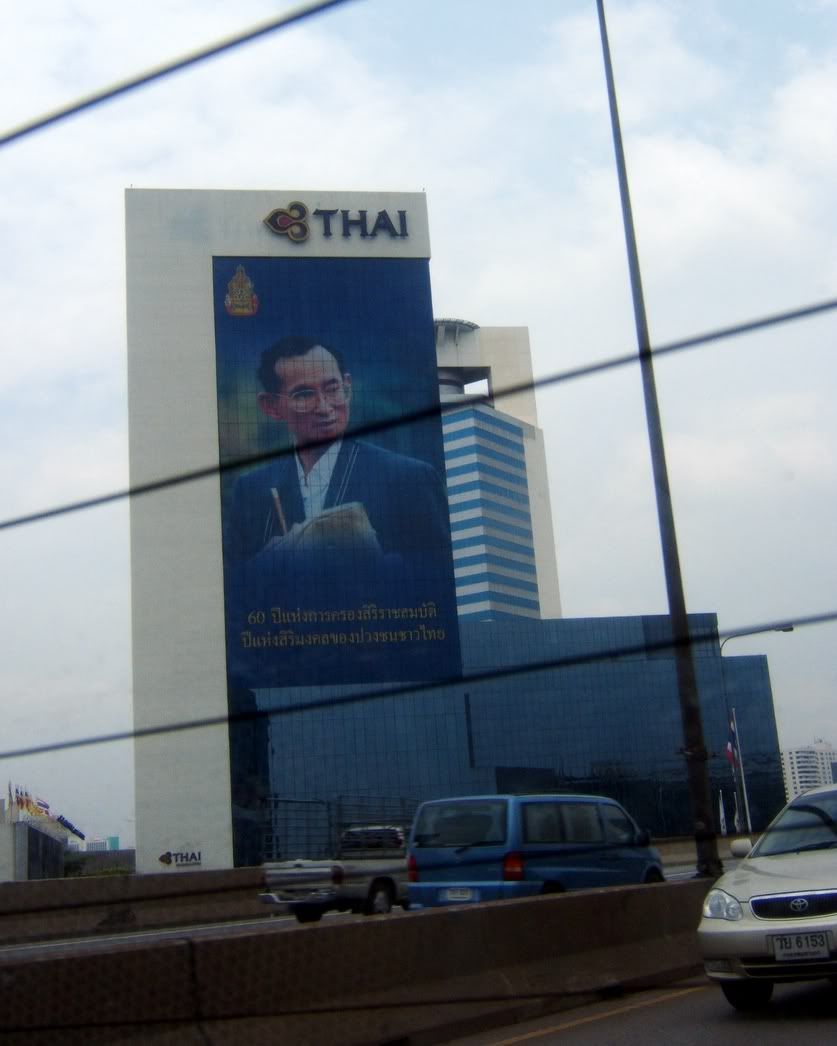 The dashboard clock appeared to be working fine as we pulled up to Terminal One at precisely 12:30. Receiving 180 baht, which included a generous tip, the driver made the effort to get out of the taxi and actually take my bag out of the boot of the car.
Not at all in a rush for my 16:00 flight, I took some time to walk around the exterior of the terminal and really notice the details. Every time I pass through it is early or late or hot or I have some other excuse not to really notice Don Muang Airport. And since the government has just announced the imminent opening of the new and much-delayed Suvarnabhumi Airport in late September (no, this time for certain –
really!
) I felt the need to absorb the details, to commit them to my memory, before my dear old Don Muang was no longer with me. Sorry for the overdramatic moment.
Two things of note outside: to the north of the terminal on the departure level there is a little smoking area that has been planted with a small garden. It overlooks the tour bus drop off area on the lower level and, with a gentle breeze and overcast skies, is a pleasant place. Especially since there was nobody there smoking, so the air was as clear as it could be for a patch of concrete struck between the toll way and the runways.
The smoking area outside Terminal 1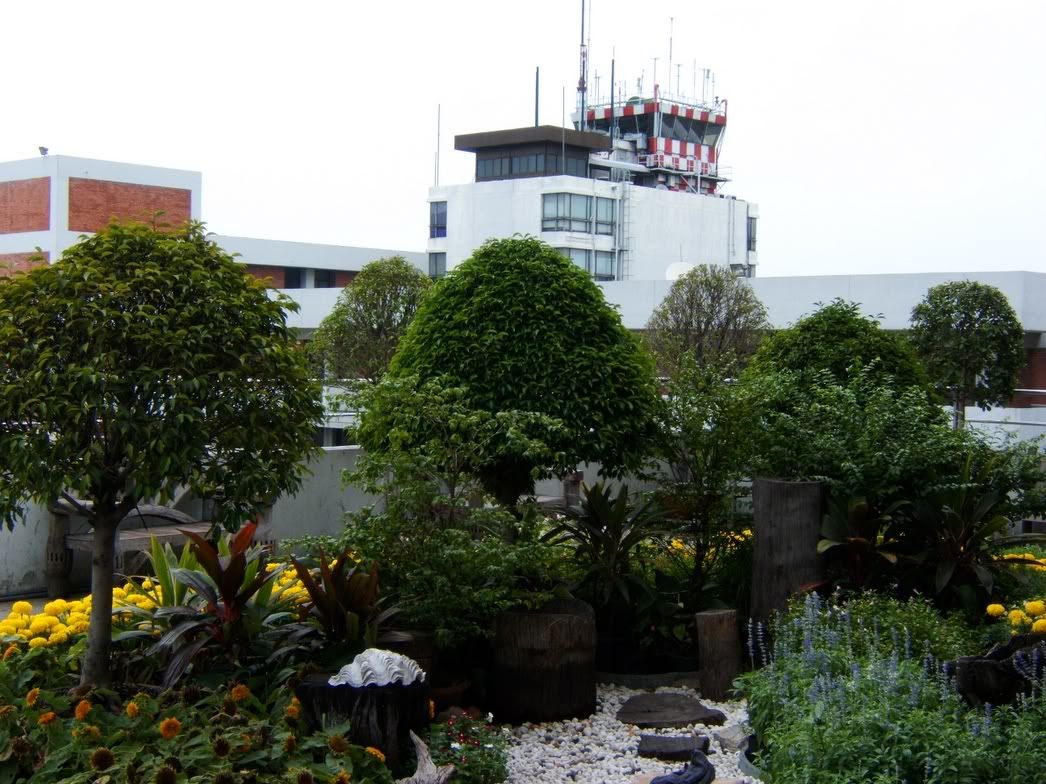 On the south of the terminal, before the car park and Terminal Two, is a little bar and restaurant called the Airport Terrace. It is an outdoor affair with plenty of fans, a wide, shady roof, and a special on Corona Beer. Singha beer, the local brand, is regular price.
The Airport Terrace between Terminals One and Two. "Fancy a beer, mate?"
The exterior explorations came to a quick end in the 34-degree weather as I retreated into the air-conditioned terminal. Before checking in, I headed upstairs to the observation area. The terminal's third floor runs a circuit around the entire building, with the middle area open to the check-in counters on the second floor. Along the west wall are airline offices and along the east wall are restaurants and viewing areas.
Actually, there
were
restaurants along the east wall, but most of them have been closed. You can still walk through the spaces, the shells of Korean, Thai, and Western restaurants, enjoying a broad view of the tarmac and the runways. Sadly, this space isn't very high above the surrounding roof, so the view of closer activity is obscured.
Terminal One: the check-in counters on the departure level.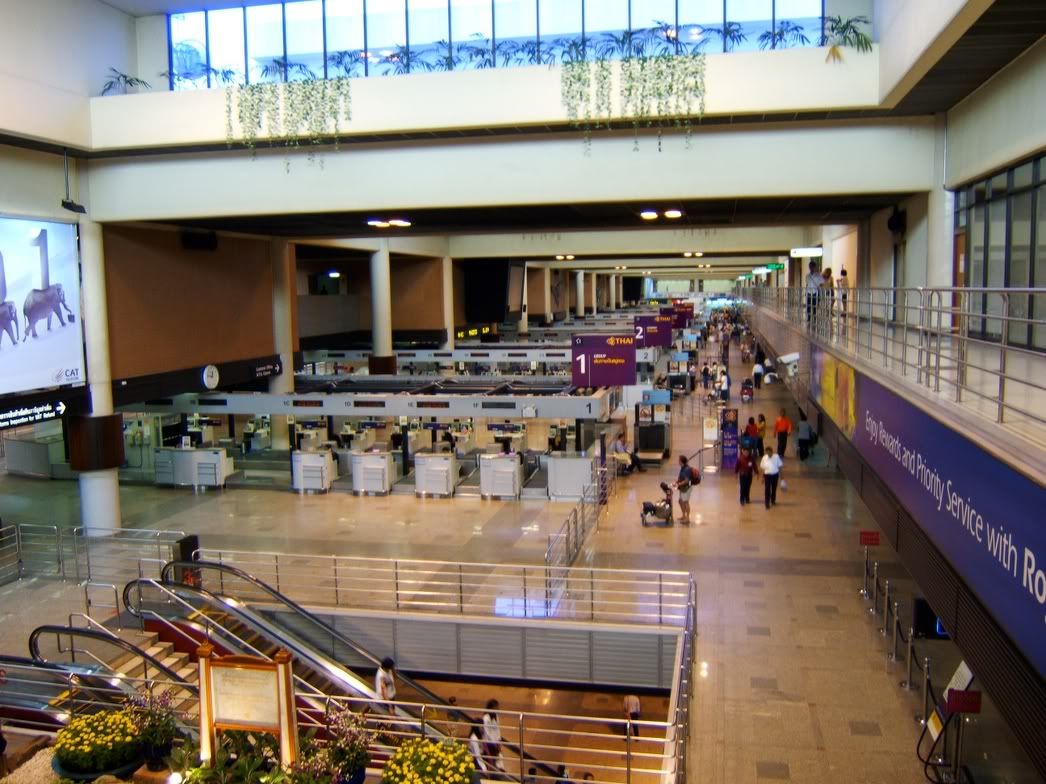 The dingy seating areas were filled with locals, waiting for friends and family members to arrive. There were airport workers taking naps across the hard plastic chairs and small children running in circles on the dated and divot-marked linoleum floor. Perhaps the nicest thing about these areas is that they are air-conditioned.
The observation deck
The view from the observation deck, with zoom. HS-TAE, an Airbus A300-B4 in the new color scheme, sits behind a Boeing B747-400, HS-TGK.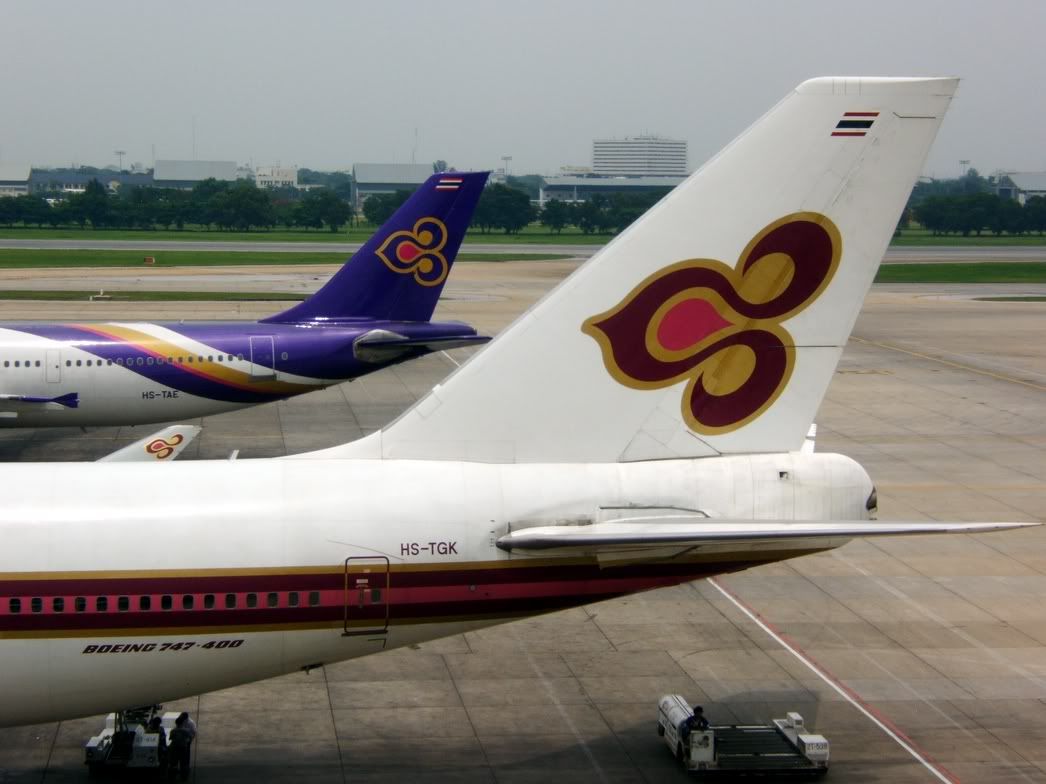 Having completed the upstairs circuit, I went to row 2 of the THAI Airways International check-in counters, glad to be departing in the middle of the afternoon when traffic is at a lull between the early morning and late night banks of flights that pack Don Muang's terminals with heat-weary and soon to be jetlagged travelers.
The check-in area was deserted: not a single customer even though at least a dozen desks had clerks behind them, most of whom were talking on the phone. The two guards at the x-ray machine, used to pre-screen checked baggage, didn't stop me so I took that as an invitation to bring my trolley bag aboard as a carry-on.
Star Alliance Gold Check In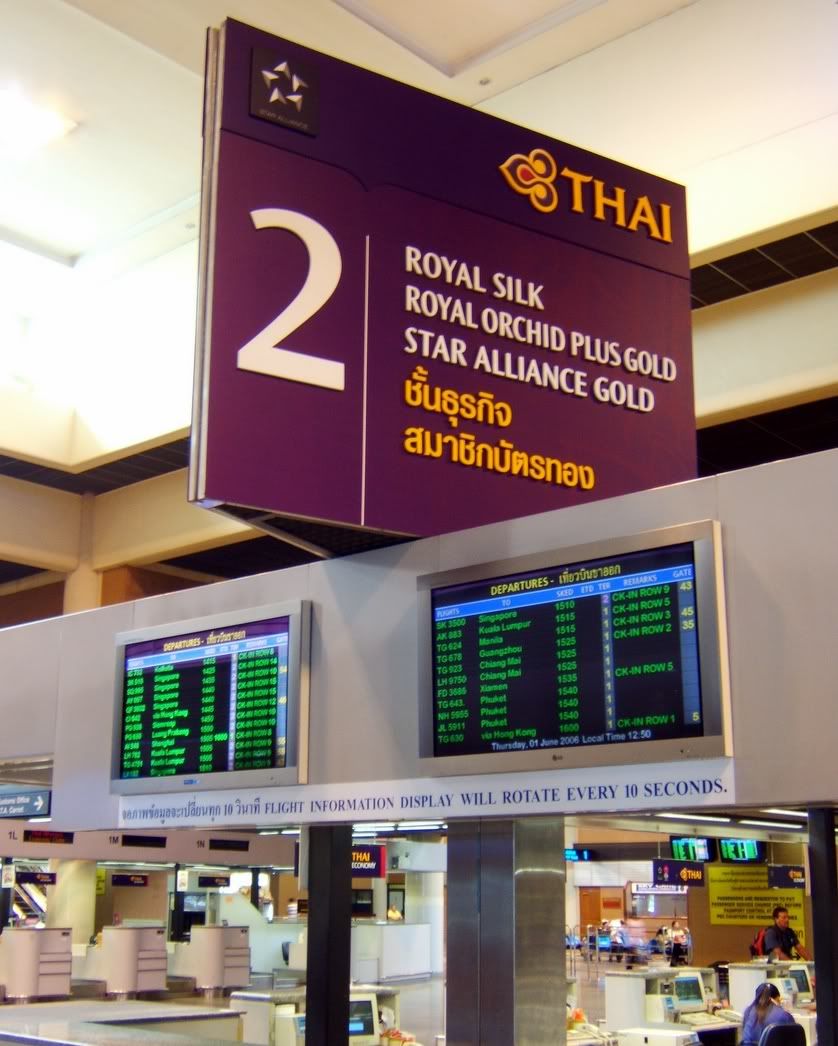 Walking up to the first agent who made eye contact with me, I was greeted by a pleasant young woman with the polite
"Sawasdee kha"
Thai greeting. As she proceeded to check me in, I inquired about taking an earlier flight to Hong Kong. She said the one earlier flight was delayed and wouldn't leave until the same time as my currently scheduled flight. She asked about my seating preference, so I requested a window seat closer to the back of the plane, the better with which to include the wing in photos.
Within two minutes, I had my boarding pass and an invitation to the Royal Orchid Lounge. Still three hours to go before my flight, I didn't want to head through immigration yet, so went walking over to Terminal Two. The two terminals are connected by a central corridor that has shops and offices. In fact, you could pass from one terminal to the other and never really realize that you were doing so.
In this connecting corridor I came across a modest display for the new airport: a scale model of the airport along with a few dozen photographs. It all looks very nice. Maybe it will open some day. Most recently, the government is saying September 28, 2006 but we've heard one date after another in this ever-slipping opening. Still, once it does open it will be a magnificent airport, I'm sure.
Quoting from an outside billboard as you approach the terminal: "Suvarnabhumi Airport – the Pride of Thailand."
The model of the new airport, on display in the old one.
Upstairs in the food court area, I weighed my options: food, foot massage, enough time for one or both? Literally standing there, looking at my mobile phone and glancing around considering what to do, an airport information officer perceived distress and came up, asking if I was okay. Assuring him that I was fine and just deciding if I had time before my flight for a foot massage, he smiled and continued on.
One of the benefits of living in Thailand are the inexpensive foot massages, in fact the inexpensive massages in general. And I'm talking legitimate massages, by the way. Compared with the neighborhood massage parlor the next
soi
over from mine, the airport massages are quite expensive: something like 400 baht for 50 minutes, or 470 for a full hour. But it is still quite reasonable, so I settled in for an hour-long massage, the better to start my trip in a totally relaxed and stress-free manner.
The masseuse was quite good, strong for being such a small lady. We chatted a bit, giving me an opportunity to practice my Thai. Which, as with the taxi driver, illustrated a definite need for further study.
Also not contributing to my relaxation was the Japanese man and his teenage son who came in for a message. Rather, the man had a massage and talked on his mobile phone the whole time while his son occupied a neighboring massage chair and focused on his PlayStation. Perhaps misinterpreting the dimly lit, relaxing environment as a place that needed some disruptive noise, he contributed some for our enjoyment.
After the otherwise relaxing massage, I decided to skip on the food and headed downstairs to pay my 500 baht departure tax and proceed through immigration. This process was smooth, with no lines at immigration. Again, the benefit of a mid-afternoon departure because earlier and later in the day these lines can be painfully long and tediously slow. The immigration officers were relaxed and friendly and sent me on a way with a smile.
An "Amazing Thailand" display in the departure hall from the Tourism Authority. Shouldn't this be in the arrivals hall instead?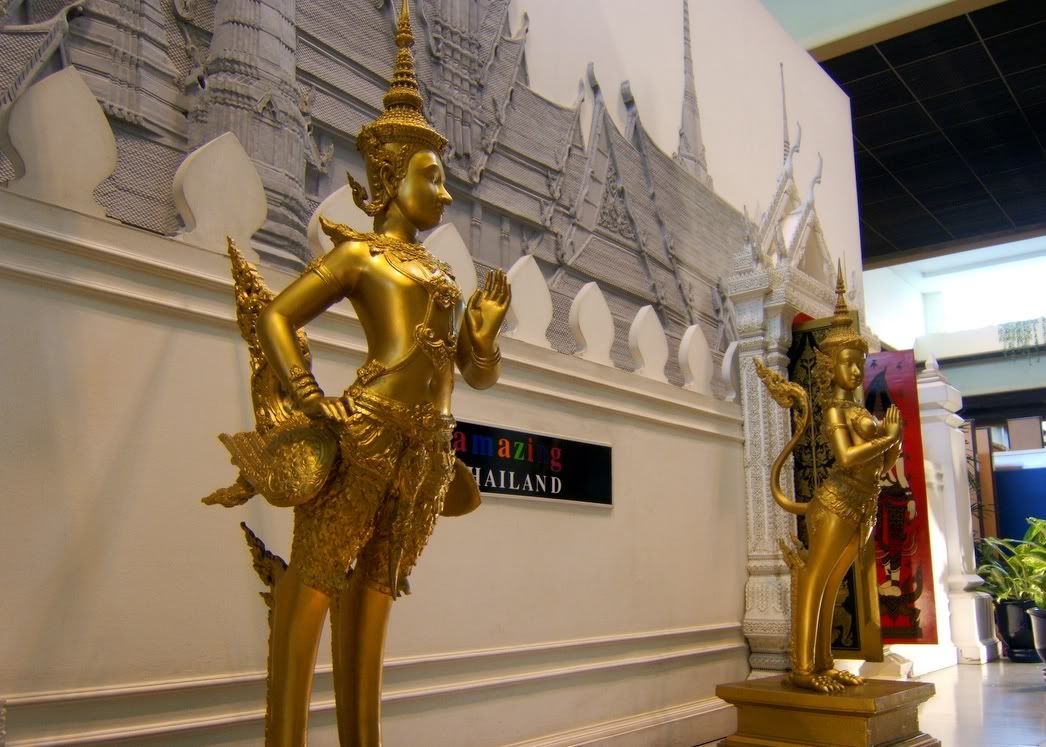 Once inside the departure hall, there was a cornucopia of shopping options available to me. Having some time to spend helps me better appreciate the airport; there actually is a whole lot to do. Of course, I'm not a shopper so after snapping a few pictures I started walking to the Royal Orchid Lounge located down near pier 5. Along the way, I had to laugh at the sign advertising "Oxygen and Massage Therapy" – strategically placed just outside the smoking room! Sure enough, down the hall there is an oxygen bar where you can pay money to lay in a relaxing atmosphere with a mask on, inhaling aromatherapy-infused oxygen.
Oxygen therapy or carbon monoxide therapy before the flight: your choice.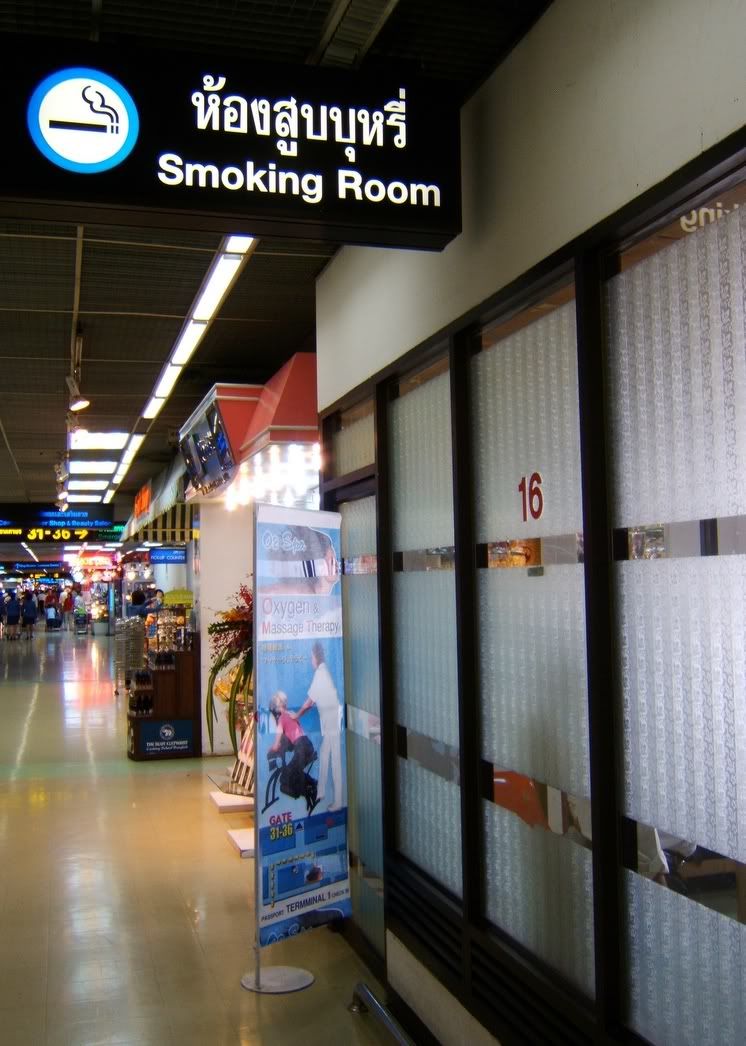 While there weren't a lot of airplanes sitting around, there was some good spotting nonetheless: Indian Airlines, Swiss, Aeroflot, Jetstar Asia, Finnair, SAS, Lufthansa, China Airlines, Singapore, and of course THAI all had planes on the ground. Plus there was plenty of domestic traffic: Nok, Bangkok Air, Siam Reap Air and On-Two-Go from OrientThai.
Jetstar Asia A320 (9V-JSB) with a Swiss A340-313 (HB-JMB) behind it.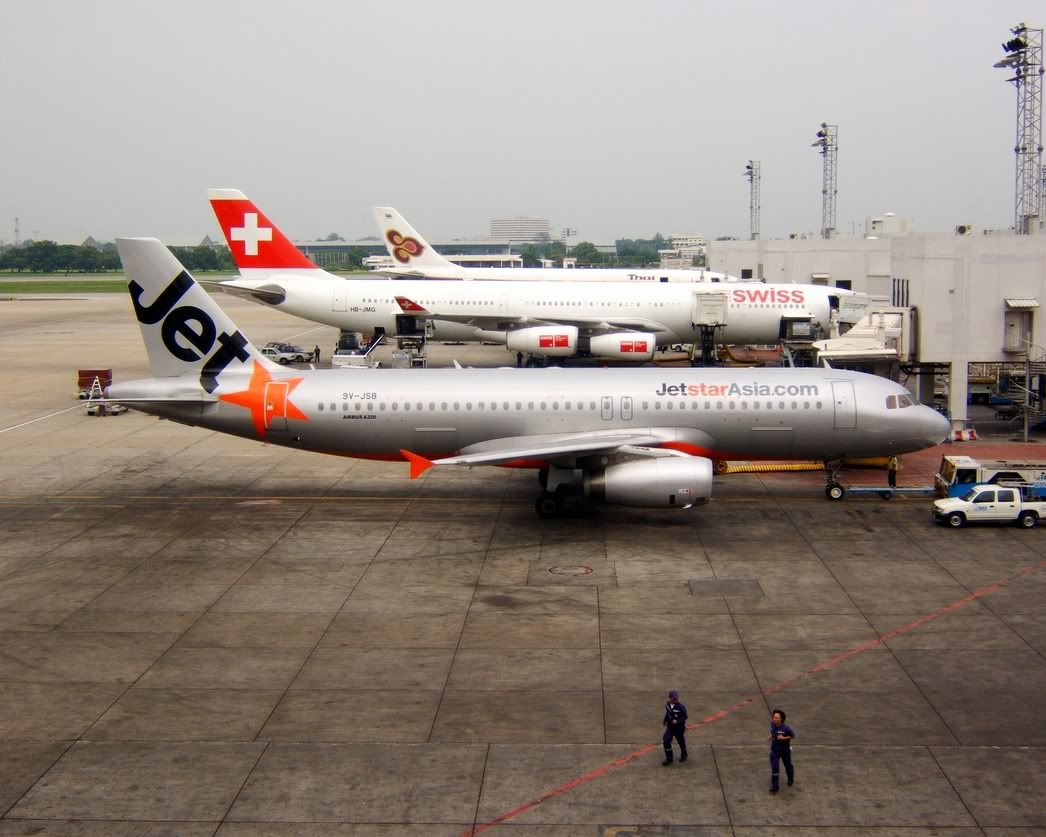 Star Alliance party at Don Muang! SAS A340-313 (LN-RN?) and Lufthansa B747-400 (D-ABVT) as a THAI B747 taxis past.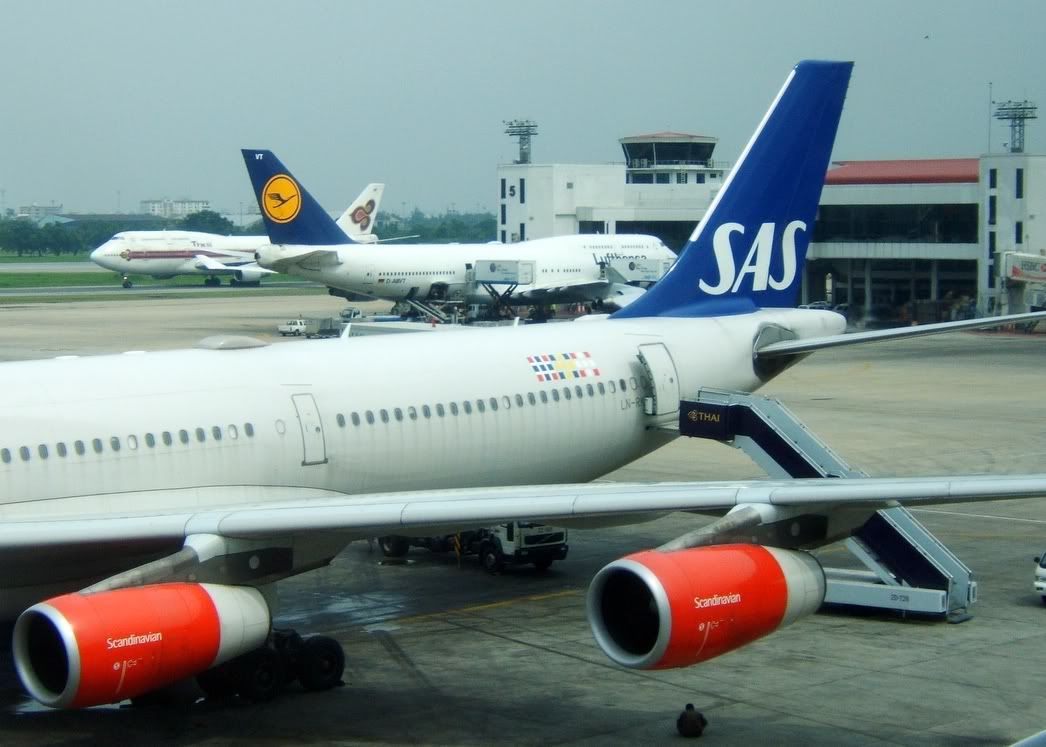 Singapore Airlines B747-400 (9V-SMR) pulls into gate 51.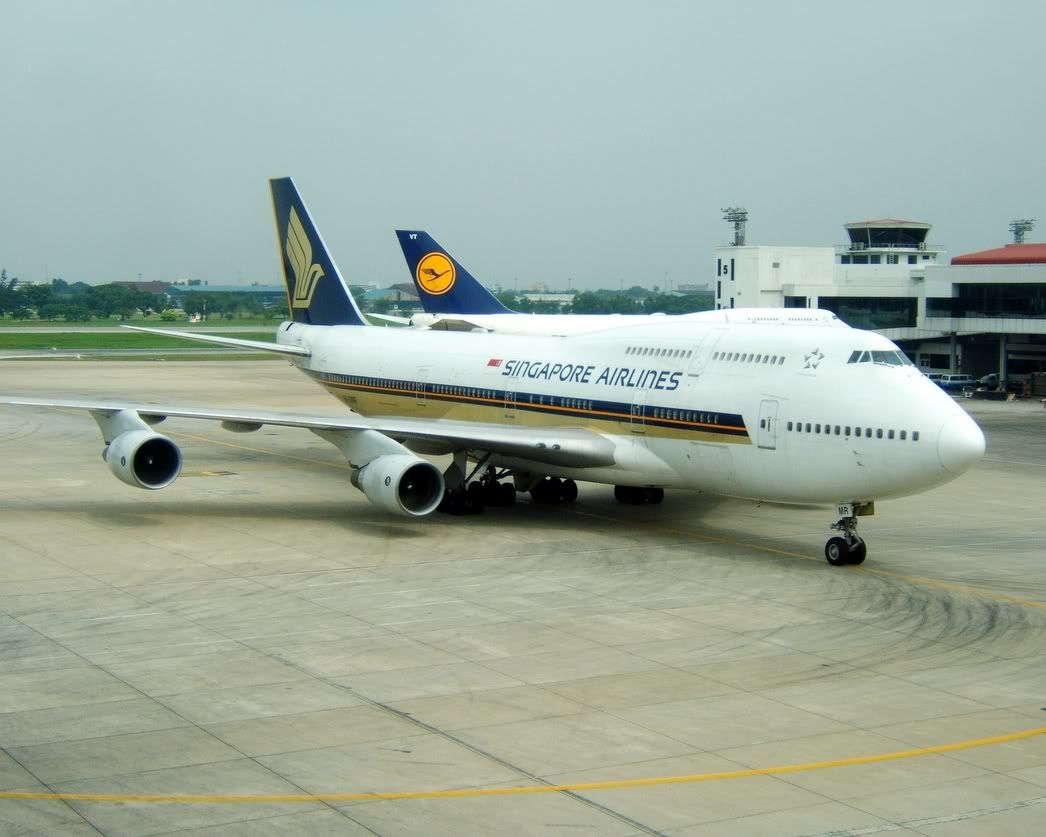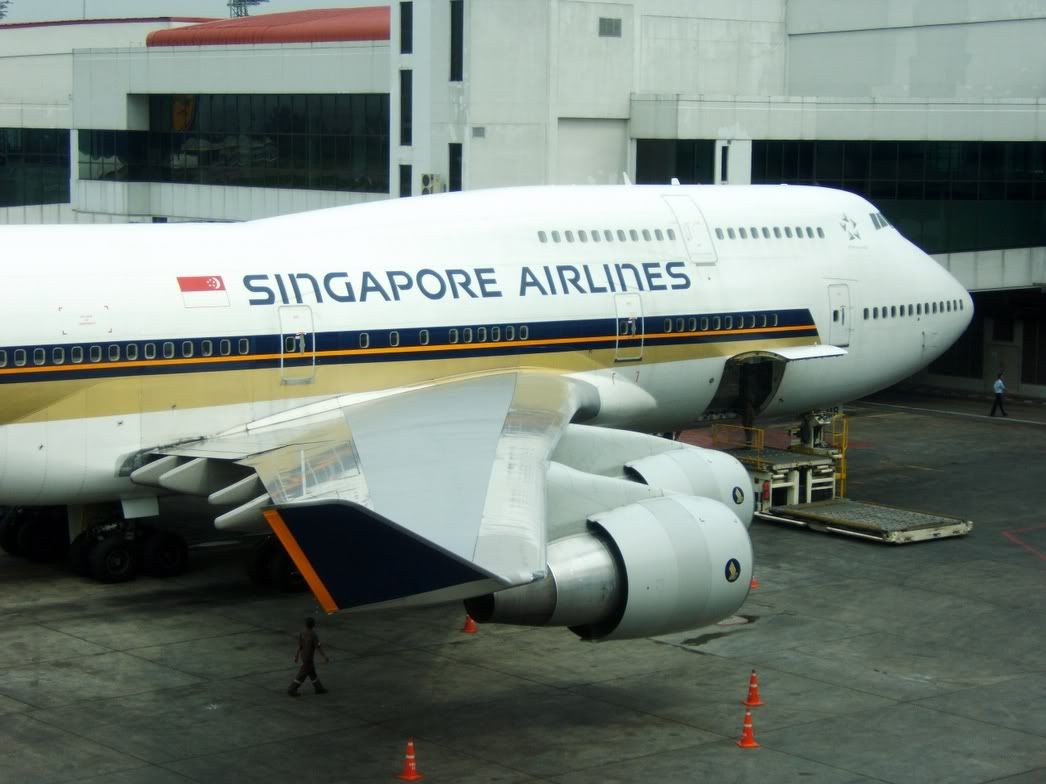 A new China Airlines B747-400 (B-18210) in the hybrid Boeing/China Airlines color scheme.
There's a newer stretch of the terminal between piers 4 and 5 that has moving sidewalks and plenty of space next to the windows to walk. There are pretty orchids every few meters and I spent a bit of time trying to incorporate the orchids into a nicely composed photo, an experiment that never quite worked out because of the limited exposure control of my digital camera.
Artistic attempts at aviation photography gone awry!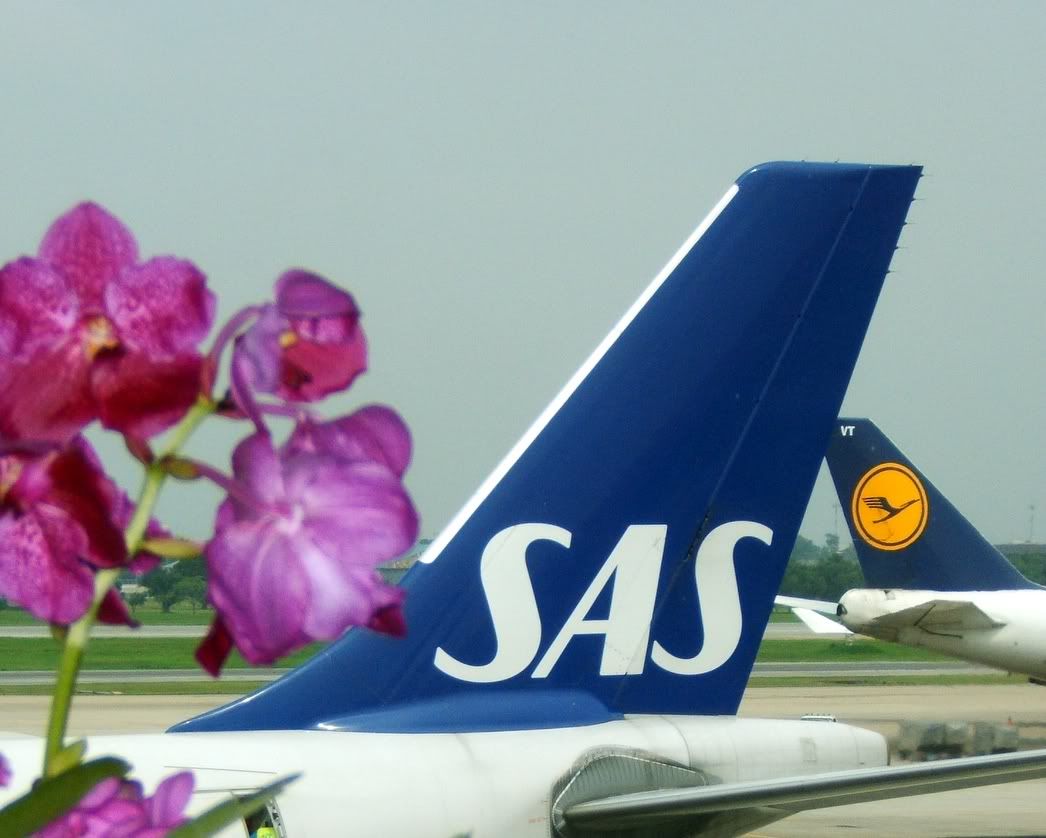 By this point, I was getting pretty hungry, not having eaten anything since an early breakfast. So I went to the lounge. All of the Royal Orchid Lounges have been renovated in the past two years and I had never had the opportunity to visit this one.
The lounge was super-empty with only one other passenger in it. The lady at the front desk seemed a little confused about why of the three Royal Orchid Lounges I was at the one furthest away from my departure gate but invited me to enjoy the lounge nonetheless.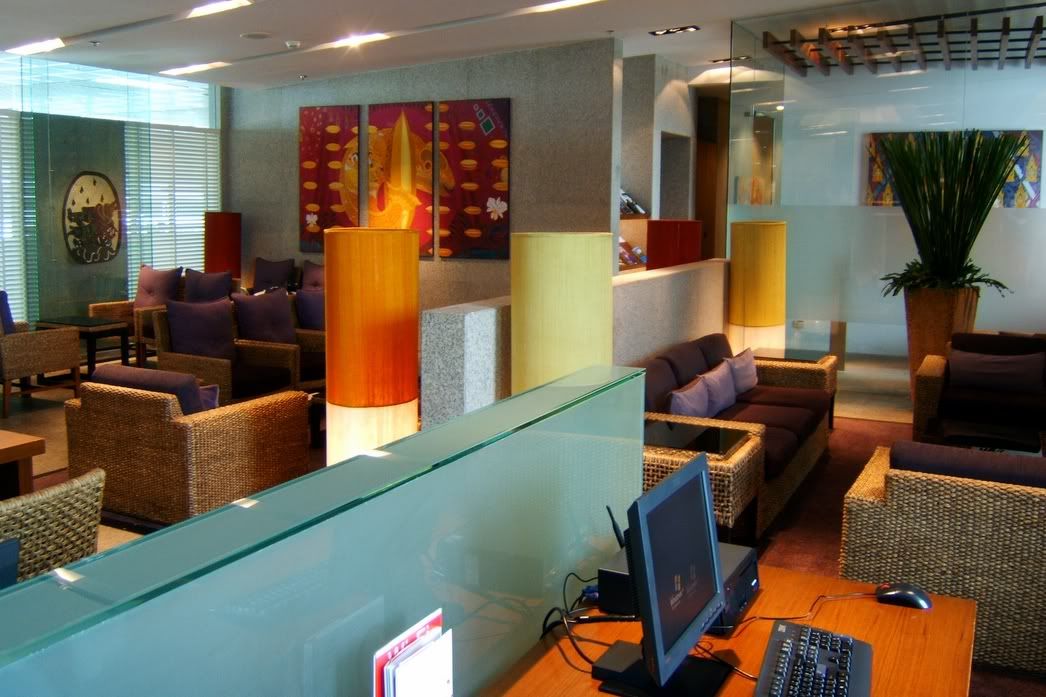 The lounge seats about 100 in its main seating area and is nicely decorated with Thai silk, artwork, and antiques. The food selection was nice although not huge: about eight different types of puff pastry, mostly savory; sandwiches; fruits; salad and veggies; ice cream and other desserts. There was a good selection of drinks, too, although I settled just for ice water.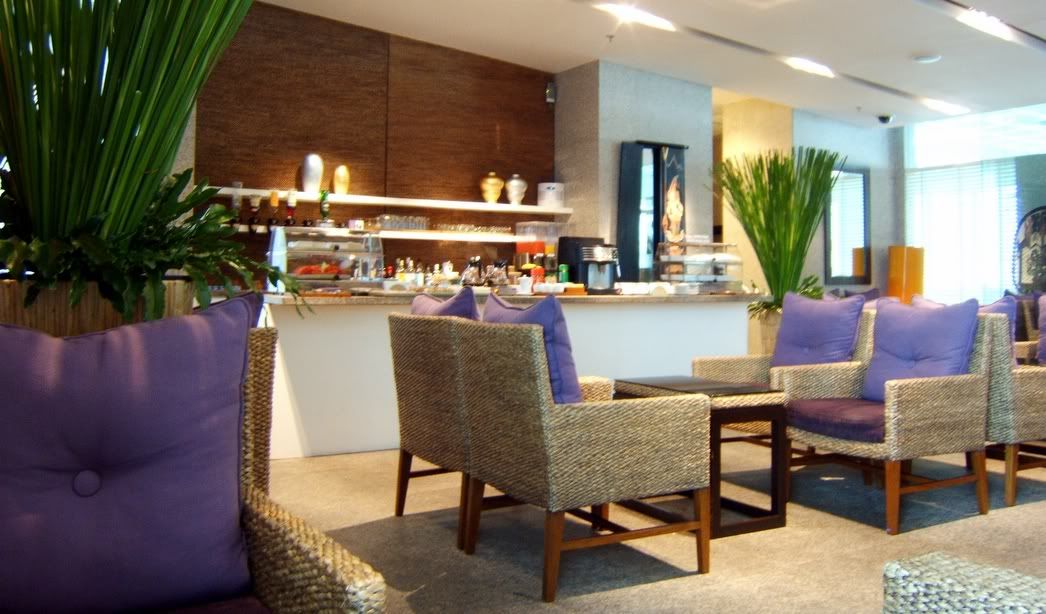 While reading the Bangkok Post, I enjoyed two servings of very ripe papaya along with some of the puff pastries: the ratatouille was the best, filled with a spicy tomato sauce and zucchini and onions.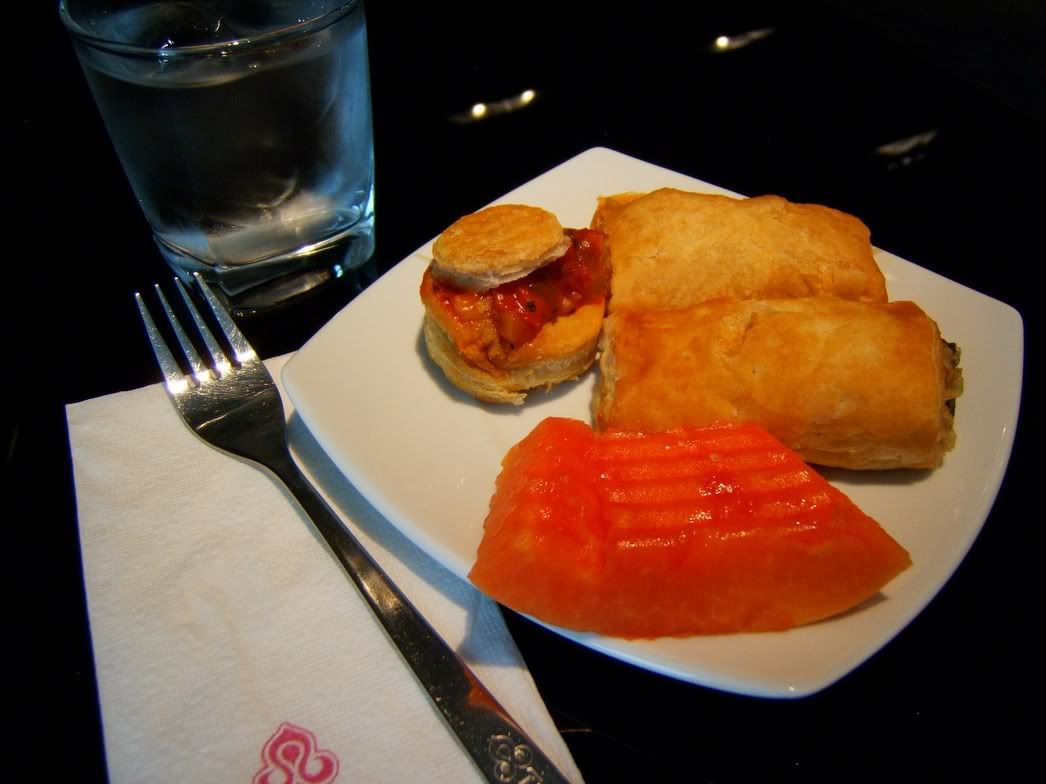 Looking at the time, I decided that I should begin my one-kilometer trek back the length of the two terminals so that I would have time to visit one more lounge before boarding. Returning my newspaper to the rack so the
meekhrua
wouldn't have to, I thanked the lady at the front desk and started down the main terminal corridor. The China Airlines B747 was pushing back so I stopped to take pictures of that.
Duty free shopping at Don Muang, Thai-style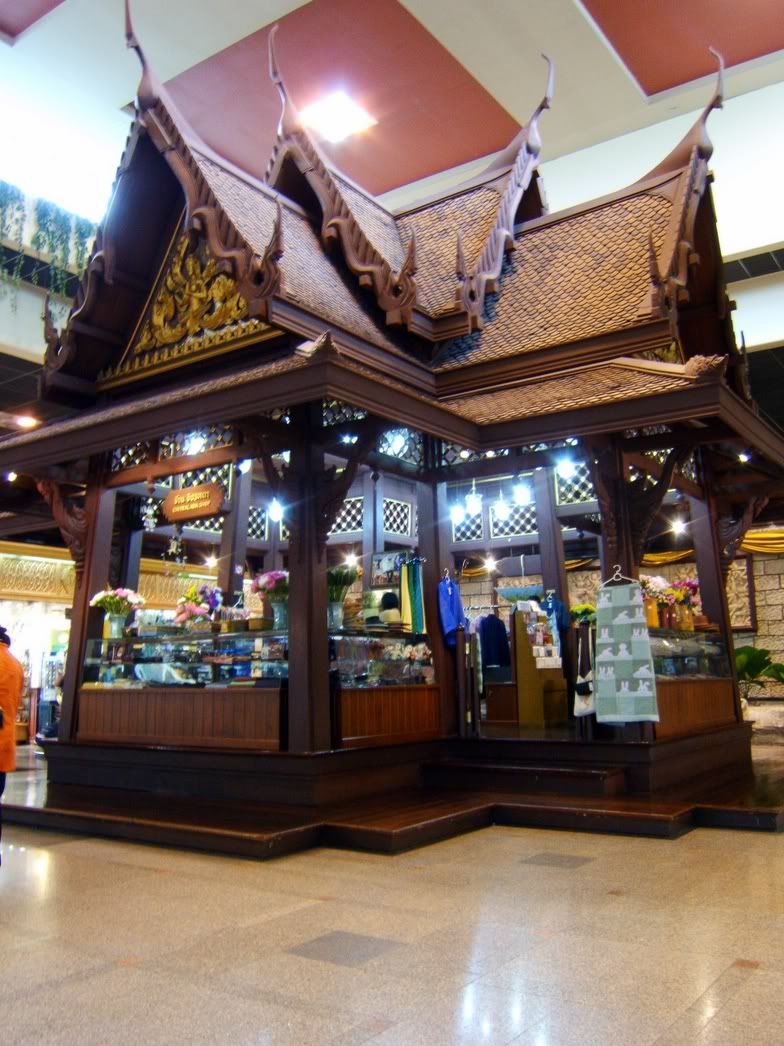 THAI B777-200 (HS-TJF) at gate 23 with an Air Asia B737-300 hiding behind it.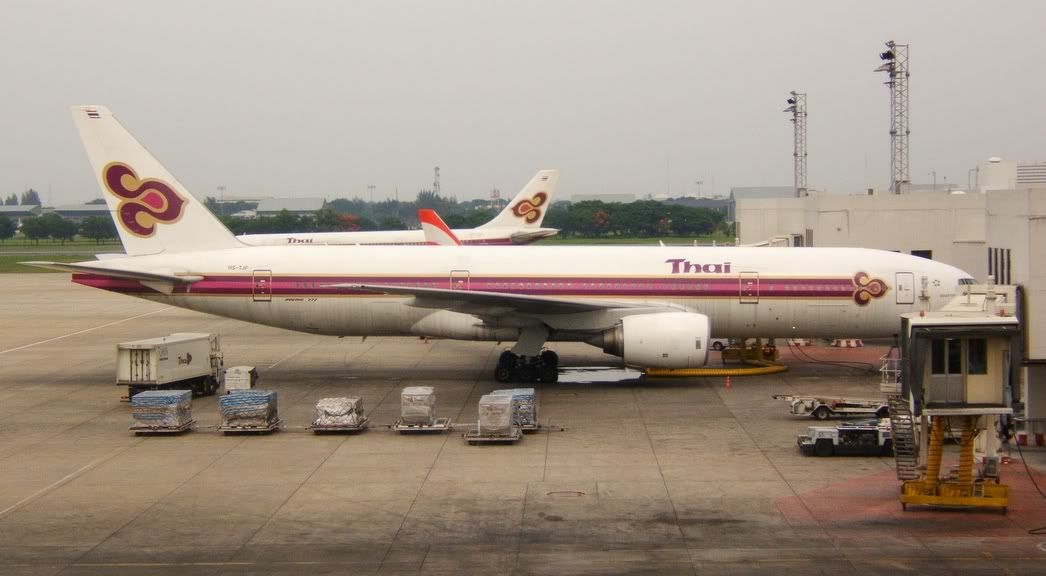 Between piers one and two there is another Royal Orchid Lounge, this one larger than the one I had just visited. Having been here before earlier in the year, I popped in for another visit. It has been remodeled, too, but seems shabbier. Slip covers used to remodel the furniture rather than reupholstering or replacement. The food selection was slightly larger and having burned off the calories on the long walk across Don Muang, I sampled a few more items.
If I'm not mistaken there is also a third lounge somewhere in the middle of the terminal, a two-story lounge? Does anyone know about this one?
Having exhausted three hours at the airport, I left the lounge, went through the typically laid-back security screening and arrived at gate 15. The gates on this pier have individual holding rooms and your boarding pass is torn upon entering the room instead of upon boarding the aircraft. Since this limits my mobility, I try to not arrive at these gates any earlier than necessary.
Our plane for the flight, a B747-300 (HS-TGE) named Chutamat.
The queue to enter gate 15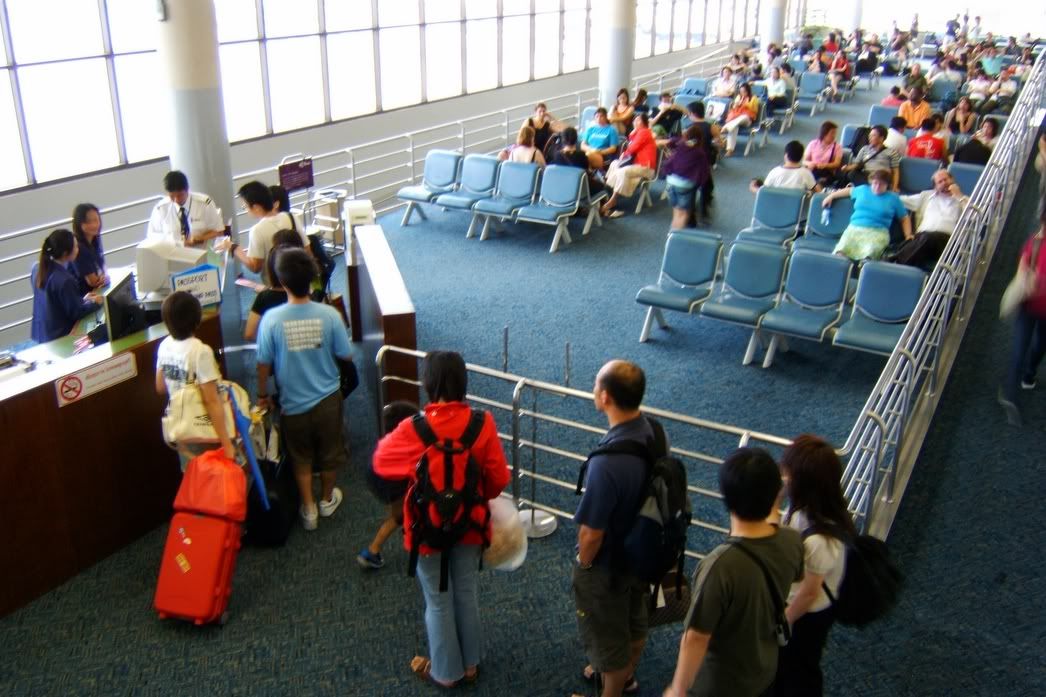 Even though it was thirty minutes to departure, boarding had not started. I shot some pictures through the groups of returning Chinese tourists but the heavily glazed windows were not kind. There was an interesting reflection of a neighboring THAI Airbus off the terminal's mirrored windows, though, so I played around with that for a few minutes, trying to find a favorable composition. The woman in an Elmo t-shirt added an interesting element, but it never quite came together.
THAI A300-B4 (HS-TAR) at gate 21 and, below that, in mirror image.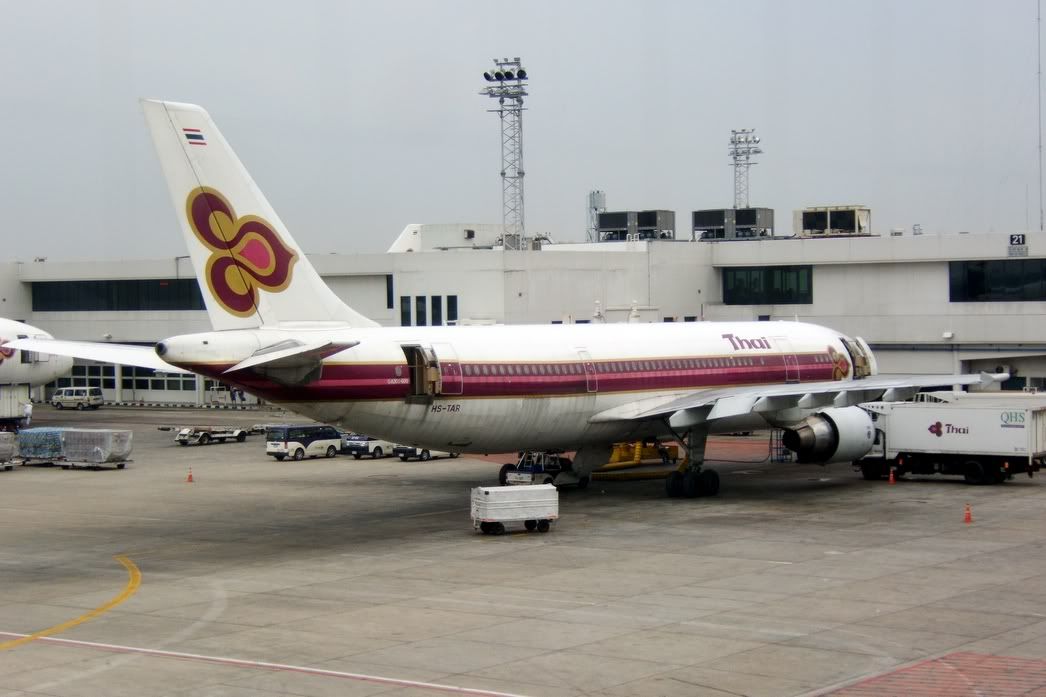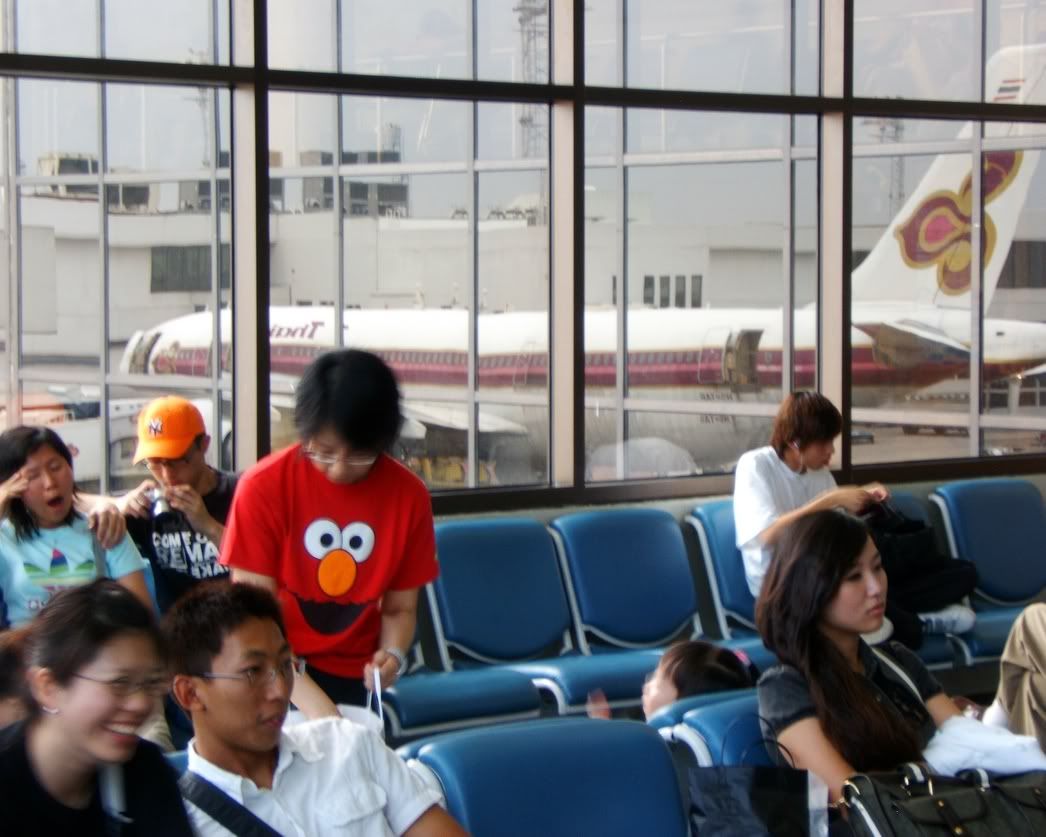 Boarding started with Royal First Class and Royal Executive Class. No announcement was made yet for Star Gold, but seeing as how only three people in the boarding area had responded to the first announcement, I proceeded up and showed my boarding pass stub. Not a problem and the agent invited me to board.
Arriving at door 2L of the plane there was nobody waiting there to greet me and there was a strong cross-breeze as door 2R was wide open, the catering crew still loading meal carts. As soon as I stepped inside the plane, a flight attendant rushed over to
wai
and greet me in typically friendly Thai fashion.
Whatever you do, don't walk in one door and out the other!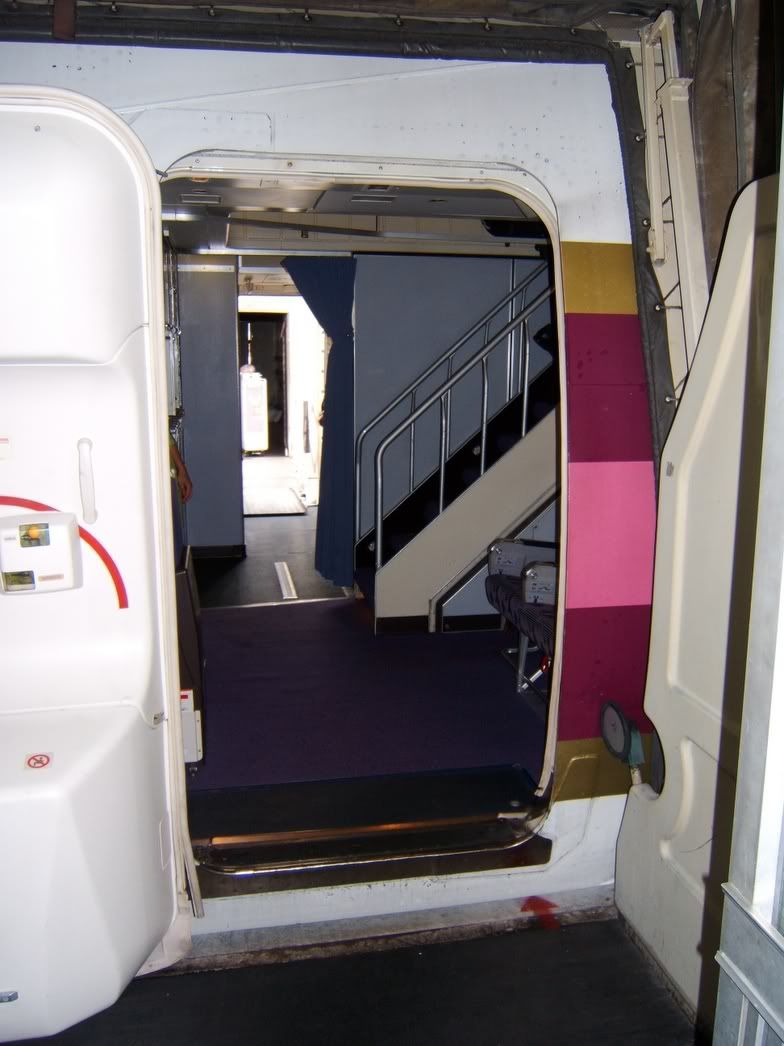 Heading back to my seat – 62K – I was shocked with the size of the overhead bins: barely large enough for a lady to store her best Sunday hat! Had I known I would be aboard a 300, I would have checked my bag instead of rolling it aboard. Thankfully, it did fit overhead but it was a tight fit and afterwards, there was no more room in that bin.
One of the first aboard – note the overhead bins!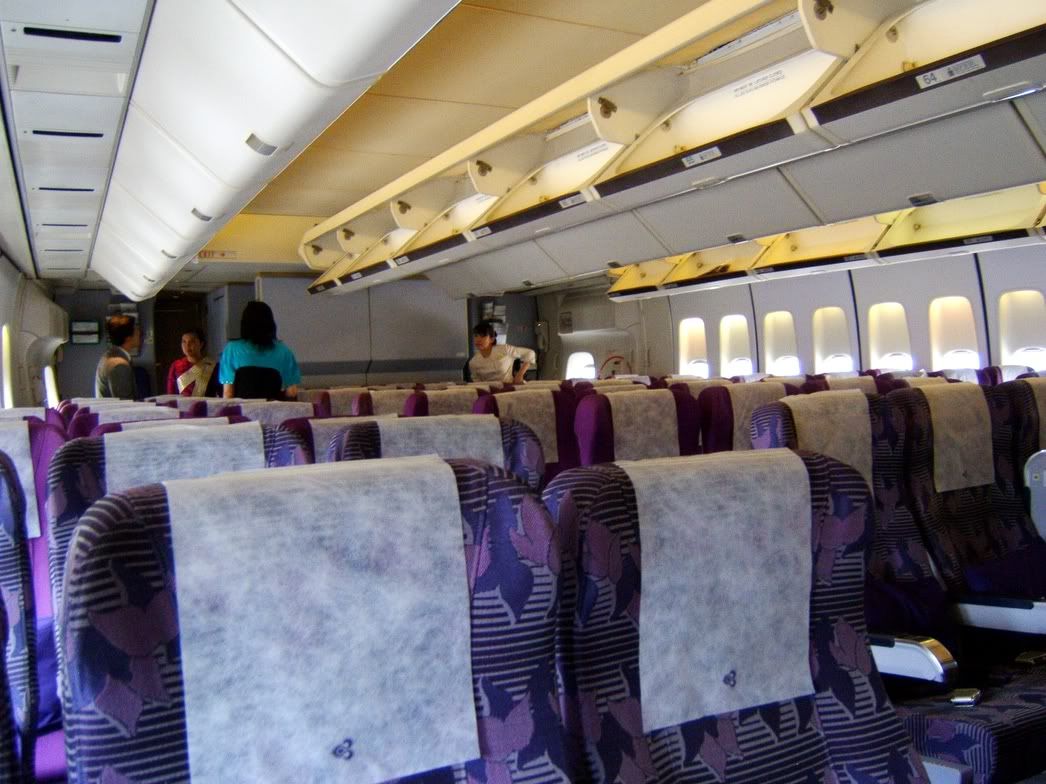 Loading bulk cargo
The cabin of the aircraft was clean and in good shape, with the seat pitch of 34" very comfortable. I ended up having the entire row of three seats to myself, supporting a theory I've heard that THAI tries to sit
farang
with a little more room to themselves. Don't know that I buy this theory, but that's what I've been told.
Boarding was quick and surprisingly orderly, given the number of tour groups. There was one group of about twenty people who had some problems organizing themselves, but their tour guide arranged everyone into the correct seats and then, afterwards, they reshuffled themselves to sit next to the seatmates they desired for the next two hours.
In the row ahead of me, an American grandmother, her southern drawl a sure-fire giveaway, introduced herself to her seatmates, a Thai couple of about the same age. The two ladies became fast friends, talking almost non-stop for the entire flight. It is always interesting how people can just open up to complete strangers on flights, maybe because they don't expect to ever see those people again. In the video further down in the post, you can hear her voice over the engines in the take-off sequence!
Flight attendants passed through the cabin, handing out headsets, newspapers, and extra blankets, as I thumbed through a special issue of
Sawasdee
(the inflight) magazine, about the new, soon-to-open Suvarnabhumi airport. "Hopefully," I thought to myself, appreciating the eternal optimism that is so characteristically Thai.
The purser called for doors to be secured at four minutes before departure time and we pushed back at 16:00 on the dot. While the safety demo played, I watched airplanes. An Aeroflot Il-96 took off, my first time seeing one of these, and there were plenty of Thai Sky L1011s lined up in the maintenance area, the same place I always see Thai Sky's airplanes: do they ever fly?
It was a cloudy, overcast day like so many others in the Big Mango. Heavy rains last night had cleared the sky, but the unrelenting heat and humidity had clouded it back up again. We taxied to runway 21R and as there was no traffic when we reached the end, were cleared for immediate departure.
Take off was smooth and we climbed into the haze, banking to the left before I could get a good view of the downtown area of the city. We headed to the east and as soon as the seatbelt sign was switched off, the beverage carts were loaded up and sent out.
TG uses smaller, one-person carts. Even for this relatively short flight, whiskey, wines, vodka, gin, and other hard beverages were arranged on the top of the cart, full-size bottles instead of the miniatures. Another flight attendant passed through with a basket full of "Sun Snacks" – the "original Thai style roasted sunflower kernel cereal coated with anchovy and spice" – according to the packaging. They were actually fantastically tasty: aromatic, crispy, probably laced with untold amounts of MSG, and delicious.
Snacks and light turbulence
Speaking of aromatic, someone somewhere in the cabin had carried durian aboard. Throughout the flight, the distinctive smell of this fruit was waft about the cabin. "Ladies and gentlemen, this is your purser. We remind you that no durian eating is allowed aboard any flight operated by THAI Airways."
Well, that announcement didn't happen but how I wish it would! After all, the THAI safety video does include the admonition not to lay or sleep in aisles or by doorways.
We settled into our cruising altitude and various short subjects were being played on the main screen. The flight attendants collected glasses and handed out warm towels. Dinner service started about forty minutes after takeoff. Our menu for the evening:
Appetizer of shrimp salad
Choice of:
Stir friend duck with peppers over rice
or
roasted salmon with Thai-style vegetables
Dessert of banana cake
Opting for the duck, it was tasty although the rice was a bit dry. When I mixed the duck and peppers together with the rice, it was more palatable although had lost the aesthetic value that the inspired cooks in the flight kitchen had originally imbued it with. One thing I enjoy about THAI is that their economy class entrées are usually a little more interesting than on other airlines I've flown. But watch out for the chili peppers. Thankfully, the large slices I found in my dish provided more visual appeal than actual spiciness.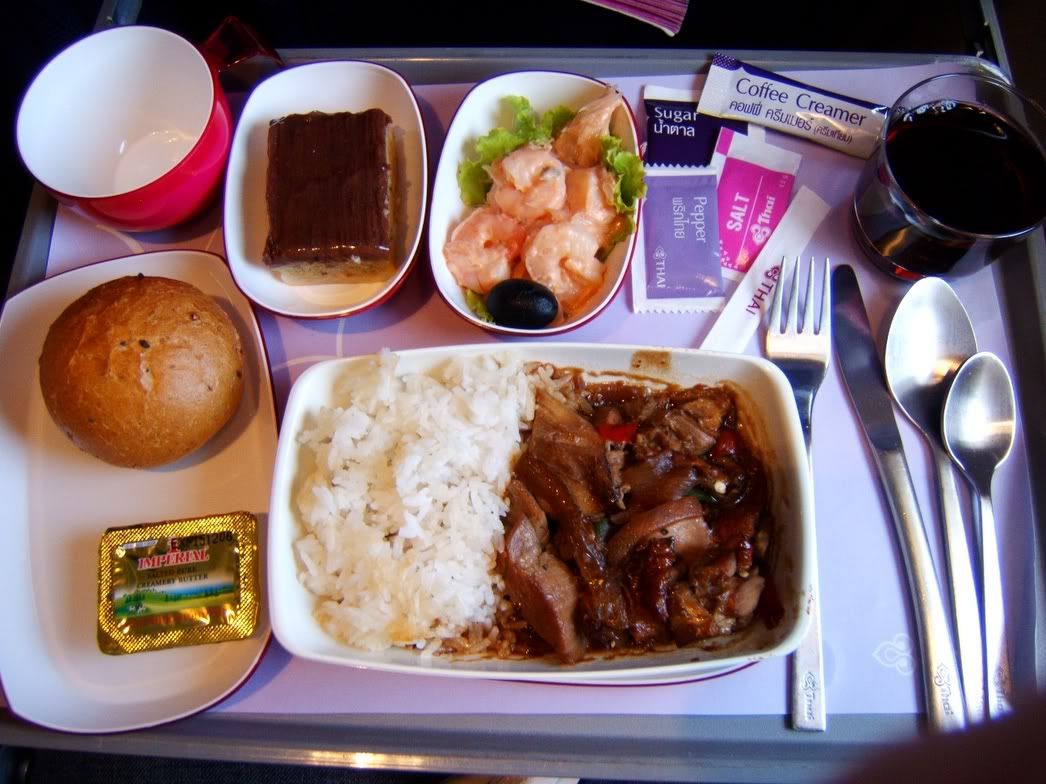 The banana cake didn't work for me. Full disclosure: I don't care much for bananas in the first place. But this was less a cake than a layer of pastry with lengthwise halves of bananas baked on top with a chocolate crumb over that. A single bite was sufficient to appease my parents' insistence that I try at least a bite of everything on my plate.
Khun aw wine daeng iik, kha? More read wine, sir?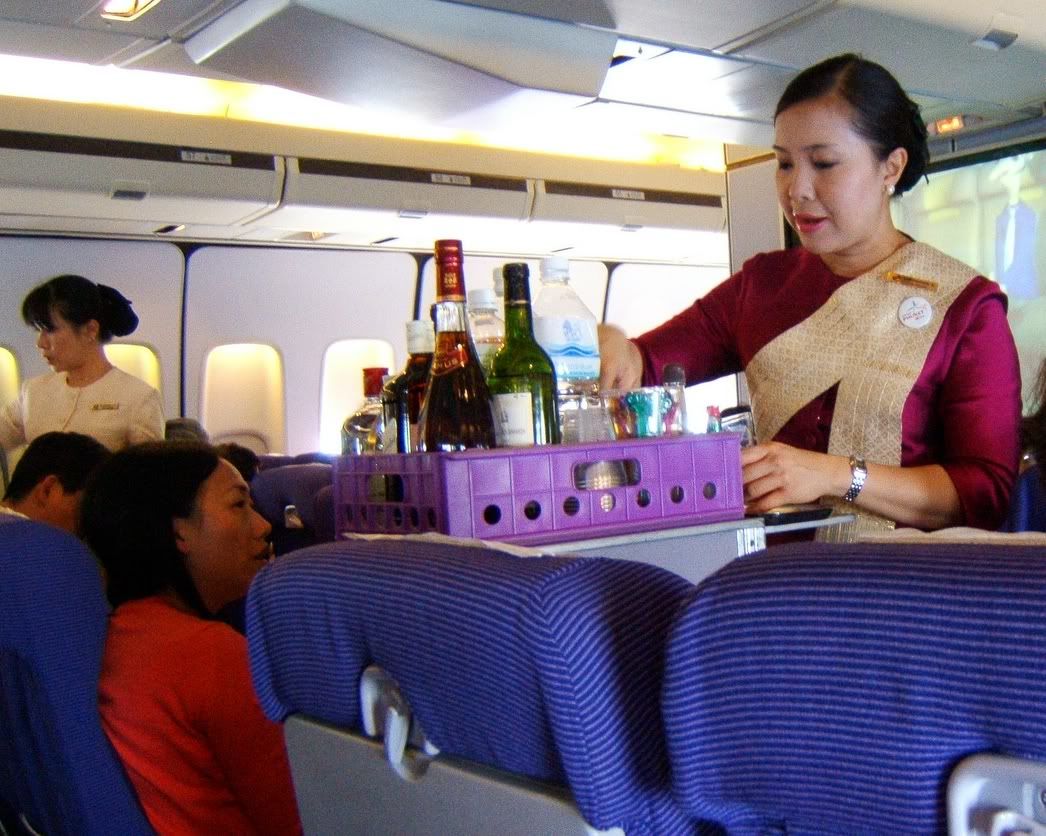 After dinner, the overcast skies became heavier as we crossed off the coast of Vietnam and headed out over the Gulf of Tonkin. The sun was beginning to lower in the west and it became harder to get decent quality pictures.
At cruising altitude off the coast of Vietnam.
In the cabin, many people took naps while others entertained themselves with a short subject about the 60th anniversary of His Majesty the King of Thailand's accession to the throne, which we celebrated on June 9th. I chatted for a while with a Qantas reserve flight attendant who was dead-heading to Hong Kong to work the next day's flight to Sydney.
View from the rear of the cabin.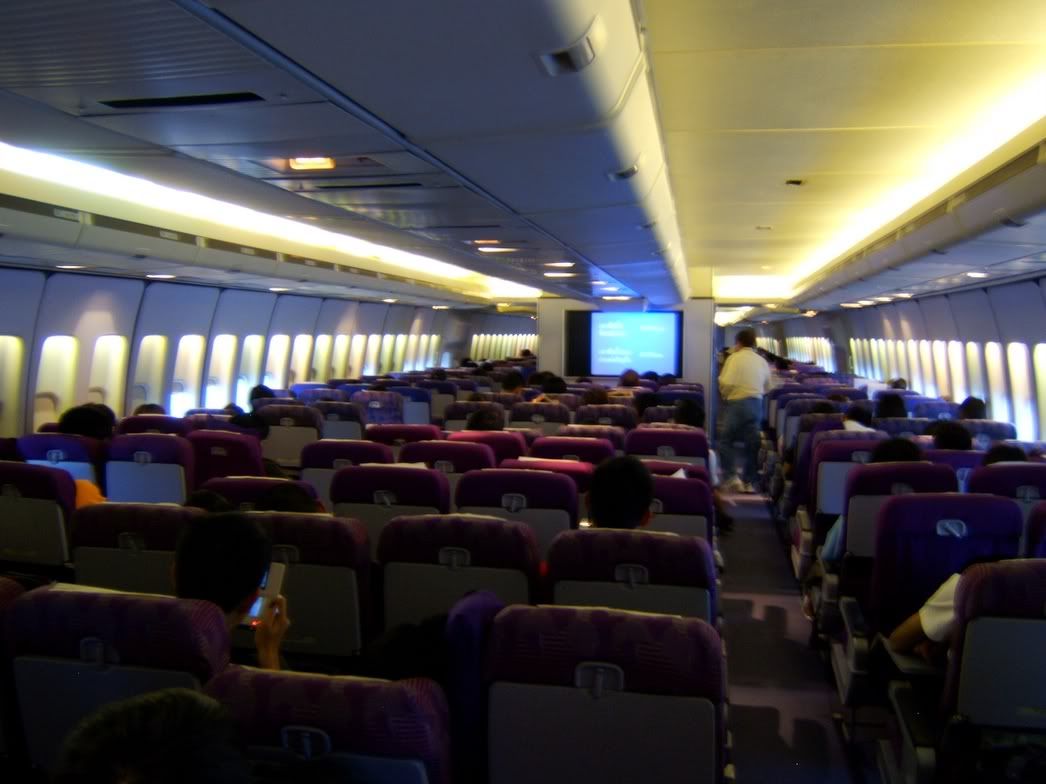 Our flight was smooth we began our descent, flying east past Hong Kong and then making a wide turn to the left. Taking my seat, I peered outside for any recognizable landmarks. Through the breaks in the now-thick clouds, I caught glimpses of condo complexes, which are not unique to any one part of the Special Administrative Region.
The bridges linking Kowloon with Lantau Island came into view and we finally broke through the clouds just a few thousand feet above the water, coming in for a smooth landing on 25R.
It took about ten minutes to taxi to gate 42, where we pulled in on time, after a safe relaxing flight. The lines at immigration were long but moved quickly and I was through them in about fifteen minutes. A quick stop at a 7-11 store in the arrivals lobby to buy a prepaid SIM card for my phone and another stop at the MTR desk to buy a stored-value Octopus card, and I was on my way to the Airport Express station for my thirty-minute ride into town.
For your viewing pleasure, if you choose to do so, here's a 3-minute video that weaves together bits of my pre-flight airplane watching, the take-off of the flight, and a few other in-flight segments. Resolution is quite low as my camera's video function is limited.
More than a decade flying in and around Asia...
Posts: 911
Joined:
Welcome to the trip home – I'm going to spend just a few paragraphs talking about my time in Hong Kong. If you'd rather get back to the aviation portion of the trip report, just scroll down past the picture of the dessert platter.
Segment 2: HKG-BKK
Date:
6 June 2006
Airline/Flight:
TG607
Departure Time:
20:45
Arrival Time:
22:25
Aircraft:
B747-400
Class/Seat:
Economy – 50C
Hong Kong was wonderful, five days of visiting friends, eating my fill of good Chinese food, and meeting some new friends. One highlight was a late night dinner with a doctor friend and his partner at Aqua, a fancy Italian-Japanese fusion restaurant on the top floor of the One Peking Building in Kowloon. The view of the skyline of Hong Kong Island was astounding and, it turned out, the restaurant is owned by this doctor friend's brother.
The chef worked off the menu and created four exquisite courses for us followed by dessert. With each course, he appeared alongside the waiters who delivered the food, explaining what we were about to enjoy and gauging what we would enjoy next. The courses were:


Salad of tomato, mozzarella cheese and balsamic jelly served alongside a seared rosemary scallop. The salad was an artful reinterpretation of the classic Italian caprese, with the ingredients diced in small cubes and instead of being dressed with the usual balsamic vinaigrette the chef had made balsamic jelly. So as you ate it, there were little explosions of the sweet balsamic richness each time you encountered one of the jelly cubes.

A dish of six raw tuna slices, lightly seared, in yuzu (a Japanese citrus fruit) mayonnaise with rocket and herbed oil. This fatty richness of the seared tuna was countered by the tartness of the mayonnaise sauce.

A medallion of poached spiny lobster tail, wrapped in spinach leaf and served in a French sarda (type of cous cous-like pasta), lobster and moscato emulsion. It had the sweet richness of a light curry sauce and complemented the fresh, clean flavor of the lobster.

Getting full as it was late (and through an odd circumstance this was my second dinner of the night) our tasting menu thankfully concluded with a single Parmesan crumbed lamb rib chop with a compote of Sicilian laponata (type of eggplant), pine nuts and raisins, served with a Alacia lemon honey glaze.

For dessert, a large platter arrived containing an assortment of all the treats offered by the restaurant. This one was so spectacular, with the arrangement of roses with a tea candle in the center that I had to be dé classé and break out the camera. Unfortunately, I was unable to do justice to the amazing flavors that were on the tray. These included fried mango spring rolls, chocolate crème brulée with green tea ice cream, tiramisu, mandarin orange panna cotta, a molten chocolate cake, and the piece de resistance served in the martini glass: diced hearts of palm in a Japanese plum gelatin topped with gold leaf.
The dessert platter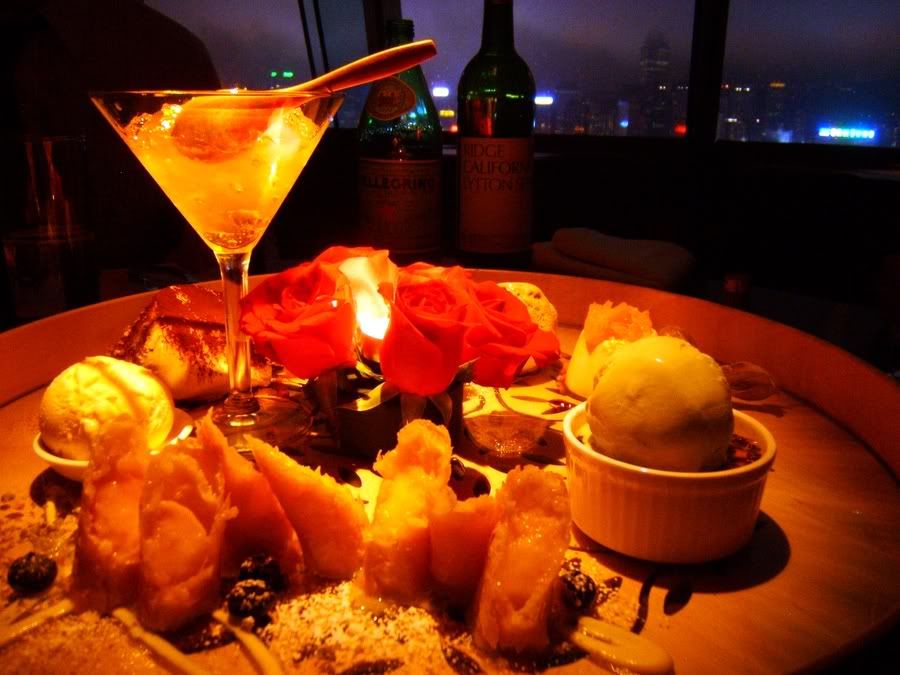 Sorry for deviating from the trip report, I know this is Airliners.net
not Food.net
, but it was a spectacular meal.
After this fun and excitement, I was ready to return home to Bangkok. Not scheduled to fly until the evening, I thought it might be nice to catch an earlier flight so that I would be flying in daylight. Plus, checking the schedule, the 12:45 flight was to be operated with the A340-600. Having flown the A340-500 before on the
New York Silk Express
, I thought it would be nice to check out her larger sibling.
Calling the THAI reservations office in Hong Kong the morning of the flight, the agent told me that she couldn't make any changes for me but recommended I go to the airport and see if I could stand by.
So I packed my bag and took a taxi from South Horizons (near Aberdeen) to the Central Airport Express terminal. This modern facility allows you to check in for your flight in the middle of the business district and even check your bags, which makes getting to the airport much more convenient. I know it isn't the only city in the world with this service, but it is much easier than other airport train services I've experienced – which is just a limited selection, I admit.
Exterior shot of the Airport Express. Just kidding.
Interior of the Airport Express – it feels like I'm already on the airplane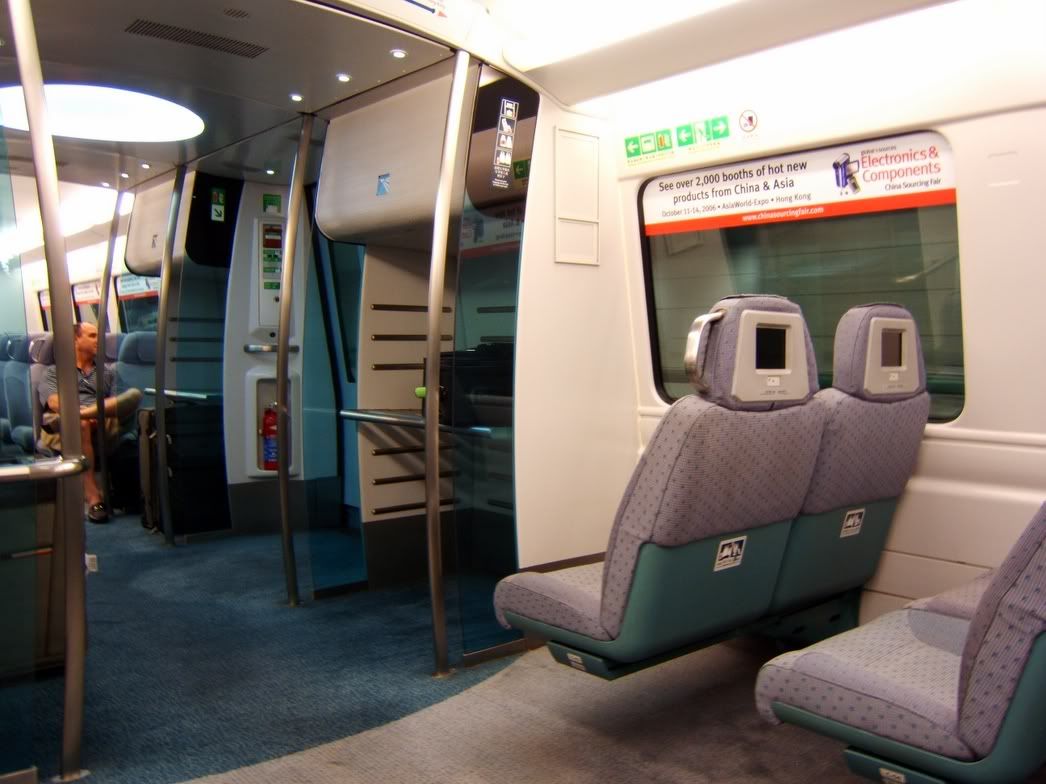 THAI is handled by Cathay Pacific in Hong Kong and the agent told me that since I was traveling on an award ticket, any changes needed to be made before travel had commenced. At one level, this seemed beside the point to me. The question was really, if there's an empty seat three hours before flight time are you really going to sell it? If not, why not put a loyal Star Alliance frequent flier on the flight and free up a seat on a later flight. I realize that if you're a contract employee and not an actual employee of the airline, you may not feel as empowered to take that kind of latitude.
So I couldn't take the earlier flight. I went ahead and checked my bag and got my boarding pass. The question now was, with ten hours to kill, what was I going to do?
The answer was easy: "I'm going to Disneyland!"
Lest this sound totally impulsive, the previous day Michael told me that he, his sister, and her boyfriend would be going out to Disneyland using some free passes from a friend who works there. He invited me along, but I declined thinking I would be taking an earlier flight home. As my plans had changed, I called him up to see if the offer was still available.
Not to deviate too far from the airplane portion of this trip report, but those of you who like trains will appreciate the rail link the MTR has installed to Disneyland. The Disneyland Shuttle is a spur line that connects from the futuristic Sunny Bay MTR station to a point about a five-minute walk from the front gate of Disneyland.
The Sunny Bay BTR station on a not so sunny day.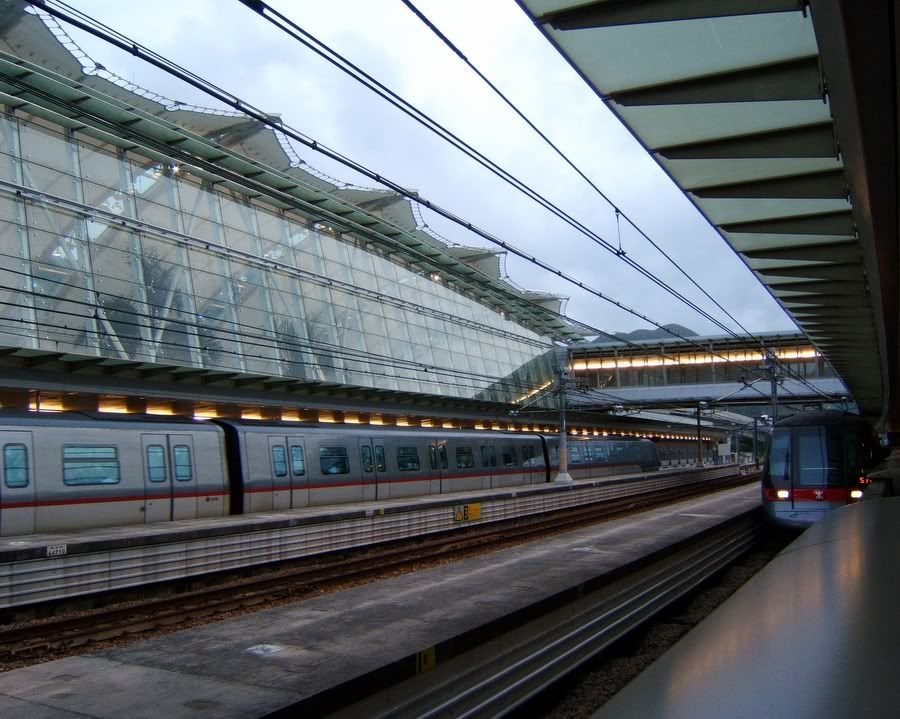 Here are a few shots of the specially designed Disneyland Shuttle train. While the same basic train car is used on the rest of the MTR, the seats are upholstered and laid out into little seating areas that are good for families and groups of people. The interior has starry skies painted (or actually "adhered" as they are stickers) onto the ceiling, and statuettes of various Disney characters. The most noticeable thing, though, are the Mickey Mouse windows.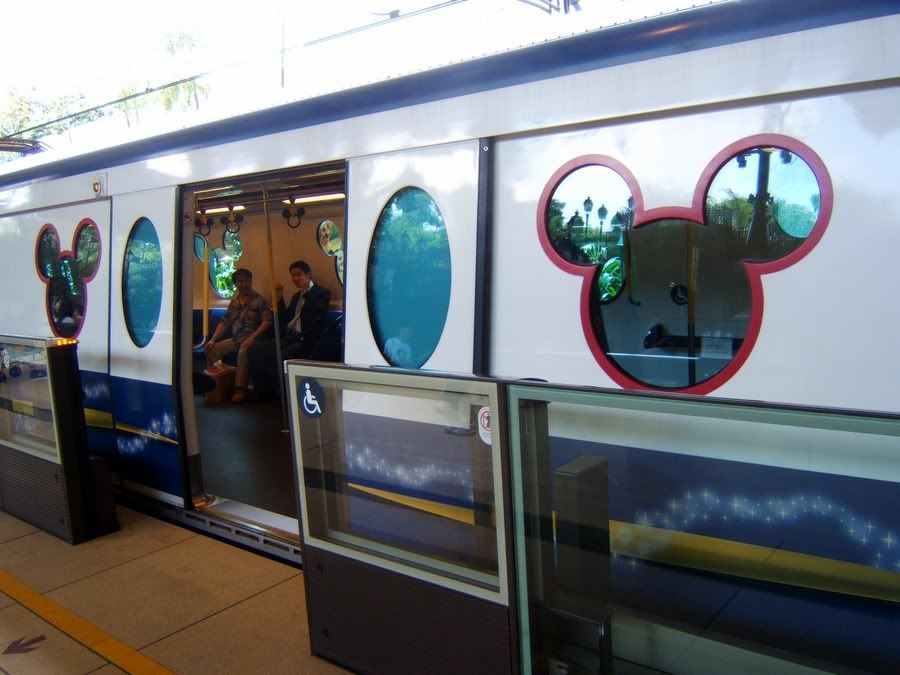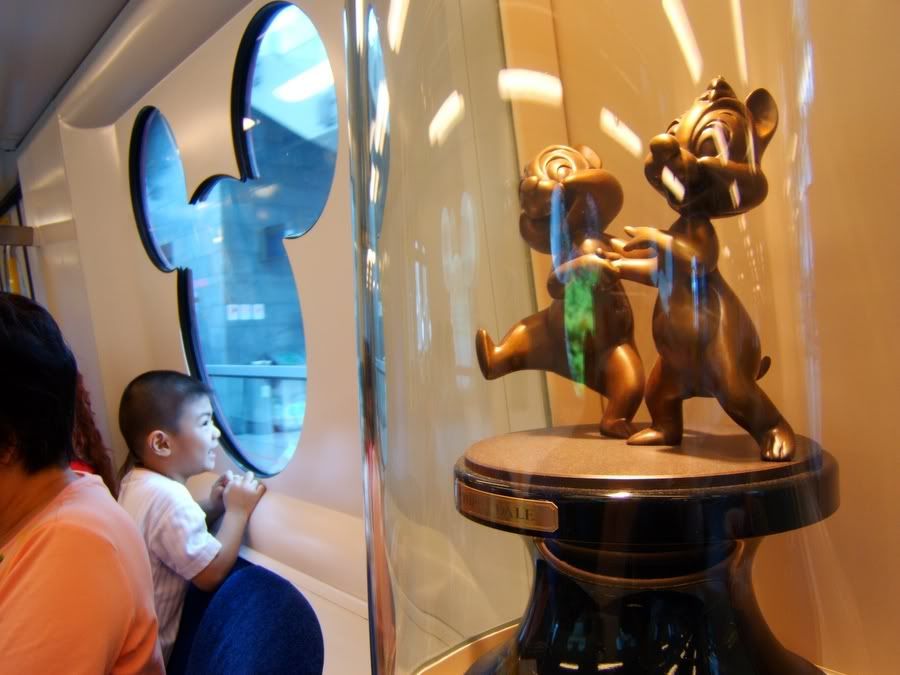 Since its opening, the Hong Kong press has criticized HK Disneyland for failing to meet attendance expectations. The crowds were very light on this particular Tuesday; I don't think we waited more than five minutes for any ride.
Speaking of rides, HK Disneyland has many fewer rides than the other Disney parks to which I've been. Each of the three themed areas has maybe two or three major attractions along with a few other ones. The Jungle Cruise in particular is very well done with some added fire and water effects that I don't remember from the original Disneyland.
Here's a link to a
3-minute low-resolution narrated video segment
that shows some of the highlights of HK Disneyland including the MTR shuttle and the Jungle Cruise special effects.
So by 18:00 I had ridden everything, some things twice, had watched the show, dodged a thundershower, eaten a
char siew
pork burger, and done battle with a stubborn ketchup packet resulting in stains on my shirt and pants. It was time to head to the airport.
Already checked in, it was okay that I arrived only about 90 minutes before flight time. After snapping some pictures of the departure level of this airy, modern terminal, I headed through immigration. The lines were short and they moved slowly, but once through them, the security check was very rapid.
Check-in area E
Instead of taking the tram to the far end of the terminal, I walked it, passing gate after gate of flights departing to destinations across the globe. Sadly, it was well after sunset so any opportunity to take photos of the planes was long gone. It isn't until walking the whole length of the terminal that I fully appreciated just how large it is. From an aerial perspective, it doesn't look that terribly large, but on the ground it is quite a walk!
Arriving at the intersection of the "Y" I started searching for the THAI Royal Orchid Lounge. In the two years since my last visit to Hong Kong, the lounges have undergone some changes. I recall that there were separate but adjacent lounges for THAI, United and (I think) a general Star Alliance lounge. The THAI lounge used to be pretty small. It looks like they've moved into a new space no longer adjacent to United. There also appears to be a separate ANA lounge in addition to the Singapore Airlines lounge in the main terminal.
Two views of the THAI Royal Orchid Lounge: downstairs look up and upstairs looking higher.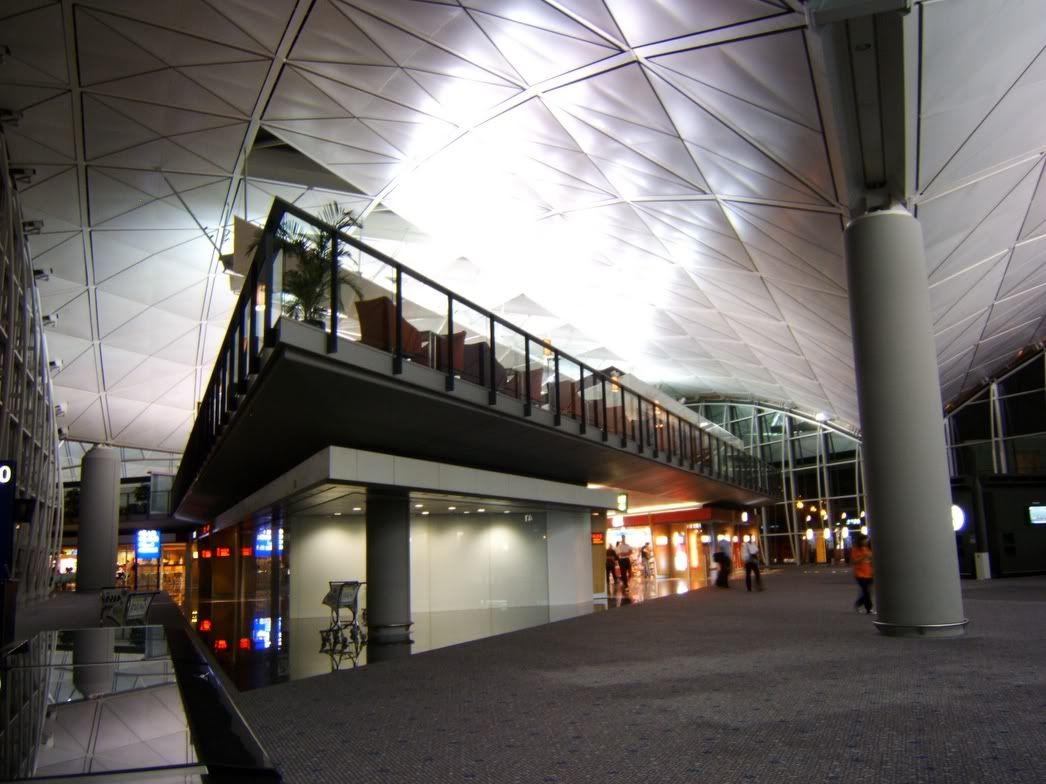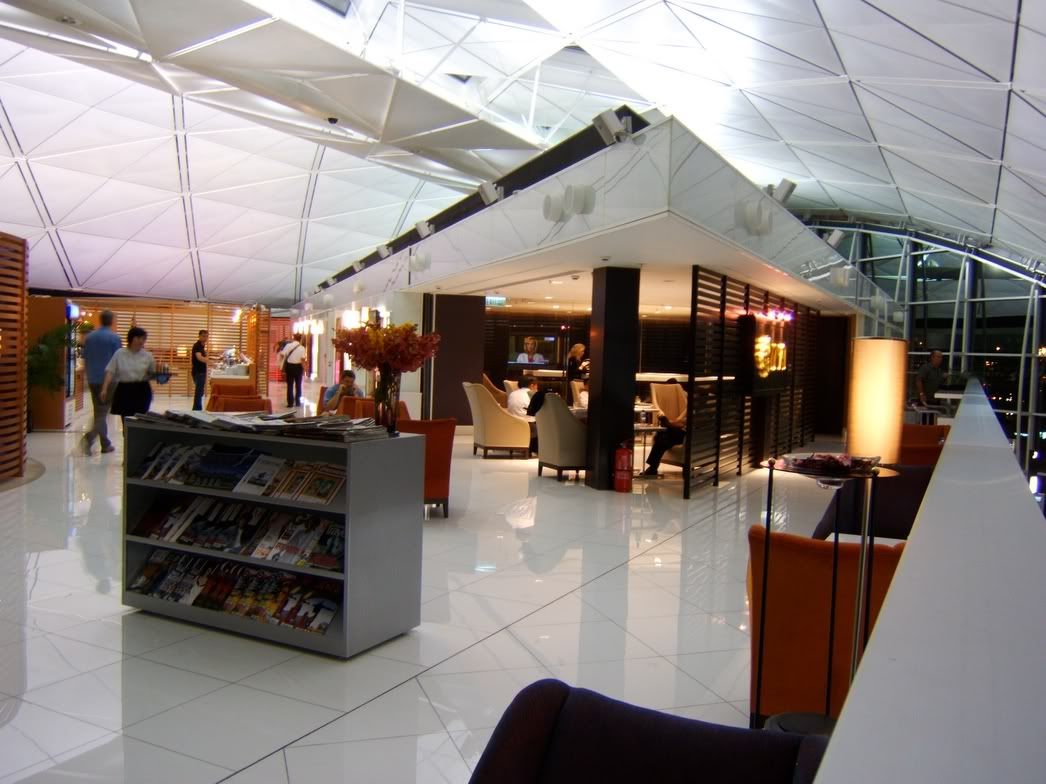 The THAI lounge is really nice, very airy with good facilities. They have a shower available in the washrooms, although I found the controls to be really confusing. The temperature, water volume, and nozzles being used (in addition to the regular spray nozzle there are vertically-mounted nozzles on the wall) are all controlled by different knobs. For several minutes, I couldn't figure out that the temperature knob had to be pushed in as it was turned, so I was nearly scalded.
After running about Disneyland all day, the shower was very refreshing. With still a half-hour before boarding, I decided to have something to eat and was very pleasantly surprised at the selection of food available in the lounge. In addition to the usual collection of dim sum, sandwiches, pastries, fruit, etc. there was a full Indian meal with tandoori chicken, vegetables, and a special rice dish.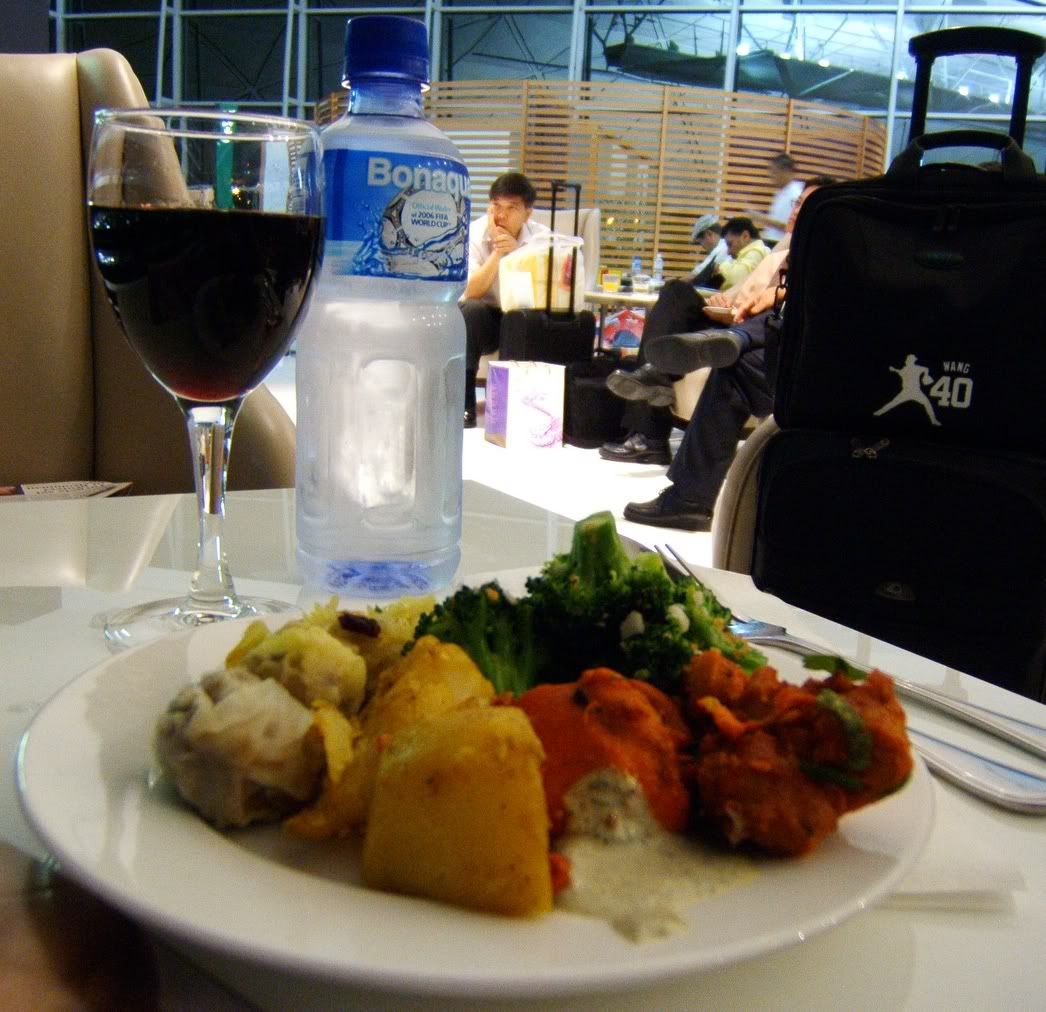 The dessert selection included family-style servings of bread pudding with crème anglaise, individual servings of lemon curd, and a fruit crisp. The beverage selection was quite good as well, although no champagne.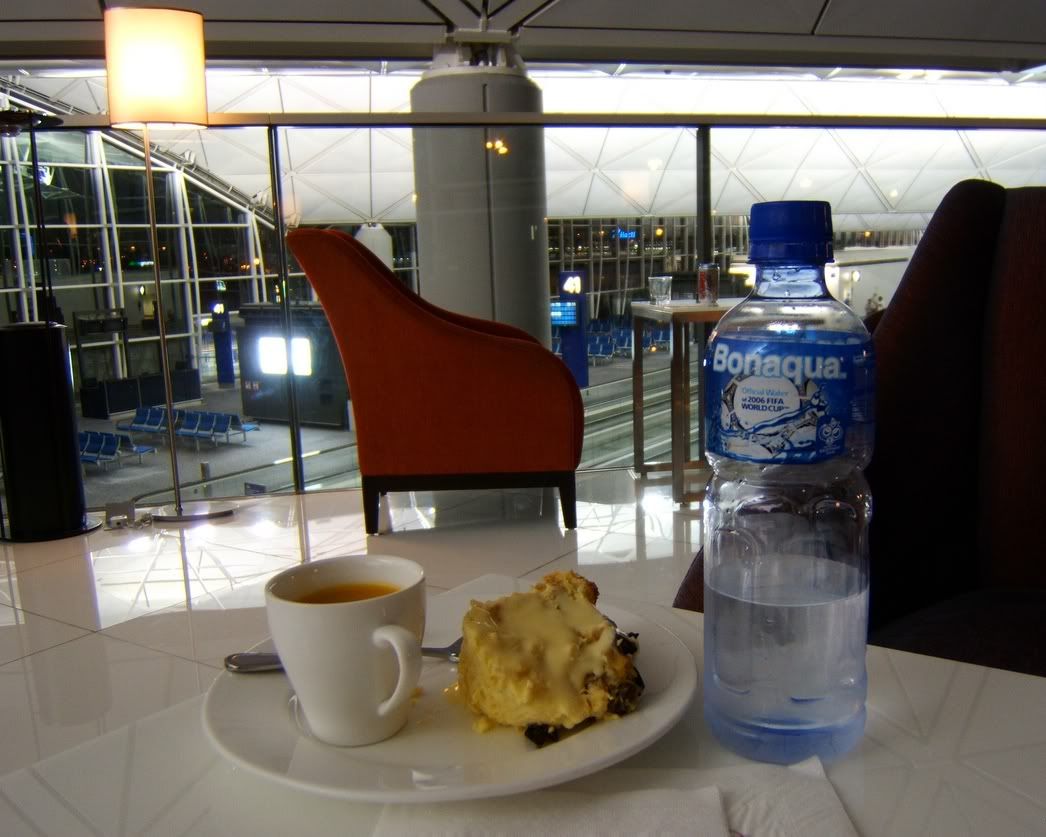 On the way out of the lounge I stopped at the front desk to ask, once and for all, whether as a Star Alliance Gold Member I had access to all Star Gold lounges or only the ones for the airline that I was flying on that day. This question has come up before and I've never been sure that I knew the correct answer.

The very polished customer service agent replied to my inquiry thusly: "Yes, sir, you are welcome to visit any Star Alliance member's Gold lounge on your day of travel. And, of course, if you are traveling with any other Alliance members you are gladly welcome to come visit our Royal Orchid Lounge."

Very well spoken answer.

Friendly staff at the entrance to the Royal Orchid Lounge.