I have just returned from a business trip to Brisbane and flew Delta and QANTAS to get there. Unfortunately my client purchased the tickets and we found ourselves in Steerage for the 14 hour legs. All I can say is NEVER AGAIN! will I fly in the back of the plane if I'm on business as it is just too draining on you for you to be expected to be coherent for your job upon arrival.
OUTBOUND FLIGHTS
6/16/2006
DL 1126
Lv ATLt1930
Ar LAXt2109
Seat: 3B (moved to 4C)
Registration: Never got a good view of it
Routing: GEETK3 VUZ J52 SQS EIC J4 ABI J66 EWM J184 BXK J4 TNP SEAVU1
Well Friday afternoon had arrived and it was time to make my way to the airport. My wife took me and dropped me off about an hour before my flight because of a wreck on the interstate. I checked in at the Medallion desk and found out my bag would be checked all the way through to Brisbane which was nice.
I still had not cleared for an upgrade and figured since my client had purchased the cheapest fare possible that I would be in Steerage to LAX. When I got to the gate I saw that there were 8 seats open in First and 9 people on the list but I wasn't one of then. I went to the gate agent, got placed on the list I thought I was already on and saw myself shoot up to number 4 ahead of some Silvers so I did get the seat up front. Unfortunately my counterpart from the client is no longer Medallion level so he got stuck in the back.
The flight left on time and we made pretty good time to LAX. I really hate this flight because it is just long enough to be annoying and not long enough to get a good rest. I didn't want to sleep on this flight anyways since I wanted to get my rest on the flight down under. The stewardess was very attentive to everyone but more to myself and the guy I switched seats with since she kept calling us by the other's name until she got it right. She kept the drinks flowing and had I not started feeling tipsy I could have sucked down a few more of the Mojitos. Dinner was a chicken and manicoti concoction with a salad and a fudge/peanut butter brownie. Not too bad though I was still hungry.
Cabin Shot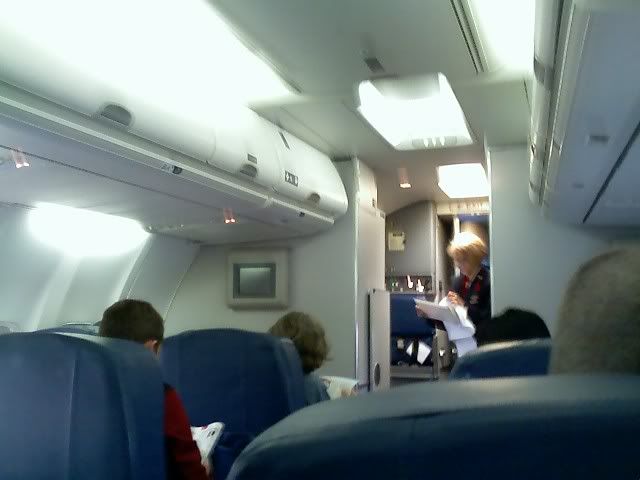 Dinner
We landed at LAX with no issues and within a few minutes we were on our way to the international terminal for our QANTAS flight. All in all Delta performed well and did a good job as I expect them to do.
6/16/2006
QF 176
Lv LAXt2320
Ar BNEt0605 on 6/18
Seat: 65C
Registration: VH-OJD (I think)
Routing: FICKY 3000N 12500W 2800N 13000W 2500N 13500W 2200N 14000W 1900N 14500W 1600N 15000W 1300N 15500W 0900N 16000W 0500N 16500W 0100N 17000W 0200S
17500W 0500S 18000E 0800S 17500E 1100S 17000E 1500S 16500E 1715S 16248E 2000S 16000E 2500S 15500E FLATY LUCAS UH402 BN
I apologize in advance for not having any pictures on this segment as you'll see I fell asleep very quickly after taking off.
We checked in at the QANTAS counter and I was promptly told to fork over my carryon bag as it was too heavy. I suppose if I was a OneWorld member with some miles behind me they might have let me keep it but I gave it up. Oh well, I grabbed a couple of things out of it and shoved them in my backpack which weighed more than my carryon but I kept that a secret.
Security at TBIT was simple and quick. I think the A/C was broken as the terminal was boiling hot. We found our gate and waited to board. TBIT is a pretty crappy way to introduce folks to the USA s perhaps LAX can toss some money towards fixing it up. Boarding was easy and quick at least for us since we were in the very back of the plane and thus got to board first.
My co-worker sat in the row in front of me and unfortunately had a couple in the seats next to him for the entire trip. I had the middle seat next to me open so I could stretch out just a little bit. It turned out the A/C on the plane was a bit suspect as well and we were boiling in there as well. The captain came on and apologized for it but it still wasn't any cooler. We then waited a solid 30 minutes for two connecting passengers. I suppose they were Biz class folks otherwise I would have left their butts in LAX and been underway. The captain then got back on and said we were delayed because we were waiting for final paperwork. This guy's luck really sucked so far and had me wondering if it would continue in the air. We got underway almost an hour delayed and took one of the longest takeoff roles I have ever experienced.
Not long after takeoff I was asleep before they even started the drink service. Although I slept poorly all night I happened to miss the snack service as well. I was woken up about 3 hours before landing and had breakfast which was a nice beginning but in no means a full meal. I couldn't wait to get to the hotel and get some real food.
Menu that I never got to sample other than breakfast
Upon landing in Brisbane getting through Immigration and Customs was quick and efficient. We were through and on our way to the hotel within 45 minutes of landing.
Our time in Brisbane was well spent with work but we did get out over the weekend and take a tour. We visited the Sirromet Winery south of town on Saturday and had a good time. It was interesting to see all the kangaroos sleeping in the vineyard. I asked if they damaged the vines since the deer at my parent's vineyard are a huge nuisance (unfortunately for everyone you shoot 5 more take their place!) I was told they aren't attracted to the grapes or the vines but instead eat the weeds and grass below them. On Sunday we took a tour up to Steve Irwin's Australia Zoo. I'm not sure if he was there that day but he didn't give any of the shows we saw while there. I got a kick out of the kangaroo petting zoo area and was just waiting for a kid to get kicked or punched by one of them. The weather was great and reminded me a lot of Florida during their Winter. The highs were in the 70s and lows were in the 40s and 50s. The humidity was just a tad high so you did break a sweat now and then. It was a bit weird getting adjusted to it being Winter despite the calendar saying it was June but such is life in the Southern Hemisphere I suppose.
Entrance to the Australia Zoo
Me and a small kangaroo
Brisbane from the river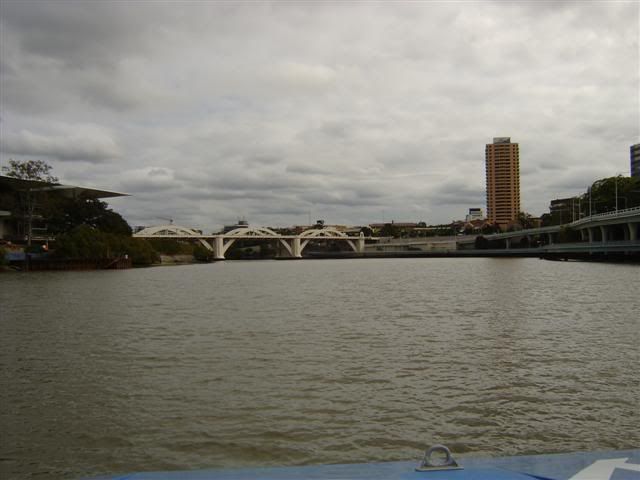 More of Brisbane from the river
Even more Brisbane
RETURN FLIGHTS
6/29/2006
QF 605
Lv BNEt0605
Ar MELt0830
Seat: 12A
Registration: VH-VYB "Cape Otway"
Routing: Couldn't get from Flightaware
The wakeup call came at 0300 and so the day of travel from Hell began. We were out the door at 0400 for the quick trip to the airport. We got dropped off at the front door and were third in line to get checked in. I asked if we could sit together and to please block the middle seat if at all possible. I got the window and my co-worker the aisle but we were told the flight was oversold and that the middle seat would be occupied.
Looking through the domestic terminal at BNE
The terminal is clean and neat and we made our way to the security line where we got through in under a minute. None of the stores were open yet and we both really wanted some coffee to help us wake up. A little shop finally opened up a bit after 0500 so we got drinks and waited to board. Boarding on QANTAS is kind of a free for all I noticed. They don't do any pre-boarding for First Class and just say they can board whenever. They called rows 15-whatever the back was and everyone got up and rushed the gate. We noticed there was only about 15 people standing back so we just hopped in line and nobody made a fuss when we got the ticket scanner about how we needed to wait.
I settled into the window seat and got a picture of the JetStar plane next to us. The girl who got the middle seat was petite so she fit just perfectly between the two of us. I'm not tiny by any means but I do fit inside the confines of the armrests. My problem is I have huge shoulders and those do spill over into the next seat. Luckily she fit behind them and we all got along just fine for the flight.
738 Interior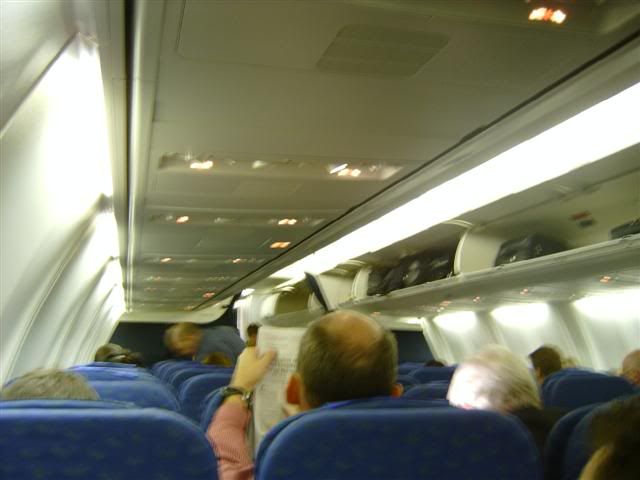 JetStar VH-VQS
A small snack was served on this flight bu I passed it up and tried to sleep but couldn't so I just read my book instead.
Melbourne off in the distance before landing
We pulled into the terminal next to another 738 with winglets (VH-YVD)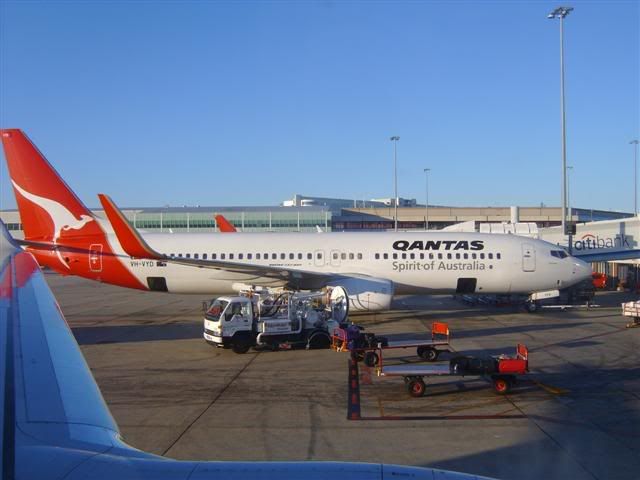 Deplaning was quick and we were on our way to the International terminal though it is a bot of a hike to get there.
6/29/2006
QF 93
Lv MELt1025
Ar LAXt0730
Seat: 68K
Registration: VH-OEF
Routing: DOSEL Y59 SY G595 ALLOC GORDO 3000S 16000E DOVOM 2500S 17000E 2200S 17500E 1900S 18000E 1619S 17601W 1200S 17000W 0700S 16500W 0500S 16319W
0100S 16000W 0400N 15500W 0900N 15000W 1300N 14500W 1700N 14000W 2200N 13500W 2600N 13000W 2900N 12500W WEDES B581 FICKY C1177 SXC
We did a little bit of shopping at DutyFree and then went to our flight. The signage for passport control is poor and I just didn't see anything directing you to where you needed to go. We saw some folks approach a solid metal door with suitcases and disappear behind it so we figured that was the way to go. We were correct and I got stopped to weigh my bag. Again it was overweight but the girl working the scales was reasonable and let me pull out a couple of bottles of wine and told me to repack them once I cleared security since my bag was within the size limits but somewhat heavy just by itself.
Immigration was easy and the security checkpoints beyond it were easy as well. A little bit more time in the next DutyFree shop to pick up my purchases from earlier and we were on our way to the gate. I wanted to check with the gate agents to plead for them to keep the middle seat between us open but nobody ever showed up until it was time to board and even then she was just at the escalator to direct traffic.
Our plane home today VH-OEF
A couple of planes waiting for departures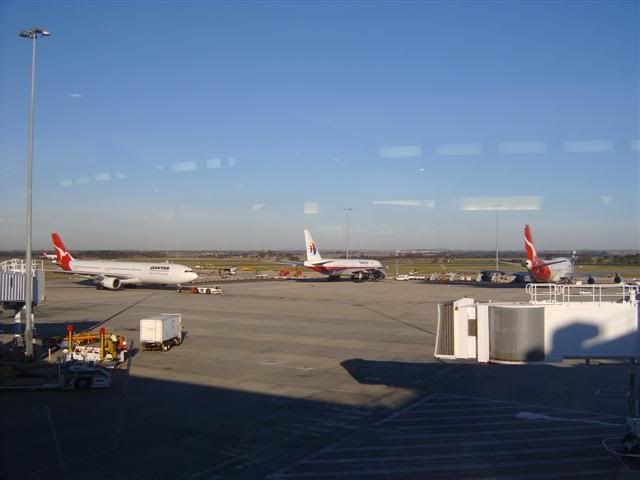 A330 (VH-QPB) getting towed somewhere
Malaysian (9M-MRG) waiting at a remote stand
After the 0925 boarding time passed I was beginning to think QANTAS wasn't "the Spirit of Australia" but instead the "Waiting around with no reason" airline. There was nobody at the gate to talk to and no announcements were made but we finally started boarding almost 45 minutes late. We got in the line and got onboard pretty quickly since again we were sitting in the back of the plane. Luckily the seat between us was open so we settled in for the 14 hour flight as much as we could.
Way back in Steerage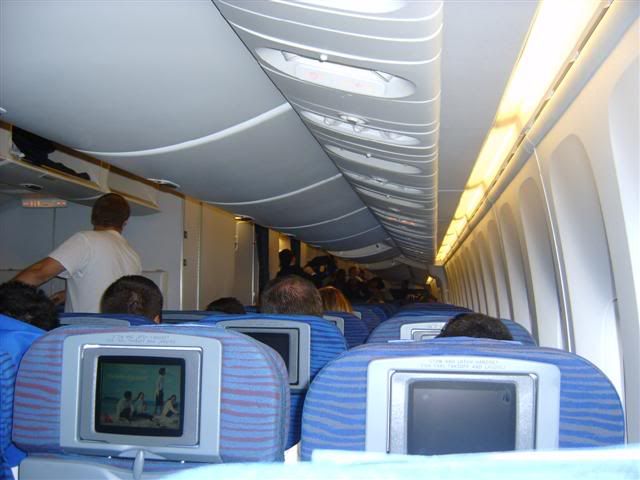 31" of pitch is beyond crappy!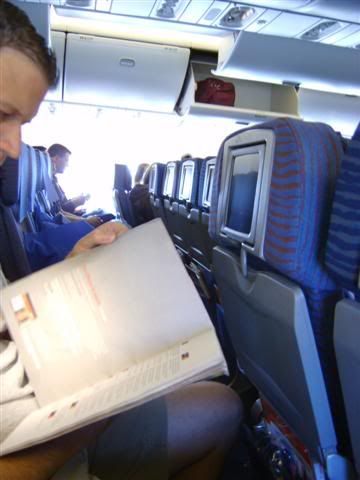 Another QANTAS 747 (VH-OJB) beside us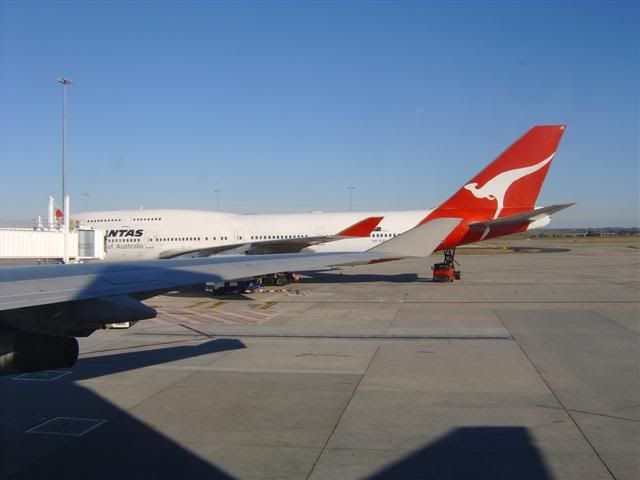 Singapore 747 (9V-SPF) waiting at a remote stand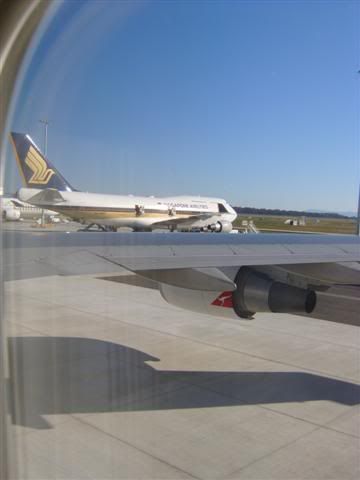 Emirates 777 (A6-EMV) waiting at a remote stand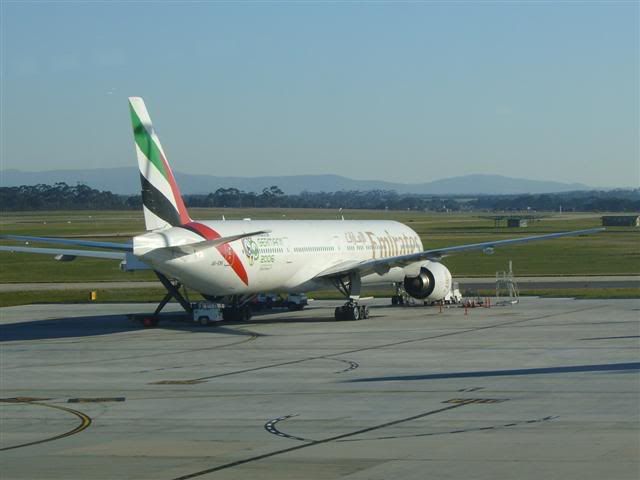 Vietnam Airlines on their way to Hanoi (Didn't get the registration)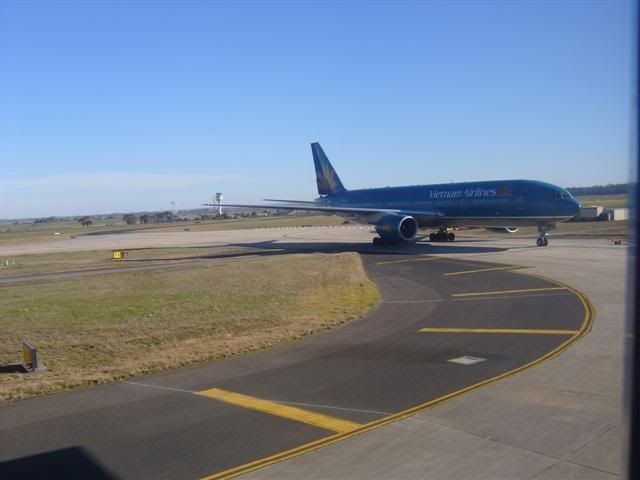 Takeoff roll...58 seconds!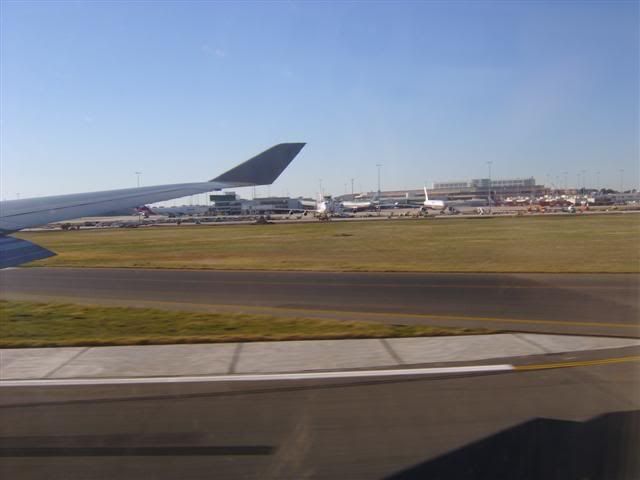 A strip mine just after takeoff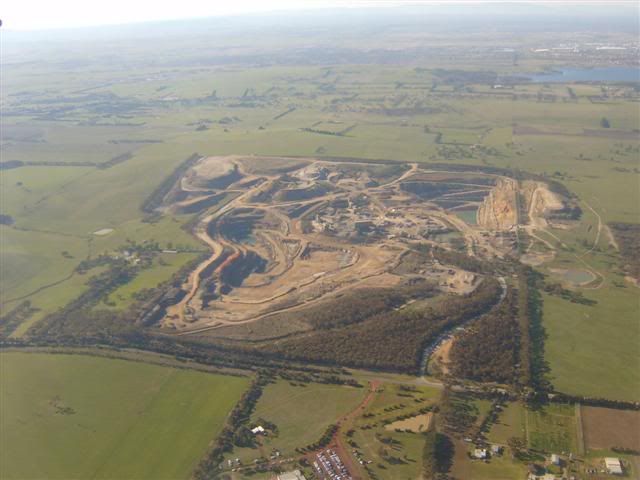 A farm and small vineyard just beyond the mine
The Great Dividing Range off in the distance
Some morning fog that hadn't burned off yet down in the valley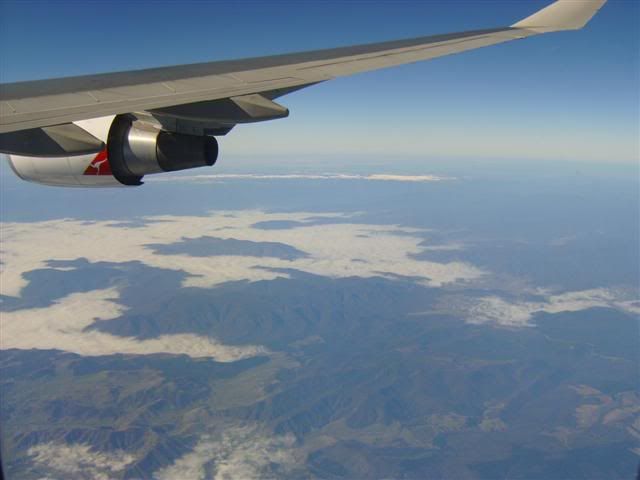 Just south of Sydney and about to go "Feet Wet"
After takeoff I changed into some shorts and settled down for lunch and a movie. This plane had AVOD but despite all the choices there wasn't much I wanted to see so I settled on "Vacation" with Chevy Chase since it was a classic.
I seemed to have lost my menu from this leg of the trip but our choices were chicken or beef. We both picked the beef and while semi-edible it was pretty crappy and a nice beginning though not nearly enough to eat.
Lunch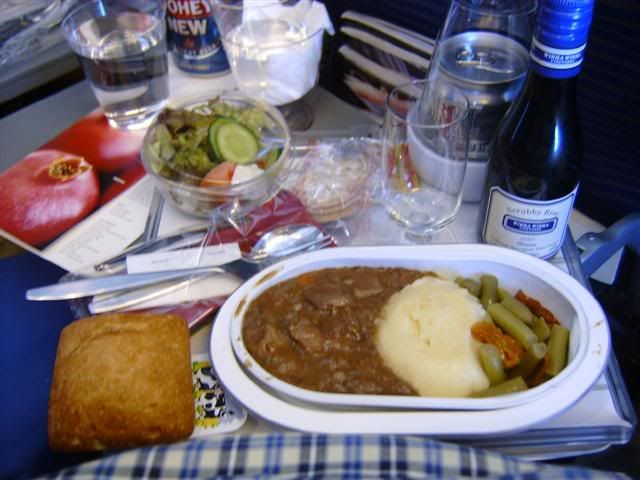 A few hours after lunch the stewardesses came back through the cabin with our "Snack on Q" though they served it in an Australian Airlines bag. Again, it was a nice snack but just not enough to keep the stomach from growling.
Snack on Q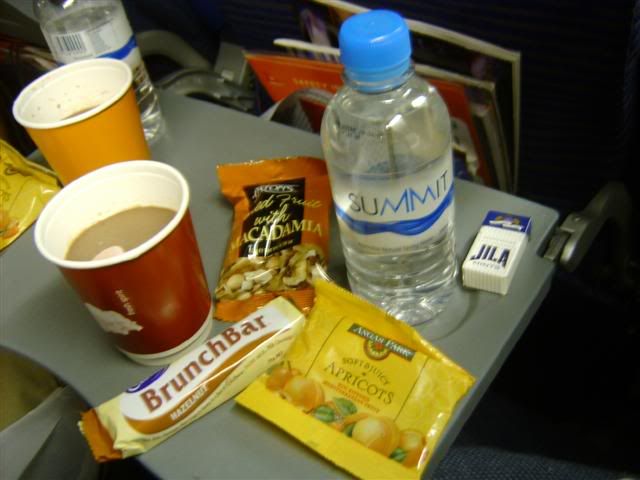 I tried to get some sleep but just had trouble so watched American Pie, Blazing Saddles, and a couple of episodes of Everybody Loves Raymond. I wish I could have lifted up the armrest by the window because it kept digging into my leg as I tried to get comfortable. About 2 hours before landing they flipped the lights on and started to serve breakfast. As with the other two meals it was a nice start but just not enough. They could have left the tomato sauce out of the dish and it would have been a lot more edible.
Breakfast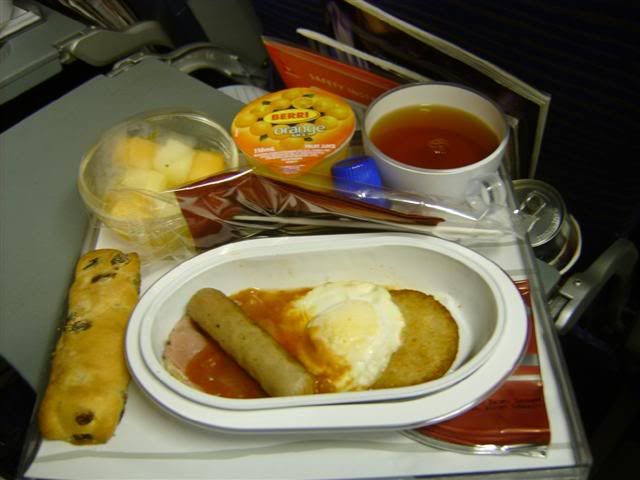 Not long after finishing breakfast I saw the second sunrise of the day which is enough to screw with your head.
2nd Sunrise of the day
First view of the US with San Clemente Island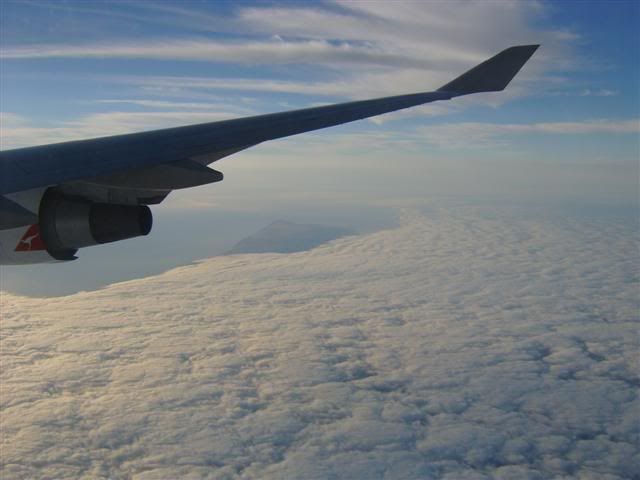 Santa Catalina Island
The city of Avalon on Santa Catalina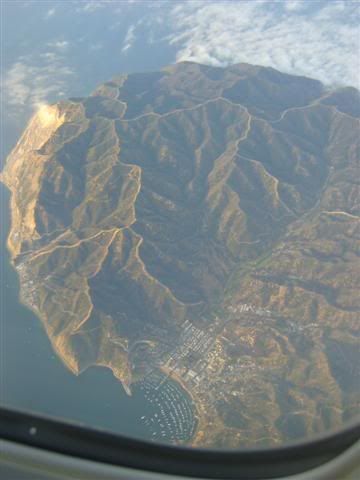 "Feet Dry" over Orange County and Newport Beach
Downtown Los Angeles
Hollywood Park (nowhere near Hollywood)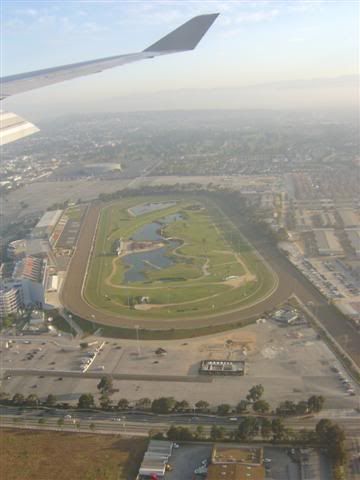 Upon landing we were towed into the gate. They said it was some regulation but I have no idea why. Any ideas? they kept us on the plane for about 10 minutes and told us the immigration lines were full. Once we got off the plane we were in line and got through to the Immigration officer pretty quickly. I was cheerful and said good morning and he was a grumpy ass but what else do you expect from a government worker. We picked up our bags and made our way to the Customs agent. I was expecting to get pulled aside and have to pay some duty on the 7 bottles of wine and 2 bottles of rum I had with me but he never even looked at the itemization of my stuff on the back of the form and just said to "have a nice day." With that I was officially back in the States and had just one more flight to go.
6/29/2006
DL 554
Lv LAXt1020
Ar ATLt1754
Seat: 1A
Registration: N384DA
Routing: LAXX5 TRM INW GUP J8 FTI J58 PNH J6 IRW FSM MEM ERLIN2
After clearing Immigration and Customs in Terminal 4 we made the quick walk over to Terminal 5 to catch our Delta flight home. I hadn't cleared for the upgrade yet and inquired at the counter but the agent barely spoke English and I gave up and figured I would check at the Crown Room. The CRC in LAX sits above the terminal and is a decent size. I inquired about the upgrade and was told I was fist on the list but there were no seats available but if someone cancelled it was my seat to have. I asked if I could buy a First class seat but still no luck.
Looking back across atrium to front desk
Main seating area of CRC
Business center area
Putting green in the CRC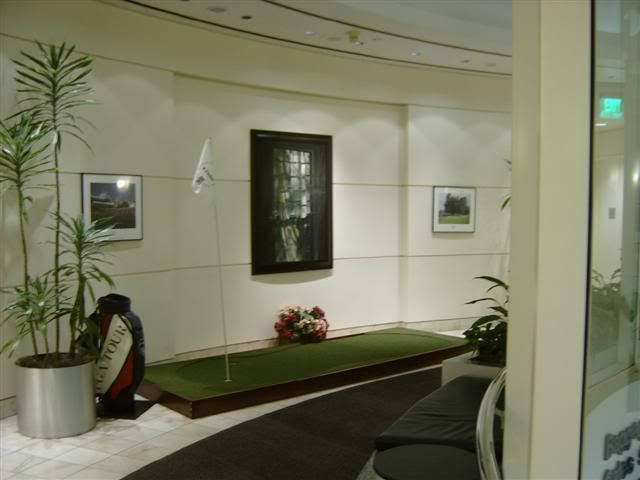 Looking out the window towards the Landmark Building with N6712B in the foreground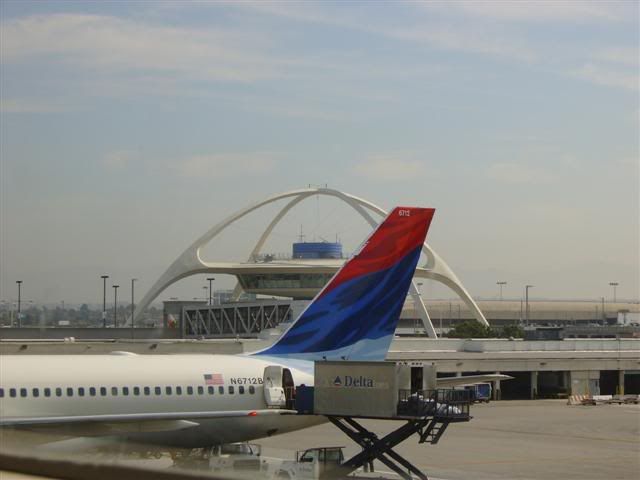 I checked at the gate about purchasing a seat in First if available and was told that I didn't have an upgradeable ticket with my L fare. I said I thought as a Gold Medallion all fares were upgradeable and all I had to do was pay the difference and no change fee. Upon realizing I was a GM their attitude changed (though I can't blame them too much since everything was oversold and lots of folks were bugging them) and they started checking. It turned out there were no seats for purchase and I resigned myself to sitting in the back for 5 more hours. As I turned to walk away they called out my name and a bunch of other folks for seat assignments and luckily someone had cancelled and I got the seat in front. Thank goodness as I was dead to the world at this point and just wanted to stretch out a bit.
Not much to say about this flight as it was standard domestic Delta service. Boarding was easy, the seat was comfy, and the drinks were cold. We took off out over the ocean and then made the turn back to the east. Lunch was the same exact meal as dinner had been coming out the LAX but tasty after eating the stuff on QANTAS.
Lunch
As we flew over Albuquerque I noticed a Continental 757 or 767 crossing underneath us by a couple of thousand feet.
ABQ flyover with CO plane below us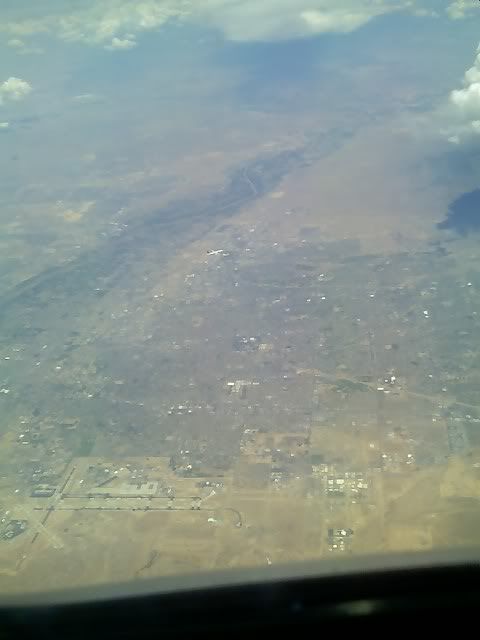 I tried to doze a little bit on this flight but just couldn't do it. Not sure why after 30+ hours I wasn't tired but I figured I would sleep well that evening. The flight was uneventful though I did give up on the movie "Firewall" as it was quite bad. I just pulled out my iPod and listened to it for thee rest of the trip. Landing in ATL was uneventful and we were at our gate quickly (Thanks OttoPylit if you had anything to do with it) and on our way to baggage claim. Our bags came out pretty quickly and within 30 minutes of landing I was on the way home with my wife driving just in case I fell asleep at the wheel.
All in all, Delta performed as I expect them to given my status. Well mannered, efficient, and a comfy seat up front. QANTAS was a new experience for me and while I think their coach product is just as crappy as everyone else's out there the stewards and stewardesses on board make the flight. They were all seasoned employees they went above and beyond what we Americans expect from cabin crews on domestic routes. Their service with a smile even after 7,000 miles and 14 hours was a nice thing to see. If I ever get the opportunity to go to Oz again they will be one of the first choices for airlines to take though I will demand that my company step up to the plate and honor our travel policy of Biz class if you cross an ocean instead of letting the client purchase the tickets and stick us in Cattle Class.