Finally a chance to try TAM, they airline that pretends to take some of LAN's well earned prestige in Southamerican quality service.
It was going to be a lot of firsts: first TAM flight, First time in Brazil, first A330 flight, first F100 flight, etc…
SCL-GRU
TAM flight JJ8027 13:15
Airbus 330-200 PT MVC Seat 26E


View Large
View Medium


Photo © Jérôme Mervelet
I'm used to try LAN business counters at SCL, or at leat the pre-checked counters. I tried many times to make my web check in or at least try to reserve a seat, which I was unable. TAM call center personnel is really unprepared, I knew more about the subject than the guy that attended my call!
Anyway, the check in counter line was very slow for a while, but finally got into the counter. The guy there was great, one of the best "counterers" ever met. He gave us the emergency exit, and reserved very good seats for the next GRU-SSA flight.
Very few people know that near LAN business/first check in counters, there is this special immigration access, but I was not sure if that was open for every passenger or it was only LAN passengers service. While most of people were waiting in the regular immigration access, I had no troubles and went immediately to the gate 20 (when JJ usually uses the opposite wing of the international terminal, which confused me for a while).
Here starts some of the difference with LAN… at the gate, there were NO PERSONNEL ready to attend us, not even 1 minute before the boarding time told. Even worst, the screen over the gate announced a LA flight to COR, which never changed!
Well, after a delay of more than 20 minutes, we got to board. The aircraft was pretty nice at the interior, I was really impressed by business seats, much more pitch that LAN's business (although LA offers first). I think it was a little "bad taste" of a very clean and nice aircraft to have the head rester covers sponsored by Price Waterhouse Coopers.
I can say that across all JJ flight, I had this weird sense of "we really don't care much" from crew, although I can't say there were rude, not at all, but there was some indifference towards passengers that called my attention. The safety instructions were very "informal", like none really notice them. I actually don't remember the video
We took off almost 30 minutes after planned. SCL-GRU flights used to take off to the south, and then turn right to cross the Andes. Our flight did it, but she turned left, so it crossed the Andes southern Santiago. The crossing was a little bumpy, but although you heard some of the passengers nervous, it wasn't really bad. Flight was very smooth, with the typical occasional turbulence, specially over Argentina.
As for PTV's, there were fine, although I prefer VOD and more variety as LA has. I watched King Kong, and the Spanish sound was really bad, so my mates had to watch it in English although they don't speak it.
Before lunch, crew passed hot towels, it was fine indeed, very classy, and as I'm constantly making comparisons to LAN (since they both compete to each others in leading the region). I chose meat and rise. It wasn't fine, meat was too dry and rise too spicy, almost sweet. The wine was awful. The dessert, which was some mousse was truly delicious!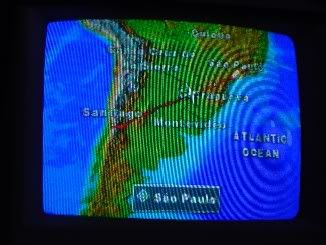 We landed at Sao Paulo almost 3 hours and 10 minutes later…
Sao Paulo Guarulhos Airport
We had to walk a lot. Immigration process was fine and kindly, and then walking again to baggage claim, as we were demanded to re-check our luggage, even when it was labelled to our final destination to Salvador.
We exit the nice duty free area, and went to terminal B. Total mess, such a hideous airport! How can anybody could vote for GRU as the best South American airport??? TAM counters were placed in a very narrow hall, international flights to the left and domestic to the right.
Portuguese and Spanish language are very similar, but you got some troubles when trying to understand Portuguese spoken in regular "Brazilian language" I was incredible amazed that JJ international counter personnel told me that they didn't speak English! Our flight to SSA had NAT as final destination (which we didn't know), and there was no board that told us about which was the right line: there was announced "Natal, Manaus and Fortaleza", but no flight numbers. After hesitating a while, I try to recheck at the same counter where they told me that no English was spoken, and I did it…
Then, we went to an ATM to get local currency, outside to smoke and "be in Sao Paulo", where we could take some "welcome" photos and went to the boarding halls. They are boooooooooring, no bar no place to really stay, just a tiny cafeteria and lot of seats to wait aircraft.
The best of GRU: Brazilians: so nice, kind, and gorgeous girl! Full of Brazilian tshirts!
Again, at boarding time, no one on the gate. LAN people used to be there at least 15 minutes in advance.
GRU - SSA
TAM flight JJ3156 20:50
Airbus 320 PR-MBA Seat 2A


View Large
View Medium


Photo © Juliano Damásio - AIRFLN
Another thing that I really liked of JJ was the "welcome party" standing at the door of the aircraft. Fast board, nice aircraft again, although I felt that pitch was tighter than usual. We took of on time, in a gorgeous flight, with moonlight and clear sky. We overflew Belo Horizonte, and got gorgeous views of the night of Brazil.
No IFE system on board, but I was tired enough for not caring. Funny how JJ people plays with cabin light: they turn on and off a lot of time, becoming actually annoying; dark take off, dark flight for a while, and when most of people was sleeping or relaxing (after the announced light reducing "for your comfort"), all the sudden they fully turned on the lights for snack, a hot cheese sandwich passed by hand (no tray). Light reduction again, and continue that nice flight. Landing at SSA after a little more than an hour. Note aside, how incredible beautiful f/a we got in that flight. Well, Brazilian women ARE gorgeous, I was stunned at GRU!
Nice airport! We did had troubles waiting at the luggage belt: they announced belt X and it only delivered 3 suitcases (including mine!), but later the rest of flight luggage appeared on belt Y. It took more than 1 hour to finally get out of SSA.
Besides, it took almost 1 ½ hours more to get to Costa do Sauipe, my final destination.
***********************
This report is getting too long, so I will write about the nasty F100 return later. I will also include a video of the Andes turbulence we faced!
All I can tell is to out Brazilian members that although I got to see so little, I loved your country! Your people! I love to watch a World Cup brazilian match in brazil and celebrated a goal as one of you…
See you soon…