CLE-BWI-FLL-MDW-CLE on WN, FL all in one day.
I think I need to supply a little background for an unusual day trip:
I earned one of my recent Reward tickets from Southwest after flying multiple trips to LAX and LAS during the fall and winter. I decided I wanted to have some fun and try something new with this opportunity. I'm always looking to fly a new airline, and I saw this as a perfect opportunity to fly AirTran. I've admired them for quite some time and have wanted to fly them but I never was able to. Living on the far west side of Cleveland, and 15 minutes from Hopkins, it was too inconvenient to make the ~2 hour drive to CAK. They don't serve PHX, where I go to school. And when I did have a chance living in MCO for a semester, I opted for DL instead of FL for a trip to ATL so I could fly a 764 and a 777.
So the plan was to use my reward ticket on WN to connect the dots for a flight on FL. I would fly CLE-BWI on WN, transfer to FL there on a ticket I'd buy BWI-FLL, then take WN back to CLE. And I did it all in a day.
May 31, 2006
Nothing to report at Hopkins before my first flight.
CLE-BWI
Southwest Airlines Flight 400
Boeing 737-7H4 with winglets
N741SA
Seat: 7F
Scheduled (Actual Wheels up/down)
Depart: 6:15 AM (6:24)
Arrive: 7:25 AM (7:11)
Gates: B9, B3
Runways: 24L, 10
Load Factor: ~70%
View Large
View Medium


Photo © Zach Chelsky
I'm guessing on the load factor since I don't remember. I saw about 5 people in the C line before I got on the plane, and I had an empty middle seat next to me but the aisle was occupied. Being one of the older 73G's in Southwest's fleet, this plane was beginning to show its age. For starters, I could not find a good clean window, even though I was third to board from the A group. I settled for a seat in front of the engine.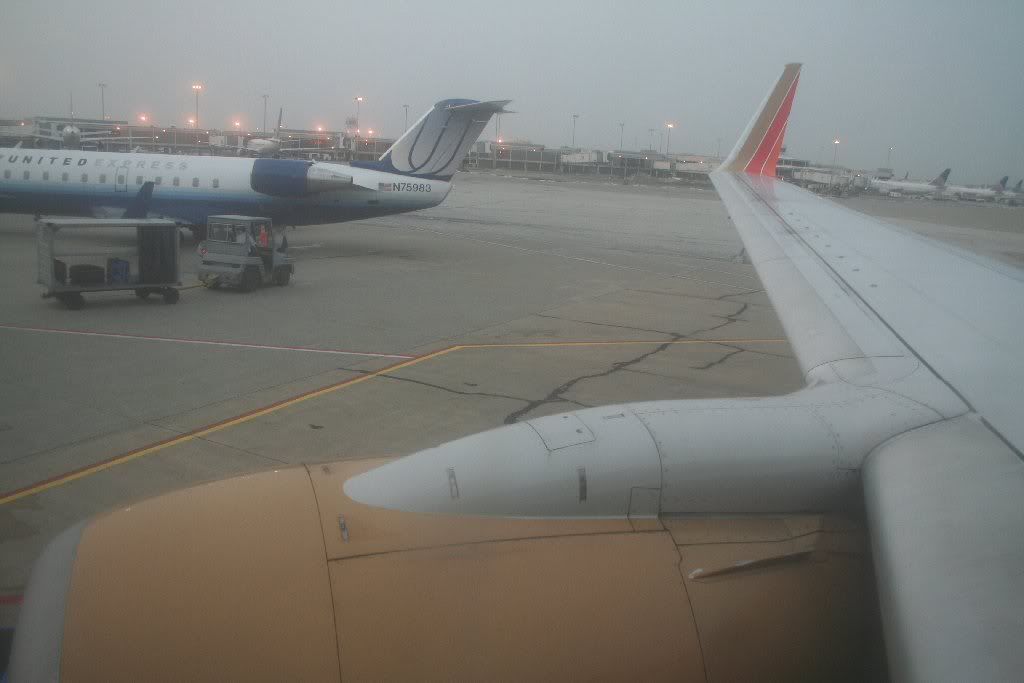 No wait for takeoff. We taxied to the runway without stopping and took off immediately. We cruised at 29,000 feet. About 15-20 minutes after takeoff the FA's came around with trays of coffee and orange juice, then came around a second time with extras if anyone wanted more. I ended up drinking one of each. We made our way through a lot of cloudcover on both ascent and descent. So I really couldn't see the ground for most of the flight. View on descent: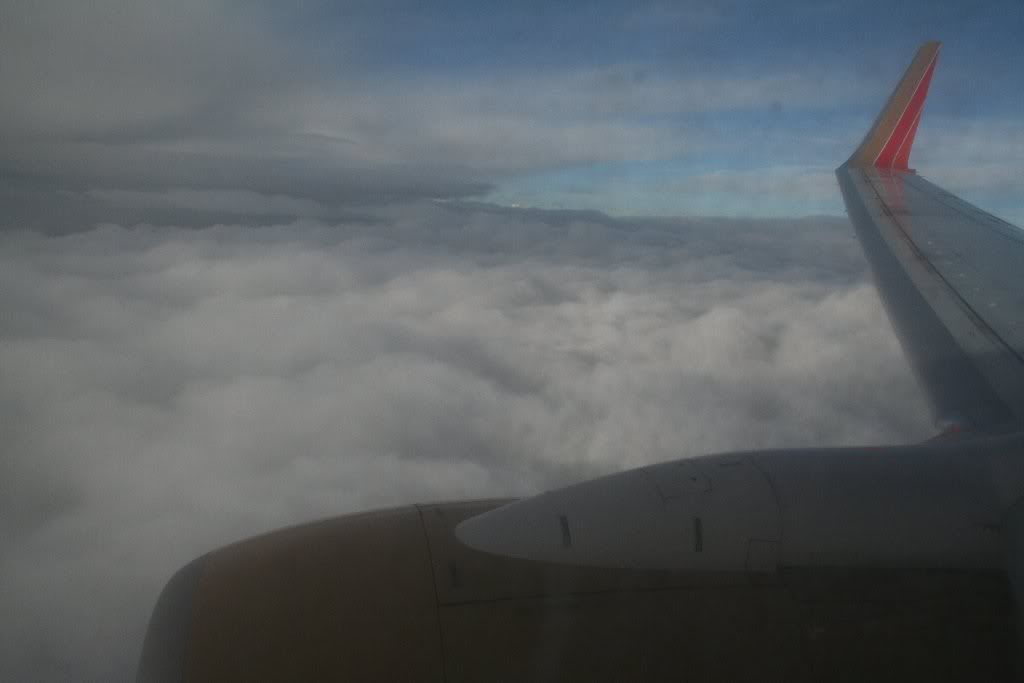 This was my first time flying into BWI. There was a lot of construction in the alley between the B and C gates. We had to wait our turn, for about 3 minutes, to pass through the alley down to our gate because there was only room for one plane to taxi in or out at a time.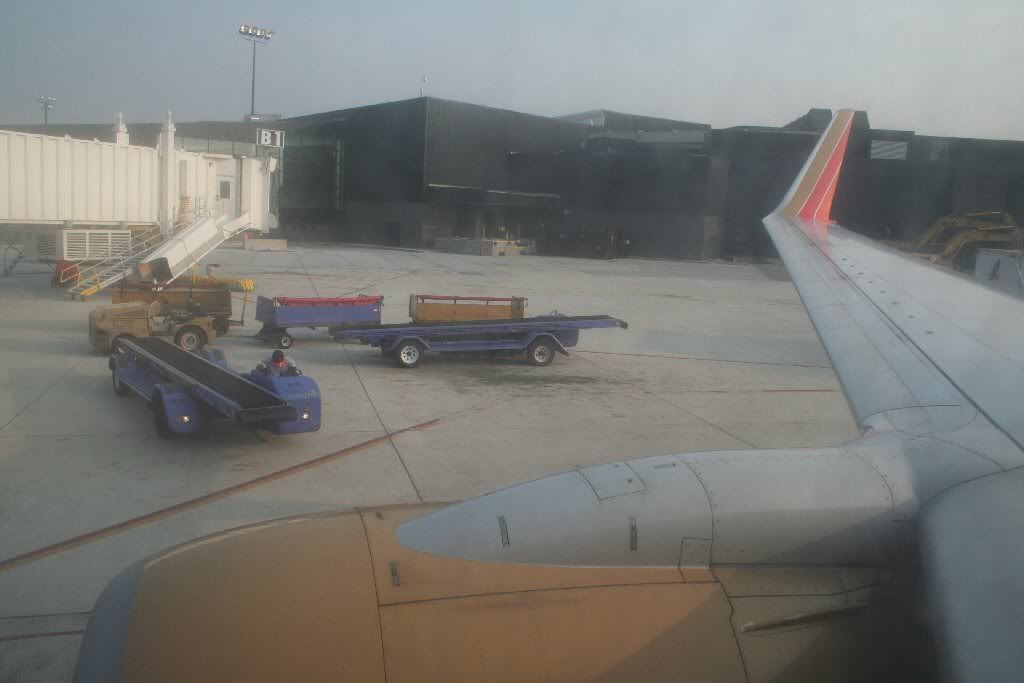 With an on-time arrival in Baltimore, I had nearly 2.5 hours until my next flight, so I had plenty of time to walk around the airport. Here's the view from the end of the B pier I was on: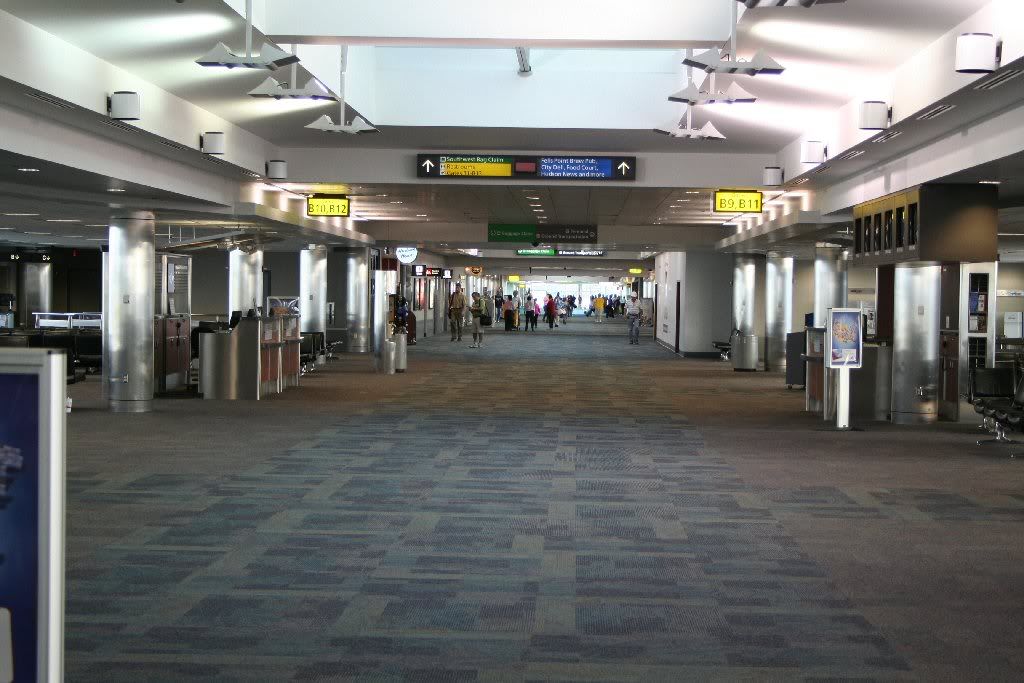 I then made my way down to the A gates. Concourse A looked great, better than I had expected. I kept an eye out for any of the stars of the Airline show, but to no avail. After a leisurely walk through, I exited security and explored the non-secure areas of BWI. I was impressed by the atrium at the International Concourse.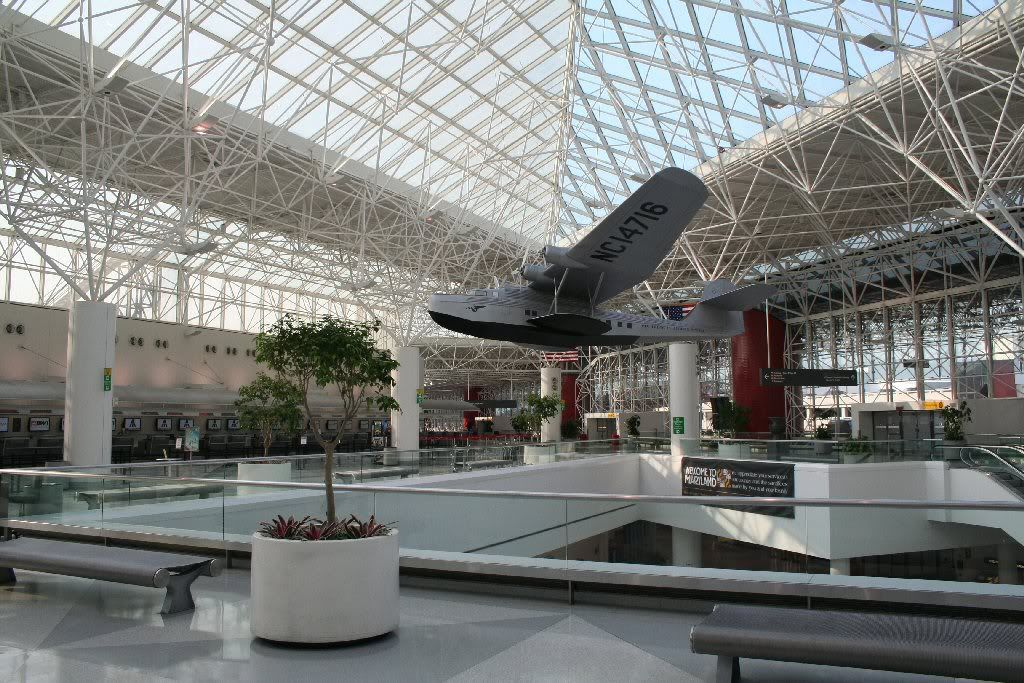 After a casual stroll, I still had over an hour until my next flight. I headed for the D Security Checkpoint. Inside the secure area again, I found my way down at US's commuter gates. I had a ground level view of a US 757 pushing.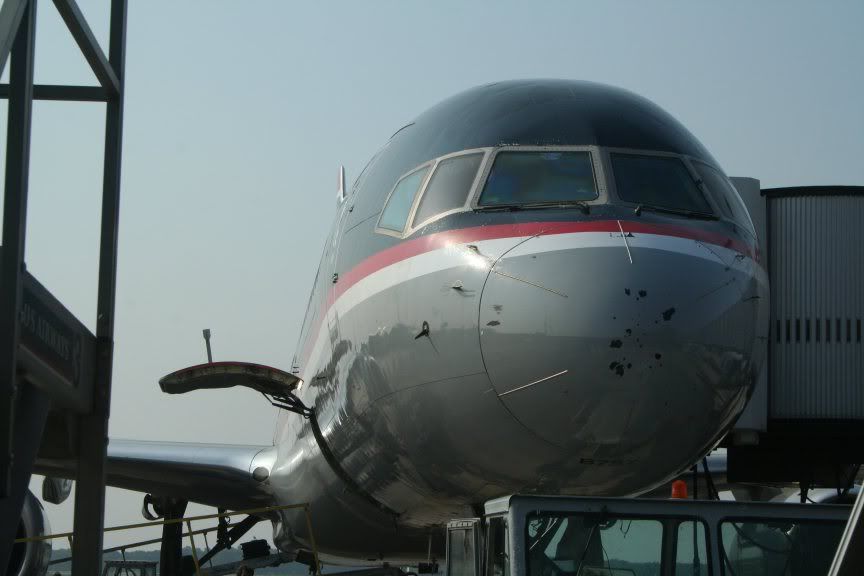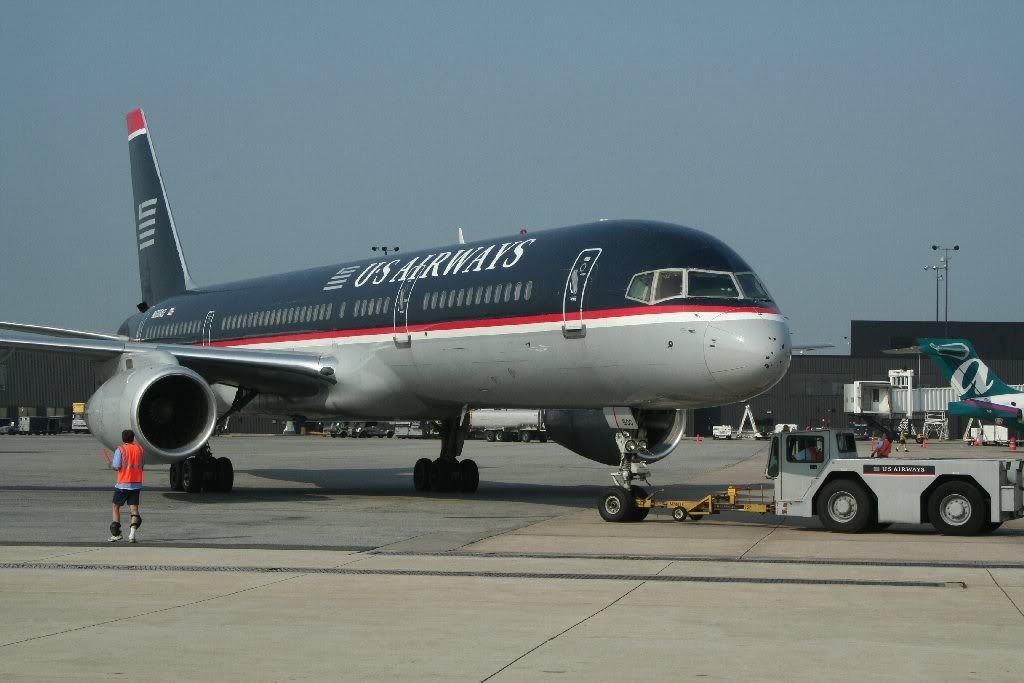 The whole time I was walking the concourse I kept an eye on the display boards for my incoming flight. And soon enough, I spotted my ship, arriving from ATL: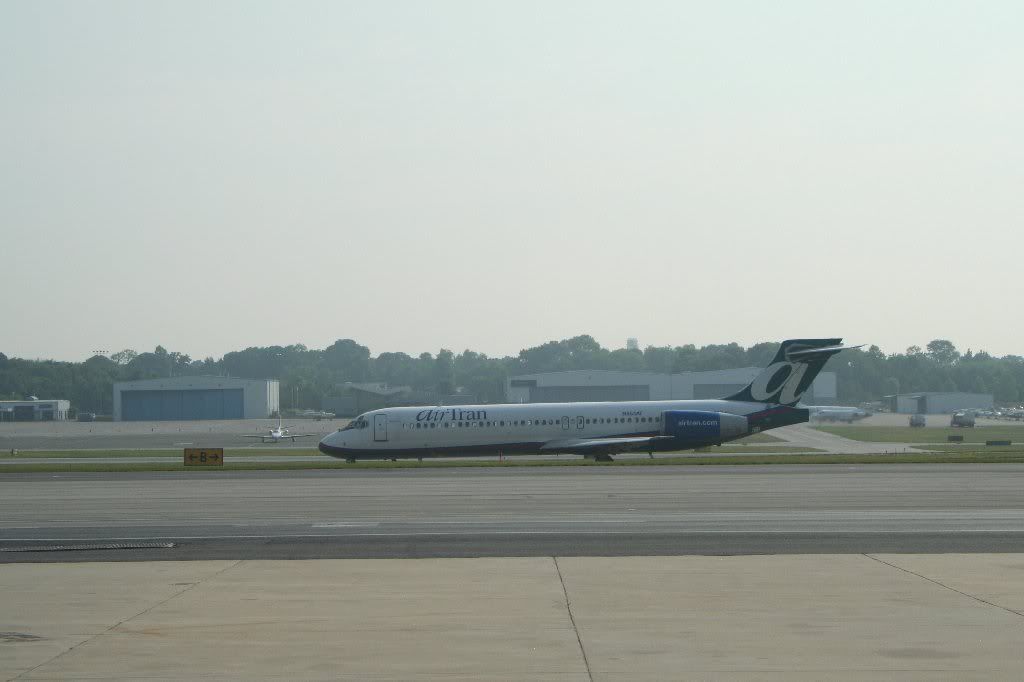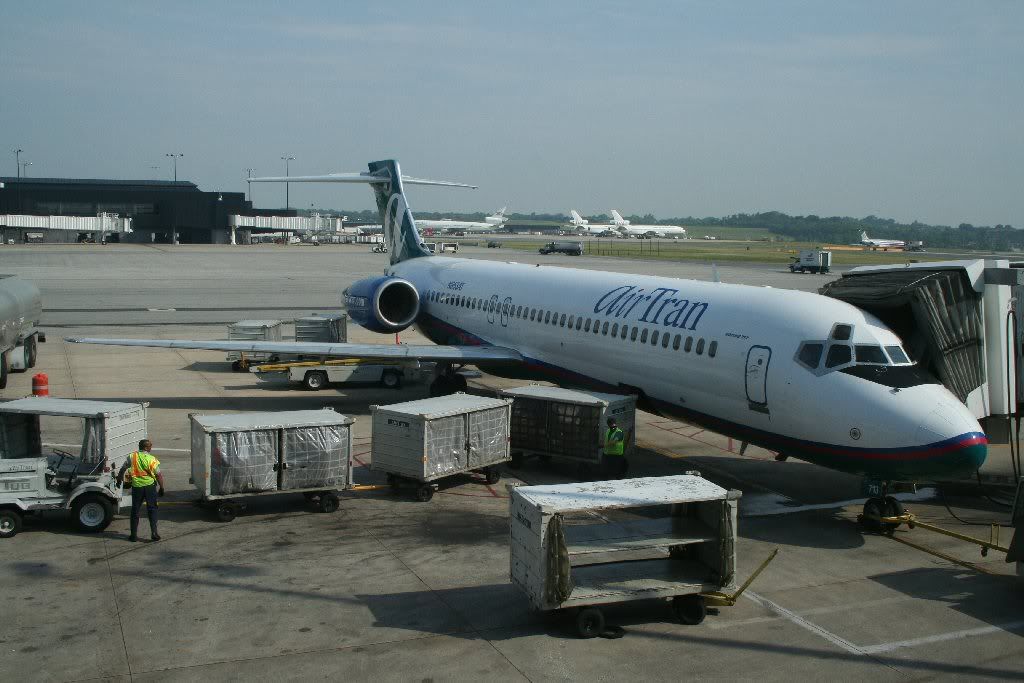 Soon enough it was time for boarding. I had been looking forward to this flight since I had booked it back in early April. FL was not an airline I had the opportunity to fly in the past, and I had no idea if I would ever get to fly them again. I was excited to get the chance to ride my first 717 also. I had already flown on at least one member of the 727, 737, 757, 767, and 777 families, so I was eager to try another new Boeing model. After the preboards and business class, I was first to board.
BWI-FLL
AirTran Airways Flight 417
Boeing 717-2BD
N953AT
Seat: 27A
Depart: 9:52 AM (10:01)
Arrive: 12:21 PM (12:03)
Gates: D21, E4
Runways: 15R, 9L
Load: ~50%
View Large
View Medium


Photo © Kyle Donagher
I made my way down the aisle to my seat, 27A, the fifth to last row. Everyone boarded rather quickly, and to my delight I found out that no one else was seated in my row or behind me, save an FA. Shots before pushing: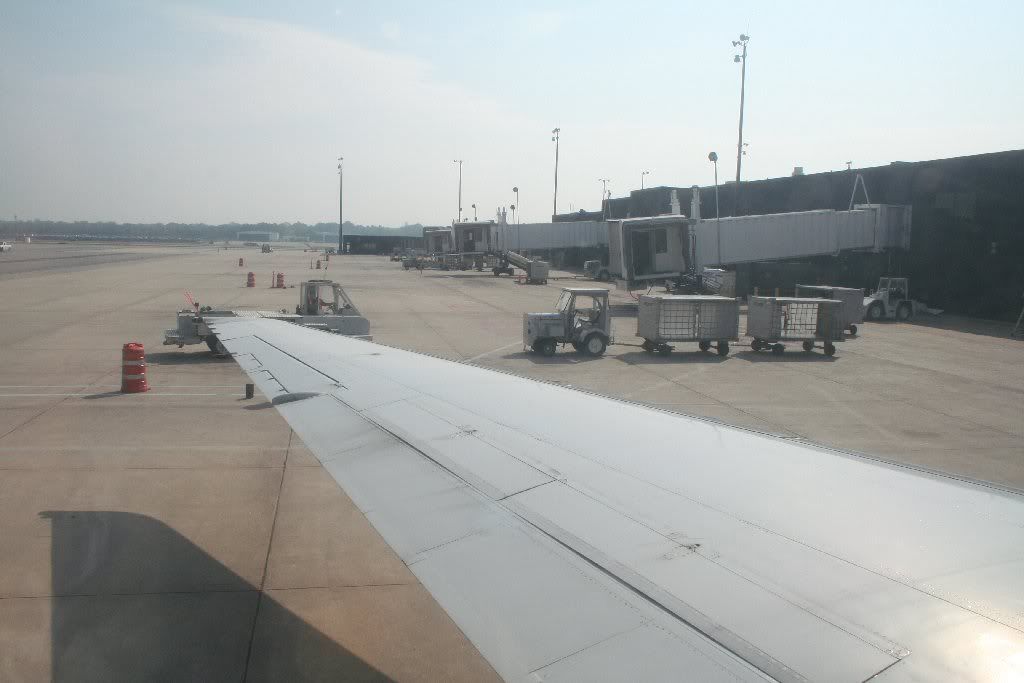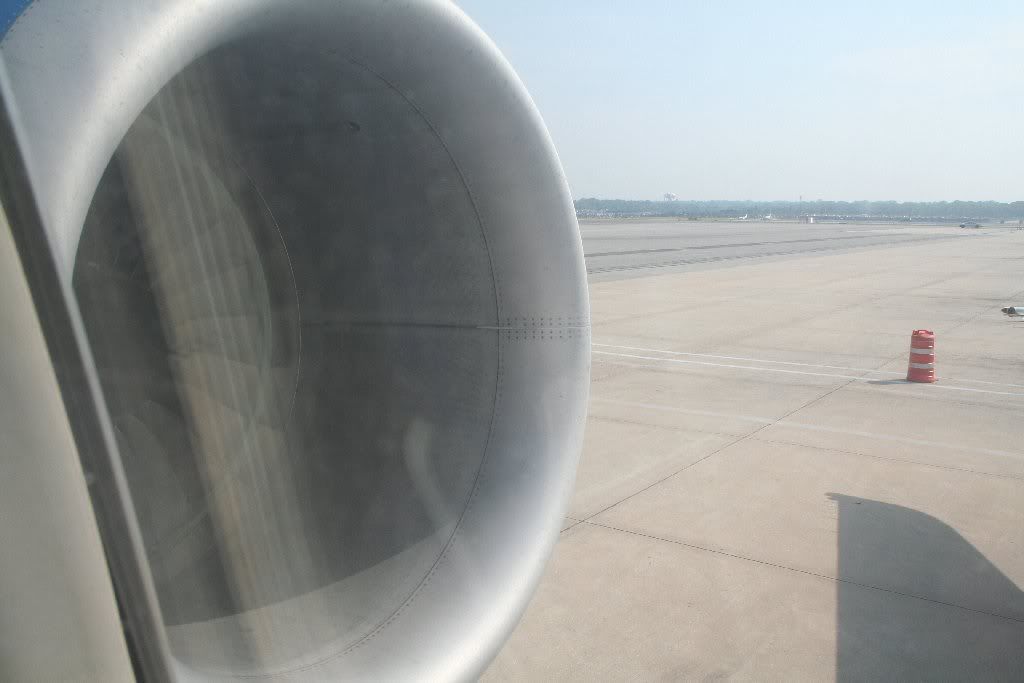 I loved the view!
It had been 6 years since I flew on an MD-80, and even then I didn't have the chance to sit where I could see the fan blades. While we were still on the ground, an FA came through the cabin offering complimentary headphones. We pushed on time, and taxied clockwise around the D, C, B, and A gates down to 15R for departure. Our flight path took us over the Atlantic for more than half of our flight.
We cruised at 36,000 feet on our way down to Fort Lauderdale. Beverage service was performed once, then the FA's sat down for the rest of the flight, save a few collection walks. The XM radio was enjoyable, the first time I had experienced it inflight. A couple of channels were unavailable, but otherwise it was great. With the last five rows to myself, I got up several times to capture shots from both sides of the plane from different rows as the clouds changed outside. Here is the abridged version of my inflight shots:
Cabin: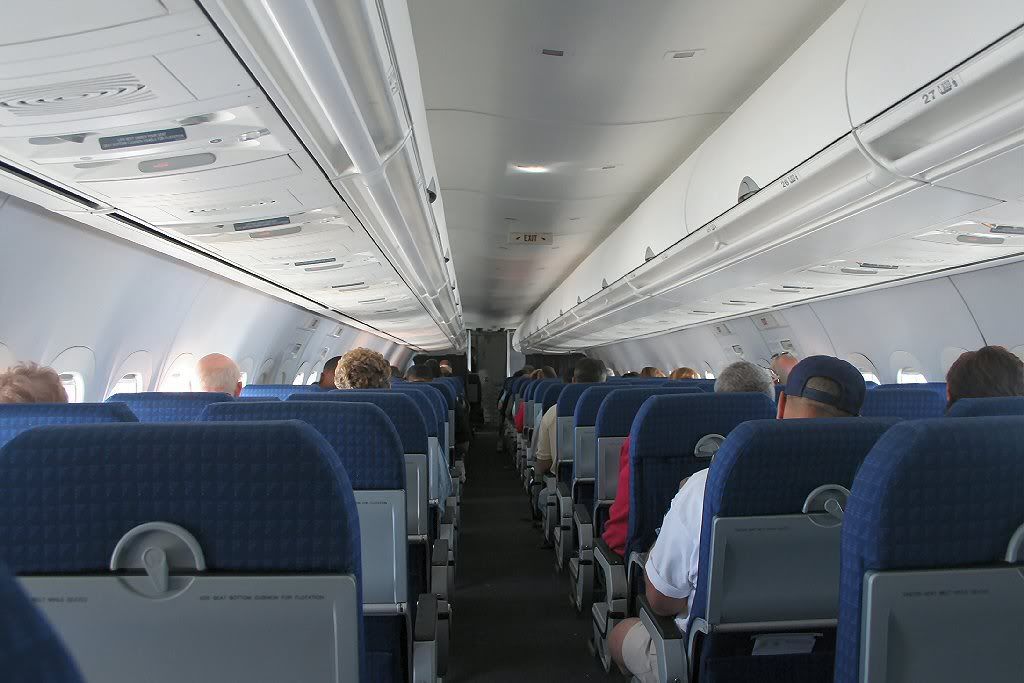 About to leave the mainland behind for an hour and a half: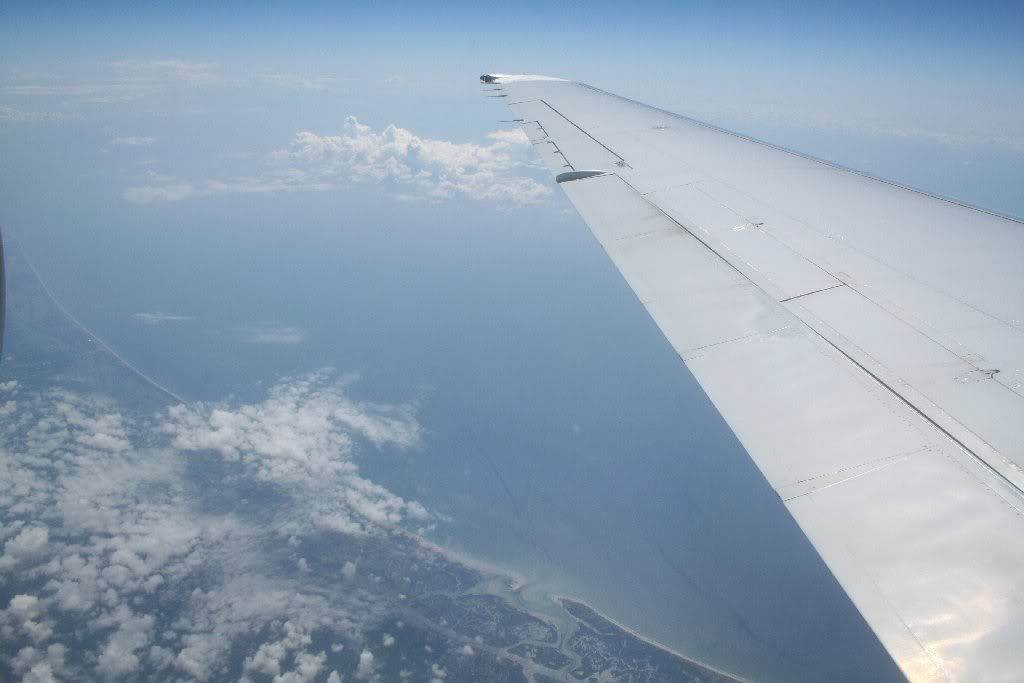 The coast is still visible on the starboard side: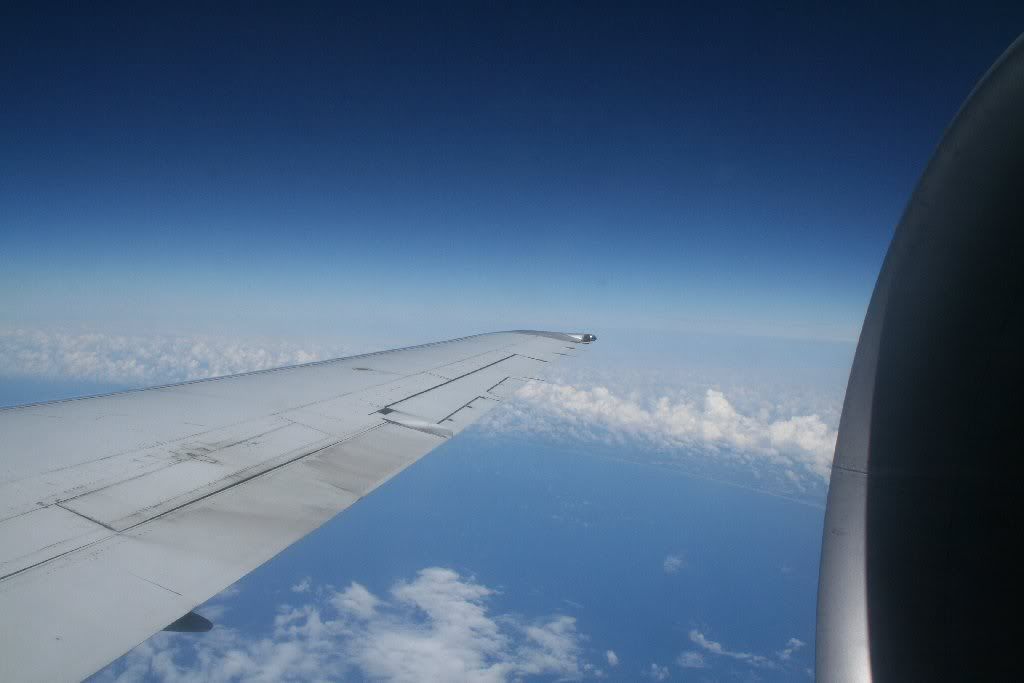 Somewhere off the coast of Georgia (I assume):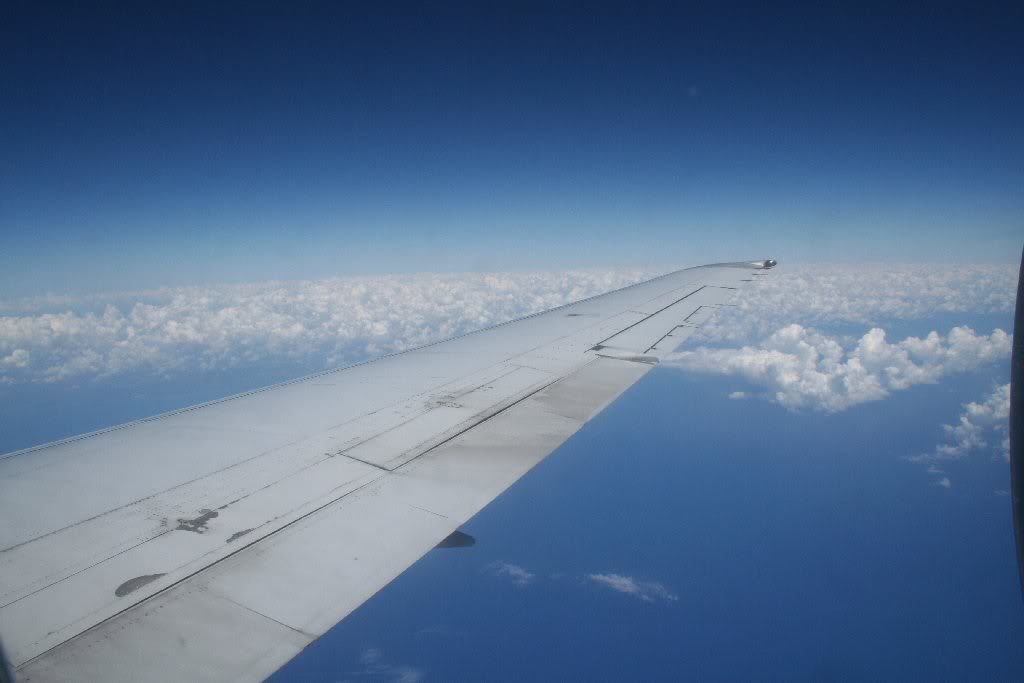 I had to get one of these: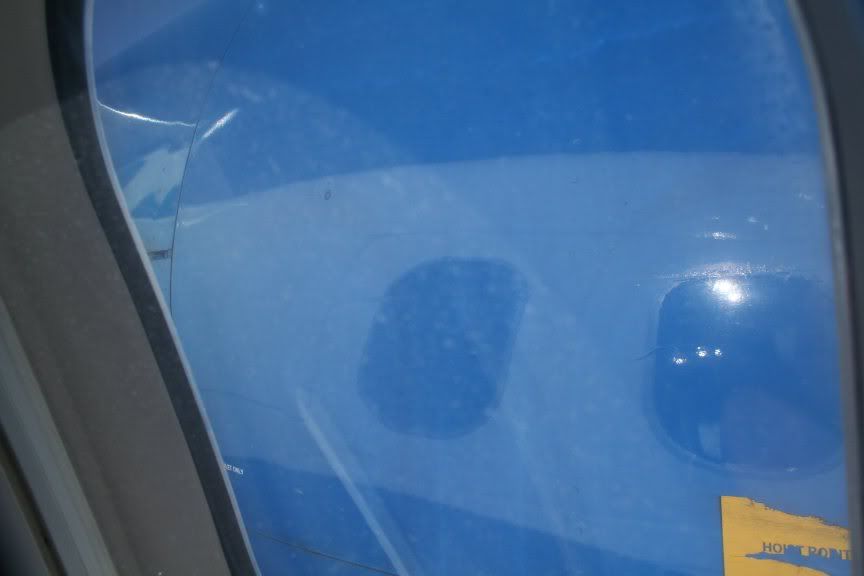 Descent: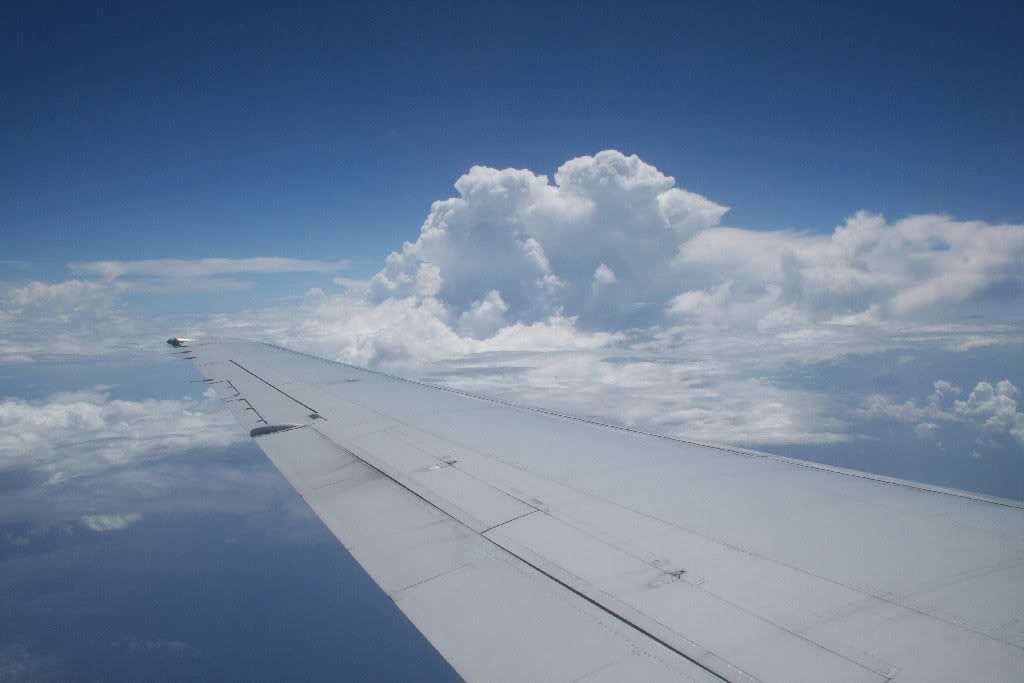 The approach to FLL has to be the most scenic I have experienced. In my only previous visit to FLL (from MCO), we landed on 27R. We turned out over the water several minutes before reaching the city, before coming straight in on 27R, crossing the coast at a very low altitude. Coming in on 9L was much different. When we made the downwind leg of our approach, we crossed the coast at a much higher altitude. It's a breathtaking view of the city and the hotels lined up on the beach. I'm sure the approach to HNL or another Hawaiian city beats this, but until then, FLL is at the top of my list.
After landing we taxied to E4, with a company 73G parked on our starboard at E2.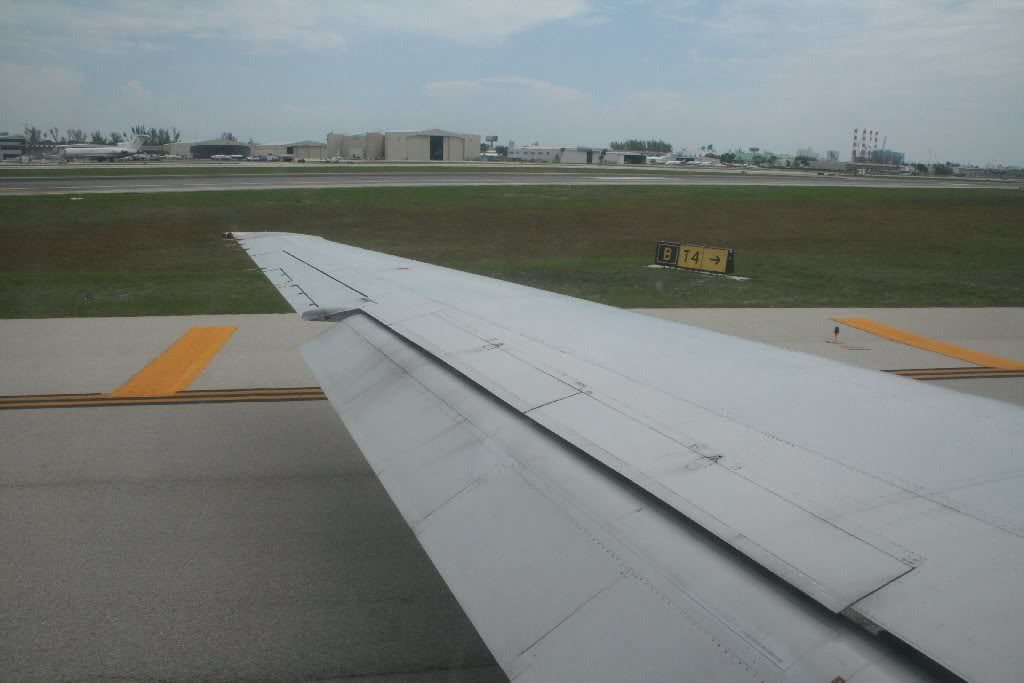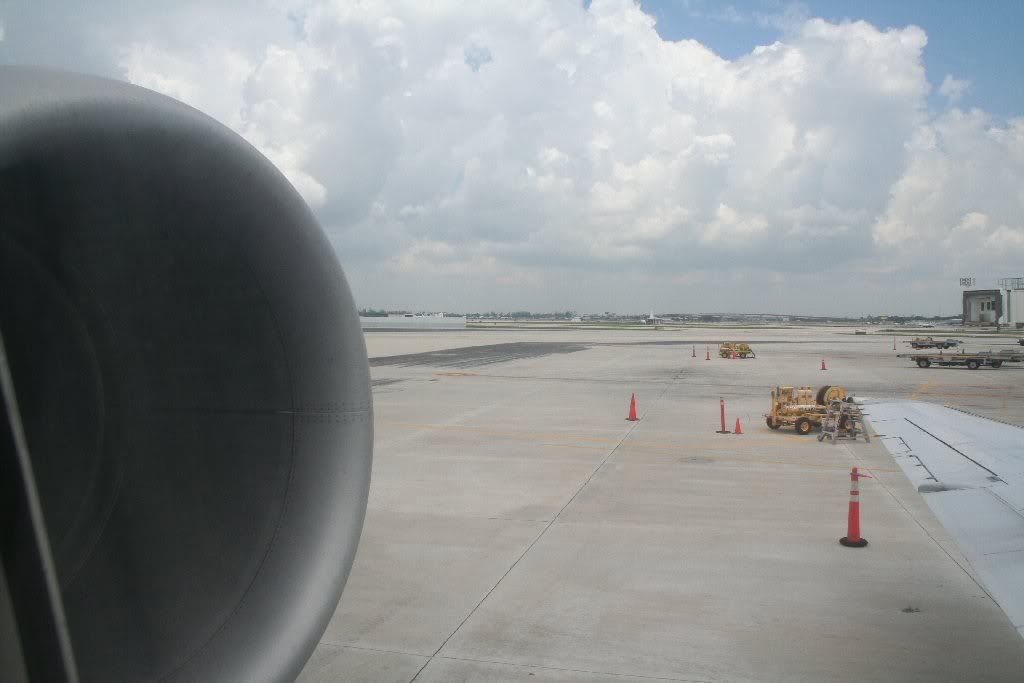 Overall, this ranks as one of the best flights I have been on. Finally flying an airline I've waited so long to fly, and getting another aircraft type under my belt were both very fulfilling. The ability to switch seats several times for photos only added to my enjoyment. Hats off to the crew, they were all very professional and friendly. I hope I do get to fly them again some day.
The majority of my 4.5 hour layover was spent atop the Hibiscus garage. Unfortunately the sun was only out for barely half the time I was out. That's always the risk of a daytrip, but the variety certainly made up for the weather. Here's a sample: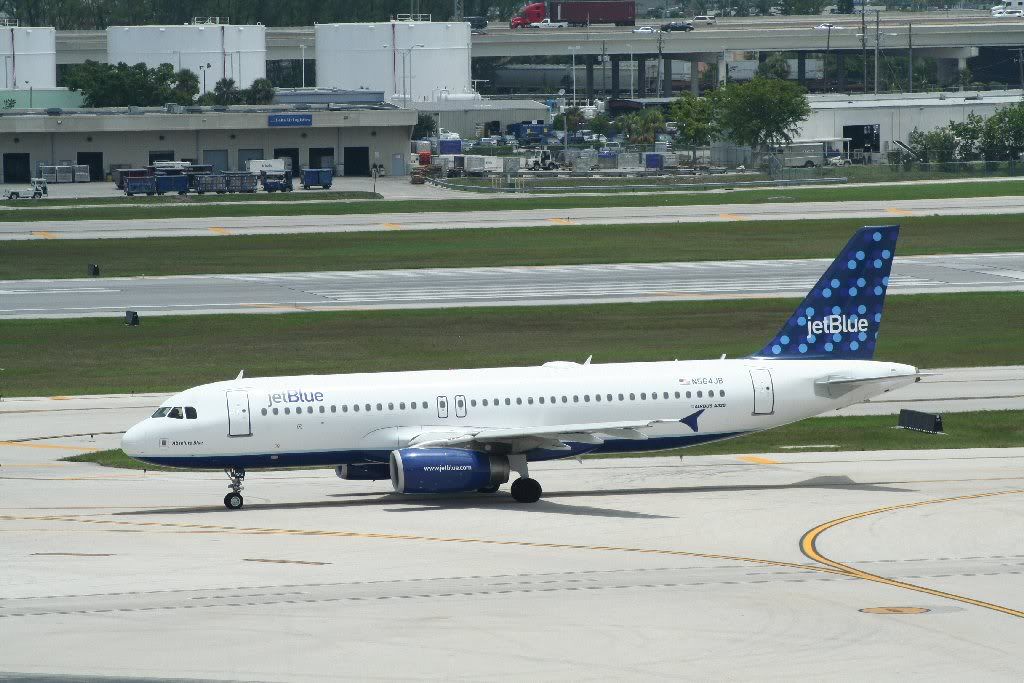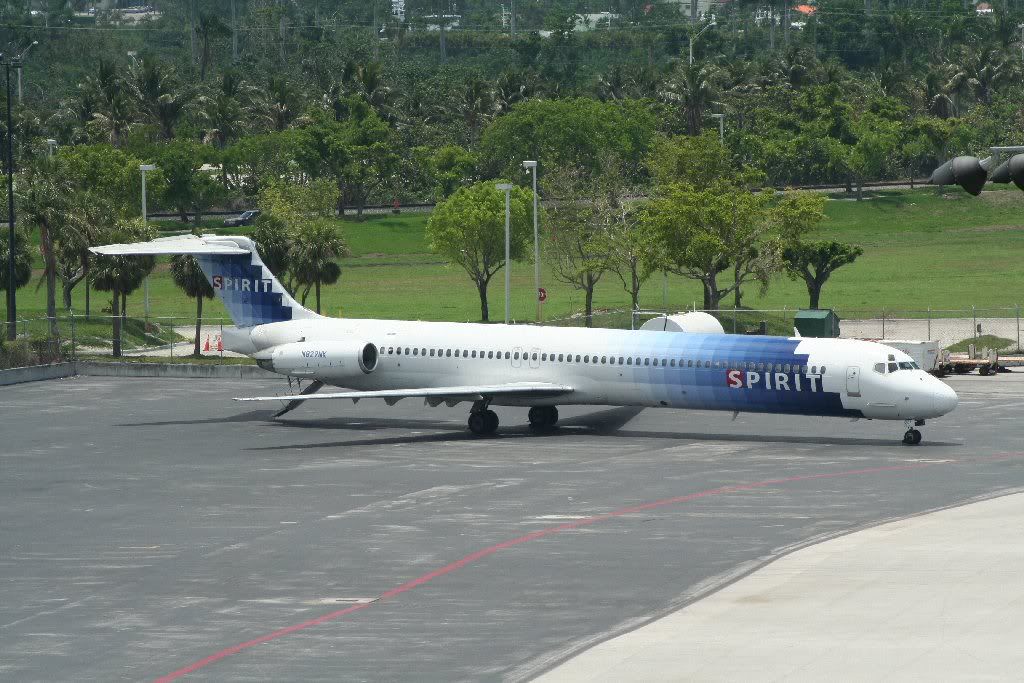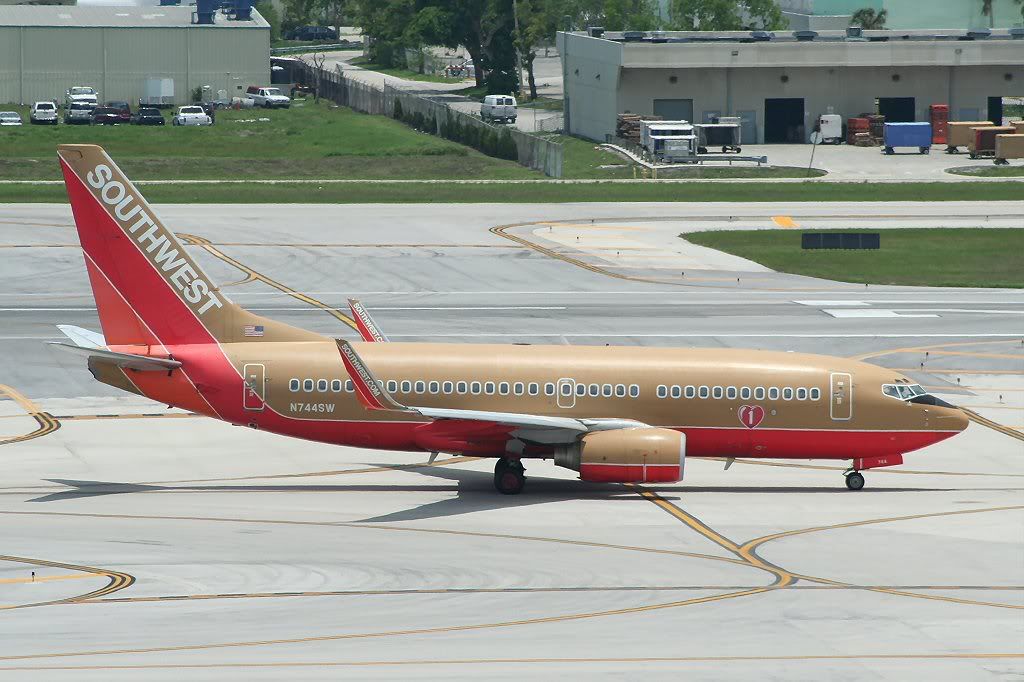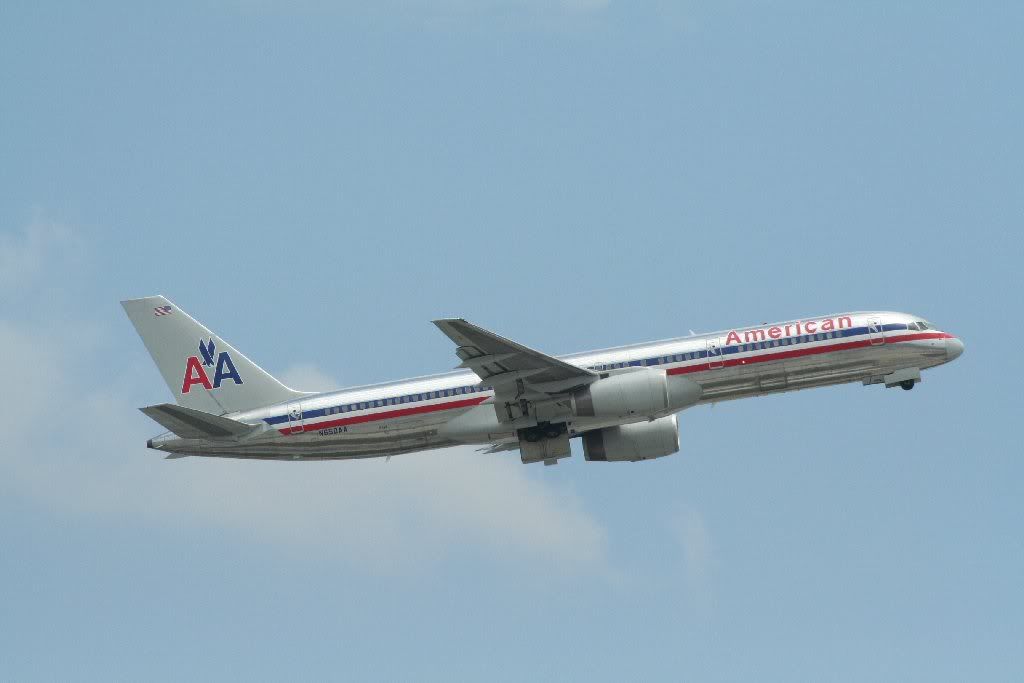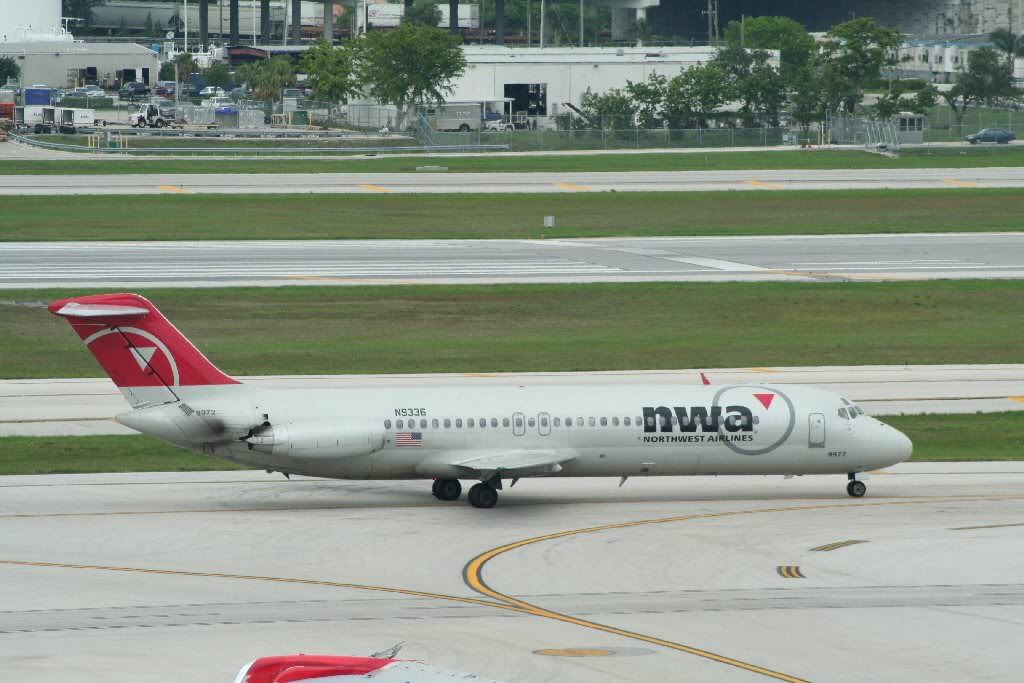 And finally, the highlight of the day, the revised Piedmont c/s from US, less than a week after its touchup. Curse the bad lighting!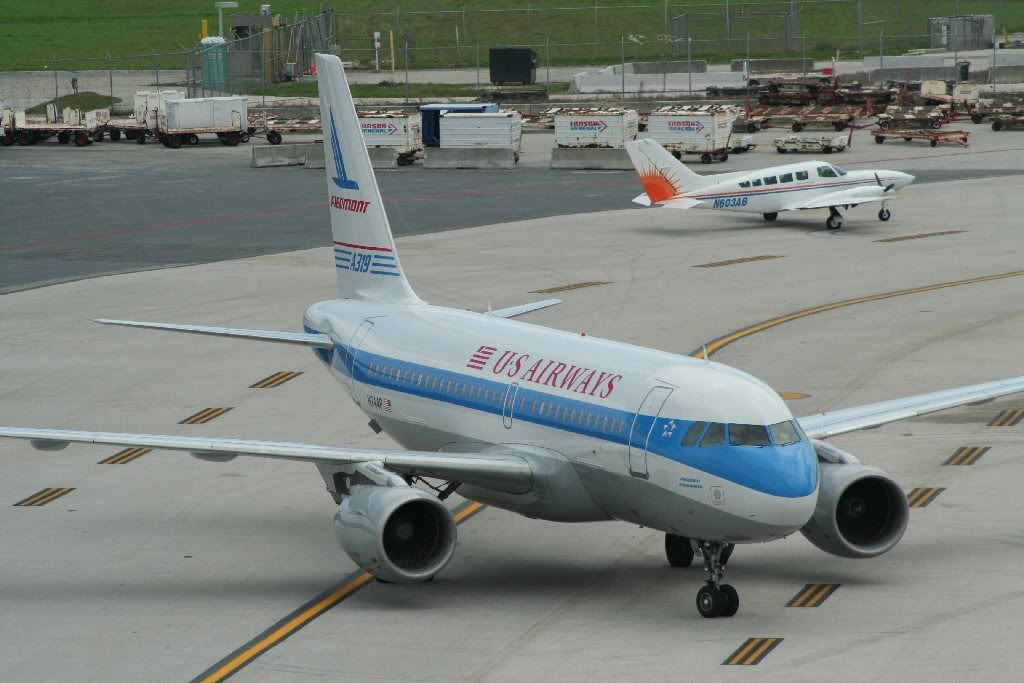 Now it's off to my next flight...
FLL-MDW
Southwest Airlines Flight 2398
Boeing 737-3H4
N331SW
Seat: 10F
Depart: 4:55 PM (6:07)
Arrive: 6:55 PM (7:57)
Gates: B2, B24
Runways: 9L, 4R
Load: 100%
View Large
View Medium


Photo © Ralph Duenas - Airplanespotters
I don't get to the security checkpoint until after 4:15. It took me about 5 minutes to get through. I go straight to the gate. Everyone is already lined up in traditional Southwest style, eager to get a good seat. I take my place at the back of the A line. I was happy to see a plane sitting at the end of our jetway. I know that this plane just came from PHL, and that flight had a history of delays. With only a 45 minute connection in MDW, I wasn't looking forward to any long delays. It looks like we're about to board, as the agent picks up the mike at about 4:35. Wrong. She tells us we're on a ground hold because of storms in the Midwest. She said it would be an hour. After the grumbling stopped, quite a few of the passengers in line took off to get something to eat. The people remaining in line settled down, a lot just sat down, myself included. I just pulled out a book and read until they called us to board, about an hour later. They updated us every 15 minutes, saying not to wander too far, they could go at any time, but it looked like it would be an hour, and it was. The agent said that everyone's connections looked good, except for passengers going to OAK or CLE. I was the latter. They said those 2 flights would be very close, but you'd have enough time to make them if you went straight to your connecting flight at MDW and didn't stop for food or whatnot. So I wasn't too concerned. In the past Southwest has handled my delays very well. We board at about 5:30 or so. I've moved up a little in the A line because some people left the line at the first announcement and didn't return until we actually boarded. The recline-restricted row, 10, was the first empty row when I boarded, with the exit rows themselves taken as well as a few behind them. I didn't mind conceding my ability to recline on a 2.5 hour flight so I could the furthest forward window seat available. Every seat was taken.
The plane's interior definitely showed signs of age. Still, I've seen worse. At least the windows were better than they were for my first WN leg.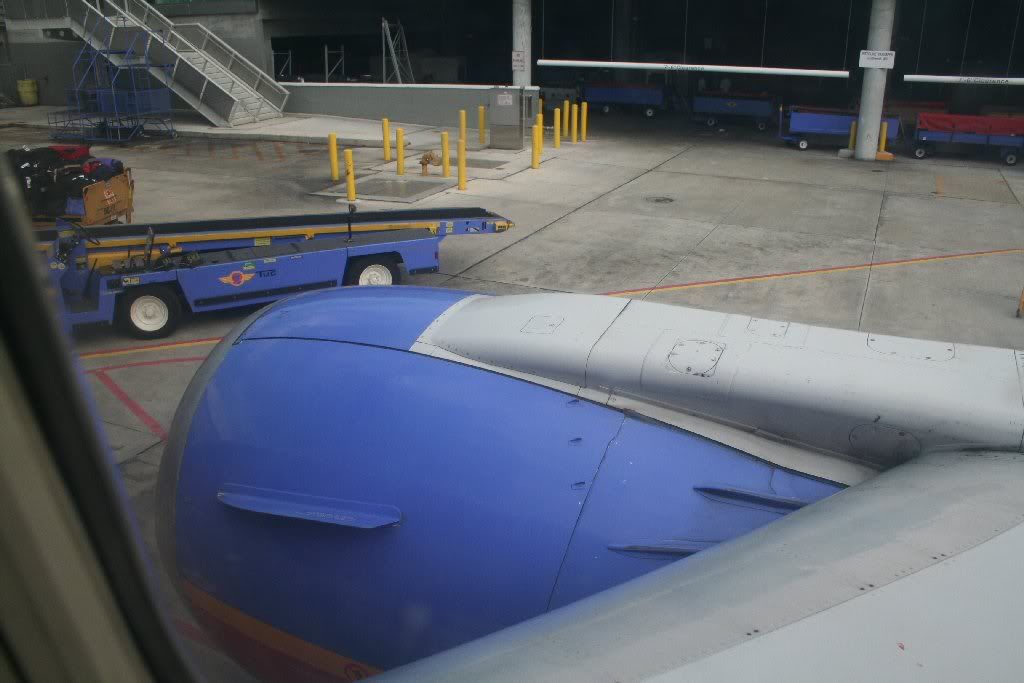 After a long takeoff role, we were off.
Climbing over South Florida: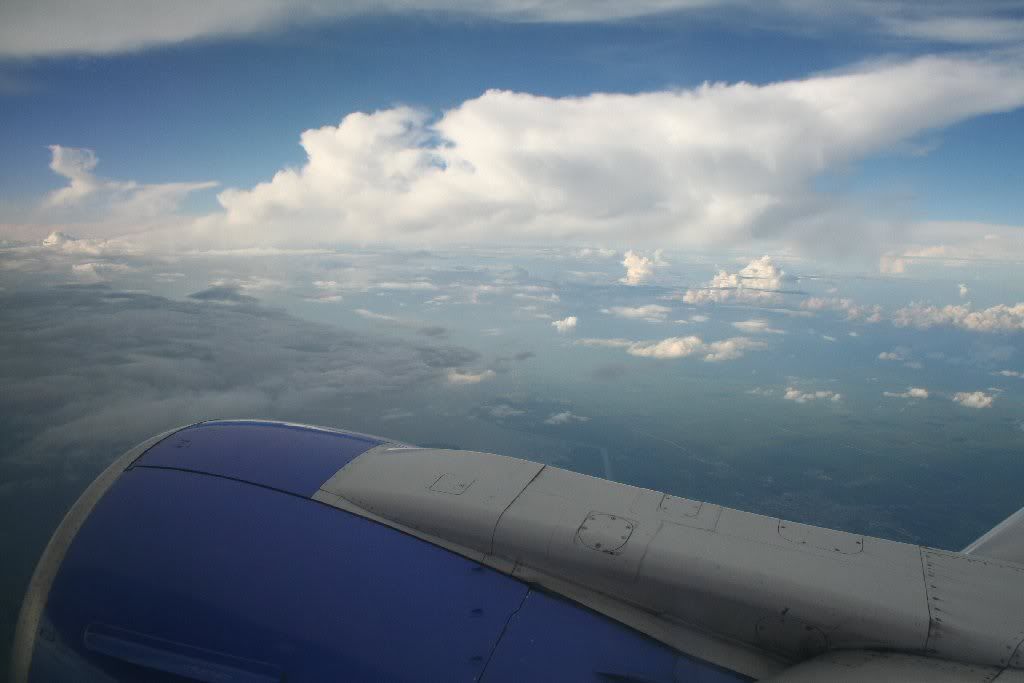 Service for this flight included three drink services, if my memory serves. The first time, the FA came through and wrote down your order. On the successive times, they didn't need to write them down because not many people reordered. Snacks were better for a flight this length. We cruised at 34,000. As we got closer to Chicago the captain came on over the PA and announced we were going to detour around some storms. Here's the view: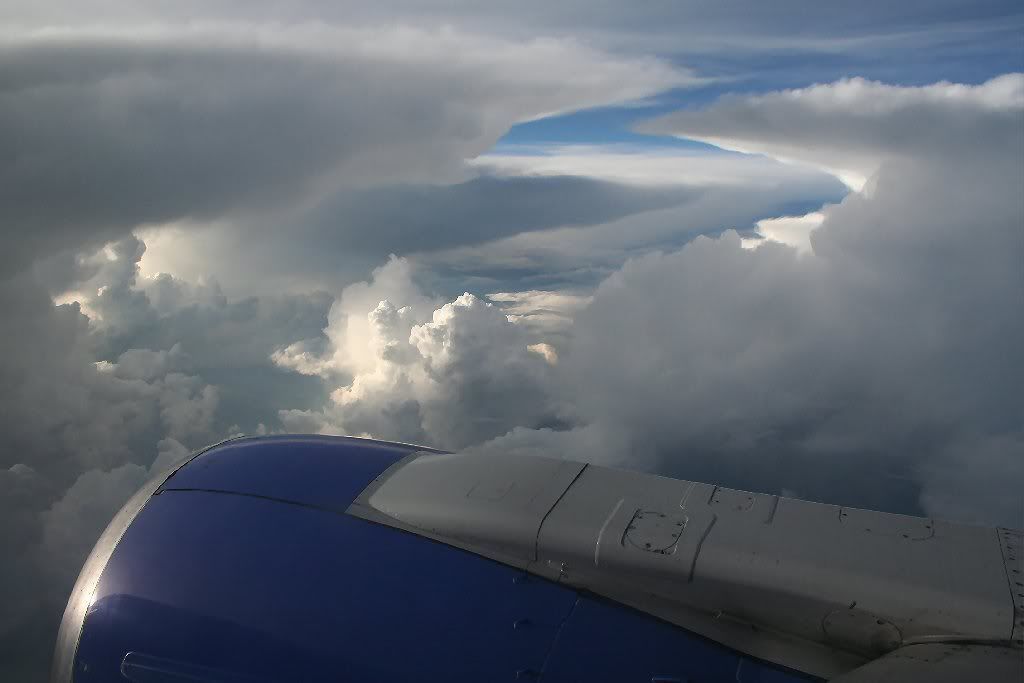 We then made an uneventful and a fairly smooth approach into MDW.
Parked at the end of concourse B, I checked the nearest FID. We had arrived after my connection was scheduled to depart. My connecting flight was going out of A15, and it was just arriving from somewhere. I looked out the nearest window and saw my plane arrive at the gate. Even though it's practically the longest connection one can make at MDW, from the end of B to the end of A, I knew I had plenty of time. I didn't stop at all, I walked straight down to the gate to see they had deplaned all the inbound pax and were about to board us. I was near the end of the A line. No one was in the B or C lines.
MDW-CLE
Southwest Airlines Flight 603
Boeing 737-7H4 with winglets
N232WN
Seat: 20A
Depart: 7:40 PM (8:31)
Arrive: 9:45 PM (10:21)
Gates: A15, B8
Runways: 31C, 6R
Load: 30-40%


What a surprise this was! Flightview.com said I was getting a 733, but instead I get an almost factory new 73G, delivered less than 3 months ago. The cabin was nearly spotless, the seats all looked brand new, and the windows were pristine. Not many passengers were on this flight, but everyone was really spread out. I chose 20A, there was no one else within a few rows of me. Here was a good tradeoff between visible wing and unimpeded view of the ground.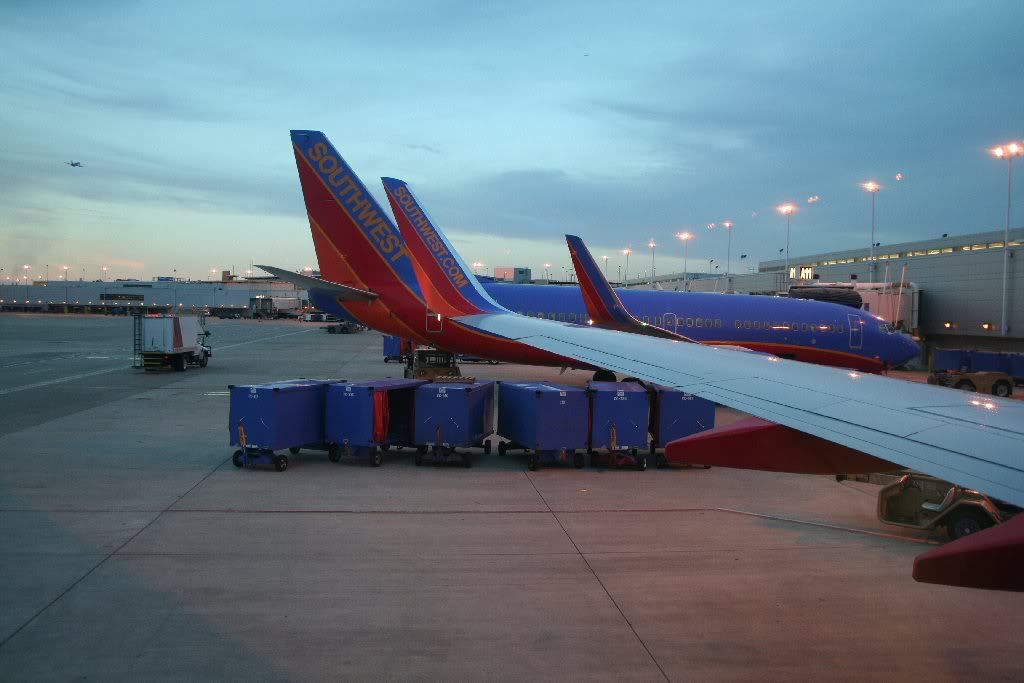 We taxi to 31C with a couple of planes ahead of us, then we're off.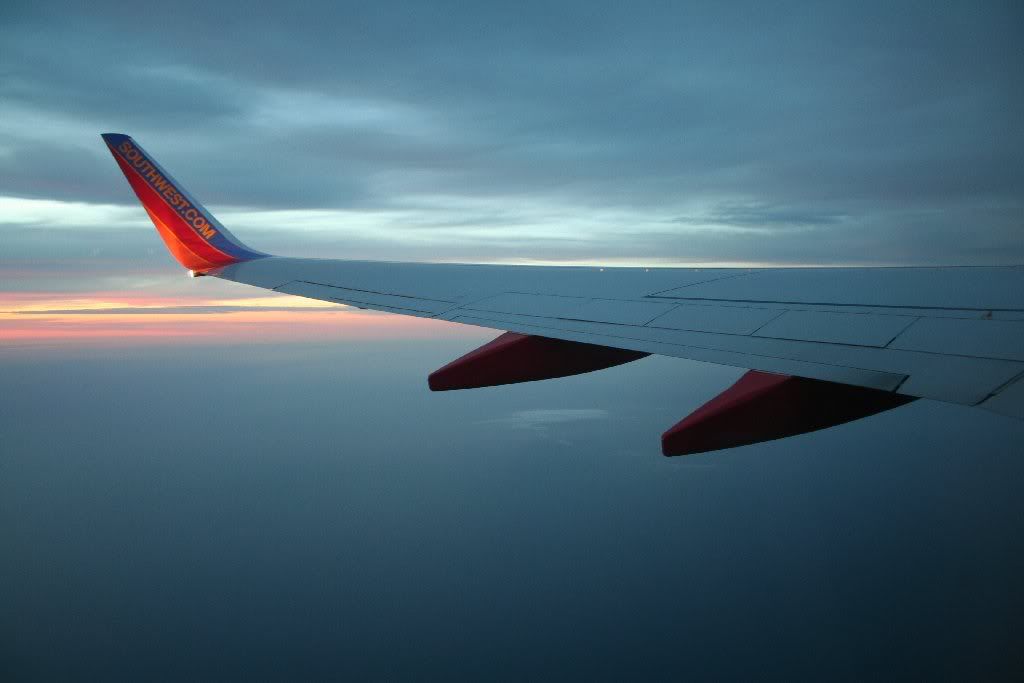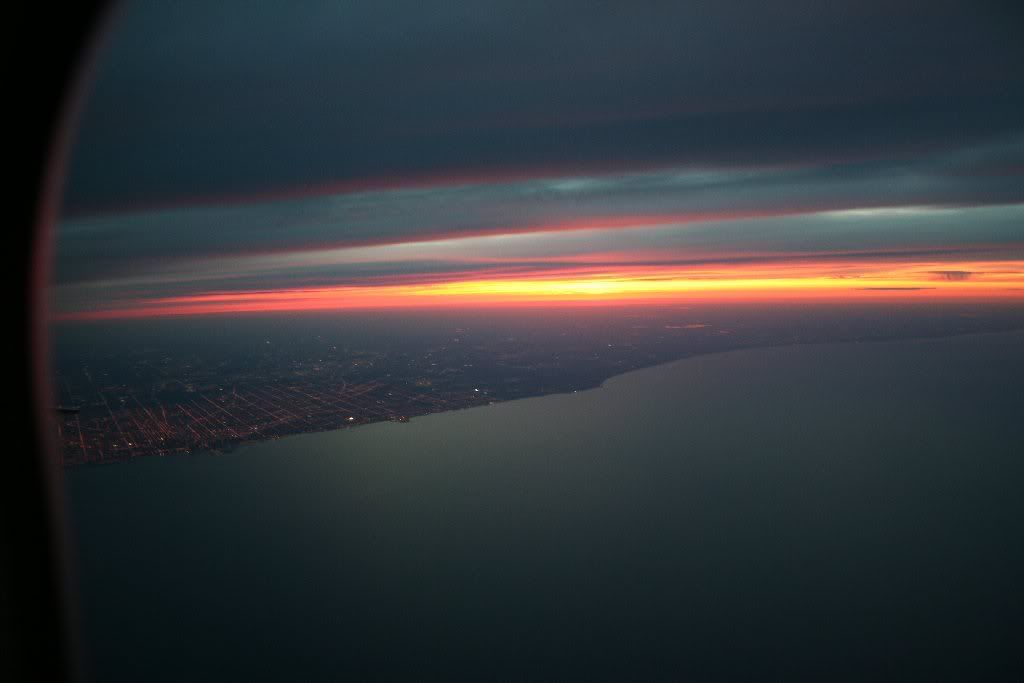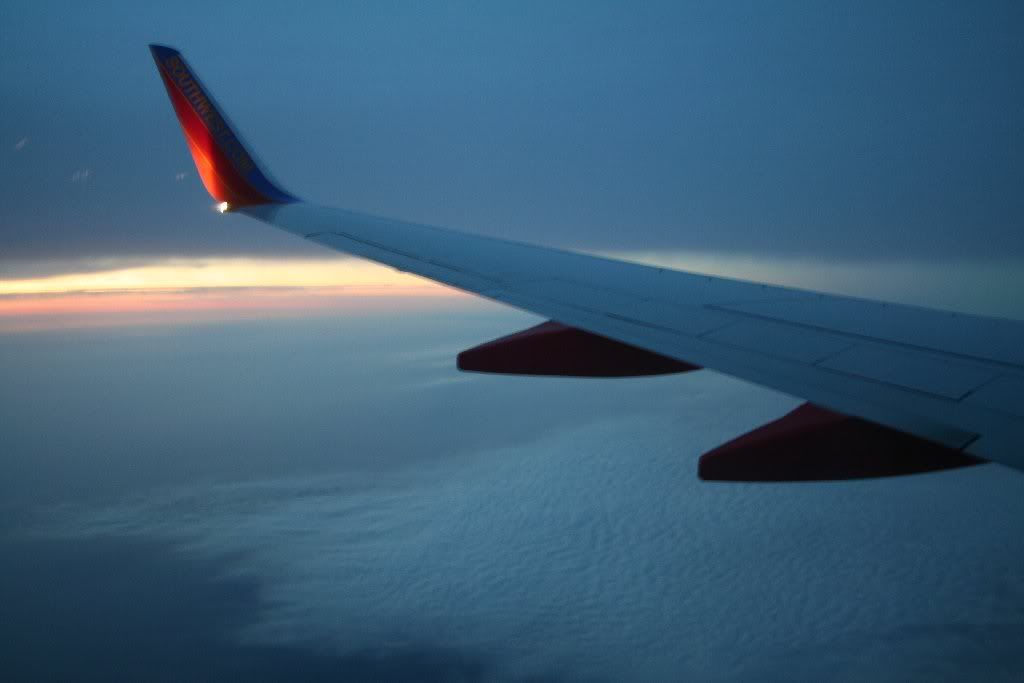 Service consists of drinks and 2 bags of peanuts, the usual fare for a very short jump on WN. As always, the crew is very friendly, and the captain keeps us informed of conditions in CLE and expected arrival time. I didn't get the cruising altitude for this segment. There's still cloudcover hanging over the Cleveland area. We land on 6R, after taking off the opposite direction on the same runway. It's a short taxi to B8.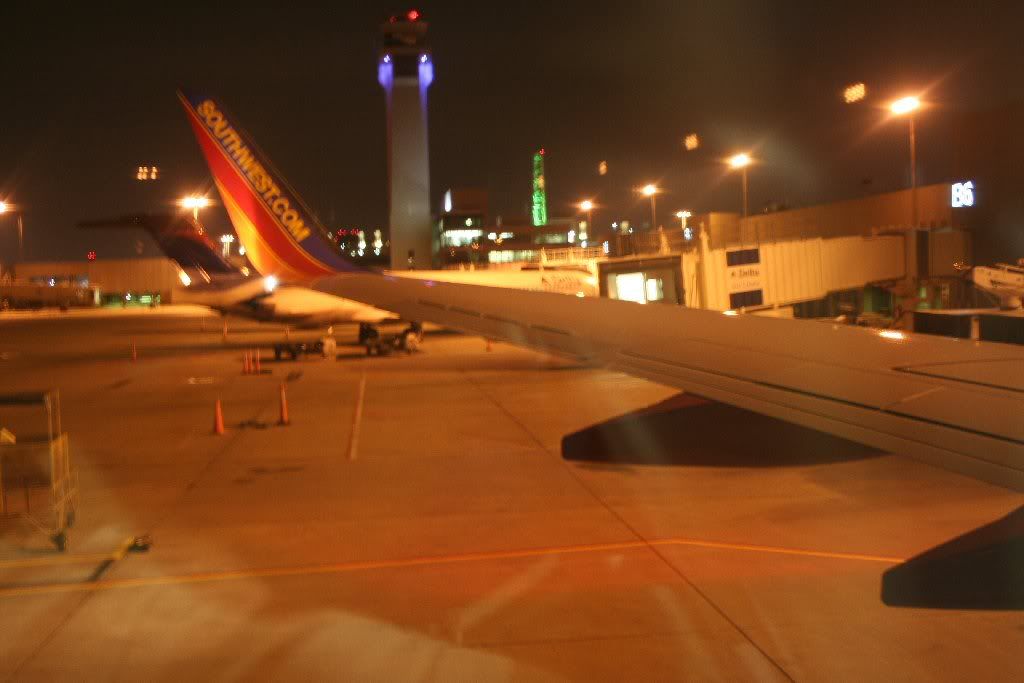 With the privilege of being the last passenger to disembark, it's the perfect opportunity to get a cabin shot. I ask the crew and they have no problem.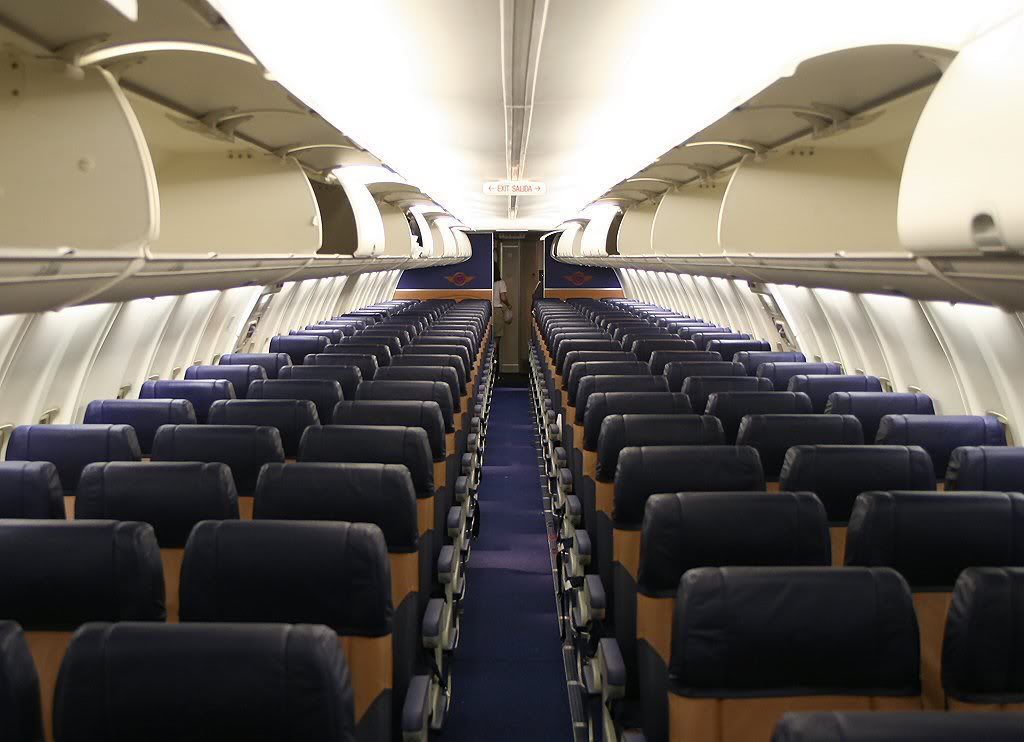 I also get in one shot.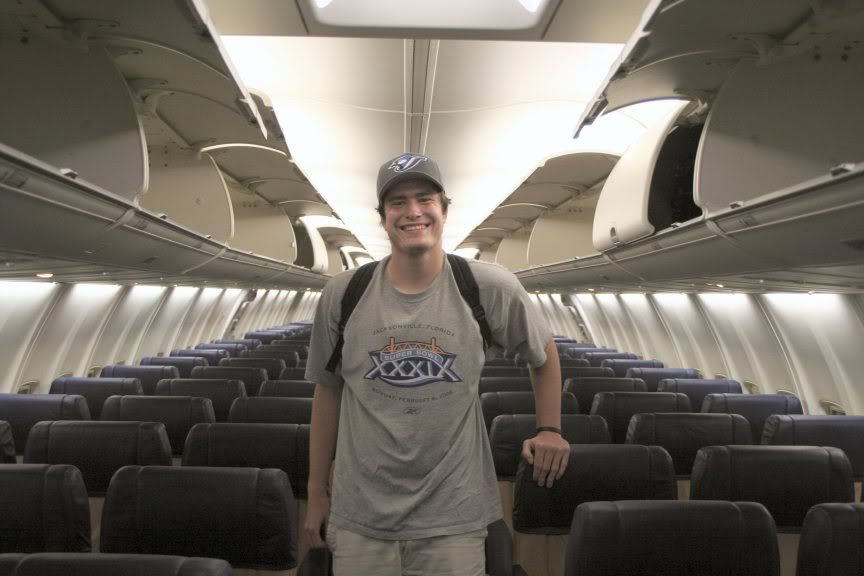 Southwest still has the friendliest crews I have encountered, offering a very consistent product. I have flown 21 segments with them in the past 3 years, and I have yet to be disappointed. I certainly will continue flying them in the future.

I hope you enjoyed my latest trip report, this took a lot of time to assemble.