Southern Norway from STR on SK and BA (Bergen/Flam railway included)
The trip:
A ride on the Bergen train has a high rating on my to do list for some years now, but I´ve never found the time to do it.
Around my negotiations for travel in 2006 I saw three free days in my calendar for the end of June. A real good time for another trip to Scandinavia.
I searched some nights the timetables up and down for a good schedule and acceptable fares and finally booked outbound on SK and inbound on BA.
Thursday, 29.06.2006
Fact sheet: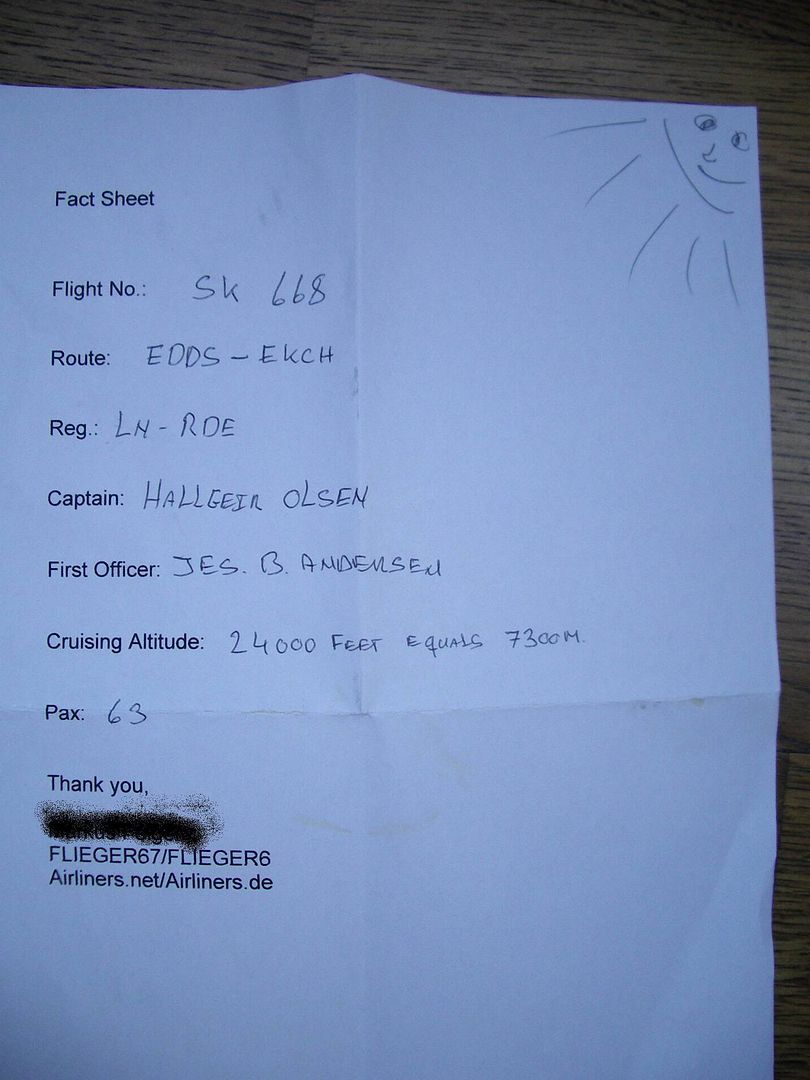 STR (Stuttgart-Echterdingen) - CPH (Kopenhagen-Kastrup)
SK 668 operated by SAS DHC8-400 LN-RDE
Scheduled: 07.05 // 08.50
Actual: 07.15 // 08.40
Gate: 159 Seat: 19F
Load factor: 63 pax = 87,5 %
Fare: 133,55 EUR
Delivered new to SK: 28.06.2000
This time the fare on SK´s website for the STR-CPH-OSL-BGO routing was slightly higher than on Start.de, so I decided to book with Start.de. around late January. Arrived at the airport by car at 6.00 am, a huge queue at the LH check-in counters. Online check-in with LH was once again impossible.
As far as I like personal check-in, I dont want to wait such a long time. Also some time to wait at the check-in machines, all busy, insert my Miles-and-More card and this time no problem, three seats selected, three boarding passes printed and through security without any time to wait there. Some departures, but nothing on special interest
followed from T3 and further downstairs to my usual bus gate at T1 159 , the same like my last SK run two weeks ago.
It seems like a good load this morning, lots of pax there. Boarding started around 06.40 am. Only one bus, some 10 minutes to wait till all pax arrived.
ACARS showed only DHC 8/400´s on this service during the last days, so a good chance for my next run on the not so quiet Dash 8/400 quiet.
A free apron tour and arrival at LN-RDE around 07.00 am. Leisure flight no.2 on the DHC-8/400 and the first on this machine as pax no. 29 . Again bag delivery-at-aircraft was not possible on SK. Welcomed by a friendly female FA, I leave my fact sheet at the other also friendly female from the rear part of the plane, she delivered it back to me during the flight. Dark blue leather seats, good legroom, clean plane.
This time we´re no. five to departure from runway 07 after some LH CRJ´s and a BA and an AF Airbus.
The wheather forecast announced thunderstorms around middle and southern germany and so was the flight. Flight level 240 = 7300 meters was to low for most of the clouds today, that means a heavy, unruly run for the first half of the flight. The fasten seatbelt sign was on the most time.No service on this flight.
Later the wheather was better, but hazy, so no pix from this flight. Approach to CPH started 25 minutes ahead to arrivals on runway 22L , heavy brakes, we leave the active early and parked on the apron. I said goodbye to the friendly FA´s after a short chat and was in the bus to CPH terminal.
LN-RDE after deboarding at CPH: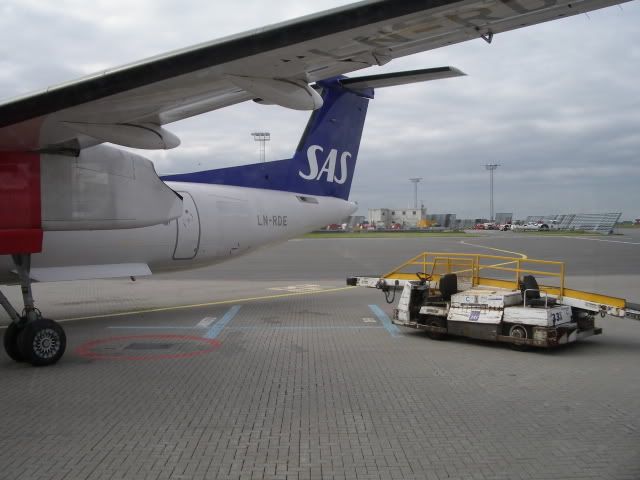 Close-up LN-RDE at CPH:
Leaving LN-RDE at CPH: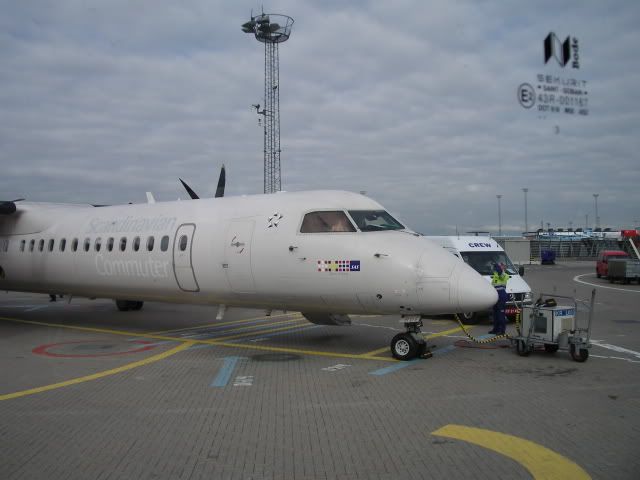 Thursday, 29.6.2006
Fact sheet:
CPH (Kopenhagen-Kastrup) - OSL (Oslo-Gardermoen)
SK 1464 operated by SAS A321 OY-KBE
Scheduled: 09.45 // 10.50
Actual: 10.00 // 11.00
Gate: B5 Seat: 14A
Load factor: 135 pax = 73,37 %
Delivered new to SK: 27.08.2002
In the terminal and on the walk to the B area for my next leg at around 09.00 am, enough time to go.
Strange, no photos allowed at the gate!. ACARS showed a mix of A321`s and MD´s on this flight during the last weeks, I had not so much A321´s in my log and I like the Maddog, so both will be ok for me.
OY-KBE at CPH: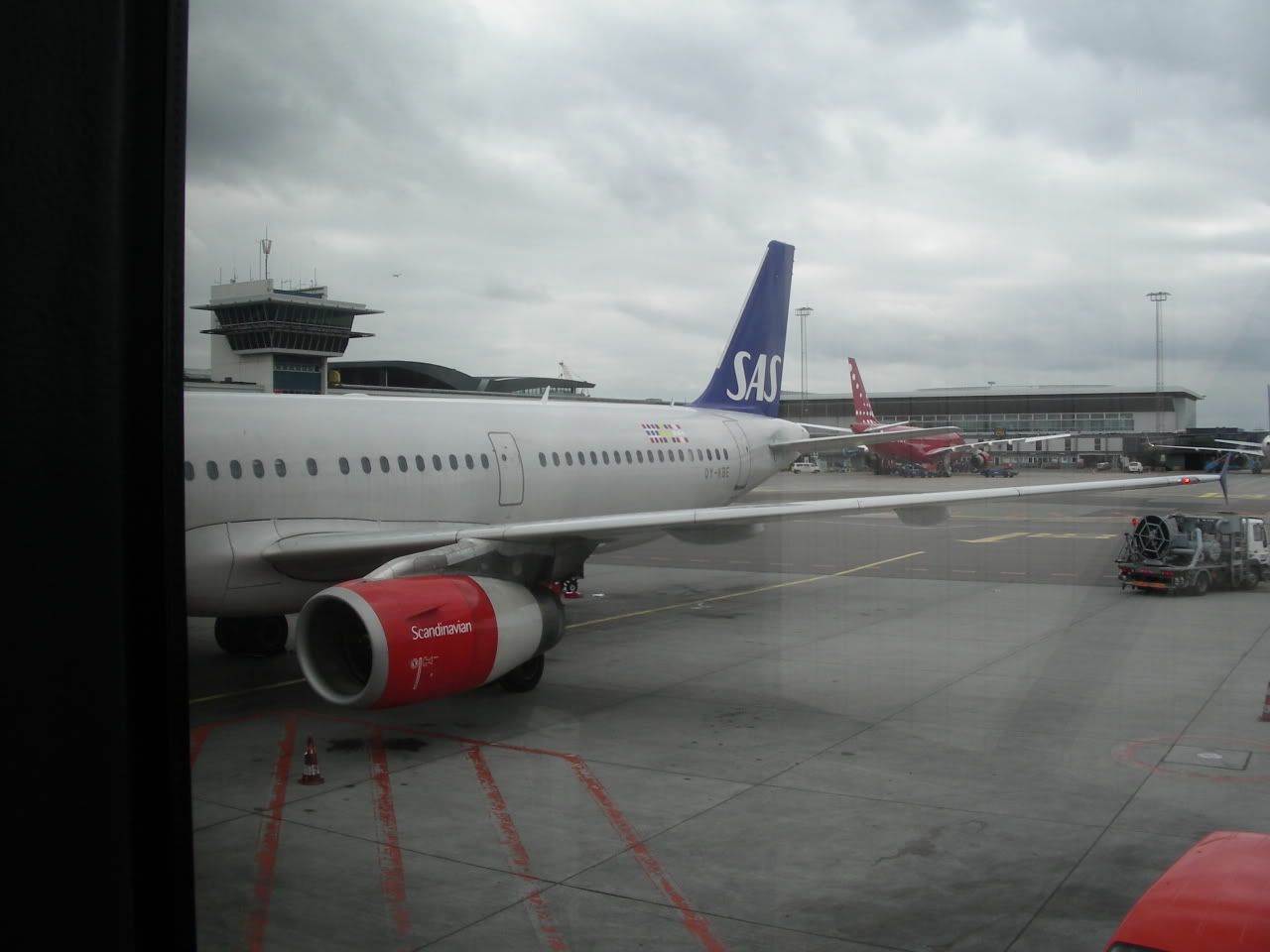 Boarding started a bit late, but goes quick forward. OY-KBE was there as I arrived, leisure leg no. 7 on the A321 and the first on this plane as pax no. 67.
The pilot came on the interkom and explained the late boarding with some, now fixed, technical problems.
How to load an A306 at CPH:
The safety demo via the screens.
Also this time I leave my fact sheet during boarding at the friendly female FA and she delivered it back to me during the flight. Again no service on this flight.
Fabric seats this time, IMO they use the A321 on high density domestic routes and for charter services, the cabin not in the best conditions, slightly dirty.
Departure from runway 22R . Not the best load on this service.
The sky was cloudy around CPH but cleared later up and so I had good views along the flight and during approach into OSL. Calm and smooth cruising.
Approach to OSL: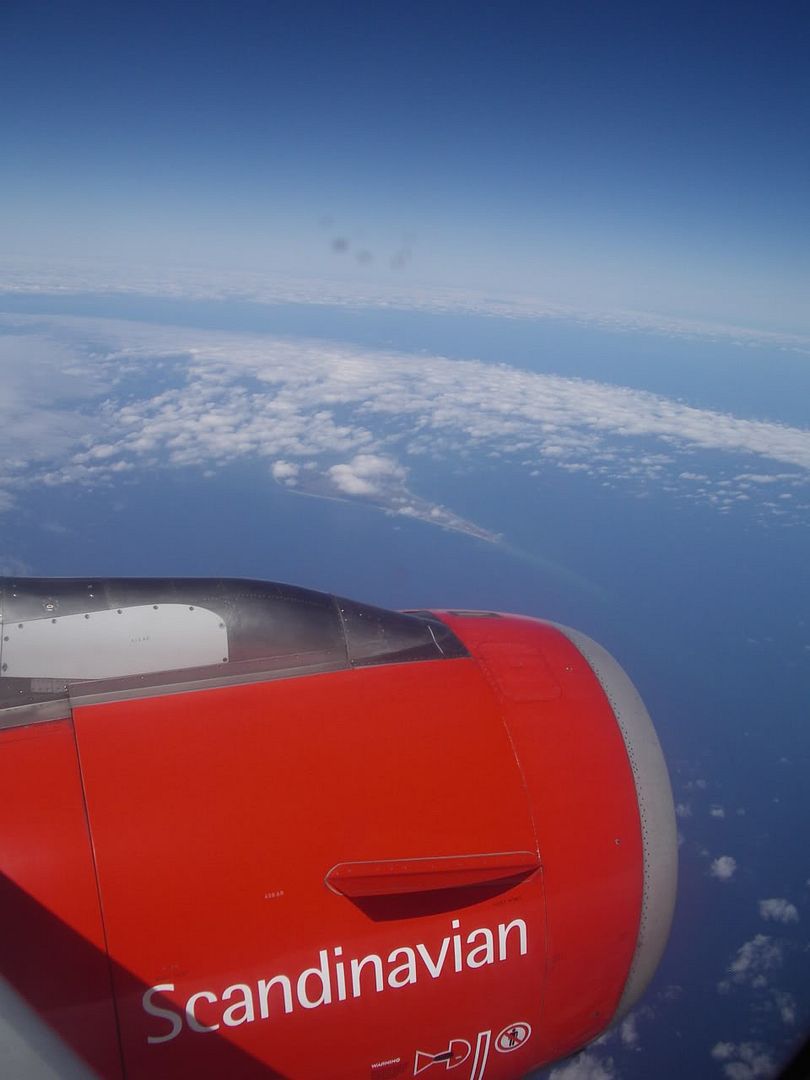 Approach to runway 01R started 25 minutes ahead to arrivals. Heavy brakes and a quick taxi to a finger gate stand near the non-schengen arrivals.
A quick good bye to the friendly FAs and on the run for my next flight.
OY-KBE at OSL: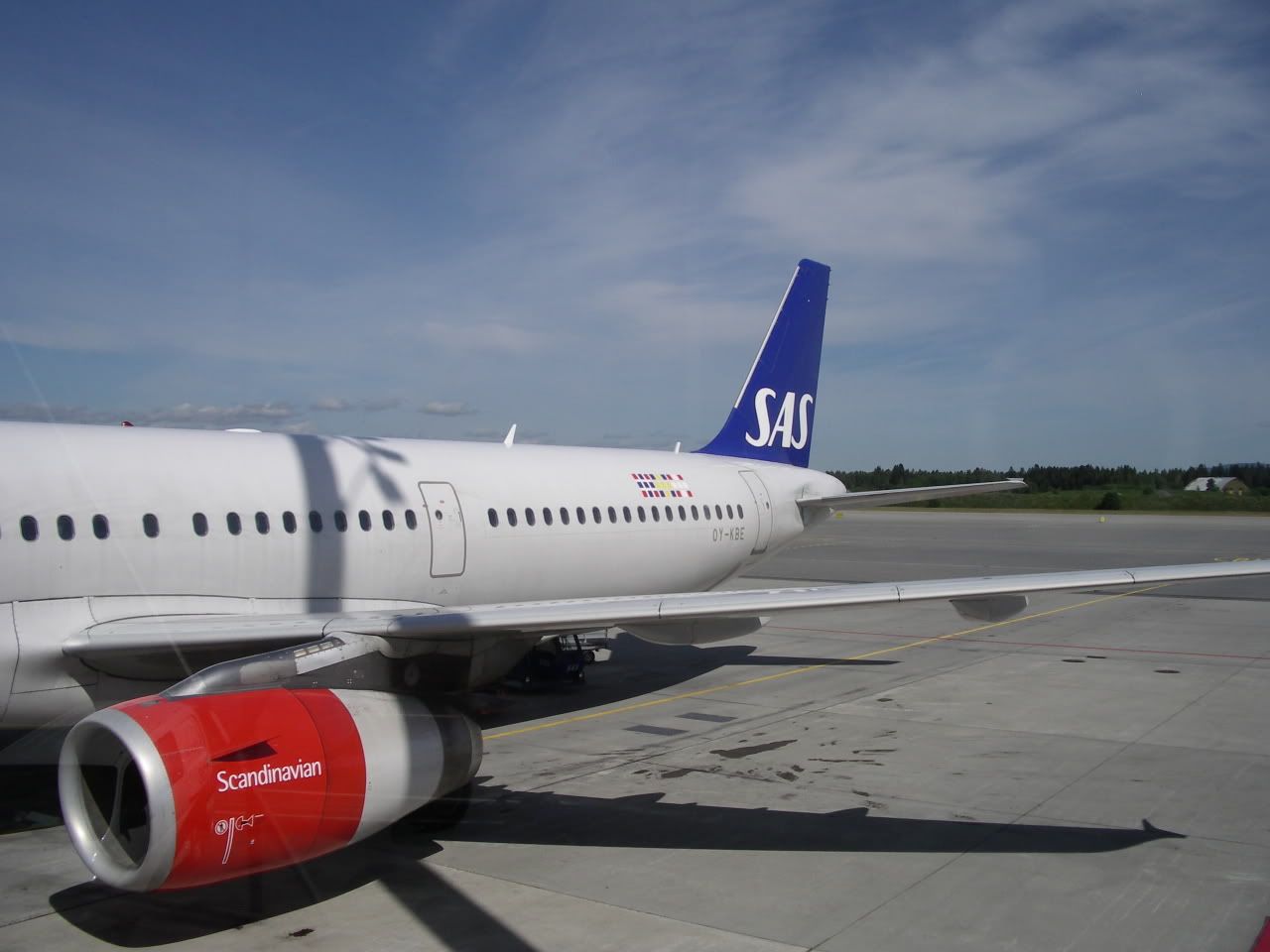 Again OY-KBE at OSL:
Thursday, 29.06.2006
Fact sheet: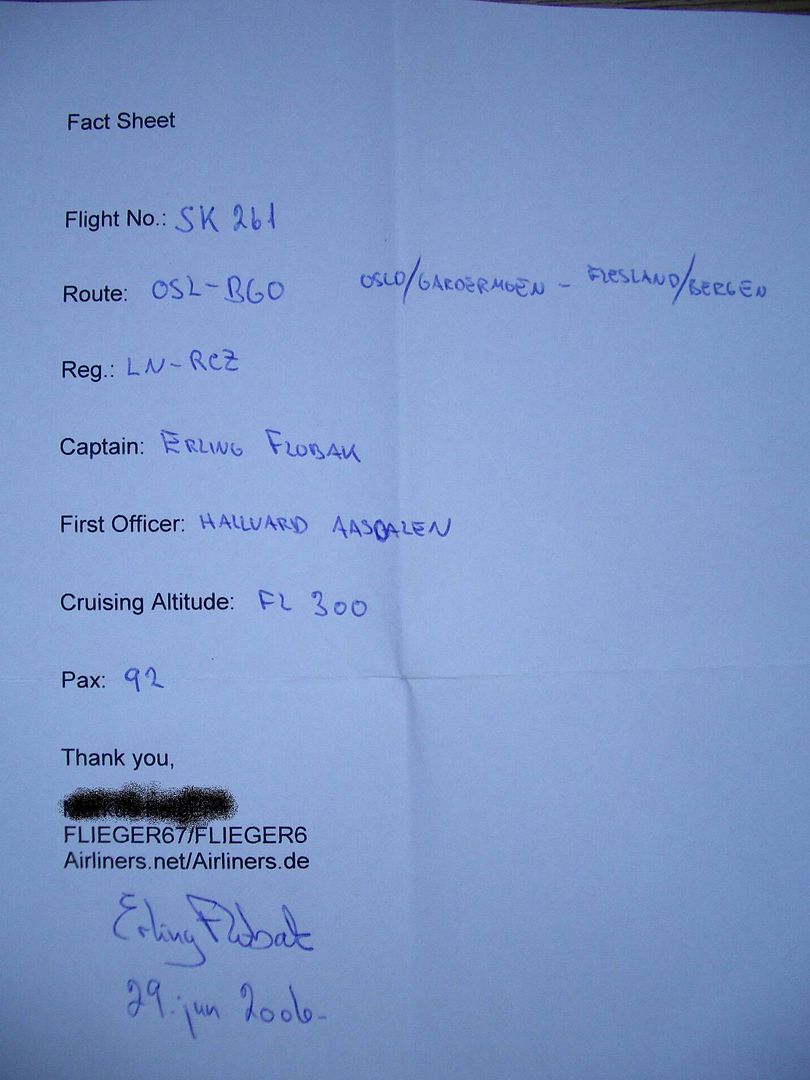 OSL (Oslo-Gardermoen) - BGO (Bergen-Flesland)
SK 261 operated by SAS B738 LN-RCZ
Scheduled: 12.00 // 12.50
Actual: 12.00 // 12.40
Gate: B28 Seat: 3F
Load factor: 92 pax = 51,40 %
Delivered new to SK: 23.03.2001
Norway has strict border/custom restrictions, that means no direct connections from international arrivals to domestic departures like on other airports.
All arrivals ended in the baggage area, cross customs, exit in the public area and through security back to the pax restricted area.
No checked bag, only a small queue at security, so I was back at my gate at around 11.20 am, early enough before boarding for my next flight started.
Not the first time for me in OSL but I was again impressed about this clear and airy scandinavian architecture.
Only a low number of pax at the gate, according to ACARS there was a mix between nearly the whole 737 range on this flight during the last weeks, will it be a 736,
a first time for my log?.
LN-RCZ at OSL: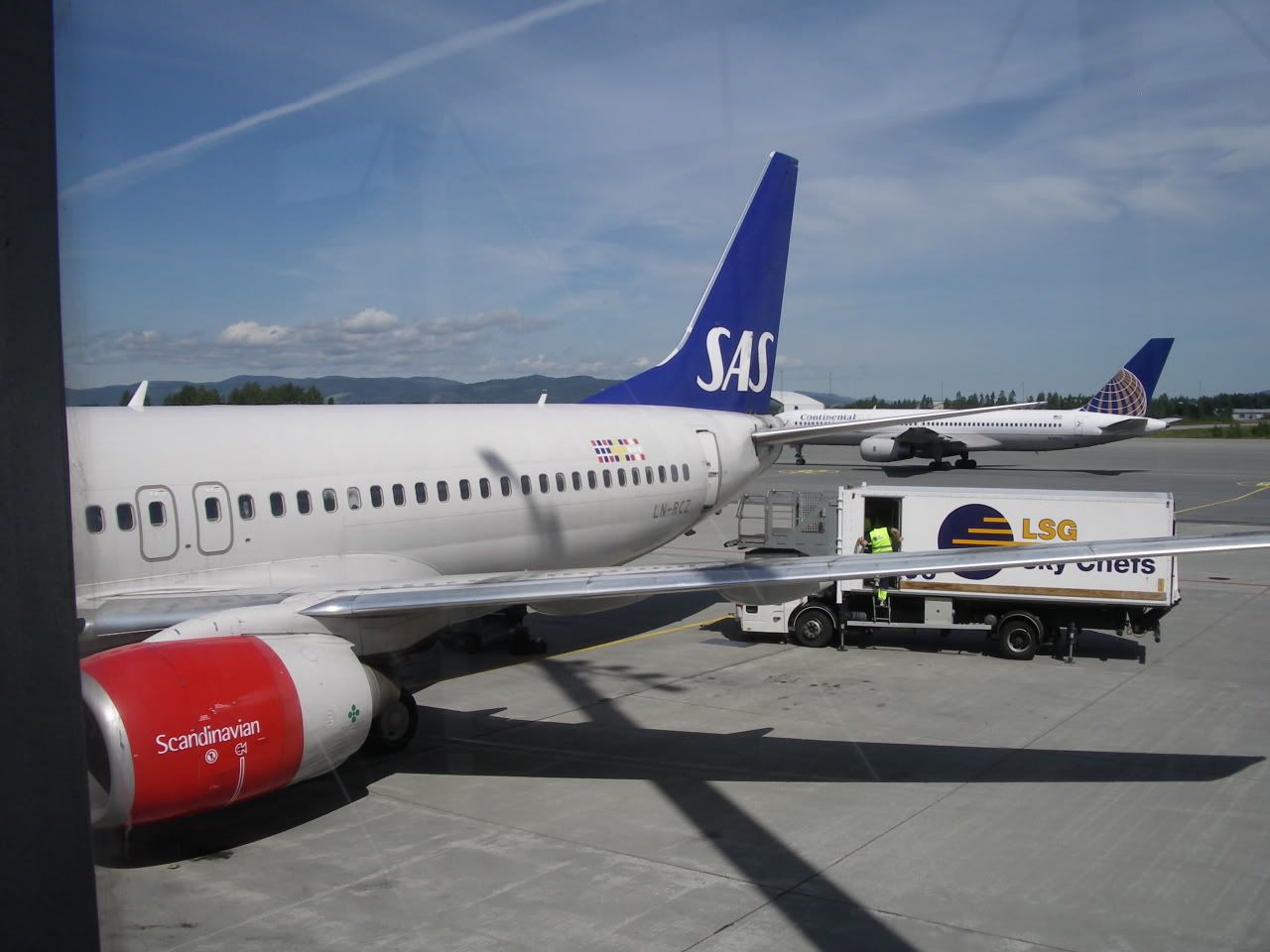 No, LN-RCZ was parked at the gate, leisure leg no. 10 on the 738 and the first on this plane. I was pax no. 10 for this service.
Boarding started early at around 11.30 am, some UM´s and lots of familiys with children first, holiday time in Norway!.
Once again a friendly welcome from a female FA, I explained my fact sheet, she picked it up and I had it back short thereafter.
A fjord near Oslo: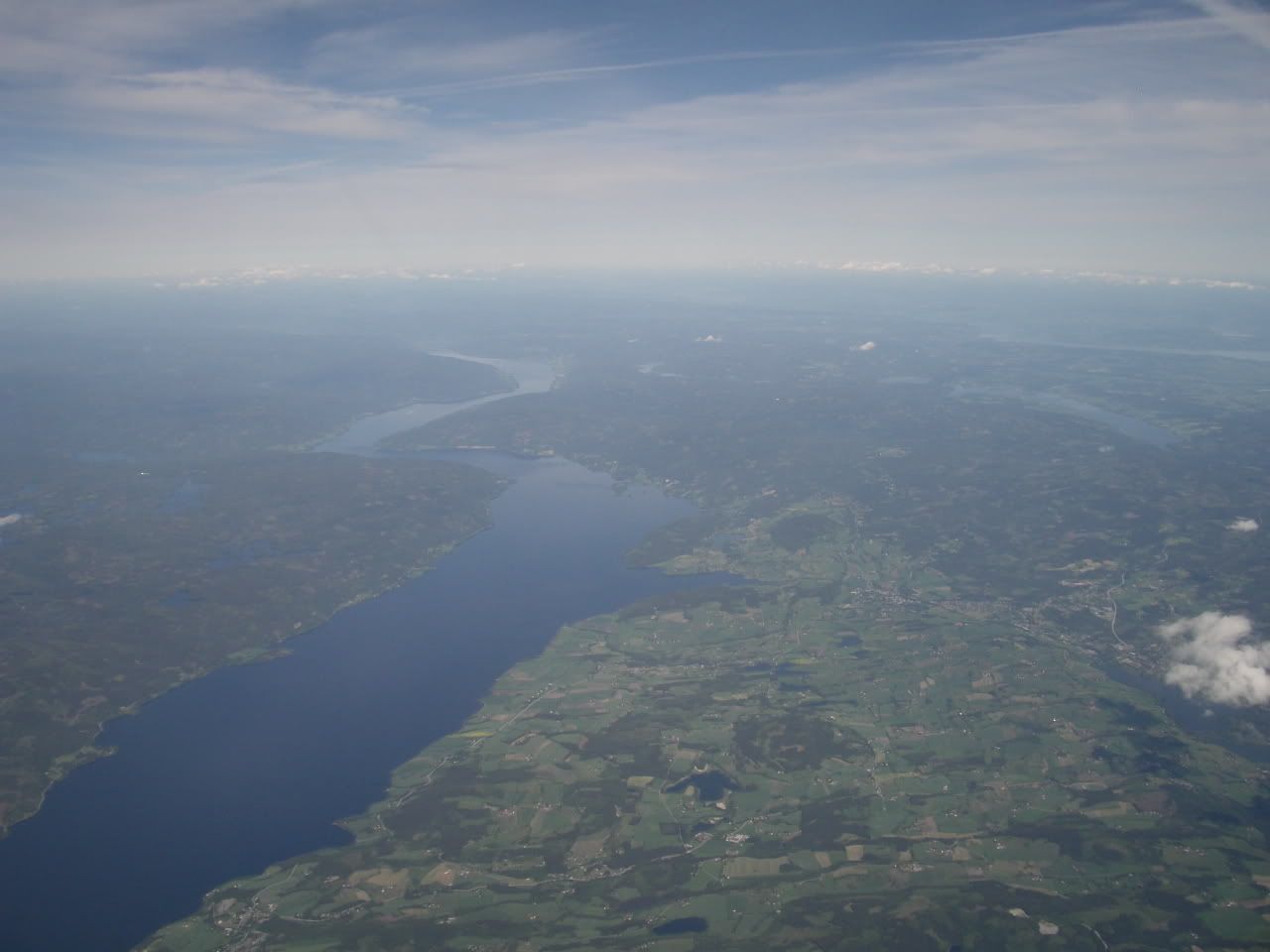 Also no free service on this flight. A quick departure from runway 01R. The plane was fitted with the same dark blue fabric seats like the A321 from the last leg.
Nice wheather, clear blue sky, amazing views during cruise over the Hardangervidda westbound to BGO. Approach over the city, circled around a mountain and
landed on BGO´s runway 17.
Glacier: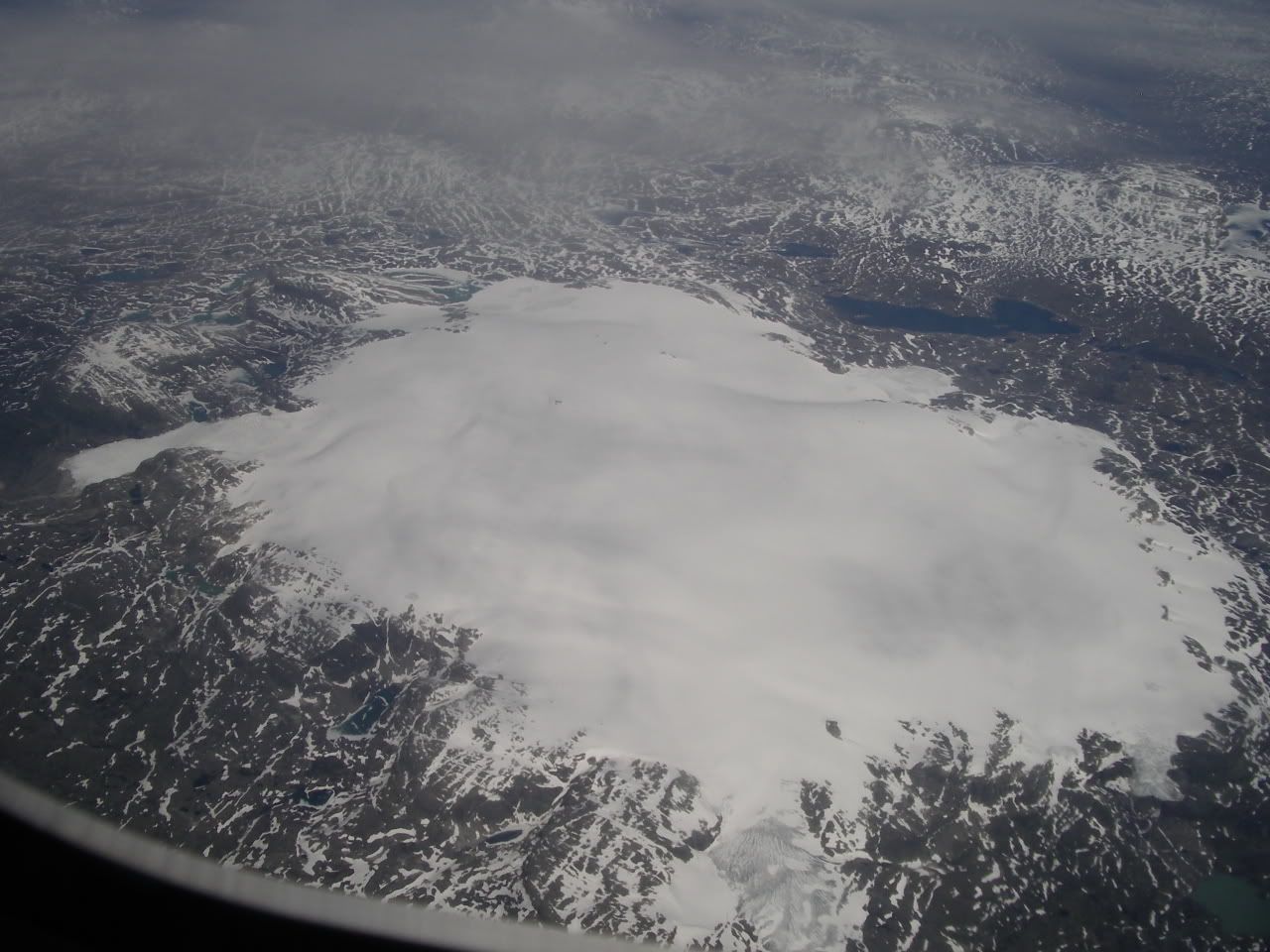 BGO is a small airport, limited space outside, deboarding through a airbridge. Finally arrived in Bergen, my first station around this trip.
The Flybus served all arivals with a quick connection to the city center, NOK 72.--.
I leave the bus at the central bus station (Busstasjon) to buy a daily travel card, NOK 80.--, free travel on all local busses and take the next one to my hotel, the
Thon Sandviken Brygge is a well designed newly opened hotel in a former industrial area about two kilometers from the city, the bus stop´s only 100 meters from the hotel.
The fare was real good, 625.-- NOK B&B.
Bergen is the european city with the most rainy days around the year, but I was lucky, only some light clouds, a real good day there.
Some pix from my stopover there.
The Maxim Gorkji at Bergen:
Close-up with the Costa cruiser: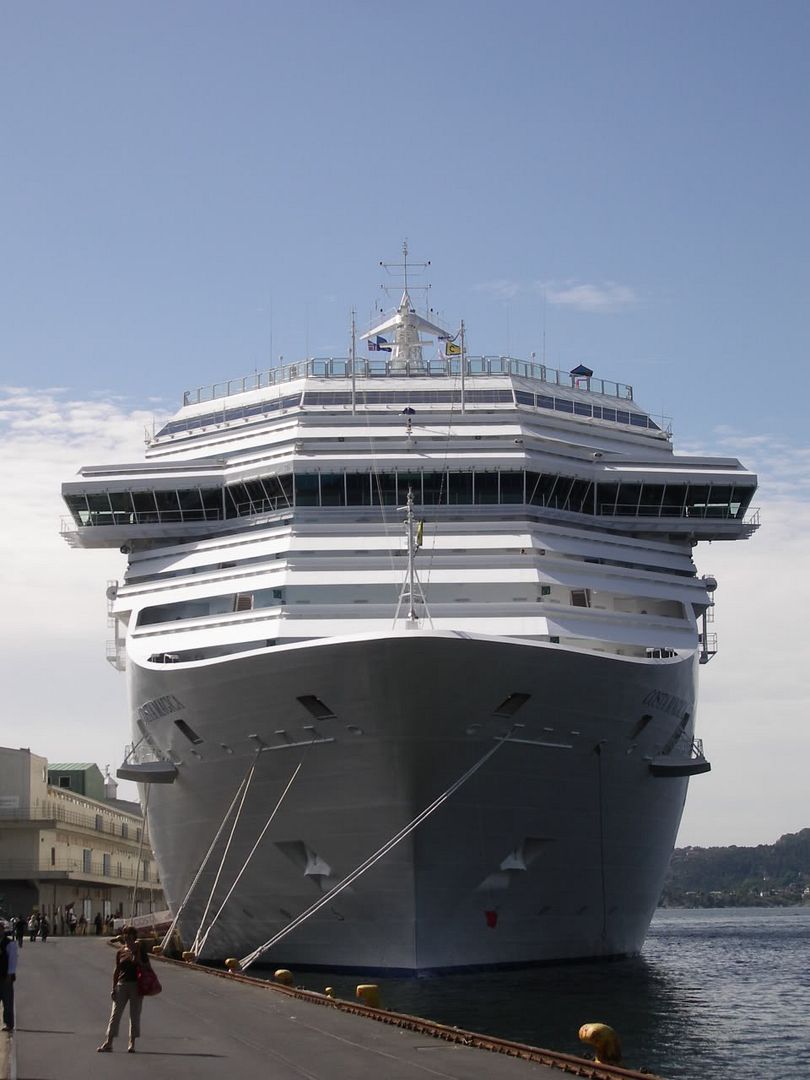 Costa leaves:
Bergen old town seafront:
Mt.Floyen in the background: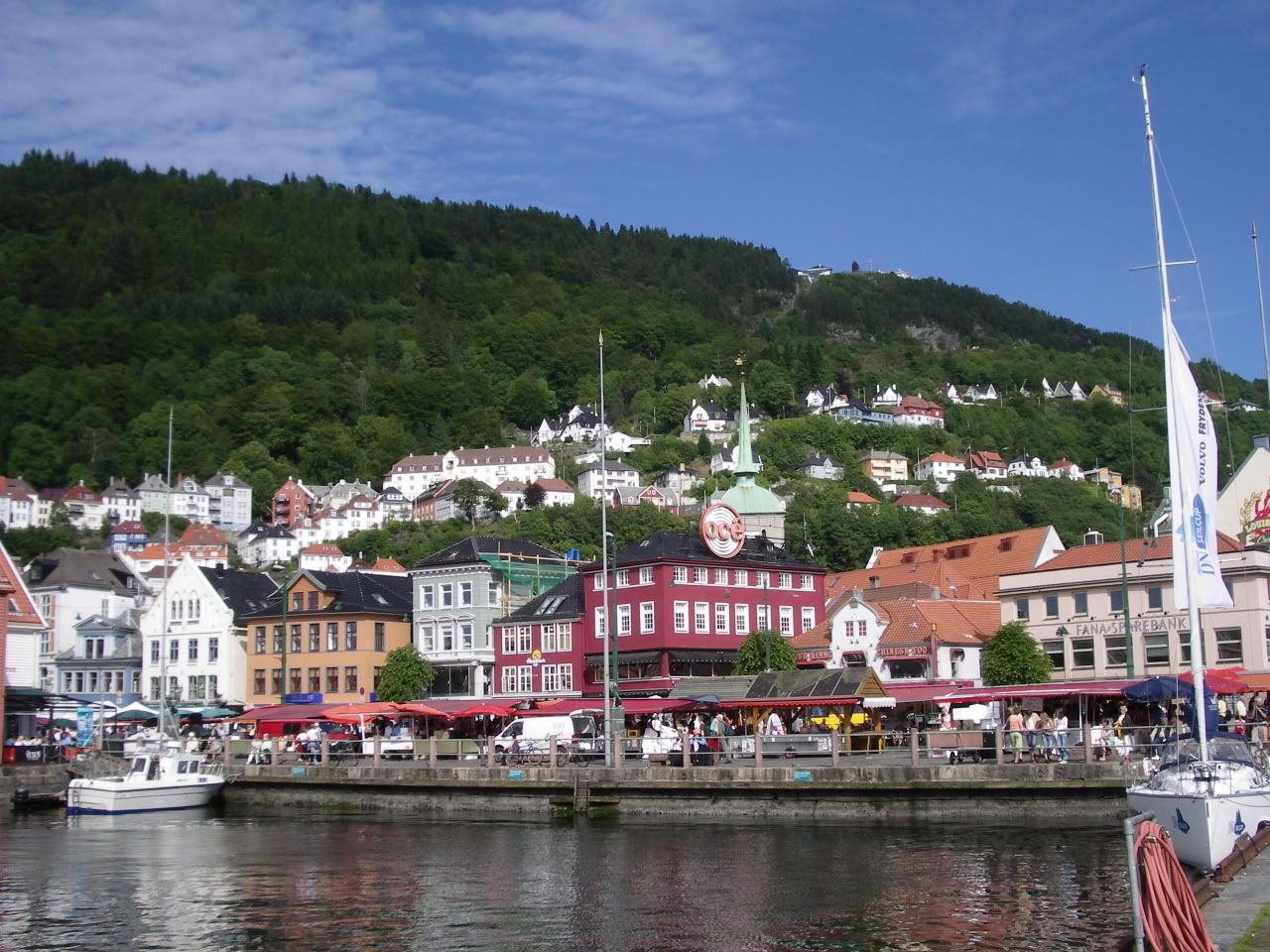 Need some fish?: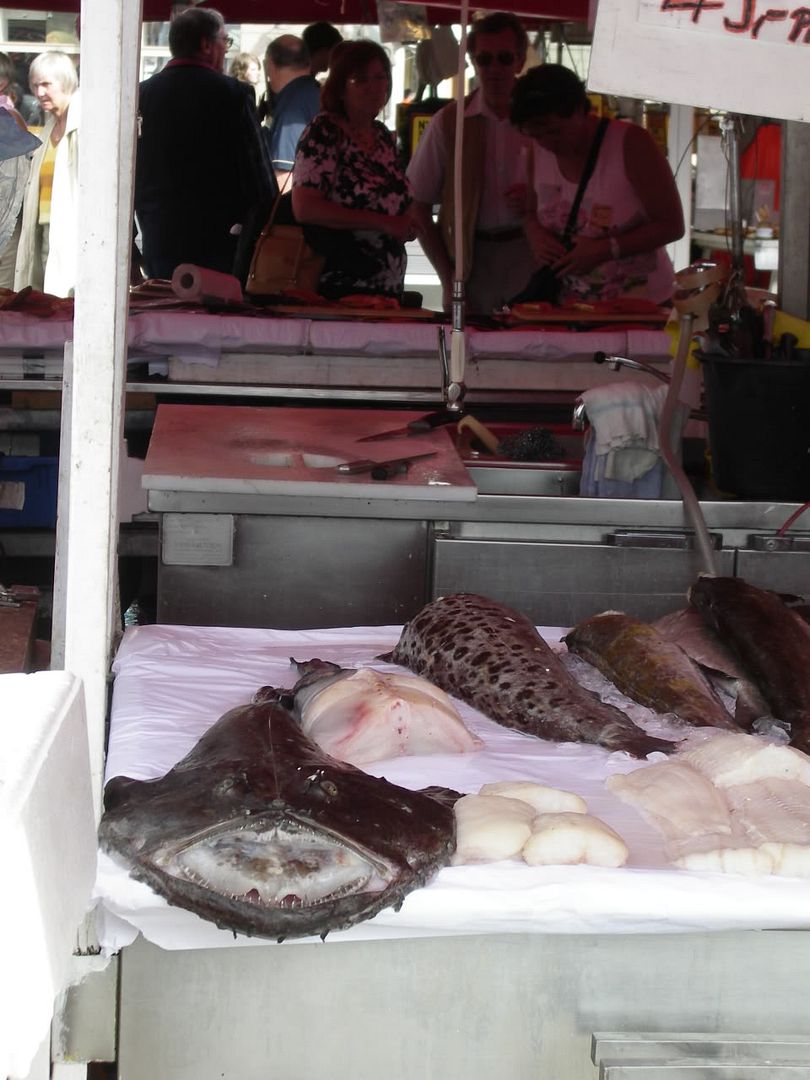 Bergen brygge: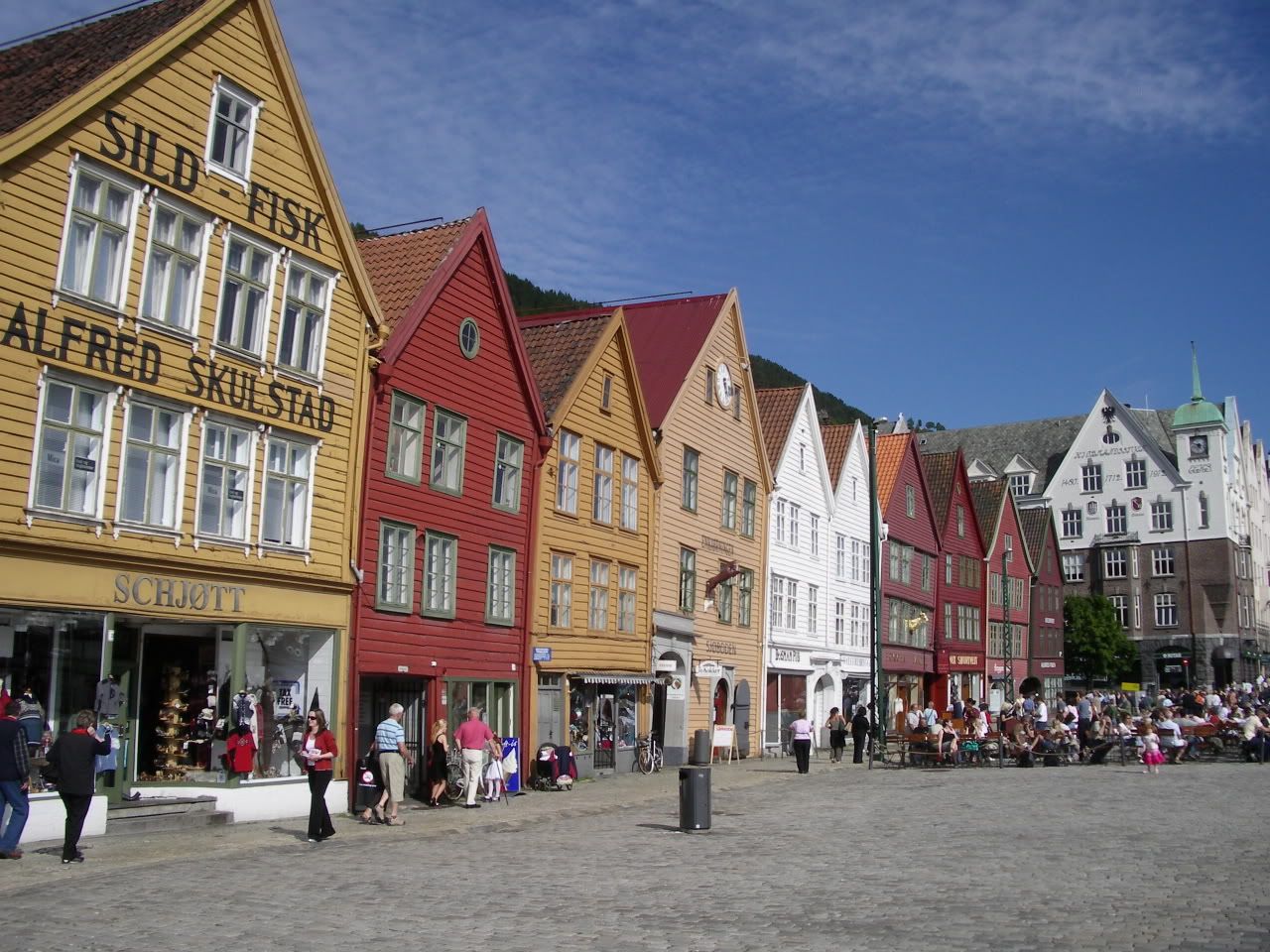 View from Mt.Floyen: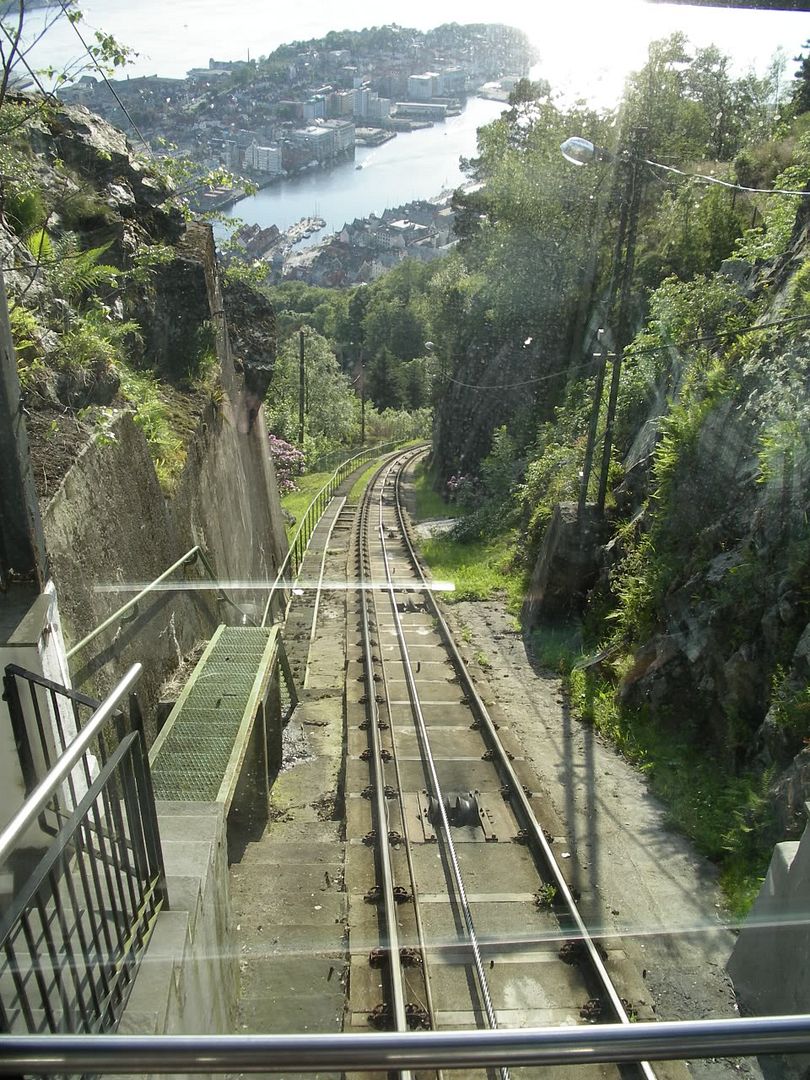 Friday will give me around 12 hours on the NSB, the norwegian railway, to travel on the famous Bergen and Flam railways.
My itinerary:
06.58 am Bergen-Voss-Myrdal 09.20 am
09.39 am Myrdal-Flam 10.35 am
11.00 am Flam-Myrdal 11.59 am
12.25 am Myrdal-Oslo 05.32 pm
The problems started after departure from Flam, one of the two Flams-railway engines goes tech, one engine had not enough power for the upstairs ride on europes most steep railway without cogwheels, so slowly backwards to Flam for an engine change.
This machine goes tech: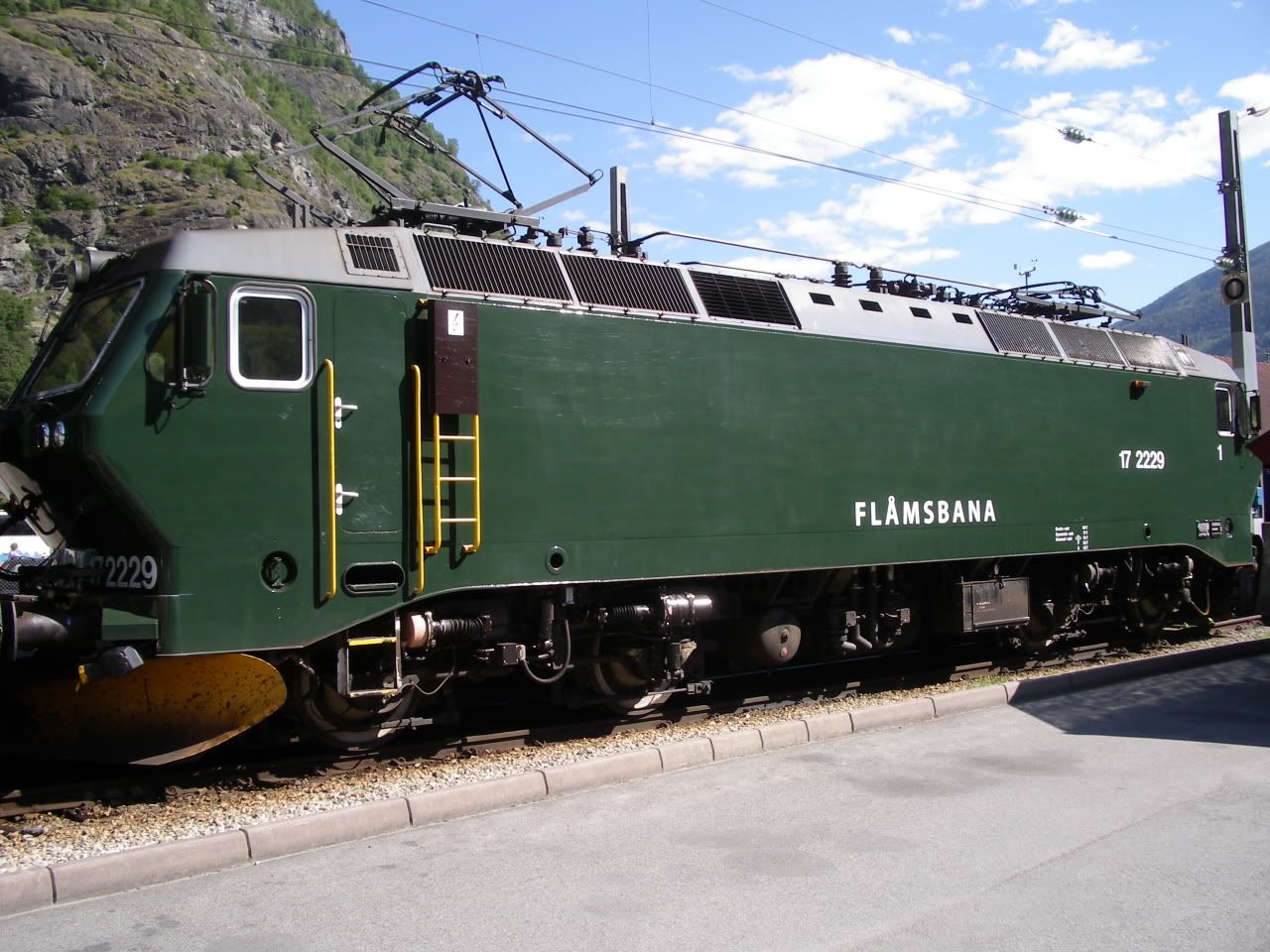 Flam: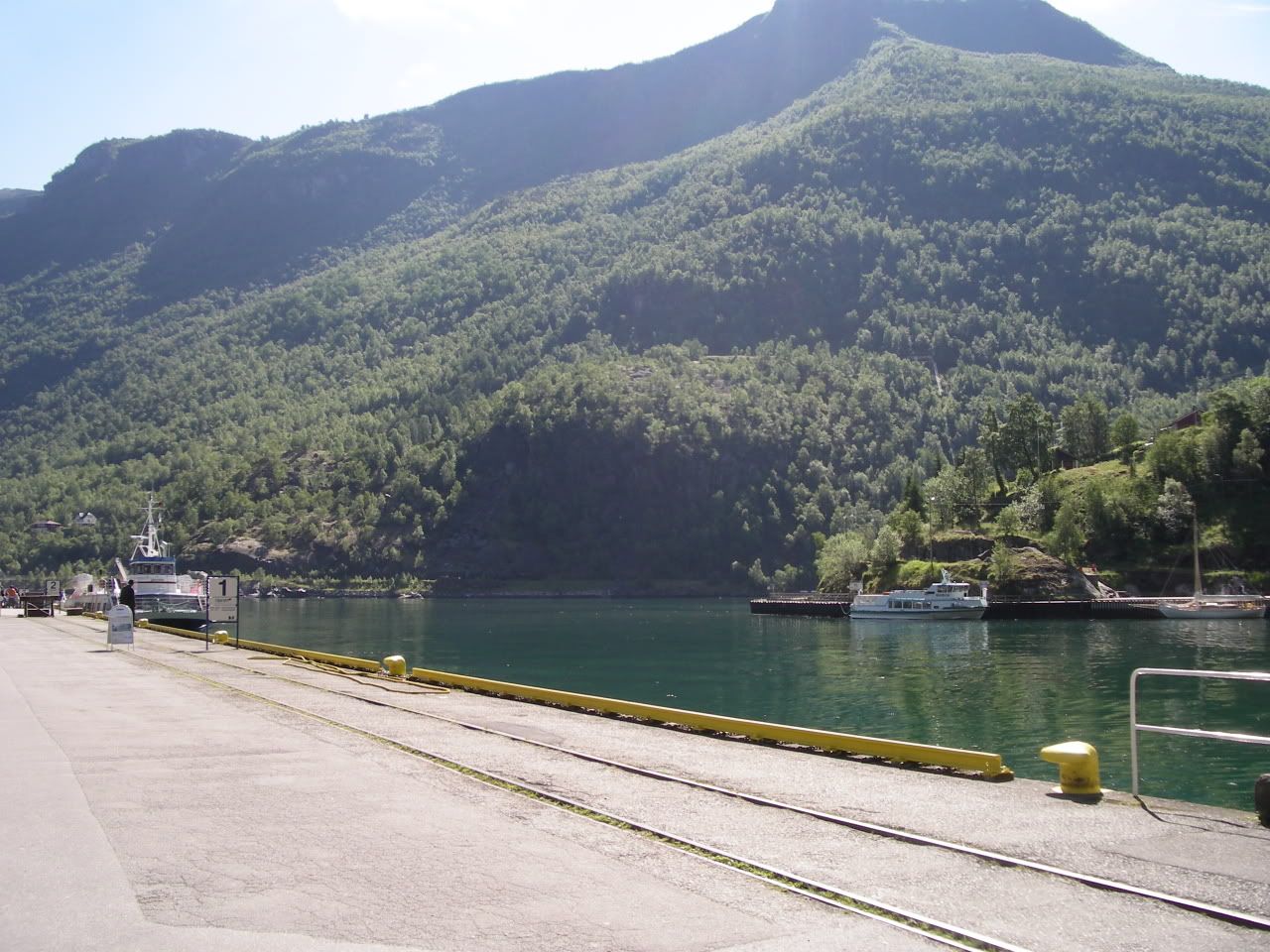 Not the best situation when you know that Myrdal is a station in the middle of nowhere on a around 900 meters high mountain and the next train to Oslo will leave around five hours later. The engine changed quickly, up to Myrdal, a chat with the train conductor to stop the Oslo train for us travellers with connection. The train waited, jumped in and on the five hours ride across norway to oslo, I liked it.
Hardangervidda by train:
Arrival ontime in Oslo, some ten minutes to walk from the main train station to my accomodation in Oslo, the First Hotel Noble House, also recommendable and another real good fare for expensive norway = 570.-- NOK B&B, both hotels booked via local operator Fjordpass, Bergen.
Oslo, Karl Johanns gate: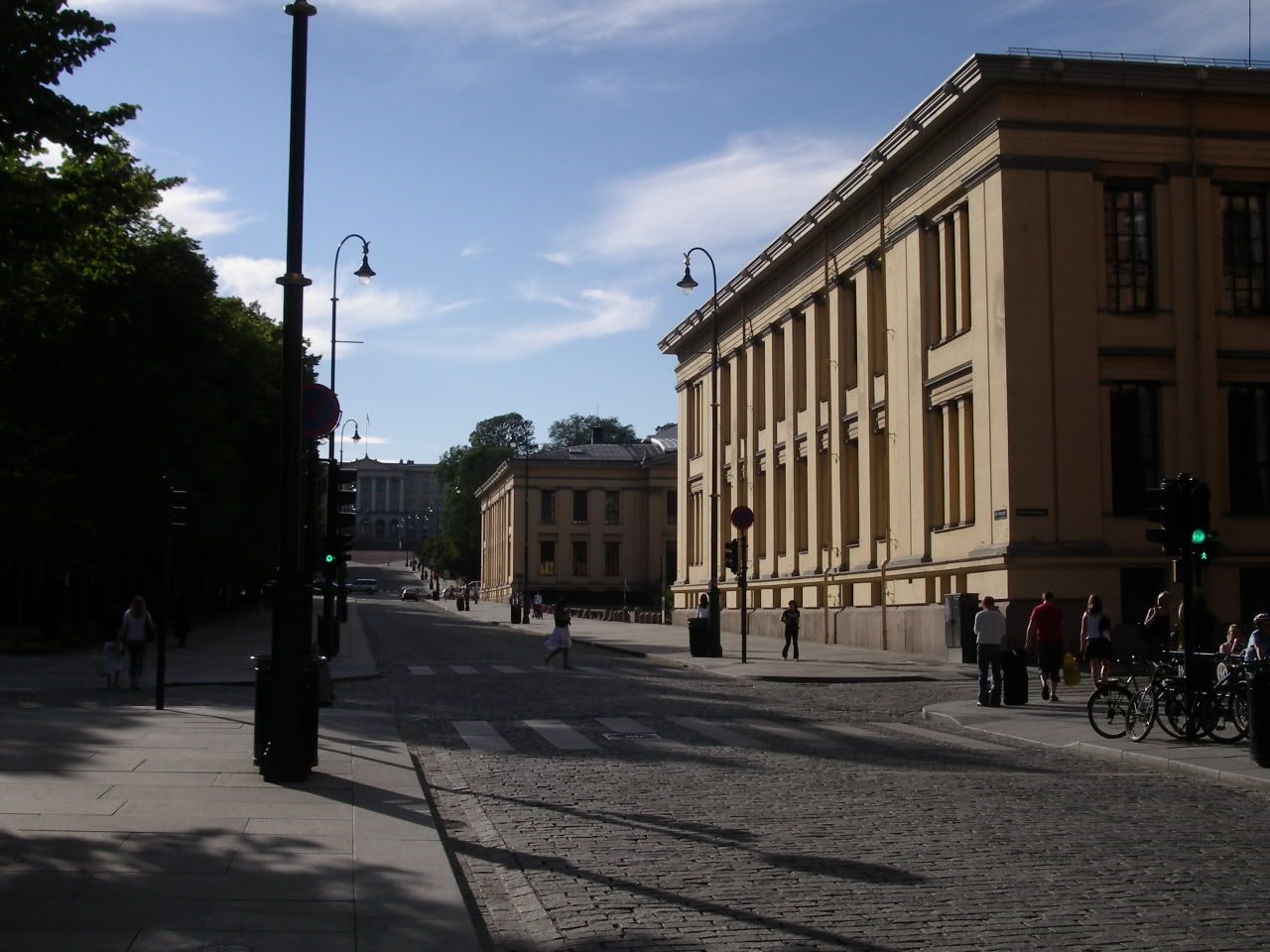 Oslo castle:
Oslo castle nearby: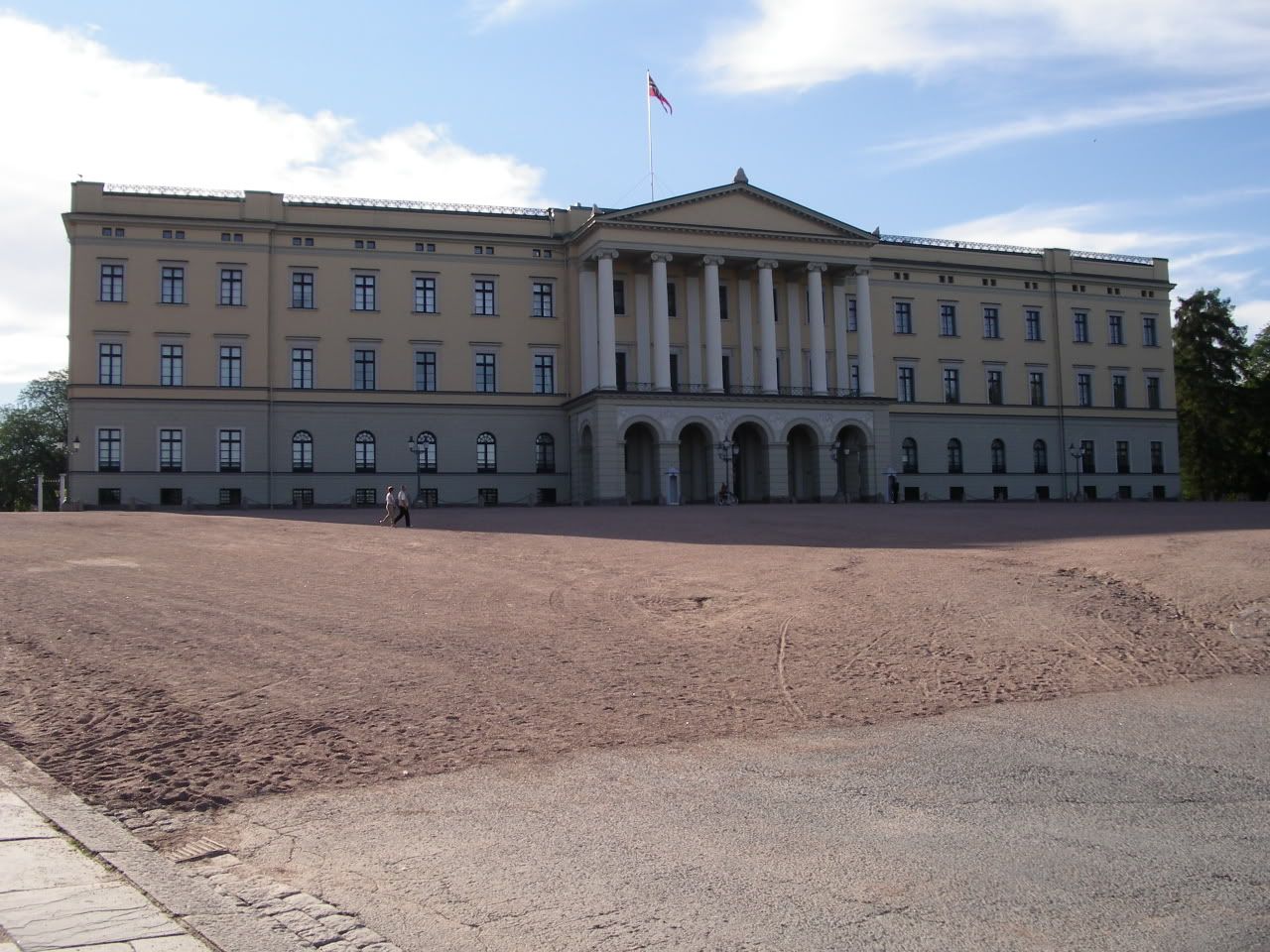 Saturday, 01.07.2006
Fact sheet:
OSL (Oslo-Gardermoen) - LHR (London-Heathrow)
BA 763 operated by BritishAirways A321 G-EUXD
Scheduled: 11.55 // 13.15
Actual: 12.10 // 13.10
Gate: ? Seat: 33F
Load factor: 188 pax = 96,91 %
Fare: 15.000 AsiaMiles and 69,15 EUR
Delivered new to BA: 28.10.2004
I collect all miles from the One-world alliance on my Cathay Pacific Asia Miles account, the one-way ride was bookable without problems, so I decide for another trip on BA this time.
The local trains from Oslo central station to the airport are cheaper than the airport-express train, 82.-- NOK in comparison to 160.-- NOK, so I go with the locals, arrived at the central-station five minutes ahead to departure, catched it and was at OSL at around 10.00 am. Huge queues at check in, IMO lots of pax on holiday connections via LHR to their home countries like India/Pakistan/Africa, incredible to see that huge amounts of bags. I dont want to wait and give the BA kiosks a try, the system said it needs the credit card which I payed the taxes for identification, it cant find my reservation. So I joined the queue, only a slow move, another try with my BA Exe-Club Card and surprise, it works, so check-in was finished withhin a minute, bag to the quick bag drop off counter, no time to wait there as a friendly female send me to a counter that was newly opened and in the secured area at around 10.30 am.
ACARS showed a mix of A319/320/321 for this service, I will wait what type arrive.
G-EUXD just arrived: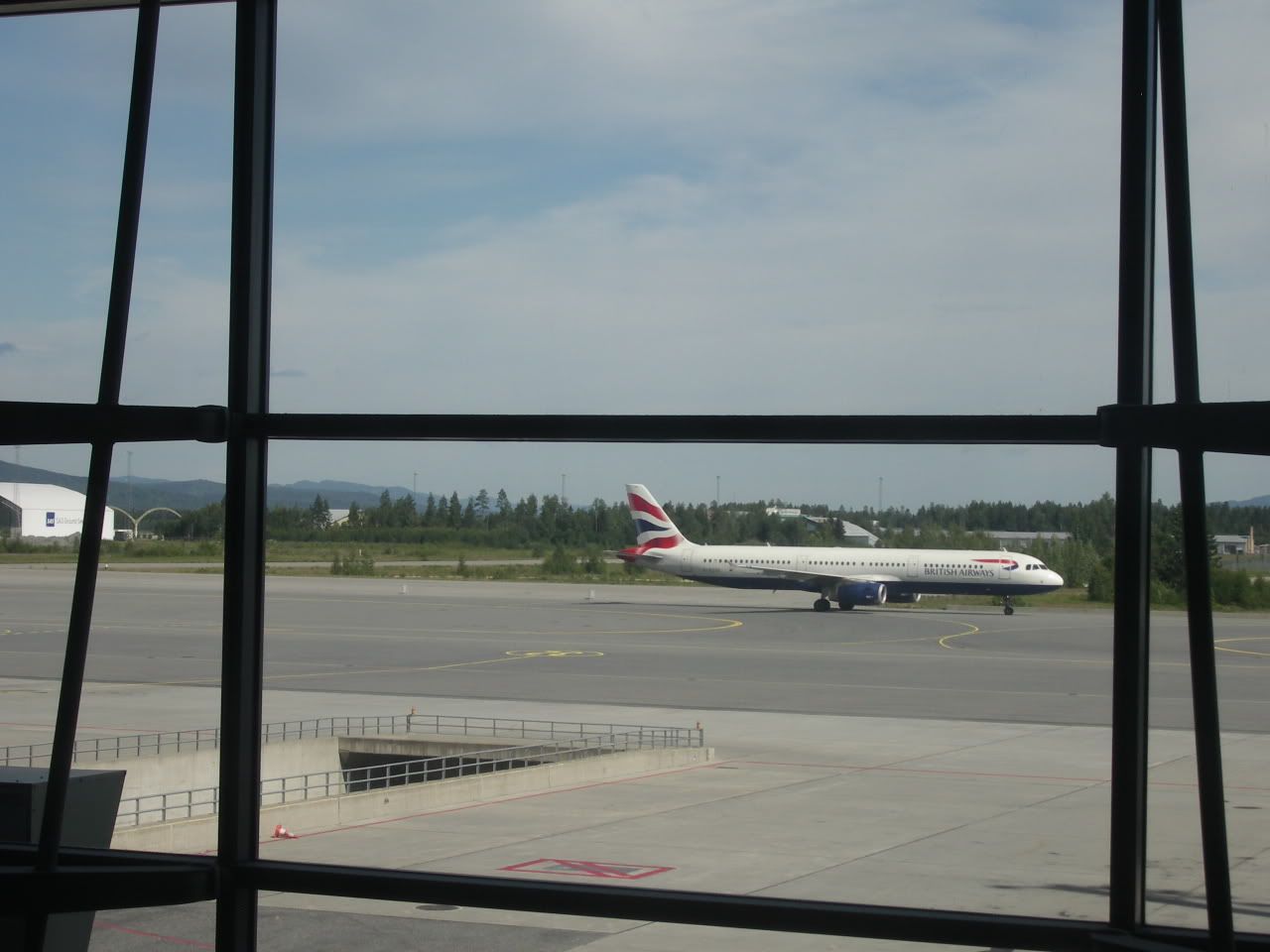 G-EUXD at OSL: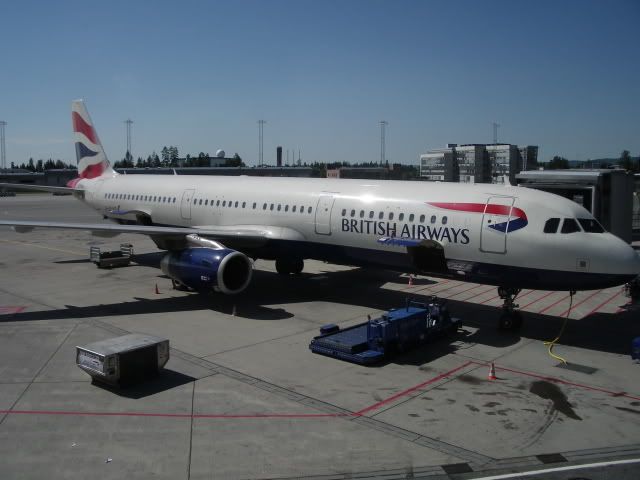 G-EUXD arrived ontime, amazing, around one year without an A321 and now the second ride within three days, leisure leg no. 8 and the first on this plane. I had sequence no. 87.
Lots of pax in the small area after passport control, the daily Continental 757 to Newark was delayed, boarding started at 11.30 am, a friendly welcome from a female FA,
I handed here my fact sheet out and walked down the long plane-body to my seat in the last row.
Doors closed a bit late according to some pax in the passport control queue. No time to wait at the entrance to runway 01L and a rolling take off.
Stavanger?:
Dark, blue leather seats, clean plane, the seats on this A321 feels like smaller than on my last BA ride. Good views along the flight, no pix as it was hazy.
Amazing the huge number of oil platforms in the north sea enroute from Norway to the UK. BA served a sandwich and free beverages and coffee or tea.
Detailed information from the flightdeck along the whole flight, but why was the information/map system switched off?
Approach to LHR runway 09L over Windsor castle and the usual LHR situation, planes all around, we had to wait around 20 minutes to cross the active departure runway for our stand at T4, blocked by a company B744.
Interesting traffic at LHR, Luzair Tristar500 and Aeroflot IL96: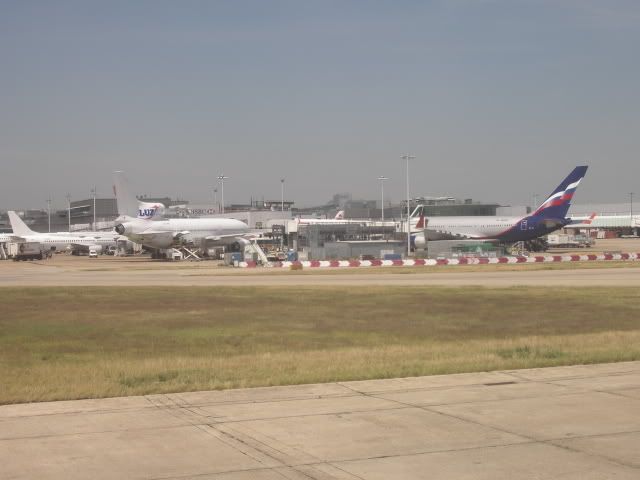 It seems I arrvied at LHR: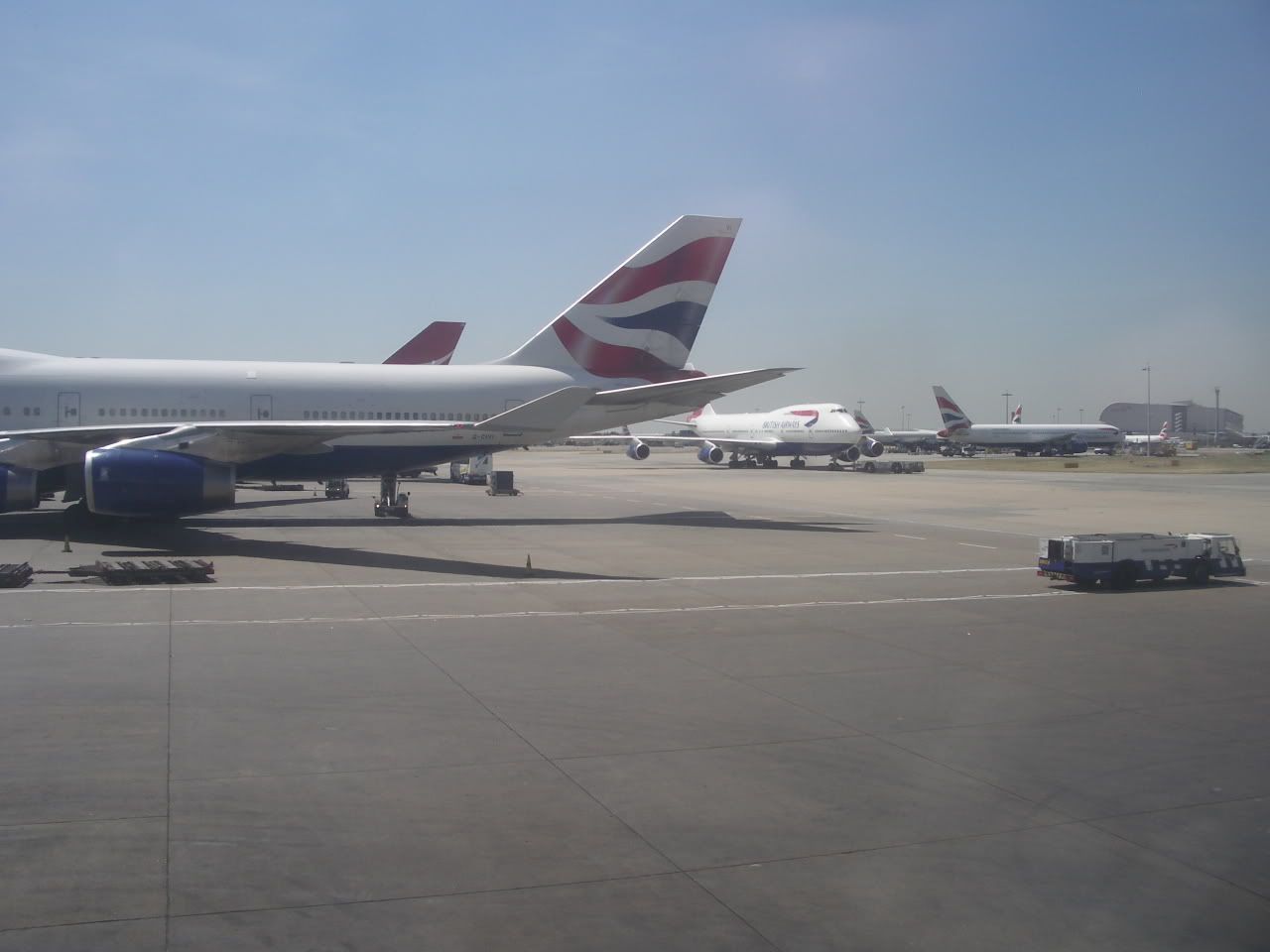 Finally I picked up my fact sheet, had a short chat with the friendly cockpit crew, take some pix and deboarded by an airbridge to LHR T4.
Flightdeck G-EUXD:
G-EUXD at LHR:
Saturday 01.07.2006
Fact sheet:
LHR (London-Heathrow) - STR (Stuttgart-Echterdingen)
BA 920 operated by BritishAirways A319 G-EUPG
Scheduled: 15.15 // 17.55
Actual: 15.40 // 17.55
Gate: ? Seat: 21A
Load factor: 102 pax = 80,95 %
Delivered new to BA: 25.05.2000
BA required a minimum connecting time for flights leaving from another terminal than T4 with 75 minutes and this is not to much.
All arivals from OSL at T4, my flight to STR will depart from T1, that means a long walk through T4, a bus ride to T1, another security check and I was in the lounge there at around 2.40 pm, my flight to STR was called as go to gate, at around 30 minutes prior to departure. Boarding started as I was there, also a good load this time.
This time ACARS stated a mix of A319/A320 planes on this service.
G-EUPG at LHR: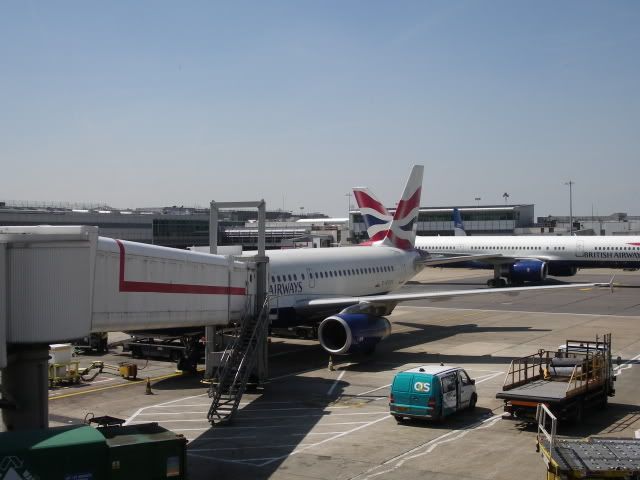 Leisure flight no. 21 on the A319 and the first on this plane as pax no. 47.
Clean machine in good conditions, the seats feel more spacious.
Again I levae my fact sheet during boarding, the purser want to know something about A.net, no problems.
Friendly crew, bretzels and beverages, coffee, tea on this leg.
A.net member Airbuseric told us his opinion about LHR as a reply to my last BA report,long taxi times and else, we taxied slowly to the active departure runway no 09R
and I cant believe it as we turned short at the entrance after around 30 minutes, I count 17 planes to departure after us, amazing.
A quick departure, good views but the air was hazy, so no good pix. Calm flight down to STR, the route nice to follow on the map system,
some informations from the flightdeck around the flight.
Near LUX: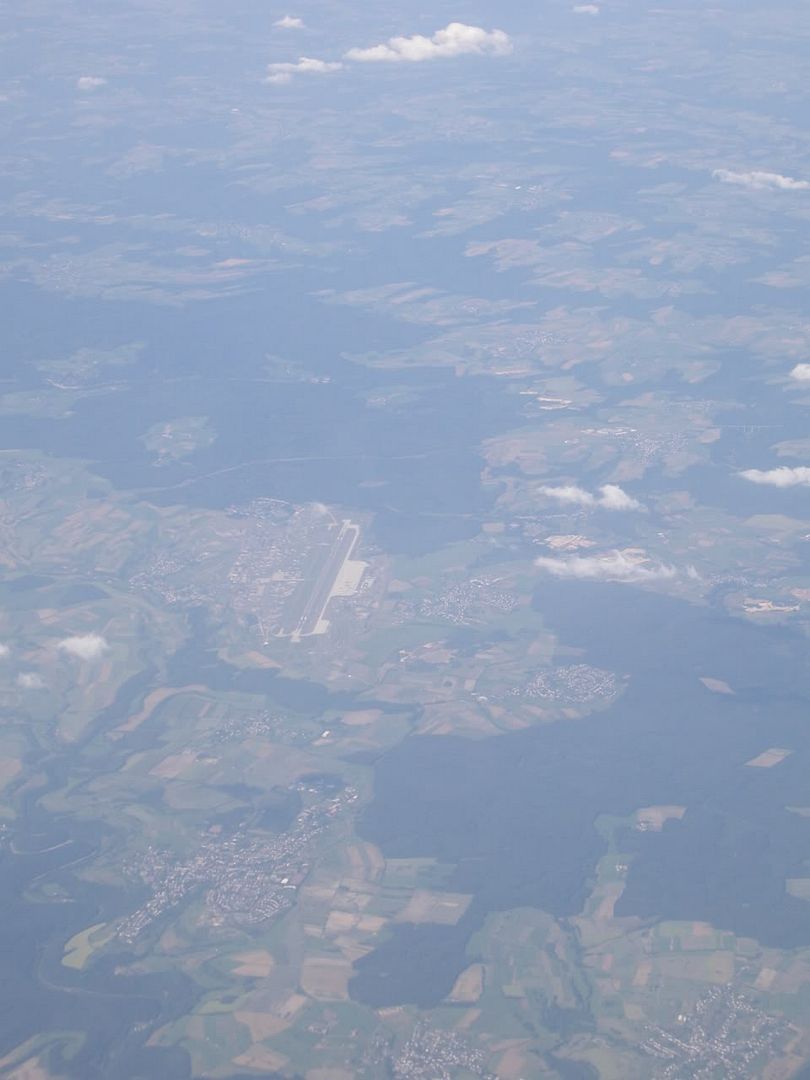 Approach to STR through some thick clouds to runway 07 and finally arrived ontime back home in STR.
G-EUPG at STR: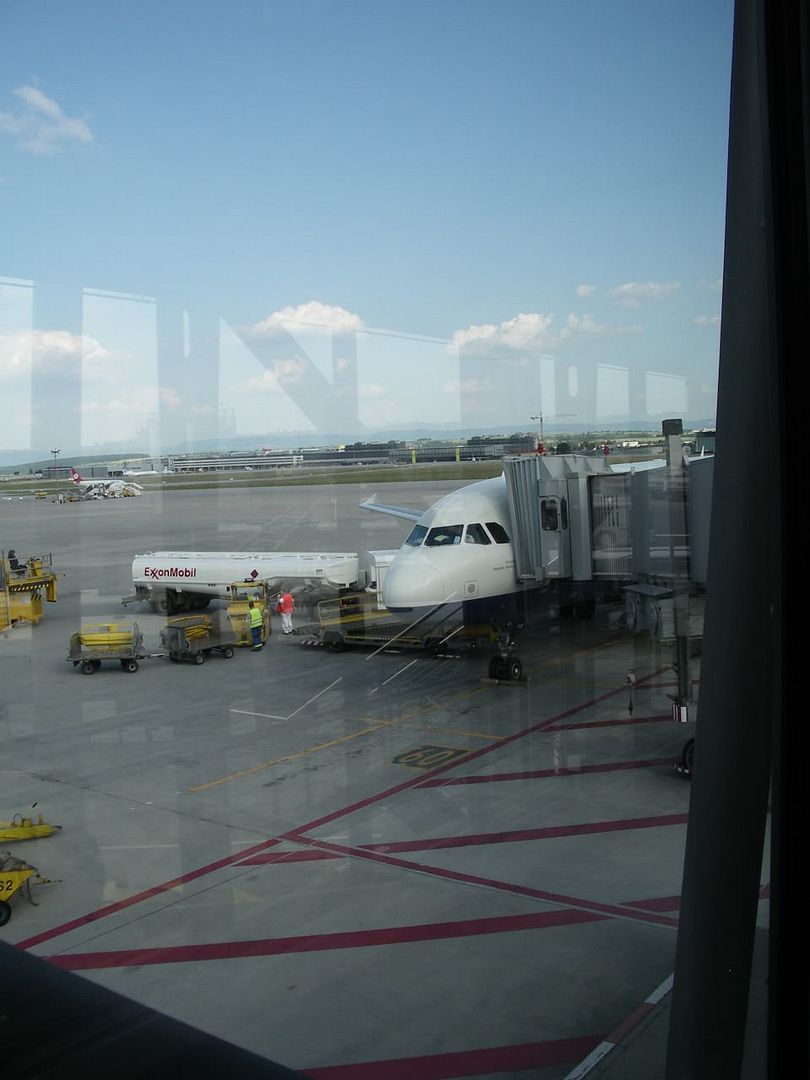 Parked at the airbridge at the far western gate, another quick chat about my fact sheet, the FO awaited me at the cockpit door, some time to wait at immigrations but no time to wait for my bag.
Conclusion:
Five legs, one new airport (BGO) included for my log and the amazing ride on the Bergen and the Flam railway, not bad, a real enjoyable trip.
SK: Ontime services, three legs one way for an acceptable fare, friendly people, once again recommendable.
BA: Very friendly people, good service, ontime flights, not bad BA!.
Comments and critics, as always, very welcome!
Markus (FLIEGER67)