Hi again,
as well know here already from tripreports on various Maddogs and several flights on AB, it was time to bring something different again. Transavia Airlines (HV), nowadays officially branded as transavia.com will be the airline of this tripreport. I didn't choose this airline by myself, it was just included into the holiday package I booked many months before. In the Netherlands, these packages includes (charter)flight, transfers, hotel (halfboard). Some additional administrative costs and airport taxes are calculated additional to the total sum. But, usually you can still find very interesting fares for 8 days holidays to the sun in Southern European countries!
We received our E-tickets and vouchers by email just 5 days prior to our departure. I printed out all this stuff at my office as it was also covering about 10 pages with rules, regulations and other stuff (usually only needed in case of serious trouble!). I noticed our flights on HV, with a little bit inconvenient flight times. Even a intermediate stop on the outbound flight, which means even more reduction of our holiday. But, we cannot be lucky always!
Two days later another email came in to my account, saying that we were invited to use Internet Check-In from our personal computer at home, from 24 hours prior to our departure. In this case, we were also able to choose our own seats in advance and print our boarding passes. Great deal I thought, as the flights to these holiday destinations are always packed up to full, and if you're late, it will be impossible to get seats next to eachother.
And so I did. I checked-in for both of us via a link to the transavia.com website, and was able to secure seats by clicking on vacant seats on the cabin-map. Usually I am not very sure if I keep my seat if I opt for row 1 or emergency exit rows. Airline staff is always able to kick you out and handover a new boarding pass to you upon boarding of the flight. You wouldn't be surprised by that! So were just happy with seats upfront with a window, and in front of the wings. As HV only operates B737's (73G and 738), I was sure that row 4 A/B was ok for us, so we did and printed out our boarding passes.
We went to the airport halfway afternoon by my car which I parked near my office at the airport. Very convenient and for free (for me). Our return one week later was in the middle of the night, so now we didn't have to call relatives for transportation or to wait until public transport starts again next morning. I'm still very happy with this feature
We went to transavia check-in counters at departure lounge 1, row 3. Here we found the so called 'luggage drop-off points'. We were served immediately by a friendly KLM agent (KL is doing all of the handling for HV), and he checked in our 2 suitcases and even printed out new boarding passes on my request. I like to keep the receipt of the original boardingpass in my file/collection
It was no problem for this agent. Our gate was said to be D53 (non-Schengen area).
After proceeding through immigration to airside areas, we found out that our gate was changed to D57, even further down the D-gates (and further down isn't possible!
). Our aircraft originally came in from ALC, and arrived on time. Although the security check at the gate passes slowly, and the place was to crowded everywhere, everybody was ready almost ontime and seated at 7.07pm Doors were closed at 7.15pm after completing the loadsheet and manual cabin count.
B737-800 PH-HZL being loaded and fueled at gate D57

June 24, 2006
Flight:
HV417 AMS-RMI (via PUY)
Aircraft:
PH-HZL Boeing 737-8K2(WL)
Seat:
4A Economy Class
STD:
19:05
ATD:
19:55
STA:
22:30
ATA:
22:45
View Large
View Medium


Photo © Rui Sousa - Madeira Spotters
Once in the cabin the captain his voice came over the PA system welcoming us on board his aircraft. His apologized for the little late boarding, but he got information from ATC about up to 60 minutes hold on stand before departure. This was mainly caused by the still strictly controlled airspace of the former Yugoslavia (now Croatia). He said ATC was informed that we were ready and as soon as possible we should get our push.
He also said about our intermediate stop at PUY (Pula/Kroatia) enroute to RMI (Rimini/Italy). Some people didn't know about this, but of course they didn't look to good into their paperwork before departure
. Croatia is now back in business but still the demand is not enough to fill an own flight to PUY. So HV decided to make a 'triangle-flight'.
In the meantime the cabin crew started the safety video demonstration. Every 4 rows, screens came down from the sealing. Later, also the 'service' started by selling Dutch (glossy) magazines to the passengers. I just read in another report this is also done with newspapers on Virgin Express. Meanwhile I saw the PY 743 departing for her 'first flight' to PBM again after big maintenance trouble. When the crew finished, it was only a couple of minutes until we got our pushback.
We were taxiing to the active runway, being runway 24. After slowing down a bit, we started a rolling takeoff which was actually quite long for a 737! If been on 747's needing the same lenght of concrete to get airborne! But, our load was nearly 100% (only 2 seats remained empty).
We climbed to finally 37,000ft (FL370) for the first leg to PUY. Cabin crew announced their 'service' and handed out flyers containing all items and their prices, which can be obtained on board. Although HV's variety of food is quite good, some items are a little bit overpriced, others are reasonable. We bought to cappucino (making the bill EUR 4.00)
The rest of our food was taken from home, being some cookies, and M&M's
So we got a very nice meal onboard afterall!
When we flew via a route crossing near FRA - MUC - SZB at FL370, we noticed some CB's near the Alps mountains, with some great evening sunshine on them.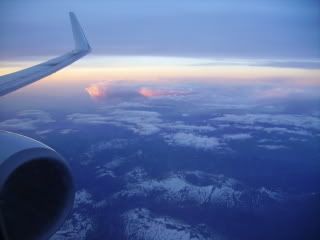 Some local bad weather of southern Germany and Austria
The flight itself was uneventful. On the dropdown screens, some transavia.com commercials, and short Mr. Bean videos were playing. No airmap shown throughout the flight. I was missing this now, I really wanted to point out our route more exactly.
The captain announced our decent now, and were were getting closer to our original schedule. He said he wanted our cooperation at PUY, and they were trying to stop as short as possible at PUY to get us in RMI as soon as possible with a minimum delay. The day was over already, skies turned black with the evening falling over Europe. I didn't get good impressions anymore on the decent, but finally we touched runway 27 at PUY att 9.34pm. After a very short ride to the apron of this (at that moment) very quiet old-fashioned airport the engines were stopped. ONLY 35 passengers got off the aircraft at PUY, all other were going on to RMI. I saw ''Zrašna Luka Pula'' on the control tower, meaning of course Pula Airport.
And it went fast indeed! New (35) passengers came onboard at 9.55pm. It was free seating for them until turnaround at RMI. Then they were asked to move to their allocated seats. During boarding I noticed OY-SEB (NB/738 'Blue c/s') arriving next to us. And then another aircraft came in, being 9A-CBC of Air Adriatic. Wow, it was busy here now!!
Anyway, in the meantime we were on our way again to Italy. We blocked out at 10.20pm and took off from runway 27 for very short hop of the Adriatic Sea to RMI. Seatbelt lights didn't get switched off, and no service was given during this leg. Soon after our takeoff we noticed the Italian coastline getting closer to us, and cabin crew was requested to take their seats again for landing.
We approached RMI from the South flying of the holiday resorts of Riccione, and landed on runway 31. When arriving on the busy ramp I noticed a FV Tu154, VIM B757-200 and Air A!ps Do328 (nightstopping, opf. AZ) parked too.
Afterall I can conclude that HV was performing very well on this route. Legroom was for me very good in row 4, even free space between my knees and the seat in front of me. Service is there, but nothing is free of charge anymore. Bringing your own food is still allowed. And the cappucino is very good when purchased on board! The flightcrew did their best to minimize the delay, information from the flightdeck was clearly hearable and interesting. The stop at PUY was short, but not very annoying to me. We didn't get out the aircraft, so all went fast, and it was for me a first visit to PUY
For those who are interested; we had a great week of holidays in Italy. Beautiful weather, lots of sunshine, great hotel and food. Big party when Italy won the soccer game against Ukraine. Not a big party when the Netherlands lost the match against Portugal.
That is the holiday in short.

July 1 ~ 2, 2006
Flight:
HV418 RMI-AMS
Aircraft:
PH-HZF Boeing 737-8K2(WL)
Seat:
8C Economy Class
STD:
23:20
ATD:
23:54
STA:
01:20
ATA:
01:47
View Large
View Medium


Photo © Konstantin von Wedelstaedt
After arriving at the airport, we found a crowded place filled with Russians returning home after their holidays. The single and small old terminal building is just not suited to handle so many flights at one time. It was hot inside, no airconditioning, and check-in was going on for a Pulkovo (Tu154) flight to LED, and our HV flight to AMS (B738). Check-in for the VIM B757 flight to MOW was just finished and many many people were queing before the security checkpoint. Due to our late appearance at the checkin counter, we got 2 aisle seats (at the same row), not being a problem at all for us. The flight was at night, and now we were able to stretch our legs and walkout easily if we wanted to do so.
Crowded and old-style check-in area at Rimini Airport
Remarkable was that there was no immigration at RMI. Going to AMS, I can understand it is not neccesary (being a EU-citizen), but how about all those Russians
Pff,... it took us 45 minutes to pass through immigration, almost heading to our departure time. But of course, there were many Dutch people waiting with the same 'problem' of security.
We arrived in the simple departure lounge, offering 1 toilet, and a closed taxfree shop/bar. The screens showing departure information were all turned off, and windows were all blinded, so apron views were not possible. But 1 door to the apron was opened and I saw our aircraft (still in old HV colourscheme) arriving. Also the AMS-bound passengers originating from PUY got off and were mixed up with RMI passengers in this same departure lounge. Boarding started late now, and is was a bit messed up caused by the mix of PUY/RMI passengers. And even the aircraft was parked maybe 40 meters in front of the terminal, we were put into busses (going 150% full!) to drive us to the aircraft. We were treated like...ants ?!
Is that fair to say?!
Doors were closed at 11.41pm when the crew did a manual safety demonstration. I think PH-HZF is not equiped with drop-down screens. Can somebody confirm this to me? The VIM Airlines 757 departed and 5 minutes later were were starting our takeoff roll on runway 31. Just after midnight we got airborne, some views on the republic of San Marino on the leftside and then we were cruising into darkness for the next 90 minutes or so. The flight was really boring and passing by STR-FKB-LUX-BRU, and I was getting tired now. I listened to some music on my MP3 player until our captain (Capt. Mogrée) announced our decend into AMS. Due to noise restriction we turned towards the Northsea and flew right over the harbours of Rotterdam (Maasvlakte). On the right we were able to see the city of The Hague. Finally it became obvious that we were heading for runway 06. We touched gently on the concrete a little behind schedule. Back in AMS, after 1 week. Temperatures were also high in Western Europe, at the moment of arrival still 22ºC ! And believe me, that high in the middle of the night! We parked at gate D07.
Our holiday was coming to an end here, and after waiting for another 60 minutes to get our luggage on the belt (well done KLM ground handling, NOT !!
) we took the car and returned to 'normal' life again.
HV is a good airline. They offer clean and new aircrafts. On time performance was not good on these flights, but not caused by HV, but by other circumstances (ATC restriction, airport handling). Seatpitch is very well for European standards. Baggage handling (time performance) at AMS is very very bad, and done by KLM Ground Handling. This really needs a lot of improvement.
I hope you enjoyed spending your time by reading this report. Any comments etc. are very welcome of course.
Thanks
Eric