It all started last December when my best friend moved to London. Ever since we've planned a trip to London and Italy, I got an ok fare on BA($2136 usd) on WT+ with the following routing: GRU-LHR-FCO-LHR-GRU leaving Gru on the 9th of July and arriving on the 29th. This is the first leg. P.S some of the pics are blurry,sorry.
British Airways 246
Departs: 16:20
Arrives: 07:30
Flight time: 11:10
Class: World Traveller Plus
Seat: 31A
My flight was scheduled to take off at 16:20 so I arrived at 13:30 with plenty of time to spare. There wasnt much of a queue and I got to the counter quickly,
here is a pic of the BA emblem:
I got seat 31A and 32B was unocupied ! I breezed trough security and at about 14:40 I was airside . There was'nt much spotting to do only 2 planes when I arrived:
an Alitalia 777-200 and an Iberia A340-600,here are some pics (notice our plane arriving from EZE).
above is the gate area
Soon boarding began I was one of the first ones on-board, Here are pics of boarding,taxi and take-off:
After we took-off, the IFE started I decided to watch `the Benchwarmers` which was kind of stupid. Soon after the meal service began we had 2 options which were: Steak or Pasta. I chose the steak which came acompanied of some bread,steamed vegetables,mashed potatoes,salad and a chocolate cake, It was very good and filling.here is a pic: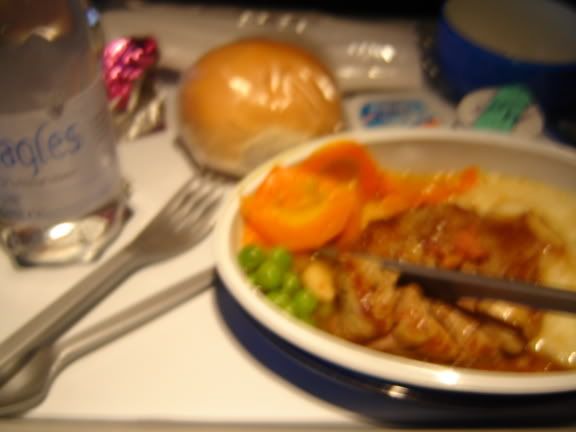 after that the flight becaame quite uneventful, I napped a bit took some pics, talked to the crew and had breakfast. Here are the final pictures,they are preety self-explanatory.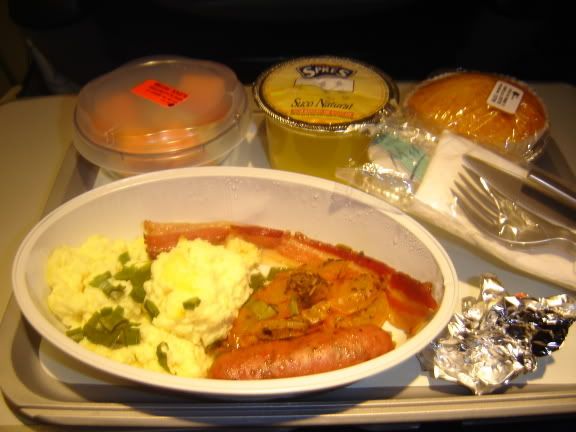 I hope you enjoyed my report, please feel free to coment or question anything you want.
Thank You