Well, here is my first official trip report on Airliners.net! A few acknowledgments of thanks to A.netter LHR27C for providing some of the useful information involving my flights in and out of Heathrow; Flightlevel350.com for the video hosting; and of course, Airliners.net.
Also of note, all times are local. The flight departure and arrival times in bold are based on schedule and are not exact. Lastly, there will be a follow-up to the continuation of this report, which comprises of flying CDG-FRA-ORD-MSP on Lufthansa and United. This report is already in progress and I will post it within the upcoming weeks.
---
After 425 days of waiting, today it felt like it had only been two weeks. It all started last year when I was a freshman in high school and my French teacher offered us information to take home regarding a trip to France in the summer of 2006. I jumped at the opportunity, imagining the heavy metal I'd get to fly on rather than thinking of the actual trip itself. Don't get me wrong – I love all aspects of traveling abroad to places far from home (or even right next door), yet I still looked at it as a chance to fly, fly, fly!
Not even having an idea of what flights we would take, I waited in anticipation for our tour organization, EF Tours, to release the final itinerary. It wasn't until about a month before our scheduled departure date that I received an e-mail attachment forwarded from my teacher. Subject: "Final Itinerary." I eagerly opened the attachment and within seconds my eyes were glancing over so many words I wanted to see:
Lufthansa, bmi, Heathrow, Frankfurt, United...
it was perfect.
Monday, June 5th

June 5th, our departure date came soon enough. I awoke around a respectable 5:45 am, since our group agreed to meet at the school parking lot around 6:30 am in order to be well ahead of schedule for our 1:40 pm flight out of Minneapolis. This also enabled us to make a potty break during the course of our three hour drive to the Twin Cities. I have to say, however, that it was actually a nice change to wake up from my own bed before a trip. I have become accustomed to staying the night at the Days Inn in Fargo almost every occasion we depart from there, mainly because of winter weather precautions.
So...I was all ready to go. Wearing my Lufthansa t-shirt (to commemorate my first Lufthansa flight on our return home), I grabbed my back-pack and single piece of luggage briefly making sure I have my most important items: iPod, digital camera, memory cards, passport, etc. My parents (and even my dog) drive me to our group's meeting location. The entire embarrassing process of hugging, kissing, "be safe..." is carried out by the parents, and then I am happy to be on our way. It is a comfortable ride with three other classmates who found a few other extra hours of rest while I gazed at various airliner magazines that I was certain to bring along. At this moment, my excitement level is far too high to be able to just doze off.
United Airlines #586
Depart: Minneapolis, 1:30 PM
Arrive: Chicago O'Hare, 2:52 PM
Aircraft: 737-500 (unknown registration)
Seat: 15F

We arrived at the curb-side drop off on the departures level at Minneapolis/St. Paul International Airport without delay and plenty of time to take it easy – just the way I like it. We say good-bye to the parents who drove us and proceed straight ahead inside to the United check-in desks. Our teacher quickly informs a United representative about our nine-person group, then informing us to just enter the short queue. In little time, I was motioned by my teacher to approach the desk to check-in, since each of us is checked-in individually. I hand the agent my passport and paper tickets issued by the tour agency and she goes to work.
Agent:
"Hi."
Me:
"Hi."
(pause)
Agent:
"Mr. Becker, how many bags are you checking in today?"
Me:
"Just one."
Agent:
"Just one – okay."
(pause)
Agent:
"Thank you."
Me:
"Thanks."
I make a concise peek at the seat assignments on my tickets to be sure that they are the window seats I verified with United's group reservations agent over the phone, noting that my bag has been checked all the way to Nice as well.
United check-in at MSP
I was a little taken back when she formally spoke using my name, "Mr. Becker." It seems to make me feel of importance and it was apparent she was demonstrating a bit of charm and class, even in the simplest of acts. It is basic trends like this that earn a customer's admiration!
I continued on and observed the airport's ambiance as I waited for the rest of the group to finish checking in. As much as I know this airport like the back of my hand, I have to admit I've never originated in Minneapolis or checked-in here. Nor have I flown in the summertime...or flown on a Boeing 777-200, or flown into London Heathrow, or flown on British Midland, or flown into Nice Côte d'Azur Airport – It was all going to happen soon...I was so thrilled!
Lindbergh Terminal check-in area
Our group gathered and we marched on to security. Once we got in line, a TSA agent immediately governed us to a different security queue, and so we did.
TSA Agent:
"How's it goin' man?"
Me:
"Alright." (alright...meaning this is actually the best day of my life!)
(handing him my ticket)
TSA Agent:
"Thanks, man."
The agents on duty were very relaxed and unagitated, per the conversation above.
We gathered again in the center of the North Star Crossing shopping area. It was barely even noon yet, so our teacher told us to pair up and disperse to get some lunch. My friend Ian and I trotted around for a while as I tried to convince him to walk around the airport with me. We ended up at McDonald's and then walked up and down the moving walkways to satisfy his manner of passing time. We were just in time to watch a pretty Northwest Airbus A330 taxi into it's gate as it would began preparing for it's flight to Amsterdam later this afternoon. Then, with another half hour to spare, I knew exactly where to spend it. Ian and I hiked over to the observation tower, a perfect spot to kick back, I thought.
Minimal activity seen from the observation deck
The group met back up and we walked to our gate, E10. There, we began to greet the other group we were traveling with from Minnesota.
Our boarding announcement came promptly, and I boarded as soon as section 2 was declared. I entered the 737-500 series aircraft while being greeted by a middle-aged female F/A and settled myself into seat 15F. Two other strangers eventually occupied the seats in my row, one of them a woman who was upset because she was not seated together with her travel companion. "What the hell?" she said. "Are we sitting together on the next flight?" Her friend very blankly responds, "I don't know," all while I make an inconspicuous chuckle.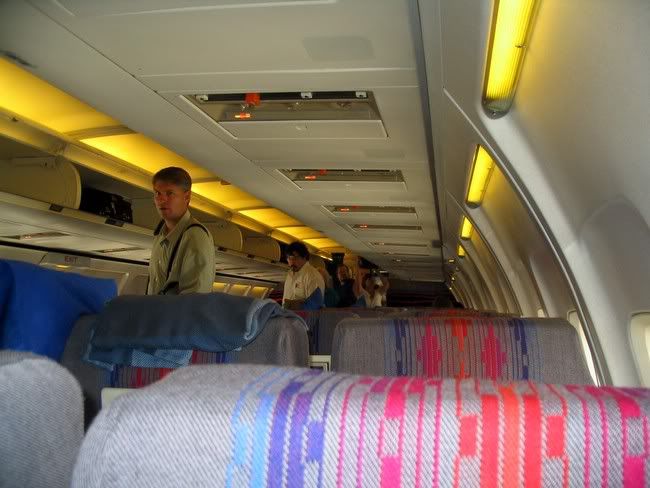 After a short taxi, we took off from 12L. Once we were airborne, the captain made a few remarks about the flight, mentioning our cruise altitude of 29,000 feet for the 60 minute flight. While I waited for the beverage service to reach us, I continued reading the book I just started called "Flying High," which is based on the success of JetBlue founder and CEO, David Neeleman. It's one of the only books I can't put down. Channel nine was hard to resist at the moment just as well.
My beverage of choice consisted of a cold, refreshing ginger-ale along with United's standard snack mix.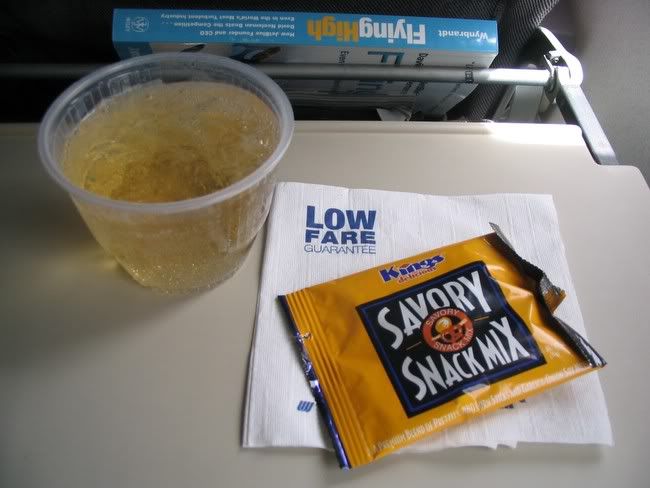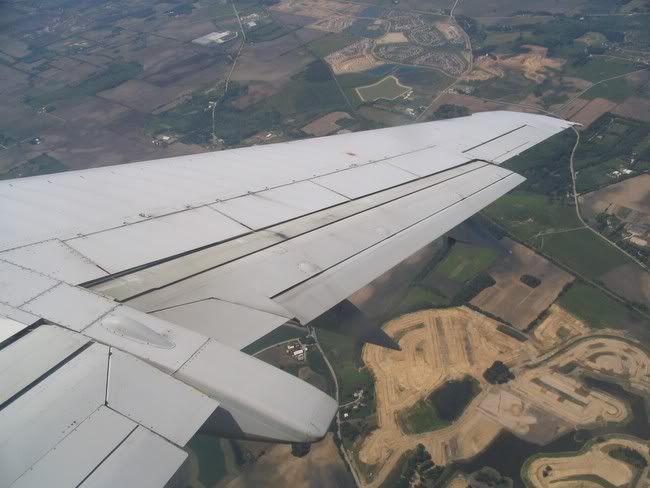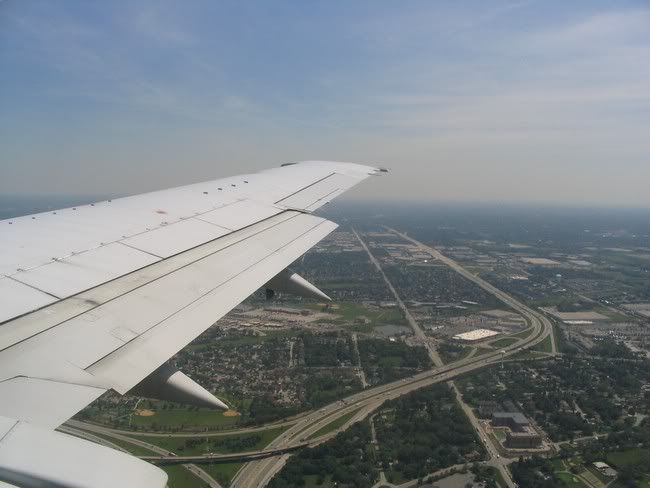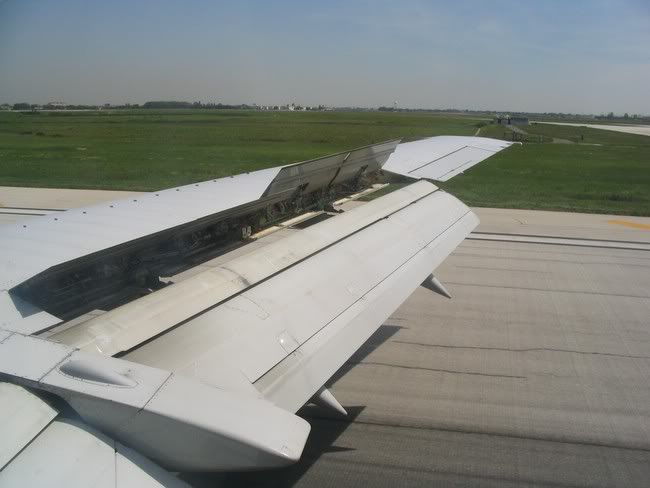 Flaps extended upon landing at ORD
Descent and landing at O'Hare was uneventful and on-time. During our taxi, a few of my friends sitting throughout the plane who know me as a hardcore aviation-buff got a little comical and would make loud-toned whispers towards me like, "hey Mark, there's a blue airplane!" or "Whoa, Mark, is that an Airbus Boeing 4-9-7?" I'll admit it was a bit humorous...
I was a little apprehensive about the poor on-time performance of this flight as it was almost always delayed everyday last week according to the flight status on United's website. Missing our connection to Heathrow would throw our tour into turmoil. Thankfully, however, all was well and I deplaned and entered O'Hare for the second time this year. It was just over a month ago when my mom and I arrived here on United Express from Fargo destined for Boston via La Guardia. (No trip report on that one – yet.)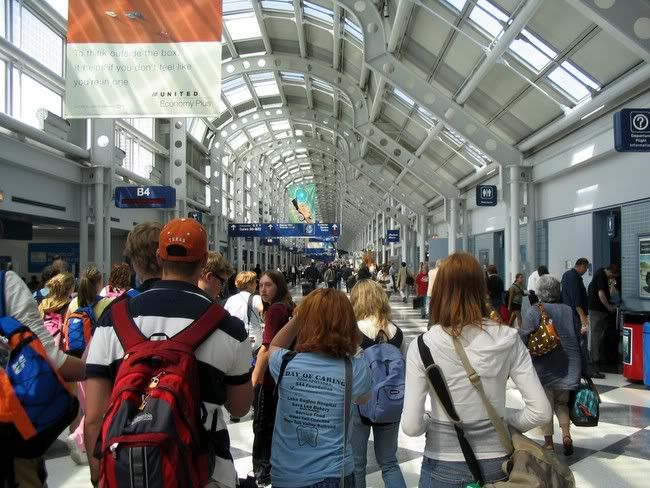 Terminal 1, concourse B
Time allowed for just a bathroom break, and then a nice walk over to the concourse C where our Boeing 777-200 was waiting and running on-time. As we descended into the underground tunnel connecting both concourses, I instantly laid my eyes upon the neon light sculpture that covered the tunnel. I distinctly remembered this sight from a picture in a book that I used to rent frequently from our local library when I pretty young. I had forgotten about it until now and had not seen it during my last visit, but I recall wishing how cool it would be to go there someday – and here I was today.
United Airlines #958
Depart: Chicago O'Hare, 4:03 PM
Arrive: London Heathrow, 5:55 AM (next day)
Aircraft: 777-200 (N778UA)
Seat: 38A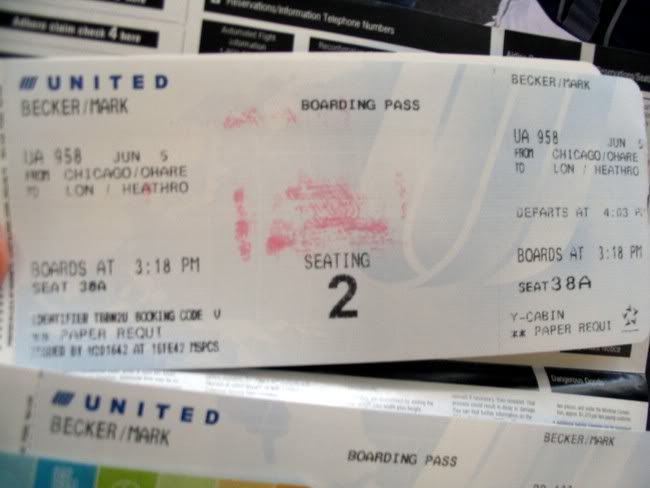 Once we reached our gate, the flight was well into the boarding process with a majority of the gate area vacant. We sat down for just a moment to collect ourselves, giving me an opportunity to photograph N778UA, the bird taking us across the Atlantic. We then boarded and were eagerly rushed through the jetway entrance by the gate agents. They were probably anxious to send us off on-time, as this flight had a pretty poor on-time performance the last several days. Our passports were never requested either, which I thought was necessary for an international flight.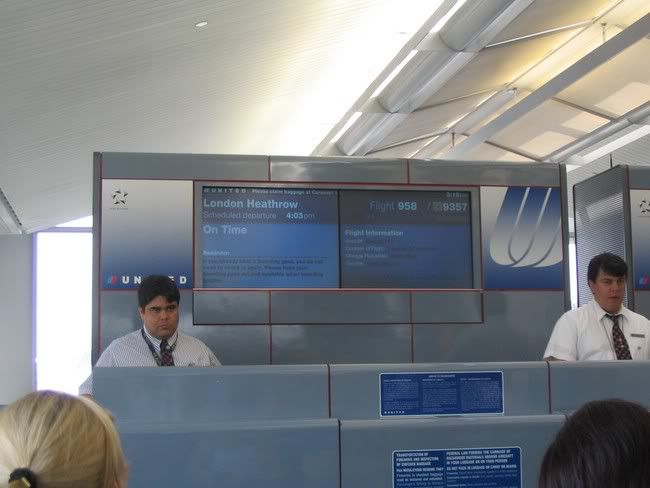 I boarded through 1L, which gave me a chance to see sleeper seats for the first time and experience jealousy
at its worst. I eventually wound up at row thirty-eight and excused myself to my seat mate so I could settle into 38A. I spoke so quietly that he probably assumed I was German, pertaining to my Lufthansa shirt, because we didn't converse the entire flight.
As soon as I was seated I stowed my backpack under the seat in front of me. I usually don't use the overhead bins because I detest having to disturb my seat mate every time I need to retrieve and replace my backpack. Unfortunately, I am 6'2", thus I am losing crucial leg room to compensate for my decision. I figured, however, that I would merely situate my backpack in front of my seat and under my legs, thus allowing my legs to stretch out once we were airborne. Even furthermore, I was sly enough
to shove my backpack partially under my own seat (even if it was already occupied). Voila!
Prior to push back, the lead F/A, a middle aged male from the U.K., greeted us on board. One thing he mentioned over the PA that I found interesting is that the crew speak over half a dozen different languages combined; definitely an essential, I thought. He additionally informed us that "our flying time to London today is a bit shorter than usual – only seven hours and six minutes."
My excitement began to rise as we pushed back. This would be my second time crossing the Atlantic bound for London. My first time remains to be one of my greatest memories, when my mom and I flew a Northwest DC-10 in 1999 from MSP to Gatwick to visit relatives. Ever since, I have been raring to return to England, even if it's just for a few hours.
We took a relatively short taxi to 32L, all while a girl of Asian decent seated in front of me caught my attention as she began to excitingly take pictures of the terminal and passing aircraft. Perhaps one of the rare female a.netters, I thought?
The engines roared as we began our long take-off roll – I immediately developed a strong desire towards the triple-seven. You can watch the take-off segment, which is included in my all-in-one video of the flight. Click "Watch Within Browser" to watch the video embedded on Flightlevel350.com or "Download" to save it on your computer or for a better viewing performance.
Hosting Courtesy of
FL350.com.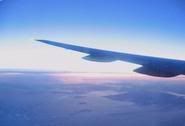 Watch Within Browser or
Download (27.1 MB)
I apologize as the footage lacks its original quality since I had to convert it to meet FL350 standards. The video isn't a result of poor editing either. It's formatted this way due to the limitations of my digital camera that I filmed the video with.
Climbing out of ORD
Once we were airborne after several minutes, the lead F/A gave us the current time in the United Kingdom – 10:30 PM – for those like myself who wished to set their watches. Soon after, entertainment began, and I immediately grabbed the headphones and enjoyed my first encounter with a PTV. I had previously looked up the movie listings on United's website, so I had already planned on watching
Big Momma's House 2
, among others. The F/A suggested closing the window shades to prevent glares on the PTV's, so I did without hesitation.
The "snack before dinner" service began, and this time I was given a full can of ginger-ale with the usual snack mix. I continued watching the good movie, making a few peeks out the window and taking in the appetizing aroma of our cooking meals.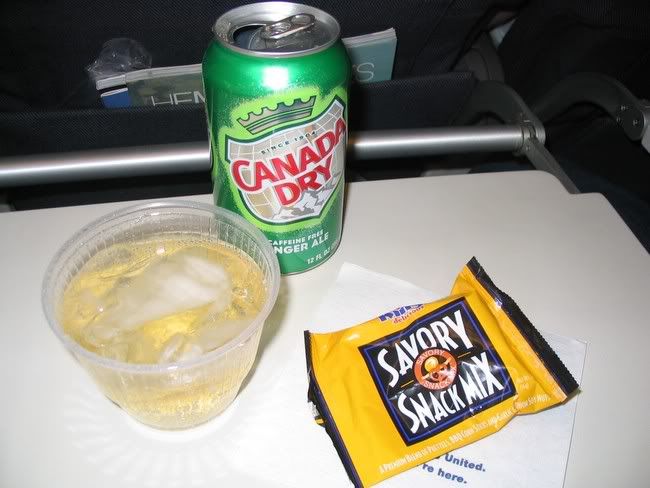 Before dinner was served, we were offered hot, moist towels. I opted to use mine on my hands, though other passengers choose to use it on their faces. I definitely appreciated this simple amenity.
Meal service finally came around, and we had the choice of pasta (which they didn't specify it as being lasagna) and some sort of sandwich. Being a huge pasta fan, I had an easy decision to make.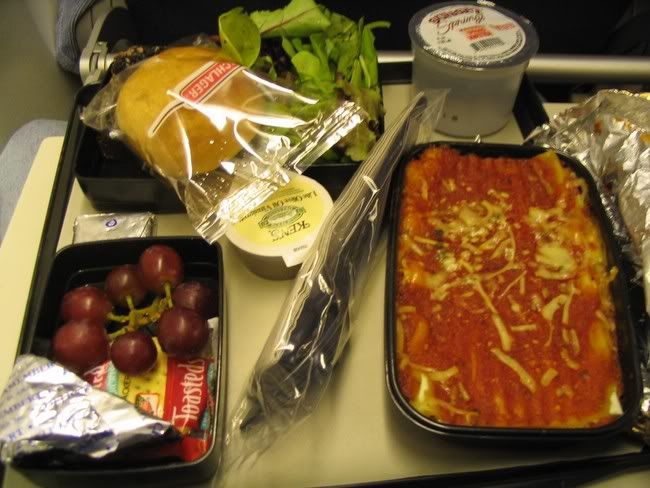 Dinner!
Besides lasagna, the remainder of the meal consisted of a roll, grapes, salad, crackers, and a chocolate brownie (covered by the roll in the photo above). Condiments also included cheese, butter, and dressing. To say the least, nothing was a disappointment, however increased portion sizes would have been more gratifying. The lasagna was wonderful and seemed to be of good quality while served at a very hot and pleasing temperature. The roll, which I spread with butter, was good and the salad with dressing was fresh and tasteful. Yet, the highlight of the meal was the delicious brownie. It's taste was superior and the size was more than satisfactory. Perchance it is the best brownie I've ever had.
Kudos to United and their choice of catering!
Sunset from 36,000' cruising above Canada.
After dinner, the cabin lights were dimmed. I slipped off my shoes as I became rather relaxed and listened to my iPod. I then pulled out my neck pillow and quickly fell asleep.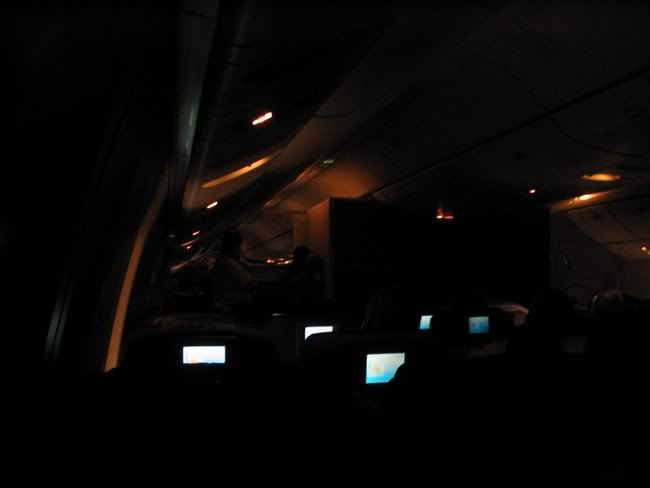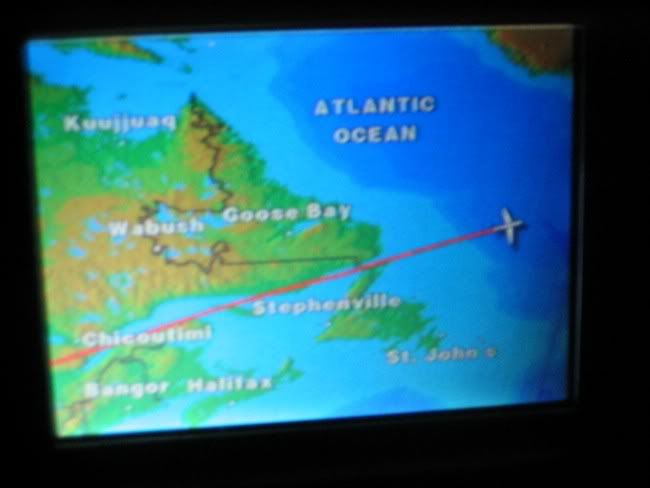 Midway across the Atlantic according to Airshow
I awoke about an hour later to find the absence of my seat mate and the urge to use the lavatory, so I figured this was an ideal time to do so and stretch my legs. When I returned, I tried to focus on getting some more shut-eye, but did so without success. I continued to listen to my iPod, close my eyes, and build my excitement up for Heathrow and everything else to follow. Luckily, time seemed to pass quickly and three hours later, the sun was rising and the striking scent of rolls baking in the galleys filled the cabin.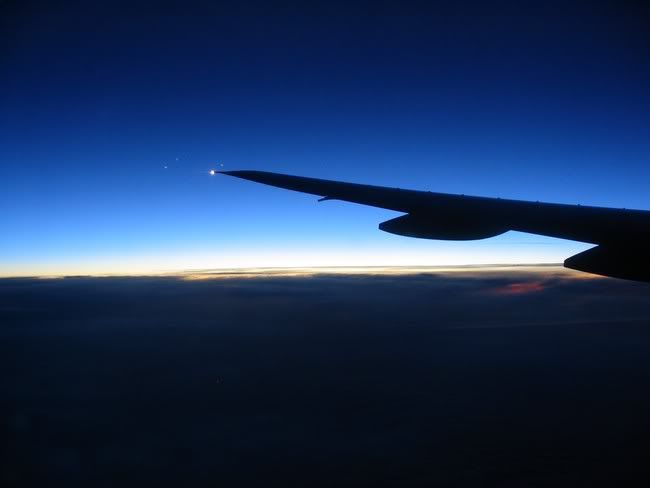 First sight of land
Breakfast was distributed in a box and consisted of a very fresh, warm roll with a side of butter and jelly along with mixed fruit and water. I was slightly disappointed as I had anticipated the possibility of cereal or even an omelet/pancake/warm breakfast of some sort. Regardless, I spread both the butter and a layer of jelly on the roll to create an exceedingly favorable "pastry." The fruit, on the other hand, lacked freshness.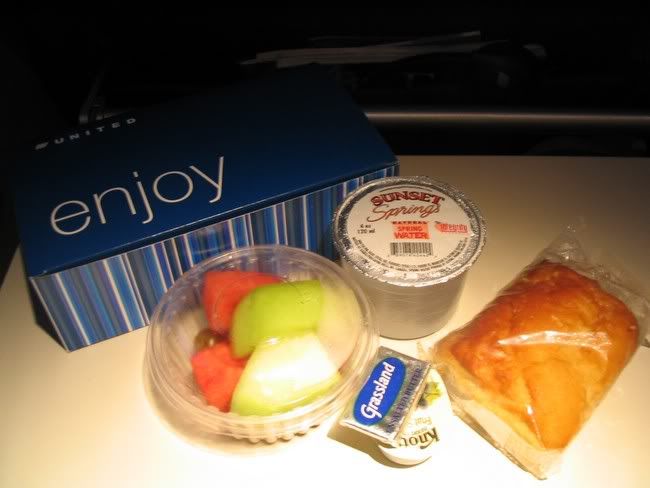 Breakfast...unimpressive
I peered out the window the remainder of the flight, keeping intact with channel nine and capturing so many of the beautiful sun rise views there were. I also kept a close watch on Airshow as I watched us descend at a pretty quick rate and grow nearer and nearer to London.
As we descended below the clouds, the all too familiar beautiful countryside that I remember became visible as we approached 09R. Likewise, the conditions outside were well-favored this morning as well.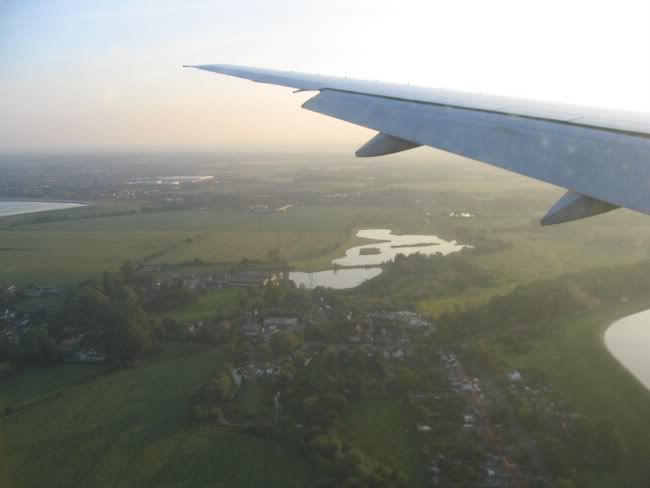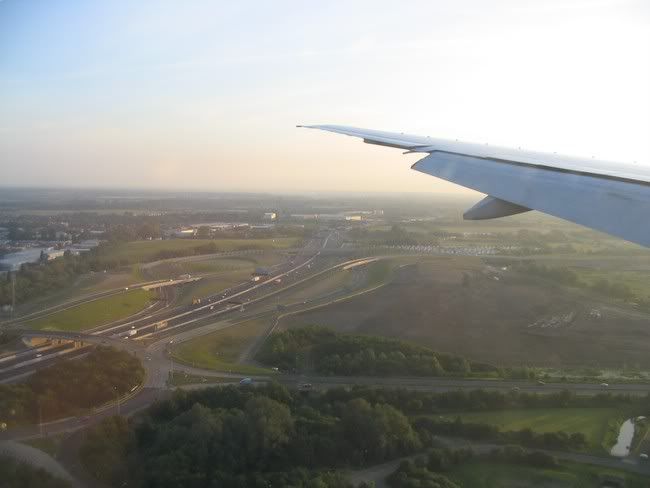 Short finals for 09R
Tuesday, June 6th

We touched-down smoothly at 0534h with hardly any reverse thrust and a bit ahead of schedule. On short finals, I got an unexpected glimpse of terminal five as I was filming. Being rather unfamiliar with Heathrow's layout, this was a nice surprise. You can watch the decent and landing segments if you haven't already, which are included in my all-in-one video of the flight that I previously linked to above.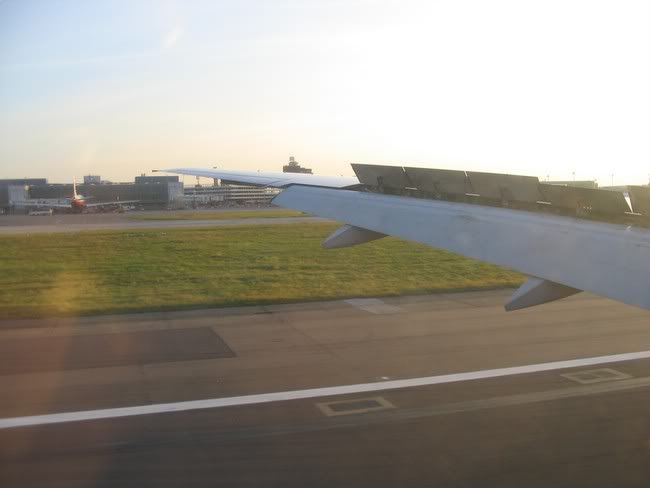 Touch-down!
During our taxi, I had the pleasure of seeing so many beautiful and exquisite aircraft for the first time that I had only seen in photographs and read about; This and the sight of the sun being depicted on the grass and early morning sky made for a
stunning
atmosphere. It gave me the impression that my idea of Heathrow being an aviation buff's paradise this morning feel like a reality.
The head F/A merrily informed us of our early arrival and thanked us for flying United across the Atlantic.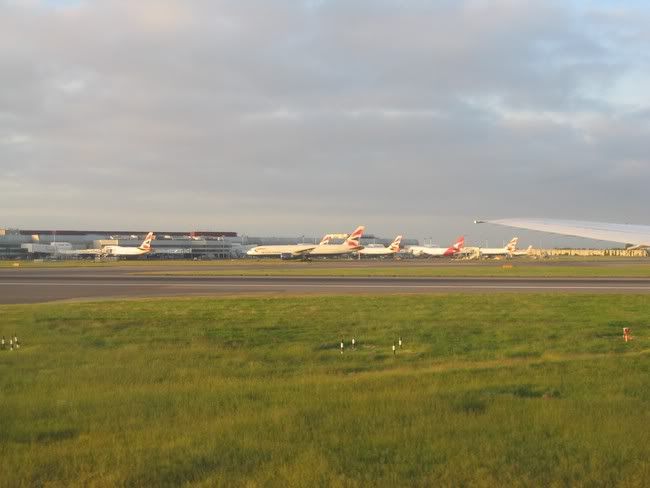 United #958 came to an end as we parked at gate 320. I contemplated on stashing the in-flight magazine and safety card in my backpack as I often do, but I decided to wait for the return leg from Frankfurt. That way they wouldn't get shuffled around and battered in any way and I could keep my backpack and luggage free from as many articles as possible to stay light and organized. All the same, an exception would be made for any bmi artifacts.
I rocked out of N778UA and reassembled with our group inside the terminal. We began to mosey through a series of corridors and escalators according to the indicated signs designated for passengers on connecting flights. We were eventually led outside and got on the transfer bus, verifying with the driver that this would take us to terminal one. In fact, it was quite an enjoyable ride offering a nice sight-seeing of various airliners up-close on the tarmac.
Soon enough, we got where we needed to be and proceeded to the security check-point. We entered what appeared to be a long queue, yet it moved at an agile rate. I soon learned that the security process is much more laid back here than compared to what it is in the U.S. The agent kindly asked me if I had any change in my pocket, and I said no and proceeded through the medal detector with my shoes and belt on. It sure felt like the good old days again.
Our group was given permission to pair up and do whatever we pleased for the next hour or so. My friend Ian and I explored for a short while before exchanging £10 each at an ATM and getting something to eat at Burger King. It didn't take long for me to realize that we were both eating burgers and it was only 7:30 in the morning. It seemed like a burger was appropriate for what we felt like was lunchtime, but we soon understood that the fluctuation in time was playing tricks on our minds. I then retreated back by myself, but not before curiously browsing through a few duty-free stores.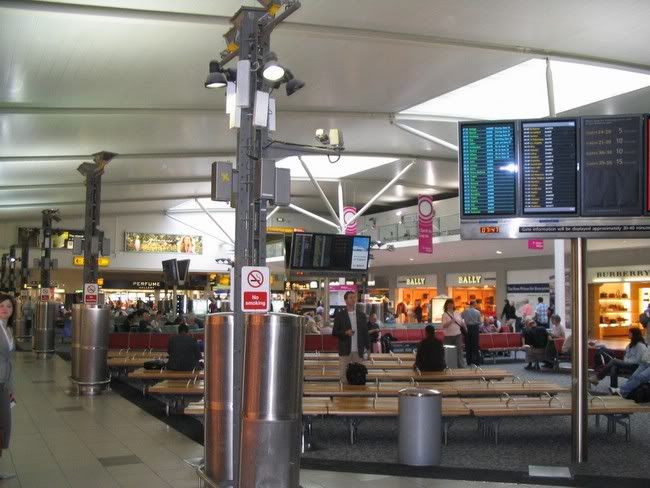 Terminal 1 duty-free
bmi British Midland #193
Depart: London Heathrow, 8:55 AM
Arrive: Nice, 11:55 AM
Aircraft: A319-100 (G-DBCF)
Seat: 15F
The flight status monitors continued to display the details of our flight, but with the absence of our gate assignment. After inquiring, we finally headed towards and arrived at our designated gate fourteen where the gate agents then collected our boarding passes before entering the gate area. This so-called "gate" was a room that consisted of no outside windows or jetway, and I was all too slow to conceive that we would be bussed to the plane stand. It was also of interest to me that somehow all of the other passengers managed to know of the departure gate, hence the majority of the flight was already present...go figure.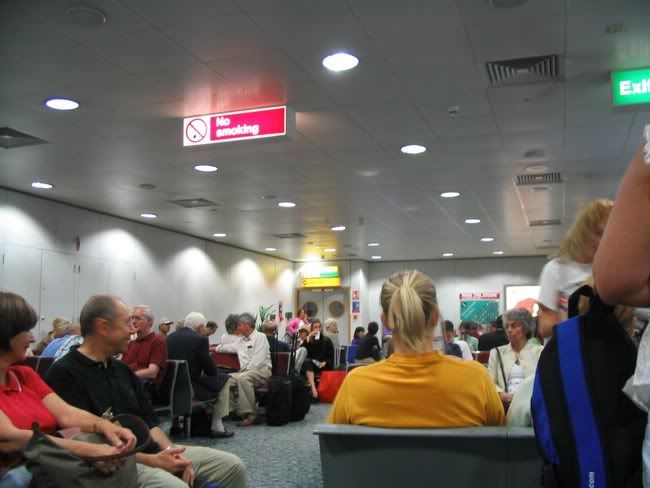 Gate 14
Boarding commenced giving the opportunity for both Star Alliance Gold members and bmi first and business class passengers to board with priority. The remainder of the passengers arose seconds later as we all exited and descended to the ramp on a concrete declivity within the terminal, succeeded by another pleasant bus ride. We soon arrived to the sight of the handsome livery belonging to G-DBCF, one of bmi's latest A319's prominently parked at stand 109. We got off the bus, then to climb the stairs in the small building that the jetway functioned from.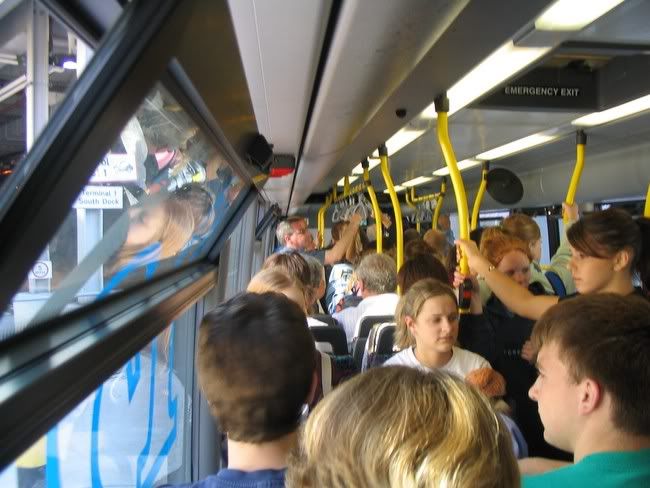 G-DBCF
Upon boarding, I was welcomed on board by a young female F/A who seemed to silently greet me with her affectionate smile. As much as I enjoy bmi's expressive style, however, I think the dark blue bowler hats frequently worn by the female F/A's look really goofy. The hats share an all too resemblance of that a clown would wear.
I proceeded with the queue very slowly through the sleek, colorful cabin to row fifteen. As expected, the other two seats in my row were already occupied since I was among the last several passengers to board. Before I could get there, I made eye-contact with the dark-skin toned girl sitting in the seat adjacent to mine, then pointing to myself and then my seat so I could conveniently inform her and her acquaintance they would need to pardon myself. As I briefly waited for them to get up, I heard her quietly say to her male friend, "he's wearing a Lufthansa t-shirt."
Even after knowing what to expect from browsing cabin photos on a.net prior to leaving, I marveled at what a unique cabin interior this was. The peculiar red floor carpeting pattern put together with the sky-blue color of the seats creates for a stunning appearance, in my opinion. The unique net-style seat pockets were additionally appealing to me.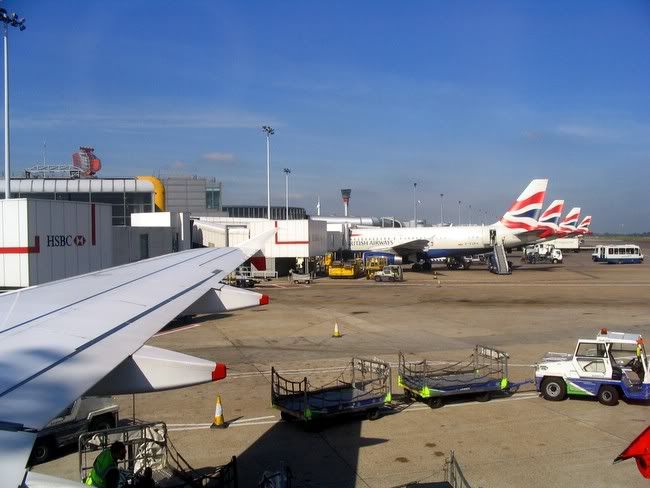 While we remained parked, the F/A's performed the safety demonstration. I glanced over the "eating, drinking, and shopping on board" menu and then paged through bmi's in-flight magazine,
Voyager
. Push back finally commenced twenty minutes behind schedule. The standard commentary from the flight deck was given, but with no actual explanation given as to what ever caused the delay. We continued taxiing, then reaching 09R and given permission to cut in front of an aircraft ready at the threshold and start our take-off roll somewhere in between the beginning and middle of the runway. The IAE V2522 engines thundered to life and we were off. We took a right bank soon after take-off, and being on the left-side I later understood that I missed a wonderful overview of Heathrow.
Oh well.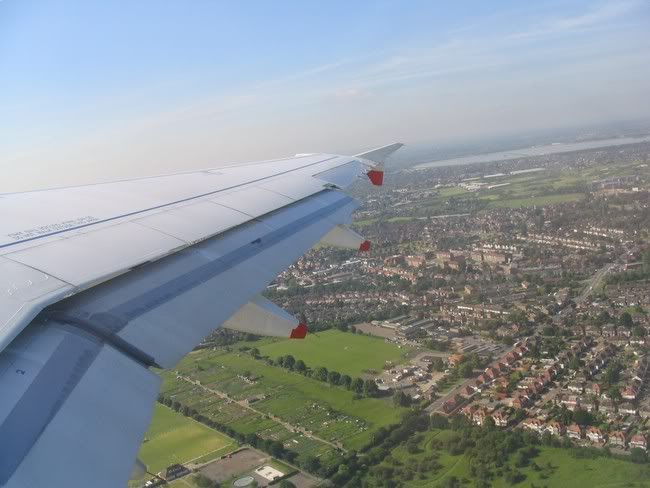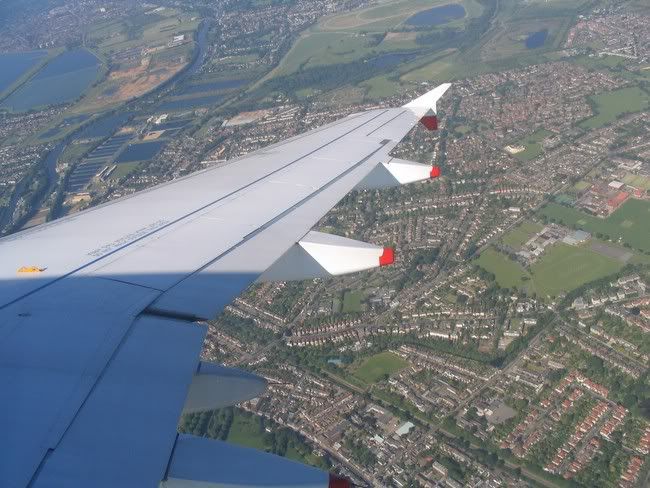 Right bank during climb out from LHR
I filmed the entire take-off sequence, but unfortunately it has somehow entirely disappeared from my memory card. I am thoroughly disappointed as I wished to share this great footage with everyone. If you are still craving more video recorded action I took, please look forward to two additional all-in-one videos of my return home in the next report to be posted within the forthcoming weeks.
In minutes, we were soaring gallantly over the English channel. It was announced that the cart would soon come through the aisle for those who wished to purchase food and drink. I thought this would be a ideal way to spend the rest of my soon-to-be useless £6. Alas, I was too exhausted to have to even speak a word, so I scratched that idea. I snapped a few photos of the cabin and Northern France and then began to enter that phase of absolute weariness. I crashed hard
the remainder of the ninety-minute flight.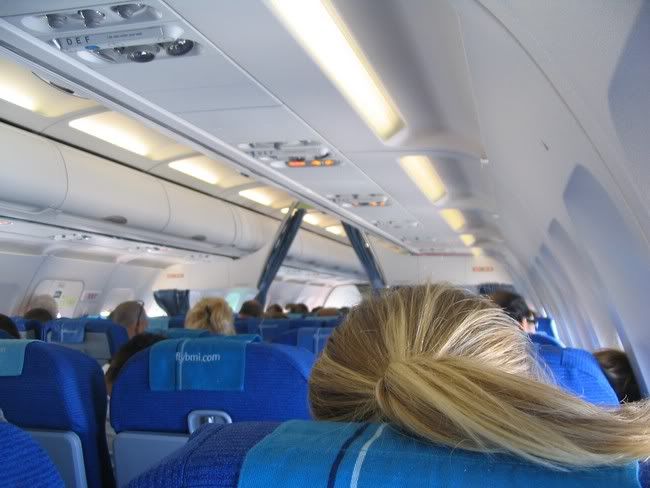 Northern France
Customs forms were being distributed as I began to awaken. After my solid nap, I'd have to fill one out in the terminal as it took me a while to become fully conscious. I was in awe of my initial sight of the beautiful blue Mediterranean as well as the distinct rooftops of what I presumed to be the city of Cannes. It was an incredibly beautiful day as we descended over the Mediterranean waters and approached 04L.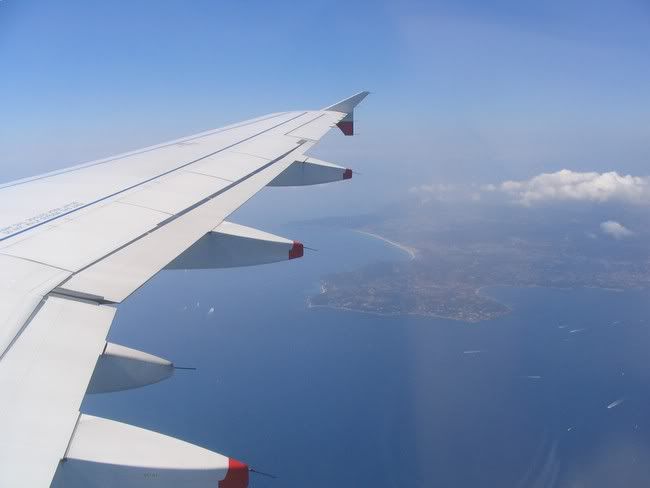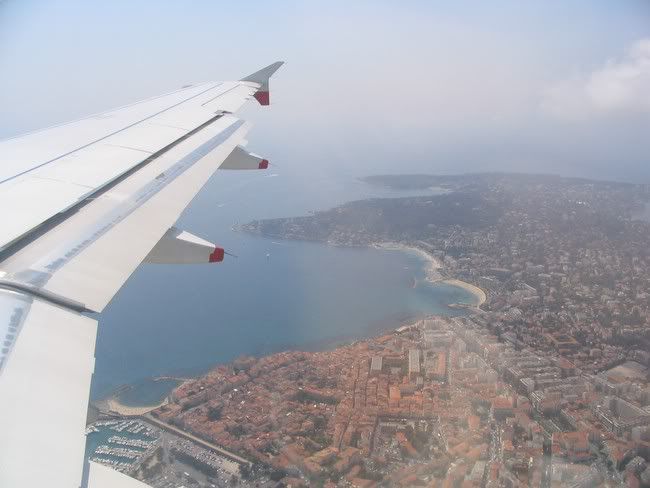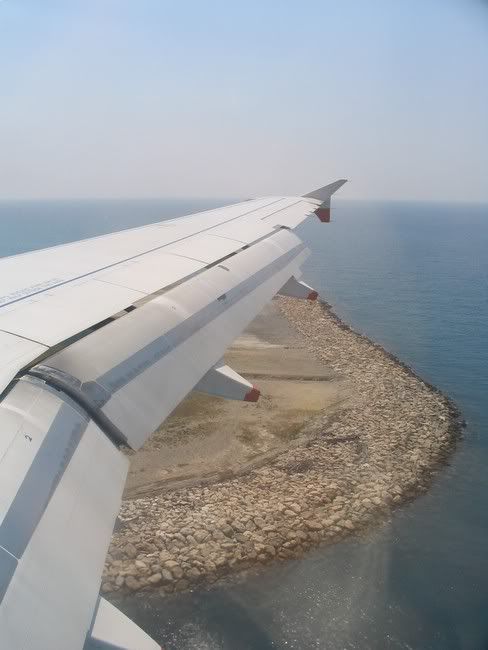 Short finals for 09R
I caught a glimpse of an EasyJet 737 positioned and holding on the parallel 04R just prior to our smooth touch-down. We then taxied to what appeared to be a very modern terminal where a British Airways 757 and SAS Braathens 737 were both resting. Other than those three aircraft and ourselves, movement at the airport was momentarily non-existent from what I observed.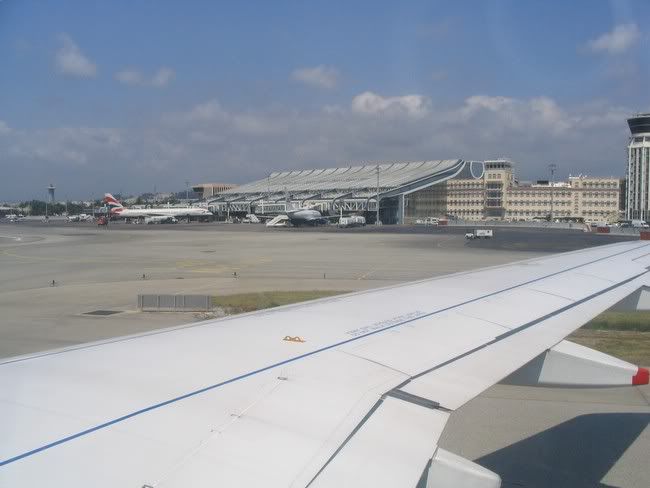 Côte d'Azur International Airport, Terminal 1.
I deplaned and ascended through the partially glass jetway to gather with the group. Each one of us agreed that we slept like a rock on that flight. Once the entire flight of passengers were off, we continued on to customs where I filled out the necessary custom form. The process was carried out quickly, considering there were only two customs officials on duty. Finally, I was the very last individual to proceed up to the window as I handed my form and passport to the gentleman. They continued to ramble off in French as I quietly returned a
merci
and went on to the baggage claim.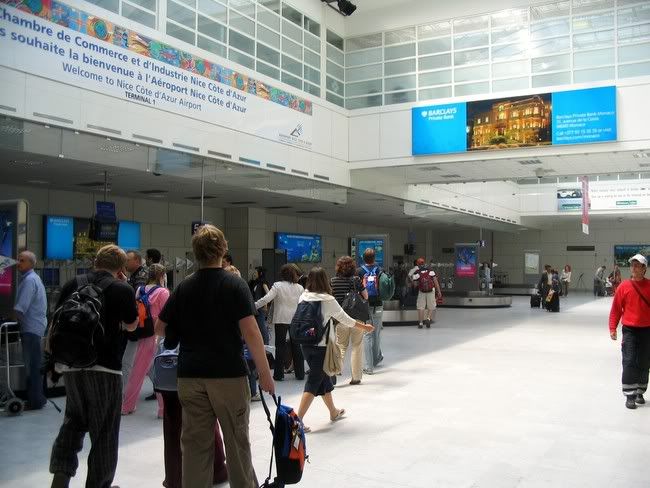 Baggage claim
My bag appeared on the carousel in little time, giving me another moment to admire the simple, yet clean and stylish interior of the terminal building. We made our way towards the exit in the midst of a very rambunctious crowd. Once outside, we piled onto our spacious tour bus and immediately met our excellent tour guide as we began to tour what flybmi.com describes as the sparky, sexy city of Nice and the rest of France.
I hope you enjoyed reading (and watching) my report as much as I enjoyed putting it together for you. I invite you to read the continuation of my return home from Paris via Frankfurt and Chicago aboard United and Star Alliance partner, Lufthansa...another photo/video report you can anticipate on within the next few weeks!
Best Regards,
-Mark
[Edited 2006-07-12 04:16:37]