Hello everybody and welcome to my report about a leisure trip to Cornwall on Air Southwest. The routing was Manchester-Newquay (with stopover in Cardiff) and Plymouth-Manchester (with stopover at Bristol), flights were booked on Air Southwest's homepage in March, all flights together for I think 90GBP per person, tax inclusive.
MAN-CWL-NQY
WOW523
08JUL2006
STD: 10:15 ATD: 12:05
STA: 12:05 ATA: 13:15
Seat: 6A and 6B
Dash 8-311
G-WOWB
Rolled out 10JUL1992
Delivered to ContactAir 09Oct1992
Taken over by BA/Brymon/Citiflyer 21March1997
Stored at EXT, later MGL
To Air Southwest in October 2003
View Large
View Medium


Photo © Frank Schaefer
View Large
View Medium


Photo © Chris Sheldon
View Large
View Medium


Photo © Sven Pipjorke
View Large
View Medium


Photo © Craig Hendley
Having arrived at Manchester the evening before, we were back at the airport at 8:15 and proceeded directly to the two Air Southwest check-in counters in Terminal 3.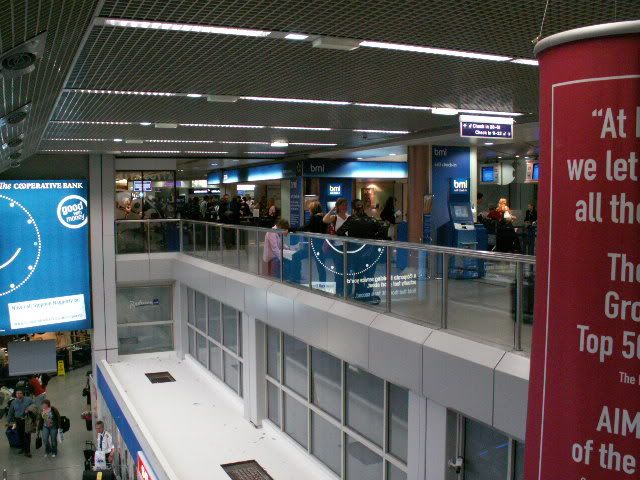 Long queues at the bmi desks in T3, but only two passengers at the Air Southwest counters, so it was a matter of a minute until we could check in our bag and receive the two boarding cards. There are two Air Southwest flights leaving MAN at the same time: One to CWL and NQY, the other one to BRS and PLH.
We went through security where photos were taken. No gate announced as usually, "wait in lounge", here's a pic of the waiting lounge in Terminal 3: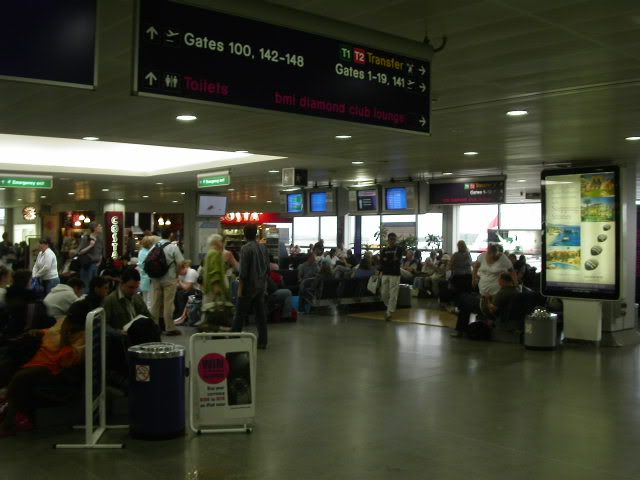 30 minutes before departure our gate was announced, and we saw an Air Southwest Dash-8 taxiing in which we thought would become our aircraft for this flight: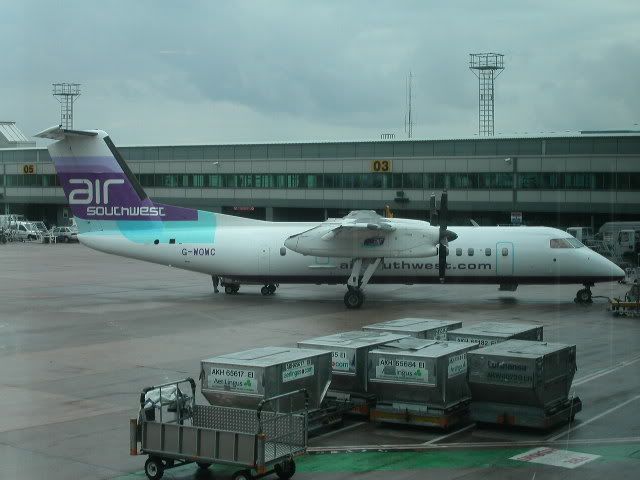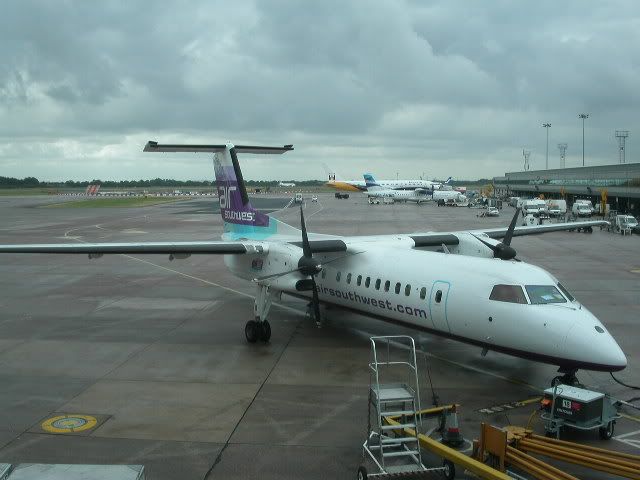 Fueling: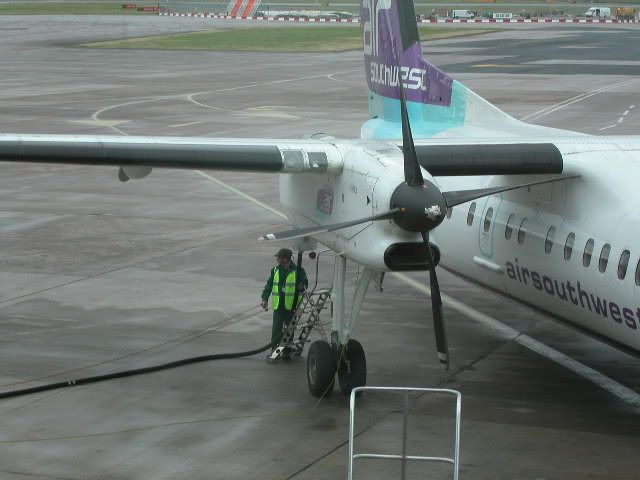 However they made an announcement at the gate that one of the two inbound flights would be delayed by one hour, and that the crews would exchange their aircraft here at MAN, so both outbound flights would be delayed by an hour: the one because delayed aircraft, the other because delayed crew. Nobody complained.
By 10:35 we saw our aircraft arriving: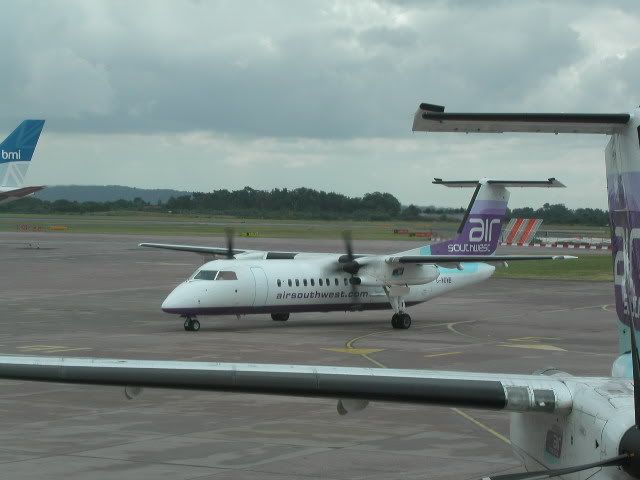 Baggage loading. With the exception of one dead-heading captain, there were only leisure travellers on board, so it was quite a lot of baggage for such a small aircraft, I'm sure you agree: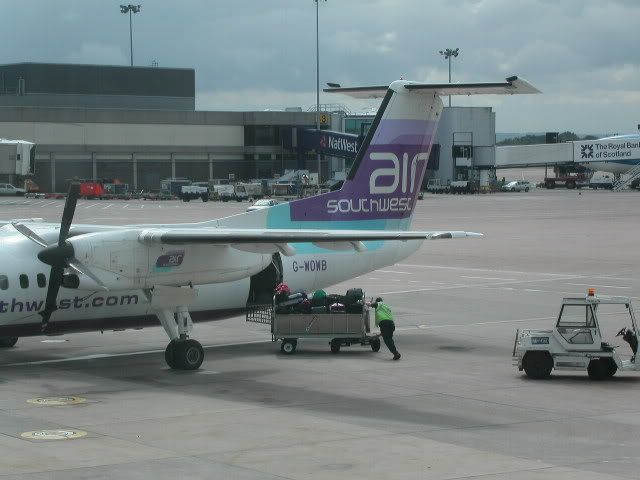 Boarding was called by 10:50 and we could walk the few meters over the tarmac to the aircraft where we were welcomed by the single flight attendant. The cabin was comfortable with blue leather seats with purple Air Southwest headrest covers. What I noticed was the fact that all signs in the cabin were in German and English - still showing the aircraft's history with ContactAir.
Boarding appeared to be completed, but no, five passengers were missing. Another 10 minutes waiting, then five girls were running towards our aircraft. They were shopping and apparently had forgotten about time... In the end there were 42 passengers on board.
Doors were closed, both f/a and later pilots apologized for the delay, and a tape for the safety briefing was started as we taxied towards runway 24L.
Airborne: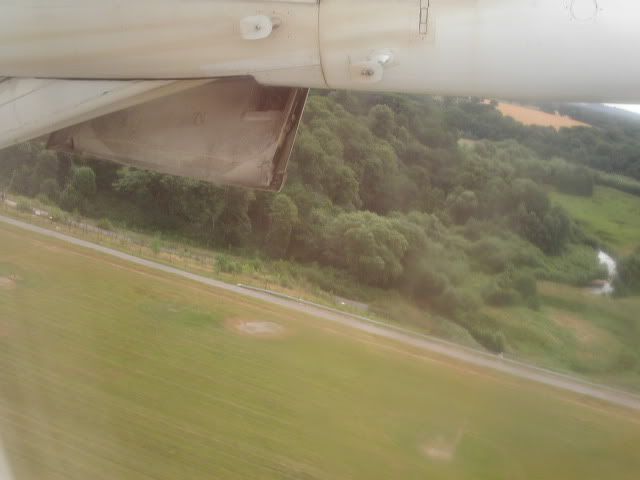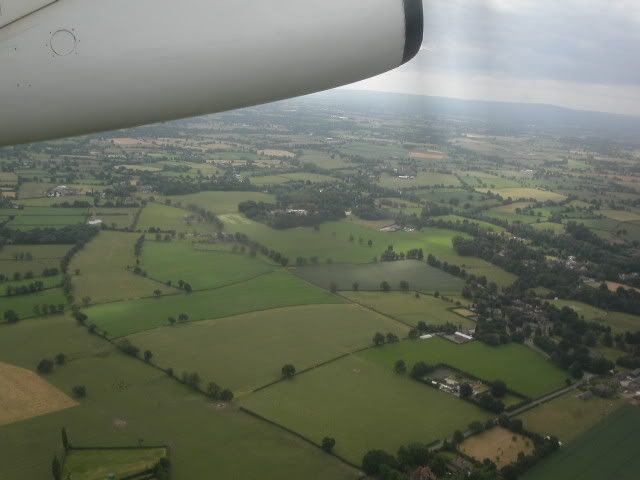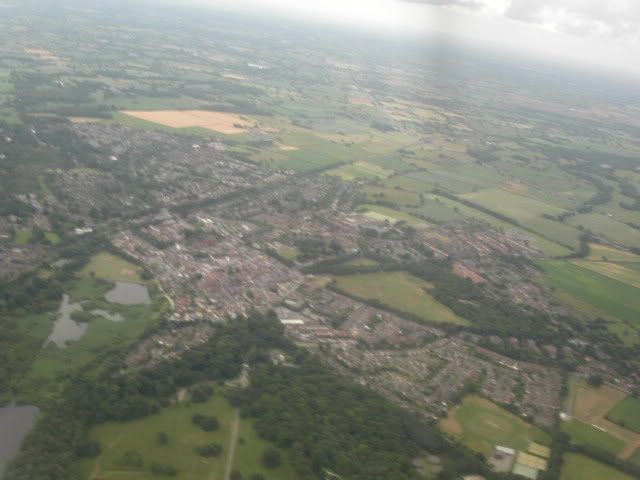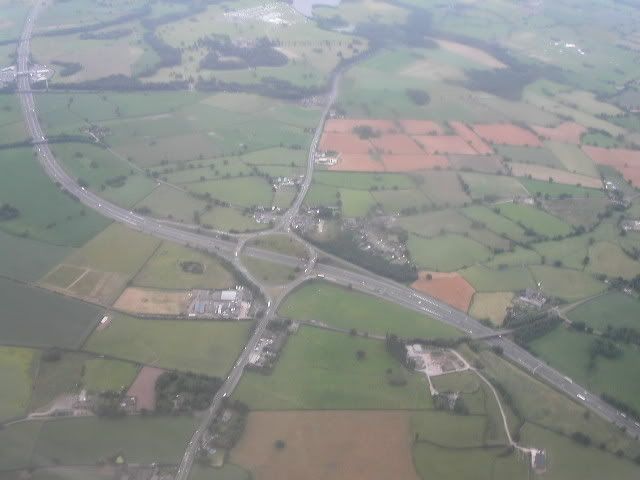 It's pay-for-food on Air Southwest, but unlike the typical low-cost airlines, prices on Air Southwest were reasonable: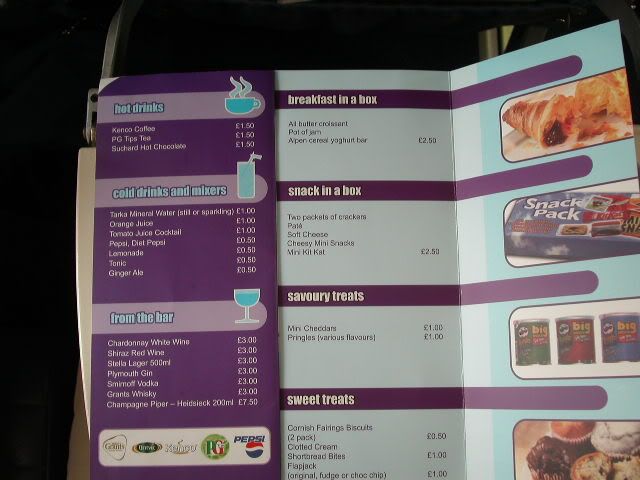 We had the "breakfast in a box" with a coffee and a Ginger Ale: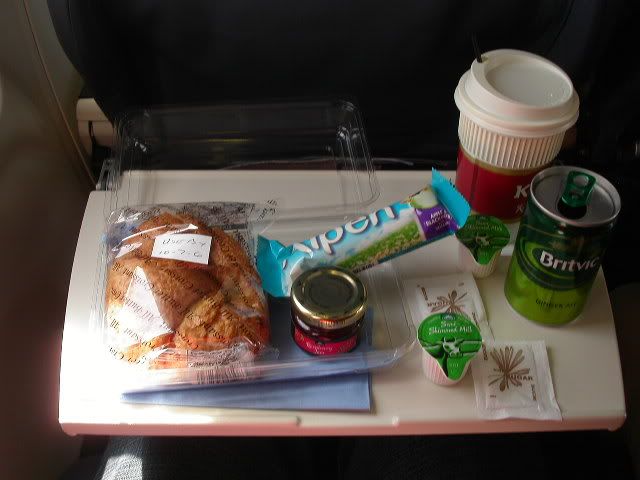 Contents of the seat pocket were (beside the menu card) this sort of map showing the sights of southwest England: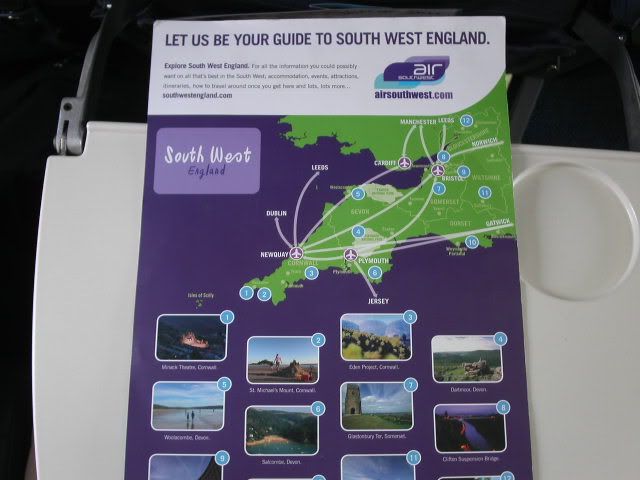 A Sabena-style airsicknessbag: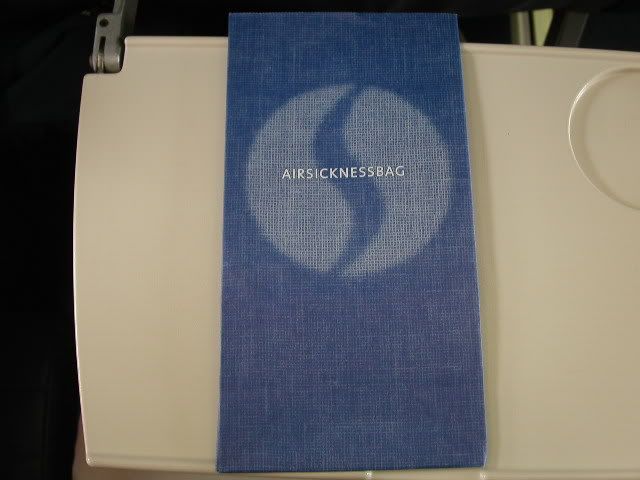 And of course a safety card: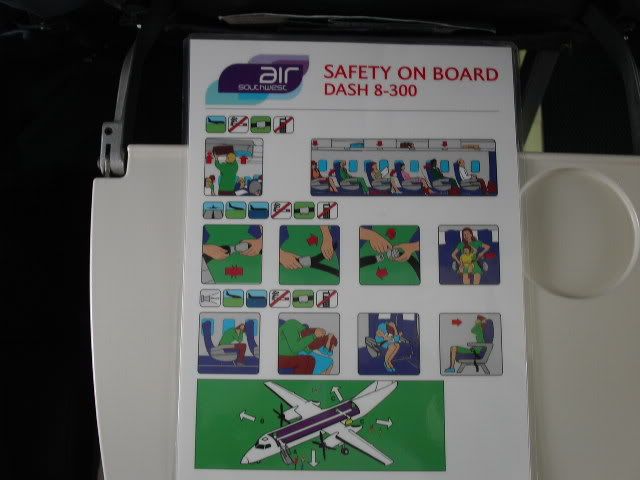 Now we were flying over the clouds, so no more air-to-ground pics: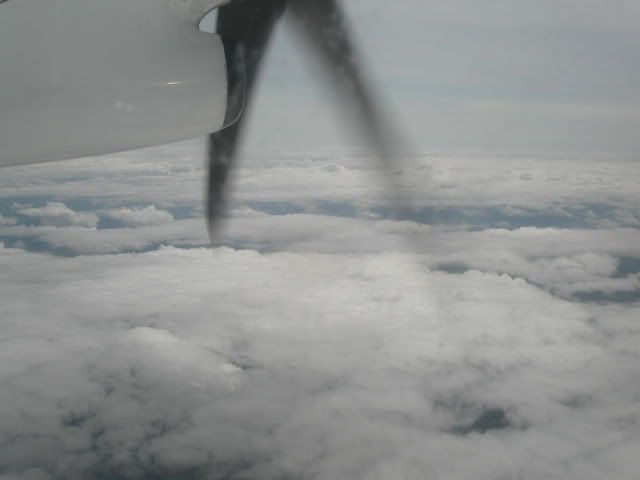 But here's an above-the-clouds video - all of my videos are only a few seconds long and have about 5MB. Flash player 8 or higher (or Quicktime) is required. Hope the links work.
http://smg.photobucket.com/albums/v5.../?action=view&current=Pict0117.flv
Approach into CWL: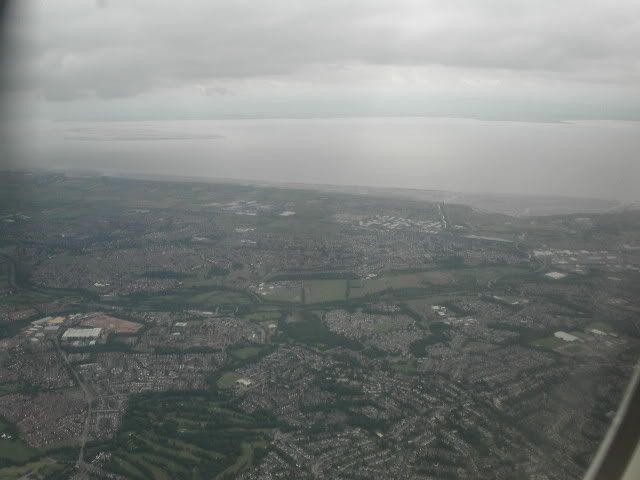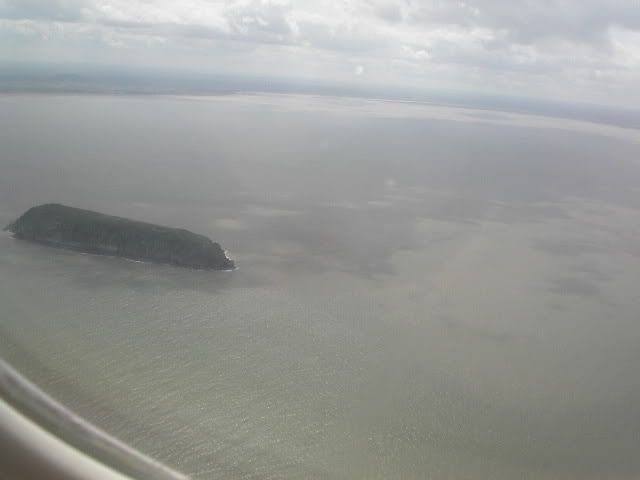 Not much activity at CWL, just an Excel B737 (canadian registration), a UK Jet MD-80 (greek registration) and a Aer Arann ATR42. All transit passengers were asked to stay on board, while 9 CWL-passengers left the aircraft here. Later, ten new CWL-NQY passengers boarded the aircraft. It was amazing how long this transit took: No re-fueling, no catering, no cleaning, nothing, yet it took slightly longer than 30 minutes before we taxied again to the runway.
Take-off from CWL: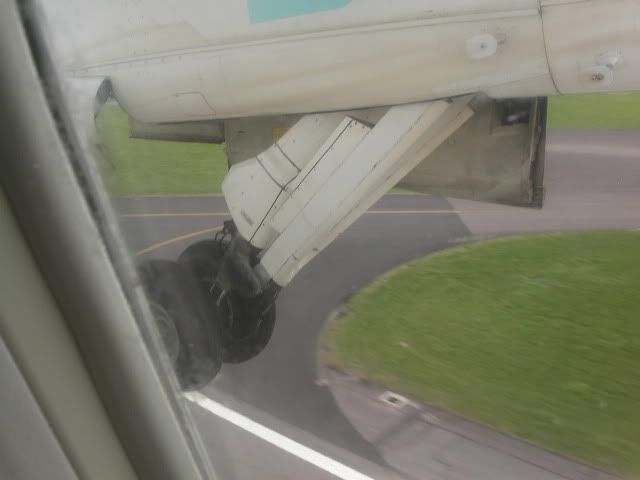 A European BAC-1-11 with several parts missing: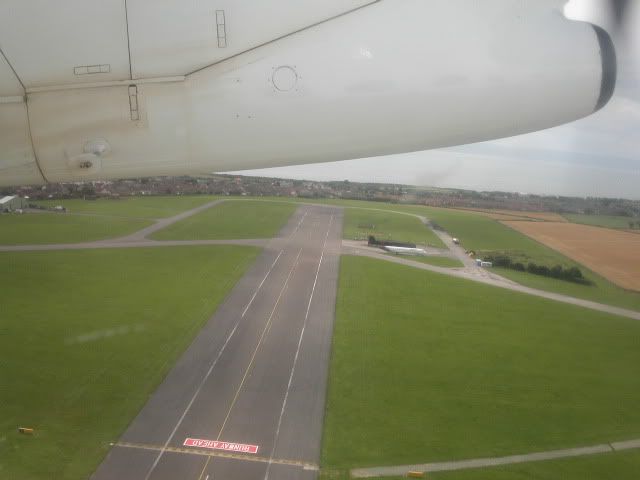 Open-cast mining: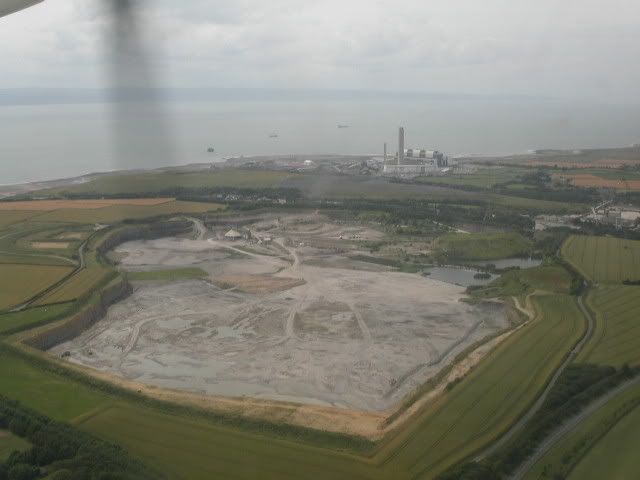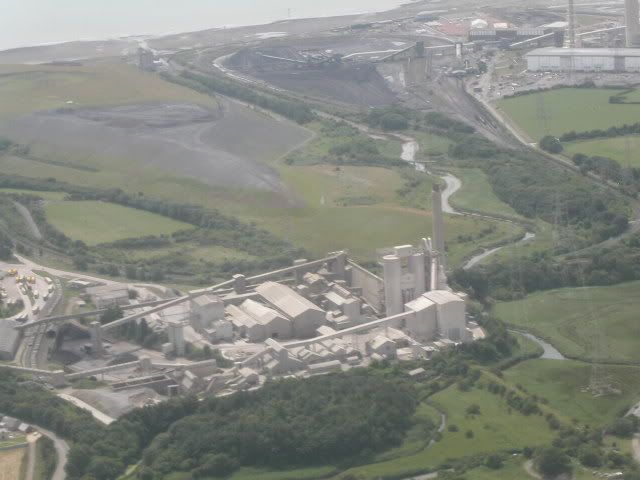 Just after take-off, we were flying over RAF-base St. Athan where you can clearly see two ex-RAF VC-10s being scrapped: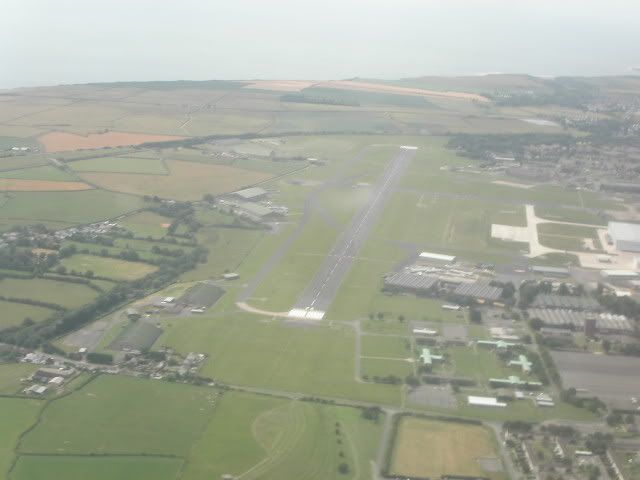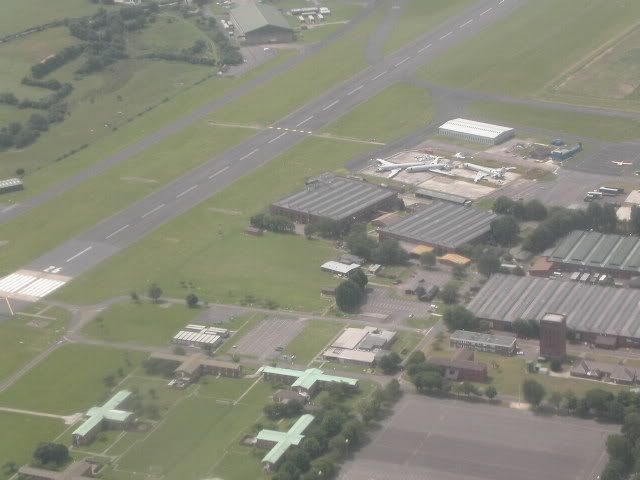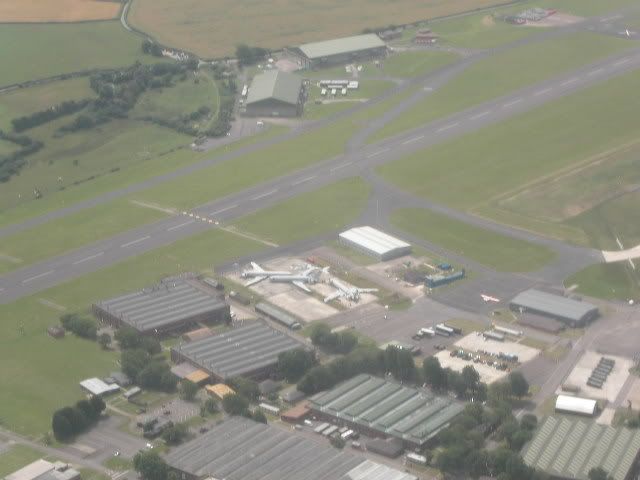 View Large
View Medium


Photo © Michael Stewart Brazier
View Large
View Medium


Photo © Michael Stewart Brazier
View Large
View Medium


Photo © Michael Stewart Brazier
We turned left and passed over the Briston channell / Severn esthuary: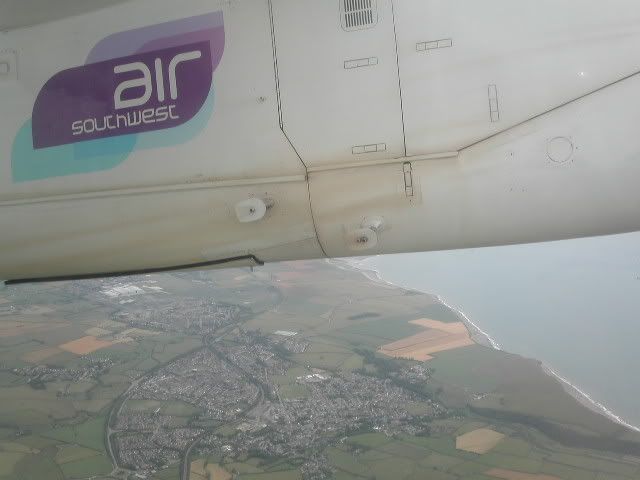 Again we were breaking through the clouds. No inflight service on this 30-minutes-hop to Newquay.
A few pics taken during approach into NQY: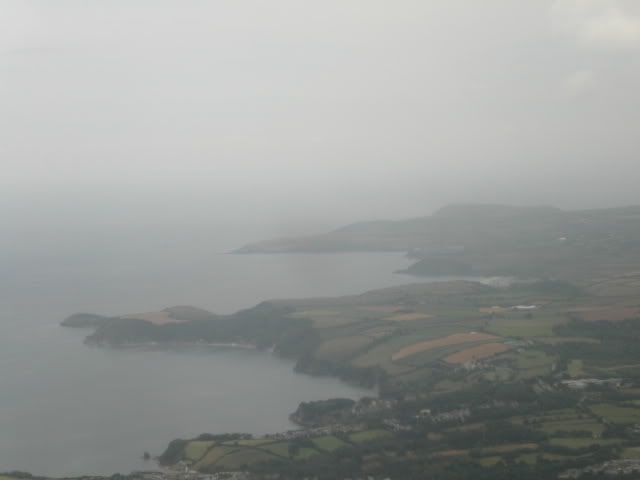 The beautiful cornish landscape: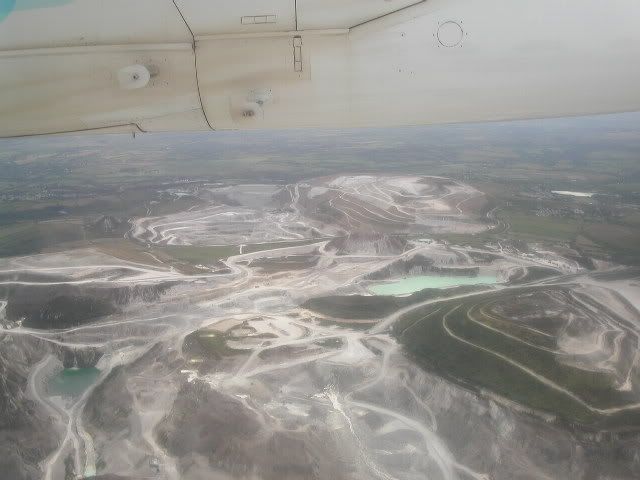 Crystal-clear lakes everywhere: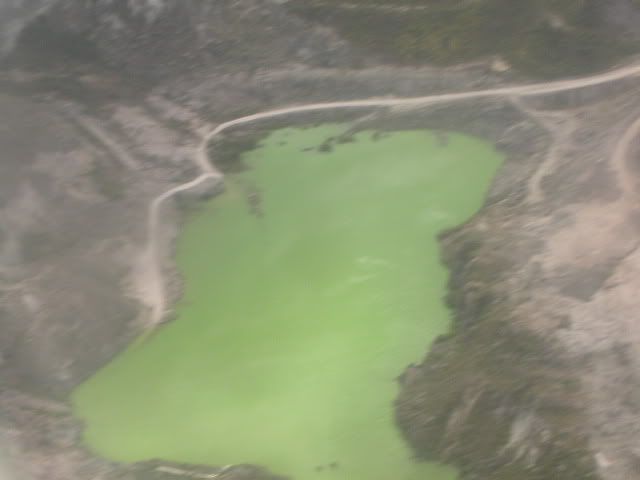 Joking apart, a few minutes later we saw what Cornwall should look like: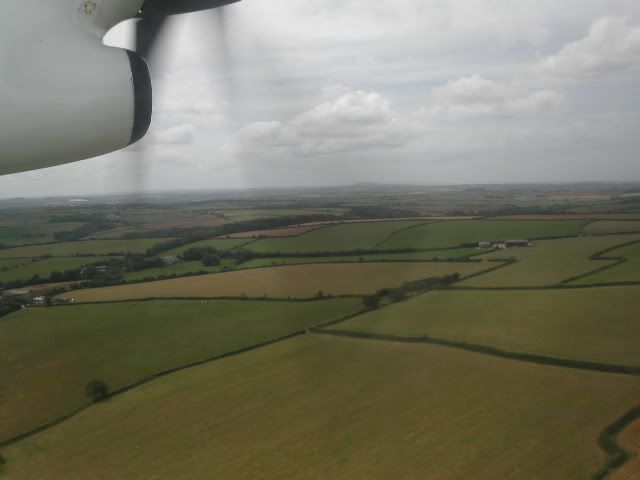 Touch-down: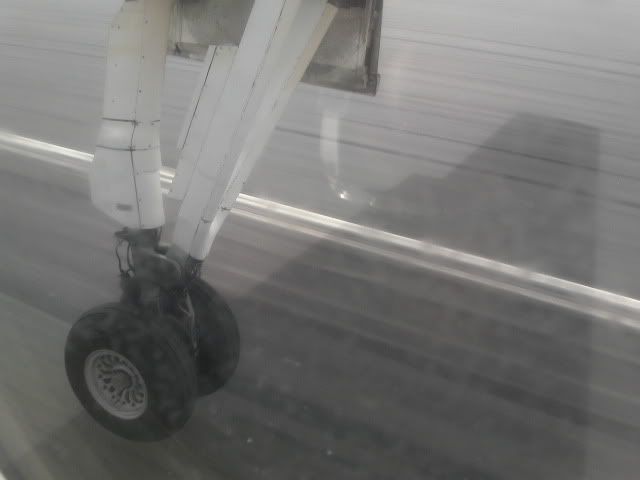 We taxied towards our parking stand, the crew apologized again for the delay, and before we could leave the aircraft the propellers had to be secured. You can also see the new crew on this pic: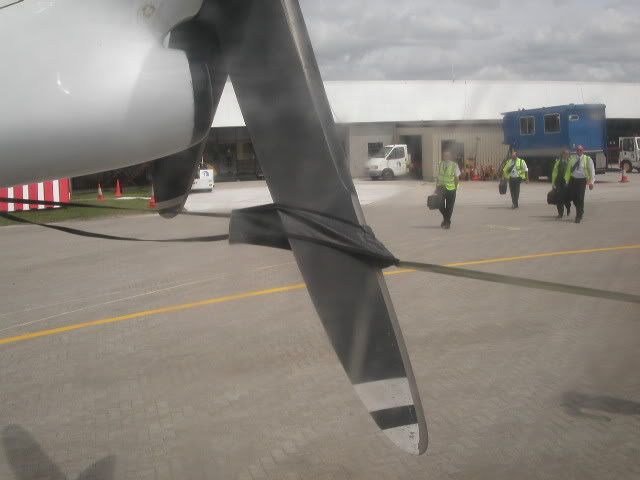 Cockpit shot: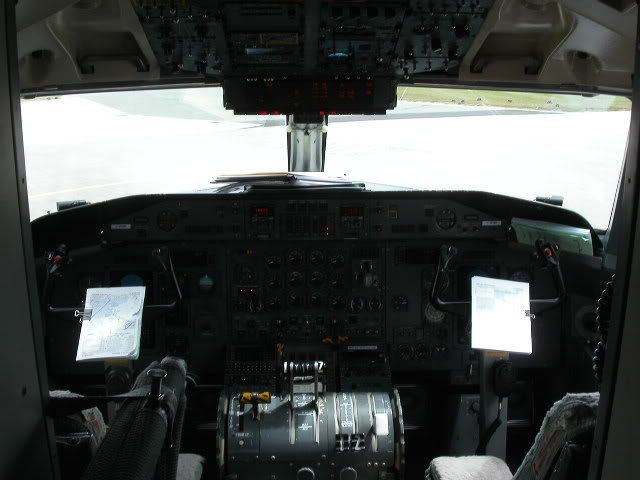 A last photo of our aircraft: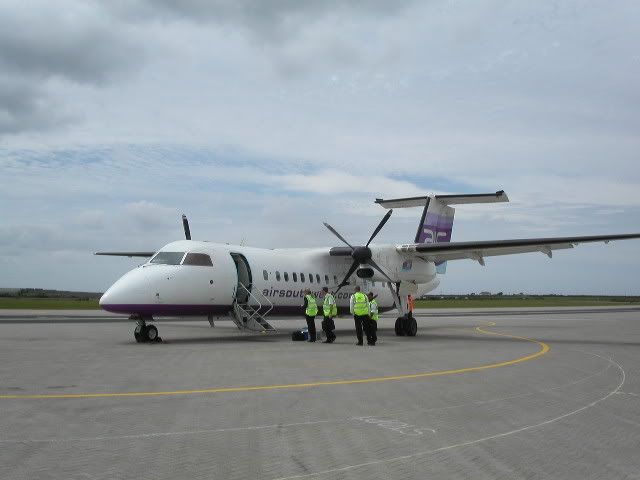 ...and an Isle-of-Scilly Skybus Dash-6:
Inside the terminal there was only one baggage belt, and after about 5 minutes we got our baggage back and stepped outside the small terminal building. Here are a few airport pics: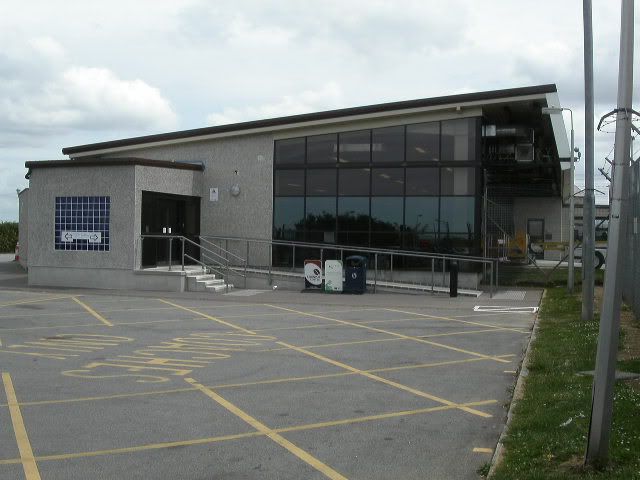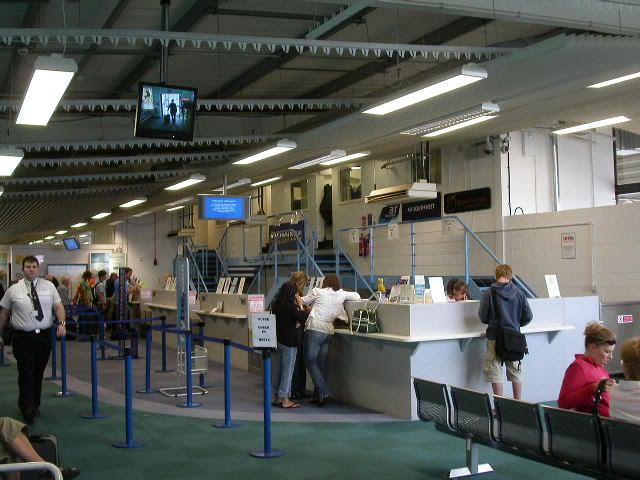 We took the bus to the city of Newquay where we spent two nice days. Newquay is famous for surfing. Now we don't surf, but despite the sometimes rainy weather we still enjoyed our time there. Sunday we had planned to visit the Isle of Scilly but unfortunately there is neither ship nor air service to the Islands on sundays, I really don't know why. Anyway, we rented bikes instead to make a tour around the vicinity.
In case anybody is interested in non-aviation Cornwall pics:
http://img.photobucket.com/albums/v511/ContactAir/UKJul06/UK08.jpg
http://img.photobucket.com/albums/v511/ContactAir/UKJul06/UK09.jpg
http://img.photobucket.com/albums/v511/ContactAir/UKJul06/UK11.jpg
http://img.photobucket.com/albums/v511/ContactAir/UKJul06/UK12.jpg
http://img.photobucket.com/albums/v511/ContactAir/UKJul06/UK14.jpg
On Monday we took the train to Par, and then to Plymouth in order to fly back to MAN. Now the train from Newquay to Par is something quite special. This service runs only five times a day, and it really doesn't seem to attract too many passengers. A photo for all you train spotters out there
and by the way, this small train was still much too big for this route:
http://img.photobucket.com/albums/v511/ContactAir/UKJul06/UK15.jpg
Par to Plymouth was a Virgin Train, much more comfortable, this train was later going all the way up to Dundee! But we left at Plymouth and took a taxi to the airport.
(PLH)/EXT-BRS//BRS-MAN
WW304
10July2006
STD: 13:35 ATD (from EXT): 15:30
STA: 15:30 ATA: 18:10
Seats: 12A and 12B
Dash 8-311
G-WOWC
Rolled out 18 Dec 1991
Delivered to Air Wisconsin, then Atlantic Coast, then Mesa Airlines.
Taken over by BA/Brymon/Citiflyer 27 Apr 1996
Returned to lessor 02 July 2002
Taken over by Air Southwest October 2004
View Large
View Medium


Photo © Danny Hill - WorldAirlineImages
View Large
View Medium


Photo © Alastair T. Gardiner - WorldAirImages
As we arrived at PLH, it was a mix of rain and fog. We overheard announcements of the flight to Jersey being diverted to EXT because of the weather situation. We also found out that check-in for each flight starts only 60 minutes before departure, so we were much too early. Time to take some pics.
The check-in hall - it used to be all-British Airways when I was at PLH last time, three years ago. Now it's all-Air Southwest: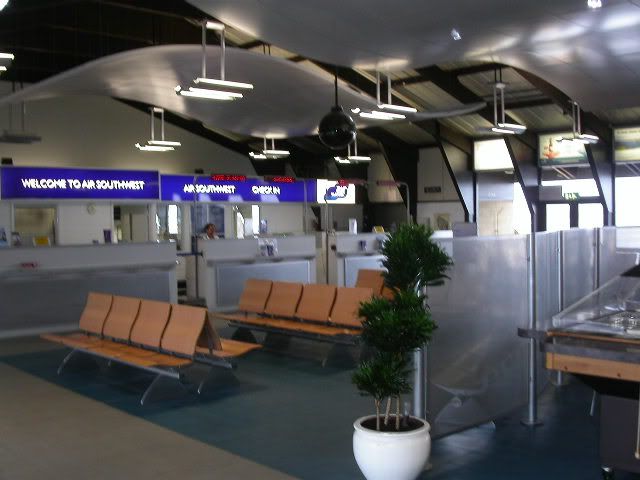 The small terminal of Plymouth City Airport: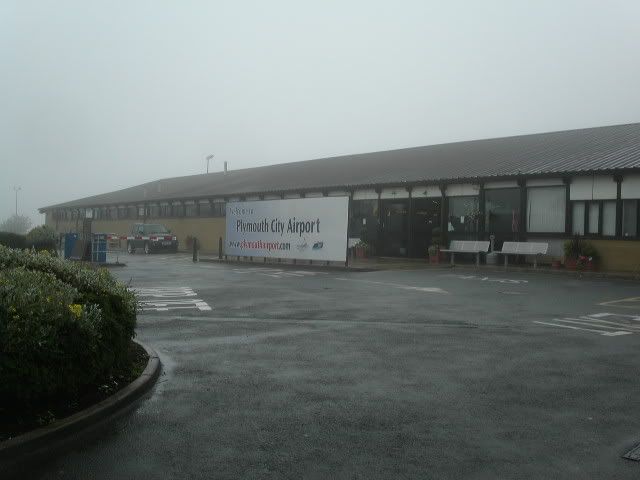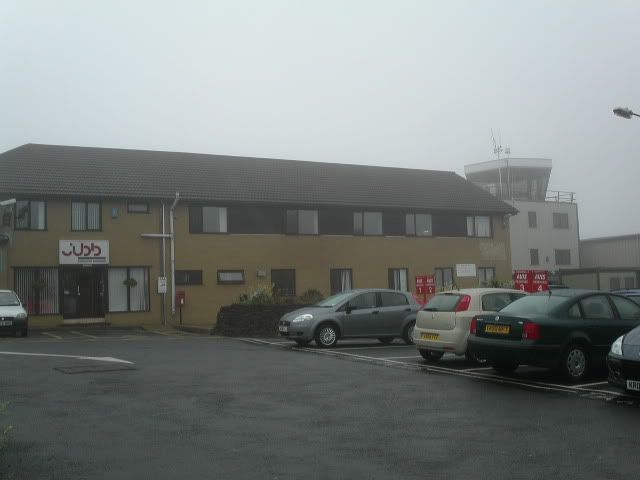 Exactly one hour before departure, check-in was opened. They said that they were still unsure if we would fly from PLH or if the flight would be diverted again to EXT. We checked in our bag and got our boarding passes: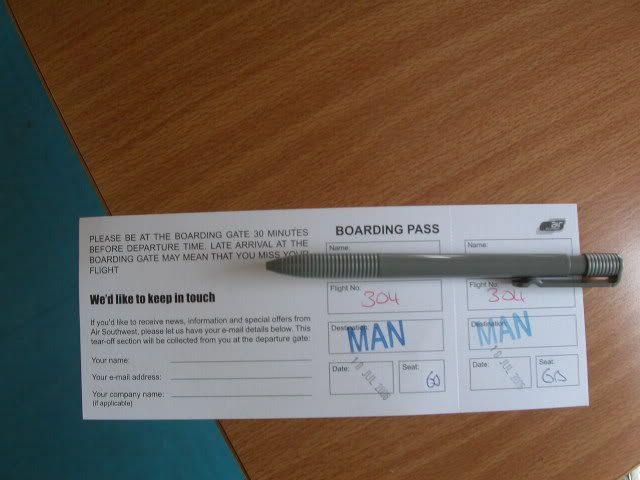 About 30 minutes before departure, an announcement was made that the inbound flight had diverted to EXT and that we were going to be bussed to EXT. Now everything went very quick: We all (21 pax) got our baggage bag and boarded a bus that was already waiting in front of the terminal: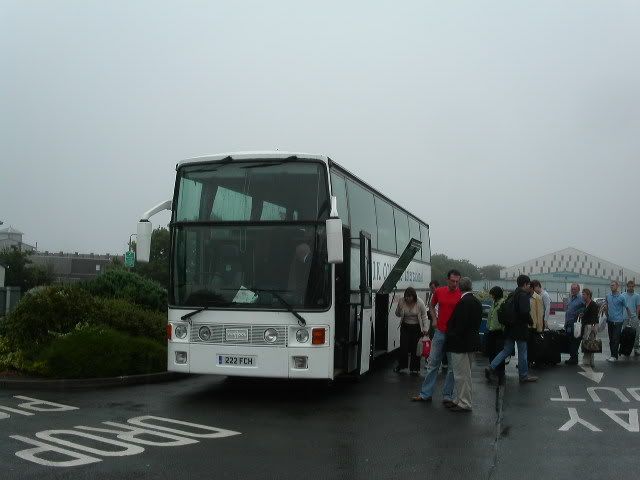 In a matter of five minutes after the announcement was made, we were all sitting in the bus already. Air Southwest ground staff came on the bus to apologize, but I mean it's hardly the airline's fault if weather conditions are bad - although the fog had suddenly improved by now, as you can see on the pics above, but the aircraft was standing at EXT now.
The bus driver was a funny man. He proudly announced that there would be inflight entertainment on the bus. A TV screen and a DVD player, showing the classic 1970s comedy program "The two Ronnies show - best of, part II", which was of course unfunny, but again, nobody complained. As we were just leaving the airport, another bus just arrived. He came on the phone again, "Oh my god, look at these poor people, where are they coming from? Guess their flight diverted, ha-ha!". About 50 minutes later, by 14:00, we arrived at Exeter airport and were welcomed at the bus by Exeter ground staff and escorted to the check-in to check in our bags again.
Exeter airport: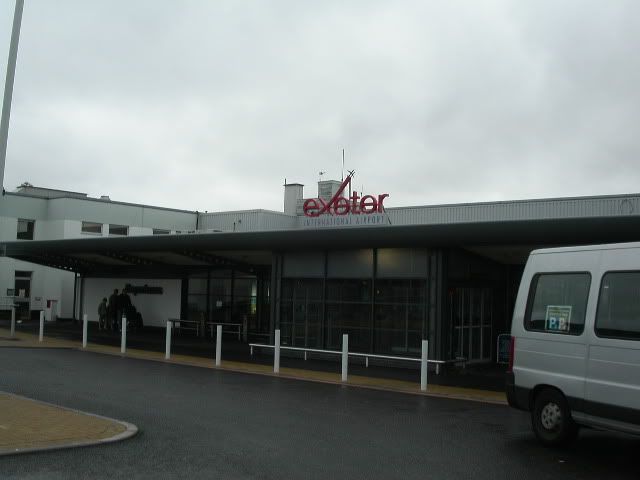 We were asked to go to the gate immediately, but as usually in the UK, no gate number announced, just "Wait in lounge". I went to one of those internet terminals, and when I just paid for 10 minutes internet, the flight was called, damn. At the gate, the female captain made an announcement, informing us that our flight to MAN via BRS would only fly to BRS for operational reasons - the aircraft would normally fly PLH-BRS-MAN-BRS and then again to MAN and back to BRS, so they cancelled one of the two flight pairs, ours. And again, nobody complained, those British people all stayed so calm. We didn't mind either, just as long as we would get our 20:30 HLX flight MAN-STR.
Air Southwest seems to offer quite a lot of transit flights. On our aircraft, there were still passengers from JER who would fly with us until BRS. So it was free seating aboard, we took 12A and 12B, and the flight was quite packed with passengers JER-BRS, PLH-BRS and PLH-MAN.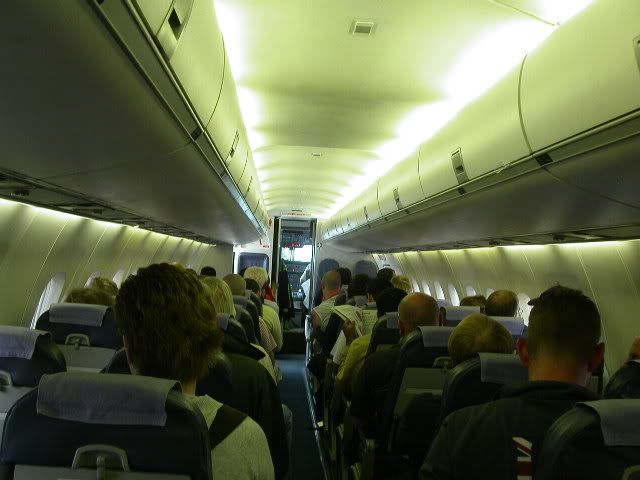 On board, we had to wait until re-fueling was completed, then waiting again before engines were started by 15:30. We taxied accross several FlyBE aircraft and a First Choice B757. in the background we could see an a/w ex-Ansett BAe146-200 and a British Airways BAe146/RJ with several pieces missing, not sure if this was due to maintenance or if the aircraft has been parted out.
Finally we took off and were soon above the clouds again.
Durch den Monsun: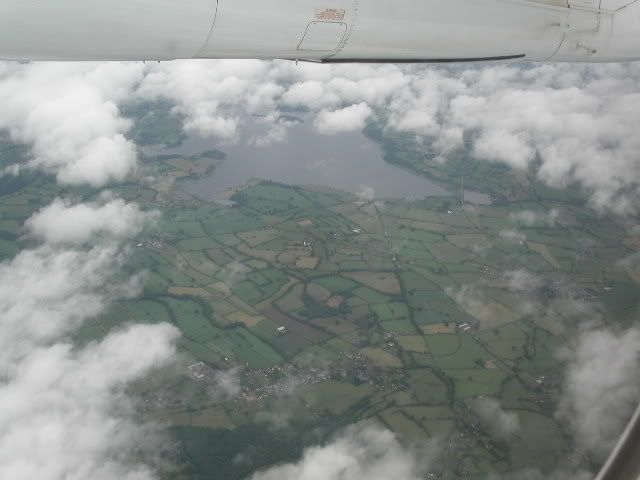 Again no inflight service on this short flight.
Approach into BRS: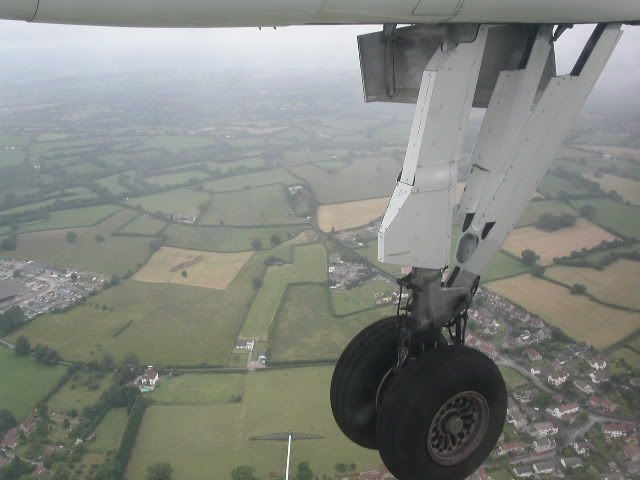 The BRS landing video:
http://smg.photobucket.com/albums/v5.../?action=view&current=PICT0115.flv
I was surprised how big BRS is - I expected an airport of the size of CWL, but no, there were dozens of planes on the ground, several Easyjets, BA ERJs, SNBA, Excel, FlyBE, MyTravel, Aer Lingus, some stored MNG F27s, ... We were all asked to leave the plane, and passengers with final destination MAN were met at the aircraft door by BA staff, who informed us about our boarding time and gave us a transit boarding pass, a 5GBP voucher and a letter apologizing the disruption of the flight: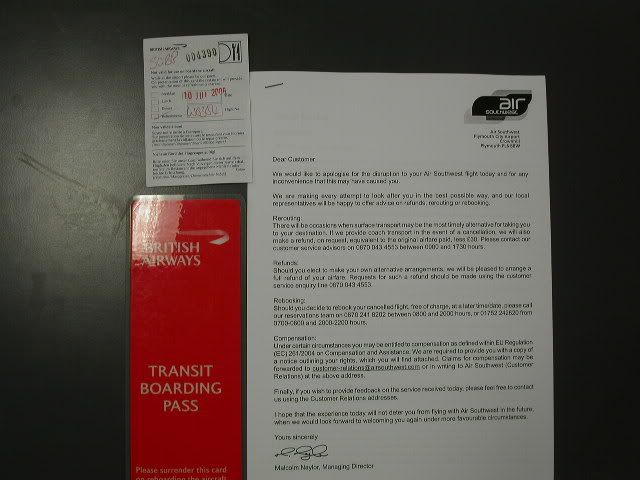 Now our delay was already so long that it was only about 45 minutes until boarding of the next BRS-MAN flight would start. Time enough to have a meal at the airport restaurant, and of course to take a photo of the gate area:
We were bussed back to the aircraft, still the same aircraft and the same crew, with 12 passengers in transit from PLH (or better: EXT) and 26 passengers flying PLH-MAN. Engines were started and we left 10 minutes ahead of the (new) scheduled departure time.
Some videos taken about 10 minutes before landing:
http://smg.photobucket.com/albums/v5.../?action=view&current=PICT0118.flv
http://smg.photobucket.com/albums/v5.../?action=view&current=PICT0119.flv
See the gear being lowered for landing at MAN:
http://smg.photobucket.com/albums/v5.../?action=view&current=PICT0120.flv
Approaching over Liverpool: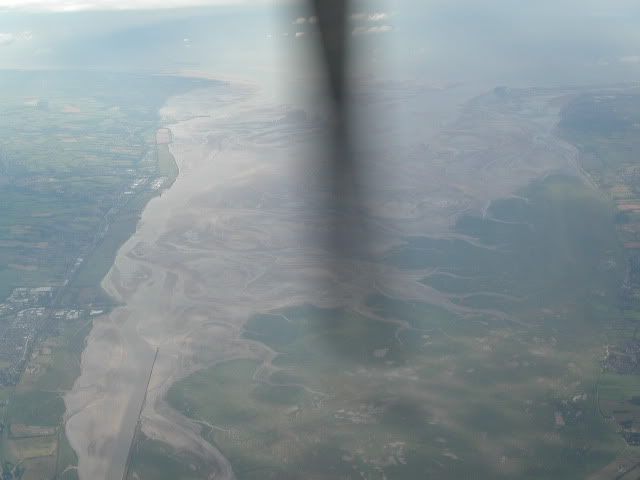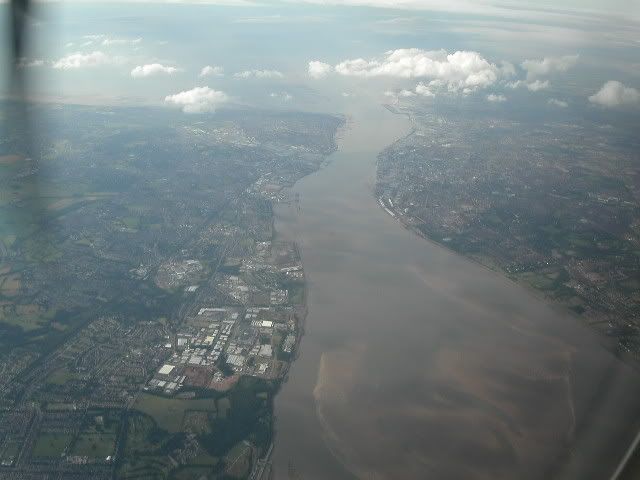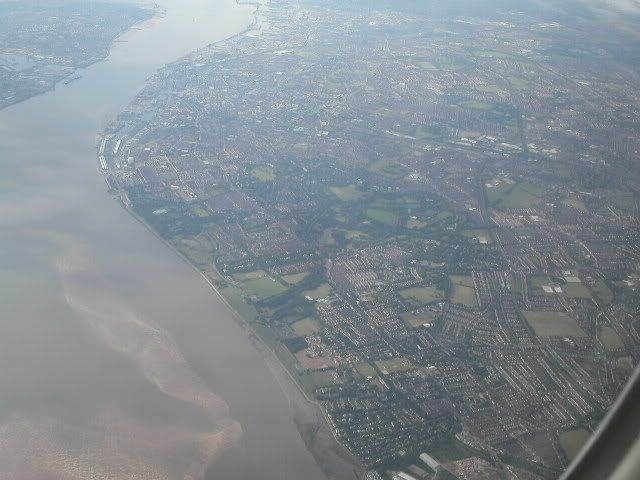 Landing at MAN at 18:10 on runway 24R. The crew apologized again for the inconvenience for those passengers coming from Plymouth. I have to note again that I didn't hear a single passengers complaining about the delay / diversion / the flight interruption at BRS. Everybody stayed so calm, and on the other hand one has to say that ground staff at PLH, EXT and BRS were so friendly, informative and also motivated that it was really a pleasure. The flight being diverted to EXT was not the airline's fault, now the re-scheduling of the BRS-MAN flight certainly was, but I always had the feeling of being well-informed about the true reasons behind each decission, and the way the staff dealed with the situation was outstanding.
Inside the terminal, we had to wait for about 10 minutes for our bag, and then it was just time now to do check-in for our next flight on HLX back home to STR.
So this was the end of our Air Southwest flights. Even despite of the delays on both flights, I really enjoyed the flights very much, it was nice to see a team of young and motivated staff working for this sympatic small airline. I would always fly again on Air Southwest and can only recommend them (at least as long as you don't have tight connections...). Thanks for reading this report, sorry if it got a bit long in the end. I'm looking forward to reading your comments, especially about the small video bits which was a first for me, I'm not so familiar with neither taking videos nor putting them online. Hope they work. Hope you enjoyed this report, I enjoyed flying Air Southwest and of course writing this report for you. Best regards, Alex.