Well, here's a report on my Spring Break trip to the Philippines. Originally I was supposed to fly BR but I found out from my Filipina classmate that she redeemed award travel from Japan to the Philippines for just 20,000 miles on Y or 30,000 on C. I definitely saw this as an opportunity to finally try out NW's WBC product. Unfortunately I only had less than 22k worth of miles so I had to purchase a batch and was around 100 miles to 30k! >< Thankfully my history teacher out of her generosity lent me some of her miles. After the costs of transferring and purchasing miles, it was still much less than what I would have to pay for than a R/T Y ticket from NRT to MNL. Ever since I first checked out the
online tour
three years ago, I always wanted to try this product out...now I FINALLY had the opportunity!
I apologize for some of the blurry shots out there.
Well, here it is. Enjoy.
____________________________
Sapporo to the Philippines on Japan Airlines, Philippine Airlines, and Northwest's World Business Class
I decided to head out to Chitose seven hours before my flight which would give me ample time to find some omiyage/pasalubong/gifts for my family at the airport as well as hunting down any of my classmates that were to fly that day. Instead of taking the cheaper and more convenient airport shuttle, I decided to go with the subway and then the JR to CTS. Of course with this alternative, I got one last view of Downtown Sapporo before I would leave for the Philippines.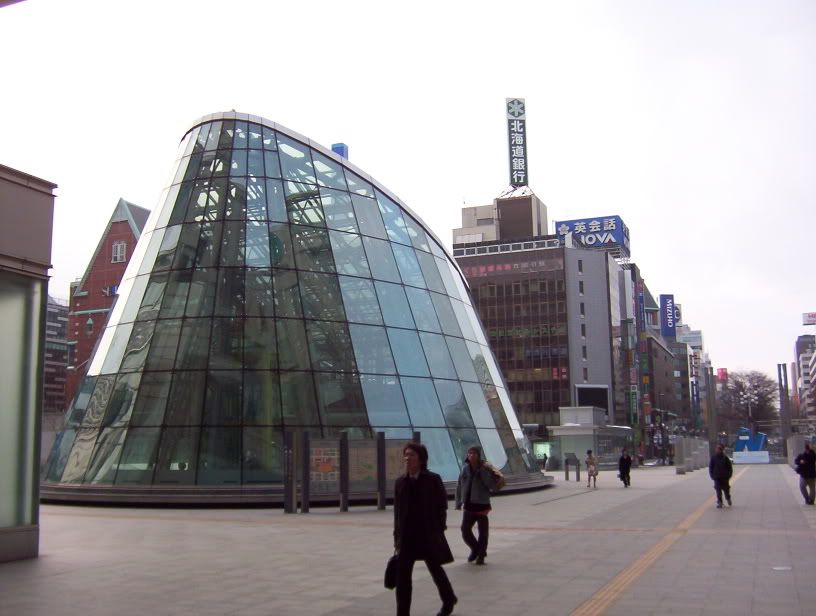 The overhead display for the Airport Express train that would take me to CTS
The JR ride itself was pretty comfortable thanks to the "U Seat" which is basically a reserved seat with more legroom and what seems to be (IMO) a quieter ride.
The U Seat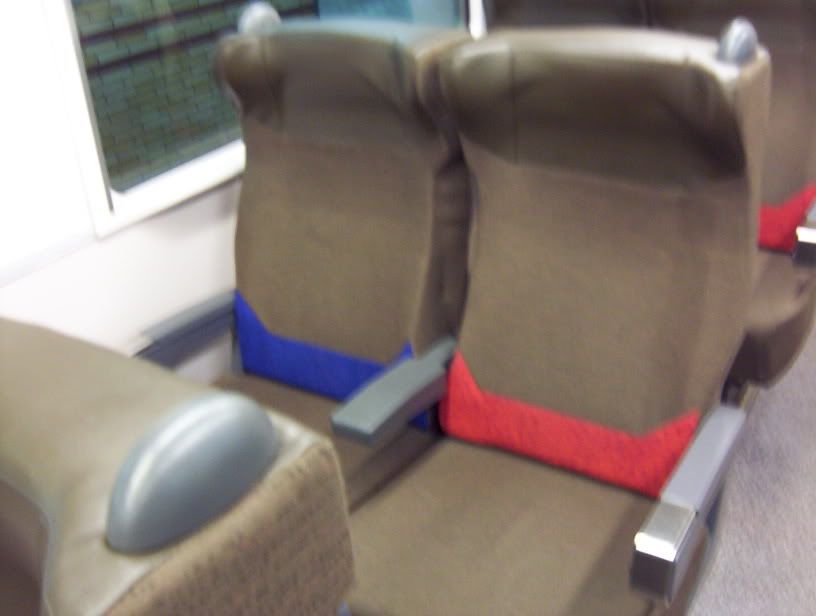 Buildings near Sapporo station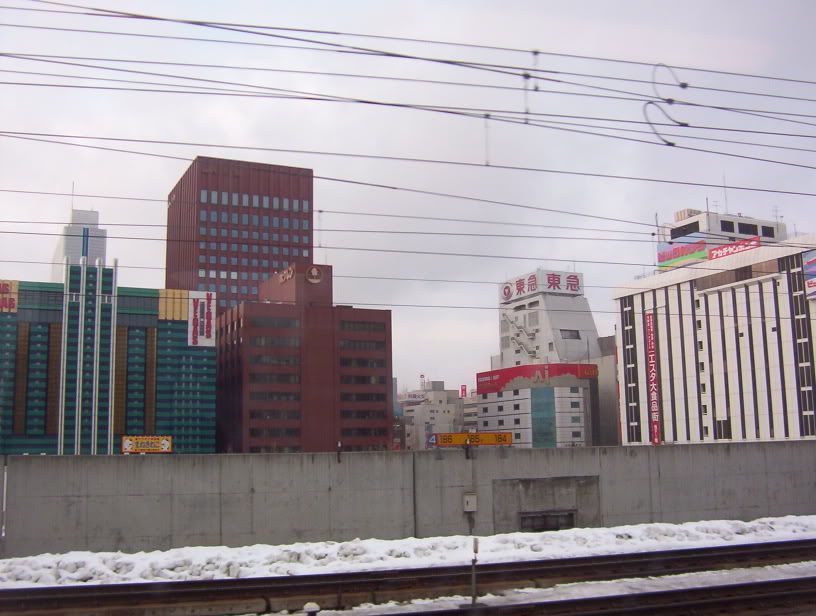 The Hokkaido countryside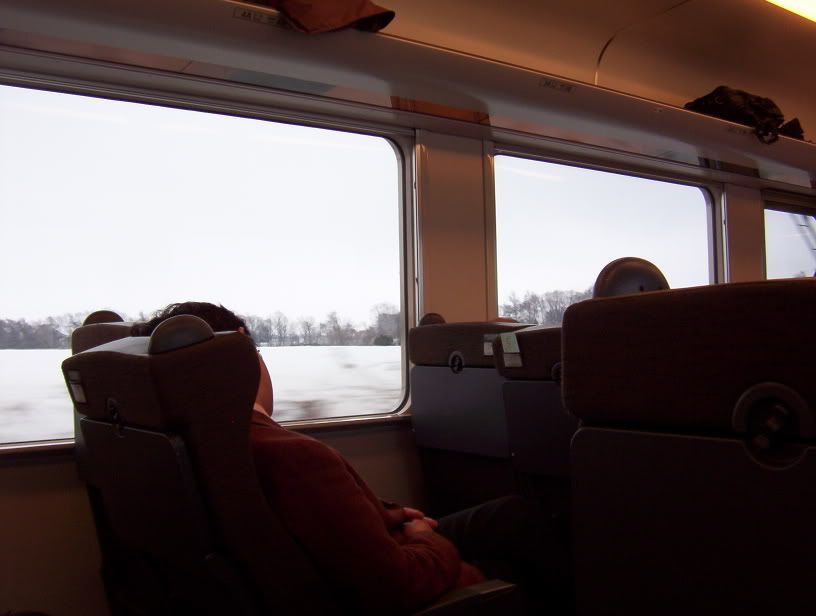 Japan Airlines
JL3042,CTS-NRT
11 March 2006
Class J
Boeing 767-346
View Large
View Medium


Photo © H.J. Yen
The checked luggage screening and check-in was pretty fast since it was an early morning Saturday and I was able to walk around without dragging two pieces of luggage around in no time. After a nice (and expensive) breakfast, I decided to head up and see if the observation deck reopened, only to find out that I would have to wait until April 1.
I then decided to go visit my next-favorite past time in the airport: an aviation shop in the fourth floor. I chatted a bit with the cashier (more like practicing my Japanese) and decided to purchase those awesome airline tail keychains they had for sale.
While wandering around the check-in area and the airport shopping center, I ran into one of the Japanese language teachers of my school as well as a couple of my fellow classmates. Unfortunately the SAT flight for Sakhalin was delayed to a much later time which meant my classmates would undergo a grueling (for them at least) wait in Chitose. Like in my trip back to America in December, time seemed to fly when I was with them and before I knew it, my JL flight was ready to board. I scurried off to security and then to gate 14 and joined the queue of boarding passengers.
Flight display @ check-in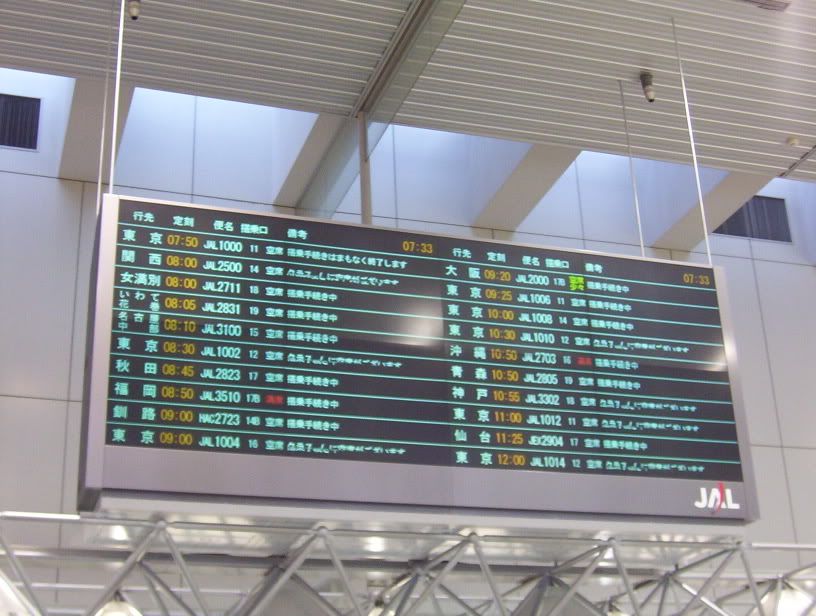 Center Plaza of CTS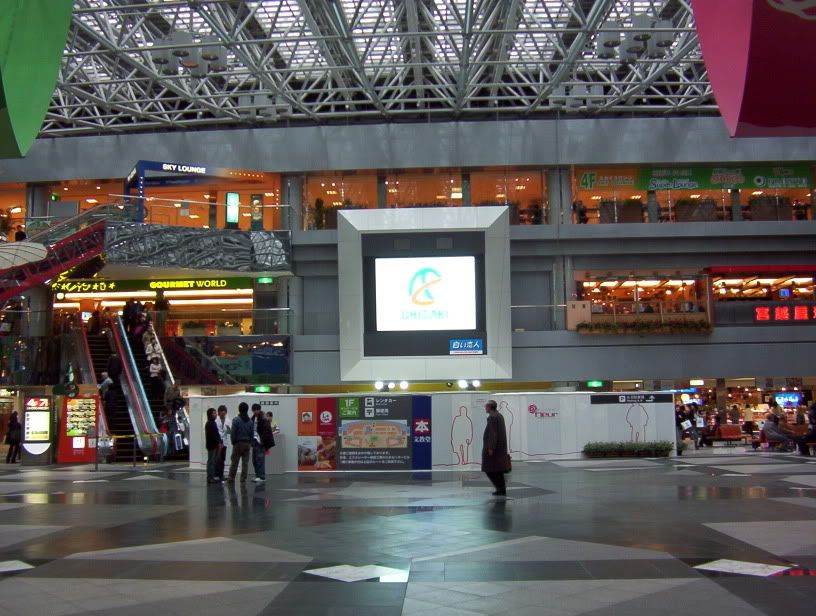 The JL 763 that would take me to NRT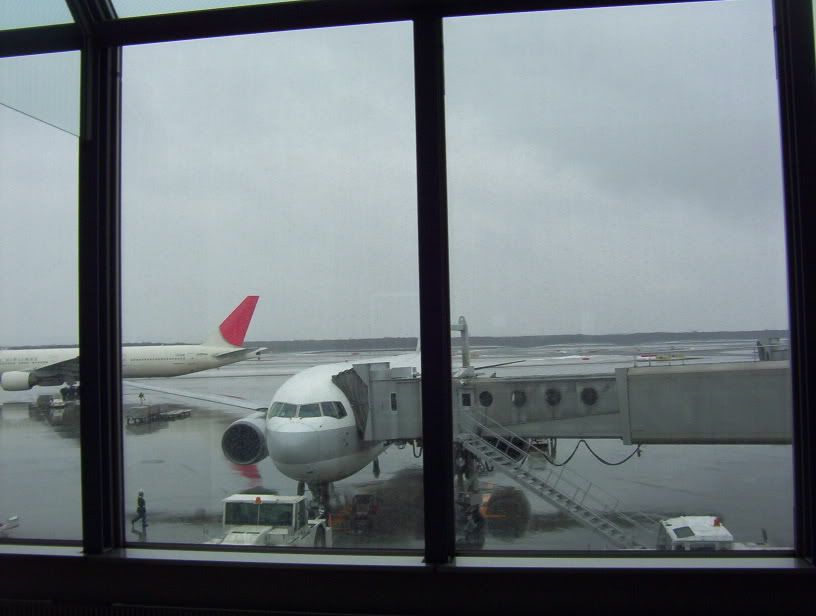 Once again, I was able to fly Class J (just 1000 Yen to upgrade!) which was definitely a great start for my trip. I practically spent the duration of my flight working on my good ol' Kanji workbook (40+ down, a load more to go) and asking for refills on apple juice. Otherwise, it was a pretty uneventful flight.
My only shot for this flight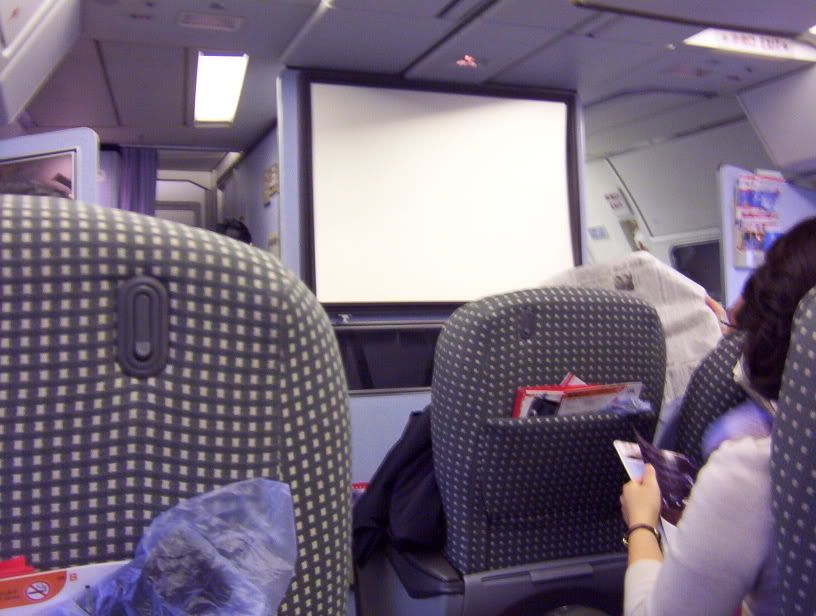 Landing in Narita was definitely exciting as I was able to see loads of NW and UA aircraft sitting at Terminal 1, man it was a sight to see esp. since I haven't seen the colors of an American carrier in an aircraft in two months and the sight of the aircraft lined up seriously gave me a feeling that I was back in the US. While waiting for my luggage in the baggage claim, I was staring at this one figure across the carousel and was wondering if I knew her. Of course, I then realized it was my classmate who was bound for YVR with her mother. Thankfully I ran into her one last time so I could be able to give her a proper farewell as she was to be moving to British Columbia. After we parted, I headed off to the bus stop for the shuttle that would connect me to Terminal 1. Taking the shuttle to Terminal 1 was pretty much a hassle since I was dragging along the traditional (though much reduced in size for my case) balikbayan box.
Northwest Airlines
NW19, NRT-MNL
11 March 2006
World Business Class
Boeing 747-451
View Large
View Medium


Photo © Bjoern Schmitt - world-of-aviation
Terminal 1 was bustling by the time I arrived which made traversing to the NW counters with my luggage and box pretty challenging. The south wing of Terminal 1 looked complete for the most part but I'd have to wait less than 3 more months for it's opening…
Around ten minutes after finding the end of the long queue, an agent was walking around the line to root up NW elite and WBC passengers in which I was escorted to the dedicated line. Man, that really did shave off thirty minutes on what I expected...
NW check-in counters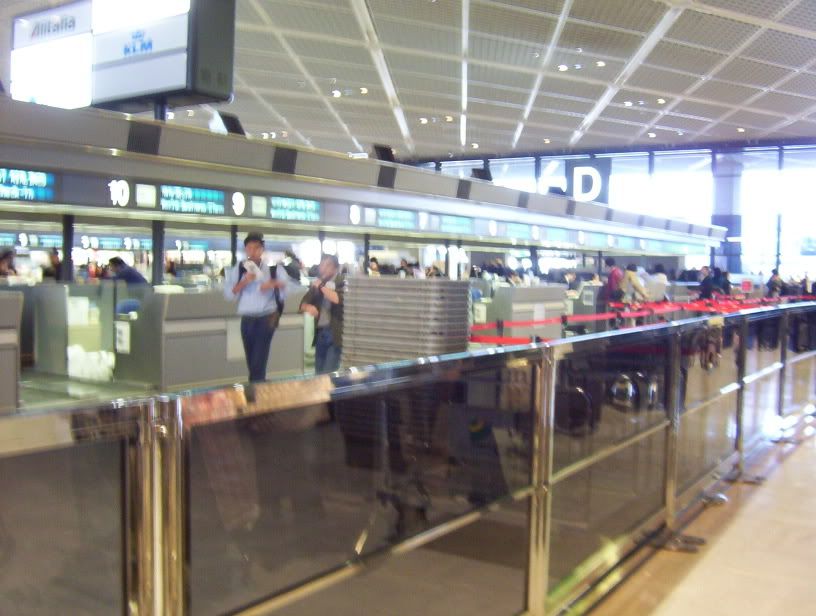 Central check-in area
After checking in, I headed up to the observation deck to take a quick breather and enjoy what it had to offer. After giving into my hunger, I decided to by a onigiri (a rice snack with fish inside) only to realize that I didn't have to shell off 200 yen since I could just gouge on the snacks at the NRT World Club. I decided to check-out the observation deck before I would jump past security. It definitely was worth the trip.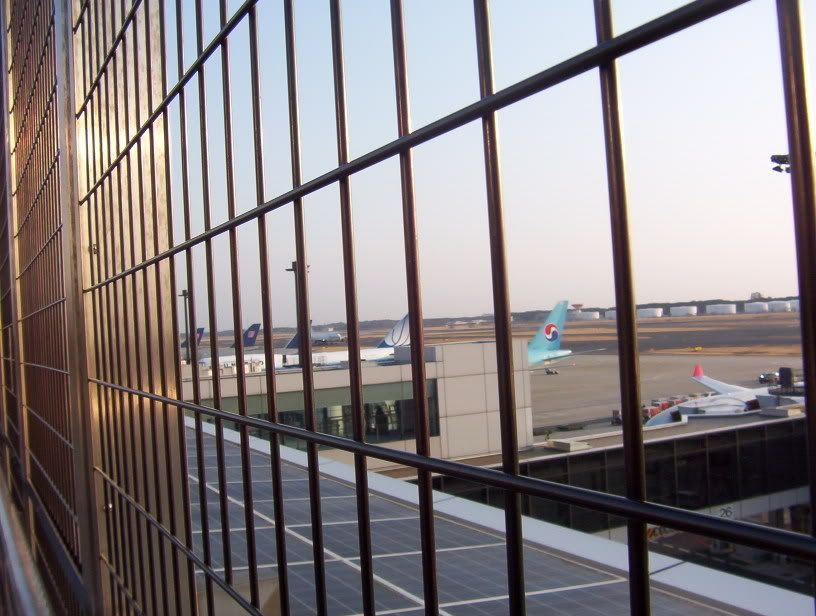 The immigration queue was seriously long but it gave me some time to chat with a USAF dentist from Misawa AB.
Got this shot after passing through immigration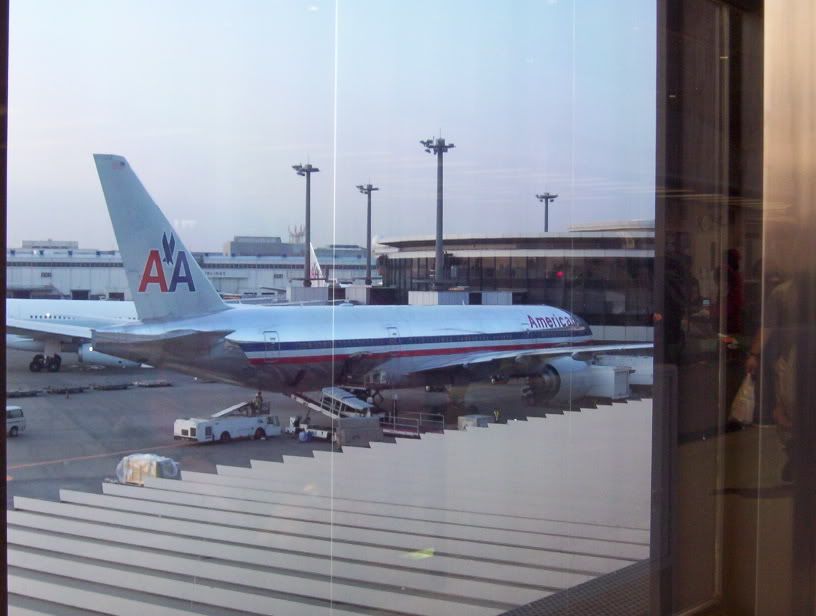 With just thirty minutes before boarding, I decided to spent the majority of it in the World Club...and my goodness, not bad for a first time experience with airport lounges! There were complimentary snacks, beverage fountains, and a lot of available seating.
Entrance to the lounge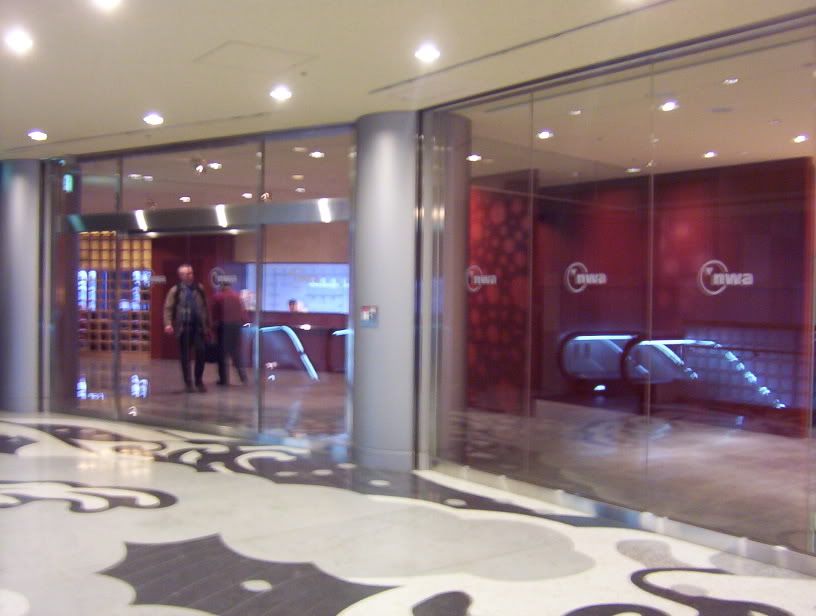 The quieter side of the lounge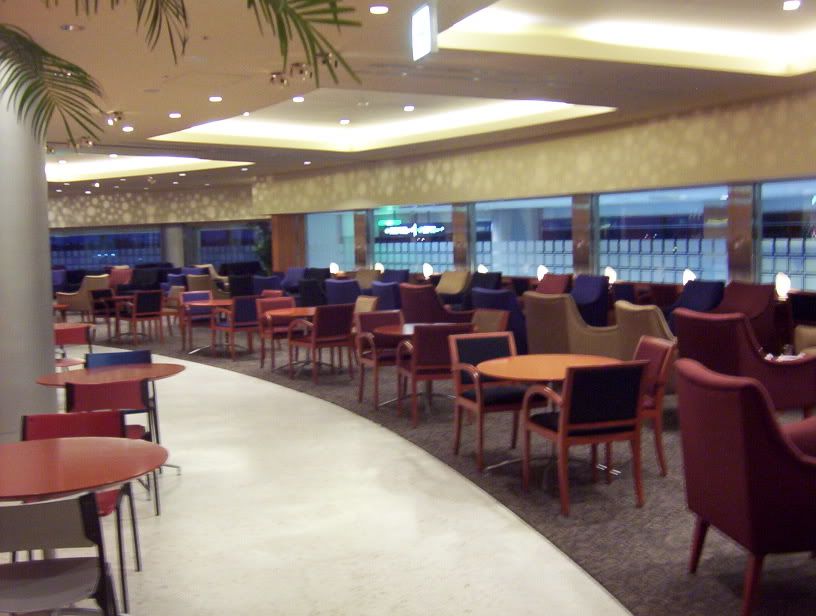 Boarding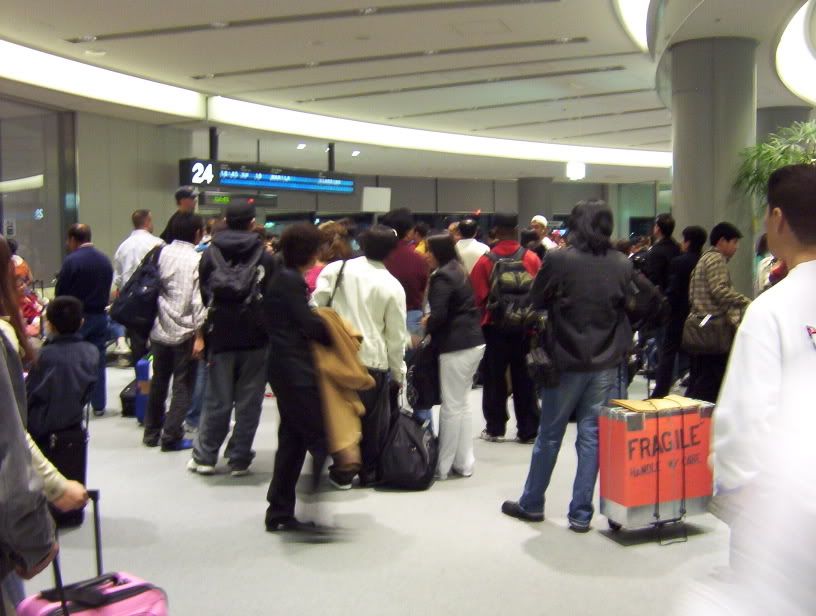 Boarding itself felt strange for me. The fact that I was going to the Philippines began to settle in as I realized that I was mixed in with fellow returning
balikbayan
. This was the first time that I boarding a MNL flight from NRT in 12 years not to mention the first time I was going there by myself. I was getting pretty excited since this would be my first experience with WBC. Upon boarding, I was directed to the flight of stairs that would take me to the upper deck. Though I was already aware that my backpack would most likely not fit in the smaller overhead bins, me and my lack of common sense still tried anyways. An F/A came up and mentioned that I can store my bag in a closet near the galley.
A view of the upper deck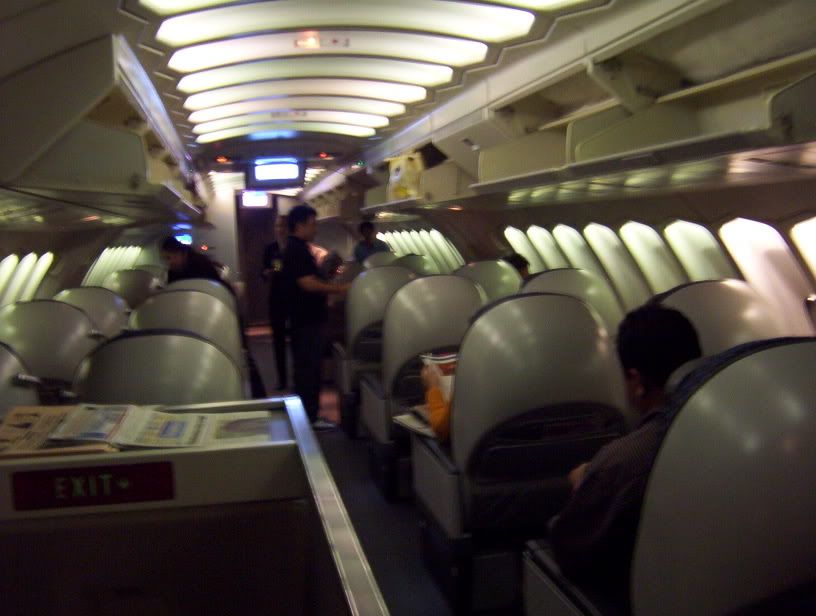 Pre-flight drink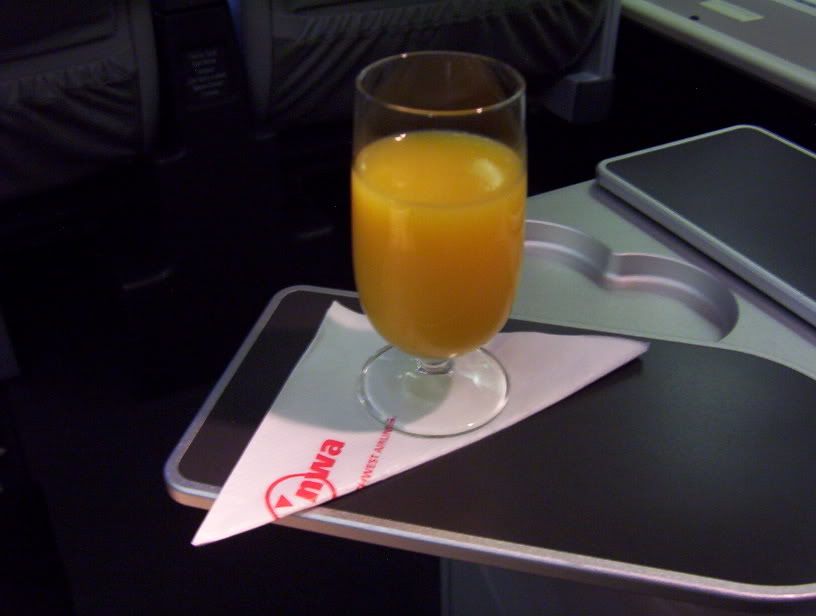 The load on WBC in the upper deck was pretty light with just me and four other people taking up seats while Economy Class on the other hand was packed. From what I understand and noticed, it's pretty normal for most of the year. Whenever I do business class fare quotes, MNL is among the cheapest I've seen if I want to fly WBC to Asia in which at one point, I would see a roundtrip fare at just $2000!
Cabin during taxi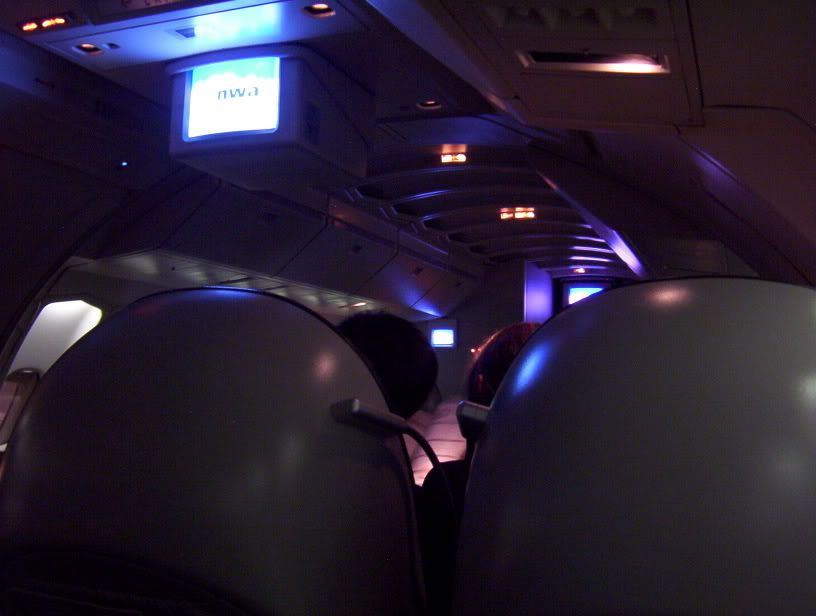 NW 744 with a SQ and AF tail in the background
In-flight announcements were made in English, Japanese, and Tagalog. After spending some months in Japan and flying Asian airlines, hearing that Midwestern accent in the overhead was music to my ears.
I decided to pull out the 10.4" PTV and try out the wonders of AVOD for the first time.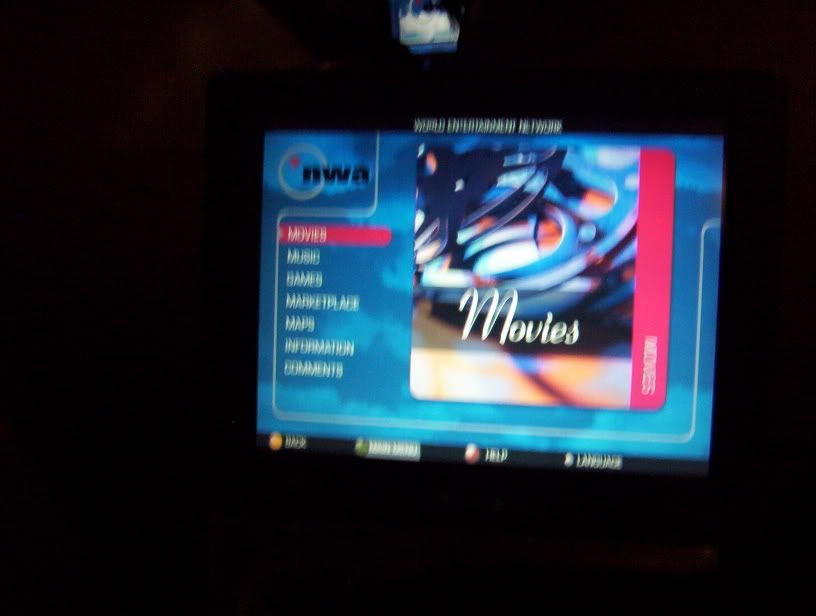 After flipping through some movies and TV shows, I decided to get an understanding on the skits that I have seen the speech and drama class of my school perform and went for
Rent
.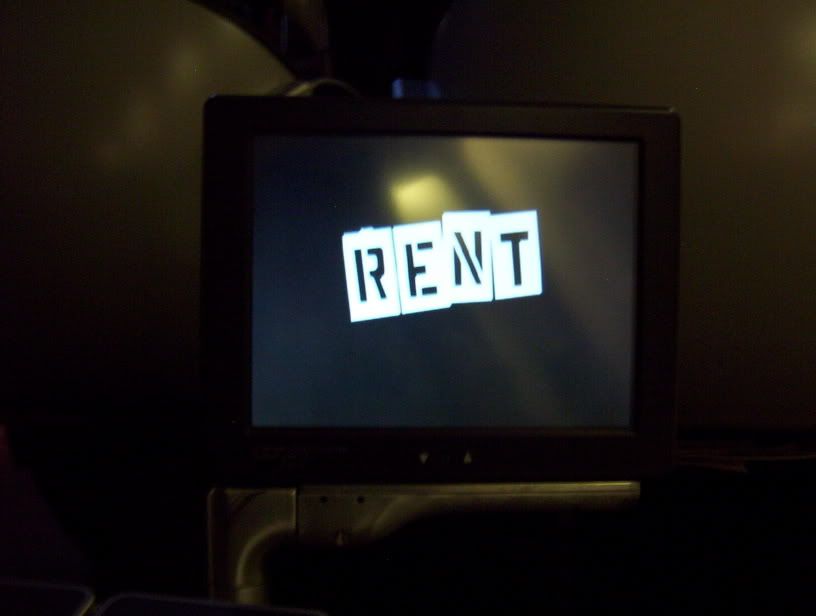 Snack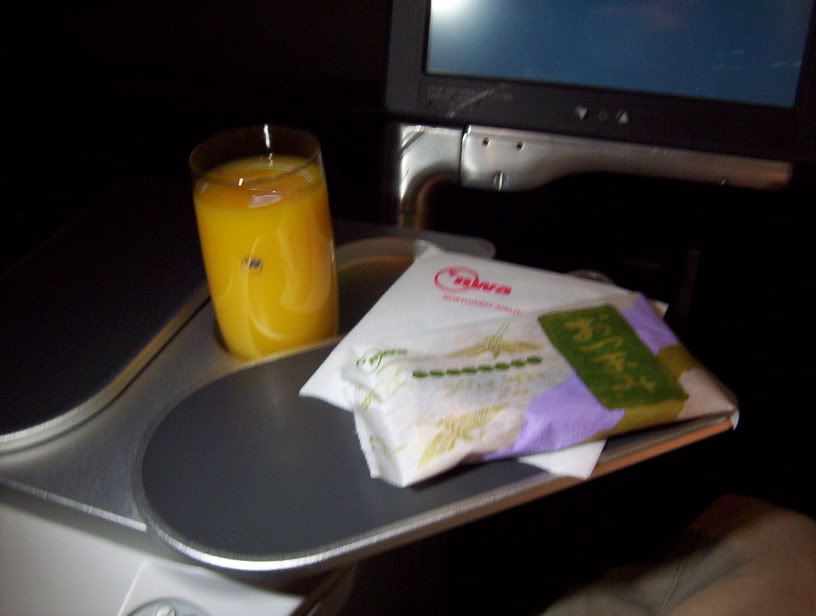 Once we leveled out, F/As came around and requested which of the three options from the menu would I like. The options on the menu went something like:
DINNER
Appetizer of marinated shrimp and asparagus
Salad of mixed greens
Assorted breads or rice
Choice of…
Stir-fried beef in oyster sauce with steamed rice
Chicken in port wine sauce with potatoes au gratin
CHAMPAGNE SUPPER
A cold light meal served at your convenience, please advise your Flight Attendant when you would like to dine.
A collation of roasted beef, marinated lobster, emmenthal cheese and fresh asparagus accompanied by tossed fresh greens and dessert
DESSERT
Fresh fruit and sweet
I decided to go for the stir-fry and was not disappointed!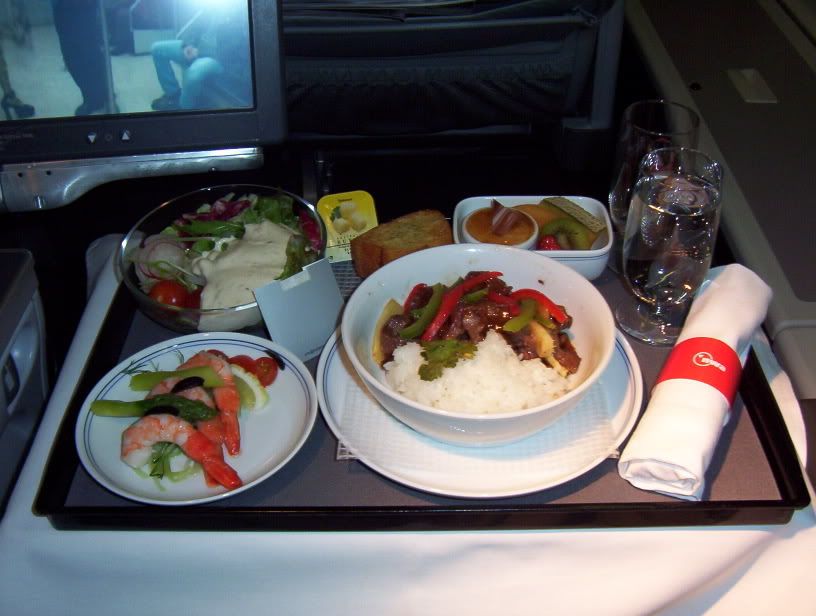 Once the F/As picked up our trays, I decided to take advantage of the lie-flat feature of the seat. This was the first time I ever had this kind of seat (well, an angled lie-flat one) and wished that flight was more than four hours so I could've taken a better advantage of this feature!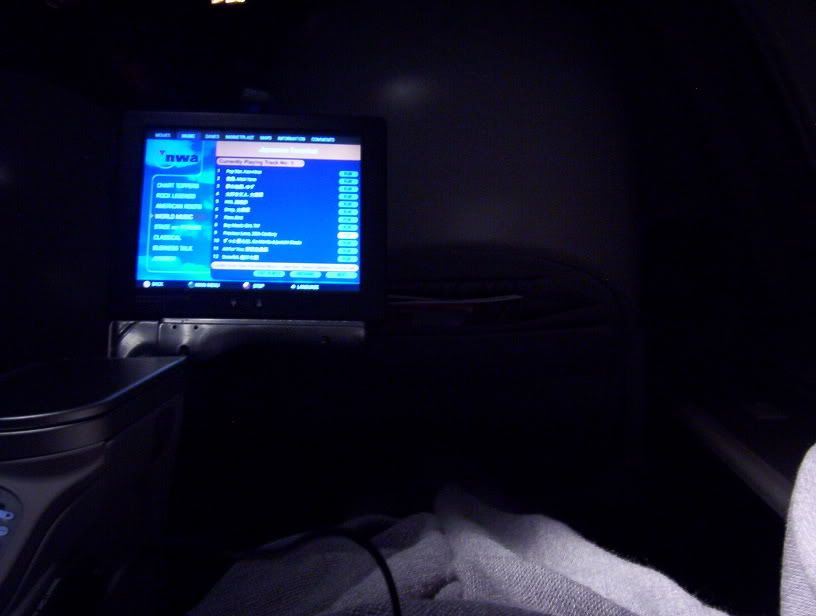 Getting closer to the Philippines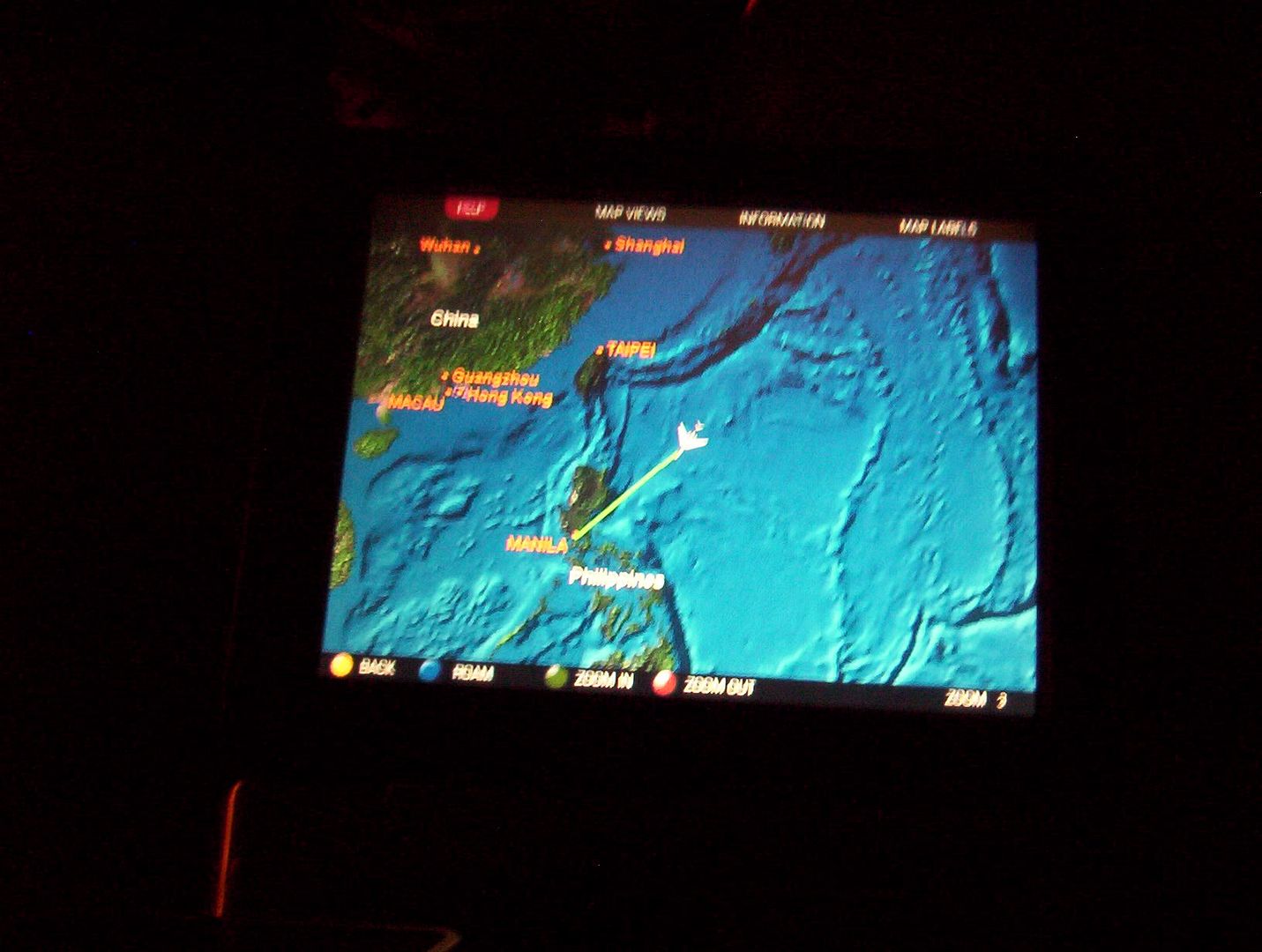 After finishing
Rent
, I dozed off while listening to the album
November's Chopin
Taiwanese R&B artist Jay Chou. Once I woke up from my (rather short) nap, we were already approaching Manila. An F/A came up and did the usual request to get my seat in take-off/landing position which I immediately followed.
I don't know if it was the fact that I was in the upper deck but the landing was the smoothest I ever experienced in my life! We quickly taxied past NAIA Terminal 2 and Terminal 3 which was supposed to have a soft-opening later that month (to add over our frustration over the fact that the terminal has been sitting there for 4 years, the ceiling of the arrivals lobby collapsed ONE WEEK before opening thus delaying the opening of the terminal even further!)
We pulled up right next to another NW 744 that just finished NW 71 from DTW and NGO twenty minutes earlier as well as a JALways 744. This was the first time in NAIA Terminal 1 ever since United pulled out of MNL and when my family began Trans-Pacific flights.
The Terminal 1 tradition of having musicians welcome us to the Philippines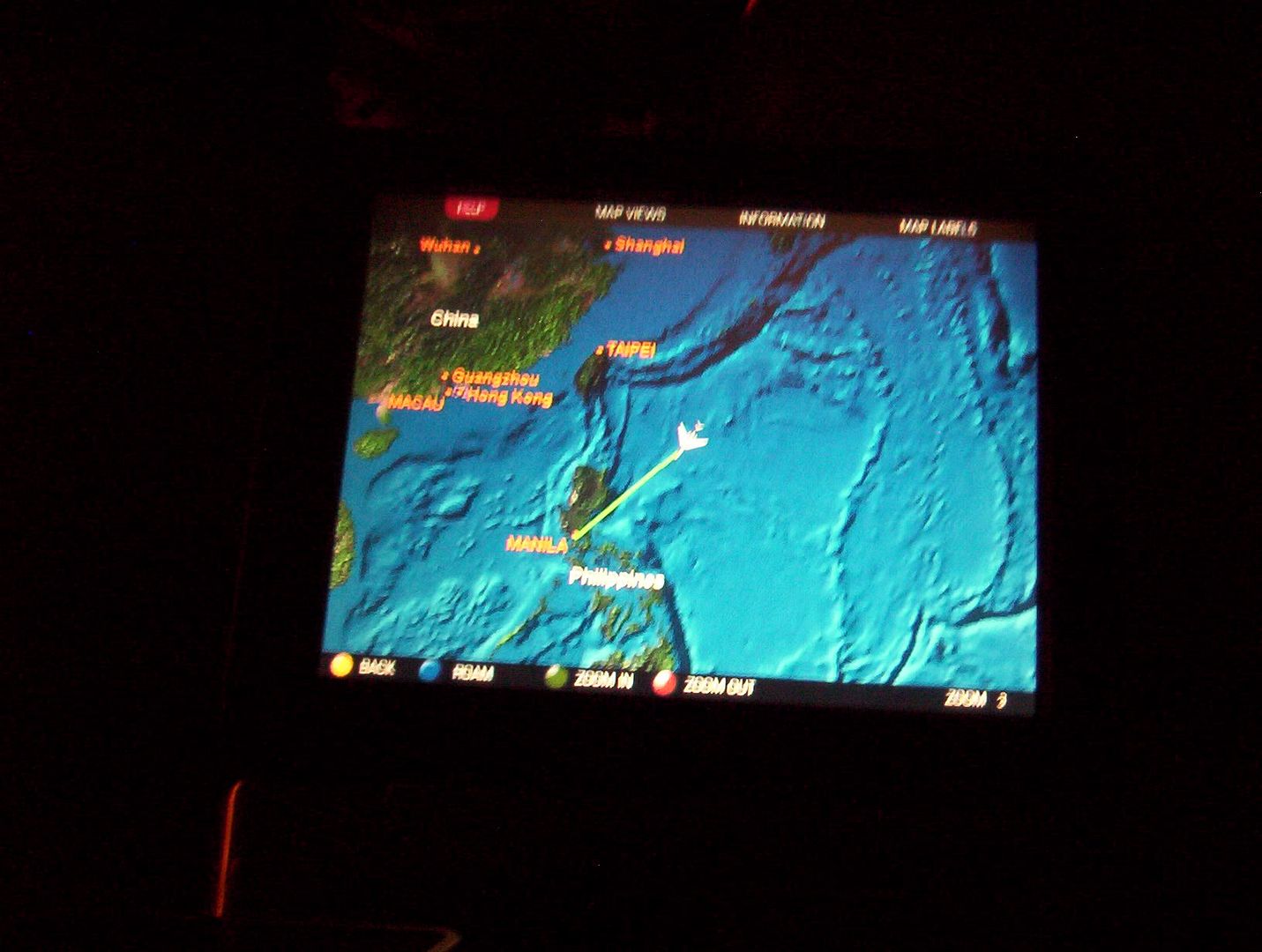 Another interesting welcome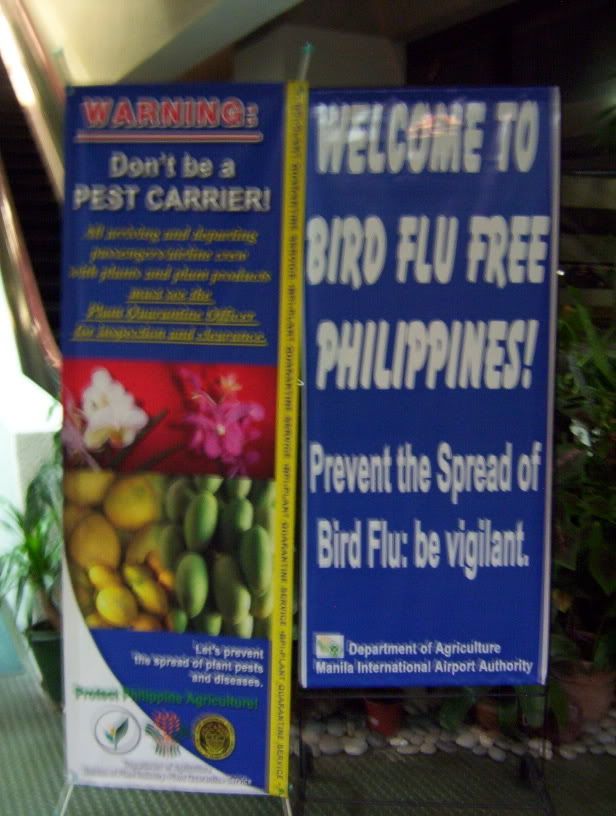 Immigration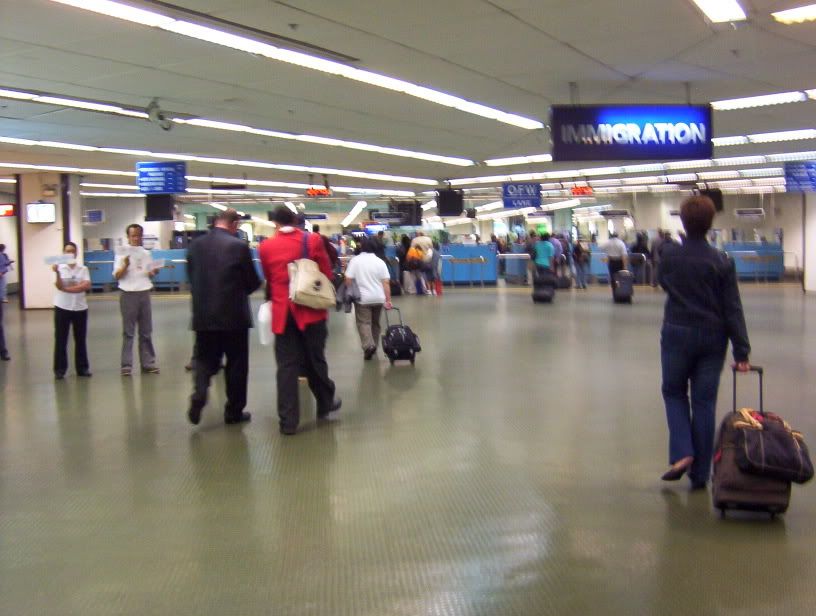 Going through immigration was fast but it was definitely a hassle fishing out my small balikbayan box from the baggage carousel esp. with the crowds around it. After going through customs, a airport agent came up and offered to to help me with my luggage as we searched for my cousin. After much searching, we were able to find her and the agent's assistance in loading the luggage into the taxi, we were off to the Hyatt Regency in Roxas Blvd.
Philippine Airlines
PR139, MNL-ILO
12 March 2006
Economy Class
Airbus A320-214
View Large
View Medium


Photo © Zhao Lu
We woke up at 4AM…roughly 1 hour before the flight. Both of us hastily checked out and hailed a taxi to NAIA. The taxi arrived at Terminal 2 some 40 minutes before departure, went through the first line of security, checked in, paid the airport tax, went through the second security line, and made it in time for boarding.
This would be the first time I would be flying a PR A320 so it was another biggie for me.
. We taxied past the NW 744 that I just flew aboard along with it's sister and JL counterpart. Take-off went smoothly and once we leveled off, F/As came around for beverage and snack service. It was definitely welcoming to get some mango juice and a Goldilocks (a Filipino bakery brand) cake.
A view of the cabin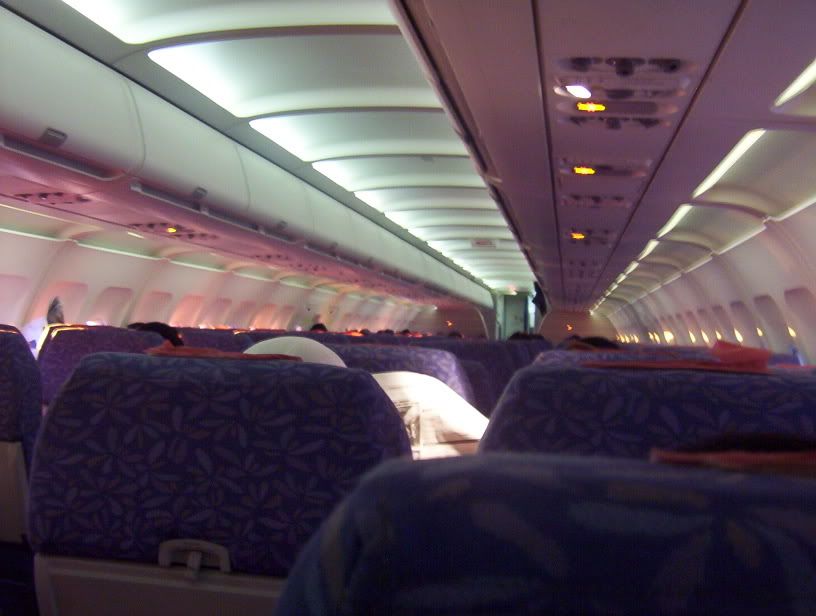 I spent the majority of my flight chatting with my cousin about my experiences in Japan as well as what's going on with my relatives back in Iloilo. Time flew quickly and we were banking over the sea and making our final approach to Mandurriao Airport. After landing and some taxing, we made it to the stand where a couple air stairs docked on both the front and rear of the A320 which definitely helped me in getting out and about much sooner.
Deplaning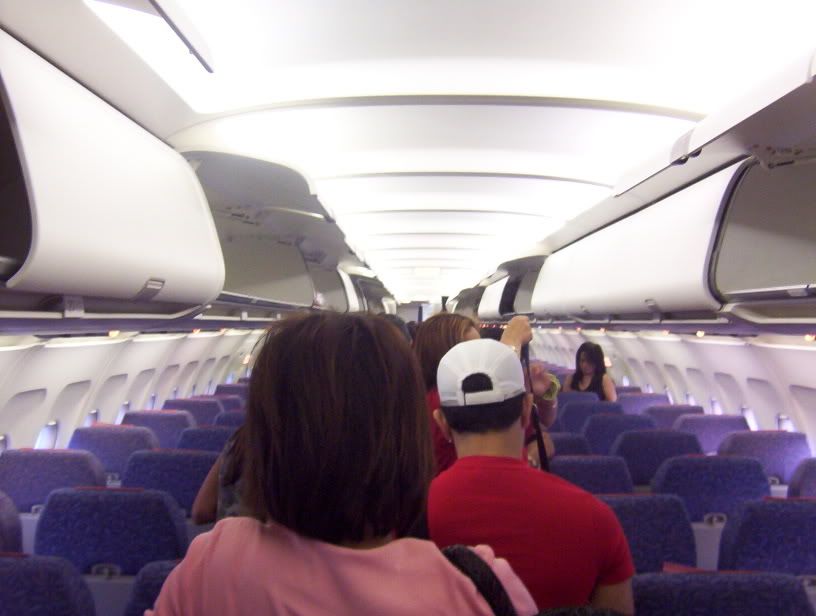 Mandurriao Airport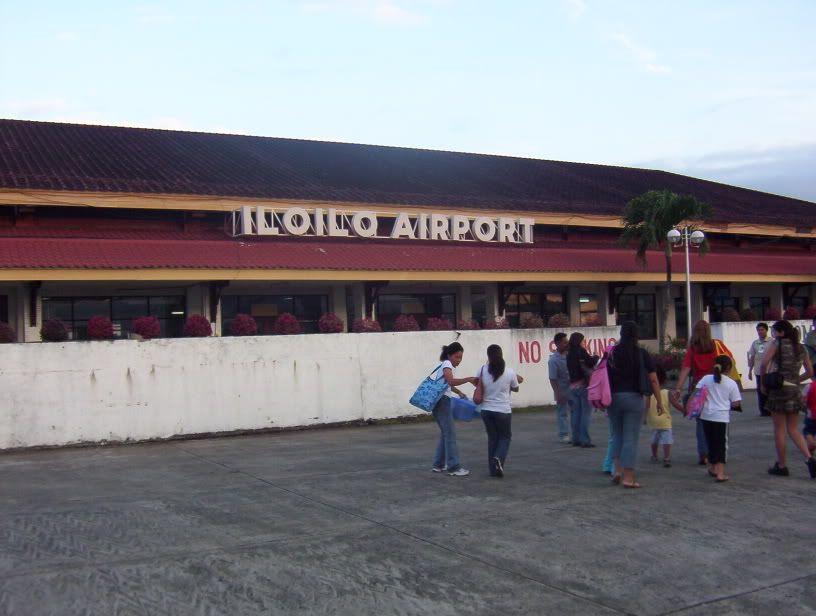 One last view of the PR A320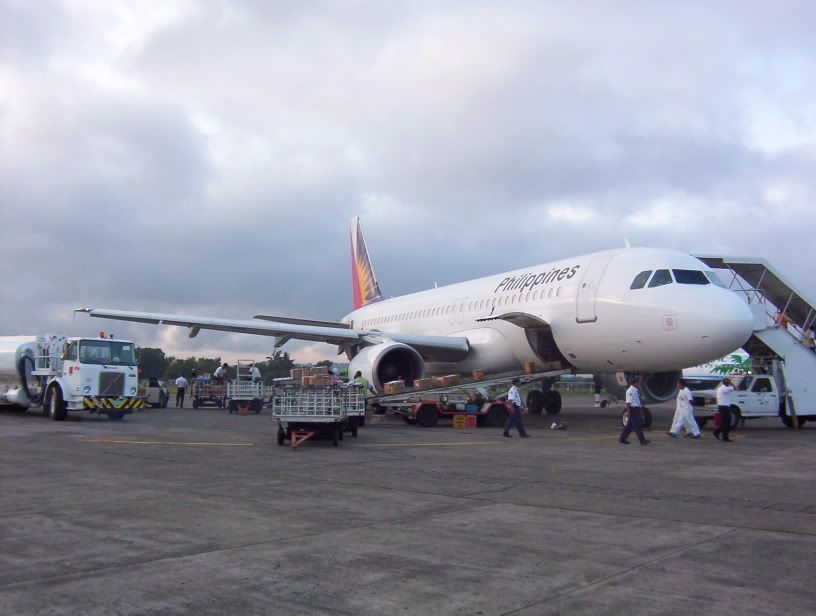 After grabbing my luggage, we walked to the greeting area where I met with my relatives and soon we were off to my mom's hometown of Miag-ao. After working with the harsh Hokkaido winter, I can enjoy the warm and sunny (and humid) climate of my second home.
Other than jumping between terminals at NRT and that rush from the Hyatt to NAIA, this trip went off smoothly. My experience overall with NW's WBC was positive and up to what I expected and I wish that I flew this on a much longer flight! I'm aware that there are superior products out there but I'm pretty satisfied with WBC.