Trip Report: 001
Date: 06-Jul-06
Dep.Arr.Time: 2135/0030+1/02:55hrs
Flight: AVIANCA, AV 75
Routing: BOG-LIM
Aircraft: 763
Seat: Economy, 9A
I > Background:
I live in Caracas and NYC and was on vacation to Cartagena – one of my favorite cities in the world. After Cartagena, I went to see my friends in Lima for a long weekend before returning home. Best routing was on Avianca flying CTG-BOG-LIM.
This is my first trip report. Please be gentle accordingly and do let me know what you think. I am specifically interested in areas you thought were good and what needs improvement. I was aiming for brevity and lucidity.
II > Pre-Flight:
a) Before Airport: Booking was easy using AV's online site at
www.avianca.com.
If you are a Spanish speaker, the site is generally easy to use. The English version does have some bugs and I found it annoying when some random parts just did not have the appropriate translation. Buying the ticket was easy. However, AV changed its CTG-BOG and BOG-LIM flight schedules 9 times and since the routing was the same, it took 7 phone calls to have the e-ticket changed. Also, I was annoyed at the suggestion that I spend 12 hours at BOG on transit when I was headed back from LIM due to schedule change. AV would not put me on DL. Routing was LIM-BOG-JFK. English customer service reps based in Medellin are satisfactory. Their Spanish speaking supervisors were far superior.
b) At Airport: Checkin at BOG was pretty straightforward. The agent was nice and friendly though there was some confusion regarding the departure tax. I was quoted 3 different prices! The lines were manageable and I was able to utilize the PREMIER line showing my DL Platinum card. After checking-in, I proceeded to the 2nd floor at BOG which has many shops and eateries. This area is used for both domestic and international travelers and is pre-security check. I checked my email at the DINERS lounge – which was nothing to write about and closed early at 2000. I then went through immigration where the Colombian officer was very friendly and amused with my LIECHTENSTEIN passport. Post immigration there are a number of shops and café's, then the security check, and then a row of gates. Interestingly, there are no shops after the security check-point. I managed to buy a rather expensive memory chip for my camera (prices are high) and have an excellent Arrepa con Pollo just before the security check.
Post security, you proceed to the gate where your boarding card is verified. Security seems ok and definitely much reduced. Passengers flying to the U.S. were screened significantly more. The gate area felt small and I am curious how passengers are accommodated on B747/A340 flights. AV ground crew did a good job with boarding procedures … using the standard J & Elite/Pax needing help & Infants/ and then boarding by the rear of the plane.
Upon entering the plane, there was usual Latin mad-rush to change seats. My seat was occupied by someone else and we ensured in a game of musical chairs as their was significant domino effects! Interestingly, the man who occupied my seat also had the same seat number … in a flight that is not in sold out position, I fail to see how that happens. Anyways, I never understand this urge to change pre-assigned seats. Its one of the many bonds that run through Latin America and India  
.
Check-In: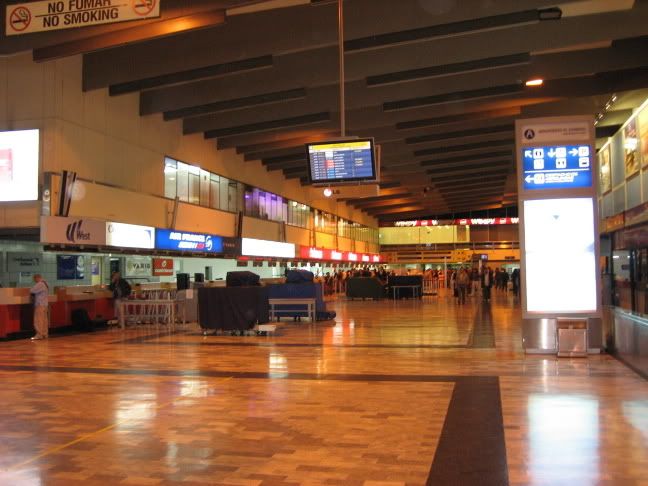 Airport:
Boarding Area:
III > In-Flight:
a) Service Schedule + Impressions: In my opinion, Colombians have hands-down (well, most Colombians) the best accent in Spanish. Its time the crew take some courses in English. Except the initial welcome (in very poor English), none of the announcements were made in English. This was also true on my domestic flights. For flight to the U.S., English was atrocious. After initial pushback, we climbed to our cruising altitude of 35,000ft. There were hot towels (luke warm) and refreshments were served soon afterwords. Refreshments included beverages and some Chilean and Colombian wine. I had some Chilean white which was pretty good. This was followed by a meal service and another round of drinks or café. Peruvian custom forms were distributed soon afterwords. Finally, duty-free sales were conducted. In a novel method, crew came in with the duty-free catalogue and gave it to only those who asked … they then noted the seat number in their notebook … prior to disembarkation, these catalogues were duly collected back.
b) Aircraft + Seats: Avianca's red colour scheme is truly impressive and the aircrafts look smart inside and out. Small touches like their red blankets add to the air of quality and panache. The 767-300 seats provide decent legroom (33-34') and the recline is extremely generous for Y. While these aircrafts are old, I did not find them to necessarily show their age.
Aircraft: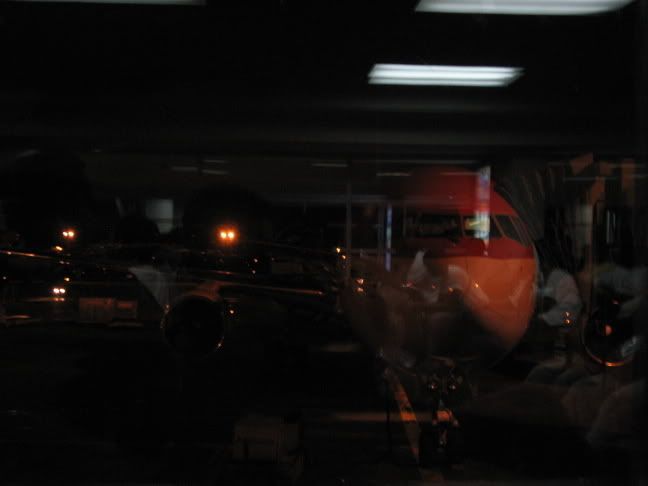 Seat Leg-Room: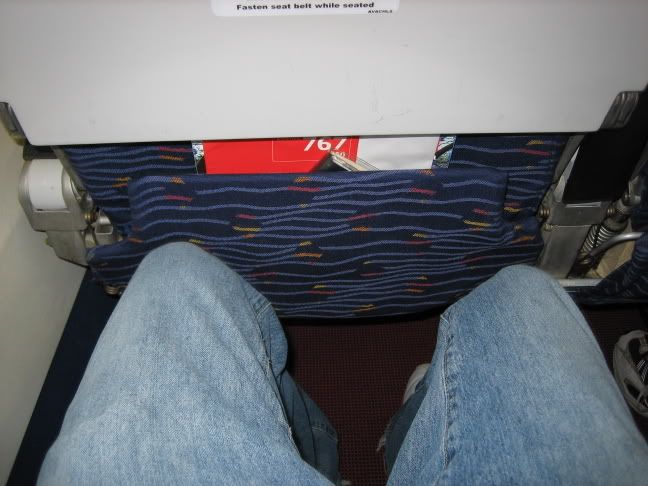 Seat Recline:
Seat Angle View:
Cabin:
c) Meal:
Meal service was poor in presentation and quality. Choices included a beef pasta or a Thai noodles with chicken. I chose the later. It was very bland … though the portion was satisfactory.
d) Inflight Entertainment:
The 767-300's have old styled IFEs and the movie shows on board was SHAGGY DOG. Sound and picture quality were above average. Avianca's inflight magazine is only in Spanish and no supplemental English reading can be found.
e) Crew:
AV's inflight crew was pretty and efficient. They served with a smile and responded to my call requests for water promptly. I was actually pleasantly surprised as I had heard some horror stories in the past. Crew looked stunning in their red uniform with the traditional red shawl coat (I don't know what its called – it's a native Indian thing).
IV > Post-Flight:
Lima airport has changed significantly since my last visit in 2000. I found Jorge Chavez to have all the amenities to rival major airports in Europe and North America. Its not quite Asian airports yet, but in my opinion the best airport experience in Latin America. Caracas (post-revamp) comes a close second and only loses to Lima due to the excellent immigration (I was the first person from LIECHTENSTEIN in the system) and baggage delivery which came in pretty fast.
Lima Airport:
IV > Impressions + Score:
While Avianca would not win any global competition, it is definitely one of the best carriers in Latin America at the moment and finally reflects the natural charm and hospitality of the Colombian people. The warm crew hospitality and punctual service satisfied my need for being transported from point A to point B without stress and made me overlook the poor inflight meal and entertainment options. If an AV employee reads this, I would strongly recommend having English training for the crew AND having English Colombian immigration forms. These forms are pretty complicated and are in Spanish. Worse, the Avianca magazine has directions also only in Spanish. I would fly them again without hesitation.
Reservation: 5.0
Check-In: 8.5
Lounge: N/A
Boarding: 6.0
Seat: 8.5
IFE: 6.0
Crew Service: 8.0
Food: 6.0
Beverages: 7.0
Amenity Kits + Others Freebies: 5.0 (standard default score)
Disembarkation: 8.0
On-Time Record: 10.0
OVERALL IMPRESSION: 7.09
(Scores are based on comparison with other airlines in THAT class of service – No comparison of Y vs. F for example)
Other Non-Trip Pictures:
Cartagena Airport:
F100 on CTG-BOG: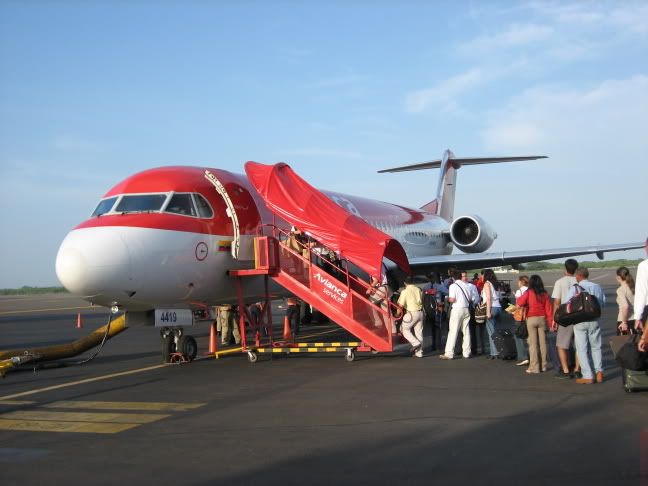 [Edited 2006-07-14 05:27:30]
[Edited 2006-07-14 05:30:23]
[Edited 2006-07-14 05:44:57]