About this trip
Flying around Europe for very little money has become a well-appreciated commodity in recent years, and so far I have tremendously enjoyed the chance to explore little-known (for me) airports, countries and airlines for only a few Euros. However, most of these flights were operated by the ubiquitous A320 or B737 series, so finding "something special" in between all the generic aircraft types can sometimes become an arduous task.
A project, which had been looming in my mind for quite a while was getting on the rare McDonnell Douglas MD-90, an aircraft type, which could only be found with SAS and a few exotic charter operators in Europe for a long period of time during the late 1990's and early 2000's. Recently, after SAS had withdrawn their 8-strong fleet, Europe has seen a limited influx of new MD-90 operators, among them Blue1, SAS' affiliate in Finland. Surfing around the various airline sites in March, I discovered that Blue1 was about to start twice-daily flights from STN to HEL in May, and these flights were to be operated by the rare last-generation Mad Dog. Without any further hesitation, I booked a ticket on a late June morning flight to HEL for just 100 Euro. It took me a little more time to organize my commute to and from this event, but finally I had my "Project MD-90" planned out:
DUS-STN 0640h-0655h on an AB F-100 (29 Euro)
STN-HEL 0855h-1350h on KF'S MD-90 (100 Euro)
HEL-CPH-DUS 1810h-1855h and 2030h-2145h on SK's MD-81 and MD-87 for another 120 Euro.
All four segments in one day. Call me sad or tell me that I have no life!
Anyway, after a quick hop across the Channel on AB's Fokker, I arrived at Europe's largest LCC-dominated airport, London Stansted, in the early hours of a beautiful June morning, ready to check-in for my first (and probably only) MD-90 experience.
Thursday, June 29, 2006
London Stansted Airport (STN)
Stansted Airport (IATA: STN, ICAO: EGSS) is a large passenger airport with a single runway and hub for a number of major European low-cost airlines. It is located about 30 miles (48 km) north-east of London and is connected to the city by motorway, direct bus lines and a specialized train service, the somewhat overpriced "Stansted Express". The airport is owned and operated by BAA like LHR, LGW and (to my knowledge) LCY. It is the fourth busiest airport in the UK and third-busiest airport in the London area after Heathrow Airport and Gatwick Airport, handling almost 22 million passengers in 2005. Several low cost airlines such as Ryanair and EasyJet maintain bases at Stansted, and it is also the preferred destinations for other low cost operators from all over Europe.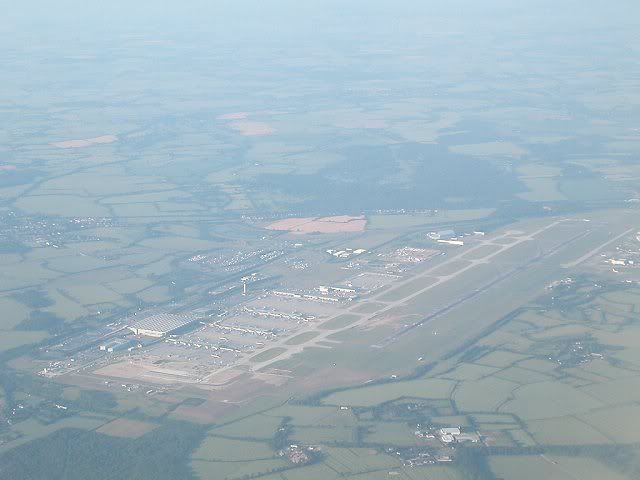 Stansted International Airport has one central terminal. There are three boarding piers, one connected to the main terminal by a pedestrian bridge and the other two by a people mover system. A fourth pier is under construction or in the planning stage AFAIK. The terminal building was designed by well-known star architect Sir Norman Foster and features a "floating" roof, supported by a space frame of inverted-pyramid roof trusses (as you can see from the following picture). The base of each truss structure is a "utility pillar", which provides indirect uplighting illumination and is the location for air-conditioning and water, telecommunications, and electrical outlets. The layout of the airport is designed to provide an unobstructed flow for passengers to arrive from landside to airside on the same level, although one could be sceptical if this has really been achieved in the airside piers, where several changes of level are necessary between arrival of the shuttle train and boarding of the aircraft.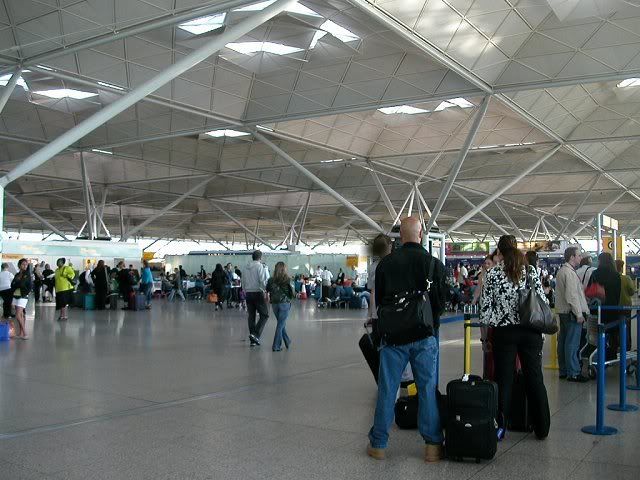 Check-in was an adventure in itself this morning, since the departure hall was bustling with activity and the Blue 1 counters were hidden in the most remote corner (column "K" if I remember right) of the entire complex between the MaxJet facilities and some Jet2 counters. Although I had arrived about 1h45min before scheduled off-block time at the desk, I only got boarding pass number 61 – didn't matter much though, since I got the window seat (15A) I had desired.
On some other routes, it is actually possible to check in via internet for Blue1 flights (e.g. on Scandinavian routes), however, on flights from the United Kingdom the only way to register still is the old fashioned check-in at a manned counter.
Once I had gotten my boarding pass it was time for another queue – this time the dreaded one in front of the security checkpoint. Quite ironically, the queue at the fast lane was much longer than at the conventional checkpoint, which is somewhat negating the original aim of such an opportunity.
Once on the airside, I took a quick stroll through the massive shopping facilities, which are located between security checkpoint and the train station for the terminal pier shuttle.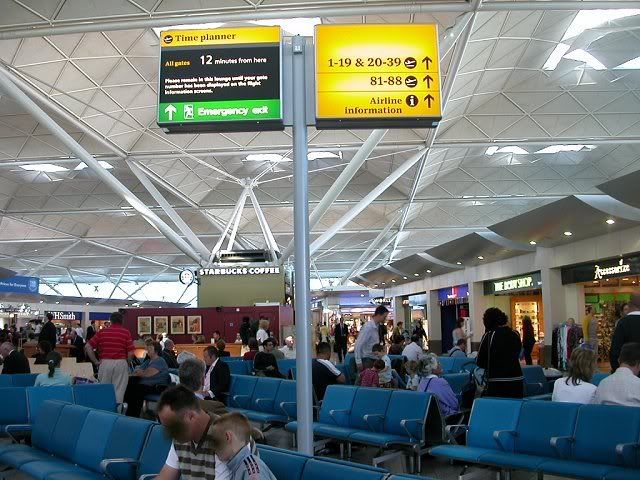 Unusually for a UK airport, the gate number was both indicated on the boarding pass and on the information screens, so there was not need to remain stuck in the shopping area until the very last minute, and I took the next available train to my terminal pier, since spotting intrigued me more than spending my hard earned cash on overpriced airport merchandise this morning.
While the main terminal was a beehive of activity, the terminal pier (we used 1-19 , the international one) was relaxed and almost tranquil…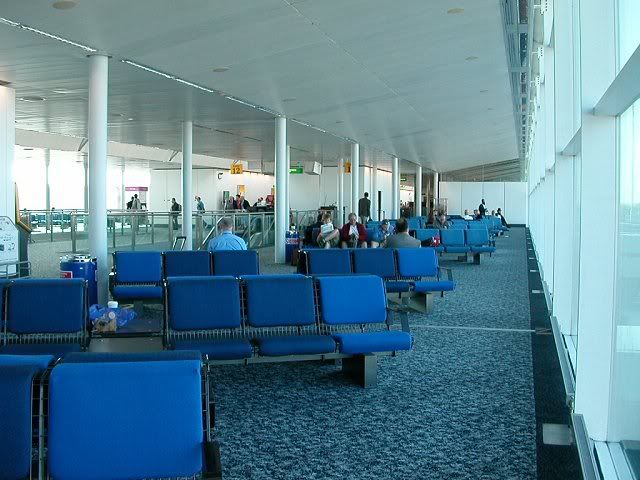 …with only a few charter flights to Spain and an EasyJet departure for MUC waiting at the gates.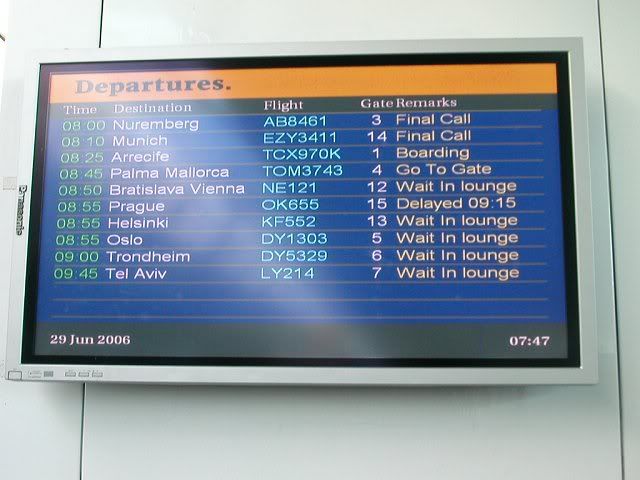 In a sun-drenched corner, a Thomsonfly B757 was being prepared for a flight to Palma de Mallorca…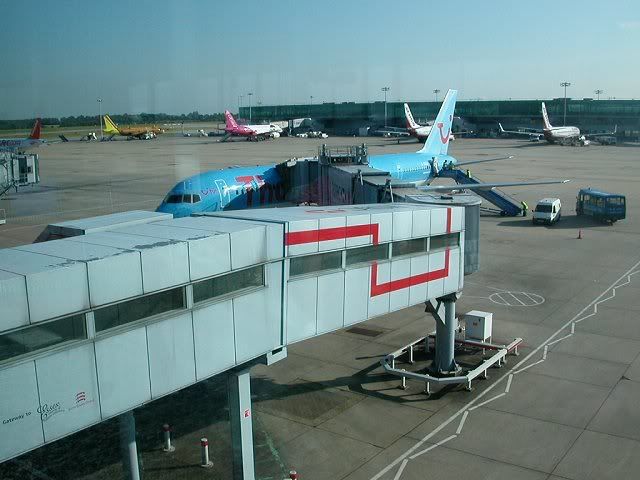 …and as you can see, many passengers had already dressed appropriately for their visit to sunnier climes, ready to get the trademark dark red sunburn British tourists are notorious for once they would step out of the aircraft.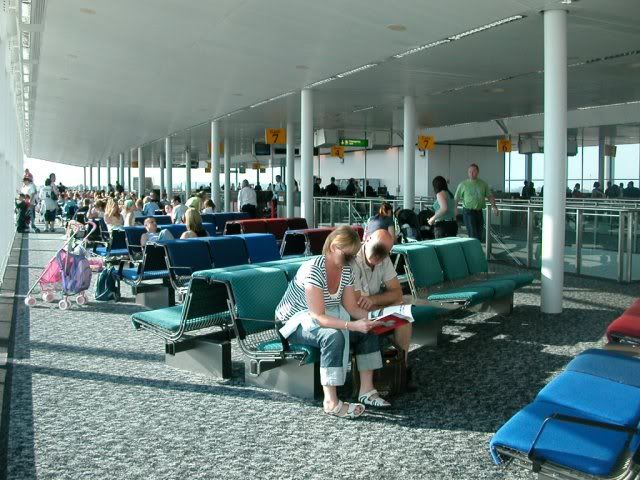 At the center of the pier close to the escalator and stairway leading to the shuttle train, a couple of newsstands, a small coffee bar and an internet café offered some limited distractions for those passengers, who were not interested in watching the airside traffic outside.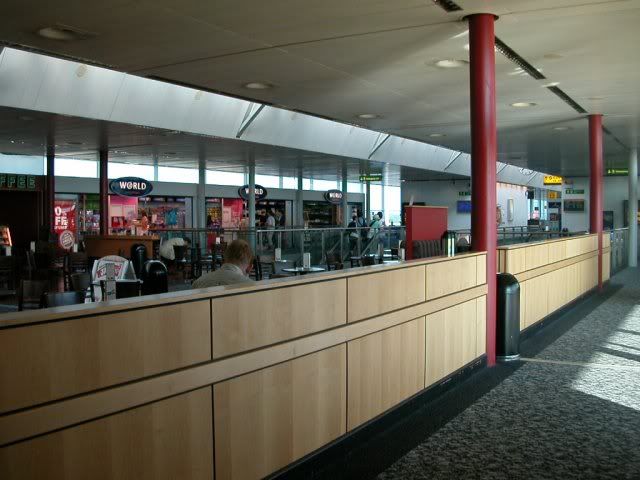 I walked towards the runway-oriented end of the pier, where I watched the air traffic for a while. A MaxJet B767-200(ER) had just arrived and was already prepared for the next hop across the pond to either New York or Washington, DC.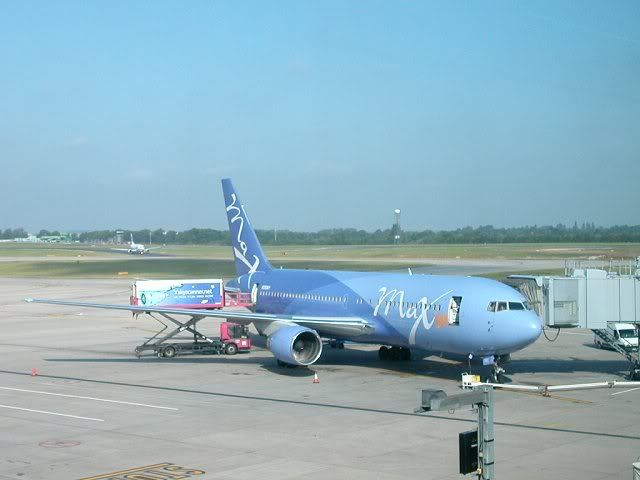 Next to it, a SkyEurope 737 was ready to depart to Bratislava with the pushback tug just rolling into position for operation.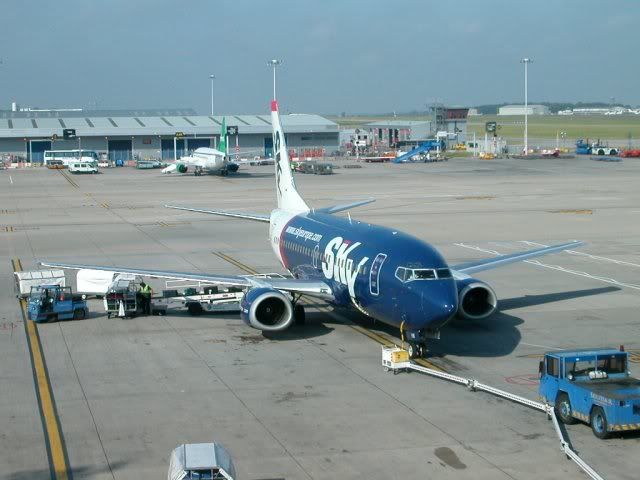 Finally, my "dream bird" had arrived! You cannot possibly imagine my relief when I saw the trademark pencil shape of the long and elegant MD-90 vacate the runway right next to our pier, because there had been reports during the previous weeks that Blue1 had run into teething troubles with the MD-90, often replacing the aircraft on the STN run with Avroliners or even leased SAS MD-80's. Not today! Phew…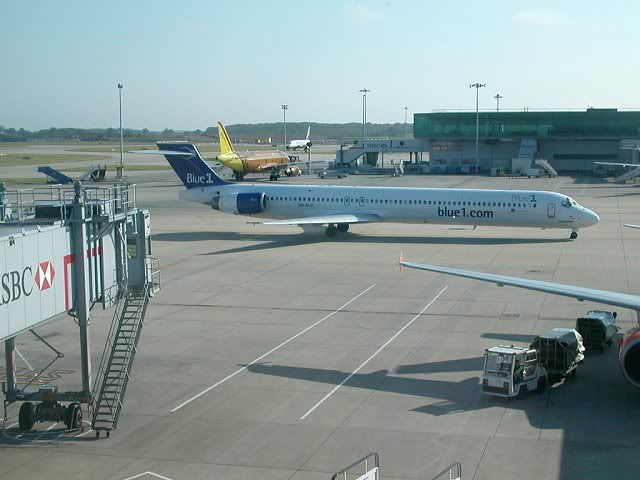 One or two minutes later, the Mad Dog had finally positioned itself at our gate – the last doubts were over, we were actually going to fly on the rare and elusive MD-90 ( and I was possibly the only passenger geeky enough to even notice that today).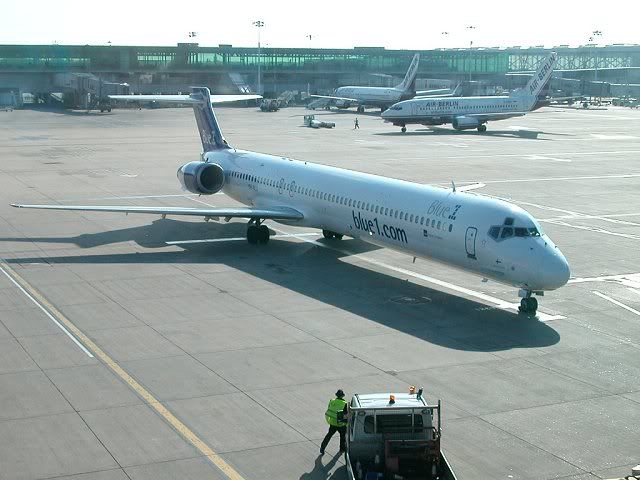 The flight (STN-HEL)
London Stansted (STN) – Helsinki Vantaa (HEL)
Flight number: KF 552
Scheduled block time: 0855h – 1350h
Off-block: 0905h
Take-off: 018h (RWY 05)
Touchdown: 1350h (RWY 22L)
On-block: 1355h
McDonnell Douglas MD90-30
OH-BLU
c/n: 53458/2140
first flight: October 31, 1996
Seat 15A
After handing the boarding pass to the gate attendant, I entered the escalator, which guided us down one level to the entrance of the jetway. Here, we walked down the narrow aluminium tube only to be guided towards the apron – for some reason, it seems to be impossible to connect the MD-90 to the jetway at Stansted, so every passenger had to walk a few meters to the 1L door of our Mad Dog. I didn't mind, because it allowed me to grab a few quick shots of our – at least according to my sense of aesthetics - elegant MD-90.
We had to wait for another minute or two for two ground assistants to unload a wheelchair, which had just been used to haul an elderly lady on board. Ramp personnel was just completing the loading of cargo and baggage into the smallish compartments on the other side of the aircraft, and an El Al Boeing 757 inbound from Tel Aviv slowly and carefully taxied into its parking position to our right.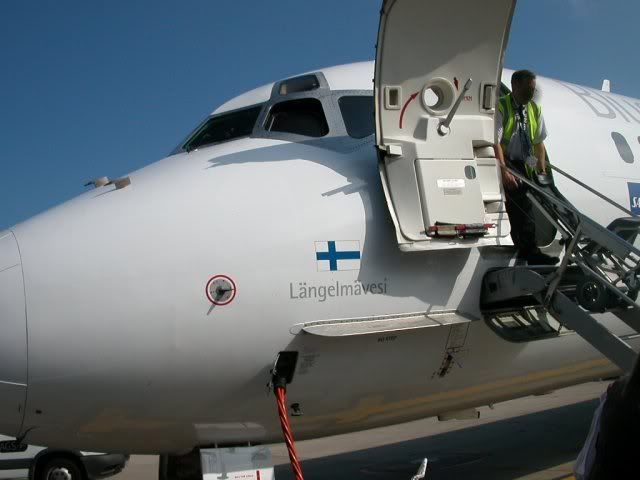 While boarding; I took a quick glance at one of our trusty (and most likely "thrusty") V2500 power plants, which are a generation ahead of the MD-80's JT8D's in terms of fuel consumption, air pollution and noise and went inside the aircraft.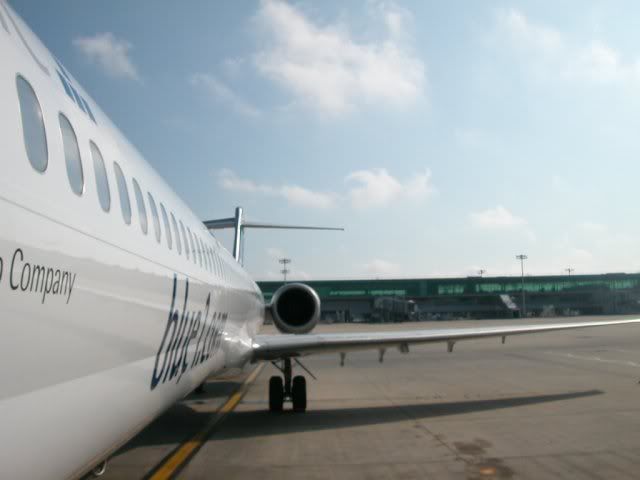 Two smiling middle-aged female flight attendants wearing elegant dark-blue uniforms somewhat resembling the SAS design were waiting in the front galley, inviting passengers to pick up their complimentary copy of Scandinavian and English-language newspapers from the magazine rack located between galley and front seat row. Having expected to be on a no-frills flight, I was somewhat surprised about this offer, but nevertheless picked up a newspaper or two for the long three-hour flight to Northern Europe. Passing through the small business class cabin (there were just two rows curtained off this morning), I arrived at my seat (15A) after a short walk through the cabin. From my impression, little has changed inside the cabin since the SAS days, the seat design and fabric are still the same type like onboard contemporary SAS aircraft.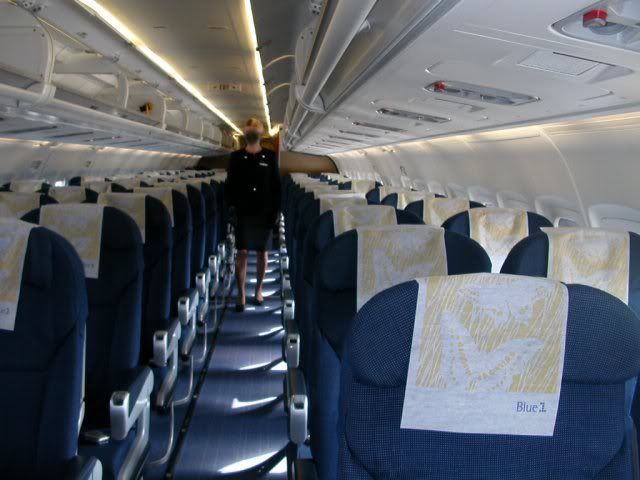 Seat pitch is quite generous, as only 166 seats have been installed on this stretched version of the MD-80 series, however there is no audio or video inflight entertainment available, which is quite standard with European low cost and scheduled carrier alike, but which would also be nevertheless a nice feature on a fairly long trip like this. The cabin design was not out of the ordinary and certainly was not any different from the one found on other late-model MD-80 aircraft.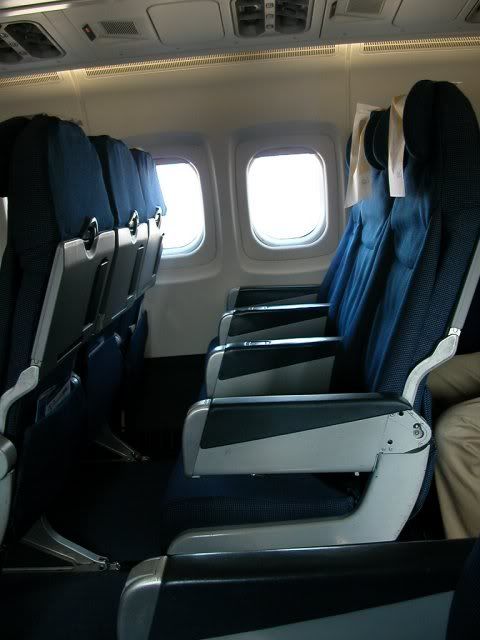 The cabin continued to fill up with travellers during the next fifteen minutes or so, and when the front door was finally closed, about 80 percent of all seats had been taken by predominantly leisure travellers. Not bad for a route which had only started two months ago and which was served twice daily with 166-seaters!
After the cabin was secured for take-off, push-backed commenced and the powerful tug pushed us away from our terminal pier. Next to us, an El Al B757-200 was being serviced in anticipation of its return flight to Tel Aviv, with a couple of grim looking guards overviewing the handling process. Probably not a good idea to act "suspiciously" while being close to this plane!
Once we had received clearance to taxi, a faint whining indicated that our V2500 engines were spooling up to moderate taxi power. Incredible, how quite these engines were, it was really hard to discern any noise through the whispering of the air conditioning. The manual safety demonstration was started just as we were passing one of many EasyJet Airbusses, which itself was also about to be pushed away from the terminal for another short European flight.
As today's weather was dominated by a slight easterly wind, it took us a good six or seven minute to slowly proceed towards the threshold of faraway RWY 05. Finally, we arrived at the access to Stansted's single runway, however we had to wait until an inbound Ryanair 737-800 had completed approach and touchdown.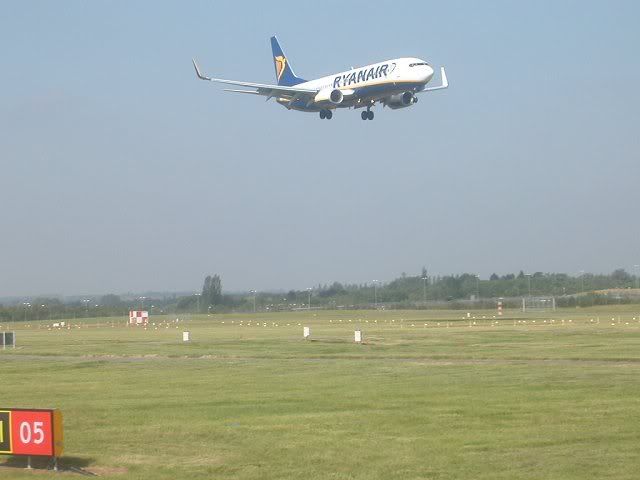 And now it was our time to blast off into the big blue yonder! With a faint whine, our powerful aggregates spooled up to take-off power and slowly, but ever accelerating, our heavily fuelled MD-90 sprinted down the 3 kilometer stretch of concrete and propelled itself into the sky with an impressive demonstration of raw power and grace after about 2,000 meters of take-off distance.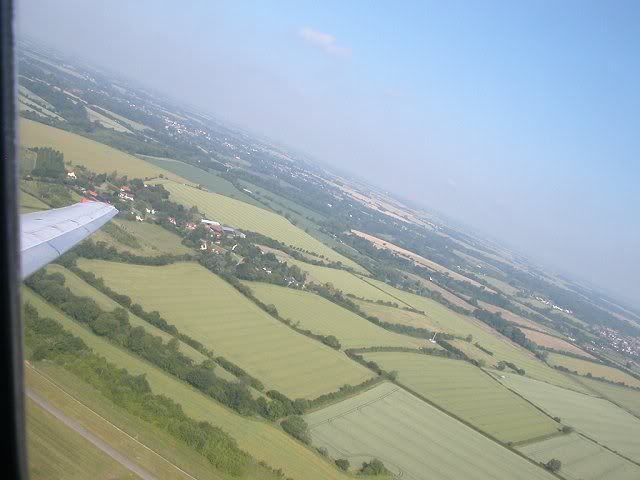 Is this specific to the MD-80 and MD-90 series of aircraft or a general characteristic of rear-engined aircraft? Our angle of attack certainly was impressive this morning despite a fairly heavy fuel and passenger load, so we quickly left the sun-drenched fields and meadows of southeast England below us.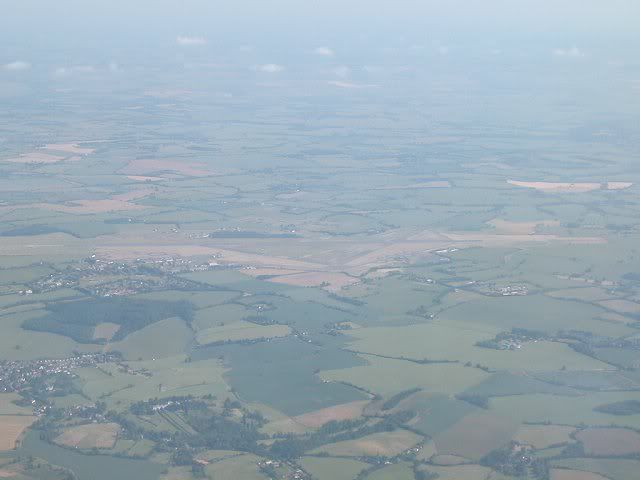 During our climb-out; I noticed that this particular part of England is literally littered with airports and airfields, many of them dating back to the time of the Second World war, judging from their traditional triangular layout. Among these aerodromes were both larger, still active facilities like this one…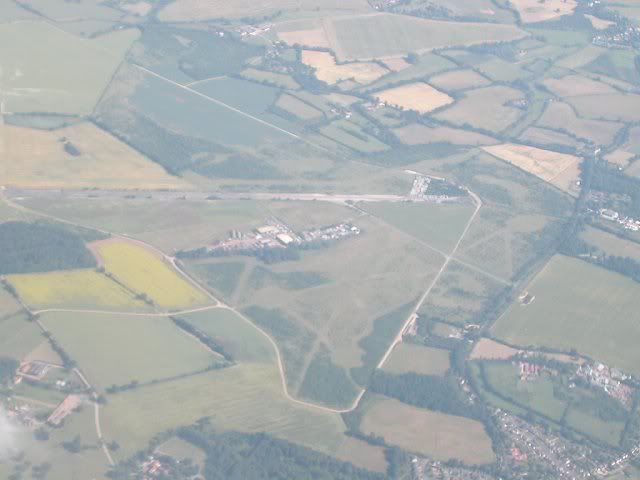 … but also smaller, possibly derelict ones like the following. If anyone can give me an indication regarding the name of the airfields I have snapped in these pictures, I would be highly delighted.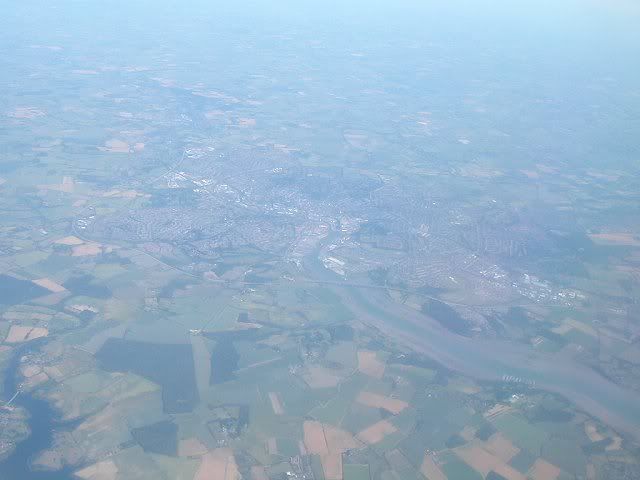 After a few more minutes of climbing and some manoeuvring, it was time to leave the British Isles and start our crossing of the North Sea. During this transit, I noticed the abundance of ships and oil rigs which could be identified below us – this must be quite a sight at night, when excess gas from the oil dwelling is burned off over the oil rigs!
Some twenty-five minutes after take-off, we had reached our final cruising altitude, which amounted to 37.000 feet today according to an announcement from the flight deck. Cruising along at Mach 0,74, our flight path was scheduled to cross the North Sea, reach Northern Denmark close to Esbjerg and continue on past Gothenburg in Sweden, central Sweden and Stockholm until we would reach the Finnish coastline to the south of Turku.
In the meantime, a cabin announcement invited passengers travelling in the Economy Class part of the cabin to explore the wide range of beverages, snacks and sandwiches of their new service concept called "Cafe1", which is in fact just another pay-per-bite product. Not much of a surprise given the fact that Blue1 is a SAS affiliate: would the "mother" want their "daughter" to offer a better product than herself? Now that could be in the interest of the customer, so let's better dumb down the superior product to the lower level of the mainline!
Basically, it is the Lufthansa school of treating the needs of the lowly Peasant Class passengers.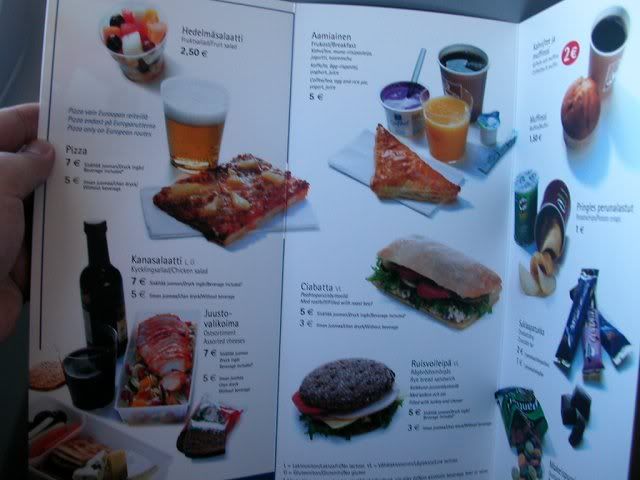 I also took a quick snapshot of the safety card for all you nerds out there.
Later, after returning from my daytrip, I noticed to my big "surprise" that two safety cards of the MD-90 must have slipped accidentally into my backpack – oh dear, I am already feeling so sorry for such a terrible mistake!
Talking about cabin service, the demand for overpriced snacks and sandwiches was fairly limited today, only the beverage sales stimulated some demand. After completing their service run, the smiling and ever-attentive cabin crew withdrew to their workstations in the front and rear galleys only to return with the duty free sales a few minutes later just as we were crossing the very northern end of Denmark close to the town of Fredericia (see below).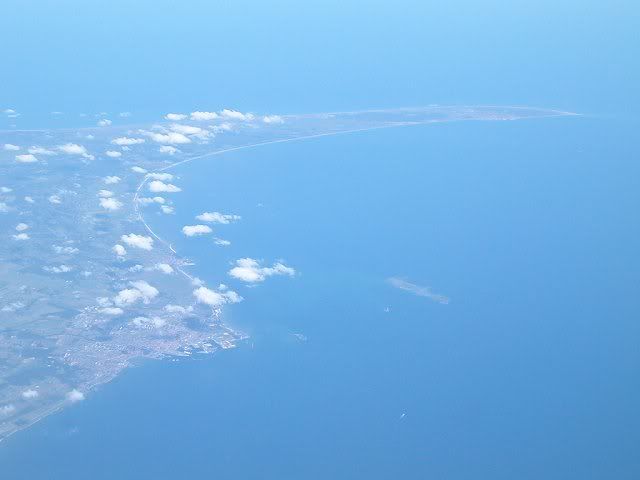 The remainder of our flight bumbled along sluggishly. After transiting across the rural – not to say desolate - regions of central Sweden, where huge dark green forests and equally extensive cold blue lakes seemed to alternate, we left the coastline about 45 minutes before our scheduled arrival time. A few minutes after travelling across the Botnian Sea, the small wood-covered and rocky islands marking the Finnish coastline came into view.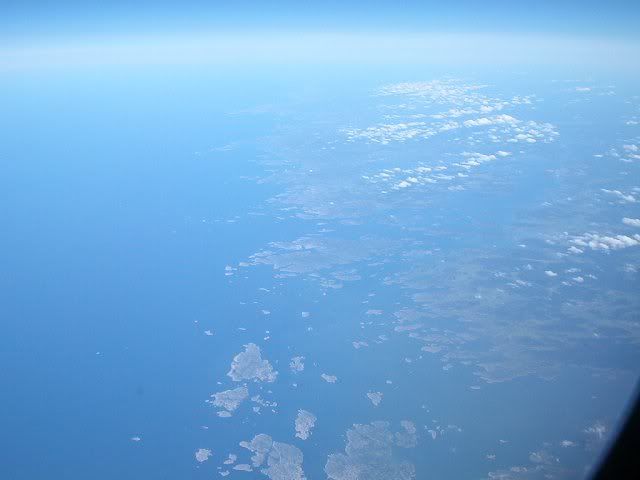 A cabin anunciator chime indicated the beginning of our descent into Finland's major aviation gateway. Coming from densely populated Central Europe, it never ceases to amaze me, how desolate many other parts of the world, and even our continent are. Only until the very final stages of our descent, when we were already low and slow over the outskirts of Helsinki, with flaps deployed and gear down, the wilderness of the Finnish forests finally gave way to the typical signs of civilizations like highways, residential and commercial areas.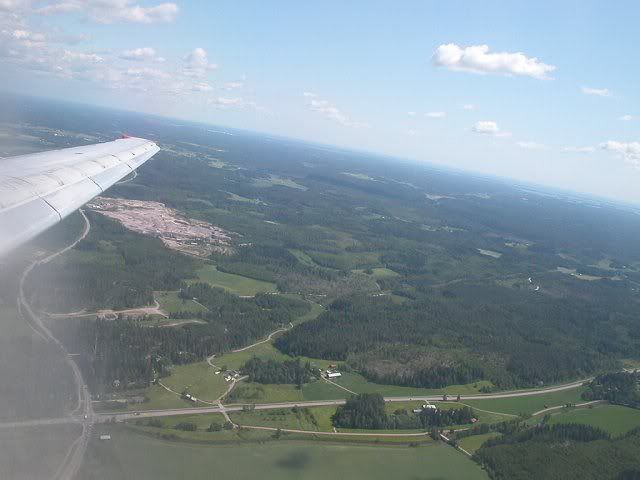 Gliding across the airport perimeter, we touched down on RWY 22L under a crystal-clear afternoon sky, spoilers were deployed and with a moderate dose of thrust-reversing, we were able to slow down to taxi speed and vacate the runway adjacent to the main terminal complex. Another three or four minutes of transiting past an array of Finnair short- and long haul planes followed suit, guiding us away from the main terminal to a more remote parking position at the western end of the apron next to a (rare, and by now extinct) MD-83 of Finnair, which was sitting idle under the Northern sun, probably only being used as a backup in this final stage of its career. Luckily, the MD series of aircraft seems to enjoy a reprise recently in Finland, since three MD-90's are now flying for Blue1, so visiting HEL still treats you with the vista of some lesser known exotics like the –90 or the MD-11.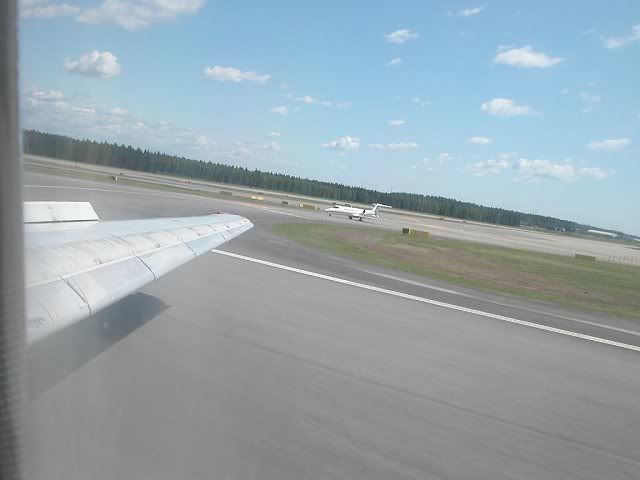 Engines were revved down and the annunciator bell indicated the release of the seat belt sign. With the usual hurry, everybody grabbed their belongings from the spacious overhead bins and the seat pocket (this must have been the point when those safety cards accidentally fell into my backpack) and prepared for disembarkation. A small extra and fitting end to my memorable MD-90 joyride was announced though – since we would have to be bussed to the Non-Schengen arrival lounge, it was also possible to disembark from the rear door! So guess, where I left the aircraft?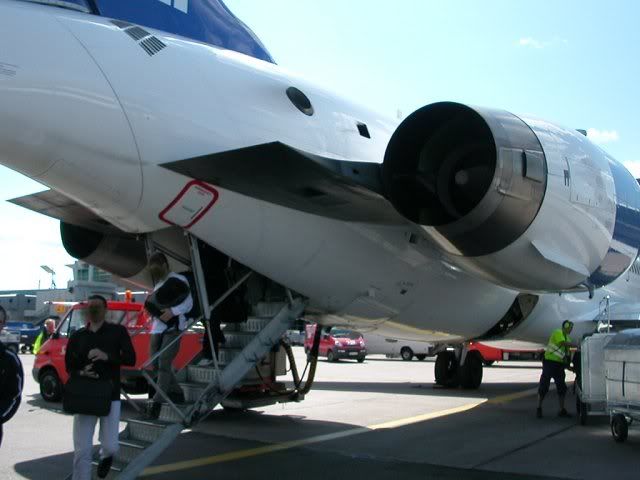 Another five minutes later, everybody had left our ride and we were bussed to the customs and immigration checkpoint, ending this enjoyable little ride across Europe.
Conclusion
Regarding passenger services, the flight on Blue1 did not offer any new perspectives or insights. KF offers a solid, no-nonsense product, which can be compared to many other contemporary flights on our bigger "national carriers". The product seems to be an exact carbon copy of SAS' offerings, which is probably not surprising given that the Finnish carrier is an affiliate of the multinational carrier.
Flying the MD-90 was well worth the time and monetary expenses. Cabin comfort is up to par with the latest generation of Airbusses and Boeings, while the 2+3 seating is a certain advantage when it comes to limiting the number of dreaded middle seats. While I cannot comment on the technical and operational aspects of the MD-90 - and I have heard about the quirks and snags which have plagued the introduction of this type with a variety of airlines worldwide - from the perspective of this aviation nerd, it is a pity that this fine model has not seen a larger success and production run.
Thank you for your interest in this trip report. In case there are any questions or comments you would like to post, please feel free to do so! I also appreciate a small "Thank you" message, in fact, this is what makes putting all those hours into a report like this worthwhile.