7-9-2006
CO 721
Lv ATL 1714 (1746 actual)
Ar IAH 1800 (1839 actual)
Seat: 2F
Plane: 737-500
Registration: N14601
Routing: JCKTS3 JAMMR MEI AEX DAS6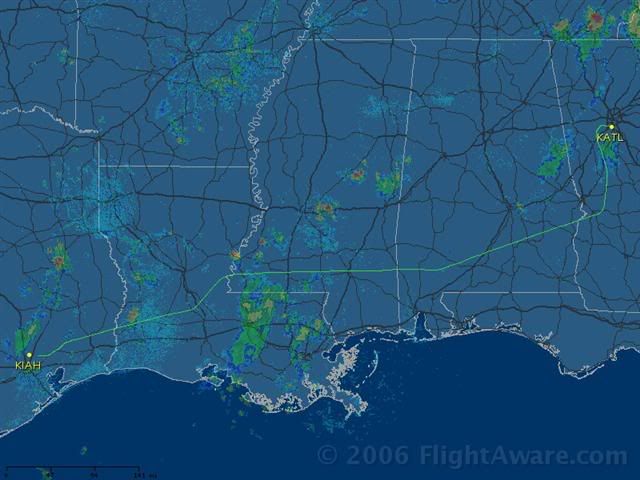 This week's business trip takes me to Longmont, Co so of course I needed to fly into Denver. The day before I was to leave the dates got changed on me and when I called Delta to switch they couldn't get me there until Monday afternoon which was no good. I checked out Continental and got a ticket and called Delta up and got my other one refunded.
Check-in Counter
Security at Hartsfield was very busy and I suppose it was just summer travel season but I still made it through in about 20 minutes with the help of the Premium line. There was no time to visit the President's Club but I have been in it before and while small it is comfy though it lacks a bathroom. Boarding was quick and easy. I really wish Delta would look at the Elite Boarding setup that CO uses but I'm sure it would never work in ATL.
Almost immediately upon taking my seat I was offered a drink and had what I believe was a pretty good Pinot Noir though I should have asked to make sure. The weather around ATL was typical summer pop-up thunderstorms so we had a little bit of a delay followed by an interesting routing around some storms and then off to Houston. There was supposed to be a "snack" on this flight and it did fit the schedule for "Meals at mealtime" but nothing ever showed up other than drink refills and lots of peanuts. I had missed lunch but figured I could get something at IAH which I did.
CO still has airphones onboard
The AirTran 717 sitting next to us (lost the registration)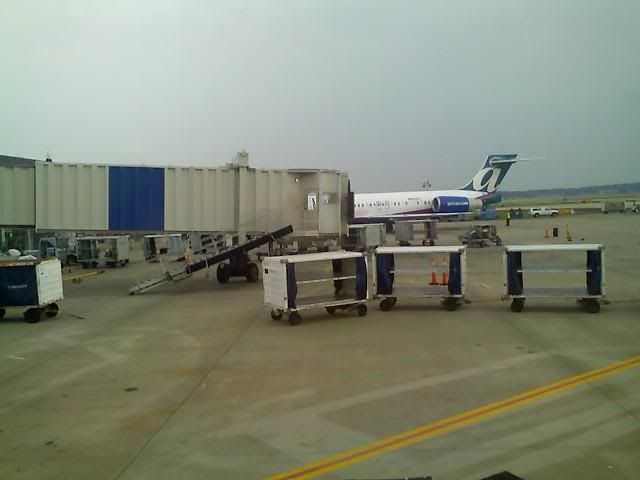 The AirTran 737 sitting next to us after the 717 left (lost its registration as well)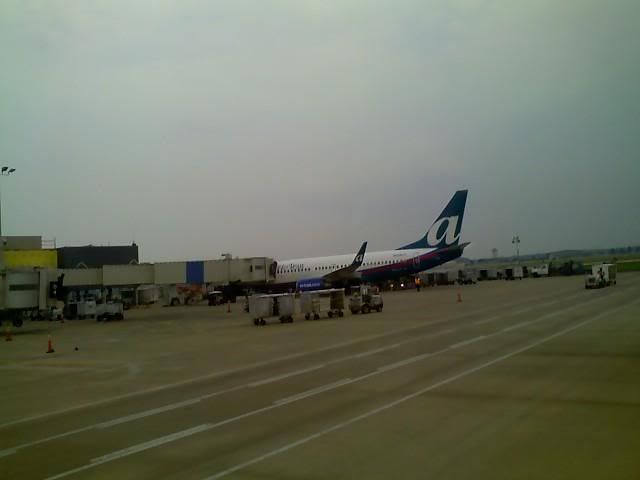 One of the DL 777s waiting at TechOps for its next flight or perhaps maintenance
A view of TechOps at ATL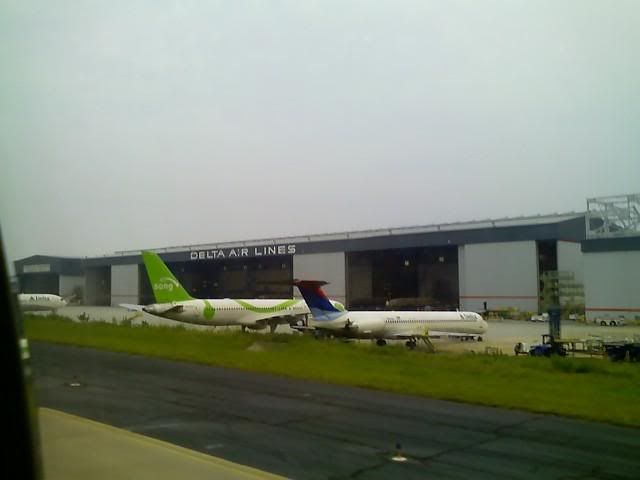 Humble High School on the approach to IAH
Arrival into IAH was late due to our earlier delays but we taxied quickly to the gate and I made my way to the President's Club in Concourse C. This club is one of two smaller ones in IAH but still nice. I got a Coke from the bar and grabbed a couple of crackers and cheese pieces. They also had potato chips and apples as well. One thing that caught my eye was the Cisco IP Phones scattered throughout the club. Since dealing with them and contact centers is my job I was intrigued to see what all they had configured them to do. They had some XML services configured on them to check weather, flight status, and stocks but none of them worked. Looks like we need to do some consulting work for flights. I left the club after a little while to go find some dinner and then wandered over to the big club in the E Concourse.
Pics from within the President's Club in the C Concourse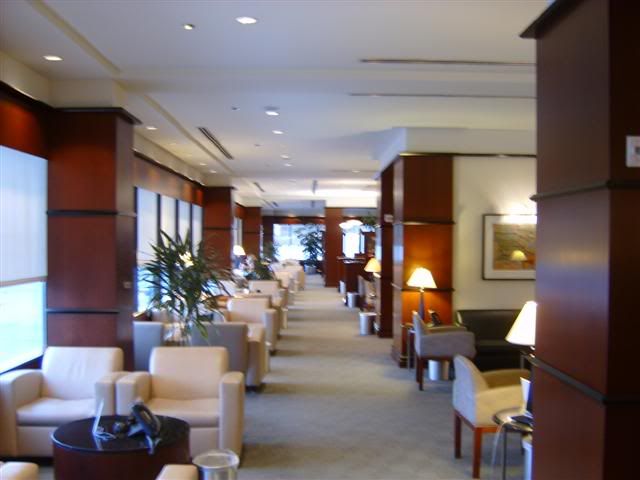 Pictures of the Cisco IP Phones running XML services to check flights, weather, etc. from the phone (though they didn't work)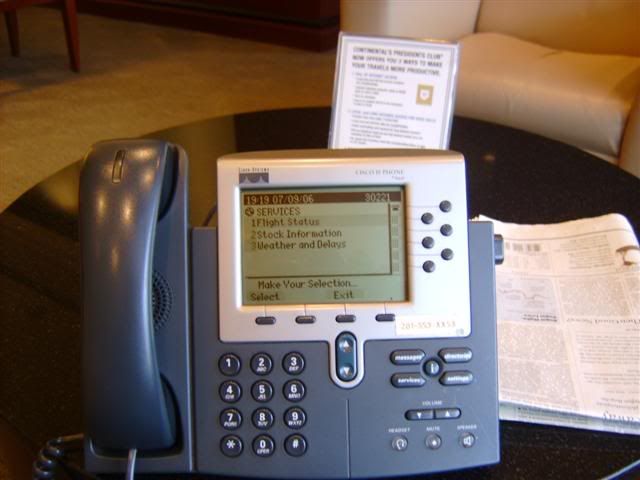 Looking towards the C Concourse from the E Concourse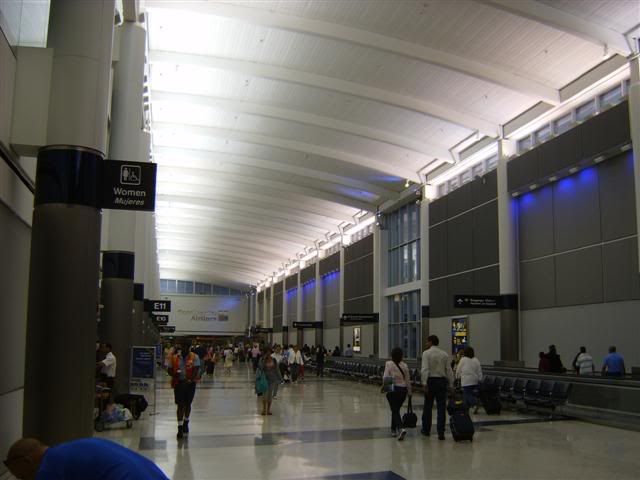 Pictures from inside the President's Club in the E Conccourse. The third floor is nice and quiet and less crowded than the second floor.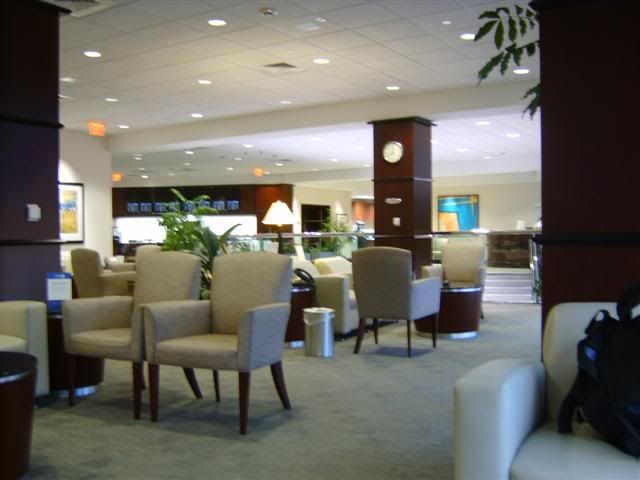 A couple of views of the ramp at E Cncourse.
7-9-2006
CO 299
Lv IAH 2100 (2124 actual)
Ar DEN 2226 (2234 actual)
Seat: 4F
Plane: 737-800
Registration: N33209
Routing: JCT4 JCT J15 CME FTI J104 PUB
After leaving the club I made my way to the gate and boarding commenced a few minutes after getting there. One thing I noticed was this plane was starting to show its ag on the inside. The plastic throughout the cabin was turning yellow and the seat back in front of me was showing some good wear on it. No big deal as the seat was comfy and the drinks were cold. The pilot infrmed we would be waiting a little bit for 26 international connections and that he had no idea when they would make it. 5 mimutes later they closed the door, backed away, and left those 26 folks in Houston for the night. Sorry about that.
The flight itself was uneventful and quiet. The cold drinks continued to come though I switched from wine to Diet Coke since I would be driving once I got to Denver. It appears we went a bit farther west than usual due to storms but we landed in Denver not too late. Taxi to the gate was quick at that hour of the night and I was in my rental car and on my way in 45 minutes. If DEN wasn't such an oversized airport I could have been on my way even quicker but no big deal.
Our chariot, N33209, awaits the ride to Denver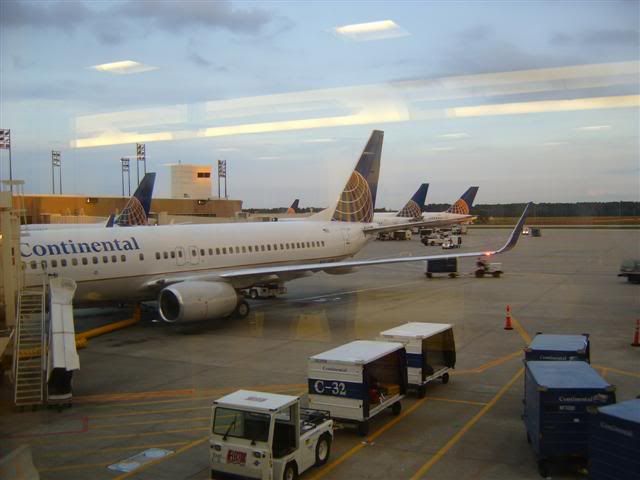 Typical gate in IAH
Pitch between seats in First
Legroom and a worn seat. Anyone notice the book?...Debt of Honor with an exploding 747 might not be the best choice of books to read on a plane.
Folks still boarding
While in Colorado I was lucky enough to get some free time one afternoon. I hopped in the car and made my way up to Rocky Mountain National Park. I've been to the park a few times and I highly recommend you visit it if ever provided the opportunity.
Table Mountain dishes running the Navstar satellites outside of Longmont, CO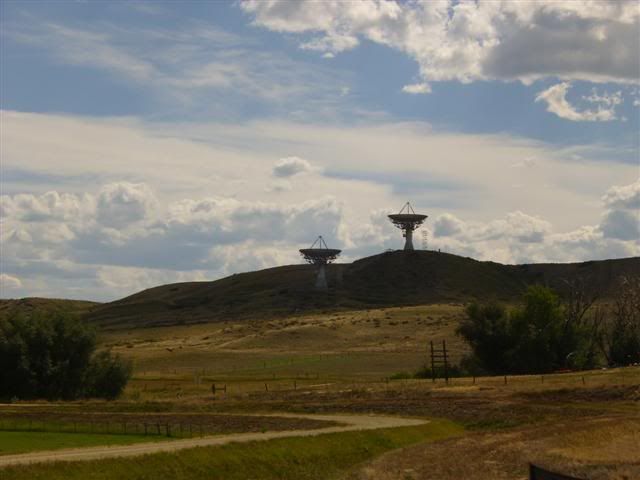 View of Long's Peak from Beaver Meadows, about 7500' in elevation
Looking back down into Horseshoe Park
Avalanche! Not right then, but at some time in the past, maybe about 10,000' in elevation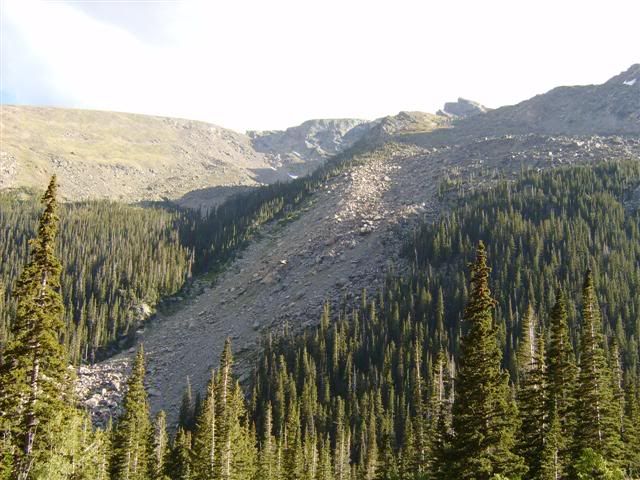 Looking north towards Wyoming 11,000' in elevation
Alpine meadow above the tree line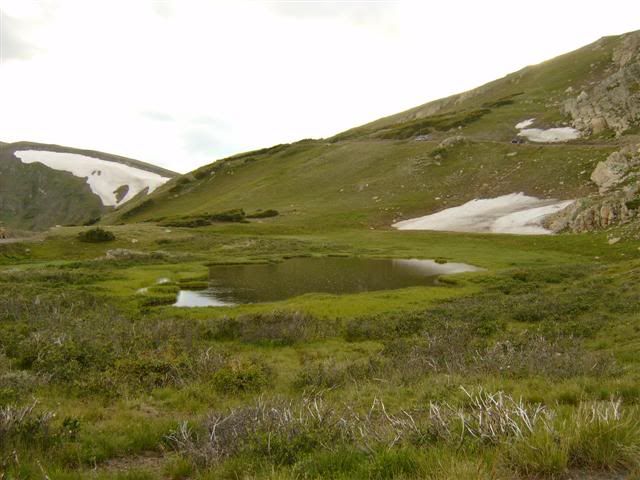 Damn! Where's the rifle when you need it? That would look good over the fireplace.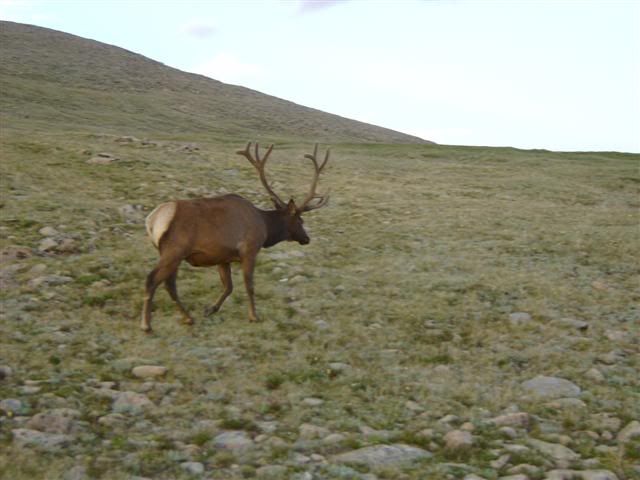 Looking down into Horseshoe Valley again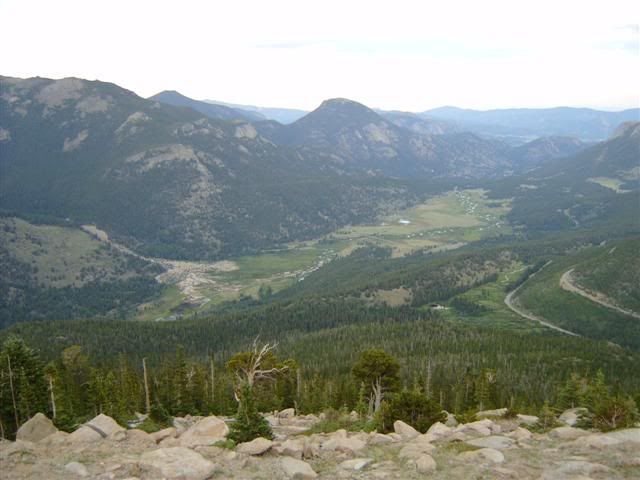 Getting home was quite the fiasco. The customer I was working with announced on Wednesday morning that they would be leaving at lunchtime since they wanted to go home to California even though we weren't done working and I needed them to escort me around. Oh well, I figured we could finish up stuff remotely so not a huge deal. I changed my flights on CO's website and selected the 1230 flight to Newark and then connecting to ATL. The CO website assumes that you still want to fly on the same day so you have to let it offer you flights, then search on the day you actually want to fly. I did so and then had to call in to select my seats since it was within 24 hours of the first departure. It appears that is where my flights got screwed up and she put me back on the Friday flights through EWR.
When I checked in at the airport everything failed and they finally were able to get me on a flight through Houston at 1630 which would get me home well after midnight. I didn't have much choice and he checked NW and DL for availability but they said they had none. He also put me on the waitlist for the 1430 flight but given the weight restrictions due to heat and that they were kicking folks off all flights that day he said my chances were slim to none. I went to the President's Club in A Concourse, got some wine to relax, and called Delta who promptly said yes they could get me on the 1730 flight. I booked that ticket and went to the front desk of the PC and got the ticket refunded for the CO leg.
I then left the PC and went over to the Crown Room Club in Concourse C. The club here is nice but small given the smallish operation (4 gates) that Delta runs out of Denver. I collected my boarding pass, got a drink to relax a little bit more, and then made my way to the gate. We departed about 45 minutes late since they kept begging for volunteers to take the redeye flight at 0100. They finally got 15 volunteers and we were on our weight restricted way. Service on Delta was the usual up front. Cold drinks (mmmmm.....premixed Mojitos!), and decent seat though I felt very cramped today for some reason, and decent stewardesses to take care of the passengers.
After about 45 minutes and a couple of drinks I fell asleep for the rest of the flight and woke up as we crossed over downtown Atlanta. We were back on the ground about 10 minutes later. Deboarding was a bit hurried as folks were rushing to make their conenctions. I grabbed my bags and got out of the way of the stampede. I was in my car and on my way in about 30 minutes from the time we landed.
All in all Continental and Delta performed as expected and did a good job. Given my Medallion status on DL I of course spend a fair amount of time on them but when they can't get me where I need to go for whatever reason I am more than happy to take CO instead.
original Return Flights
7-14-2006
CO 642
Lv DEN 0850
Ar IAH 1214
CO 320
Lv IAH 1432
Ar ATL 1759
Changed to
7-13-2006
CO 629
Lv DEN 1230
Ar EWR 1820
CO 1155
Lv EWR 2015
Ar ATL 2249
Finally changed to
7-13-2006
DL 1605
Lv DEN 1530 (actual 1616)
Ar ATL 2014 (actual 2056)
Seat: 3D
Plane: MD-88
Registration: N948DL
Routing: PLAIN3 GLD J182 RZC LIT SQS J52 IGB LGC HONIE3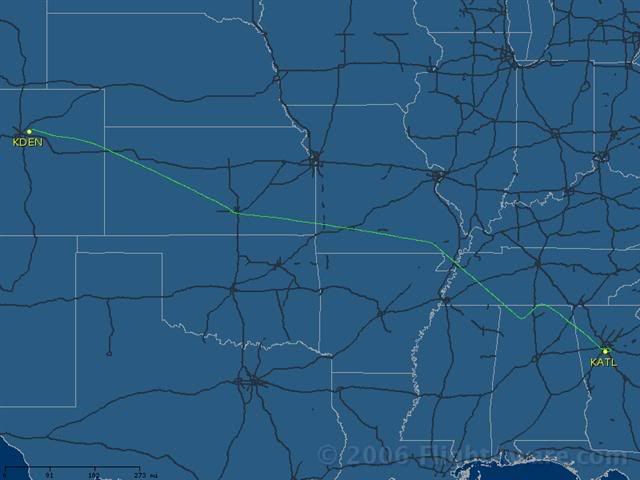 Looking towards the front of the Jeppessen Terminal
Another view of the terminal "mountains"
Looking over the TED ramp from the bridge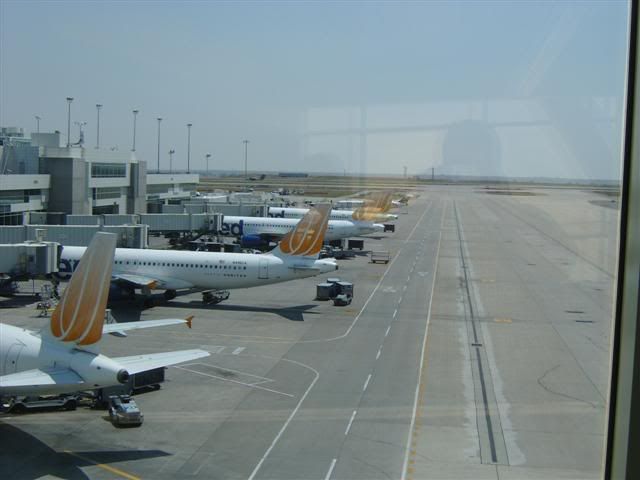 Looking over the Frontier ramp from the bridge
Train atrium in Concourse A
President's Club 1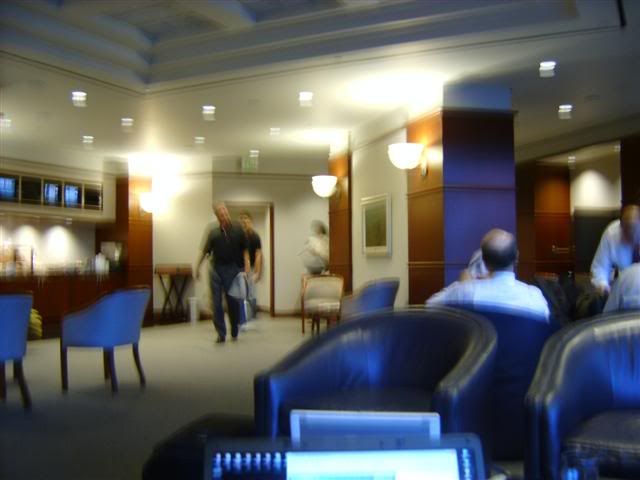 President's Club 2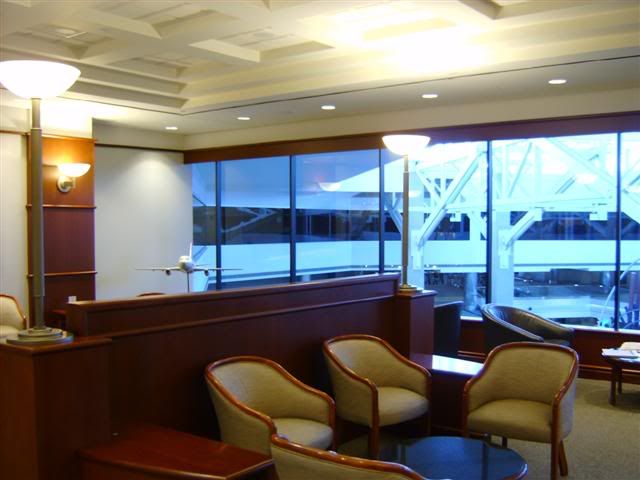 The first private plane to land at DEN. N10DB owned by Bill Davis of Cablevision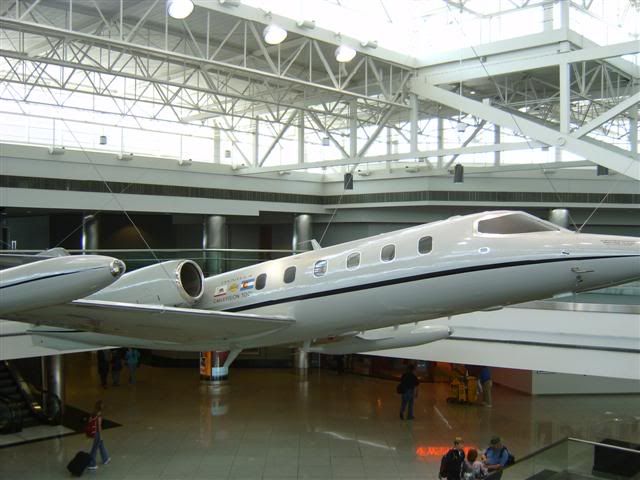 View from the Delta Crown Room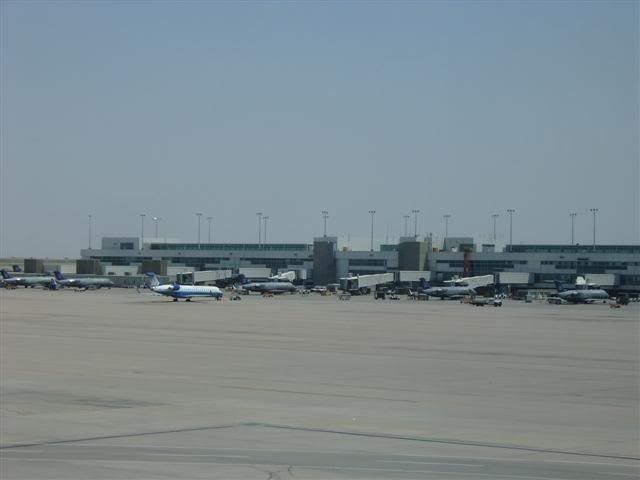 Looking towards the bar in the CRC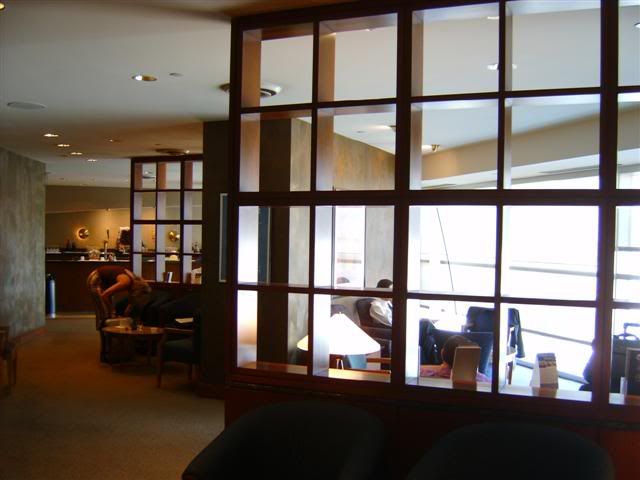 Midwest N908ME going to Milwaukee I suppose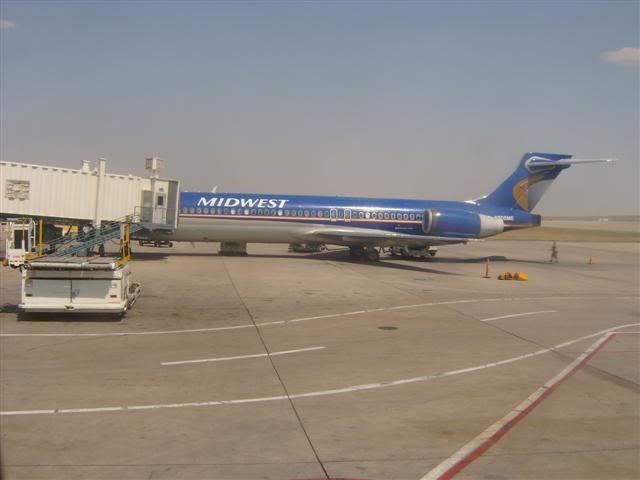 View of the terminal from the taxiway
N479UA TED fixing to go somewhere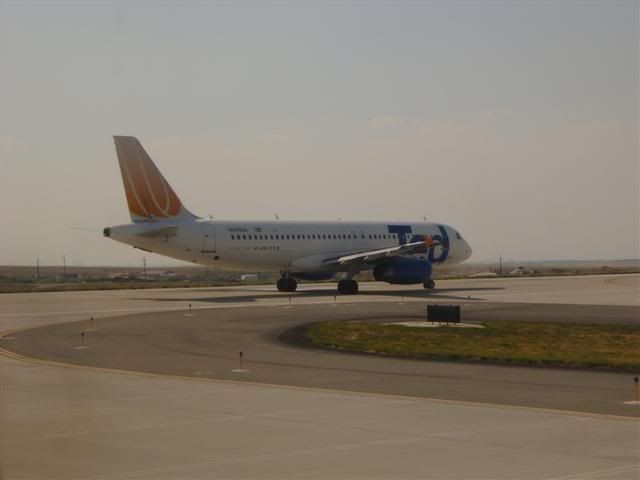 Hazy day in Denver after takeoff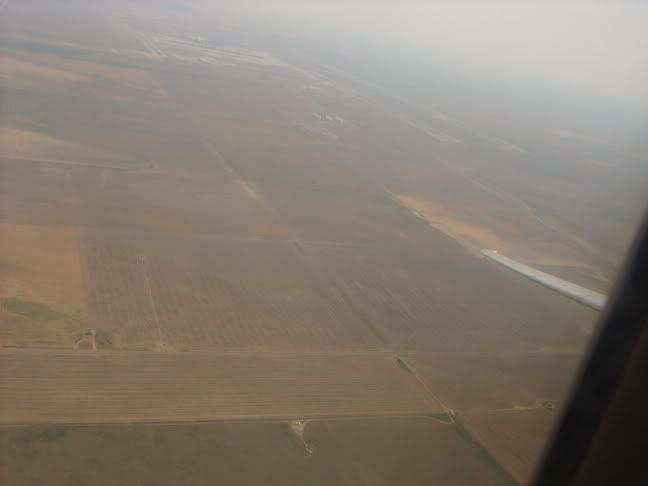 Good old American farms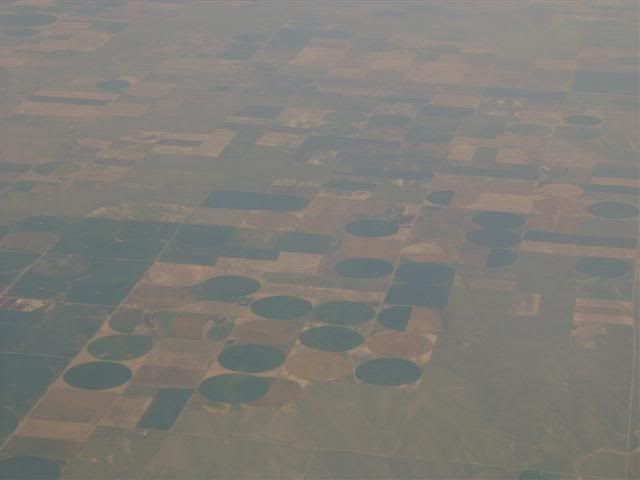 Big thunderstorm...keep out!