Hi
I've promised some people to bring this tripreport online on airliners.net, but until now, I did not find the time to fix it all together. I've had my first summer holiday in between now, and I was also rather busy at work again. Besides that, the weather in the Netherlands has been quite 'hot' lately, which is also unusual for my country. So, finally it's here now. I hope you appreciate it.
Reason for this trip was 'business', being a training/update of my knowledge regarding some aircraft types of the airline were I am working for. This was mainly for the B747-400F and also the newer Converted Freighter, of which the first currently serves mainly the route between NRT-AMS. Later this year, a second converted machine will join our fleet, being JA8906. Besides those, I have had some introduction on the B777-300ER. Although not scheduled to my airport for the time being, we may become an alternate airport for LHR/CDG/FRA, and in case of disruption of the schedules, I may have to handle this type also at occasional times. Last year I obtained my B777-200ER training already at CDG. This type will be introduced to AMS from coming winterschedule.
I was really looking forward to do this trip, as it gave me the possibility again to visit 'airside' at NRT. I've been in Japan numerous times before, but airside is almost never granted at trainings. Now I was able to see also the airlines which are normally 'invisible' from the observation decks or approach spots. And of course my camera was with me all the time
My tickets for JL412 outbound, and homebound JL411 were issued by my administration department, being for Y class, standby C. For backup, I always apply for a staff ticket on KL in C. I like to return on KL, as the flight leaves around 2 hours before JAL, and I will have an earlier arrival when coming home again. As it's nowhere that good as being at home, I always take the evening JL412 departure when going to Japan. Both JL and KL tickets arrived as E-ticket in my company mailbox 2 days before I had to leave. So let's go!
May 5, 2006
Flight No.:
JL 412 AMS-NRT
A/C # :
JA8909
Type:
Boeing 747-446
Seat:
32K 'Seasons Executive Class'
STD:
20.15pm
ATD:
20.24pm
STA:
14.30pm
ATA:
14.44pm
View Large
View Medium


Photo © Stuart Lawson
The afternoon just before my flight, I requested an available upgrade to my management. This is the official way within the company, and the apply for my upgrade by the station management. The flight was heavily booked, and not too much seats were expected to remain vacant on the flight, in both Y and C class.
I left home just before 17.00pm, after saying goodbye to my loved one, which I left alone for one week. But that belongs to the job. I took the busservice to the trainstation to catch a connecting train to the airport. Just before 18:00pm I arrived by train below Schiphol Airports Plaza shopping centre. I went upstairs to the departure lounge, terminal 3, where JAL's checkin counter is located. Checkin was quiet at all desks, because most of the passengers on this flight are connecting from other European flights. Only a small group is originating from Amsterdam, and a couple usually arrived by JAL's limousine-bus from Brussels, a city which is not connected on any direct flight to Japan. I approached one of the ladies sitting at the dedicated counter for Executive Class passengers. I was happy to see that the upgrade was already done, but less happy with my seat at row 27. Checking our aircraft interior chart showed me that this was the first row behind the galley. That means a lot of crew and passengers walking though the aisle all flight long. I really hate that! But I didn't have much choice, being just staff on a business trip. I agreed with it, and received my boarding pass. I did not checkin any baggage, because my trolley is mostly accepted as cabin luggage, as the dimensions of my Samsonite are suitable for the overhead bins
I passed immigration services and left my country into the departure lobby. There I used the cash machine to get some Euro's which I wanted to exchange into Japanese Yen on arrival at NRT the next day. I also bought some Dutch 'drop' and Droste chocolates for a good friend of me in Japan. After more then a year of absence of me in Japan, we would meet again that week. So I just had to bring a small present from my country. At the bookshop I bought a couple of magazines, to fulfil any spare time that week
.
Although my seat was in C, I decided not to visit JAL's Sakura Lounge. I expected the lounge to be rather crowded with so many passengers on the flight, and I didn't want to spend all my time by sitting there. I had to sit for the next 11½ hours anyway!
I slowly walked down the long E-pier to almost the end were my aircraft was waiting at gate E20. The B747-400 was shining in the new companies colourscheme. It was my first sighting again of JA8909 without the special 'World Cup Soccer' markings on the fuselage by the way. This aircraft is not standard on the AMS-flights anymore, because it offers a K13 cabin layout with the old Seasons Executive Class and First Class. Total seats on this machine are 384. My collegues of passenger services were standing behind the desk and after some chatting with each other, I explained my feelings about my seat at row 27. Without difficulties, she changed it to row 32, the right hand window seat. My neighbouring seat was staying empty she said
as she blocked it off for me. Yeah, I got it!
During my waiting prior to boarding I watched all cargo pallets and baggage getting loaded in to the lowerdeck compartments of the aircraft. The flight may carry an additional 20t of cargo in the lower holds. Imagine the weight of such an machine when getting airborne! So many passengers, cargo, baggage, fuel… it's always amazing to see our flight departing every night. Tonight I am travelling on it myself. I quickly managed to take a picture of the aircraft!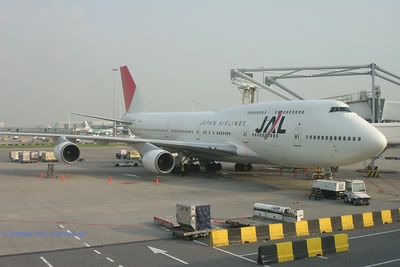 Boarding started at 19.45pm and elderly/disabled people, passengers with young children, and Executive/First Class passengers were called first to start boarding. My passport was being checked, and I had to pass the security checkpoint, which is nowadays located at the boarding gate at AMS. This is only for non-EU flights by the way. For EU-Schengen flights, the general security checkpoint is still in use. I entered the aircraft at door 2L, and passed on to the other side of the cabin and walked to my seat which was located in compartment C. A flight attendant approached me asked if she should take my coat, but I refused and stored it in the overhead locker by myself. I took the blanket, headphone and slippers from my seat and settled myself. A last text message from my cellphone was send home to say goodbye. I knew I wasn't able to use my phone in Japan, as it does not work on the Japanese mobile telecommunication networks.
As JAL uses also the overwing bridge for passenger boarding, the whole process finished soon, although the front door was kept open for a longer time then needed. Later I found out that the boarding passes and passengers didn't match, and a cabin count was taking place. When they finished, the doors were closed, and we started pushback almost immediately after this. Point of notice is that JAL does not serve any pre-flight drink (even not in C). A safety video is demonstrated on the large screens in the front of the compartments, and by use of a beamer projected on the wall. The demonstration is in Japanese/English and easy to understand. Meanwhile we were taxiing out to runway 24 for departure, and I was watching to the airport scene of AMS.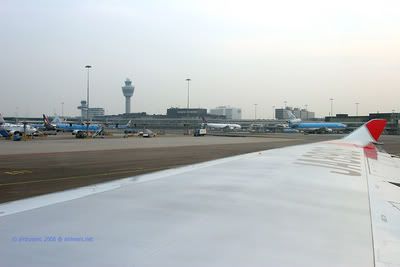 The airport traffic is not really busy at 20.30pm and therefore also my flight was able to enter the runway almost without interruption. The powerful takeoff roll started and JL412 was thundering down the runway getting enough speed and finally to get airborne into the Dutch skies! After climbing to 2000ft the aircraft started banking to the right over the city of Hoofddorp (right over my apartment!). This was a typical start of a 'Spykerboor' climbout.
Soon after the aircraft was in a straight position again, seatbelt signs were switched off, although the crew used the PA system to ask everybody to keep themselves seated with seatbelt fastened, and over the blanket (otherwise it was invisible for the crew while checking). Of course everybody was free now to walk etc. For some personal reasons I had ordered a VGML (Vegetarian Meal) on this flight (I'm not a big fan of the Japanese food offered by the caterer at AMS, and don't eat meat, which is always in the Western meal). When the flight attendants came across the aisle to ask everybody's choice for dinner, I just confirmed my VGML. It was on their manifest already, so the information came correctly on the flight. Good, it was my first time to get a VGML on JAL, and didn't know what to expect.
When we were almost 30 minutes airborne, the crew offered my a choice of wines for dinner. I had a nice French white wine. An additional 0.5l bottle of Evian water was also given. My glass was refilled twice before finally the dinner was served about one hour in-flight. When the appetizer was served, also a glass of Champagne and the famous Otsumami (Japanese nuts) joined my traytable
Both Western cutlery or Asian chopsticks were offered to the passengers, and to eat easily I opted for my usual Western cutlery of course
The appetizer consisted of a mix of sliced vegetables, and tasted freshly, but I think it looks a bit standard for C class.
When finished, the main course was served to me. It was a hot dish, with yellow rice and steamed vegetables and mushrooms. Next to it a plate with some vegetarian cake, orange and melon. Also a cold green mixed salad came with it, plus fruit salad. I didn't know what to do with the bread… English tea of coffee was also available.
When I finished this course, which was actually very nice and tasty I waited some time until the cabin crew cleaned up the table. Apparently they wanted to start offering dessert to the passengers from the same moment. In the meantime I watched a bit on my personal screen, were I was following our route on the map.
Hmm… desserts came down the aisle to my row. Let's see what's left on the cart. A choice was to be made from Cappucino Cake, or a Cheese plate, Fruit Salad, or Apple Strawberry Cake. I didn't want the Fruit Salad as it was already in my meal, didn't prefer the cheese, but the both cake options looked so nice that I ordered them both
And believe me, the desserts were very good!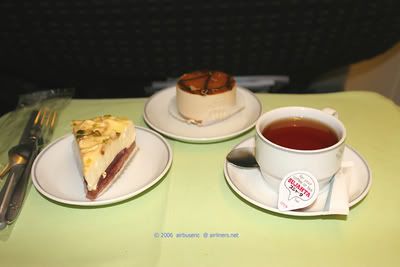 When finished I started listening to some international pop music on channels 7 and 16 of JEN (JAL Entertainment Network). This aircraft was fitted with the Magic-II system. In general I don't prefer this IFE on JAL as it doesn't offer the same quality of music like which is available on e.g. VS (V:Port on A346) or KL. Also the choice of movies was rather decent, but it offered Brokeback Mountain (I watched it already in the cinema), King Kong, The Constant Gardener, The Natural, The First Wives Club, The Forrest Gump, The Godfather 3, some childrens movies, some news programms, and documentaries. Not really interesting for me, and I ordered a baileys/ice when I started in my first magazine which I bought at the airport.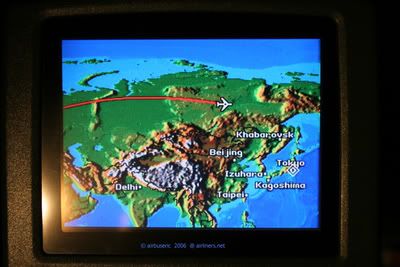 We disappeared into the dark night above Russia and the crew closed all window blinds. They also offered eye-blinders, earplugs, and Otsumami or Soybeans. I reclined my seat to max recline, but it's not really flat. It's more a relaxing chair or something. A shame that I had to travel on board this aircraft (originally an aircraft with new C class is standard on NRT-AMS-NRT flights). But then I remembered myself that I couldn't complain about it. It's better then being seated in Y! The flight took us over Sint Petersburg, passing the Ural Mountains, over Siberia when the daylight became visible already again. Only a few hours in darkness. I went to the galley to look outside. I hate it to open my window blind, because I don't want to disturb other passengers. Below me, everything was white and icy. I can never believe that people can live there in the cold climate! I also noticed that we had a groundspeed of 1007 km/h for a short period! I didn't see this high speed before on any of my flights.
When we came closer to the city of Khabarovsk at far-eastern Siberia, the lights were turned on and the smell of breakfast was noticeable in the cabin. About 3½ hours remaining flight-time to go. A lot of passengers wake up and small queues are waiting to use the lavatories. Some Japanese passengers do their morning exercises near the galleys. Always nice so see this different culture onboard an aeroplane.
My breakfast was served, containing a an omelette, some mushrooms and hot tomato, additional I found a fruit salad, warm croissant, Dutch strawberry jam, and a some peanuts. Also this food was tasty but not salted enough, so I asked some extra salt. The liquid in the glass is no white wine by the way
, it's just apple juice
After my breakfast was cleaned up, I went to the lavatory to brush my teeth, to use the shaver, and to clean up myself a little. All the amenities are offered by JAL. I always go to do this at an early moment, as closer to arrival, everybody wants to go at the same moment! I really try to avoid the queues. We passed meanwhile over the Sea of Japan, and arrived above Japan not far from Niigata. Before the decent started I snapped a shot of my compartment. You will see that it looks a bit outdated, and this is the old JL Executive Class.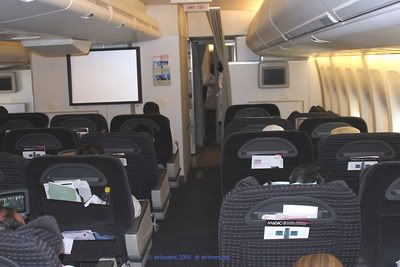 When the decent started that cabin crew came along the aisle to return the jackets and coats to the passengers who gave them for storage on departure from AMS. On the right side (lucky me) Mount Fuji was visible, getting lot's of sunshine on her snowy top! It's a real beauty to see from the skies. We approached NRT now closer and the crew checked for luggage and seatbelts. Later they disappeared onto their crew seats. In the meantime a immigration video of Japan was playing on the main screens, introducing Japan a little bit, telling about their Plant Quarantine services, about the Health circumstances, and about terminal 2, were we will arrive. We came in from landside, and after a lot of turns in the approach (seems to be common here though!) we touched at Japanese soil of runway 16R at 14.36pm on May 6. We taxied slowly to terminal 2. Near the maintenance area at NRT, a lot of freighter aircraft (KZ, JL, NW) were parked, due to low demand at Golden Week in Japan.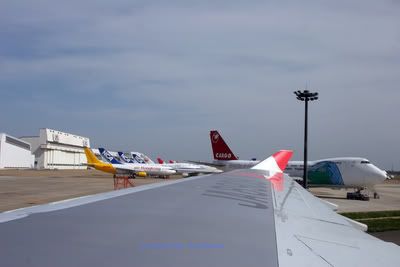 Our parking position was spot 96. C and F class passenger were disembarking from door L1, Y class passengers from door L2. This spot means a long walk down the satellite building, and I had to catch the Terminal Connection Train to the main building. It arrived quickly and after arriving in the main hall, I quickly passed on to immigration, without queuing this time. The immigration officer granted me a 90 days visa for Japan. I was held by customs (ofcourse, I'm from Holland
), and asked about my visit etc. etc. After showing my airline ID card, I was free to enter the country.
Let's conclude this flight on JL. It was a relaxing flight for me, got finally 2 seats of my own, which gave some privacy. They were at the last rows of C class, so I was not disturbed by any other passengers though-out the flight. The food was good, but I think it should be presented in a better way. Maybe not on a tray, but plates loose on the traytable. That will give a feeling like you're in a restaurant. At night, I was able to join the self service bar in the galley, offering cookies, cake, nuts etc. But no sandwiches. I see sandwiches on all carriers except JL. Maybe they should improve on catering, especially in Executive Class. As mentioned, I wasn't lucky with the aircraft JA8909. This one will be converted to Freighter in 2007, and no extra investments in the cabin will be made anymore. Normally it doesn't operate anymore to AMS, but due rotation problems the day before, my flight got this machine. Bad luck, I couldn't change it!. Load on the flight was good, Economy nearly full, and Executive Class booked around 85%. A lot of holidaymakers from Japan went home on this flight due to the end of 'Golden Week' in Japan.
Ok, that's it. I had to start one week of training at NRT airport, and I had a good time in Japan. Enjoying the Japanese food, I travelled to HND for some photography, I met my friend and went downtown for dinner and some sightseeing. It was a hard schedule for this week, and I was tired when I flew back on KL862 later. Anyway, I really hope that you enjoyed this report. Questions, remarks, and other messages are more then welcome. I've spend some time in it to get it online, so don't hesitate to say just a word of thank you
Next flight to get reported is most probably a special one, on one of our cargo 747's from AMS to NRT in August. I'll try to write a report on there, although I'm on duty that flight.
Cheers,
Eric