WAW from STR by plane/train/plane!
The trip: Earlier this year I read a book about Poland and especially Warsaw was interesting for me, later I saw some pix.
What about a visit there?. I searched the timetables and booked later a trip by plane STR-WAW, from WAW to BER on the
Berlin-Warszawa Express and TXL-STR again by plane.
Sunday, 16.07.2006
Fact sheet:
STR (Stuttgart-Echterdingen) - WAW (Warsaw-Okecie)
4U 2726 operated by Germanwings A 319 D-AKNQ
Scheduled: 10.55 // 12.25
Actual: 11.15 // 12.30
Gate: 123 Seat: Open / Last row, the A seat
Load factor: 92 pax = 63,89 %
Fare: 65,99 EUR
History:
Delivered new to USAirways: 18.02.2000
In Service for Germanwings since: 14.07.2005
What a perfect start to a two days trip abroad, a clear and sunny summer morning at STR.
Arrived early by car at 09.00 am, more check-in desks in the small T2 area of STR airport open than 4U pax there.
That means, no time to wait to check-in my bag and receive my boarding pass as pax no. 10 for todays service to WAW.
A quick chat with Alex/Ndebele, to divert him from work!.
Also no time to wait at security. I went downstairs to the area between T3 and T4 with the best apron views and followed the traffic.
Sunny STR: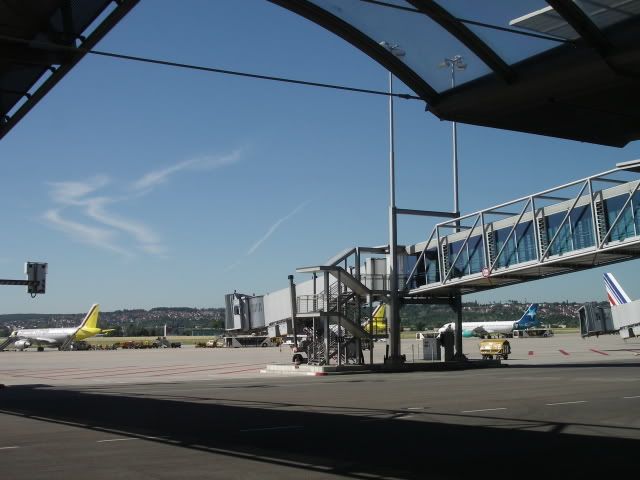 At around 10.00 am I checked the screens to find out where will my plane arrive from, WAW was the last of five 4U servies leaving nearly the same time and the last incoming one was from PMI with a 15 minutes delay, that will be mine.
DL heavy at the gate beneath: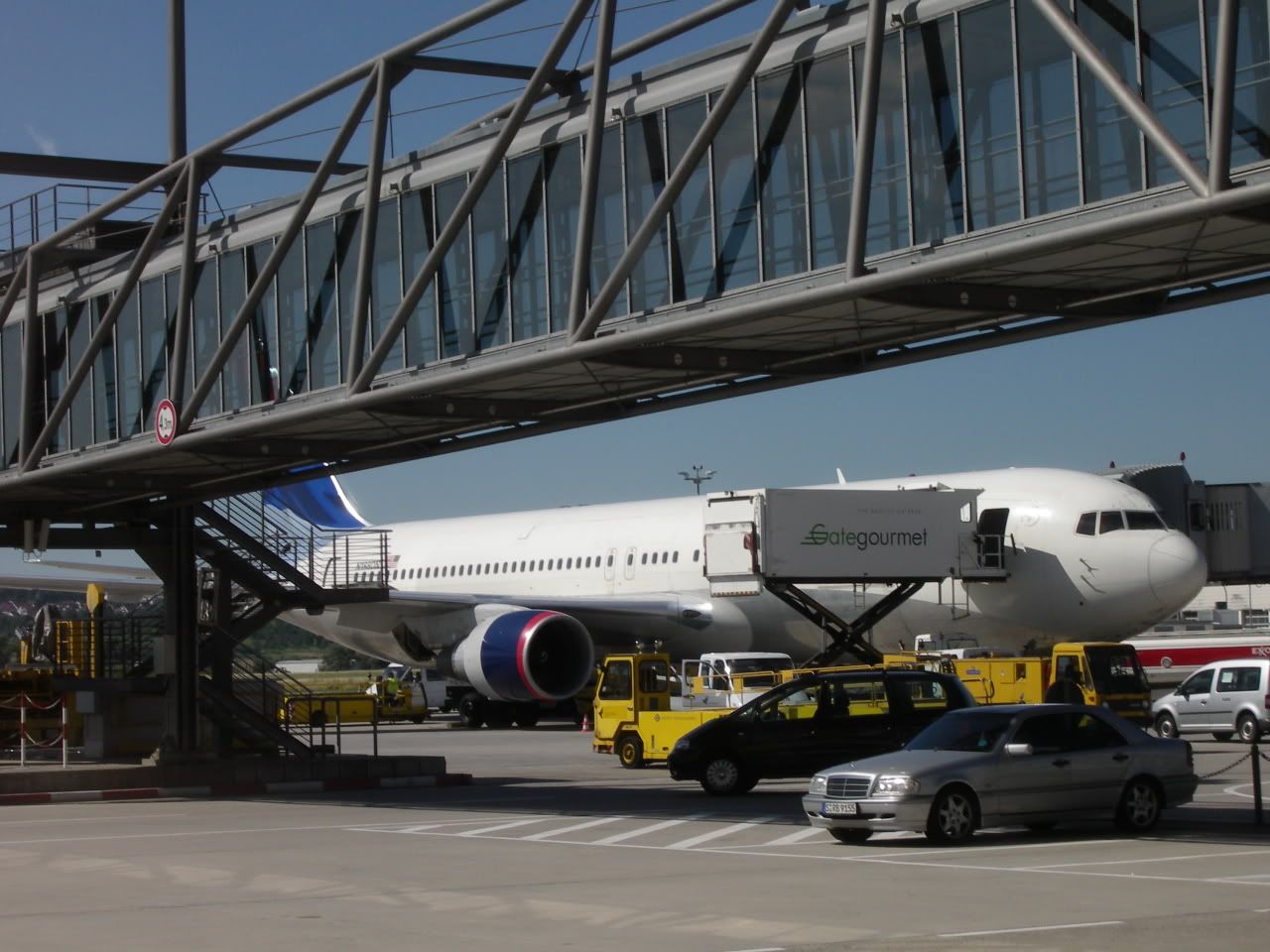 A319s only on this service according to ACARS.
OK, crossed passport control, again no time to wait and settled down at the gate for further information.
A KC-10 tanker: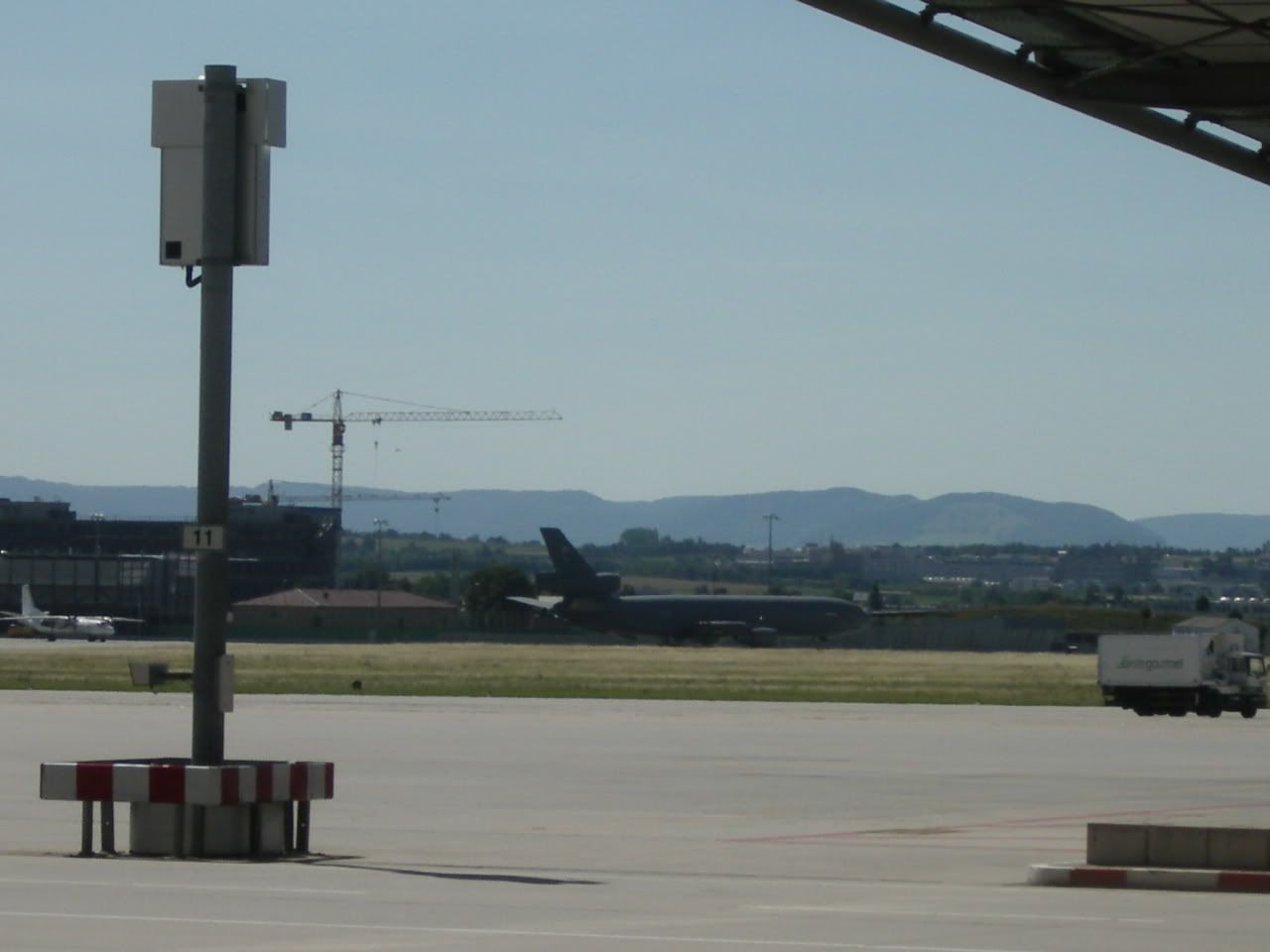 Two females arrived and anounced the expected delay, the plane arrived and short thereafter, boarding by bus started.
I was in the first bus, entered the plane by the rear stairs, explained my fact sheet to the friendly FA and take my usual window seat in the last row.
D-AKNQ was todays machine, leisure flight no.22 on the A319 and the first on this plane.
Arrival D-AKNQ:
Runway 07 was in use today and we had to wait there for some arrivals and three other departures in front.
A quick run and on the way to WAW. D-AKNQ is an ex US-Airways one, that means fitted with the grey fabric seats. Plane condiiton itself was ok.
Good wheather, but hazy, so no pix from cruising.
Detailed and good informations from the flightdeck around the flight. Nothing special about the service on this leg, all three FA s friendly.
We´re going fast and approached WAW nearly ontime.
Some lakes on approach to WAW: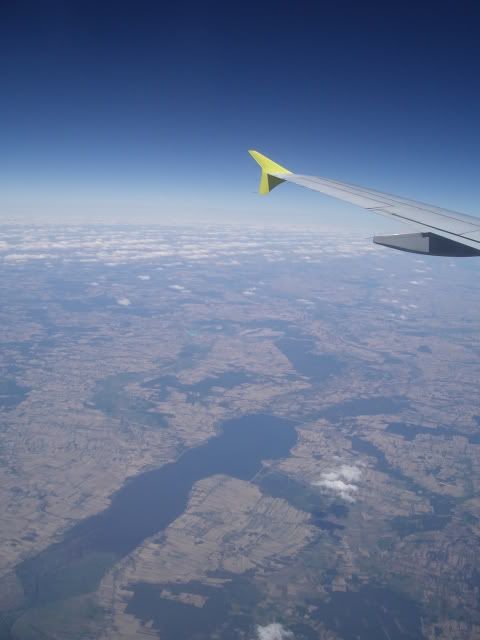 Arrival on runway 33 , heavy brakes and a quick taxi to our apron stand. I picked up my fact sheet in front, said goodbye to the real friendly crew and was one of the last pax in the bus to the terminal.
D-AKNQ at WAW: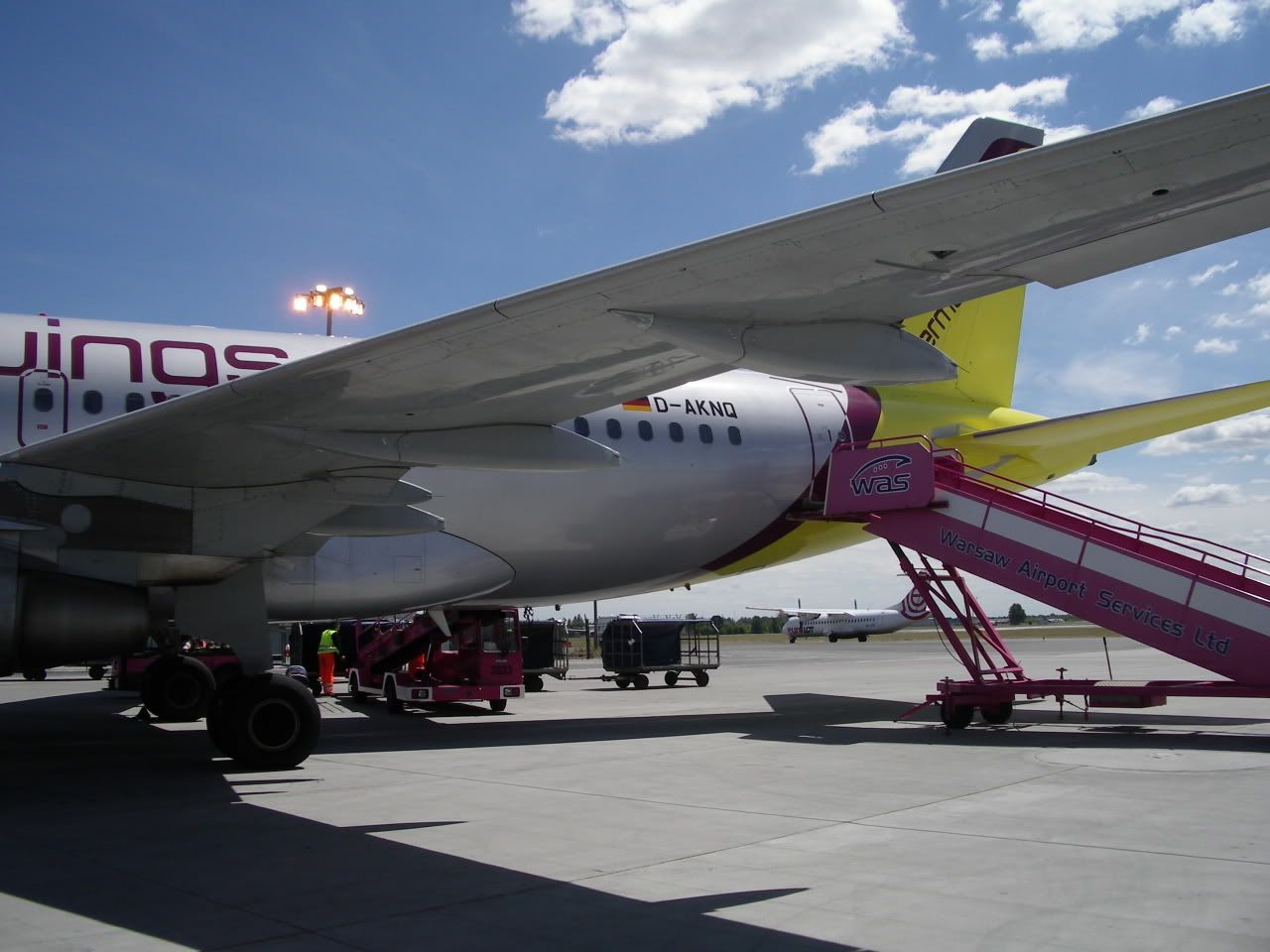 D-AKNQ after deboarding:
4U operates from the Etiuda Terminal, that´s nothing more than a larger garage, one luggage belt, lucky that there was no other arrival when I was there.
View from Etiuda Terminal: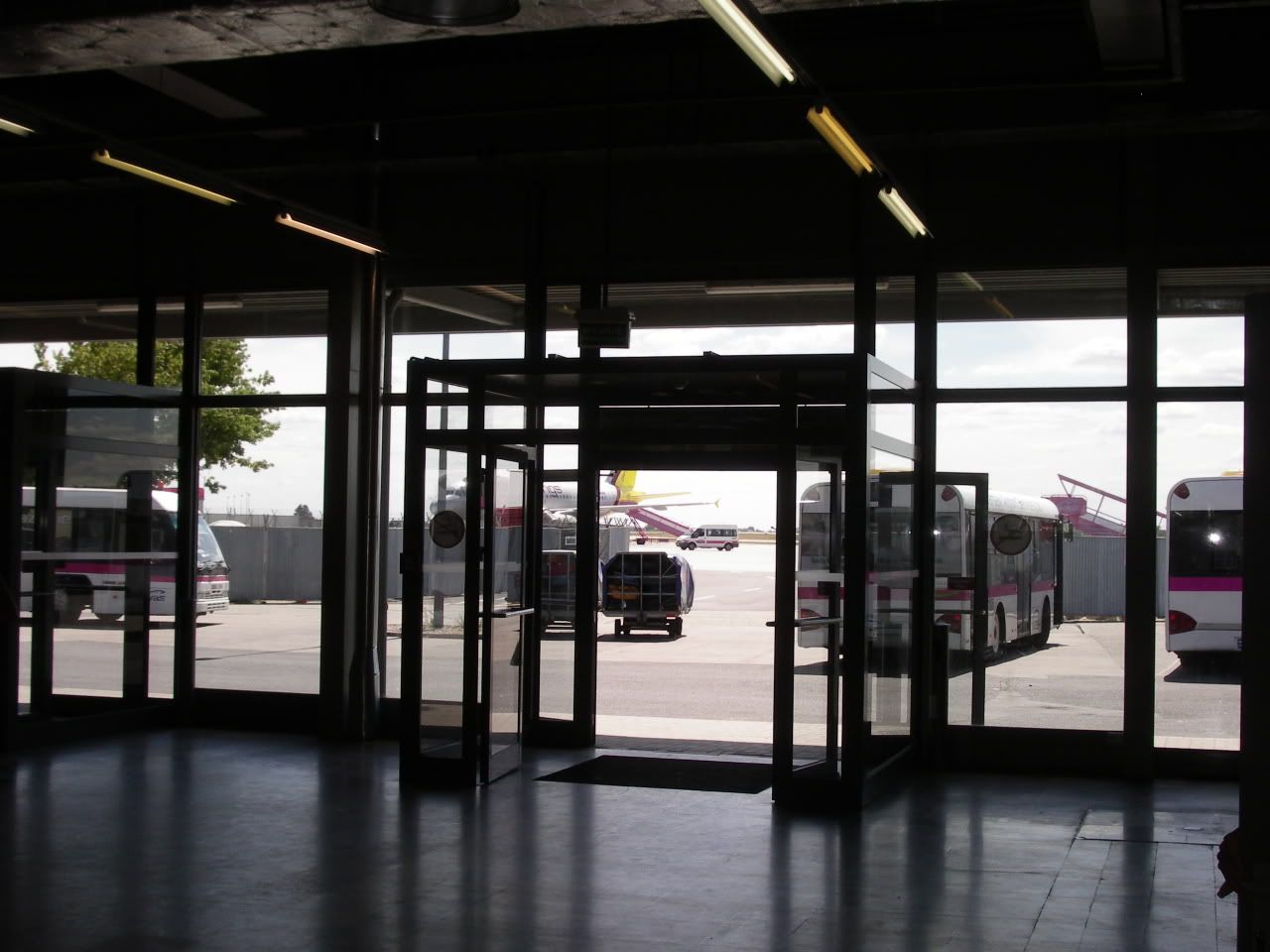 I changed some money during waiting for my bag, some 5 minutes to wait, out in the public, bought two tickets, one for me and one for my bag (each one 2,40 Zloty)
and take the waiting bus no.175 to the city center.
Deboarded at Warszawa Centralna, the main train station and walked around ten minutes to my hotel, the Radisson SAS Warsaw Centrum.
My accomodation: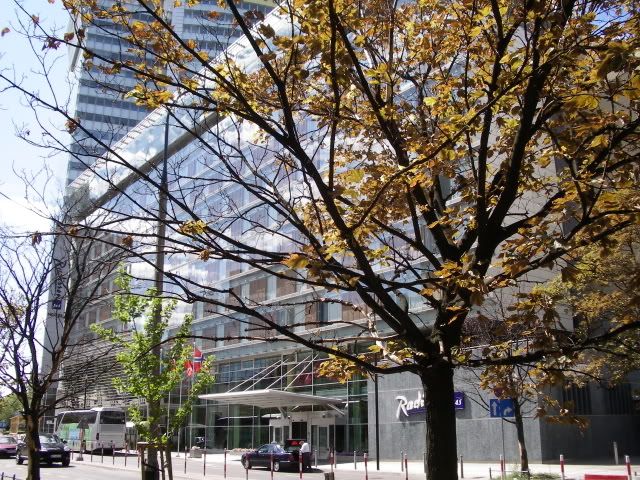 The Radisson again: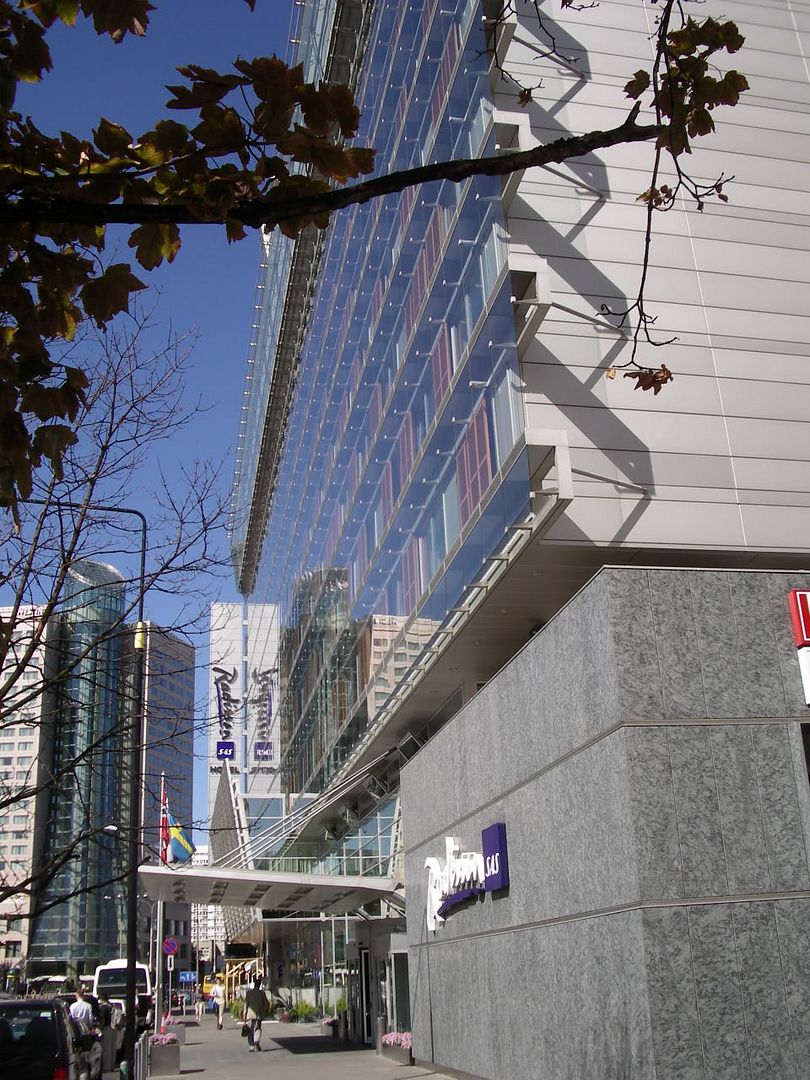 That is a real recommendable accomodation, booked for as low as EURO 79.-- B&B by Thomascook. Newly opened, well, but not over-designed, very friendly staff.
I was upgraded to the 9th floor, called the business floor with an incredible view to the city center.
Some pix from my Warsaw City explorations:
The Anna church: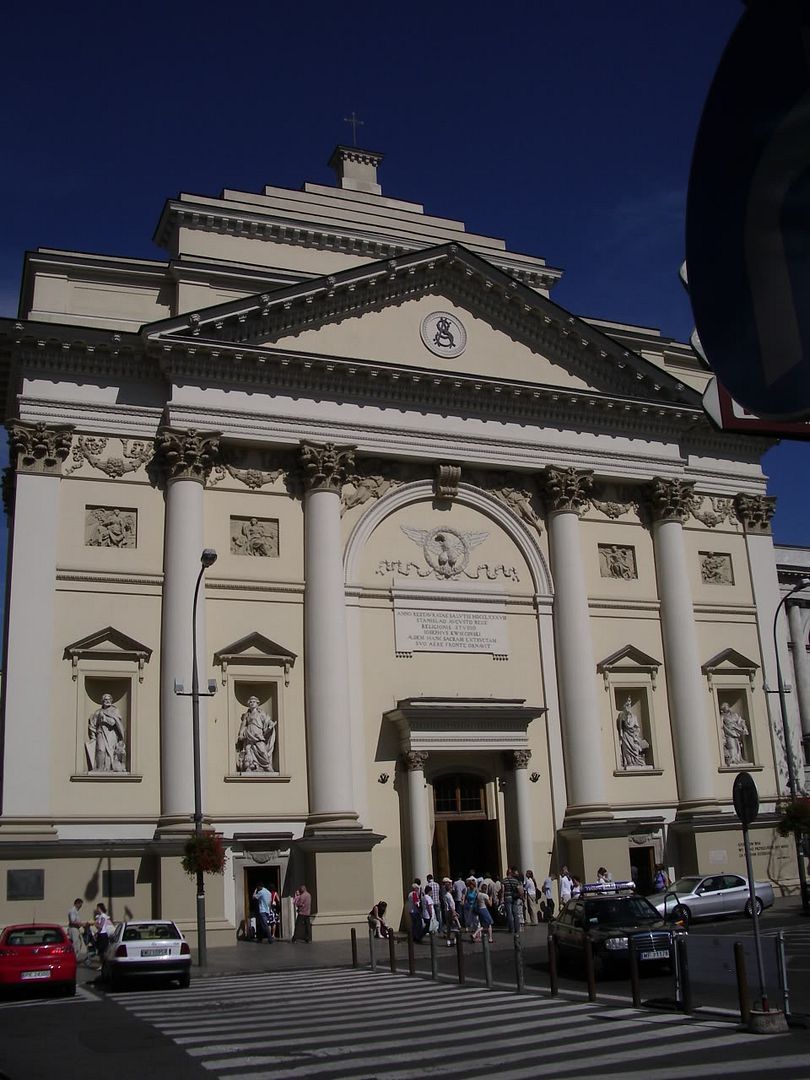 Warsaw castle:
Again Warsaw castle: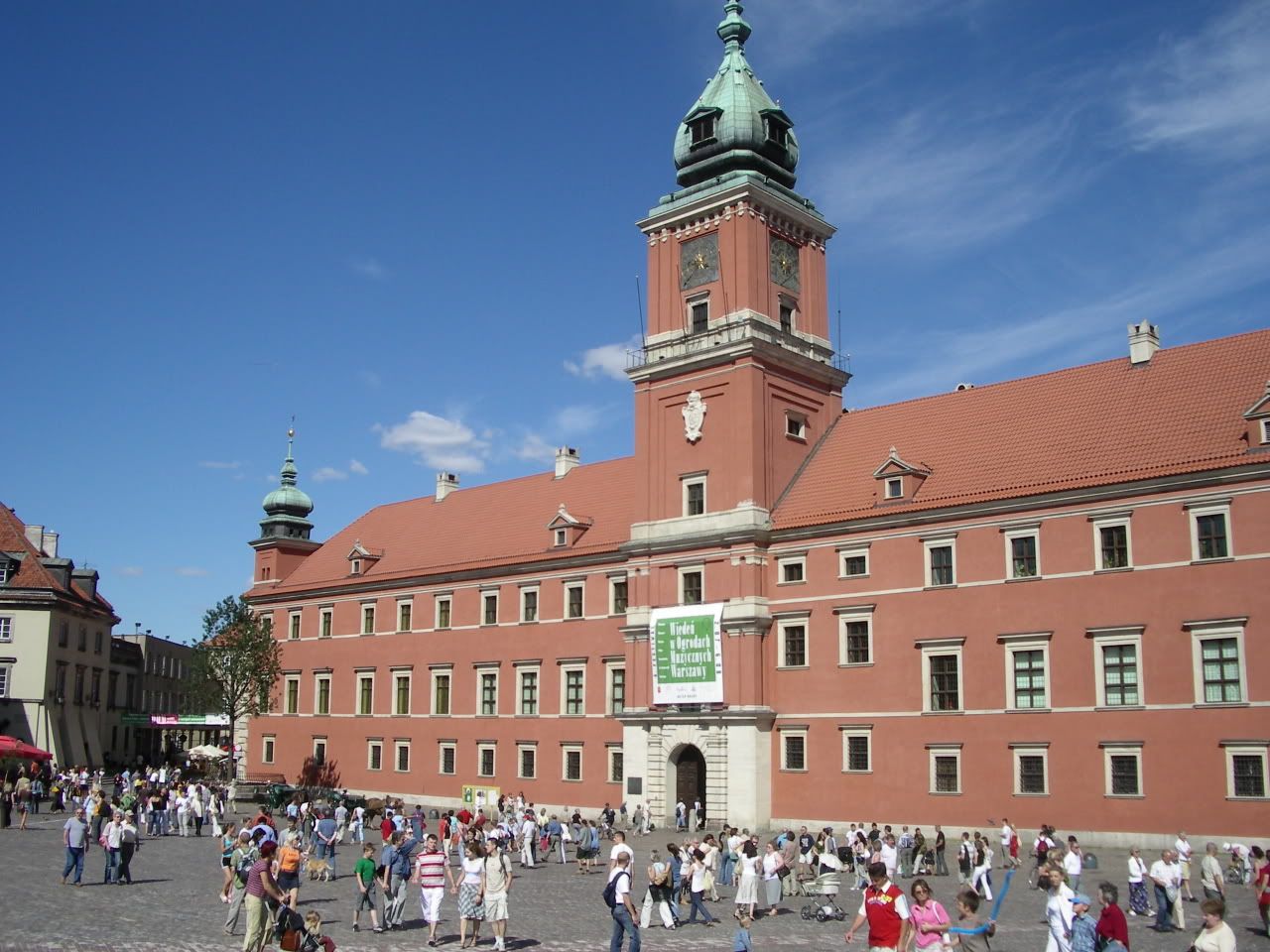 The Palac Kultury, main entrance: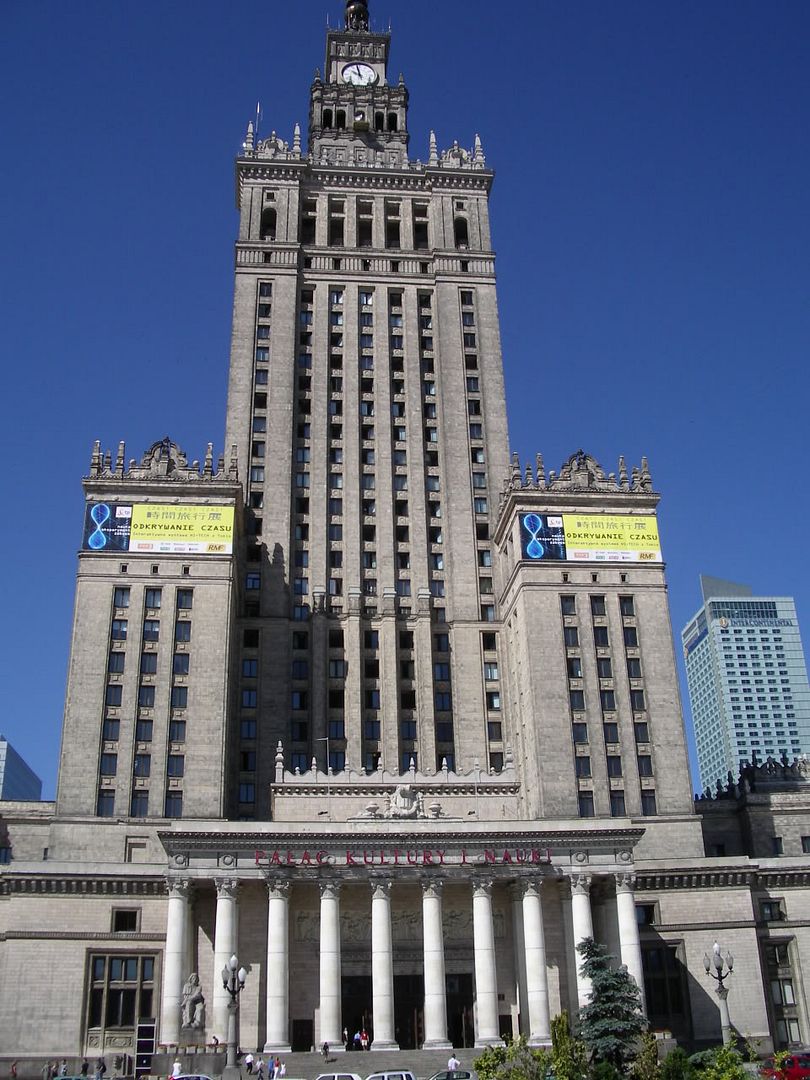 View from my room at night: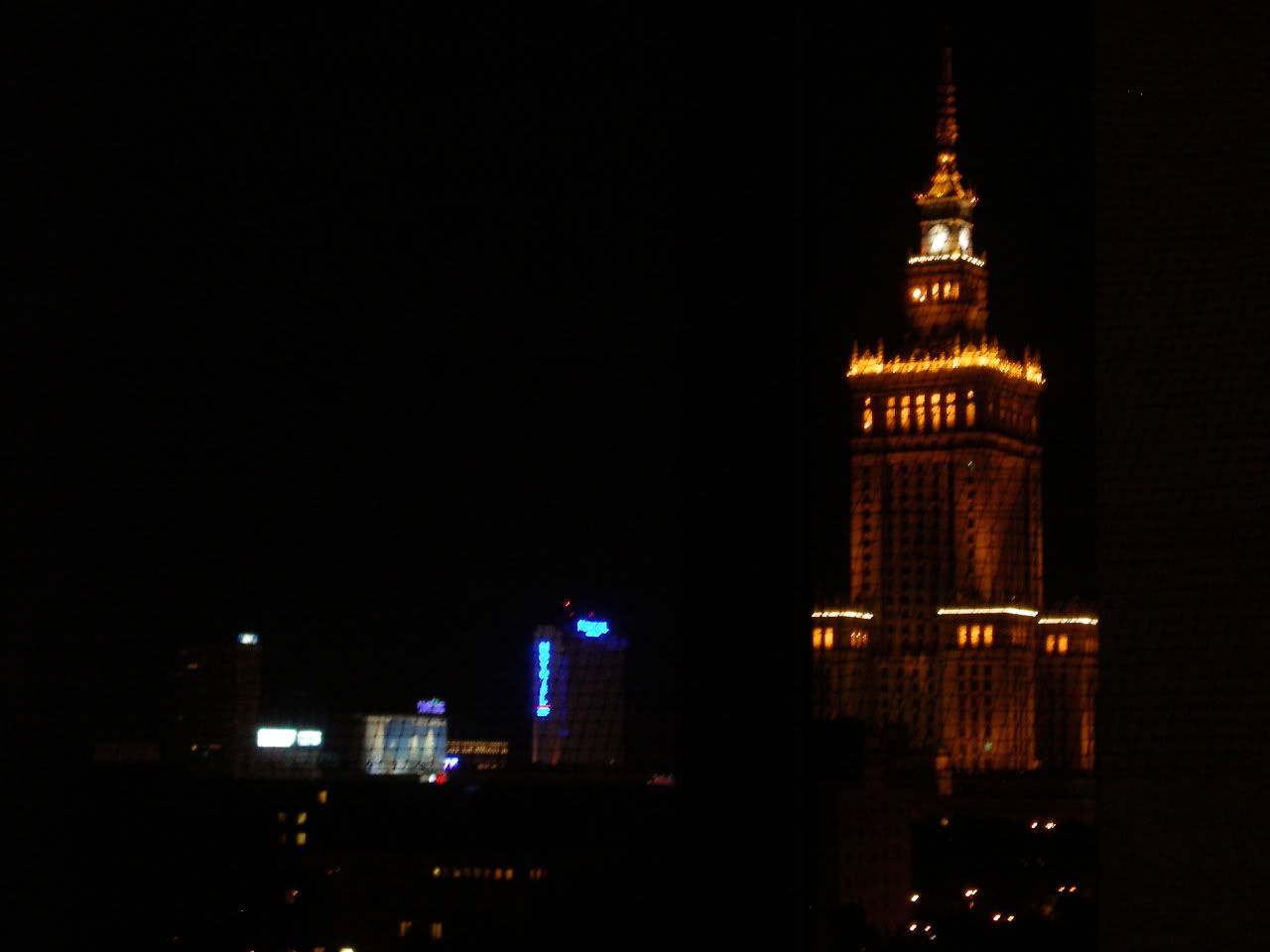 The Palac Kultury, rear side: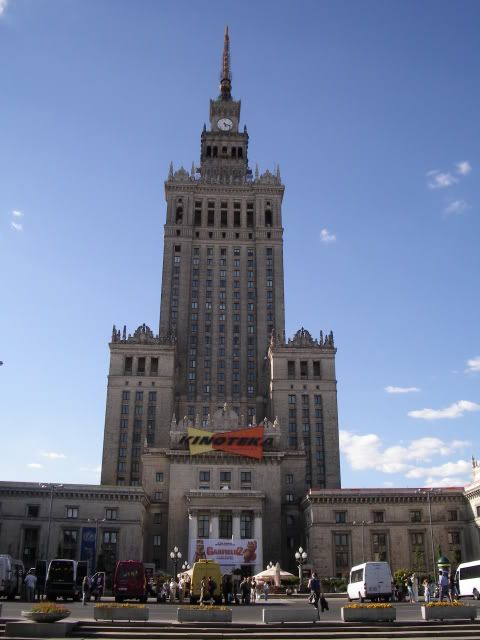 My intention for monday was to go by the Warszawa-Berlin Express train leaving 11.25 am from Warszawa Centralna and arriving in Berlin-Hauptbahnhof at 05.05. pm.
Quite an interesting run across Poland from east to west, I like it to follow the landscape outside both from the plane as also from the train.
Fare: 29,30 EUR, real good.
The train: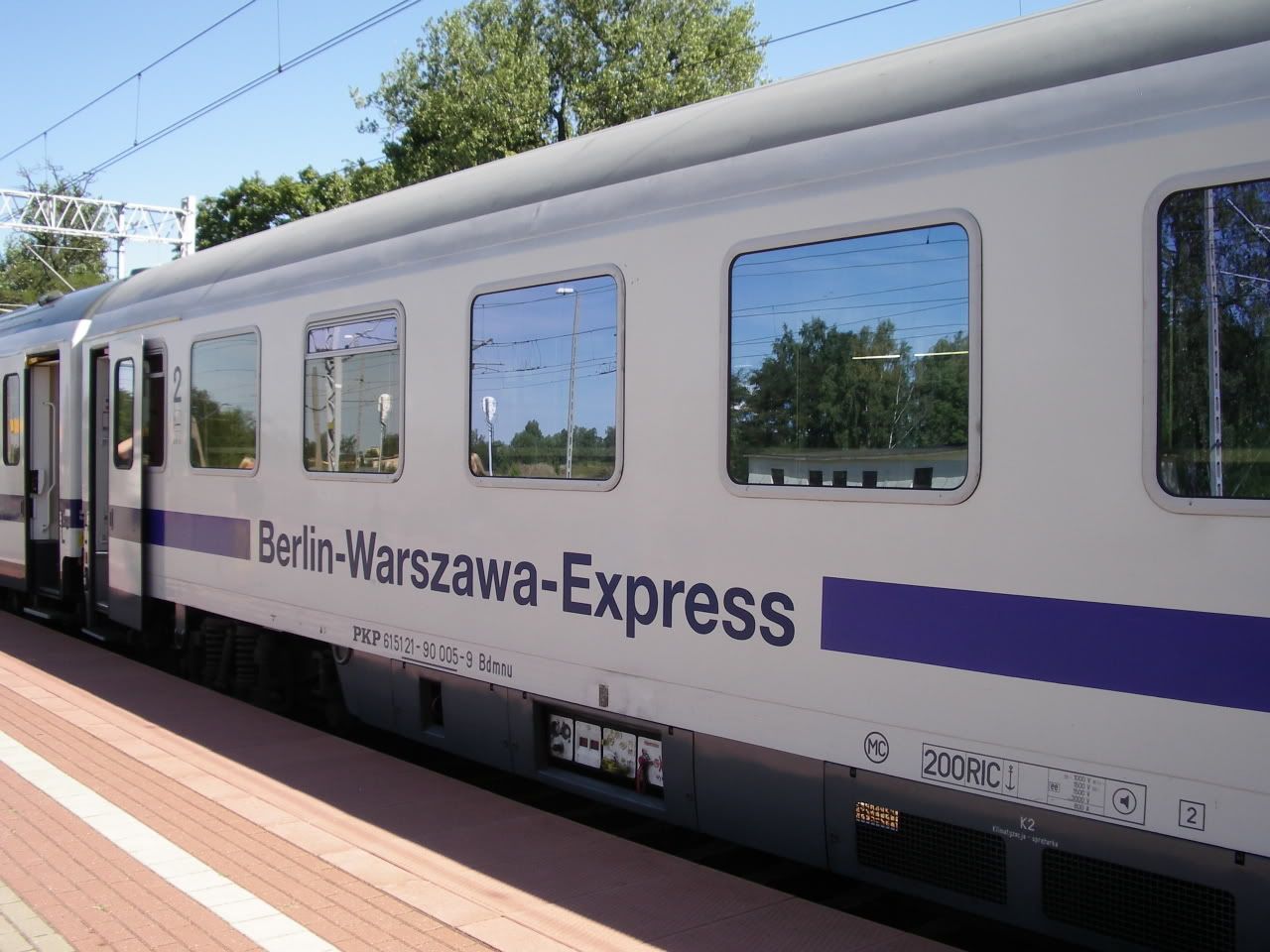 Polish power from Warszawa to Rzepin:
I built some more time in my schedule as this train runs sometimes late, and its according to a train enthusiast site the only scheduled train with an diesel and an electric engine and more special, the diesel was a Russian machine called "Ludmilla", very special and interesting.
Arrival at 05.30 pm, only 25 minutes delayed at the new Berlin main train station, also an experience itself to explore the largest train station around europe.
Russian and german power at the Lehrter Bahnhof: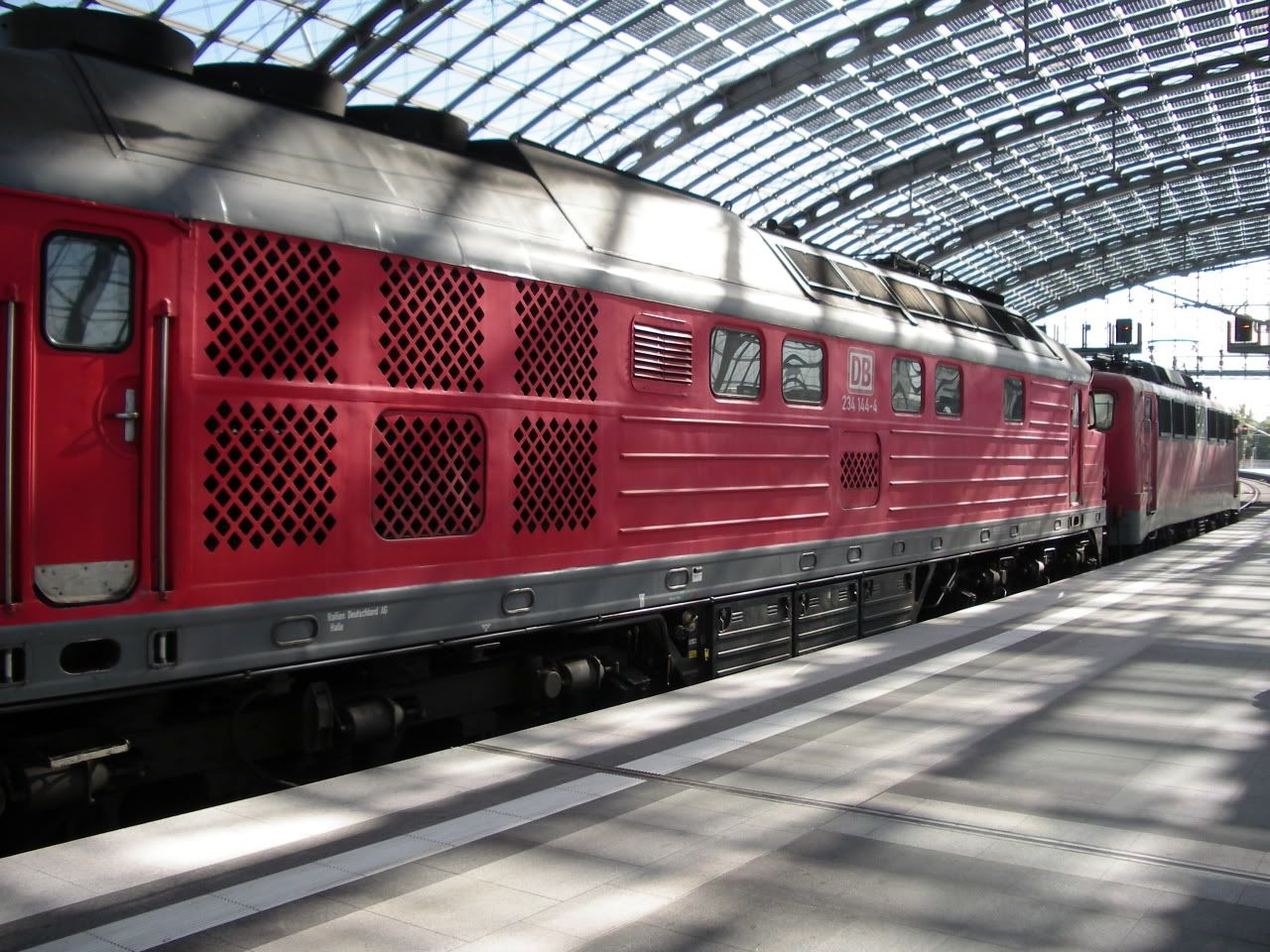 And again: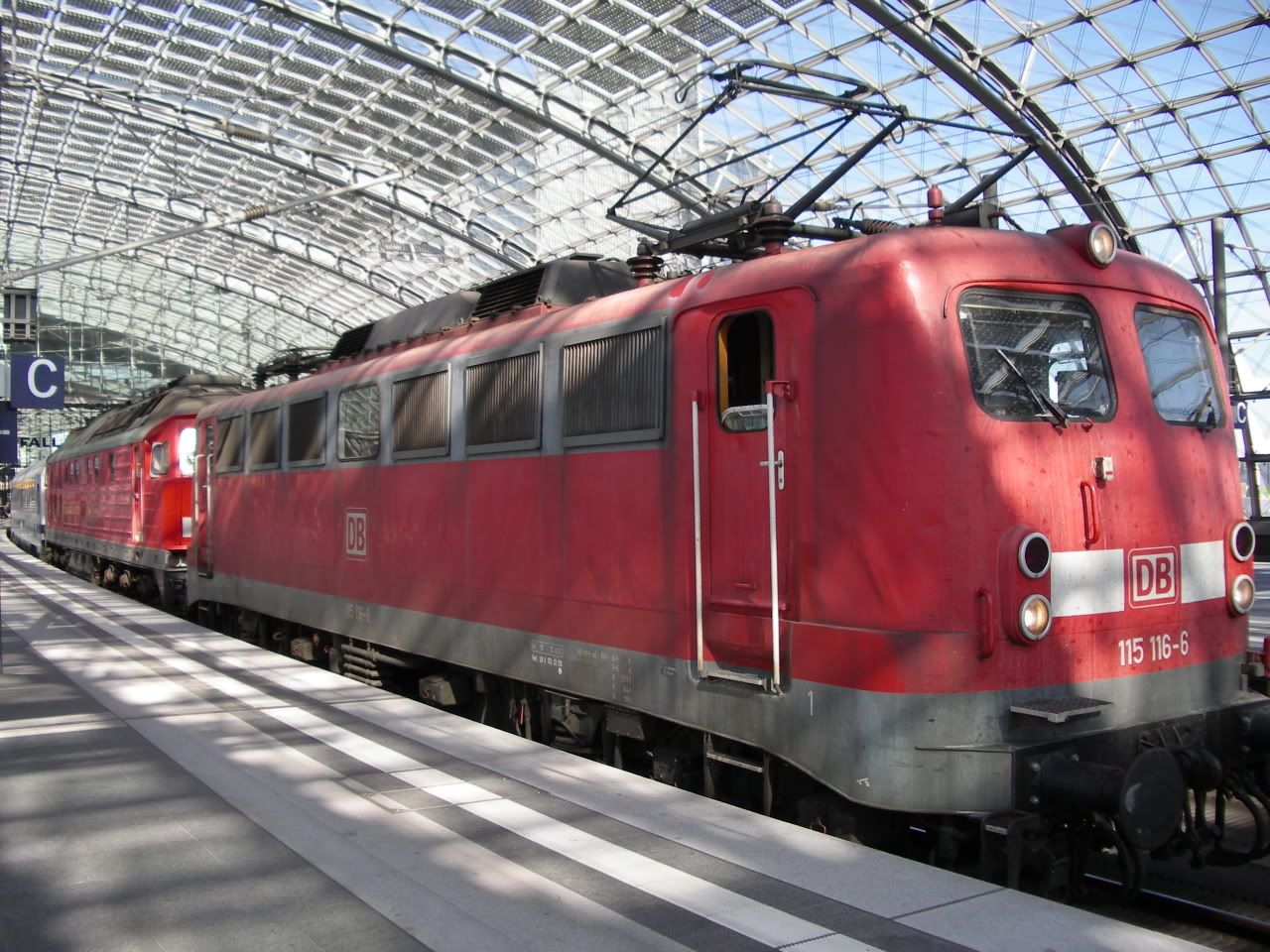 Take the next bus to TXL and...
Monday, 17.07.2006
Fact sheet: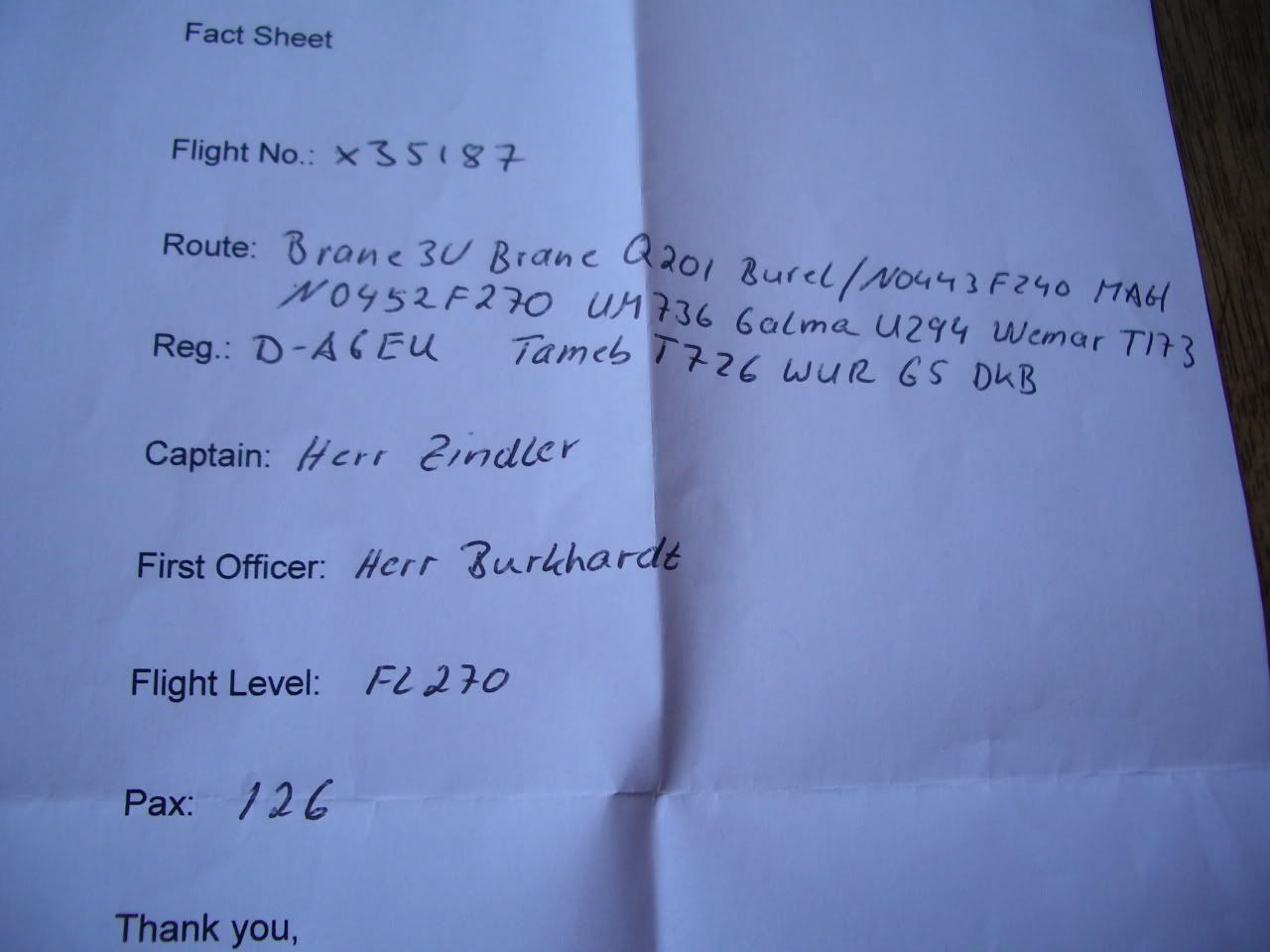 TXL (Berlin-Tegel) - STR (Stuttgart-Echterdingen)
X3 5187 operated by HLX B737-700 D-AGEU, this plane is owned and staffed by Germania and wet leased to HLX
Scheduled: 20.35 // 21.50
Actual: 20.35 // 21.35
Gate: 19D Seat: Open, last row, the A seat
Load factor: 126 pax = 85,14 %
Fare: 43,15 EUR
History:
Delivered new to Germania: 11.04.1998
Leased to HLX: 01.03.2003
Check-in was open as I arrived at 06.30 pm, no time to wait and checked-in as pax no. 8.
I spent some time outside at the fence beneath the terminal, nothing special but quite a high frequented day at TXL.
Crossed security without problems and waited, which plane will arrive for my service to STR?.
The flight was operated the last weeks with the B737 on weekdays and the F100 on weekends.
D-AGEU approached the stand as a SK DHC 8/400 to ARN leaves, so leisure leg no. 4 on the 737-700 and the first on this plane.
D-AGEU on finals to its stand: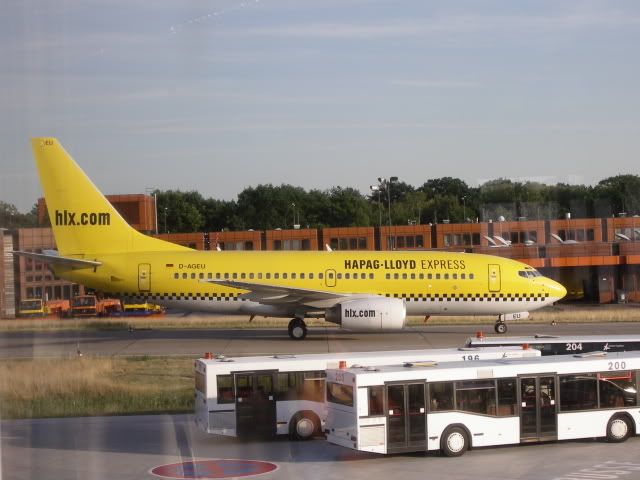 Taxi D-AGEU: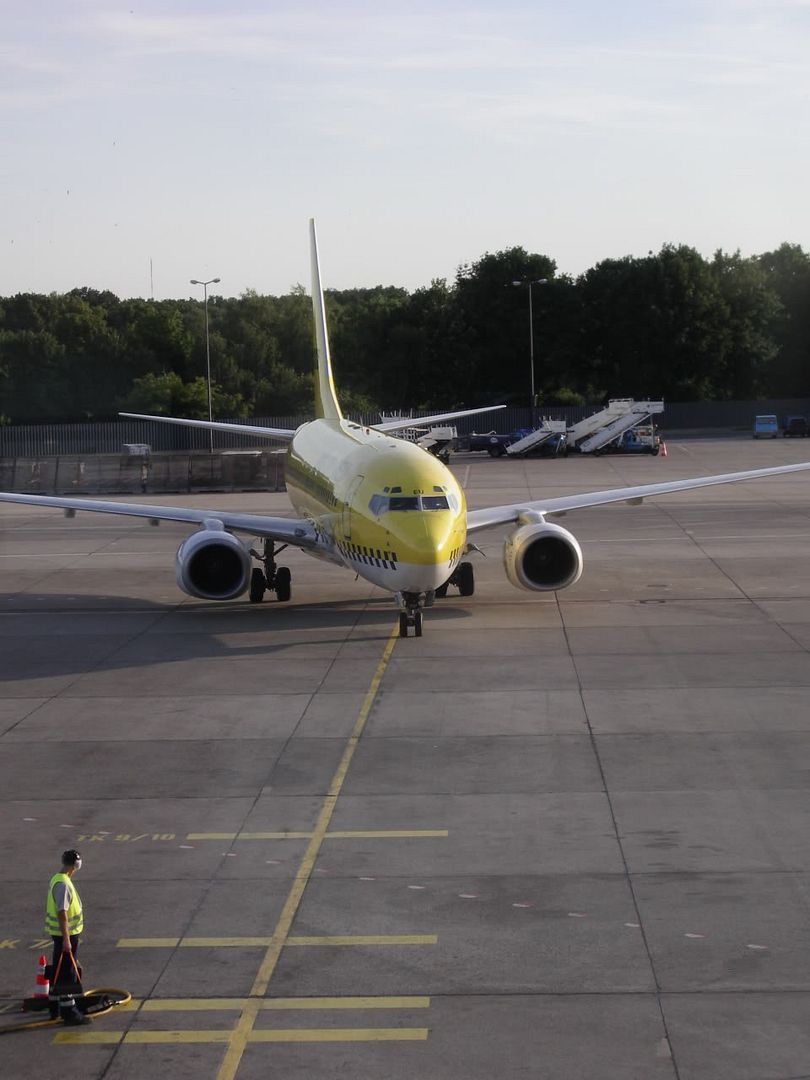 And D-AGEU parked:
Some time to wait to board, the girls gone nervous with the huge number of pax and nothing goes forward.
Finally boarding started at 08.20 pm, we had to walk to the plane, entered by the rear door, pax queueing at the front door as usual.
Once again I handed out my fact sheet to the friendly FA there. Only one approaching plane to wait for a runway 08R departure.
Also this crew does a good job, detailed informations from the flightdeck and real friendly FA´s.
Plane fitted with bright grey leather seats, clean, ok so far.
The pilot called the wheather: Nothing better, calm air and a view from pole to pole.
Aproach to STR was interesting, we´re heading east of STR, what seems like a runway 25 approach, but turned right over the city, along the runway in western direction,
turned sharp and landed on 07, sure not the usual ILS approach.
Parked for the night-stop, the pilot awaited me with my fact sheet in front, explained me some details about the flight route and the flight itself and once again I was the one of the last pax to enter the bus to the terminal. Also a real friendly crew.My bag arrived quick and after a long days ride on the way back home.
Conclusion:
Both Germanwings and HLX done a good job. Friendly FA´s and cockpit crew, ontime arrival on 4U, 15 minutes ahead to schedule on HLX, good fares. Both really ok.
Warsaw itself impressed me for real, a large and spacious city, a nice old town, I dont feel unsafe there, like some pople mentioned.
One new airport for my log and the train ride across poland, two real interesting days.
Comments and critics, as always, welcome,
Markus (FLIEGER67)