Well here's part II of my WBC experience to the Philippines report. Enjoy.
After a week of enjoying time with relatives, getting more bang for my buck, and getting away from the burdens of school, it was time for me to return back to Sapporo. Since NW flights out of MNL leaves early in the morning, I would have to fly there the day before and spend the night which gave me ample time to explore for a bit. I was definitely looking forward for this especially since we never bothered staying overnight in Manila ever since we flew PR.
Philippine Airlines
PR142, ILO-MNL
18 March 2006
Economy Class
Airbus A320-200
After my cousin and I checked in, we went across the street to meet with my relatives as well as enjoying some of Iloilo's famous
La Paz Batchoy
before going back to the world of equally delicious Sapporo Ramen.
Iloilo Mandurriao Airport's terminal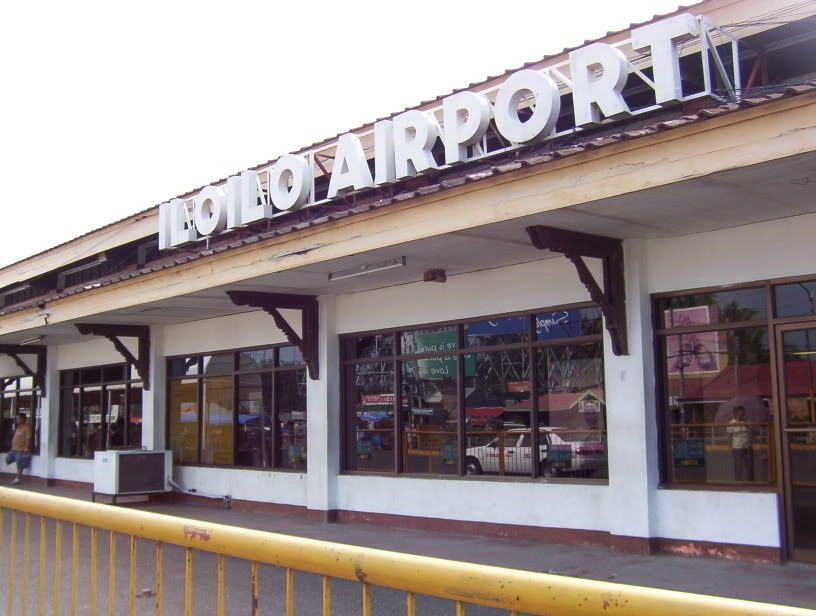 It was time for us to go through security came and I gave my final hugs to my aunts, uncles, and cousins before we went into the terminal. I promised that I would see some of them in June (something I unfortunately did not uphold) and the rest of them in my vacation in December.
The departure hall was packed with little or no seats avaliable.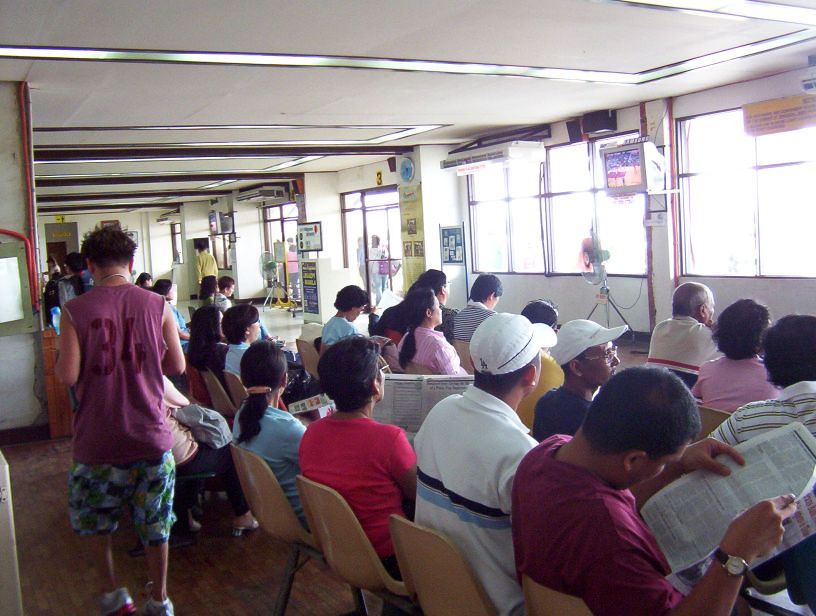 Check out the vintage PR sticker still hanging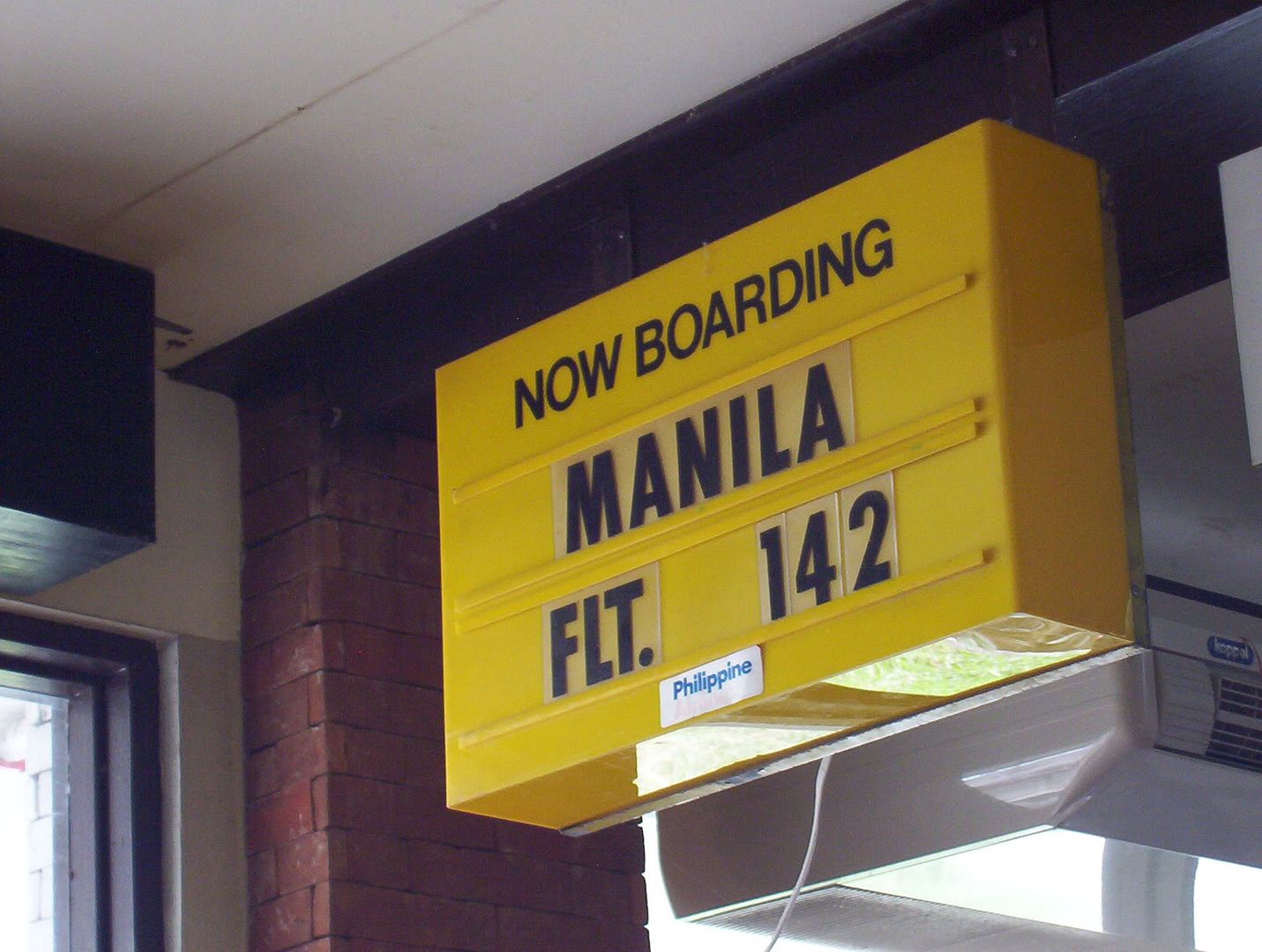 I really can't wait until they finish with that new international airport!
A brand-spanking new Cebu Pacific Airbus A319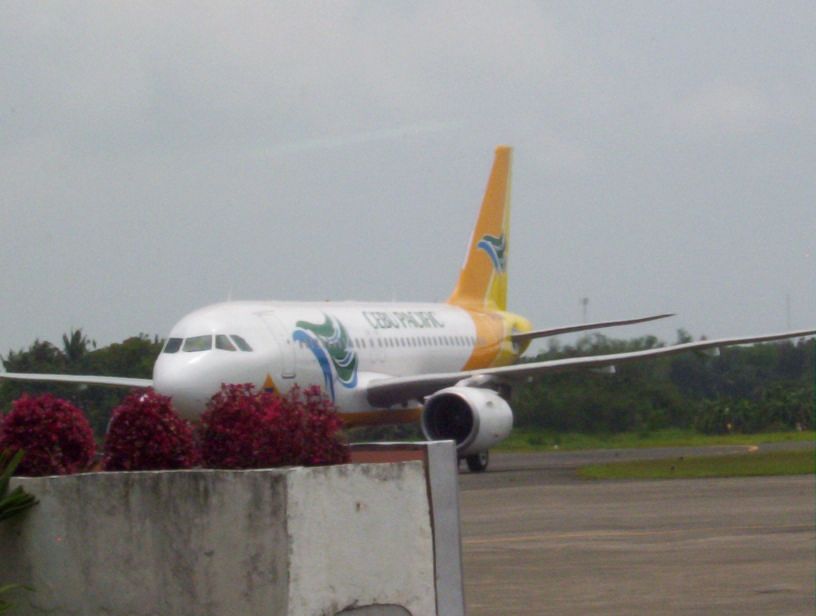 Like in my flight to ILO, both the forward and rear exits were used for boarding/deplaning which meant fast boarding for us. The PR A320 we were on still had the seats of the airline that previously used this aircraft sans the Mabuhay Class seats.
Condensation coming out of the vents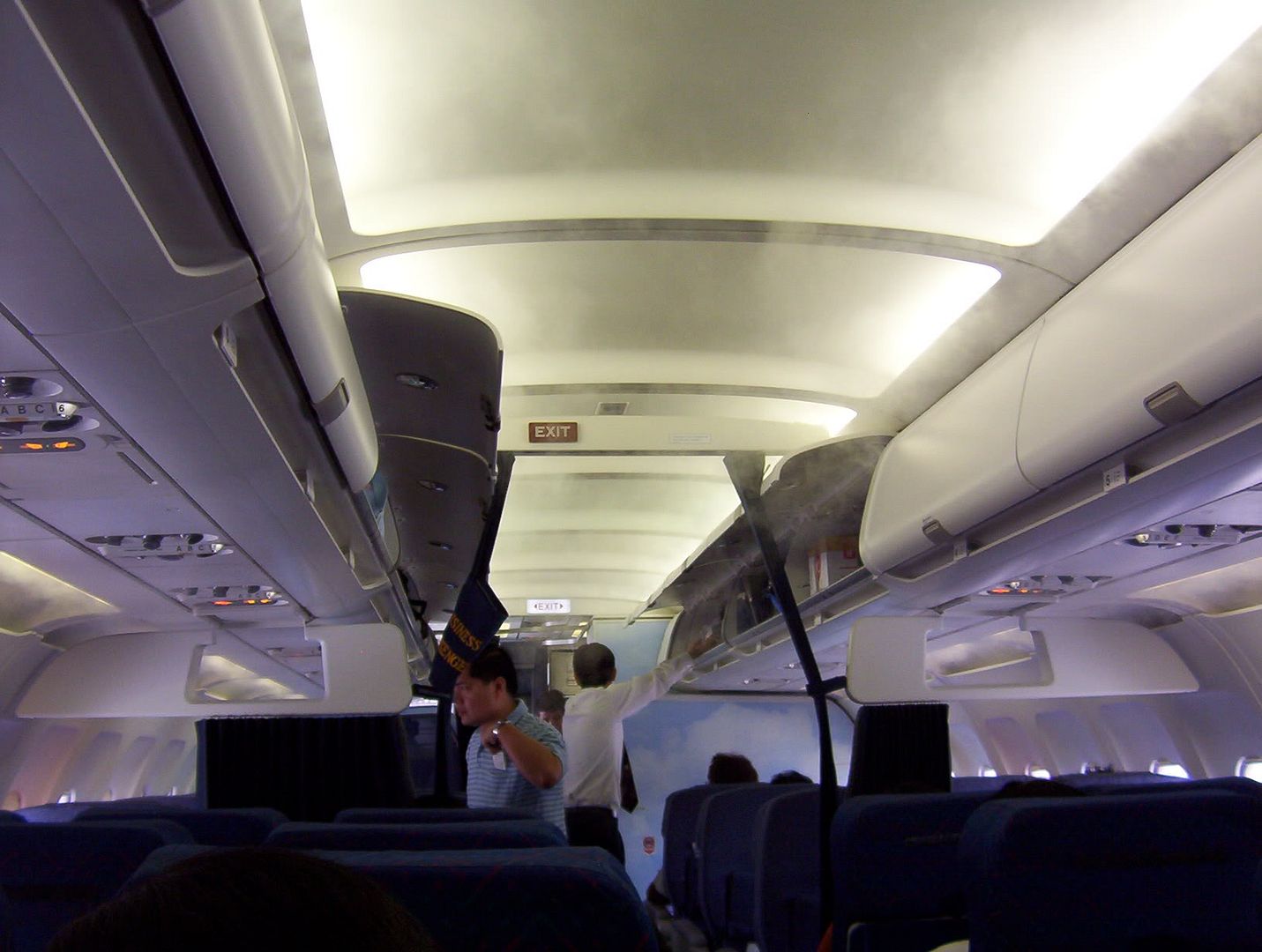 Take-off went smoothly and soon we were in the skies above Panay Island. Unfortunately I took some Benadryl before the flight since I had some serious swelling due to allergies from mosquito bites so I was pretty drowsy until snacks came around and requested a coffee.
Snack pack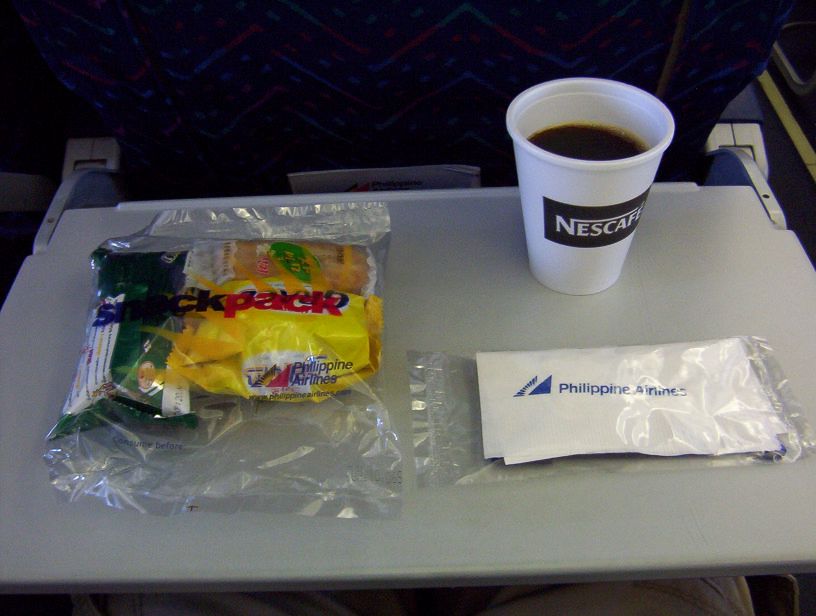 My cousin noticed that there was a locally famous singer sitting in the row in front of us (the name escapes me, I'll try to ask again the next time I chat with her). The best shot I ever got of her was just the seat she was in...so much for that.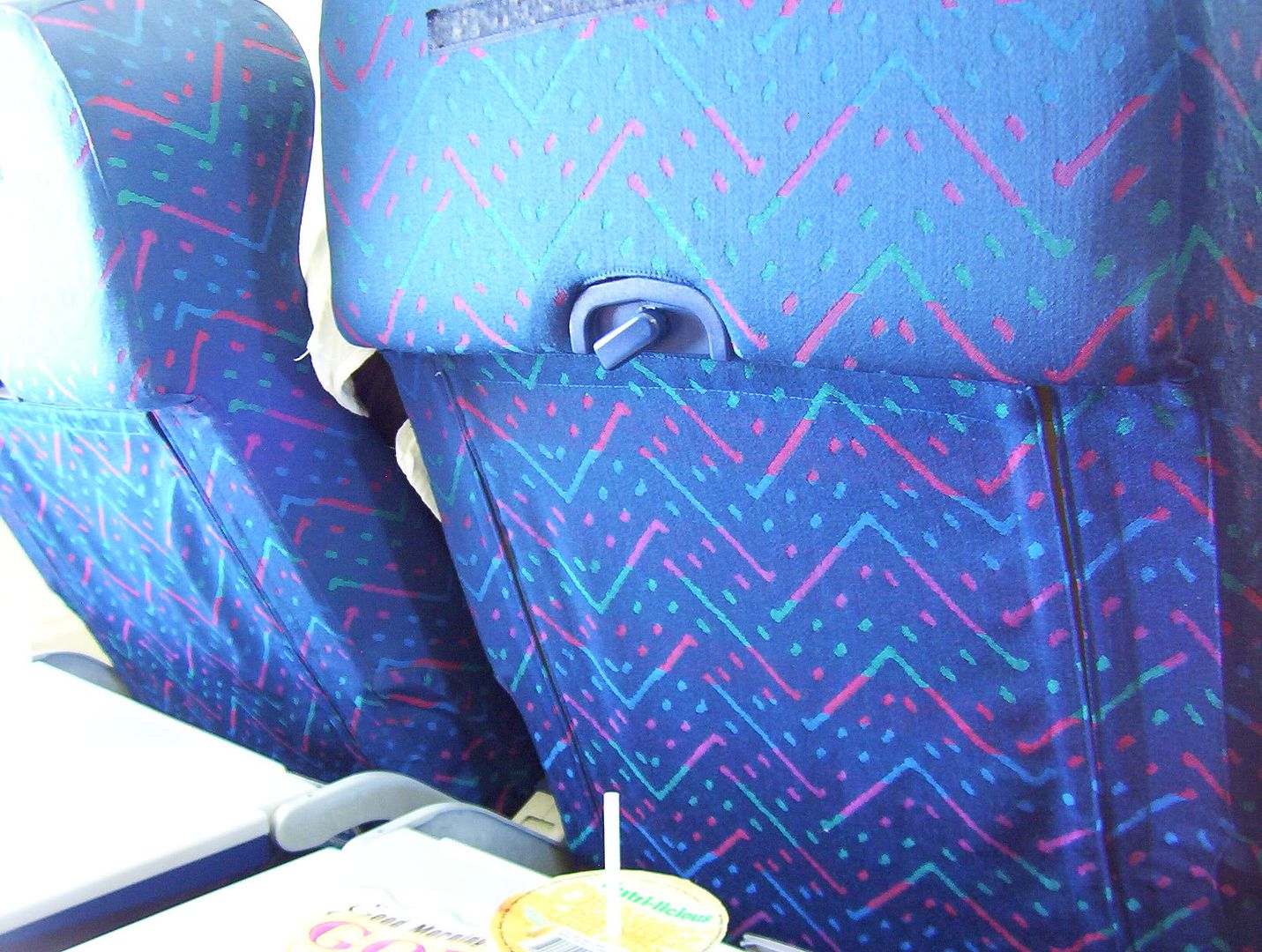 After hitting some minor turbulence, we descended into a cloudy Metro Manila. Landing was smooth and the A320 quicky taxied to the domestic wing of Terminal 2. Deplaning was another breeze and within a few minutes, I grabbed my luggage and went off to the upper level to catch a taxi.
A view of the A320 from the jetway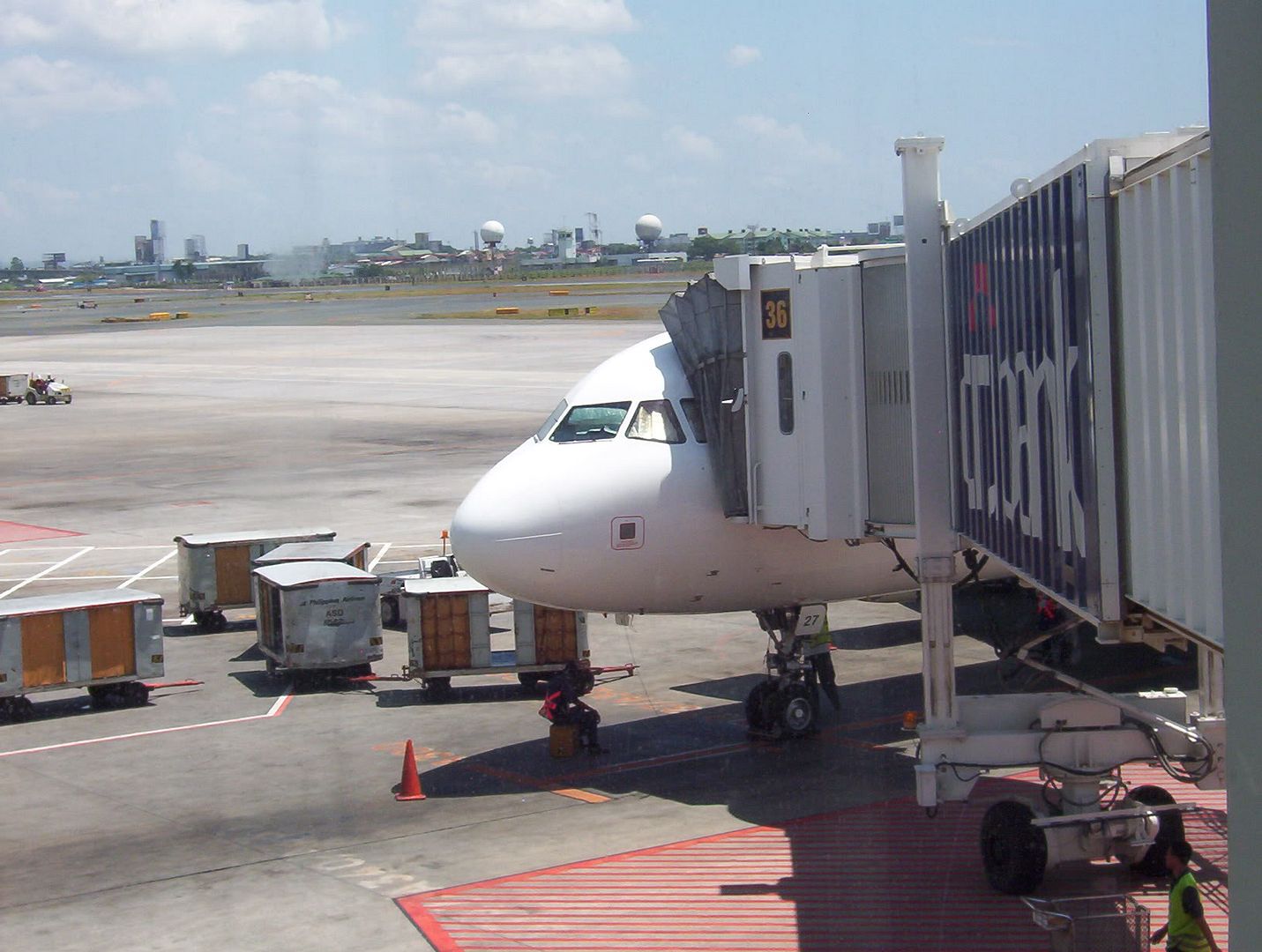 Baggage claim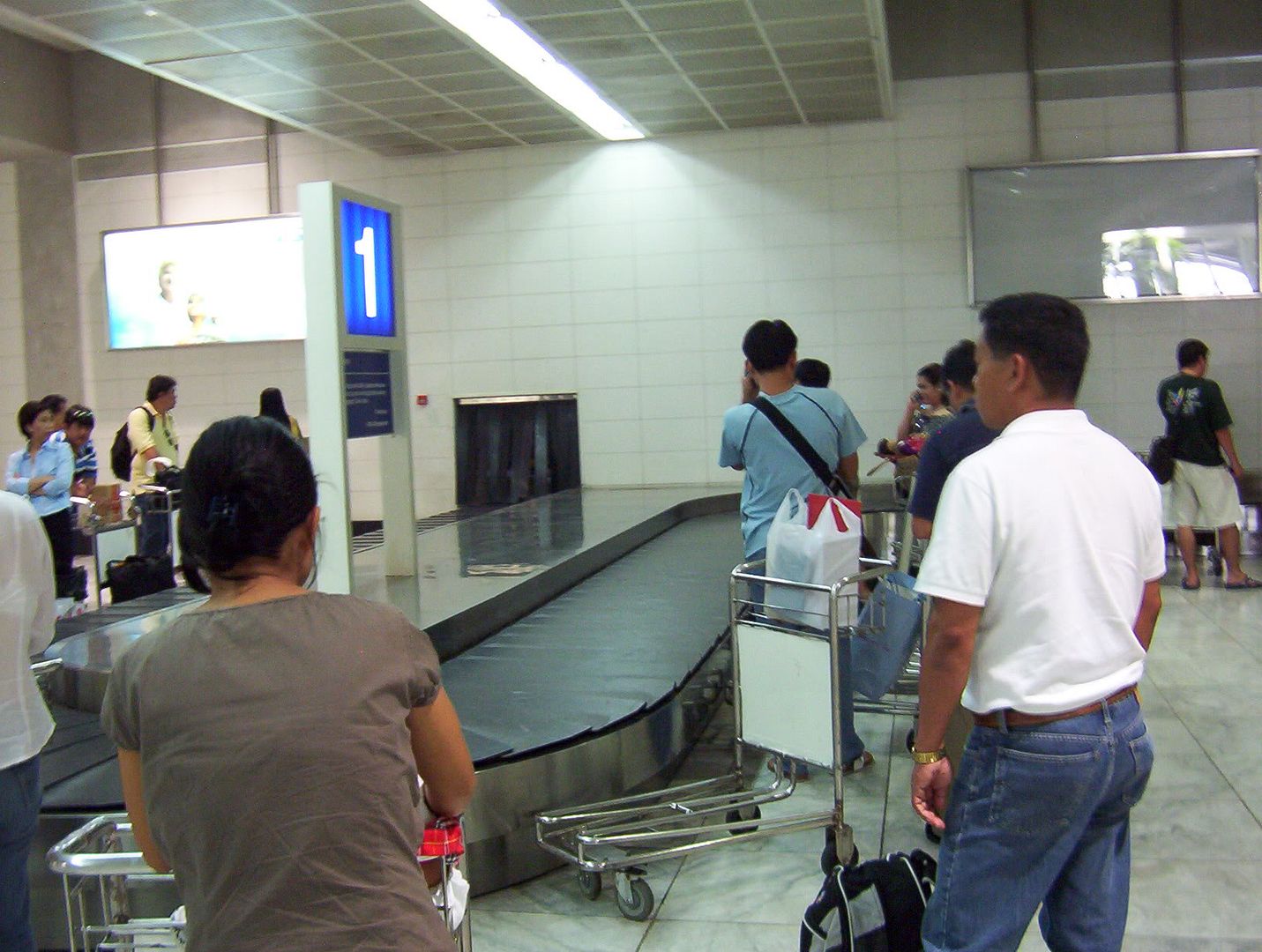 One of various English-Japanese plaques throughout the terminal
A view of Terminal 2
Layover in Manila
Once again, we were staying in the Hyatt Regency at Roxas Boulevard. Definitely a very nice hotel though I wish that I gave my WorldPerks number to the staff so I could get some miles off this stay. :
A view of Roxas Blvd. The Japanese embassy is to the right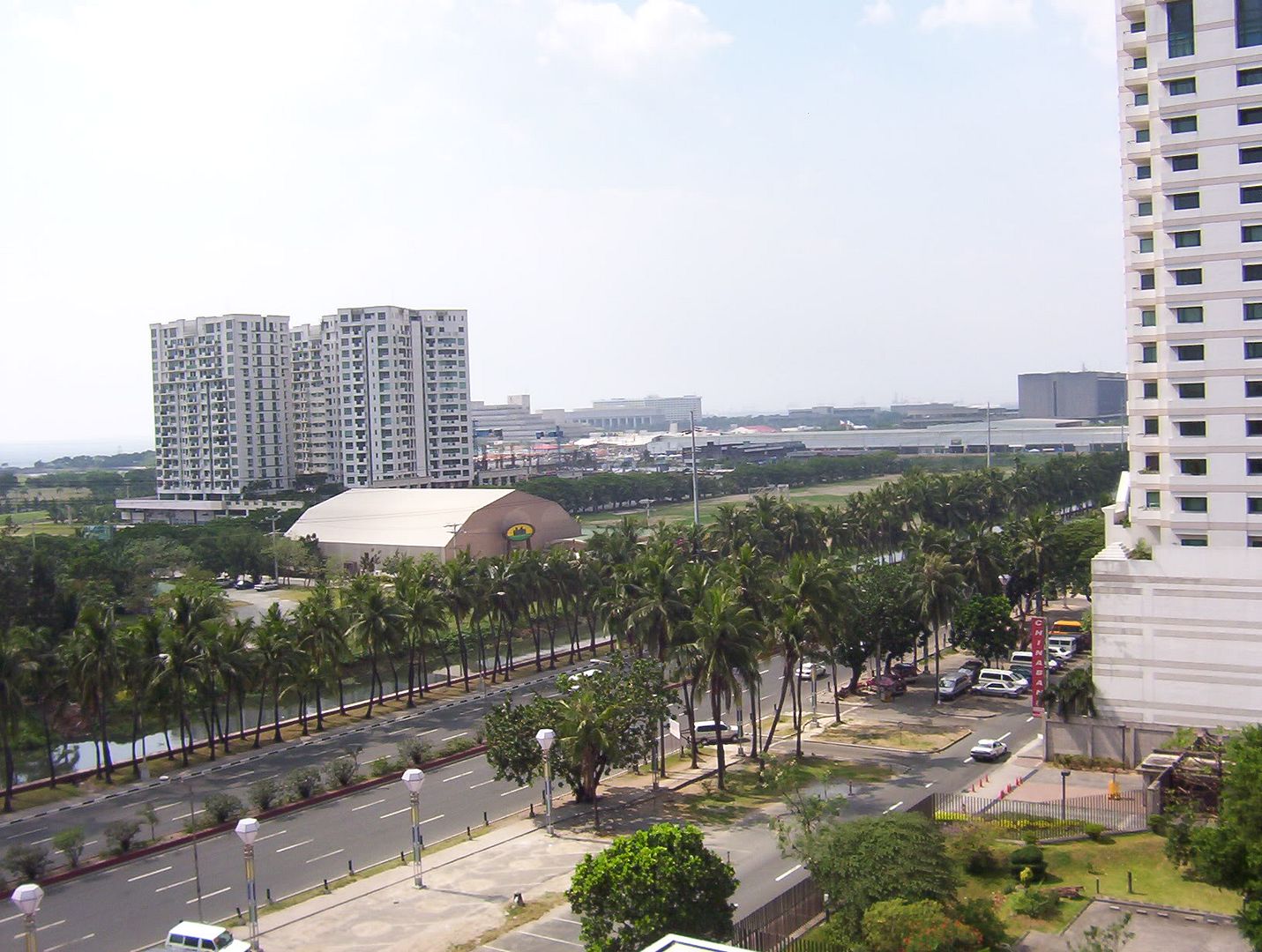 After taking a quick rest, we went off to the acclaimed Greenbelt Mall at the business district of Makati where we had dinner at (out of all places) Bubba Gump's.
Some shots of Greenbelt and Makati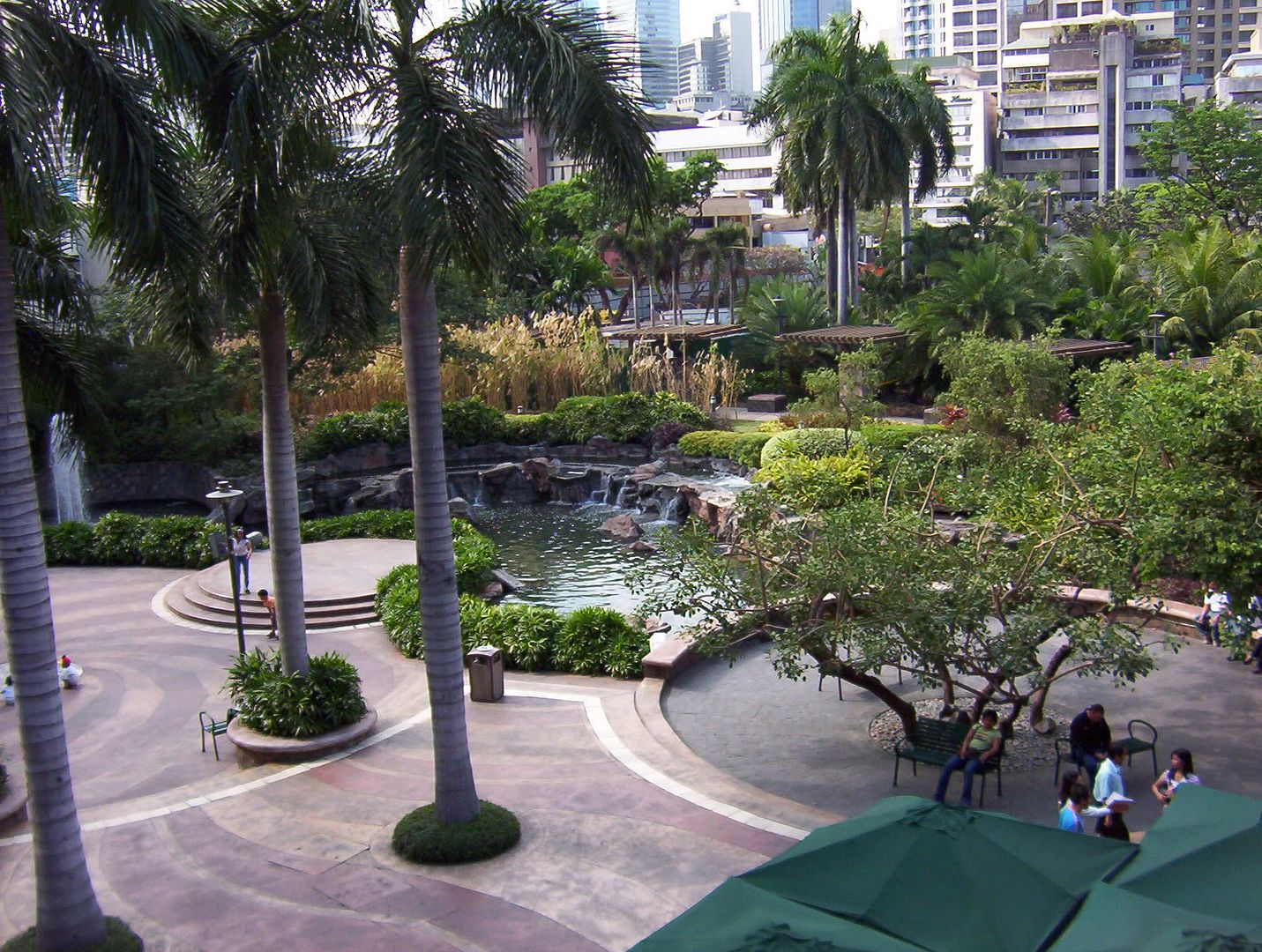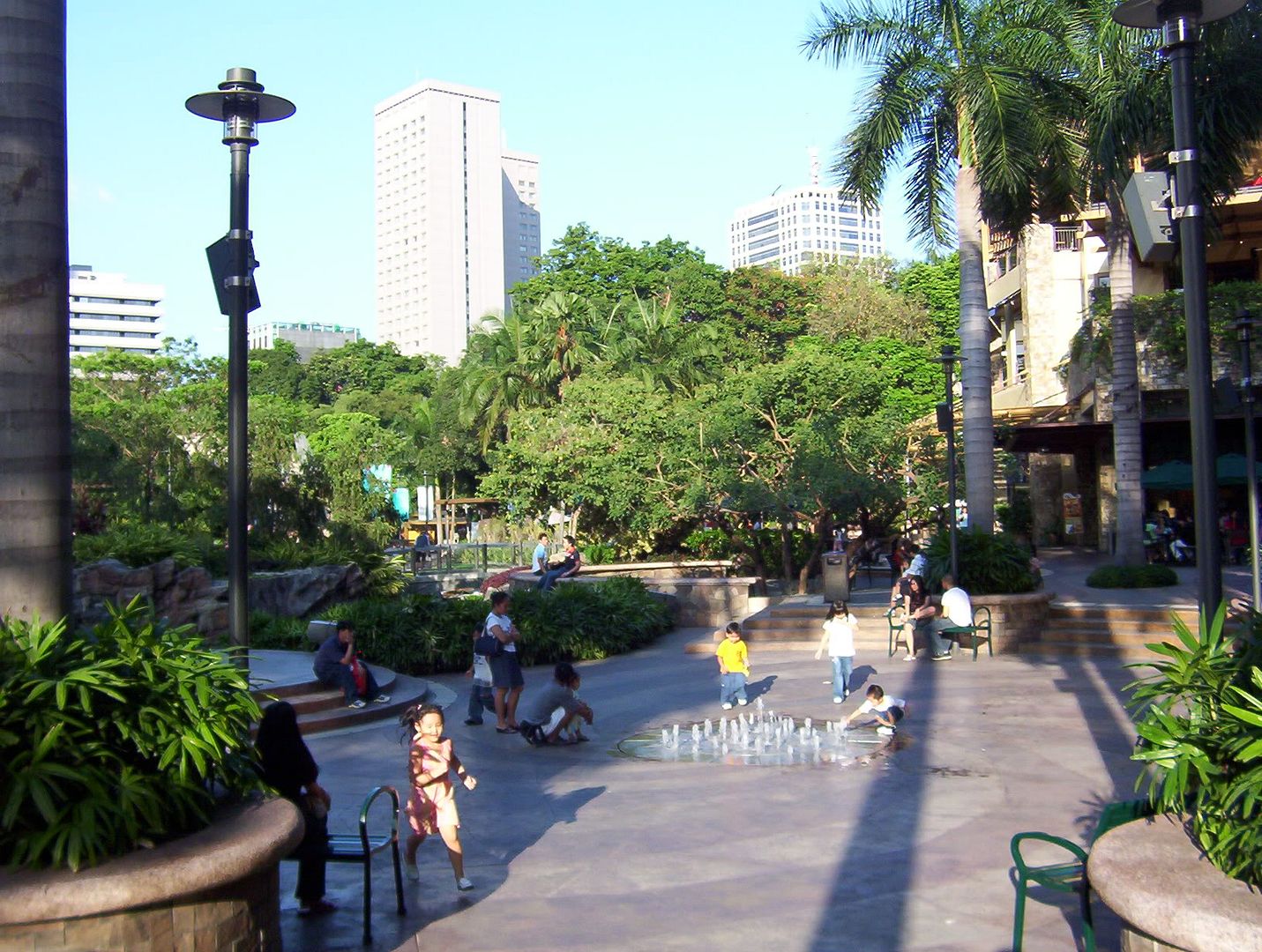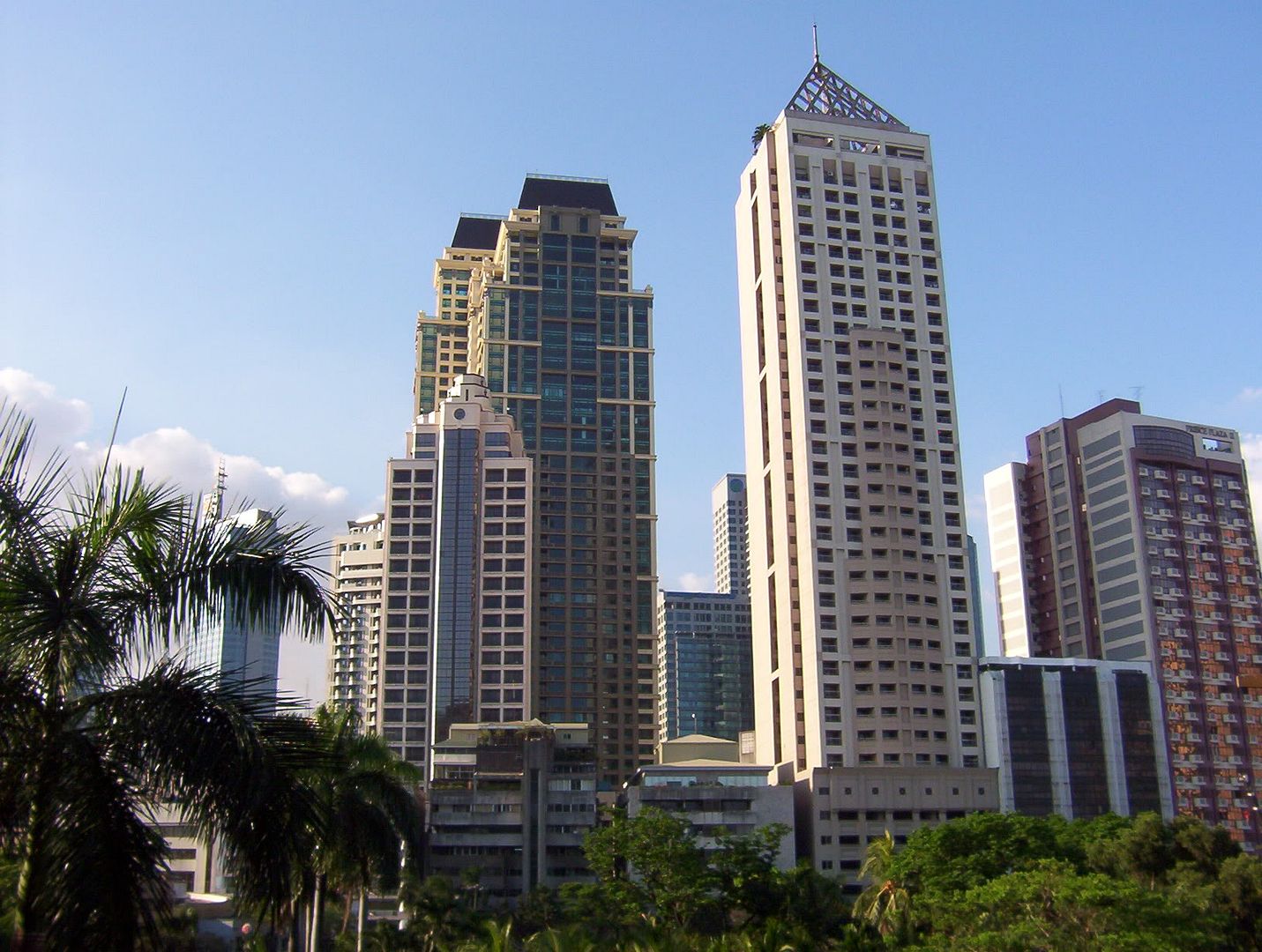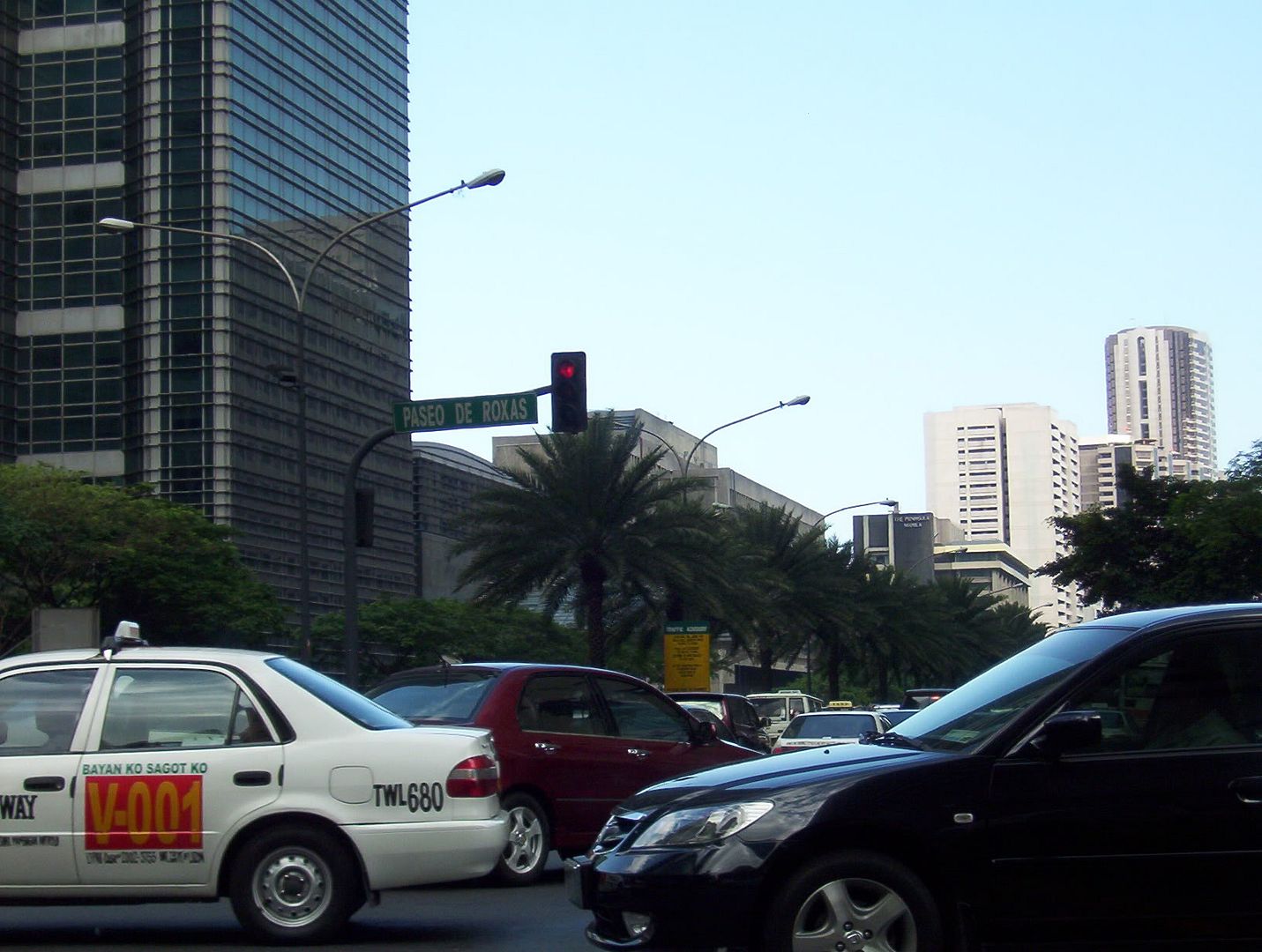 Ran into this CI ad showcasing the new First Class seat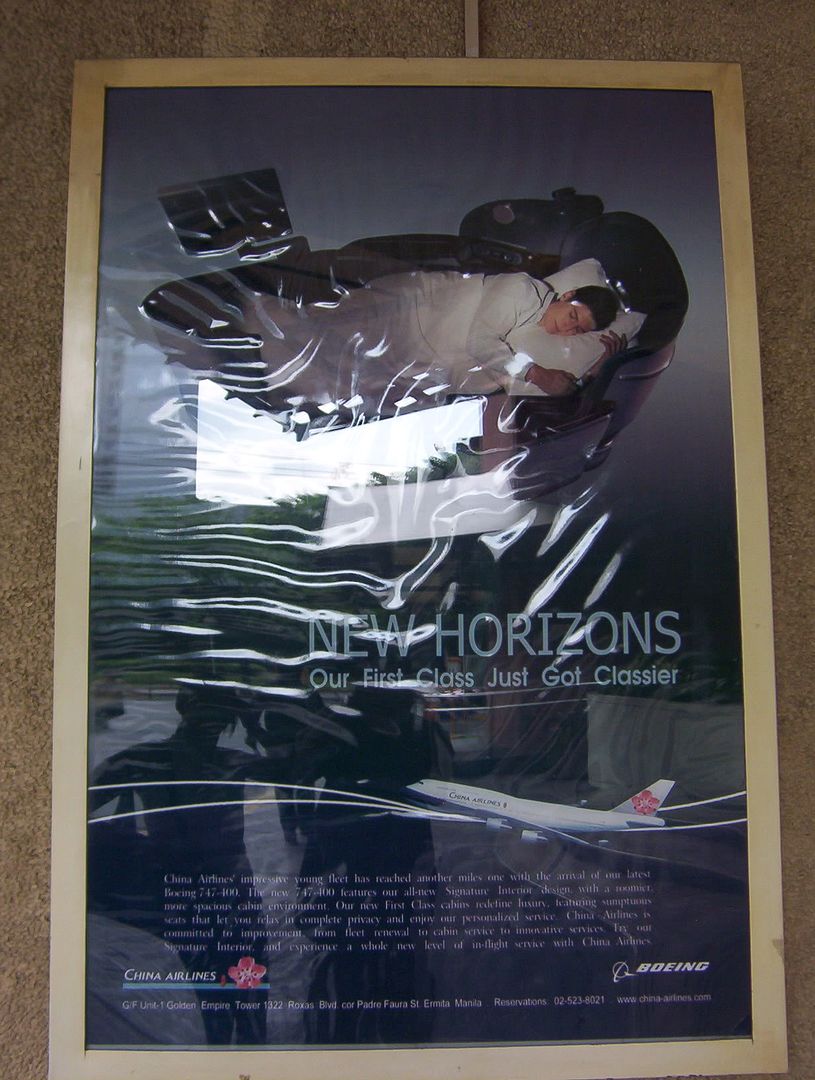 Afterwards, we headed out to the Shoemart (SM) Megamall in Mandaluyong. This was probably the first time where I litterally shopped till I dropped.
Taking advantage of cheap prices before heading back to the much more expensive life in Japan, I was buying instant mami (noodles), cans of Ligo sardines (add rice and you have a meal fit for kings
), shirts, cheap toiletries, Filipino movies, and gifts for my classmates back in Sapporo.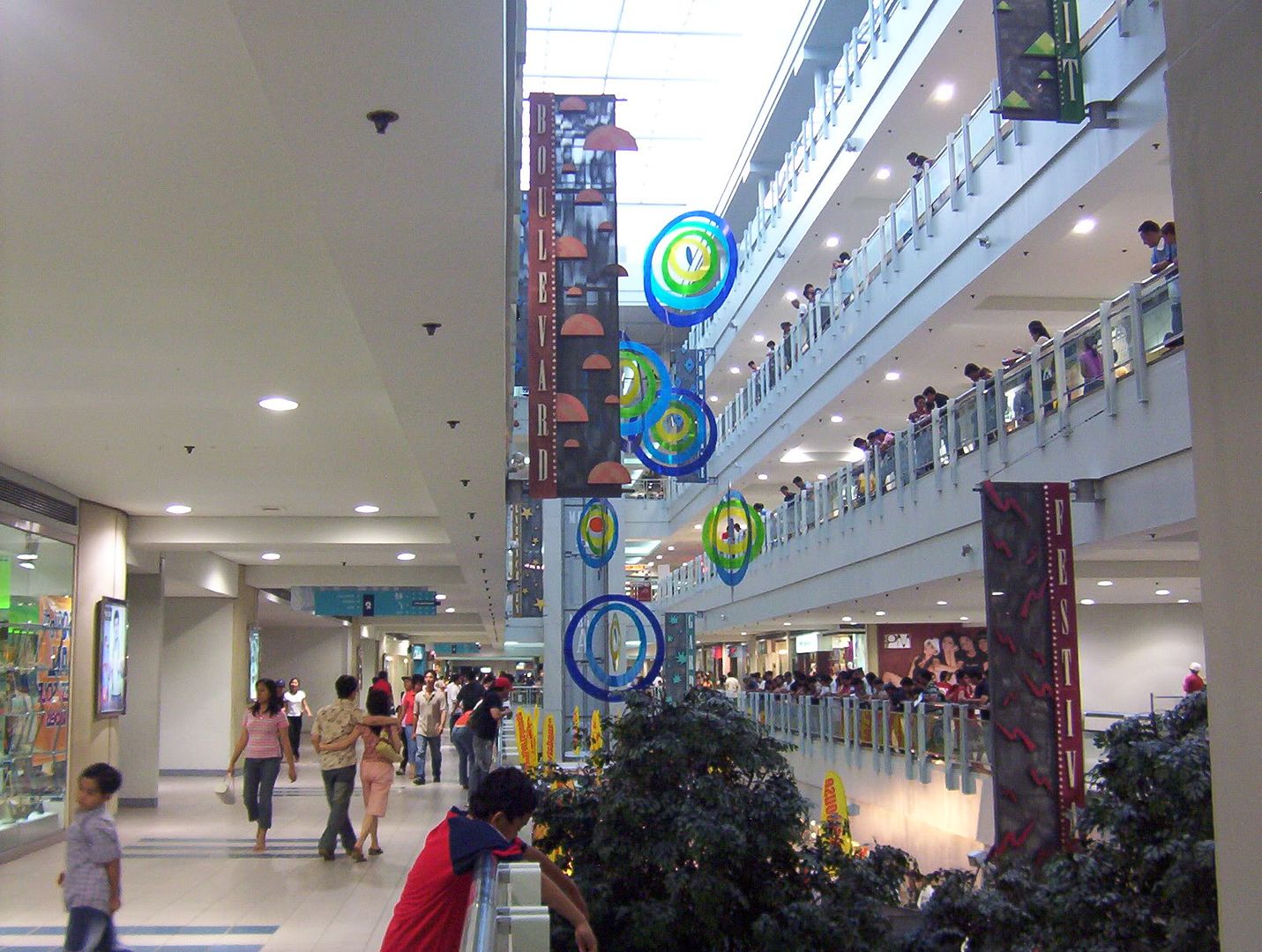 After spending a fast-paced afternoon and evening, my cousin and I spent the night packing the stuff I bought into a balikbayan box for me to take back home in Japan. Exhausted to even bother doing anything else, we just hit the sack until 4 in the morning.
Northwest Airlines
NW72, MNL-NGO
19 March 2006
World Business Class
Boeing 747-451
We arrived at around 5AM to an already busy NAIA Terminal 1. I gave my farewell and hug to my cousin and parted off into the first security checkpoint.
Outside Terminal 1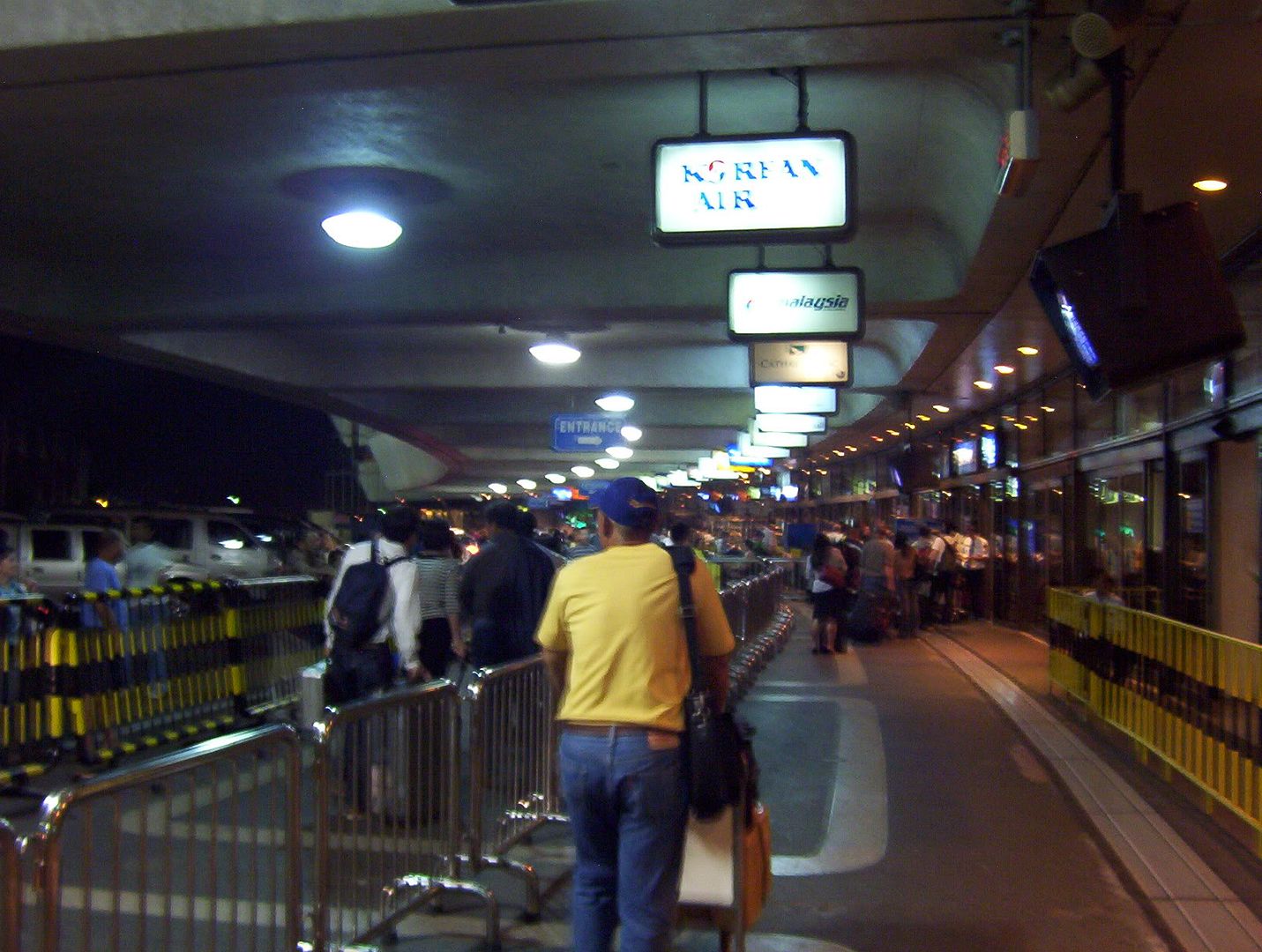 A view of the check-in area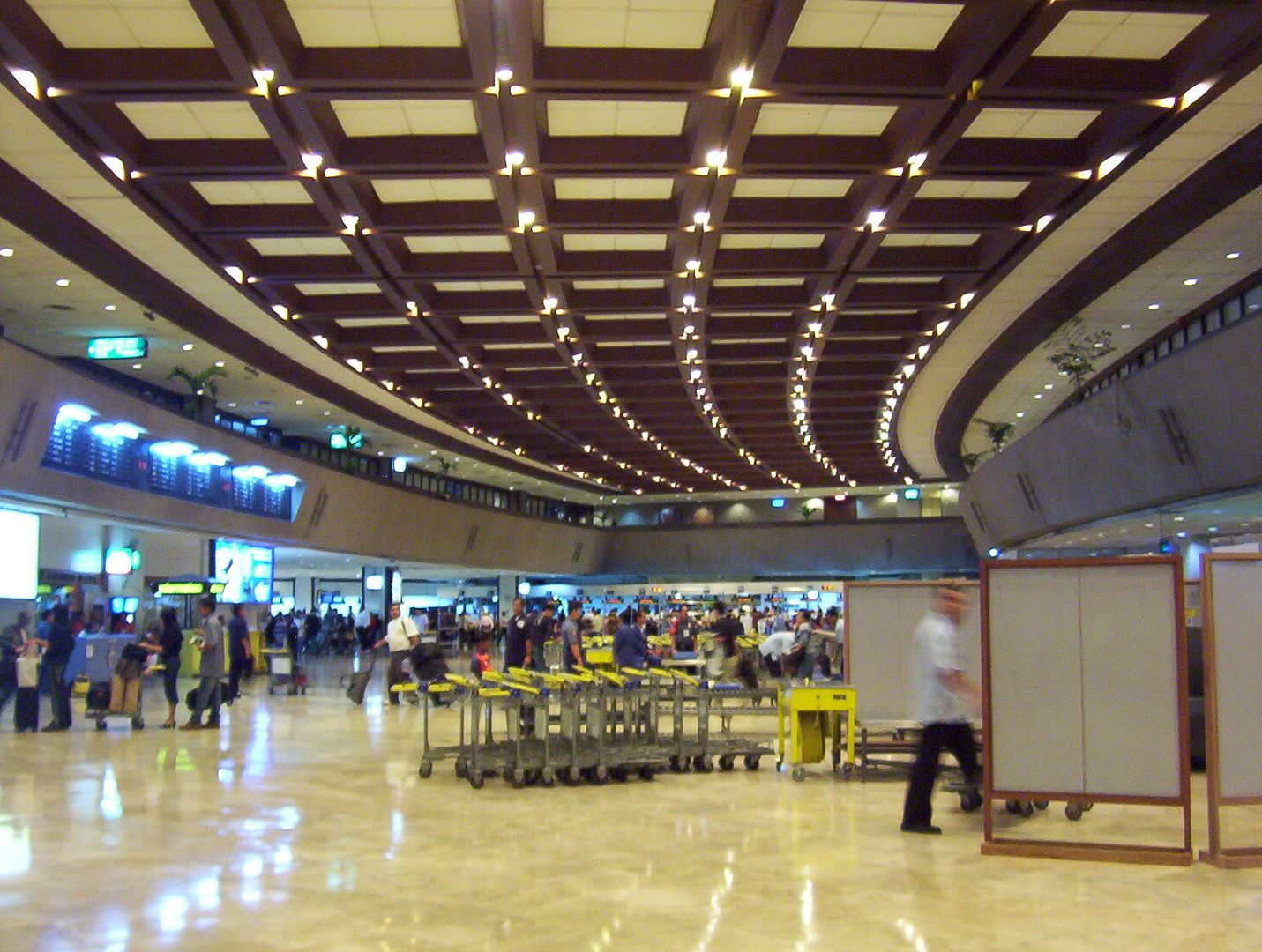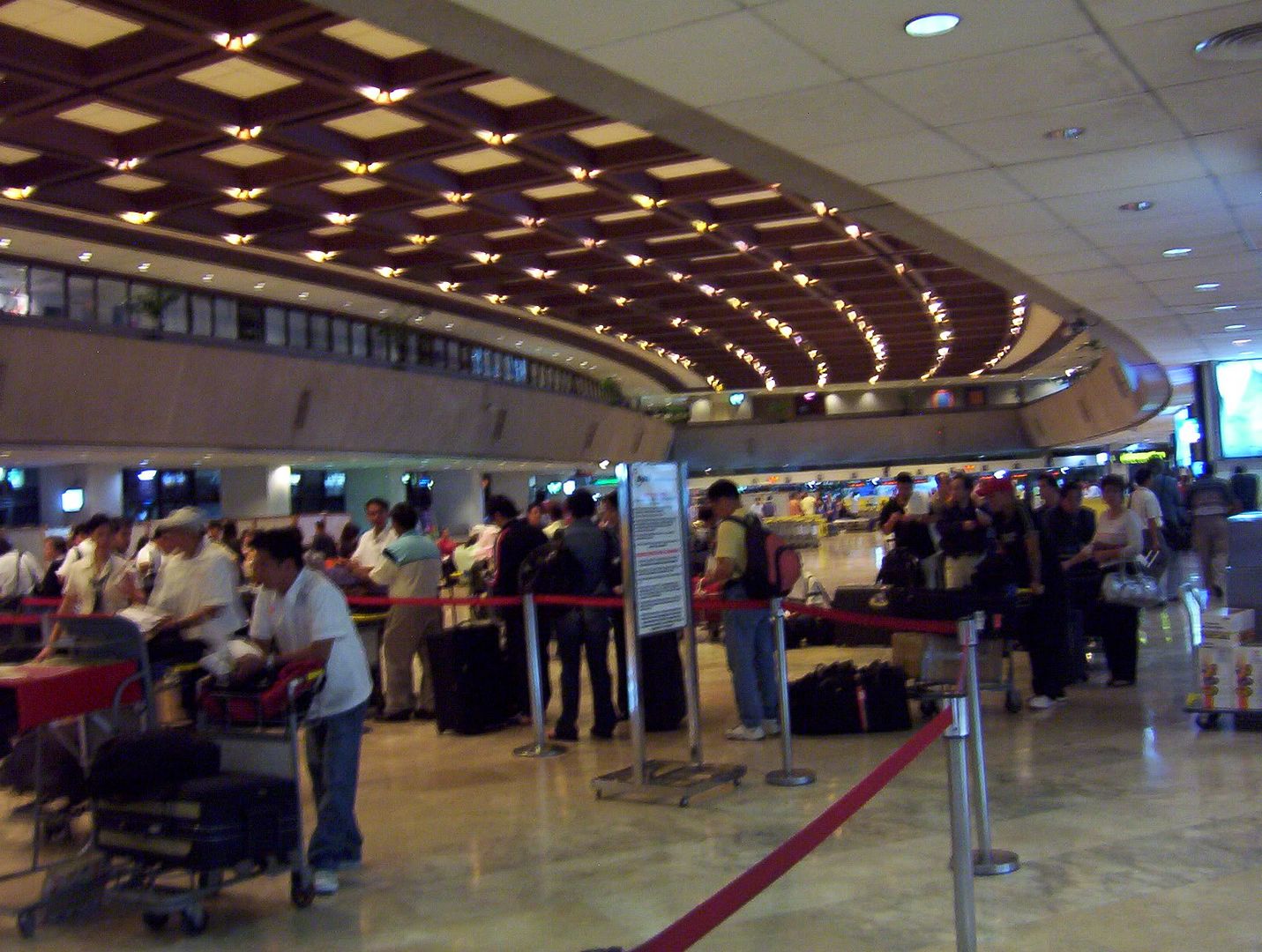 I seriously love these older flight displays!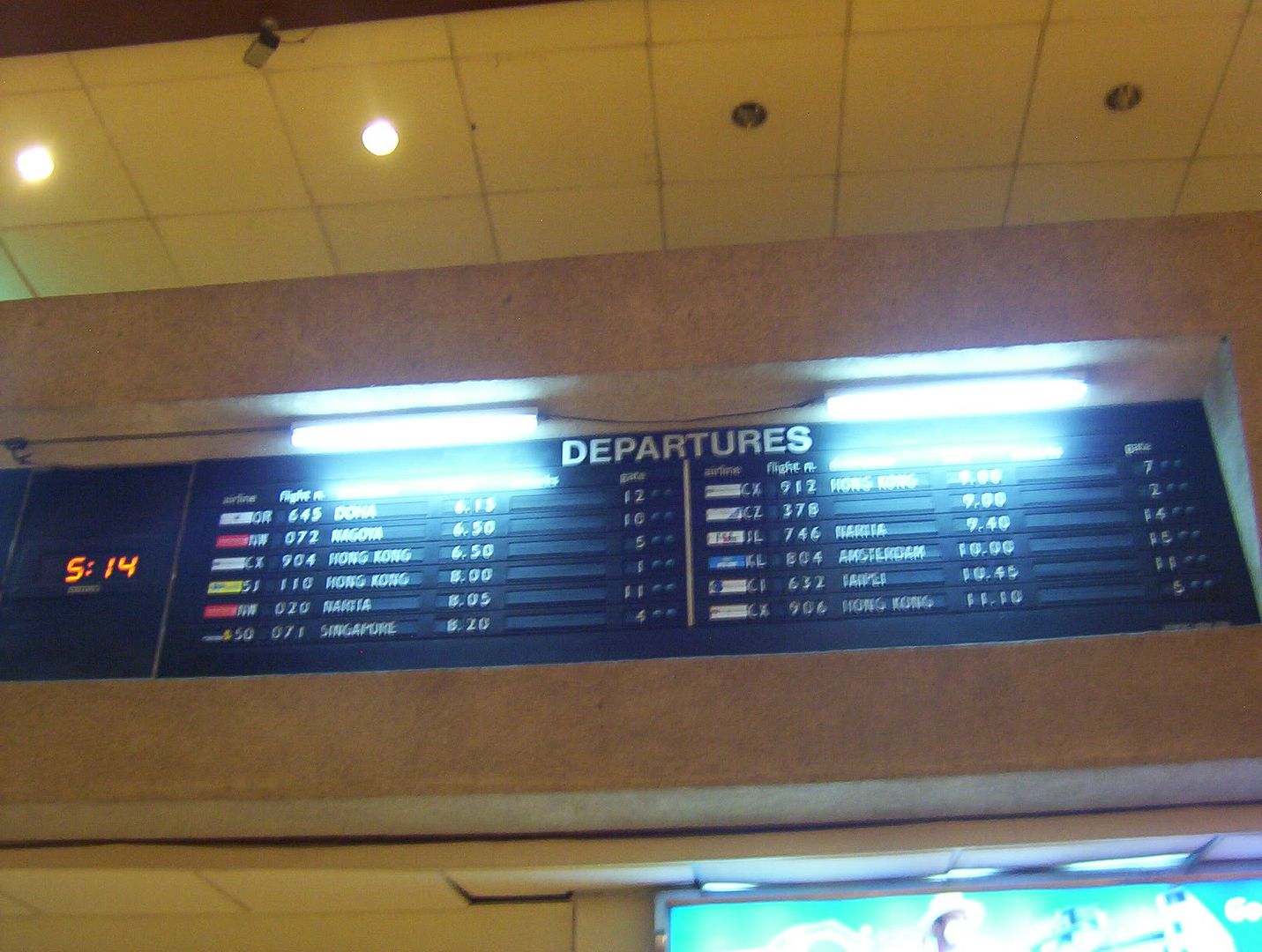 NW counters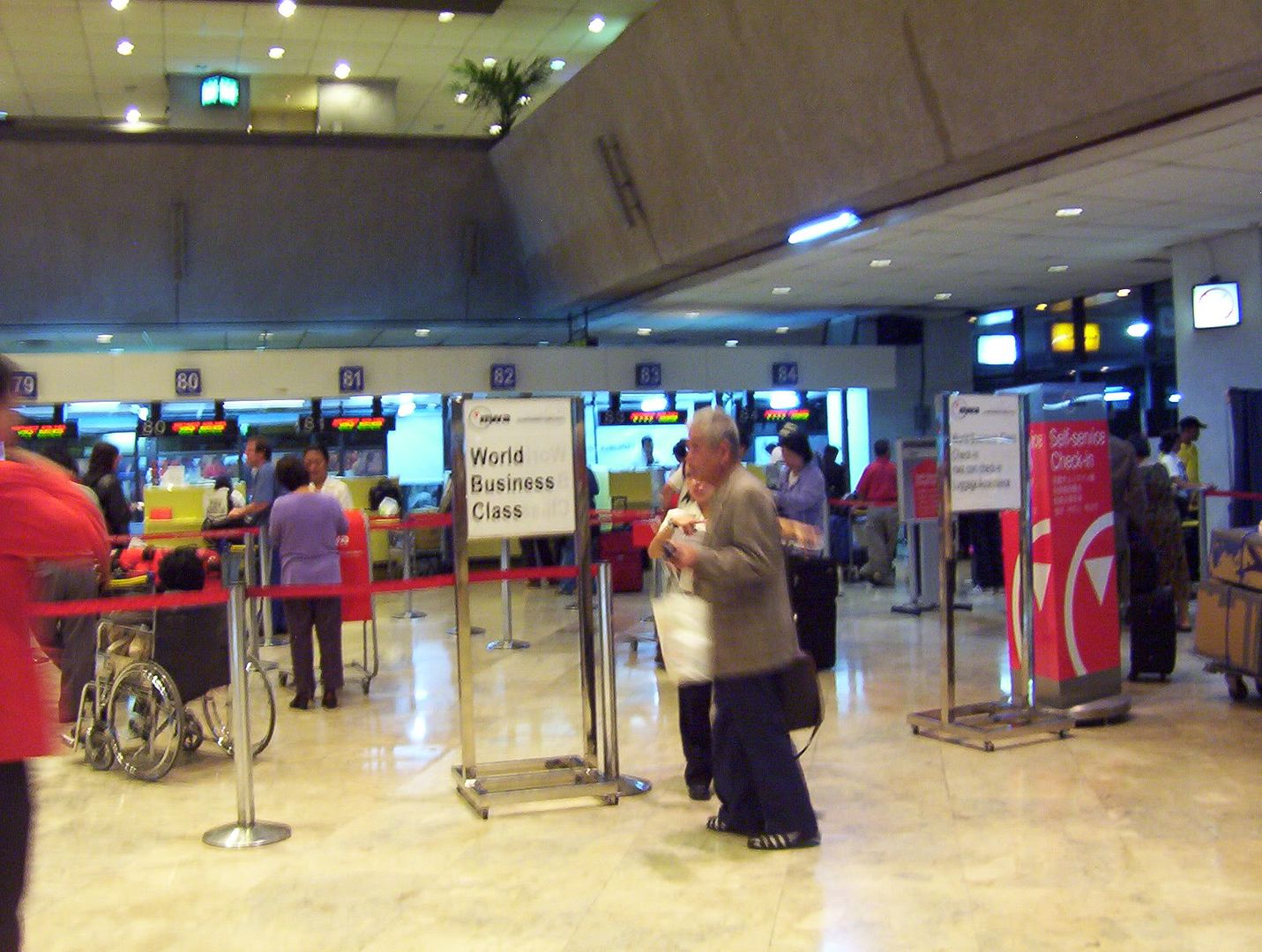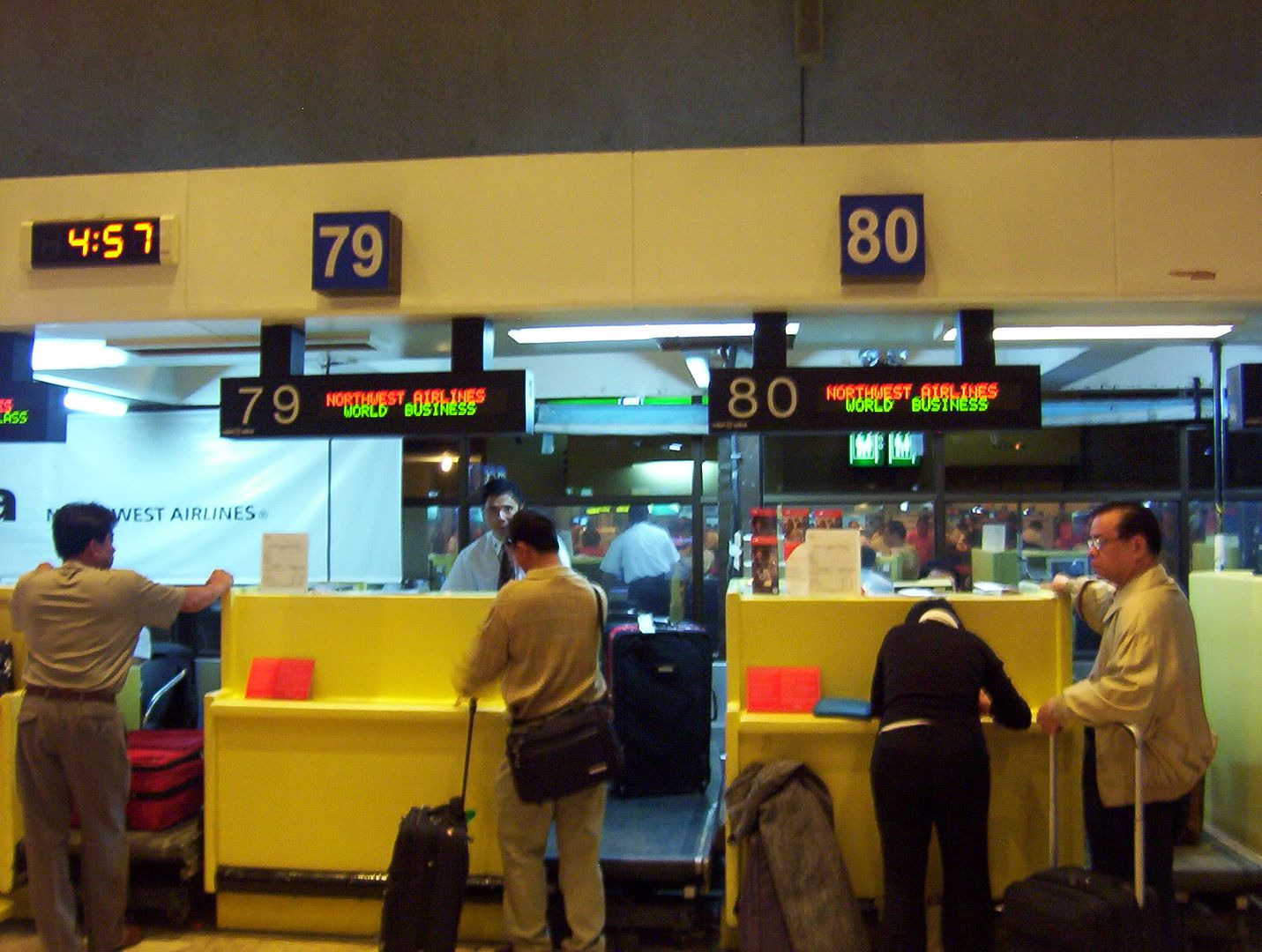 Check-in was fast though the agent was curious on why I chose NW72 when I could've taken the more direct NW20. He gave me an even more confused look when my reason was that I wanted to experience the new Nagoya Chubu Int'l Airport.
That aside, he gave me my boarding pass as well as the World Club lounge invitiation and I was soon off to paying the airport fee.
After going through security once more and buying one last gift to my closest friend in Japan, I went into the NW's World Club. It was definitely smaller than the NRT lounge but seemed to offer more in terms of snacks. It also looked like QR passengers were using this lounge as well as there were boarding calls for the QR flight made in the lounge.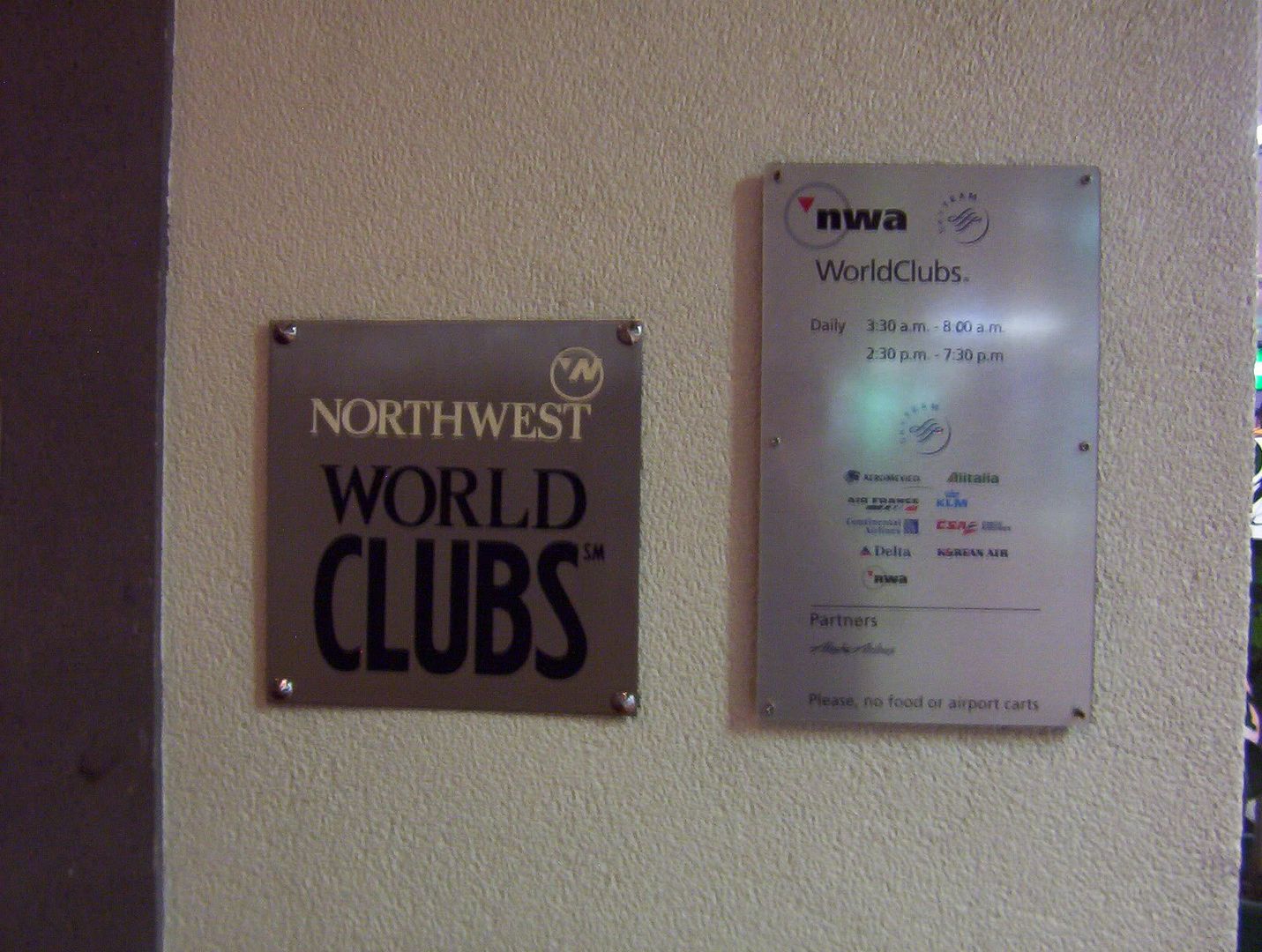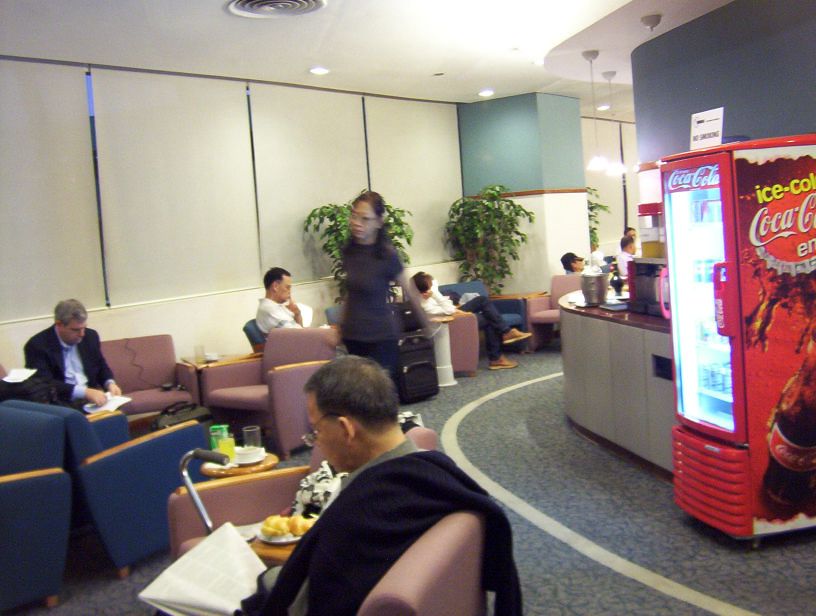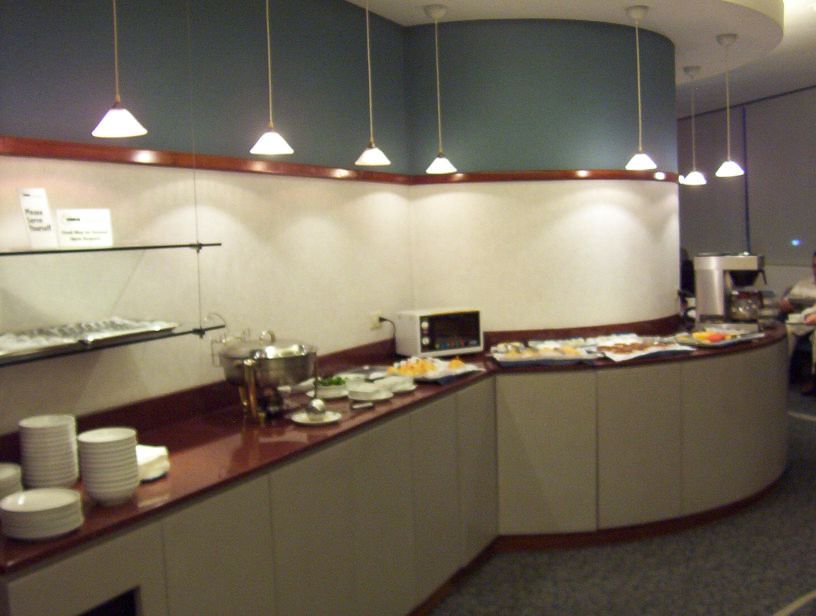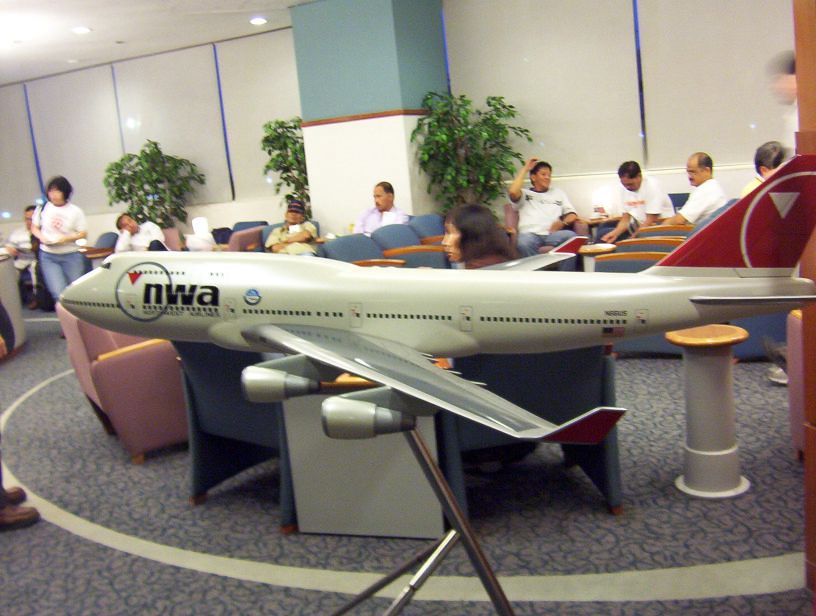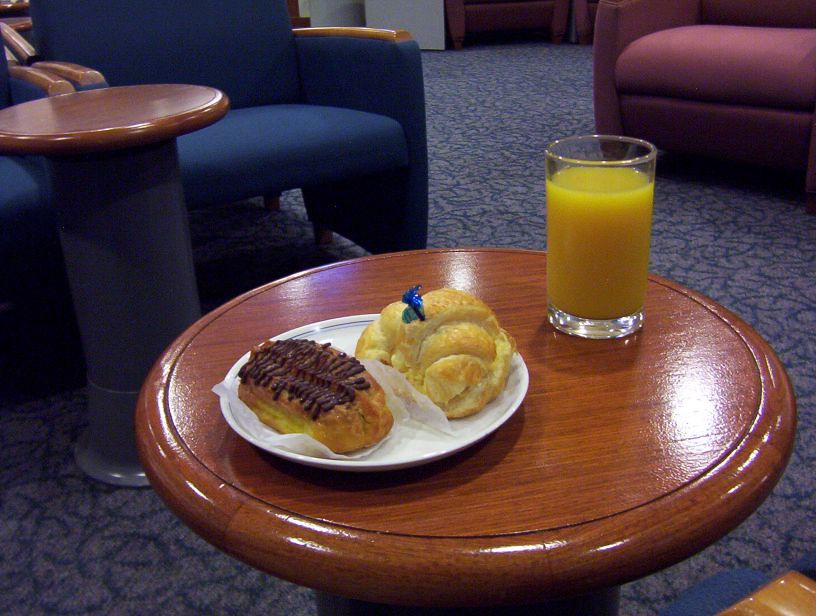 Boarding for NW72 was finally called and I then proceeded to the airport security's final line of defense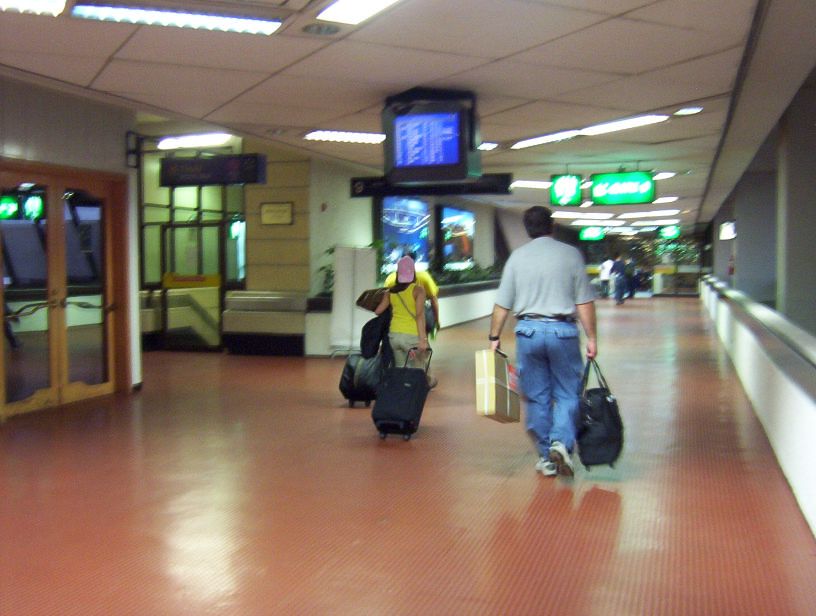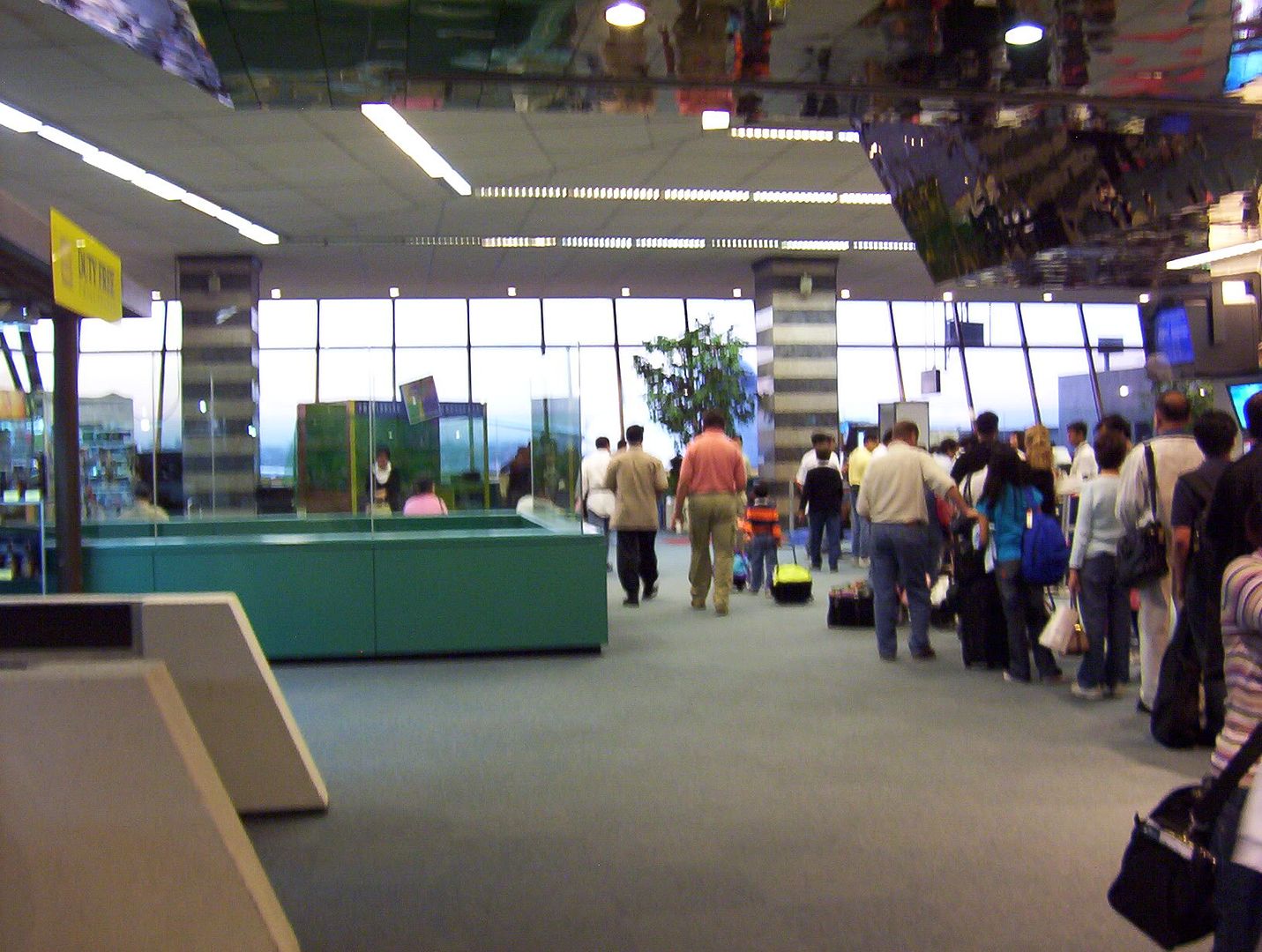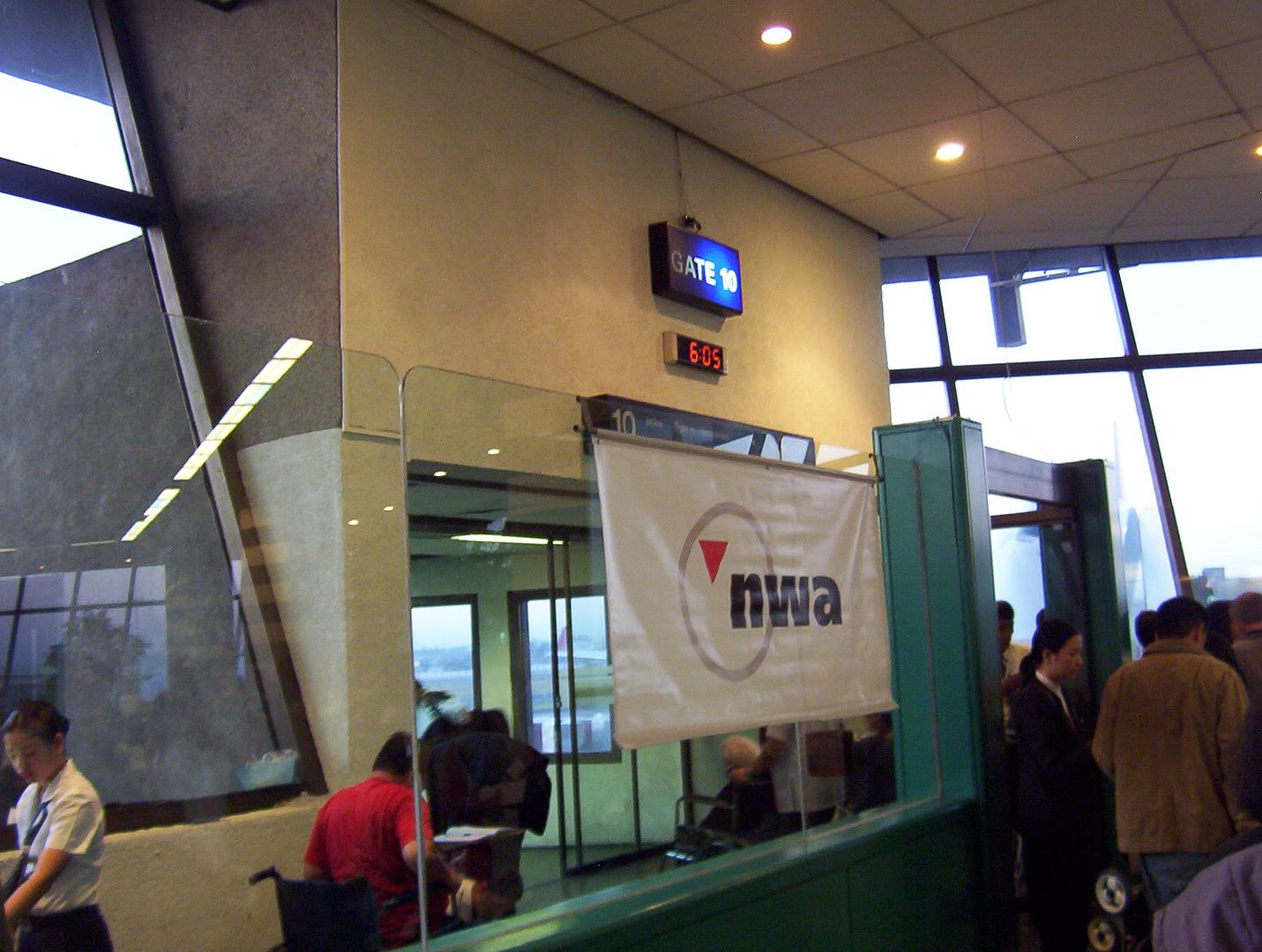 A view of the 744 that would take me to NGO and the rest of the pax to DTW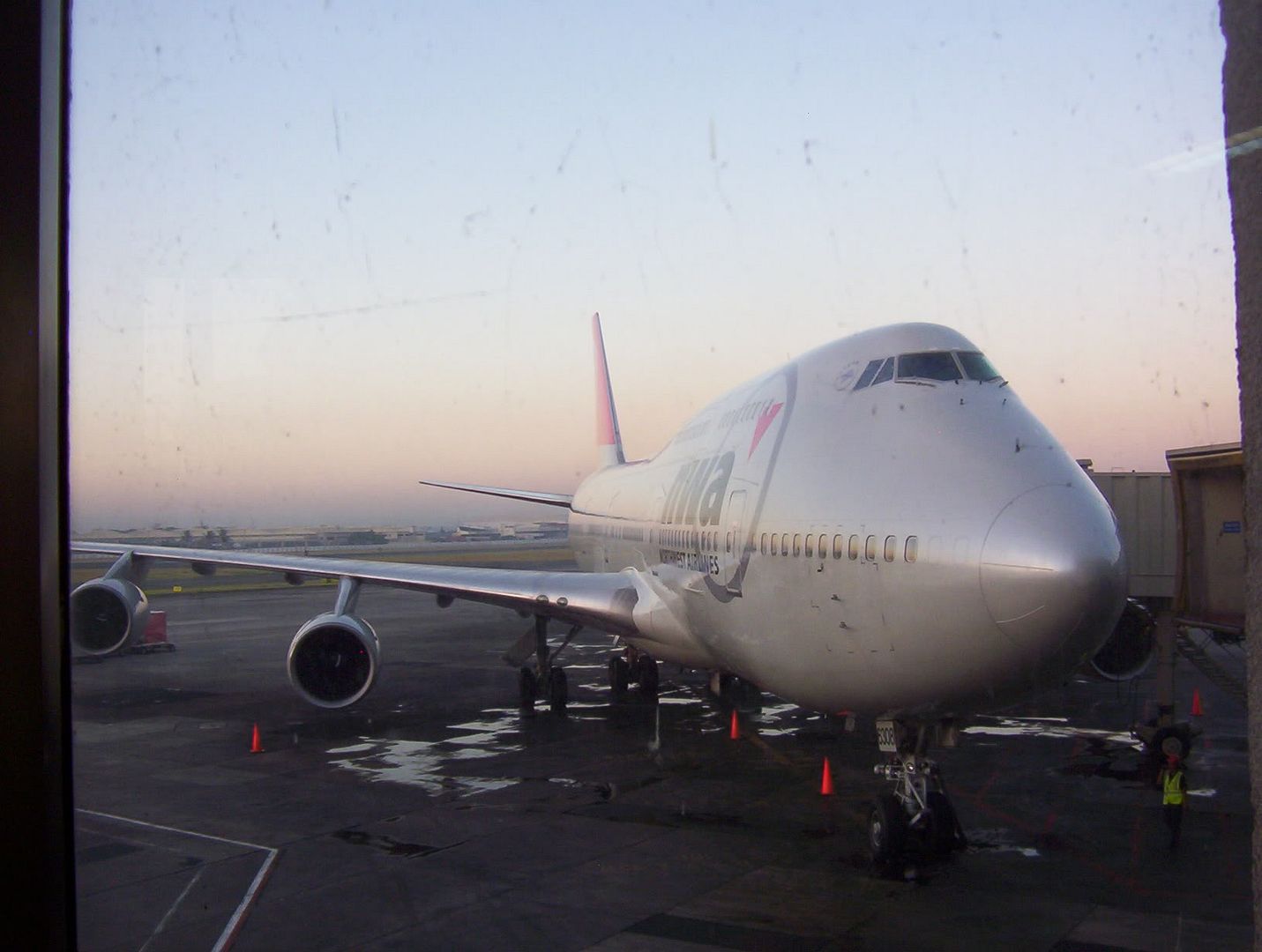 We were welcomed by an energetic pursuer who's name I really wished I jotted down. I proceeded to the upper deck and to the same seat that I requested in my flight from NRT to MNL.
Upper deck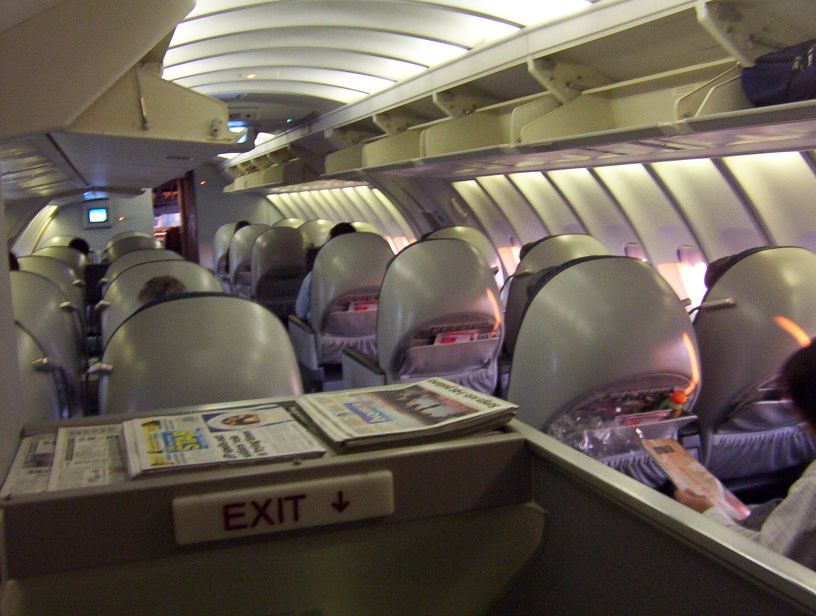 Seats 78J and K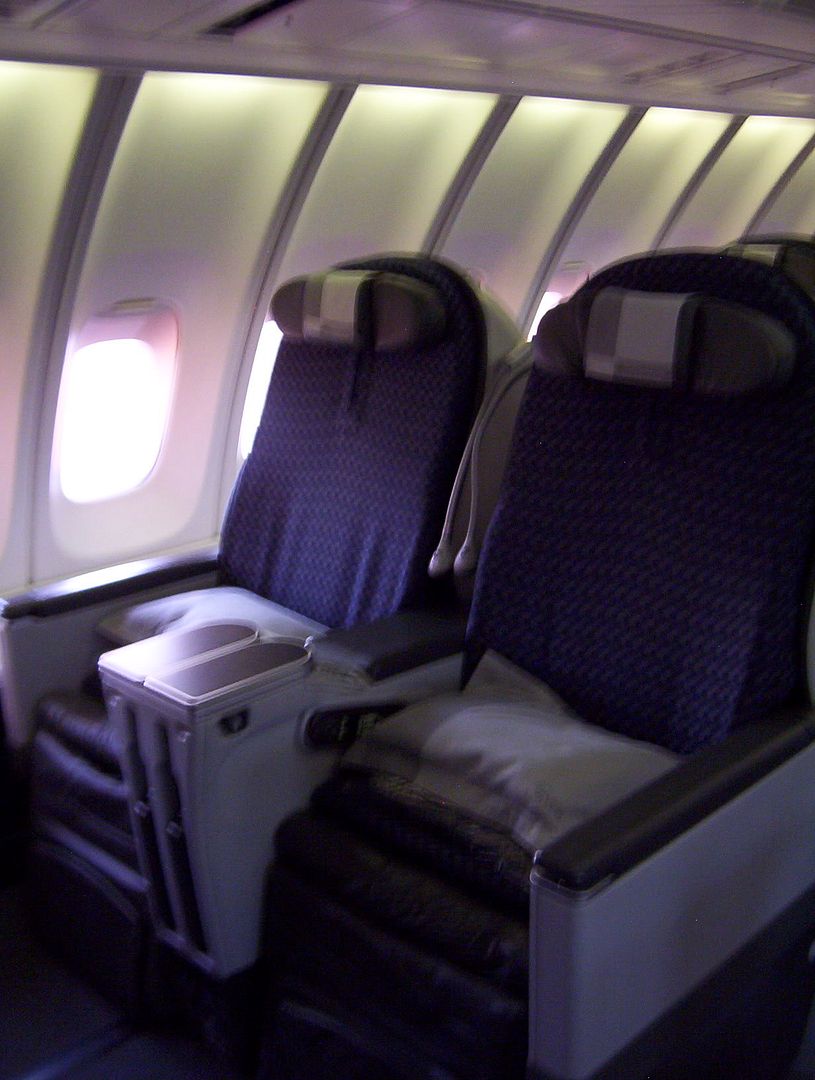 After settling in, F/A came up and offered pre-flight drinks. As usual, I got OJ.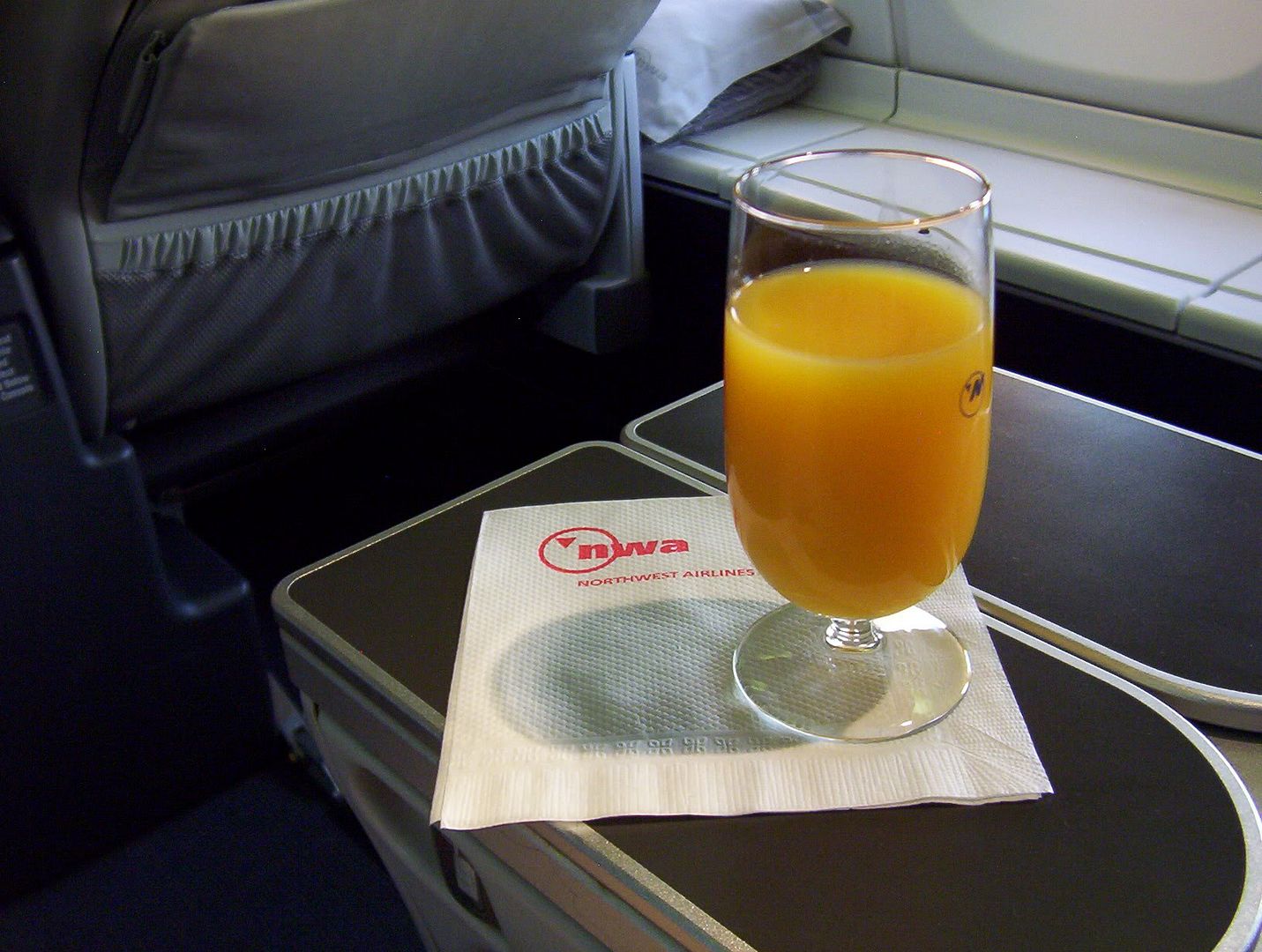 A CX A343 and 772 along with some PR tails in the distance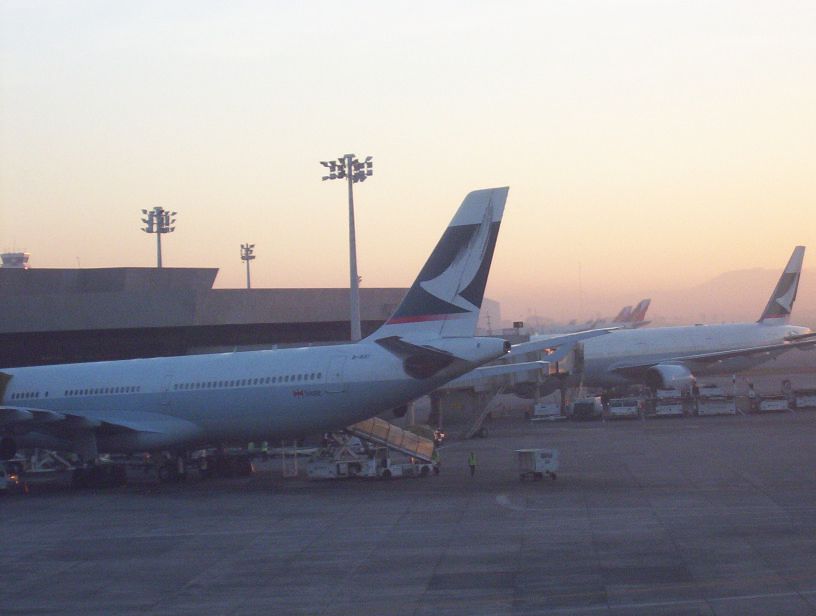 The NAIA and "Mabuhay" signage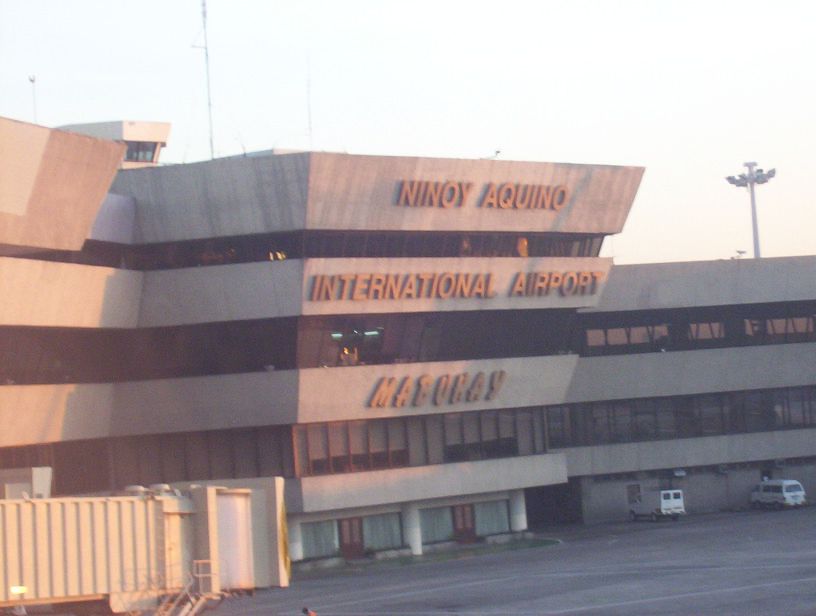 Another NW744 and it's EG counterpart (JA8185) w/ the Yokoso! Japan livery (not seen)...I'll be seeing you guys in NRT!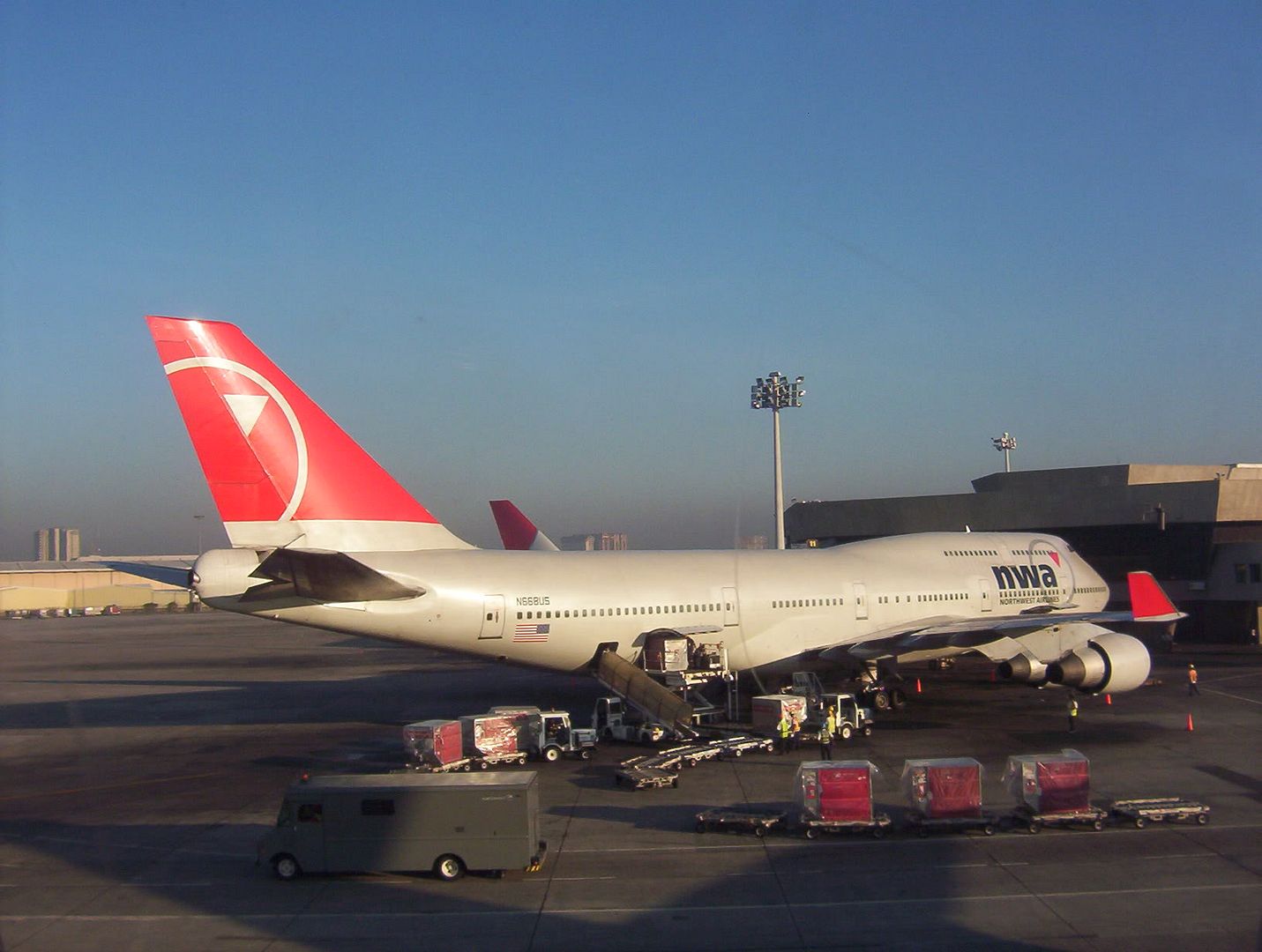 Doors closed and that energetic pursuer was making arounds in the upper deck and somehow we got into a discussion on the Boeing 787. Unfortunately it was cut short since we were taxing towards the runway and takeoff. Takeoff itself went smoothly and seriously felt great, esp. being in the upper deck.
A view of Laguna de Bay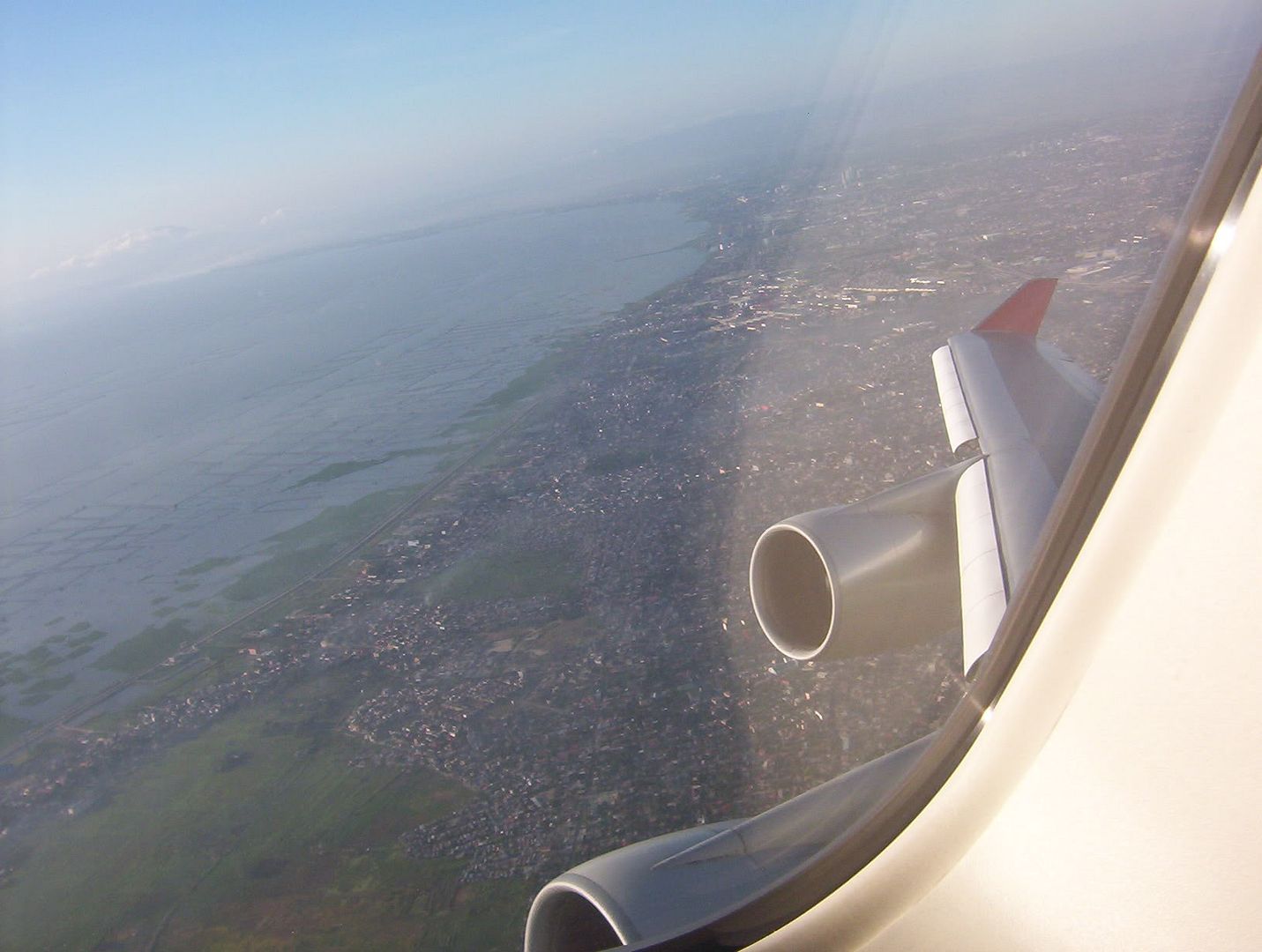 Once we leveled off, I decided to take advantage of the adequate lighting and got a couple shots of my seat.
Fully reclined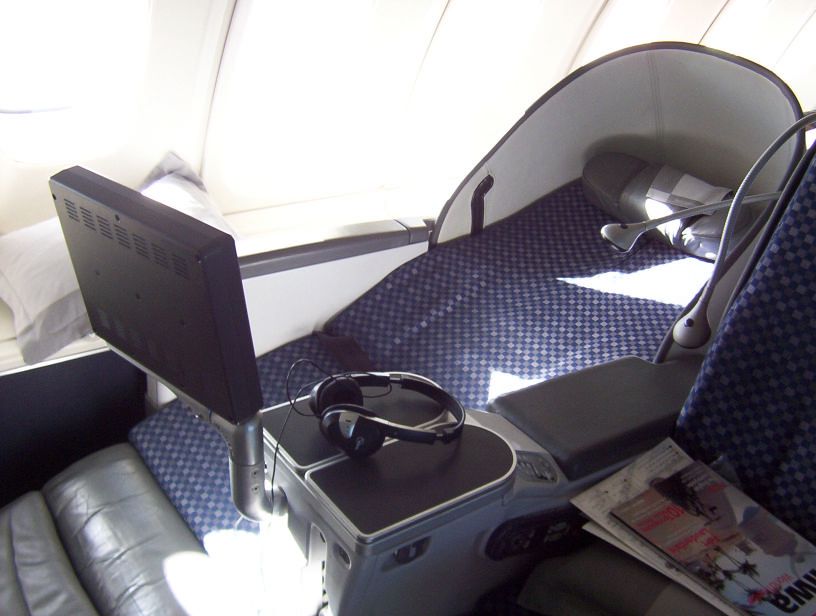 Unfortunately, the IFE seemed to be on the fritz and had to be rebooted. After a few minutes of waiting and playing around with the remote, the PTV was back to normal. Soon, breakfast was served and I vouched for the Canadian Bacon. Unfortuantely my menu has been MIA ever since I returned to the states so I don't recall what was the other choice.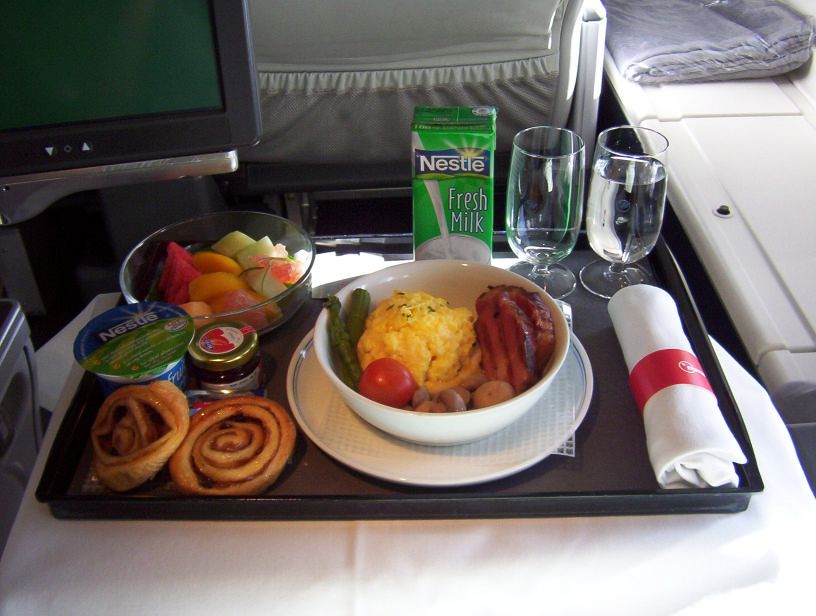 Airshow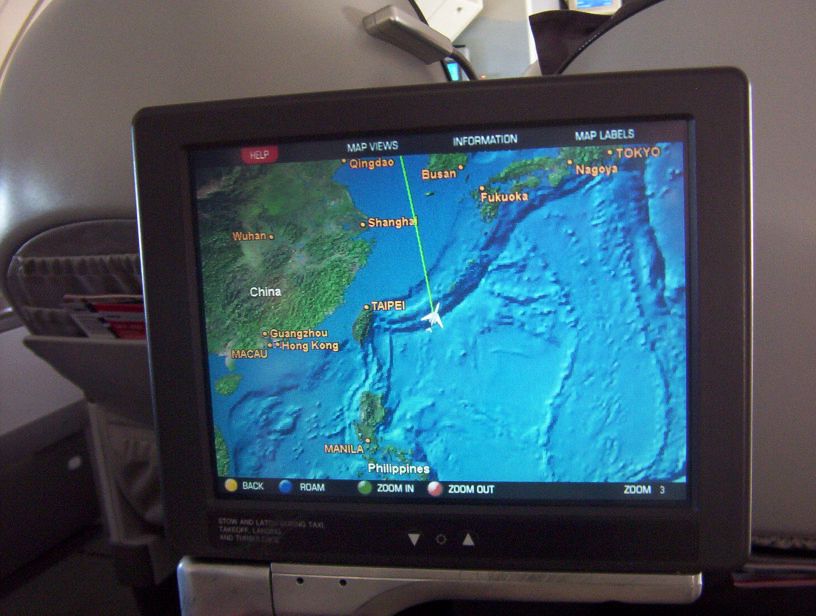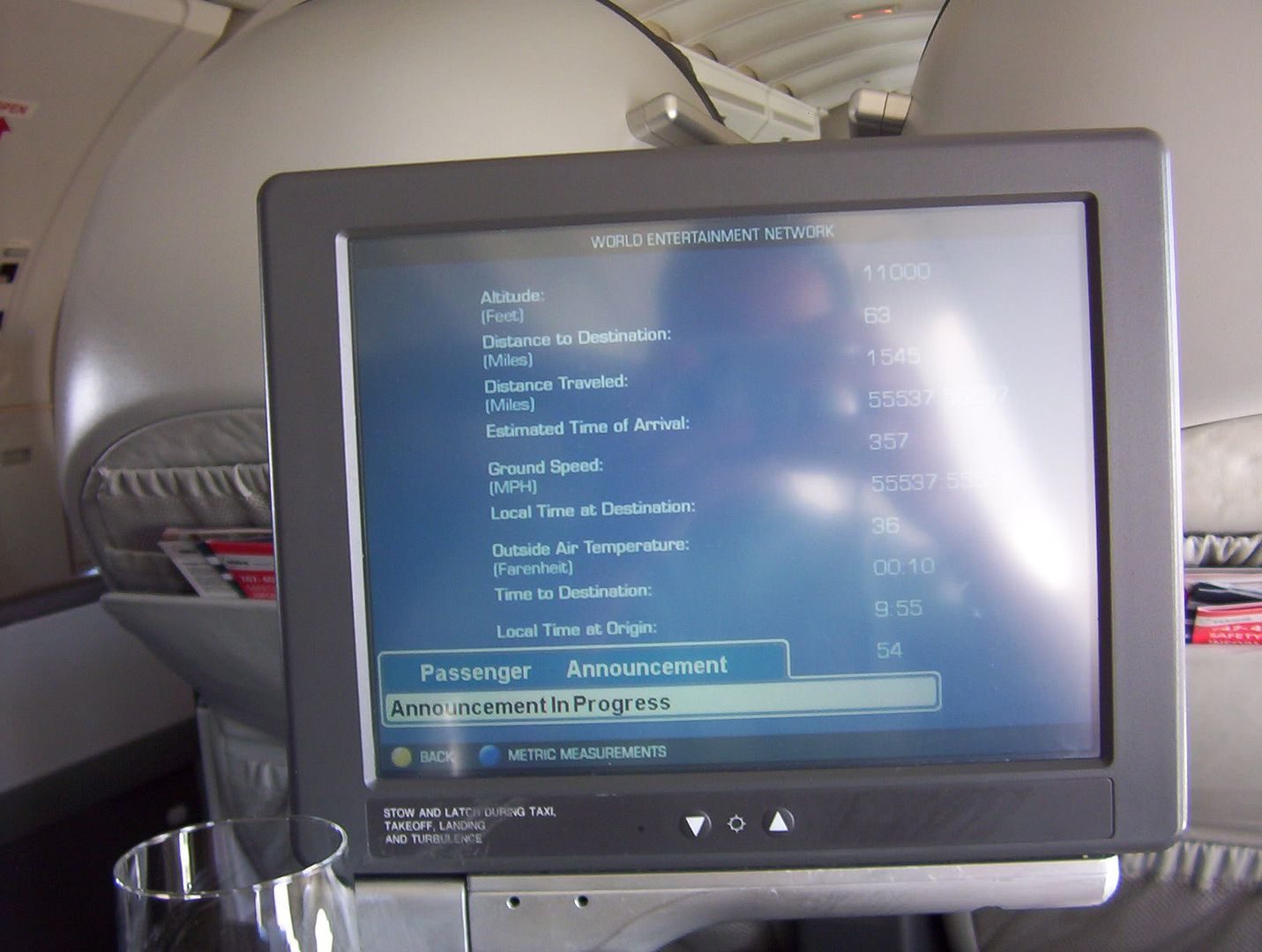 One interesting feature in AVOD was the Nickelodeon shows...one of them being the network gameshow
Figure It Out
back from the 90s. Talk about nostalgia.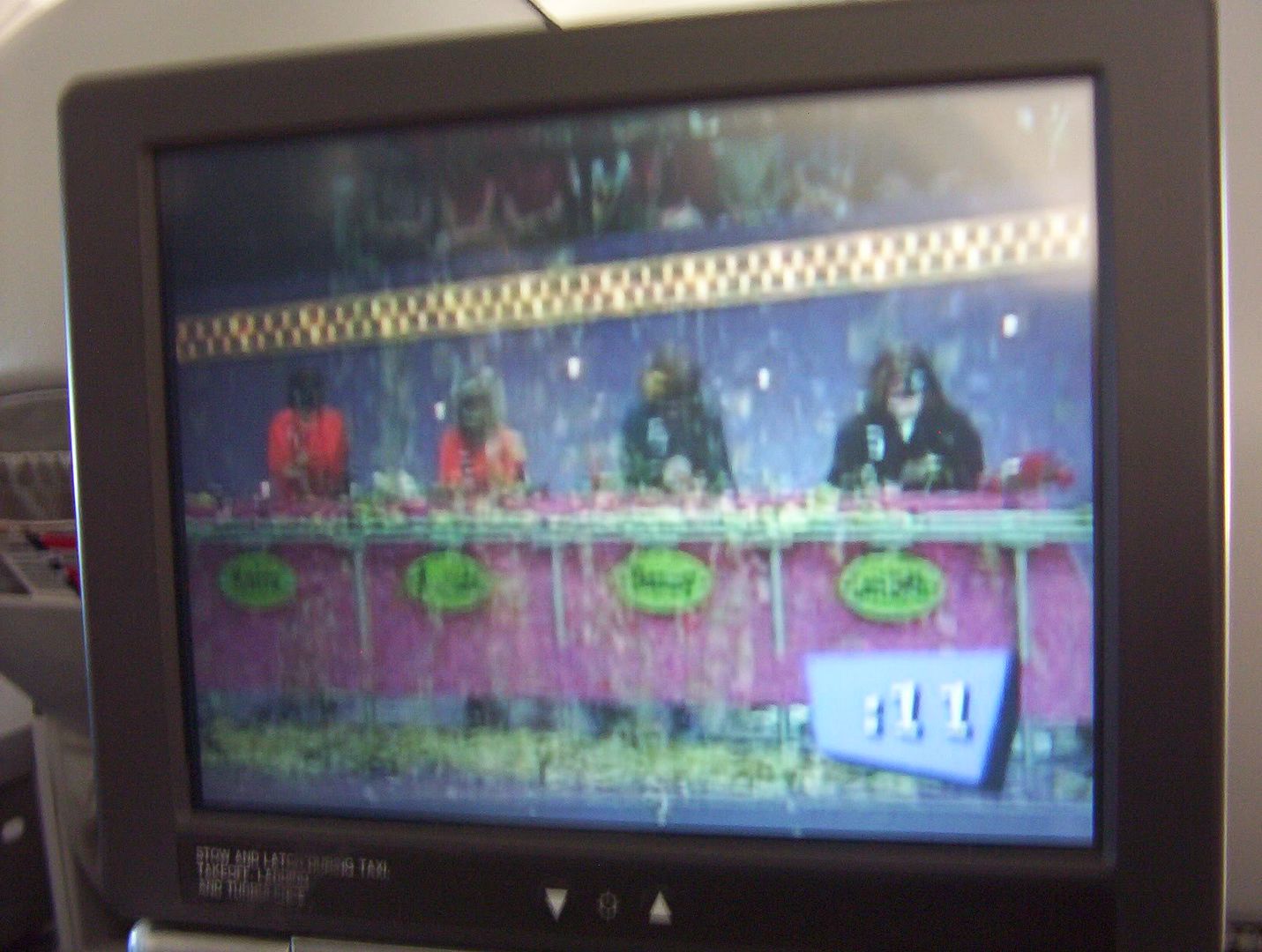 Just a few months after the Xbox 360 came out, THIS showed up.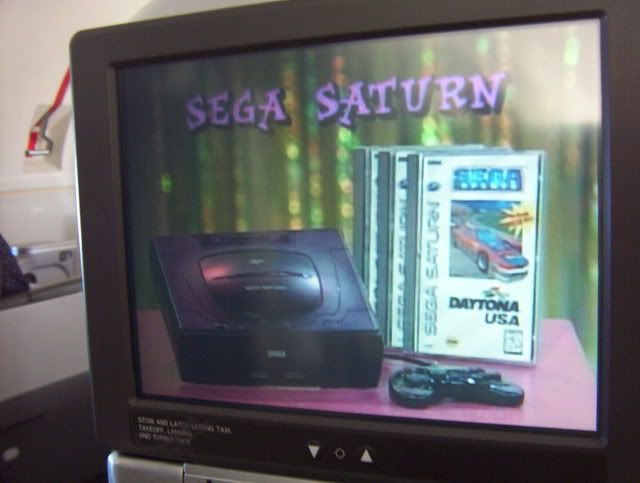 The pursuer came up and showed me his 787 lapel pin and we continued chatting about the aircraft along with NW's plans for it. He regularly did JFK-NRT but was placed in other flights once that route was axed. He's most definitely the best NW F/A I've had on a flight so far and I really hope to run into him again in one of my future trans-Pacific flights!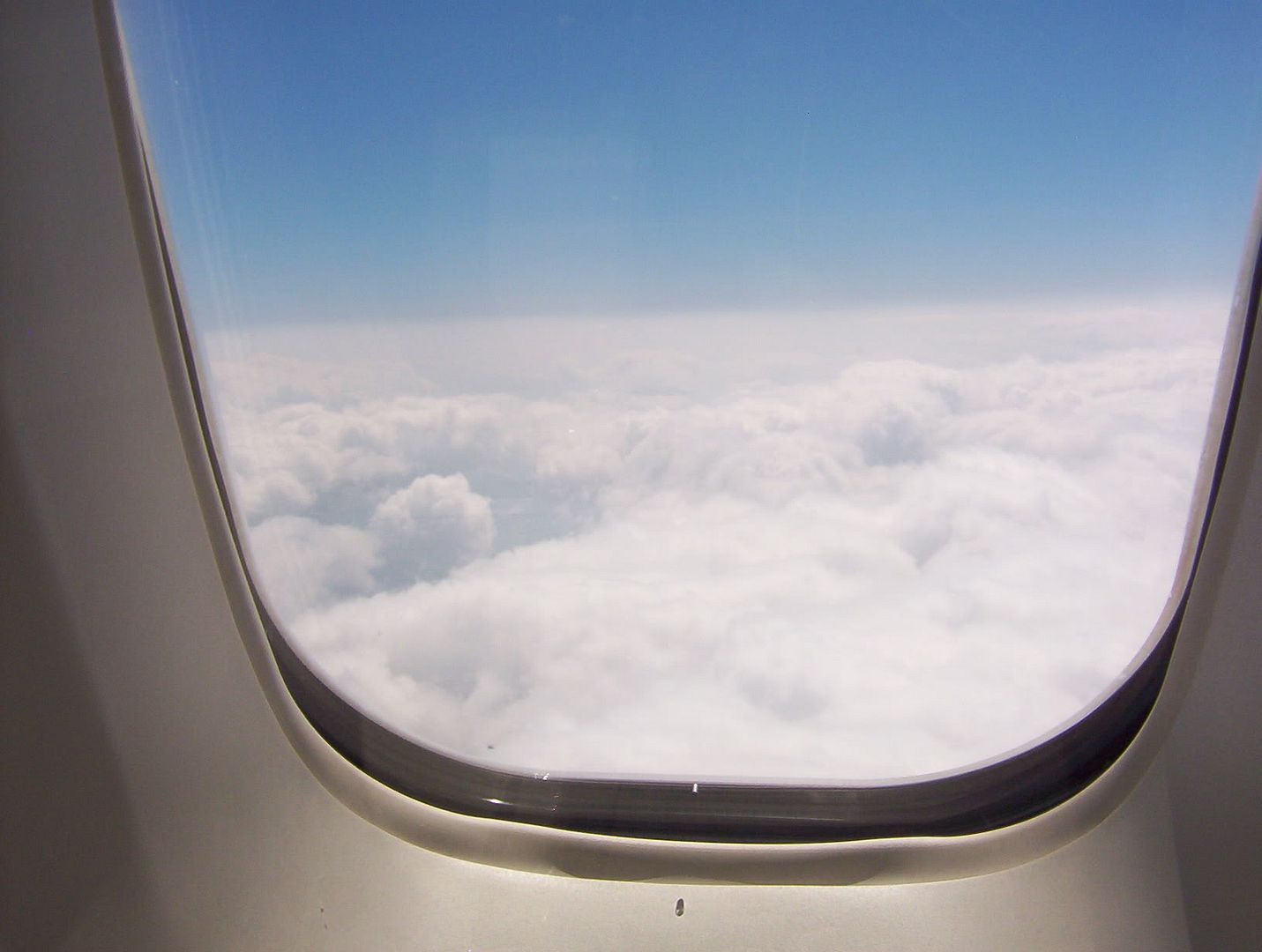 Approach and landing NGO seemed rough and the sea below definitely seemed to show it
A view of the terminal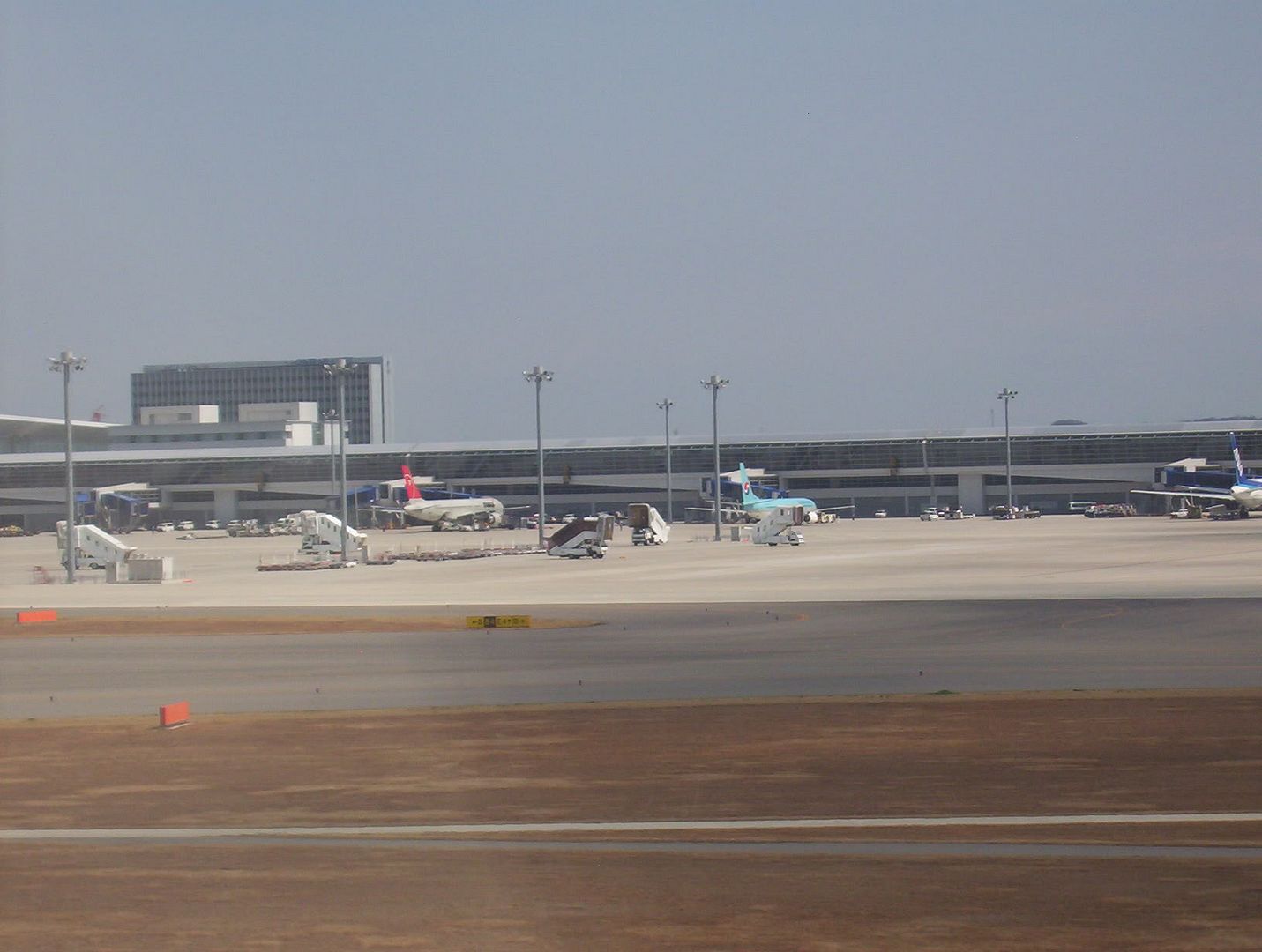 A NH 73G in the special golden livery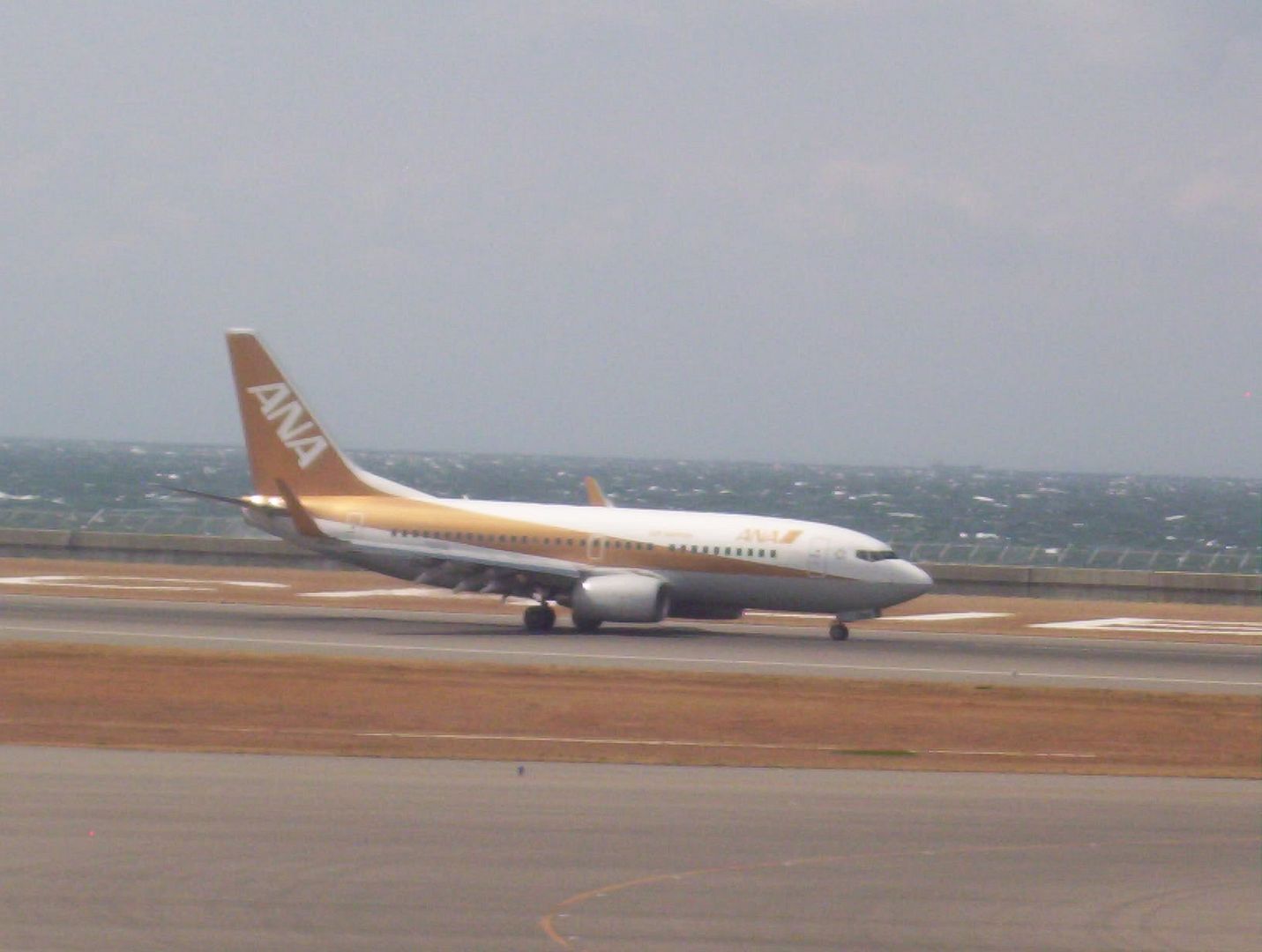 KE 737 taxing off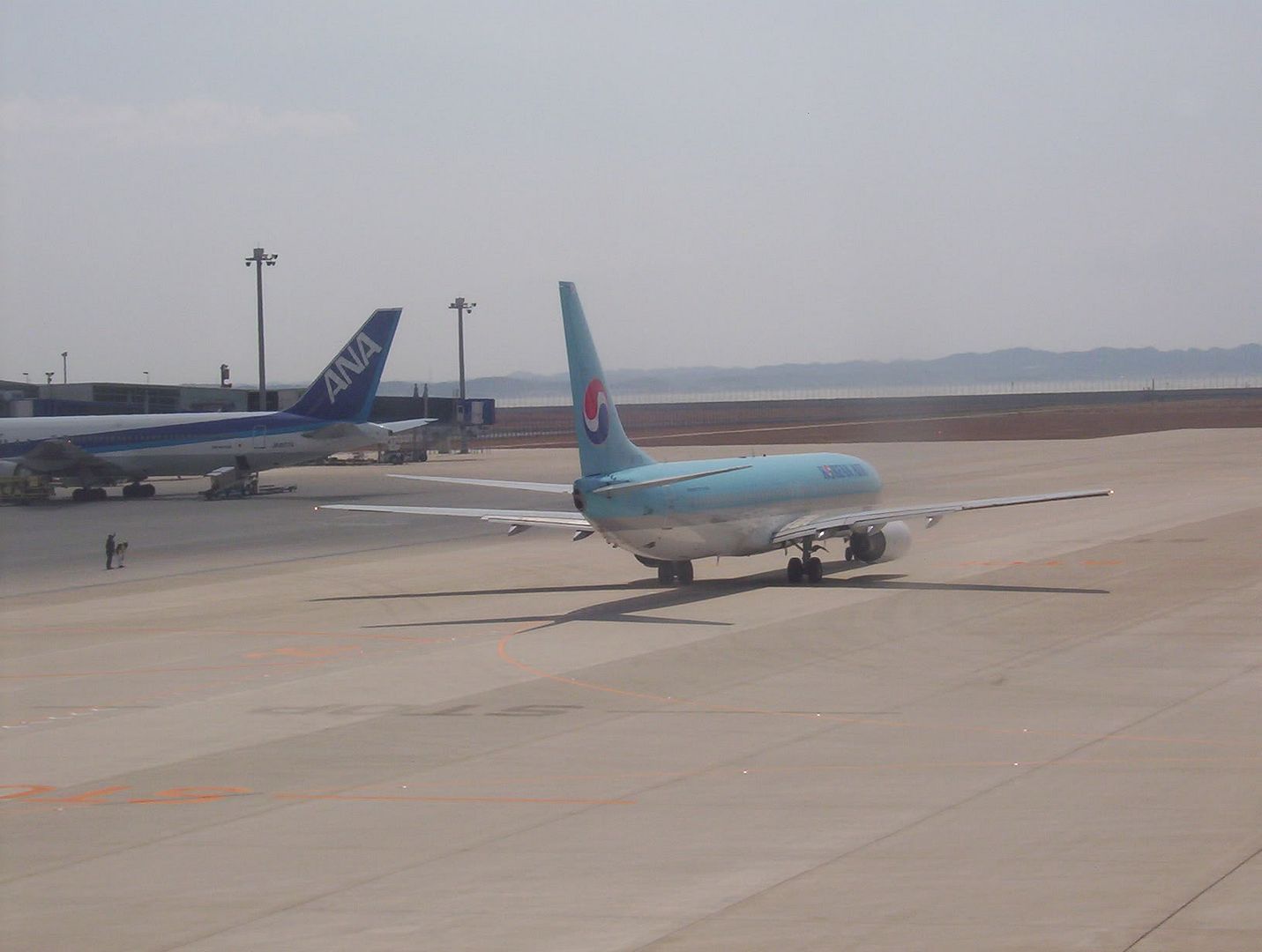 The NW 757 that would take me to NRT
Thank you for another memorable flight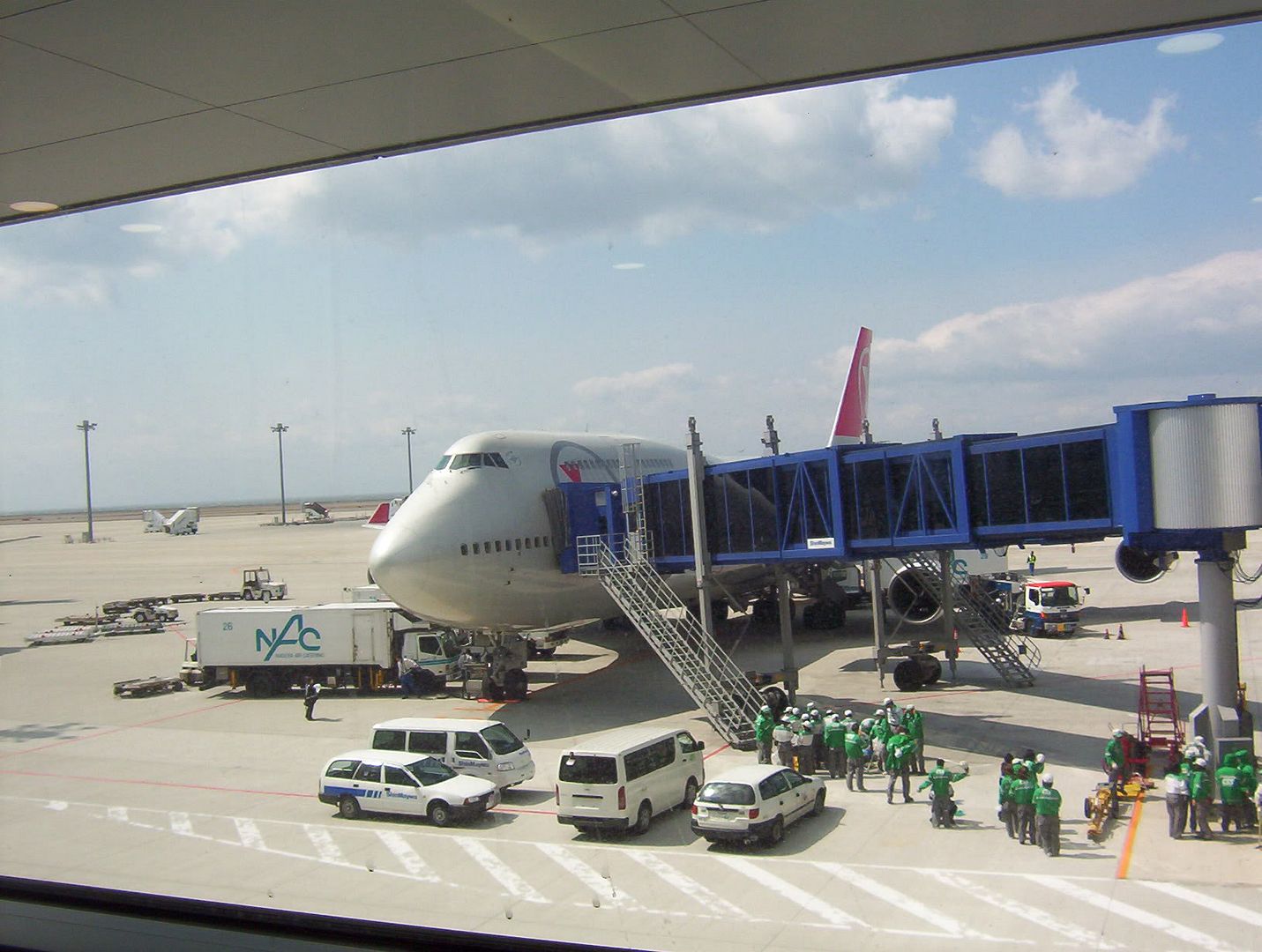 Unfortunately my transit in NGO was short but nevertheless, at least I got to try it out for a bit
A couple of interior shots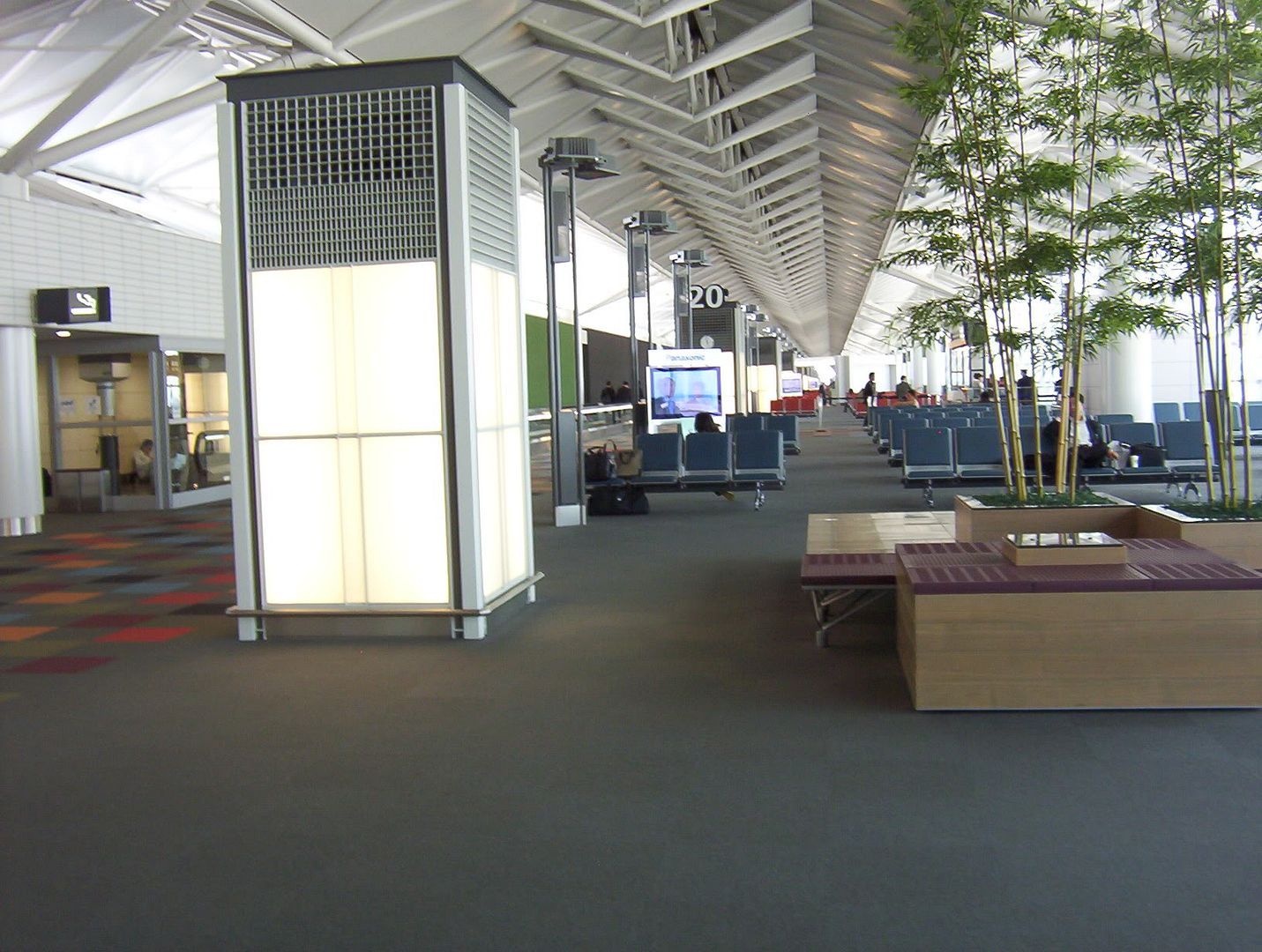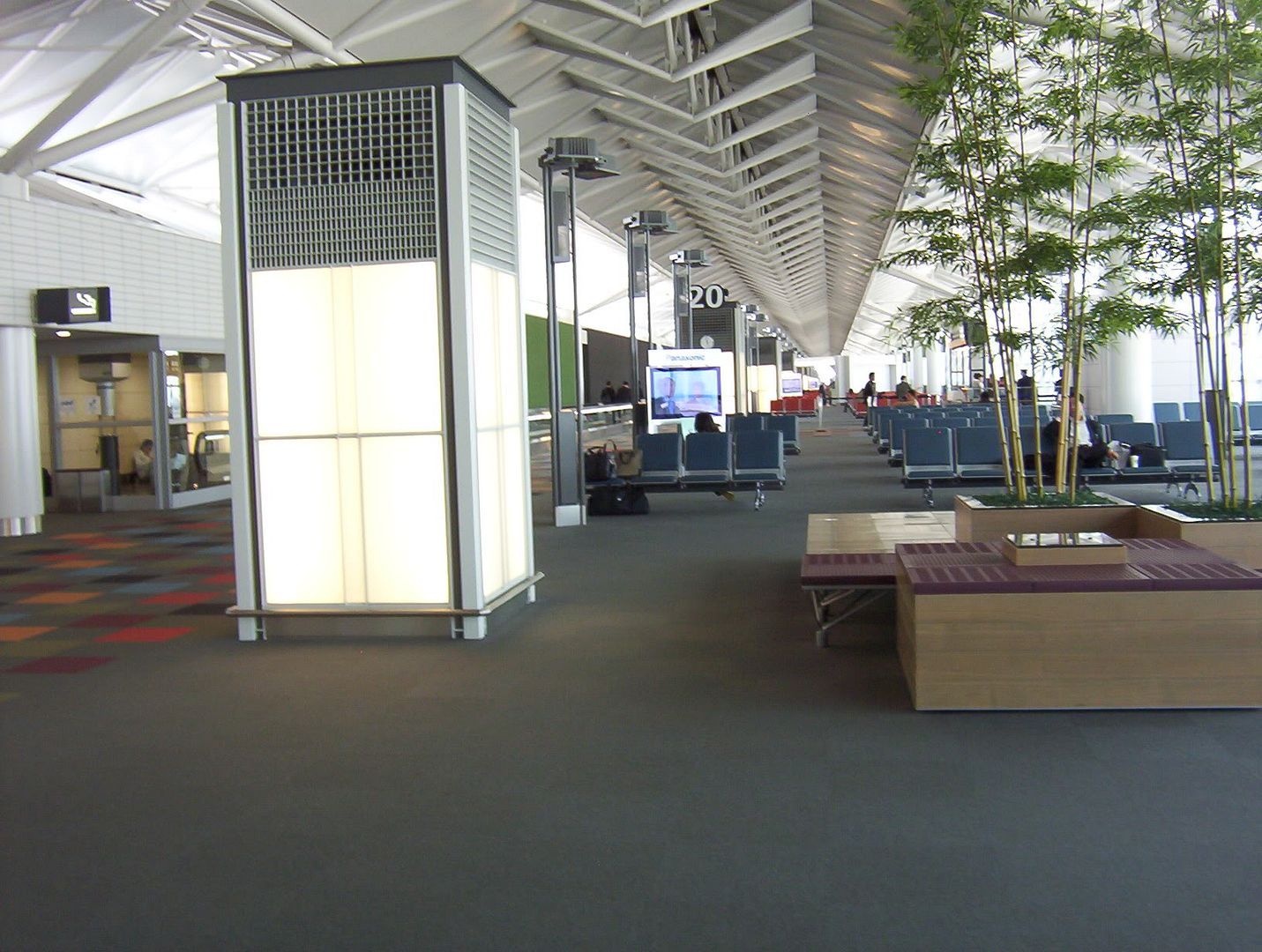 Northwest Airlines
NW 78, NGO-NRT
19 March 2006
World Business Class
Boeing 757-251
Once I boarded, it seemed that I was the last F passenger to arrive. We were still waiting for other passengers also connecting from NW72. Another pre-flight drink of orange juice was taken up and I begant to settle in for the rather short jump to NRT. One of the major reasons why I decided to take this flight was to experience what it's like to fly on an American airline on an intra-Japan flight. Passengers on this flight are either those that started off in SPN (the origin of this flight), connecting to another NW international flight, or, in my case, connecting from an international flight to NRT. The flight itself is boarded on the international side of the terminal which meant that I didn't need to go through customs and immigration at NGO but instead at my destination (NRT).
A bunch of ground personnel ready to charge into the 744 I just took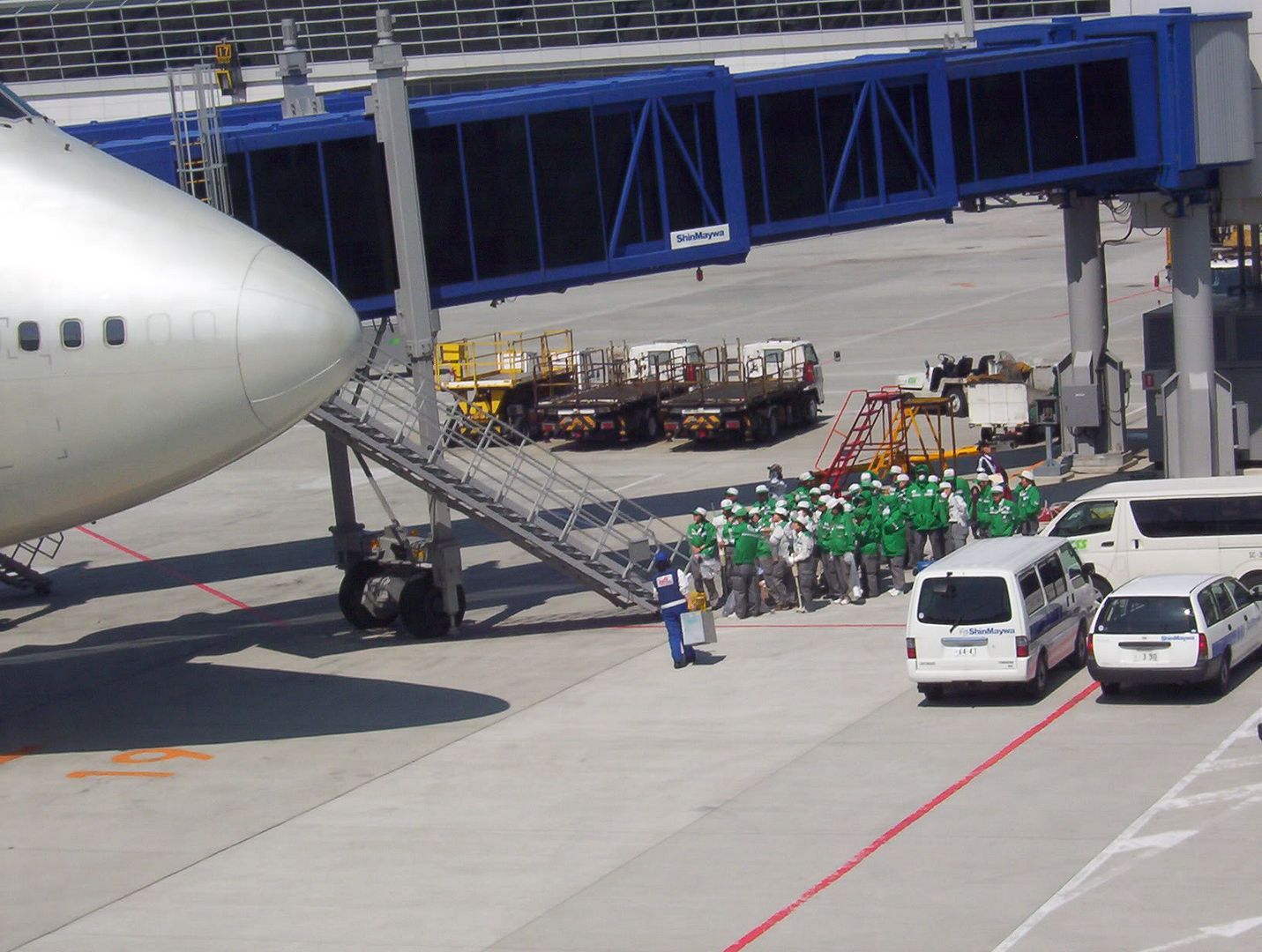 A shot from my seat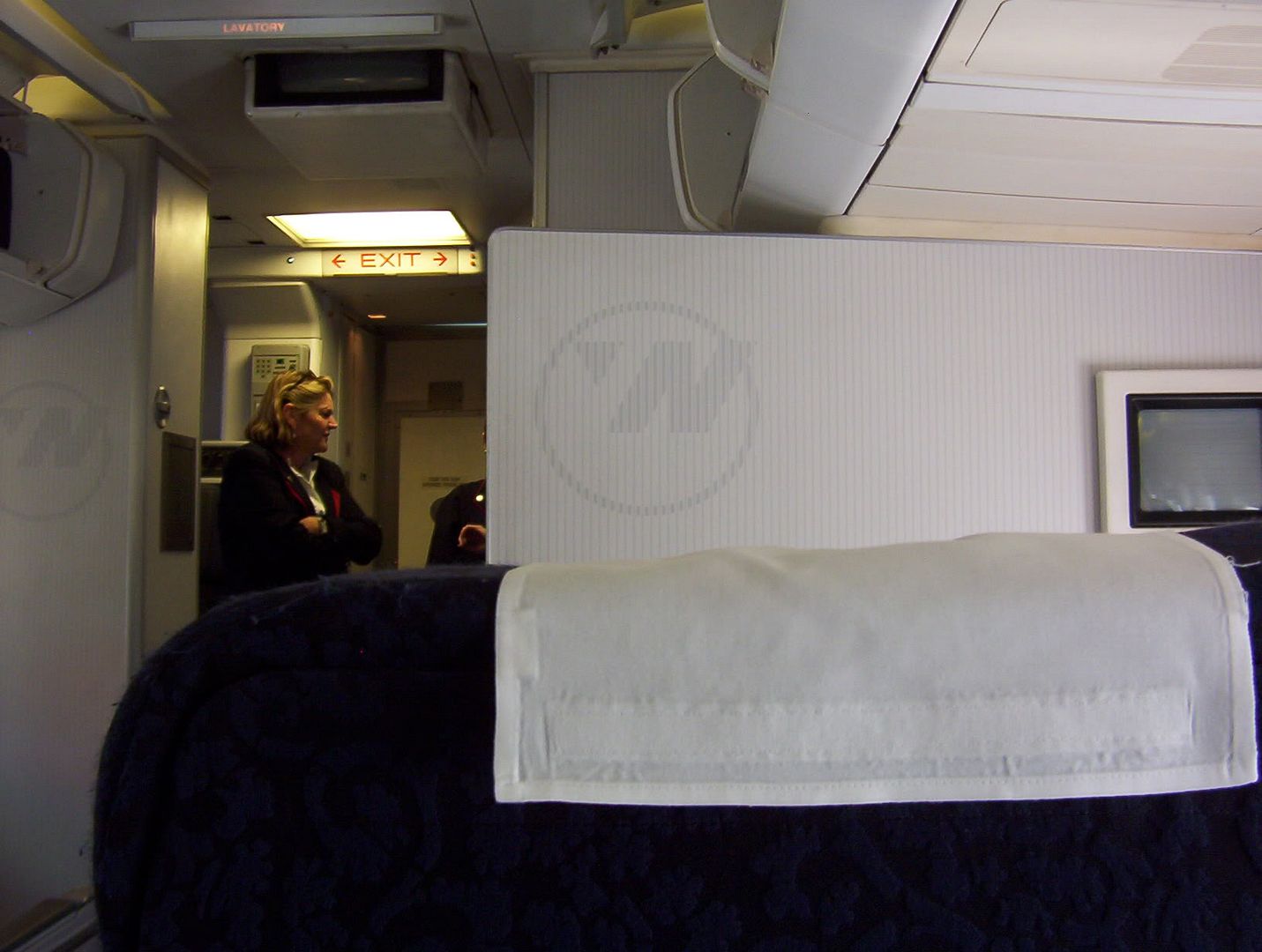 A CS 738 fresh from GUM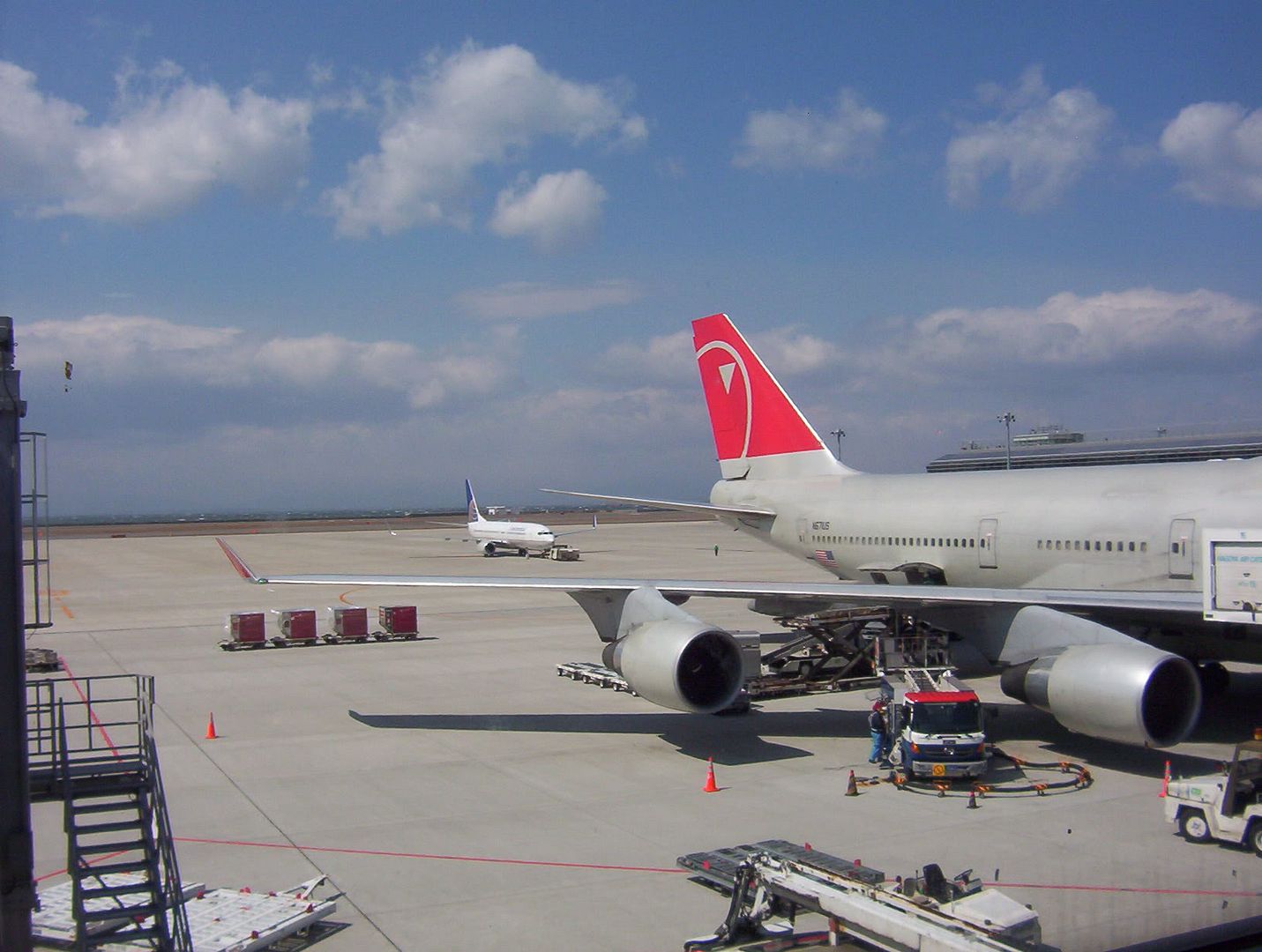 One last shot of the terminal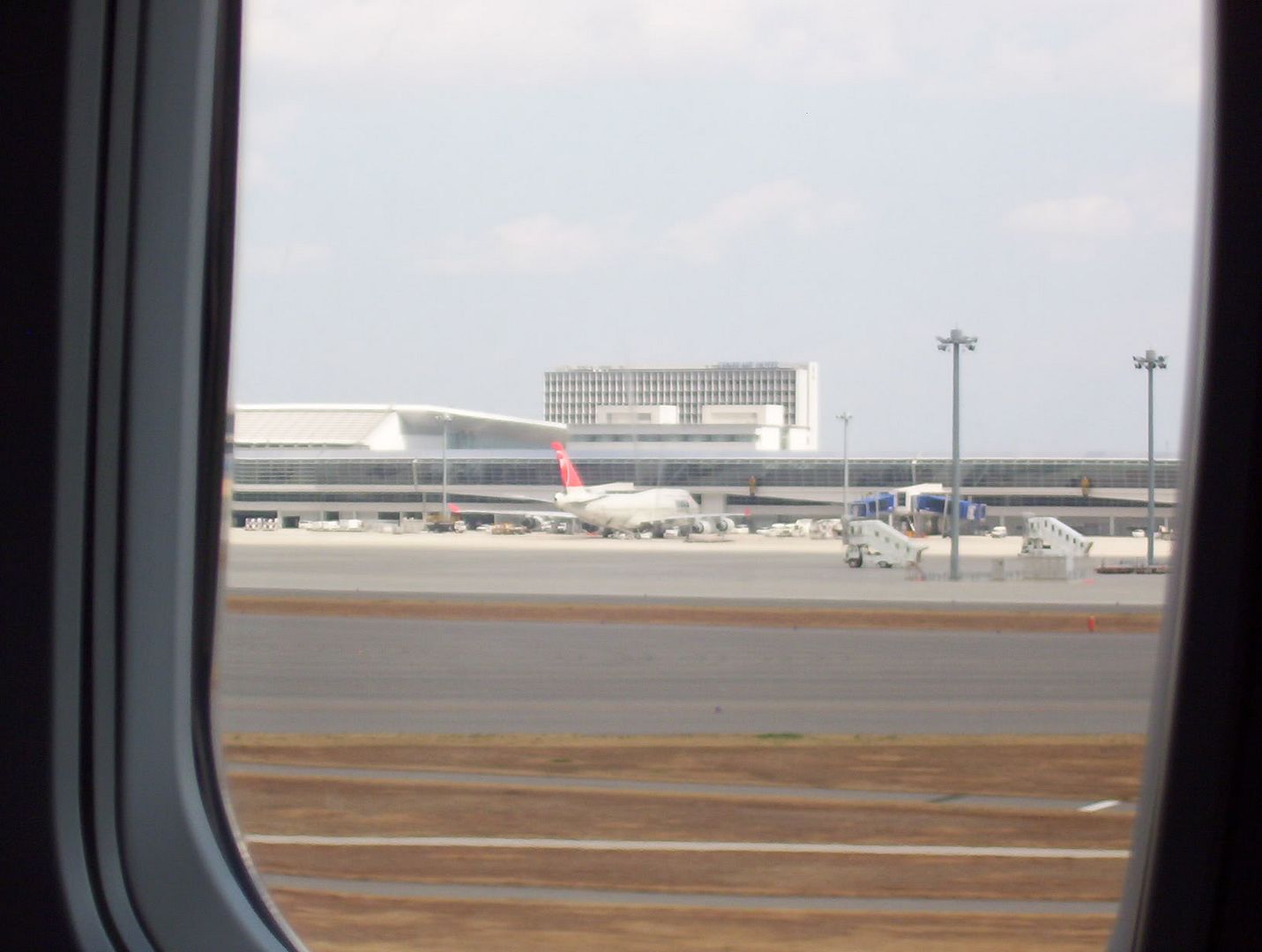 I spent the majority of the flight catching up on sleep and before I knew it, we were on approach to NRT.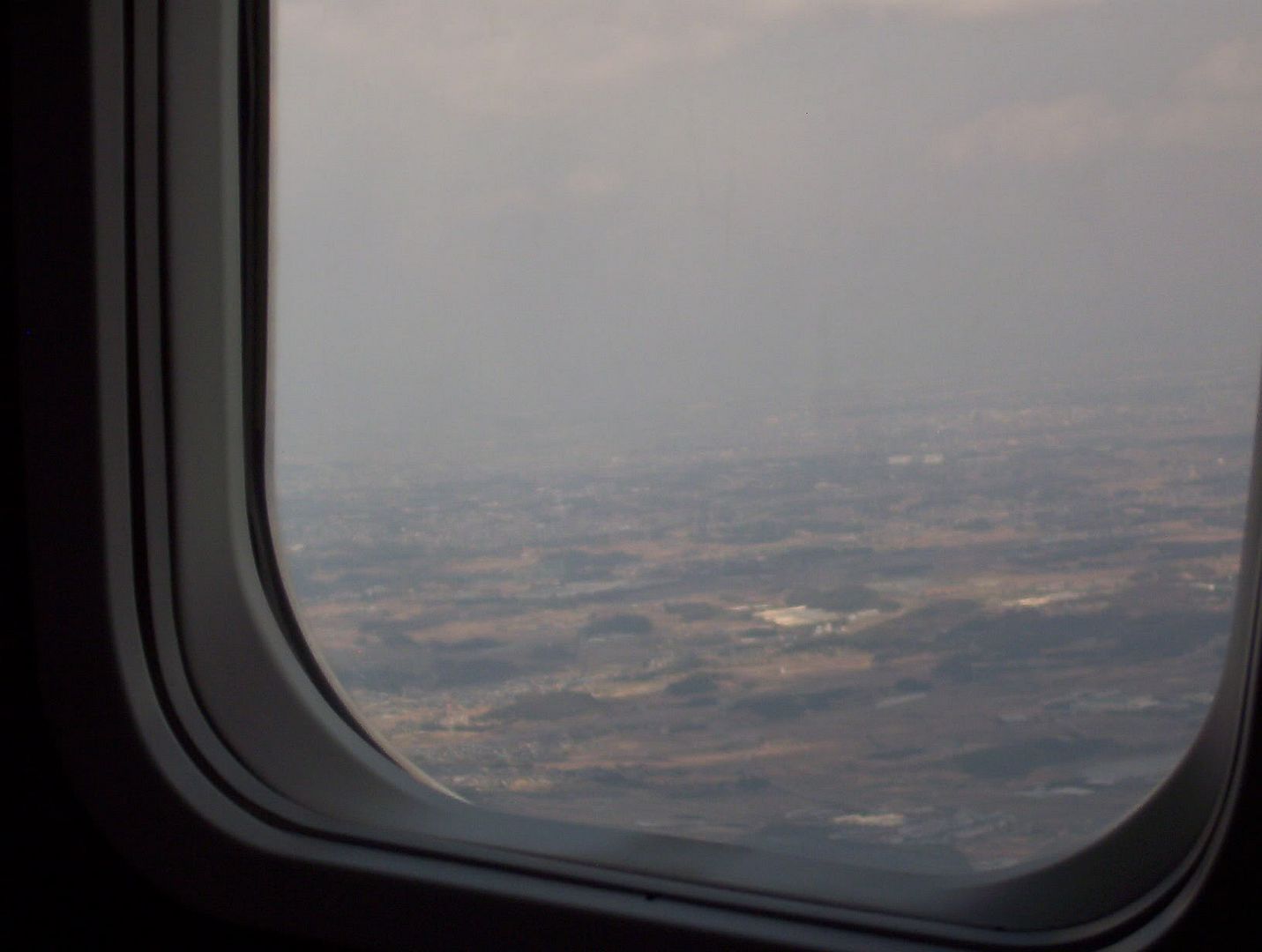 Since the aircraft was just a 757, we landed in the airport's shorter northern runway where we were welcomed with a "Down with Narita" billboard in Japanese and English. We taxied around Terminal 2 where I caught a glimpse of a KA A333 (first time I ever seen a KA a/c)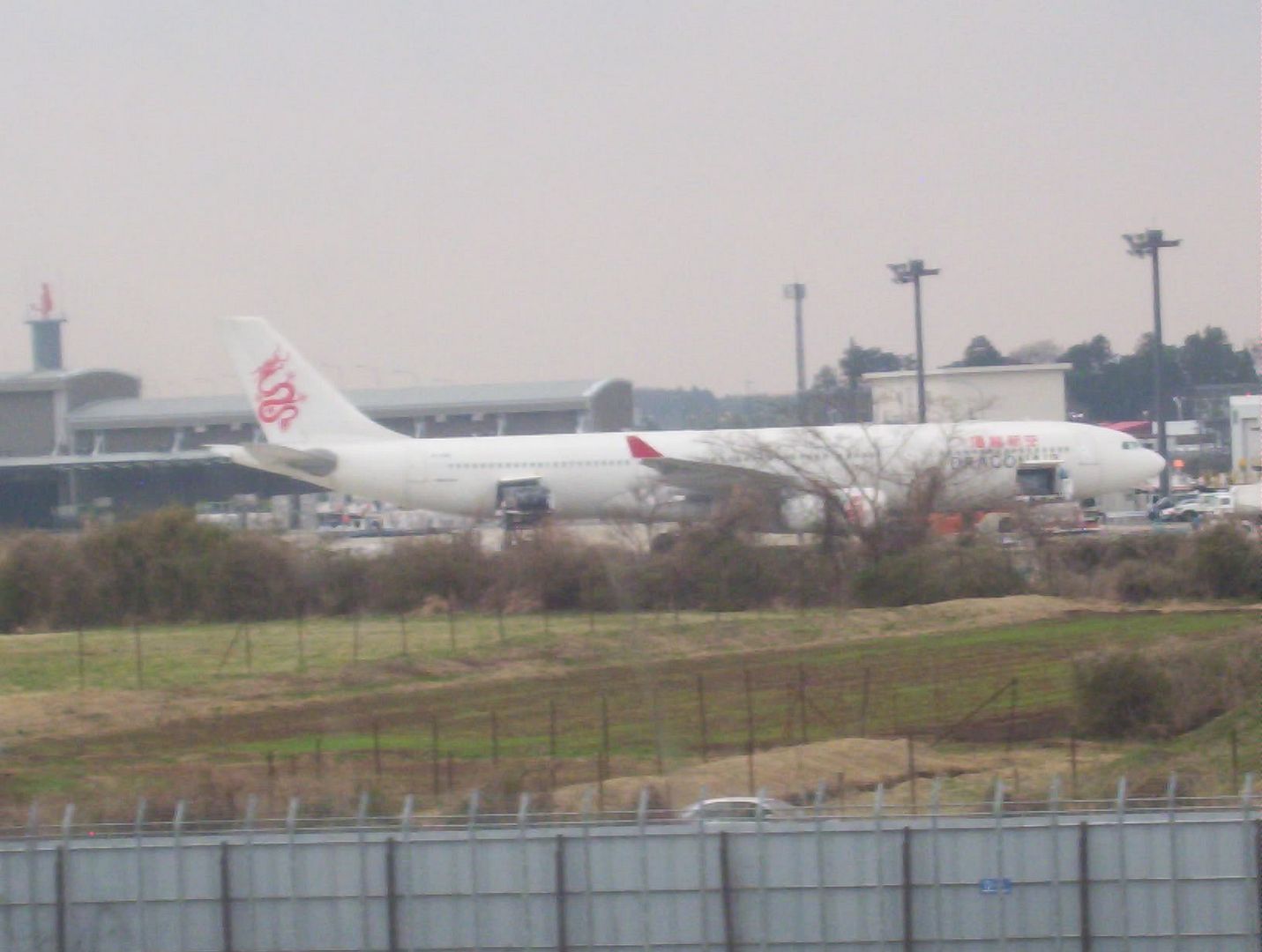 A PR A333 heading back to MNL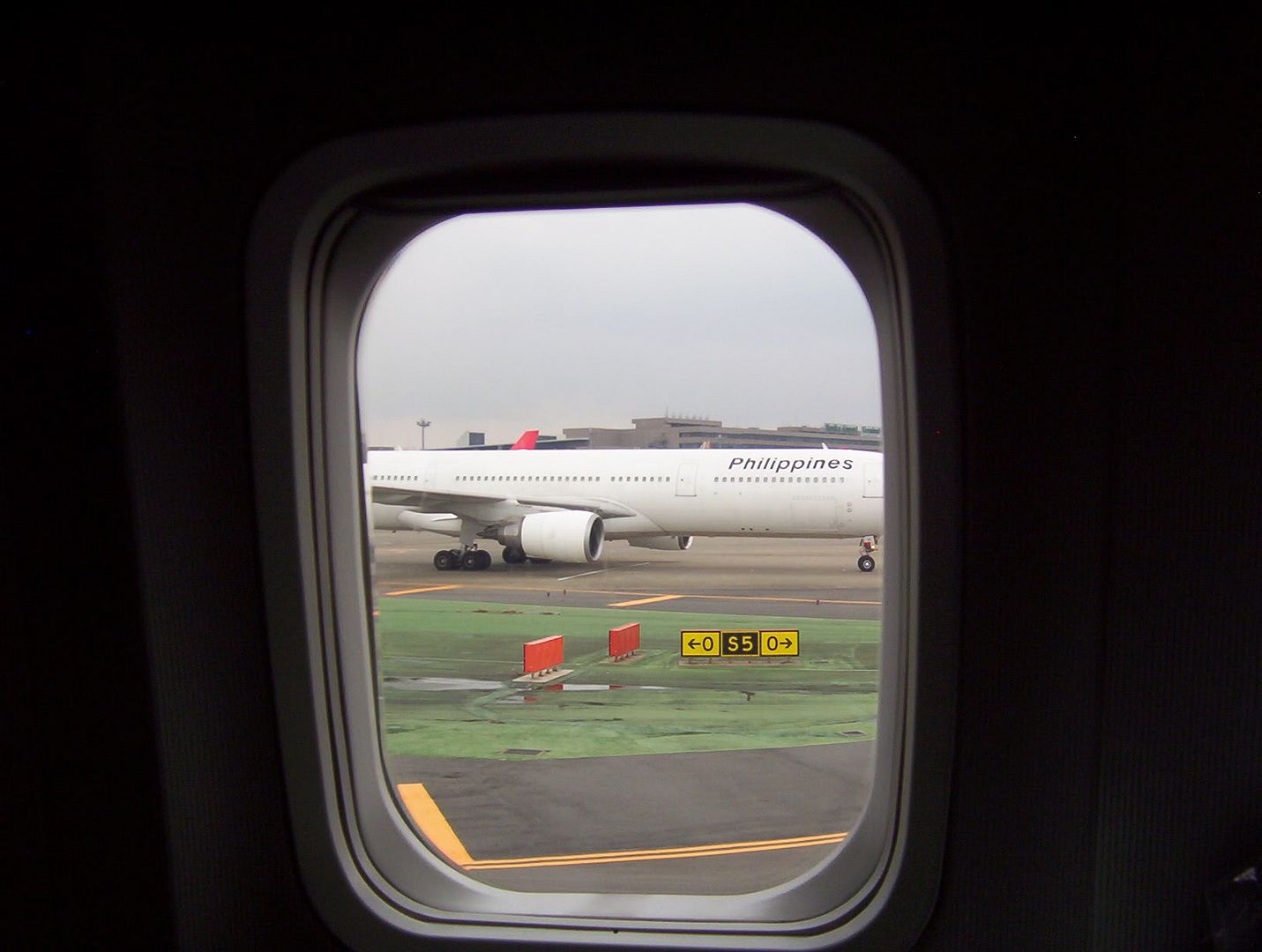 One last view of the 752
Claiming baggage was interesting...other than me, there was just one other passenger claiming luggage.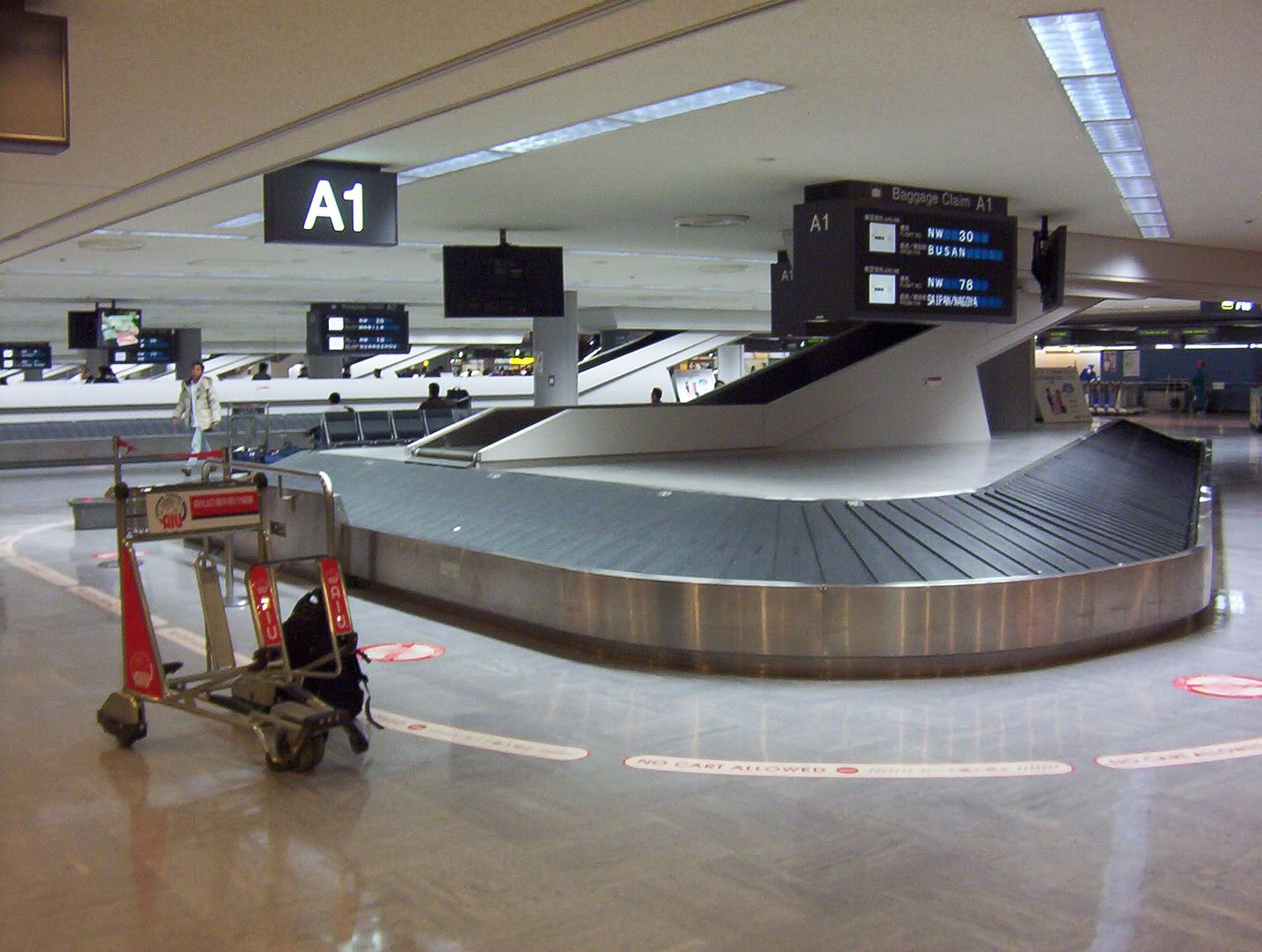 Going through immigration was smooth as there was barely anyone on the Japanese citizens/Foreigners w/ Alien Registration lanes. Thankfully the shuttle to Terminal 2 was much emptier than what I experienced a week ago...
All Nippon Airways
NH 2155, NRT-CTS
19 March 2006
Airbus A320-211
(unfortunately I couldn't find all but one of my shots on this leg)
Upon check-in, I unfortuantely found out that my luggage was overweight which meant that I had to pay around an extra 6000 yen which pretty much left me with ¥1000, just enough for me to get onboard the shuttle to my dormitory in Sapporo. Afterwards I headed up to check out the observation deck and have dinner.
Looks like we meet again, JA8185.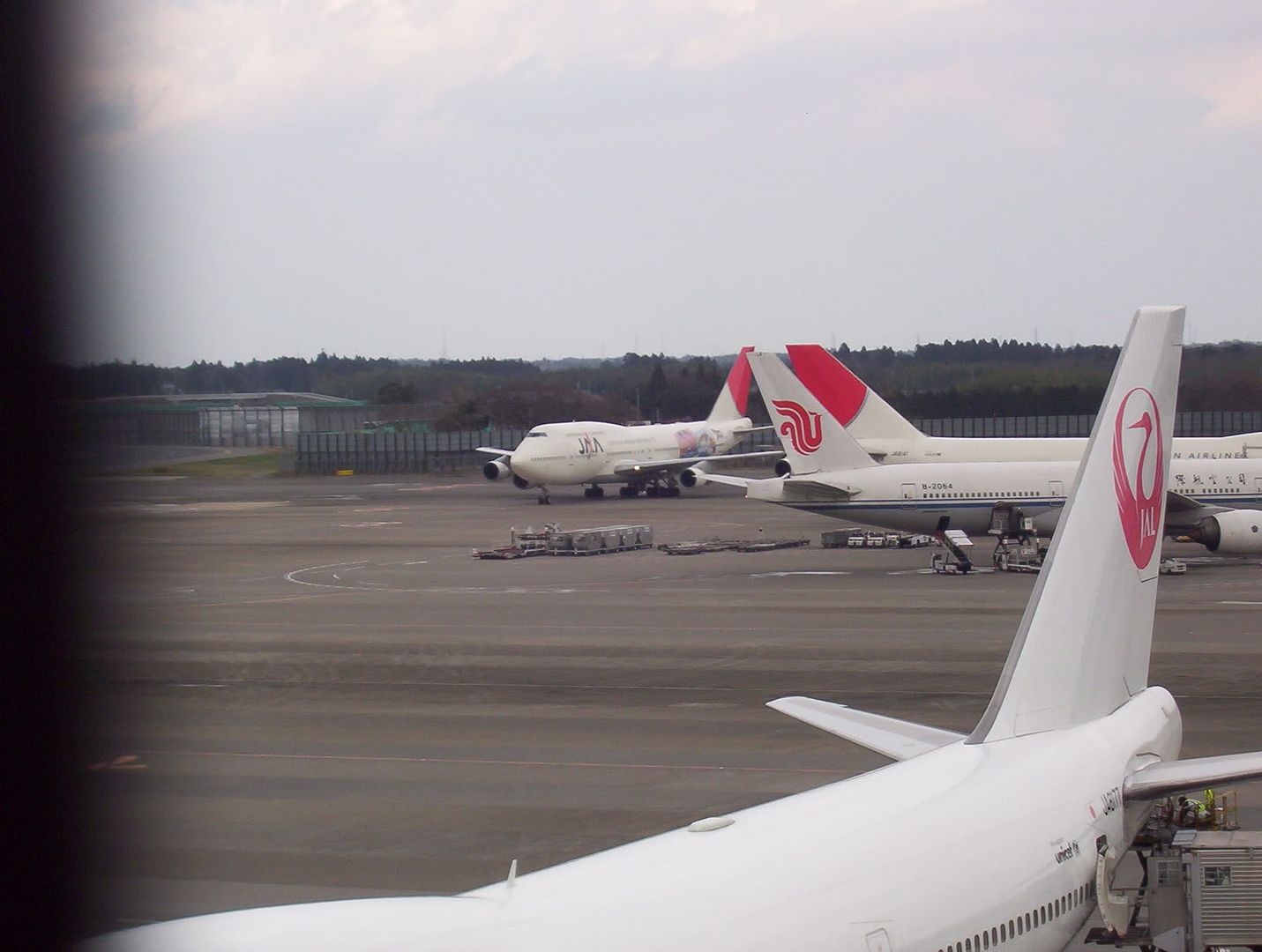 Waiting in the domestic side of Terminal 2 was pretty tedious until I ran into a couple of representatives from the Nat'l 4H Council in which I chatted with them for a bit. I also noticed that the teacher I originally was staying with in my first couple months in Japan was also in this flight. We were bused to a remote stand where were boarded the A320 that would take us to CTS. Taxing and takeoff was amazingly quick and we were soon in the evening skies over Honshu. F/As came up and around with beverage service where I went back to my normal Japan domestic flight request of apple juice. The load on this flight seemed light as I pretty much had an entire row to myself.
We descended into CTS and experienced yet another smooth landing. Once we deplaned, I gave my farewells to the 4H representatives and headed off to the shuttle
Upon arrival to my stop at Sumikawa station, it began to lightly snow again. I looked up into the sky and was amazed how just earlier that day, I was in the warm and humid climate of the Philippines and now I returned back to the cooler climes of Hokkaido. I began my trek from the station to the international school, strugging with the balikbayan box in the process, realizing that my vacation was over...
-----
Well, another memorable experience with WBC! A couple interesting things for myself was the intra-Japan 757 flight as well as my first flight with NH (as well as a narrowbody w/ a Japanese airline). My only gripe was the fact that I had to pay an additonal ¥6000 to assure that my overweight luggage would be with me once I returned to Sapporo (couldn't fit anything more in my carryons as they were as packed as can be).
Well, thanks once again for reading my report!