Hey guys. Just got back from my annual family vacation to Europe. This year was just Switzerland, however, since tickets to Greece cost an arm and a leg. Our flights were JFK-ZRH and GVA-JFK since we spent time in Lugano and Sion and drove across the country. Before you read any farther, please accept my apologies for the lack of in-flight photos on the outbound trip, as I was in a middle seat. Also, you'll notice I am very precise about the times everything happened. Don't quite know why I'm so anal, but I am, so deal with it. Haha. Only kidding. Enjoy this, my second-ever trip report!
Outbound trip:
Date:
June 31, 2006
Flight:
LX17 – Swiss International Airlines
Routing:
JFK-ZRH
Aircraft (Registration):
Airbus A330-200 (HB-IQC)
Excited as usual, we packed last minute and left the house at 2:22 PM, having planned to leave around 2:00. We drove into New York City to get my cousin, who was going to drop us off at JFK and then keep the car while we were away, so she could come pick us up when we came home. There was a
ton
of traffic in New York, and we didn't get to the airport until 4:06. We had wanted to get there around 3:15 so we could spend a lot of time in the lounge, something we all love to do before a flight. The check-in line was not very long and we were called to the booth at 4:15. The new system of checking the weight of baggage and then having you bring them over to a screening machine is, in my opinion, ridiculous. It took us until 4:30 to get all out bags checked and our boarding passes printed! We got to the lounge at 4:35 and could only spend an hour and 15 minutes there instead of the 2+ hours we had planned on giving ourselves before the flight. The lounge had a lot of good goof, and the Italy-Ukraine game was on. I sat to watch a little and ate some Manecotti (spelling?) and a salad. I also drank about 7 gallons of water (about 25 gallons for the Europeans, and yes, that's an exaggeration) before the flight. I have leg cramping problems and dehydration on planes can be a killer. After a few minutes of soccer, some good food, and waiting for the staff to finish cleaning the windows (which I thought they would do AFTER the lounge was closed, not in the middle of the day) I took a seat on a stool and spotted for an hour. The Swiss lounge is in an idea spot for Terminal 4 pictures, and here are just some of about 150 I took. This was the very first time I used my new camera (Olympus Evolt E-500) and I am very pleased with the results. These are the unedited ones, but some of them have been, are, or will be in the queue at some point with slight adjustments.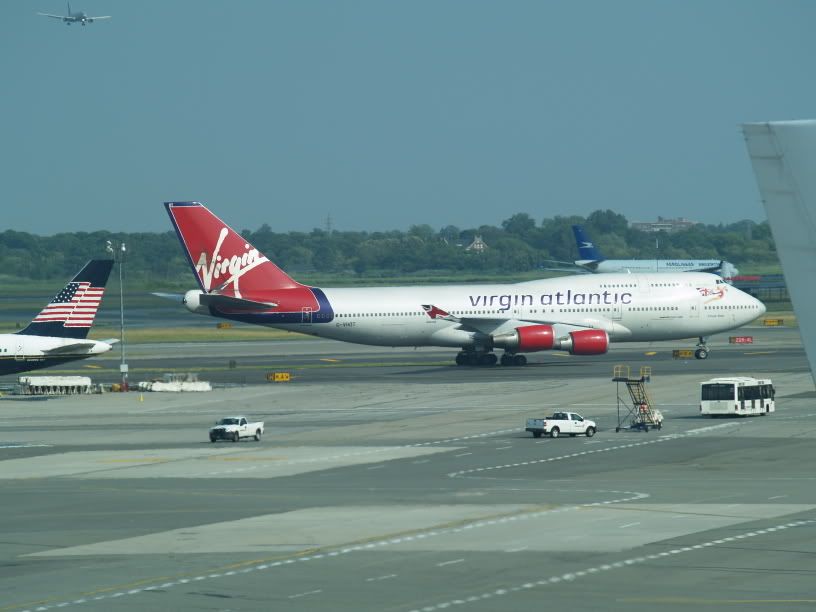 Departing for LHR.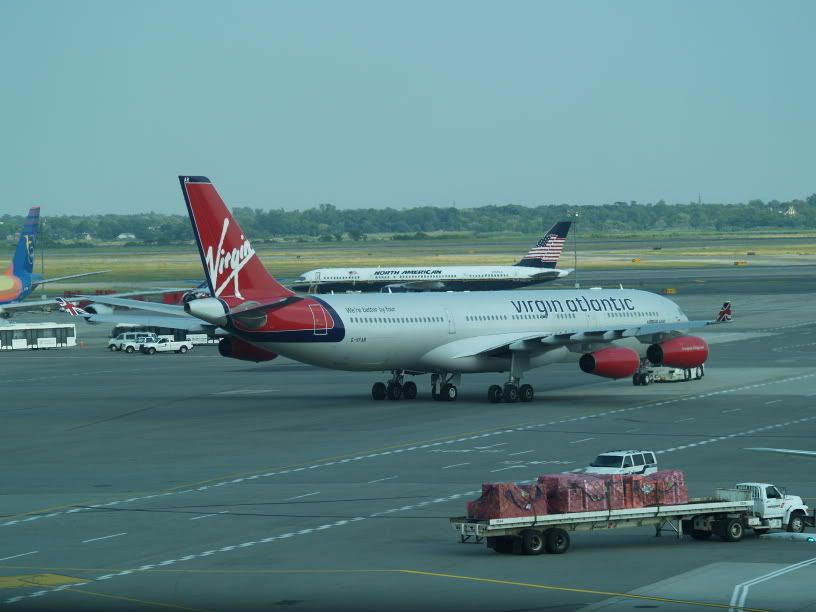 Being pushed to its Terminal 4 departure stand.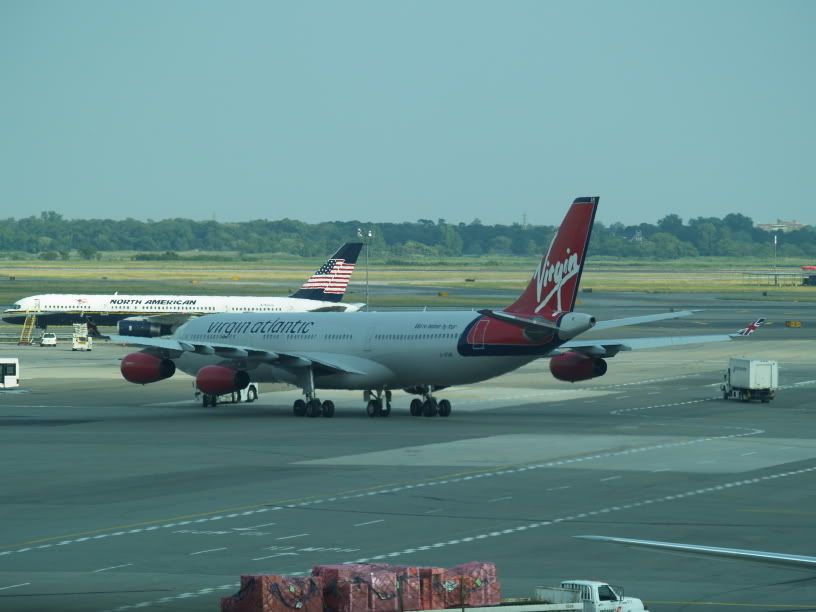 Being pushed to its Terminal 4 departure stand.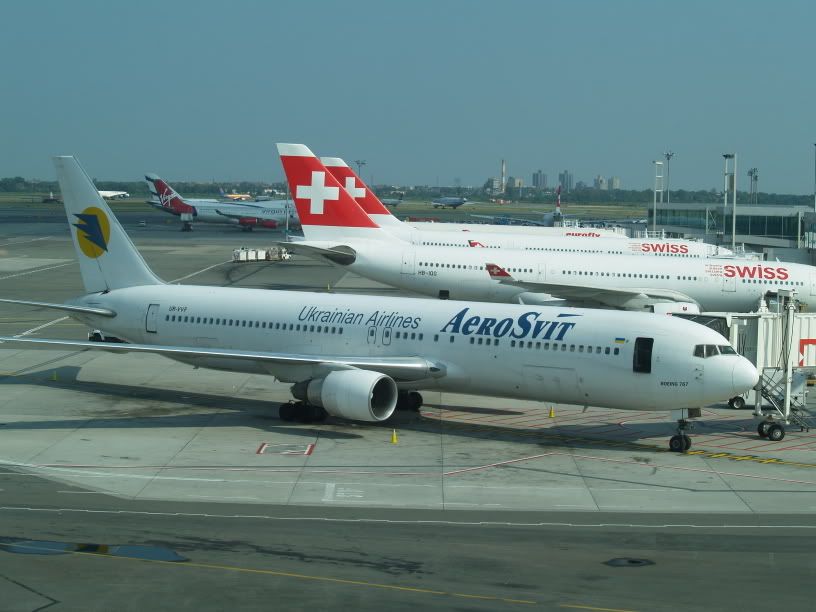 Awaiting passengers, crew, and cargo.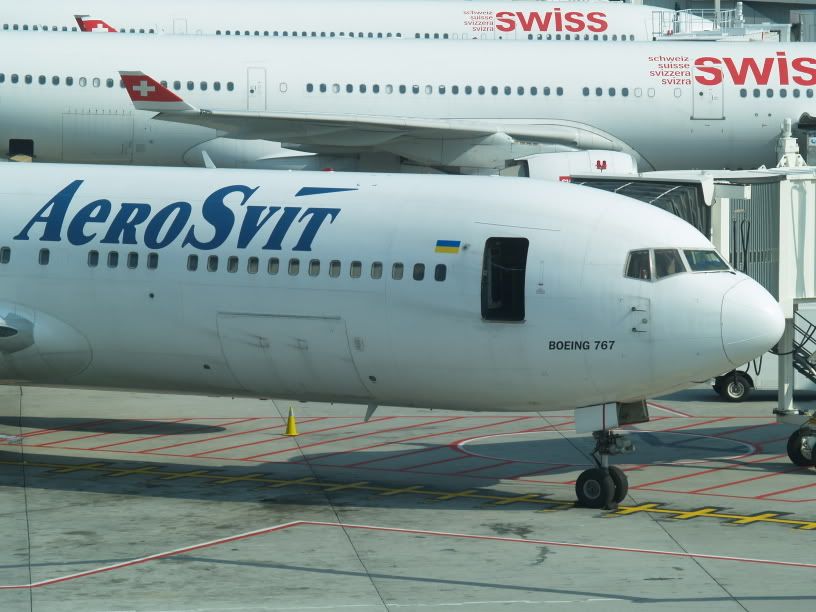 Being prepped for it's trip to the Ukraine.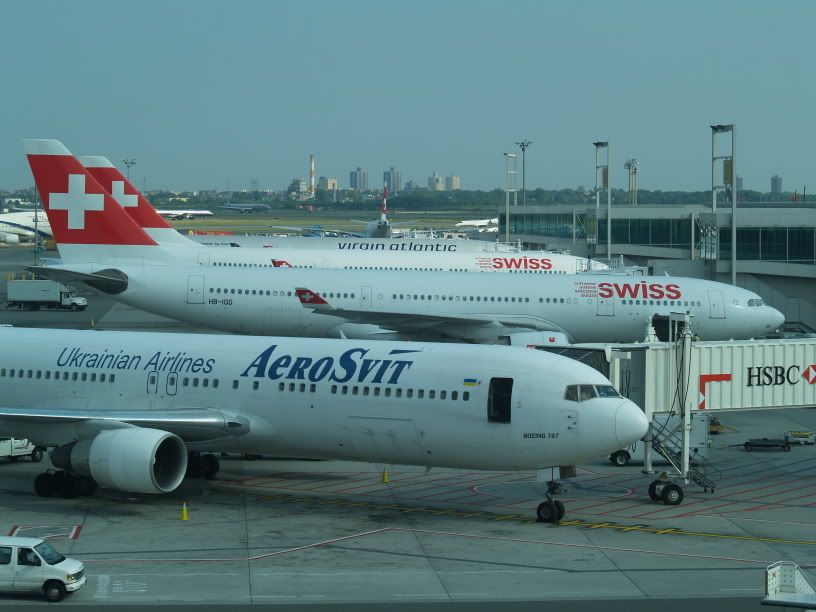 LX's domination of Terminal 4 at this time of day!
My favorite tail design. So elegant.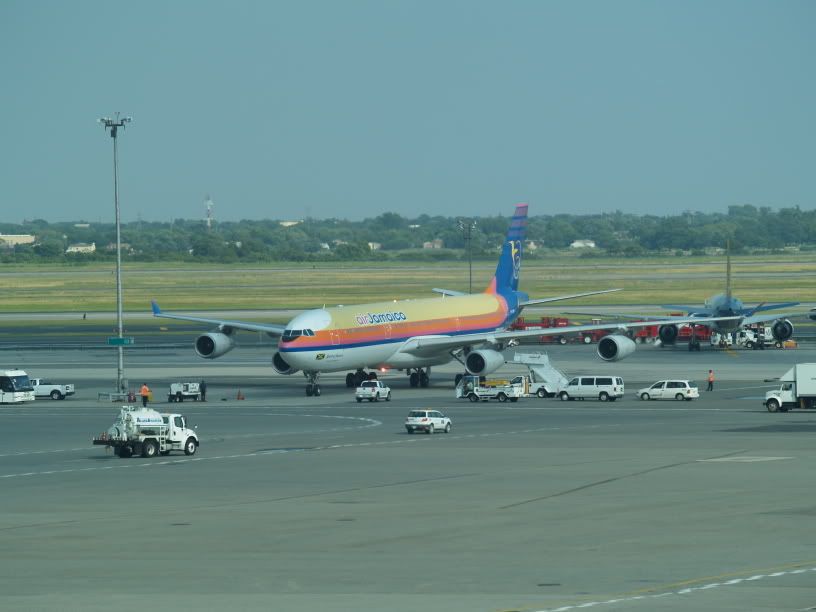 Just arrived, now unloading.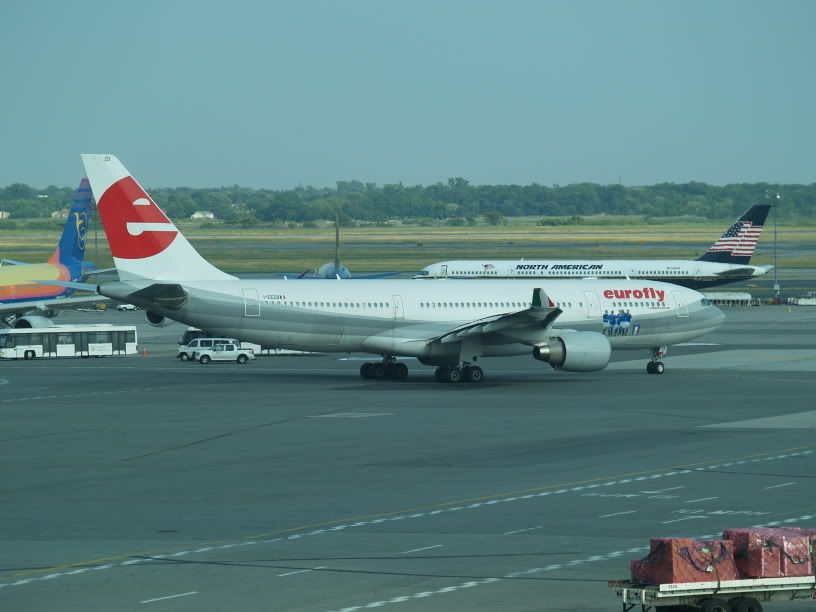 Taxi to Runway 31L.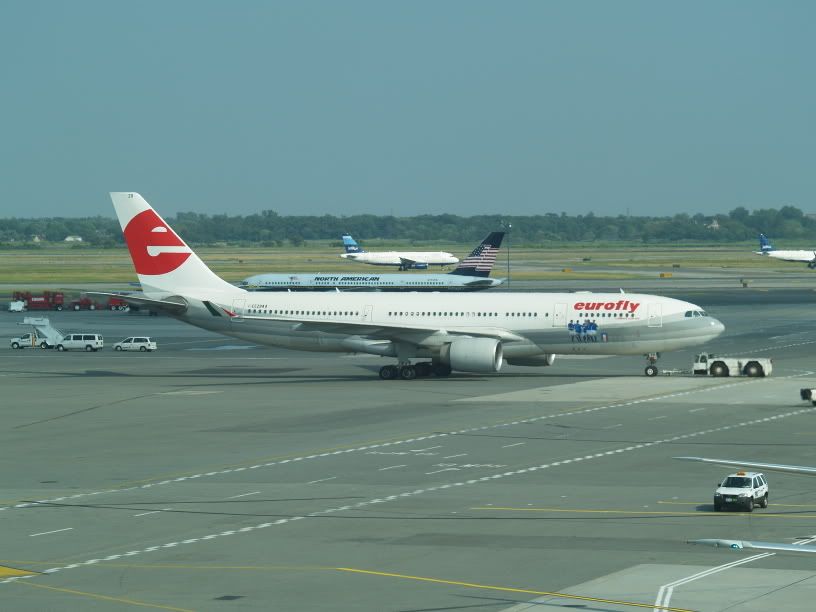 Taxy to Runway 31L with special Italian soccer team logo.
After our time in the lounge, we left to make our way to the gate. Security at Terminal 4 during trans-Atlantic rush-hour can be a pain, so we snuck into the Business Class security line, even though we should have been in the cattle-class lane. We got through security at 5:31 and got to the gate 5 minutes later. Boarding started right on time, and my family's row was called at 5:46. We settled into our seats (my dad in 27D and my mom, sister, and I in 28D E F, respectively). We pushed back at 6:11 (scheduled for 6:10) and began the most excruciating part of the flight: taxi for takeoff at JFK during rush-hour. Taxi took us 51 minutes, and we finally took off at 7:02PM from Runway 31L. We were on our way to ZRH.
About 45 minutes into the flight, meal service for those with special meals was started. My entire family gets special meals, with my parents and I getting the low-fat meal and my sister getting the vegetarian meal. The low-fat meal was chicken with white rice, a bowl of fruit, vegetables, and a rice cake (which I traded my sister for her roll of bread). The food was very, very good, and I love getting served before everyone else so I can eat in peace and start the IFE (or my nap, if I can actually get to sleep) early. When I fly across the Atlantic on a night flight, I wake up after a few hours of sleep (if I'm lucky) and always feel very nauseous. I almost always throw up. I decided to try a new theory this time, and not sleep at all. Just spend the whole flight reading, listening to music, or enjoying the IFE. My rationale for this theory was that it would simply be like staying up late, since we landed in ZRH at 8:10, the equivalent of 2:10AM back in New York. My theory worked, and it also helped a lot that I became friends with the kid next to me (Evan) and we talked for most of the flight. I only dislike him for not introducing me to his sister (who was a few rows up and was really, really good looking and only a year younger than me). You'd think he could have done that as a favor since he got to meet my sister and they exchanged numbers. The IFE was started just as the main meal service began, and my sister, Evan, and I settled down to watch The Pink Panther, with Steve Martin. I'd seen all the originals with Peter Sellers, and while I knew this wouldn't live up to them, I never expected such a crap movie from Steve Martin. I was so disappointed I almost turned it off. Thank God it was short! LX's in-flight entertainment is sort of on-demand, and sort of not. Everyone has their own screen and can choose what the want to watch, but you cannot start it at any time. The movies all start at once, and then once they are
all
finished (which is never at the same time) the cycle begins again. This usually takes a little over two hours. So after the Pink Panther, I played "Who Wants to be a Millionaire" and won on the first try. Then, for some reason, I couldn't get past the 4,000 point question. Once the movies came back on, I watched "8 Below" and was very impressed. Based on the cast I was expecting a stupid plot with lots of comic relief, but it was actually a very good movie. Once that was over I watched some sitcoms until the cycle of movies was ended and caught the very end of Frasier and an episode of Seinfeld. After two movies, some games, and some sitcoms it was time for breakfast and the cabin lights came on slowly to wake everybody up. FA's said it was now ok to open window shades and natural light filtered through the cabin as well. My low-fat breakfast consisted of a croissant, fruit, yogurt, and orange juice. They came around later with more croissants and I gladly took another (so much for the low-fat aspect of my breakfast). After breakfast, and right before our descent, came the best part of every LX flight. Hot towels to clean up your face and hands, and a Swiss chocolate.
We started our descent over France and Germany, came south between Bern and Zurich, turned over Luzern and Uri, and landed on Runway 34 at 8:05AM local time. The landing used no thrust reverse because of the layout of the Runway and we taxied to the International terminal and parked at 8:11. We walked out of the plane, I said bye to Evan, and we took the underground train to the main terminal at ZRH. We went through Passport Control at 8:31 and had to wait until 8:42 for our luggage. Not too long but we were far from being the first ones to get our luggage. I was surprised how fast ZRH gets the baggage out onto the belts. We went through customs with nothing to declare at 8:45. My mother and I went to Swisscom to find SIM cards for our phones, but could not find ones that worked since American cell phones are locked. My dad, in the mean time, went to get the rental car, which we got at 9:11. We left ZRH at 9:19, and with my dad's incredible sense of direction we got to Cadro Panoramica Tennis Club (just above Lugano) at 1:40PM (a drive or 4 hours and 20 minutes instead of the roughly 3 hours and 30 minutes it should have taken us). My theory of not sleeping on the plane worked beautifully on the flight, but by 11:00AM Swiss time I was exhausted. I got sick several times in the car and when we got to Cadro I slept from 2:00 until 5:00 when the World Cup games were on.
Conclusions:
Our flight was scheduled for a time of 7 hours and 55 minutes from gate to gate. It actually took us 8 hours and 1 minutes, but we spent 51 minutes of that time on the ground at JFK. They really need to so something about it. Or, LX should move one of the ZRH A332 flights to EWR instead of having two dailies from JFK. The seats in Coach on LX are very comfortable and the seat pitch is more than enough for me, though my dad, at 6 foot 4 inches, is always quite cramped. I sat in those seats easily for 8 hours, but my problem is always that my legs cramp if I don't move them enough, and getting up to walk around when I'm in the middle of the middle seats is a hassle. I had to bother Evan several times during the flight because I had to give the aisle seat to my mom who has health problems, so she needs to get to the lavatory immediately sometimes. The IFE on LX is good and rarely fails, but there needs to be more selections and it should really be on demand. It is, in my opinion, the only negative thing about LX. The airline is very good (food, service, punctuality, amenities) but I think that with an AVOD system like Virgin's or like a lot of the Asian airlines it could be a world-class carrier to an even greater extent with Star Alliance behind it.
Again, sorry for the lack of in-flight pictures. As compensation, here's some pictures from Switzerland. Just a few, so as not to take up all the bandwith.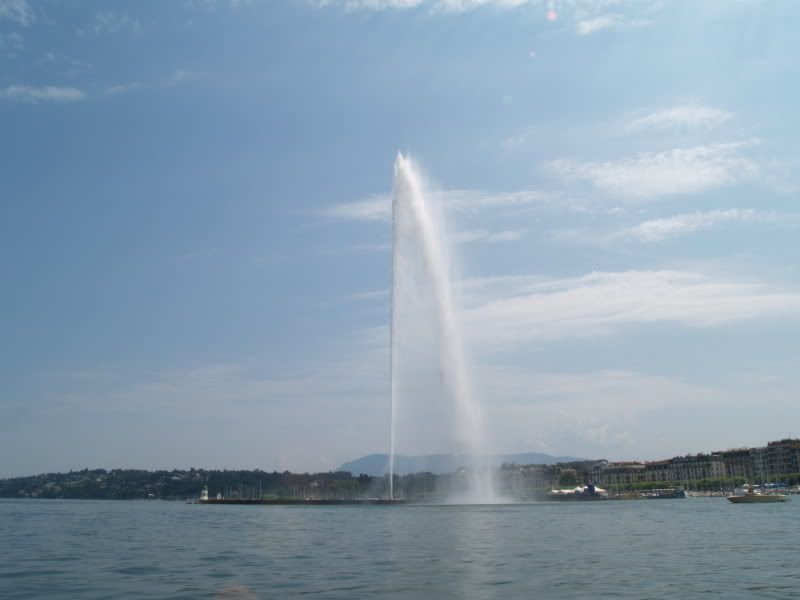 Le Jet D'eau, one of Geneva's most famous landmarks.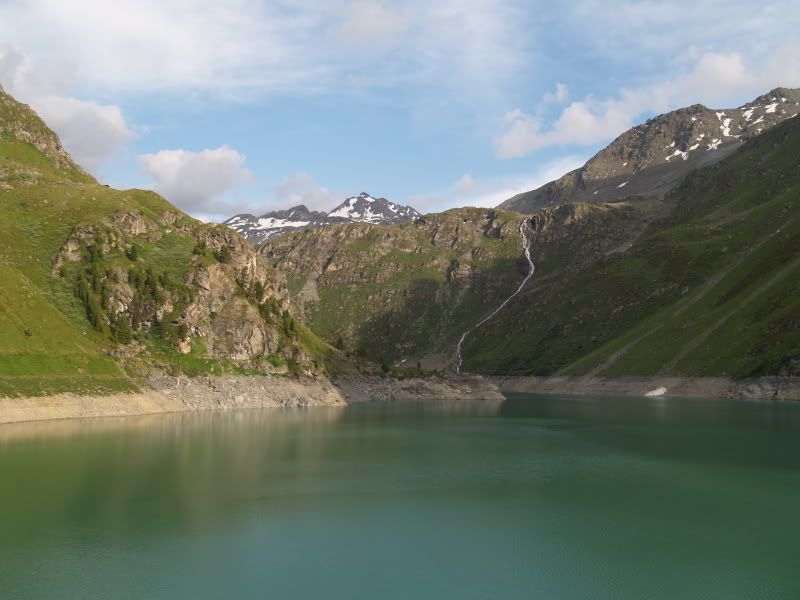 Lake created by a dam in the Nendaz Valley.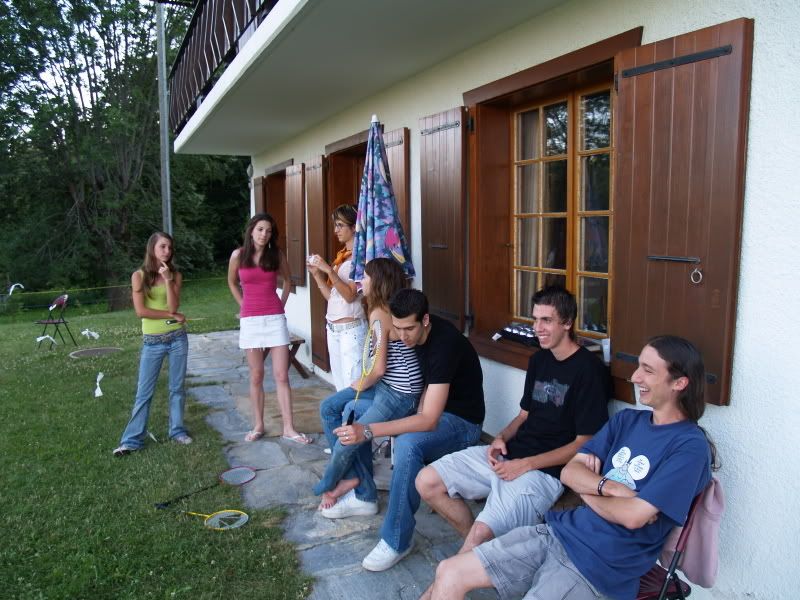 Cousins and my sister. From left to right, Claire, Daphne (my sister), Anne, Line, Jorge, Renaud, and Frederic.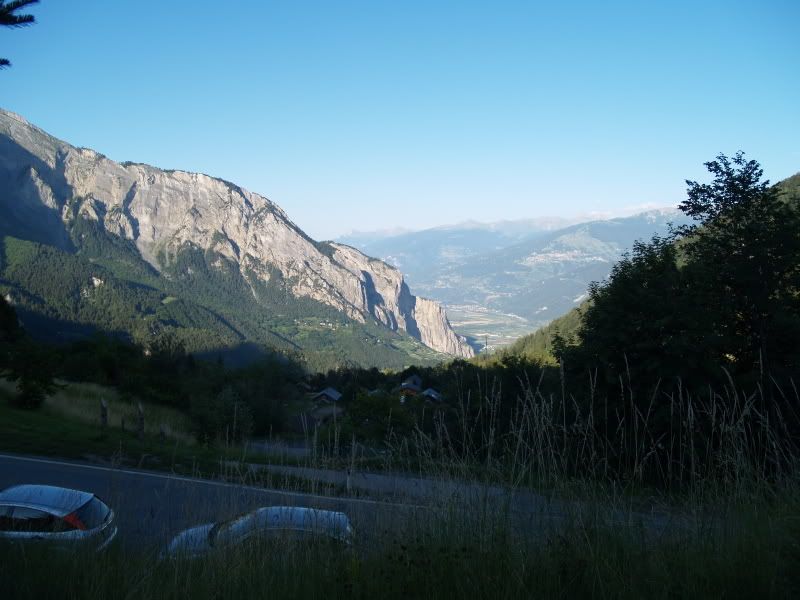 The view from my grandmother's Chalet on the Rhone Valley.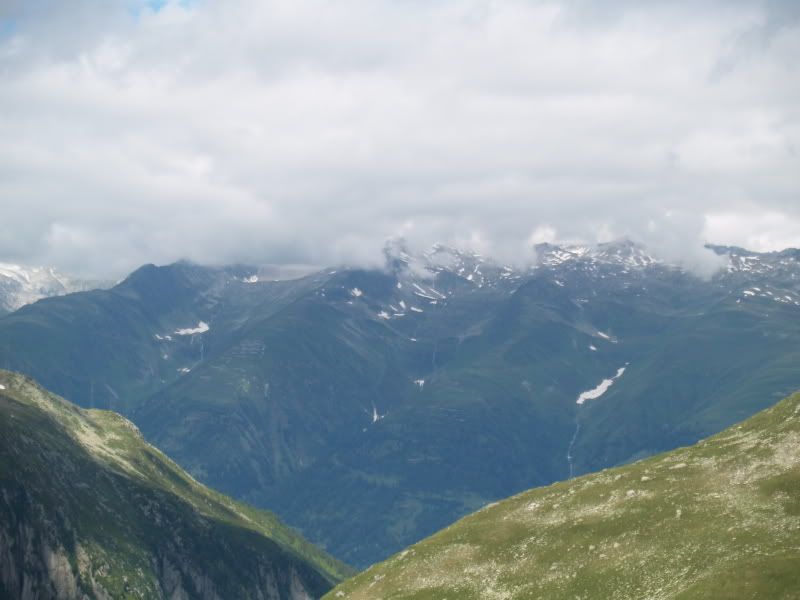 View across the Rhone Valley from the top of the Nufenen Pass.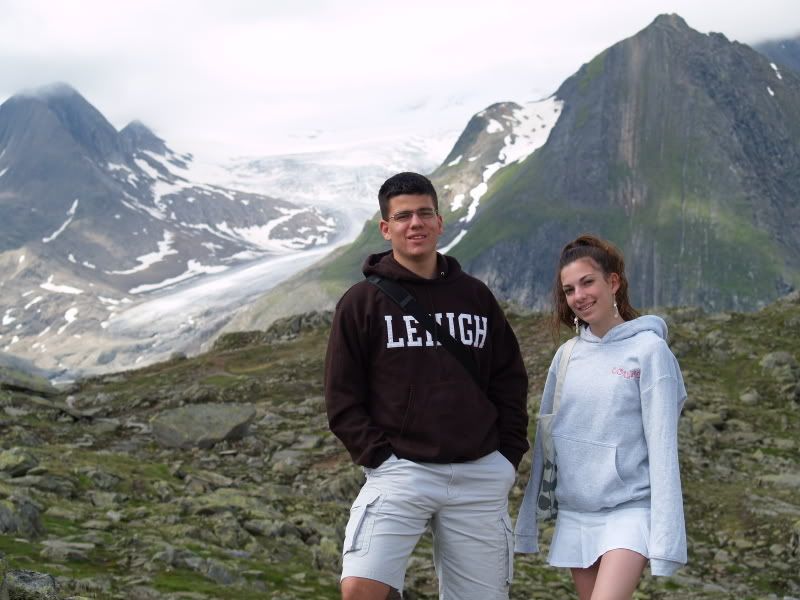 My sister and I at the top of the Nufenen, in front of a glacier.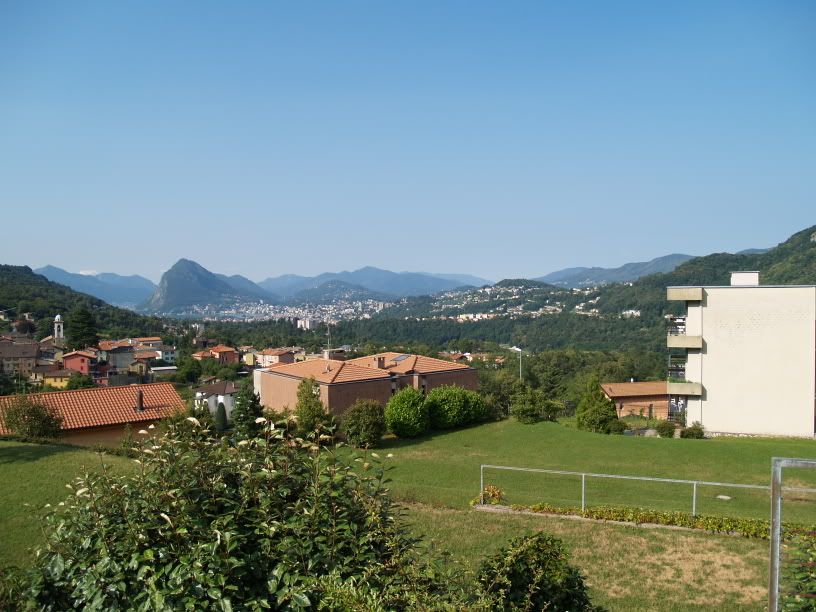 View from our condo at the resort in Lugano.
LUG_1.jpg" target=_blank>
LUG_1.jpg" width=650 height=488 alt="http://i58.photobucket.com/albums/g243/CHTis87/view_airport_LUG_1.jpg" border=0>
View on Lugano from the top of the Funiculaire.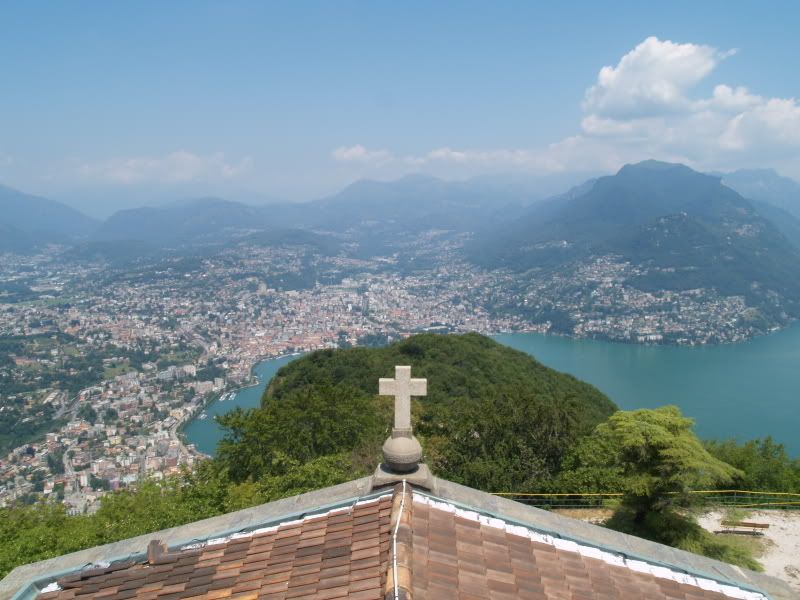 View of LUG from the top of the funiculaire.
Return leg to be posted in Separate Thread because this one is quite large with all the spotting photos.
TIS