Hey guys. Here's the second thread for my trip to Switzerland this summer. Please see
Switzerland 2006 Part I LX17 JFK-ZRH
(by
ANITIX87
Jul 22 2006 in Trip Reports) for my outbound trip.
Inbound trip:
Date:
July 17, 2006
Flight:
LX23 – Swiss International Airlines
Routing:
GVA-JFK
Aircraft (Registration):
Airbus A330-200 (HB-IQP)
On July 17, my family woke up at 6:45AM to start getting ready. Everyone was ready to go by 7:45 except my sister, who took another 30 minutes to get ready. That was why we'd gotten up so early. So she could invade the bathrooms and do whatever it was she had to do. We had wanted to leave at 8:00, and were elated to get out of the chalet by 8:15, because only 15 minutes late is a miracle for my sister. We shoved all our suitcases into our rented Opel Vectra Station Wagon and piled in. We were a little bit cramped with the luggage but it was a huge car so it was alright. When my dad had picked the car up the night before, it had 15km on it, and we were the first people to rent the car. It smelled brand new and ran very well. Too bad Opels (or Vauxhauls for you Brits) don't exist in the states.
We got to the airport at 10:21 and my mom, my sister, my friend Jared, and I checked in while my dad returned the rental. The line took forever for some reason, and we finally checked in at 10:44 (not long relatively speaking, but long for GVA). After checking in I went to the store and bought a book of Sudoku Puzzles and AirlinerWorld magazine. I wanted to go the observation deck but I'd already gone 3 days earlier at exactly the same time so I wouldn't have seen anything new, and we didn't have much time as it was. We got to the Diner's Club Cardholders' lounge at 10:55 and stayed there until 11:45. I was not feeling well (I always get nervous before flights and feel like doing anything but eating) so I just drank a bottle of carbonated water and did some Sudoku puzzles. At 11:45 we went down to security and while the rest of my family was through by 11:48, I had to wait until 11:54 because the woman watching the screen didn't like the look of my camera. I had put the camera bag, with the camera in it, into my backpack and she thought it looked suspicious. I told her it was a camera and she tried putting it through the x-ray machine at different angles to see it better. I don't know why she didn't just let me open the bag when I offered to. Finally, after 5 tries, she gave up and had me open it anyway. Would it not have been much easier just to do that from the get-go?! We proceeded to our departure gate and after filling out the manifest card we boarded the aircraft at 12:08PM. I sat in 37A, with my friend Jared next to me in 37B. My mom was across the aisle in 37D and my father and sister were behind me in 38A and 38B, respectively. We were scheduled to leave the gate at 12:15 and for the first time in my life, a Swissair/Swiss flight left late! We got off the stand at 12:21 (I know, I know, only 6 minutes) and taxied to Runway 05. Here are some pictures I took at the stand and during the taxy to the Runway. I didn't feel well so there very few, my apologies. We waited for one plane to land, and then took off (with the longest take-off roll I've ever experienced in an A332) at 12:43 local time. We turned left and came right back over the airport After about 10 minutes we turned more to the north to fly over France. Then once we reached our cruising altitude (38,000 feet) we turned almost due eastward and crossed the French coast much farther from the English Channel than I have ever done before. We didn't even come close to overflying Great Britain, we were so far South. Here are some pictures of the climb to cruise. This is the only time I took pictures because of how cruddy I felt and because I didn't want to get in trouble for the camera once F/A's started walking around.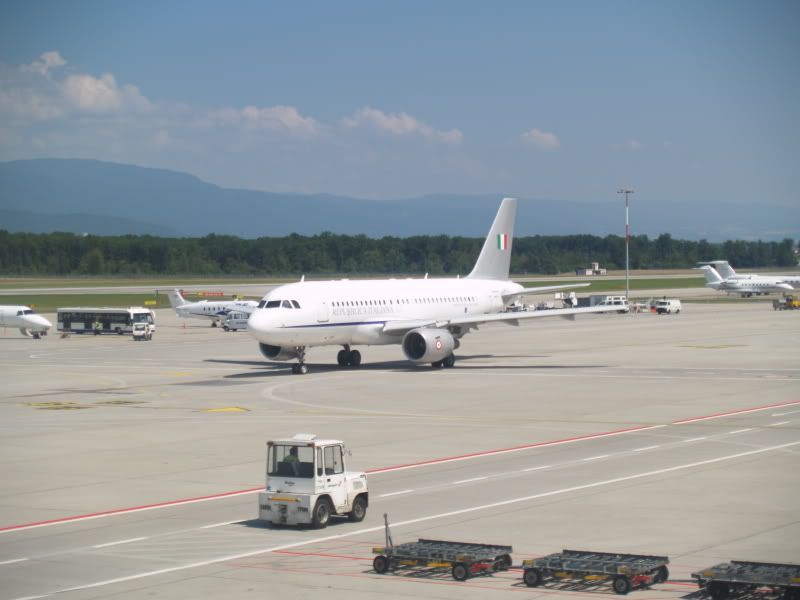 Italian Government plane.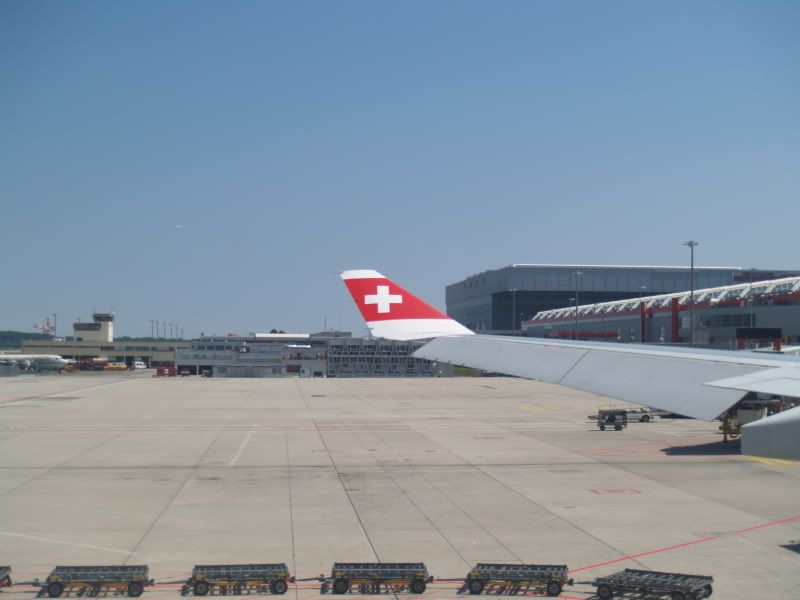 Our winglet.
Private apron. Sorrr for the window glare.
Swiss landscape right after lift-off.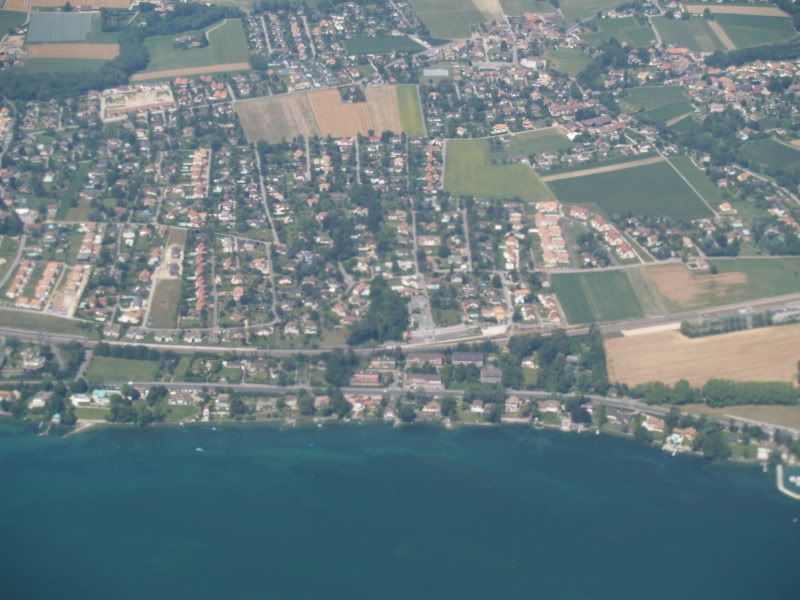 More Swiss landscape.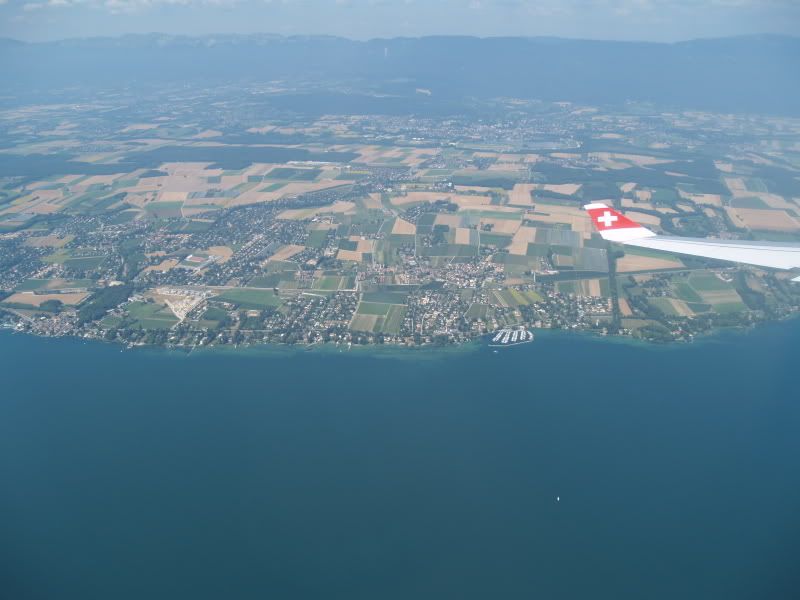 More Swiss landscape, with our winglet.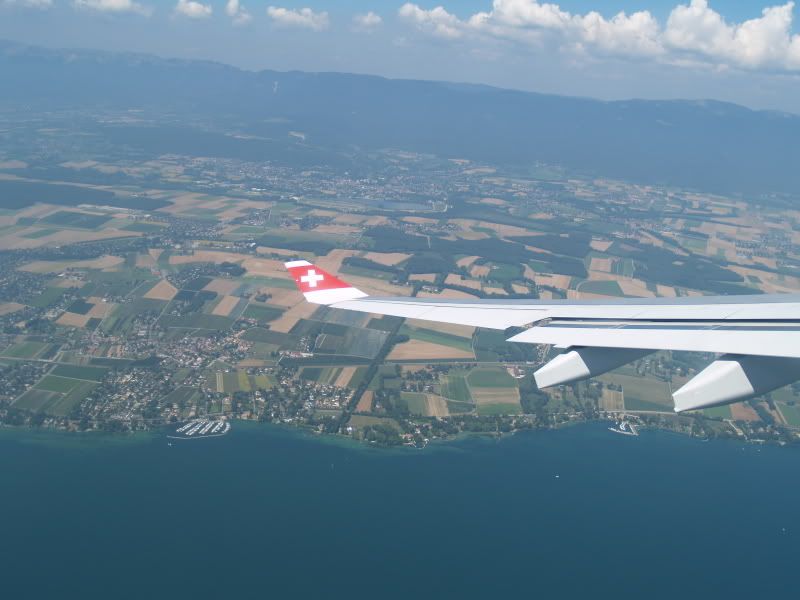 Banking over the lake to turn 180 degrees and come over the airport.
The next pictures are all the same thing. Our wing and winglet with sky and some French landscape.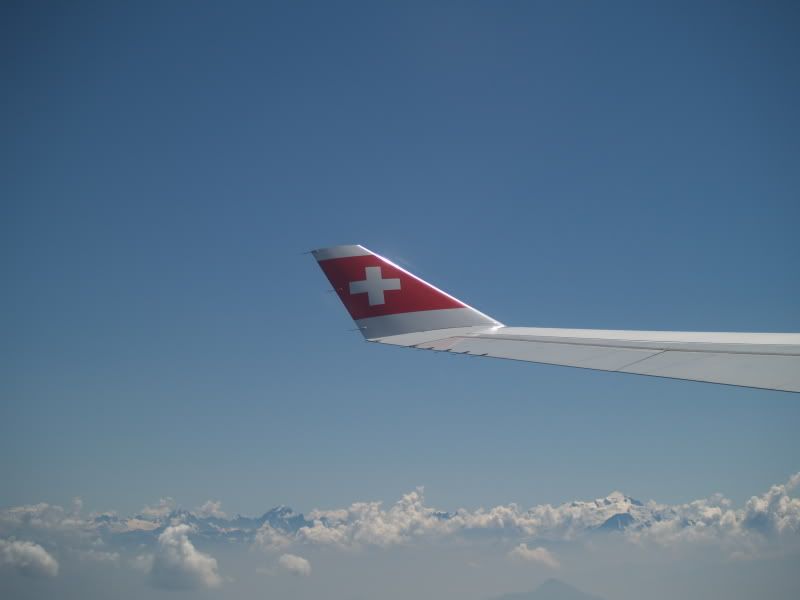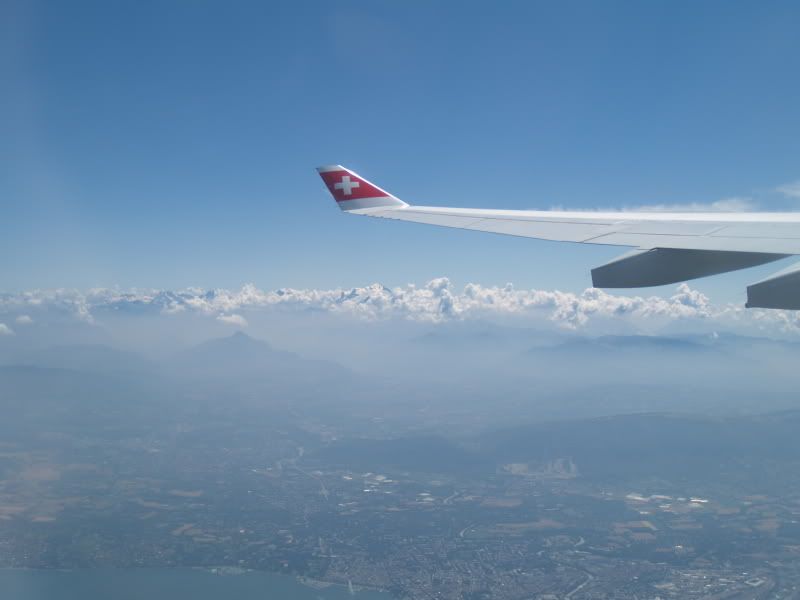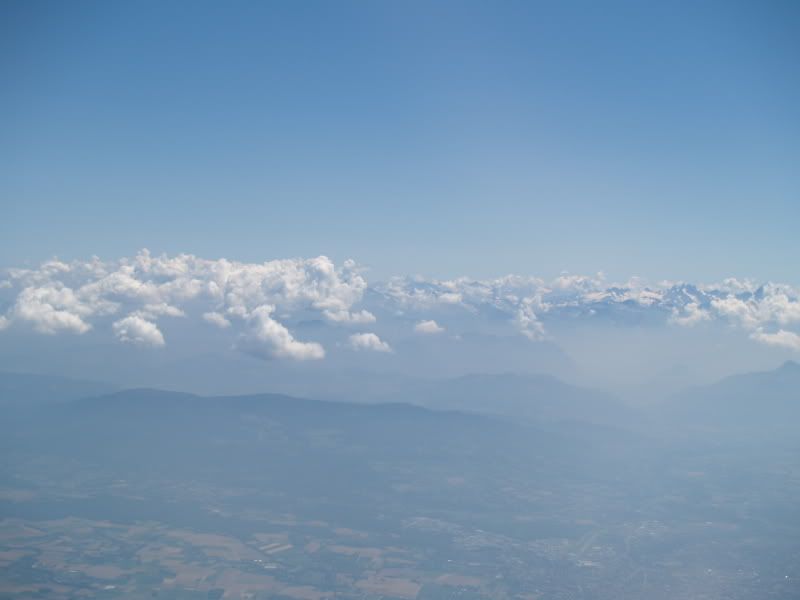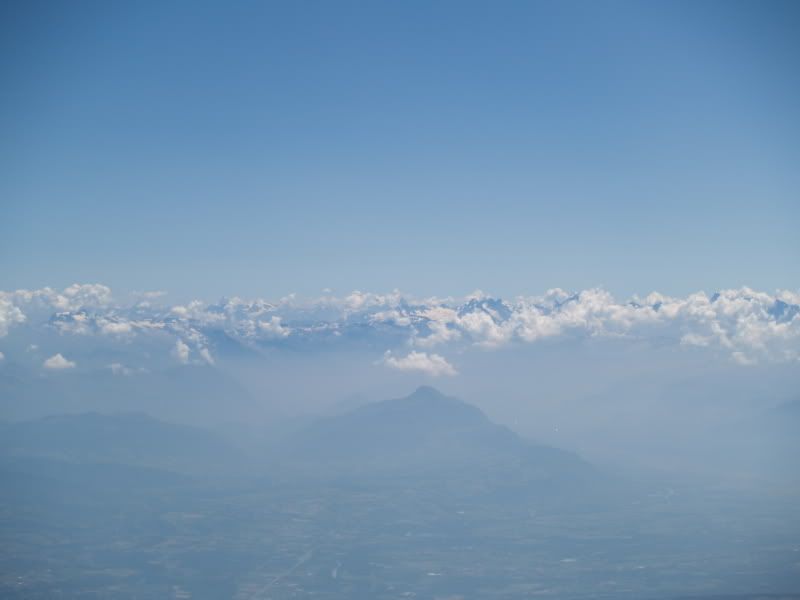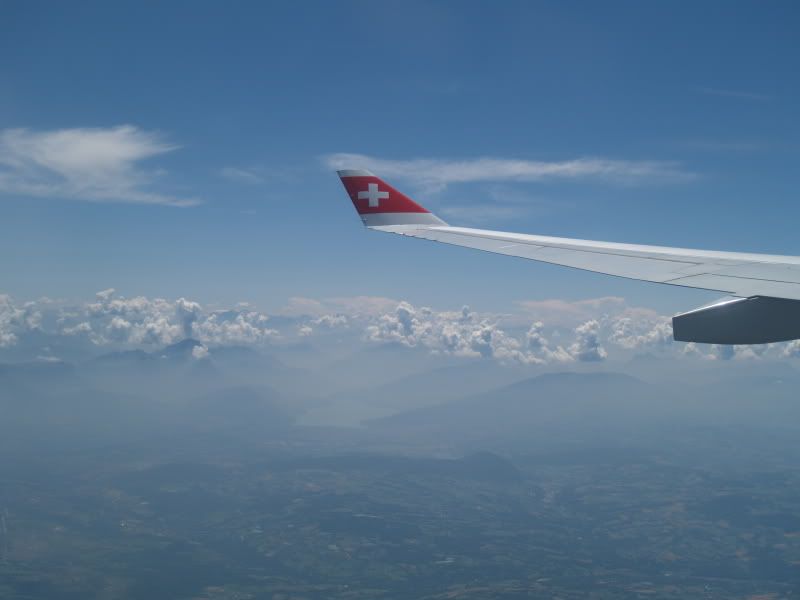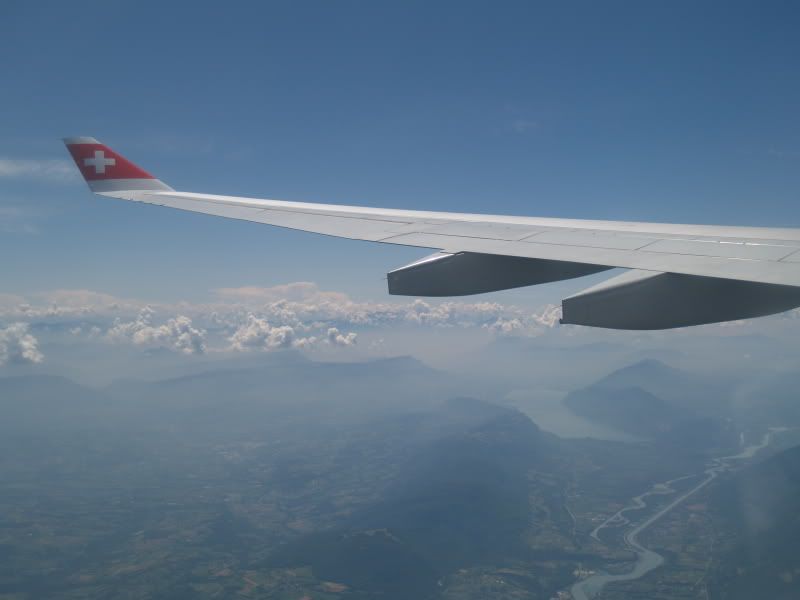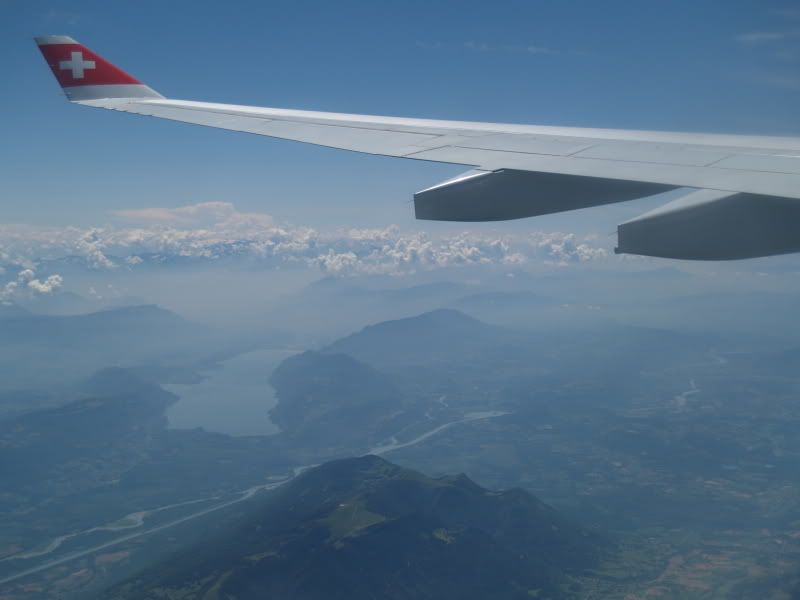 About 45 minutes into the flight my family got our meals (once again, we ordered special ones). The low-fat meal was exactly the same as on the way to Switzerland (Chicken with white rice, vegetables, fruit, and a rice-cake) except that the sauce on the chicken was different, the vegetables were different, and instead of a rice-cake we actually got a roll of bread). Ok, so maybe it wasn't at all the same. After my meal I settled in and when the IFE came on I decided to watch GOAL since the other choices that interested me were "16 Blocks" and "Ice Age 2" which I'd already seen. All the other movies were either chick flicks or "meaningful" movies which I didn't really have a desire to see. As GOAL started, I was expecting a movie exactly like "Bend it Like Beckham" only that, without Keira Knightly, any attempt at making a similar movie would fail miserably in my mind. GOAL, however, was a genuinely good movie, with a real plot and it was more about the soccer than the family issues, which was Bend it Like Beckham's main problem. I can't decide which one I like better, however, haha.
From the moment we reached out cruising altitude the flight was the roughest one I've ever been on. No severe (or even moderate) turbulence, but there was a light chop (with occasional violent movements) and it made me very, very motion sick. I tried to get some sleep after the movie and got a solid two hours. For some reason, however, it had exactly the opposite effect I'd wanted it to have. I woke up hot and sweaty, even though it was freezing in the plane) and started to get clammy and feel like I was going to pass out. I closed my eyes for a few seconds and we
finally
hit some smooth air. I started to feel better and felt well enough to do some more Sudoku and read the British version of FHM that Jared had bought at GVA. It made me realize two things.
1) There
actually is
such thing as a good-looking British woman (I know I might get flamed for that, haha)
2) How much I hate the American theory that everything must be censored to the point that there is absolutely no way you can tell what was said or shown.
After a movie, a two-hour nap, and a 250-page magazine, there were only about 2 hours left in the flight, and I decided to watch the airshow for a little while. Right after we passed south of Greenland, the engines came to life and we rocketed to flight level 400. It was my first time ever at 40,000 feet, and it felt no different. Even at 40,000 the headwinds were very strong and our groundspeed was 735 km/h (454 MPH). Those winds made for a very rough ride, and I quickly felt nauseous again. I put my seat back and tried, in vain, to get to sleep again. I couldn't fall asleep and sat restlessly in my seat, trying not the vomit, for 2 hours. It seemed like an eternity until the captain announced that our descent had started and that we had to fasten our seatbelts. I was so upset to be feeling ill, as I love the approach into JFK, regardless of which runway is being used. This time we landed on runway 22L, the first time I ever land on one of the 22's (at least since I started logging flights). For as long as I can remember, my west-bound flights to JFK have either landed on one of the 4's, or, more often than not, on the 31's. I've yet to land on one of the 13's. Landing was at 2:26PM local time, and we got to the stand at 2:33, 12 minutes early. We parked next to an all-white El Al 744 (I thought they had stopped doing that, maybe they stripped it when the war with Lebanon started?).
Everyone got off the plane, including my mom, my sister, and Jared, but I asked my dad to wait with me because I felt so sick and needed some time to get up. I felt well enough after a few minutes and walked out of the plane with my dad. As we passed business class, I noticed that 5 seats had gone completely un-used! How unfair. Here I was feeling cruddy and there were 5 nice reclining seats completely free right here. Grrrr. My dad and I walked through the walkway and the more I walked the better I felt. We got to passport control (the bane of JFK's existence) and it took us until 2:57 to make it through. While 20 minutes feels like a long time when you're standing there, it was a lot shorter than normal, thanks to the relatively early arrival of LX22, compared to the other Trans-Atlantic flights. We walked from Passport Control to the baggage belt and had all 6 of our bags by 3:02. Jared quickly got his back as well, but this is another problem with the American airports (he was continuing to Pittsburgh, why on Earth can't they just check it all the way?!?!?). We went through with nothing to declare at 3:06PM and left Jared at the transit gates for his 4:35 departure to PIT (which ended up leaving at 6:45 but they never told them why!). We walked outside into the 99 degree heat and my cousin was there to pick us up. The car ride made me very, very queasy until we got onto the highway and there was no more stop and go. I managed to sleep 30 minutes in the car and after
that
nap I felt infinitely better. We got home at 4:43, a decent time from JFK to our house. I got home, said hello to my cat, turned on my computer and went online to talk to my friends.
I instantly realized how much I hate the American teenage lifestyle (study a little, go online for 5 hours, drink to get drunk, and sleep, just to do it all again the next day). I hate it even more since I never drink more than a glass or two because I'm usually the driver since I have the biggest car. I am longing so much (and have been since I left GVA on Monday) to go back to Switzerland and spend time with my cousins in the lifestyle they have there (work hard, then reward yourself with a drink or two, rarely going too far overboard, spend time with friends and family, and never be distracted by hours and hours of TV and internet). I want to go back so bad. I consider myself homesick, because I love being in Switzerland with my cousins so much more than I enjoy being in NY and hanging out with my friends on weekends when I'm not IM-ing or watching some banal TV shows. Ok, that's the end of that rant.
Conclusions:
Great flight, but quite bumpy. I still love LX, their service, friendliness, and punctuality. Same gripes as last time, regarding the IFE and how it should be a little more On Demand (instead of starting all the movies at once and you have to start watching wherever the movie is). Not much else to write, I think this officially concludes my trip report.
I hope you all enjoyed reading this, sorry for being so long-winded at times. Again, sorry for the relative lack of pics, I'll put more in next time. If you missed Part I, please see
Switzerland 2006 Part I LX17 JFK-ZRH
(by
ANITIX87
Jul 22 2006 in Trip Reports) for the outbound leg of my trip. Thanks for reading.
TIS