This is a continuation of Part One, which can be found
here.
In Seoul:
I wanted to provide a very brief overview of our visit to Seoul, without getting into great detail.
We stayed in Seoul for a total of four full days. Unfortunately, it was the beginning of the rainy season, so the weather was not optimal. Our hotel was located in the COEX (Convention & Exhibition Center) area, full of shopping malls and skyscrapers, a thirty minute subway ride from downtown Seoul.
COEX Intercontinental lobby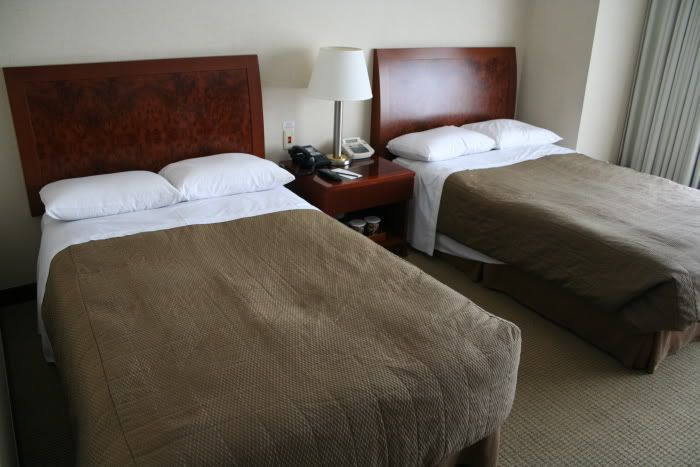 Our room
Bulding in COEX
View from hotel room
View outside
Fortunately, Seoul has a modern and inexpensive subway system, costing only about $1USD one way. An interesting custom on the subway, at least in my view, was that they leave newspapers on the rail of the subway for other people to read. This seems like a very good concept, since most people discard their newspapers after reading them anyway. The city is extremely clean, and the people are very, very, friendly, but in a different way than many other Asians. It is hard to describe, but they are very sincere and friendly people.
The first day we woke up at around 7AM, took the subway to the city, and had breakfast at Paris Baguette, which is a very nice chain located throughout Seoul, and maybe other places as well. After having breakfast, it started to rain, yet we stayed in the area hoping that it would clear up. After waiting a few hours we decided it was best to head back to the hotel. Unfortunately, this lasted the whole day, so we did not get a whole lot of sightseeing done. I was very tired around 5PM, so decided to take a nap. Dumb enough, I only woke up at around 3AM the next morning, so was on a messed up time schedule for the first few days. When I woke up at 3AM I watched some World Cup soccer and started working on my trip report.
The second day we went to see many of the palaces, shopping areas, and other attractions that Seoul has to offer. The city is very interesting, especially industrialized and westernized compared to other Asian cities. Again, we went to bed at around 6PM, and got up at around 3AM.
Dekosu
Presentation in front of Dekosu
Sidestreet
Market
The third day we took a tour of the De-Militarized Zone (DMZ), the border between North and South Korea. This was extremely interesting. We saw hundreds of South Korean soldiers sitting with guns pointed at the north, and the north doing the same exact thing to the south. We went down some tunnels which the south claims the north was building for an attack. I could write a whole report just on this tour, but don't think too many people would be interested in it. If you have any questions on it, feel free to ask, and I will do my best to answer.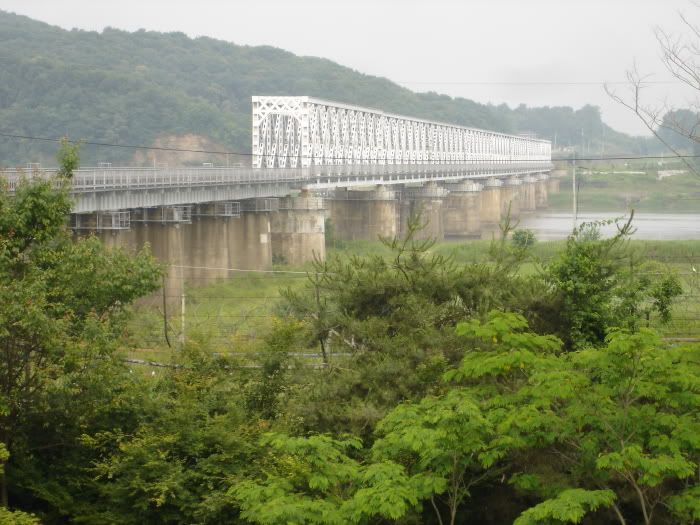 Freedom Bridge
Blocking the bridge
The last day we took it pretty easy. In the morning we went to Seoul Tower via the cable car, which boasted great views of the entire city. We then did some swimming at the pool, and some walking around the city. I went to bed at around 7PM, since I was still tired, and never really overcame the jetlag.
Seoul Tower
View from Seoul Tower
Overall, while I liked Seoul, it lacked culture. It was very modern and industrialized, and almost seemed like an American city, besides the language. Everything in the city was very expensive, as is evident through the recent study which showed Seoul as the second most expensive city in the world. While the people were very friendly, I was very surprised at the lack of English speaking people in the city, considering the fact that South Korea's major trading partner is the United States, and they rely greatly on us. By the end, it was also clear to me that Seoul is not great for tourism, and much more for business, as was evident through the extreme lack of tourists. Overall, while the city was interesting, there was not all that much to do, and culture was lacking. It is certainly not a city that I have to come back to anytime soon.
The morning of 06/18:
While our flight was only at 9:30AM, we decided to leave very early, since we were still not properly adjusted to the time change. We had a wake up call for 4:30AM, and were taking the Korean Airlines airport shuttle, which cost approximately $13 per person, a steal compared to the outbound taxi. After packing up all of our things, we headed down to the lobby for checkout at 4:45AM. I made a couple of calls to the US, and at 5:10 sharp, the shuttle arrived.
Since it was a Sunday morning it was not full at all. When we boarded, it only had four other Koreans aboard. The seats were very comfortable and spacious, similar to domestic first class. After the stop at our hotel, we stopped at the Grand Intercontinental, Renaissance, and Imperial Palace hotel. A short hour after the last hotel stop we arrived at the airport, around 6:30AM.
KAL bus
Outside of the terminal
We then started our search for the Thai check in counter, and eventually found it at the "K" area. Unfortunately, the signs read that it would only open at 7AM, so we had 30 minutes to burn. I decided to walk around the terminal a little bit, and was amazed by the resemblance it had to Hong Kong, in the form of its design. I walked around until about ten minutes before the expected opening, at which point we got in line.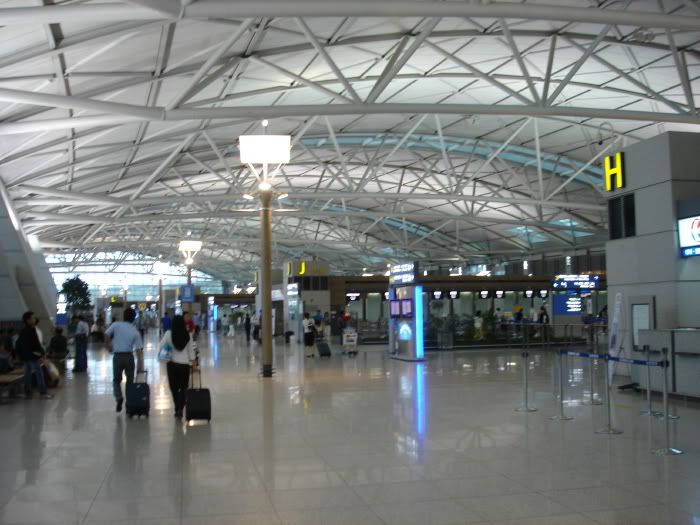 Terminal
Thai check-in
Side of terminal
The carpets were laid out for the two Royal Executive Class counters, and the agents were there. At about 6:57 all of the agents stood up, smiled, and looked forward, while an announcement came thanking everyone for flying Thai, in three different languages. It was a very cool thing to see, and a very nice touch to the experience.
As soon as the announcements were done, we proceeded forward towards the agent, who took our passports. After typing for a few minutes, she handed us our boarding passes, and our invitations to the Singapore Airlines lounge, located near gate 29.
As soon as we got our boarding passes, we proceeded towards security, where we waited for no more than five minutes. Every time a person approached the agent, he bowed his head, and greeted everyone with a smile. I placed my carryon on the belt, walked through the detector with shoes and belt on, and was waned by one of the agents. My dad, who had two cigar cutters with him, was told by the agents that they could not be taken aboard, and had to stay there. He told them that the TSA and even Narita security allowed them, and they eventually gave in. After this, we proceeded to immigration, where the agent looked at our passports and let us through within seconds. We then turned left towards gate 29, where the transit hotel is located. I will be transiting through here later this summer and using the hotel, so we decided to check out the location and see how it was.
After this, we proceeded back towards the Singapore lounge, which is located near gate 41. As soon as we handed the agent our boarding passes she let us through to the second floor, where the lounge is located. The lounge was very nice and large, with great food, internet, and sitting areas. I decided to eat breakfast, so took a toast, muffin, some nuts, and a Diet Coke, since I had been up for a long time. After that, I proceeded to the computer area, which boasted at least 20 fast, flat panel computers. I then got a coffee ice cream from the vast selection, which was delicious. After talking to someone online concerning the new Asiana lounge in ICN, I decided to go check it out. At this point, it was 8:30AM, and boarding was to start in 30 minutes. This lounge was right around the corner from the Singapore lounge, just a floor up.
Not so much like HKG anymore…
Lounge entrance
Stools in the lounge
Lounge
Selection of magazines
Breakfast
Coffee ice cream
Lounge from the escalator
Food bar
Sandwiches and fruit
Ice cream
The lounge was located next to the Cathay Pacific and Northwest lounges, which were not too full. The Asiana lounge, which is brand new, did not have a single person in it. My only intention was to take a few pictures, and not to stay. The lounge was nice, but very small. I would not want to be in there when it is full, since there is very little space to walk around. There were a few laptops to use, internet enabled. The food selection was not bad, with cereal, pastries, muffins, and plenty more. After taking a few pictures it was 8:50AM, time to head to the gate.
Lounge
Food and drinks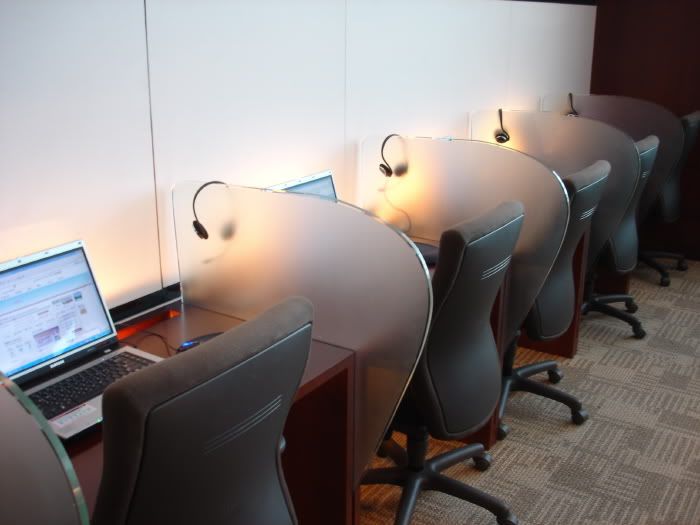 Laptops
After thanking the agent, we headed over to gate 41, from which our flight was leaving. The gate was quite full, right next to a SQ 747 headed for Singapore. Within a few minutes, boarding started for Business Class passengers. We proceeded through the door, and down the escalator with a nice and open glass view. We turned left towards the front jet way, and boarded.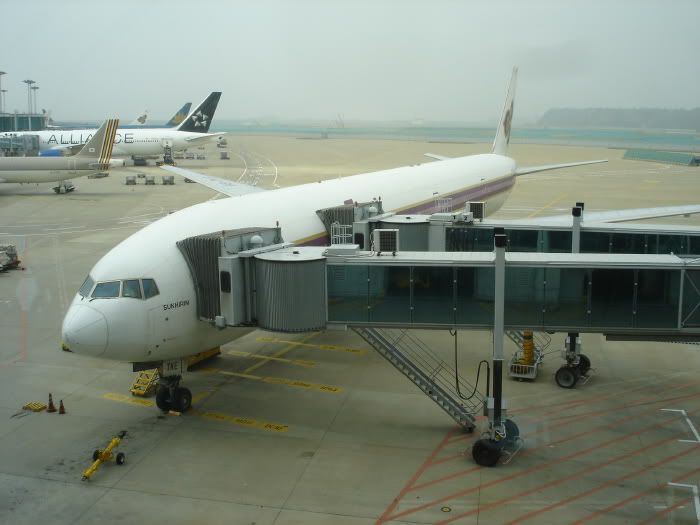 Out 777-300
Boarding gate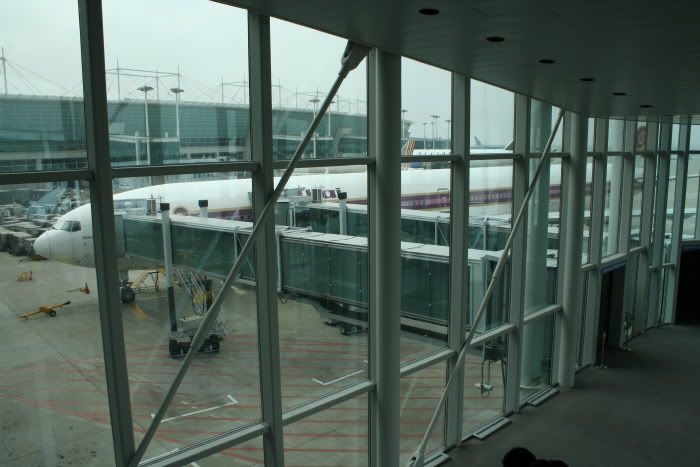 Bright entrance