July 8, 2006
Route: Calgary (CYYC/YYC) to Vancouver (CYVR/YVR)
Airline: HMY (Harmony Airways)
Flight Number: HQ0263
Equipment: CRJ-100LR
Registration: C-FIPX
Flight Time: 1 hour 25 minutes (approx.)
Distance: 428 miles
Seat: Started on the left side and ended up second to last row on right side with a window
As I reported in my trip report on PAL, I had to go to Calgary and managed to get a ticket that included PAL YVR-LAS. This flight on Harmony was created based on the need to get from YYC to YVR.
Originally, I thought I would have to fly Air Canada, but then WestJet was a better deal. I thought trying out a LCC in another country would be great. A few days after I began looking into WestJet flights, I found out Harmony was starting flights in June from YYC-YVR.
Harmony's price was comparable to WestJet's, so I bought the ticket. I thought it was going to be great to fly on one of their 757s and see what it was like, but a few days after I bought my ticket Harmony sent me an e-mail saying my flight was going to be operated by Voyageur Airways--and the flight would be on a CRJ.
I was a bit disappointed but figured flying with Voyageur would be a bit more unique experience.
I arrived at YYC around 7:40 in the morning. Harmony only had a few check in counters (they have more in the USA-bound section for their Hawaii flights), and they were all closed. There was a sign indicating the counters would open 3 hours prior to departure, and even though it was within 3 hours, the counters were still closed.
There were a few people in line and I just decided to wait rather than walk around and come back. The counters opened around 8 and it took the staff a few minutes to get organized, but check in was very fast and without problems.
I had a lot of time to kill, so I wandered around and got a big laugh out of all YYC's Stampede decorations. The Calgary Stampede is
the
big event in Calgary, and Canada's PM gave US President Bush a Calgary Stampede belt for Bush's birthday. Many of the check in staff at WestJet were wearing cowboy hats and other accessories. Here are some pictures: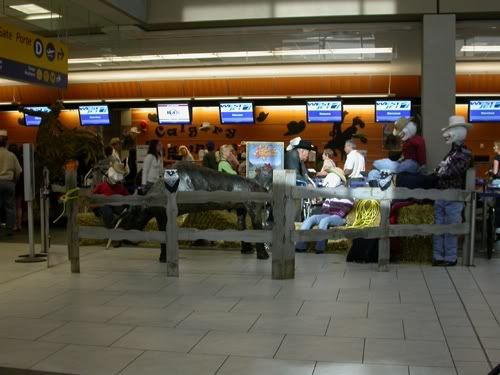 WestJet staff celebrating the stampede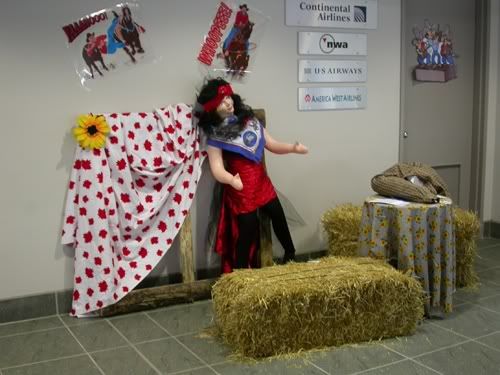 I walked outside the terminal on the departures level and had a great view of one of WestJet's famous double jetways. One bridge goes to the forward door while the second bridge goes over the wing to the rear door. I wonder how often WestJet actually uses the double jetway.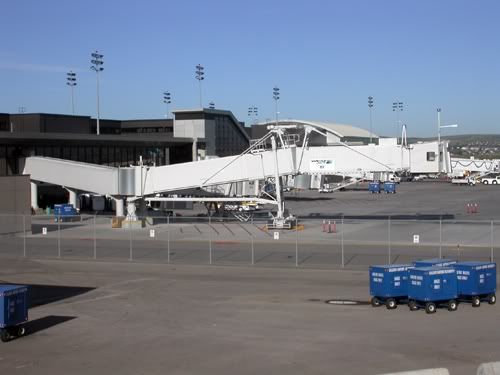 Jetway for door 1L at the left, and jetway for 2L on the right.
WestJet 737 using both jetways.
Back inside, I noticed an ex-WestJet 737 used as a training plane for the fire department.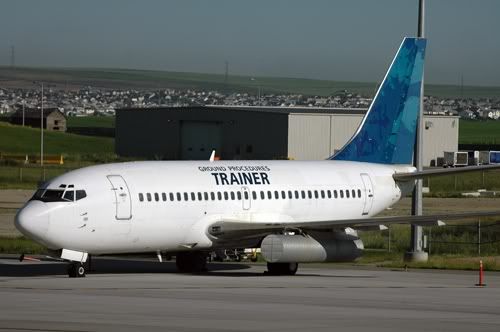 I headed over to security and got through with no problems. I began looking for my gate and realized it was in a separate corridor of the terminal with glass doors closing it off. I thought this was strange and did not know what to make of it since the check-in staff did not say anything.
I went over to the doors and noticed large signs indicating it was a secured area. I cautiously tried opening the doors (I did not want to set off any alarms!) but they were locked. I asked one of the security agents how to get my gate, and she sighed and explained the area would be open shortly before boarding. The way she said it made it sound like ten people ask her every day. Later, I noticed a bunch of people also trying to get through the doors, which makes me think that Harmony needs to put up a sign telling people about this procedure.
I walked all over the terminal and took a few pictures of planes: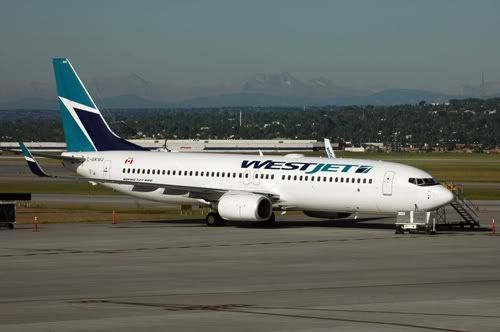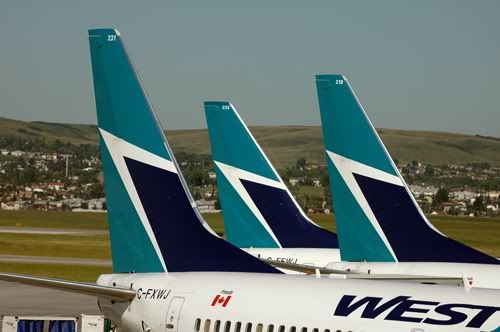 Calgary--home to WestJet.
I made my way back to the gate where a customs agent was opening the area. I, along with a bunch of other passengers, went over to the gate. A few Harmony agents showed up a few minutes later and announced our inbound aircraft would be late.
She showed up around 10:00 and I immediately noticed her ex-UAL paint scheme (she flew with them right before transferring to Harmony). Here are some pictures of her coming in: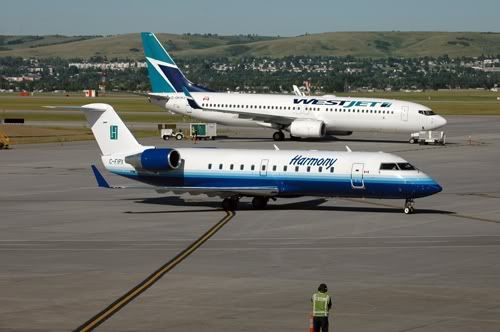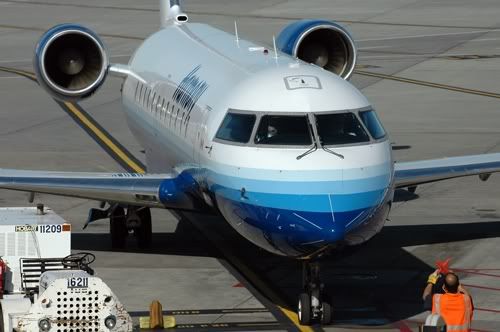 After all the passengers got off, we only had to wait 10 minutes or so before we could board. The interior was standard (clearly ex-UAL) and nothing special except for the seat covers: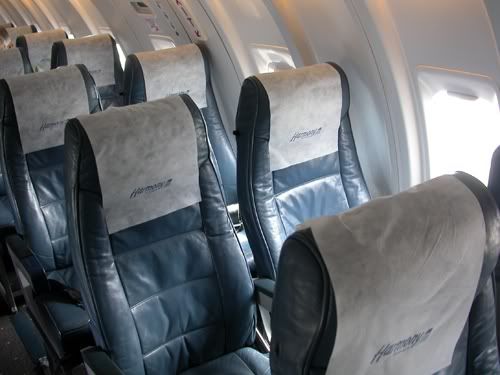 It turned out I had a seat neighbor, but given the open seats in the back, I offered to move (my seat neighbor was traveling with others and I was by myself).
The taxi to the runway was a bit long but we were airborne by around 10:45 or so. Just as we were lifting off, I noticed a USAF 737BBJ (I don't know the military designation) on the far side of the airport. Any idea what she was doing at YYC?
En route, we passed over the city of Calgary: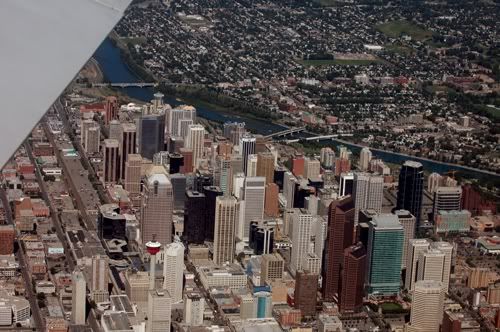 Downtown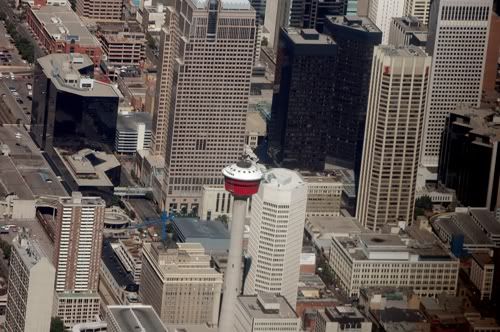 The famous tower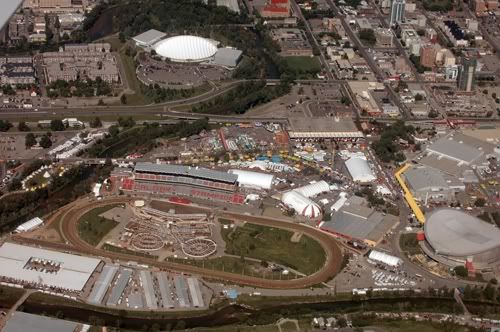 Stampede grounds
The flight attendant made an announcement regarding the drink service and said there would also be a light snack from a bakery in Vancouver. He came by with the cart offering a choice of juices or Pepsi products (not Coke). I got cranberry juice, but no snack: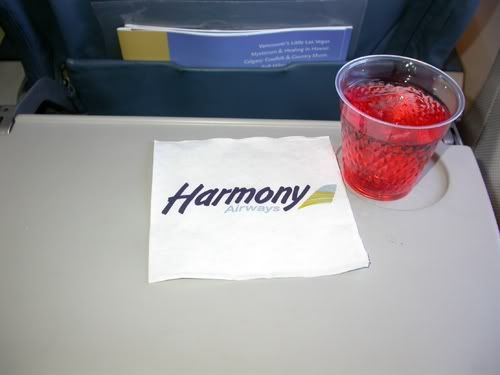 I ended up waiting a good 10 minutes before he came by with the snack, a brownie: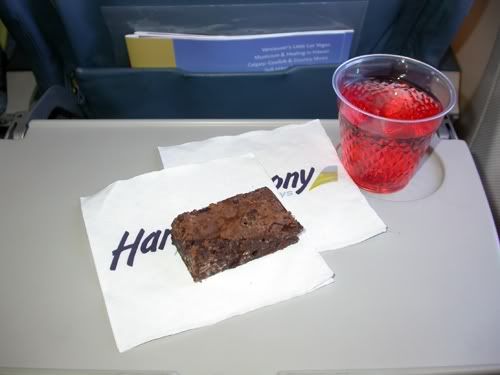 As you can see, I waited to drink the cranberry juice so I could have a complete photo (as any good trip reporter would do
) I did not eat the brownie, but other passengers did and seemed to enjoy it.
Speaking of passengers, the flight was around 2/3 full. The front was very full while the back filtered out. In the last row on the right side was a HMY employee who, after the FA made announcements in English, would make announcements in French. He did not have any other in-flight responsibilities. I presume the HMY FAs are not bilingual, but it would probably make more sense financially to have a bilingual FA versus flying an employee around all day.
We soon started our descent into YVR where I got a great view of the mountains and such: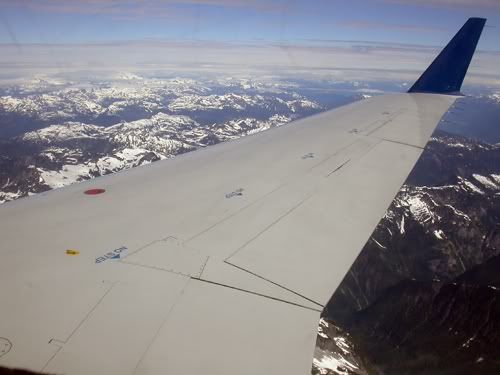 Landing was quick and not much to see (I would have had a better view if I was on the left side), as was our quick taxi into what looked like an RJ area. We deplaned onto the tarmac where I was able to take this photo (without an ramp agent yelling at me):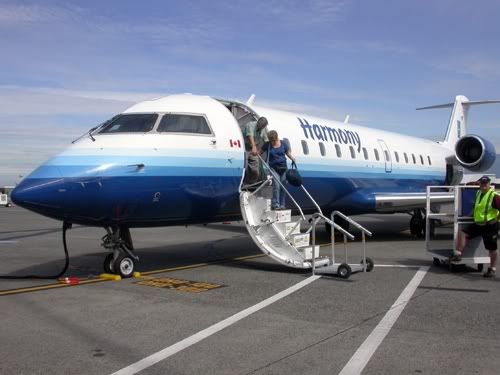 And here is our plane as seen from the terminal: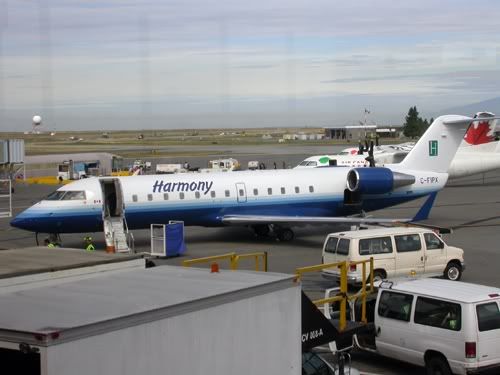 Overall, the flight very good but also fairly standard with the exception of the brownie. What made this flight so nice was having the seat next to me empty. For a relatively short flight, not getting frequent flyer miles was not a major concern, but it would have been nice. It seems members of Air Miles can earn miles on HMY, but to be a member you have to live in Canada (or just have a Canadian address
). It would be nice to see HMY have a US partner, but I do not think there is too much need.
In the future, I would like to try out WestJet as well as one of HMY's longer flights, or a flight on one of their 757s.
-Will