BKK Don Muang to Suvarnabhumi Test Flight
"The world is a book and those who do not travel read only one page."
- Saint Augustine
The boondoggle that is Suvarnabhumi, the four decades in the making new Bangkok international airport, continues its wobbly course towards an "if-and-when" opening set for September 28th.
Last year at this time, Prime Minister Thaksin Shinawatra promised that the airport would be open by September 29, 2005. Construction delays and other problems conspired to keep that from happening, although to save face the PM constructed an elaborate public relations event in which two plane loads of journalists and political luminaries were flown from the existing Don Muang airport to the new airport, where they landed, parked at a gate, and were given a tour of the facility. That way, the new airport was "ready" as he promised.
Since then, new dates have been set by different government officials for the airport's opening: July. No, August. No, September for sure. October, guaranteed.
The airlines responded by saying something to the effect of,
"Hey, how about we don't open it until we know it is really ready and how about you give us about six months' of advance notice so we can prepare?"
To which Shinawatra – facing an uncertain election in October – announced that all flights would start using Suvarnabhumi as of 3:00 am on September 28, 2006. Additionally, he announced that several Thai airlines would participate in various test flights in advance of that date.
Details were finally set for the test flights and on July 29, each of the airlines (THAI, Bangkok Airways, Orient Thai, Thai Air Asia, PB Air and Nok Air) would operate two or three domestic flights out of and into the new airport, flights that are not usually timed to carry passengers connecting to or from international flights.
Promotional flyer for Don Muang-Suvarnabhumi test flight: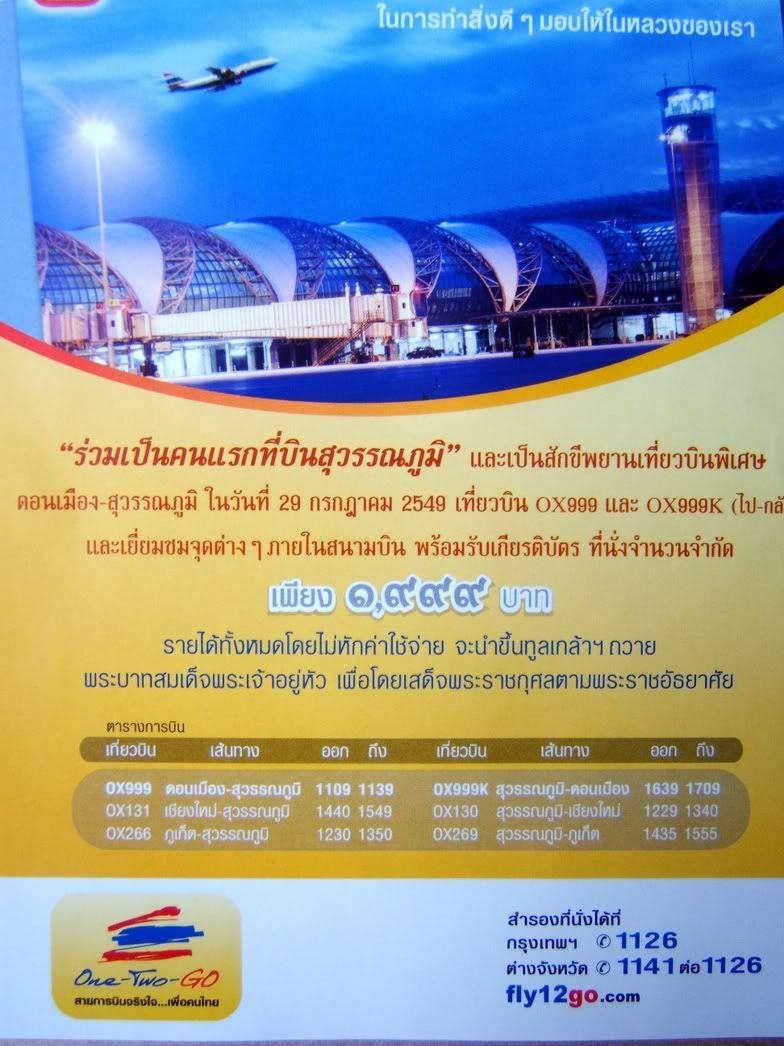 One of the airlines, Orient Thai, offered a special package that includes a morning departure from Don Muang landing 30 minutes later at Suvarnabhumi, a full airport tour from Airports of Thailand (AOT) PLC officials, and a return flight mid-afternoon. The price was 1999 baht, all proceeds to be donated to one of
His Majesty the King of Thailand's
projects.
So I traipsed down to the Orient Thai (which operates their domestic flights through a fully-owned subsidiary known as One-Two-GO) ticket office and waited patiently as an agent made all sorts of phone calls to secure a ticket for me. Her computer was showing that the outbound flight was full, but the return flight had available seats. However, the flights were sold only as a package so there was no way I could just buy the one-way ticket.
One-Two-GO ticket office on Soi Asoke: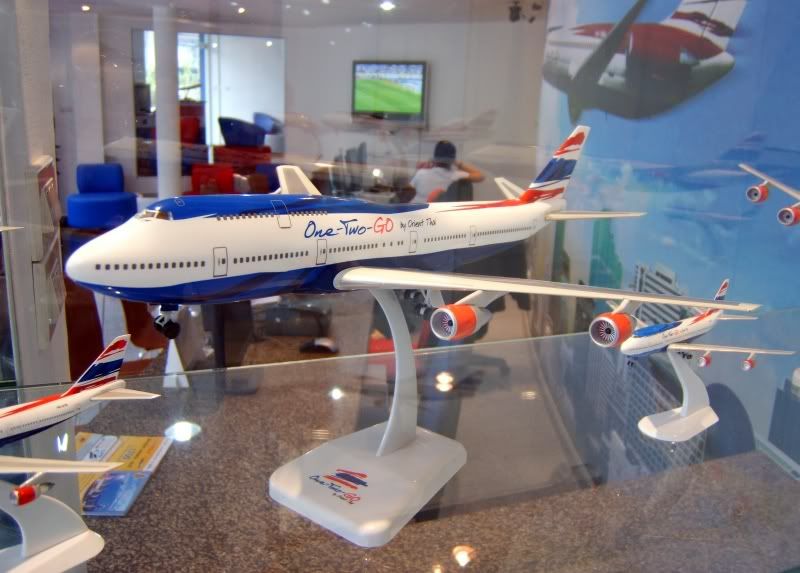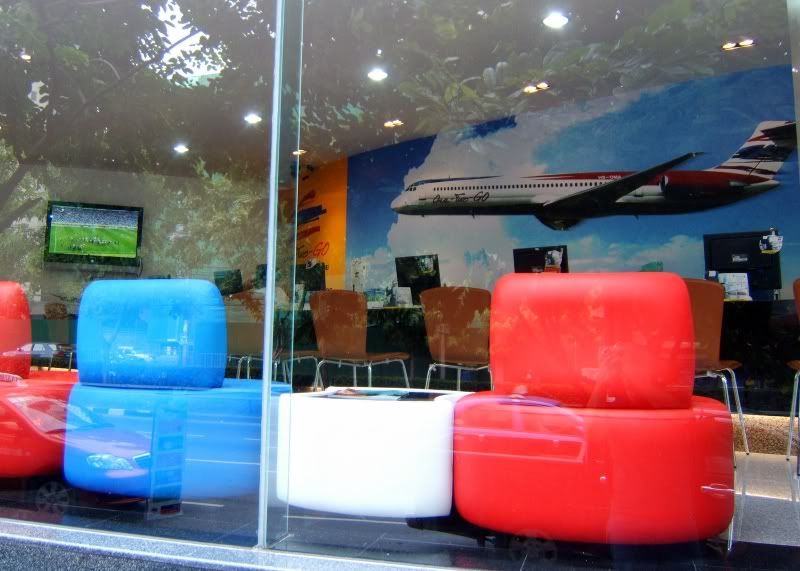 After about twenty minutes of exploring options she apologized and offered to take my name and number if anything came up. Oh, well. And here I was all excited at the opportunity to be one of the first to see the new airport and to get to walk around before it was fully operational. (Of course, it may still not be fully operational even once it opens!)
Surprisingly, she gave me a call the very next day and so I made the walk back to the ticket office and received my very own ticket for the flight…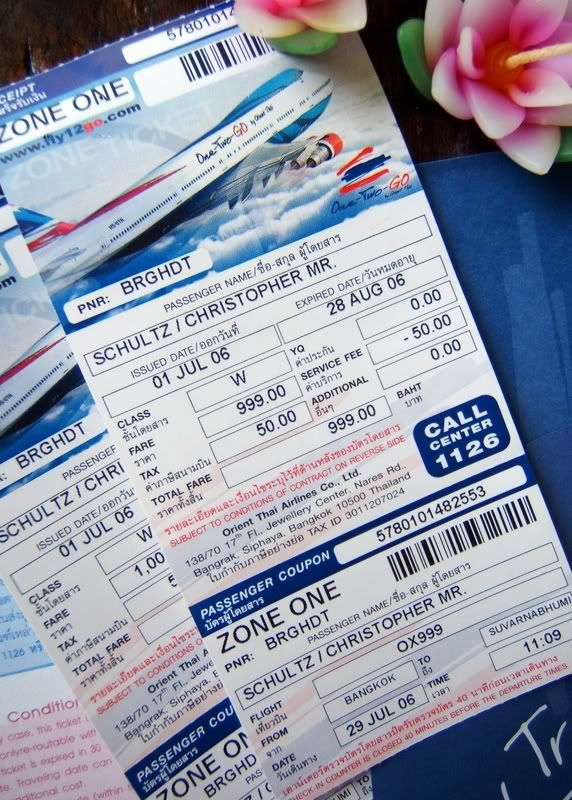 29 July 2006
Route:
BKK-NBK (temporary code)
Airline / Flight:
Orient Thai / One-Two-GO OX999
Aircraft:
B747-146 (HS-UTM)
Departure:
11:09
Flight Time:
7 minutes
Seat:
42K
Gate:
68
The day of the test flights dawned with scattered low-level clouds, remnants of the thunderstorms from the night before. A high layer of thin clouds kept most of the direct sunlight at bay and a gentle breeze made the 30-degree weather pleasant.
After running several errands earlier in the morning, I did a final review of my backpack and its contents. As luck would have it, my digital camera had been damaged the week prior while filming in the rain at the
Tiger Temple
in
Kanchanaburi
, Thailand. Armed with a borrowed older digital camera from Tawn and a Sony DVD Handycam, I stepped out the door exactly three hours before my flight.
Traffic was light heading to Don Muang but once I arrived at the Domestic Terminal, I found no parking available. Of course cars are still allowed to enter the car park but the result is endless circling. Cars were parked on sidewalks, double-parked, and wedged into creative non-spaces: the first of several reasons that Bangkok badly needs a new airport.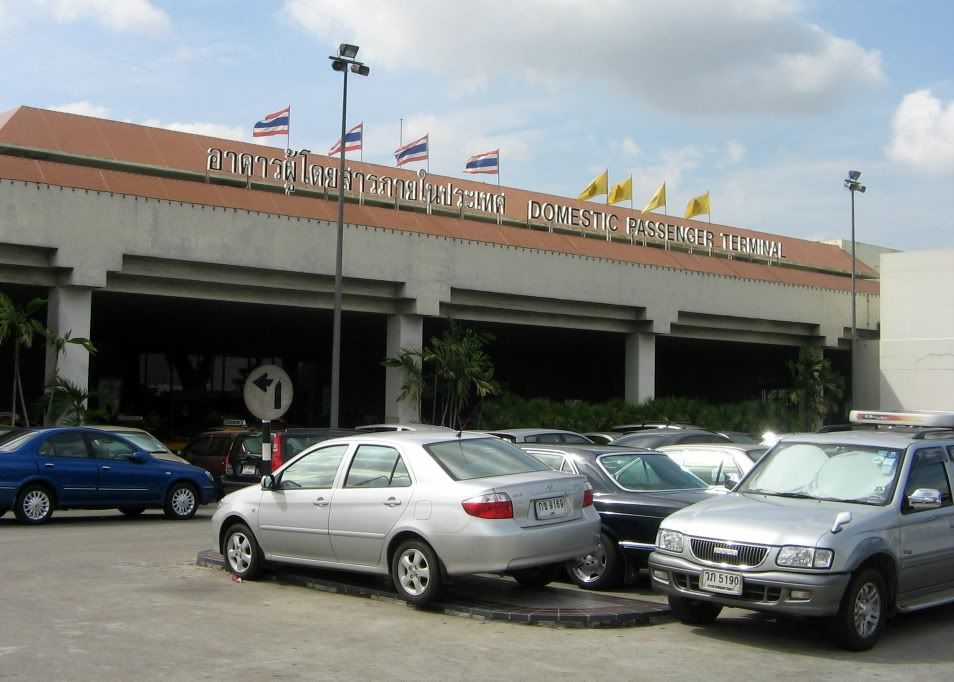 So I looped back around to International Terminal #2 and parked there, taking the 480m pedestrian bridge back to the Domestic Terminal. Reason number two for a new airport: international and domestic connection passengers have to traverse at least a half-kilometer in this narrow, low-ceilinged tube that, with utility lines running through it, looks more like the service corridor of a ship than a passenger bridge at a major international airport.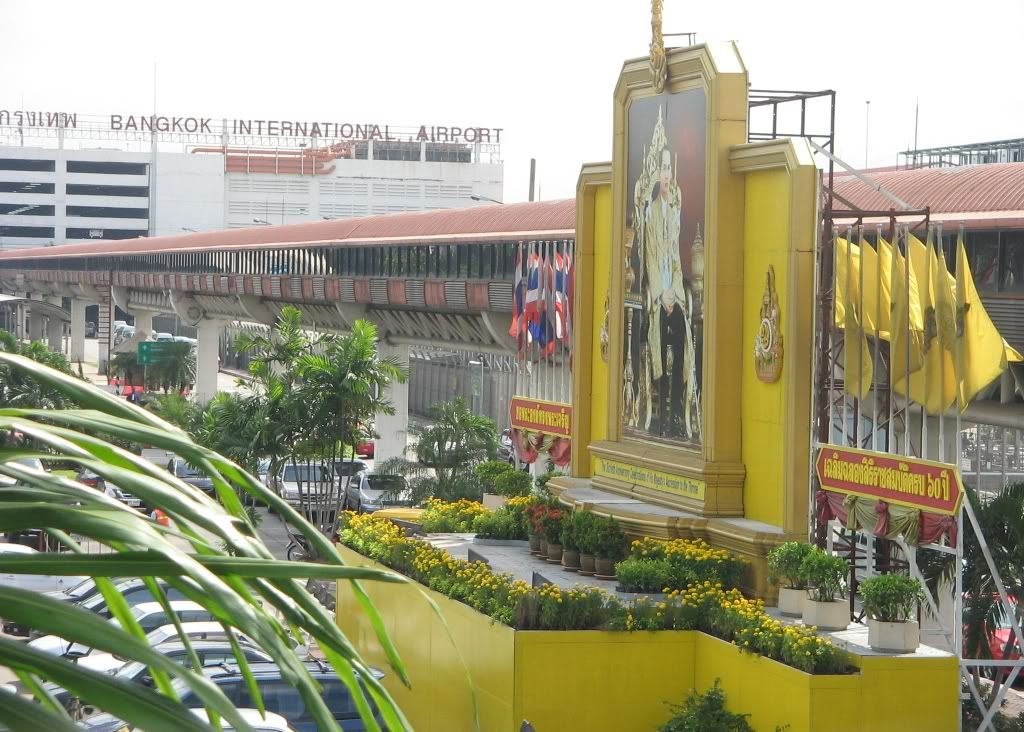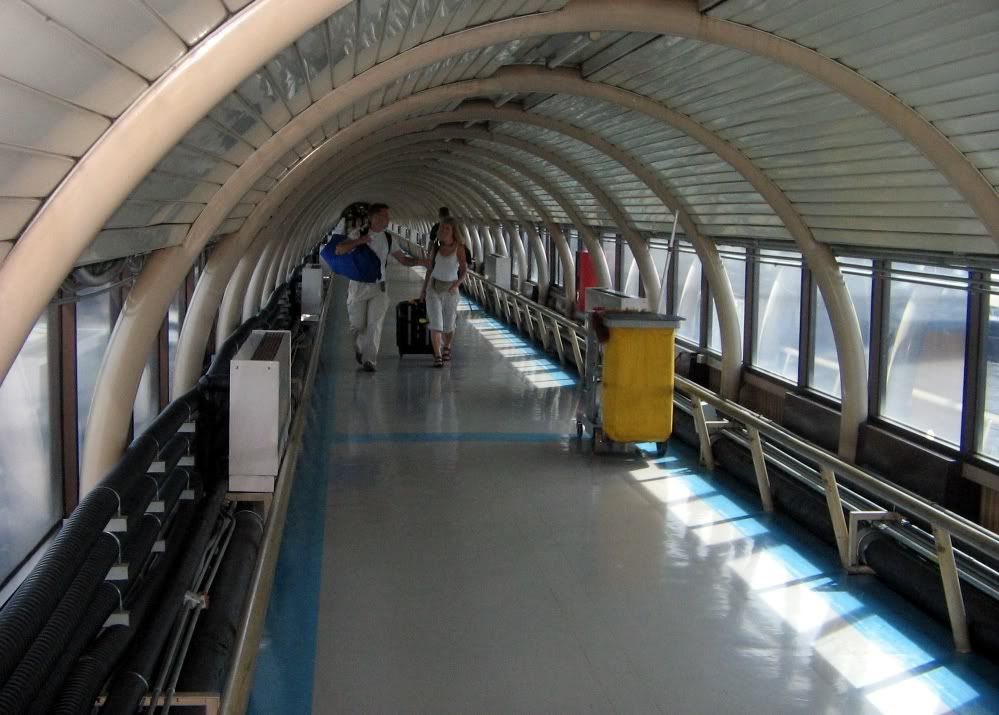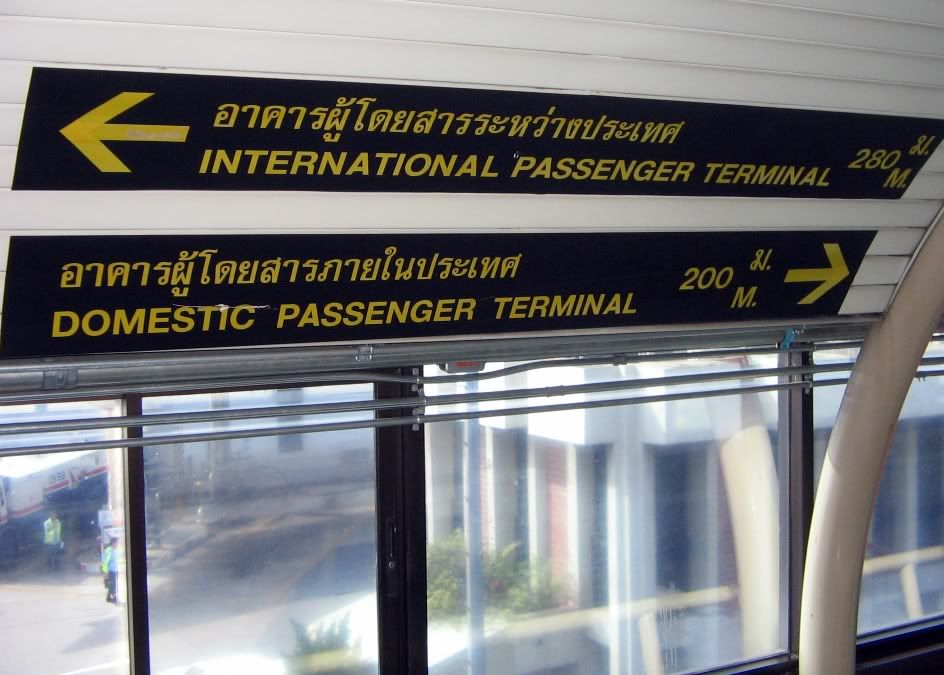 The 1970s-era passenger terminal was chaotic and congested as usual. Despite their ever-shrinking proportion of the country's domestic air traffic, THAI has not given up any counter space, forcing the five other domestic carriers to operate from overwhelmed counters at the far end of the terminal.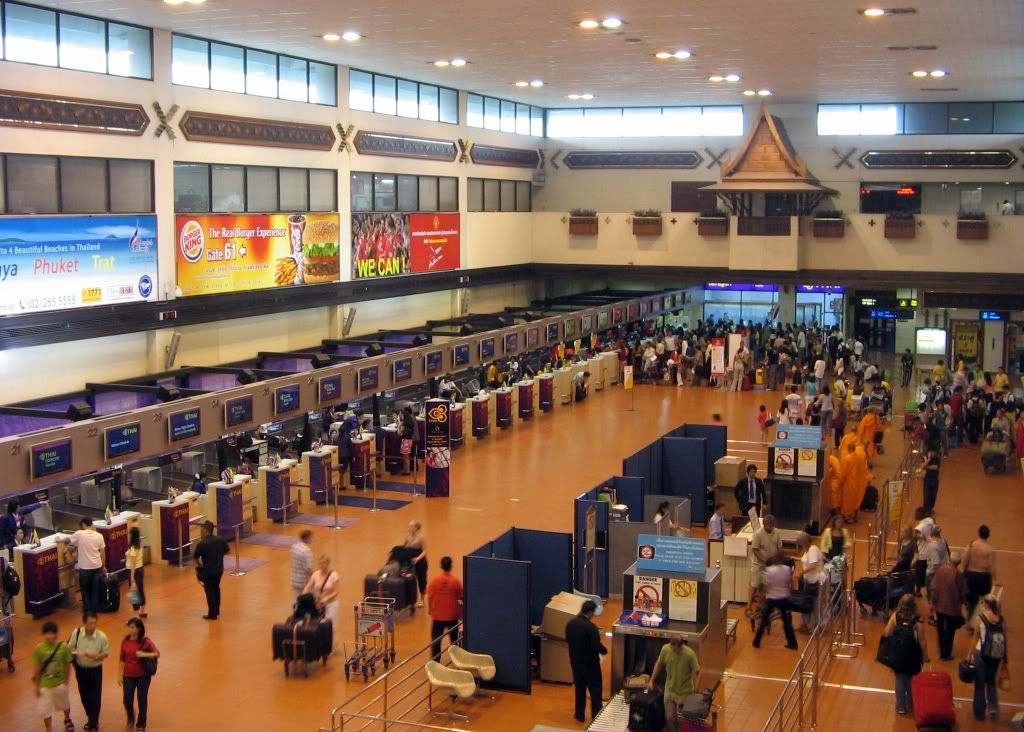 I queued in the shortest queue at the One-Two-GO counter, each counter being segmented by destination. Quickly reaching the front of the queue, I showed my Suvarnabhumi ticket to the agent and she directed me to some counters "over there," pointing generally in the direction of the security screening area.
Following the imprecise direction, I wandered past the check-in counters, around the corner past Thai Air Asia's ticket office, past Nok Air's office, and finally found the One-Two GO ticket offices around yet another corner. There were at least 100 people milling about, all wearing yellow shirts. It was unclear who was in line for what, but with this many people I figured I must be in the right place and so stood in a queue.
A little background on the yellow shirts: June 12, 2006 we celebrated
the 60th anniversary of His Majesty the King's accession
to the throne. He is the longest currently reigning monarch in the world. His birth was on a Monday and in Thai belief, each day has a
corresponding color
, in this case Yellow. So as part of the celebrations, the King's subjects have been wearing yellow shirts – especially ones embroidered with the royal emblem on the breast – on Mondays as well as for other special occasions. Since this flight was a fund-raiser for royal projects, most people chose yellow to wear today.
While waiting, I was finally able to distinguish the yellow-shirted One-Two-GO employees from the passengers, so I asked one man if I was in the right place for the Suvarnabhumi flight. Indeed I was, so I waited patiently, reaching the front of the queue in about five minutes.
The smiling lady at the counter, unfazed by the crowds, checked me in and assigned me a seat. Could I have a window seat? Certainly. 42K. Which I later discovered had an obstructed view. She then directed me "over there" – another vague directional gesture – to pick up my packet. I had noticed other passengers carrying yellow One-Two-GO envelopes, so I once again followed the gesture.
Piles of these envelopes had been set in different corners arranged by surname. Small name labels had been stapled to each envelope and, running into the same young man whom I had asked my question to a few minutes earlier, I asked about my envelope. In a few short moments it was given to me and I set off.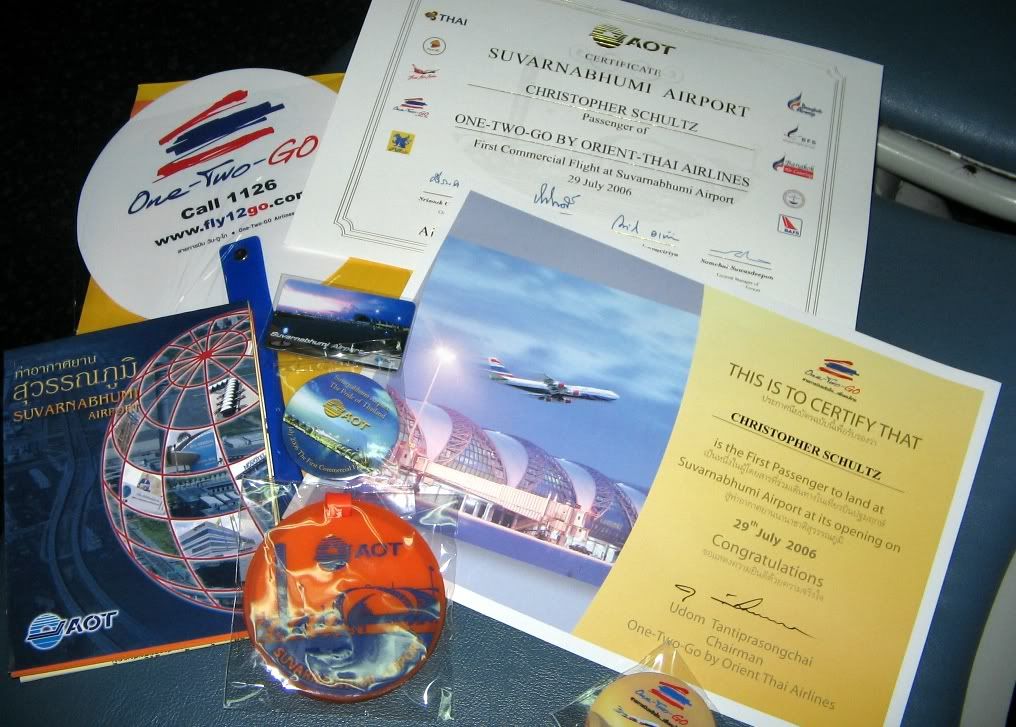 The contents of the envelope:


Two souvenir certificates with my name printed on them, one from Orient Thai and the other from the Airports of Thailand, PLC. Both proclaiming me the first passenger to arrive at Suvarnabhumi Airport.

Fold out map of the new airport plus surrounding expressway access to the airport

Official AOT luggage tag

One-Two Go paper fan

One-Two Go pen and lanyard

Suvarnabhumi Airport magnet

Special commemorative badges (2)

Schedule for the day and a few advertisements

With two hours still to spend before flight time, I headed outside to take some pictures of the terminal and the congested parking area. Then I took some pictures of the building interior. As messy, crowded, old and tired as it is, I've come to associate the terminals at Don Muang with the many positive experiences and feelings I've had in my adopted home country. So part of the reason for this trip is to document the sights and sensations to remember in the years when air travel into and out of Bangkok has gone all steel, glass and concrete.
In the main lobby, I passed the Siam General Aviation office, remembering the great 40-minute flight I took from
Hua Hin to Bangkok
a few years ago. So many good aviation memories here!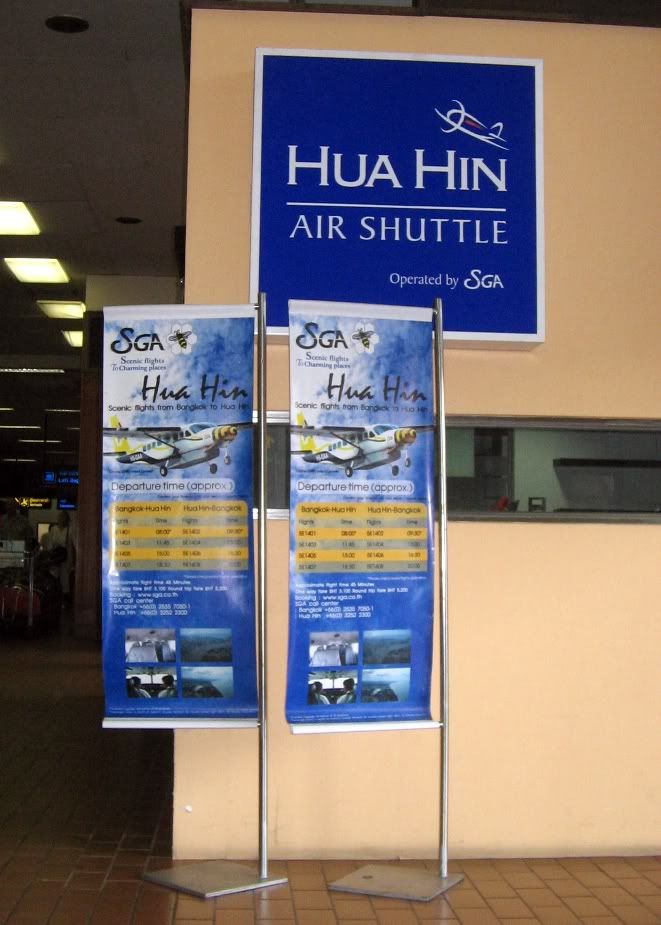 About ninety minutes to go, I proceeded through security and walked to the gate. Not much happening at the terminal this morning, a few smaller flights on the remote stands.
Just past the security was a large banner for Suvarnabhumi and a scale model of it.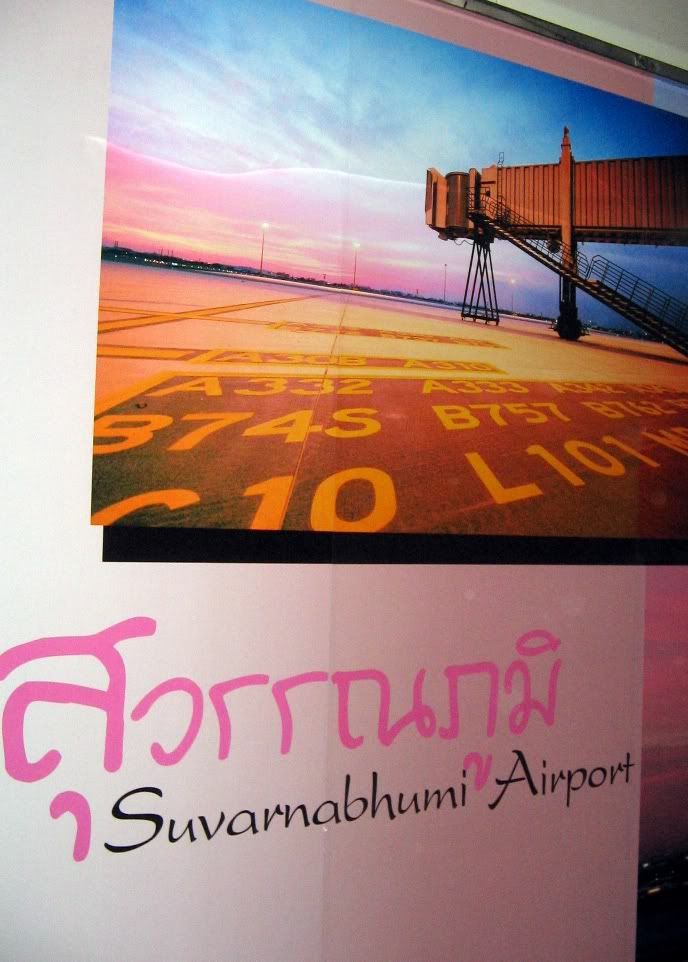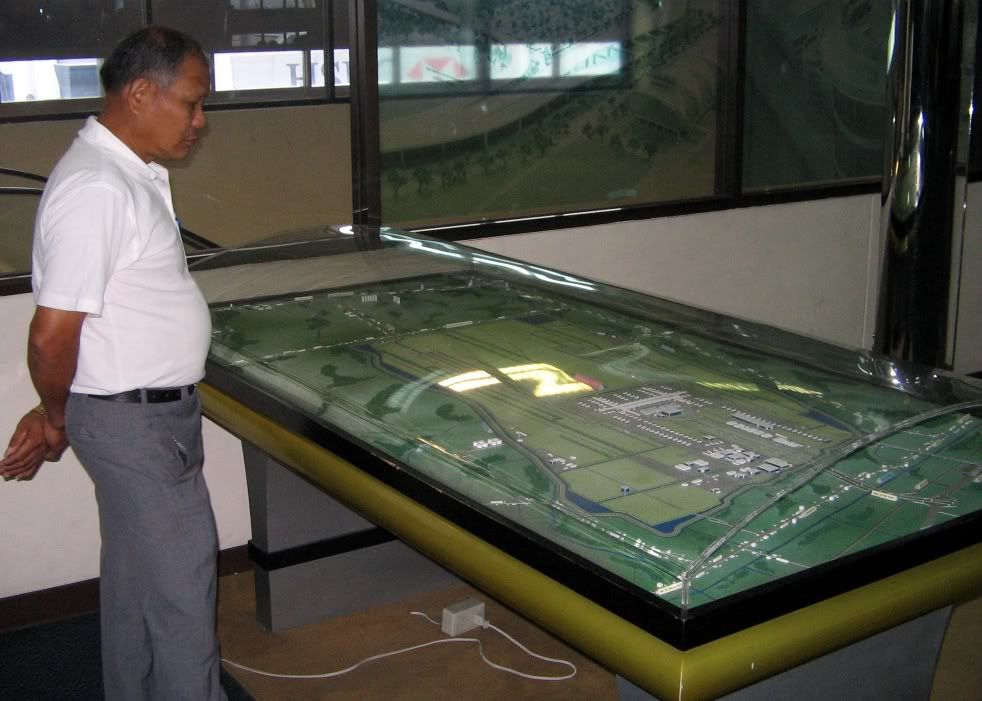 There was a crowd forming around gate 68, mostly taking pictures of our plane. Several people were wearing the black and orange
Hflight.net
polo shirts as well as a few in the plain white Hflight.net tee. My first thought, of course, was, "now which one of you is
MagicalChaz
?"
It was interesting because there were several people who were just downright geeky about the whole thing. One guy was taking pictures of everything… as the flight crew and flight attendants showed up, he stopped each one and took their picture. Obviously a very passionate individual. Which led me to wonder, do
I
appear that geeky to others when I'm traveling? Ah, the painful truth…
Our plane for the day, HS-UTM.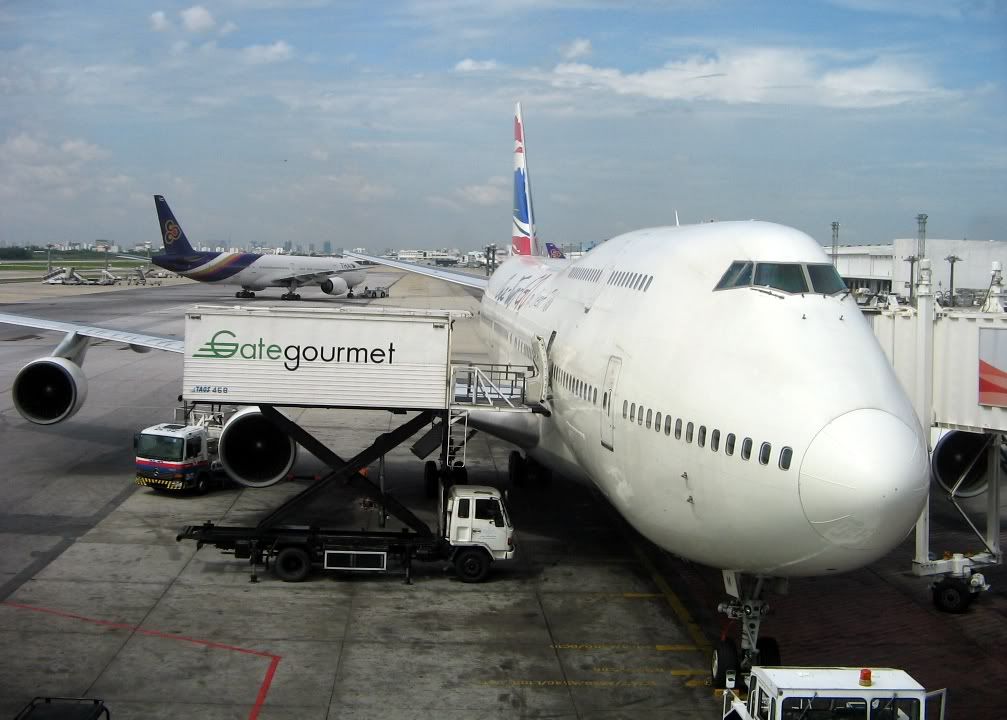 The queue to board forms but an elderly monk decides to sit and wait patiently.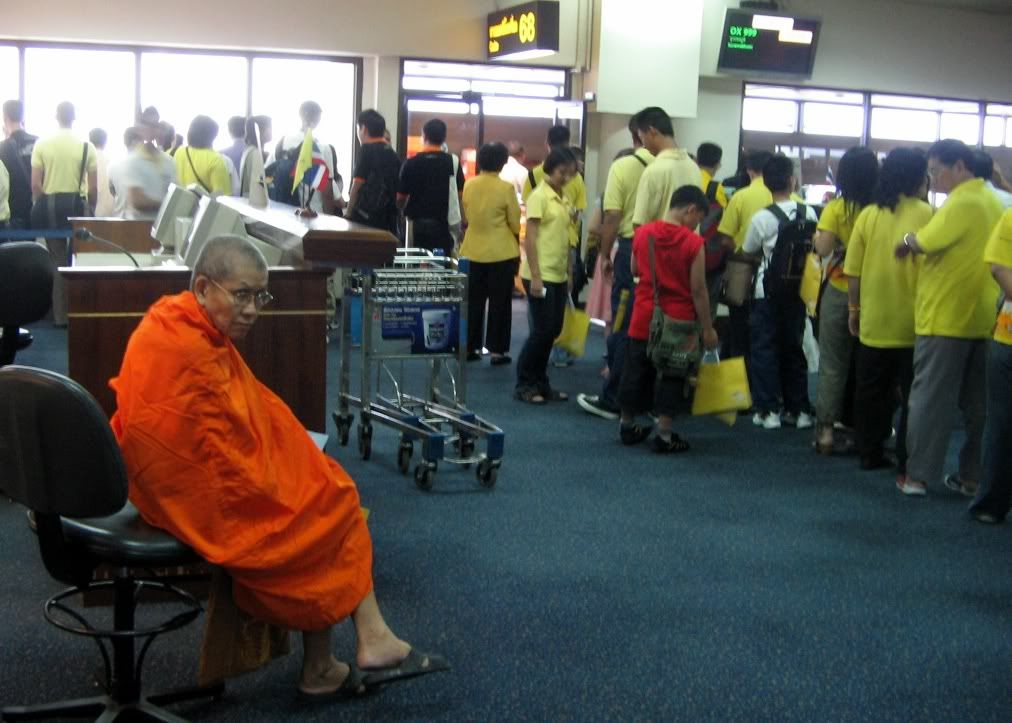 We began boarding around 10:45, multiple queues snaking around and eventually merging a few meters short of the door. Just inside the door along the ramp to the jetway, stacks of boxes had been set up, cheerfully manned by One-Two-GO employees. The purser was first, handing out plastic bags. Then we received a bag of chicken-flavored peanuts, a bag of cheese rings (kind of like Cheetos), a small container of water, a box of Oishi green tea, and a yellow polo shirt.
The shirt, like the ones I mentioned, have the royal crest embroidered onto the left breast. The sleeves have additional embroidery: The AOT logo on the left sleeve with the slogan, "Can Do" and on the right sleeve, King Power – King of Duty Free, the primary duty free vendor at both the old and new airports. Curiously, they too had the slogan, "Can Do" embroidered below their logo. Both AOT and King Power can do… what?
Boarding was smooth. The flight attendants were very friendly and having a good time showing everyone to their seats. This was made easier by the lack of cabin baggage, most people only carrying a backpack or some other small item. Numerous requests were made by the passengers for the flight attendants to take their photos, each request obliged with a big smile.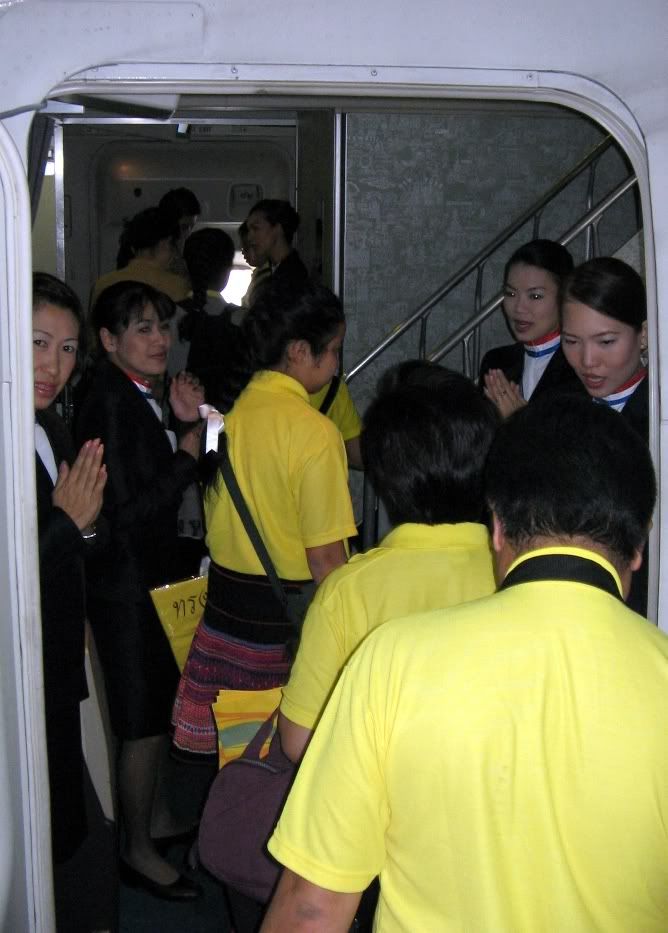 At the front of the cabin near door 2R is a section of three rows of Economy tucked behind the stairwell to the upper deck. These three rows have a little more leg room than the rest of the cabin.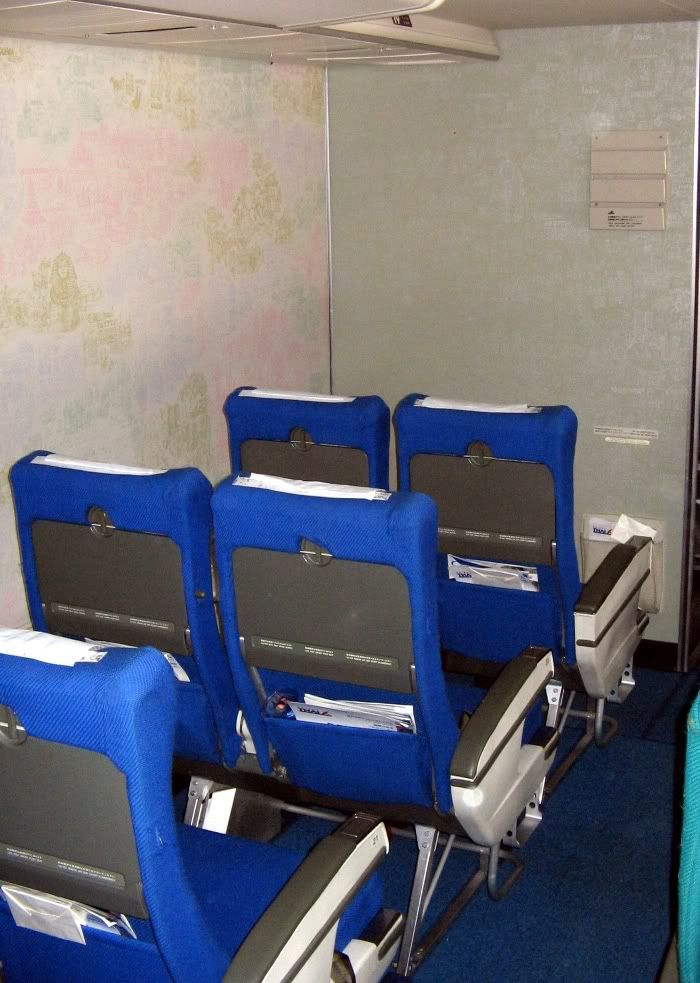 Business Class cabin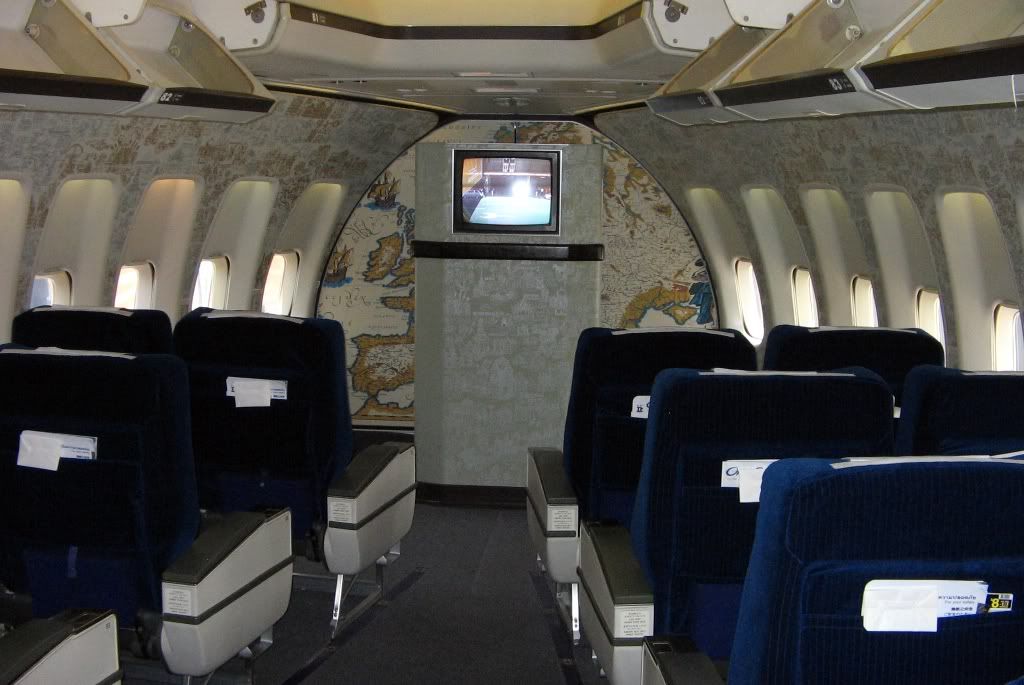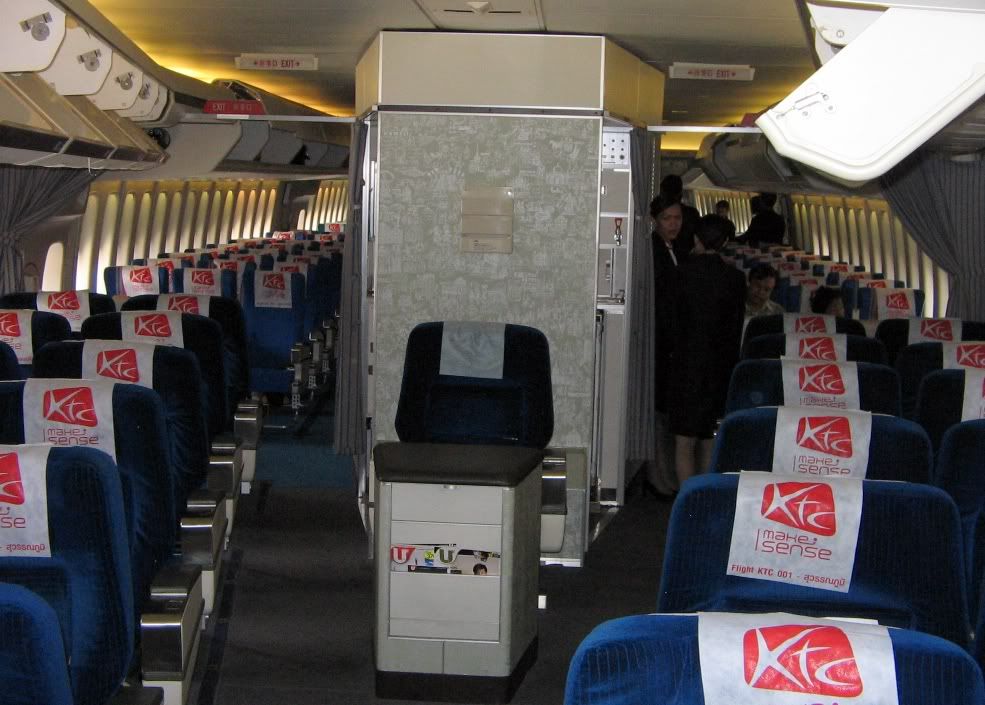 My seat was the last row before door 4R and as such the window was oddly positioned quite far in front of the row. This was only a minor inconvenience for me but meant that my seatmates would not be able to enjoy the view nor get any good pictures.
There was at least one celebrity on the flight, several photographers and videographers following him as he took his seat farther forward in the economy cabin. Then the captain came on to the loudspeaker and announced that there was a birthday today, so people sitting near the celebrant sang him happy birthday and clapped.
Finally, around departure time doors were armed and the captain came on the loudspeaker again and welcomed us aboard making a lengthy speech in both Thai and then English about this auspicious occasion. He complimented the King and noted that the King had chosen the name of the airport – meaning "Golden Land" in English – and wished him a long life. Afterwards, the passengers chanted (in Thai), "long live the King" three times and applauded.
A THAI 777-200 climbs into the morning sky: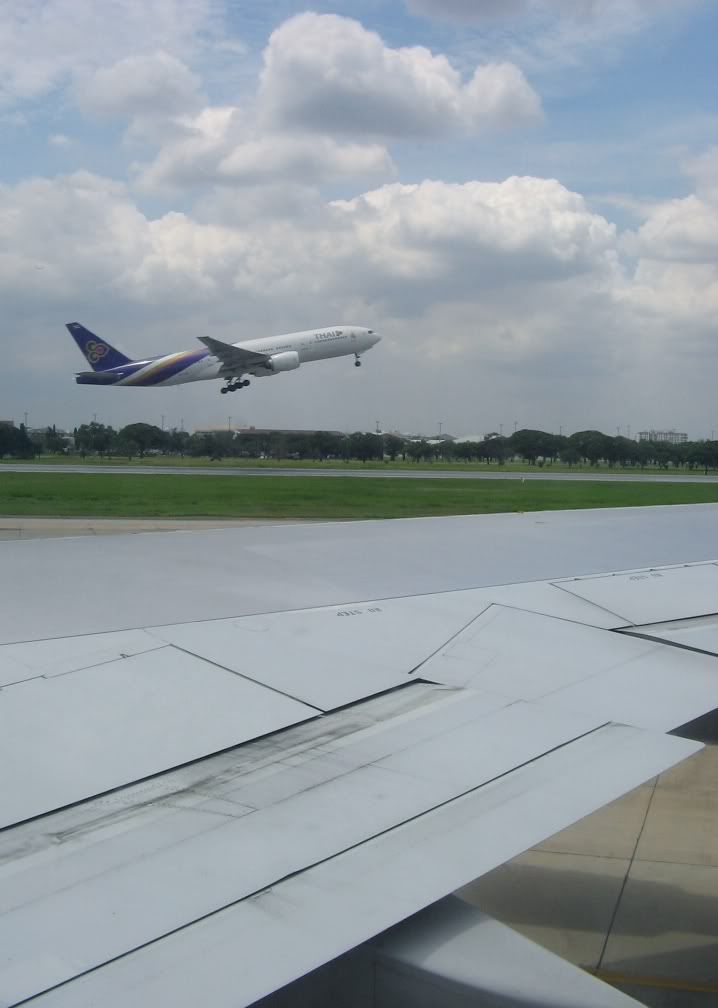 We pushed back more or less on time – with a planned flight time of seven minutes the exact departure time didn't seem important enough to keep track of – and began our taxi to runway 21R. We were just behind a Bangkok Airways Airbus, which was visible through the nose wheel camera, a feature I had not expected on so old a 747.
Flight attendants were making no efforts to stop people from using their cameras – an effort which would have been futile – although they insisted that the professional cameramen who were a few rows ahead of me actually sit down during takeoff. Moments afterwards, though, they were up and filming footage inside the cabin and outside the windows.
The takeoff roll was understandably short – no cargo, just a little fuel, no baggage, no meal or drink carts. We climbed into the clearer-than-usual sky and turned to the southeast. Leveling off at 5,000 feet, we passed over the southern end of the new airport and then turned to the left, doing a large circle as we did the down-wind leg for an approach to runway 19R. Unfortunately, sitting on the right, I couldn't see the airport and the landing shot, while nice, didn't include any terminal buildings. In fact, it didn't look that much different from approach into Don Muang, just a little less developed.
The flight: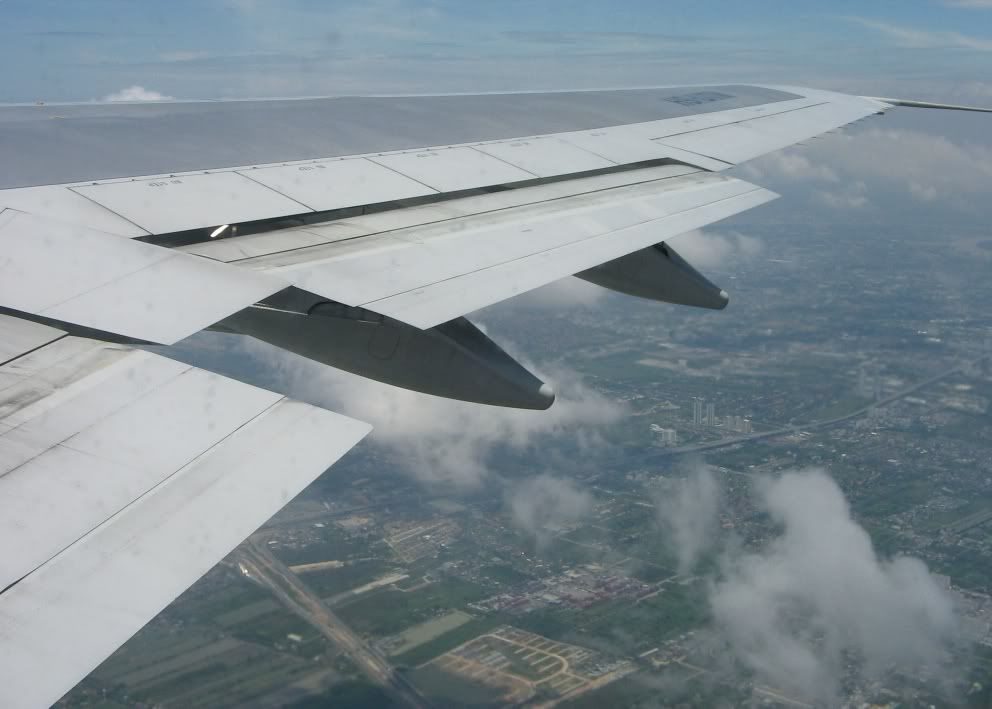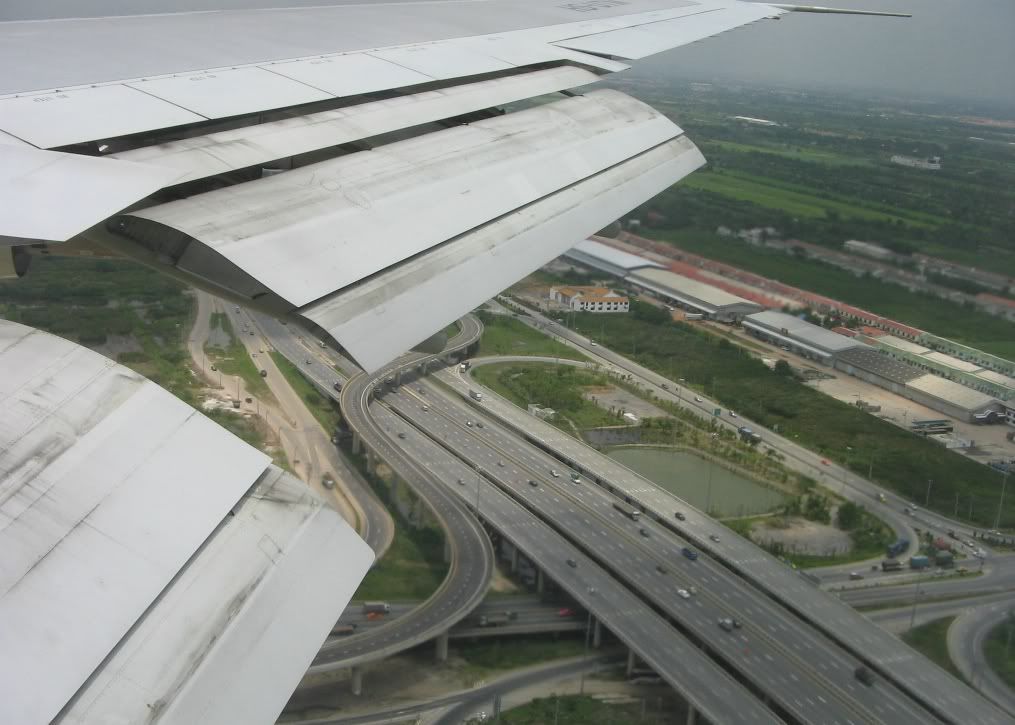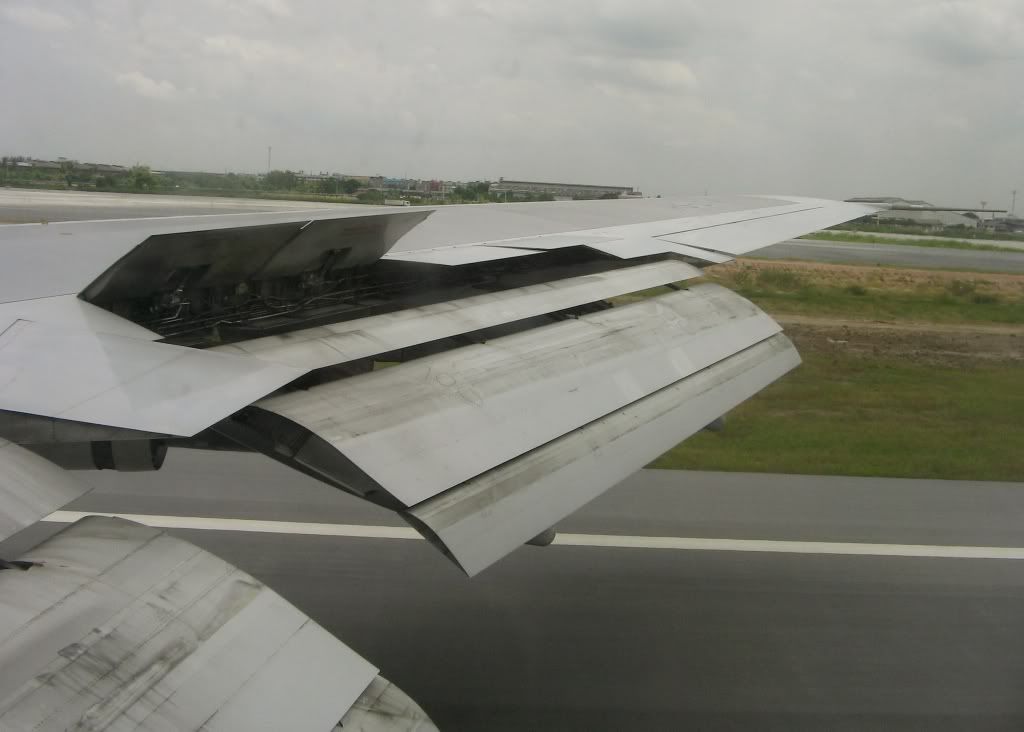 Landing smoothly on 19R the passengers burst into applause. The captain allowed us to roll out almost to the end of the runway and then we began a long, slow taxi to gate B5 on the other end of the airport. The best view I got from my seat was of the huge expanse of land between the two runways that is largely undeveloped. Some construction work is happening, but there is just a lot of land sitting there.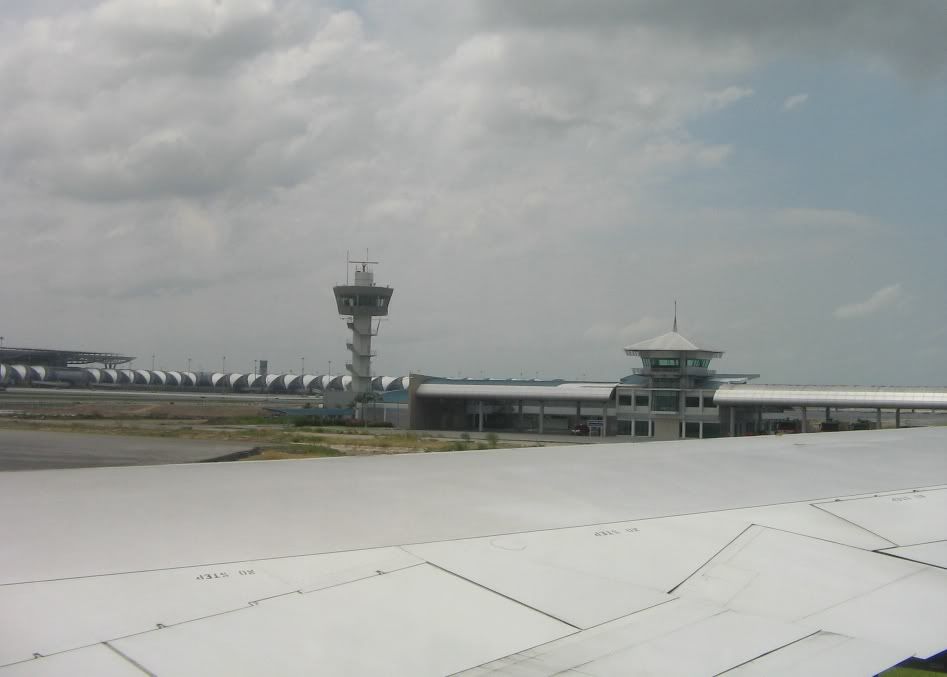 When viewed from above, it looks like the addition of two more parallel runways outboard of the existing ones will push the airport to the edge of its boundaries. But space for more terminals, cargo facilities, and maintenance hangars between the runways is plentiful.
We pulled into the gate at just around noon. Everyone jumped from their seats and then waited as the jetways were pulled up and – if I could tell what was happening correctly – some sort of ceremony occurred by door 1L welcoming the first One-Two-GO flight to the new airport. There was an elderly monk traveling on the flight, so it may have been a traditional Thai Buddhist blessing rite.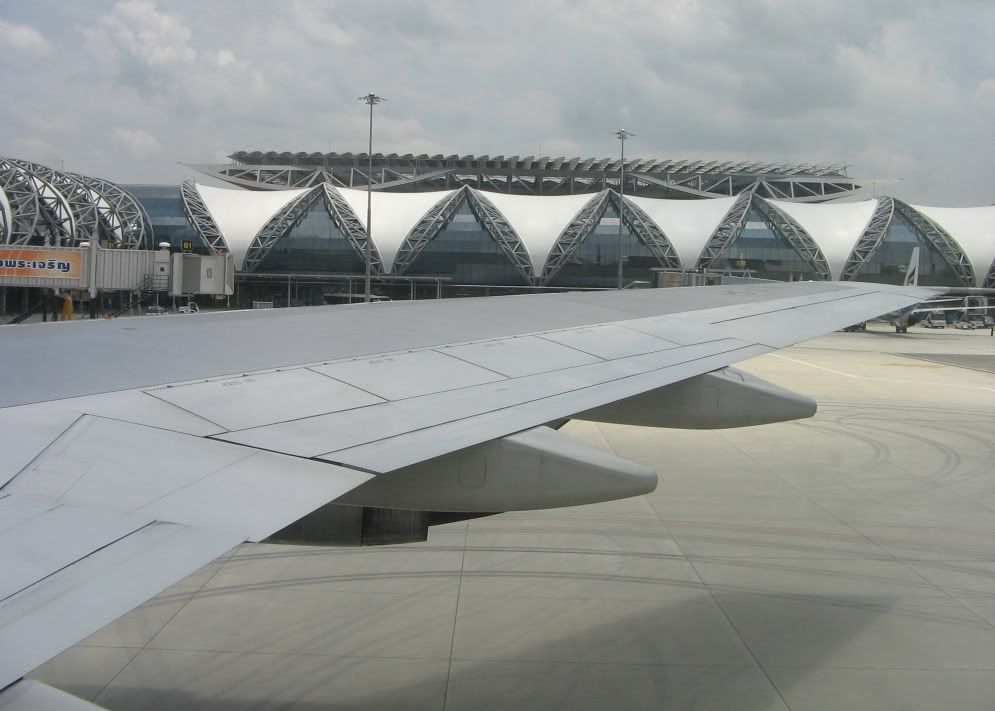 I waited to deplane until most other passengers were already off, allowing me to join the more hard-core aviation enthusiasts who were taking pictures in the jet bridge. The glass bridges have futuristic air conditioning ducts in the metal floor plates and allow for a nice view of the activity.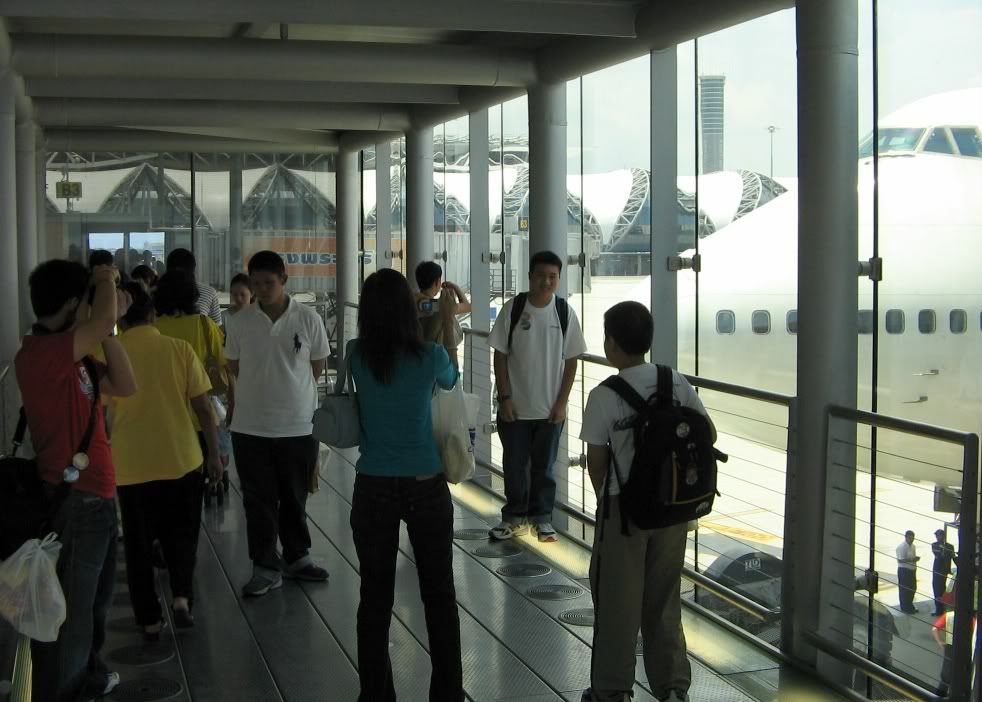 Once inside the terminal, it wasn't entirely clear where we were supposed to go. People were waiting in the holding room for the next flight – One-Two-GO had added another flight as a promotion with a local credit card company, this one originating at Suvarnabhumi. Instead of exiting into the arrivals area as I think I was supposed to, I went into the holding room. A few pictures later, I walked out through security – throwing a few of the security guards for a loop as everyone else was walking in, not out.
There are two piers for domestic flights, A and B, each with about six gates. At the point where they meet is a small shopping area and what will probably eventually include food stalls. Things were set up specifically for the test flights and most of the facilities, except for the globally ubiquitous Starbucks kiosk, looked like they were not in a final configuration.
King of Power Shopping:
The main hallways by the gates are very sterile. The interior is largely unfinished concrete, tile floors, with a metal, glass and Teflon roof. The unfinished concrete looks like it is intentionally left that way, which lends the building a cold, industrial feel. Large paintings and prints are displayed along parts of the hallways, adding some color and texture to the space.
Also at the point where the A and B pier meet is the international connections desk. Here you can connect to international flights and then proceed through an 8-counter passport control area, heading upstairs to the mezzanine level to shop and connect to all other flights. It appears the there is a sterile level between the gate hold room level (where the jetway spits you out) and the mezzanine level that connects to international flights. Signage was still largely absent, but if I'm understanding it correctly, the layout allows these domestic gates to be used for international flights, too. That way, passengers can be directed to this sterile level and then on to international arrivals or through security screening for other international flights.
The B Pier: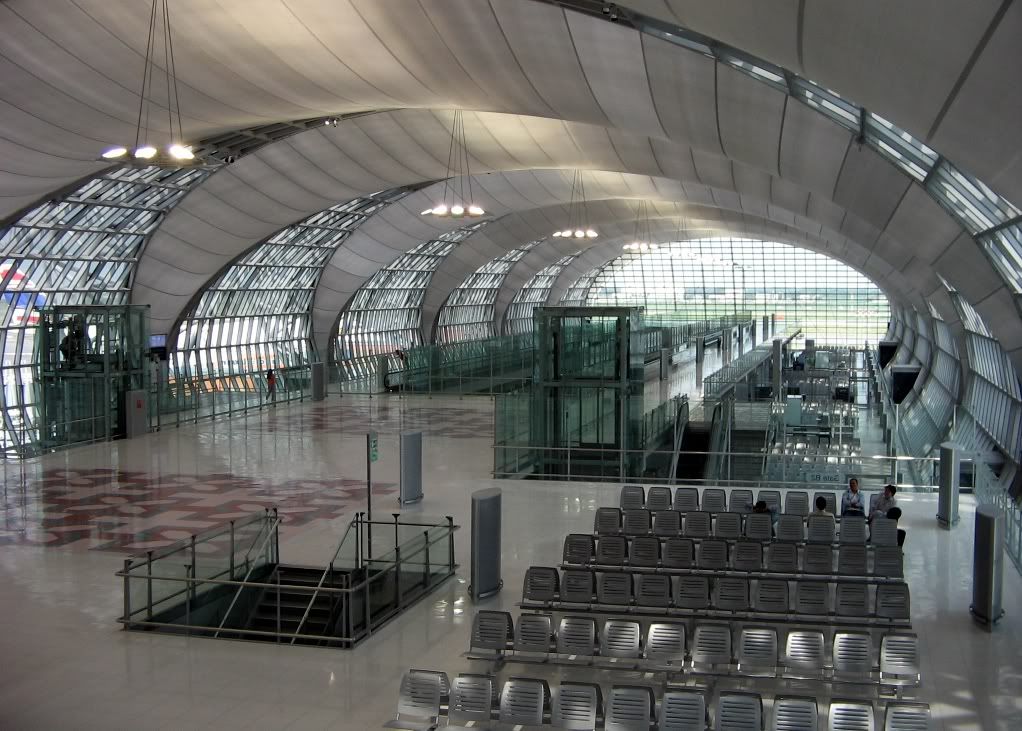 Continuing past the shopping areas and the international connections desk, you reach the main terminal building, baggage claim level. There are about fifteen carousels, each of which is very large. Walls appear to have been set up in such a way that certain carousels can be changed for usage from domestic to international flights as necessary. The baggage claim area is still devoid of many furnishings, but is nice and large.
AOT was conducting tours of terminal and I was going to join but decided just to wander around on my own. They'll be conducting additional tours each day from August 1 until September 15, so perhaps I'll drive out one day to get the full tour and see how much progress they're making. If anyone's in town and wants to do the tour with me, let me know.
The main terminal building – AOT claims it is the largest single building in the world, although I'm unclear by what measure – is indeed large, so much so that I wished I had a wider-angle lens for my camera as I couldn't step back far enough to accurately capture any of its size.
There are three main levels to the building:
A departures level that includes more than twenty check-in rows, widely spaced. With the exception of the THAI airways counters, it looks like the counters are all multiple-use.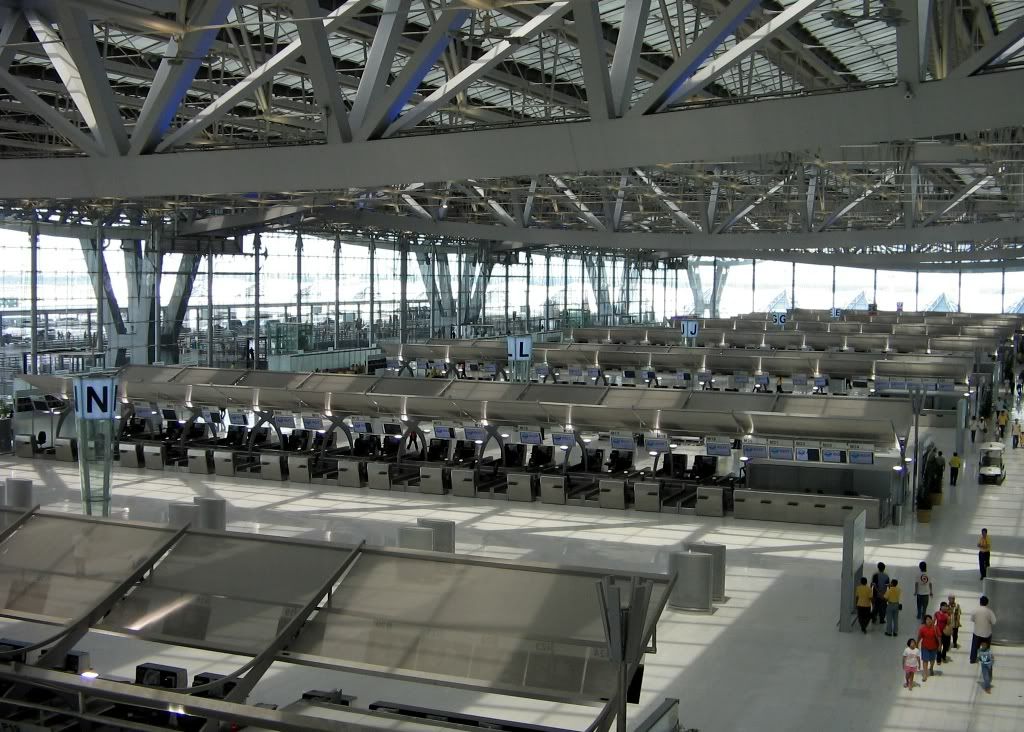 At the back of the departure level there is a series of escalators and elevators that can take you up another three stories to two observation levels, each about 50 meters long that, while indoors, offer an expansive view of the tarmac. It was unclear as to the details, but I got the impression from some construction markings on the floor that at least one of the spaces would be converted into shops or a restaurant of some sort. Viewing space should still be generous.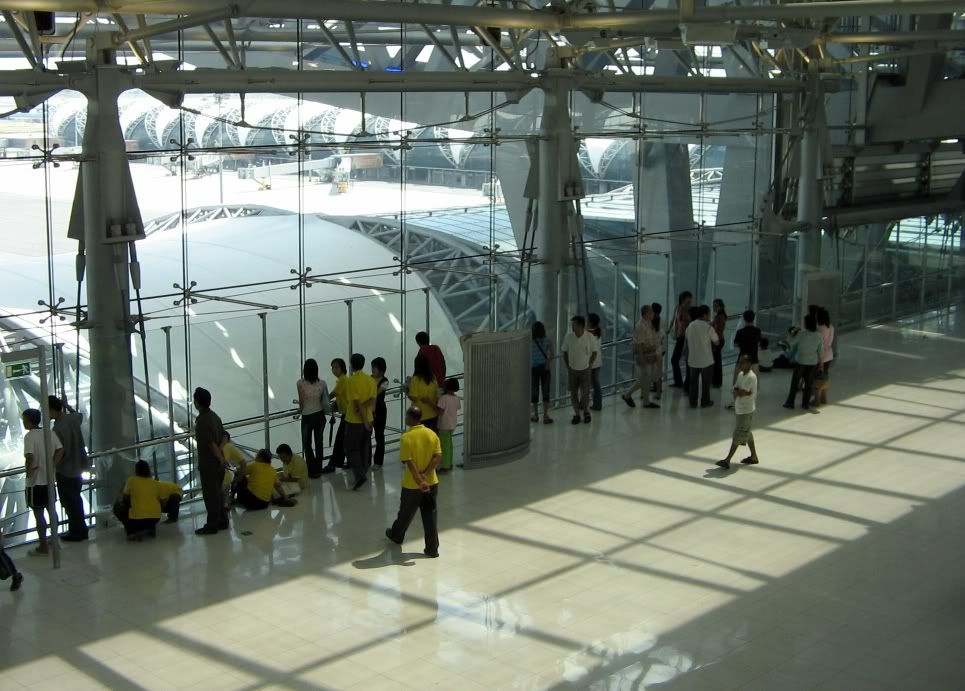 The observation decks' proximity to the large beams of the roof, as well as the multiple layers of glass in the windows, means that photographers will find their clear shots stymied. It also seems like the air conditioning, provided by 2 meter-high towers placed throughout the main floor, may not provide much comfort so many stories higher. Still, it is very nice that an airport is being build with observation decks and with the heat and humidity in Bangkok, having them indoors will make for a pleasant place to watch planes.
Below the departures level is a middle level containing shops and food outlets – well, the signs indicate that there will be shops and food outlets, all I could see were concrete block shells, completely unfinished. Below that is the arrivals level. Because of the size of the building, I spent most of my time on the domestic end of the terminal, so wasn't entirely clear how the meeting and greeting for international arrivals would be set up. It is such a large space, that I can't imagine there will be only one exit from customs for arriving passengers. Perhaps like at Hong Kong, there will be two main exit areas and adequate signage to indicate through which exit different flights' passengers will appear.
Below the arrivals level are two more levels, most of which look like they will be airport offices. I was able to actually get to the ground floor level – there is another roadway there just for service vehicles – and exited the building.
To the east of the building – and, I assume there is a mirror image on the west of the building - there is a very large garden. This space is quite nice although I can't imagine that most passengers would ever be able to locate it. It includes a large area paved with blue concrete blocks designed to look like water. On it are two replicas of the
royal barges, used to transport the King in royal processions
along the Chao Praya River.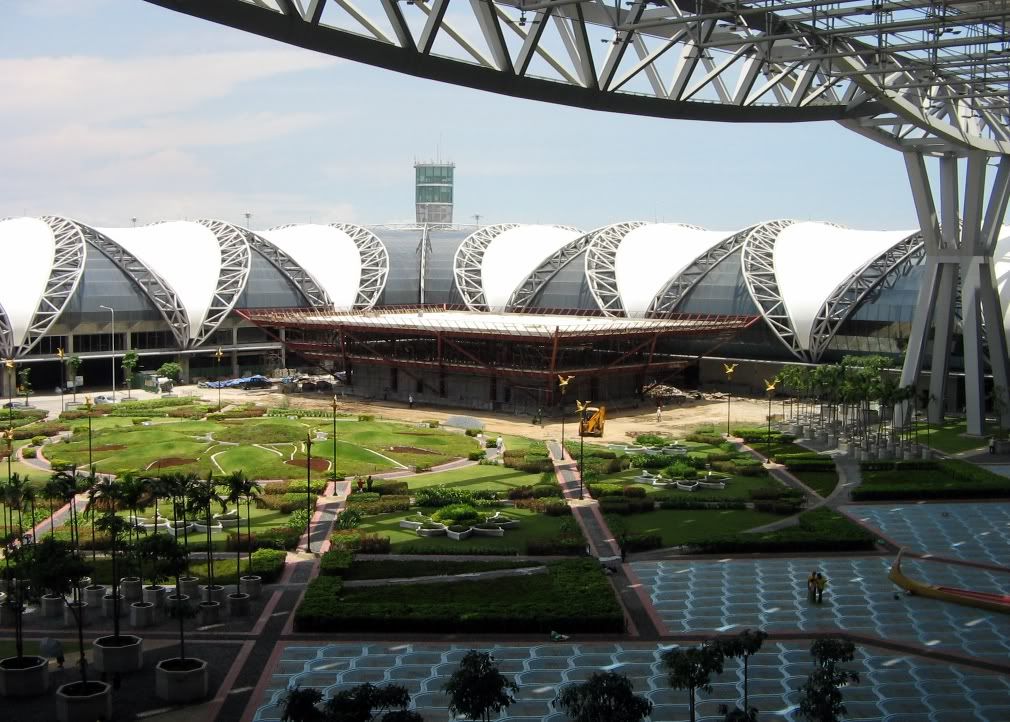 And the garden makes a shady place for construction workers to take a nap after lunch.
It is in the garden area that you get a good sense of the immensity of this building. The main support pillars stretch overhead more than ten stories.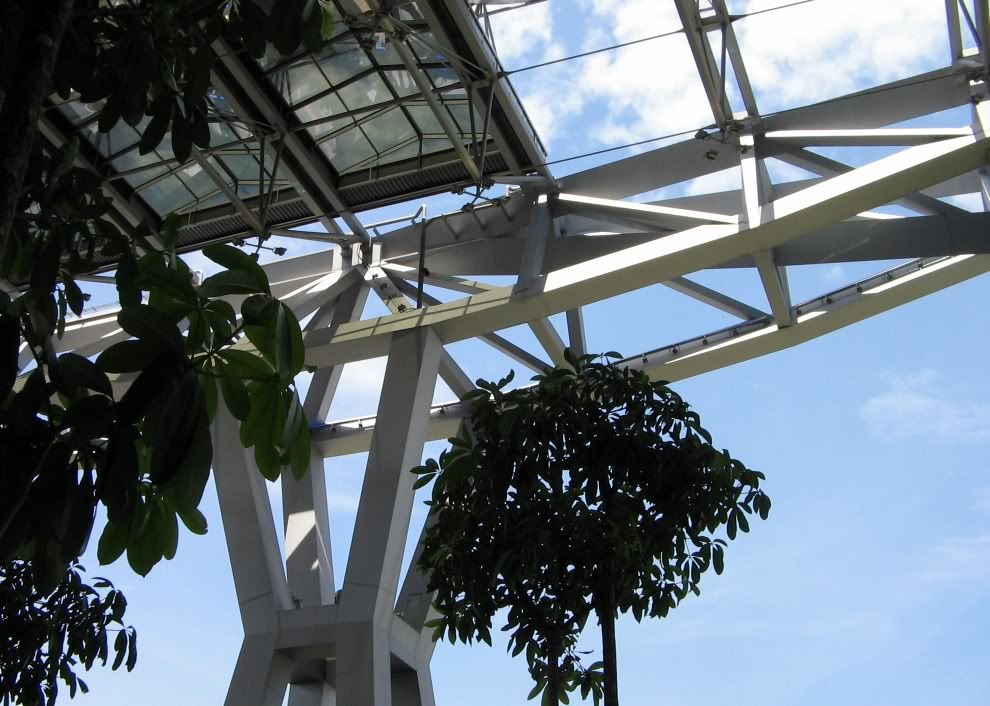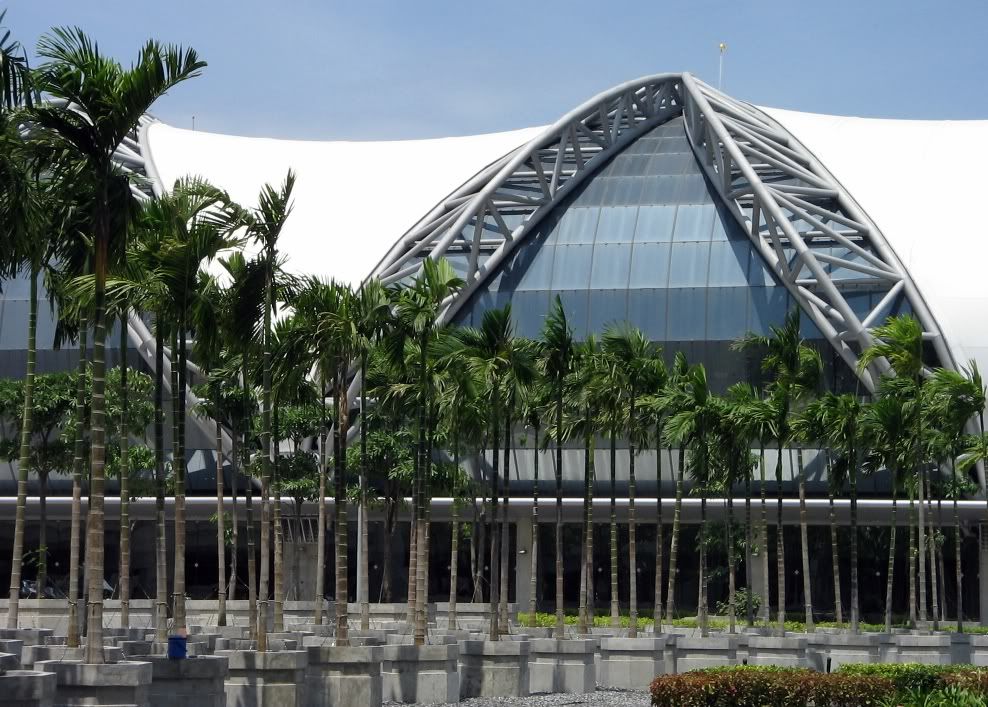 Heading back inside, I was a little amused by the ingenuity of a local food vendor. Not having a completed place to sell food, she had set up a few folding tables and was selling containers or rice and
gap khao
– side dishes such as curries and stir-fried vegetables. This was the food that construction workers, who had been taking a nap in the shade of the roof, could afford to buy. Unlike the Starbucks inside, which cost nearly a day's wage just for a latte.
The three levels – departures, arrivals, and service (from top) – are clearly visible in this picture: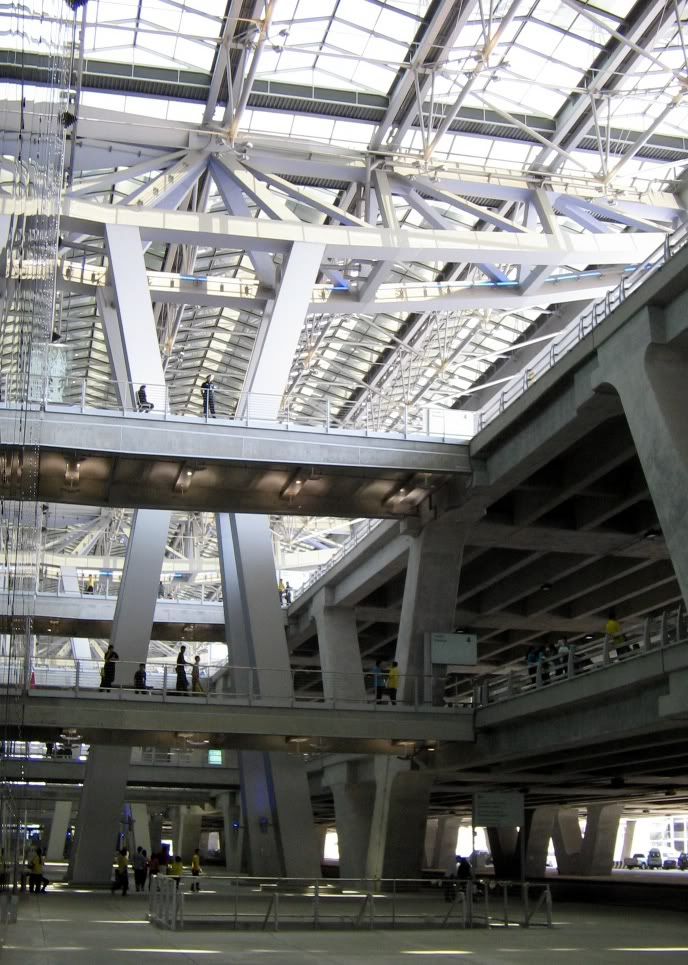 Each of the levels has eight traffic lanes – four on the interior side and four beyond the island. Compared to the two lanes that serve each of the terminals at the current airport, Suvarnabhumi should be much nicer.
Security was interesting. On the departure level and the level leading to the car park, entrances had heavy guard coverage including overheated German Shepherds that were panting and lying on the concrete walkways. On the car park level, all bags were inspected and everyone entering was searched with a metal detector wand. On the departure level, bags were given a cursory glance but no wanding was done. But on the ground floor level, walking back in from the garden, a lone rent-a-cop was sitting by the door, not stopping anyone or searching anything.
Each of these different levels is connected by many different travelators or moving sidewalks. These are especially interesting as I've never seen them with this design: as they are ascending or descending, they level off for a meter or two and then continue their ascent or descent. It is strange but makes for a pleasing visual effect as they weave between each other.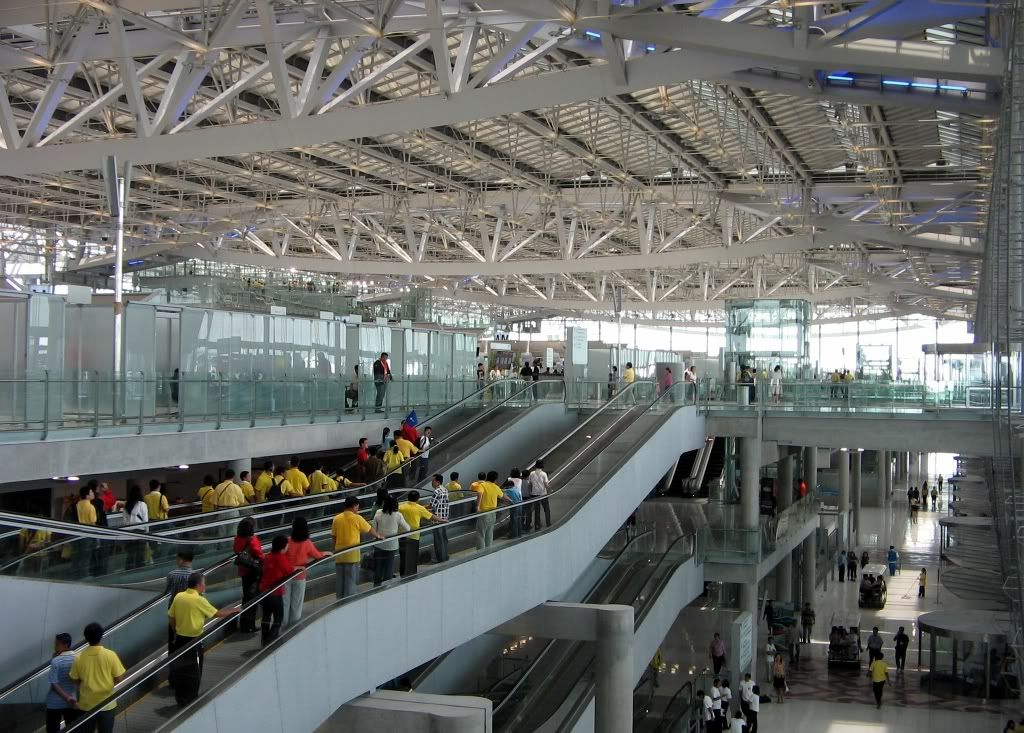 I headed back outside, this time to the car park in an attempt to capture the sheer size of the building. Roughly half the terminal building is visible in this picture: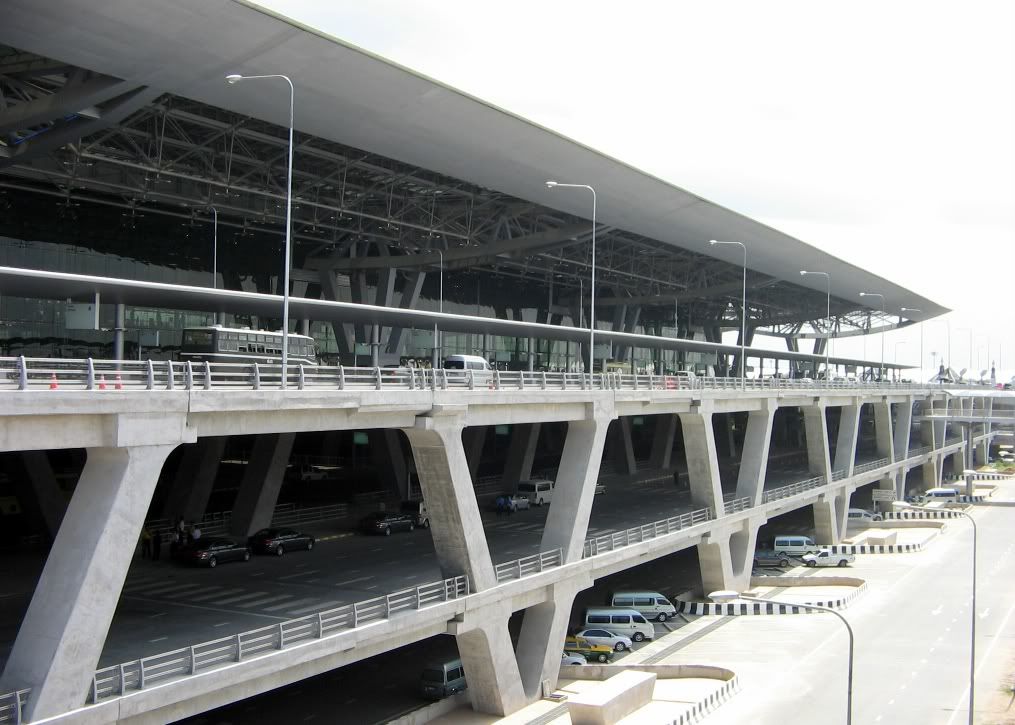 One of two car parks, providing a total of 5,500 short-term parking spaces. Not sure if employee parking is also in these lots or if another space is provided. Note that there is unfinished landscaping between the car park and the roadway.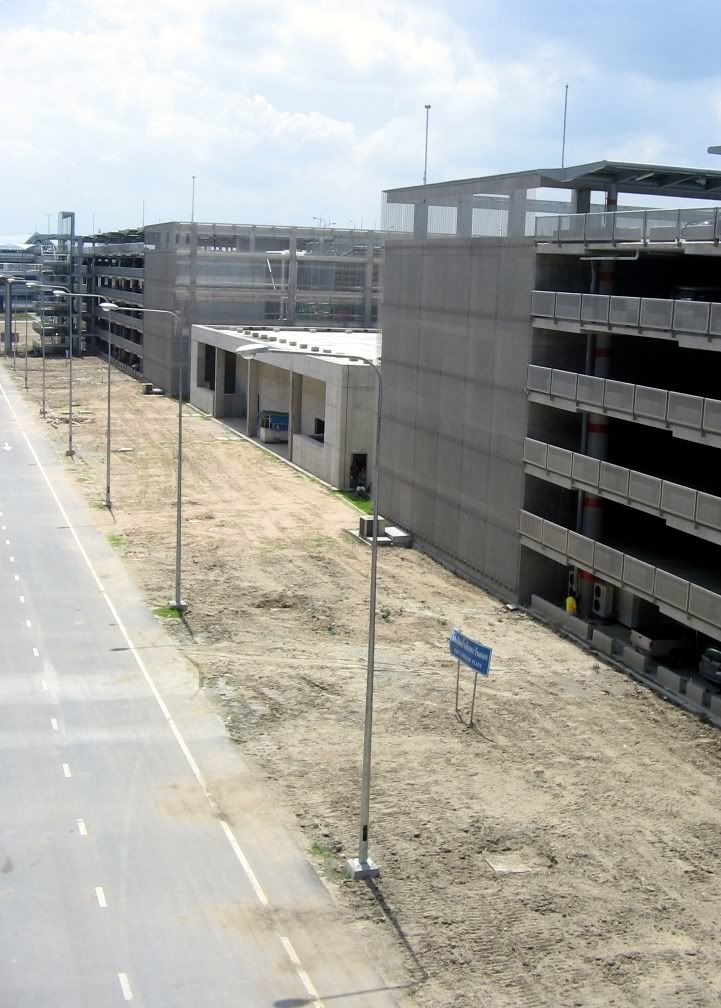 Signage for the domestic check-in area – the first section of the terminal that you will reach when driving towards it.
Heading back inside again, I took a look around the THAI Airways domestic check-in counters. They have a very nice premium check-in area that will include leather ottomans and a lounge area where guests can sit and wait instead of standing in a queue. I understand that the international check-in area will have the same features and will support all of the Star Alliance carriers.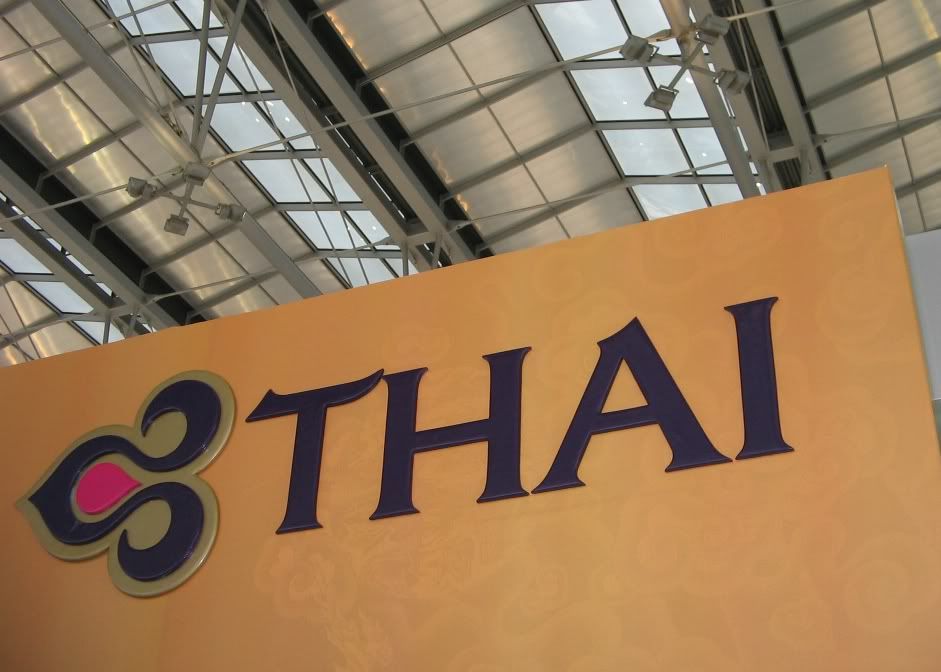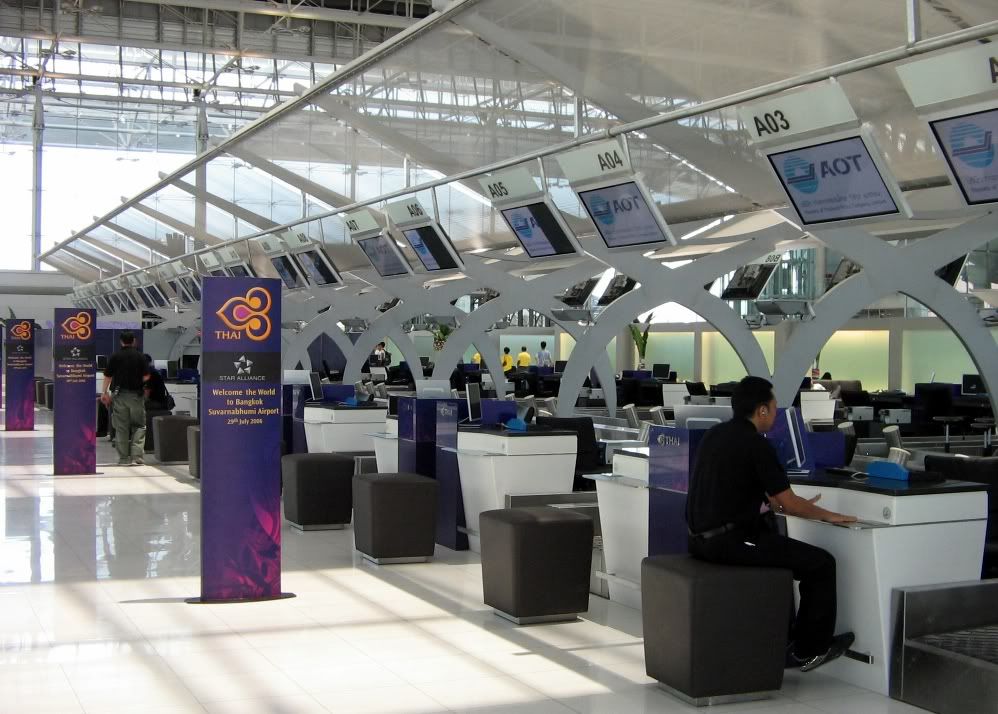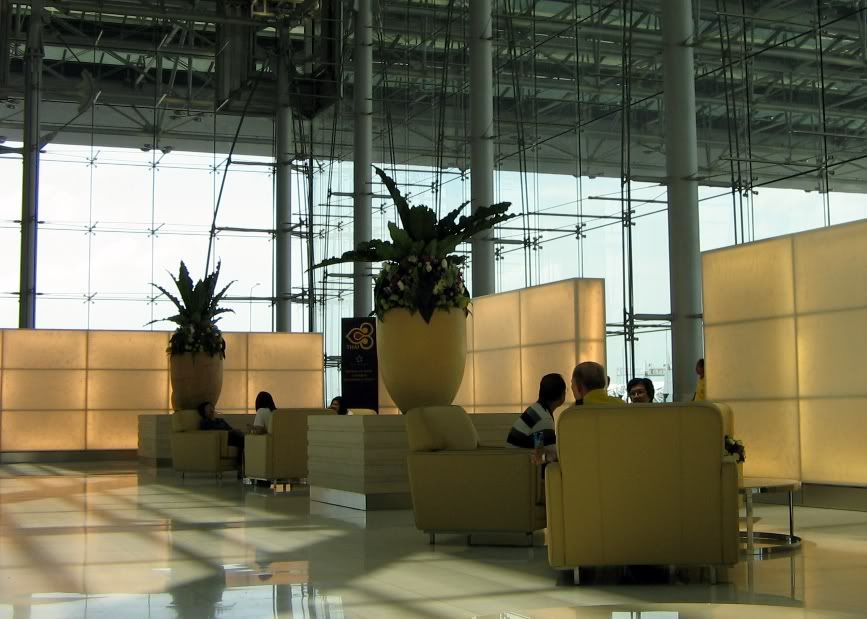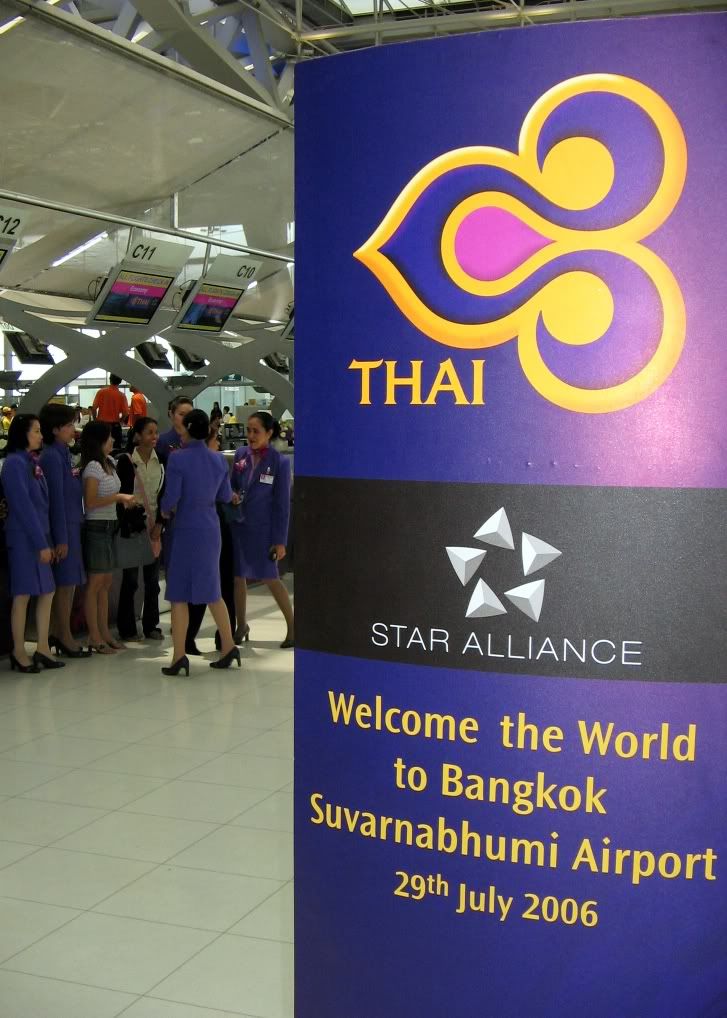 29 July 2006
Route:
NBK-BKK
Airline / Flight:
OX999K
Aircraft:
B747-146 (HS-UTM)
Departure:
16:39
Flight Time:
7 minutes
Seat:
27K
Gate:
B5
About 2:30 I went to the One-Two-GO check-in counter to receive my boarding pass. In order to test the systems, passengers were checked in only for their outbound flight at Don Muang and were asked to check back in once they reached Suvarnabhumi. Each check-in desk had a team of four or five IT support people standing by to ensure that there were no technical problems. The computers worked flawlessly and the agent assigned me a seat – a different seat farther forward so it didn't occur to me (
dooh!
) to ask if the seat actually had a window – and printed a boarding pass in less than a minute.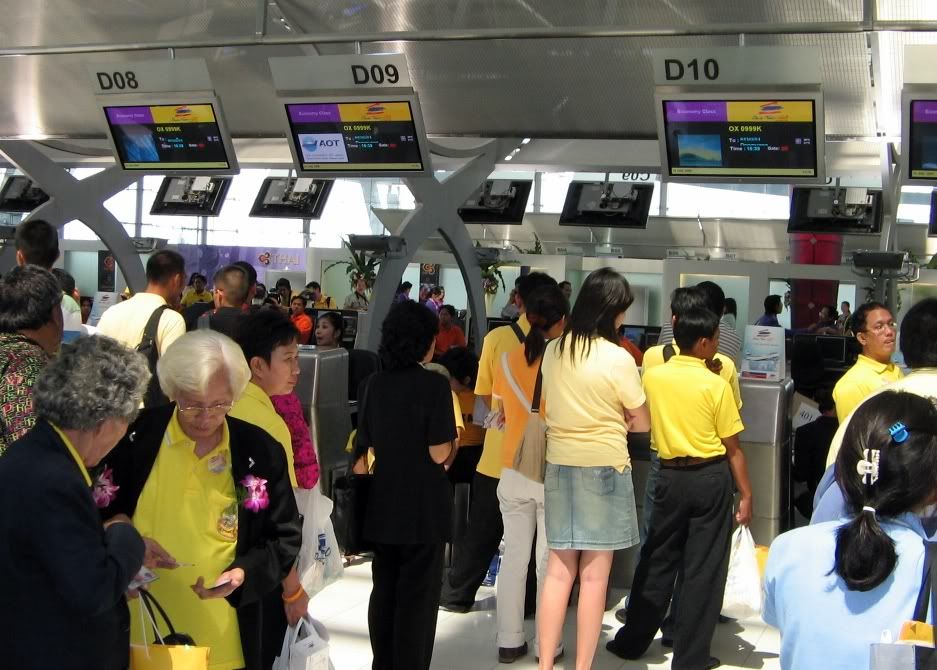 Travelers gathered around the air conditioning units.
Going back to the domestic gates, I went through an area where they glanced at my boarding pass – not a security check, mind you – descended an escalator and then walked back down the long, dark concrete hallway. Stopping at Starbucks for a day's wage latte, I went over to look at the passport counters across from the international connections desk. Wondering where the escalators led, and not seeing anyone who looked like they would stop me, I continued upstairs two levels.
Passport control area for domestic to international connections: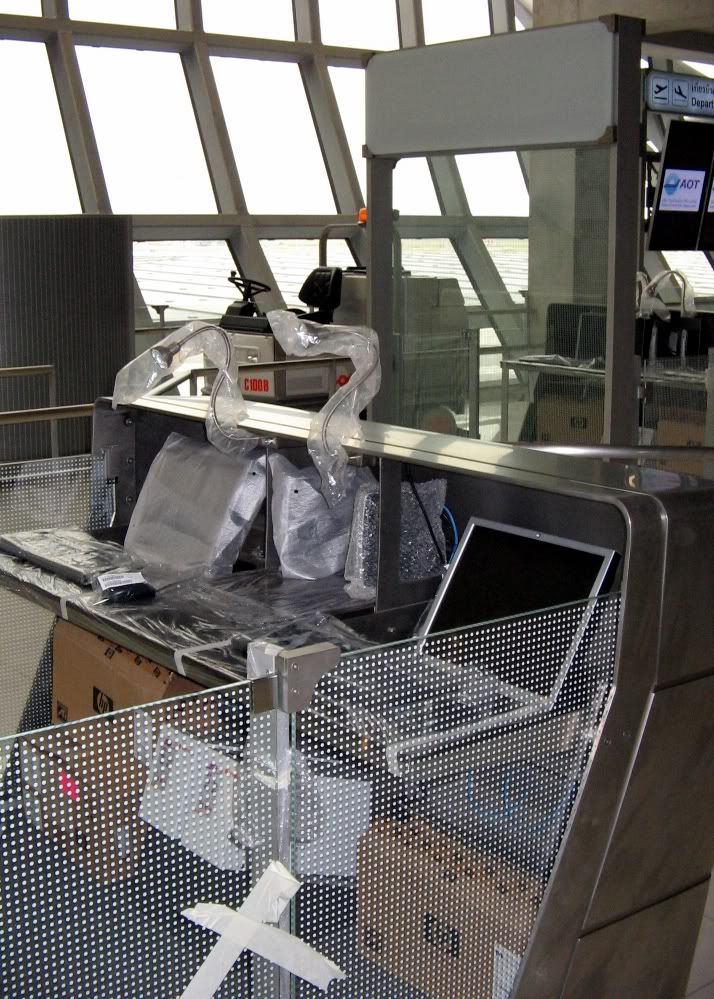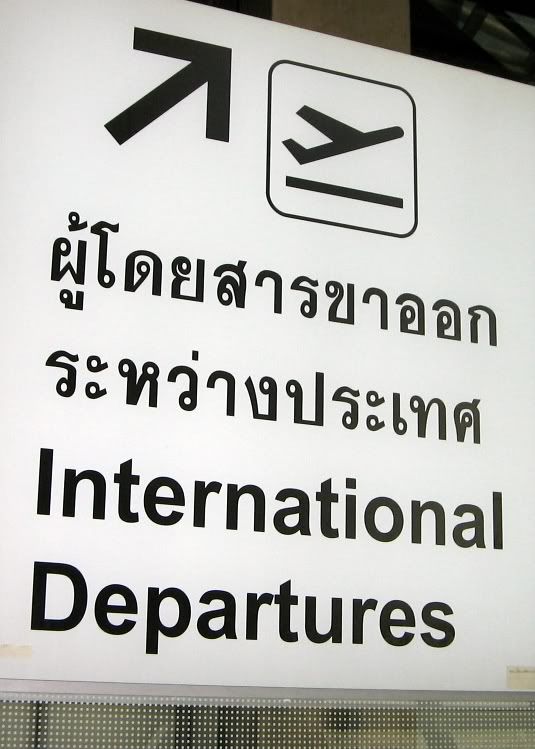 There, it was a different world: a world that is not nearly finished. This area, which appears to be the main corridor that will connect all the wings of the airport and contains the airline lounges as well as all the shops and other services, is really unfinished. Some shops have had basic cabinetry installed, others have no floor and are completely gutted.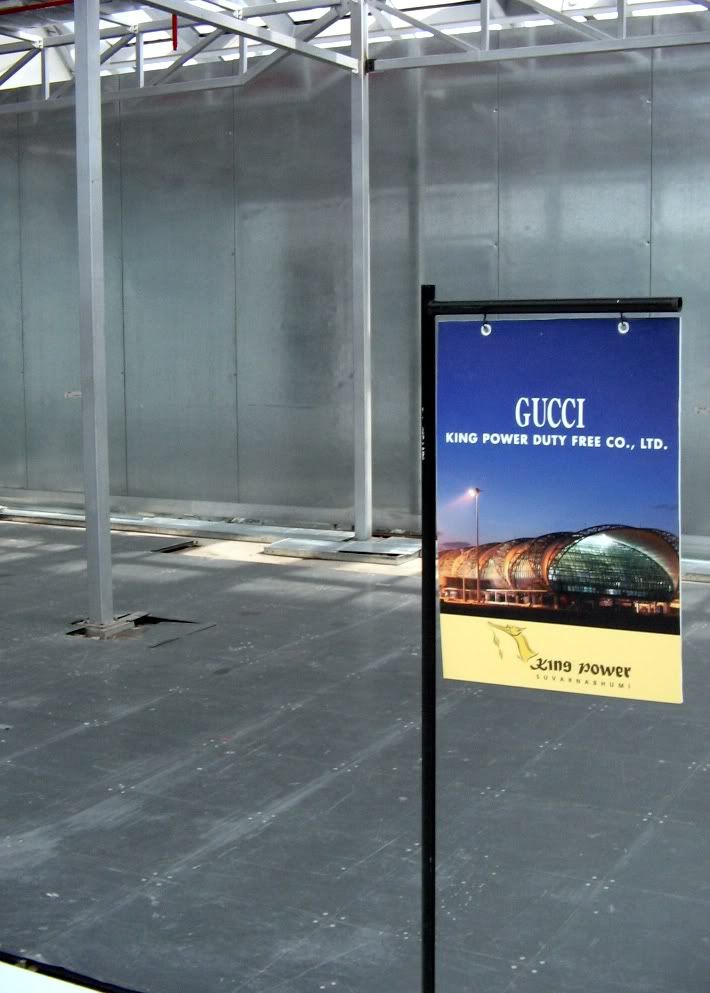 Gate areas in the D Pier: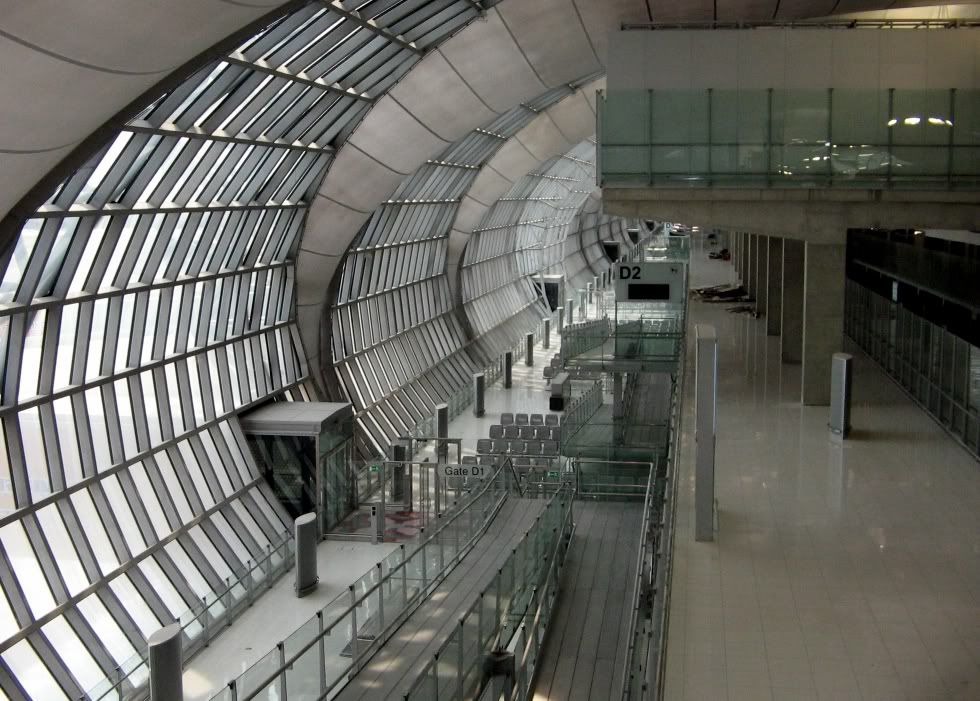 There is a very nice Hindu-style art piece depicting a tug-of-war using a giant
naga
, or five headed serpent, located just inside the main passport control point. This will be one of the first things departing passengers see when heading to their international flights. Descriptive signage was not permanent but just printed on a piece of poster board and leaning on an easel.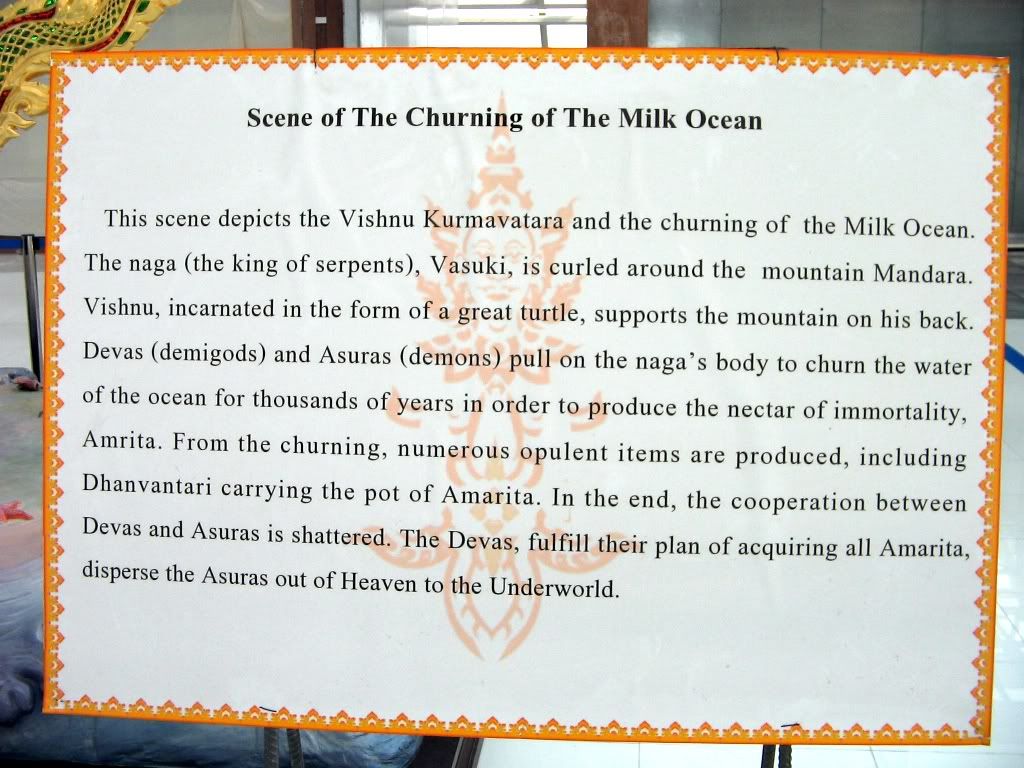 Very little about the architecture and design of the new airport is informed by traditional Thai styles. There are the inclusion of two
salas
– traditional pavilions – at the intersections of the international piers along with some decorative pattern on the floor. The rest of it is typically modern, another Dubai, another Hong Kong, another Incheon. Actually, with its wooden flooring, I found Incheon to be a warmer, nicer airport.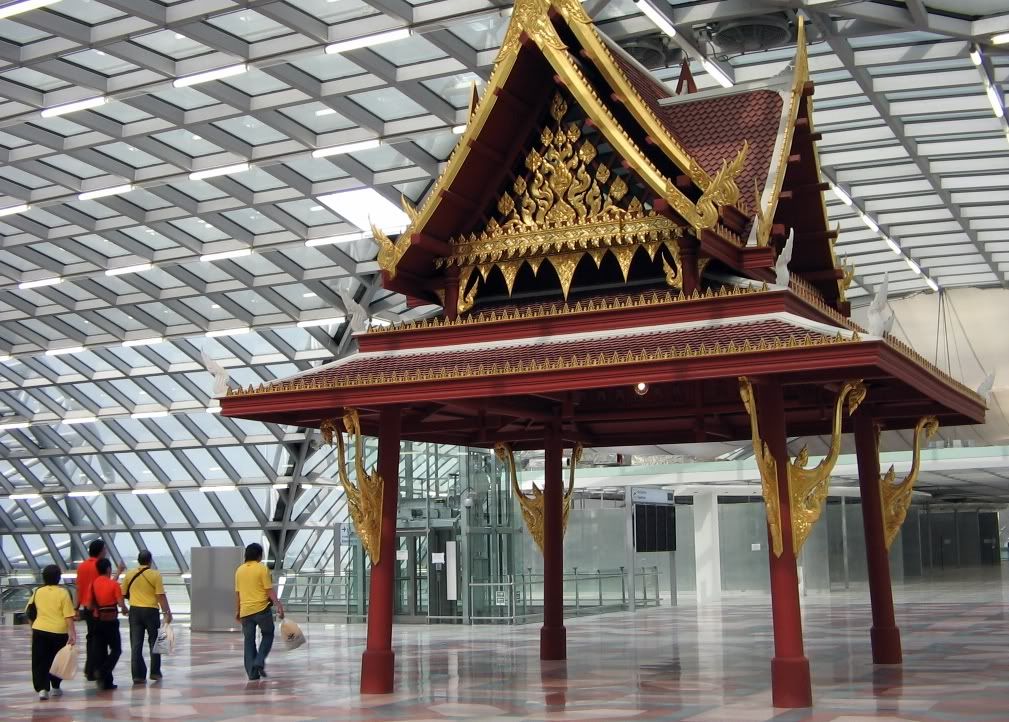 Fake palm trees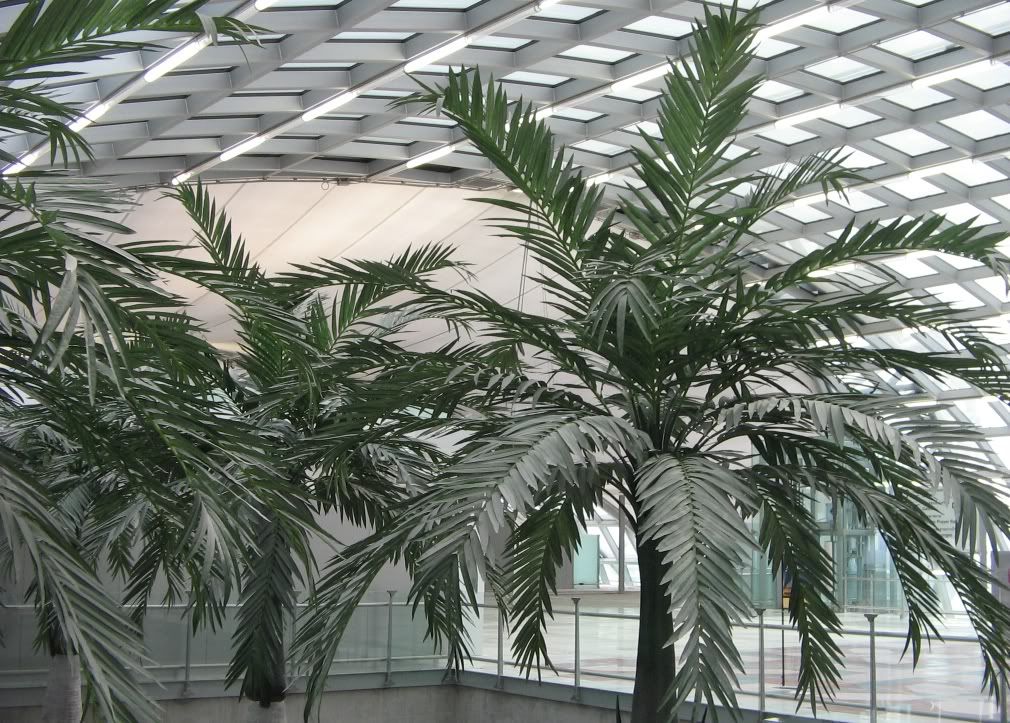 The one exception to this "no Thai touches" observation arose when I was reviewing my pictures. This one shot of the glass portion of the roof, when viewed directly on, is reminiscent of the lines of a traditional Thai roof, like the one on the
sala
.
Boarding time nearing, I headed back after walking about halfway across the airport. Hopefully airlines will be located at this airport according to alliances and likely connections, because it is really hugely spread out. There are no trams to get from one end to the other, just an unending series of moving walkways.
Before heading downstairs, I was taking some pictures of the B pier and was wondering if there was a quick way to head back down. I noticed that an emergency fire exit stairwell as propped open so I walked down it. Sure enough, the next door down was propped open, too. I took some more photos and then continued down to the domestic departures/arrivals level but that door was locked, requiring badge access.
Curiosity getting the better of me, I continued on down the stairs and at the bottom was another propped-open door leading to the tarmac. Poking my head out, I didn't see anybody around so I went out onto the tarmac and took some photos. Walking past a man wearing an Airports of Thailand, I thought he would stop me but he said hello and was taking some pictures, too!
Walking to the other side of the pier, where my plane was parked, I walked past a woman in a security guard uniform. Not a word. So I took some more pictures.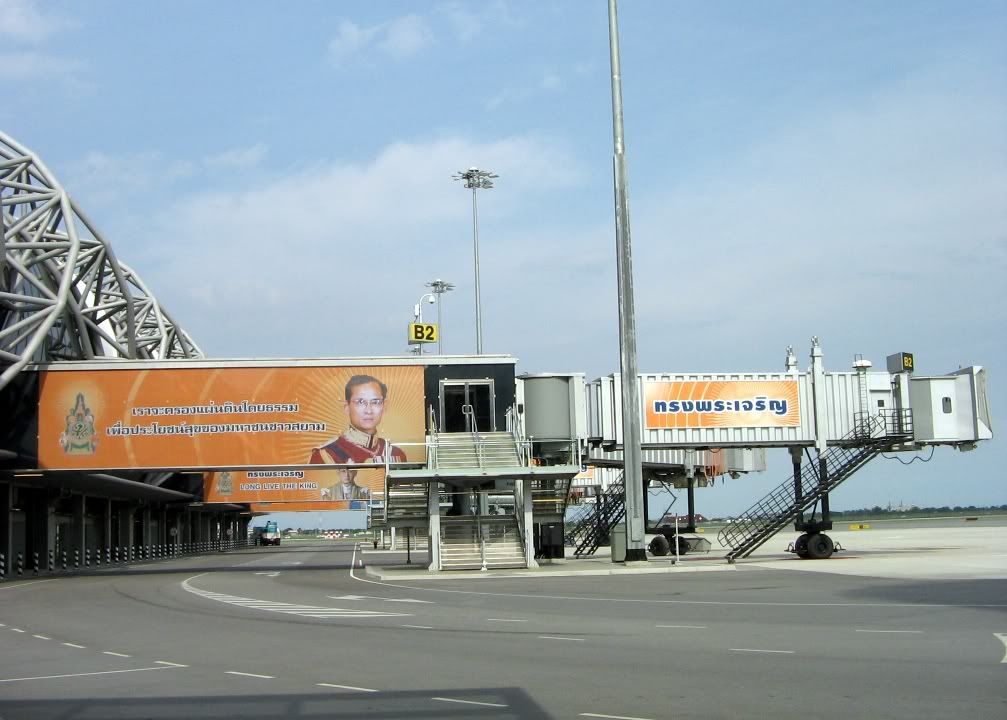 Then I walked out onto the tarmac and over to the jetways at gate A1. Took some more pictures. A truck drove by, nobody stopped.
Side note: unlike at Don Muang where HSBC bank has their name all over the jetways, here at Suvarnabhumi, each jetway is adorned with a picture of His Majesty the King. The selection of pictures varies, so not every jetway has the same picture. Each one is also emblazoned with a sign proclaiming "Long Live the King," in Thai of course.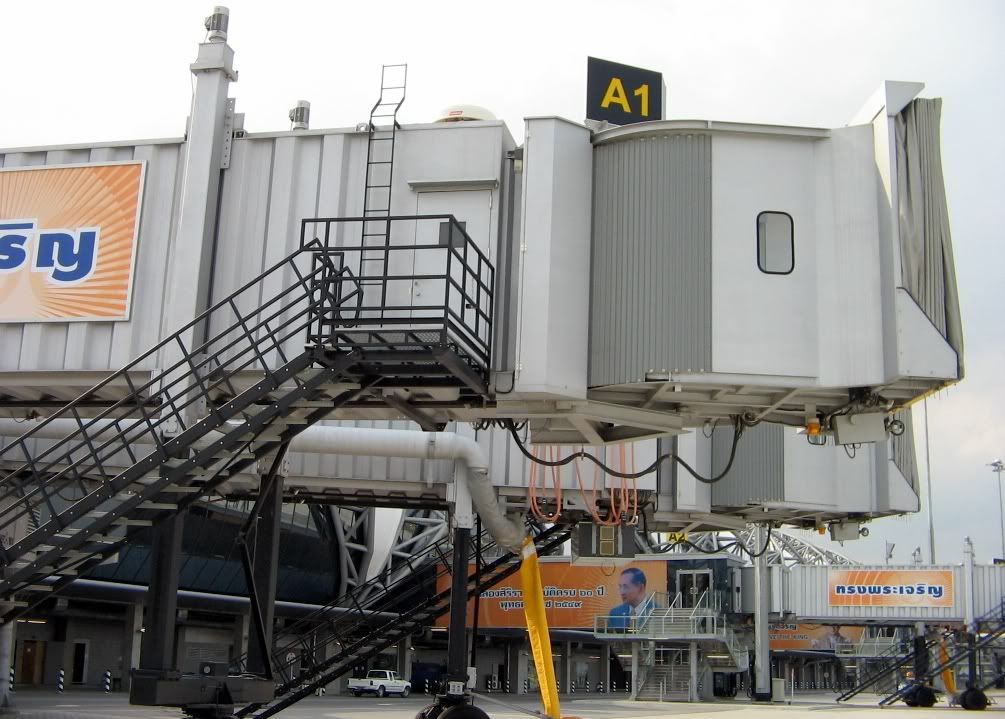 Then I walked out a little further onto the tarmac – now out where the tail of a plane parked at A1 would be – and took some pictures of my plane over at gate B5.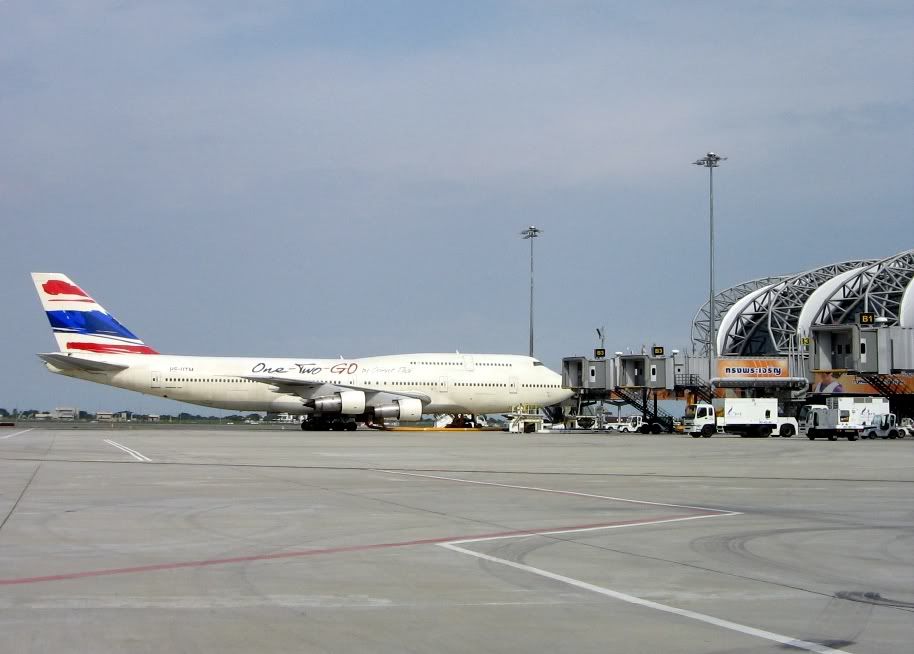 <
Walking back to the door, not wanting to miss my flight, I stopped and asked the guy from AOT if he would take my picture, which he did.
Proof that I was there: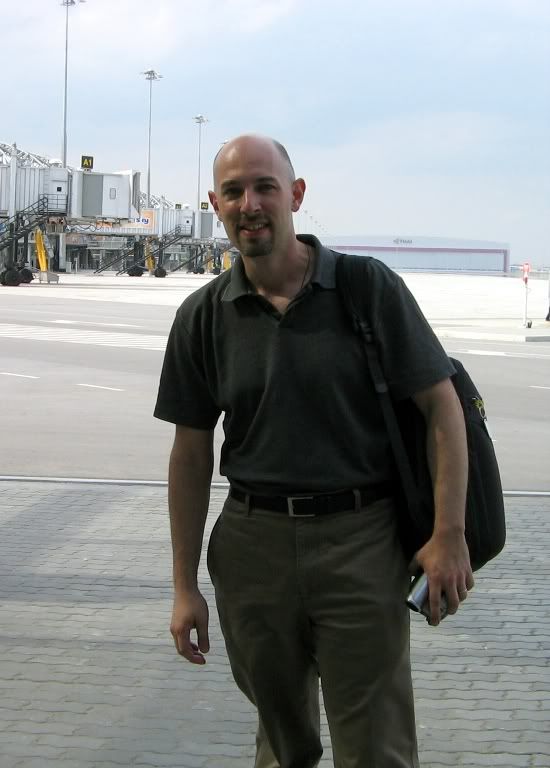 Heading upstairs, I proceeded to gate B5 where they had already started boarding. A nice grandmotherly lady was posing for pictures her son was taking. She looked so sweet I decided to take a picture, too.
Security was smooth and after a kind of lack-luster attempt by the security guard to use the metal detector want (hint: when it beeps, that's when you stop and investigate further), I handed over my boarding pass and walked down the jetway to the plane.
Pictures from the gate area: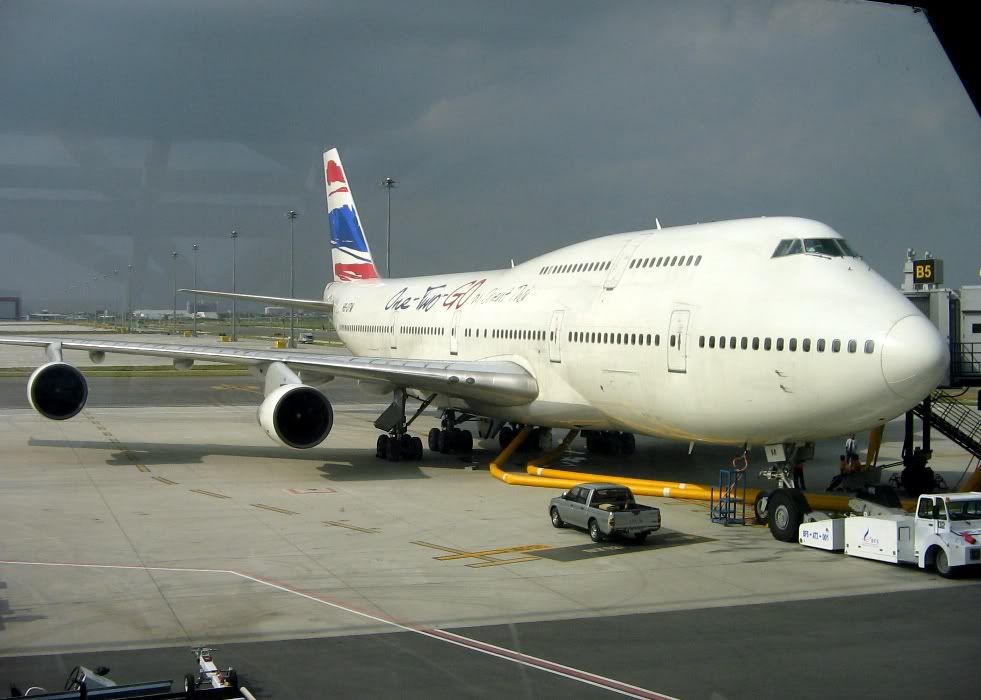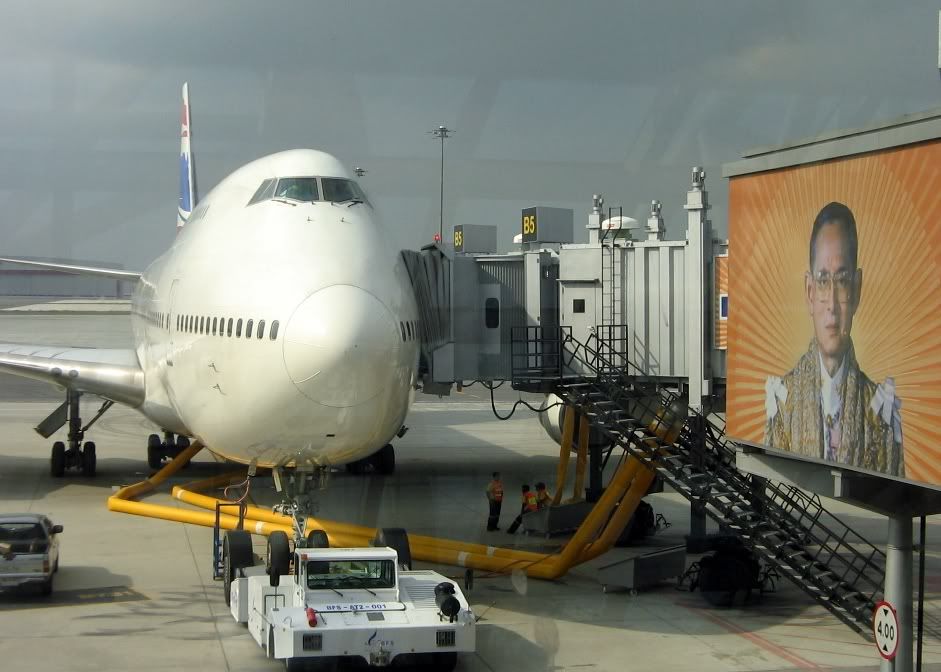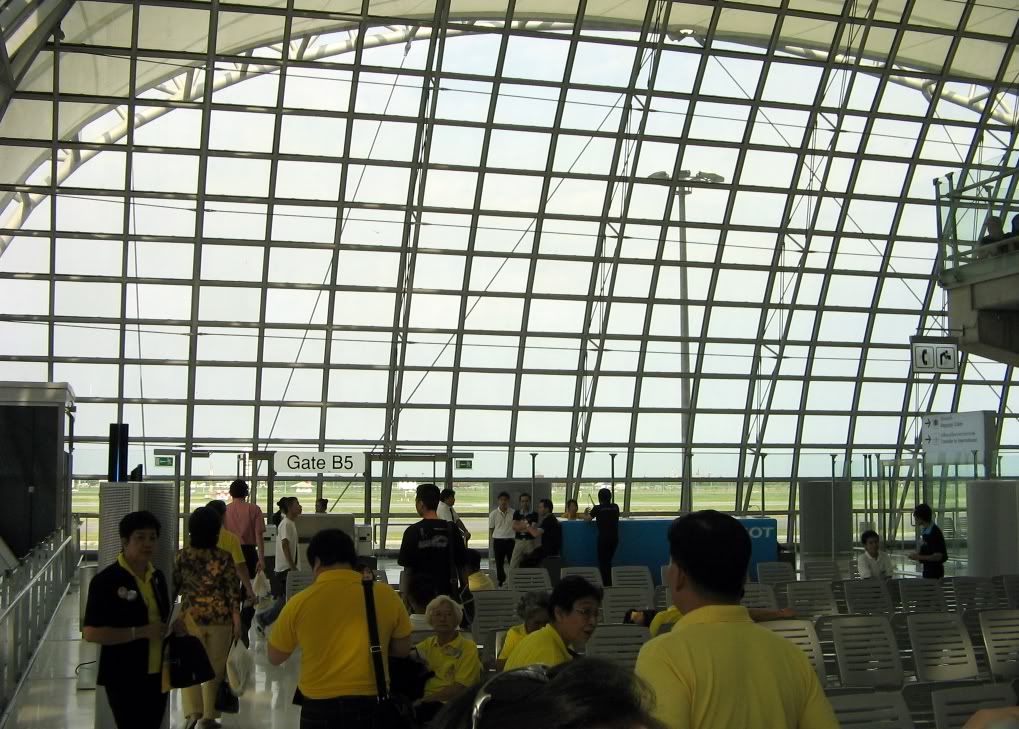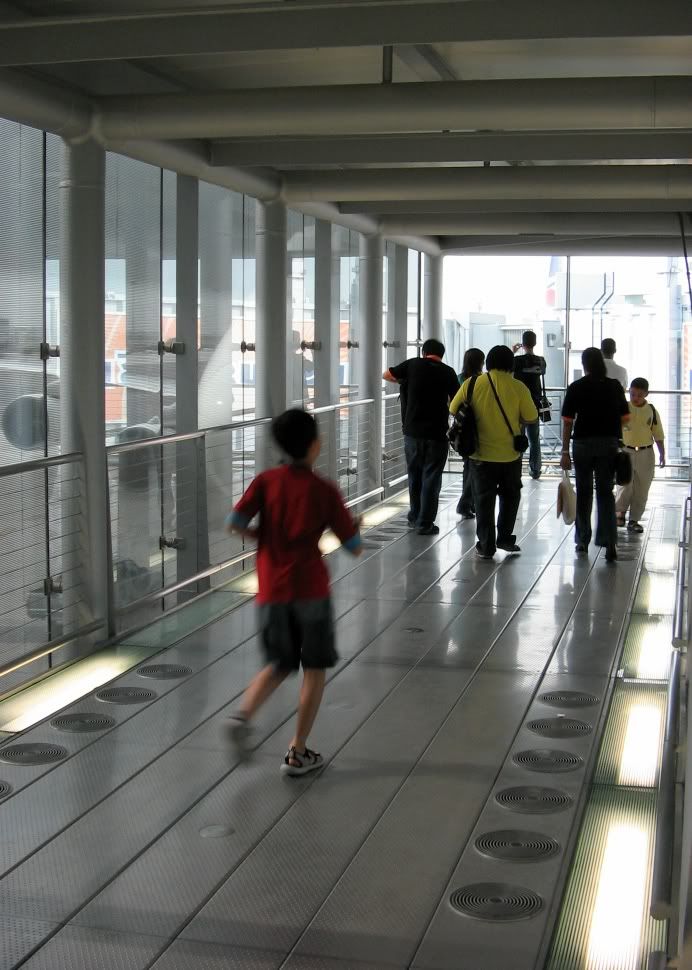 Once again, I was assigned a seat with a compromised window. This time it was located just at my right shoulder. Fortunately there was nobody assigned behind me so I eased my seat into a gentle recline and took some pictures. The afternoon thunderstorms were gathering to the west and the sunlight streaming through produced a brilliant effect, not really done justice by the camera I was using.
We pushed back more or less on time, a large number of ground staff standing below the jetways and waving goodbye.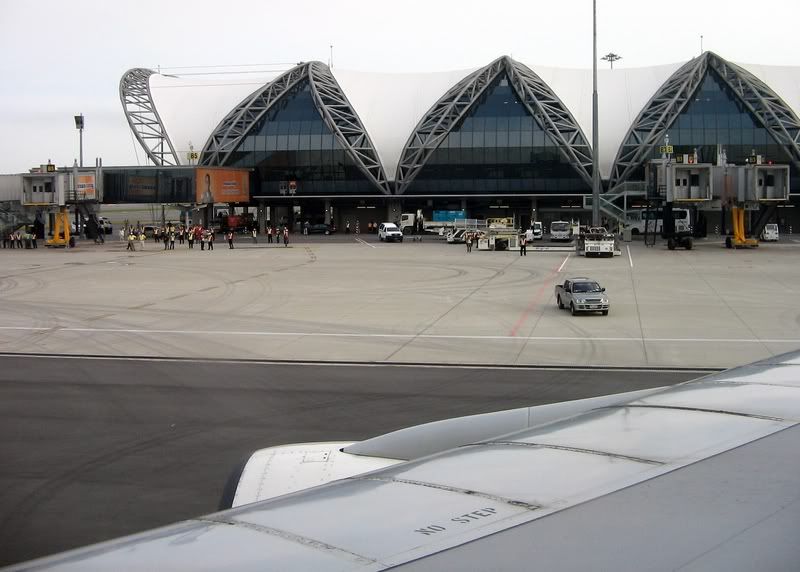 This time I had a perfect seat to view the terminal going past as we took off from runway 19L. Another short take-off roll and we were airborne, turning to the left and doing a wide circle to bring us around to the north of Don Muang.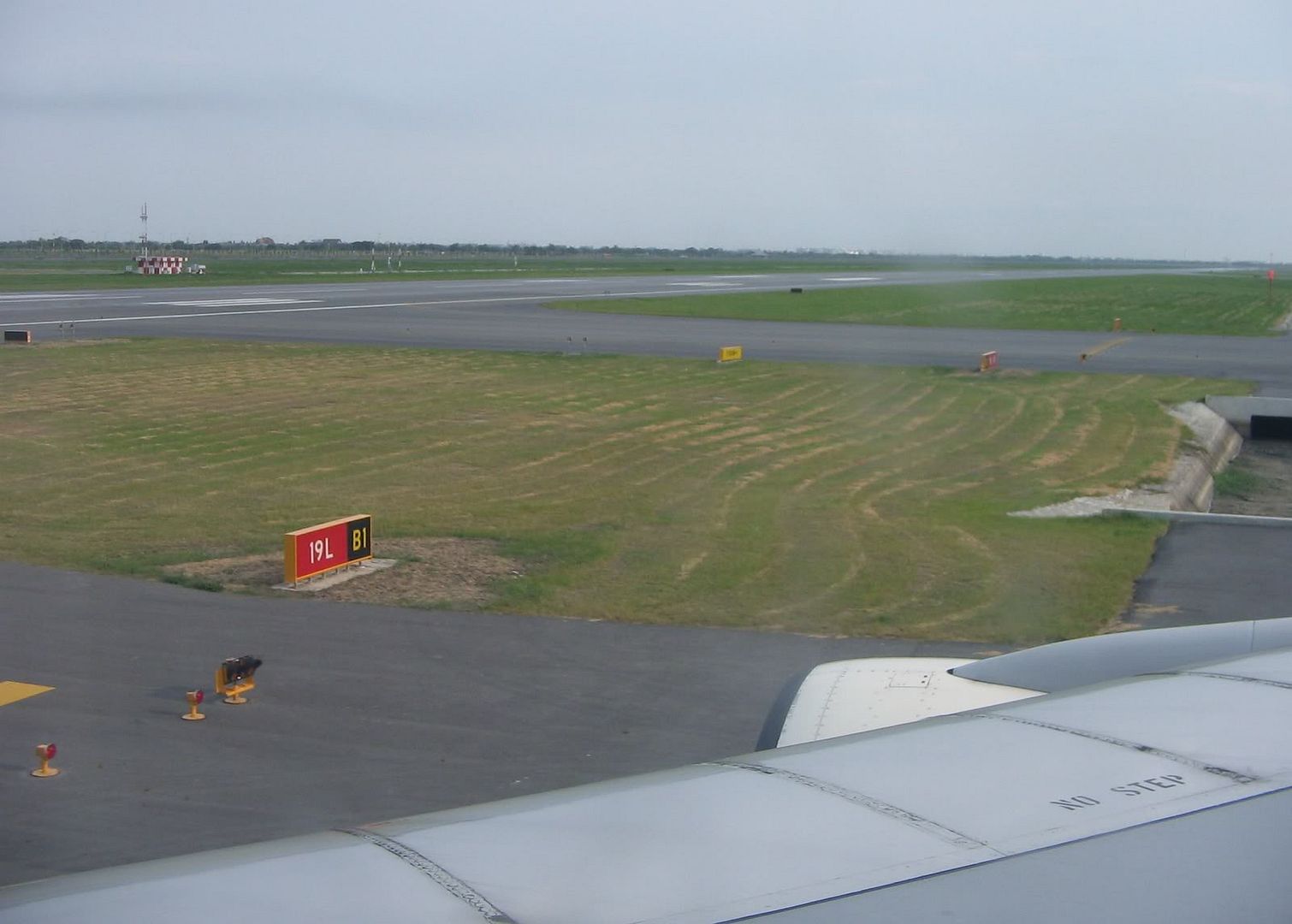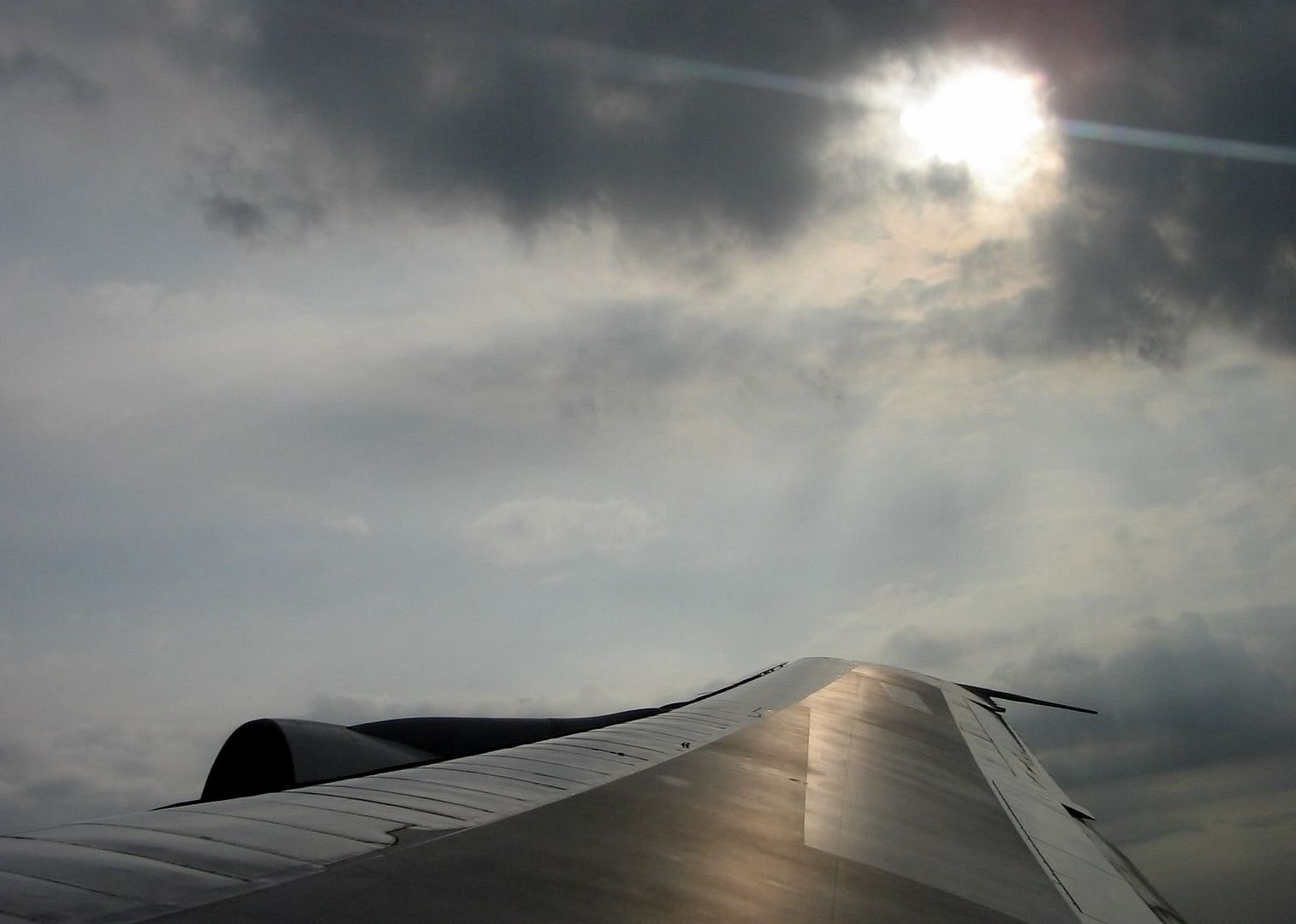 We crossed through a few thundershowers and as we were on final approach, the wall of rain from a nearby storm was visible just a few kilometers to our right.
Popular Searches On Airliners.net