Hi there and welcome to this trip about the Zurich A.Net meeting 2006.
It will contain information about my flights with LH to Zurich, the actual meeting and finally my flight with Swiss back to Hamburg. Lets get started...
Preparation:
I booked my flights to Zurich 3 month before via the LH call center and got the flights for about 120 Euro, which is not bad.
When the day finally came, I had to wake up at 3:30 AM, since my flight would leave at 7:15 AM and I needed to catch the Bus to the airport. I did not mind though, I was really looking forward to this meet and therefore, it could not come early enough.
I arrived at the airport at about 5:15 AM, went to the Lufthansa self check in machines, which spat out my tickets and in a matter of 3 minutes, I was done.
I went directly through security, since there is nothing going on at HAM at this time of day.
I walked through the duty free shops and looked at the planes standing at the gates until my flight was finally called.
Route: HAM-ZRH
Airline: Lufthansa
Equipment: 737-300
Registration: D-ABER
I was among the first to enter the aircraft and standing at the door was a very nice F/A who greeted the incoming passengers.
I took my seat 15A and looked at the cloudy and misty weather while the other passengers slowly filled the cabin.
Due to this slowness, we missed our slot and had to wait for another 12 minutes, until we got push.back clearance.
The F/A´s started their demonstration about safety and soon we entered the runway, were we waited for about 20 seconds.
After that, the pilot applied take off power and soon we were in the air, escaping the bad weather.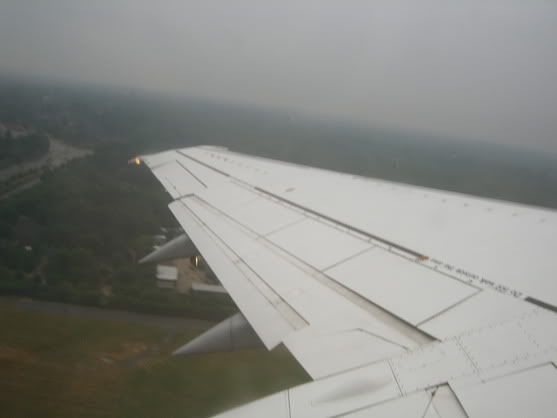 After a couple of minutes, we broke through the first layer of clouds and a second layer of cloud was above us, but this one was beautifully lit by the rising sun.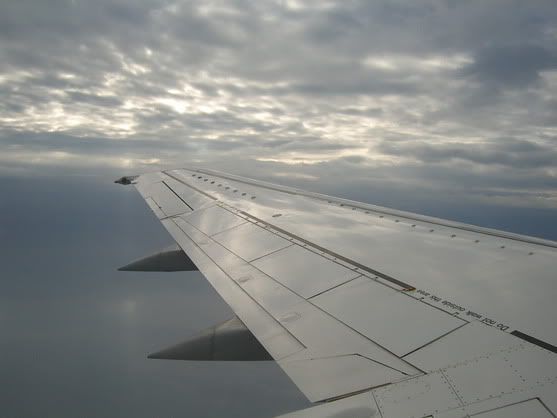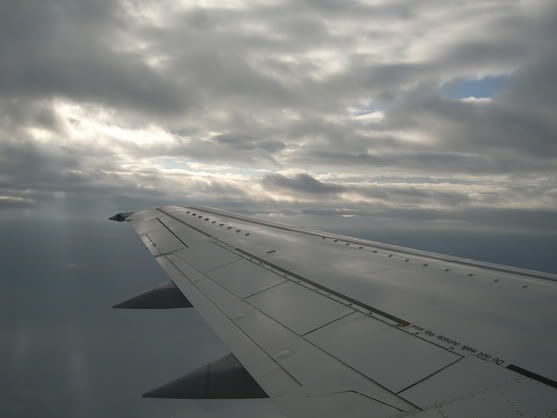 Soon, the seat-belt sign was switched off and the F/A´s started the food and drink service.
For breakfast, everyone got a Twix chocolate bar and a tiny bun with butter lettuce and cheese.
I chose a coke (in order to stay awake) and was later asked if I wanted another drink.
I did not eat the bun, since I wanted to save it for the Tour in Zurich, but I found it nice, that there was a second round of drinks available.
After about 40 minutes of cruising, we started our descend towards a very cloudy Zurich.
We hit moderate Turbulence during the descend which did not bother me at all and when we broke through the clouds, we had a nice view over the lake of Zurich.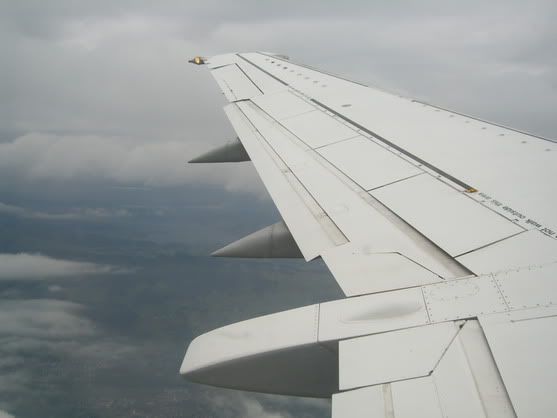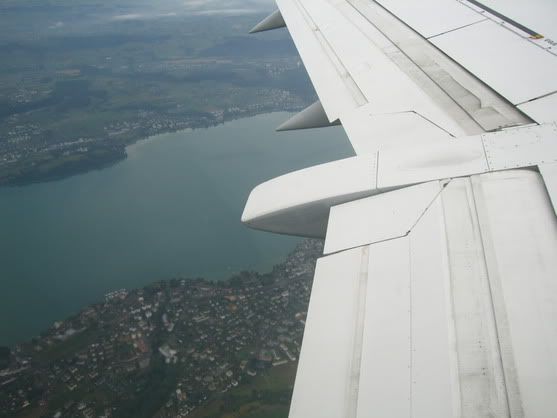 Soon the flaps were lowered, and the gear came out.
We had a lot of vortex forming at the tip of our wing, and after a few more seconds, the buildings of Zurich airport came insight.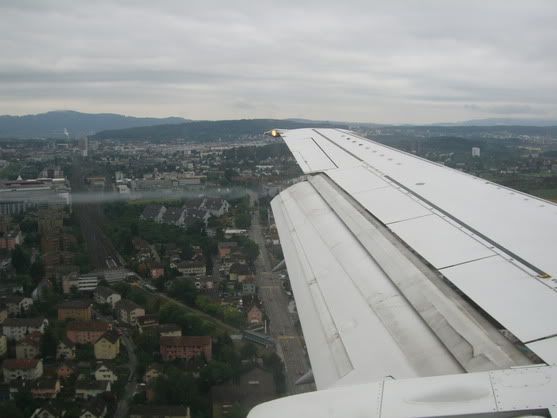 We flared over the runway, but the touchdown was still very hard and shaky.
We exited the runway and made our way towards the gate, were another LH 733 was standing.
Conclusion: The flight itself was nice and the F/A´s were friendly. The food was a joke in terms of size, but I did not expect much anyway. It was a full flight and the pilot did announcements concerning route, altitude and speed, which was nice also.
I give it 7 out of 10
The Meeting:
I exited the plane and made my way towards the observation deck, since this was the planned meeting point for all attending a.netters.
I took about 15 minutes to get there and when I arrived, I saw "Birdwatching" with all the name tags.
IberiaA319, rootsair, and AviationMaster
His brother was also there and two Italian members. I shook hands with all of them and soon more members joined as well. Patrick ("Glidepath 73 ") arrived shortly after me and told us once again what the plan is for today. (First we´ll go to the observation deck, from there, we will take the bus which would bring us next to some heavies and to the closed observation deck (It´s only open at certain days).
We had to wait a little longer, until everyone arrived and then we made our way onto the observation deck.
Even though I did not knew anyone I could speak with everyone, the guys were very friendly and it was pure joy to spot planes with 40 others who are at least as plane crazy as I am.
We had a nice view from the observation deck and many photographed the Thai A340-600 which was parked, right next to the terrace.
I mostly walked around with "ZRH", "Deltawings" and "AviationMaster" but also talked with many other members, and I liked to see some faces behind the usernames.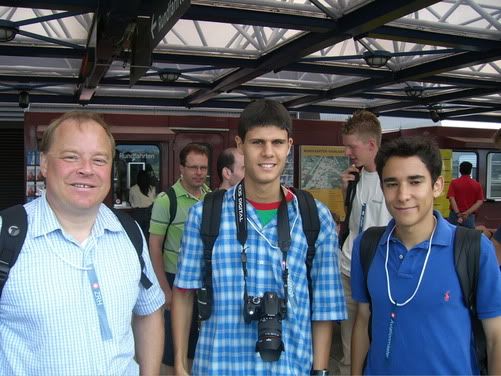 ZRH, DeltaWings and AviationMaster
Patrick (in the middle) organized all this, thank you
After about 45 minutes, it was time to catch the bus, which would give us a tour around the gates were the interesting heavies stand, so we met up and soon we were on our way.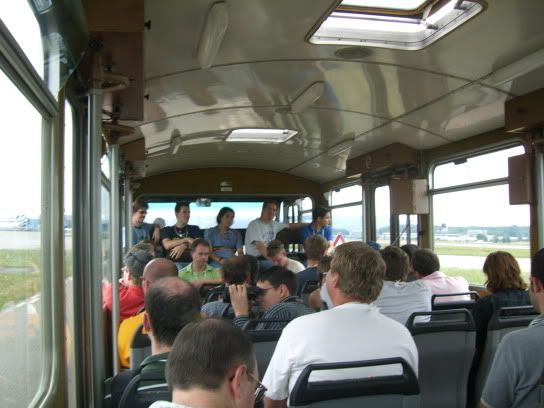 The bus driver gave us information about the individual planes and future plans concerning the A380.
A UA 767 drove by really near and all in all it was a very interesting tour. After that, we were brought to the second observation deck, which is only open at certain days (I don´t know which). It is great for spotting the heavies from overseas, such as SQ and TG.
We stayed an hour at this terrace and had many opportunities to get nice pictures. The highlight was maybe a 747-200 from Malaysian Cargo, which came to Zurich for only a limited time, until the construction work at Basel are done.
It even taxied right in front of the lenses of the a.net profis and made a lot of noise/music
After one hour of spotting at this awesome place, we went back to the bus which would bring us to the runway cross. I was really looking forward to this, since it is really near at both runways which are used for take off.
When we arrived, all heavies were still standing at their gates and everyone was hoping, that the SQ 747 would depart before we would have to get back into the bus.
So there we were, some A330´s and A340´s pushed back and made their way to the runway, took off with an awesome sound, some A320´s and AVRO´s took off which was nice too, but no Singapore Airlines plane was insight.
I photographed this AVRO, and later, exactly this one brought me back home
The runway cross had two loudspeakers which were tuned on the ground and tower frequencies of Zurich airport, therefore giving us information about planes which are going to push back and a fair idea of how long it would take to see certain airplanes to take off. Suddenly Ground control told the Singapore Airlines machine that its start up is approved and everyone in earshot of the loudspeakers got excited since it should be enough time to take a picture of her taking off if she starts moving now. But the Captain seemed to have other plans, because he told the controller, that he would like to have some more minutes. This was approved (unfortunately
) and we had to fear that we would have to leave without a picture of her.
Patrick (Glidepath 73) asked the bus driver if we could stay a little longer, since we would like to see the Singapore Airlines plane. The Bus driver was really nice and made a call to his headquarters and asked if this would be possible.
They told him that we could stay approx. 10 more minutes, a very tight calculation.
3 minutes later however, the SQ plane asked for taxi clearance and it was granted...
It was great seeing her pulling out of the terminal district and slowly taxiing towards the runway. But... there also was a Swiss A330 taxiing right behind her and suddenly the beauty from the far east came to a stop. It stopped because the A330 was allowed to overtake her which took like 2 more minutes.
We hoped that the 747 would still make it to the runway in time and watched with tension the A330 taking off.
Now it was time for the SQ 747 to take off... It taxied onto the runway and since there was no traffic on the crossing runway, it got take off clearance.
It was a great seeing her accelerating and rocketing towards us. It became louder and louder and when she was at our height, the front gear rose into the air and this magnificent plane airborne with an awesome sound.
We watched her climbing higher and higher and then we had to drive back.
While driving, we applauded to the bus driver for being so nice and trying everything to make it possible that we could see the Singapore Airlines plane.
When we arrived back at the observation deck, and after taking a nice lunch, it was time for me to say goodbye, since my flight would leave at 5:30PM. I was really sad about that, since it was an awesome day and I did not want to leave yet. But I had no choice, since this was the last LH flight back to HAM this day and AB did not operate the 9:25PM flight that day.
I shook everyone's hand and it was a hard goodbye, since I would have loved to attend the tour through the SR Techniks.
It was still a great day and I met many great people with whom I still keep in touch.
At this point I want to thank Patrick for this awesome day, the organisation was perfect and I had one of the best days in my live.
Flight back home:
However, since it was time for me to go, I went to the Terminal were my flight was supposed to take off.
My Passport was checked and after that I had to walk through security which was a breeze.
My Gate was A74 but since I had some time left, I wandered around the duty free shops and bought some nice Swiss chocolate for my girlfriend.
Ten minutes prior to scheduled boarding, I arrived at my gate which was quite crowded.
I took a seat and watched the planes come and go, before boarding was announced.
Again, I was amongst the first to board and since the Purser stood in the doorway to greet the passengers, I asked if I could take some pictures of the cockpit.
He asked the pilot and he granted my request. He was really nice and he also knew airliners.net.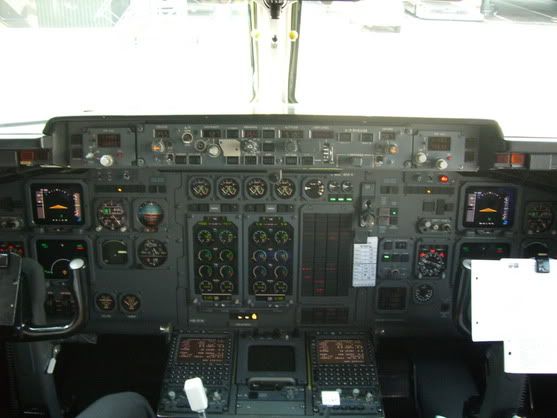 He asked me if I was amongst the crowd who was at the runway cross 2 hours ago. I had to laugh and said that I was and that maybe 40 aviation enthusiasts took a picture of his plane. The registration of this plane was HB-IYW, maybe the members who attended have a picture of this plane, since it holded short in front of us when we were standing at the runway cross.
After that nice chat, I had to walk back to my seat, since they had to continue with the preparations.
Airline: Swiss
Aircraft: AVRO 100
Registration: HB-IYW
Route: ZRH-HAM
I did not have a window seat for this flight, since I checked in through a LH self check in machine, and they just give you a seat for your return flight, even though you can choose your seat for the first flight.
I still managed to get some pictures and I will let them speak for themselves since the most interesting part was the actual meeting anyway.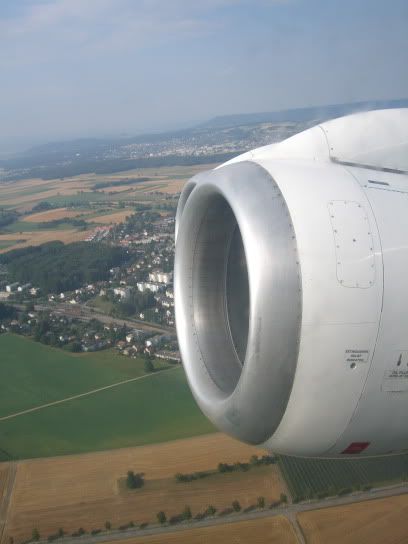 shortly after take off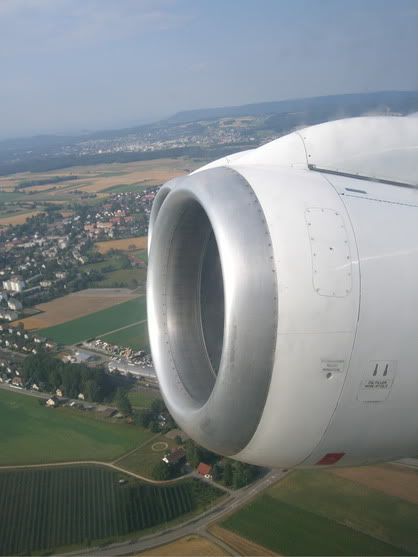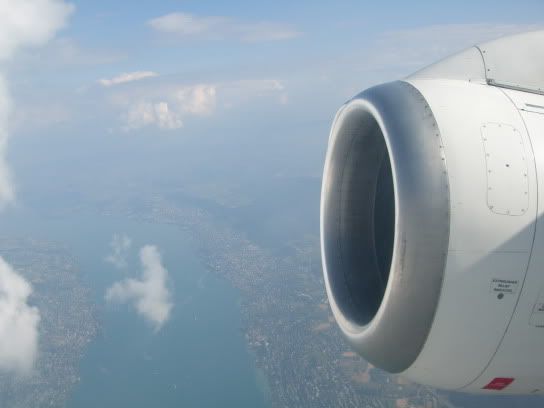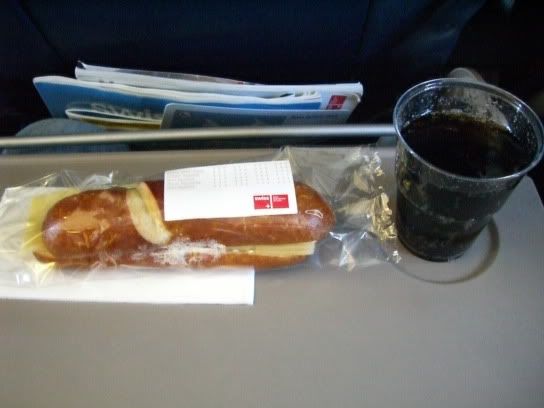 snack consisted of a bun with cheese and some chocolate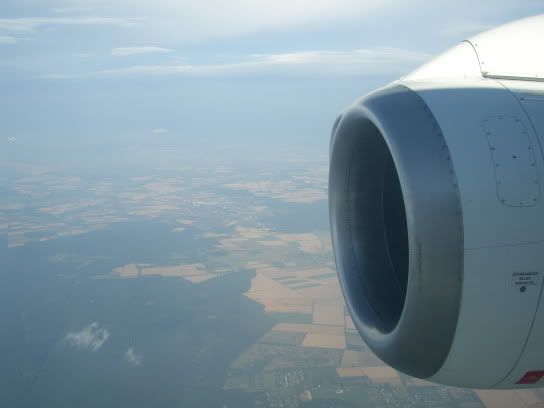 descend towards HAM
http://s106.photobucket.com/albums/m...LH493/?action=view¤t=Mnchen116.flv
a video of the landing in HAM
conclusion: This was an awesome experience, it was nice to meet some a.netters and the whole day was just perfect.
I want to thank Patrick for organizing this and to everyone who attended.
It was my first a.net meeting and I would certainly come again.
I had a lot of fun, and I thank everyone who came.
I hope the report itself is okay, and that the next meet is coming up soon!!!
Regards,
Philipp