This summer I went on a trip to the US. My schedule included visiting my host family from my year as a foreign exchange student in Iowa, and some sightseeing in Washington DC.
I was really excited about all the flying that I would get to do. I would try three different airlines (BA, UA, AA) and 6 different aircraft types (A319, B744, B735, MD-80, B772, B763).
I will break this trip report up in three parts. This first part will be about my trip from ARN to DSM with stops in LHR and ORD, the second part will be ORD-DCA-ORD, and the third part will be ORD-LHR-ARN.
I want to apologize if the details are somewhat blurry at some points. I didn't take many notes during the trip so I'm pretty much writing from my memory. This is because I realized when I got on the plane that I didn't have any notebook or paper with me!
Tuesday June 20th
My BA flight left from ARN early in the morning, so I went down to ARN the evening before with train and slept at a hotel at the airport. Since something was wrong with my online account, I hadn't been able to check in online or request seats. That made me go up early and be at the check-in counter when it opened at about 4:30 AM in terminal 2. While I waited for it to open, I had a breakfast consisting of a baguette with ham and cheese and a bottle of fruit juice that I got at 7-11 the night before. I knew I was going to get some food on the plane too but I was really hungry.
I checked in my bags and saw that I had a window seat for my ARN-LHR flight but unfortunately an aisle seat in the middle for my LHR-ORD flight. I went back to Sky City and used the internet for a while. There were a couple of planes at the gates, some domestic SAS and FlyNordic at terminal 4 and an AF A320 and a Novair A321 at terminal 5. There are usually quite a few charter flights that leave early, as well as departures to major European cities.
The sun rising over ARN as I make my way to terminal 2 to check in.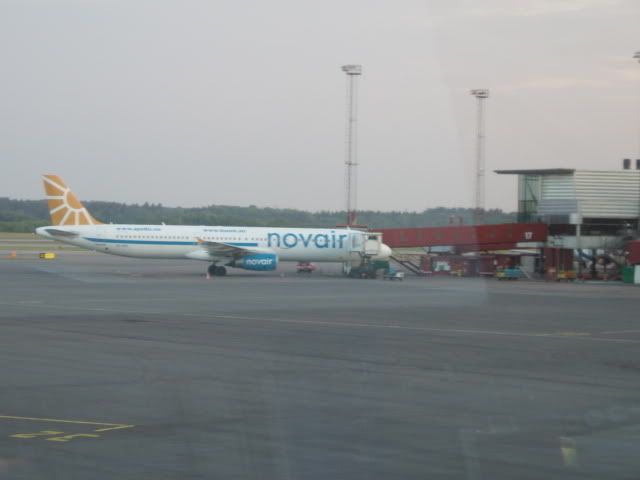 A Novair A321 waiting to depart for a sunny destination.
I headed back to terminal 2 around 5:30 and went through security, which went smooth.
When I got to the gate area, it was fairly empty. An IB A321 bound for MAD was being prepared next to our A319. I just sat down and took my iPod out while waiting for boarding. I also watched the planes taxi for departure right by our gates. Boarding started at about 6:40 and I made my way to the aircraft. As I stood in line, a man went up to the boarding staff and started to shout at them. He sounded pretty aggressive but was calmed down by his daughter. I couldn't really hear what he was angry about though.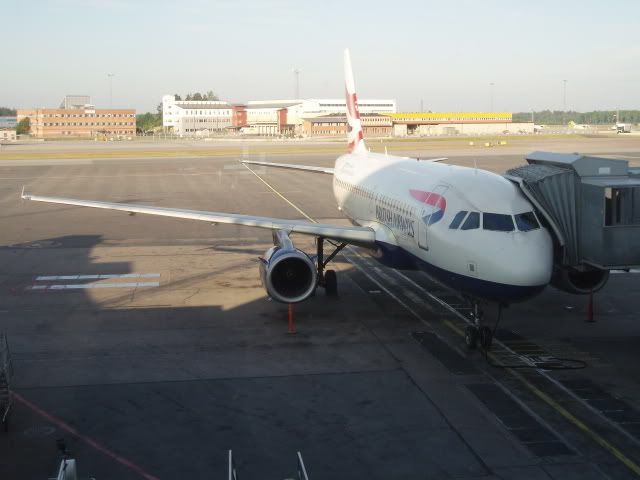 Our BA A319 being prepared.
A SK MD80 taxiing.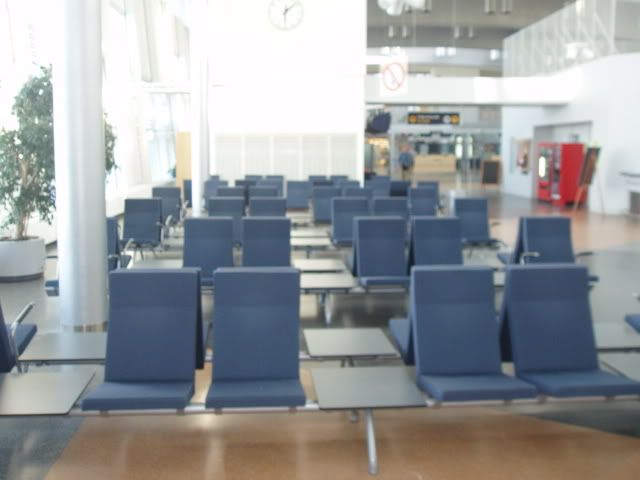 The empty gate area.
Flight: BA 771
Aircraft: A319
Registration: G-EUPX
Seat: 8F or 9F (Can't remember)
Scheduled Departure time: 07:05 AM
Scheduled Arrival time: 9:00 AM
I found my seat right by the wing, which was a little disappointing since I couldn't see much ground. It was also right in front of the exit row, so I couldn't recline my seat. At this point, nothing had gone well for me. I was beginning to believe that this trip would be one of those "trips from hell", which would really suck since I had been looking forward to it tremendously since I booked the tickets in October. For a long time, no one sat in the seats next to me. I was hoping to have the row to myself, but I figured that it would be pretty unrealistic since the rest of the plane was pretty much full. Sure enough, two ladies came and sat next to me. While we waited for everyone to board, the IB flight left its gate.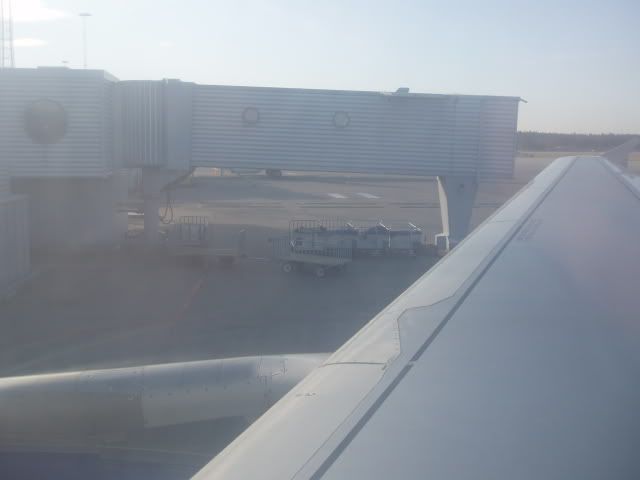 Waiting at the gate.
We left the gate just one or two minutes behind schedule and taxied for departure. We took off to the west and made a quick left turn.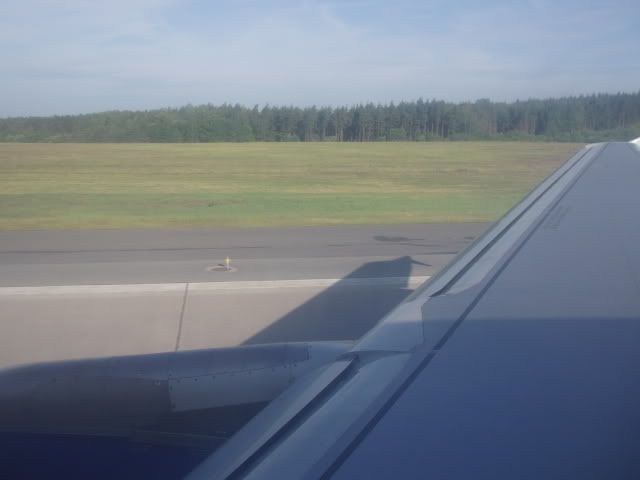 Starting our take-off roll.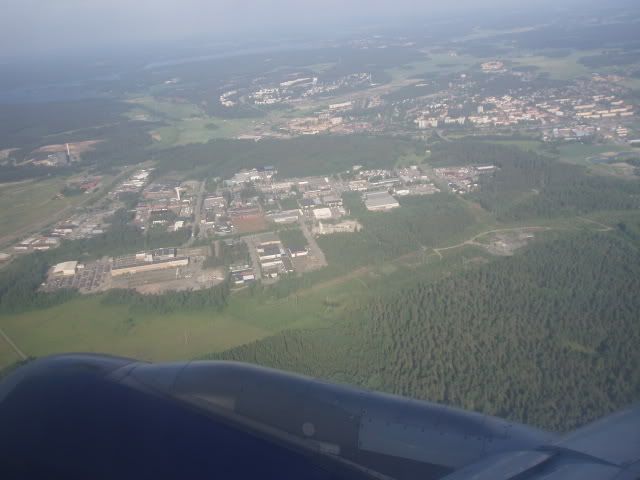 Climbing out.
About half an hour after departure, breakfast was served. It consisted of a hot cheese sandwich, fruit yogurt, pickled fruit, a muffin and tea or coffee. I had coffee. It tasted pretty good. The flight was pretty smooth and uneventful. We flew southwest towards Malmö and turned slightly more west towards Amsterdam as we left Swedish airspace. From Amsterdam, we turned west towards London. I spent the flight reading and listening to my iPod. I had gotten a pair of new, noise cancelling earplugs for it and they worked wonderfully.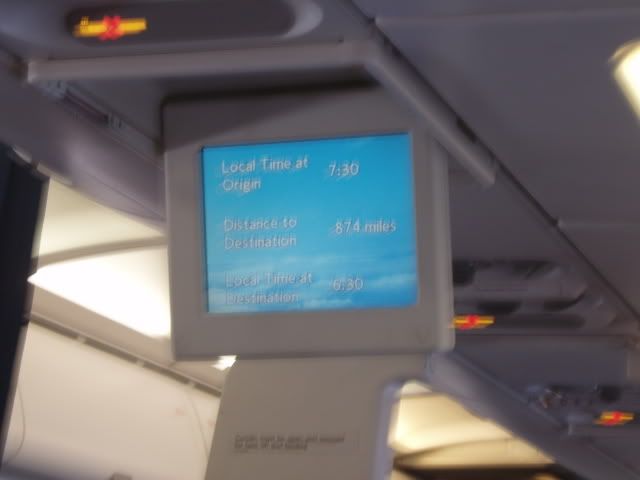 The screens showing the map and a bunch of other stuff is a nice touch.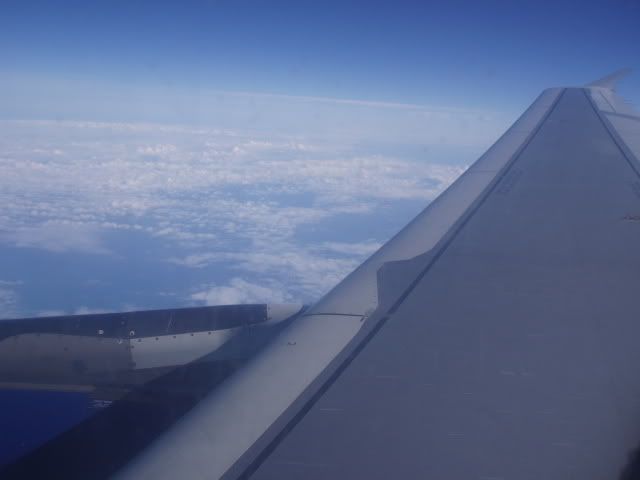 Cruising.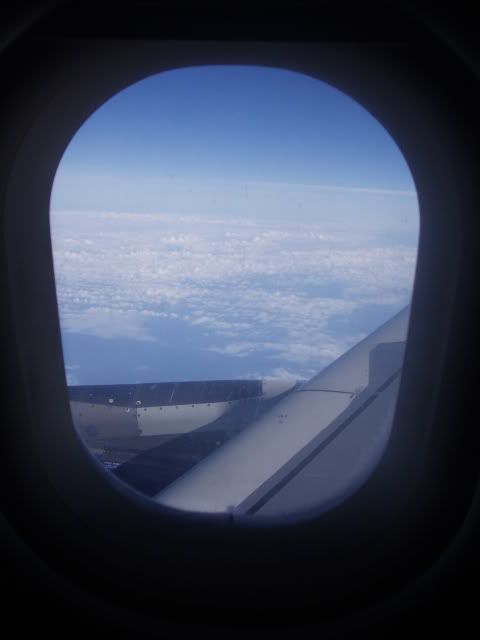 A little different picture (had to lean back a lot to take it).
We started our descent about 30 minutes before landing and I would have had a beautiful view of London had it not been for sitting right by the wing, since we had to circle for a while before we got landing clearance.
We touched down pretty much on time but we had to wait for a while to get our gate. That left me with a good view of the planes touching down on the runway from my seat.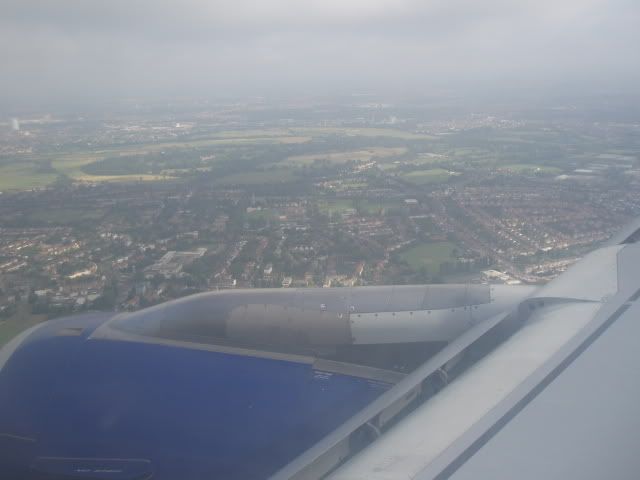 Approaching LHR.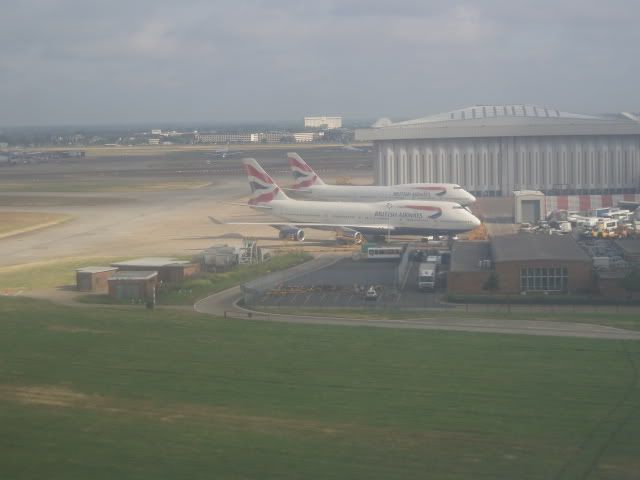 Two BA 744's parked.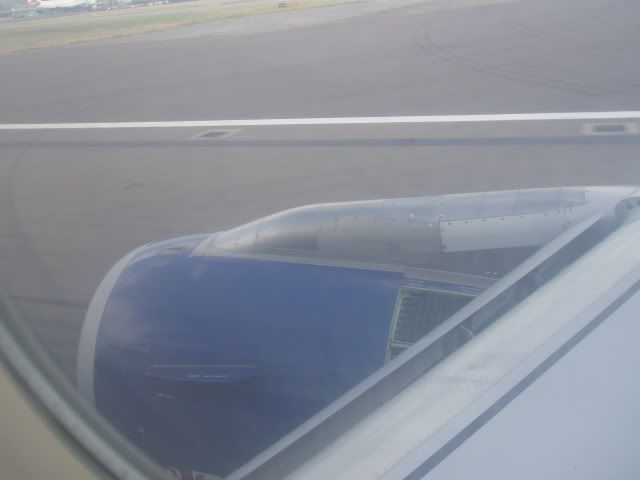 Thrust reversers!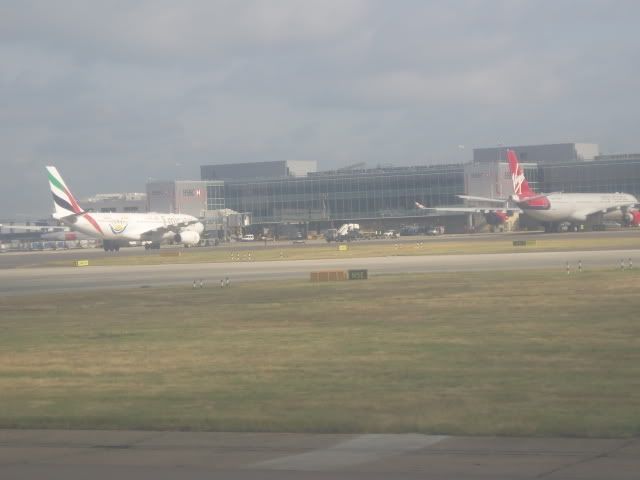 EK and VS at terminal 3.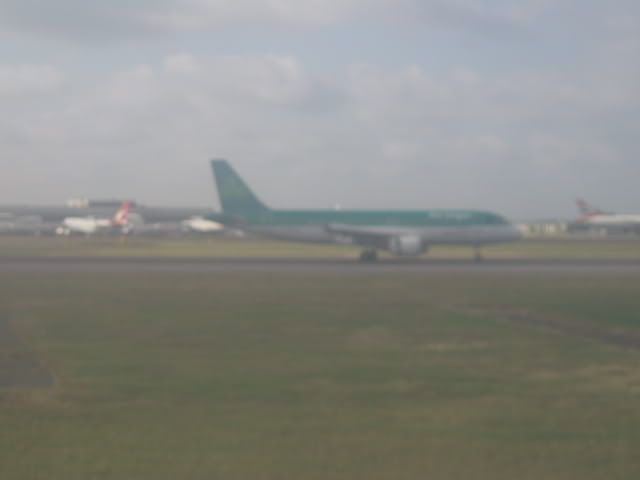 An EI A320 landing.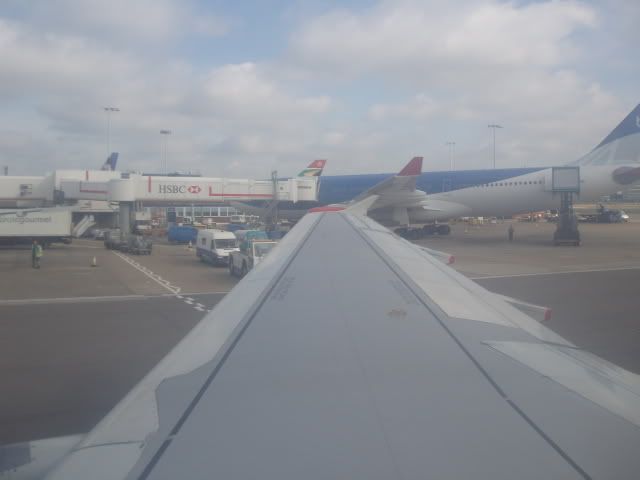 Sitting at the gate.
When we got to the gate, I exited the plane pretty quickly to get in front of as many people as possible in the line for security at the flight connections center. I had to wait about 20 minutes in line for security, but I didn't feel stressed at all since my flight to ORD didn't leave until 12:55, which meant that I had plenty of time. Security went smooth and when I had put all my stuff back in my bag I saw a sign saying that people travelling to the US had to leave passport information, so I started walking up to the BA desk when a gentleman from BA asked me if I needed help. I told him that I was going to leave my passport information since I was travelling to the US. He informed me that only people that had arrived to LHR on other airlines and were continuing with BA had to do that. I thanked him and when I walked past the sign again, I saw that being written on it. I felt stupid.
I didn't have to wait long for the bus to terminal 4 and I enjoyed the view of the planes in the beautiful weather. When I got to terminal 4, I checked if my gate had been announced. Not surprisingly, it hadn't. I started to just roam around in the terminal, looking at the planes. I knew that taking pictures wasn't allowed so i refrained from doing that. However, when I got to the long hallway leading to that remote part of terminal 4, I looked around and didn't see any airport staff member or a security camera, so I took some pictures. I then called home and told my dad that I had arrived safely in London and was now waiting for my next plane. I walked to the end of that part and started walking back. When I walked past the spot where I had been taking pictures, I saw 4 heavily armed police men. I was worried that someone had seen me on a camera and sent guards there. Fortunately, they didn't approach me in any way and I got back to the main part of the terminal without problems. I didn't take any more pictures though.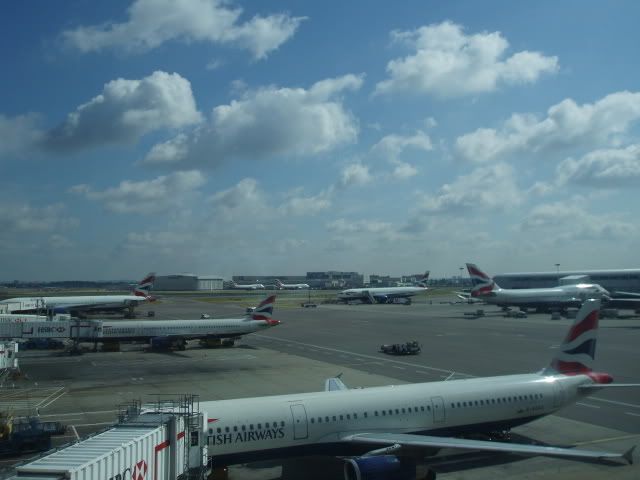 BA planes at terminal 4.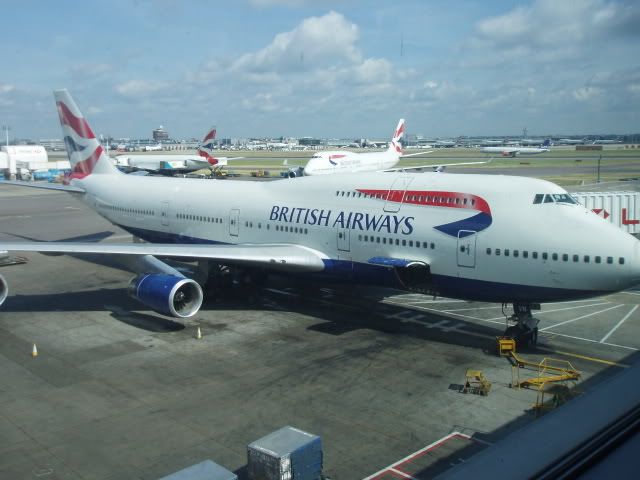 BA 744.
I went to a BA flight information desk and tried to figure out where in the plane my seat was. The person I talked to didn't really seem to understand what I wanted but she told me that it was a bulkhead seat. I was also getting quite hungry at about 11:00, so a bought a sandwich at Pret A Manger and 2 bottles of water so that I could take one with me on the plane. I sat down in a gate area that wasn't very crowded and had my lunch. I had a pretty good view over the runway between terminal 4 and the other terminals. I sat there for quite a while until my gate was announced. I then went to the bathroom and then proceeded to gate 4. I sat there for a while before boarding begun and then walked on the plane.
Flight: BA 297
Aircraft: B747-400
Registration: G-BNLV (90% sure)
Seat: 47D
Scheduled Departure time: 12:55 PM
Scheduled Arrival time: 15:10 PM
I was looking forward to the bulkhead seat with some more legroom, but when I found the seat, it was close to the very rear of the plane. I was seated next to a girl about my age and her parents. Her brother was seated in the row in front of us and he kept reclining his seat and bothering his sister. I was silently praying that he would stop, otherwise I would go mad. Thankfully, he did after a while. The captain informed us that we would fly more to the north than they normally do because of some bad weather over the Atlantic Ocean. This meant that we would pass the southern tip of Greenland, something that I looked forward to. We left the gate about 15 minutes late and had to wait an awfully long time for take off. We must have been standing in line for about 30 minutes or so. I could see through the window on my right that several planes passed us in the take-off line. I also had plenty of time to realize that my seat reclined as soon as i leaned back and that there was no way that I could keep the seat up in the straight position without having to lean forward. This annoyed the crap out of me. While we waited, I listened to the IFE radio. They played David Gilmour's latest CD to my great joy and I listened to more than half of it before we finally took off. Since I didn't have a window seat and were in the middle group of seats, I didn't bother to try to see anything. I just took out my iPod and my book and entertained myself for a while before drink and snack service begun. I had a can of coke and some snack mix which was OK. After finishing that, I went up to stretch my legs, go to the bathroom and take a look out of the windows in the doors. It was cloudy though so I couldn't see much. When we were flying above Iceland, the meal service started. The choice was between a chicken casserole and salmon. I had the salmon and white wine to drink. The meal was really good. The salmon came with mashed potatoes and green beans. Once the flight attendants had taken away the thrash, I decided to try to get some sleep. When I woke up about an hour later, we were over Greenland. I went back to the windows and to my joy, all the clouds were gone. I was treated with an amazing view and took some pictures. I went back to my seat to read some more and then I went back to the windows again to take some more pictures. I saw our contrails forming below the horizontal stabilizer, so I took a pic of that. When I was back in my seat, a FA approached me and asked if I would want to fill out one of those surveys to see how pleased you are. The only thing I had to complain about at that point was that my internet account didn't work. Other than that, I was more then pleased with BA.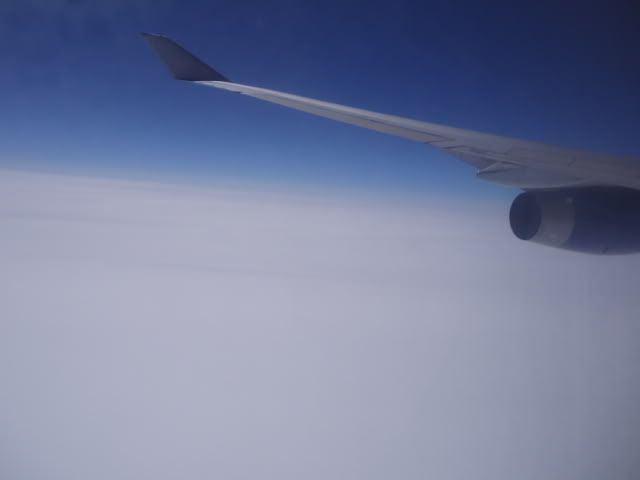 Cloudy weather over Scotland.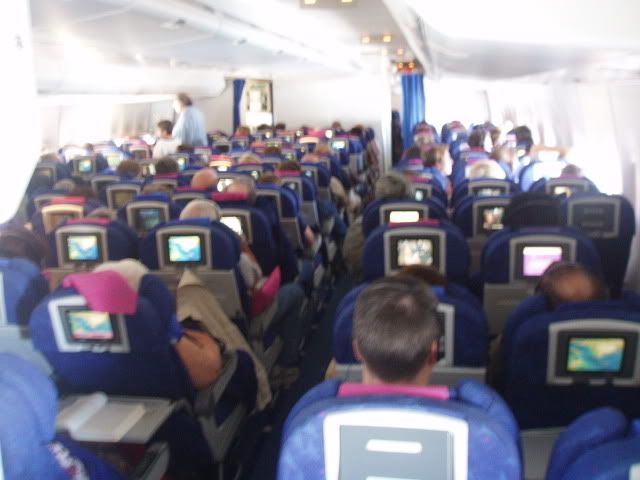 The rear economy cabin.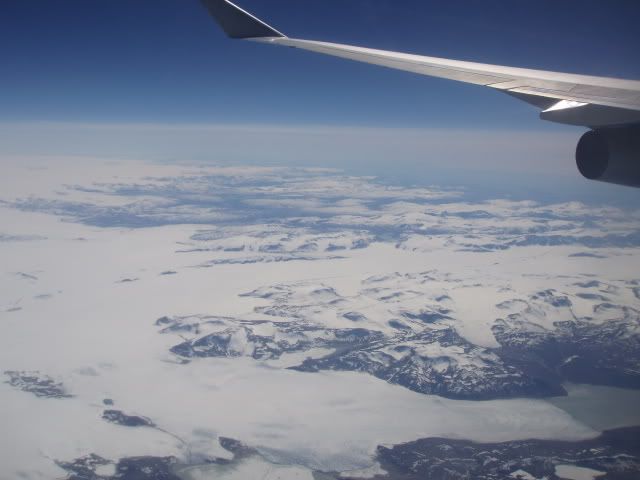 Cruising over Greenland.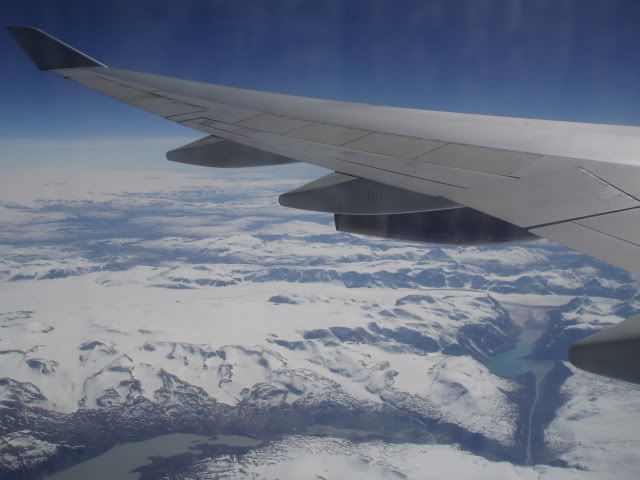 More of Greenland.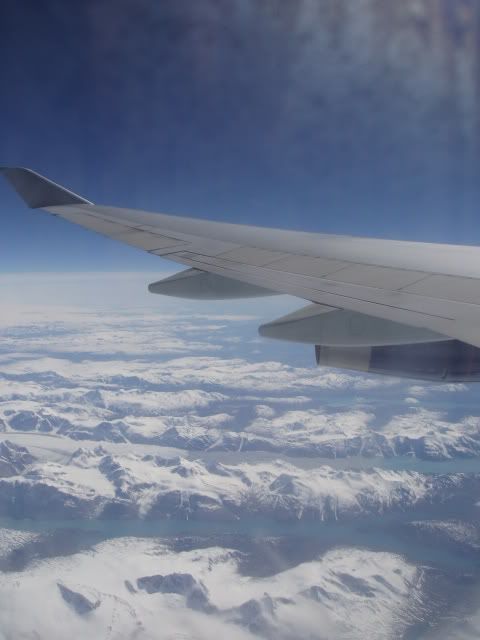 And even more Greenland!
When I got back to my seat, I fell asleep again for about 1½ hour. I woke up feeling thirsty, so I went to the galley and asked for a ginger ale, which I got. I saw on the in flight map that we were somewhere over Canada and I took some pictures of the scenery.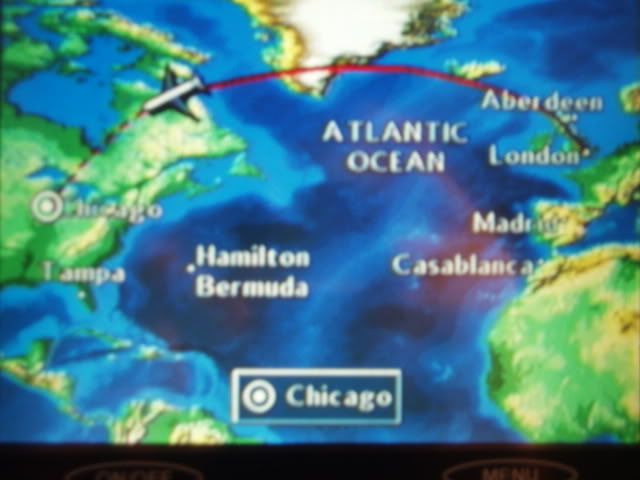 The in-flight map.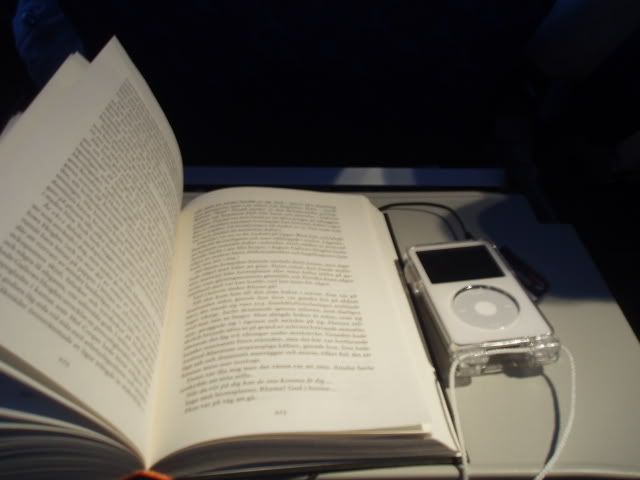 My IFE for the flight.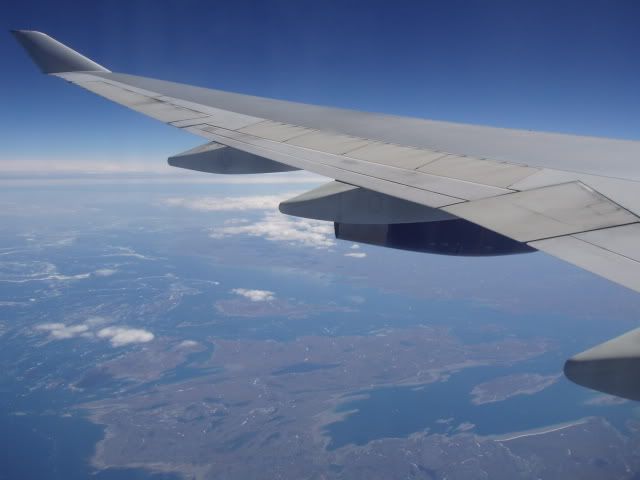 Canada!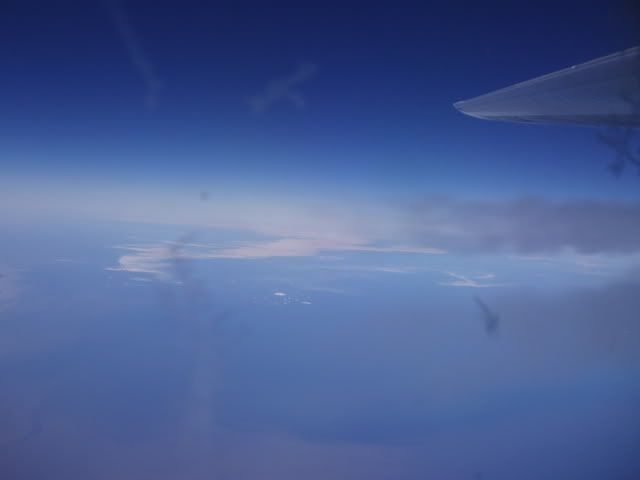 Our contrail forming. It was pretty cool if you ask me!
We got a small meal service about 1½ before landing which was similar to what I got for breakfast. We then filled out all the customs and immigrations forms and landed in a cloudy Chicago about 40 minutes late. As we deplaned, the crew announced the result in the Sweden-England WC soccer game. They got the result wrong first and said that it was 2-1 to England. I was really disappointed since we only needed one point to advance to the play-offs, but then they announced that the game ended 2-2, and I was very relived! I had talked some to a Swedish family sitting across the aisle from me during the flight and we celebrated quietly together. We figured that we didn't want to draw too much attention to ourselves being on a British plane
When we got to the immigration desks, I almost got a heart attack. The room was completely crowded and the lines seemed to stand still. I started to wonder how much time I would have to make my connection to DSM since it was on a separate ticket and I would have to re-check my luggage, transfer to terminal 1 and go through security again. The line slooooowly moved forward, and when I had been standing there for about an hour and had come halfway to the desks, they opened some additional desks that had been "US citizens only" before, and I was one of the first people in line there. I had to wait about 20 minutes there before I got through. I had to leave my finger prints and had a picture taken of me since I hadn't done that the first time I went to the US.
When I got to the luggage carousel, the bags from my flight had been put on the floor since the bags from the LOT flight from Warsaw were on the carousel. I looked for my bag but couldn't find it. I asked a guy in uniform if he knew where my bag might be. He just told me to go through customs. I tried to ask again, since I didn't understand why I should go through customs without my bag, but he interrupted me and told me once again to go through customs. When I got through, I asked some airport staff if they knew where my bag might be, and they directed me to a BA counter. I asked the lady there and she said that she thought that it should be with the other luggage. I told her that I had checked closely and that it was not there. She wrote my luggage receipt number in the computer and she confirmed that it was on the flight. She then went away to check. She returned about 10 minutes later and told me that the TSA had it and were screening it. After a looong wait, they finally came out with it and directed me to a UA counter, since my flight to DSM was on UA. I was pleasantly surprised that I could check my luggage there, which meant that I wouldn't have to take my big bag all the way to terminal 1. I didn't get a seat assignment though.
I took the Airport train to terminal 1. When I got off, there was a big screen showing all the flights and their status. I quickly saw that my flight to DSM was delayed. It didn't say for how long though. I went through security and through the tunnel to the concourse where gate C22 was located.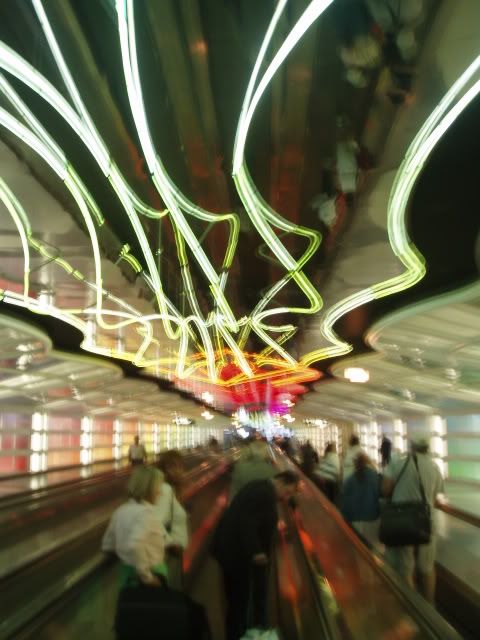 A bad picture of the tunnel.
I went to the bathroom and then proceeded to a UA information counter to see if they knew anything about the flight. They just told me that it was delayed until further notice. It was originally scheduled to depart at around 8 PM and now it was 6 PM, so i had plenty of time to just wait. I bought supper at McDonald's and ate it in an empty gate area. I then went to sit down at gate C22. I sat there for about 45 minutes just listening to my iPod and reading my book. When I checked the screens again, my flight was moved to gate C28, not far away from there. I went to sit there instead in case they would make more announcements at the gate regarding the departure time. Nothing happened. I went up to the counter and asked them if they could give me a seat assignment. They said that they couldn't but if I would just wait, the people in charge of the Des Moines flight would be right there. I then decided to walk all the way down the concourse and back just to stretch my legs a little.
When I got back, there was another flight announced at C28, and the DSM flight was moved back to C22 and departure was announced to be at 9 PM. I went to C22 and saw that there was a flight bound for SFO to depart before my flight. At 8 PM, their plane arrived to the gate, and I started to suspect another delay coming. They started boarding around 8:20. At first, everything went smooth, but then everything just stopped. Perhaps one fourth of the pax had boarded and the rest of them were still standing in line. After about 20 more minutes, the gate agent from the gate next to it came and said that the other gate agent had to go home because her shift ended and they hadn't gotten a replacement agent. She had talked to her supervisor though and another agent was on the way. At this point, I felt like I was in candid camera! I just couldn't believe it! The time was now 8:40 and I knew I was going to be even more delayed. While sitting and waiting, I overheard a conversation between a gate agent and a woman. I heard that the Des Moines flight had been moved to gate C30. I also heard that the reason for the delay was that it came in late from LGA due to bad weather there. I went over to C30 and the passengers from LGA were deplaning as I came. I asked the gate agent about a seat assignment and got 7B. I was a little disappointed with getting a middle seat until I realized that it said "Economy plus" at the top of the boarding pass. More legroom is always nice! They must then have cleaned the airplane pretty quickly cause we were boarding about 8:55.
Flight: UA 191
Aircraft: B737-500
Registration: ------
Seat: 7B
Scheduled departure time: 7:50 PM
Scheduled arrival time: 9:02 PM
Actual departure time: 9:25 PM
Actual Arrival time: 10:30 PM
When entering the plane, I asked the FA if channel 9 was available, and she turned her head into the cockpit and asked the pilots. One of them came out and said that it would be available. He also asked for my name and told me that they would say hello to me once we were on our way. I then found my seat between two gentlemen and enjoyed the legroom, which was the most I've ever had (I'm a poor high school student and can't afford more than regular economy). After a while, the pilots told us short info about our flight and what our call sign was on channel 9. I plugged in and started to listen. We sat at the gate for about 15 minutes and left at about 9:25. While taxiing, the FAs did the safety demonstration as usual. We didn't have to wait for very long at the runway, and took off to the south I think (not 100% sure). I didn't want to lean over the guy by the window so I just tried to see as much as I could from my seat. I saw many lights that I guessed were from downtown Chicago on our left side (which leads me to think that we took off to the south). We then made a right turn and headed west. I listened to channel 9, which was fun. I heard some pilots ask for radio frequencies that they could hear baseball games on, which was pretty funny i thought. The pilots also said hello to me on the ATC. When we crossed the border into Iowa, there was a drink service. I wasn't sure if it was free, so I asked the FA and he said "For you Simon, anything's free". I then had my first Mountain Dew in 2 years and it tasted fantastic. We hit some bumps during descent and landed in DSM at about 10.30 PM after a pretty short and uneventful flight (except for the channel 9 stuff). When I exited the plane, the humidity struck me. My host family picked me up and we then drove to Winterset. The total travel time was about 26 hours and I was really tired when I got to bed.
All in all, this was a very enjoyable trip. There were no major disappointments. In fact, having an aisle seat for such a long trip was wonderful. I will try to get aisle seats for longer flights in the future. The running between the gates in ORD was annoying, but I guess that that's stuff that happen when you travel. I was also disappointed that I couldn't manage my travel info over the internet since something was wrong with the account, but in all fairness it turned out great since I was more pleased with the aisle seat in the end.
I'm sorry that I didn't take more pictures in ORD and DSM, but I was just too tired and didn't feel for running around taking pictures all the time. I promise you though, there will be more pictures from ORD in part 2 and 3. They will be posted as soon as I complete writing them!
Thanks for reading!