BDL-SJU Flight 1675
Aircraft Airbus A300
Load: 90-100%
Scheduled Departure Time: 6:55am
Actual Departure Time: 7:10am
A note about this trip report: As some of you may be aware, I do not care for American Airlines due to a past bad experience. This said, I went on these flights with an open and unbiased mind to the best of my abilities. This being said, I hope you enjoy my trip report.
The morning started off very early. I woke up around 3:30am after spending the night in the a.net chat room until about 1am vowing to stay up the entire night. Needless to say, I did not make it. Once awake we packed my car for the trip to pick up my grandparents at their house and to load the bags into their car for the half hour drive to BDL.
Upon arrival at BDL I saw that the morning rush was in full swing as our shuttle pulled us up to Terminal B. When we walked up to the AA "Caribbean" counter, the only word that can describe it comes to mind. "Hen House". There were over 200 passengers attempting to get checked in for international flights with two check in agents and only ONE csa spoke Spanish! We arrived at check in at 5:30 am. When we were finally checked in, at 6:40am we needed to make arrangements for a wheelchair for the rest of our segments and for our arrival in AUA, we were informed that there were none available inside BDL and SJU may not have one either. As we began to check in the very helpful, thou flustered agent told us that only two of our 6 checked bags might make it to AUA as TSA was closing the screening station. But due to the huge queue to check in the CSA was able to convince the TSA agent to allow ALL of our bags. But she said they may or may not make it to AUA. Fair enough, I thought, as she did the best she could and she made the whole process as painless as she could. After finishing up she told us we were the last ones that were being checked in for this SJU flight even thou there were about 30-40 more behind us bound for SJU. I wished her luck as she was going to need it to accommodate those pax.
After finally leaving check in we heard that boarding had already begun for our flight and we had not even cleared security. Luckily the lines were rather short for BDL standards and we got thru in about 5 minutes. As the rest of my party was getting their belongings together at the checkpoint I head the final call for our flight. At this I sprinted down to the desk to tell the agents we had 4 more coming and that we were caught at check in. But she informed me the supervisor had radioed ahead and we were all set.
Upon getting aboard I discovered why so many loathe AA's Airbuses. I spotted duck tape holding a Pax service unit together and a very bad smell coming from the cabin, and since there was no meal on this flight I concluded it was from the Lav's. Needless to say, I waited until I got to SJU. Getting to my seat was rather quick as we were the last to board.
The Preflights were quick and we were pushed back as the F/A's took their seats and made their final checks. The takeoff was awesome and we were airborne very quick. After reaching cruise after what seemed really quick, the crew brought around the beverage service. I took a Dr. Pepper, and got the whole can. ?. Then the overhead monitors dropped and Failure to Launch came on. YAWN, watched it the week before. After the movie there was only about an hour to go before SJU. The crew came around one more time for drinks and I took another Dr. Pepper, but only got the glass this time. But shortly after we began our decent into SJU where it got very choppy. After about 5minutes it stopped and the gear came down. And about 5 mins after that we touched down in SJU. After a quick taxi to B7 we deplaned and found that the wheelchair we needed did not arrive. So my mother went to the desk and asked where it was as the person needing it cant walk far. The agents response "No reservation, no chair. Too bad, its not a long walk". Hearing this First Class f/a and the Purser came over and tried to assist. They got on the phone to try and wrangle one for us. But they could not as they were all booked. We thanked them for their effort and began to slowly make our way over to B19 for our flight to AUA. We waited for about an hour or so and then we were pre boarded with my grandparents in seats 33 D/E/F and 34 E/F.
AUA-SJU Flight
Aircraft: B757-200
Load: 90-100%
Scheduled Departure:
Actual Departure:
Actual Arrival
This flight again was really booked. Luckily we preboarded. The crew was a DCA based crew and they were as helpful as the SJU crew of earlier in the morning.
Taxi was rather long considering we were very close to the runway as we got caught at the end of a long queue we were 5th to take off behind a US A320 and an AA 757 and A300 and an American Eagle ATR. SJU was really cool for all the unique traffic that was there. Cape Air Cessna's and Caribbean Sun Dash 8's plus a Jet Blue A320, a plane I had never seen up close before
!
Here is a video of our take off. Sorry it's sideways; I forgot to change it in my cam. If anyone knows how to fix it, let me know!
Once we were airborne the crew came around with beverages and a bag of pretzels. This surprised me as we only got beverages on the BDL-SJU flight and that was over three hours and this flight was just over an hour. So it was a pleasant surprise. While this was going on, the overheads came on and CBS TV came on and showed 60 minutes and Two and a Half Men. Soon after the captain came on announcing our decent into AUA. It got a bit choppy again as we made a turn around the island over what I believe was San Nicholas. After this we were second inline for landing behind a DC-9. Here are a couple videos of the approach and landing
Here are some pictures from Aruba:
Full car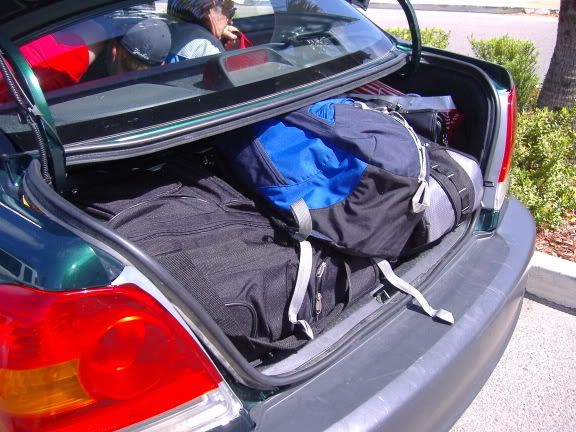 Look Mom! Im a luggage rack!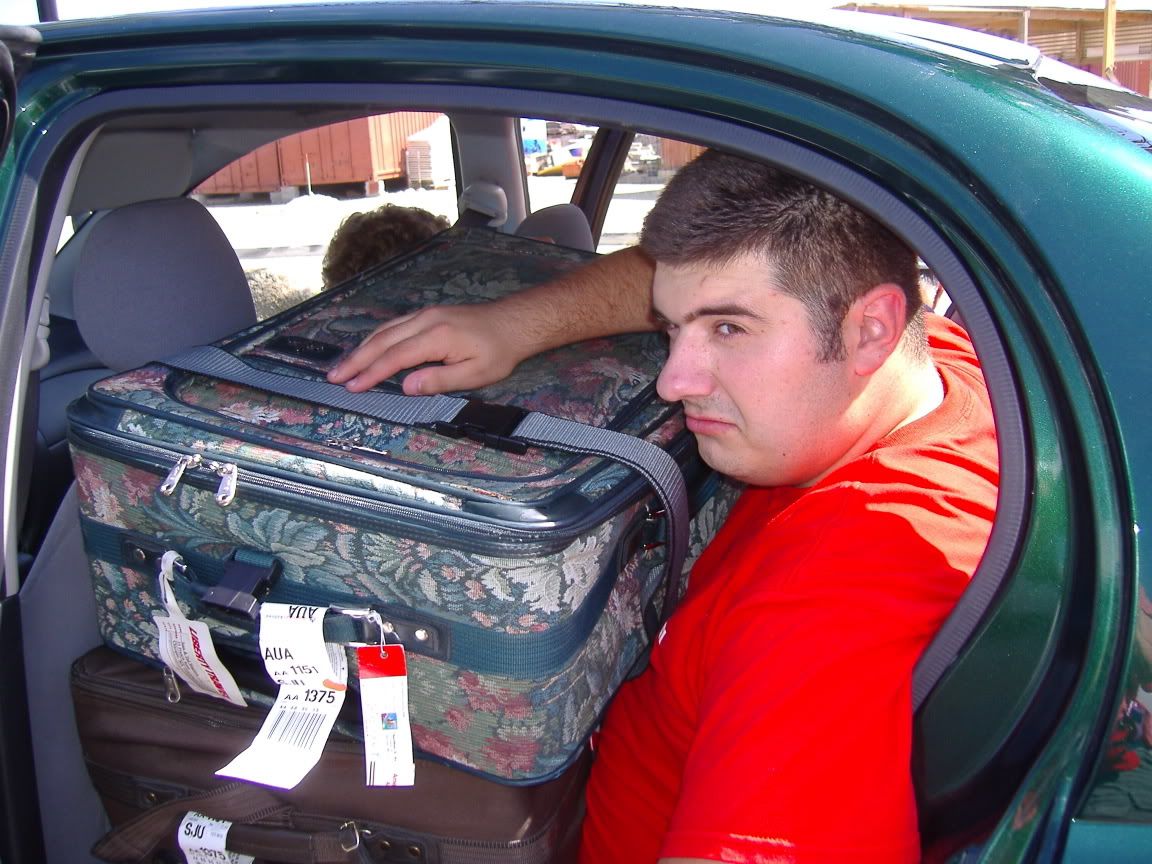 Our Jeep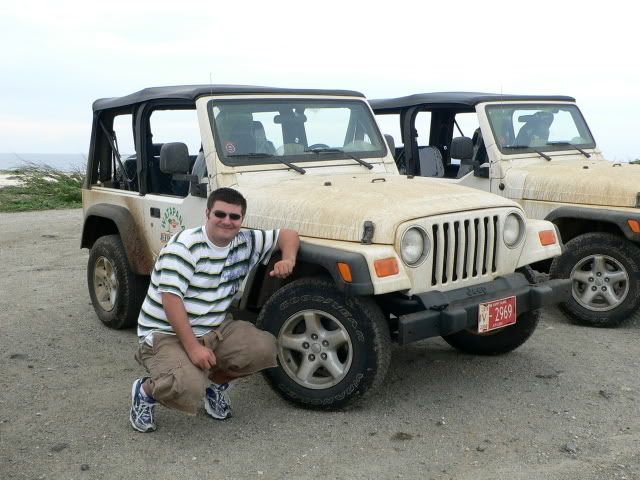 My Home for the week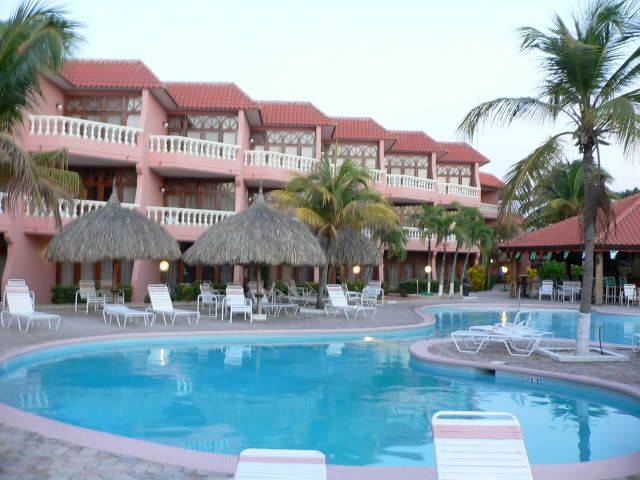 And the pool and bar ?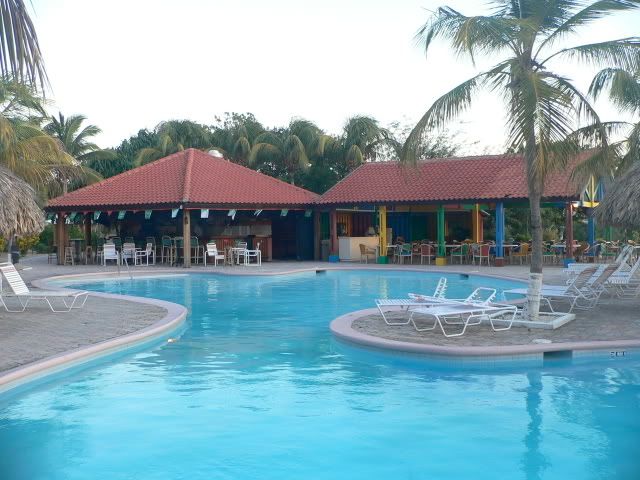 Part two. The ride home from HELL!
This is where the fun begins and I once again see the AA I know and hate.
So we get to the airport at 11 am for a 3 departure. Upon arriving I take my grandparents over to checking and so we can get a wheelchair. There the very helpful agent begins to check their bags. So I leave and get inline to check in for my AUA-SJU-BDL flight. The line moved rather quick and we got to the desk. The agent then began to check us in. After a couple on minutes, she told us that there was a problem and SJU-BDL was up to 6hrs delayed as it went tech… Surprise surprise.
So she then told us she could put us on a Delta flight to Atlanta with no guarantee of getting to BDL tonight. We told her no as I had to work Monday and needed Sunday to wind down. She then told us we could go on USAir to CLT then on to BDL. So we said ok and she began to move us to US. Then I realized my grandparents were still booked for AA so I got the agent that was helping them to put them onto the US flight. She did. But said we would not be sitting together. Fine. Just get me home! Lol.
So she then booked us all onto the US flights and gave us boarding cards and set up wheelchairs all the way home. Everything seemed to be going ok. So we were now inline to check in with US. This took about an hour and we proceeded thru customs and the gate area.
US674 AUA-CLT
Aircraft-A319
N715UW
Load 80%
I got the first coach row with the bulkhead. Nice legroom. Flight was uneventful and got a snack. As well as beverages.
Landing was a bit bumpy and we taxied quickly where I saw the PSA, Allegheny and Piedmont logo jets. Sorry no pics. I was to amazed with the beauty of the planes.
So we got off and went to the desk to get our wheelchair. We went to the rep and said that AA didn't put it in even thou the agent in AUA assured us it was. But the CLT agent just radioed for the cart to come get us. It quickly came and took us to gate C6.
Us Air flight 388
Boeing 737-400
N522AU
At this point I think im home free. WRONG. As we board, we were pulled aside and told we are standby, not normally booked and she said it was about a 95% load so we had to wait. At this point I told the gate agent that we were confirmed on the flight by AA. But she told us we weren't so we waited, and waited. So we were finally put on And we made it home.
Arrival at BDL was quick and quiet at 10 at night. I went down to baggage claim to begin to get our bags. Which never came. After 20 minutes one bag came with a CLT-BDL tag AND a AUA-SJU-BDL tag… The rest of our bags were sent by AA to SJU and not BDL on US…. Fed up I proceed to the AA baggage office where she tells me my complaint was not with AA but US. I told her no and that it was their fault that my bags are in SJU right now and not in Hartford. So I ended up filing a claim at US and my bags have since arrived, with SJU and CLT tags still attached.
After this ive again decided not to fly AA anymore, even if the competitor is more or the flights aren't as timely.
Thanks for reading, I hope this was an eye opener.