This is part 2 of my trip to the US. Part 1 can be found
here
.
It was now time for me and my family to leave for Washington DC. They joined me in Winterset July 5th after having flown to ORD on KL July 2nd and they spent 2 days in Chicago without me. On Sunday the 9th, we left Winterset and drove to Geneseo, IL to visit some other friends. From there, we would drive the rental car my family got when they left Chicago back to ORD and fly to Washington DC.
Tuesday July 11th
I woke up around 6:30 AM. I said goodbye to the husband in the family, who was leaving for work, and then I had breakfast. I checked my bags one last time to make sure that I hadn't forgotten anything and we left the house around 7:45. The drive took a little more than 3 hours and with much help from the GPS navigator, we made it safely to the Hertz rental car drop-off at ORD. The weather had been really bad when we were driving on the freeways close to ORD but now the rain had stopped at least. The whole process with dropping off the car went quick and we took the Hertz shuttle bus to terminal 3, where our AA flight would depart from.
When we got into the check-in hall, I went to the bathroom and then wrote address tags to put on our bags. We had pre-selected our seats, so we knew where we were going to sit. We weren't really sure how to do with the check-in so we got a staff member to help us. We got our boarding passes and dropped off our bags for screening. We then proceeded through security and went to the food court between the K and H concourses to get lunch. We all had burritos from Burrito Beach and they were really good. When we had finished our lunch, I got some vanilla latte from Starbucks and started to explore the terminal. I had about 40 minutes to walk around before we had decided to meet again at our gate K18 at 1:30, 50 minutes before our flight was to depart.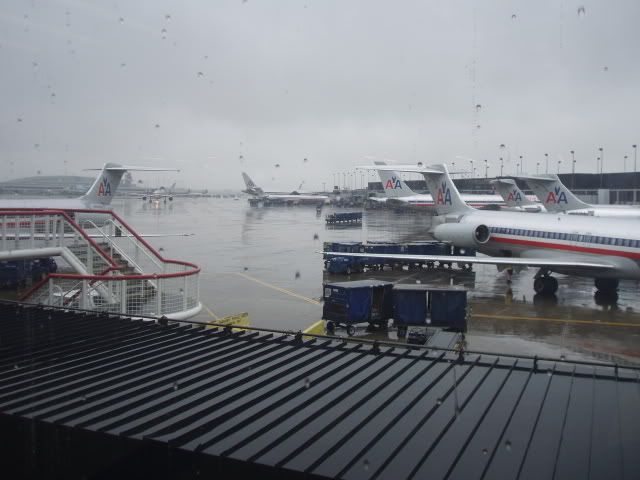 Terminal 3 at ORD is AA heaven.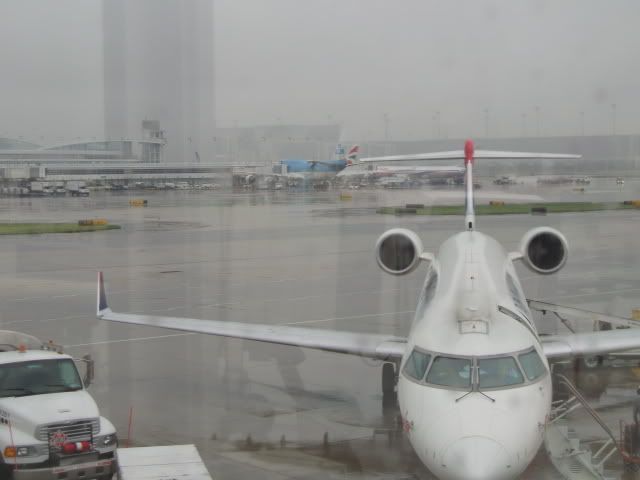 Terminal 5 in the background. Sorry for the poor quality of the photo.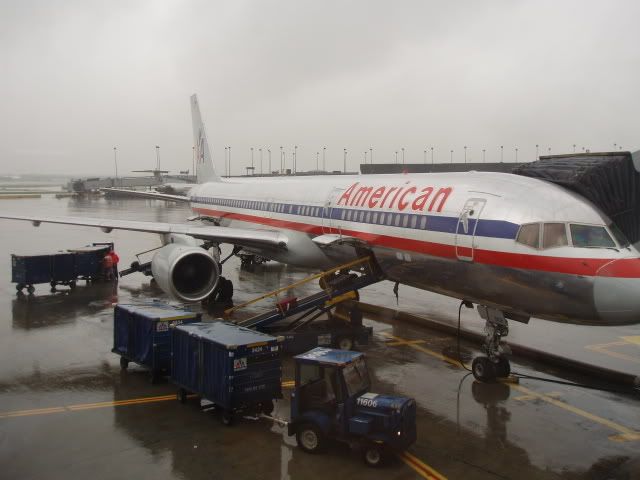 AA B757
When I got back, I just sat down and waited for boarding to start. I saw some heavies taxi by us, a BD A332, a SQ B774F and a LH 333.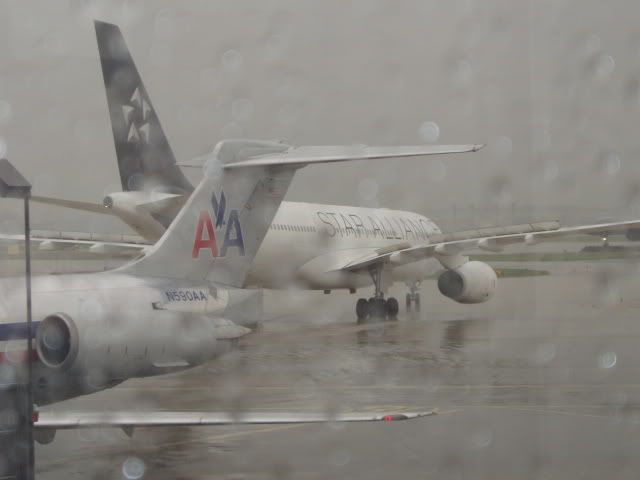 BD A332 taxiing past our MD-80.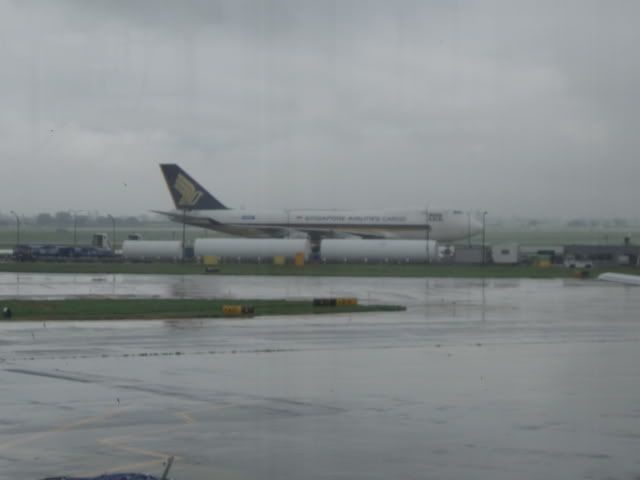 SQ B744F landing.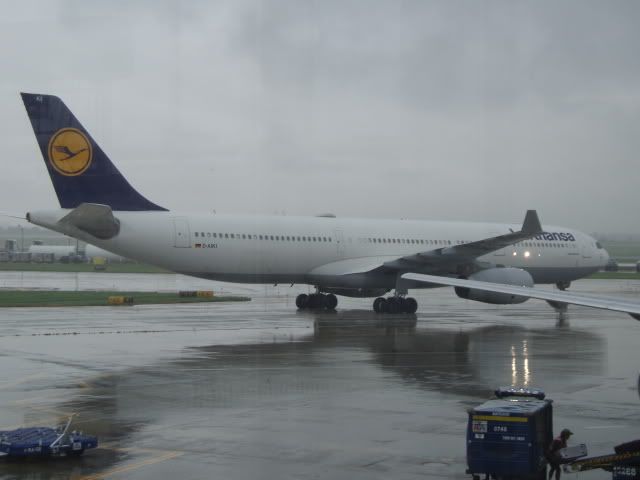 LH A333.
Boarding was delayed about 20 minutes since the passengers deplaning from the previous flight were a little late. Me and my parents were in boarding group 6, and my sisters were in group 5.
Flight: AA810
Aircraft: MD-80
Registration: N590AA
Seat: 10A
Scheduled departure time: 2:23 PM
Scheduled arrival time: 5:17 PM
I found my seat 10A very comfortable. My parents were in 11A&B and my sisters were in 12A&B, so I was the only one sitting with a stranger. We pushed back about 15 minutes after started and made our way towards the runway. We had to wait in line for a while and when we finally took off around 3 PM, we hit the clouds immediately.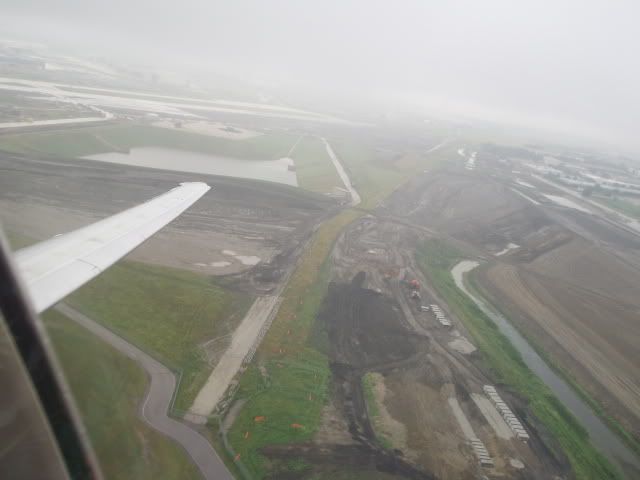 Climbing out of ORD.
It seemed like it took forever to get through them. Actually, when the cabin crew started drink and snack service, we were still in the clouds! Just for the record, I had a can of diet coke to drink. The snack mix was a snack mix, neither better nor worse. About 50 minutes into the flight, it cleared up around us, but it was still clouds both below us and above us. I saw a big T-storm far away in the distance and took a picture of it.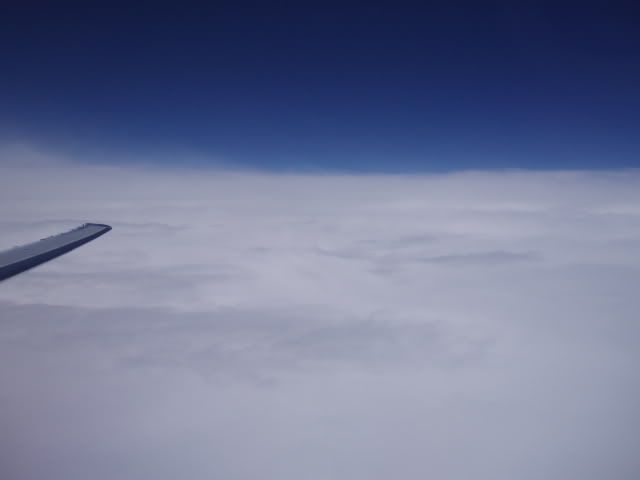 At cruising level.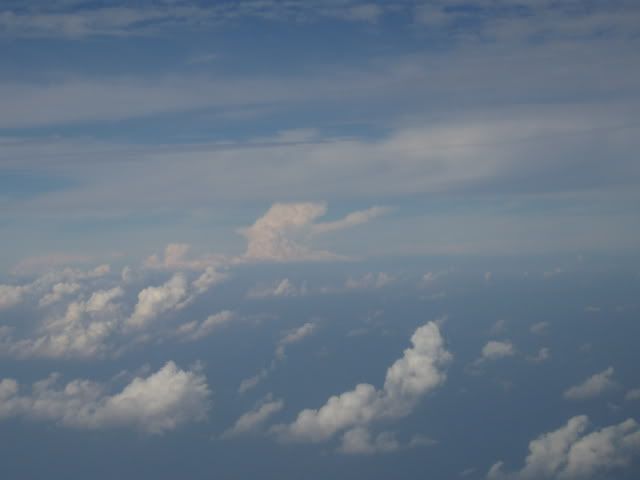 A thunder storm.
When we got closer to Washington DC, it cleared up below us as well. We flew over IAD, which was pretty cool. I could spot a couple of different airlines. I was starting to hope for the spectacular approach with the mall in central Washington on display, and sure enough, we came in from the west with all the great sights on our left side, where I was sitting. I took as many pictures as I could, since it was really a spectacular approach, before we touched down at DCA about 40 minutes behind schedule.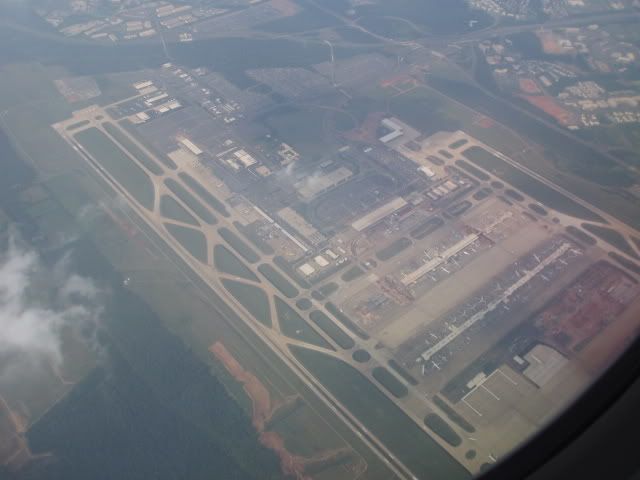 IAD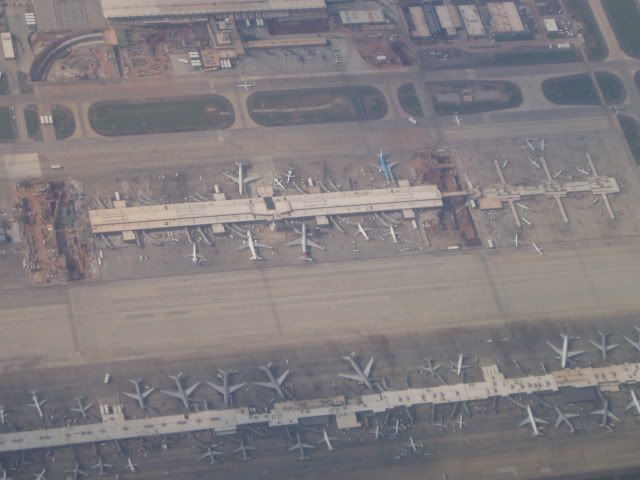 How many airlines can you spot?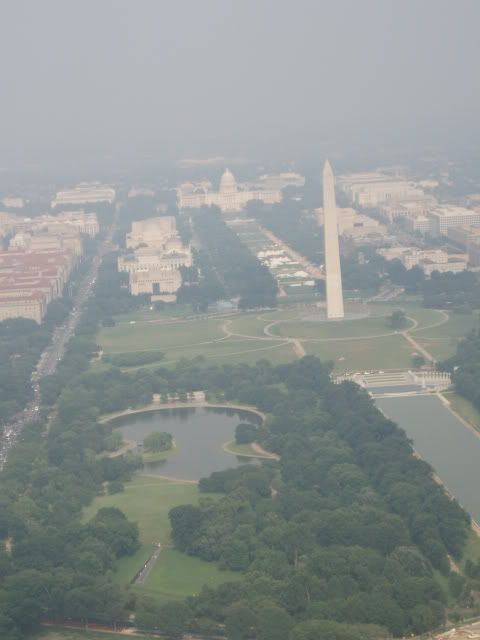 The Washington monument with the Capitol building in the background.
Lincoln memorial, the reflecting pool, and the Washington monument. The White house can also be seen.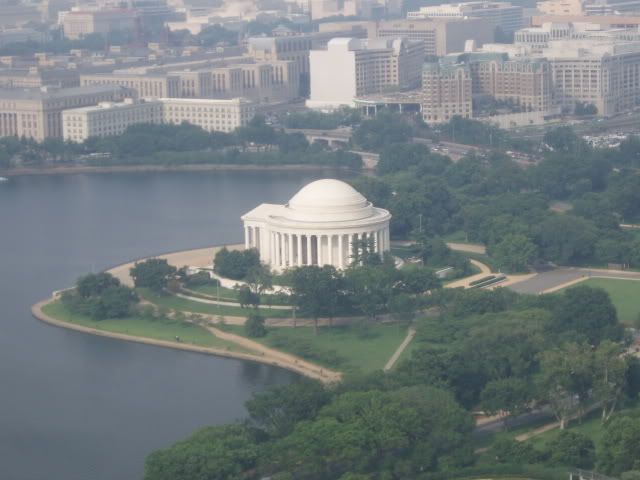 The Jefferson memorial.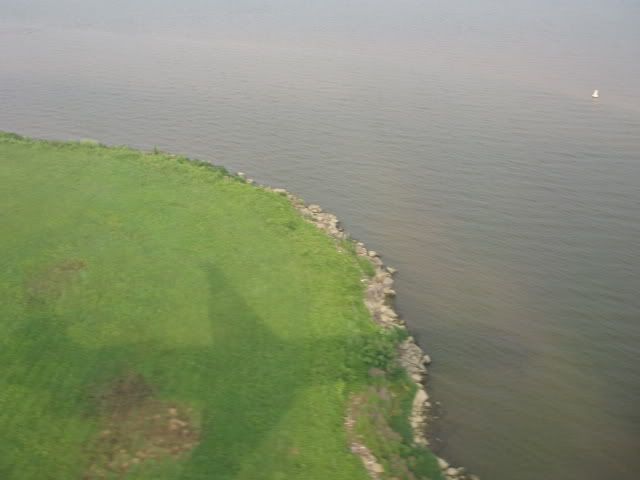 Our shadow seconds before touch down.
We taxied to our gate and parked next to another AA MD-80. When we got into the terminal, we all went to the bathroom before collecting our luggage. While waiting for the luggage, my dad tried to find transportation to our hotel in Georgetown. When the bags arrived, we went outside and took a shuttle bus to our hotel.
Parking next to another AA MD-80.
The stay in DC was great. One of the highlights was a visit to the Steven F. Udvar-Hazy Center at IAD. It is a big hangar with many planes on display, for example an AF Concorde and a prototype for the Boeing 707, the 387-80, also called the "dash 80". It also has an observation tower where you have a good view over the runways at IAD. When I was up there, an AF B772 flew right by us and landed. When we went back, our bus drove right next to a BA B772 that came in for landing. I didn't get my camera up in time though and didn't get a picture. It was really cool though.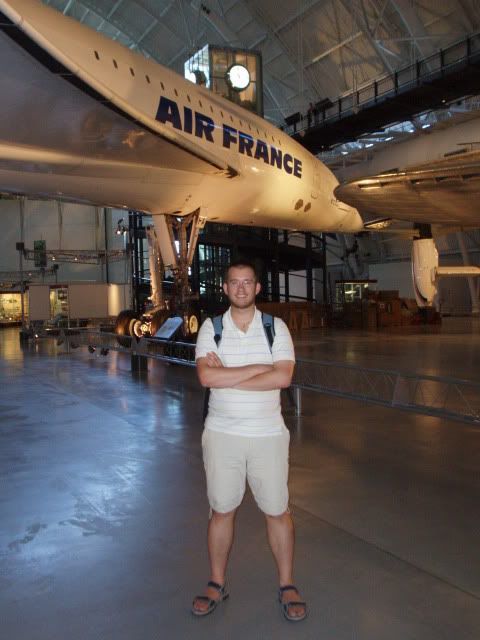 Me and the Concorde.
An AF B772 on short final to IAD.
Monday July 17
After a week in DC, it was time for us to go home. We left our hotel at about 7:30 AM and took the metro from Foggy Bottom/GWU to the airport. Instead of using the self-service check-in machines, we went to the check-in counter since I wanted to check if I could check my luggage all the way to ARN since I was flying with another One World airline from ORD to ARN, even though it was two separate tickets. It turned out that all of us could check our bags to ARN, even though my family were flying on KL. Glad not having to carry our bags around ORD, we tried to find stamps so that we could post our postcards. We had been trying to find stamps for days without succeeding, but now we finally found them. After buying the stamps, we went through security and headed to our gate, where we sat until boarding begun at about 10:15 AM.
The bright and beautiful terminal of DCA.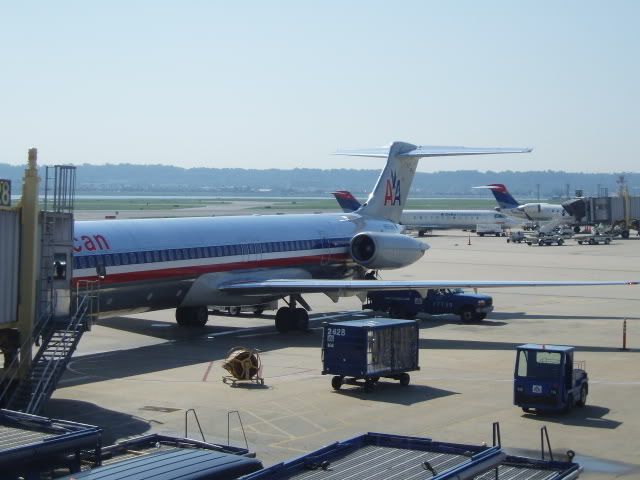 Our MD-80 at its gate.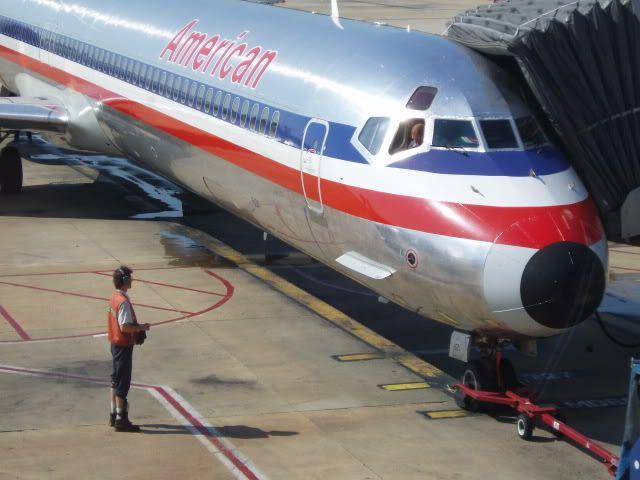 A ramp worker talking to the F/O of the AA flight to DFW.
Flight: AA1063
Aircraft: MD-80
Registration: N555AN
Seat: 10A
Scheduled departure time: 10:34 AM
Scheduled arrival time: 11:31 AM
I had the same seat as on the flight to DCA, and it was a good seat. We taxied and took off right on schedule. During the initial climb, we were treated with great views over Pentagon and the Arlington cemetery. We flew over IAD this time too.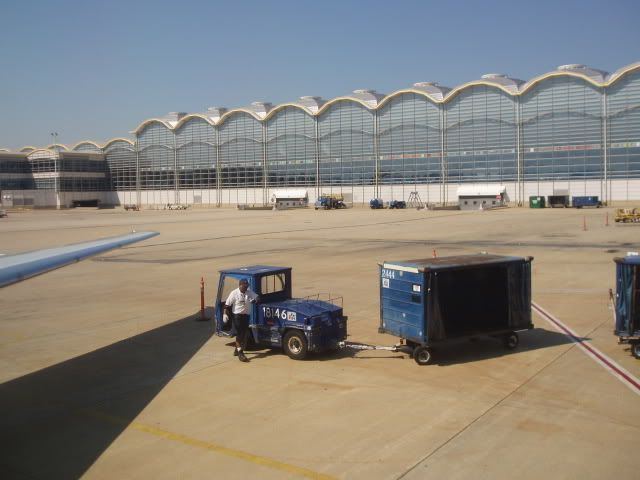 Sitting at the gate.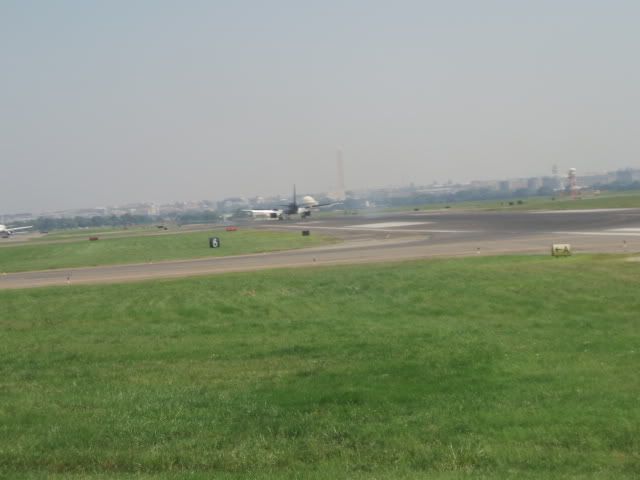 A US Airways B737 or A319 (can't really tell)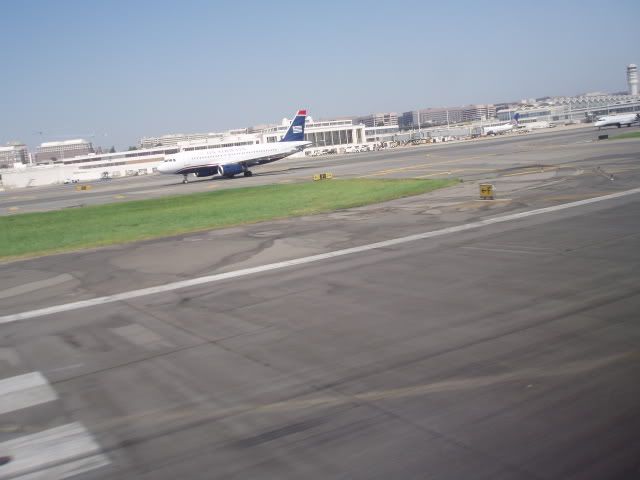 Starting our take-off roll.
Pentagon. The world's largest office building.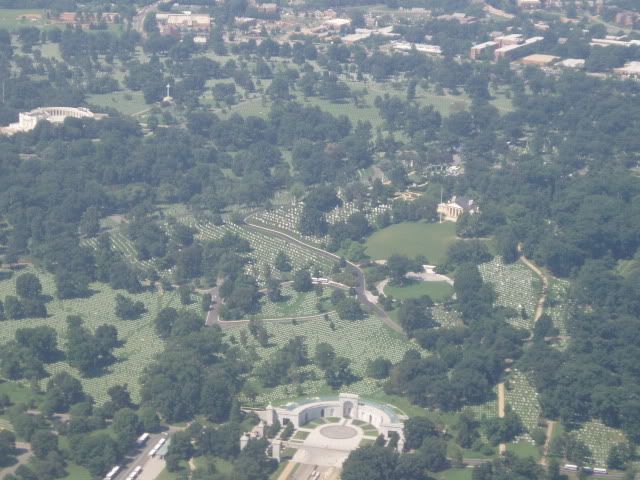 The Arlington cemetery. JFK's grave can be spotted.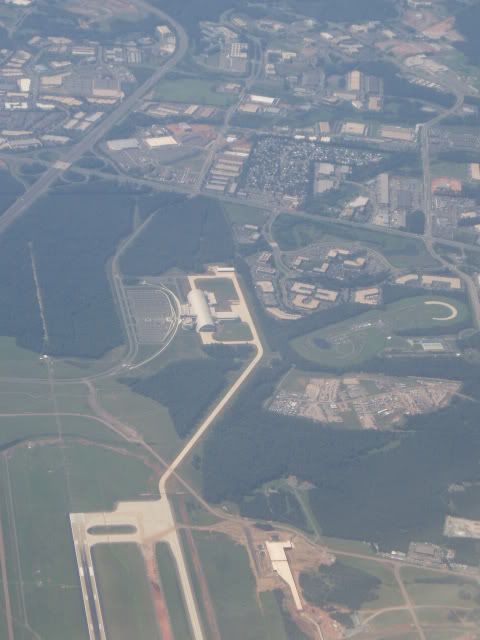 The Steven F. Udvar-Hazy Center at IAD.
The weather was clear although a bit hazy. The beverage and snack service started about 20 minutes into the flight, and I once again had a can of diet coke. We flew over two bigger cities, one of which I think was Fort Wayne. If someone recognizes any of the cities, please let me know.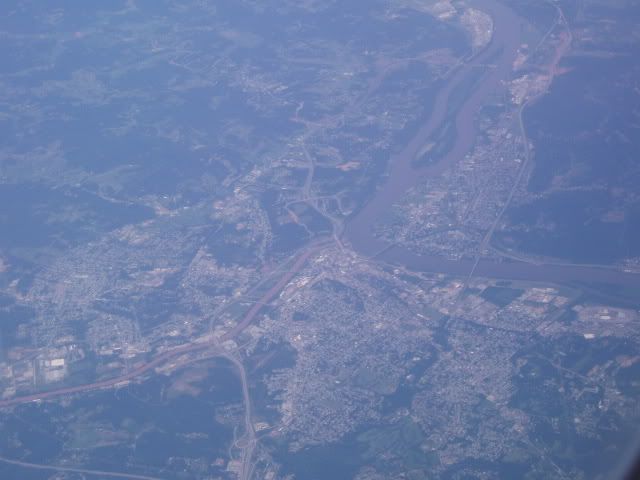 One of the cities mentioned. I believe it is in Ohio.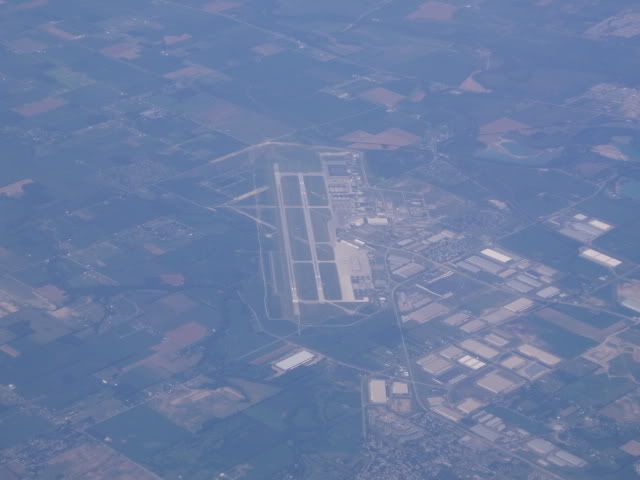 The airport of the other city. I think it is Fort Wayne, although I'm not sure.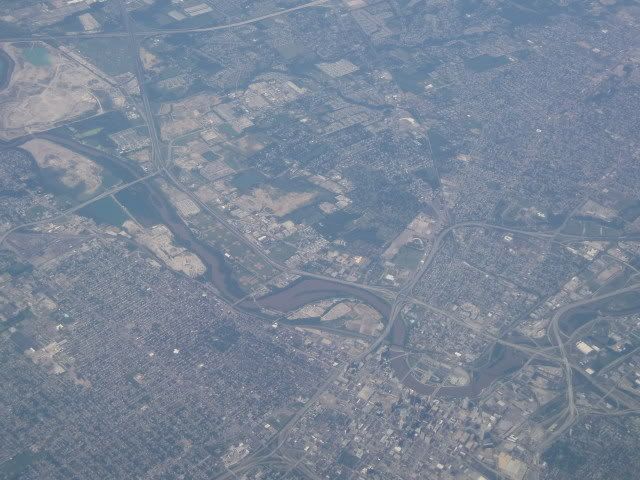 The city that the airport belonged to.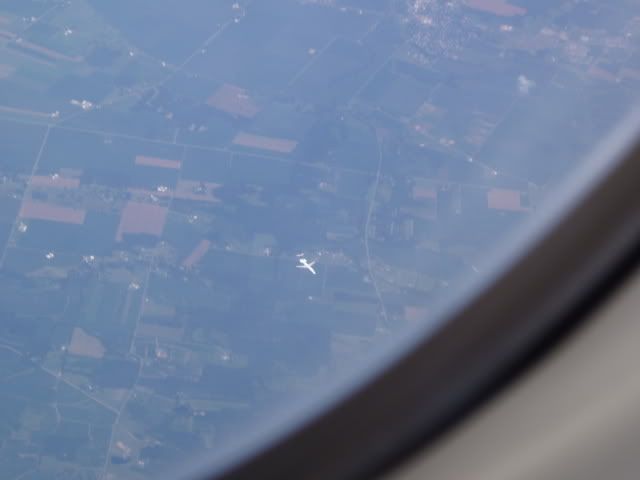 A DL painted ERJ flying below us.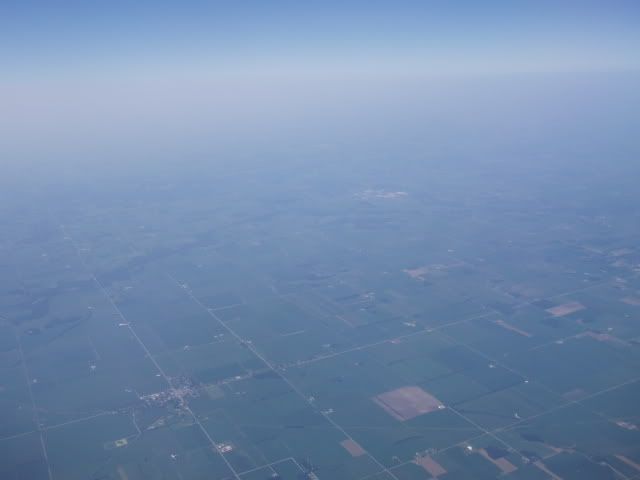 The flat landscape of the midwest.
I went up to go to the lavatory once during the flight, but other than that, I just listened to music and enjoyed the scenery. We were once again treated with a spectacular approach, this time over downtown Chicago. We came in from the east and then turned north, giving us a great view over the Chicago skyline, before turning west towards ORD. I just couldn't believe how lucky I had been with all the approaches to DCA and ORD, and the great take-off from DCA. We touched down on time and taxied to our gate in the H concourse.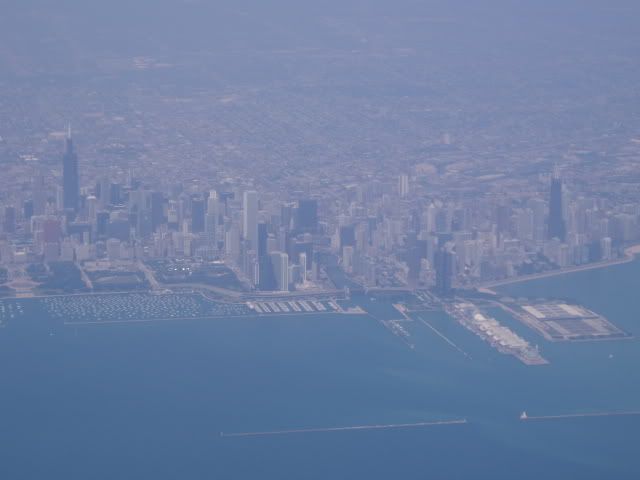 Downtown Chicago on approach.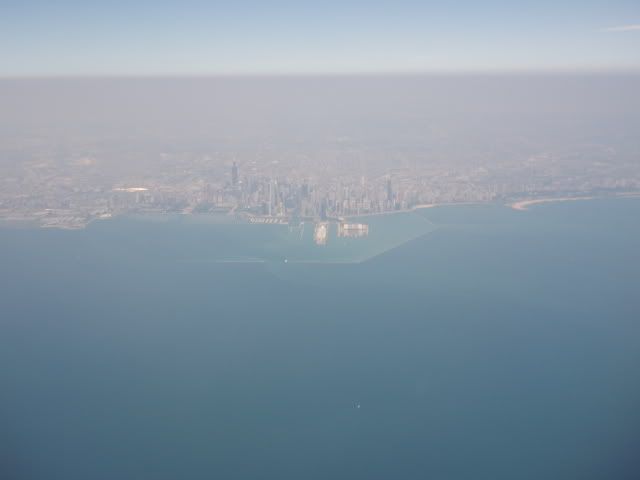 Another view.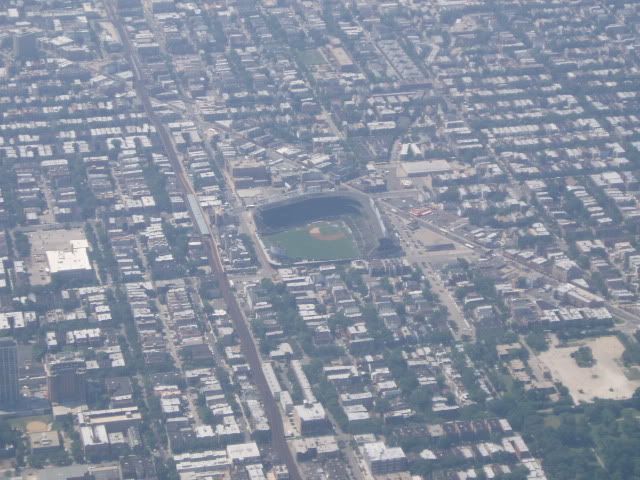 I'm guessing that this is where the Chicago Cubs play their games?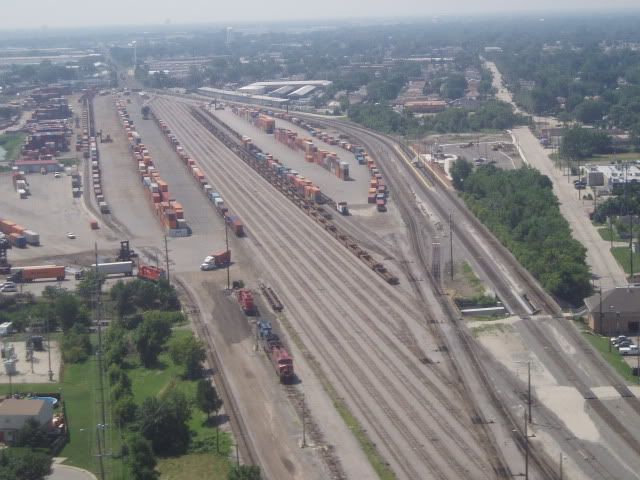 Railroad tracks right by the airport.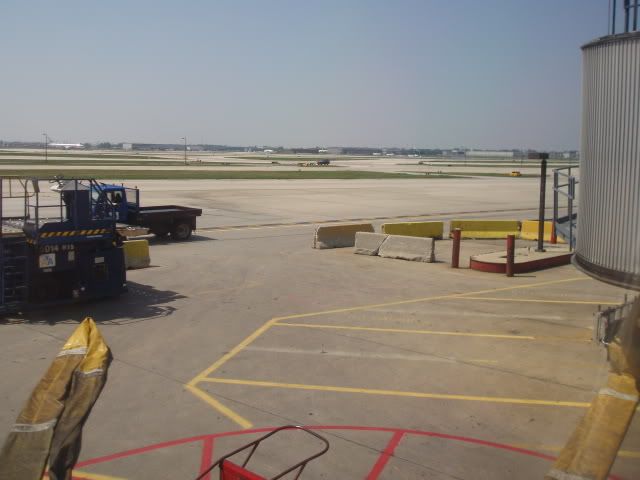 Parked at the gate.
Conclusion: These two flights were both great. I enjoyed UA a little more because of channel 9, but the beautiful views we got on the approaches and on the take-off from DCA really made the trip. Not a whole lot to complain about. It would be fun to try AA or UA on longer routes to see how they compare to the European airlines I have flown.
Thanks for reading part 2. Part 3 will hopefully be up before this week is over. Otherwise it may take a while since I'm joining the army on Monday and won't have much time to write.