Four airlines in two days, from STR to AMS
What about a trip to AMS, so I thought earlier this year, while checking my calendar for the summer months.
I was for several times at the airport on connections but never in the city or around the airport.
Later I booked STR-MUC-BRU//AMS-STN-STR, but LH disrupted my travel plan when they cancelled my first flight from STR to MUC.
First LH do not want to pay my money back, while they rebooked me on the next flight STR-MUC, to tight for my MUC-BRU leg,
but on my second try with another call center agent then, it was no problem, full payed fare back, taxes from MUC-BRU back and booked an alternative
STR-CDG-AMS routing.
Sector 1:
Sunday, 30.07.2006
STR (Stuttgart-Echterdingen) - CDG (Paris-Charles de Gaulle)
AF 1209 operated by AirFrance A319 F-GRXE
Scheduled: 07.15 // 08.35
Actual: 07.15 // 08.30
Gate: 310 Seat:25A
Load Factor: Around 50 %
Fare: 10.000 Flying Blue miles and 63,73 EUR Taxes and fees
Delivered new to AirFrance: 08.05.2002
I was at the airport at around 06.00 am, tried to use the self-service-machines.
This opinion works once again well, around 30 pax in the queue to the desks, nobody at the machines.
Insert my Flying Blue card, decided for my seats, boarding passes printed in no time.
Nobody at the bag-drop-off counter, leave my bag there and crossed security without any time to wait.
At the gate at around 06.15 am.
F-GRXE, early sunday morning at STR: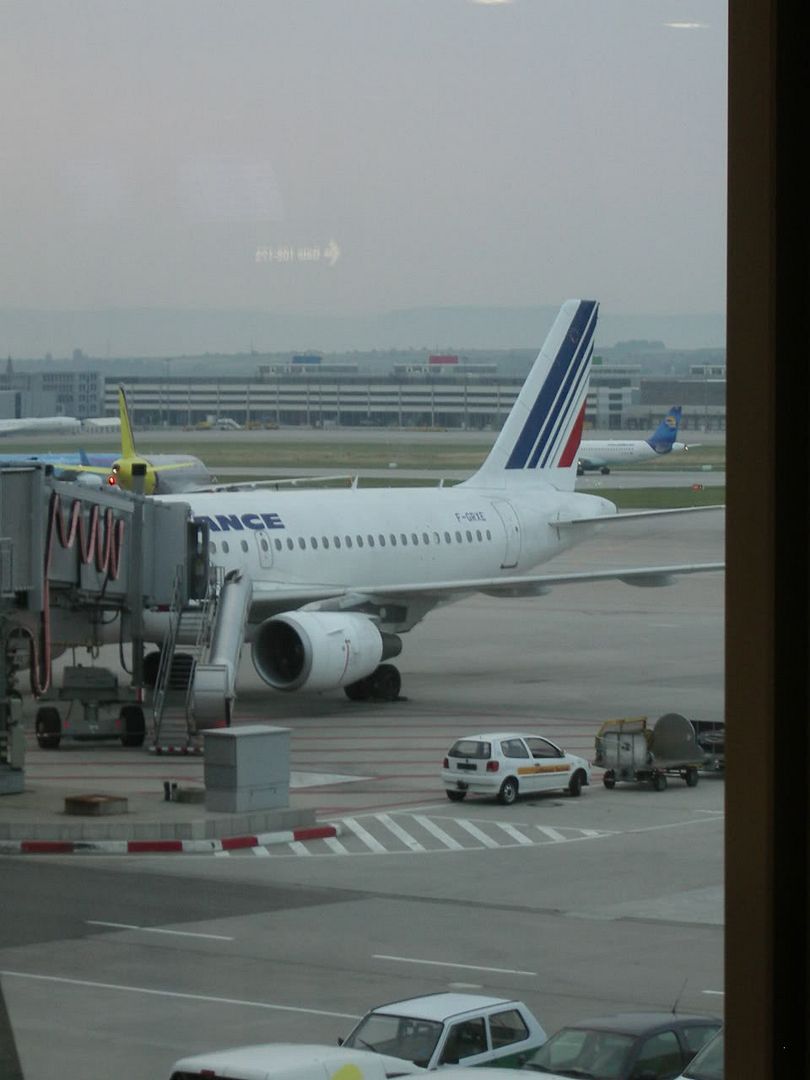 The usual summer season touristic departures, nothing special, this morning.
Not to much pax at the gate, so I expected not the best load for this service.
Walkaround F-GRXE:
F-GRXE was parked for the night-stop, I checked ACARS late saturday and know that the usually used A319 was there.
I was pax no. 37 for this leisure leg no. 23 on the A319, the first on this plane, to CDG.
Ontime boarding, departure from runway no.07, no time to wait there and on the way with a sharp right turn to CDG.
Some clouds, not the best views.
Route: STR-SXB-Epinal and further straight to CDG. Flight level 20000 ft.
The plane clean and in good conditions, the crew, both cockpit, Captain Roussel and his FO Saliou and cabin friendly.
A typical french brioche and free water/coffee/tea on offer.
Approach to runway 26L started early, around 30 minutes ahead to arrivals.
A quick taxi this time, around T2 A and B and parked at a finger gate at T2D, deboading, all the pax in the finger, but nothing goes forward,
the entrance to the terminal was closed.
I read about the bad management of ADP and that was another example for it.
Ten minutes to wait and finally a agent arrived and let us in.
Sector 2:
Sunday, 30.07.2006
CDG (Paris-Charles de Gaulle) - AMS (Amsterdam-Schiphol)
KL 1224 operated by KLM B737-300 PH-BDE
Scheduled: 09.45 // 11.05
Actual: 09.50 // 11.00
Gate: F35 Seat: 24A
Load factor: around 90 %
Delivered new to KLM: 29.11.1986
I walked from 2D to 2E where the KLM services handled, around ten minutes to go, no time to wait there at security and inside T2E a few minutes later.
This part of CDG is airy and spacious, not bad.
The plane was on-stand when I arrived.
I was booked as pax no. 43 for the leg to AMS on PH- BDE , leisure flight no. 23 on the 737-300 and the first on this one.
Minutes later boarding started and I entered the machine as the first pax.
The crew was very friendly, I chatted with a FA in the rear cabine, she told me that PH-BDE was one of the oldest 737s in KLMs fleet and will retired soon,
another male FA joined me during approach to AMS end explained the scenery after a conversation about A.net.
But first back to the flight, ACARS showed a mix of the whole B737 range included the B737-900, I was really curious which plane it will be, this time the oldster 733.
Departure from runway 27L without any time to wait there.
The plane was ok, a heavy used one to see about some details.
Route: CDG-BRU-Rotterdam-AMS. Flight level 24000 ft.
Rotterdam port: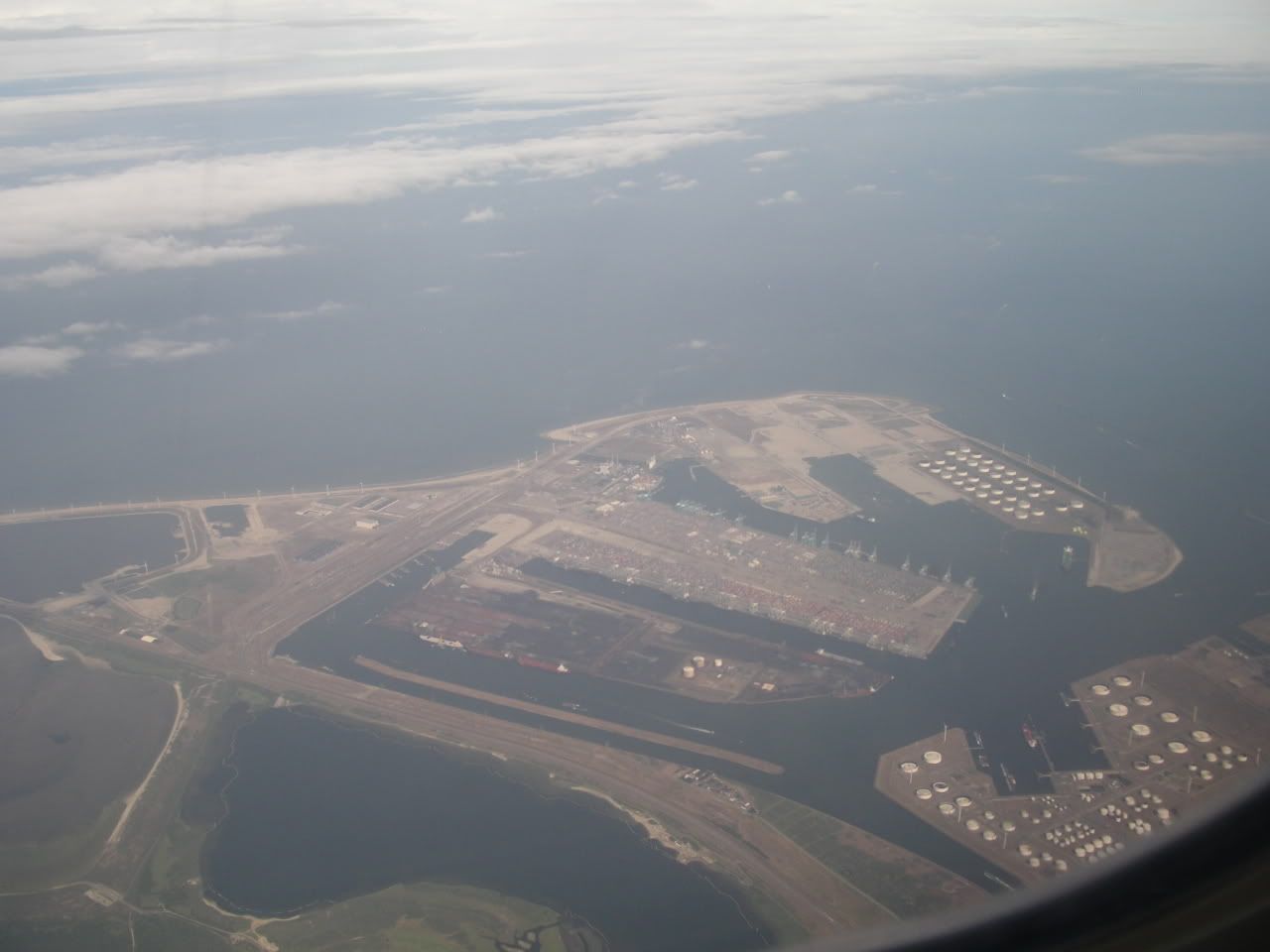 A sandwich and free drinks/coffee/tea on offer. Two female/two male, all friendly cabin crew.
Mr. Kooijman, the Captain and his FO Mr. Berk, also friendly and very informative.
Some circling during approach into 18R, arrived and the whole long way to taxi down to the terminal, deboarded by a finger gate, a long way to walk to baggage reclaim and out in the public at around 11.30 am.
PH-BDE after deboarding at AMS: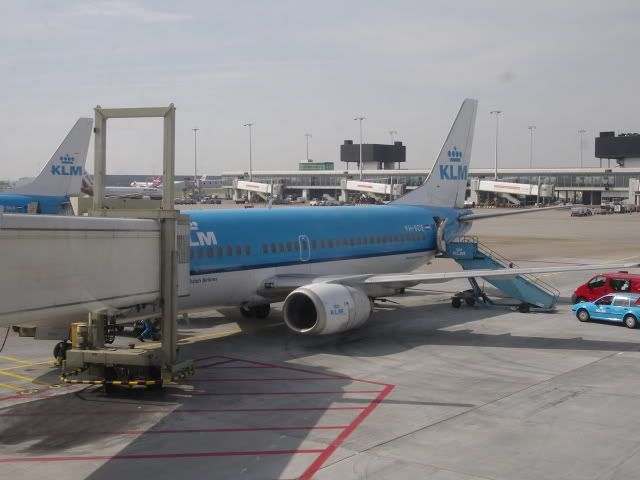 Fellow A.netter Airbuseric invited me to a tour around the airport to the best local spotter places. We meet near the train station short thereafter.
Hey, Eric, once again thanx for our interesting time there.
Some spotting pix:
UA 777, new colours: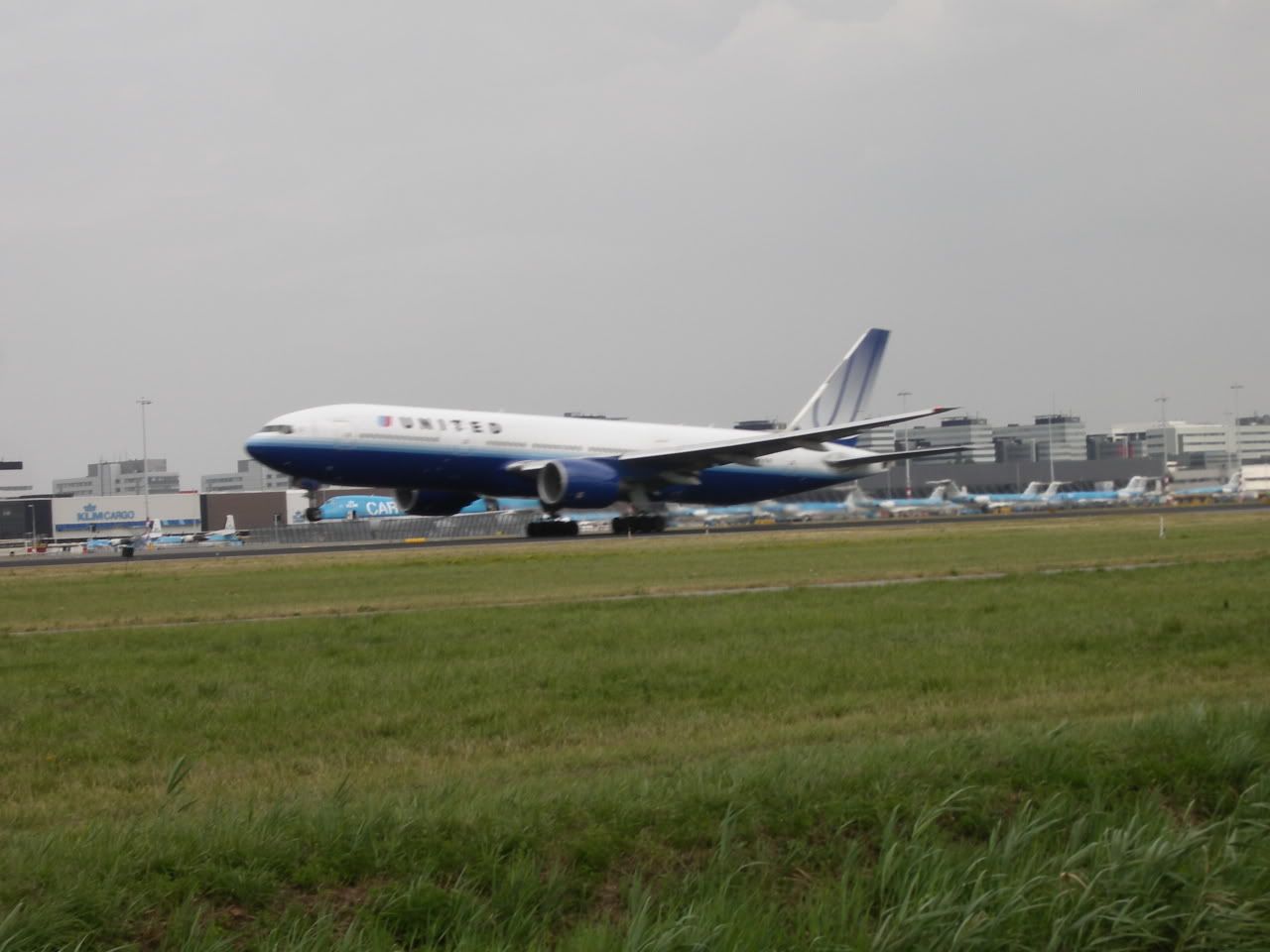 MP MD11, special colours: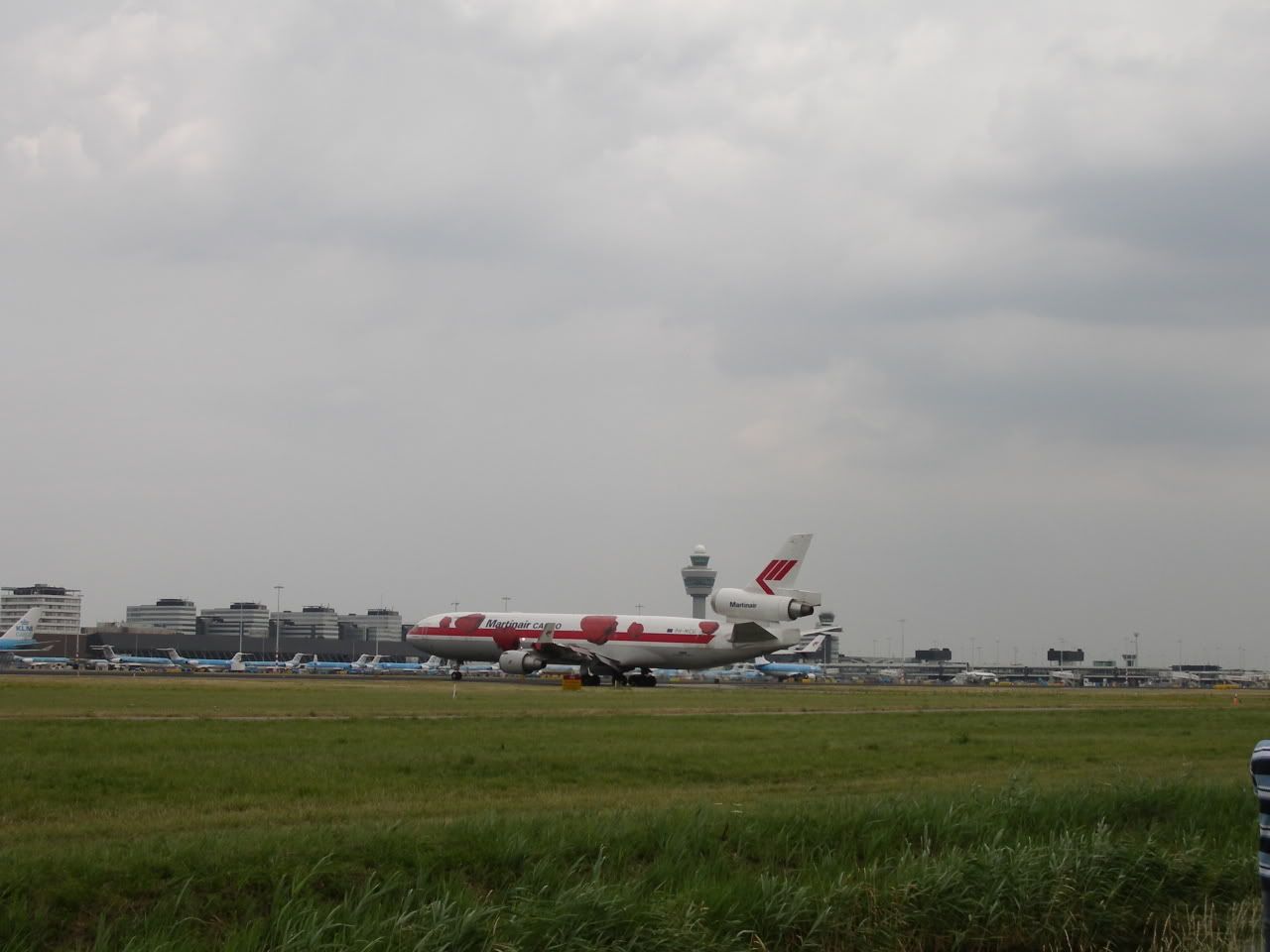 MP 747 classic: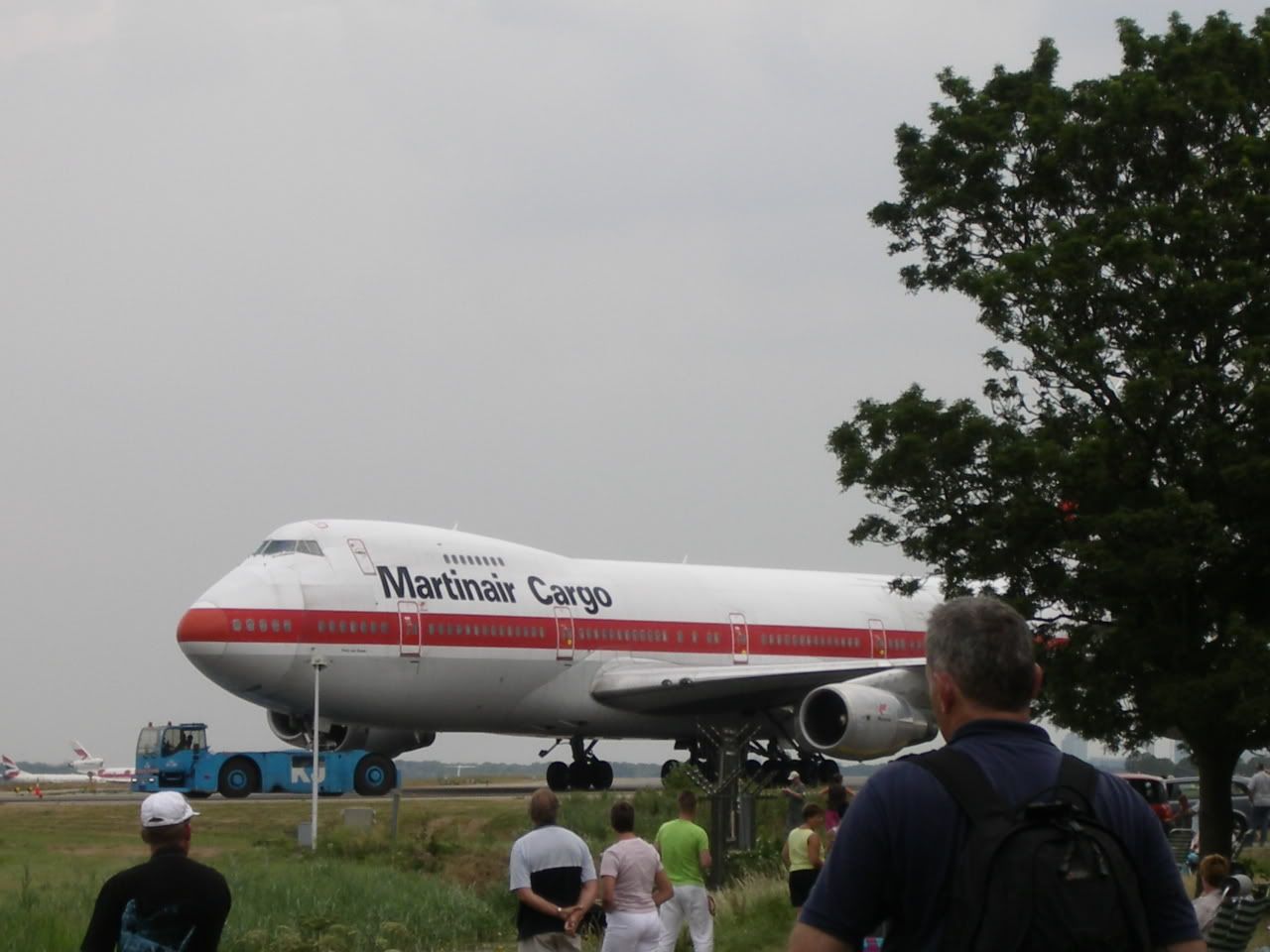 My favourite: DAS D10:
At around 01.30 pm, Eric dropped me of and I go by train, later subway and tramway to my hotel.
Its named Hotel V, a very stylish small hotel in a residential area, around ten minutes by tramway from the city center.
Another recommendable place to stay, booked by german consoldiator Hotel. de for EUR 83,72 B&B.
Breakfast at Hotel V:
I had a good time in AMS, here are some pix for the interested:
Yes, that might be Amsterdam: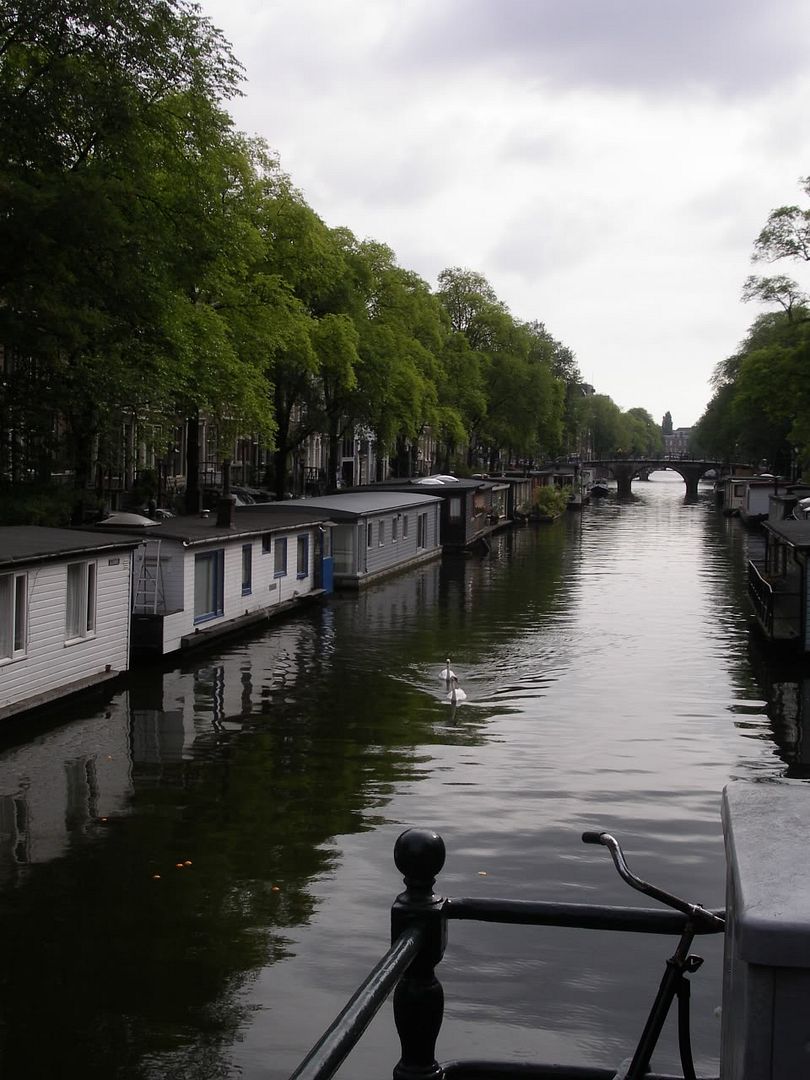 NEMO: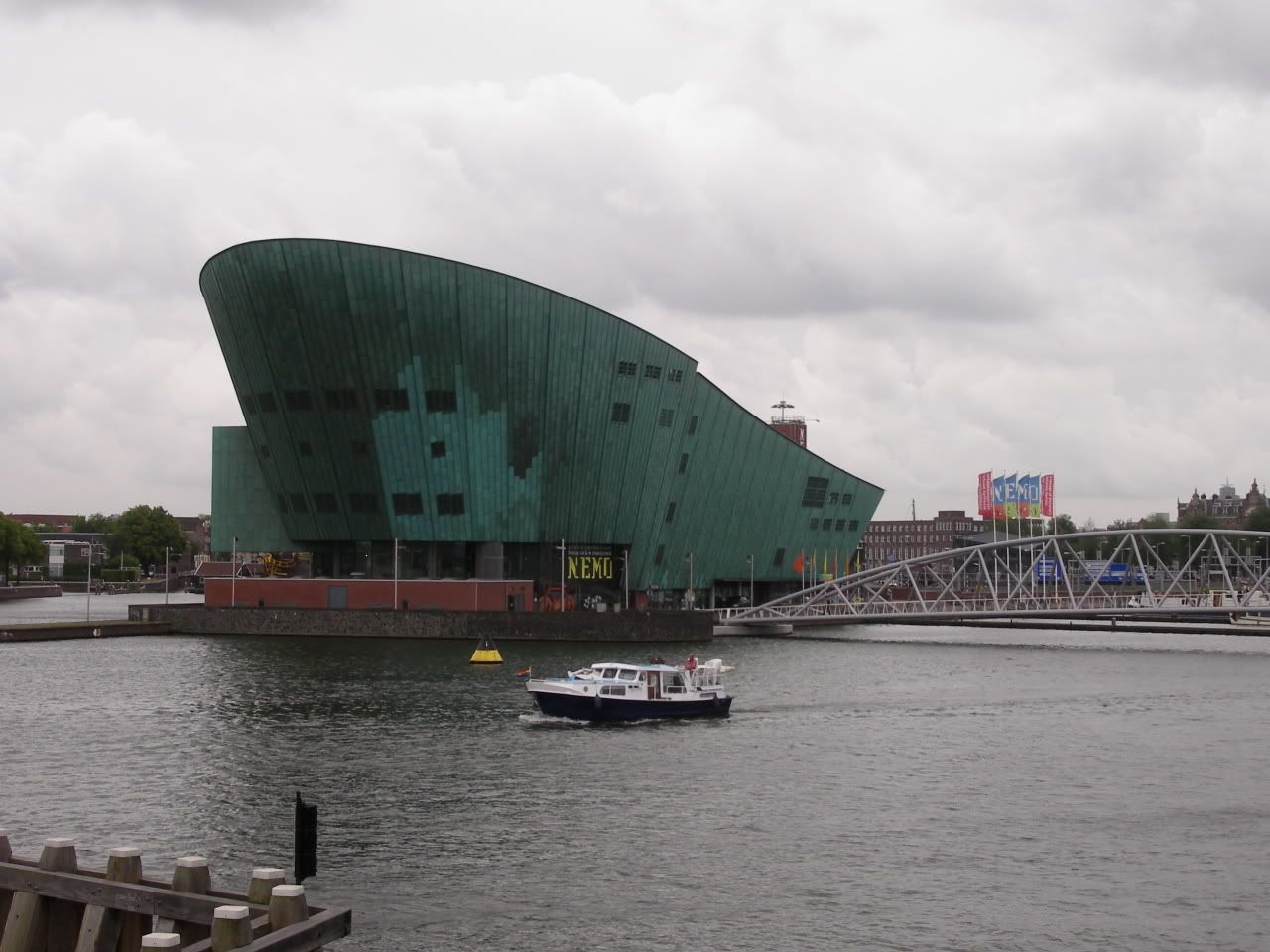 Muziekgebouw: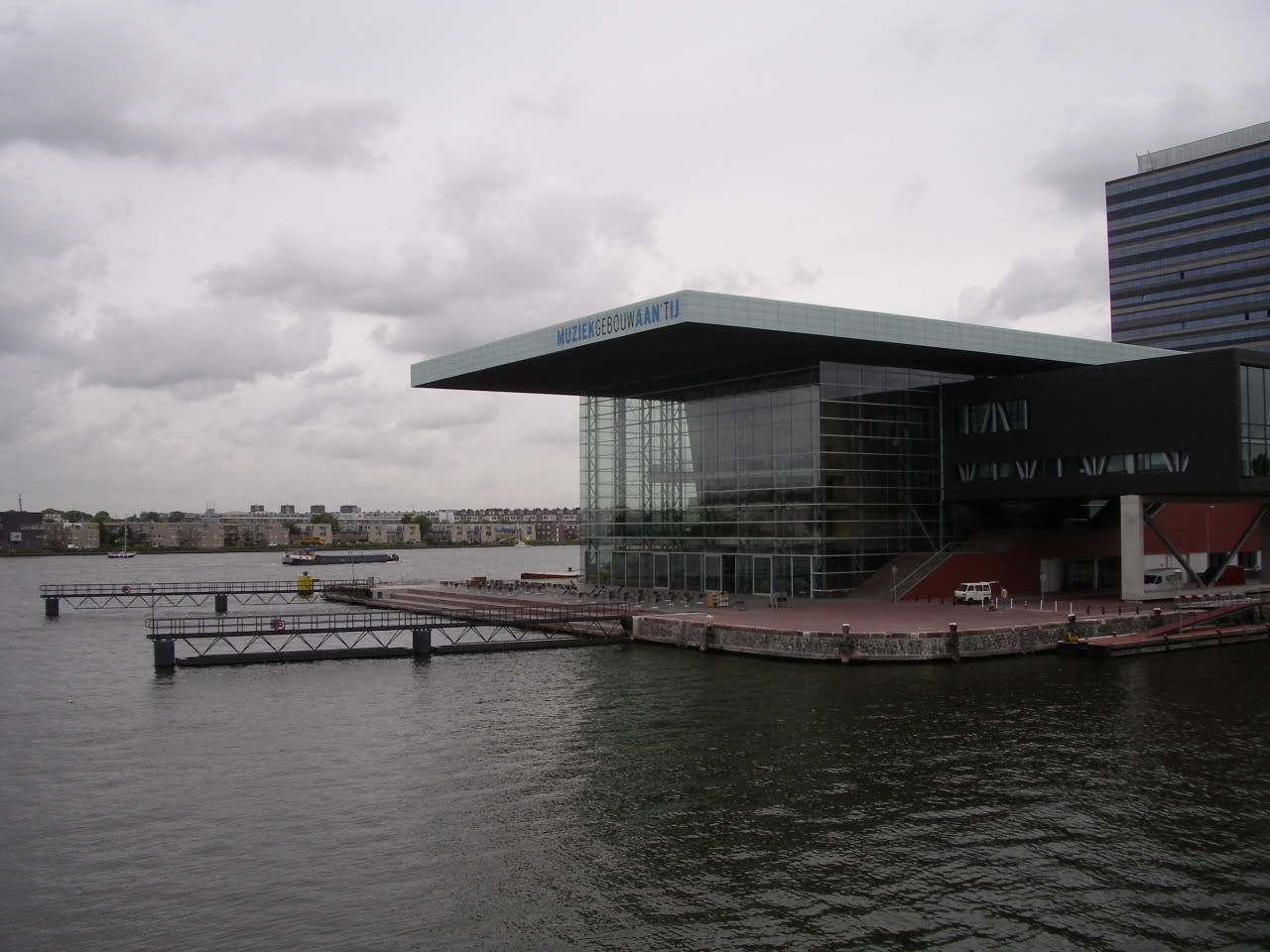 NEMO again:
Centraal station: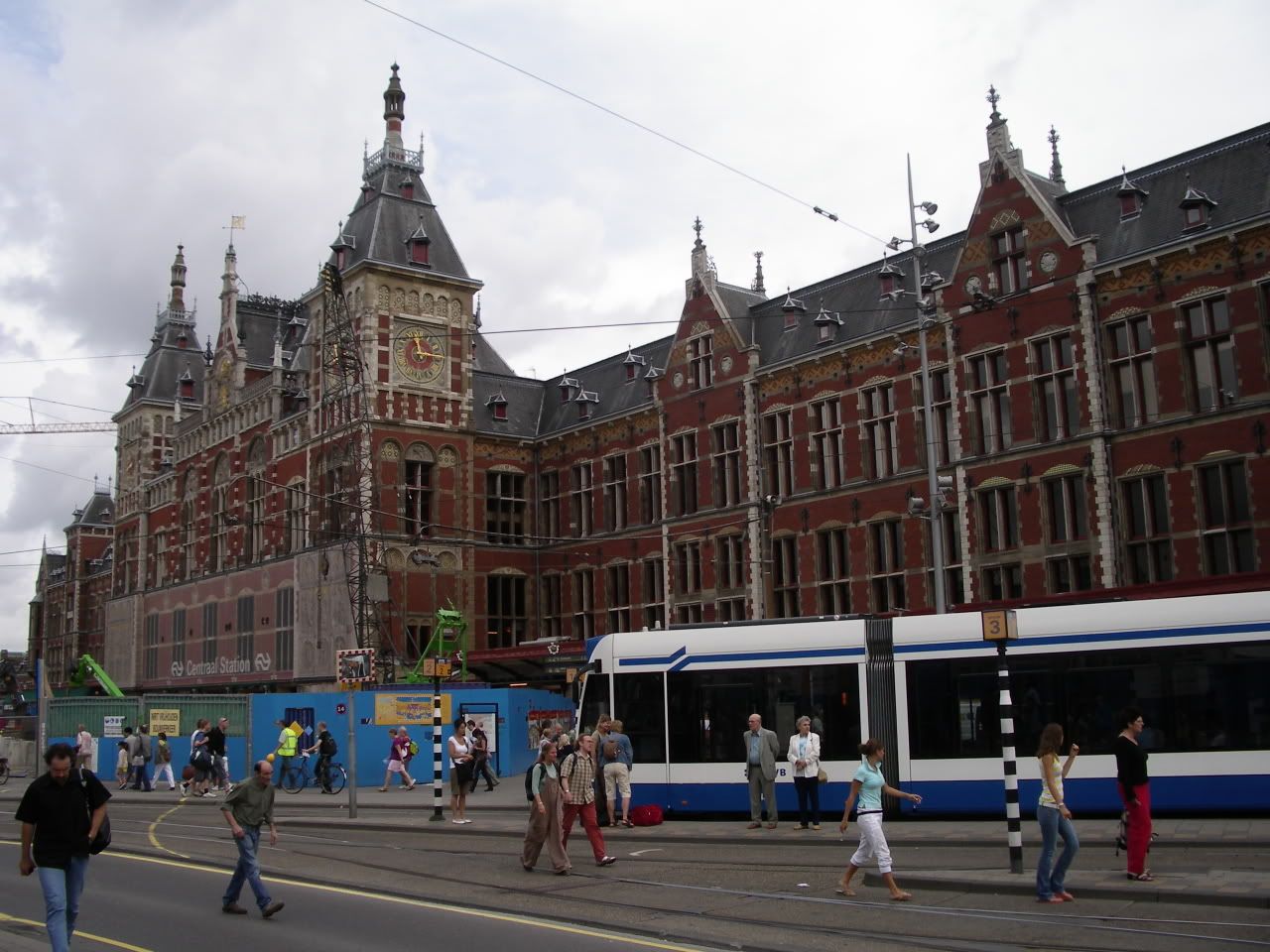 Koninklijk Paleis:
Nieuwe kerk: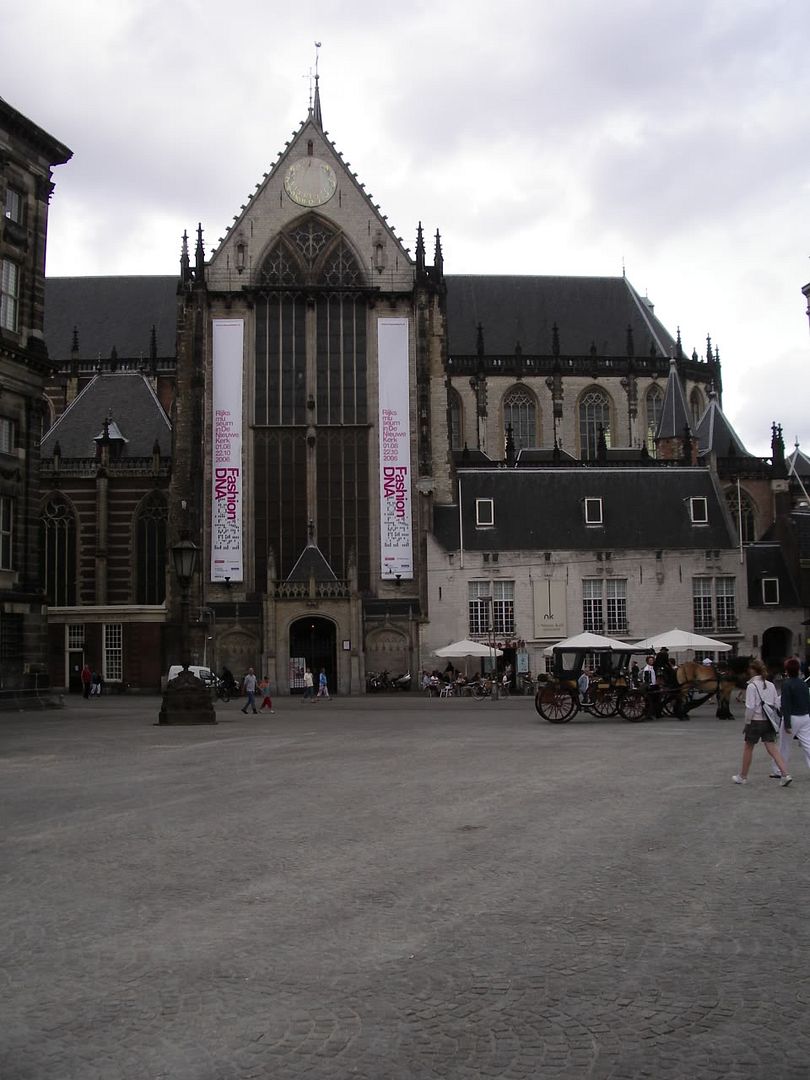 Egelantiers-gracht: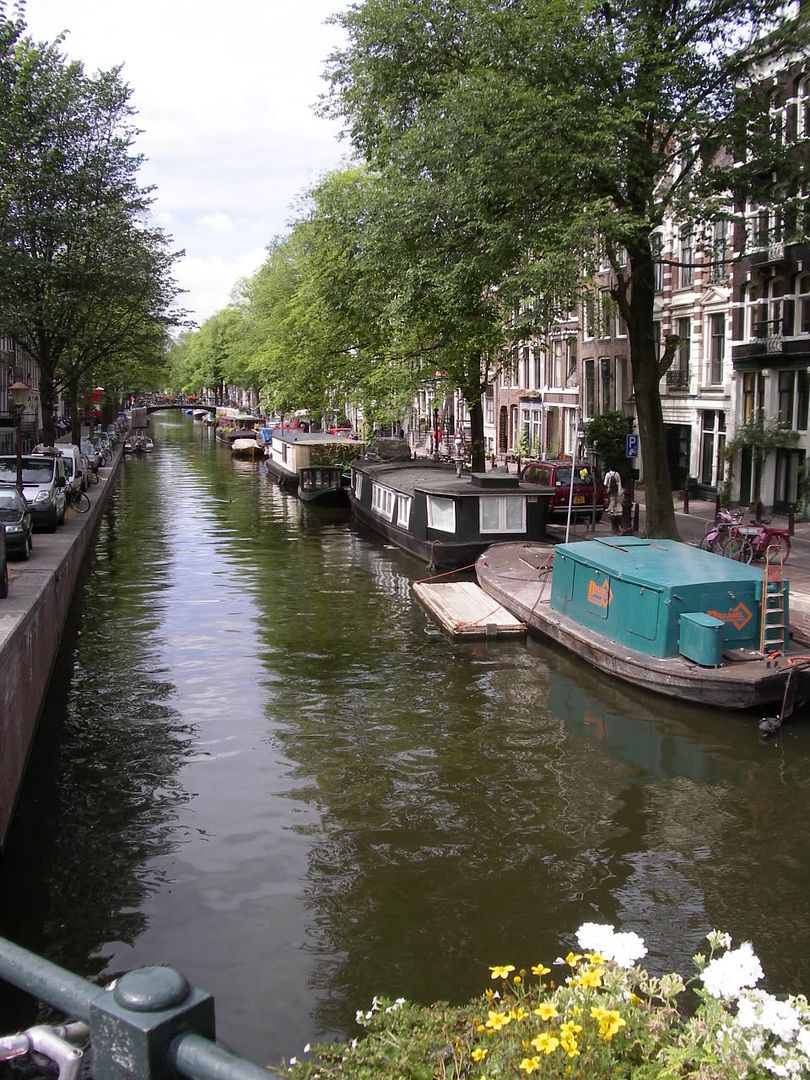 Sector 3:
Monday, 31.07.2006
AMS (Amsterdam-Schiphol) - STN (London-Stansted)
U2 3886 oerpated by Easyjet A319 G-EZAG
Scheduled: 17.05 // 17.10
Actual: 17.10. // 17.00
Gate: H2 Seat: ?
Load factor: near 100 %
Fare: 60,49 EUR
Delivered new to Easyjet: 29.03.2006
I decided to leave the hotel at around 2.30 pm, straight back by tramway and train to AMS airport.
Now its time for Easyjet, AMS built a new terminal area especially for the low costers, check in was done without any time to wait by Menzies,
a friendly girl there.
Also only minutes at passport and security control.
In the H area of the airport there are only handled flights to the UK and acoording to the UK system, all flights stated, wait in lounge.
I walked near the H area, was asked by a machine gun armed security guy about my interest while I´am sitting near a gate where a ELAL flight was handled,
weired, I dont do pix or else I only sit there and watched outside the window, no sign that this was not allowed or it was a special area.
OK, the gate showed on the screens, the pax queued behind me at security, the plane arrived, yes it was an A319 as ACARS announced.
I was pax no. 62 for this leg to STN, leisure flight no. 24 on the A319 and the first on this machine.
G-EZAG just arrived: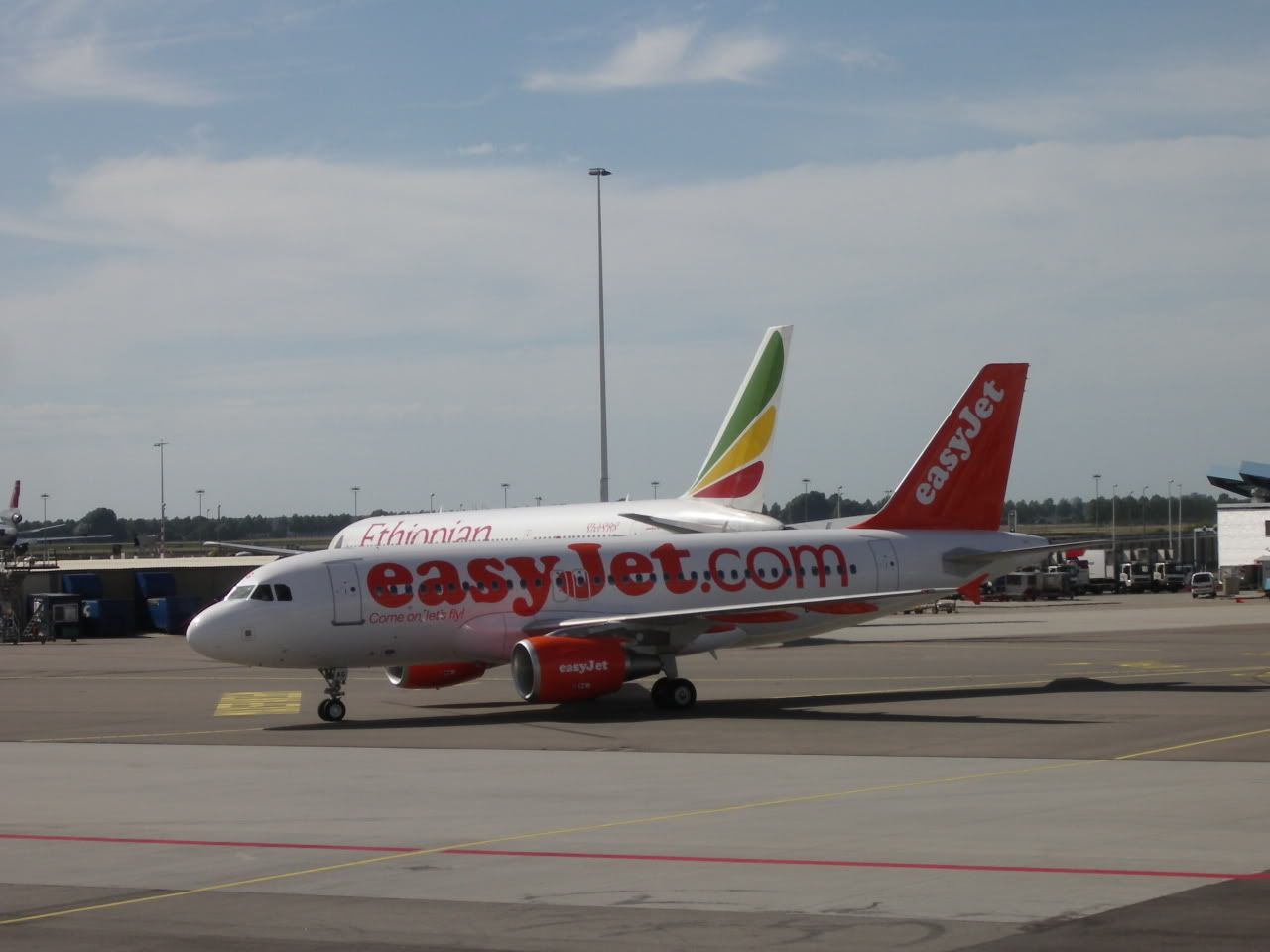 G-EZAG at AMS: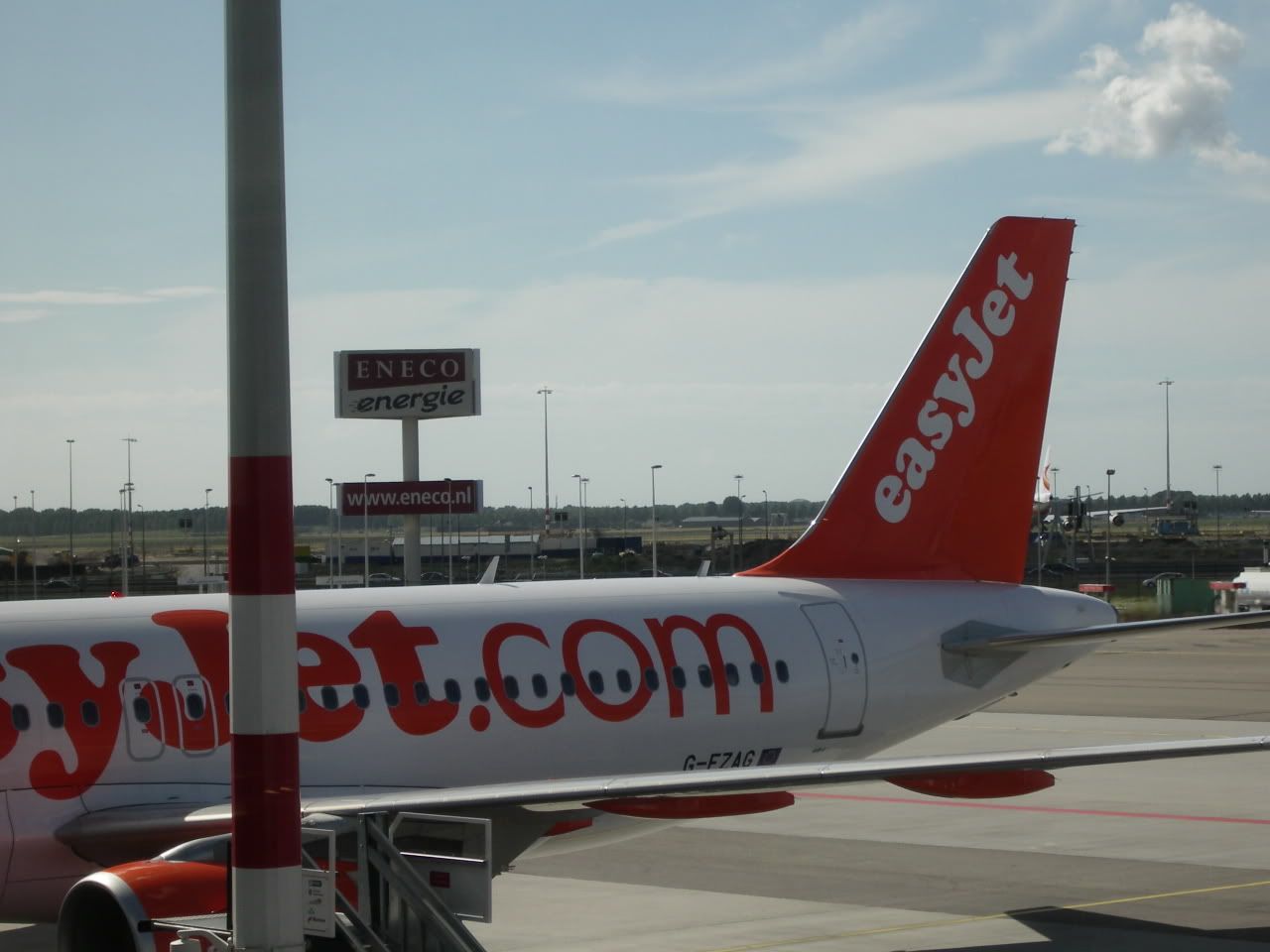 The typical Easyjet queue system there and boarding started only minutes thereafter.
I boarded by the rear door in group C, that means all windows occupied, a nearly full flight.
Doors closed, only some minutes to taxi and departure from the runway where I do my pix yesterday, no. 24. .
Flight time only 40 minutes, the plane shiny new and comfortable, some british guys on board, they told us other pax anything about their adventures in Amsterdam, throwing peanuts through the cabin, weird.
No comment from the FAs. Three girls, one boy, not to friendly, a bit stressed this time.
The cockpit crew informed about the route and wheather, ok so far. Flight level 20000 ft.
Approach to STN runway no. 23 started 15 minutes ahead to arrivals.
A heavy touchdown and brakes, a quick taxi and deboarded at STN.
Sector 4:
Monday, 31.07.2006
STN (London-Stansted) - STR (Stuttgart-Echterdingen)
4U 2337 operated by Germanwings A319 D-AKNL
Scheduled: 20.25 // 22.55
Actual: 21.00 // 23.20
Gate: 38 Seat: 9F, Free seating
Load factor: Around 90 %
Fare: 67,54 EUR
Delivered new to USAirways: 23.09.1999
In service with Germanwings since: 29.10.2005
Connecting at STN, that means take care about your time!
Arrival, with the train to the main terminal building (10 minutes), queueing at passport control ( 10 minutes), baggage reclaim (no time to wait), check in new (lucky, no time to wait), queueing at security (20 minutes).
Don´t do this without time enough between your flights.
I was back in the secured area at around 06.30 pm, early enough to spot the traffic outside.
Lots of pax around, some time to search for a good place and thereafter i settled down and watched.
The pax started queueing at 07.30 pm, nearly one hour prior to departure, no plane in sight, weired.
According to ACARS an A319 on this leg, what else?.
Finally D-AKNL arrived, I was booked as pax no.19 on this leg, leisure flight no. 25 on the A319 and the first on this machine.
D-AKNL arrived at STN: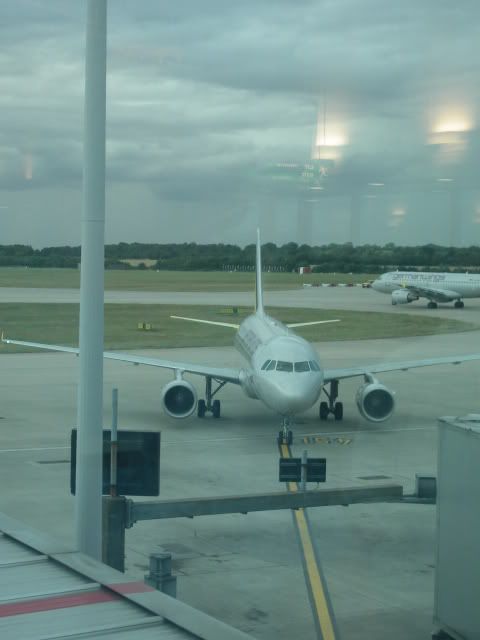 Boarding started than at 08.45 pm , I boarded by the rear door, walked down in front and find a free row without queueing at the gate, great luck!.
Boarding D-AKNL: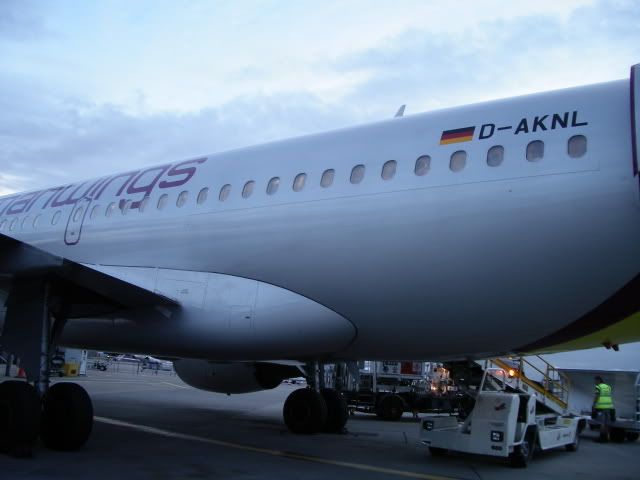 Bright, grey leather seats as the other ex USAirways planes.
We leave the gare area short thereafter, departure from runway 23 and on the way through the clouds to STR.
Route: STN-Dover-Oostende-BRU-LUX-Karlsruhe-STR. Flight level 35000 ft.
No special service on this leg, interesting germanwings operated with three FAs, two male one female, all friendly, also a motivated cockpit crew with
detailed informations about route and wheather conditions.
Thanx to Captain Klaus Wilhelm and FO Jochen Hausinger.
They explained the delay with the wheather situation around STN, some thunderstorms and holding prior to finals.
The time goes by quick and we fly along STR, interesting to follow at night and approach in western direction into runway no.25.
Only a short way to taxi, parked beneath three other company planes and deboarded by bus.
My personal impression/rating around these four classic/loco flights:
1.) KLM: Real friendly crew, both cabin and flight-deck, the most interesting metal, ontime service, good job.
2.) Germanwings: Friendly and motivated crew, good informations, slightly delayed.
2.) AirFrance: Also friendly crew, ontime service, ok.
4.) easyjet: Ontime service and motivated flight-deck crew, nothing special from the cabin crew, job done, not more,
new plane.
Neither a new airport nor a new airline nor a new plane, but an interesting trip to an interesting city, thats what I want.
Comments and critics welcome,
Markus (FLIEGER67)