This is the third and last part of my trip to the US. The first part can be found
here
, and the second one
here
.
For those who hasn't read the two first parts, this third part starts after me and my family have exited the plane from DCA at ORD, and we now have a long wait before our flights to Europe.
Monday, July 17th
We had already checked in our bags all the way to ARN, so we didn't have to pick anything up at the luggage claim. Therefore, we had lunch in terminal 3, at the same food court as we had lunch before we flew to DCA. I once again had a burrito, since it filled me up really good last time, and the rest of my family had food from McDonald's. When we had finished eating, we exited terminal 3 and took the train to terminal 5. When we got there, all of us went to the bathroom and then we looked in the few shops that are located there. For an international terminal, I think terminal 5 at ORD is very empty. There aren't much to do there. Not many shops and not many places to eat. If you compare it to terminal 4 at LHR, which has tons of stuff, it's really below par IMO.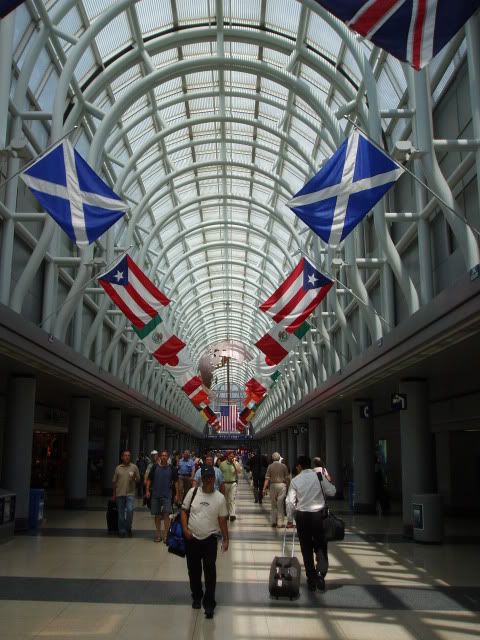 The hall of flags in terminal 3, where they have shot a scene in "Home alone 2"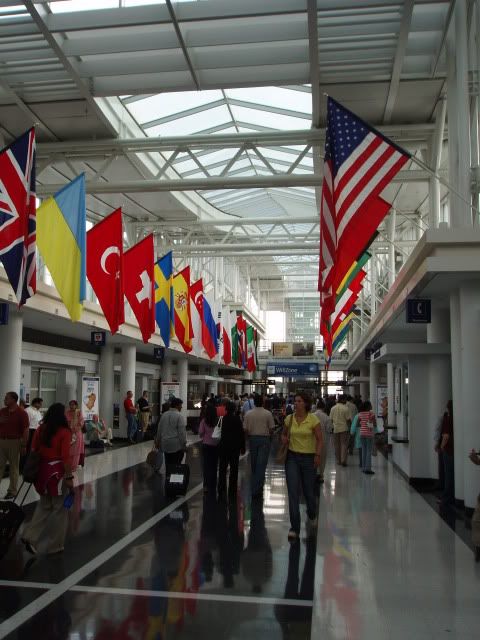 The hall of flags in terminal 5.
The time was now about 1:00 PM and my family felt that they didn't really have anything to do before their KL flight to AMS that left at 4:40 PM, so we said goodbye and they went through security. I went back to check the flight information screens to check the status of my BA flight to LHR that was scheduled to leave at 8:15 PM. I was really pissed off when I saw that it was delayed for an hour to 9:15, at the same time as another BA flight also departed for LHR. I asked the airport staff guy who was sitting by a counter there if he knew anything about what had happened, but he just told me to talk to the BA check-in staff. Since I had about 8 hours to kill, I decided to ride the airport train for a while and check out the activity at the ramp, since that is pretty much the only view you can get of the planes outside of the security checks. I also timed the train from the parking lot to terminal 1. It took 9 minutes and 37 seconds if I remember correctly. The BA check-in desks would open at 1:30, so I went back to terminal 5 and talked to a lady there. Apparently, the plane was late leaving LHR because of long taxi times (exactly what happened to me on the way to the US). She checked my boarding pass just to see that everything was in order, and told me what gate to be at when it was time for boarding. Since I had absolutely nothing to do, I just found an open seat and started reading a book that I had acquired for this segment, since I knew that there was going to be a lot of waiting involved. I decided to eat supper at 6:00 PM and then head through security. This meant that I had about 4 hours to just do nothing. I was sitting reading my book for about 2 hours, then I started to feel dead tired, so I went to buy a large caffe latte. This made me a bit more awake, and when I went back to my seat, I found a seat next to a power outlet. This meant that I could listen to my iPod without risking it running out of batteries in the middle of my 8 hour flight. I chatted briefly with two older ladies and an older man who were travelling on EI to DUB. Their flight had been delayed about three hours. I felt really bad for them. I then sat down and just continued reading and listening to music until 6:00, when I went to McDonald's to eat. I ate slowly and really tried to savor the last pieces of my American meals for this summer (in this case, a chicken sandwich). I then went through security and entered the fairly empty departure corridor. I walked around for a while and took some pictures before I settled down at my gate.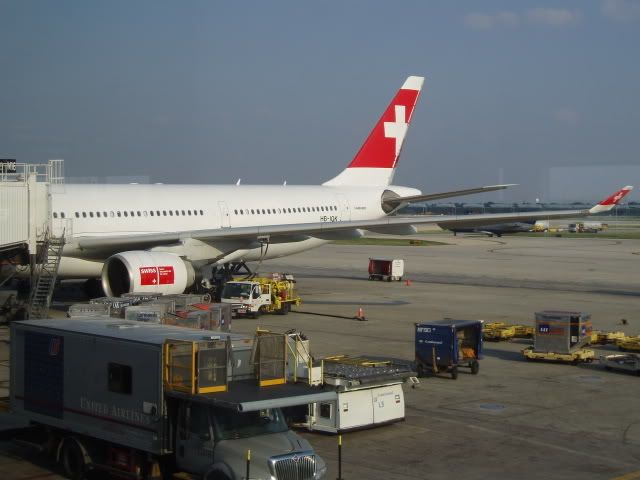 A LX A332 bound for ZRH.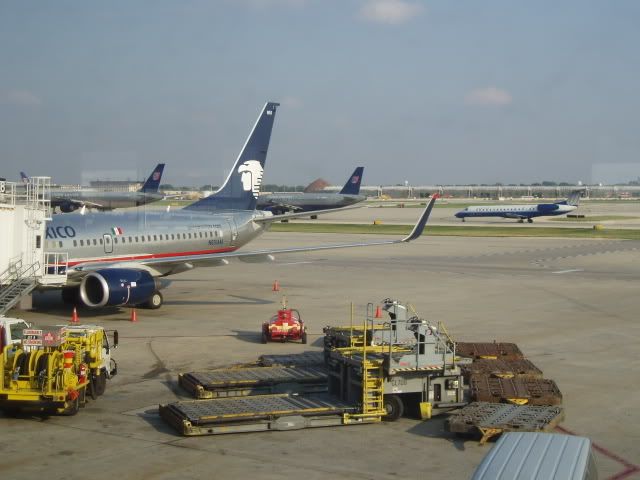 AM B737 with the line for take-off in the background.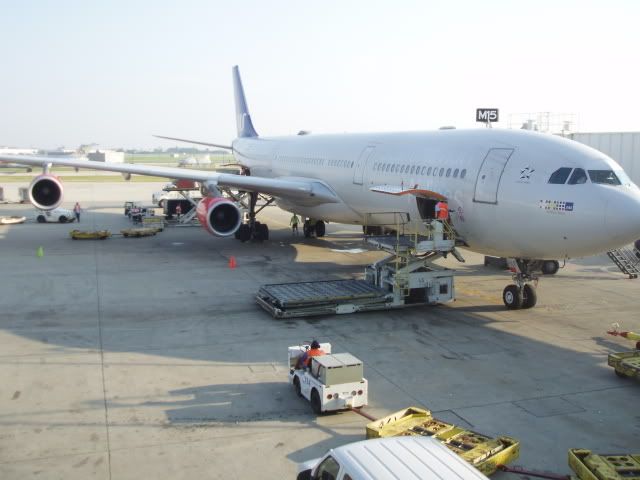 SK A343 getting prepared for a flight to CPH.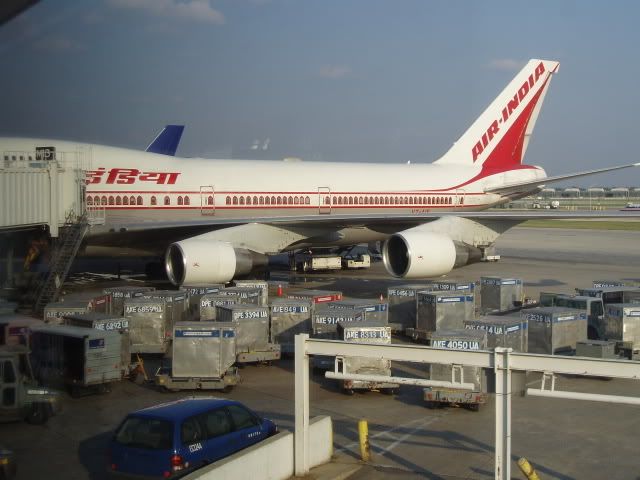 AI B744 going to India via FRA.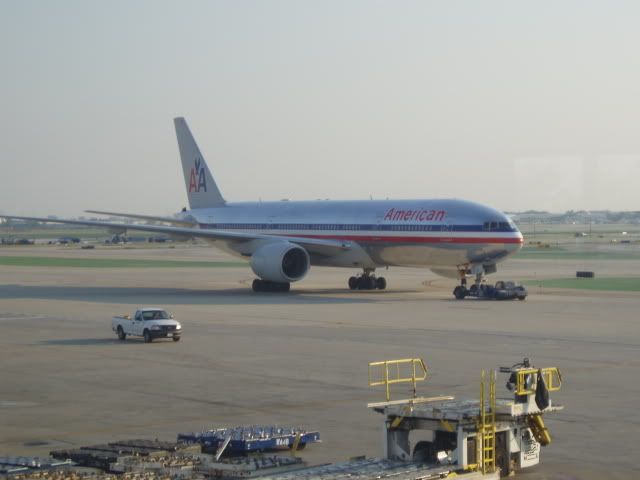 AA B772 taxiing to it's gate.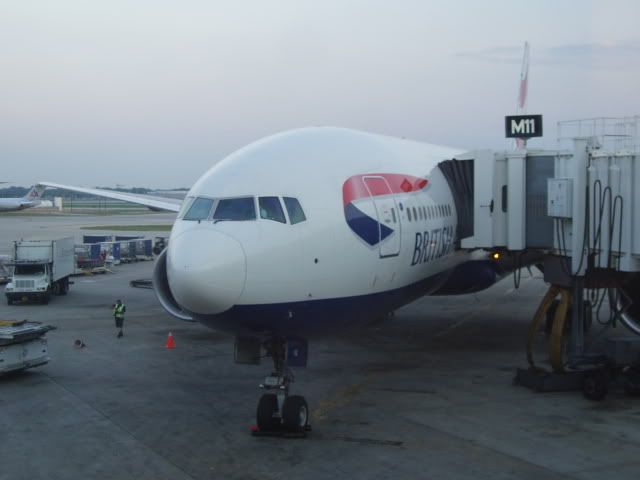 Our B772 at gate M11.
While I sat there, this little kid, who was perhaps two years old, came up to me and just stared at me, waving his Spider Man action-doll in my face. To break the awkwardness that started to form, I asked him if he liked his Spider Man. He told me that his dad had told him not to talk to strangers. I then just told him that his dad was right and that he shouldn't be talking to me. He then went to his dad and I could hear him saying "dad, I just talked to a stranger". Pretty funny I thought. I then was tired of sitting down, so I went up to the window at the gate and looked at the departing aircraft. Then this other kid, perhaps 10 years old, comes up and starts talking to me. He started asking me questions of airplanes, and we had a nice chat. Then his mother firmly told him to come and sit by her instead. I really felt that I wasn't making a good impression on all the parents in the gate, talking to all their kids, lol. After a while, the 10-year old came back and we talked some more. Our plane had now arrived at the gate, and the other BA 777 that came in from IAH touched down right after our plane. It was pretty funny to see two BA planes standing next to each other at ORD. While waiting for boarding, I just stood in the same spot all the time. Every now and then, my little friend would come up and talk to me. His mom eased up a bit and didn't call him back all the time though. She probably figured that I was pretty harmless after all, lol. Right before boarding, I went to spend my last American coins on two bottles of water. Boarding started at about 9:20.
Flight: BA 298
Aircraft: B777-200ER
Registration: G-VIIG
Seat: 33A
Scheduled departure time: 8:15 PM
Scheduled arrival time: 10:00 AM
Actual departure time: 10:00 PM
Actual arrival time: 12:00 noon
When I got to my seat, my first impression was that it was shabby. There was again something wrong with my seat, this time the headrest kept falling down on my shoulders if I didn't lean back on it and pressing it against the back of the seat. The floor also looked torn up right by the wall, I could see a bunch of metal bars down there. This was very different from the proper and clean impression I had gotten from BA before. I was seated next to a lady originally from India and her young son.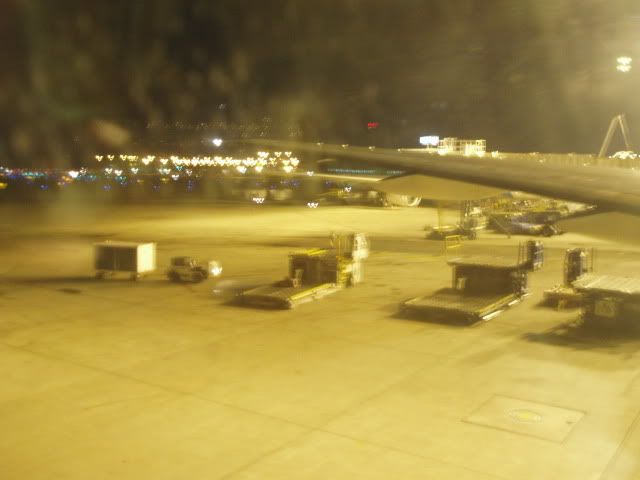 At the gate, waiting to taxi.
We pushed back at about 9:35 PM and started to taxi. The taxi took a very long time and I started to get really pissed off at just sitting and doing nothing. We finally took off about 1 hour and 45 minutes behind schedule. When we had escaped the bright lights of the airport, I could see a giant thunderstorm raging to the north. It was also very bumpy. We continued to fly straight to the east, since the thunderstorm was still going on. The seat belt sign didn't even go off when the cabin crew started the meal service. I had lasagna with red wine. I finished it off with a beer. When we were straight south of Toronto, there was still thunder to the north and bumpy. I really had to pee, so I figured I had to go, even though I normally stay in my seat when the seat belt sign is on. I was only told to return to my seat once. I wasn't the only passenger doing this though. 2 hours and 50 minutes into the flight, the seat belt sign still hadn't gone off, and I decided to try to get some sleep. I slept for perhaps 2 hours and when I woke up, I took a quick glance out of the window, where I could see the sun rising. I then fell asleep again and woke up when we crossed into Ireland and breakfast was being served. The breakfast was pretty standard. Yogurt, sandwich, fruit, juice and coffee or tea. The weather was clear all the way to London, where we had to circle for a while before getting landing clearance.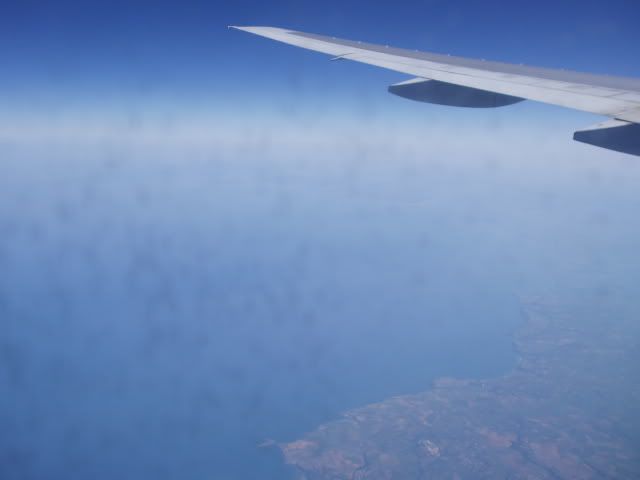 Flying over the Welsh coast.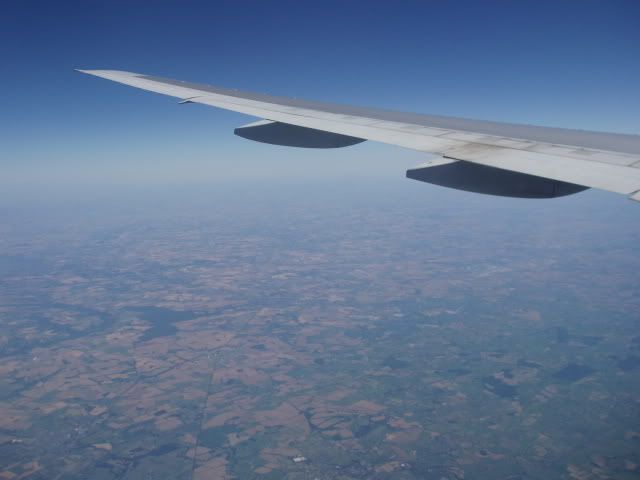 The British landscape as we get closer to our destination.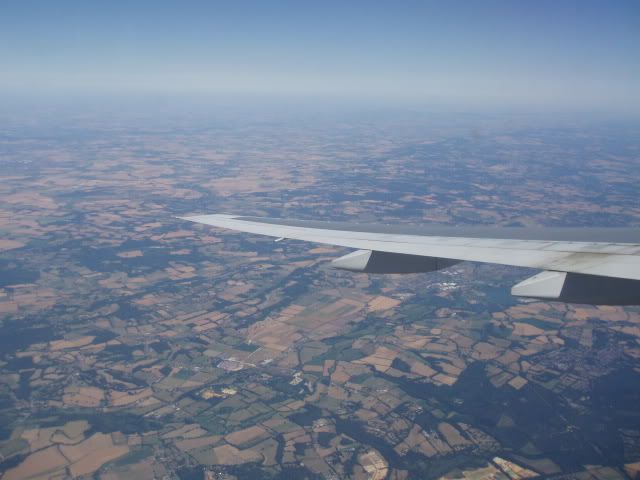 Turning left during descent.
Doing some circles around LHR.
A pretty good view of LHR.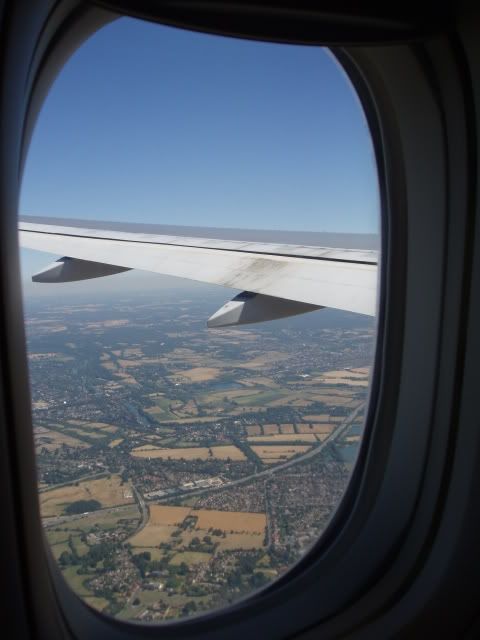 A few minutes before touch down.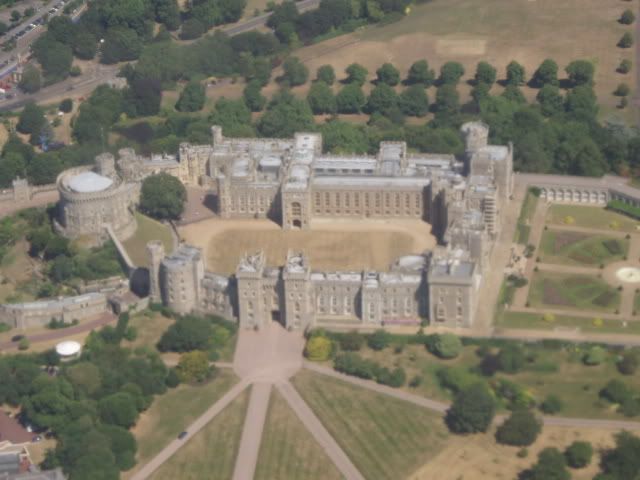 Windsor Castle, I presume?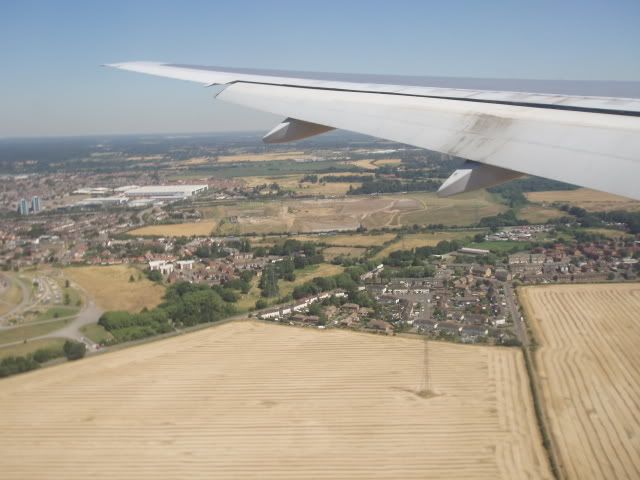 Seconds before landing.
When we touched down, we were 2 hours behind schedule. I wasn't worried about missing my next flight, since I had planned in plenty of time at LHR. When I exited the plane, I made my way straight to the bus to terminal 1 and went to the flight connections center.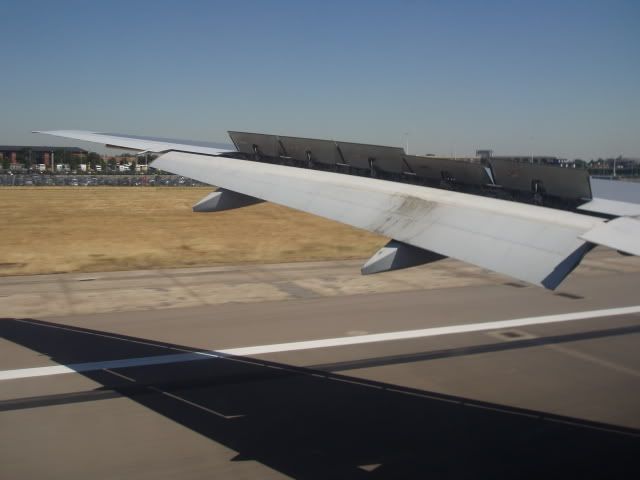 Touch down!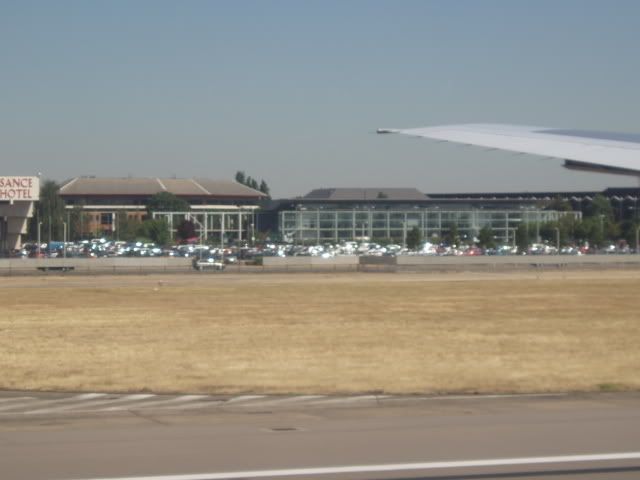 The Heathrow visitor's centre.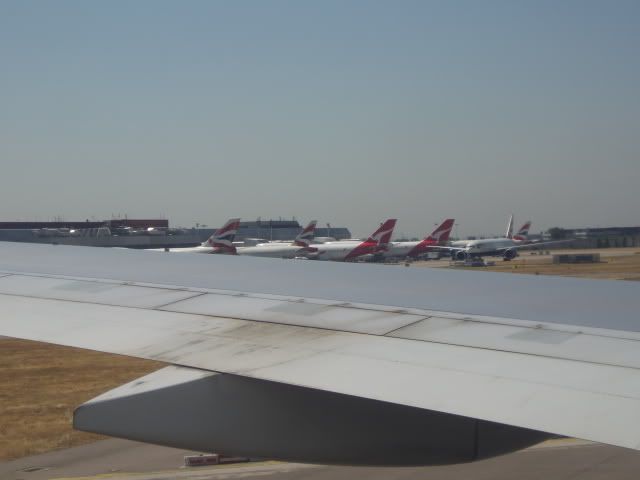 BA and QF heavies at terminal 4.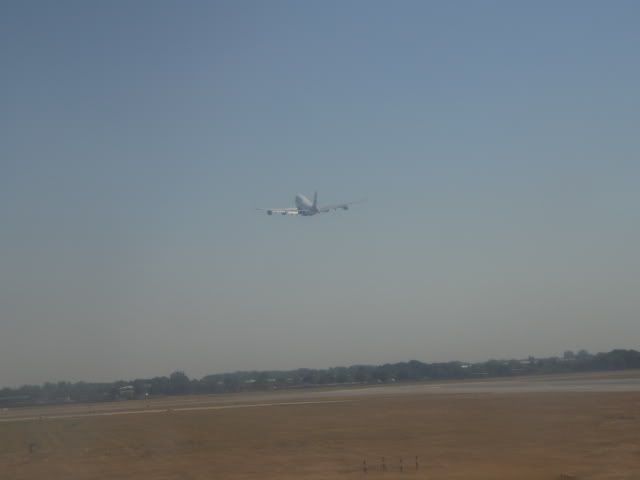 BA B744 taking off.
Parked at the gate.
Tuesday, July 18th
I waited in line for perhaps 10 minutes and then proceeded to terminal 1. I went to Pret A Manger to buy a sandwich and water to have at ARN, then I bought lunch at Burger King. I had a chicken sandwich and it wasn't very good. I then went to the bathroom, and when I came out, the gate for my flight to ARN had been announced. I went to the gate and sat down. I was really depending on this flight to be on time, since I had another connection at ARN for my flight to SDL, and I had only 1½ hour to connect. I figured I would still have time though if we were on time. Sadly enough, this wasn't the case. About 10 minutes after boarding was supposed to start, they tell us that the aircraft had a mechanical problem and wasn't allowed to fly. They would try to get a new aircraft as soon as possible though. I was now really pissed off. Nothing on this segment had gone right so far. About 40 minutes after we were originally supposed to depart, they tell us that we have a new aircraft and a new gate. Everyone went to the new gate and sat down. I went up to some BA staff members and told them about my situation. The problem was that the tickets weren't booked at the same time, so I didn't know if BA would compensate me or not for missing my flight (I knew that there was no way I was going to make it). The woman I talked to said that if I went to the BA ticket office at ARN and told them what had happened, they would rebook me on the next available flight. A little relieved by this, I sat down and waited for boarding, which started at about 3:30 PM.
Flight: BA780
Aircraft: B767-300ER
Registration: -----
Seat: 14K
Scheduled departure time: 2:00 PM
Scheduled arrival time: 5:30 PM
Actual departure time: 4:00 PM
Actual arrival time: 7:30 PM
When I found my seat, I got even more mad than I already was. I had a window seat but in the only row without a window!! This was clearly not my day. I decided to wait and see if any window seat would become available when everyone had boarded. I had a middle-aged man sitting next to me but he later moved to another row with more open seats. It turned out that there was no other window seat available, but at least I had two seats for myself. When we took off, I noticed how quiet the RR engines were compared to the GE-90 on the 777. The weather was clear during the whole trip.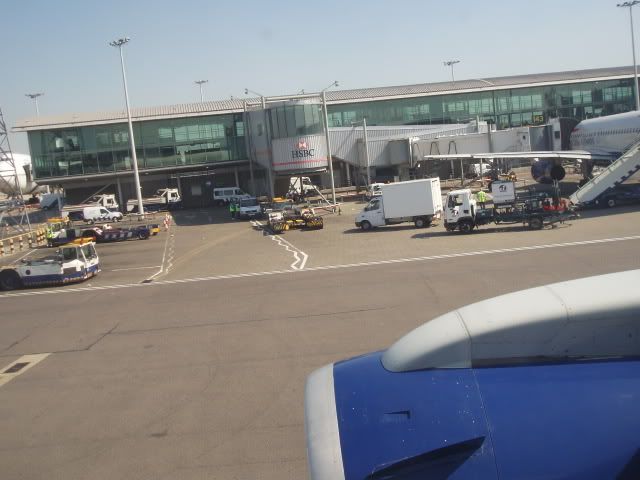 Leaving our gate at LHR.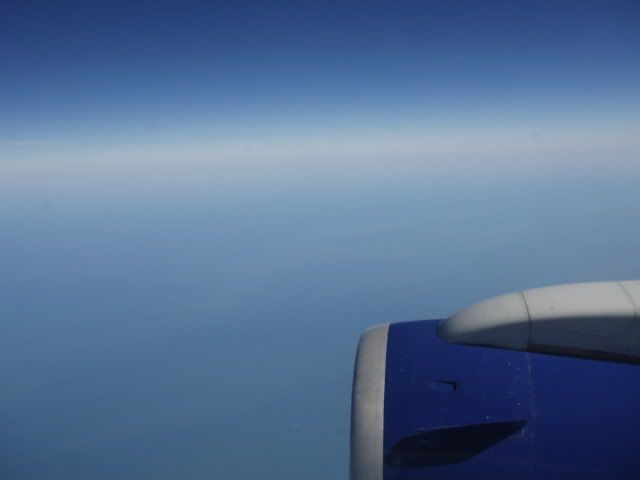 Clear skies.
About 1½ hour into the flight, a sandwich and beverage was served. I had a beer. This flight was a pretty eventless one. I managed to take some pictures since the window in front of me came back a little bit behind the seat in front of me, just enough to get my camera there. I also read my book and listened to music. When we approached ARN, I saw three cruise ships on their way in or out from Stockholm. When we touched down and finally got to the gate, we were about 2 hours behind schedule and my flight to SDL had left half an hour ago.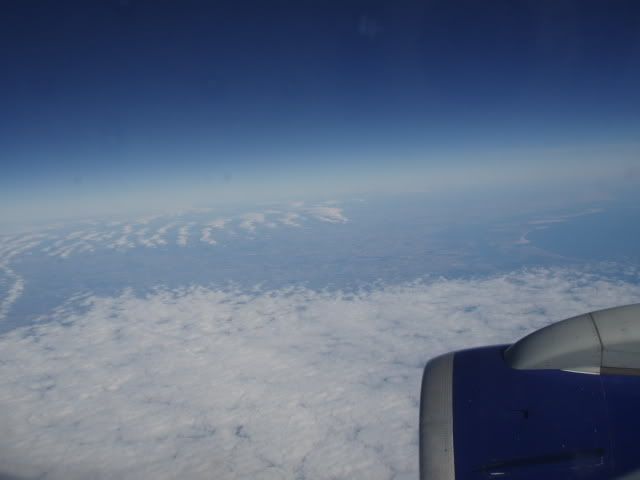 Some clouds appearing.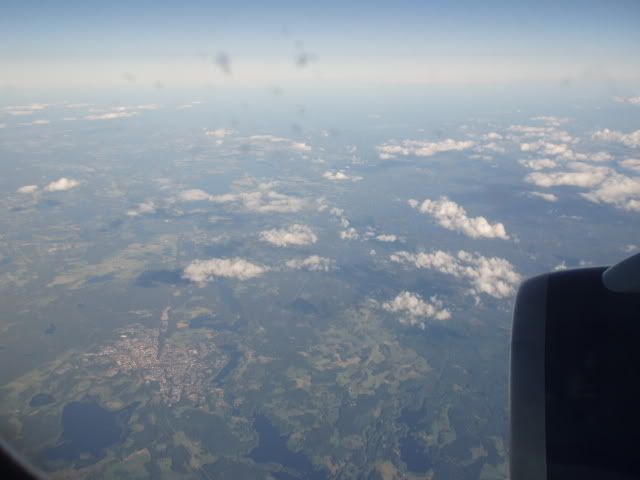 The Swedish landscape.
Three cruise ships.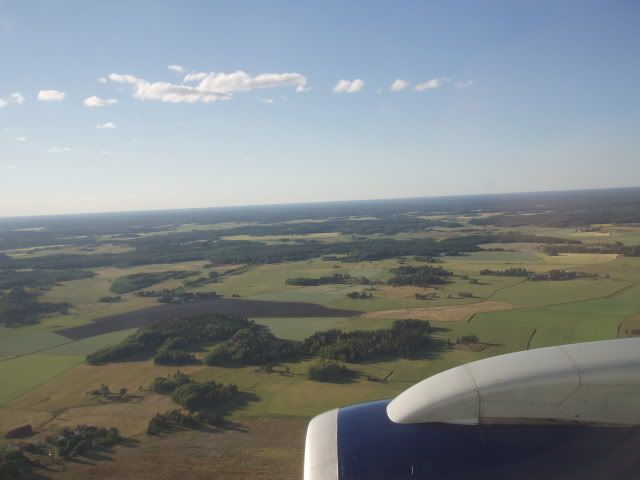 On final approach.
It took a while for me to get my bags, but once I got them, I headed for the BA ticket office. I talked to the lady there and explained the situation, and she told me that they weren't responsible since the flights were on separate tickets. I then told her what I had been told at LHR, and she made some phone calls to the SAS ticket office. The whole thing turned out crap. There was no other flight that day, and the next flight didn't leave until 7:00 PM the next day. None of the airlines wanted to compensate me in any way, although I got a card with the address to the customer complaints department at BA. Pissed off and really tired, I considered my options. I could try to get a hotel for the night and take an early train home, or I could take a night train. The night train wouldn't involve much sleeping though. I decided to see at what time the night train left first before I made my decision. I saw that there was a train leaving 20 minutes past midnight, putting me in Sundsvall at 4:11 in the morning. I decided to go for it since I was really eager to get home.
I found a power outlet so that I could charge up my iPod and I sat down by it and read my book for 4 hours before I went down to the underground train station below the airport and got on my train. I had a seat next to two girls about my age and their dog. We talked a little during the trip, but they slept for the most part. I knew that if I would fall asleep, I would miss my station. When I got out of the train, my original plan was to catch a cab home, but it turned out that one of my friends was on the same train, so she gave me a ride home. I finally got home about 42 hours after leaving my hotel in Washington DC and 8 hours later than planned.
Conclusion: This was the trip from hell, something I have been fortunate enough to avoid in the past. Pretty much nothing went right and I felt really miserable when I came home because of the lack of sleep. The only sleep I got was the 3 hours on the plane between ORD and LHR. I guess this is the kind of trip that makes good stories though.
Thanks for reading this! As a whole, the trip was great, and it was great to get to write a TR on it! Please feel free to make comments and tips for what I can do better next time!
Over and out
SDL