Trip Report: 002
Date: 02-Aug-06
Dep./Arr.Time: 0954/1130/02:36hrs (Ontime)
Flight: AIR TRAN, FL 880
Routing: EWR-MDW
Aircraft: 717
Seat: Economy, 18A
I > Background:
I am in NYC for work and never having flown FL or the 717, decided to do a quick day return to Chicago to break my virginity on both.
II > Pre-Flight:
a) Before Airport: Booking was easy using FL's online site at
www.airtran.com.
I made a mistake online and their toll-free support was helpful and quick in getting my basic problem fixed.
b) At Airport: Checkin at EWR was pretty straightforward using FL's kiosks ... though, these can ONLY be used if you dont have any checked baggage. As the pictures would show, their operations at EWR is skimpy and this is reflected on the limited ground support. What really bugged me about their check-in process is that once you have selected a seat (either online or at the kiosk), you cannot change it without speaking to an agent. EWR security was brisk and soon I found myself at the Concourse A gate. Concourse A at EWR is pretty spartan and there are limited eating and drinking options.
Agent at the check-in was good and soon I made my way to my first FL and my first 717.
Upon entering the plane, I was greeted by 2 friendly FL agents. I was surprised at how small the 717 felt. I dont know if its 717s in general or FL's configuration, but it felt very cramped. Making my way to the back of the plane, I was seated next to a young Jewish-American returning from 2 months in Israel. I was impressed by his maturity in our conversation regarding current Israeli offensive in the region.
Check-In: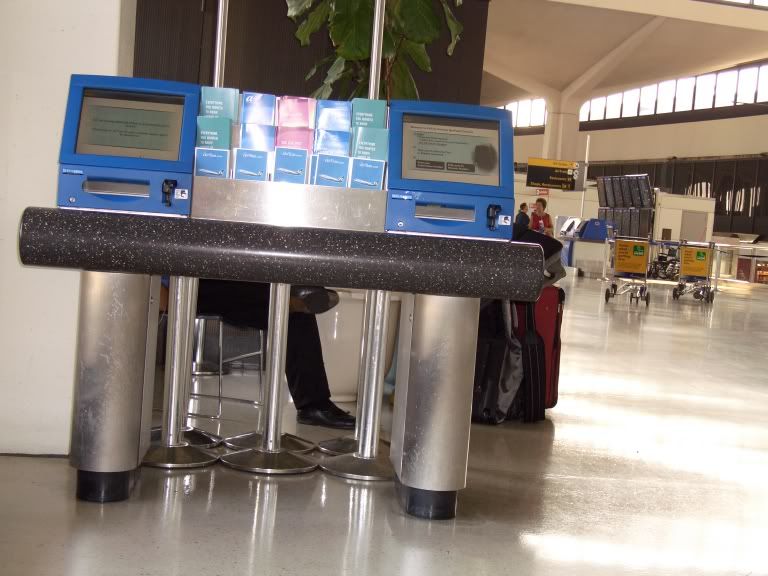 Airport:
(wonder how many people buy stuff from this...)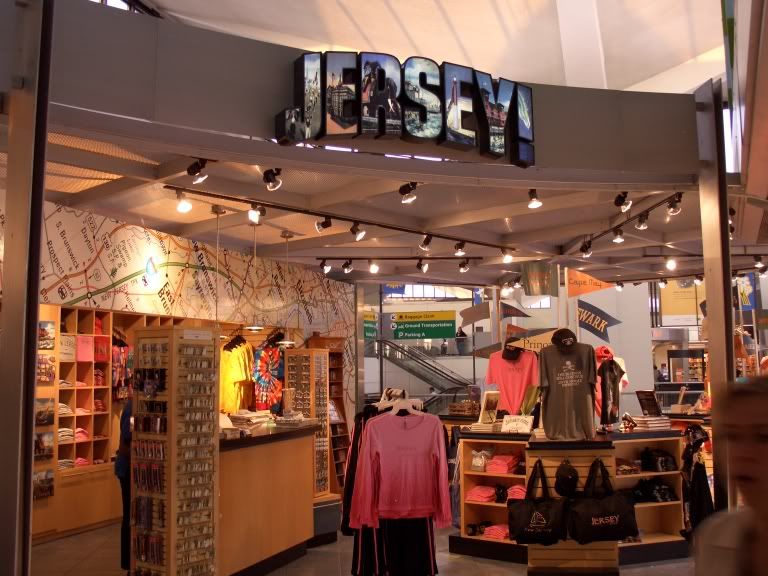 In-Flight:
a) Service Schedule + Impressions: Push back was on time, and soon we were on to the WINDY CITY (and, where I had spent 4 years doing a damn PhD.). There were no safety demonstration videos and it was good to see the crew make the announcements. In my over 2 million miles of flying, I have never figured out why they mention how to buckle a seat belt after the aircraft has started taxing out. I mean, aren¡¦t seat belts supposed to be work before. I digress. After initial pushback, we were number 35 to take off ... which resulted in a 36 minute hold, and enabled the flight to reach on schedule ... 2:36 was the padded flight time. After cruising altitude, crew came to distribute free headphones for listening to XM and to take home. Crew came soon afterwords with the drinks trolley and I was served a pretzel bag (which had these fun FL cheesy jokes) and a can of Diet Coke. The crew were surprisingly jovial and smiled throughout it all. The male purser even asked if I wanted the can. On U.S. carriers, small friendly gestures such as the same, left me with a smile. Soon thereafter, I reclined my seat and let my iPod take me away to a different world.
b) Aircraft + Seats: Air Tran's 717s were clean and the blue interiors were soothing to the eye. However, I found seating to be on the cramped side.
Aircraft: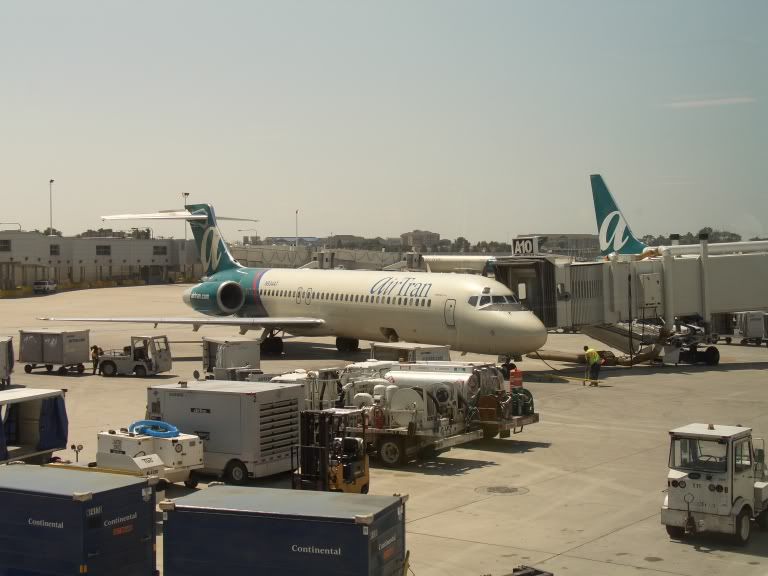 Seat Leg-Room:
Seat Recline + Angle View: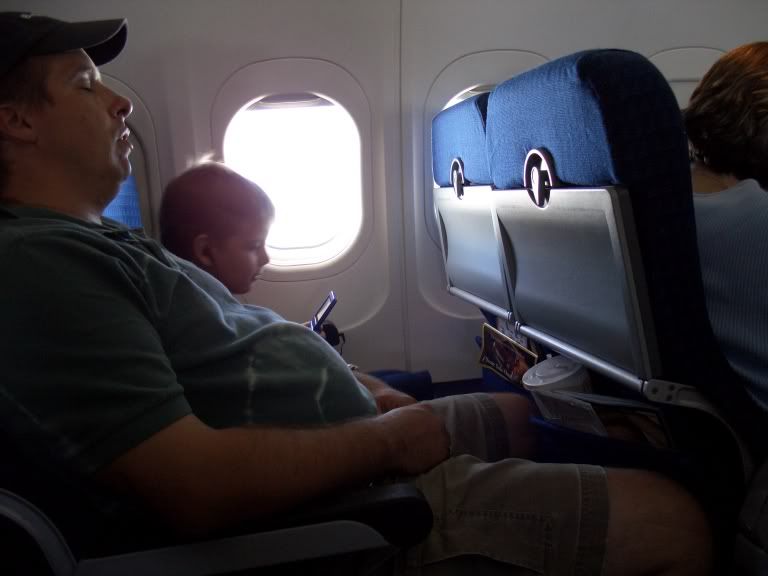 Cabin:
c) Meal:
It¡¦s a domestic American flight, so no real meal presentation.
d) Inflight Entertainment:
The 717s are equipped with XM Satellite radio and the choice of channels was impressive. Sound using the provided earbuds was above average. Air Tran's inflight magazine (GO) is informative and contains the basic information.
(See Meal Service For Inflight-Magazine Picture)
e) Crew:
FL¡¦s crew truly left me impressed. They were all smiles and joked with the passengers and seem to genuinely be happy doing their job. The return crew was the same.
Post-Flight:
Chicago Midway continues to be convenient ¡K but not the best in terms of airport planning. Air Tran uses the remote gates A4B and this is FAR from the baggage reclaim area. Security lines on the return flight were long and if the flight had not been delayed, I would have surely missed it. Shopping options have expanded at MDW, and the food court is the generic mall-type food you will find in most of the U.S.
Chicago/MDW Airport:
(Arrival Gate):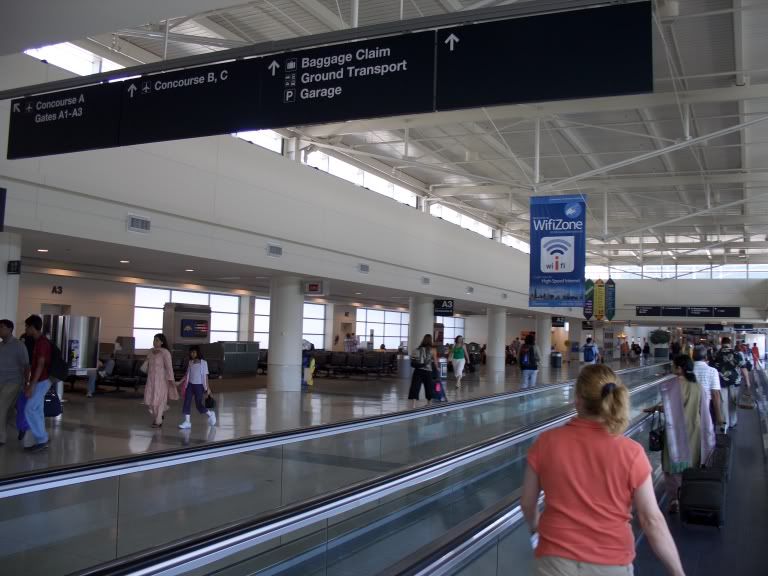 (Food Court):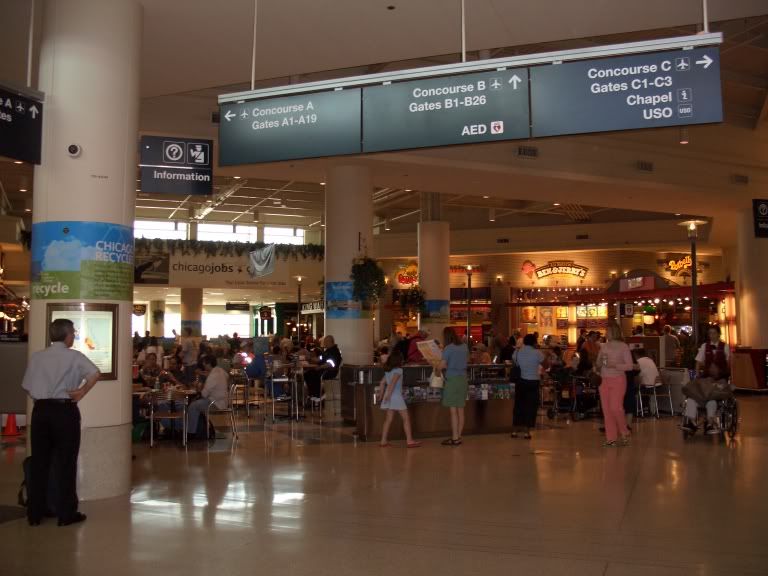 (Aircraft Display):
(MDW From Outside):
Impressions + Scores:
My first 2 flights on Air Tran have left me impressed. Of course, I cannot judge FL globally, but within the U.S., their service seems to have been a notch above the average. Their crew definitely stood out with the genuine warmth of service. Along with punctual service, it satisfied my need to be transported from point A to B without stress. I do wish their online and kiosks were better equipped and could do basic things such a as seat change. I would fly them again without hesitation.
Reservation: 7.0
Check-In: 5.0
Lounge: N/A
Boarding: 8.0
Seat: 6.0
IFE: 6.5
Crew Service: 8.5
Food: 5.0 (standard default score, when served only peanuts)
Beverages: 5.0 (standard default score, when served only beverage)
Amenity Kits + Others Freebies: 5.0 (standard default score)
Disembarkation: 8.0
On-Time Record: 10.0
OVERALL IMPRESSION: 6.73
(Scores are based on comparison with other airlines in THAT class of service ¡V No comparison of Y vs. F for example)
Other Non-Trip Pictures:
(Scene at MDW):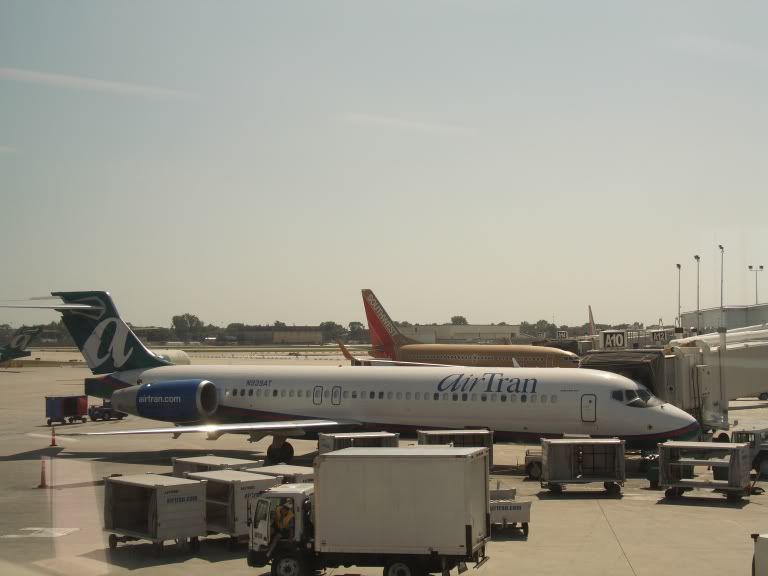 (Scene at EWR/VS to LHR):
(Scene at EWR/AI to BOM via CDG):
(Other EWR):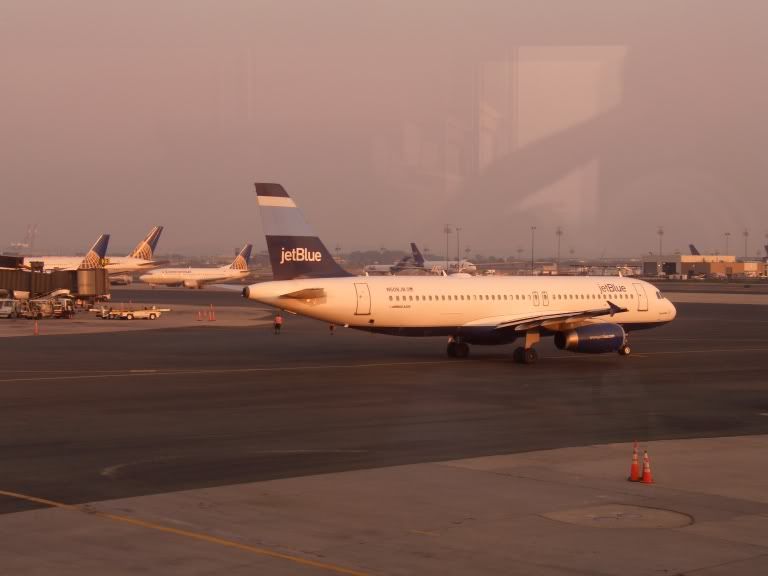 [Edited 2006-08-05 03:16:24]
[Edited 2006-08-05 03:18:27]