First Choice Airways Flight FCA049 from Varadero, Cuba (Juan Gualberto Gomez, VRA/MUVR) - Manchester (MAN/EGCC), 17th March 2006.
Flight Details:
Date: 17th March 2006
Departing Airport: Juan Gualberto Gomez, Varadero (VRA/MUVR)
Airline: First Choice Airways (FCA/DP)
Flight: FCA049
Equipment: Boeing 767-39H ER
Registration: G-OOAN
Destination Airport: Manchester International (MAN/EGCC) Terminal 2
Seat: 20A (Window)
Scheduled Departure: 1810 (GMT –4)
Actual Departure: 1825 (GMT –4)
Departure Gate: 3
Scheduled Flight Time: 8 hrs 40 mins
Actual Flight Time: 8 hrs 30 mins
Scheduled Arrival: 0650 (Sat 18th)
Actual Arrival: 0655 (Sat 18th)
Arrival Gate: Remote Stand
Following two lovely weeks of diving and relaxation at the 5* Barcelo Solymar in Varadero, it was time to pack the bags and head for home. We checked out of our palatial bungalow suite and headed for reception where we were being picked up. The coach arrived bang on time for the 25 minutes drive to Juan Gualberto Gomez airport. The airport is quite small considering the volume of traffic it receives. However, it seems the flights are well spread throughout the day so the terminal shouldn't be too busy.
We arrived at the airport at around 1530. We entered the terminal and the queues at the First Choice desks weren't too bad. We must have beaten the rush! 10 minutes later, we were at the front. Our party of 5 waited in anticipation to see how much our cases weighted. Case by case, the total weight on the scales mounted. As the last case was put on the scales, the final weight was given; 117kg. That was 17kg over our allowance for the 5 of us (5x 20kg). However, I explained that I had an extra 10kg allowance for diving equipment that was pre-booked before I came. As usual, this wasn't showing on our booking so I showed the check-in agent the letter I had from First Choice to prove I had the extra allowance. That was fine and brought the excess for our party to 7kg. The check-in agent, with no surprise, then said "you're 7kg over your allocation. Unfortunately, it is airline policy to charge for excess baggage". Considering it was less than 10% of our allocation it was a little mean but to be fare to the airline, we were over so that was fine. A bill of 86 Paso's was quoted which was a bit expensive to say the least! To our surprise, the check-in agent said "don't worry about the excess, I'll waive that for you if you give me good tip". We weren't going to argue since we had plenty of Paso's left between us that would be worthless outside of Cuba. A quick exchange of 30 Paso's concluded check-in. I'm sure this isn't standard procedure, but no doubt it's a common practice. I was pleased to see we'd been allocated seats 20 A – E, a window seat for me!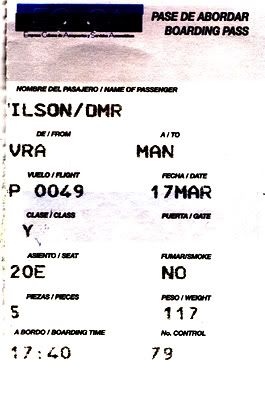 Once through check-in, we proceeded to a small window at the other side of the departure hall to pay our departure tax of 25 Paso's so we could exit the county. Once we'd got our stickers, we headed for security. As usual, I got searched because of the scuba camera I take with me. They give it a thorough check, which is always quite reassuring. It's a bit of a hassle having to unpack it while it gets examined, but at least you know they are thorough in their checks. Once through security, we headed for the departure louge, situated on the first floor. The departure lounge was much larger than I was expecting with 5 gates.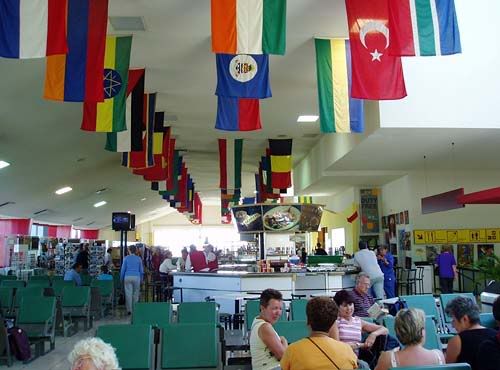 There were two other flights ready for departure, one bound for Canada and I can't remember where the other one was bound, but it wasn't too busy. The lounge had a small selection of duty free shops selling alcohol and tobacco as well as a couple of souvenir shops / stalls. We soon got rid of the rest of our Paso's. There was a coffee bar that also sold sandwiches and snacks. A Thomsonfly 767-304ER arrived from London Gatwick to drop off and pick up a few passengers on its way to Cancun, Mexico. For some reason, I seem to see G-OBYH everywhere I go! An LTE A332 also arrived from Germany full of holidaymakers.
The view of the apron is a little limited at Varadero but I could see our aircraft being prepared for our flight at gate 3. It would be G-OOAN taking us home.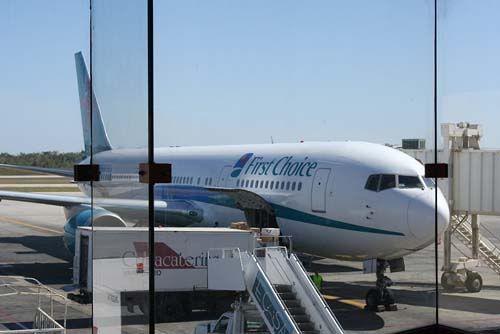 FCA's newest addition to their fleet, G-OOBM flew us out. I was actually looking forward to the 9 or so hour flight home since the Star Class interiors are so good. With a standard seat pitch of 33" and seat back screens, there's plenty of room and plenty to keep you entertained. FCA's economy cabins are actually better than some airlines premium upgrades! Our flight was called for boarding a little later than scheduled. We were to board the aircraft from Gate 3.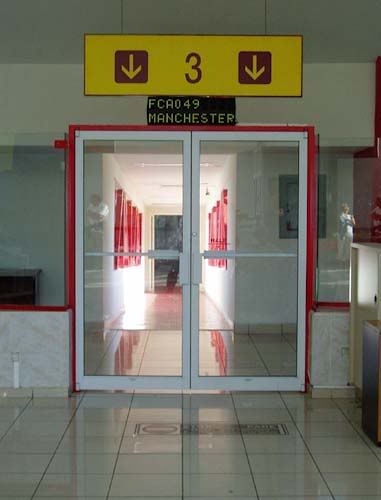 Once on board, the doors were closed quite quickly and we were soon pushing back. The CF6's spooled and we slowly made our way towards the runway. There was no stopping, as soon as we were lined up, the throttles were pushed forwards to take off power and we got our last views of Cuba.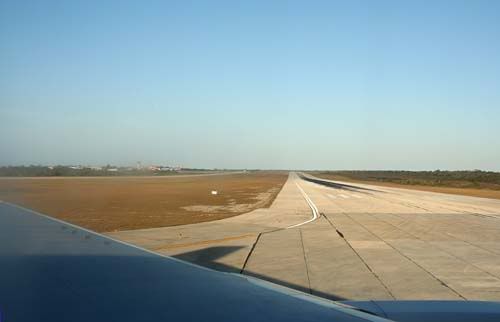 We departed to the west, climbing out over the resort of Varadero and the hotel zone before turning north and heading for American airspace. The Route would take us over the Bahamas, up the eastern coast of America before turning east over the Atlantic towards Ireland, then descending to the north of Liverpool for a direct run in to Manchester.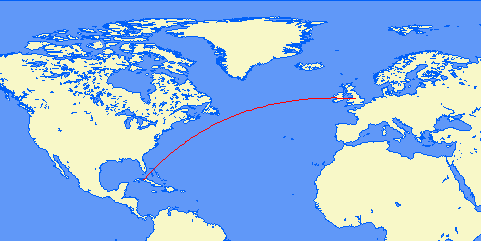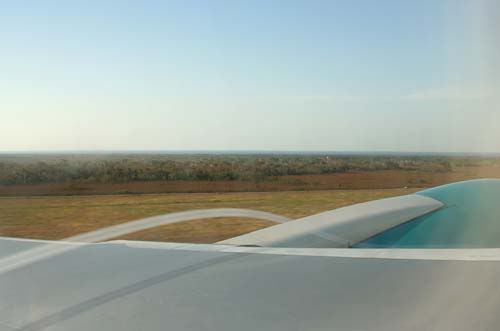 It wasn't long after take off the sun started to dip over the horizon. The next 6 or so hours would be in darkness. The first round of drinks commenced as we approached our initial cruising altitude of 33,000. It was a cold beer for me! The IFE was started and it was time to sit back in the comfortable leather seats to watch one of the films on offer. The selection was the same as on the outbound flight.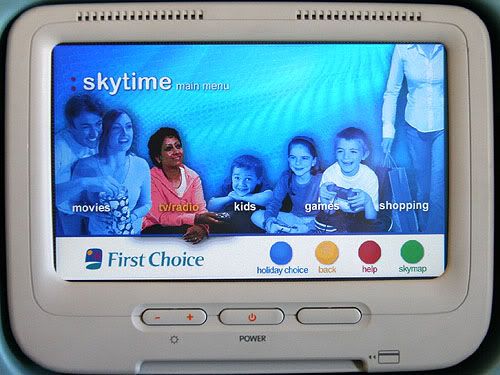 Two hours in to the flight, the first meal service commenced. This comprised of a rice and sweet corn starter followed by slices of sausage, potatoes and carrots in gravy. Cheesecake, cheese and biscuits were for desert. This was accompanied by a choice of tea, coffee or orange juice. You always know you're homebound when a good old cup of english tea is served! The meal was a far cry from the 5* luxury the night before, but as far as airline meals go, it was very nice. No complaints from me.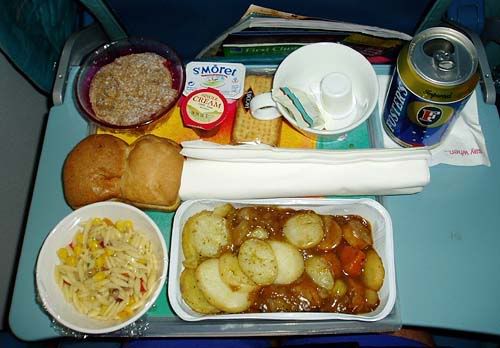 Once the meal service had been completed, the duty free round commenced with some decent deals on tobacco and alcohol. Since we stocked up at the airport, we had enough to carry so didn't take advantage of the offers. Once the trolleys were stowed, the cabin lights were dimmed for the next 4 hours. I always find it difficult to sleep on aircraft, but the extra room would make it easier for those that can. For me, it was time to catch up with some TV and watch the flight information screens on the IFE.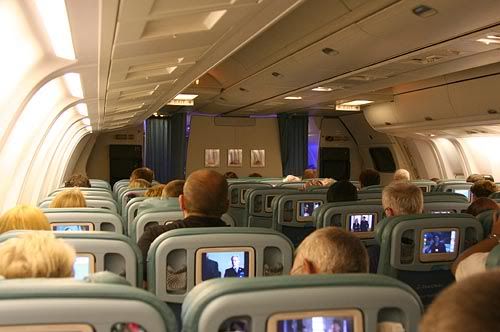 I had a quick look at the premium cabin with the mood lighting. I'm not sure what its supposed to do, but I wasn't overly keen on the purple glow. The seat pitch in premium is 36" and the IFE screens are 9" rather than 7". Considering how good the standard star class cabin is, the upgrade to star class premium is hardly worth the extra £200 in my opinion.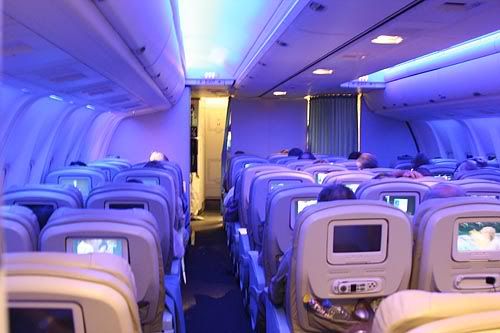 The flight information system wasn't available on the outbound flight for some reason, but alpha-november had the full compliment of information screens showing current altitude, ground speed, head/tail wind component, time to destination and distance. A rolling map showed our current position and major cities so you could keep tabs on your current location. This is as good as My Travel's flight information system as fitted to their Airbus A330-200's.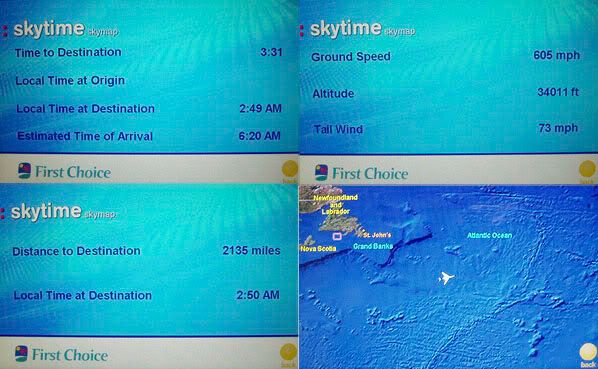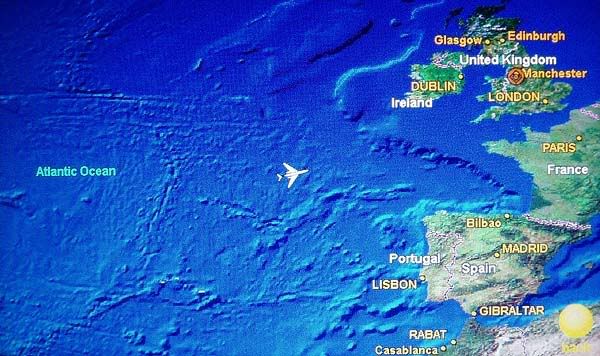 The cabin lights were switched back on about 1.5 hours before our scheduled landing for breakfast. I was hoping for a good old english breakfast, I was looking forward to some bacon and sausage but we were served the healthy option instead! Peach yoghurt, special K bar and a muffin, followed by a choice of tea, coffee or fresh orange were on offer. Not much, but just enough to fill a small void before landing.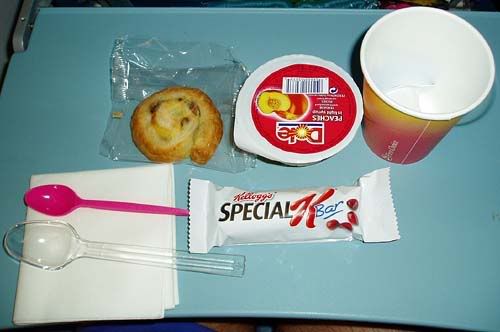 Just after breakfast was cleared, we stared our descent in to Manchester. There wasn't anything to see out of the windows apart from the golden glow of the rising sun and clouds as far as you could see.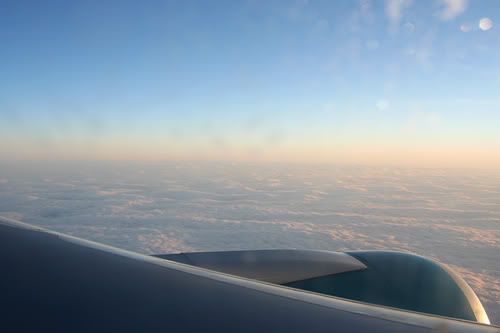 The descent was nice and smooth given the amount of cloud cover. We crossed the southern tip of Ireland before heading towards Liverpool. Since we made a long right hand turn, we must have routed to the north of Manchester, over the Pennines before turning on to final approach for landing on runway 24R. The familiar landmarks of Stockport came in to view as we descended below the cloud base. Touchdown was typical 767, a positive thump.
View Large
View Medium


Photo © Darren Wilson
Braking was gentle with no reverse thrust due to noise abatement, just plenty of brake pressure before slowly dropping to around 20kn for taxiing to terminal 2. We must have used most of the runway to decelerate as we departed the runway from the piano keys at the far end. We touch down at 0655, only 5 minutes behind scheduled which is pretty good going considering the distance covered and we were 15 minutes late in departing. We taxied down taxiway alpha, past the aviation-viewing park where Concorde alpha-charlie greeted us. You always know you're back in Manchester when you are graced with the prowess of Concorde.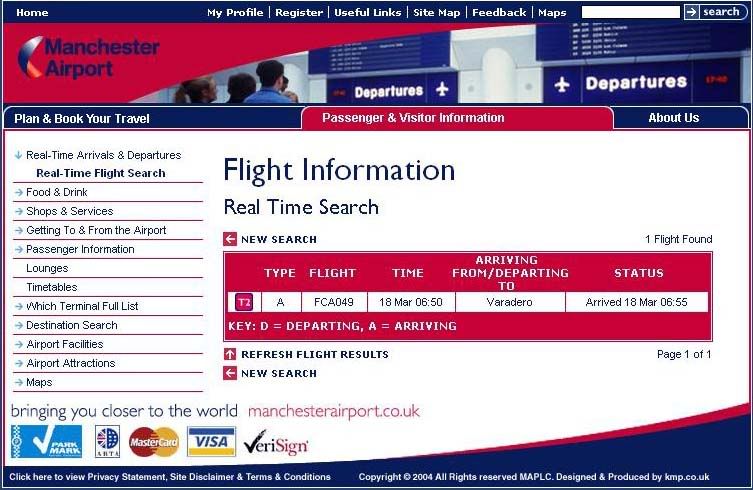 As I was expecting we'd be arriving at Terminal 2 and disembarking from one of the gates, I was still in shorts and t-shirt. Just my luck that we stopped at one of the remote stands, then a set of steps and a couple of busses arrived! It was 32 degrees when we embarked the aircraft, and well in the low single figures when we disembarked, around 4 degrees. Shivering was an understatement! At least we got a trip across the apron and a good view of the early morning heavies as we drove to the terminal building.
Progress through security was quite quick considering the new landing procedures and the swiping of passports. We were the only flight so it wasn't a problem. I was surprised to find our luggage was already on the carrousel waiting for us when we got there. I was beginning to think we'd landed somewhere other than Manchester as its normally at least 30 minutes before your luggage arrives. The handlers must have had their weetabix! We were relieved all our cases had arrived and we were soon on the final leg of the journey home when we met our taxi in arrivals.
To sum up, I was very impressed with First Choice and their new long haul service. Their star class concept is a cut above all the other charter airlines. They've certainly done their homework and provided a package that will make First Choice Airways first choice for many. I'd certainly have no problem in flying with them long or short haul. I've also flown short haul on one of their Airbus A320-200's this year and although their star class cabins are a far cry from their long haul product, First Choice are certainly one of the best UK charter airlines at the moment. Many of the other charter airlines should take note of FCA's long haul product and no doubt others will be making plans to compete with FCA's product in the very near future.
Click here for my outbound trip report: [url=
FCA048: MAN - VRA March 2006. Long With Pics
(by
Dazbo5
Jul 21 2006 in Trip Reports)]
[Edited 2006-08-05 17:05:09]