well my time in Korea was finally up this past July. I'm now officially, honorably out of the Army, here's my flights back home to Grand Rapids, MI.
-I spent all night packing and hanging out with a buddy watching the last few episodes of season 2 of LOST. Finally, 5 am rolled around and he gave me a ride to the bus terminal on post, for my 2 hour ride to Seoul, where I'd catch an Army bus to Incheon. It was surreal to be leaving my post I'd called home for 15 months for the last time. After breakfast in Yongsan I caught the 0810 bus to the airport, arriving around 0930 for an early check in.
25 July
United Airlines #892
ICN-SFO
scheduled times 1350-0832
actual times 1410-0805
Gate 45
A/C Boeing 777-200
I arrived quite early for my flight, but I'm retentive like that, so all was well in the world. The line for United was pretty long, a good 3 full turns of the back and forth snake style. 20 minutes later I was checking my two duffel bags and was on my way. With almost 2 and a half hours till boarding could even begin, I decided to take the full tour of Incheon and took a walk. One of my favorite things to do in an airport is people watch, and ICN gives you more than ample opportunity. I did a lot of plane spotting, here a few of my favorite pics.
A Vietnam Airlines 777 taxiing out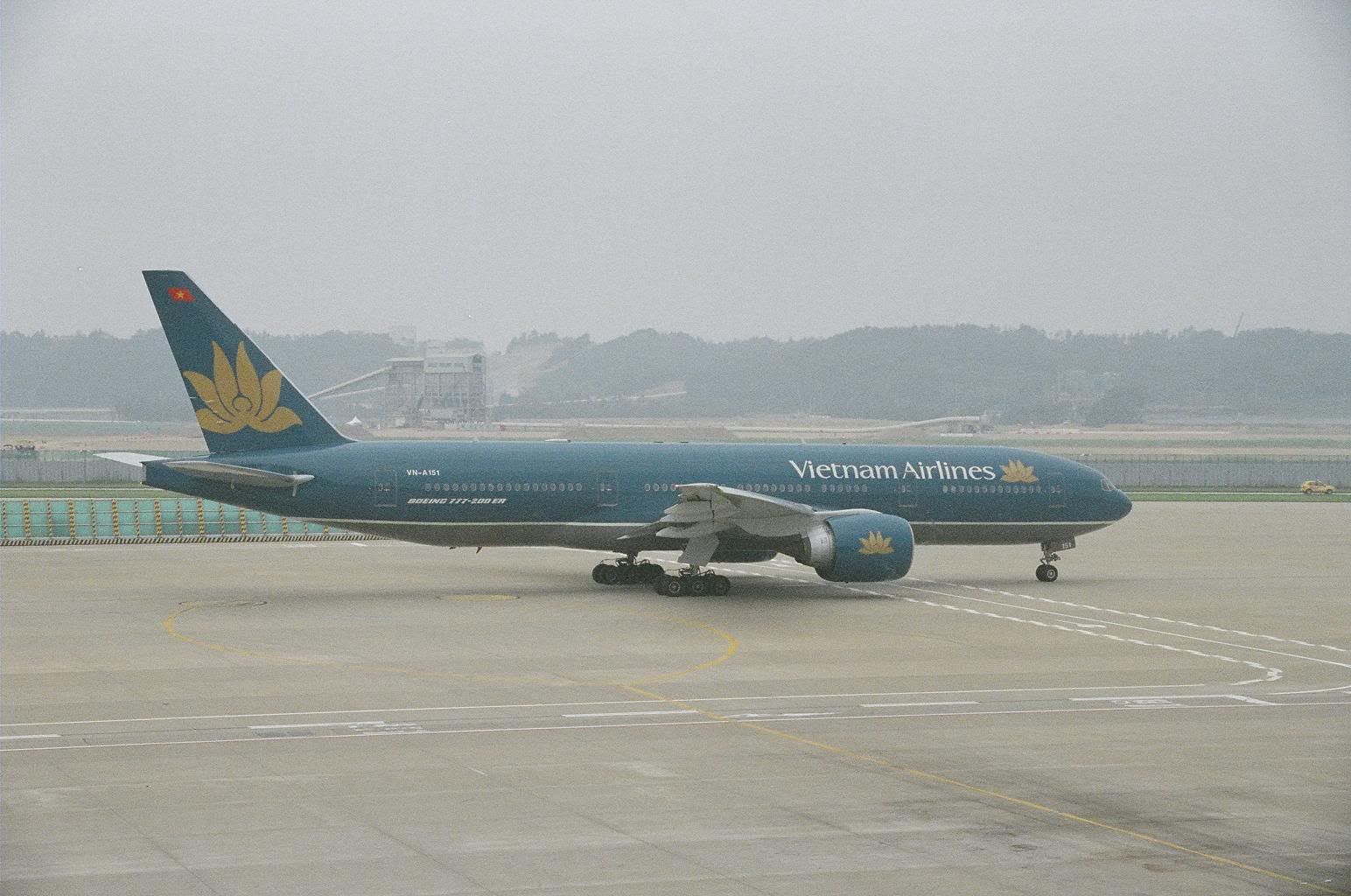 My ride at the gate with a sister ship just after getting pushed back. IMHO, one of the best looking paint schemes on a very good looking A/C
One of my favorite photos of the trip, a KE744 tail with two US visitors in the background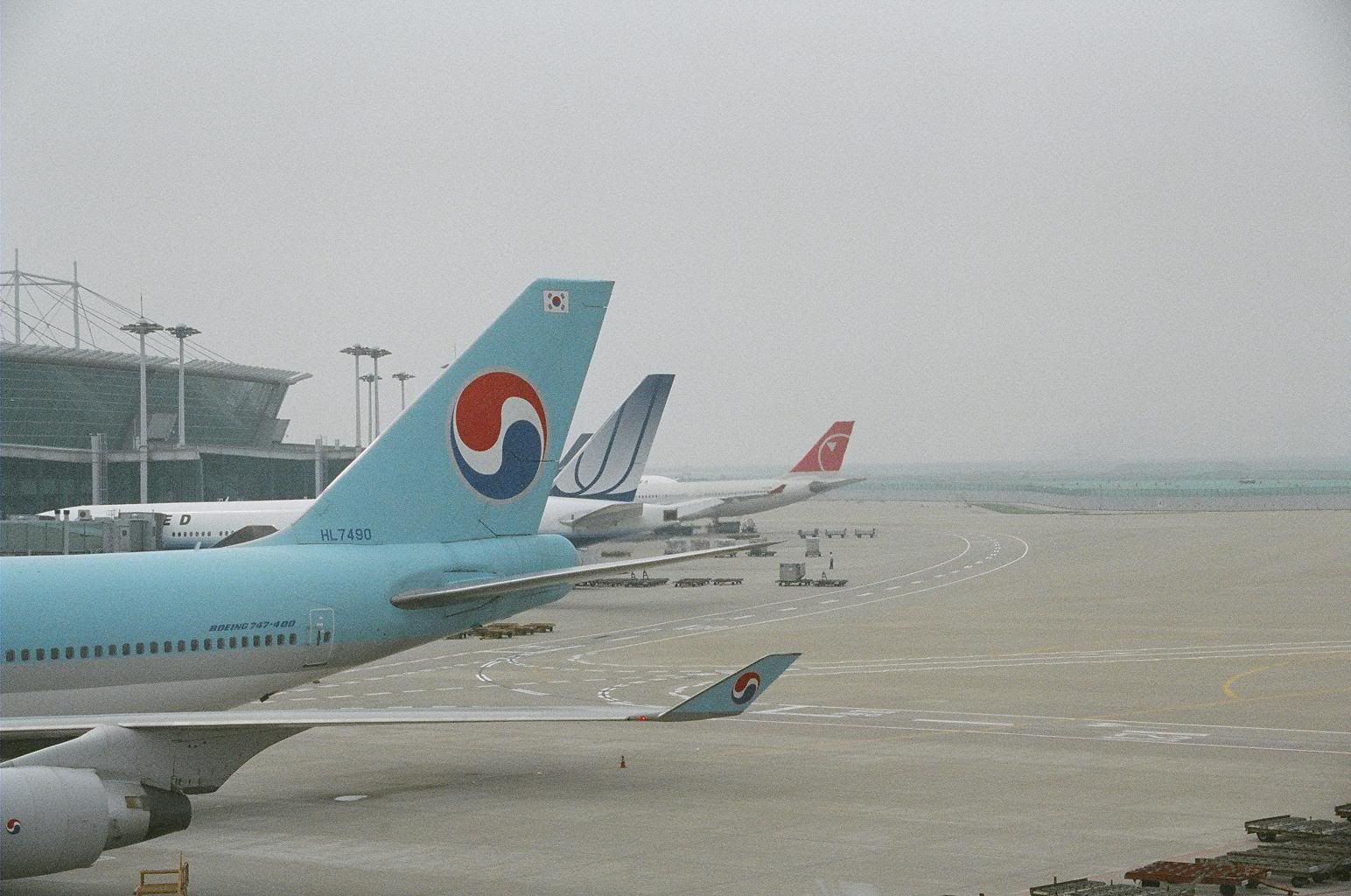 Departures Terminal at ICN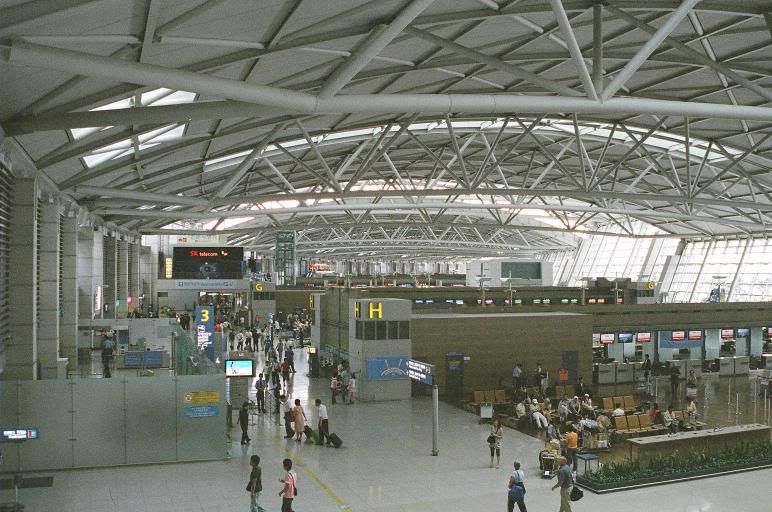 Definitely ICN
Also while watching ramp activity, I noticed a Singapore Airlines ground crew do the JAL standard wave to the plane as it taxied out, I thought it was only JAL that did this, but shrugged it off as interesting to see anyways...too bad I couldn't grab my camera in time.
After getting an overpriced and low quality club at Subway, and meandered back over to Gate 45 where I occupied myself for half an hour doing Sudoku's and got a treat when the FA crew arrived and I was able to eavesdrop in on the pursers briefing to the entire cabin crew, which was actually very interesting. The time was now 1300, and people started to que up for boarding. This is one of my biggest pet peeves, you know they won't let you on the plane until they're darn good and ready to, you have an assigned seat, sit your happy but down until you're called!! Anywho, First, Business, Elites, and other preboards were announced, then Economy Plus. Some people don't realize just how much of a differance an extra 5 inches of legroom makes over a 10 hour flight, but I'm glad I'm a Mileage Plus member and was automatically updgraded. I sat down in 18A, and watched person after person walk by. It was at this point I started doing what every other person does, eyeing everyone who walked up, sizing them up and hoping they wouldn't sit in the one open seat, praying to God I'd have that much more room to stretch out. Alas, the 3rd to last person to board was my new neighbor...sigh.
I settled in with my camera and Channel 9, and was enjoying listening to ICN ATIS Charlie, when another pet peeve arose. Now I understand why this happens, but when I'm listening to my Channel 9, it still pisses me off. Every little announcement, which interrupts the audio, has to be repeated in like 3 other languages. I dunno, like I said, I know why, it just bugs me.
We pushed about 5 minutes late, and were put number 3 behind a Korean Air 777 and an Asiana 744.
Asiana 744 holding short 33L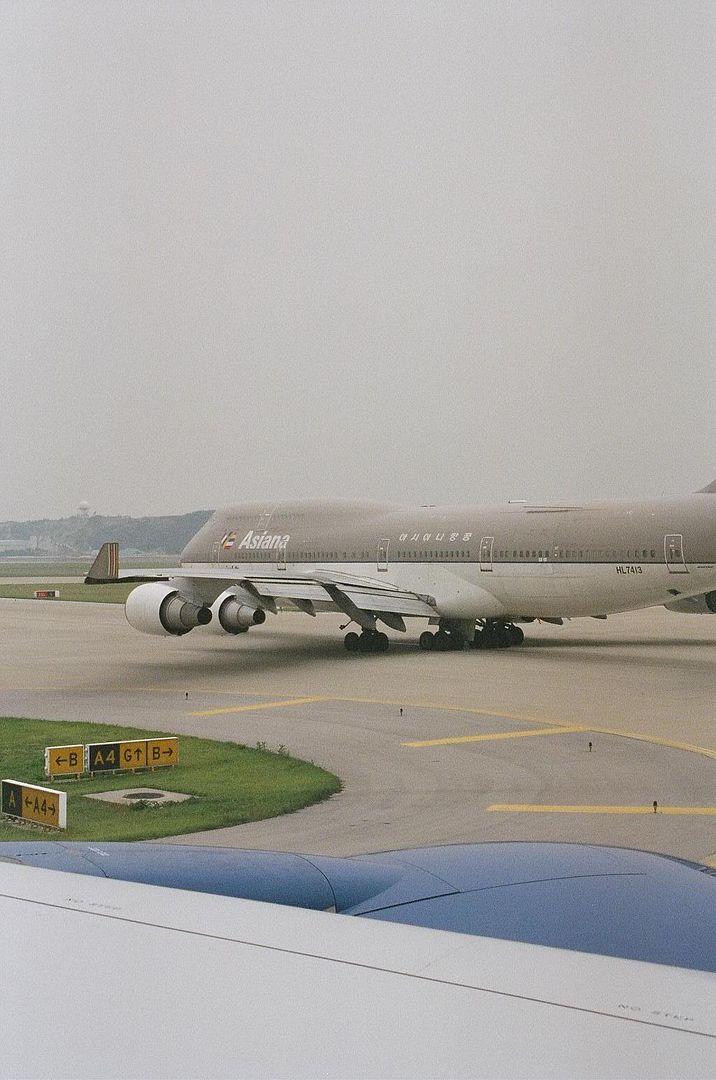 I also caught an AN-124 on the ramp, it was my first time seeing one in person, so I was excited. Also, an addition to my RR list for whoever can tell me what airline the MD-80 is.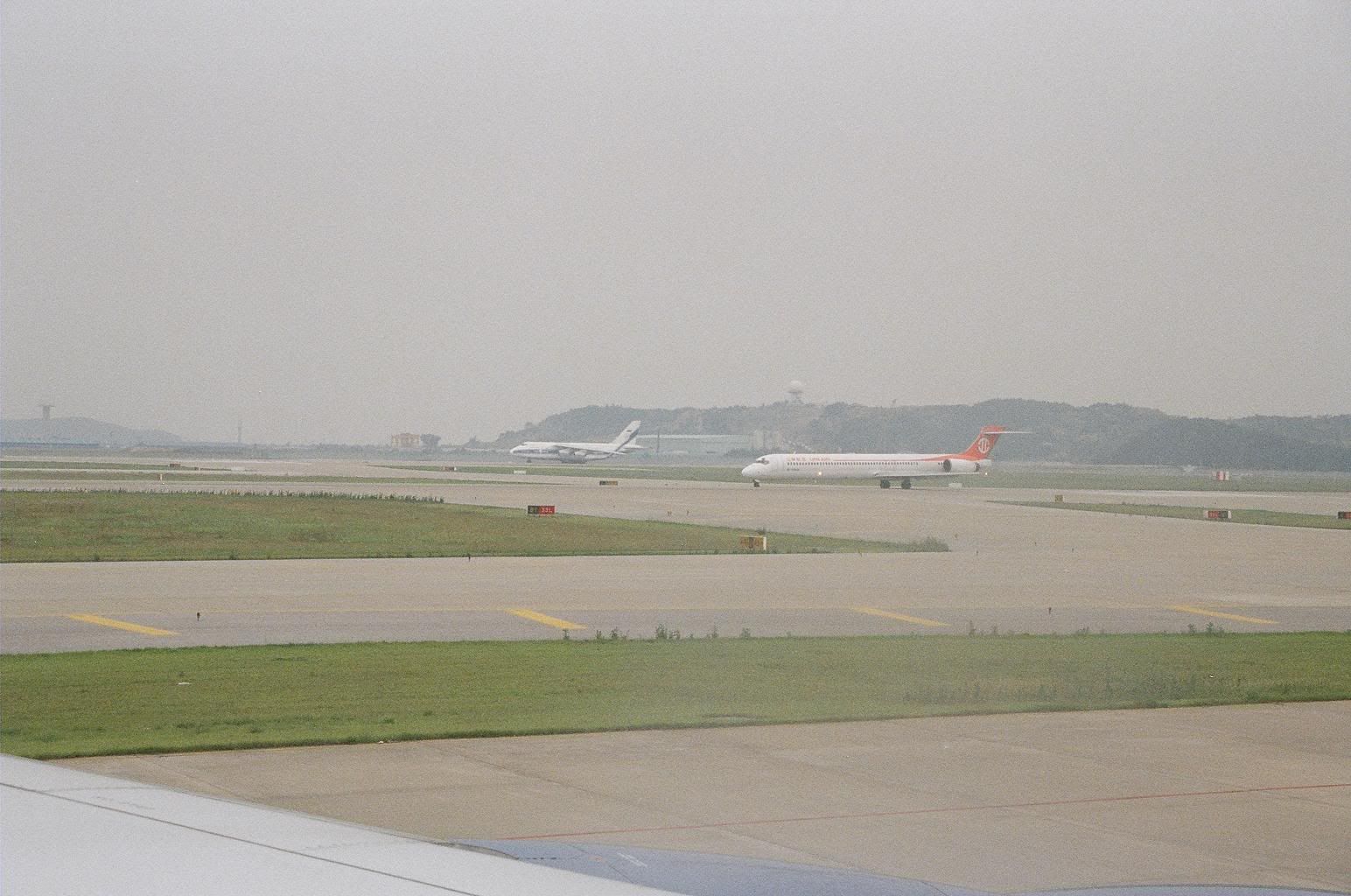 After holding for the Asiana heavy, we taxied into position on 33L and rolled around 3 minutes later.
The first few hours of the flight were pretty non-descript until an FA came up to me and asked me if I was crjflyer35 (real name though). Umm, yes I replied sheepishly, she handed me a Business class amenity bag and said this was from a friend of mine who works for United. He wanted me to have a comfortable flight and said he sent his best wishes. Well cool, not too shabby I guess.
I settled in listening to Channel 9 and the chatter over Tokyo as we passed overhead at FL350. Lunch was served, I didn't take a picture, as an Economy class meal is nothing too spectacular...I think I had chicken. By this time, about 3 hours into the flight, the sun was starting to set, and I was finally starting to doze off into never never land, when I felt a tap on my shoulder. I pulled off my eye mask and was staring at the head purser. I looked at him quizzically when he asked me the same question as to my identity as the flight attendant before him. Yeah, I'm crjflyer I replied. He asked me how my flight was going so far and if I was having a good time. I answered that it was great. He then said the best line I ever heard. "Well, we're gonna make it a little better, go ahead and grab your things, and come on up to the open seat in Business Class."
At this point everyone around us was listening in to the conversation, and I was as dumbfounded as they were. "Come again?" He explained that my friend had contacted him and asked that if there were any better seats available after takeoff, to move me up if possible. WOOHOO!!! All I can say is it's good to have friends at the airlines.
I moved up to 14C, where I could feel daggers being stared into my back from my recent neighbors in the cabin only 2 rows back. I felt a moments worth of guilt, then decided, whatever, I'm gonna enjoy this! I watched a movie, "Failure to Launch" with Matthew Mcconaghy and Sarah Jessica Parker, it was amusing and worth my time. I tried to sleep, but kept tossing and turning, so I went up to the galley and talked with a few FA's who were chatting, they asked me how I knew my friend, I asked them for a beer to help me settle in. An hour or 2 later I was drifting off to sleep when one of the funniest things I've ever witnessed on plane happened. My left arm was draped over the side of the chair, my eyes closed and covered by a mask, when I feel something licking my hand! LICKING my hand!! I pulled the mask off to find a little yappy dog wandering down the aisle. Apparently it's owner had gone off to the lav and the dog woke up and went in search of it's wayward leader. Later on in the flight, the little Korean lady took it into the lav with her, when she left, the FA's poked their heads in, and judging by the looks on their faces, the lady had Fido do something naughty in there.
The rest of the flight was pretty good, hitting turbulence here and there, which actually helps me sleep. I woke up to the smell of breakfast being served, I was famished.
Our position at breakfast time, FL390
Breakfast, Omelet, Sausage, Apple Fritter, OJ, Coffee, and fruit, not too shabby
Sun starting to rise over Alaska and the Pacific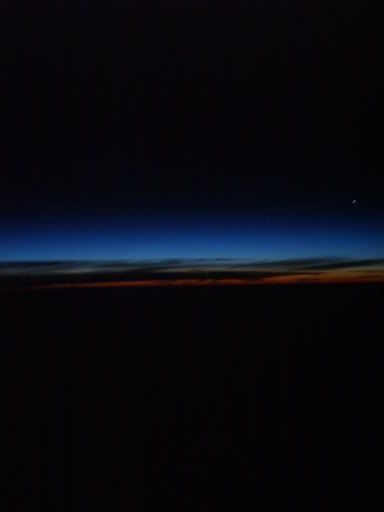 The sun has risen, about 10 minutes before our decent into SFO
Some more clouds with the mighty Pratt & Whitney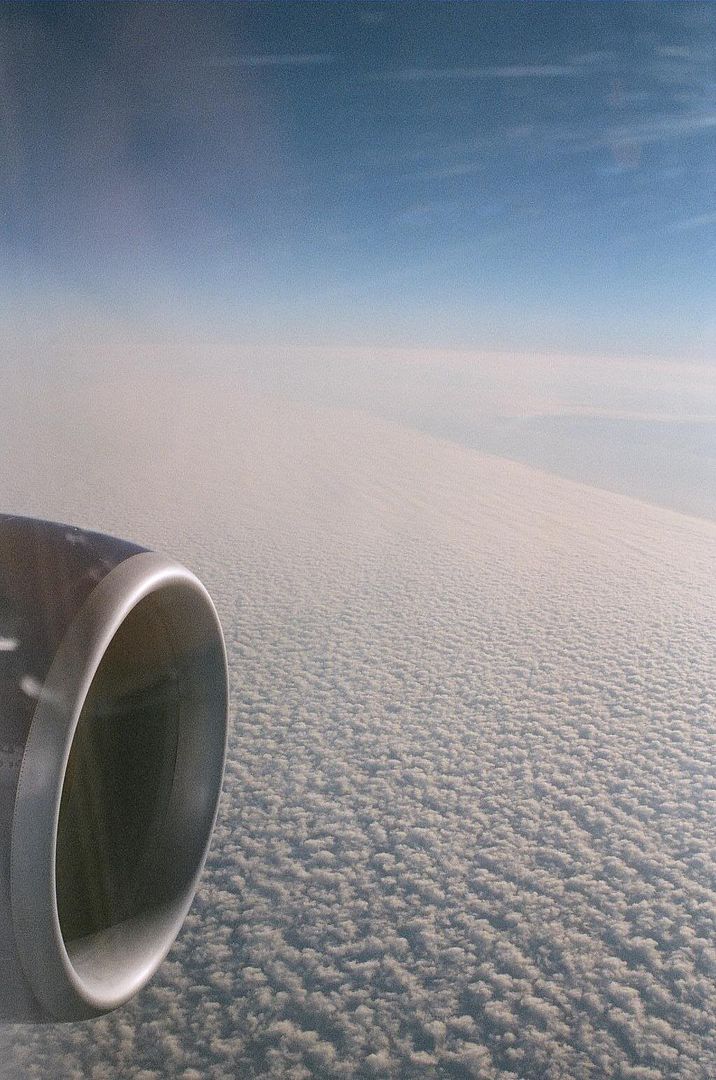 We descended on the Golden Gate 4 arrival, into a right downwind for a Runway 28R visual approach, touchdown was smooth and we taxied to the International Terminal, Gate 95 I believe.
Customs and Immigration was a breeze, as it always is with a Military ID, my bags took a while to arrive, as they were probably first on the plane due to my early check in. On to my domestic legs!
25 July
United Airline #130
SFO-ORD
scheduled times 1045-1618
actual times 1105-1650
Gate C-18
Boeing 757-200
My ORD flight was 100% packed, and we actually started boarding early, but because some people don't understand a hiking backpack won't fit in an overhead compartment, were delayed about 20 minutes. This was my first time at SFO, and I loved listening to the controllers using the 1 runways for departures and 28R for arrivals (28L was closed while I was there for construction on the 10R end)
My 757 pulling into the gate. You can see the construction on the runway behind it.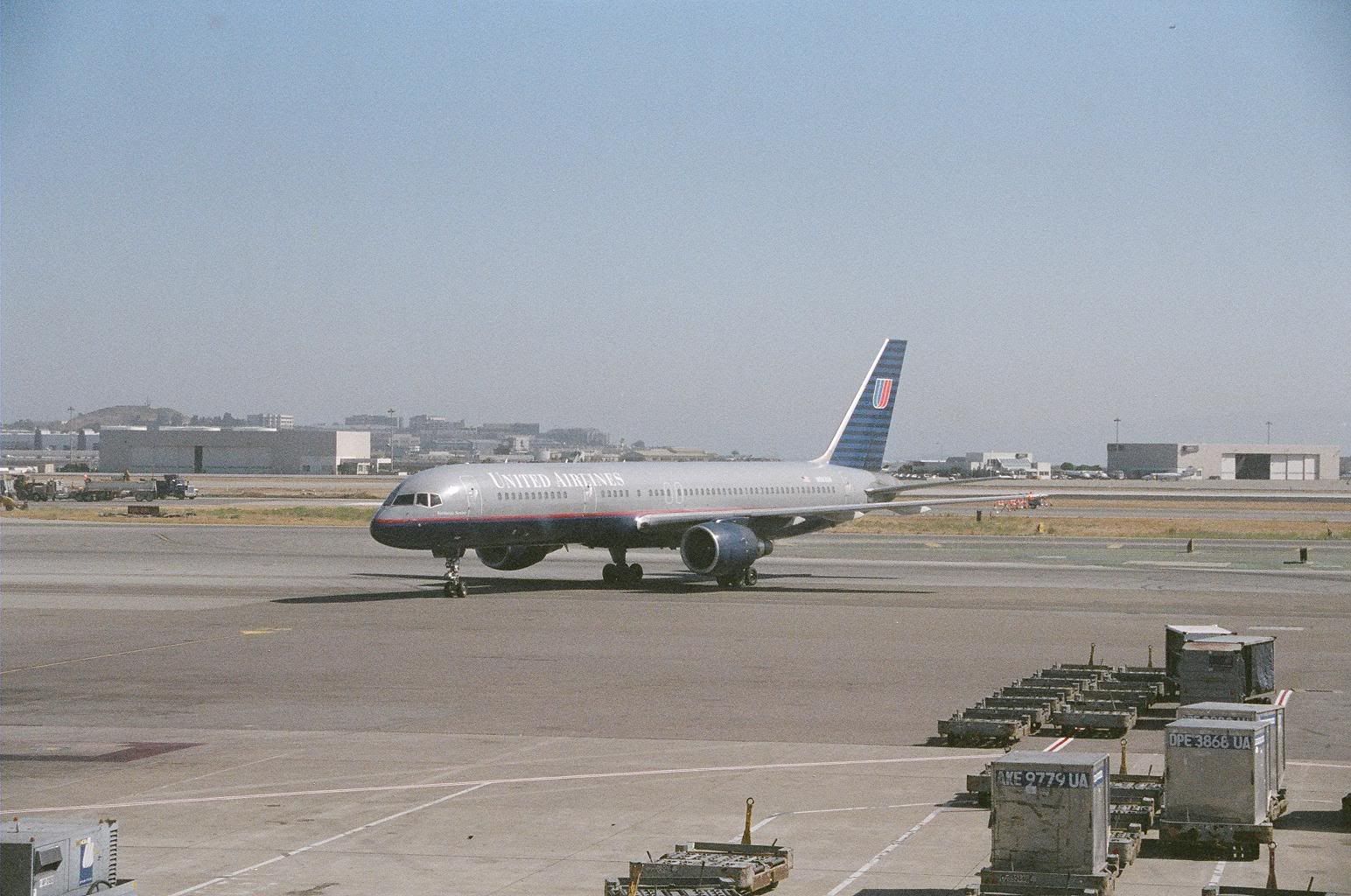 After pushing, we taxied to Runway 1R. We were number 5 for takeoff behind 2 UA 737's, a UAX CRJ-700, and an Alaska 737.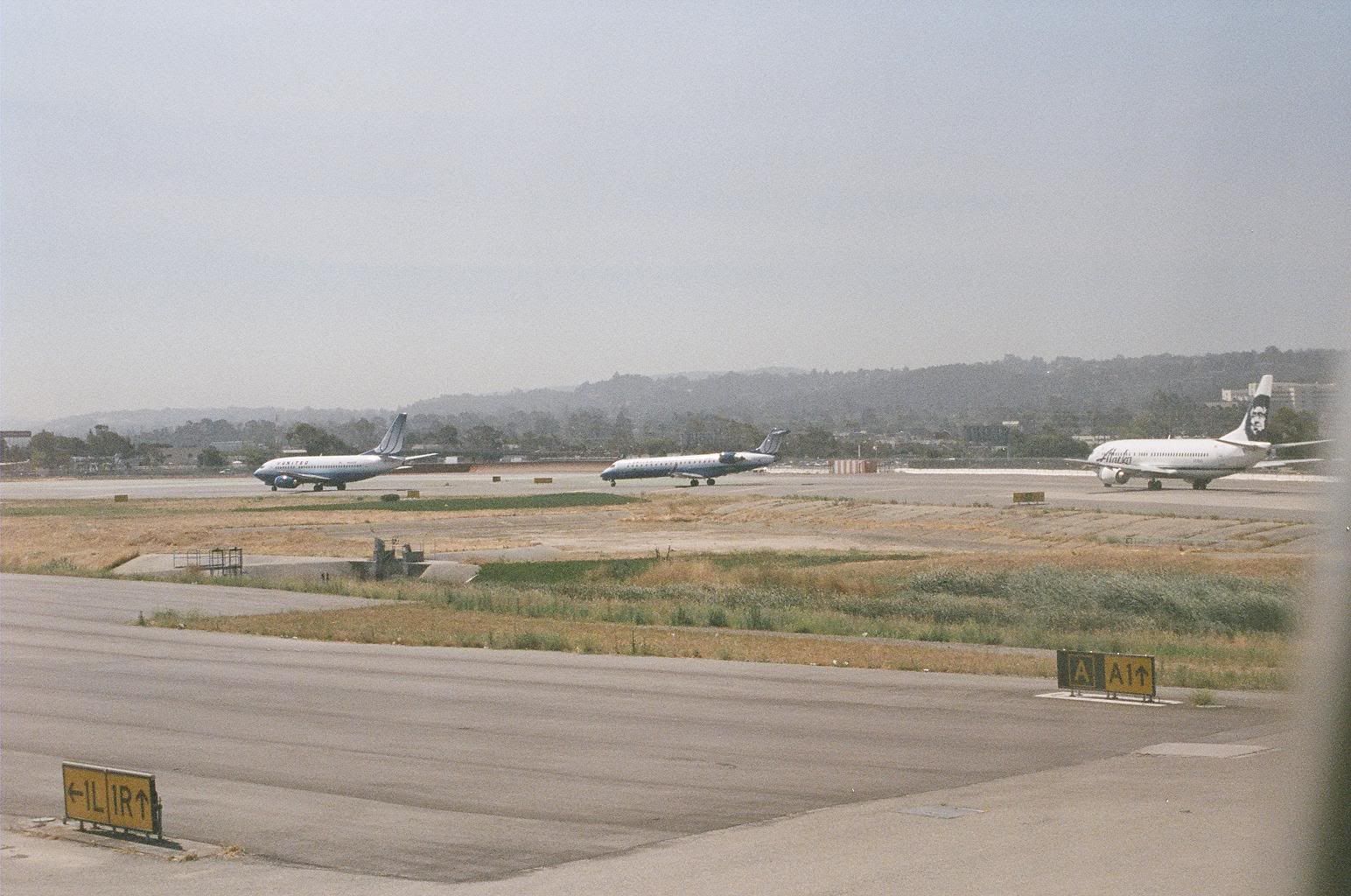 Turning onto 1R while a company 737 rolls.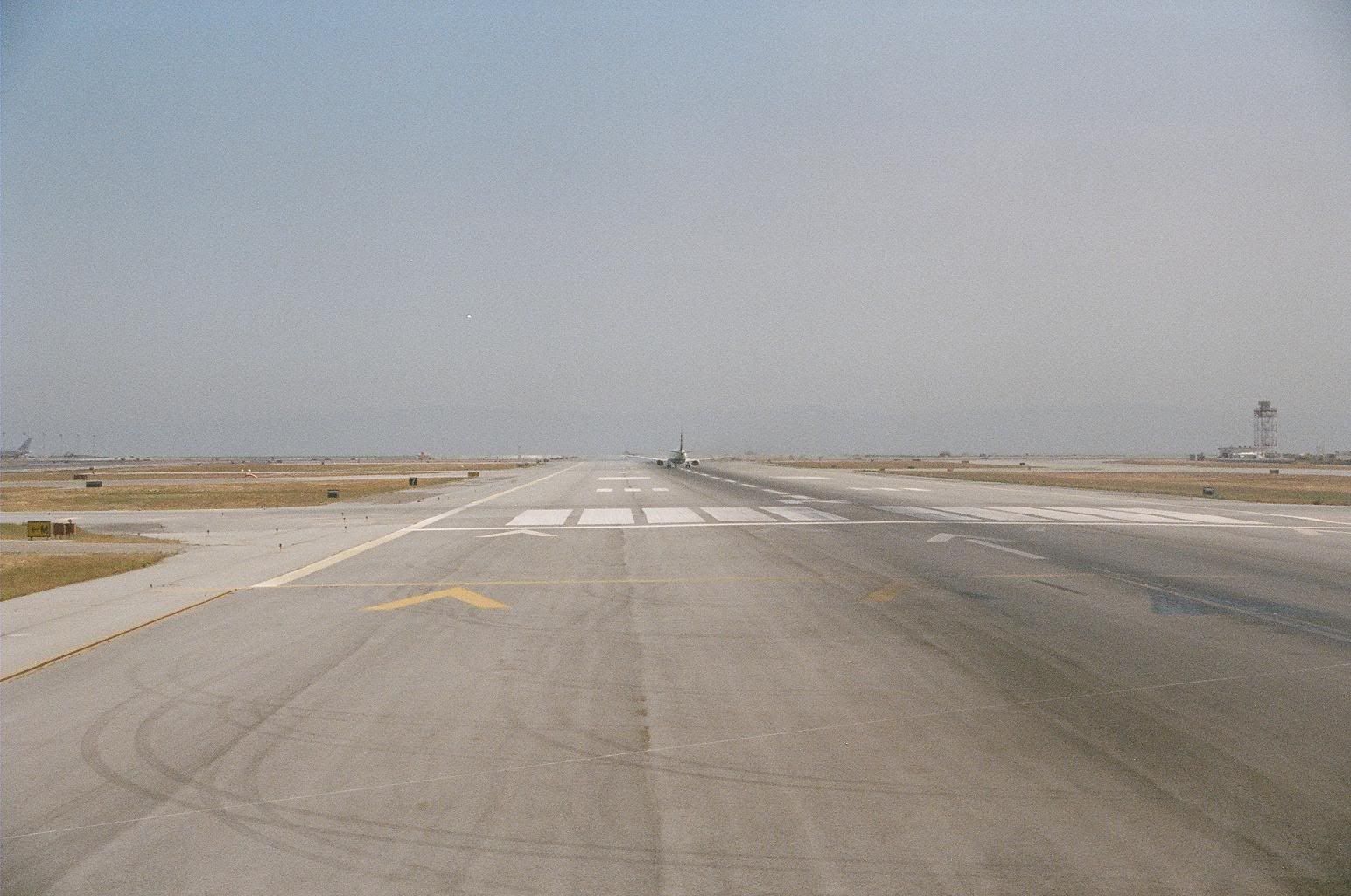 SFO ramp activity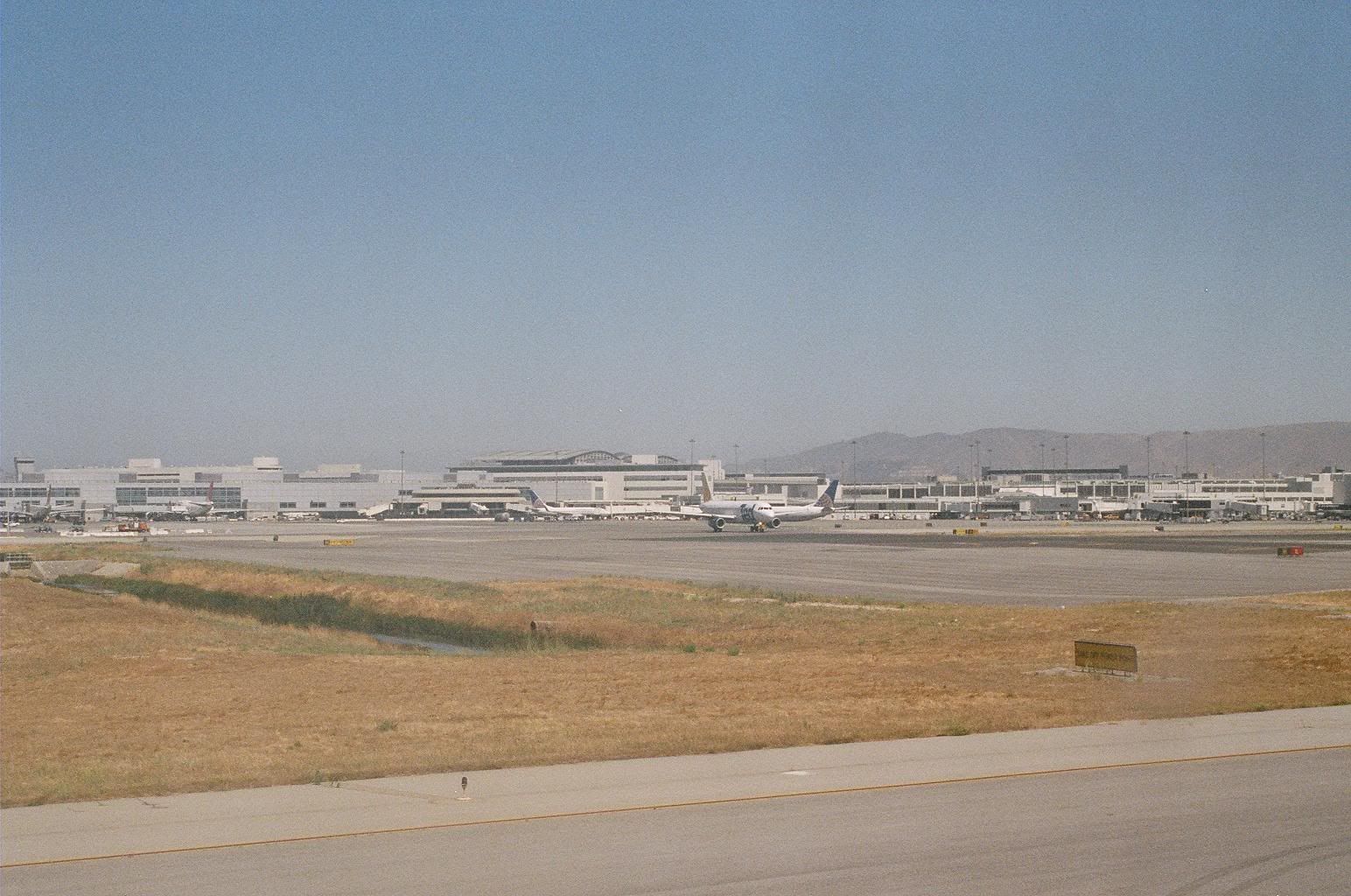 After rotating, we departed on the San Francisco 8 departure, where I was able to snap my favorite picture of the trip, Golden Gate in the fog, Alcatraz, and the Bay Bridge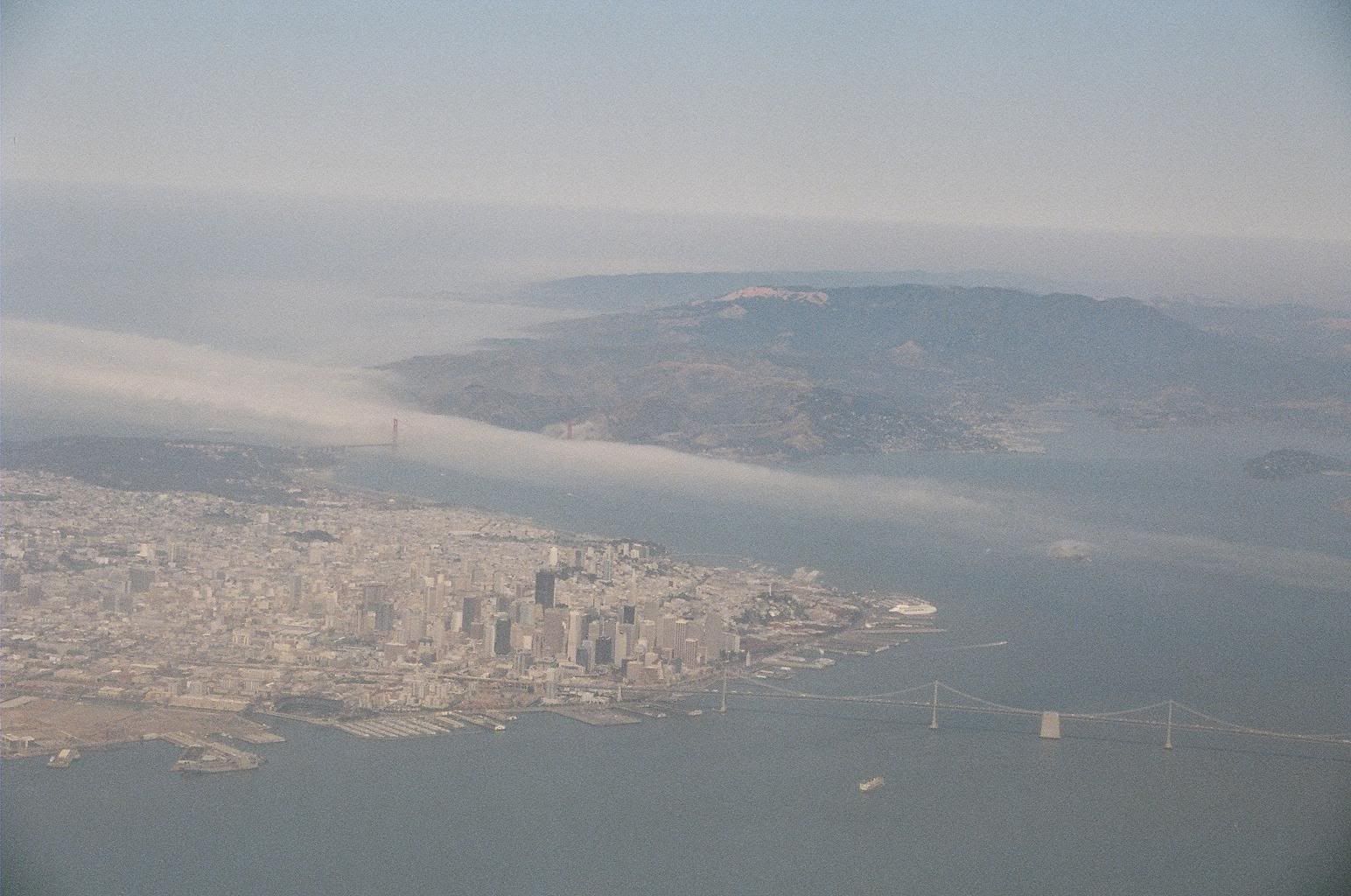 The whole flight was almost 4 hours long, we diverted for weather almost every step of the way, which made for some fun turbulence and nice looking cloud formations.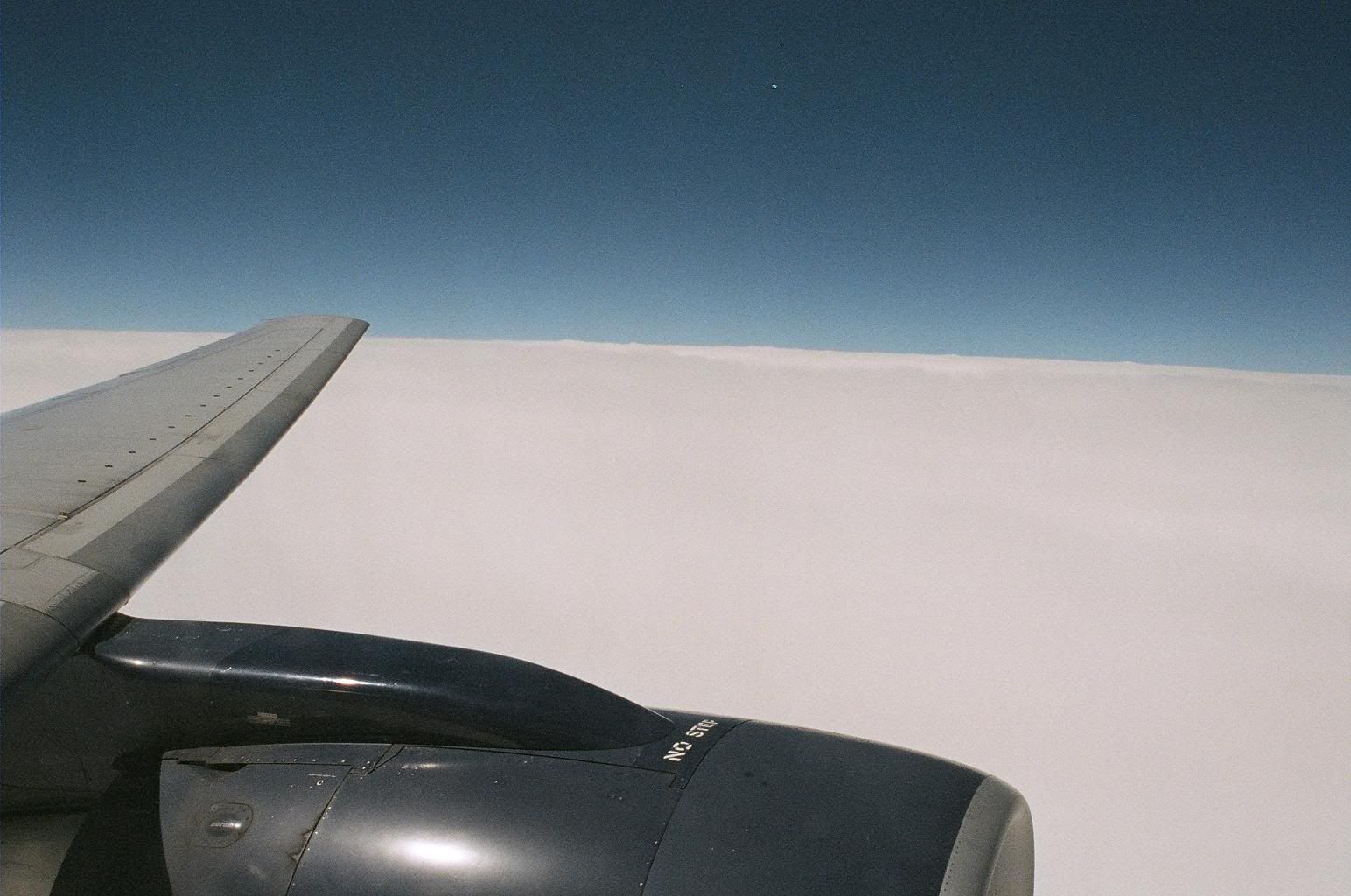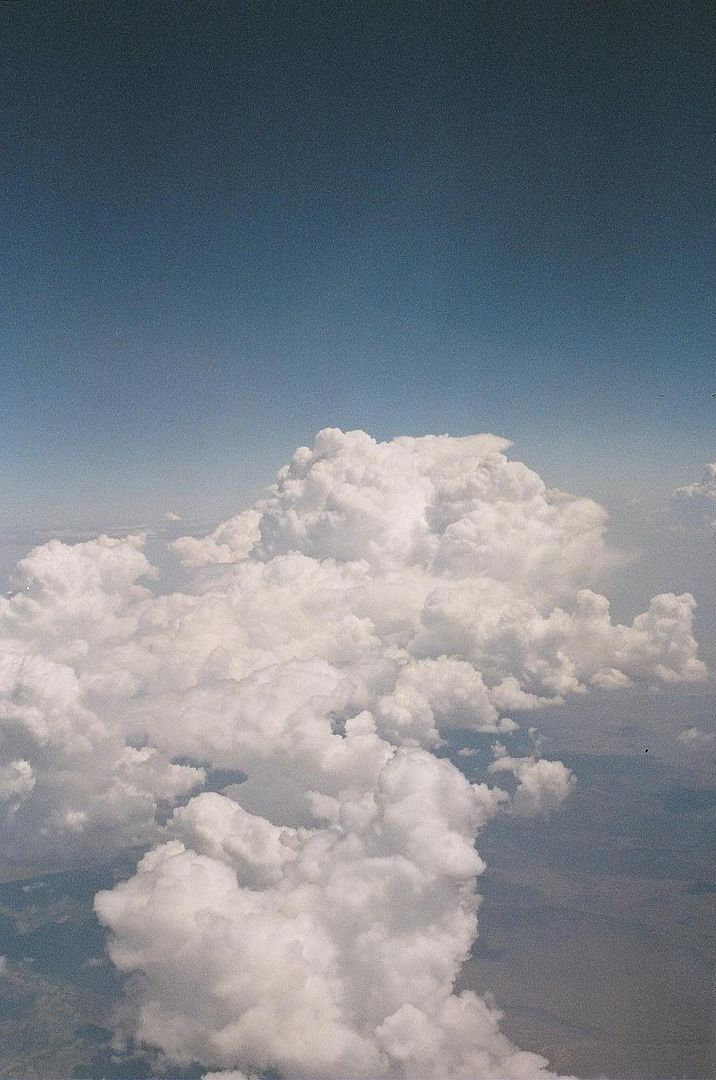 There was a boxed meal offered for 5 bucks onboard, which was mostly just snack stuff anyways, UA really needs to improve in this area.
We descended on the Janesville 4 arrival into Ohare, with a company 757 shooting for 27R while we aimed for 22R (I love LAHSO ops!)
Long final for 22R, company for 27R, with an ERJ in the background for 22L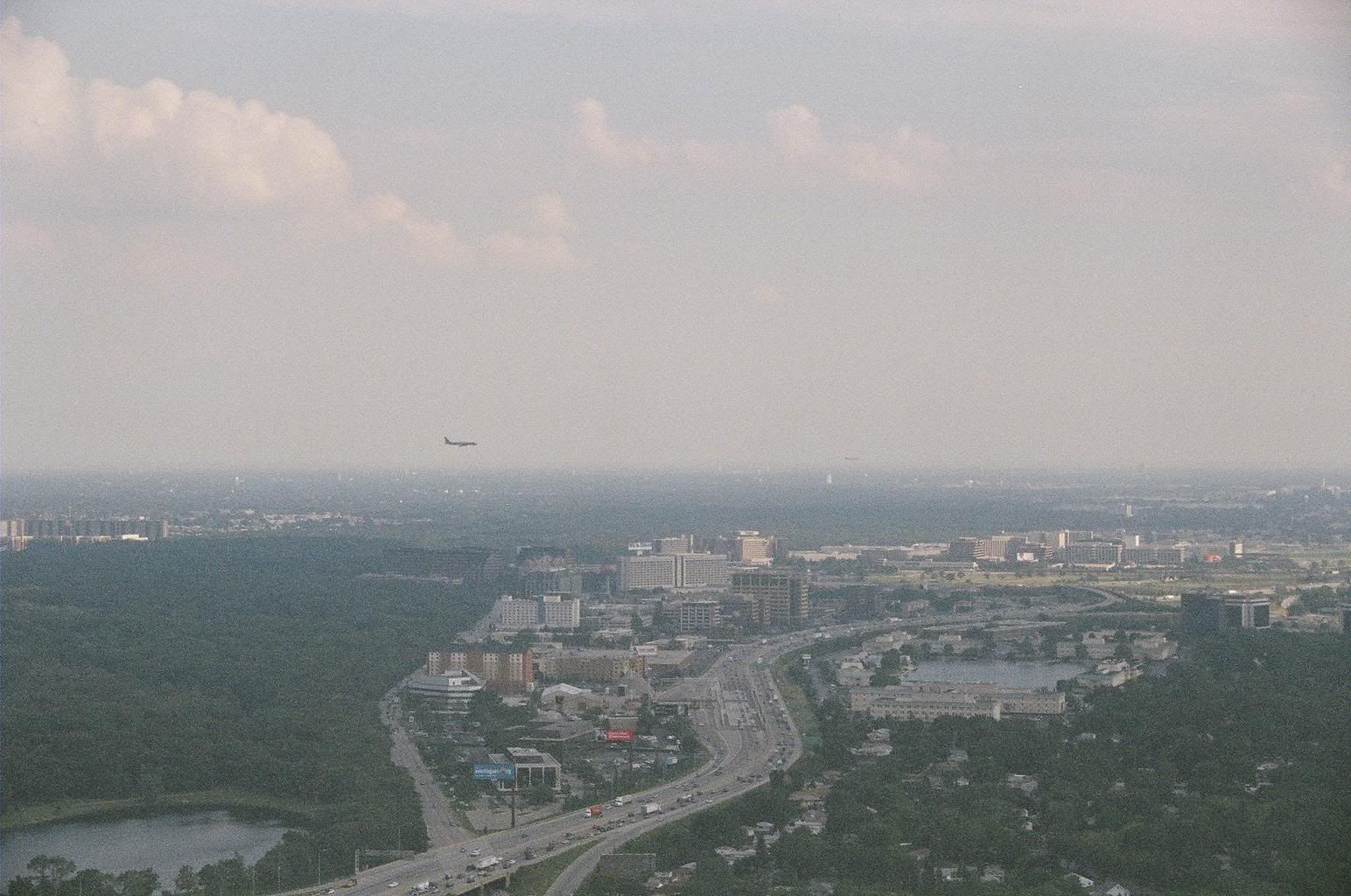 Video of our landing in ORD. I love the sound of the reversers kicking in. You can see the company 757 we were parallel with on 27R at the end.
On the taxi in, definitely ORD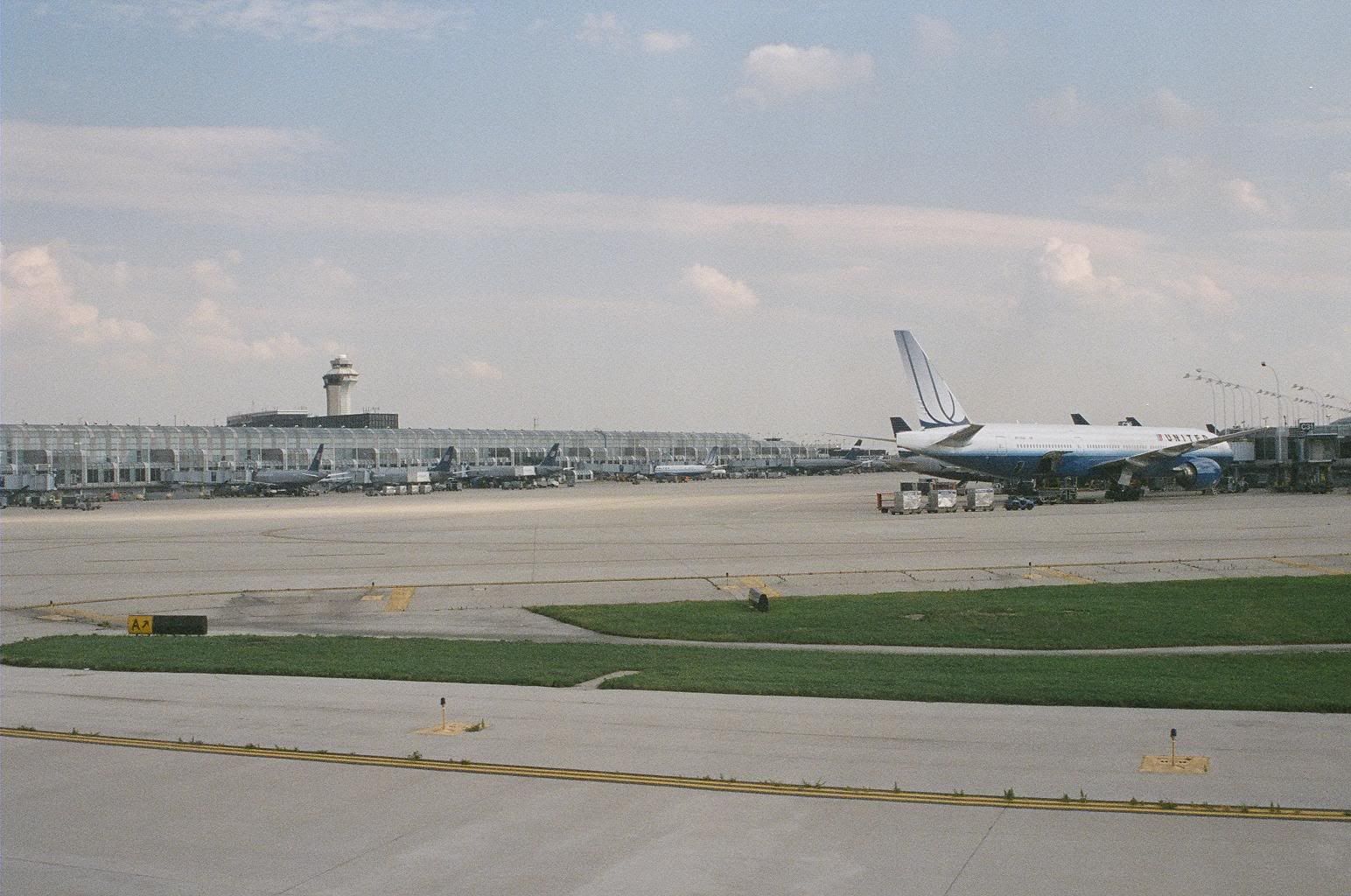 Eagle ERJ and UA 757 doing the same LAHSO we just accomplished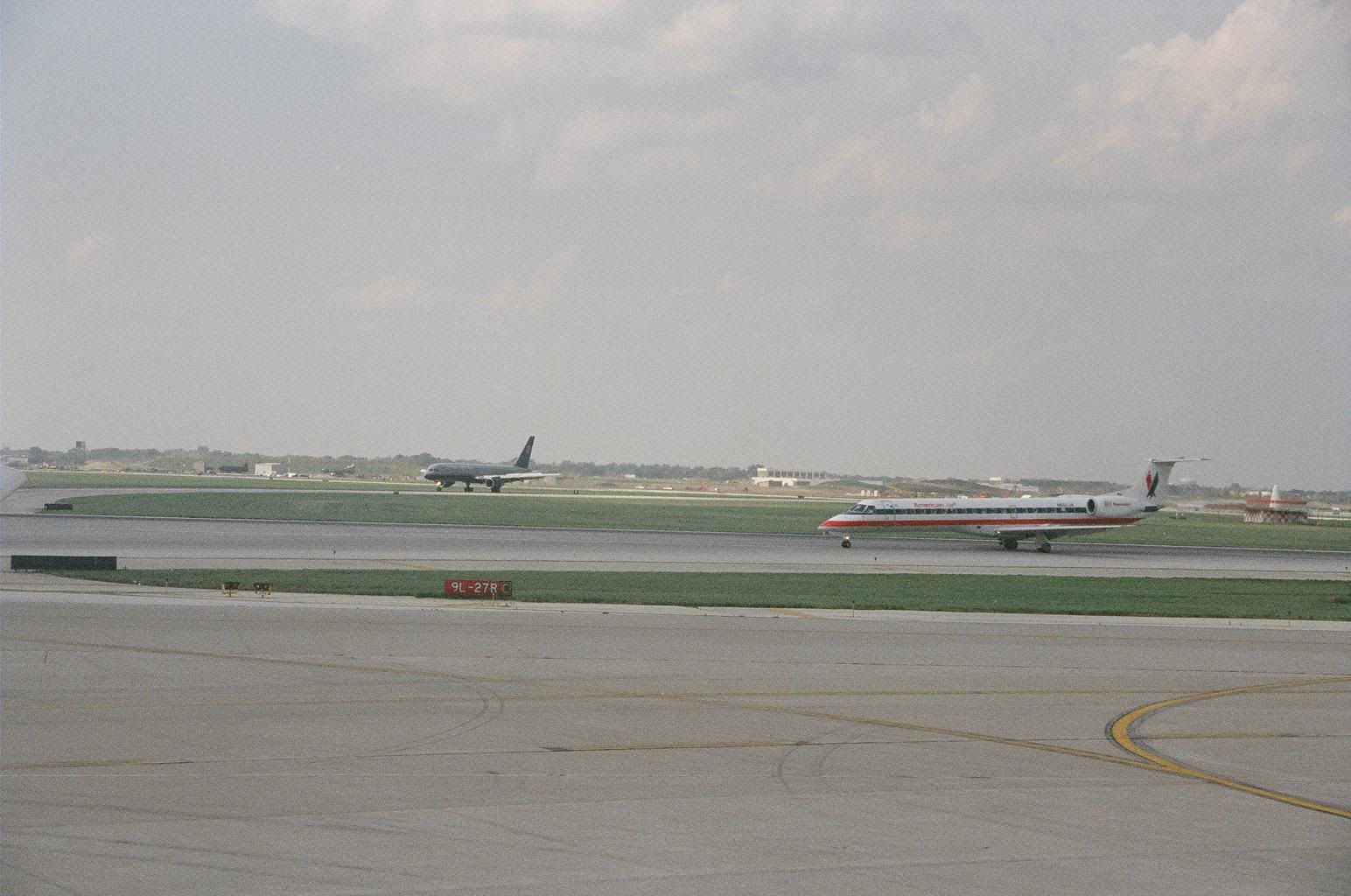 Pulling into B5, with the automatic taxi aid coming alive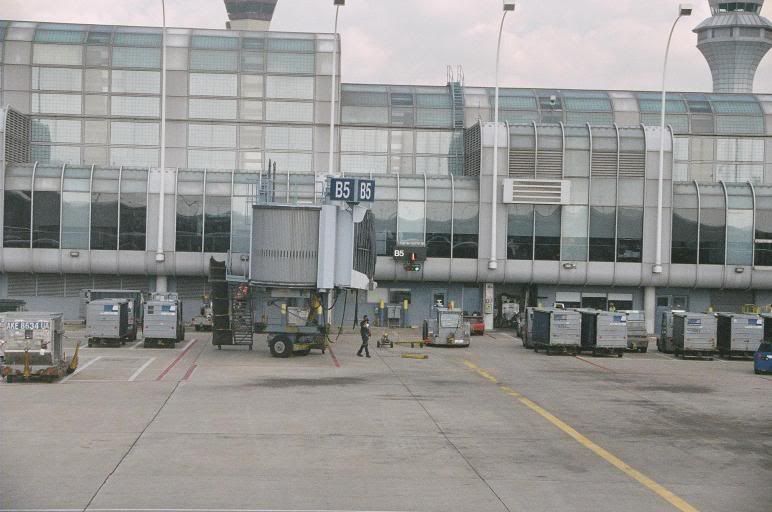 My CRJ-700 pulling into gate C8 in the UAX side of the C terminal.
25 July
United Express #5864 operated by Skywest Airlines
ORD-GRR
scheduled times 1755-1920
actual times 1827-1948
A/C CRJ-700
Gate C8
I only had about 25 minutes from arrival into ORD until boarding began for my last leg to GRR, so I hustled under the lights between the C and B terminals, grabbed a drink, and sat down for about 10 minutes. Looking at the UAX area, it's pretty clear United wants to market it for more than just the leisure traveller, and gear it for the business traveller as well. Boarding was uneventful, save for the standard rollaboards not fitting into the CRJ's bins, and I got stuck next to the lady who could not stop asking me questions...I was trying to plane spot, but no, I have Misses Jabber Jaw sitting here next to me. Ahh well
An unusual ORD visitor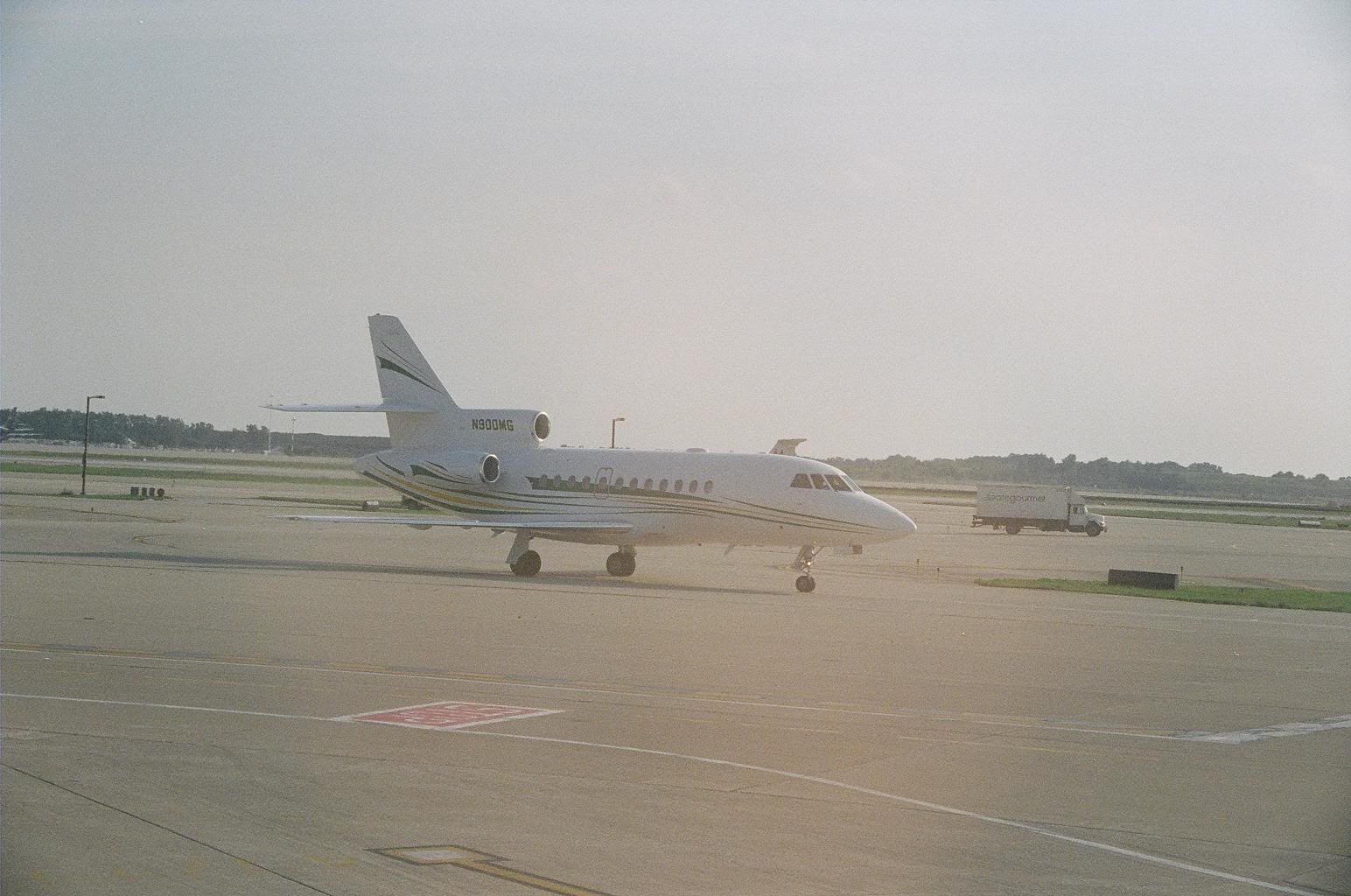 Ahh, the roomy CRJ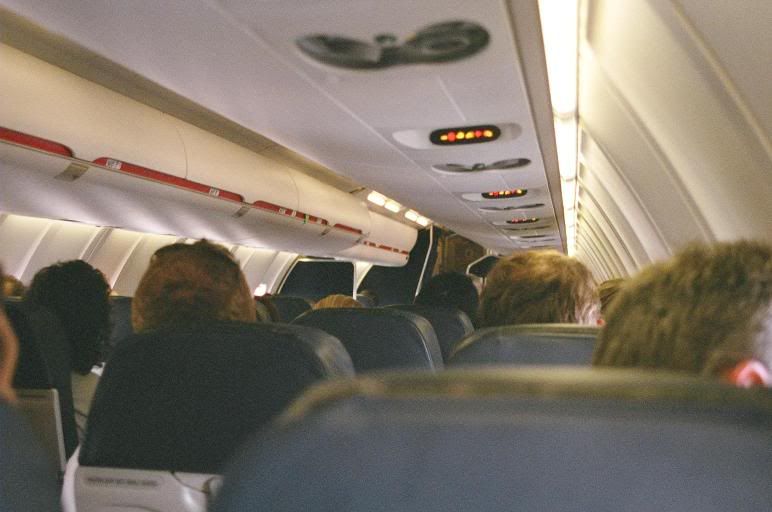 About this time, rolling down taxi way Bravo, we come to a stop and the Captain comes on the PA to tell us to get comfy, as we're number 19 in line for takeoff. It seems we've just hit the evening UA rush and European carrier departure rush...ouch.
Takeoff que behind us, mind you, at this point, we're still number 10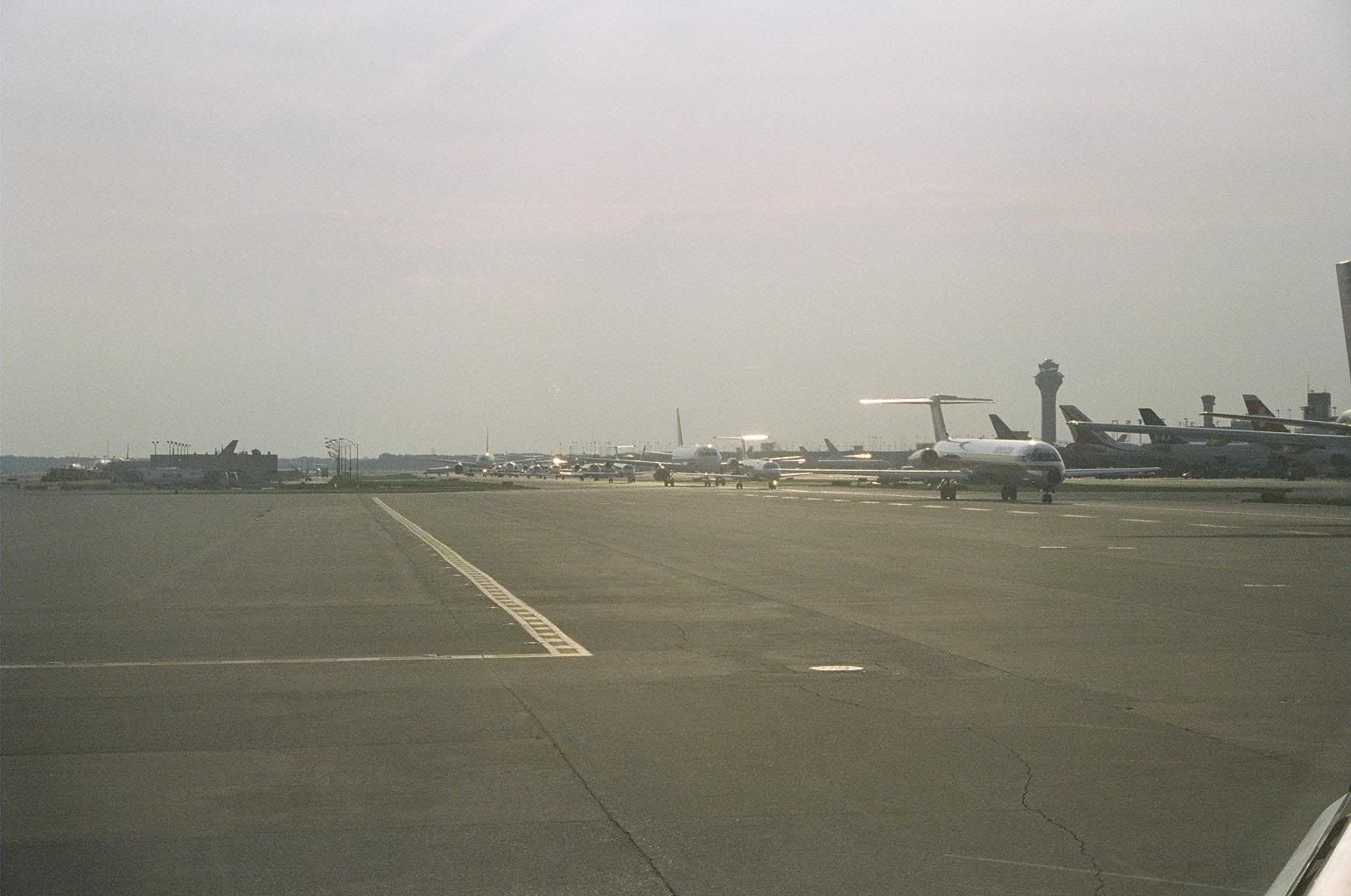 We finally pull onto 22L, and I see something neat, the same plane which brought me to ORD from SFO is behind us and another RJ, I can't remember the Reg, (it's written down somewhere) but thought it was kinda cool
The flight to GRR is only 20 minutes, so there's not even time for a beverage service, we enter a left downwind for 26L, and make a nice smooth touchdown and taxi into gate B1. My fiance is waiting for me after security, gives me a smooch, ahhh, nice to be home for good this time....
Well, that's it, I know I got long winded, but I appreciate your taking the time to read my TR. Any questions or comments are always appreciated and encouraged!
Regards
crj