Some pix from a weekend-trip: HAM from STR
Hamburg sounds like an interesting destination for a short weekend-trip.
Pretty early this year I searched the timetables up and down.
Lufthansa, DBA and Germanwings with offers on that route.
At time of booking in January LH has the best one in terms of schedule and fare.
So I gave LH another chance to convince me and booked a father/son trip to HAM.
Saturday, 05.08.2006
STR (Stuttgart-Echterdingen) - HAM (Hamburg-Fuhlsbuettel)
LH 143 operated by Lufthansa B733 D-ABEL
Scheduled: 11.30 // 12.40
Actual: 11.40 // 12.35
Gate: 117 Seat: 25 E/F
Loadfactor: 3 Biz/90 Eco, more than 80 %
Fare: 98,10 and 88,10 EURO´s
Delivered new to LH: 05.12.1991
We arrived by car at around 09.30 am at the airport.
Automatic check-in with luggage was not possible at LH in STR, so we joined the queue at the desks.
The queue moves quick and only some minutes later a friendly female checked us in to HAM and my son was able to send our suitcase self to the plane.
We´re pax no. 29 and 30 for this service.
No time to wait at security and later we settled down at T3 to view the action outside.
Interesting traffic this saturday morning: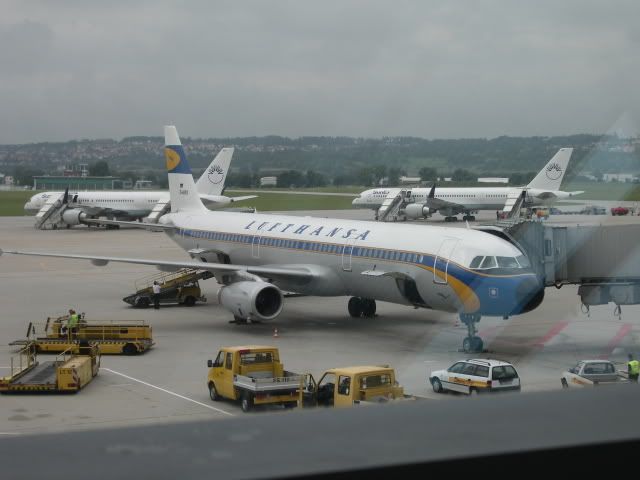 It was the first holiday weekend and one of the busy days, lots of charters to Turkey and Spain, interesting.
The screens showed the arrival of our plane from HAM at around 11.00 am and so it was.
ACARS stated mostly 733´s on this route, several 735´s or CRJ700´s, also.
D-ABEL arrived, leisure flight no. 24 on the 733 and the first on this machine.
Taxi D-ABEL: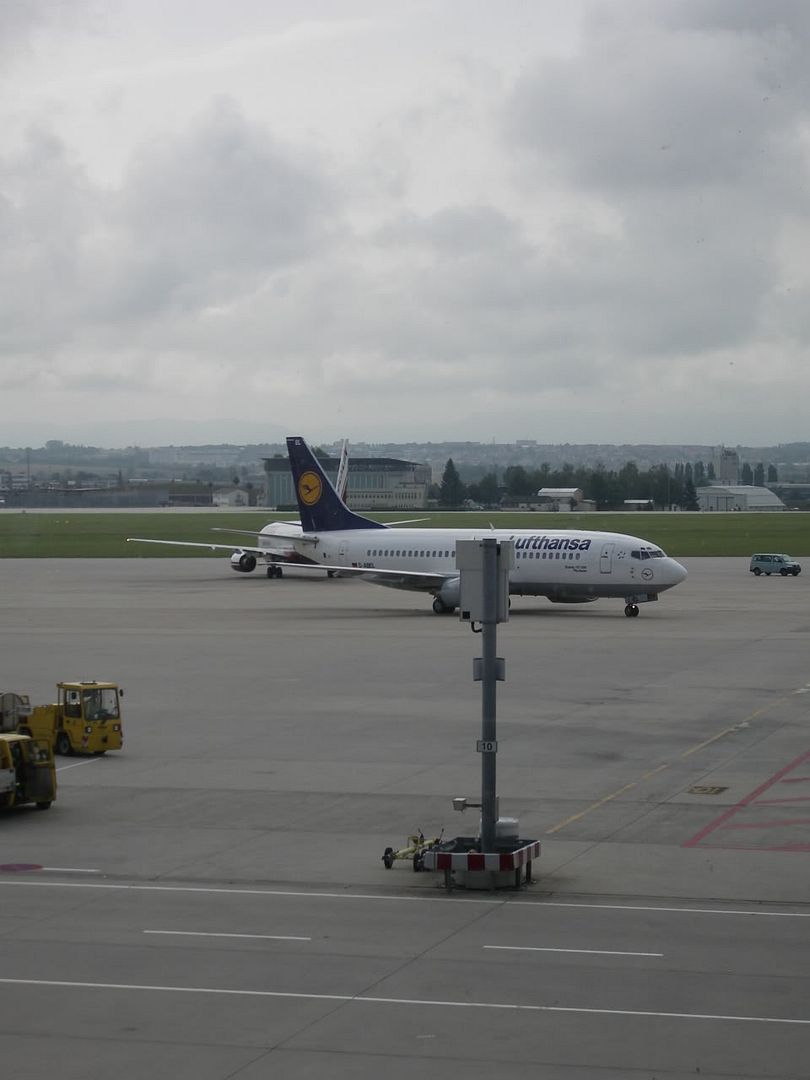 D-ABEL on stand in STR:
Parked at the usually used LH finger gates at T1. Boarding started as announced and we´re welcomed by a friendly, all female cabin crew.
The last row as usual, not the best views as there is no fully window, but ok.
The captain introduced himself as Mr. Rüdiger Braun and his FO, Mr. Oliver Sandhoff, no more informations from the flightdeck during the flight.
Departure ontime from runway 25, some time to wait there according to the heavy traffic.
Mostly cloudy sky on the way to HAM. Route: STR-HAJ-HAM.
Service: Free water, coffee, tea.
Bright, comfortable grey leather seats, clean plane.
The sky cleared up and the sun welcomed us around HAM, nice difference to the rain in STR.
Arrival on runway 05 and parked shortly thereafter at a finger gate at T2, the newer part of HAM airport.
Classic office, D-ABEL at HAM: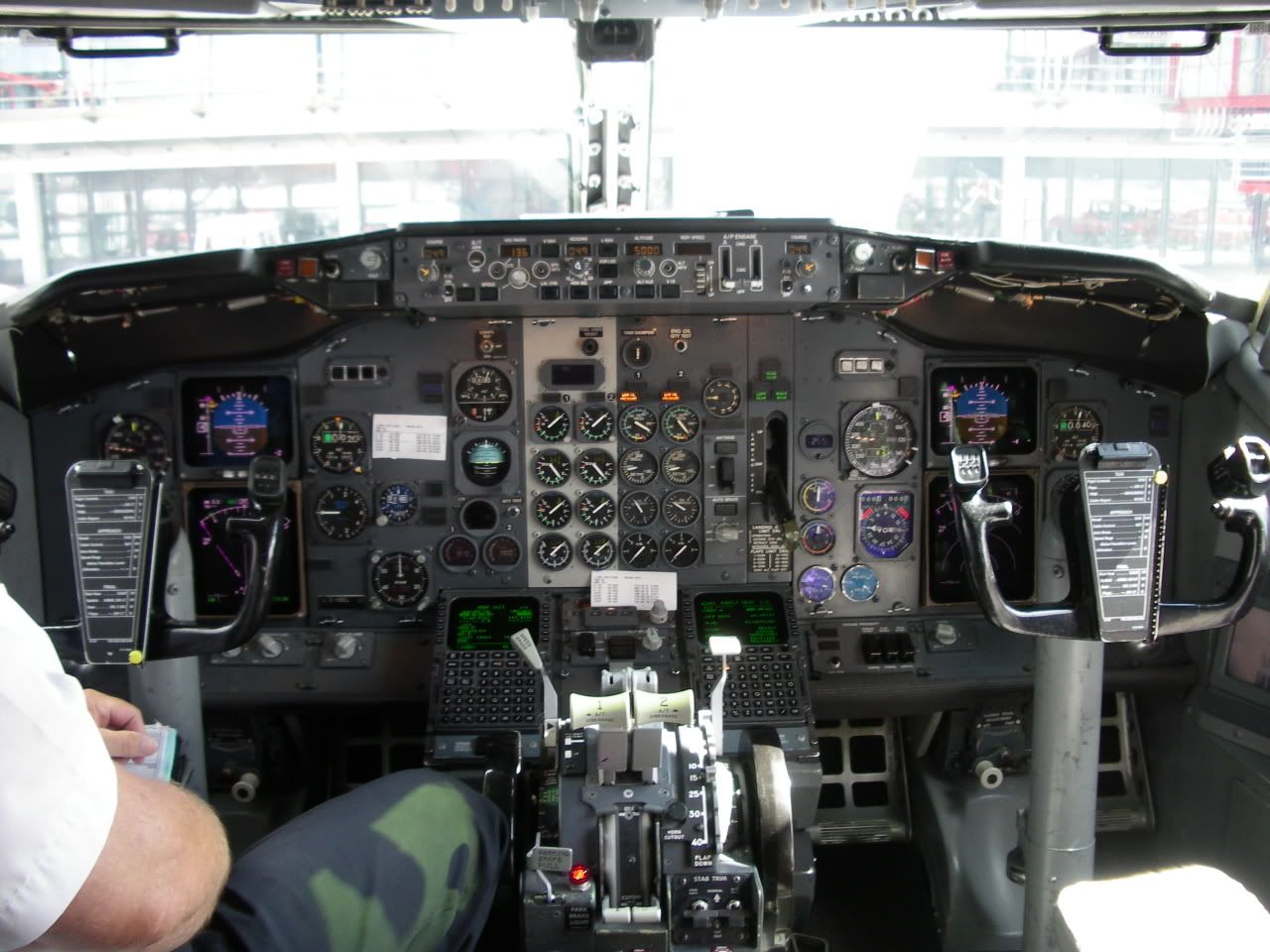 Only some minutes to wait for our bag and we´re on the way to our accomodation, by first bus and later train.
I´ve booked the Clipper Elb Lodge by Hotel.de, fare 140.-- EUROs not cheap but the location was fantastic.
A door integrated plasma TV:
The area is called Holzhafen , a former industrial area, directly by the shore of river Elbe, around 15 minutes from the "Landungsbrücken".
Surrounded by bars and clubs. We had an executive suite on the top floor with amazing view to the river and the harbour action.
View from our room:
You sit down and watch the traffic, especially with all the lights at night, really amazing.
Some pix from HAM:
The "Speicherstadt":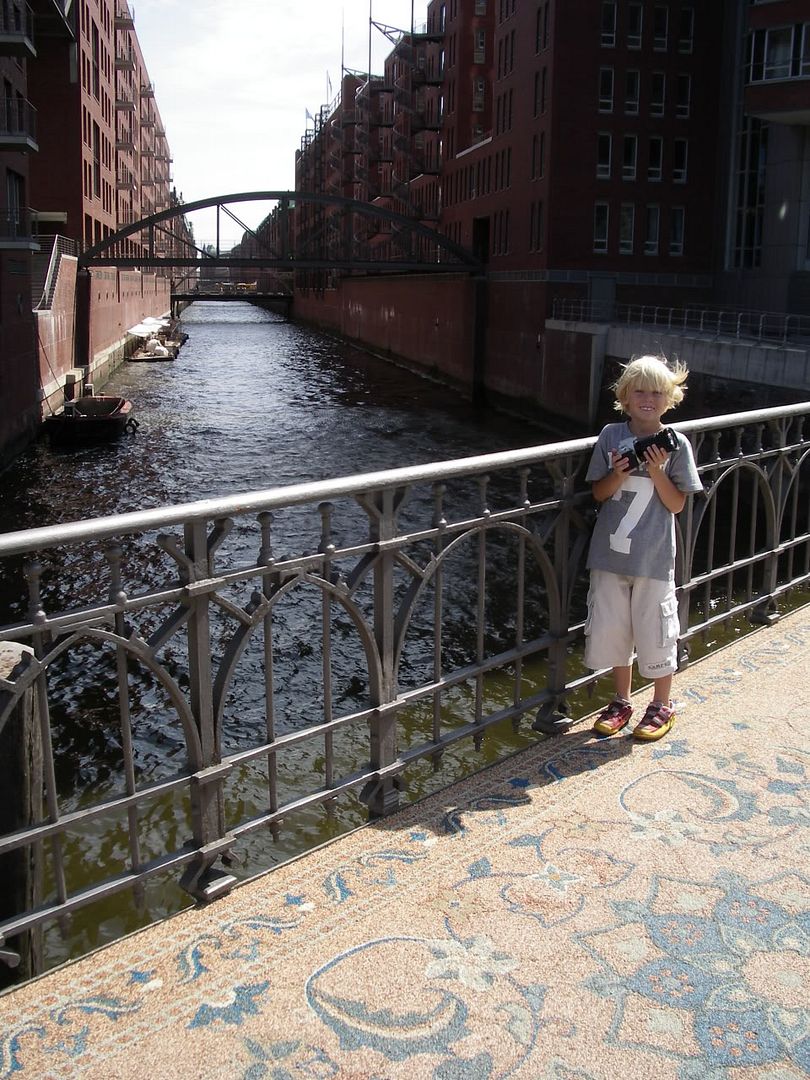 "Miniatur Wunderland", germanys largest model railway arrangement: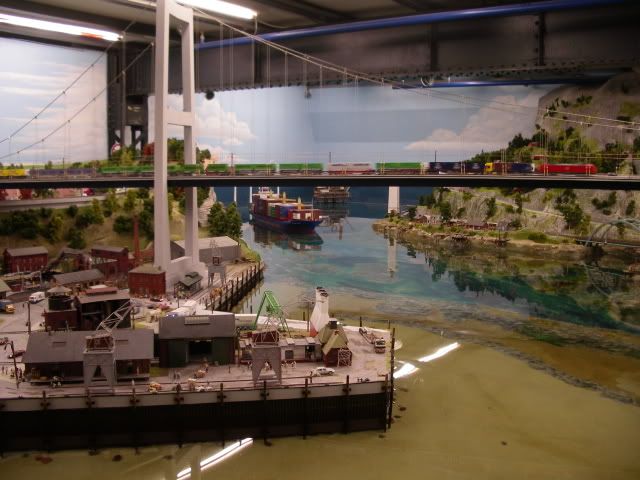 Thalia Theater: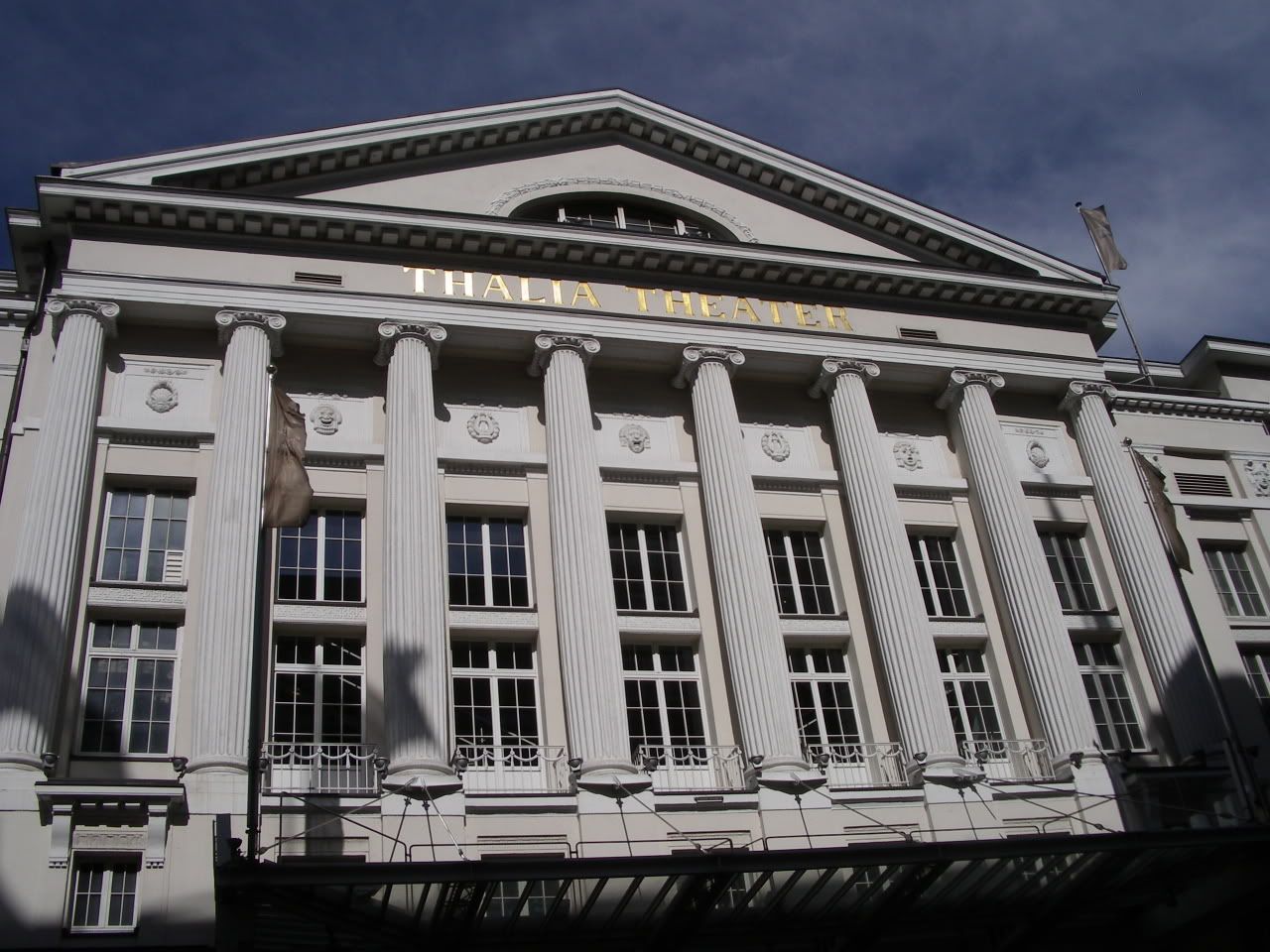 Museum ship, Cap San Diego: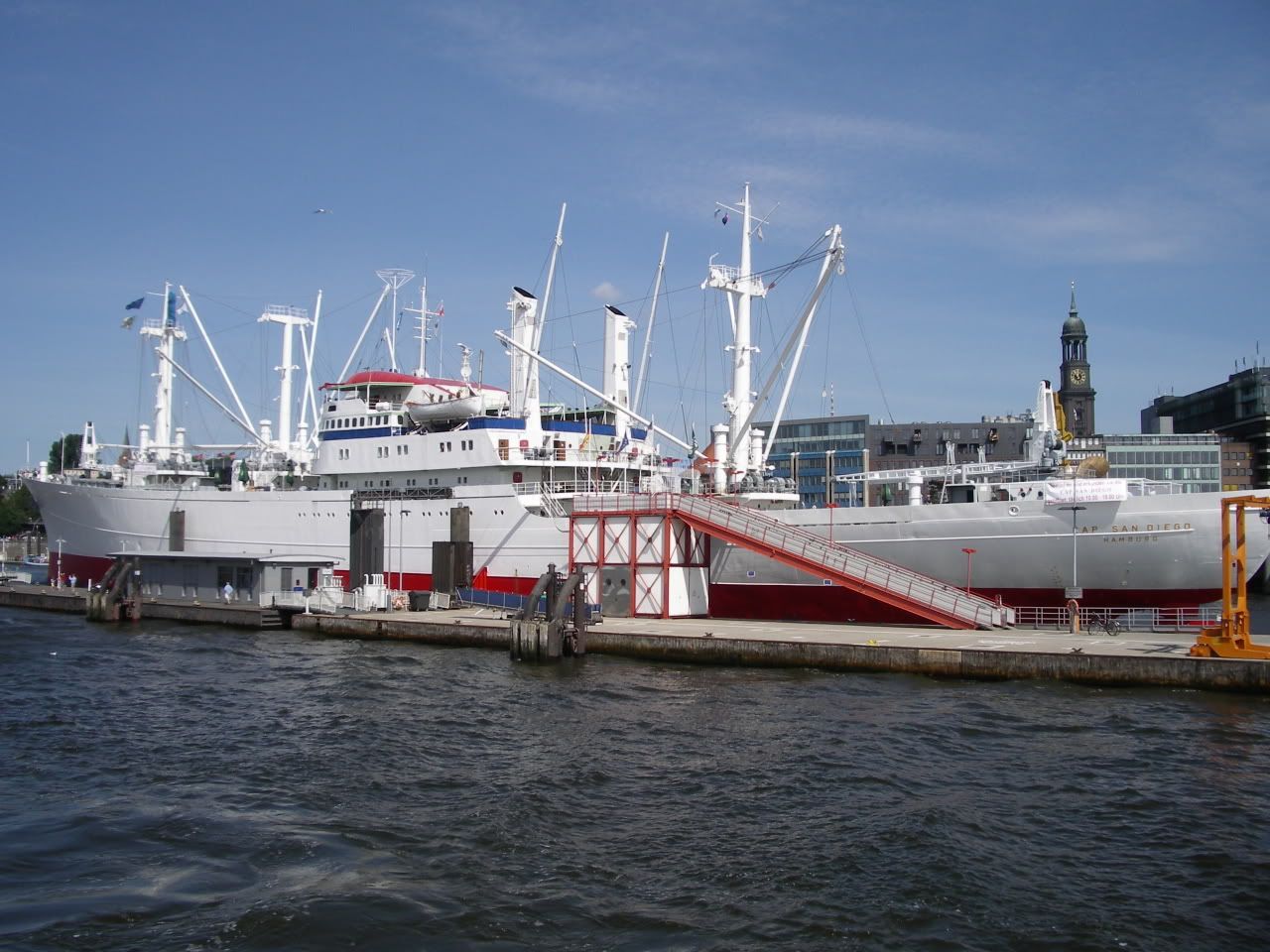 COSCO Athens on approach: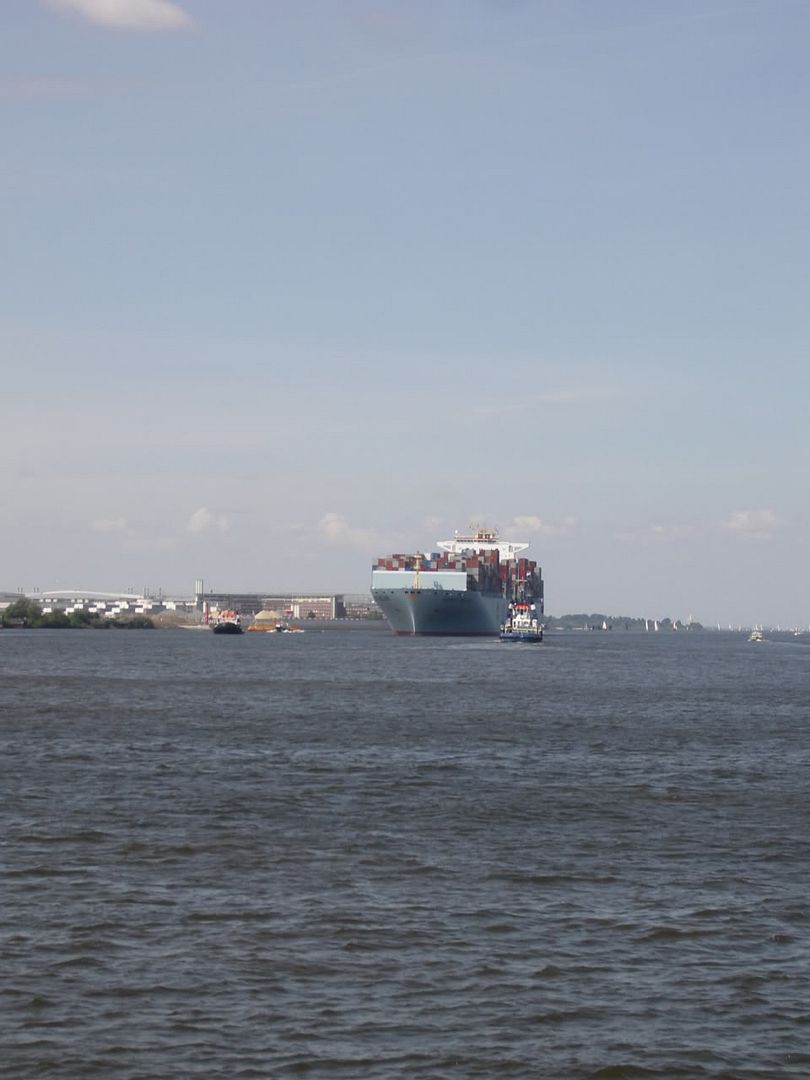 What a giant: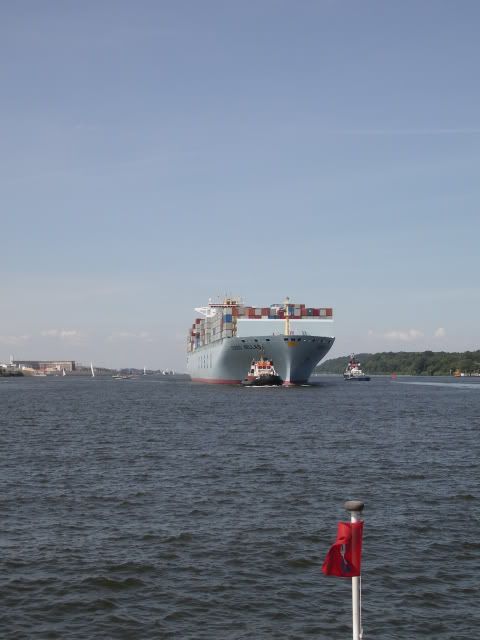 How to park an Algerian gas freighter in a dry dock, amazing: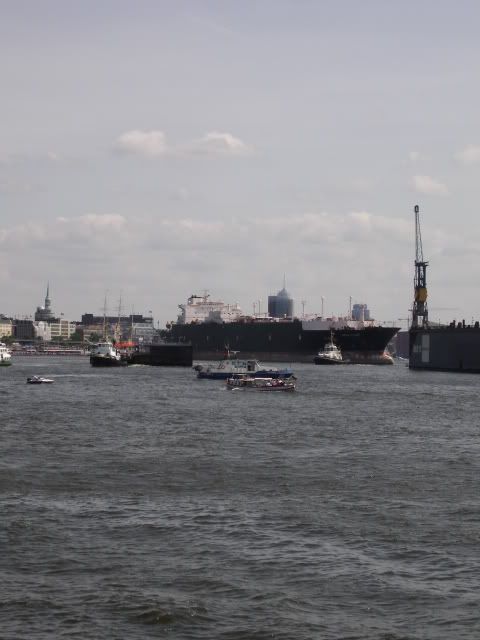 Chile-House: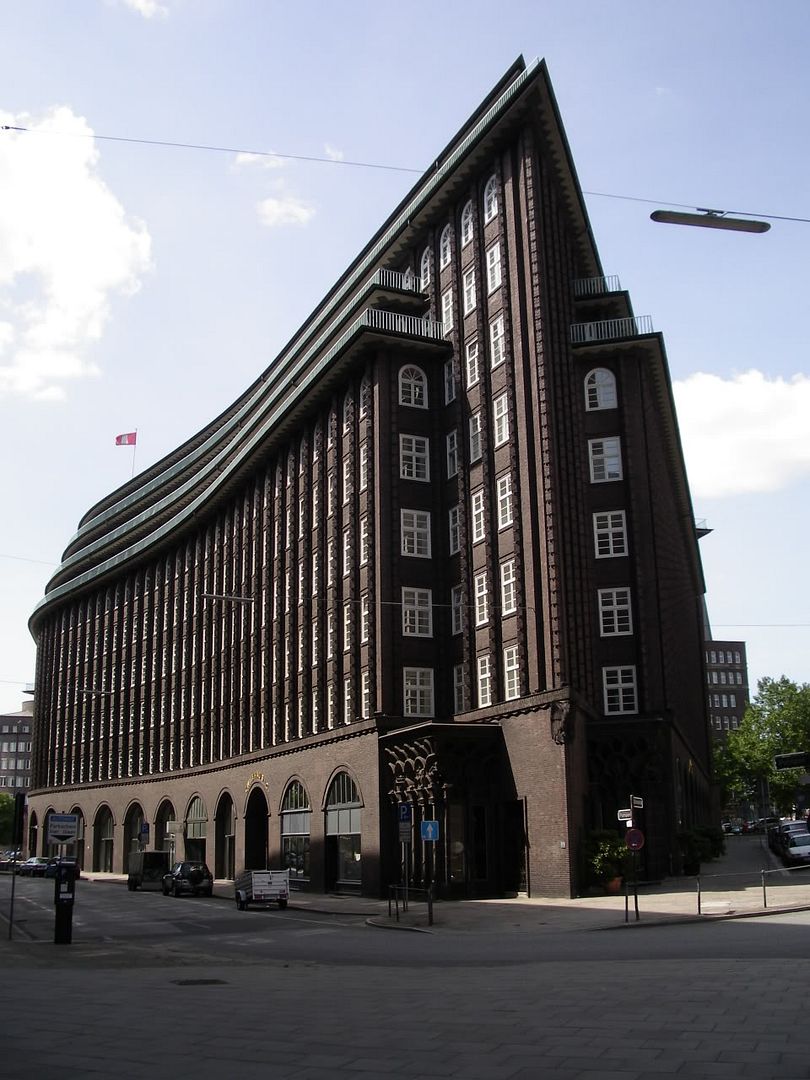 Sunday, 06.08.2006
HAM (Hamburg-Fuhlsbuettel) - STR (Stuttgart-Echterdingen)
LH 150 operated by Lufthansa B733 D-ABEP
Scheduled: 17.55 // 19.05
Actual: 18.00 // 18.55
Gate: C18 Seat: 24A/B
Loadfactor: more than 90 %
Delivered new to LH: 13.02.1992
On the way back by public transport to the airport after two very interesting days at around 3 pm.
LH offered machine check in also with luggage at HAM, no time to think about to use this service when I saw the huge queue at the desks.
Miles and Mord card in, boarding passes printed, boarding passes in and changed to our preffered seats. We´re pax no. 29 and 30 again.
Some time on the viewing terrace and later at the gate at around 5 pm.
Lots of people there, looks like a good load.
Shortly thereafter D-ABEP arrived, like the ACARS statement one of the mostly used 733´s on this route.
Leisure flight no. 25 on the B733 and the second on this metal.
D-ABEP just arrived: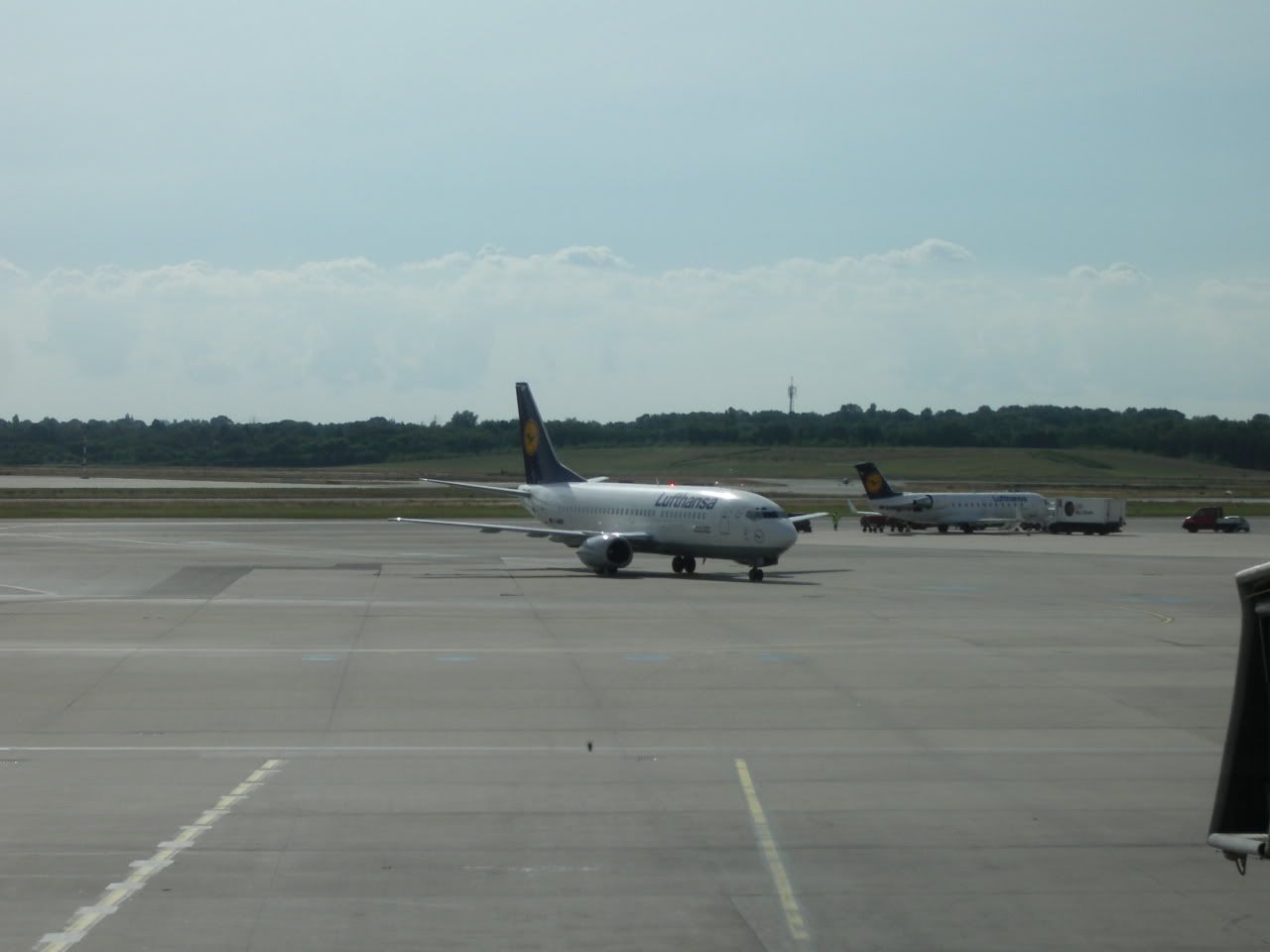 Taxi D-ABEP: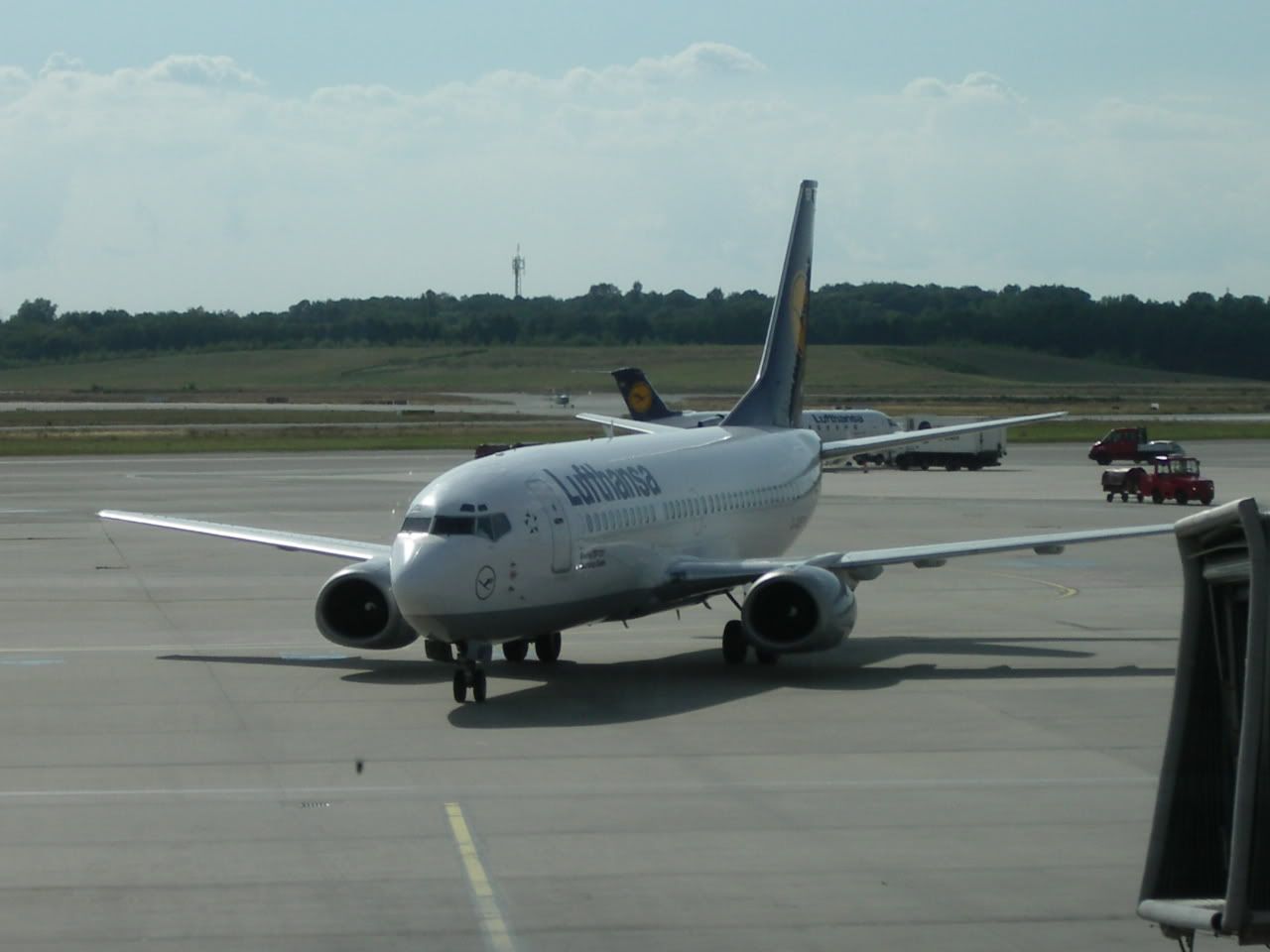 D-ABEP approaching the gate: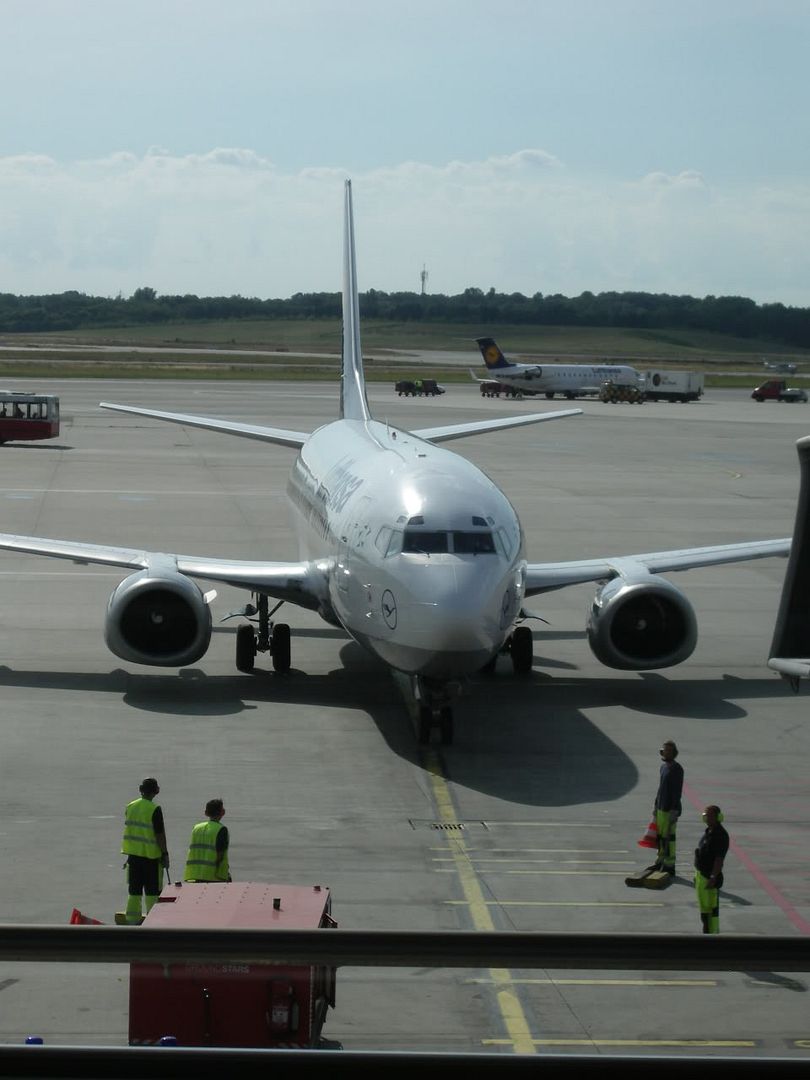 And finally D-ABEP parked at HAM: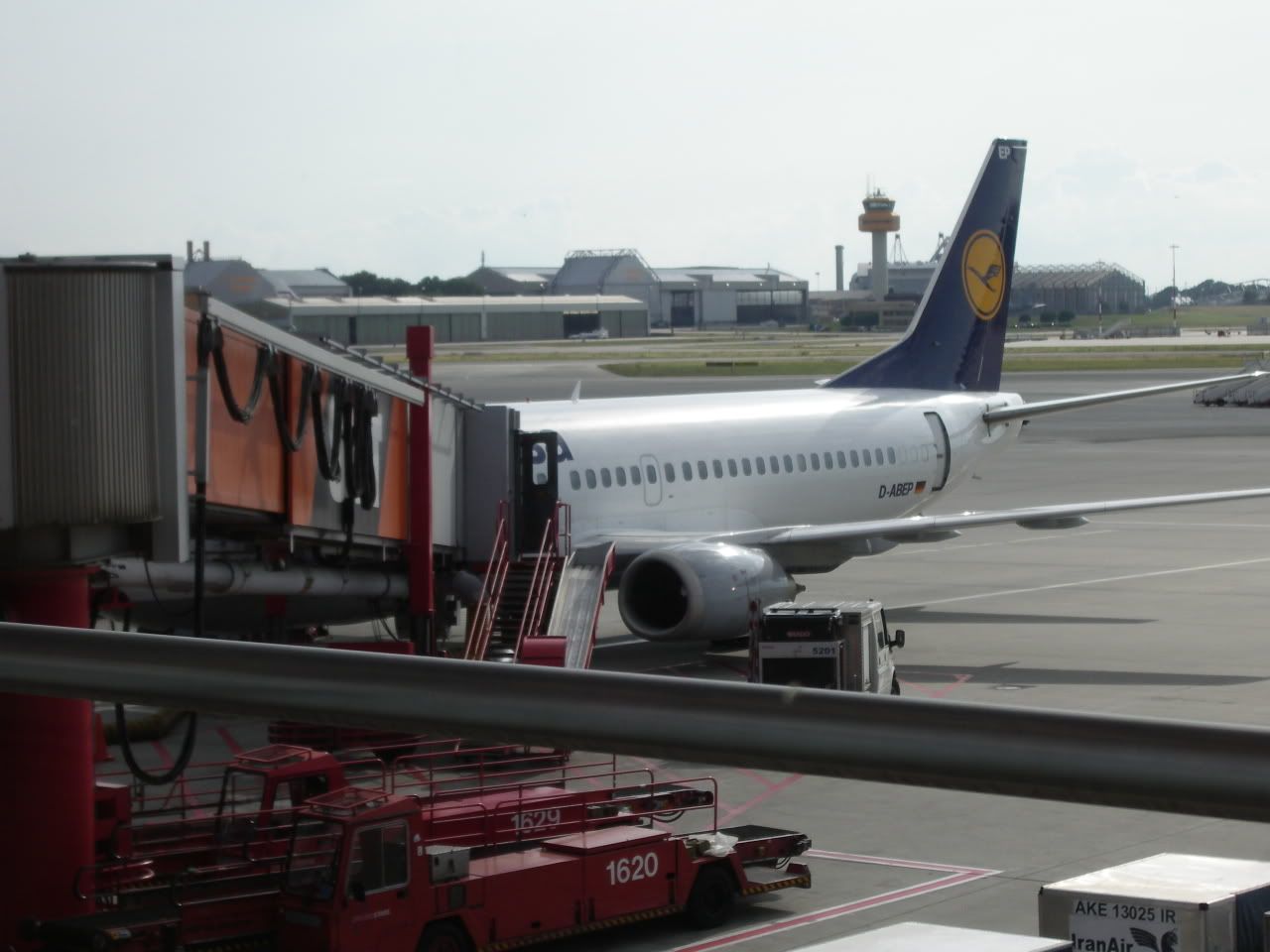 Boarding started pretty early. Welcomed by another, friendly all female cabin crew, leaded by the purserette Beatrice Sedat.
The safety informations in a real friendly way.
Like "Dear pax, please take care about our safety instructuons, we will check it later during the flight if you know all the details".
Again the last row with the limited view, but no problem.
Departure from runway no. 33 , only a short way after a delayed BulgariaAir B733 and on the way back to STR.
Again, bright, grey leather seats, clean plane.
Route: HAM-HAJ-Fulda-Wuerzburg-STR.
The captain introduced himself as Mr. Thomas Willenbuecher and his FO as Mr.Haegele, he welcomed us on the ground and gave as detailed informations during cruiseflight.
The very friendly FA told my son about two special pax on this service, german comedians Otto and Ralf Schmitz, my son asked for a autograph, no problem, nice gesture.
Cloudy sky, no special view, approach to STR started about 25 minutes ahead to arrivals on runway 25.
Parked at a finger gate at T1 and surprise, also bus deboarding from the rear door was possible.
The FA explained this with the shorter turnarounds.
D-ABEP after deboarding at STR: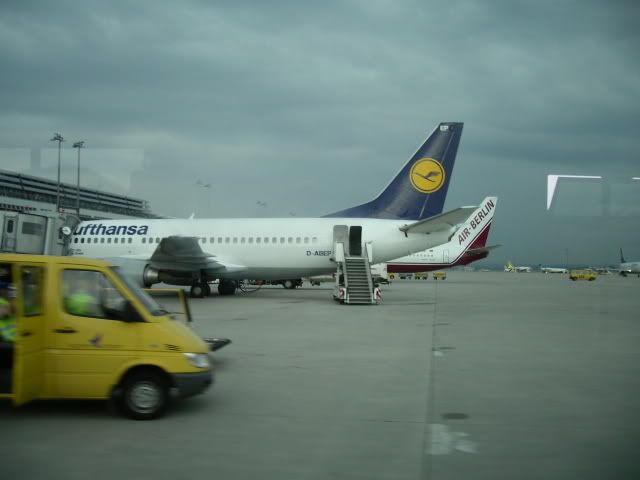 Very special: We´re the only two pax in the bus, all others deboarded by the finger and therefore we arrived early at the belt.
Some minutes to wait for the bag, some pax going to panic about their bags and approached the LH lost baggage desk, but no problem
our bag arrived.
On the way back home short thereafter with nice impressions from northern germany.
Conclusion:
The LH schedule was quite ok, the fares cheaper than DI or 4U (the LH Loco-company!), the flight-deck crew and especially the FA´s really friendly and attentive. Good job LH, a push for your rating!.
Comments and critics always welcome,
Markus (FLIEGER67)