On June 24th I returned to Florida from Turkey but my original return date was August 8th. My dad was going to fly from Florida to meet me in Turkey and return with me on August 8th. Since his ticket was non refundable once I got back home we decided to book me tickets and go back to Turkey.
The couple weeks in Florida went by fast then I was already going back to Turkey again.
JetBlue Airways
PBI - JFK
Flight: 142
Departure: 10:45 a.m
Arrival: 1:20 p.m
Aircraft: A230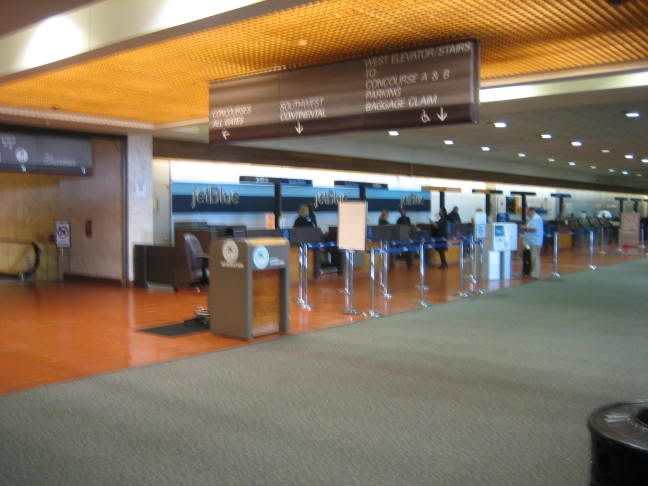 JetBlue Check in at PBI.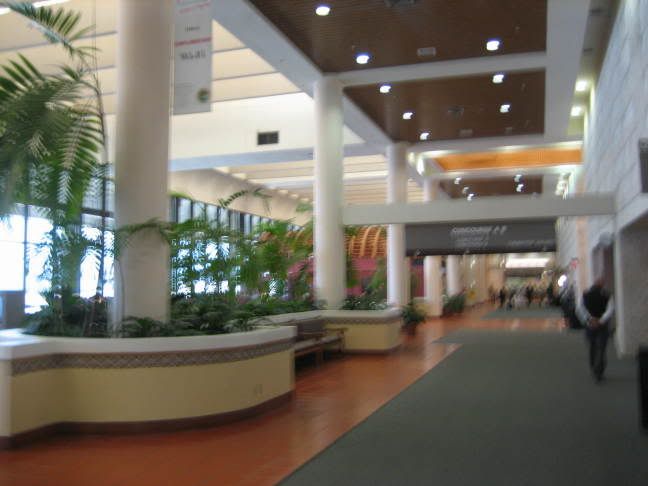 Terminal area.
We boarded the plane from the rear which I have never seen happen at PBI before.
Delta Skymiles Commercial.
Once we arrived in JFK we went to Terminal one but since one of the Airtrain's were broken we had to go all the way to Jamaica station and then back to Terminal 1.
Turkish Airlines
JFK - IST
Flight: TK0002
Departure: 18:00 July 25th
Arrival: 11:20 July 26th
Aircraft: A340-300
Seat: 15K
TK check in Area.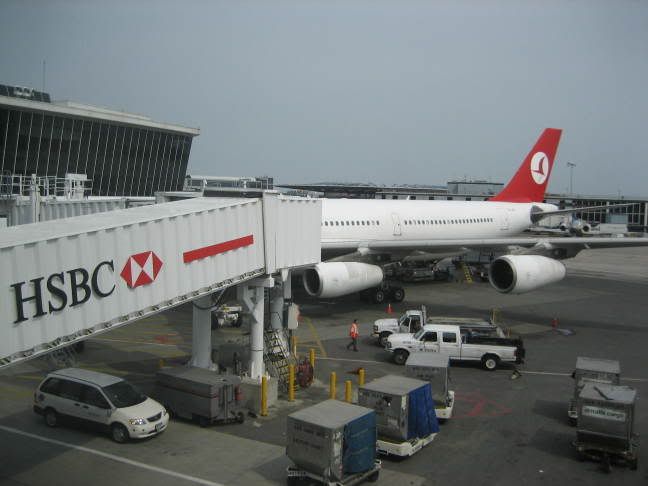 TC-JII "Mersin"
Gate area.
We started to board around 5:00.
The view from my seat.
While passengers were getting on the plane one guy came on with a cell phone and the flight attendant in Turkish said "Cell Phones are not allowed on the plane you can leave the plane and talk in the terminal and then get back on if your call is important but if it isn't shut your phone off." So they guy walked into the galley and put the phone on the other side of his face and walked back towards his seat and then the same flight attendant saw this and said " HEY! I told you there are no phones allowed on the plane I tried to make it easy for you but you didn't listen now shut it off now!" After that he turned it off. After that the flight attendant stood in the aisle and saw a guy sitting in 15G on a blackberry and since he was American she said to him in English " Please shut your phone off it is harmful to the flight instruments." and the guy replied "American Airlines let's you use the phone before takeoff." So, the already pissed of FA said "Is this American Airlines?" and he said "No, but..." and She said "Exactly this is Turkish Airlines and we have a no cell phone policy please turn your phone off." The guy then said "The phone call is important." So the FA said " I don't care shut it off now or I will have to ask you to leave the plane." and he finally listened. After that she ran off to the rear cabin because you could hear another cell phone ringing.
I have never seen that many cell phone related problems on a flight before.
The reflection of our plane.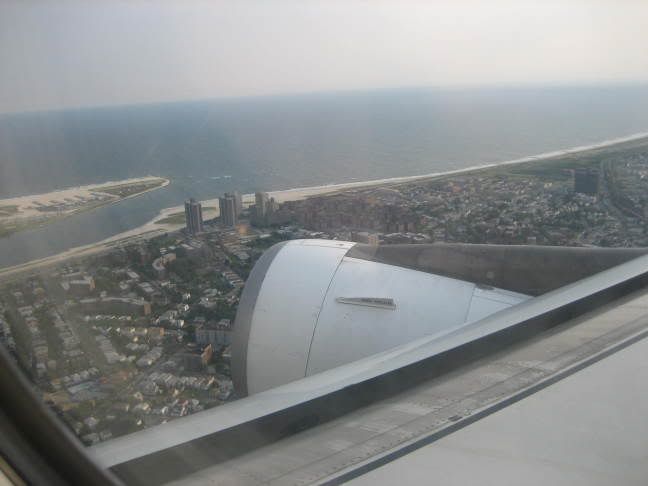 right after take off.
After an hour of flying dinner was served.
The choice was Chicken or Pasta.
I chose the pasta and it was good but I tried to chicken and it was better.
After dinner was finished the first movie Eight Below was played. After that movie they showed the news in Turkish then English and then Airobics.
I listened to my Ipod and read Skylife TK's inflight magazine for the rest of the time until breakfast.
Before breakfast the second movie Aquamarine was shown.
During the flight I met 1 of 3 familys moving back to Turkey from the U.S they were really nice they were moving to Izmir from Baltimore.
Breakfast with egg's potato's orange juice fruit and bread.
Landing Video
View from my window once we were at the gate.
The cabin crew was friendly this time since last year every flight I have had with TK the cabin crews get friendlier which is good. My cousin picked my dad and I up from the airport and we went to her house in Bebek. We had a great time in Istanbul.
Turkish Airlines
IST - BJV
Flight: TK0298
Departure: 22:00
Arrival: 23:00
Aircraft: A310
Seat: 10K
TK check in at the Domestic Terminal.
Izair.
Soon it was time for our plane to board so we went to the downstairs area since we were to be taken to our plane by bus. They took my tickets and I was ok to board then I looked behind me and they asked my dad where his ticket is. I went to go see what was going on... The guy asked the girl at the computer to check my dad's ticket. She told me in Turkish that his ticket had been cancelled and that it was booked for July 26 and she took our original tickets and was confused because when she saw our tickets were correct and the computer was wrong. She sent us up to check in and told us to hurry because they can't hold the plane for too long. We went to check in and the woman who checked us in got mad at the downstairs people because she said "if she checked us in how could our tickets be cancelled after check in" So we went to TK Ticket Sales and I had to translate Turkish for my dad for an hour and they said he needed to pay 30 lira if he wanted to get on the plane if not both tickets will be cancelled. So we payed and the lady who helped us check in took us down to the gate and the plane had already left. Then we went back to the Ticket Sales area and the guy who helped us there got us on the 22:00 flight and we didn't pay any penalty. We went back to check in and my dad was having a fit because he "knew" that our bags were on the plane to Bodrum. I said they weren't and that he should calm down and if he doesn't I will stop translating. Anyway...When we went to check in we went to the same woman and she took us down to the baggage area and the scanned our baggage bar codes and they got our bags to us in less than 5 minutes. When we dropped off our bags at check in I thanked the woman who helped us through our problems she was very nice and very efficient. After that we were hungry and we went eat at Divan Pub.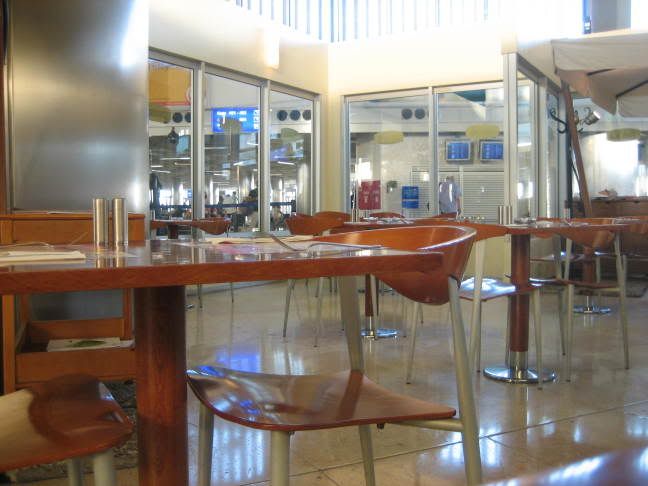 This is a picture of Divan Pub we sat there to kill time for 2 hours.
While I was waiting at our gate 106 I saw a KLM Cargo 747 taxi by which is unusual since IST doesn't get many 747's.
Gate Area.
Our plane. "Ergene" It was too dark to get the Reg.
Take-off Video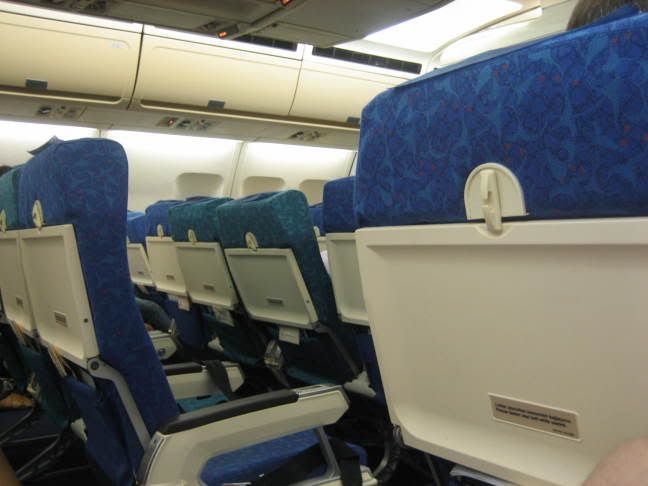 This is what the cabin of the A310 looked like the flight was half full.
Food service started after we reached our altitude.
The choices were crackers and cake or salad.
I chose the salad.
The next day in Bodrum we went to the TK office to figure out was had gone wrong with our ticket and we spoke to the manager too.
They said it was their fault that the ticket was cancelled and apologized. They said the need to listen to the phone call that we made when the tickets were purchased because they think that they forgot to tell us that my dad's ticket came with an option to still fly on July 26th and if it wasn't confirmed the July 30th ticket would be cancelled. So now we knew why my dad wasn't allowed to fly that day and that's all that we wanted to know.
I had a great 4 days with my family in sunny Bodrum.
Turkish Airlines
BJV - IST
Flight: TK0287 August 4th
Departure: 9:15
Arrival: 10:00
Aircraft: B 737-800
Seat: 18E
TC-ETC I flew on that reg. last month when I went to Antalya. Great plane great airline.
Bodrum's Domestic Terminal.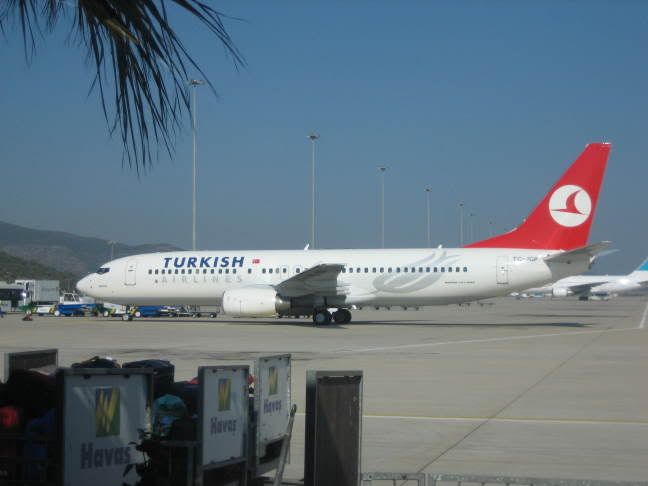 Our plane.TC-JGP "Bartin" It was very new and had the new livery and cabin interiors.
Boarding.
Tulip  
New seat colors.
The cabin.
Take-off Video
View after take off.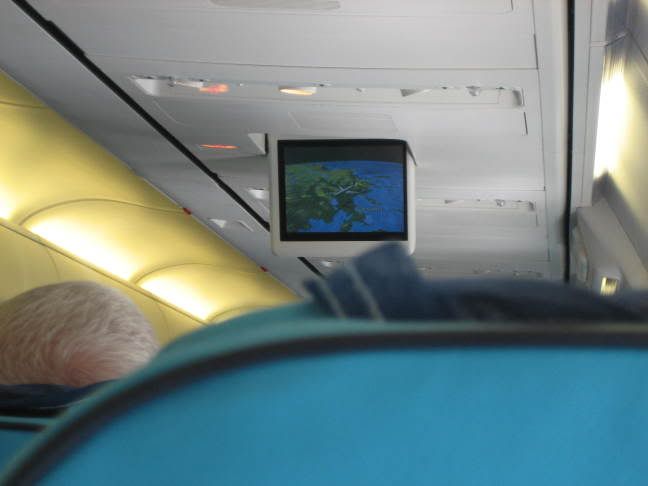 The new 737-800 had a new airshow which showed the plane from the outside it was really cool.
Over Izmir.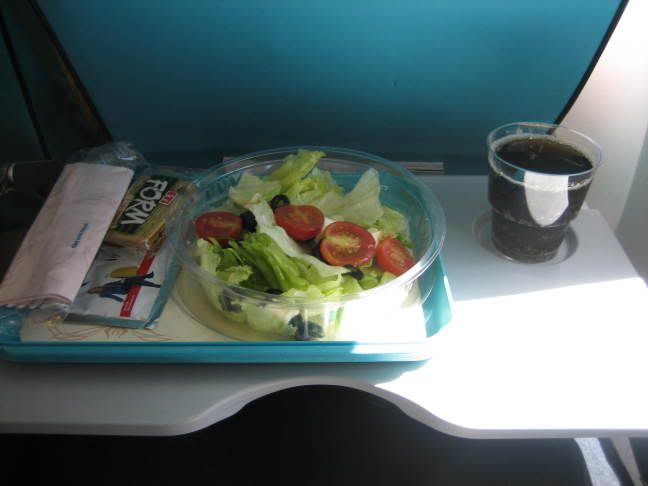 I had the choice of a sandwich or salad and since the salad was really good last time I chose it again. B6 should take lessons from TK's domestic service they serve decent amount of food on a 50 minute flight. B6 gives biscotti or chips and a drink on a 2h 30 minute flight from PBI - JFK.
Shortly after food was collected we were close to landing.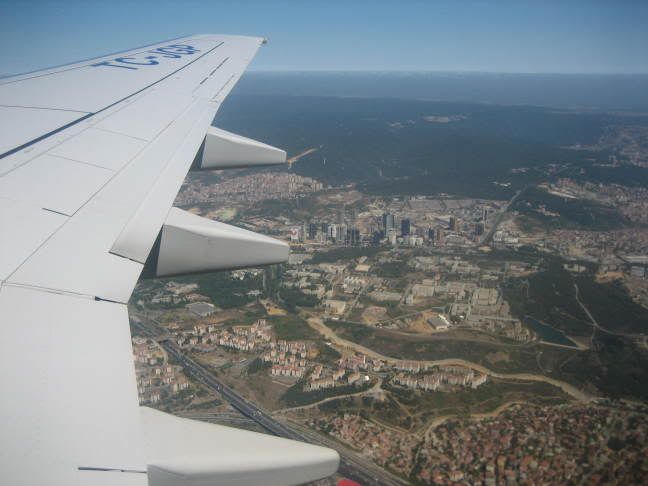 Maslak Skyline.
Levent Skyline.
These are the places that you can see in the picture:
Kanyon
Metrocity.
Is Bank
Yapi Kredi Center
Ok enough buildings back to planes.
Landing Video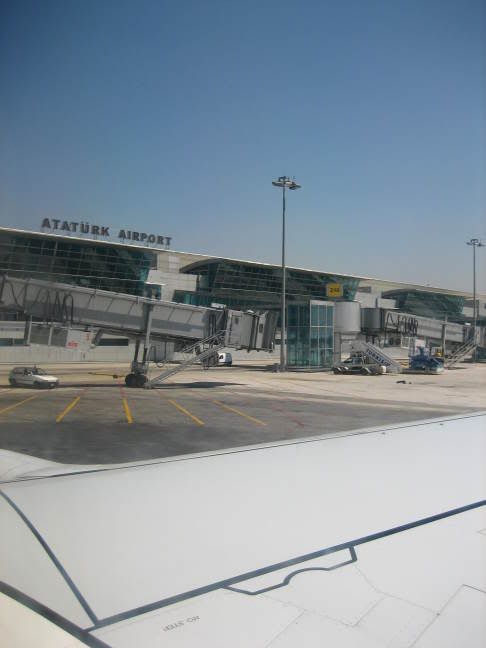 The new seats looked good they were very comfortable and are a big improvement from the old ones. And I have flown a lot but by far this flight was my favorite of them all.
After I was back in Istanbul I had more great times and took some good pictures too.
It was already time for me to go back to Florida  
My cousins cat didn't even want me to leave.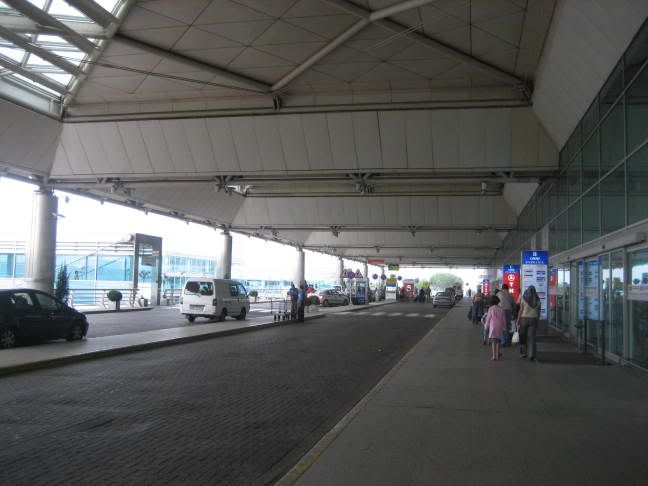 IST
Check in area.
Duty Free area.
F1 car. I assume it is there for the Formula 1 races coming up soon.
More duty free.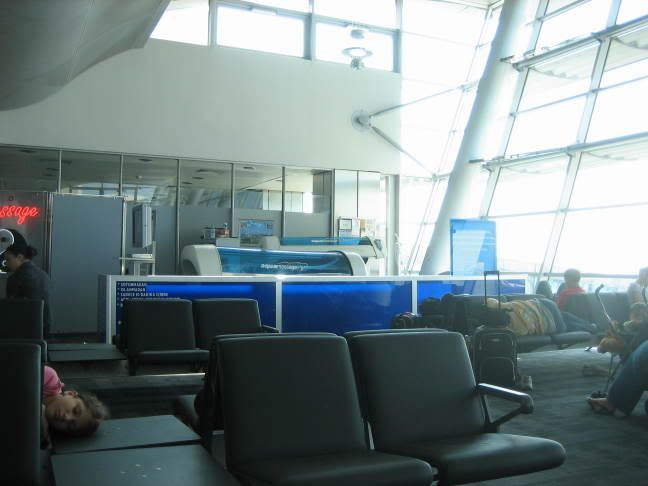 Gate area with aqua massage.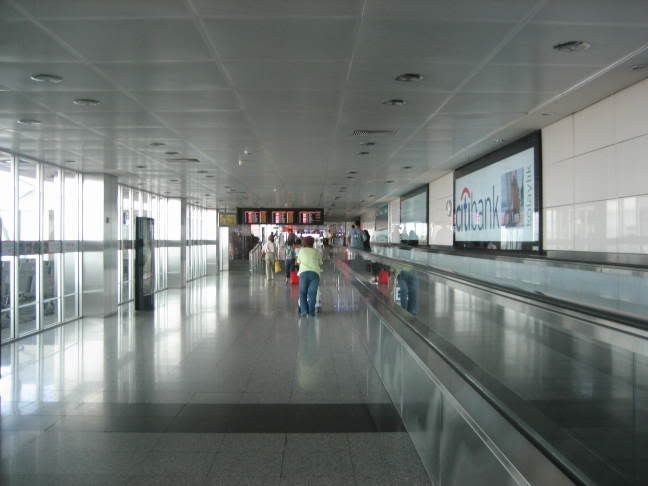 Looking down the terminal.
TK A330 and 340.
PIA 777
Turkish Airlines
IST-JFK
Flight: TK0001 August 8th
Departure: 11:20
Arrival: 3:00
Aircraft: A340-300
Seat: 31K
Our plane TC-JDK "Diyarbakir"
Cabin.
I found it funny that the security girl had her hair done and had make-up on even though nobody sees it since she is on the ground.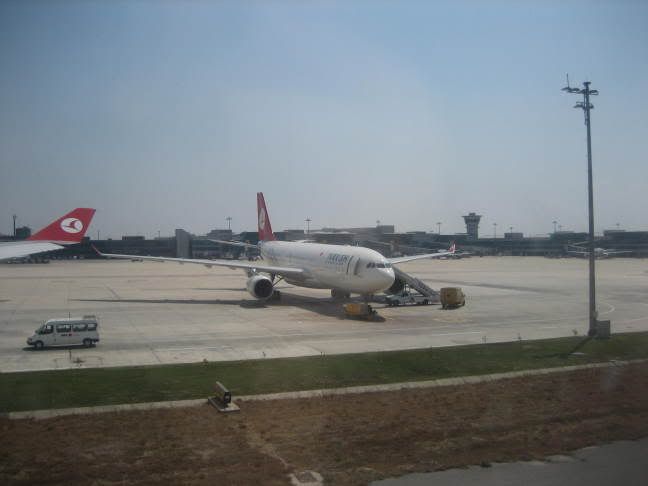 TC-JNE "Kayseri" My grandmother is from Kayseri. That plane is also the 5th and last A330 in the fleet.
When we passed that hangar I could see a A340 getting the new livery and probably the new seats too.
We took off from the new runway.
After we took off they passed out headphones and the blue bag had a comb socks eye mask and a tooth brush and toothpaste.
Lunch. Turkish Style beef with rice and spinach...it was really good.
Over London.
I slept for 3 hours but I also listened to the IFE since my Ipod headphones broke. The movies they played were The Pink Panther and Firewall.
TK has decent IFE now but it will be way better when they get the PTV's. The whole flight was really quiet it was prefect for sleeping.
My last food from Turkey. Chicken potato salad and eggplant. It was also good. I asked for Lipton Lemon Iced Tea and the FA poured me a Beer and then she realized that and we both started laughing. I've never had a bad meal on TK.
Condensation?
JFK landing.
Probably the smoothest landing I have ever seen.
I wish I could go back... TK check in.
JetBlue Airways
JFK - PBI
Flight 35
Departure:8:00
Arrival: 11:10
A230
Seat 9A
This time the airtrain was working and we went straight to the JetBlue Terminal which I think is really crappy.
Our flight was late 20 minutes but we made it up in the air.
Seats...the ptv's were different from the rest of the B6 ptv's I've seen.
Our crew was very rude and had an attitude which is unusual since B6 always has friendly crews.
Overall I think TK is a really good airline and will be even better when they get PTV's in their A340's. They have nice crews but occasionally they are unfriendly. The food is always good. I've never had a problem with them until my dad had his ticket problem with them and now I know they have good customer service and are very efficient and helpful.
JetBlue is also a good airline except they are late occasionally. I like their A320's and their crews are ok. The PTV's help the flight go by faster depending if something good is on or not. They need to have better catering services.
THE END.
I hope you enjoyed my trip report!  
[Edited 2006-08-11 00:37:39]