London Heathrow, Terminal 3 (LHR) - Kuala Lumpur KLIA, Satellite Terminal (KUL)

Flight: MH007
Operator: Malaysia Airlines
Aircraft: Boeing 747-4H6
Reg: 9M-MPI
Aircraft Name: "Tioman"
Seat: 60H
Boarding Time: 18:35
Scheduled Depature Time: 19:05
Actual Departure Time: 19:15
Scheduled Arrival Time: 14:30 +1
Actual Arrival Time: 14:50 +1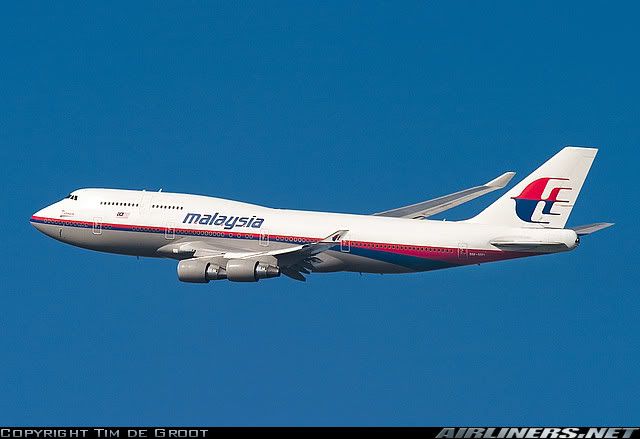 We arrived at Terminal 3 after parking our car at the "Pink Elephant" parking lot. The terminal was pretty packed as many people were departing on flights mostly to Asia, and a few to North America. There were flights ranging from SAS's MD flights CPH to American Airlines flights to BOS!
We checked in quite early at LHR, so we avoided most of the ques! We checked in opposite the Emirates and Air India desks! There was an EK flight heading to DXB and the line for check-in was huge
I'm glad I wasn't traveling on EK tonight
There were a few shops prior to immigration, but nothing special. We moved through immigration quite quickly and found our way into the departure hall. There was many shops in here, including many duty free shops! Despite what many say, LHR is not that much of a dump
I decided to go and explore the gates....
Cathay Pacific 747-400 loading up for the return to HKG
ANA 747-400 preparing for the flight home to NRT, won't be long before these are replaced by the 777-300ER's
Close up of the rear of JA8095 bound for NRT
Arrival of 9M-MPL "Penang" from KLIA, this will fly the later flight back to KUL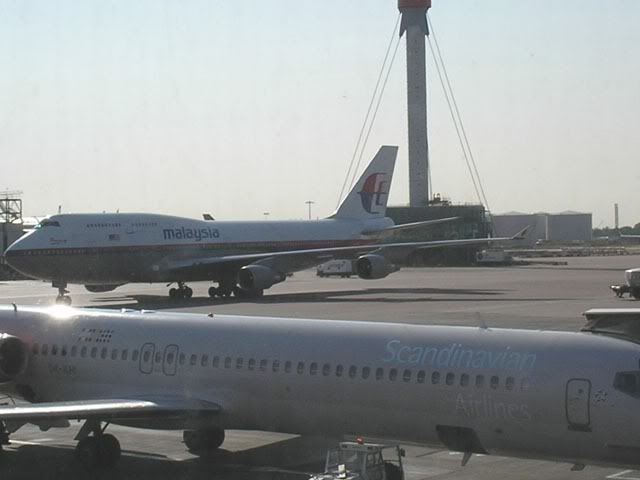 Nose of SAS' MD-87 "OY-KHI" whilst an EY A340-500 arrives from AUH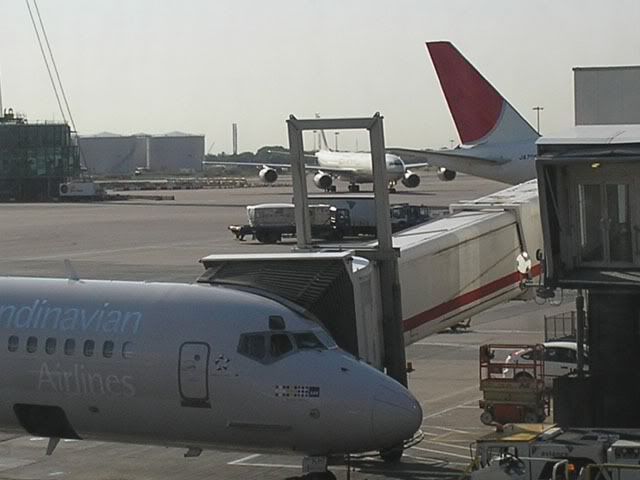 OY-KHI with JAL 777-300ER, 777-200ER and a Etihad Airways A340-500 visible
Now it was time to head over to the gate, the aircraft was parked at the new gates of Terminal 3. The gates were very nice compared to some of the older gates in the terminal ...
Virgin Atlantic A340-600 after push back, destination unknown
Overview of the parking areas near to T4, QF 744 and Bahrain 747SP visible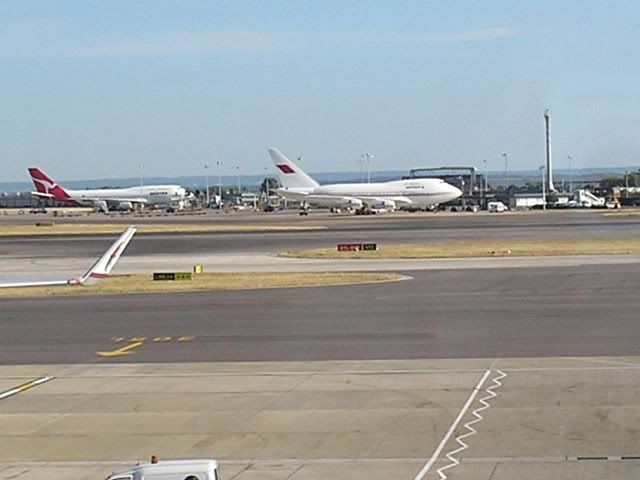 VS A340-600 heading towards the active runway for a departure to Asia
My first sighting of the aircraft that will carry me to Kuala Lumpur shortly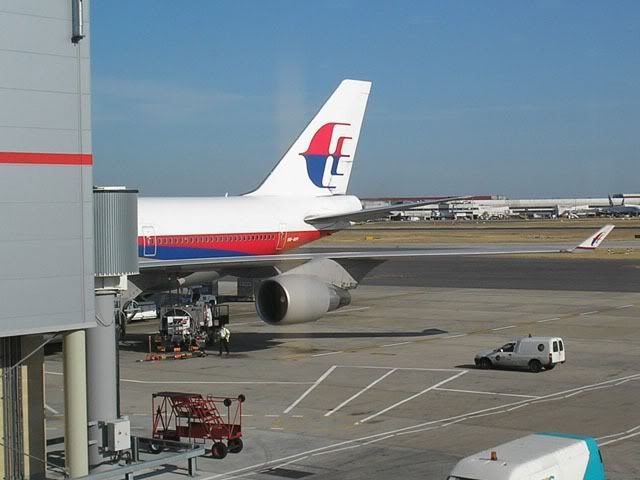 Boarding was announced at around 18:35 and small children, the elderly, passengers with special requirement, First Class and Golden Club Class passengers were invited to board the aircraft. We were able to board the aircraft via to different doors, the first was for F and J PAX, whilst the other was for Y PAX.
We were welcomed by a very nice crew onboard. The aircraft was very clean and looked in a very good condition! We took our seats at the very rear of the aircraft. We choose these seats as they are at the rear of the aircraft where the seating goes from 3-4-3 to 2-4-2
The 2-4-2 seating provided the window seats with masses of legroom!
View from my seat as a 9W was preparing for a later departure to India, either BOM or DEL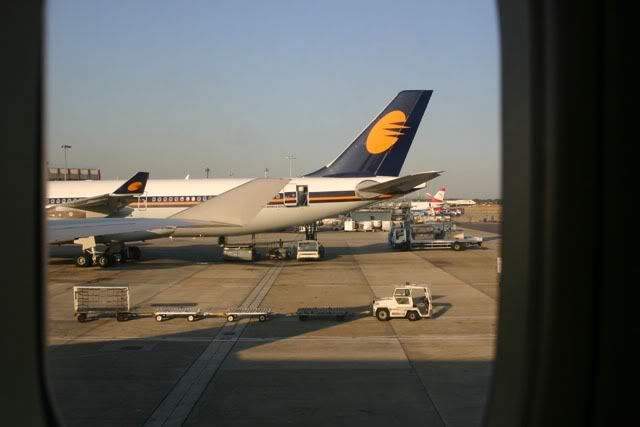 Pushback finally came around at 19:10, the crew then provided us with a short safety demonststraion. Hot towels were then issued to passengers throughout the cabin.
Pushback with a CX 346 bound for HKG, 9W 343 bound for India and a IY (Yemenia) 332 bound for SAH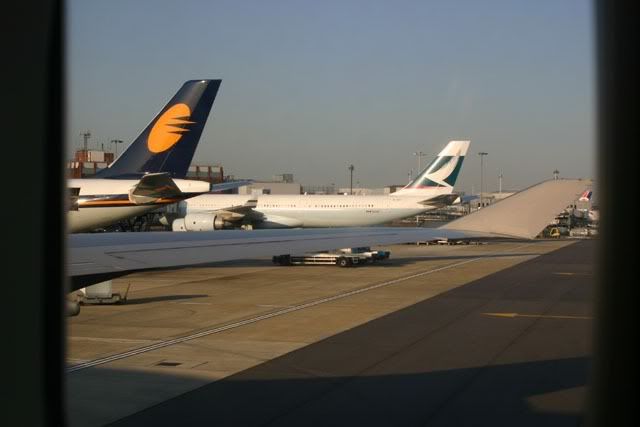 Beginning our taxi whilst a Bmi A320 passes by
Saudi Arabian 777-200ER parked in the Evening sun at LHR's T3
View from the window in-front as we taxied past T4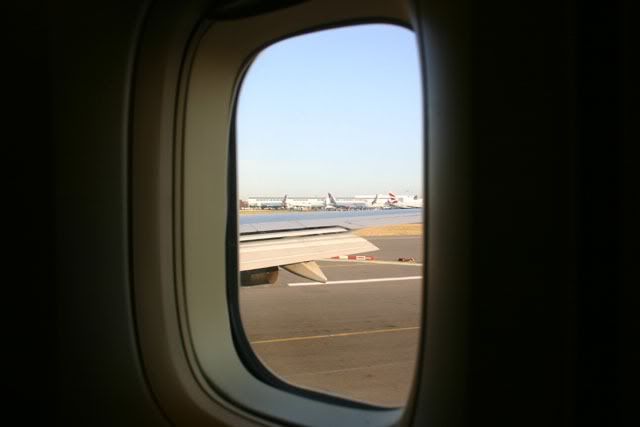 Many BA aircraft with a KQ 772 from NBO at Terminal 4
Passing a BA 747-400 "G-BNLJ" as we head for the runway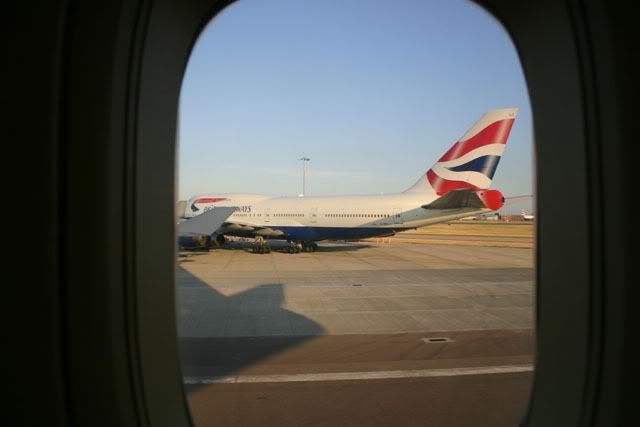 Another view of G-BNLJ parked at a remote stand
SAA 747-400 being towed to Terminal 1 for a late departure to South Africa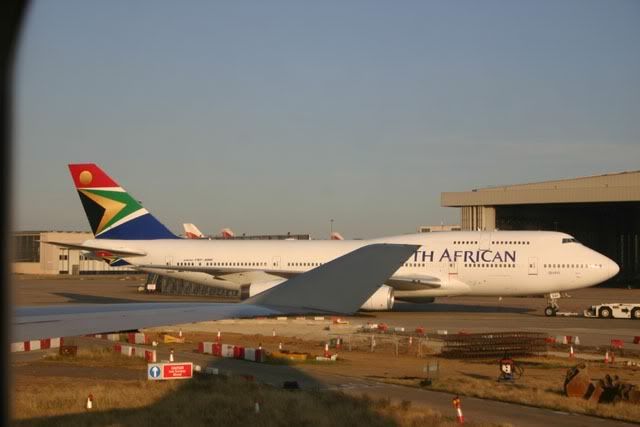 Passing Bmi's new addition to the long haul fleet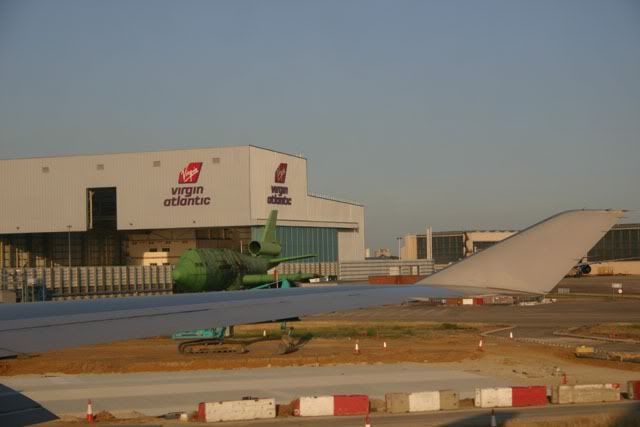 View towards the Ba hangers with BA 744's, a single QF 744 and a BA Concorde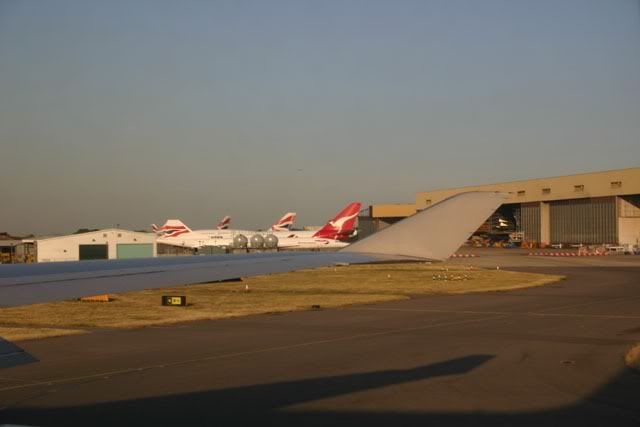 View of the Bmi and BA hangers with two Bmi A321's a Bmi A330-200 and a BA 777-200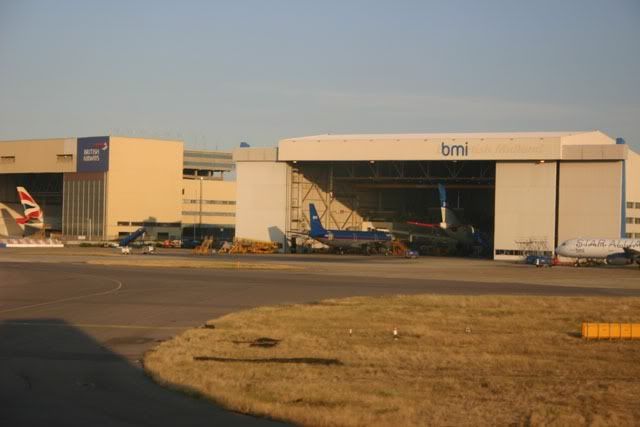 An early BA A320 with CFM's on about to touchdown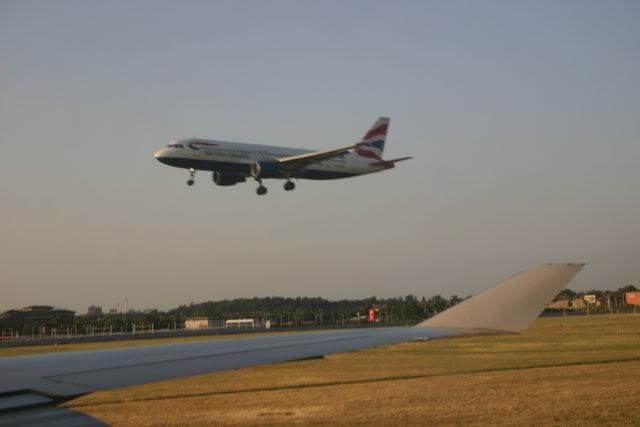 9M-MPI lining up for 27R departure to KLIA with me on board
Picture taken by David James Clelford!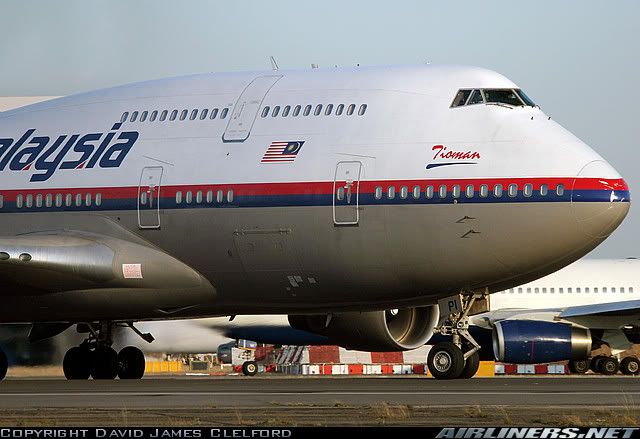 Shortly after take-off as we turn right heading for North London
Last view over London as we head east around the globe to Kuala Lumpur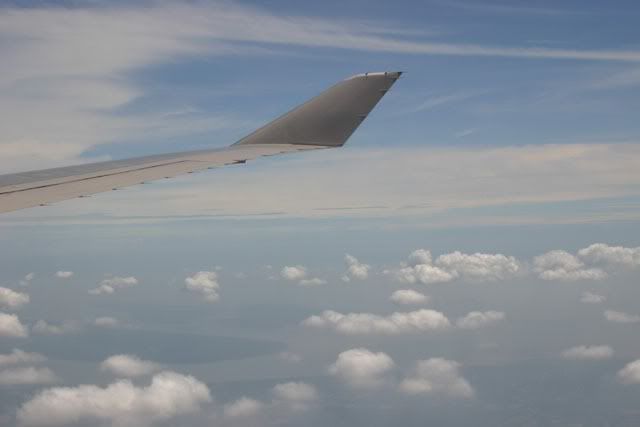 Soon after take-off we were provided by a round of Orange Juice or Beer. A soon while after came nuts and a drinks service. Drinks also included Tea and Coffee! As we headed towards Poland the sun began to set and the meal service was announced. We were offered two choices, either Chicken with rice or Fish and Noodles! I chose the Chicken and rice. The meal was simply delicious, it was also served with vegetables, a bread roll, orange juice, tea or coffee, Smoked salmon starter with salad, chocolate pudding along with a nice chocolate square
I would have rated the meal 5/5 for an Economy product! So far so good on MH
The aircraft was fitted with AVOD in every seat, which was brilliant! I had previously tried AVOD with Qatar Airways, but I much preferred MH's! I seem to remember watching "King of Queens," "Pink Panther," The Office US" and a few other films and programmes! The selection was very good! Along with TV you also had films, music, your own personal jukebox, moving map, interactive map and several other features! I decided to have a go with the personal jukebox. It was brilliant; you could select music from the many albums on offer on board and select them onto your own music player! I was becoming more impressed with MH by the minute
Soon after I decided to sleep as we passed Eastern Europe, I woke up just as we left the East Indian Cost
The cabin was very spacious and clean, it was in a 3-4-3 config most of the way through Economy, except for the few last rows! All of Malaysia Airline's 747-400's are in a 3-class config with Economy, Golden Club Class and First Class!
First Class
Golden Club Class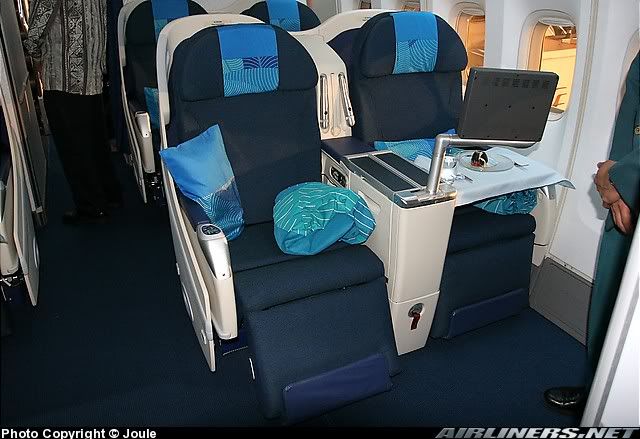 Economy Class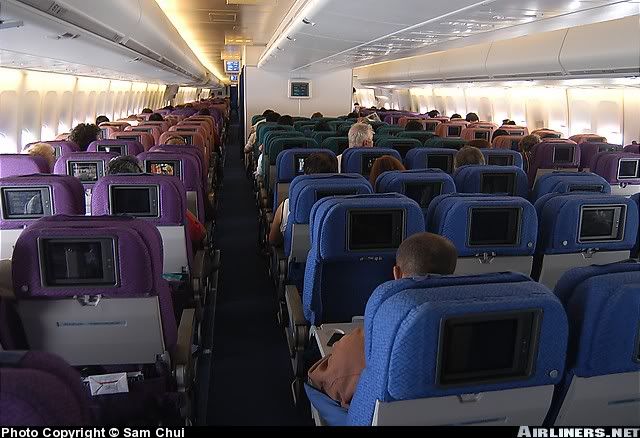 The interactive map was also very good, you could select many view and modes! It is very similar to the V:Port map and TG's new maps offered on their A340s!
The interactive map as we approach Kuala Lumpur, I apologise for the blur
We were offered another meal service, I'm not sure whether it was breakfast or lunch as I passed! Soon after (around 1hr) decent into KLIA was announced. A short video on Malaysia, Kuala Lumpur and KLIA was shown across the cabin prior to landing. The crew prepared for landing and it was time for me to get the camera out again
Approaching Kuala Lumpur and looking very similar to the approach at BKK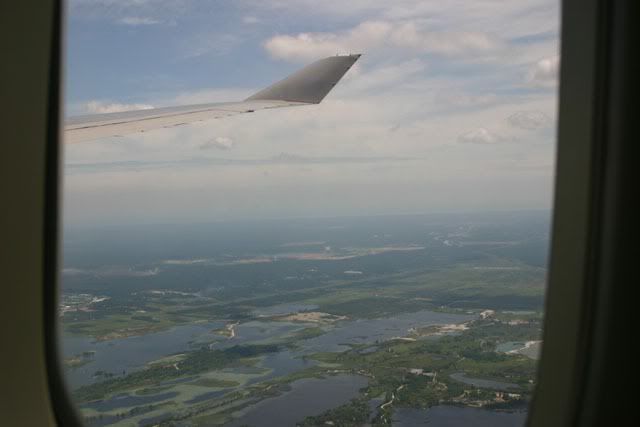 Passing over the highway as we approach KLIA, seems to be very quiet!
Touchdown on Malaysian soil, with the huge tower visible in the background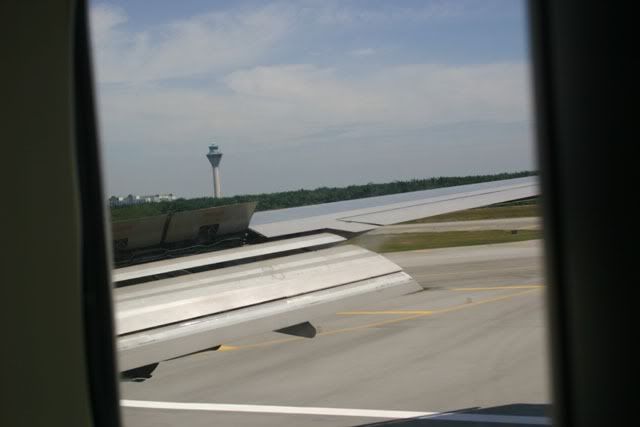 Exiting the active runway as we head to the Satellite terminal
Lion Air 734-400 taxiing to the runway, no mistaking what aircraft this is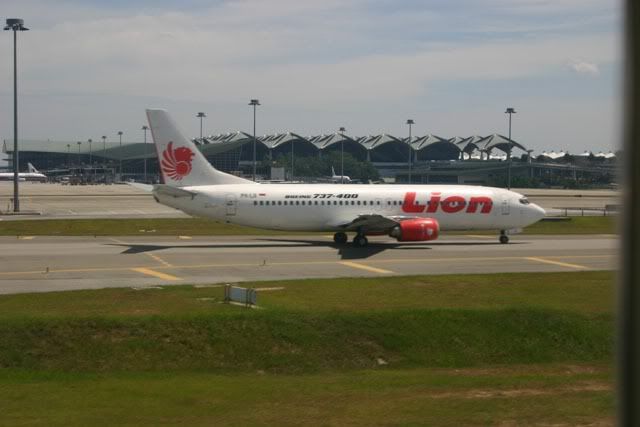 A very empty Domestic terminal which I would soon be heading to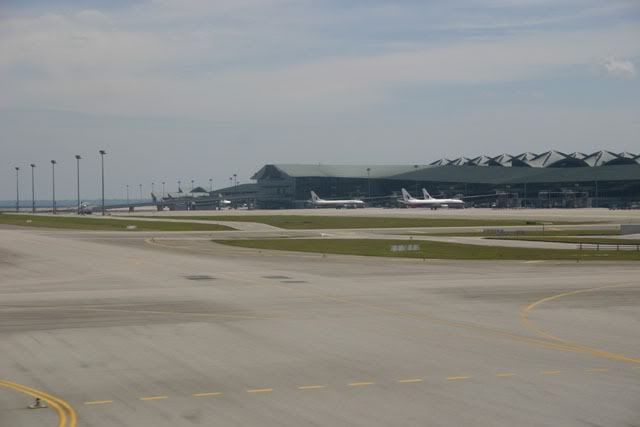 Approaching the Satellite Terminal, this is where most (if not all) International flights are (Except AirAsia). Passing an MH 744 "9M-MPQ" en-route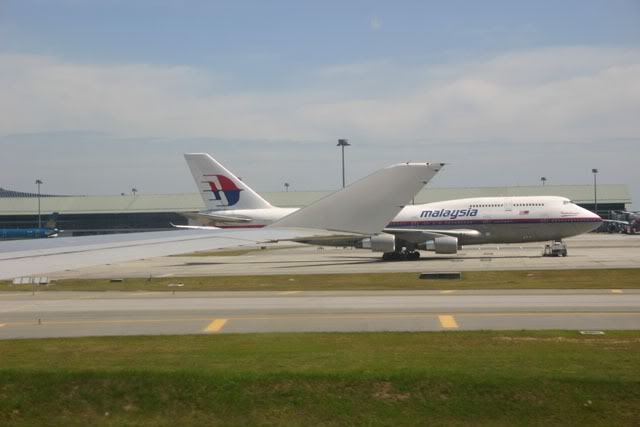 Passing 9M-MPQ "Kuala Lumpur", this would later have "Visit Malaysia 2007" stickers on the rear fuselage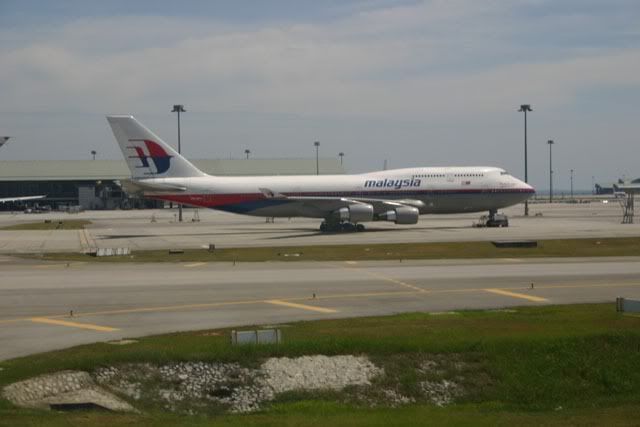 View towards the Domestic Terminal (in the far background) with Malaysia Airlines 747-400 and A330-300.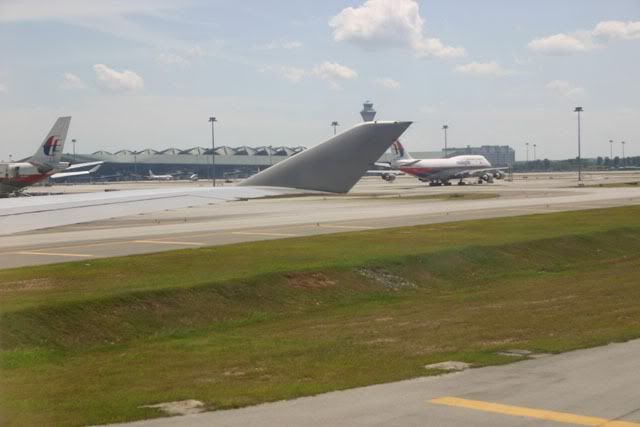 A.netters, welcome to the Satellite Terminal at KLIA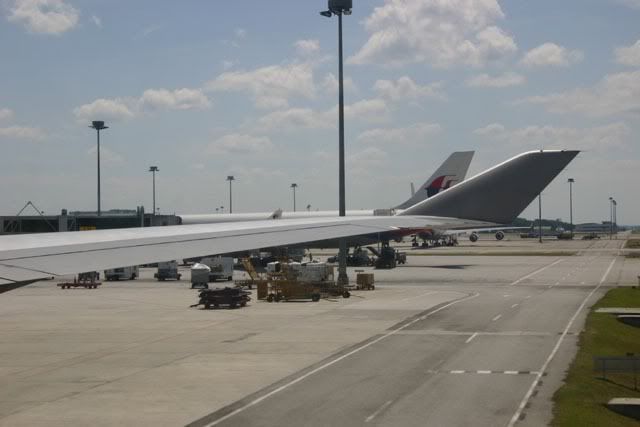 My Ratings
Malaysia Airlines - A Truly 5 Star Airline?
- Yes without a doubt, I would choose to fly them without a seconds thought! In fact I'm already trying to find a fare to Phuket with them
I couldn't fault their service on today's flight from London and look forward to flying them again!
London Heathrow
- LHR may not be as good as good as AMS, MUC, HKG, SIN... etc, but LHR does the job fine for me. I still prefer to fly from LHR than any other UK airport (on a par with LGW). LHR may not be the best, but that's why LHR is LHR
Kuala Lumpur Airport
- I have not provided photo's of the airport in this trip report, but I will in my future posts that will follow. Kuala Lumpur Airport or KLIA is a magnificent airport. I love the layout of having 3 Terminals. One is the Satellite Terminal which is linked by a un-maned train to the Domestic terminal, the other is the Domestic Terminal which is also excellent, and the other is the less glamorous LCCT (Low Cost Carrier Terminal)! I strongly recommend KLIA to anyone, whether you are transferring onto Australia/New Zealand, Asia, Europe, Africa.. or Domestic. KLIA scores 4.8/5 for me, the only drawback is the slightly slow immigration at times! The airport architecture is also very stunning
Join me for more when I travel on the following routes
Kuala Lumpur - Kuantan
Malaysia Airlines
Kuantan - Kuala Lumpur
Malaysia Airlines
Kuala Lumpur - Kuching
Malaysia Airlines
Kuching - Kota Kinabalu
Malaysia Airlines
Kota Kinabalu - Sandakan
Malaysia Airlines
Sandakan - Kota Kinabalu
Malaysia Airlines
Kota Kinabalu - Kuala Lumpur
Malaysia Airlines
Kuala Lumpur - London Heathrow
Malaysia Airlines
More Pic's To Come...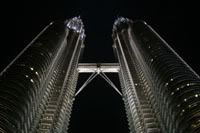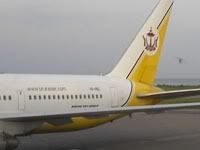 Comments Welcome,
Other TR's:
http://www.airliners.net/discussions/trip_reports/read.main/57224
http://www.airliners.net/discussions/trip_reports/read.main/57873
http://www.airliners.net/discussions/trip_reports/read.main/79657
Rob!
[Edited 2006-08-12 16:43:02]