Kuala Lumpur KLIA, Domestic Terminal (KUL) - Kuantan (KUA)

Flight: MH1276
Operator: Malaysia Airlines
Aircraft: Boeing 737-4H6
Reg: 9M-MMM
Seat: 08A
Boarding Time: 15:05
Scheduled Departure Time: 15:40
Actual Departure Time: 15:45
Scheduled Arrival Time: 16:20
Actual Arrival Time: 16:10
Flight Load: 100%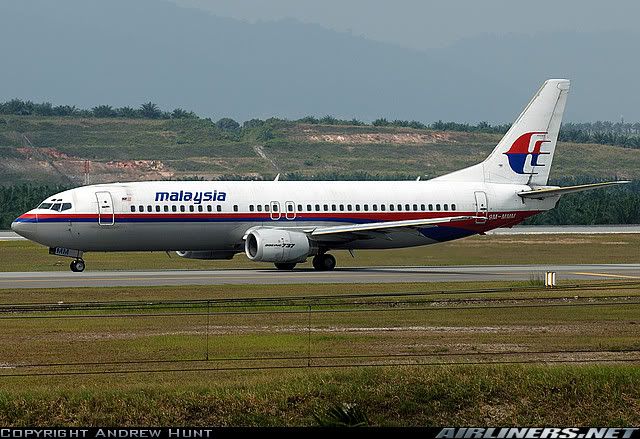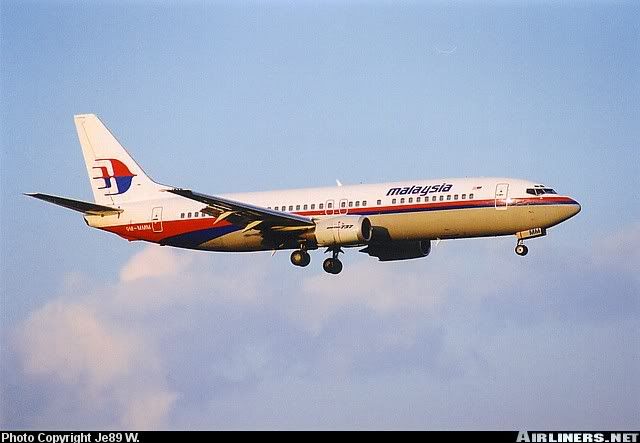 This report continues from this previous report of MH007 from LHR....
http://www.airliners.net/discussions/trip_reports/read.main/83548
We arrived at KLIA's Satellite terminal after a flight from LHR, we had around 40mins to transfer from one terminal to the other. My first impressions of KLIA were good, the terminal building was very spacious, clean and smart! To get to the domestic terminal, LCCT and arrivals you had to catch an un-manned train which took you from the satellite terminal into the domestic area and arrivals area! As we walked to the train we could see the arrival of the KLM flight, I'm not sure whether it was arriving from CGK or AMS. KLM operate a daily AMS-KUL-CGK service. The aircraft was in new colours and wearing "KLM Asia" titles!
We decided to board the train rather than taking some pictures of the terminal as we only had a short transfer time! The train was around a 1 minute ride which arrived in the main complex. You then had the option to either return to the Satellite terminal; continue to arrivals or head downstairs to the domestic terminal.
The domestic terminal has two floors, both very spacious and nice! The top floor had slightly higher ceilings as there was nothing above it. The flight was called as soon as we arrived so we decided to head into the lounge. Each gate in both main terminals (not LCCT) have lounges where passengers can wait for the flight to board. The lounges are very large! The domestic terminal is split up into two sections, with the train marking the two sections. The heavy domestic flights which are mostly A330's and occasionally 777's are down at one end and mixed with 737's and at the other end is all 737's! The terminal is all MH!
The lounge with the satellite terminal and cargo terminal in view!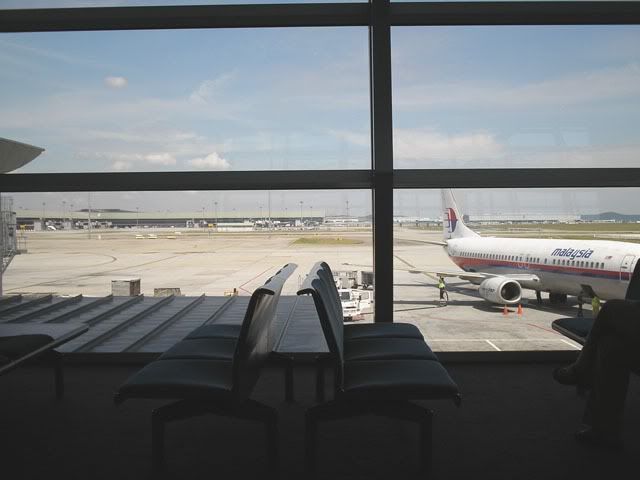 View of todays aircraft that will fly us to Kuantan, 9M-MMM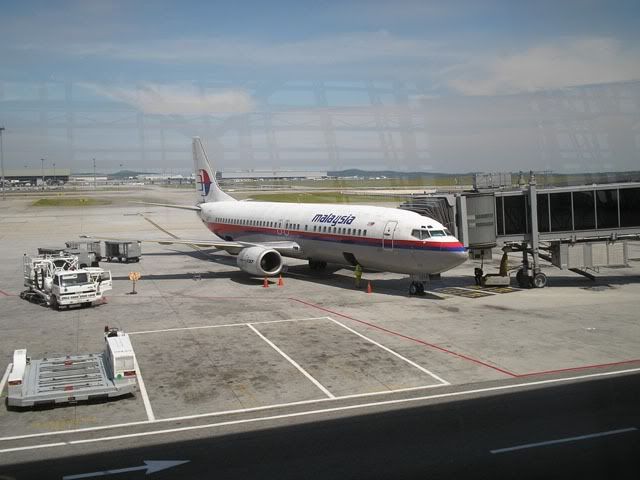 Boarding was announced at around 15:10 and passengers were invited to board the aircraft. Security seemed very good in KUL, you need your passport if you are a foreign visitor to the country and are travelling domestic! The MH crew were very nice and welcomed us on board politely! A lovely Malaysian crew member showed me to my seat at row 8, I sat down and took my camera out...
Part of the terminal through a very dirty window
There was not much traffic around as we taxied to the active runway, a few Malaysia 734's and AirAsia A320's were all there seemed to be on this quiet afternoon!
Starting to climb above the runway heading south towards Johor Bahru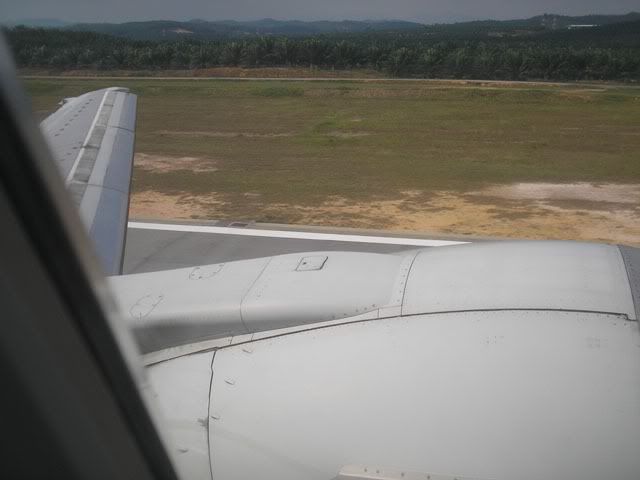 The classic CFM's which power the 737-400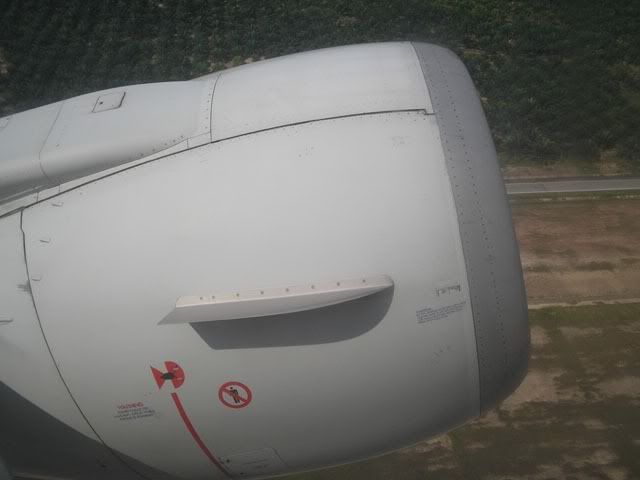 The world famous Sepang F1 Circuit as we climbed out of KLIA, it is located right next to the runway
Last view of Sepang before we turned towards the east coast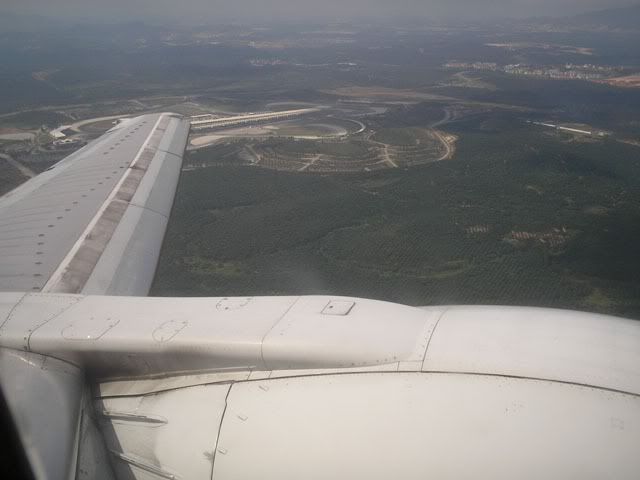 As we climbed the captain informed us of the weather in Kuantan, temperature, ETA etc... We were then given the choice of an Ice Milo or an Orange Juice. I decided to chose the Ice Milo. The crew were very polite and well spoken in English!
We cruised for around 12mins before descending into Kuantan. The flight was very quick and traffic was light which made up for an early landing!
Beginning our decent into KUA on the East Coast of Malaysia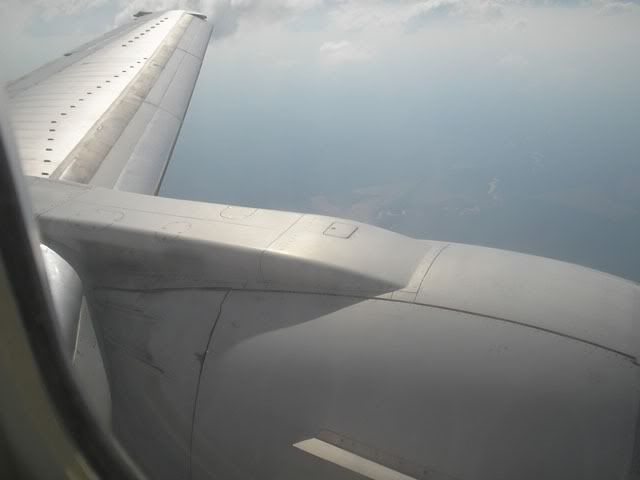 Close up of the CFM's as we passed over the Malaysian countryside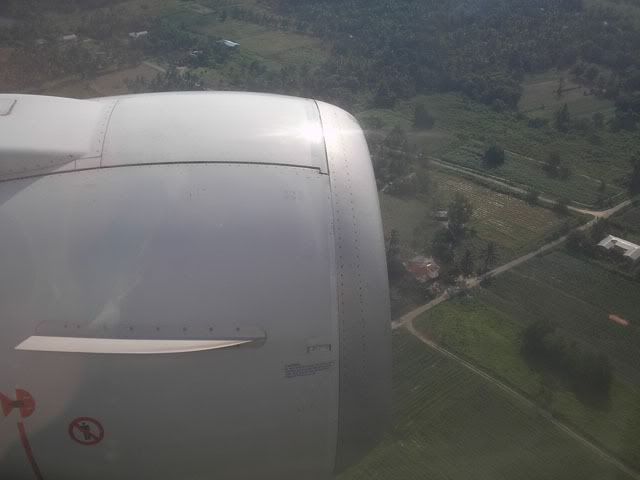 The slightly dirty wing and wonderful terrain as we headed for finals
Passing over the road as we soar into Kuantan Airport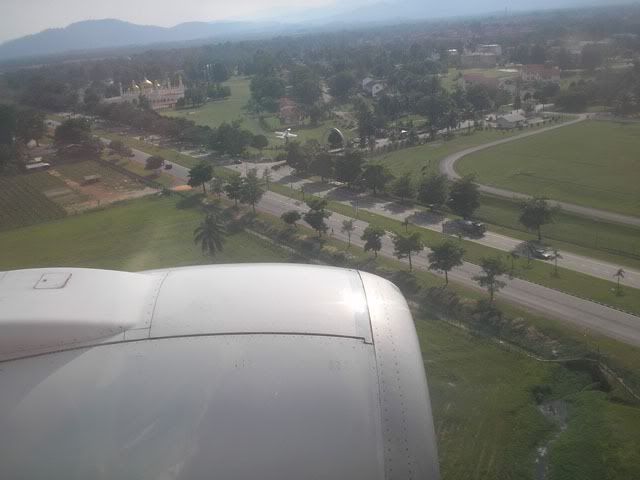 Reverse thrust as the captain brings the aircraft to a stop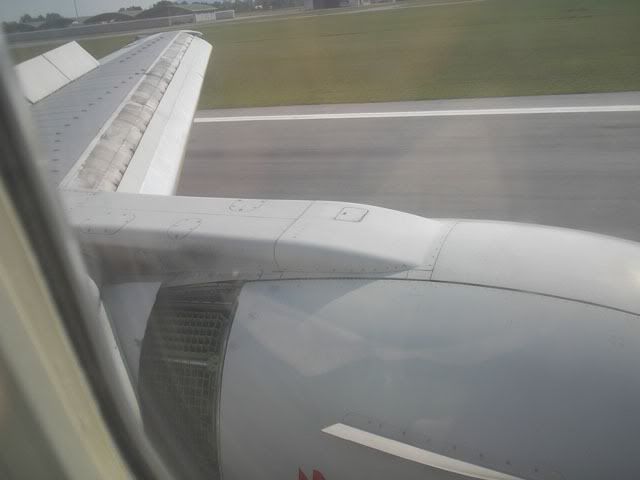 View of the slightly less glamorous terminal at Kuantan Airport
The airport did not have air bridges so we had to use stairs to exit the aircraft. Stairs were used at both rear and front doors! We exited through the front door and were greeted by Kuantan ground staff!
View from the stairs whilst exiting 9M-MMM
Close up of the classic CFM's that power this beauty
The rear end of 9M-MMM
The front of 9M-MMM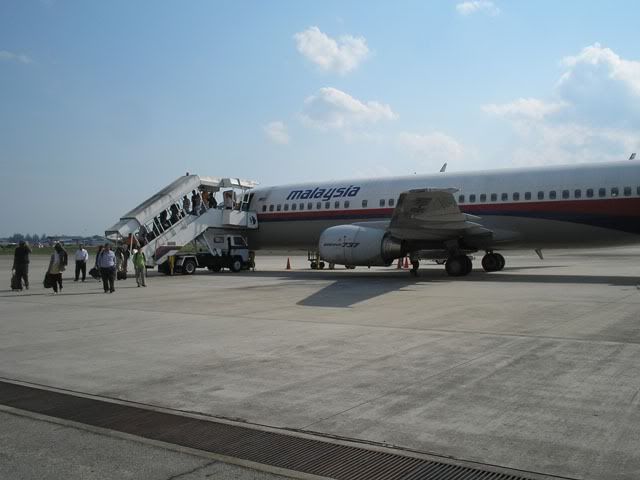 My last view of 9M-MMM before I headed into the terminal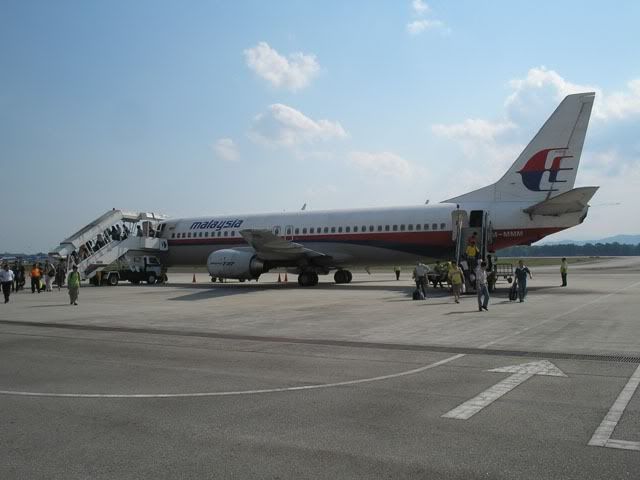 The inside of the terminal was pretty small, there were a few information desks for hotels and car rentals. There was only one or two baggage reclaim belts and the ground staff were hardly to be seen! KUA airport is slightly different from KLIA!
Kuantan City it's self was nice, but was not a patch on the cities I would later visit in my vacation to Malaysia!
After a weeks stay in Kuantan, it was time to head back to Kuala Lumpur to transfer to a flight to Kuching! We had to travel to KUL first as MH only operates to KUA from KUL only!

Flight: MH1269
Operator: Malaysia Airlines
Aircraft: Boeing 737-4H6
Reg: 9M-MMF
Seat: 20C
Boarding Time: 10:00
Scheduled Departure Time: 10:35
Actual Departure Time: 15:45
Scheduled Arrival Time: 11:15
Actual Arrival Time: 11:05
Flight load: 90% Full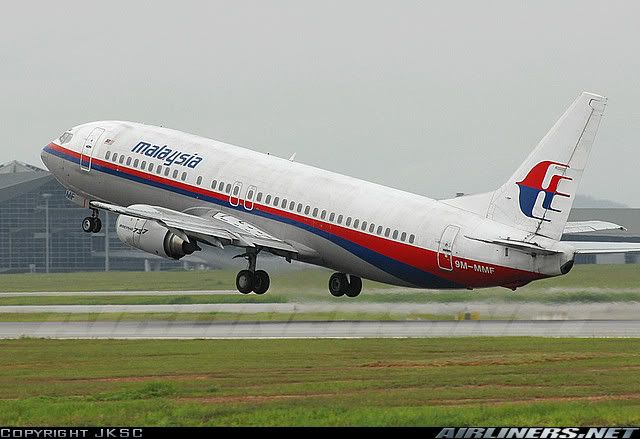 We were transferred to the airport by taxi and checked in with around 1hr 20m to go before departure! The airport was mostly located outdoors with shops and etc all located where you get dropped off! There were a few food shops, souvenir and bookshops in the terminal. The airport seemed to be very nice and spacious, despite being old! The staff from MH were very nice here at KUA!
View from the entrance/dropp of point at the terminal complex
View of the terminal from the car park
The airport was very easy for spotting, but there was no activity happening on the ramp, so I decided not to
The flight was announced as arriving from Kuala Lumpur... "Announcing the arrival of Malaysia Airlines flight MH**** from Kuala Lumpur!" Soon after the flight was announced as boarding, even before the aircraft had reached the stand! I noticed that throughout my travels in Malaysia, airport staff seem to keep passengers well informed of flight information, which being European... I thought was excellent!
The flight was now ready to board and passengers were invited to board the aircraft. Today's flight would be operated by 9M-MMF! As we were getting our boarding cards checked, 6 Military jets flew past the runway and soared into the skies heading northwards! I'm guessing heading towards the Sultan of Terengganu as it was some sort of anniversary. Perhaps a Malaysian friend can tell me what sort of anniversary it was?
The view of 9M-MMF as we headed out towards the aircraft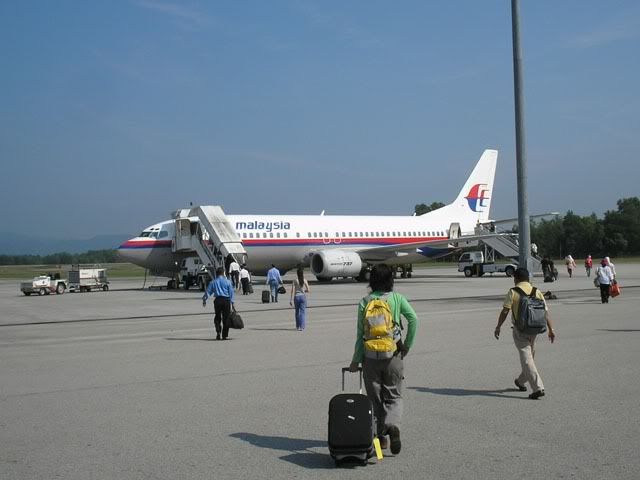 We were sitting nearer to the rear of the aircraft today, so we boarded through the rear door!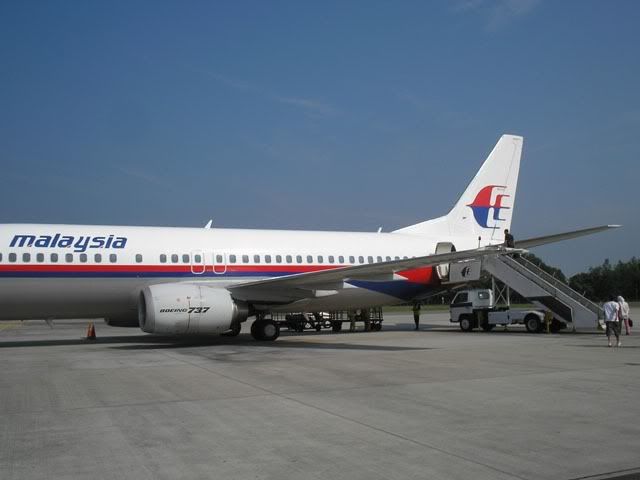 Gorgeous tail logo of Malaysia Airlines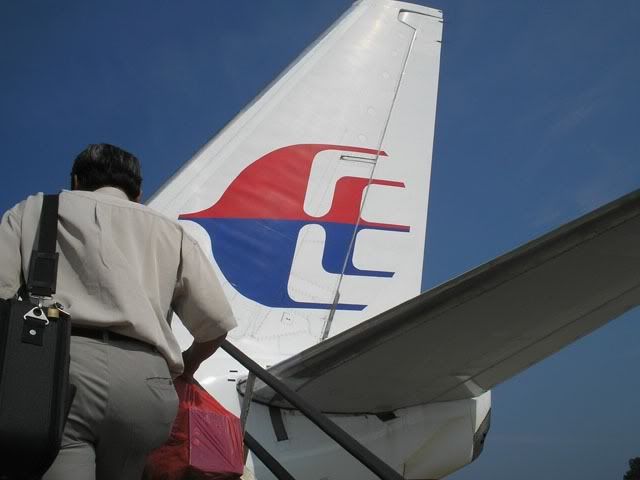 View across the aircraft, as you can see we were one of the first to board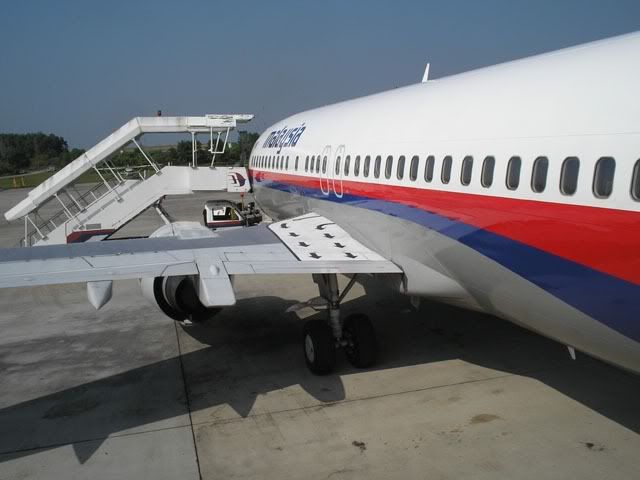 The view from our seat as we started to taxi to the runway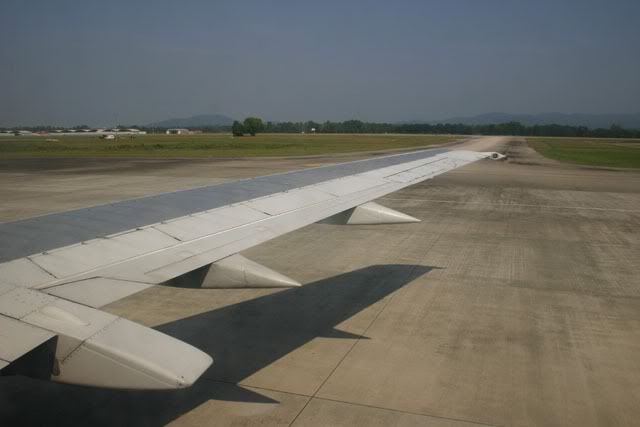 During taxi the cabin crew did a safety demonstration and welcomed us on board.
Rotation was quick from this beat of a 737!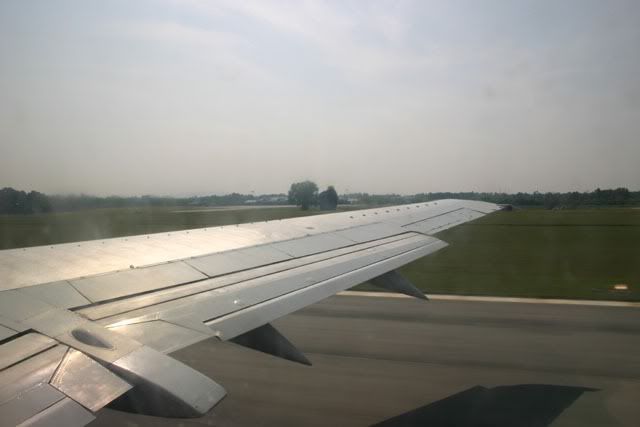 Climbout of Kuantan, bound for Kuala Lumpur
As we climbed higher, the pilot announced arrival information which included ETA, temperatures, weather and etc..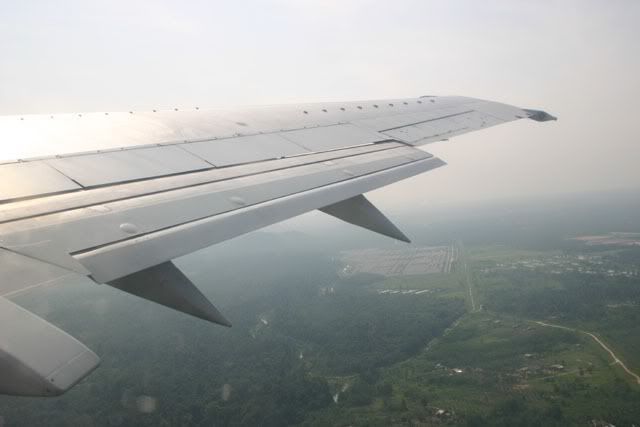 Whilst at cruising height, the cabin crew offered each passenger a choice of Tea, Coffee, Ice Milo or Orange juice. I again decided to chose the Ice Milo!
At cruising height with scattered/overcast clouds below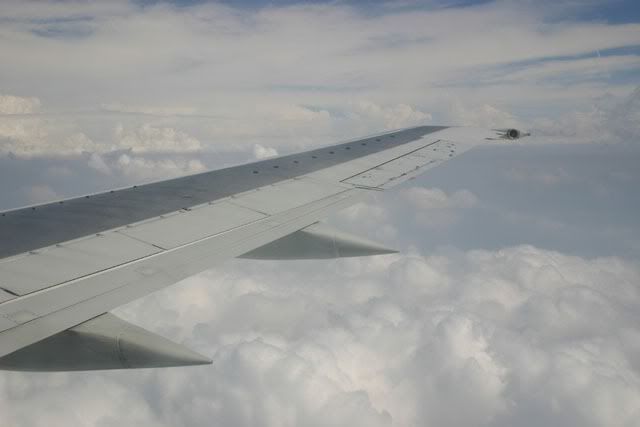 The 737-400s in Malaysia Airlines are in a two-class config, with Economy and Golden Club Class. The aircraft are in good condition, despite their age. MH operate some of the newest 737 classics
Golden Club Class
Economy Class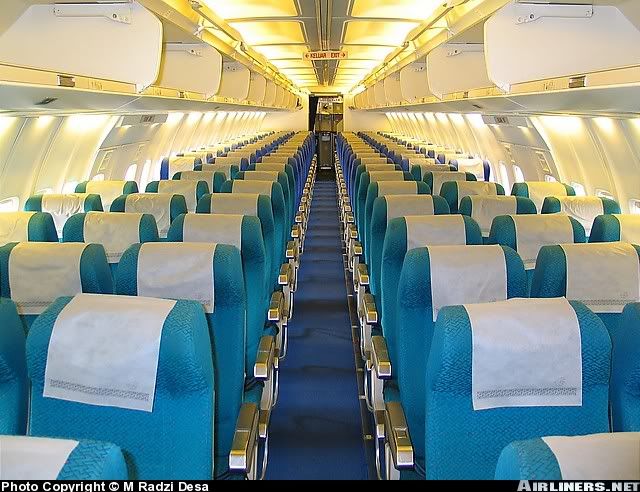 Soon after cruising for around 20mins, decent was announced by the pilot and further destination news was announced
On finals to KLIA, with flaps down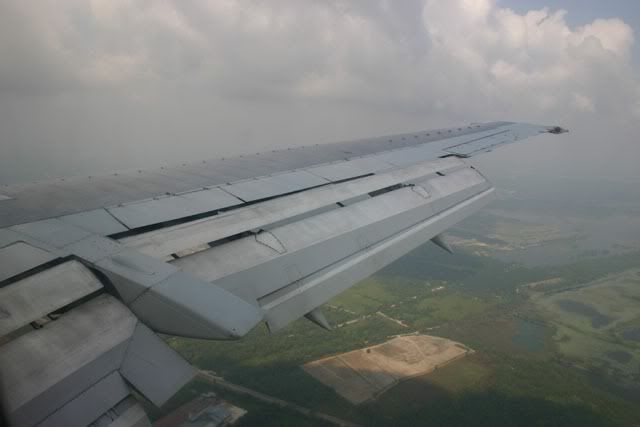 Seconds from touchdown at KLIA
A very smooth landing at KLIA, with reverse thrust on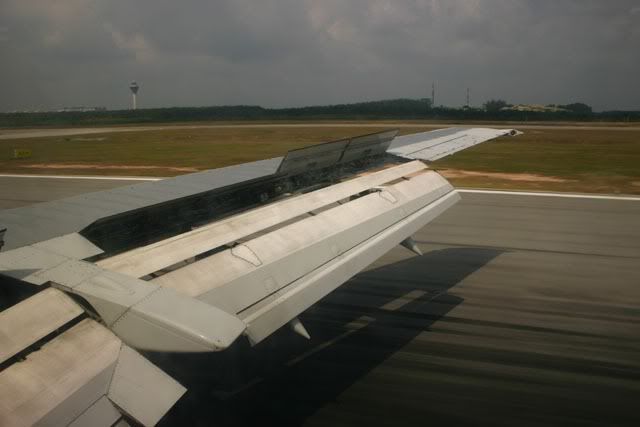 Close up of the wing with an AirAsia A320 taxing to the active runway
Passing another AirAsia A320, I realy do like the new AirAsia livery
Exiting the runway with two MH A330's and two MH 737's visible at the Domestic Terminal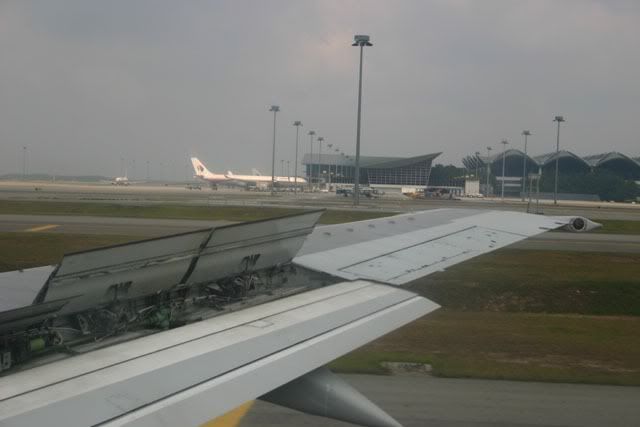 Passing another partner 737-400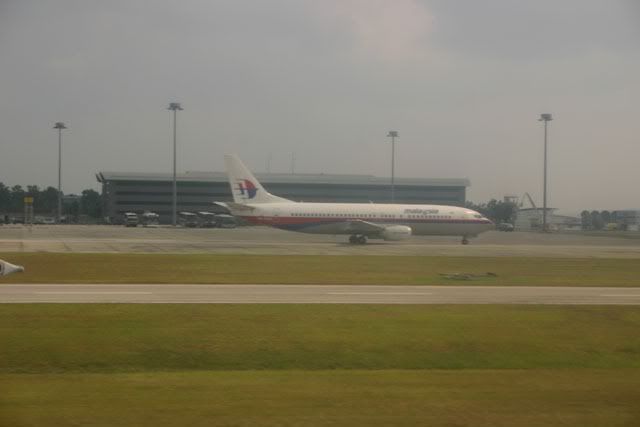 The rear of an MH A330-300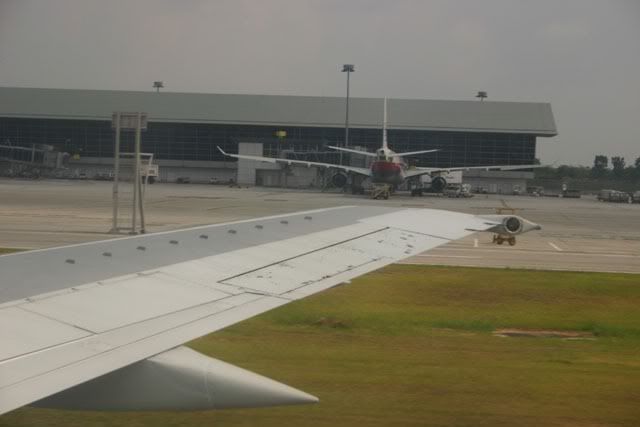 Passing an MH 734 "9M-MME" as we turned into our gate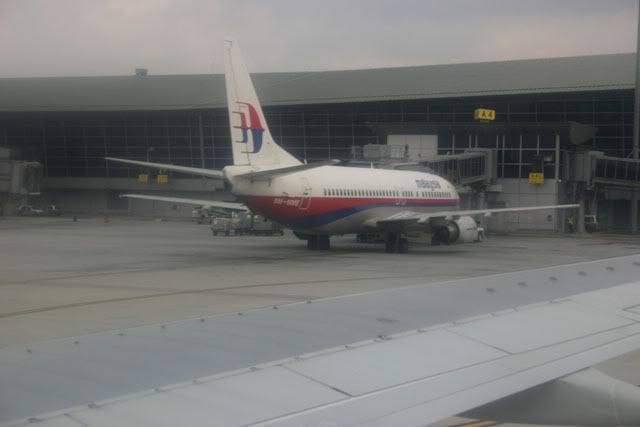 Passing 9M-MMM, which took me from KUL to KUA a week before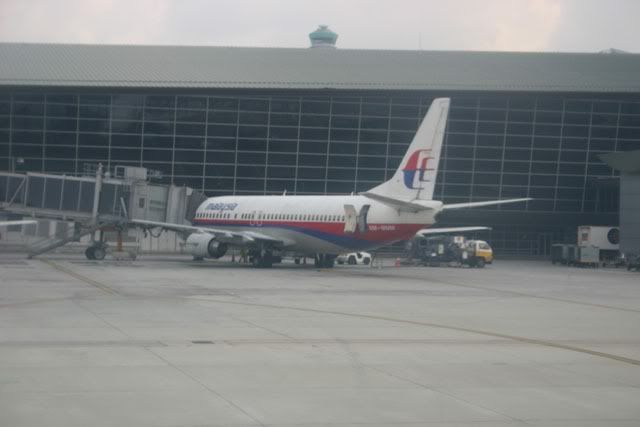 Two fellow MH 737's awaiting their next flights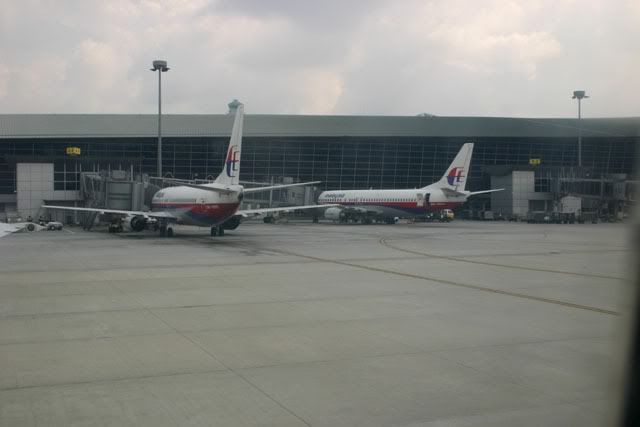 We parked next to 9M-MME, the weather today was very gloomy in KL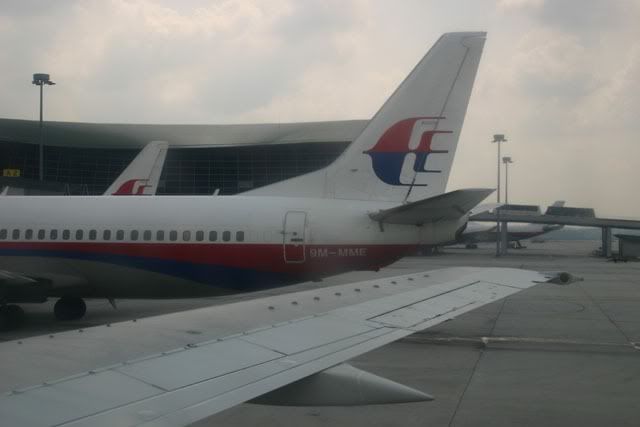 We exited the aircraft and were thanked for flying with the crew, the crew were very polite as we exited the aircraft!
View of the gate as we enter the domestic terminal building
Our gate; A6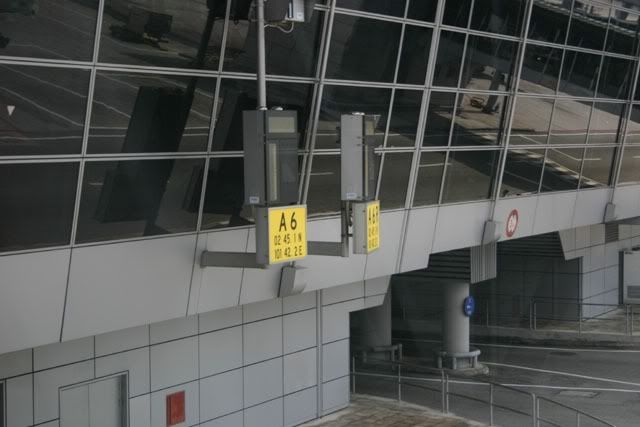 A very nice domestic terminal building, this was the lower floor for passengers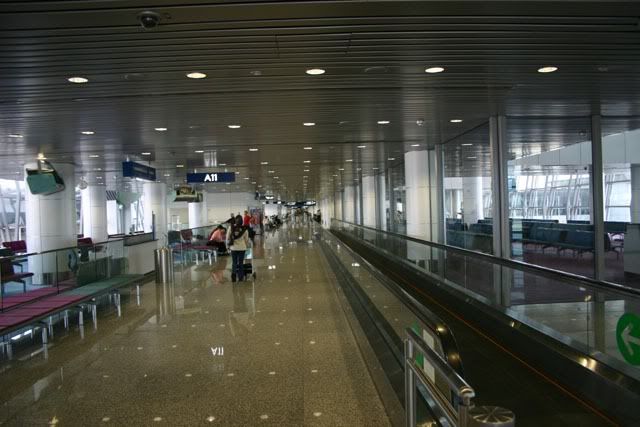 A view of a Malaysia Airlines A330 which would soon head for Kota Kinabalu
We entered the domestic terminal and headed to our next flight which would take us to Kuching in Sarawak around 2hrs later! Join me for more in the next trip report to Kuching!
My Ratings
Malaysia Airlines - Domestic
- Again great! Although service is not going to be as good as it would on a long haul flight, it was still great! We were offered a drinks service which I though was pretty good for a flight lasting up to 35mins long. I would fly MH domestically again anyday! It's the little things that count with airlines and MH does the little things
Kuala Lumpur Domestic Terminal
- Although not as nice as the Satellite terminal, it is still wonderful! For a domestic terminal... it had everything! There were plenty of seats and shops. Each gate has it's own lounge which builds for passenger comfort. The terminal is only used by Malaysia Airlines as AirAsia only use the LCCT. By far one of the best domestic terminals I've been to!
Kuantan Airport
- Ok, it's not the best airport in the world, but it's nice! The airport is mostly outside which is only nice in the dry season
Kuantan is a typical Asian domestic airport, it does it job fine and I had no problems with it!
Join me for more when I travel on the following routes
Kuala Lumpur - Kuching
Malaysia Airlines
Kuching - Kota Kinabalu
Malaysia Airlines
Kota Kinabalu - Sandakan
Malaysia Airlines
Sandakan - Kota Kinabalu
Malaysia Airlines
Kota Kinabalu - Kuala Lumpur
Malaysia Airlines
Kuala Lumpur - London Heathrow
Malaysia Airlines
This trip report follows on from my previous report of a Malaysia Airlines flight from London, please read here...
http://www.airliners.net/discussions/trip_reports/read.main/83548
More stuff to come...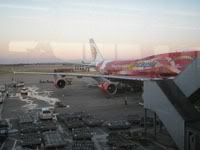 Comments welcome as always
Rob!