Hey guys, this is my trip report of my recent trip to Houston to watch FC Barcelona play Mexico City's America in a friendly match held at Reliant Stadium on Aug 9th. Since May, I knew I was going to spend summer vacations with my family in Monterrey, what I didn't know was that Barcelona was going to do a USA-Mexico tour in August. After checking the tour dates, I saw that they were playing in Monterrey on Aug 3rd. I tried to get the tickets online but they all sold out in less than 1 hour! Thankfully, Barca was also playing in Houston 6 days later. Since my flight with CO makes a stop in IAH, I decided to stay 3 days in Houston to watch the game and spend time with Venezuelan friends who are exiled in Houston.
Continental Airlines #1667
CCS-IAH
Boeing B737-800 (N73270)
Departure Time: 12:30 PM (3.5 hours late)
Arrival time: 04:00 PM (3.5 hours late)
Load: 100% in both C and Y
At 4 AM my alarm clocks wakes me up, reminding me that I have a 9AM flight to catch in CCS. Since it was match day, I took a shower and then put on my FC Barcelona Jersey with Lionel Messi's name and number in the back. The cab arrived at my house at 4:55 and we left to the airport at 5:00. We got to the beggining of the highway that leads to the airport at 5:20 and we decided to take the highway with the 2-lane bypass road "Trocha" ( A highway bridge collapsed in January) instead of the old road thru the mountains. To our surprise, there was a traffic jam to enter the trocha despite being so early in the morning. It took us 20 minutes to cross the trocha and by 5:50 we were unloading our bags in front of the International terminal.
We got to the counter and there was a line of aprox 45 people in front of CO's counters. We used our CO elite status and queued in the business class lane which only had 2 people in front of us.
You can see that this is the Skyteam area with AZ, DL, AF, CO and CM next to each other.
At 6:05 they started to check people in and by 6:15 we were handing our passports and tickets to the agent. We asked him if he could put the four of us together and he replied: "The flight is full, I hope that your travel agent did it when he booked you" as the boarding passes were already coming out of the printer. He never even bothered to try. The Business cabin was full so sadly, no upgrade today.
By 6:30 we were clearing security and then directly to an available emigration officer which stamped our passports. We then visited one of the two new Food Courts and this one had a Budare or Arepera which is a place where they sell Arepas & Cachapas (typical venezuelan food). I had a Guayanes Cheese Cachapa and half Mano Cheese Arepa. It was delicious. This restaurant is gonna have great success, especially because most Venezuelan people wanna enjoy their last Arepa or Cachapa before leaving Venezuela.
After buying some Rum and Venezuelan chocolates for my Houston friends, I went spotting around the terminal. I managed to see our 738 while being towed to the gate. To my surprise it had winglets
Here is AA's A300 to MIA while some luggage is inspected by a National Guard officer:
Delta's 738 to ATL: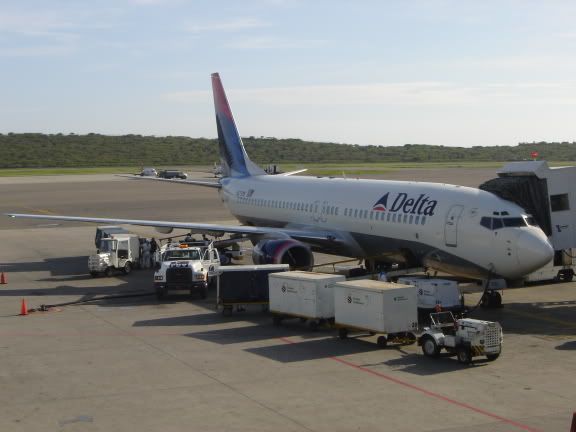 At 08:20 they called Business and Skyteam Elite pax to start boarding. It was a long line.. there were many elites I guess. The lady in front of me was holding an Alitalia Platinium Elite Card. When I got to my seat, I found out that it was the row in front of the exit row, so my seat didn't recline and wasn't comfy.
More pax started to walk down the aisle looking for their seats and one guy standing in the aisle next to me saw me wearing a Barcelona Jersey and asked: "Pana, vas para el juego?" =" Dude, are you going to the game?" I said: "De bolas!" = "Of course". He then said: "Si va, nos vemos alla" = "Cool, see ya there".
Here are some pics of Venezuelan traffic, an Aserca DC9-32 and the Conviasa turboprop fleet (ATR42 and Dash7):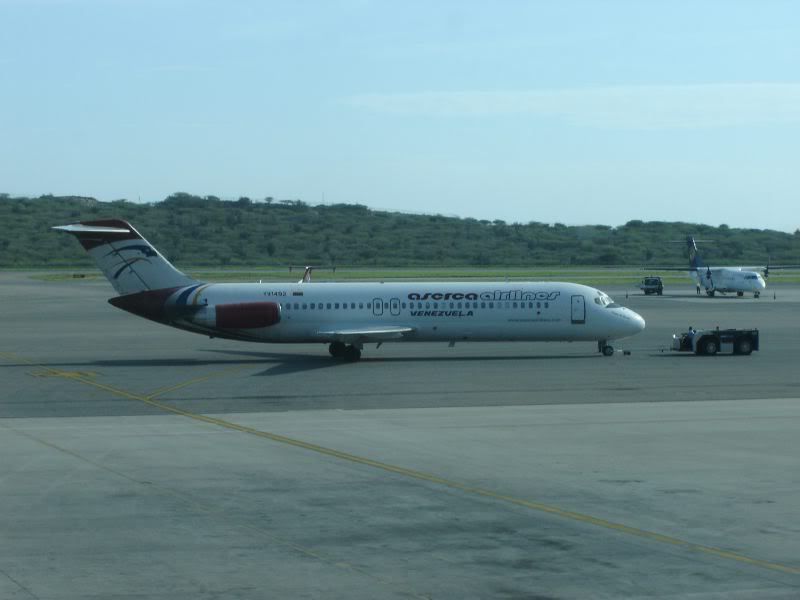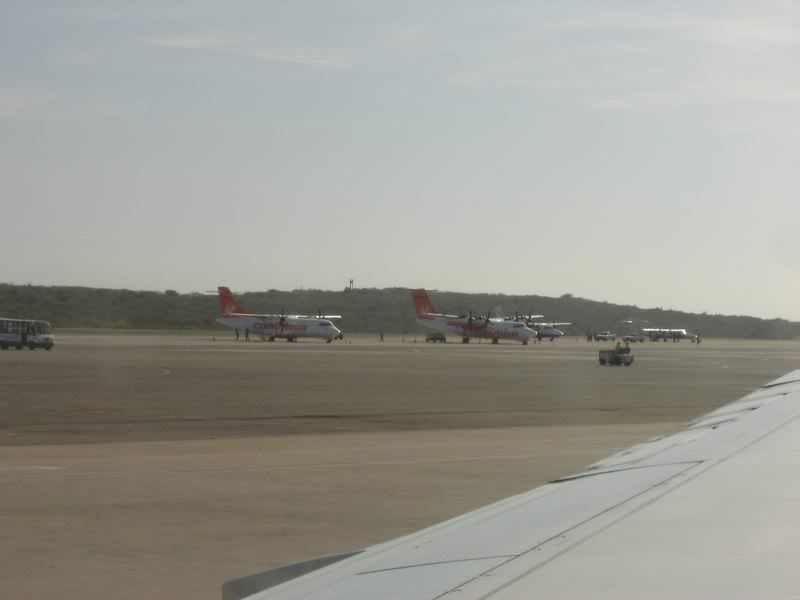 After everyone was in their seats the captain announced that we would be at least one hour late because he had detected low levels of oxygen in the plane's tanks and that they had to purchase oxygen and refill the tanks. Well, here I was in my middle seat with no recline hoping that it wouldn't take more than one hour. To my disgrace, at 10:00 am, the captain announced that Houston Maintenance hadn't sent the paperwork to buy the oxygen. Then at 10:30 he said that mecanics had filled our oxygen tanks and that they were waiting for Houston to give us the go-ahead. By this time, a Rutaca 737-200 that was on our left in the Domestic terminal when we were boarding was returning to its gate after flying to PMV and then back to CCS.
Now it was 11:30am (2.5 hours late) when the Captain said: "Folks, I have no clue of why they are taking so long in Houston to send us the needed paperwork, it's getting hot in here, I know, I feel it also, I wanna get to Houston as much as you guys want too" By that time, FA's started to distribute drinks to our sweaty souls. Near noon, CCS's intl. terminal is very empty because US flights have already departed and European arrivals haven't gotten there yet. We only had an Aeropostal MD80 (YV 132T) on our right and that was it.
Finally at 12:15 we pushed back from the gate at the same time as the Aeropostal MD80 on our right. We taxied behing the MD80 and an Avior 732 to runway 10. While taxing parallel to the intl. terminal, I could see 3 Aeropostal planes parked at the gates (1 D95 and 2 MD80s). It looked like if CCS's intl. terminal was Aeropostal's turf.
After a B1900D landed and the MD80 and 732 took off, it was our turn to take the skies.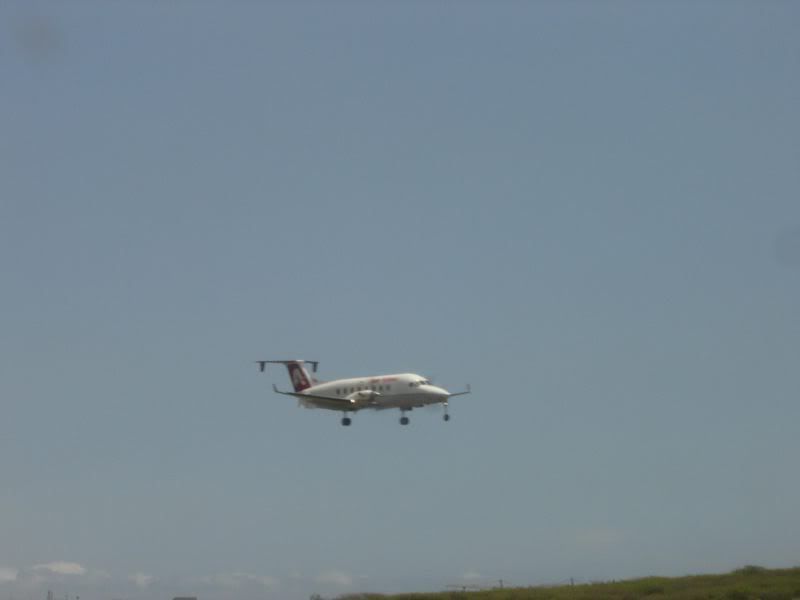 At 12:30 we were airborne and made a tight left turn as all US bound planes do.
Breakfast service began over Aruba and it was delicious. It consisted of a french bread filled with melted cheese, ham and scrambled eggs. A yogurt and fruits were the sides for this sandwich.
I had an apple juice and then tried to get some sleep. The lack of recline didn't help and I struggled to fall asleep and could only stay half-awake, half-asleep. The movie was Ice Age II, which I had already seen. After the first move ended, they showed Dr. Doolite III which didn't grab my attention and I preffered my video iPOD where I watched two "Lost" episodes from the 2nd season.
A second round of beverages was served about 1.5 hours before landing. At this time the lead FA which was a male and looked very gay was complaining with the other FA that this was his "6th service of the flight". Yeah right how hard is it to distribute drinks to 150 pax... try sitting in a non-recline middle seat in a full flight for 6.5 hours.
30 minutes before landing I started to see oil rigs in the middle of the Gulf of Mexico. Inmmediately the Bay of Galveston came into sight. It was a clear day over the Houston area. We approached IAH from the east and then made a left turn to intercept the ILS for runway 27. We flew low over Lake Houston and then touched down softly in rwy 27. We exited to the right and I could see a very heavy KLM 744 take off and made a right turn towards the north. ATC made us hold just outside the runway for about 10 minutes and then we taxied behind another CO 738 towards terminal E. I saw four CO 777, two at the gates and two taxiing. There were CO planes everywhere, no wonder why IAH is called InterCONTINENTAL.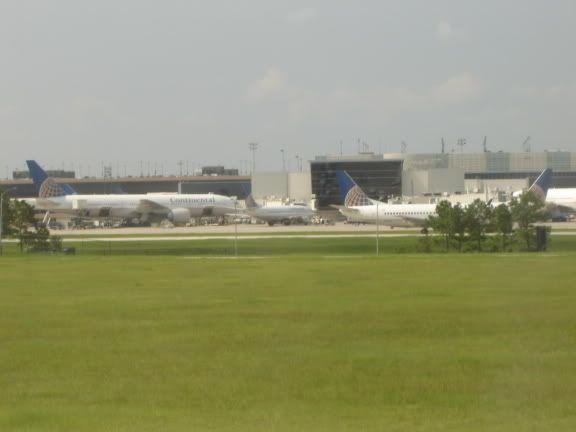 We parked in gate E8 and took a long walk towards Inmigration and Customs facilities. We made it to the queue just before the 300+ pax from LGW so it was a rather short queue compared to what they had to go through.
After clearing customs and inmigration we took Rental Cars bus which took us to the new Rental Car facility just outside the terminal. We rented a minivan and hit the road only to be welcomed to Houston with a nice traffic jam on Sam Houston's Beltway. That's when I regretted not using Hardy's Road Tollway.
We made to our hotel in the northern suburbs of Houston where my friends joined us to go to the Barcelona game. It was 7pm and thankfully there was another friendly match right before the Barcelona one. We drove towards downtown using the Hardy Tollway and then US-280 towards Reliant Stadium.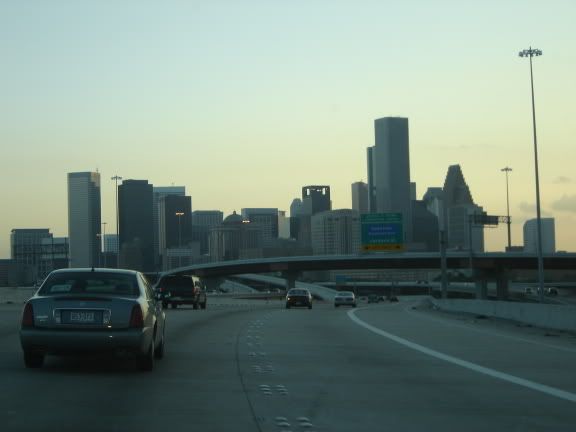 When we got there, we saw huge lines of traffic on the exits near the Stadium. We managed to use an exit far from the stadium and then made a U-turn and joined a line near the entrance to the parking lot.
After a long walk from our parking spot to the stadium, we got to our seats on the 89th minute of the first friendly match. Just in time to watch Barcelona!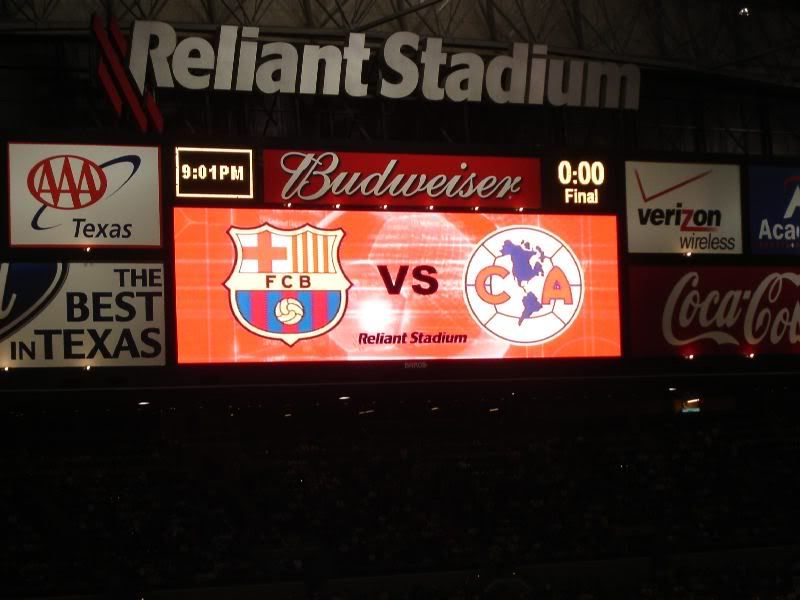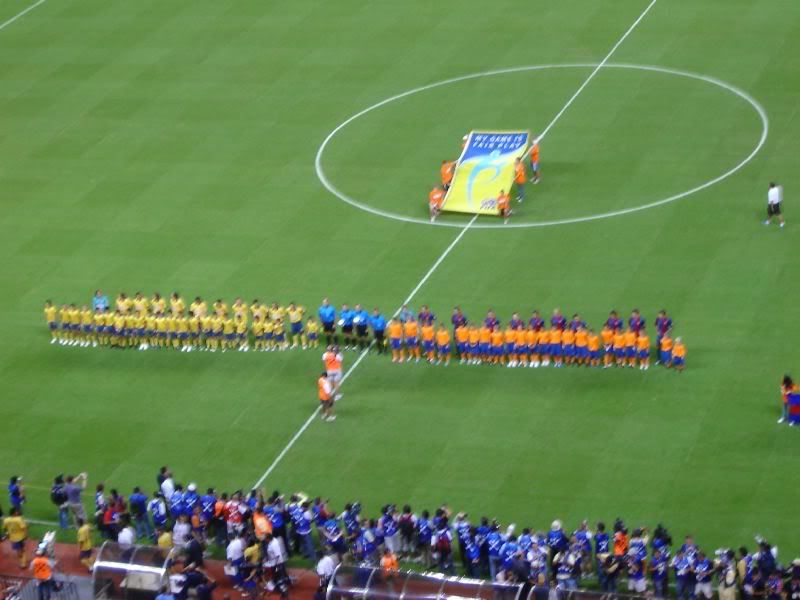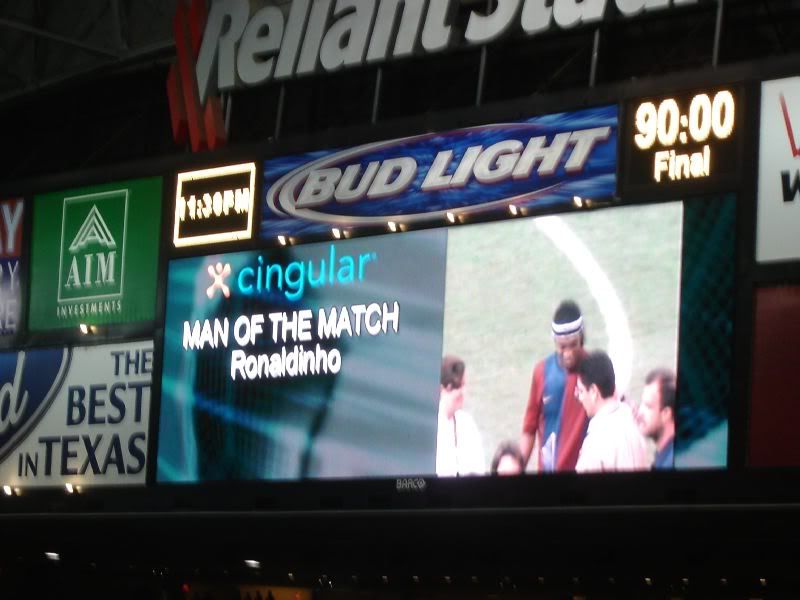 The game was great with 8 goals. Barcelona played with all of its stars except Puyol. The newly bought Zambrotta and Thuram were seen warming up but they never saw action. It was great to see those stars live without a TV screen. The game ended 4-4. The stadium announcer said that it was a record attendance for a soccer game in Texas (70,500 people!).
Continental Express #2655
IAH-MTY
Embraer 145
Departure Time: 08:00 PM (15 min late)
Arrival time: 09:30 PM (15 min late)
Load: 99%
Well that's it for my trip to Houston. The flight to MTY was in a E145. It was my first time in a Regional Jet and it was very comfy. Better than the B738 I flew from CCS. The flight was completely full except for one empty seat which was the one next to me
.
There was only one flight attendant and she only spoke english. She started the snack service right after take off, we were overflying Houston Hobby Airport when I got my sandwich.
We landed in MTY 15 minutes late and my bags didn't make it because I got on that flight as a standby. I wanted to get earlier to MTY because my flight was at 9pm. Thanfully the bags made it in the 9pm flight and were delivered to our MTY apartment at midnight.
I hope you've enjoyed this report. Any questions and comments are obviously welcomed.
Saludos desde Monterrey,
Luis