This is my second trip report here on A.net. Last one, was over a year ago. This airfare cost me $97, this fare was one that NW was matching against FL. But I went with NW because I would be taking a 757 and RJ85. My first time flying out of MDW on a 757, and the first time ever being on a RJ85.
August 1, 2006
MDW-MSP
Flight#783
757-200 N505US
depart: 6:35AM
Arrive: 8:04AM
I arrived at MDW around 5am. The check in area was busy with lines at the WN, FL, UA, DL and NW counters. I made my way to the NW check-in kiosks, within five minutes I had my boarding pass and was at the security check point. Once I made it past security I made my way to McDonalds to get breakfast. I found myself a nice spot at the food court area and watched the activity going on between concourses A and B.
Sorry for the lights, concourse A, with UA, F9, DL NW, and WN planes.
Concourse B with WN planes.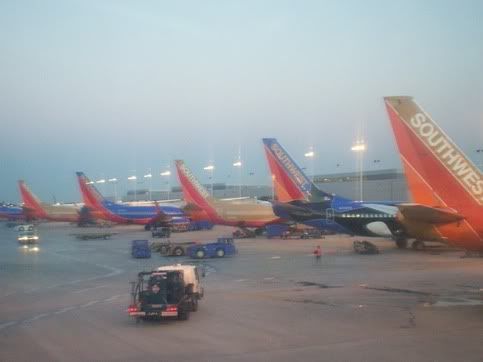 DL connection E170 departing to ATL.
When I was at the gate waiting to board, the gate agent announced that our flight would be delay for 10 minutes because of crew rest times. When it was time to board all of those in business class and those that needed assistance boarded first. When it was time for us to board instead of calling it by rows, the gate agent did a cattle call. I wonder if it was because we were running late. Once on board and we had made our way to runway 22L for departure the captain came on the pa and said we would be delay for 15 minutes because of ATC clearance. Now I know why this flight is schedule for an hour and a half flight, since it only takes an hour to fly.
My ride to MSP N505US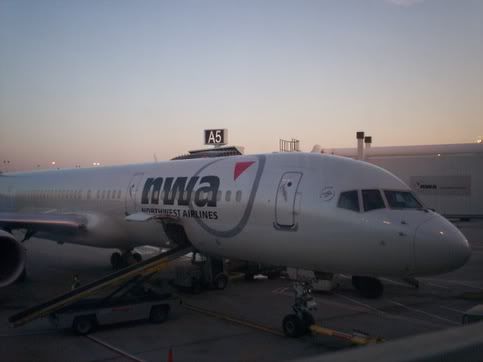 The take off was one of the most amazing I have ever experience. It was like riding on a rocket. We used about 65% of the runway to take off and I want to try it again.
The load on this flight was about 85%. The in-flight service was started about 15 minutes into the flight. I requested some apple juice. I was hoping I would be getting the whole can, but not this flight, oh well.
Flying somewhere over Wisconsin.
At around 8am we landed on runway 12L at MSP. We arrived at gate C13. Our aircraft was suppose to be bound for LAS, but since we were late, passengers on board that were on their way to LAS, had to leave the aircraft and find their connecting flight.
View from gate C13, waiting while everyone else gets off the aircraft.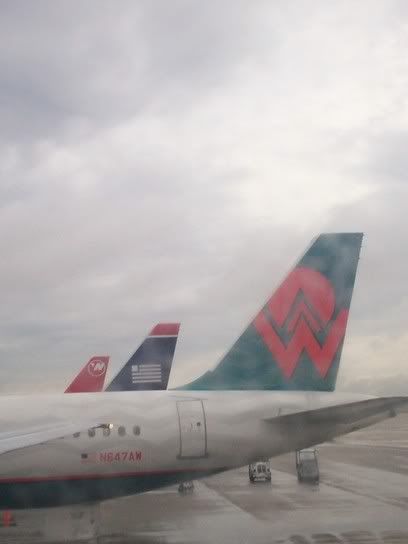 I enjoyed my flight on the 757 out of MDW, now I want to experience a landing on the 757 at MDW. Yes I'm a 757 fan. It's a great aircraft, too bad its no longer in production.
Thank you for reading my TR, and look for the return TR when ever I get time to post it.