This is my first Trip Report so please be generous with comments.
This trip is a sector on my trip to the United States and Asia that was taken a few months back. I had been looking forward to this trip, as it was the first time I had flown back to China since I immigrated to Canada and the first chance I had to fly on an A340-500. I spent a few days in New York before heading to Hong Kong, where I took a train to Shenzhen.
I had arrived at LaGuardia airport at 4:00am, thanks to a fast shuttle driver, and I had three hours to myself before my flight was scheduled to depart at 6:50am. I wondered around the airport and when the Air Canada check in counter opened I was among the first to check in. I went through security, which was no hassle for me as I had put anything remotely metal in my backpack. Waiting around the gate area was rather boring, and I read a newspaper while I waited. When my flight boarded, I was exuberant as this was the start of a trip that I had looked forward to for half a year.
My first flight was from LaGuardia to Toronto, and from Toronto I was going to Hong Kong. The flight had quite a light load, and I was able to get a row of seats to myself on the Airbus A319. The safety video was shown which was different from when I flew into New York. The new video featured Air Canada's new seats, and I enjoyed it a bit more than the old one, since the old one only shown passengers in business class and the new one incorporated both business and economy class seats.
There was a quick taxi before we lined up for the runway. Sitting in the middle of the aircraft, the noise was for the most part lower pitched than when I sat in Business a few days before, and the takeoff was quite powerful for an A319. The flight for the most part was uneventful, and the flight crew quite friendly. I bought a cereal bowl for breakfast, and a pillow and blanket kit for the later flight to Hong Kong.
When the flight landed in Toronto, I hastily walked across Terminal 2 and reentered security before boarding the bus for Terminal 1. Taking the bus at YYZ is rather interesting, as the buses weave between aircraft and I really enjoyed looking at the planes up close. When I got to Terminal 1, I found out I had more time than I thought, and spent the time waiting calling friends to let them know I had arrived in Toronto. When boarding was called, the line became very long and I waited about 15 minutes before I boarded.
Upon boarding the aircraft, I located my seat and found out my seatmate was fluent in Cantonese, but not English. My Cantonese is spotty, so I thought talking to the gentleman would be a nice way of brushing up on my Cantonese before I arrive in Hong Kong. The plane that flew me to Hong Kong was Air Canada's Airbus A340-500, with the registration C-GKOM. As an aviation enthusiast, I had looked forward to this part of the trip the most and was one of the reasons why I chose to fly Air Canada rather than United Airlines. This was the first time I flew an Airbus widebody aircraft, as my previous trips consisted of either A319s or Boeing 767s.
The Airbus taxied to the end of Runway 31 (I think...maybe someone who is more familiar with YYZ can tell me because I knew it was 30 something) and I saw how large of an operation YYZ was. The Airbus took off with great force, and soon we reached our initial cruising altitude of 33 000ft. The flight eventually climbed to nearly 40 000ft, as shown by the photo below.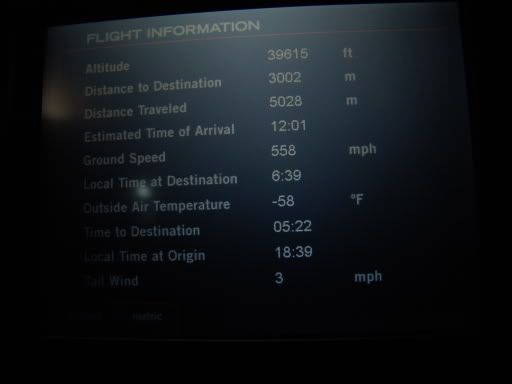 When we reached cruising Altitude, drinks were offered. I had took a diet coke and began to try and tackle the IFE. The unfortunate thing was that the news was shown first, on all PTVs and there was no choice of skipping it. The flight crew had announced that when the seat belt light was shut off, and it had annoyed me as I could not figure out why Air Canada could not incorporate that into a selection in the IFE and left it up to the passenger to decide whether to watch the news or not.
Since I had sat in row 21 I had my choice of meals. The choices were chicken or beef, and I had chose beef. The meal was generous in portion, and the rice to vegetable and meat balance was quite nice. My only reservation was the rice was not quite as good quality as the rice I have at home, but quite understandable as Air Canada was not an Asian airline and their catering company probably have little experience with rice. I found the bottle of water incorporated into the meal to be next to useless, as the flight attendants made sure everyone had their beverage of choice.
After the meal trays were collected the news ended and I had turned my PTV selection to see the routing of the flight. It turned out our flight would get quite close to the North Pole, and would take us over Russia and Mongolia before going over China.
After monitoring the flight for about an hour I had gotten bored and decided to watch the movies that were offered in the IFE system. Air Canada has on demand IFE on their A340-500s, unlike the channel system that United has on their 777s or Air Canada has on some of their A340-300s in business class. The movie selection was ok, but better movies was available in business class. I had watched King Kong for a bit before switching to a documentary on coffee.
About four hours after our first meal service, a light meal was offered. The cabin lights came on and we were offered noodles and sandwiches. The noodles was tasty, and the sandwich tasted better than it was presented. This was accompanied by drinks, and the flight attendants were quite friendly and their attitudes were good. I had dozed off after the meal service, and when I woke up we were near the North Pole, so I snapped this shot from my seat.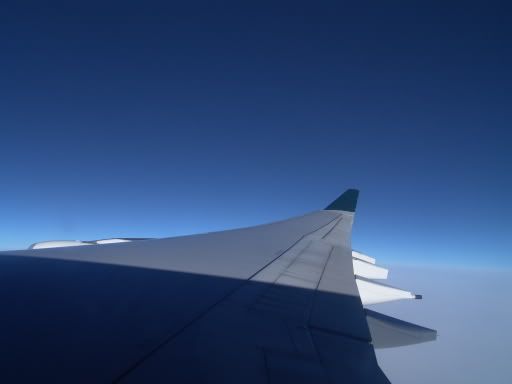 After that photo I tackled the IFE once again, this time listening to music. The music selection was rather limited in my opinion considering my taste in rock and rap. A CD with compositions from Vivaldi was good enough for me, as I had listened to Classical music growing up and I like some classical, with Vivaldi being my favorite composer.
Between the second and third meal service, I decided to walk around the cabin. The A340 was quieter than the 767 that I had took to London in 2004, but it was not as quiet as I had expected. Perhaps my expectations were elevated by Airbus advertising, which claims the A340 has the quietest widebody cabin in the sky. Walking around made me realize the load factors were quite high on this route, as most of the seats were filled.
I had wandered into the rear galley and found drinks and biscuits presented there. I thought this was a nice gesture on Air Canada's part, as people do get hungry and thirsty between meal services. The third meal service appeared four hours after the second, and consisted of dim sum. The dim sum was delicious but was not as filling as the noodles and sandwiches. I slept some more after the trays were collected, and woke up as we entered Chinese space.
We were offered one more meal, this time a lunch service before landing in Hong Kong. Again I had chosen the beef option, and again I was not disappointed in the portion of the meal. As the trays were collected I looked at the airshow and found we were only an hour from Hong Kong. As we had began descent, I packed my camera and iPod into my backpack and looked outside the window. I was hoping to catch a glimpse of Guangdong province but clouds obscured with the view.
The landing was smooth and earlier than the scheduled time, but we had to wait for a while because our gate was still in use. Clearing immigration was simple and fast, and Hong Kong airport was very well laid out. Air Canada service was great for this flight, but the IFE selection was limited on this aircraft. I would rate the whole flight as a 9/10 overall. If there is sufficient interest I will write a Trip Report for my return trip. Once again constructive comments are appreciated, and I hope you enjoyed reading this report.
Regards
CRJ705