Having been to Vienna Airport twice but never visited the city, I thought it was time for a weekend trip to change this. On the route from STR to VIE there is a choice between LH / OS and Germanwings; once again the "classic" airline was cheaper than the low-cost, so I booked Austrian Airlines via the LH web page for EUR 21,00 + EUR 77,01 tax + EUR 10,00 ticket service charge and ended up with EUR 108,01 all in all for the return flight. It was going to be my first flight on OS as well as on a Fokker jet, so I was quite looking forward to it.
Saturday, 12 August 2006
Stuttgart (STR) – Vienna (VIE)
Airline: Austrian arrows, operated by Tyrolean Airways
Flight number: OS 178 (LH code share: LH 6366)
Scheduled departure time: 08:30
Scheduled arrival time: 09:50
Type of aircraft: Fokker 70
Registration: OE-LFK "Krems"
This aircraft was built and delivered to Tyrolean Airways in 1995 and originally painted in Tyrolean colours before the Austrian arrows brand was introduced:
I arrived at Stuttgart Airport by train about 2 hours before the departure of my flight.
I went directly to LH's check-in in Terminal 1 which was quite busy on that Saturday morning during the holidays. But as all available counters were staffed, there was no long wait and after my check-in luggage had been screened, a friendly middle-aged female agent checked me in. I got seat number 7F, sequence number 010. For some reason she tagged my bag with a "HON / priority" sticker: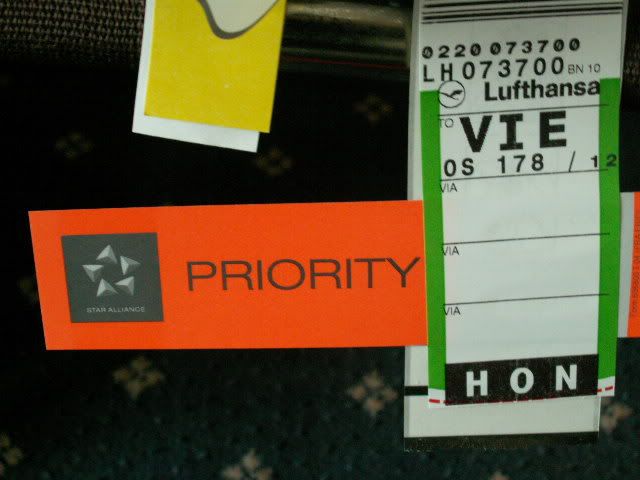 I passed security check which seemed to be a bit more strict due to the recent events; however, it was still quick and friendly. I had to open my rucksack and the security agent asked me where I was flying to and as I replied "Vienna", he asked me again if my journey ended there or if I had a connecting flight to an other destination. Then I sat down and spotted the early morning traffic a bit. Shortly before 8:00, the Austrian bird OE-LFK "Krems" arrived from Vienna: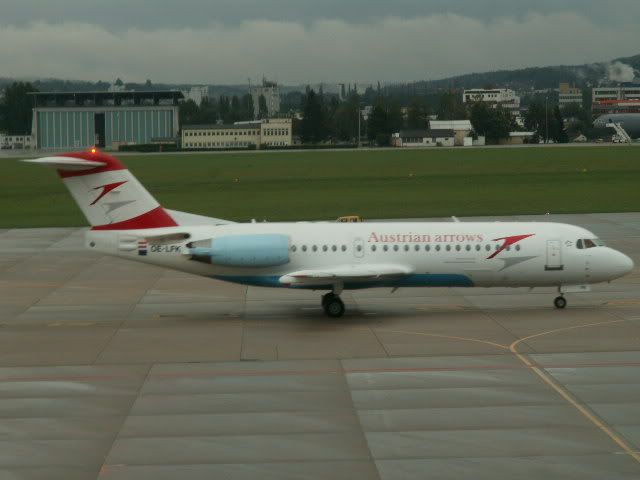 OE-LFK at the gate: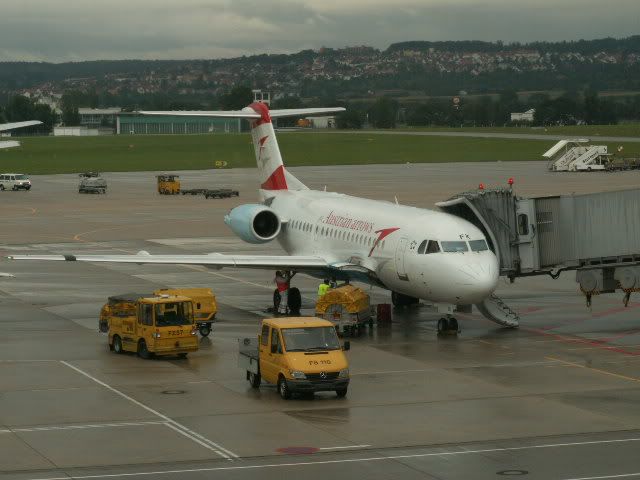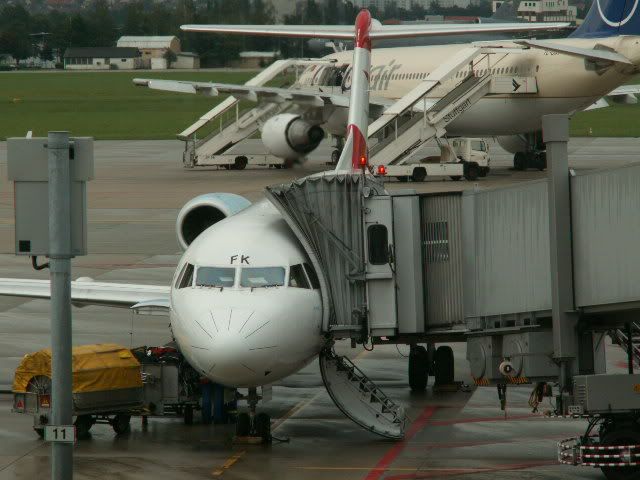 Boarding started at 8:20 with a wheel-chair passenger, followed by the other passengers. We walked down the jet bridge and were welcomed by two friendly female Tyrolean flight attendants in their green uniforms. The cabin was equipped with quite comfortable cloth seats that were green as well: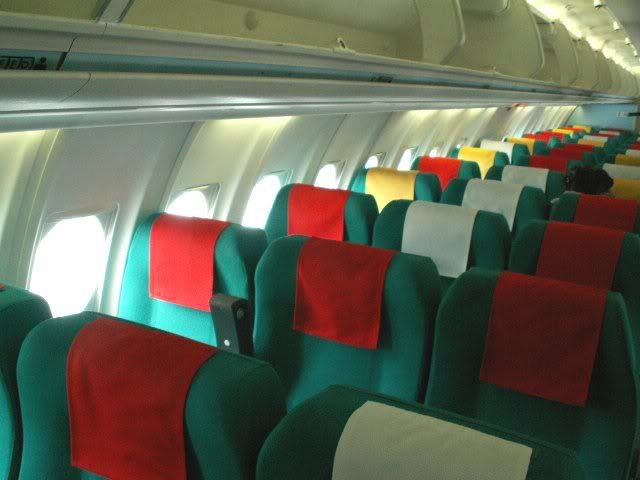 There was a small leaflet lying on every seat advertising Austrian's new Business Class seats on long-haul aircraft. The first two rows of our Fokker were reserved for Business Class. There were all in all about 40 passengers on this flight, so load factor was around 50%. Most people were German tourists flying to Vienna or any other destination in the OS-network. Two of the pax were flying Business, the rest Economy. There had already been newspapers at the gate (the typical LH selection) but the flight attendants offered Austrian and international newspapers again and even came through the cabin with a small newspaper-trolley when everybody had found his / her seat.
The captain came over the microphone, introduced himself and told us that there would be a minor delay of about 10 minutes due to a slot restriction. After some minutes wait, we went off-block at 8:40 and taxied the long way to the Eastern end of Stuttgart's single runway. No time to wait there; we were airborne soon and disappeared in the low clouds only a moment later.
Cabin crew introduced their service concept in Economy Class on short-haul flights: there is a free service of coffee, tea and mineral water while other items can be purchased. As I hadn't had breakfast yet and therefore was quite hungry, I tried the "Mozart" breakfast for EUR 6,00, consisting of a "Mozart pastry" (kind of croissant filled with marzipan), two rolls, Philadelphia cheese, butter, jam and an "Actimel":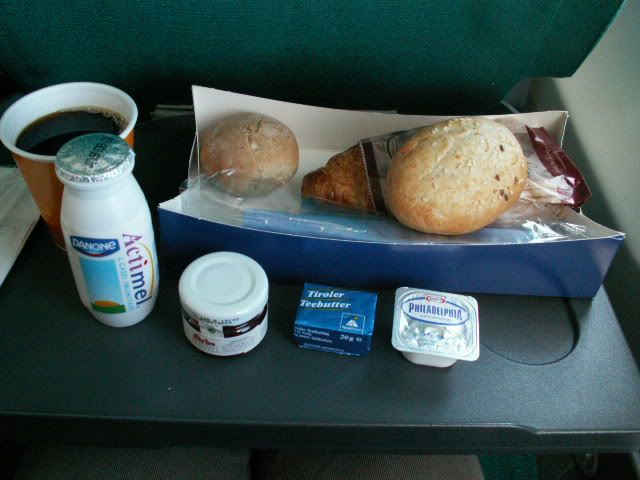 They didn't sell too much on this short flight; only 2 or 3 breakfasts as far as I noticed. Most people were fine with the free coffee or tea. I'm not really a fan of pay-for-food on so-called full-service airlines. On the other hand, my ticket was cheaper than a Germanwings ticket for the same date and a good breakfast you pay for might still be better than the stuff that some other airlines serve for free. I have heard that OS might come back to free service on short-haul flights soon, so let's see what will happen…
The first officer informed us about our flight route which would be STR – MUC –SZG – VIE. He told us that we would reach VIE still with a small delay of about 5 or 10 minutes and he would inform us what this would mean for passengers with connecting flights as soon as the information was available. Why on earth do they sell connections where a delay of 10 minutes may endanger the onward flight? Shortly before landing he came over the microphone once again and told us that all passengers connecting to BUD, KLU and LED should contact ground staff immediately after leaving the aircraft as they would be transferred directly to their onward flights.
The flight attendants distributed small "Milka" chocolate bars.
We had a really impressive approach over downtown Vienna: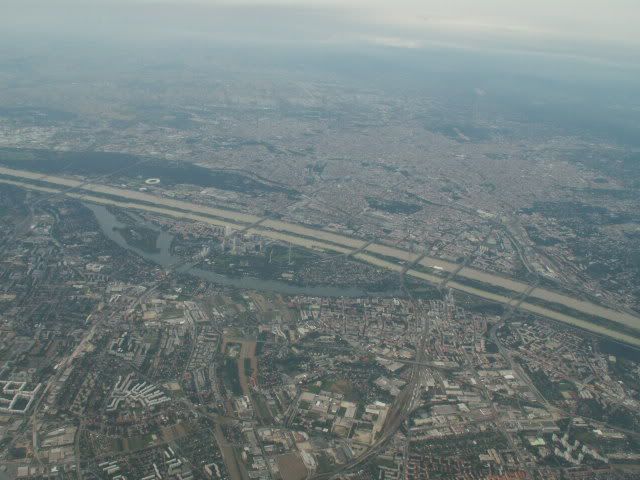 Shortly after we passed by Vienna Airport as well:
After a long U-turn, we touched down on runway 34 and taxied to a parking position in the Western part of the apron close to the cargo ramp: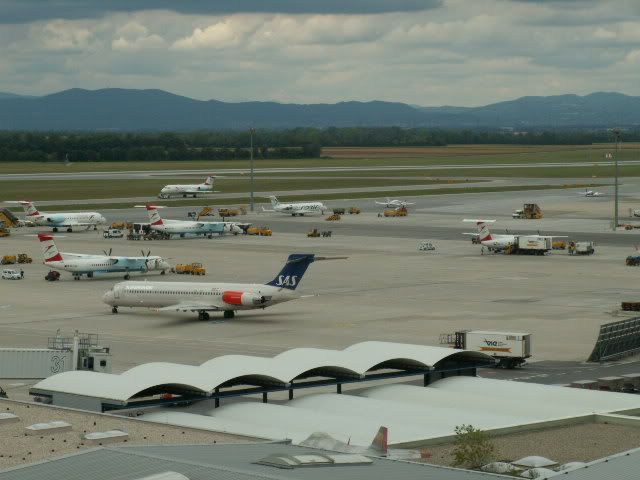 On leaving the aircraft I thanked the crew. All passengers connecting to BUD, KLU or LED were already awaited by members of OS ground staff, all others – including me – were bussed to the arrivals facility of the terminal where I collected my luggage.
I stayed in the NH Hotel just opposite the terminal building, weekend rate EUR 101,00 per room without breakfast: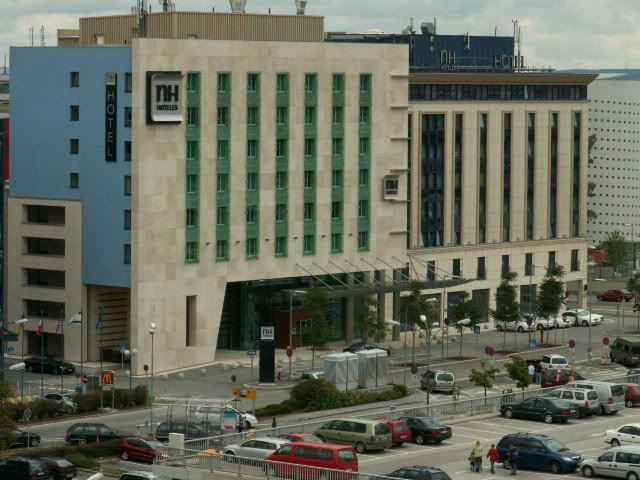 Later I took a train to downtown Vienna to explore the city a bit.
The "Stephansdom" (Stephen's Cathedral), probably one of the most famous buildings of Vienna: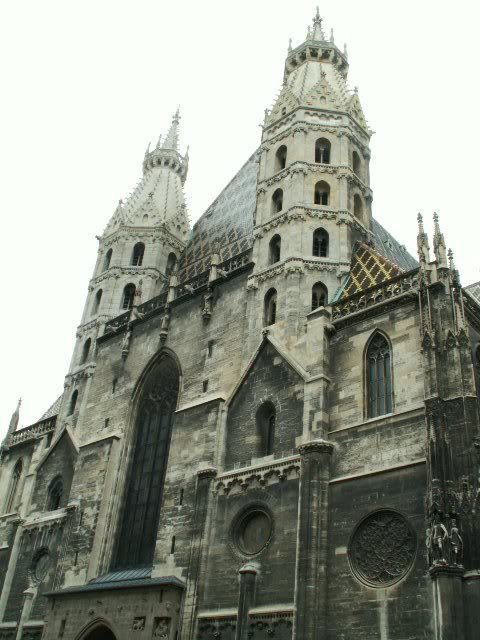 As it started to rain heavily, I decided to go inside and climb up the stairs of the South Tower: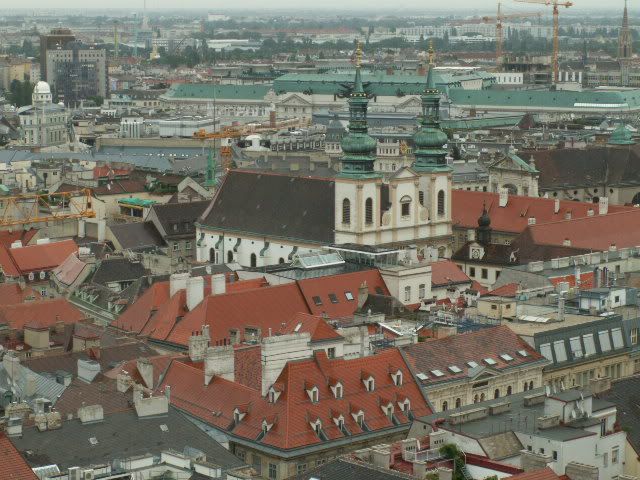 A part of the "Hofburg" (castle):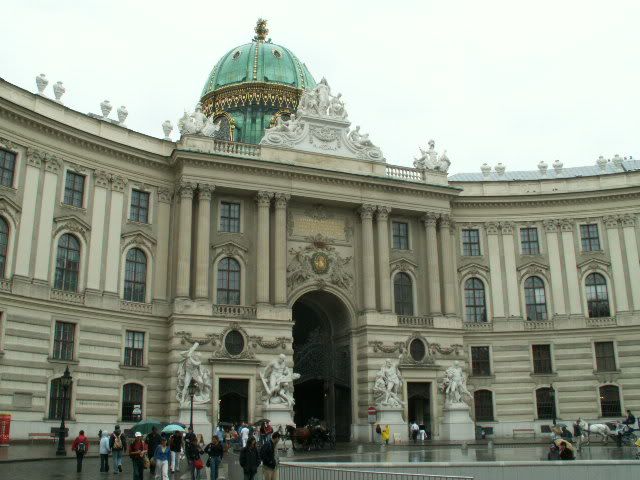 The famous Giant Ferris Wheel at "Prater":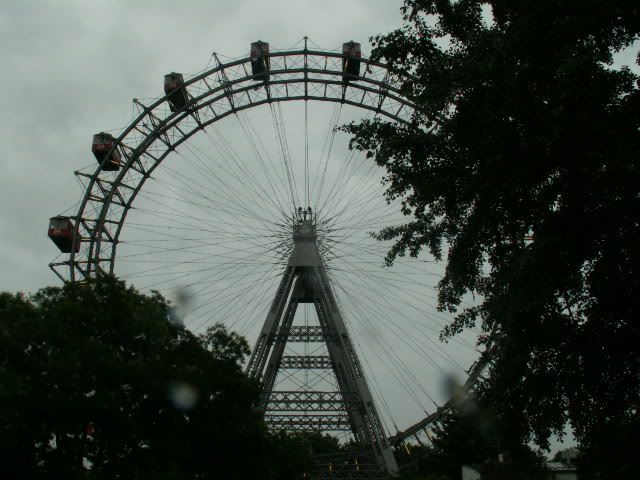 A very modern district of Vienna, photographed from the "Donau Turm" (Danube Tower):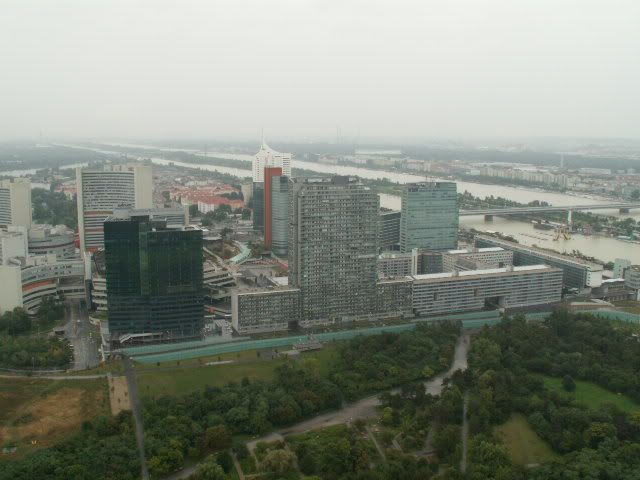 Sunday, 13 August 2006
Vienna (VIE) – Stuttgart (STR)
Airline: Austrian arrows, operated by Tyrolean Airways
Flight number: OS 187 (LH code share: LH 6367)
Scheduled departure time: 17:25
Scheduled arrival time: 18:45
Type of aircraft: Fokker 70
Registration: OE-LFI "Klagenfurt"
This aircraft was built in 1994 and delivered to Tyrolean Airways in 1998 and originally painted in Tyrolean colours before the Austrian arrows brand was introduced.
On the next day at around 10:00 I walked the short distance from my hotel to the terminal building. As check-in was quite busy at that time of the day and I still had plenty of time left, I decided to return at an off-peak time and went to one of the multi-storey car parks for some spotting. A variety of Austrian and European traffic can be seen with only little foreign long-haul traffic, mainly from the Gulf region (Qatar Airways, Emirates, Royal Jordanian).
The terminal building (in the background the huge extension); on the left you can see Terminal 1A which is mainly used by low-cost airlines: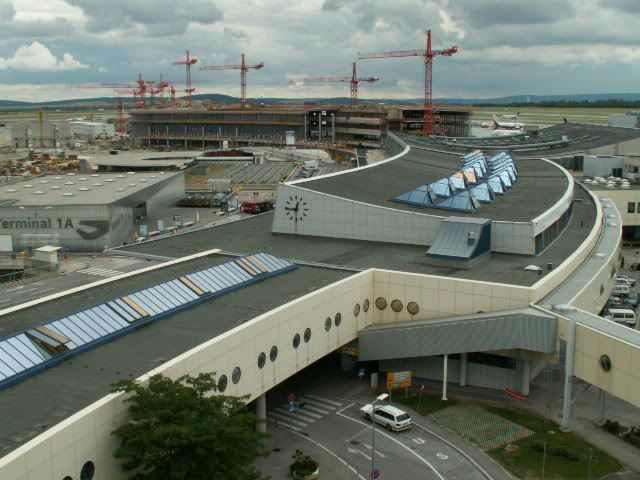 At around 14:00 I returned to the check-in area: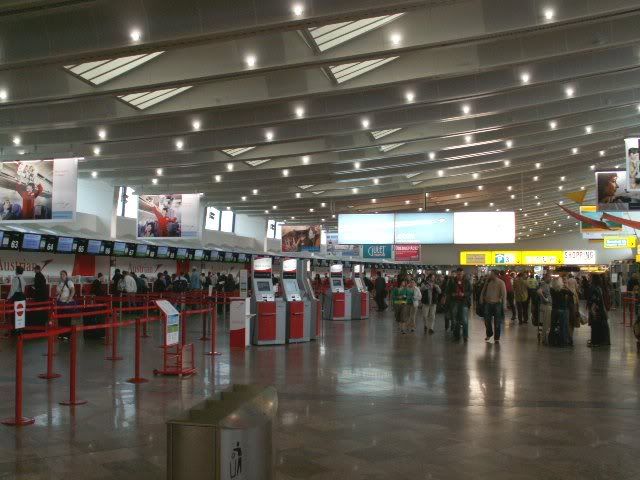 Before I could decide at which counter I had to check in, a friendly OS ground agent with a "Travel Coach" pin came towards me and asked me where I was flying to and which class I was going to use; then she showed me the counter area with the shortest possible queue. Quite nice service. Only two passengers in front of me. The also very friendly check-in agent asked me if I wanted a window or an aisle seat; as I replied "window" she looked into the system and told me that unfortunately there were no window seats available any more. I was quite surprised as it was still nearly 4 hours before departure, but obviously there were going to be lots of connecting passengers from other destinations on this flight. Obviously I seemed to be a bit disappointed so she told me that there was indeed one window seat left which was marked with a "plus" but she was not sure if she was able to get this seat. But she tried and indeed I got a boarding pass for seat 10F which was in front of the exit row (NOT in the exit row!) and therefore was non-reclining, so maybe these seats are given out last.
Austrian Airlines Group boarding pass: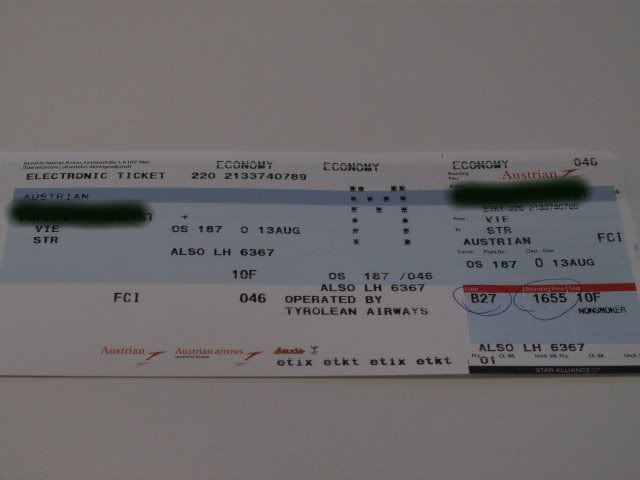 I entered the passenger area (only boarding cards are checked there, no security check yet) and had lunch in one of the cafeterias. Later I passed security check and entered the B-gate area which is on the ground floor (bus gates for flights to Schengen destinations):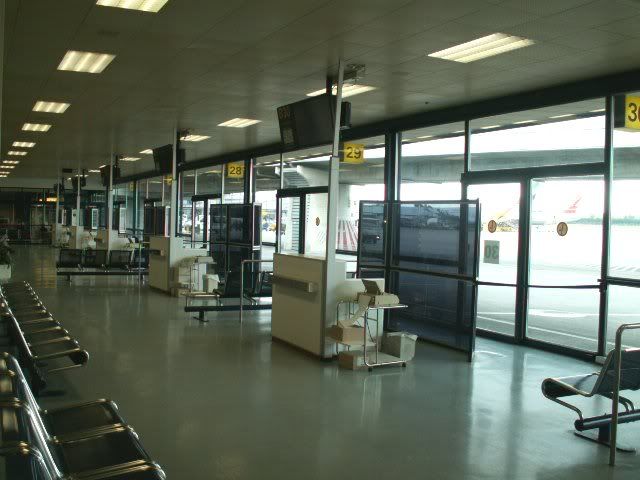 Like on nearly all airports I know, the bus gates aren't the most attractive area of the terminal. I sat down and watched the traffic a bit.
A Lauda Air B 737-600 in special "Tirol" colours: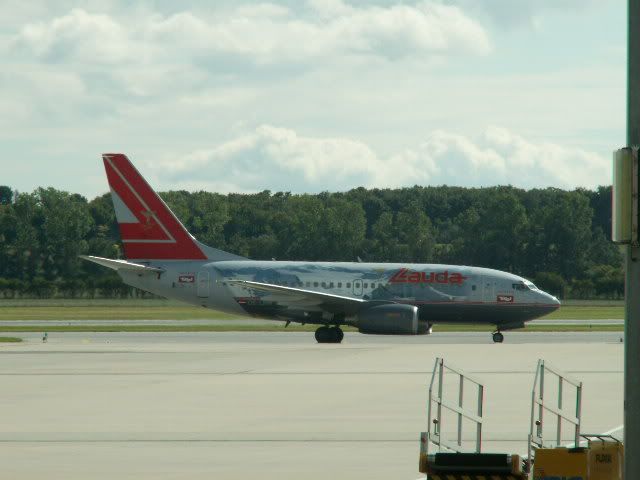 Austrian Airlines A 340 still in the old colours: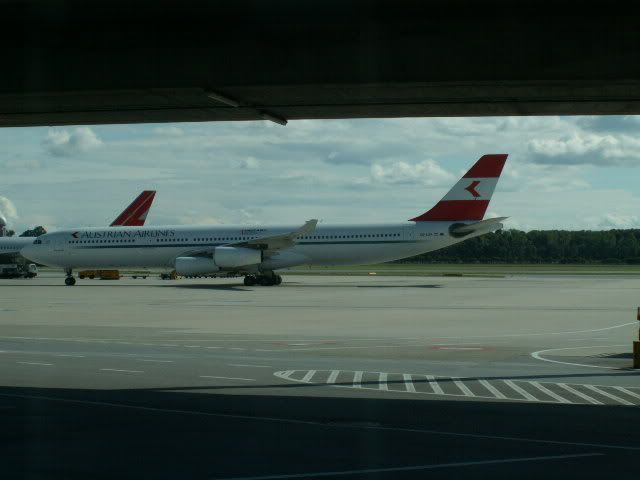 Due to Austrian's hub system, there were many European flights leaving at the same time, so the area began to fill. Gate staff was quite informative as well; they even announced a 10 minutes delay for the flight to MUC due to a shortage of fuel trucks. But boarding for STR started on time and a bus took us to our Fokker jet which was going to be OE-LFI this time: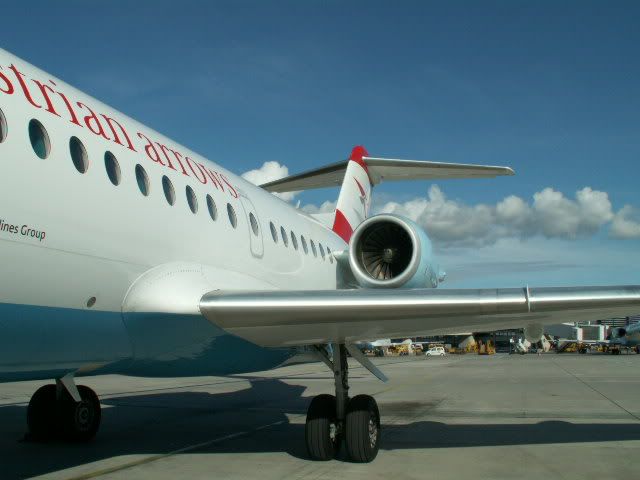 The flight was completely booked up; not a single seat left in Economy. Nevertheless we were off-block on time, taxied to runway 29 and took off.
The green landscape around Vienna: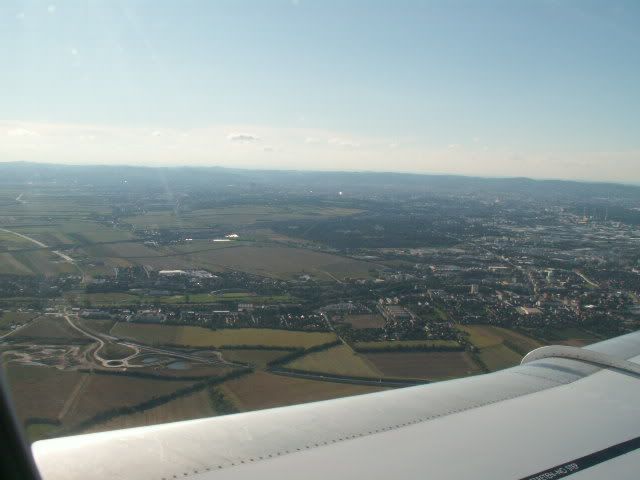 A wing shot: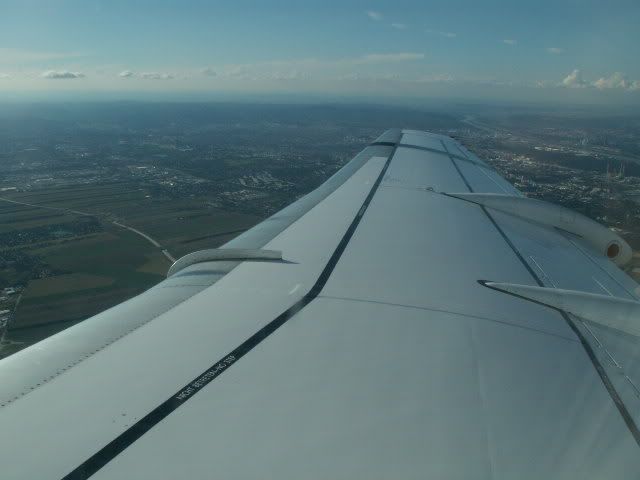 The captain informed us about our flight route which was quite similar to the outbound flight: VIE – MUC – AGB – STR.
Somewhere over Austria: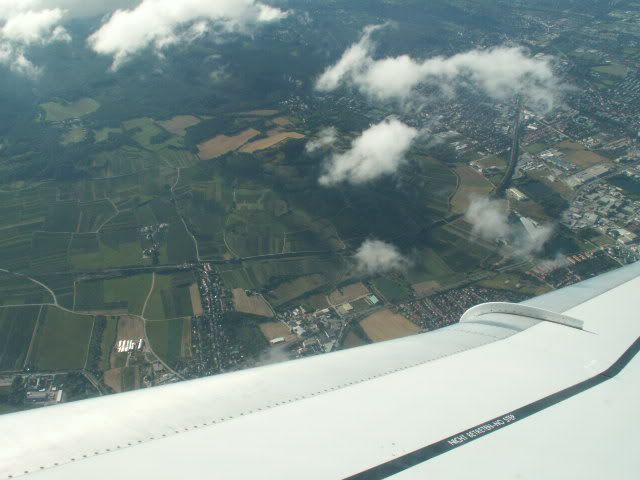 The two friendly female flight attendants started their service; this time I only had a free mineral water. Again they didn't sell too much food, only two passengers in the row in front of me bought two hot sandwiches.
When we came to Germany, it became extremely clouded again. I just saw the ground again when we were already approaching STR: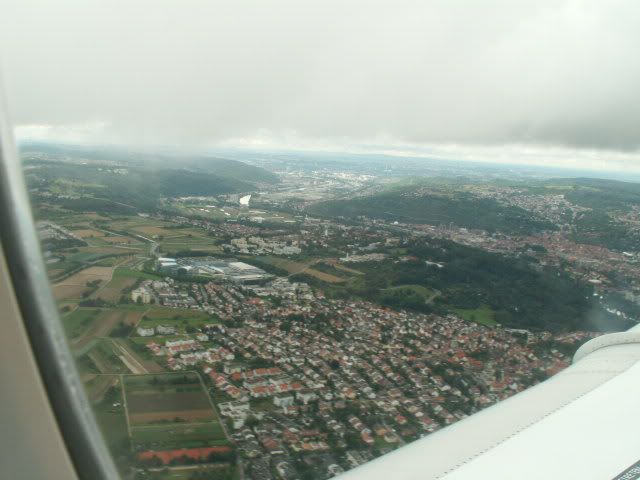 We touched down and taxied to a parking position on the apron where all passengers left the plane. A last picture of our Fokker: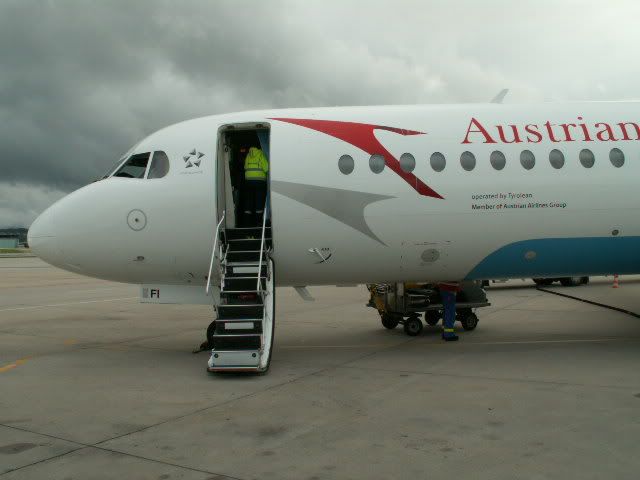 A bus took us to Terminal 1 where we had to wait a bit for our luggage; three of five luggage belts were out of service due to construction works.
Conclusion:
This was my first flight on Austrian Airlines and although is was only a short flight, I was really impressed of their service level: extremely friendly and professional staff especially at VIE airport but also on the planes, very good information policy (even small delays are announced and explained), special service for connecting pax with short connections and all other services you are used to when flying on full-service airlines (pre-assigned seats, newspapers, etc.). So even if you have to pay for food on OS short-haul, there is still a remarkable difference for me between OS and the typical low-cost carriers like Germanwings or HLX.
Thanks for reading my report – questions and comments are always welcome.
Regards
Christoph