Hi fellow A.netters.
Last April, Alphafloor and I decided to book a ticket with Easy Jet in order to go spot in Amsterdam for one day. We booked a round trip ticket for Friday August 18th.
Since the flight left really early(6:30 am), I spent the night over at Alphafloor's home because he lives 500 m away from the airport and it was much quicker to get there in the morning. We woke-up at 05:00 am and headed to the airport by bike when it was still night .We arrived at the airport, and went to the automatic counters EasyJet has in GVA. Check in was very easy. I just had to enter my confirmation number and name and out came my boarding pass
We went upstairs, passed the customs, security and headed directly to our gate which was B33.
Before boarding, Alphafloor took a coffee whilst I waited to be in the aircraft to have breakfast.
Next to or plane were two other EasyJet A319's leaving for Malaga and Luton.
Boarding started but we had to wait for a while because we were in boarding group C. I already feared I wasn't going to be able to get a window seat. Fortunately many people were sitting together so there was plenty of space on the back of the plane to get a window seat.
Airline:
Easy Jet
Flight no:
955
Gate:
B33
Aircraft:
A-319
Registration:
HB-JZK
Seat:
22F
Destination:
Amsterdam
Date:
August 18th
Time of departure:
6:40
Time of arrival:
8:00
Load Factor:
80%
Push-back started at 06:40 and we rapidly headed to the holding point of runway 23.
We waited there for a very short time
Take-off was at 06:50.

VIDEO OF TAKEOFF(filmed by Alphafloor)


The sky was extremely clear so we has an excellent view of the city and the mountains.


Sunrise was very beautiful...another reason why i love being up there on an airplane. As Nirvana said on one of their songs, "I'm on a plane, I can't complain" lol

Once we had reached cruising altitude, the EasyJet cabin crew came along selling the breakfast. Since the food on board is quite expensive, I had already bought my breakfast in the Migros. I had orange juice, cookies, small cake, banana and a choco drink. While I enjoyed the view on the ouside


VIDEO INFLIGHT(filmed by Alphafloor)

The sky below us started getting cloudier and cloudier. Over the clouds, I was able to see 3 Virgin Express aircraft flying the opposite direction. Descent started at around 7:40am. We dove inside the sea of clouds and that's when I realised the weather in AMS wasn't going to be exactly what we expected!
Here is a picture before landing



Touch down took place at exactly 8:00 am on the runway along Polderban. The pilot broke quite a lot to avoid aquaplanning due to the wet runway as it was raining. Taxiing took like 10 minutes. Just after us landed a KLM 777.
VIDEO OF LANDING IN RUNWAY 18R-POLDERBAAN;(filmed by Alphafloor)
While taxiing ,we passed along a 747/DC10 hybrid much like there is in LHR, which the firemen use for training


.Taxiing was over, and we left from the rear door.
We arrived in gate H7.
Once outside of the airplane, we headed towards the customs and then to the Europecar counter to get the keys for a car we rented. We got a Volkswagen Fox which we would go get later, once we had met up people in the terrace.

That was our next destination. We were due to meet up AirKas1 , Zruda and a bunch of Czech spotters in the terrace at 9am.
Unfortunately it was raining at the terrace ,but it wasn't enough to bring me down. I was just sooo happy to be on that terrace with all those blue aircraft. I'm sure that with a sunny weather, Schiphol and the sky make only one thanks to KLM's amazing livery.
Here are some shots I took on the terrace

Myself with MD-11 Mother teresa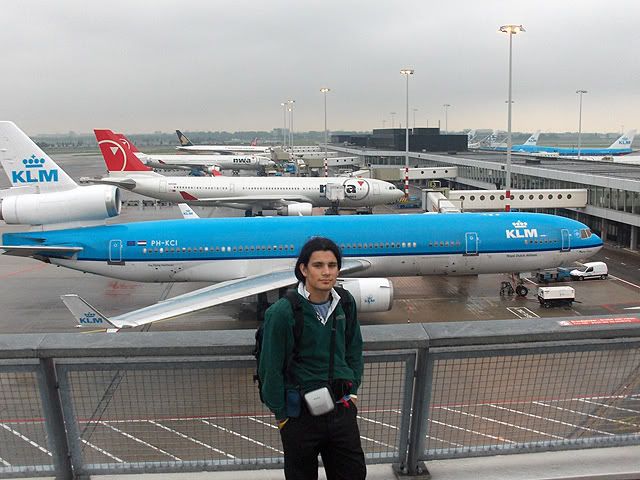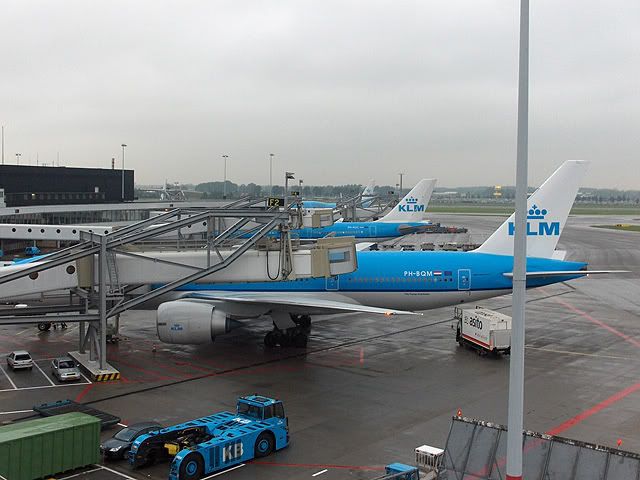 We then met up with Kas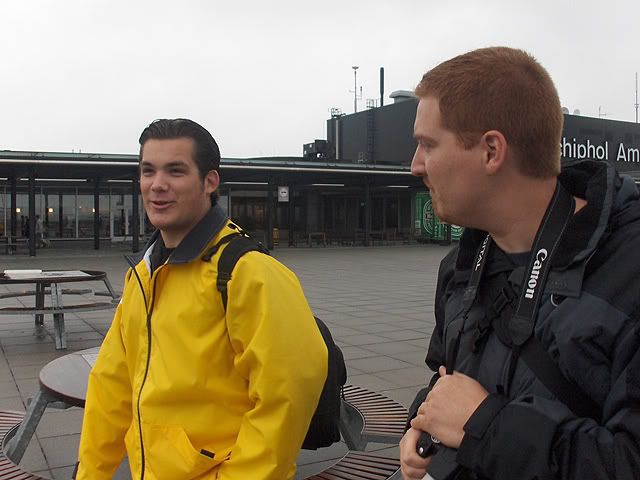 We looked for Zruda and the czech spotters for quite a while. We finally found them, but since it was raining and there wasn't enough space in the car, they preferred to stay in the terrace so to finish we were only three to take the car to Kaagbaan.
We headed towards the parking lot where we got they keys for our Volkswagen

We then took a 15 minute ride before arriving to Kaagbaan.
When we arrived there its stopped raining and the first rays of sun started to shine. It was really a heaven overthere being so close to the runway with only a canal separating us hence no fence whatsoever. It was impressive to see all those huge aircraft take off from so close.

Here are pictures of oursevles in Kaagban
Alphafloor and Kas ready for some spotting


Alphafloor concentrating to get a good shot


How great it was to be so close to those birds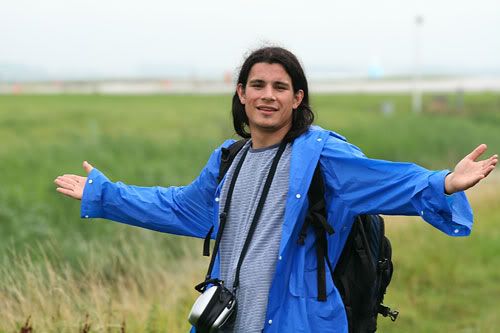 Alphafloor then went to get BA777 whose flight had just arrived in from LHR. Meanwhile, Kas was taking pictures and I was filming the planes with Alphafloor's camcorder. It was hard at first to do the zooming in and out of the aircraft on the runway but I quickly took the grasp of it

BA777 freshly arrived for spotting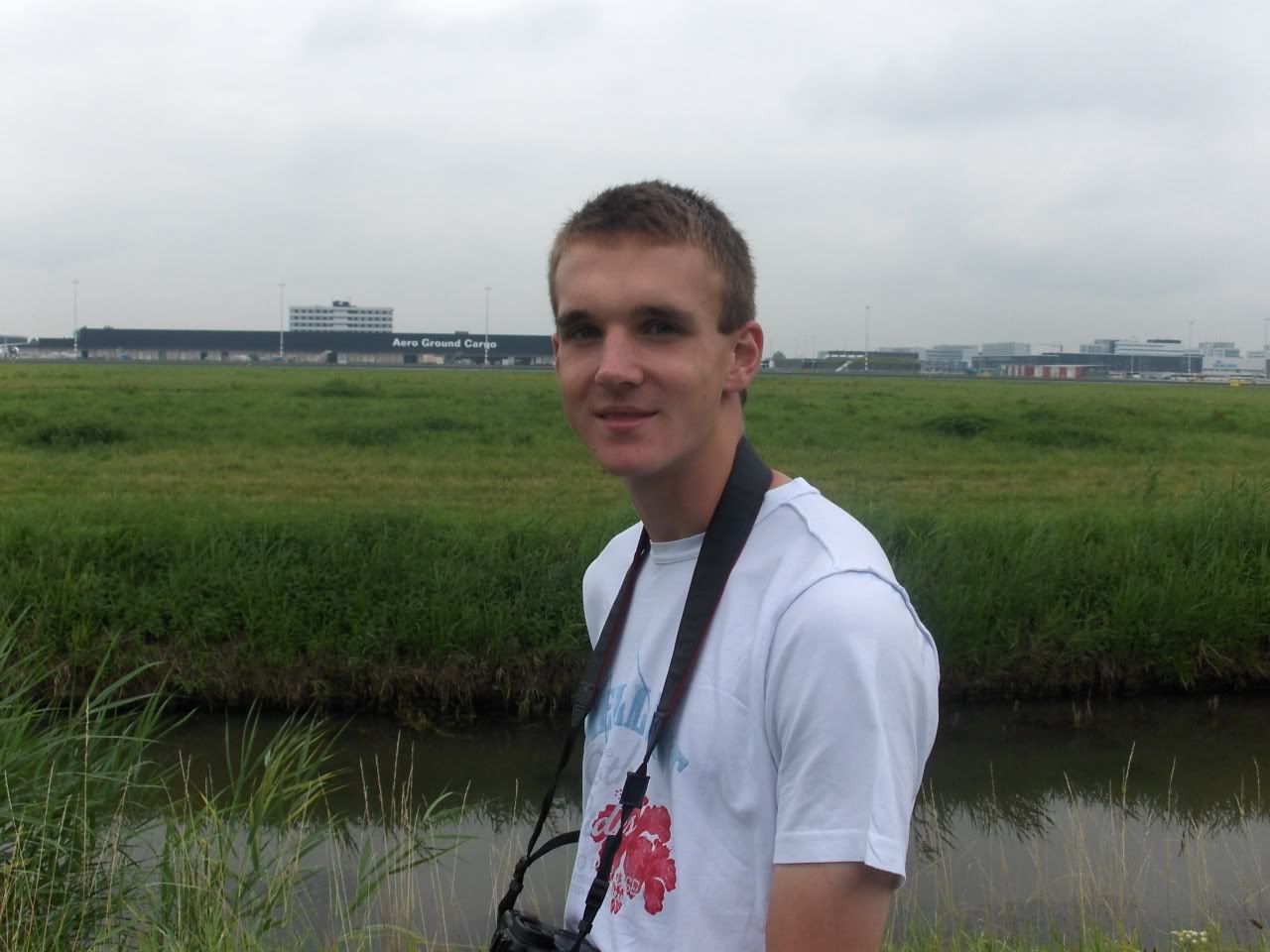 Here are pictures of some aircraft we saw taking off

KLM 777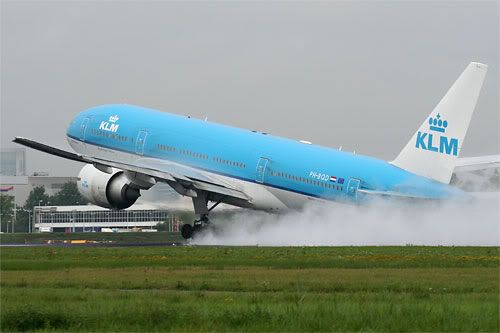 Martinair Cargo MD11 off to Cancun
IMAGE
Singapore Airlines Cargo with nose open
IMAGE
Kalitta Air...first time I saw this airline


Varig Log....a rare opportunity to see a DC-10


Its so beautiful to see only Blue birds around
IMAGE
Emirates Cargo coming to unload all the merchandise

We stayed in Kaagbaan until around 1:00pm and we decided to have some lunch at a place nearby.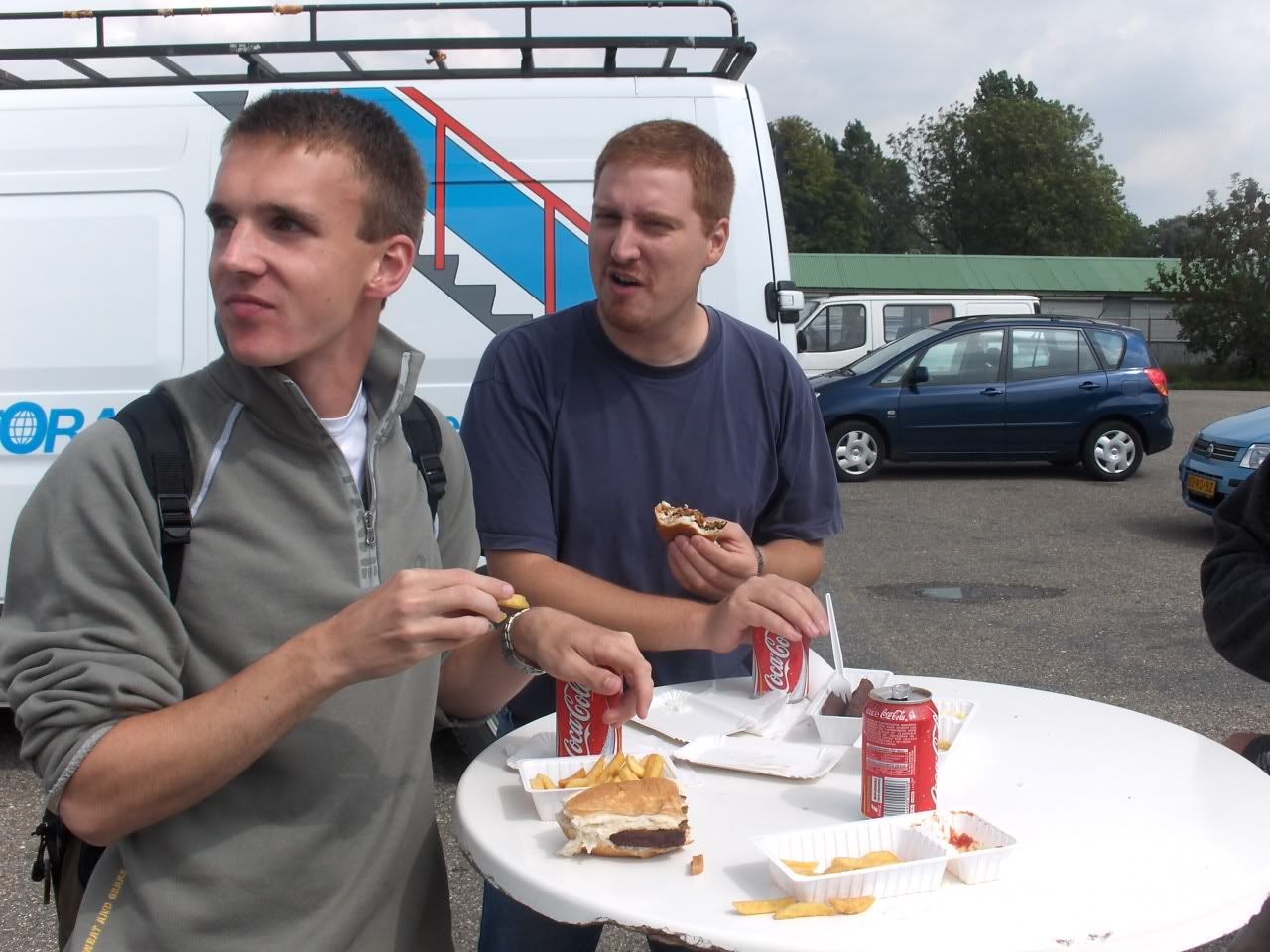 Unfortunately I wasn't able to drink my coke because two wasps had managed to get inside of the can
We headed back for the car ready to go to Polderbaan, a perfect spot for seeing aircraft landing.
After a 20minute ride, we reached the spot. We walked another 15 minutes so we could be closer to the lading point .
It was great to be there. Such a perfect view of the aircraft. Thanks to a list Kas printed out with all the timetables and Alphafloor's scanner, we were able to tell in advance which aircraft were going to land.
Kas taking a rest before new aircraft arrive
Kas and BA777 spotting a MASKargo 747
Some clouds up in the sky which would a bit too often cover the sun
A KL 747-400 just arrived in from ICN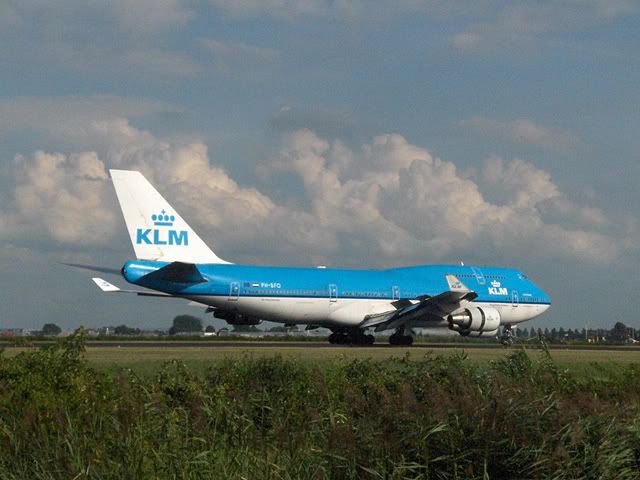 Beautiful picture of KL Fokker 100(there were a bit too many of them) with thrust reverted. Note, you can see the influence of Air France with the dirty tail


Myself fiming the aircraft with Alphafloor's camcorder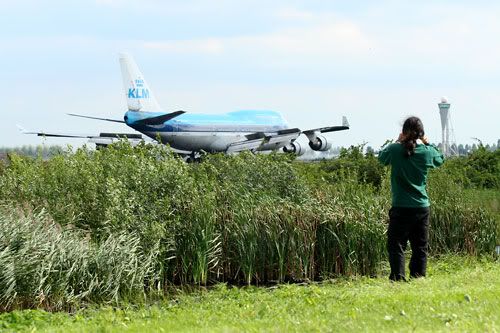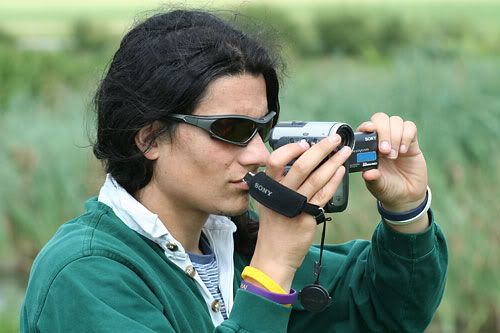 We spent a good 4 hours spotting there. It was extremely worth it.
At the end, Zruda and the Cech spotter came by bike to join us so were were a group of aound 10 people in Polderban.
The weather was sunny but extremely windy.


SPOTTING IN POLDERBAAN-VIDEO 1
SPOTTING IN POLDERBAAN-VIDEO 2
At around 6:15 pm, we started walking back towards the car. Once arrived, we drove for like 15 minutes towards the parking lot where we handed Europcar the keys. Alphafloor and I went towards the EasyJet check-in . Unfotunately there was no autmoatic check.in counter so there was quite a large queue .
We finally got our passes, and went back to the terrace to join Kas and BA777.
That's where we decided to take a small group photo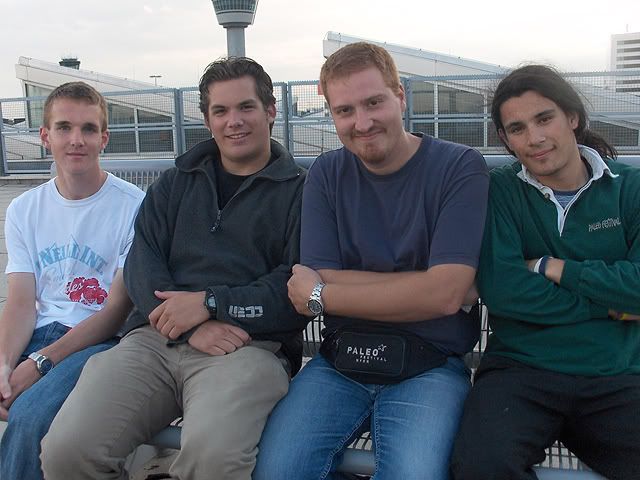 At around 8pm we went away from the terrace and it was time to say goodbye. Unfortunately this great spotting day in AMS was coming to an end.
We said bye, and proceeded towards the customs. Once inside, we went to get a milkshake in Mc Donald's before going to join Gate H7 for boarding.
A pic of PIA A310 taken whilst joining H7
.
Suddenly we had a big surprise...there was an extremely large queue waiting to go through the X-ray. However, we managed to cut into the line fearing we could miss our flight. Its only after that we discovered that our plane hadn't yet arrived.
It only arrived once we were in the gate waiting for our aircraft.
To my pleasure ,there was an Ethiopian 767 in front of the gate
At around 10 to 9 we were able to baord.
Here are some pictures before boarding the aircrat


ALPHAFLOOR CELEBRATING HIS 100TH FLIGHT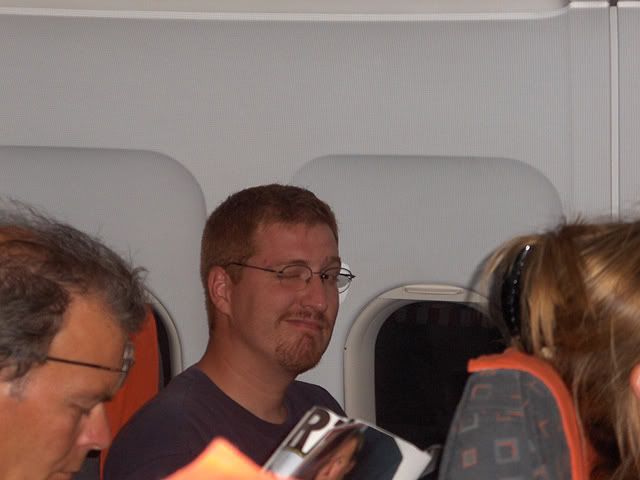 Myself very happy to fly again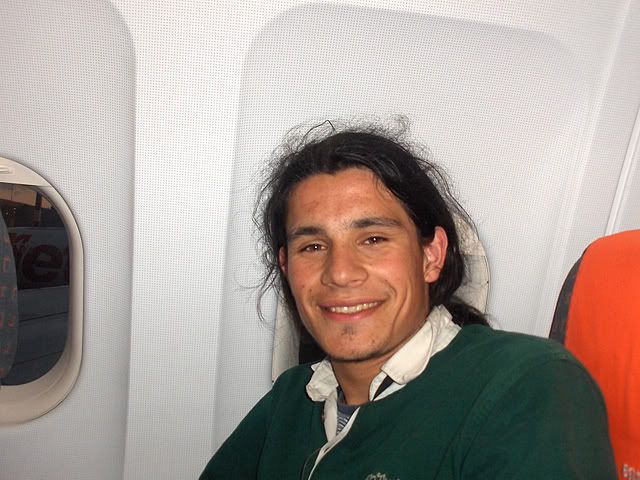 Airline: Easy Jet
Flight no:958
Gate:H7
Aircraft:A-319
Registration:HB-JZJ
Seat:20A
Destination: Geneva
Date:August 18th
Time of departure:21:10
Time of arrival:22:30
Load Factor:90%

The flight was delyed which was normal given the fact it was its last rotation of the day. This woman who was the crew chief started to greet us and then started to say the safety procedures whislt two men did the demonstration. I don't know what happened , but she started to luagh at her own words which provoked giggling amongst the passenger, which then gave a nice big friendly clap.

The captain announced the flight would take around 1h20 minutes.
Push back time started at 21:10 and the aircraft took off 10 minutes later


VIDEO OF TAKEOFF IN RWY 18-L TAKEN BY ALPHAFLOOR
The view from the outside was very beautiful with all the lights.
I just love it when the sun sets
Around midflight, there was suddely heavy turbulence. Fortunately it didn't last more than 5 minutes.
Our aircrat actually went really fast because we started decent around 55 to 60 minutes into the flight.
I noticed the pilot actually opened the landing gears before taking the flaps out!
We finally landed in runway 5 at 22:30, that is 10 minutes ahead of what was planned.
We were one of the alst people to get off the plane. Once out, we quickly went towards the customs, and were rapidly out of the airport.
Alphafloor and I rode on bike to his place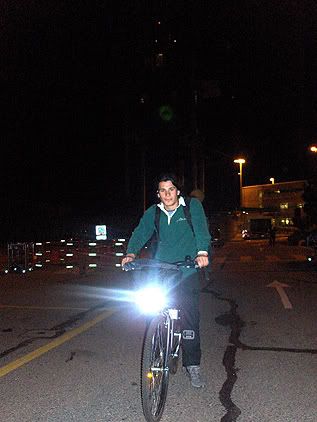 The best hing was that we saw a captain walking towards his car and I asked him what flight he flew. He answred amsterdam, and we told him we had just take the same one. He was the captain of our flight. We told him bout the landing gears and he said "Well remarked!". He found out we were aviation freaks.
This was the end of this marvelous spotting trip in amsterdam which was totally worth it.
Thanks to Alphafloor for his videos and some pics he wanted me to include in this trip report and also for asking me to accompany him on this trip.
Thanks also to Kas and BA777 for accompanying us and Zruda for having joined us later in the afternoon.
[Edited 2006-08-20 15:05:09]