My Name is Arnold, and I Am Your Governator!

DAY 1
Well after a long absence, I'm back to continue writing my trip reports. I have had a very busy month of August as I continue to love our new Boston crew base. I have been doing a ton of flying and rarely have time to sit and write a trip report for you guys to read. After several requests I decided to get back to it and write this one as I am relaxing from this last trip and getting ready for my next one. So let's get to it!
0330 came too early for me as the night before I got back to the crashpad at 2000 from this very trip. A classmate of mine was in the crashpad for the night so we decided to hang out during the evening. I finally made it into bed at 2300 for this early wakeup. I roll out of bed and hop into the shower to get somewhat refreshed for the long day we have ahead of us. I had already called for a cab the night before so that was one less thing I had to do this morning. The one bad thing about Boston is the "T" doesn't start running until 0500, exactly when I have to show at the airport. At 0430 the cab shows up and I am on my way!
View Large
View Medium


Photo © Michael Carter
BOS-JFK Flight Time: 40min
Flight: 1001 N629JB "Bright Lights, Blue City"
Route Filed: LUCOS SEY067 SEY PARCH CCC ROBER
Customers Manifested: 100
STD: 0600
Out: 0600
Off: 0616
STA: 0715
On: 0655
In: 0706
I met my crew downstairs in the crew lounge and made our way to the gate. Security has become a routine again for us crewmembers. In the days following, several crewmembers where running into problems getting through the checkpoints. Apparently the memo missed some of the TSA Agents, but for the most part they are on their game at C Terminal. I have a stop by the restaurant to pick up a salad for the next leg as the food at JFK isn't the greatest. I make my way back over to C28 and hop onboard the aircraft. The 5 others are already onboard and going through the checks. This month, and pretty much every following month, I bid the F4 position. The position is in the rear of the aircraft and is in charge of the liquor. I like the F4 positing because there isn't really much to it, make a few announcements and count the liquor at the end of the flight.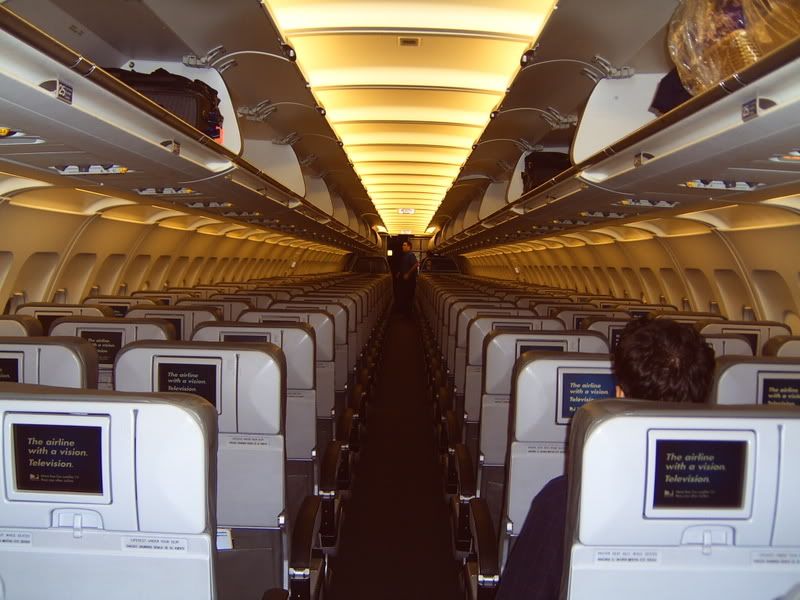 That's the F3 seated in 26D prior to boarding
We start boarding at 0530 as we have a fairly light load this morning. With only 100 customers and the reduced number of carry-on's boarding goes fairly quickly. By 0545 we have most of the customers on board and are now just waiting on the stragglers. I have yet to see everybody board the aircraft at once, there are always several that wait until the very last minute to get on board. Some people think it is just a game and we wouldn't dare leave without them. Someday they will cut it too close and be out of luck. We close and arm our doors at 0555, only to disarm the doors at 0556. Did we leave a customer behind? Not quite, the gate agent failed to remove the temperature probe from the aircraft when she closed the door! That would have been a sight, an A320 taxiing down the taxiway with an air conditioning unit in trail!
The guys up front released the brake at 0600 and we started our journey backwards into the alley. There wasn't very much traffic at BOS this morning so we quickly made our way over to the runway and where quickly in the air by 0616. It is amazing how different a de-rated takeoff feels and how easily you are able to tell the difference. A quick, shallow right hand turn and we where on our way down to JFK. Above 10,000ft, my partner in the back and I got ready to do our express service; Orange Juice, Coffee, and Bottled Water, not to mention the snack choices of Blue Chips and Oatmeal Raisin Cookies. The F3 went out with the OJ and Water as I got the coffee ready. Once I had my tray of coffee ready I went out into the aisle and began my service. Most people where asleep as this was a fairly early flight so I was able to go through with just one tray of coffee. The F3 was done before me so he waited until I was done and we both went out with the snack bag. This was an odd ball flight as most of our customers opted to go with the Oatmeal Raisin cookies instead of taking the Blue Chips. We didn't mind too much as the Blue Chips are the most expensive snack that we offer. Rightly so as Terra has to call us every year and ask us how many chips we plan on using the following year so they can alter the number of potatoes they plan on planting. We are the world's largest consumer of Terra Blue Potato Chips! Who would have thought?
I put the remainder of the snacks back into the bins as the F3 heads out into the cabin to collect any of the service items that the customers are finished with. This plan I don't open the liquor cart, one less thing for me, and nobody really is going to drink at 0630! At least I hope not! Once I am finished with the bags, I grab a trash bag and start to make my way though the cabin. By this time we are already on or initial descent into a foggy early New York morning. Soon after we receive the double chime indicating that we are now below 10,000ft and we snap into our final descent mode. The F1 makes the announcement as the rest of us make our way out into the cabin to conduct our security and compliance checks; seatbelts, seatbacks, and all carry on luggage. Most of our customers have flown this route several times before so they have the routine down to a science, so we rarely have to remind anyone.
We made a smooth landing at JFK at 0655 and made our way back to our home at T6. We had a medium length taxi this morning as we landed to the east. As we make our way to the gate we are able to get a great look at the progress that T5 has made. So far everything with the new terminal is ahead of schedule and under budget. We are also now in talks with the Port Authority to possibly ad an extension onto the new T5 or possibly knock down T6 and build some sort of terminal over there. Everything is up in the air as of right now, but we are in talks. We arrive into Gate 10 on the northern side of the terminal. Luckily we didn't have to wait for our gate today, the past several times I've flown this flight we had a 10-15 minute wait for an aircraft to push off of our gate. We finally block into the gate at 0706 and the customers start to exit a few minutes later. We quickly clean and straighten up the aircraft and clear out and head to the crew lounge by 0715. Light flight and a quick clean means our sit is a tad longer. We are scheduled to have a 1hr 41min sit before our flight to SMF. I decide to make my way back out into the terminal and grab some much needed breakfast so I'm not as hungry halfway through the flight to SMF.
View Large
View Medium


Photo © Jerry Search
JFK-SMF Flight Time: 5hr 45min
Flight: 163 N584JB "Blue Fox"
Route Filed: COATE J36 WAAKE J29 FYLLS J80 ILC J198 MVA SWR FLUNK3
Customers Manifested: 123
STD: 0855
Out: 0916
Off: 1006
STA: 1200
On: 1243
In: 1246
After some food and checking my company email, I start to make my way out to gate 9 for our departure to SMF. The aircraft had overnighted in JFK so we where going to have to wait until maintenance could taxi it over from the holding area in front of T4. We decided to hang out in the jet bridge instead of in the terminal. This usually allows us to relax some before we are faced with our customers for several hours.
Here is a look out of the jet bridge at gate 9.
Our plane should be blocking the aircraft at gate 7. Unfortunately our aircraft didn't arrive on gate until 0830. Maintenance ran into some taxiway congestion while bringing our plane over from its overnight home. The 4 of us ran onto the aircraft and quickly completed our checks so we could start boarding. Our first customers finally started to filter their way onboard at 0840. The scheduled departure is 0855, but there is no way we are going to make that one, but we try our best by being out in the aisle helping out and by making several announcements. Our FO is going to be flying us out there and I know he is going to try and make up time as I've flown with him before this month.
We have every customer on board and the door closed by 0900. We did a pretty good job in getting everybody onboard, seated, and carry-ons stowed in such a quick amount of time. We are ready to go, however there is some type of communications failure up in the cockpit. What the failure entailed I'm not sure but it delayed our push even more. We didn't release the break until 0916. I knew it would be awhile before we actually took off as I had a peak at the takeoff queue while we where waiting for our aircraft. We where going to be about number 20 for departure this morning. It is an unusually long takeoff line for this early at JFK. After an extremely long wait, we where finally airborne at 1006, almost a full hour we sat on the ground waiting for departure. Well there just went our chances of an on time arrival into SMF.
We where now on our long trek across the country with not much in the way of excitement following. We did our usual onboard routine for the entire flight. For those of you that may have never flow JetBlue that entails; Full Beverage and snack service upon reaching cruise, Snack bar set up in the aft galley for customers to munch off of, halfway through the flight we go through with a bottled water service, and finally about 1 1/2 before our arrival we go through with our 100 calorie Wheat Thins as well as another full beverage service. I wish I could say that we had some huge problem onboard or a diversion because that usually makes for a more interesting trip report, fortunately for me and unfortunately for you none of that happened besides the departure delay in leaving JFK.
We arrived into SMF 43 minutes late at 1243. We where able to make up some of the time in the air, however Mother Nature was not in our favor this day. We blocked in at the gate a few minutes later at 1246. Many of the customers didn't mind the delay as it really wasn't within our control. Almost all thanked us for a wonderful flight as they deplaned thru the rear. We have 2 usable exits for deplaning and we take full advantage of that at the cities that allow us to. We aren't able to rear deplane at the larger stations but we do where we can. All customers are off by 1300 and we are already well into our cleaning. We had prepared the cabin while we where in the air so we had most of the cabin picked up already, we would just now need to collect the pillows and blankets. With the next crew helping us out we where out and on our way to the hotel in no time!
Day 2
I had a wonderful nights sleep at our hotel. I've already been to this hotel several times this month and received my favorite room. Our van came to pick us, as well as a CO crew, at 0510. It really isn't that early as I tend to stay on east coast time so that makes it a 0810 van.
View Large
View Medium


Photo © Bill Hough
SMF-LGB Flight Time: 1hr
Flight: 259 N623JB "All We Need is Blue"
Route Filed: FROGO6 FRA J7 FIM TANDY3
Customers Manifested: 51
STD: 0625
Out: 0621
Off: 0636
STA: 0745
On: 0740
In: 0744
This is the flight that we don't plan on seeing for too much longer. The load of 51 customers is a fairly typical load for this early morning departure to LGB. The flights in the afternoon are full, always; it is just this early morning flight that is never full. There is some talk about turning it into a JFK or BOS departure, or even possibly an MCO flight. The city council is trying to push for an airline to start service from SMF to MCO. Not sure if anybody would actually do it, but the main to airlines I would suspect try it would be WN and B6.
We arrive at our terminal at 0540, after dropping off the CO crew. We make our way up the escalator and breeze thru security and onto the aircraft in no time. We quickly go thru our checks and tell the gate agent to board whenever as we would like to try and get out early. We started to board at 0600 and in no time we had the vast majority of our 51 customers. Again, the same as the BOS-JFK flight, we where waiting on those select few that like to wait until the very last minute to check in and board the aircraft. We now have everybody and close the door by 0619. The brake is released and we are under way by 0621 for the quick trip down to LGB.
FedEx DC-10 starting her pushback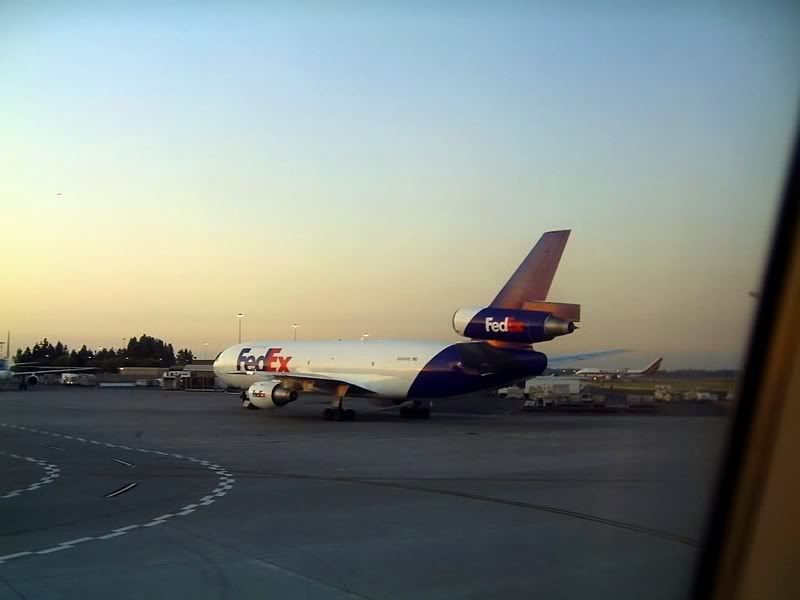 FedEx DC-10 waiting for us to clear the taxiway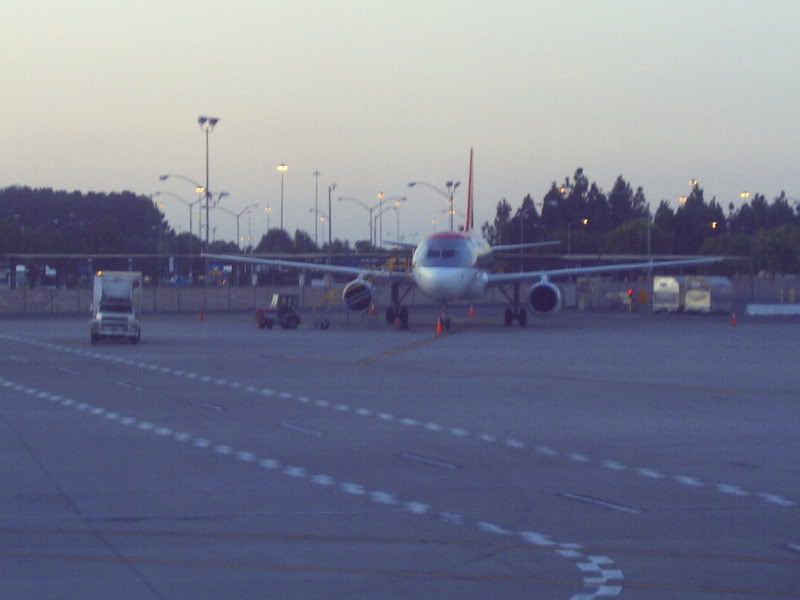 Northwest A320 waiting for her departure to MSP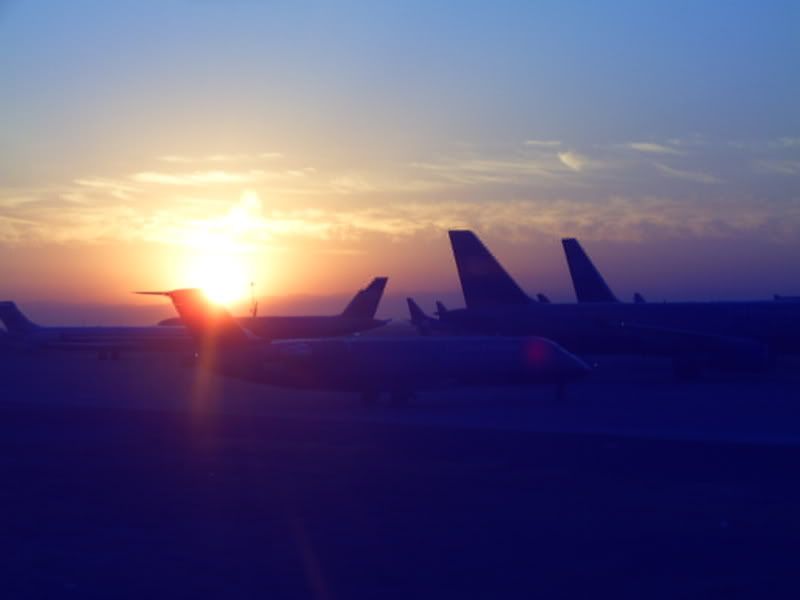 A gathering of United tails at SMF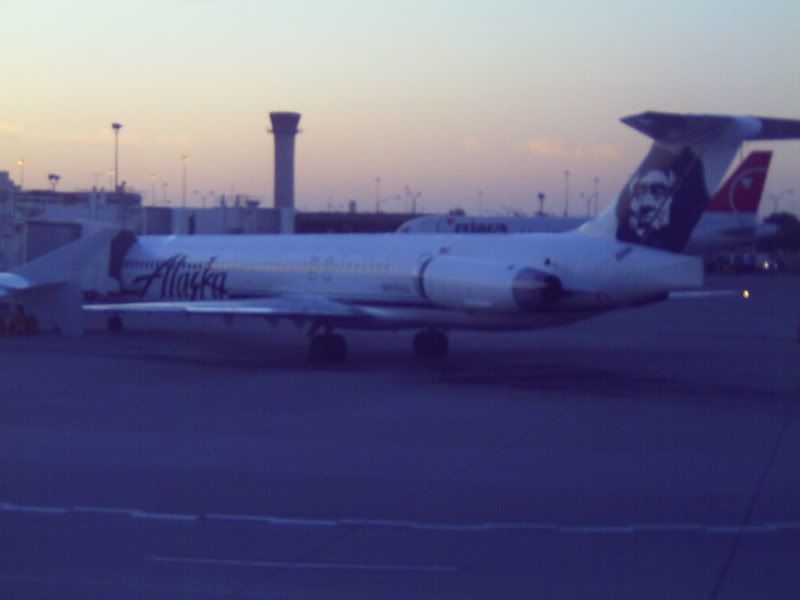 Alaska MD80 resting peacefully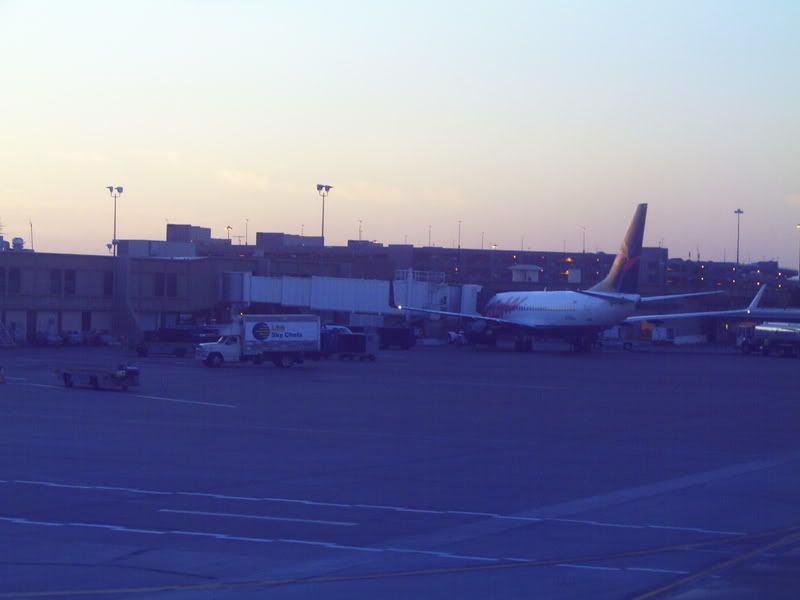 Aloha 73G preparing for the long flight to HNL
Since we where loaded so light, I was able to snap those pictures while we where waiting and then taxiing to the runway. Another de-rated takeoff is on the menu for this morning due to the extremely light load. We where airborne at 0636 and on our way on our inland route to LGB this morning.
I had the select few in my sectioned fully serviced in a matter of seconds, so I grabbed a snack basket and worked my way up to the front of the aircraft to serve snacks to the entire aircraft. This flight, as well was pretty uneventful.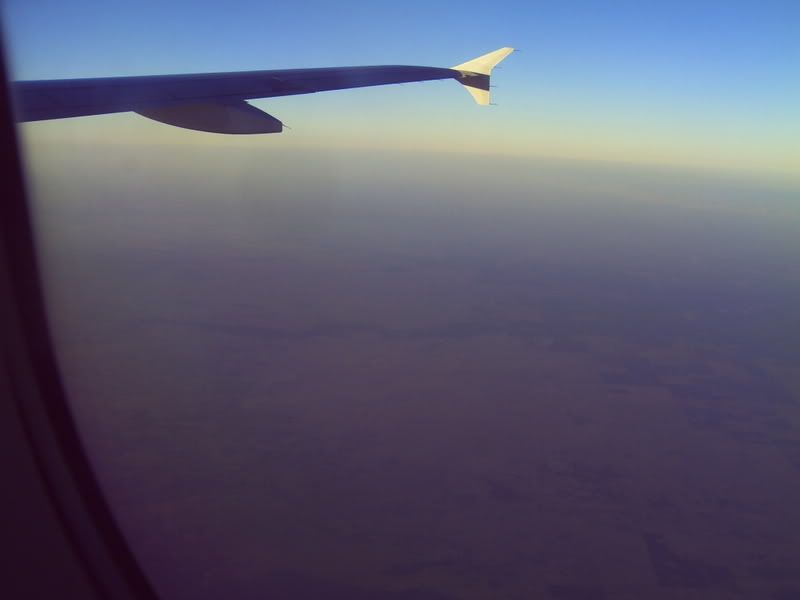 Here is a photo halfway thru the flight down to LGB
As we where nearing LAX we noticed an aircraft off of our right side and fairly well beneath us. I called up front to see if the guys had head the callsign of the aircraft, but they hadn't. From the picture it appears to be an Air China 747.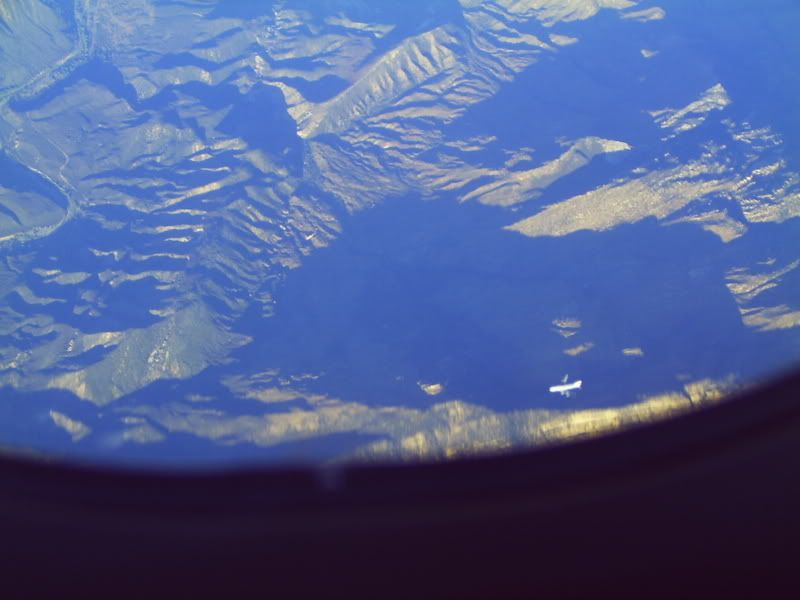 It had an all white top as some red on the tail. I ran through all of the 747 operators in my head but Air China is the only one that I could come up with that resembles what I saw.
We made a pretty uneventful descent into the Southern California area. The Marine Layer had not yet dissipated by the time we arrived, it is normally pretty scattered by the time we get there but this time it was solid.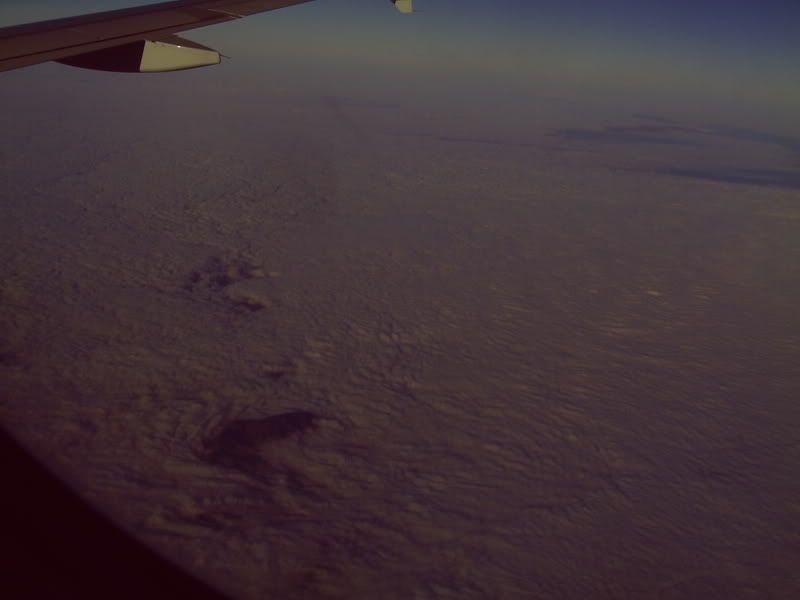 LAX is somewhere under that Marine Layer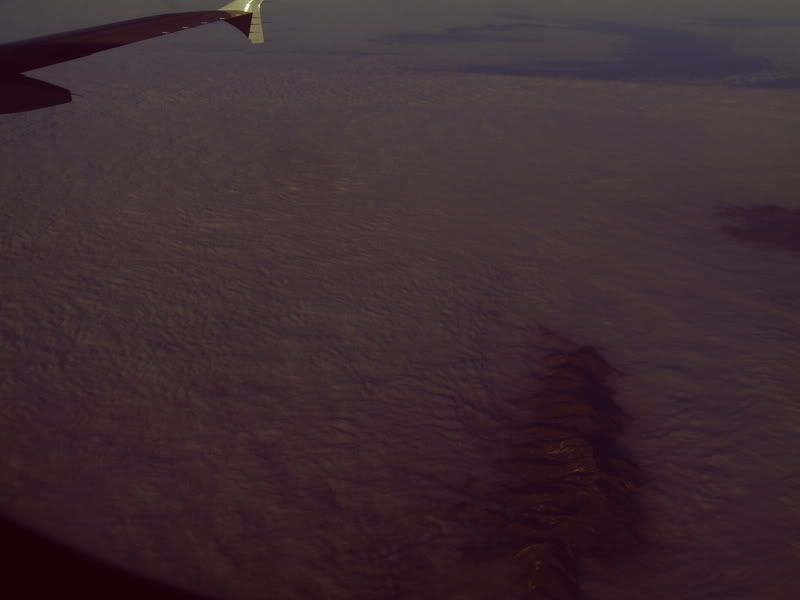 We made the standard arrival into LGB again today. It is starting to get pretty routine for me, as most, if not all of my trips involve a stop in LGB. We touched down at 0740, medium brake action and full reverse to make the first turnoff to bring us directly into the ramp area. We blocked in at our gate a whole minute early at 0744. The ramp was pulled up to the front of the aircraft and the portable airstairs where pulled up to the rear. Half of our customers deplaned via the forward door and the other half via the aft door.
After a quick 5 minute clean, we where saying goodbye to our pilots and where on our way to the wonderful Prop Room above the ticket counter to enjoy a fabulous breakfast during our 2hr 40min sit in LGB before we where scheduled to make the trip back to BOS.
View Large
View Medium


Photo © Jerry Search
LGB-BOS Flight Time: 4hr 40min
Flight: 486 N563JB "Blue Chip"
Route Filed: SLI POM DAG J100 EKR MBW RAP J158 ABR J70 GEP J106 GRB J38 ECK J16 ALB GDM3
Customers Manifested: 144
STD: 1020
Out: 1017
Off: 1037
STA: 1855
On: 1816
In: 1822
Our aircraft was due in very early from IAD due to some favorable winds aloft. The IAD plane arrived at 0915 and the customers where off by 0930 and the aircraft was cleaned and provisioned by 0935 or so. I managed to slip on fairly early because I wanted to watch some TV before the customers boarded. Here are some cabin pictures prior to boarding.
Snacks in the right bin, wheat thins and my bag in the left and the TVs showing "A Direct TV signal is beamed to and aircraft traveling at over 500mph. Imagine what it can do with a stationary target.
Sorry for the dark image but I had turned off the cabin lights to keep the cabin fairly cool
The rest of the crew boarded and completed their checks. We met our LGB based pilots and we did a quick brief with the Captain. The gate agent came on and wanted to know when she could start boarding. Our F1 told her that she may board at her pleasure. Before our full load of customers boarded I managed to snap a few pictures out of the 2L door.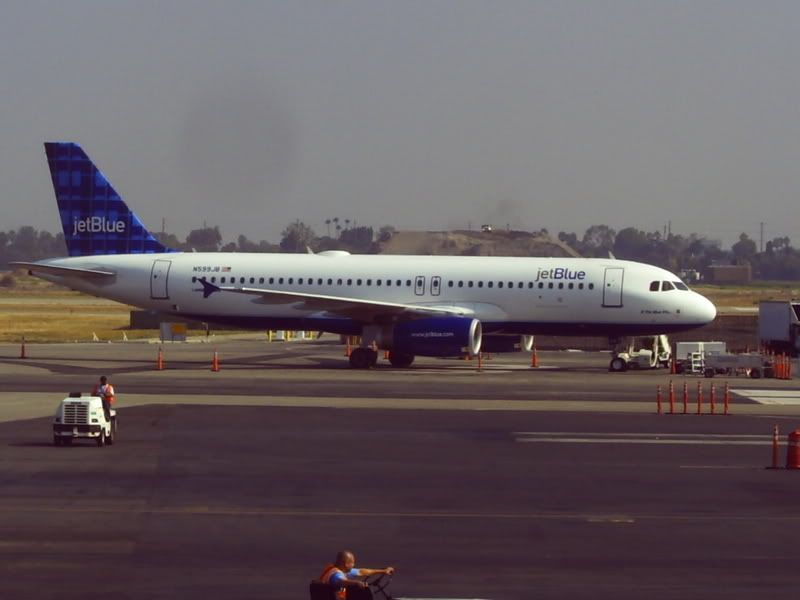 A spare A320 sitting, resting at LGB waiting for the call to duty
A Skywest CRJ operating for DL to SLC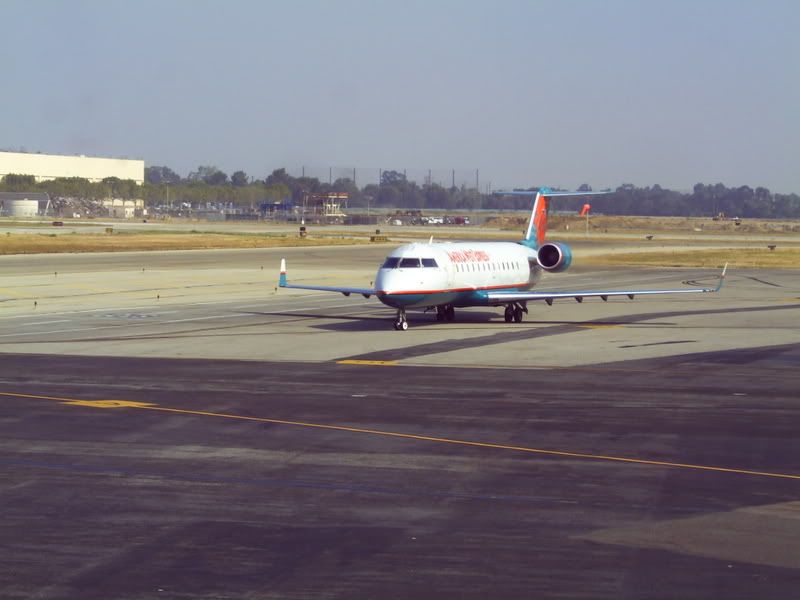 A Mesa CRJ operating to either PHX or LAS for US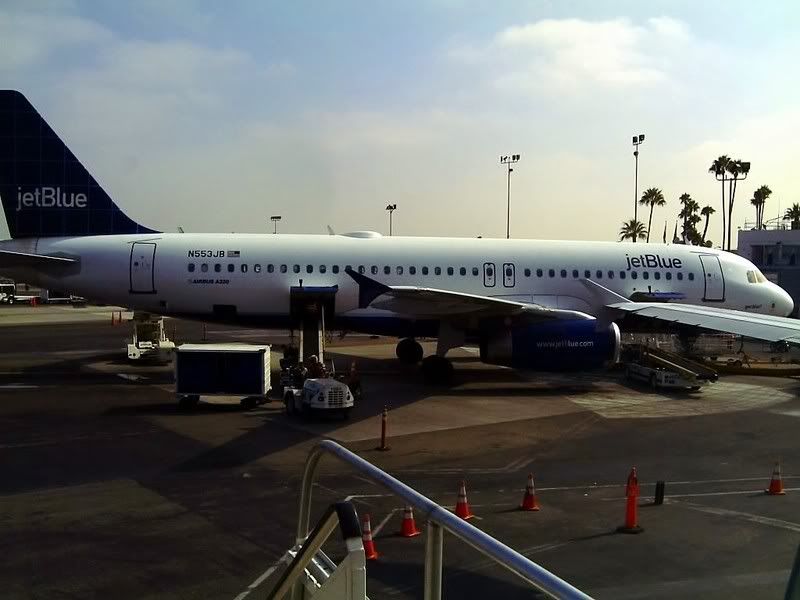 The early morning LGB-JFK departure getting ready to depart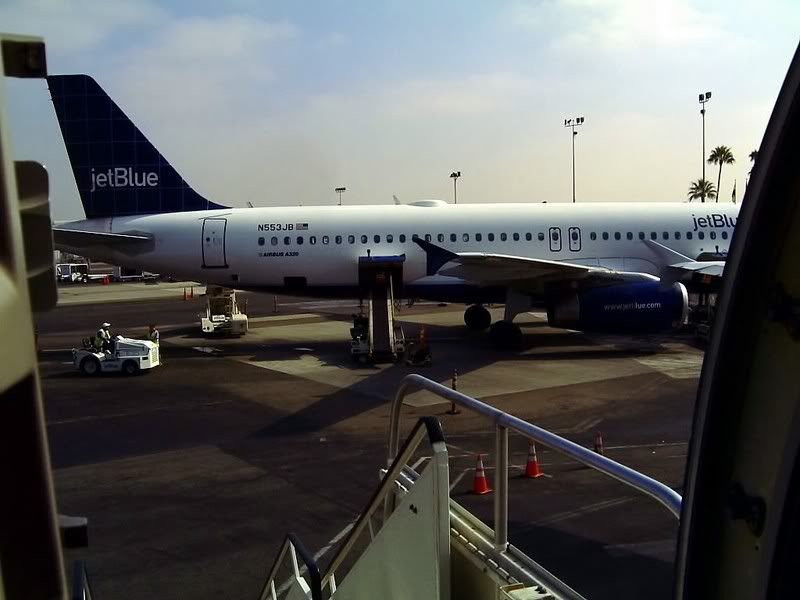 Ground Crew waiting for the final bags before this JFK bound aircraft can depart
We finally started boarding at 0955 for our 1020 departure. Again, at LGB, we took advantage of the small airport and enplaned the aircraft from both the front and rear. This is one of the few times that you may not see inflight crewmembers in the aisle as they tend to get sandwiched by the converging masses. Every customer was onboard and seated by 1010, we where waiting on a few late bags, but we closed the door and began our safety demonstration. We finally began our push back at 1017 and started to way to the runway. We must have run into so flow control through the departures because we finally took off at 1037. We also have a new procedure for our LGB departures. The new policy is for the pilots to commence the takeoff with the air conditioning packs off. So if you depart on us out of LGB expect the temperature to rise slightly until airborne, you are also able to hear a lot more as the rushing air from the conditioning packs is no longer there. It caught me off guard the first time I experienced it as I heard noises that I normally wouldn't hear with the packs on.
We commenced our gentle right hand turn and started our way back to our home, BOS. This is another one of those flights that passed without any complications. We had a great group of customers who where all relaxed and too engrossed in their TVs. A great thanks to the 80kt tailwind, we where now expected to arrive extremely early! However we did run into some pretty good turbulence from Lake Michigan all the way into BOS. We where seated and strapped in all the way from BUF to BOS due to the turbulence.
A great many of our customers are giving us great reviews with our new wheat thins, so I would expect the change to be permanent. I would like to see us rotate between the 100 calorie wheat thins and the 100 calorie oreo cookies, but I'm not planning on holding my breath.
We made a pretty smooth northern arrival into BOS at 1816, almost 45minutes early! I love eastbound flights as my last leg! We found our way back to gate C36 and blocked in at 1822. Since we didn't have a chance to do much of an initial or final descent cleanup, due to the turbulence, we did have a little bit of extra cleaning to do before this aircraft would be able to head out to LAS.
No rear deplaning in BOS, but all of the customers where glad that we had such an early arrival thanks to Mother Nature. I finished cleaning, grabbed my bags and made my way over to the airport "T" stop so I could make my way back to the crashpad, sleep for a couple of hours, and do this same trip all over again.
I am doing this trip for the remainder of the month, so I don't plan on writing anymore TRs for it as it will most likely be a cut and paste of the TR. Next month my trips do vary as I have several 24hr layovers in SJC as well as a 19hr layover in OAK, my famous BOS-OAK-LGB-BOS 2 day trip, so look for my first TR to be posted about the 12th or 13th of next month.
Thank You for taking the time to read!!