It's hard to believe that it has been one year since I was last in Egypt. My trip there last year was one of the most memorable experiences of my life so far. It's not often that a place can have such a lasting impression on you, but Egypt did so for me. I fell in love with a country and a people! Our trip this summer would take us back to the Red Sea resort town of The last few days of our trip would be spent in Cairo to visit a family friend, before finally heading home to the states.
This trip starts on August 16th in Rhode Island. i woke up at about 10:30 that morning. So many thoughts were racing through my mind just hours hefore we were set to depart for our trip. I made my way upstairs from my bedroom and then to the kitchen where I made myself some breakfast. After breakfast I turned on CNN and noticed that there was some sort of alleged terrorist incident in Boston at Logan Airport. Apparently some crazed woman was having a panic attack during her flight from Heathrow back to Dulles on United and they had to make an emergenct landing at Logan to deal with this situation. I have to admit I got a little nervous at this point, not for fear of flying, but rather for my flight to London that evening to depart on schedule.
My family and I left our house in Rhode Island around 15:00 that afternoon and drove up to Logan airport. It only took us about an hour to reach the airport, which left plenty of time to check-in for our flight and to relax before departure. The line to check-in was not too long, but it took us at least 45 minutes to reach an agent at the desk. Once we were checked-in for our flight to LHR we then proceeded through a short screening at security. We managed to each have a light snack before our flight, but nothing special. An interesting note about this flight was that while waiting at the gate I noticed about six men dressed in suits with briefcases make their way up the stairs on the side of the jetway and board the aircraft (at least that's what I presume). I'm not sure if these were FAMs or not, but I didn't see them later on when I boarded the aircraft. Anyone know anything about that?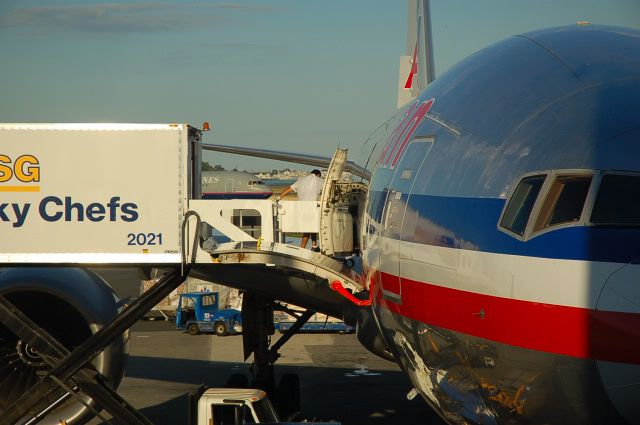 August 16, 2006
American Airlines / BOS-LHR
Flight 108
Aircraft: Boeing 777
Duration: 6:02
Meals: Chicken & Pasta / Croissant with Jam
Just prior to boarding at gate 33 we were informed that all passengers for AA flight 108 to London were to be subjected to a secondary screening by the TSA before heading down the jetway. This process, which seemed like a total waste of time, took about 30 mintues to complete. We then made our way down the jetway to the awaiting 777...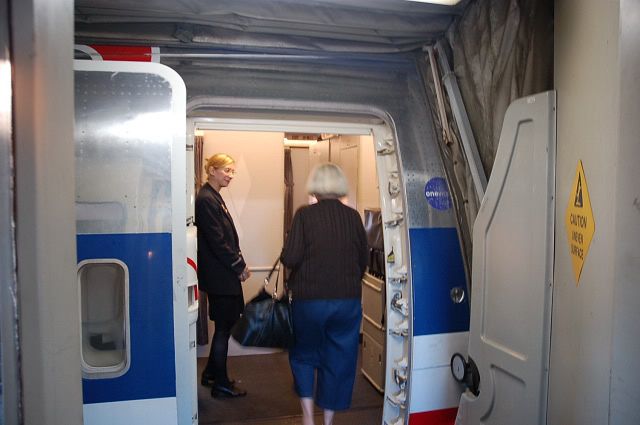 I was seated in 33A. The legroom was terrible! Did AA remove MRTC on all 777s? I remember the AA 777's being soo much more comfortable. As we waited at the gate just prior to pushback I could see the gate from where AA flight 11 left from on September 11th 2001. It's always sad to be reminded of such things.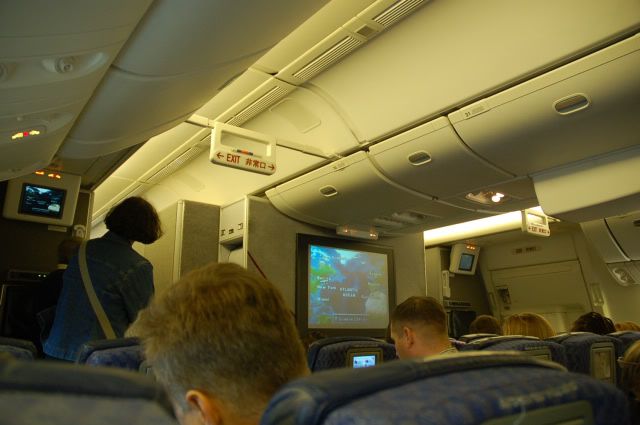 The captain came on and introduced himself, as did the rest of the Boston based flight crew. Shortly thereafter we were on our way down runway 4 for takeoff. I don't remember if we used runway 4L or 4R, but I remember just after takeoff I could see Bayswater St. and Constitution Beach below.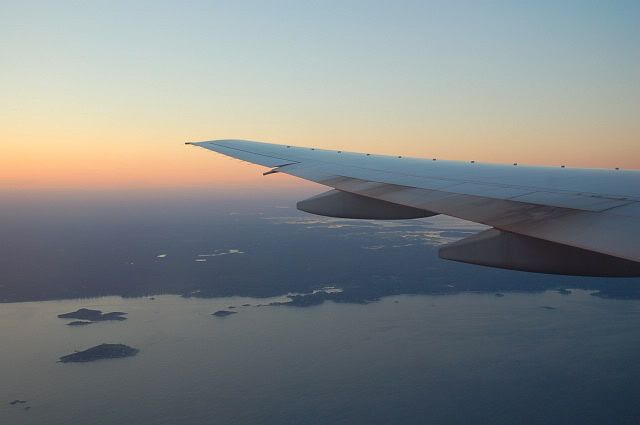 We then made our way out over the Atlantic making our way towards London. Shortly into the flight the sun began to go down and I could smell dinner being prepared to be served. Dinner consisted of either chicken with pasta and peppers or roast beef with mashed potatoes. I elected to have the chicken. I guess it was ok, but nothing special. The salad was the best part of the meal. After dinner I turned on my ipod and drifted away as the sun began to set...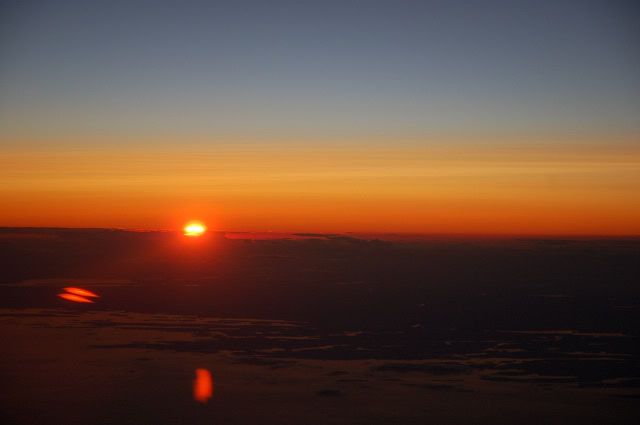 I woke up a few hours later and noticed that I could just start to see the sun coming up in th distance. A light breakfast consisting of a croissant and jam was soon served as well. The croissant was actually REALLY good! The flight was pretty smooth for the most part, with only a few minor bumbs here and there. I was still very tired after breakfast, but we'd be on the ground in less than an hour and I was just looking forward to getting under the covers and sleeping in a nice hotel bed.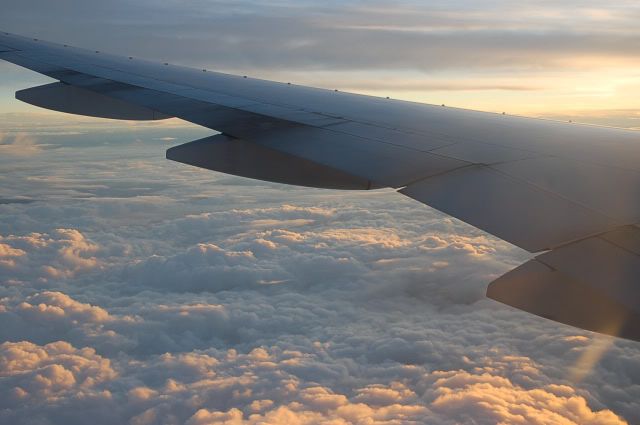 Our arrival into Heathrow was pretty uneventful, although I did get a good view of an AA 777 circling below us just prior to landing...
Each time our aircraft would turn I'd get this awesome feeling in my body. I'm sure you all know what I'm talking about. I love that rush of power that slams you against your seat...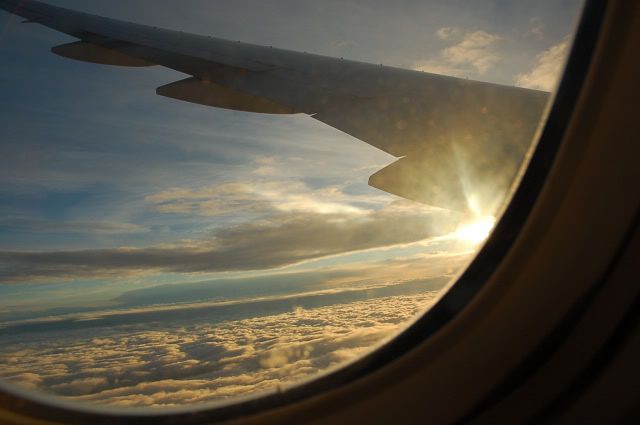 Our flight arrived into a partly sunny London. We made our way through the endless hallways of T3 and cleared customs in about 30 mintues. It's always interesting to look around at all the other people of different nationalities while in the customs line. There were soo many different flight arrivaing from various points around the world. Riyadh, Bangkok, Dulles, New York, etc... Anyhow, after leaving the airport we got on a Hoppa Bus to take us to the Sheraton Skyline Hotel for a one night stay. Checking into the hotel was efficent and we made our way to room 2095. I took off my tired clothes and took a hot shower and then climbed into bed. I woke up about 6 hours later to a loud orchestra composed of CNN, my sister complaining, hot water boiling, and my mother reading out loud. My father took a walk to go an look for a place to eat outside of the hotel. He came back shortly and I got dressed and we all headed out to this little restaurant across from the Park Inn. I didn't want to eat anything as I'm not a fan of English food. I did have a partial view of departures from LHR which was AWESOME!!! Here's the view from our hotel room...
We soon made our way back to the hotel and I went to sleep again. I know I needed a lot of sleep for the long day that awaited me tomorrow. I woke up at 2:30 that morning and showered. I noticed it was raining outside at this point. Checked out of the hotel and got a taxi to take us to T2 at Heathrow. The line to check in for Alitalia flight was soooo long. I was wondering if we would be able to still make our flight to MXP! I asked this little old lady eating a muffin if this was the end of the line. She mumbled something to the effect of "yes."
August 18, 2006
Alitalia / LHR-MXP
Flight 227
Aircraft: A321
Duration: 1:30
Meal: something in a box
The line ended up moving very quickly once the ticket agents arrived to start checking people for our flight in. Everytime I'm in T2 I always wonder why the ceilings are so low there! Anyways, we checked in and made our way to security upstairs.Yes, another line and more time is passing. By the time we cleared security they were already making the last call for our flight. Thankfully we made it to gate 9 just in time! I think we were some of the last people to board the aircraft. I took my seat and noticed there was a a retro Lufthansa outside of my window. The security annoucement was performed manually as the LCD screens malfunctioned and stayed off and in the down postiton for the entire flight.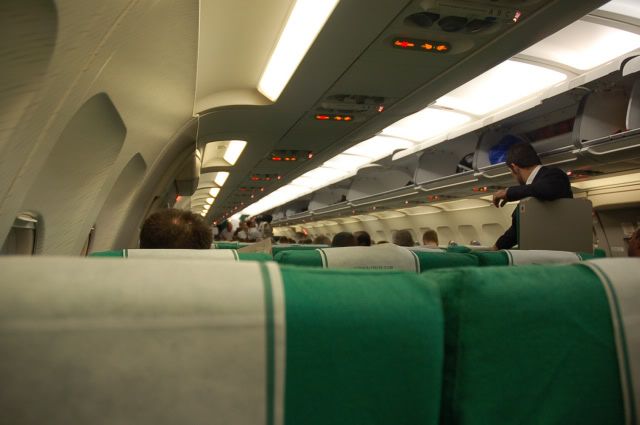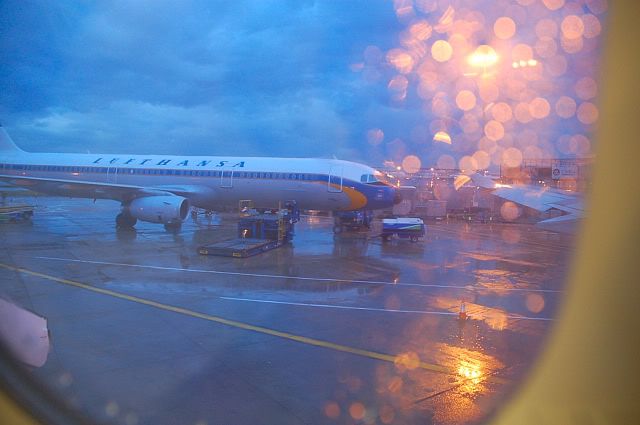 There wasn't much time between where we pushed back from the gate and when we lifted off the groud. Takeoff was very fast and very steep. I was really pushed back down into my seat once we got into some clouds. It seemed like we were trying to gain altitude very quickly. There were a few bumps on the way up, but nothing fun! Too bad...
As I sat in my seat and looked outside of the window it dawned on me that the last time I flew Alitalia was from Tunis to Rome in 2004. Life seemed so much simpler back then for me. I sat there in my seat and began to remember good things from that summer in 2004. It was good to remember such good things. It's funny how the smallest moments in life can all come flooding back to you after a few years. It's funny in a way because I always thought of flying as a sort of escape from the troubles down on earth. You're so high up from everything... it really feels like the best place to be at that moment. If it's raining on earth you can always count on it being sunny up high...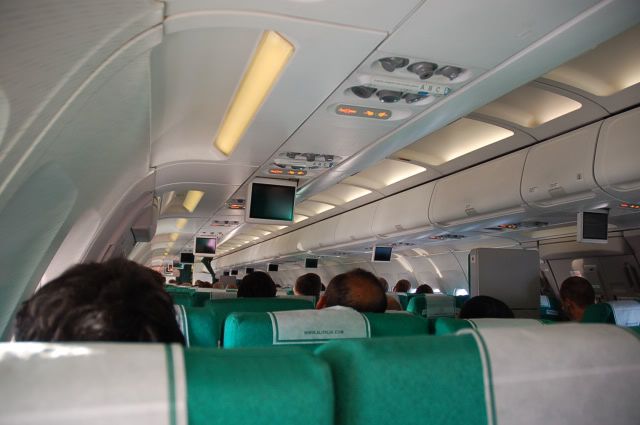 As I looked out of my window I saw us cross over the the coast of France and soon the Alps (as our pilot pointed out)....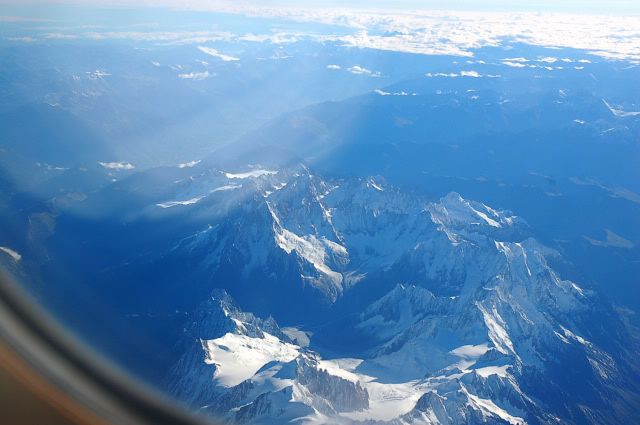 We slowly descended into Milan. Even though it was mostly clear outside while we were descending into MXP it got very bumpy. You could hear the plastic parts in the cabin were creaking and rattling around a lot. Landing at MXP was very strange! Just after the wheels touched the runway and reverse thrust was applied we suddenly came to a screaching halt. I've never been on a flight where the plane stopped in such a short amount of time! You could hear people on the flight gasping and talking after we suddenly came to halt and then quickly rolled off the runway. It was different to say the least!
Deplaing at Milan was accomplished via the stairs, which was awesome! I could see many US aircraft. Delta, USAirways, and Continental were all within sight. After getting off the plane we were then placed onto two busses to take us to the main terminal....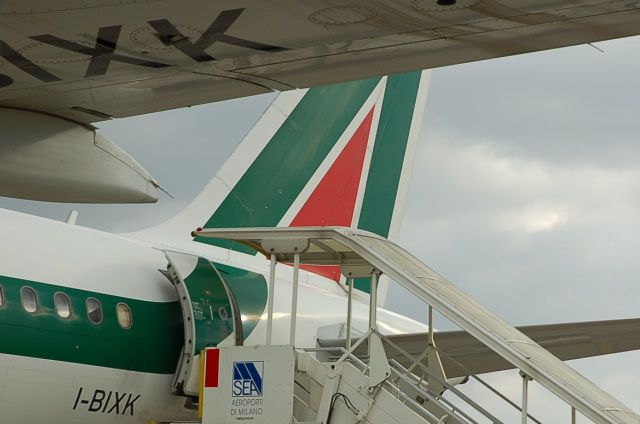 Once inside the terminal we had to follow the transit signs and then clear security again. It seemed like they were remodeling the transit area of MXP, because it was very crowded and had a temporary look to it (not organized at all). Transiting at ZRH is a much much better experience. We didn't have much time to talk around MXP befor eour flight to Cairo, but I managed to buy a peach ice tea before heading to gate B25.
August 18, 2006
Alitalia / MXP-CAI
Flight 882
Aircraft: A321
Duration: 3:10
Meal: Salmon, Fruit, and some other bready things
The line was already forming to board the aircraft at gate B25 by the time we arrived there. Once we handed in our boarding passes it was time to get on the buses which were to take us to the plane. It was soo cool to take the bus right up to the plane! It gave me an up close view of an A340 as well as many other aircraft. We were held on the bus for a few mintues before we were allowed to board the aircraft...
Once we boarded I noticed that there was a lot of activity in the cockpit. Ground staff were coming on and off the plane and soon some little Alitalia cars drove up the plane. The pilot then came on the intercom and said that there was a technical problem with the aircraft, but we'd be on our way shortly. He was right, because 10 mintues later we were on our way. Then things got a little wierd. I was sitting over the wing, and I'm not sure if this is normal or not, but there was this constant banging noise coming from below the floor of the plane. The noise sounded just like luggage was being thrown around violently down there. Each time we slowed to a stop the noise was even worse. It sounded like something wasn't even secured down there and was rolling around all over the place. I tried to distract myself from the annoying noise. Thankfully we were off the ground quickly and then the noise subsided. I was still wondering what was going on down there.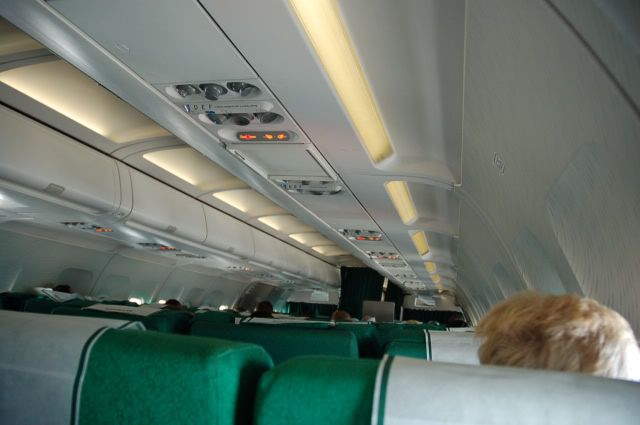 A little while after takeoff we were served a lunch and the video screens were put down and some wierd cartoons were shown as well as some other programs....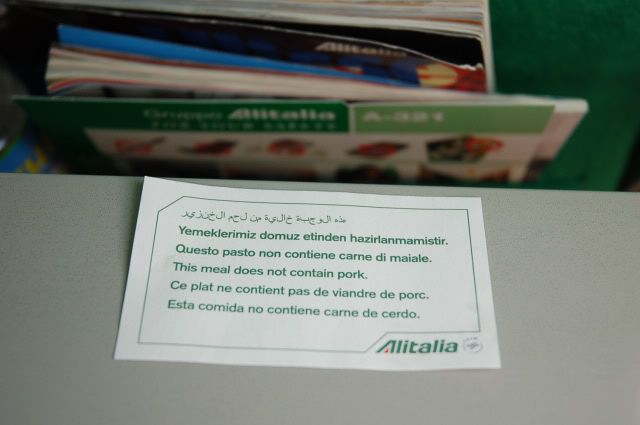 I didn't bother watching. I just turned on my ipod and looked out the window at how beautiful and peaceful everything seemed. Our flight path took us out over the Adriatic and then over Athens. I soon saw some of the Greek Isles and what I believe to Crete. I remember how beautiful it was last year to fly over the Greek Isles and was just as beautiful this time. I hope someday that I can visit them for an extended period of time. I imagine laying on the beache every day with a handsome guy beside me and not have to worry about anything. Maybe someday...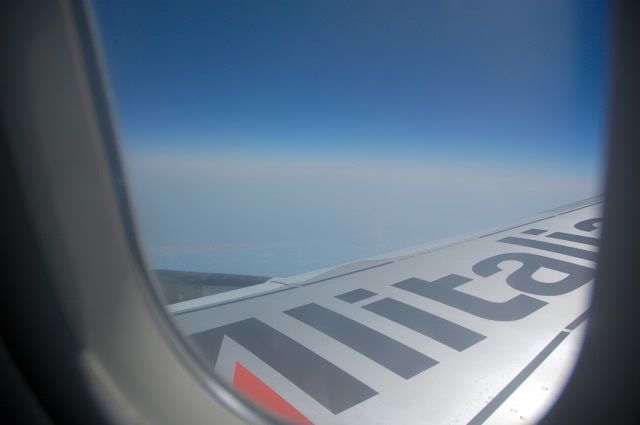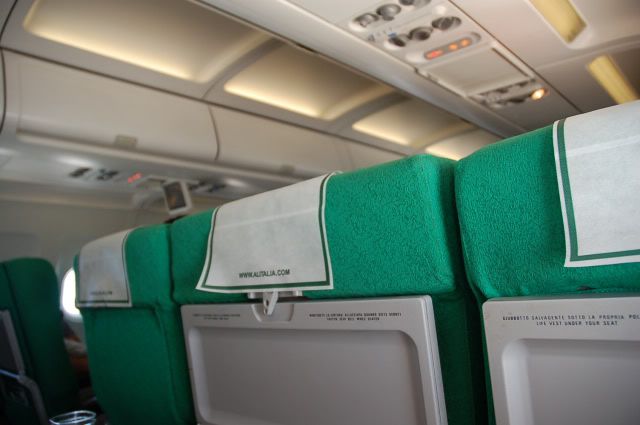 I could see some low clouds forming in the distance and I realized that we
must nearing the Egypitian coastline. Sure enough we were soon flying over Lower Egypt (northern part of the country). I could see green farmland below and the Nile twisting its way down to Cairo. The seatbelt chime came on and we were quickly making our descent into Cairo. Sadly, I only saw the Pyramids for a few seconds to my right while we were descending. No worries, I'll be visiting them again later this week again anyhow!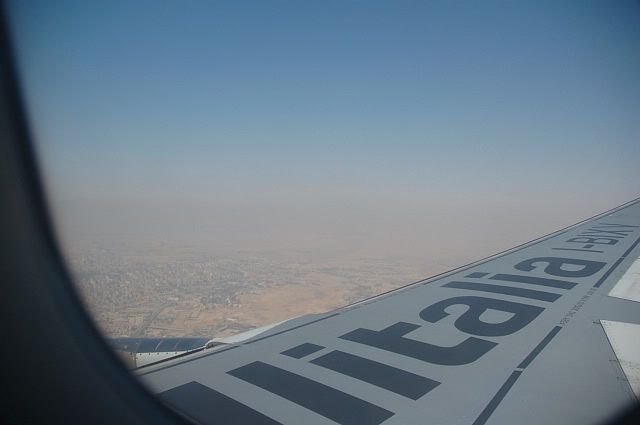 If you ever fly into CAI, try and notice all the many satelite dishes on the top of people's apartment buildings. You'd never be able to count them all. Anyways... arrival into CAI was very nice. I instantly recognized many of the same sights from the last time I was there. That same banging noise from below the floor started up again right after we landed. My mom, who was sitting next to me, said that she thought it sounded like a horse was trapped under the floor of the plane and was running around. It was that bad! Anyone have any idea what this noise was? We passed by Terminal 1 on our way to Terminal 2. I saw a USAirways (Air Memphis) DC9 as well as many more....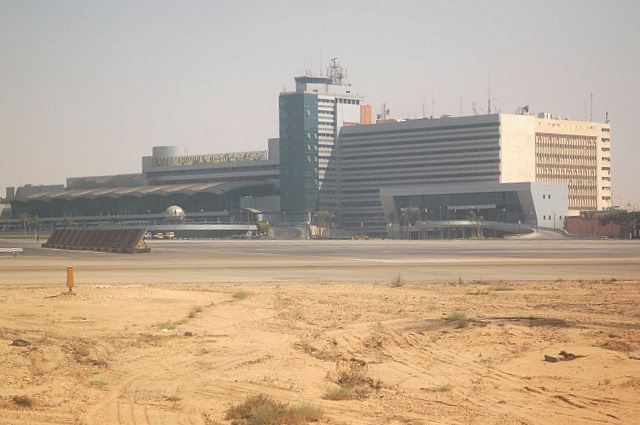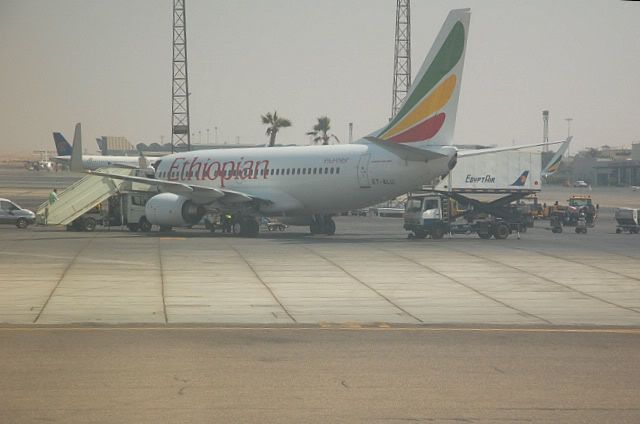 Petroleum Air Services...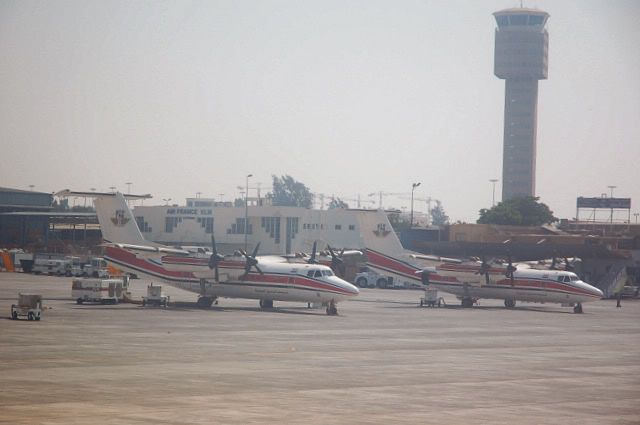 Other aircraft...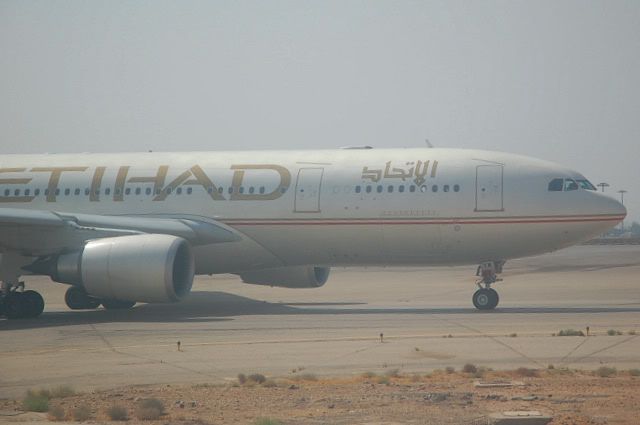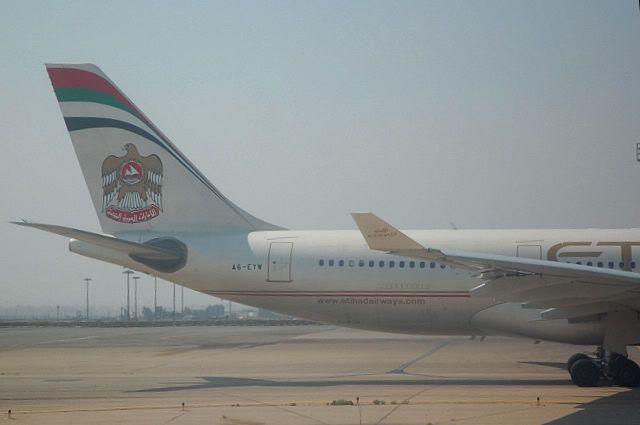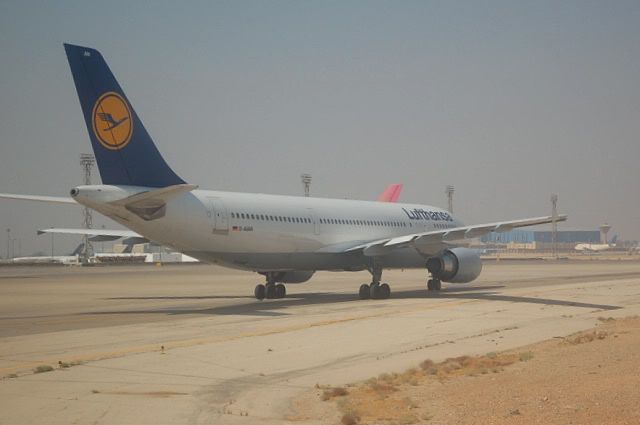 After deplaing we made our way downstairs and stopped at the duty free shop so my parents could buy three cartons of Marlboros. Then it was off to the bank to buy our visas (15 USD per person). The visa stamps look a little different than the ones used last year. After clearing customs we claimed our luggage and then made our way outside to find our driver. Here's a view of Terminal 2 at Cairo and the view of the construction of the new Terminal 3...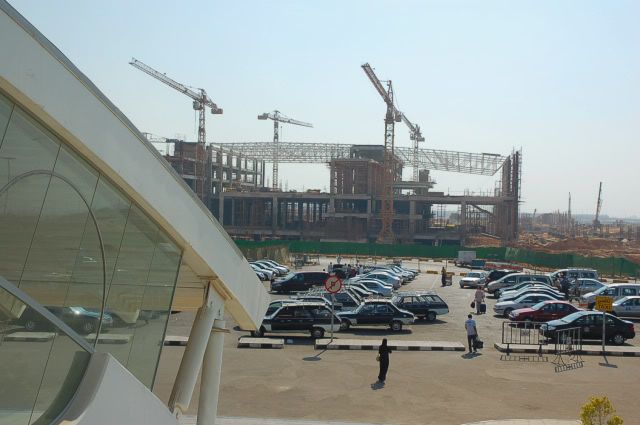 We met our driver and all was ok for our five hour drive down the coast to Gouna. We made our way out of Cairo by way of Nasr City and then the highway out to the Red Sea coast. We even passed by the spot where the Egyptian president Anwar Sadat was shot to death in 1981 after making peace with Israel and being the first Arab leader to visit Israel. I believe his tomb is on the opposite side of the road from where I took the picture below. We stopped for a little while just outside of Cairo to get some gasoline and something to drink. I assume we stopped at a place were a lot of tourist buses frequent because there were a lot of men dressed in suits with powerful looking guns packed on either side of them. Our driver wanted to have tea with me, but my stomach wasn't up for anything other than cold water at this point.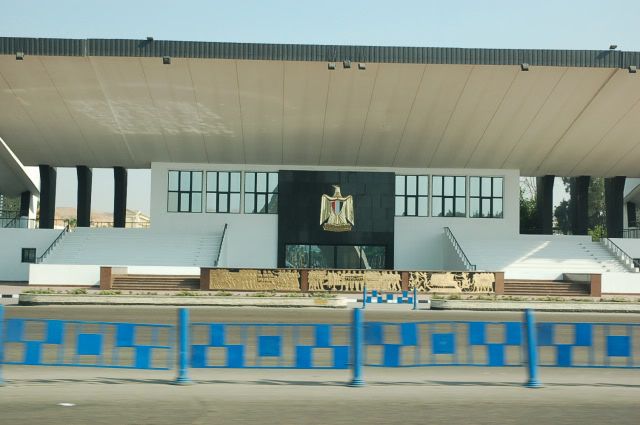 We left the stop and were now on our way to getting closer and closer to Gouna every second. My mind was racing with so many thoughts about what to expect being back in Gouna.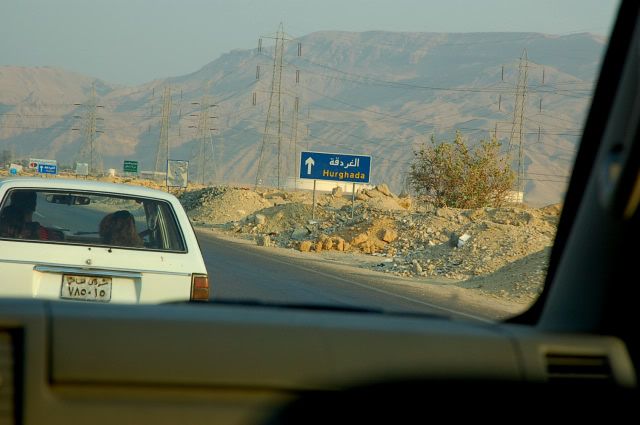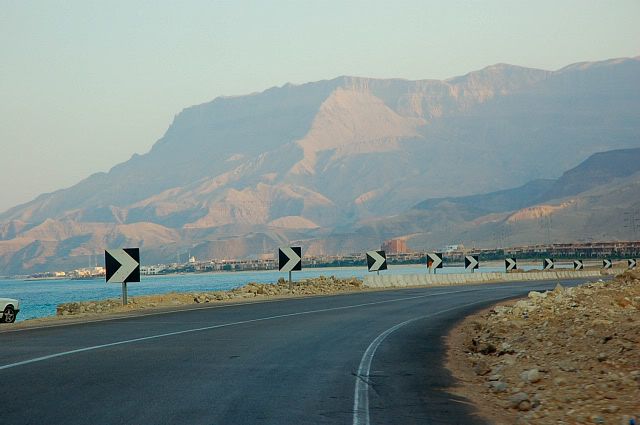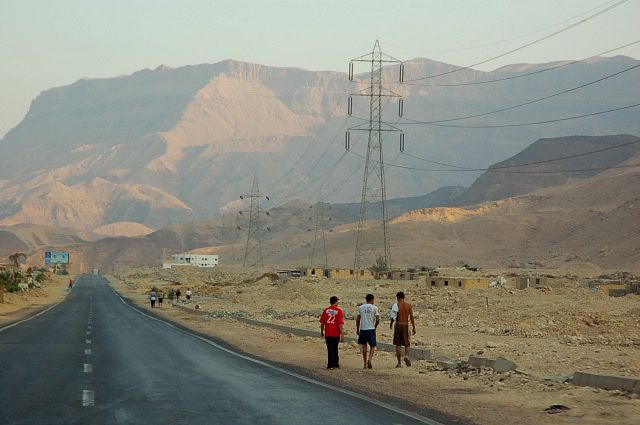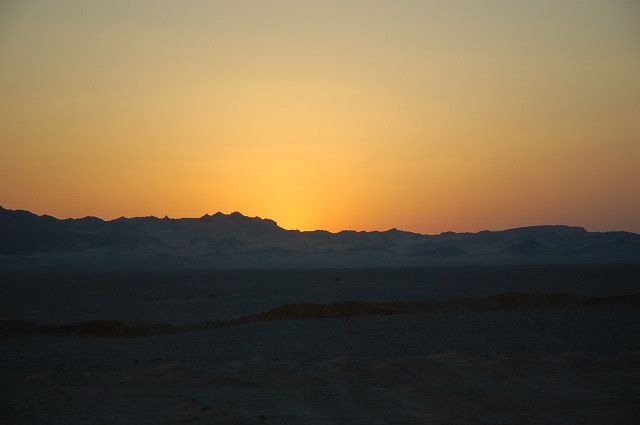 I had such a nice time in Gouna last year and I wanted this year to be just as memorable. The drive down was beautiful as it was last time. I noticed there was even more construction going on along the Red Sea coast than there was last year. Our driver was making good time. We were speeding along at about 110-150kmh, however a few km before every police checkpoint we slowed down to 60kmh until we were stopped. Just after 20:00 we stopped for tea and bathroom break in Zafarna. We stopped at this dusty little place that had green walls and bright lights inside with young guys circled around a TV watching a match. I just sat outside and looked out into the distance...
We eventually arrived at our hotel at 21:30 that evening. It was funny to see the American flag flying upside down at our hotel when we arrived I just had to take a picture of it the next day when it was sunny...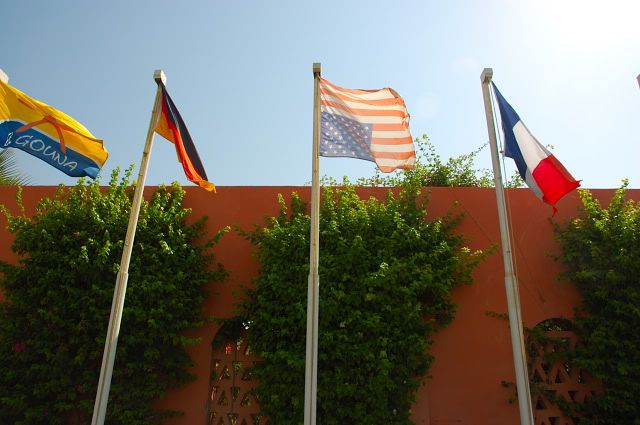 I guess it has something to do with the fact that the American government isn't looked too fondly upon here, but they seem to love us as a people, just hate the backward policies of our government. The security getting into Gouna was a lot less intense than it was last year I noticed, but there was still a slight security check and all. We were dropped off in front of the lobby and made our way inside and had some cold juice. It felt soo good to be back in a place with soo many good memories in it. A few people working at the hotel instantly recognized us from last year and we said hi and talked for a little while. After dinner I walked around the property and tried to remember my way around from last year. Our hotel room is amazing too! We're right on the Red Sea with an awesome view of the turquoise waters. The room is huge and has a nice brick domed ceiling as well as a large closet (hahaha).
I feel so alive inside to be back here in Egypt. Even though this place isn't the "real" Egypt, just a resort town, it still feels so good to be here and the people are amazing. I've met many new people in addition to running into people from last year. Egyptian people have to be the most interesting people I've ever met in my life. They have this incredible intensity along with an incredible sense of dignity and helpfulness. I just wish more people from the USA would be more open to visiting Egypt and the Middle East. Egypt has to be one of the most fascinating places on earth. It's sad that people from home won't visit here beacuse of the fear that is pumped into them on a daily basis at home through the media and such. Hopefully things will change with time.
Anyways... yesterday I got a sunburn from being in the water too much, but it was soo worth it. Other than that I've just been having fun when I can and relaxing at the other times. I'm on the beach writing this trip report right now, but now I have to go back to the room and take a shower and then upload this report. I was invited to go to a club tonight with my friend Saad who works here. It should be fun I guess. I should be in Cairo in a few days and then home sometime next week. So look out for the return portion of my trip report along with pictures from Cairo! My next trip report after that should be to MEX sometime soon  
The rest of the images are just random shots from around Gouna... ENJOY !!!
Sheraton Miramar Red Sea Resort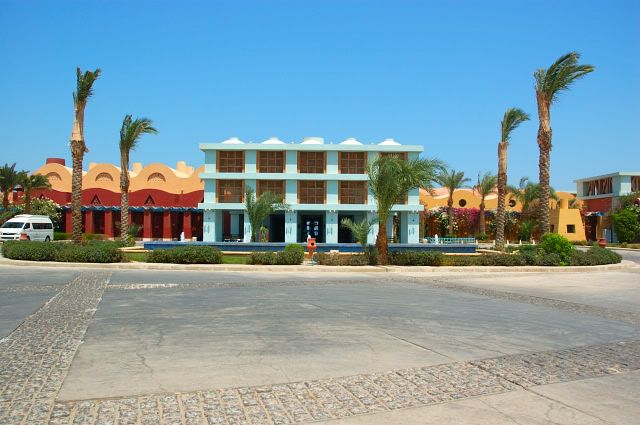 Marina in El Gouna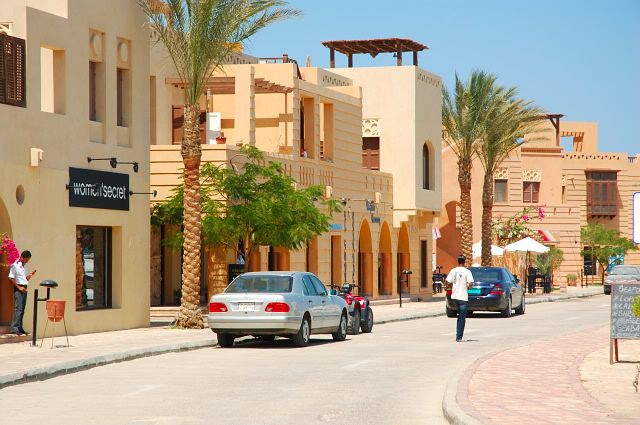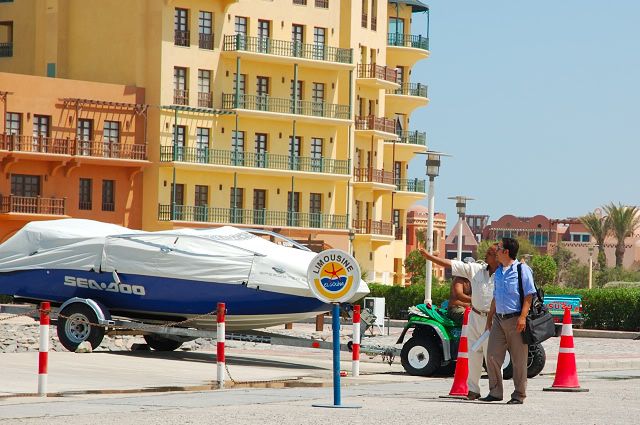 Sheraton...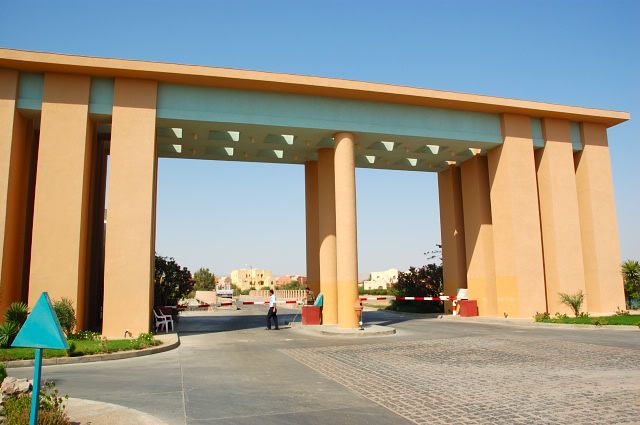 Bridge to Zeytuna Beach...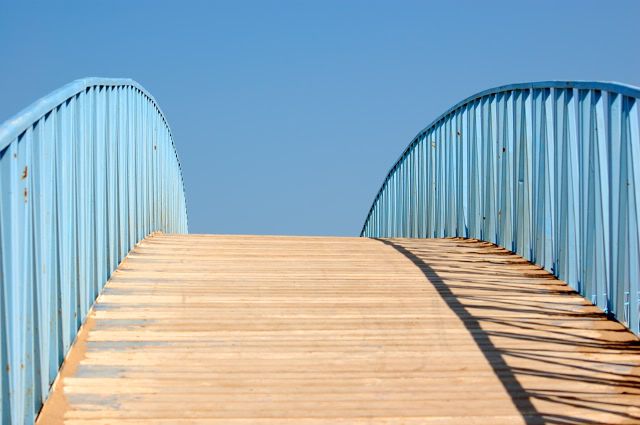 Zeytuna Beach...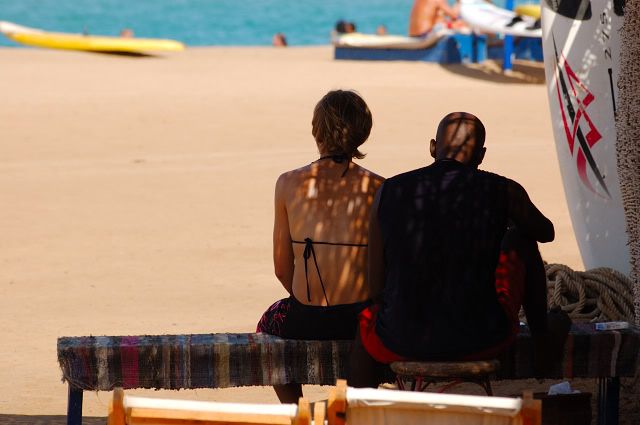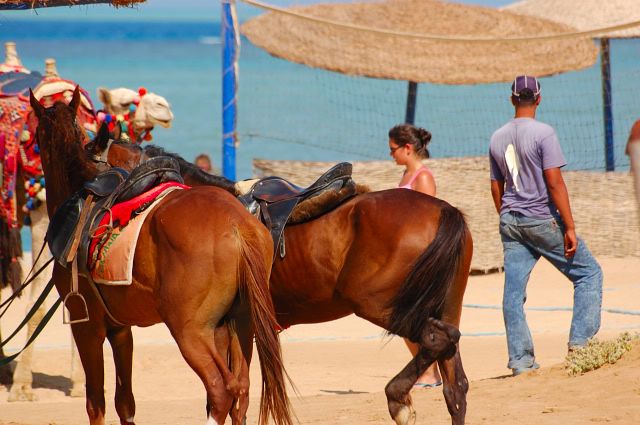 Pier...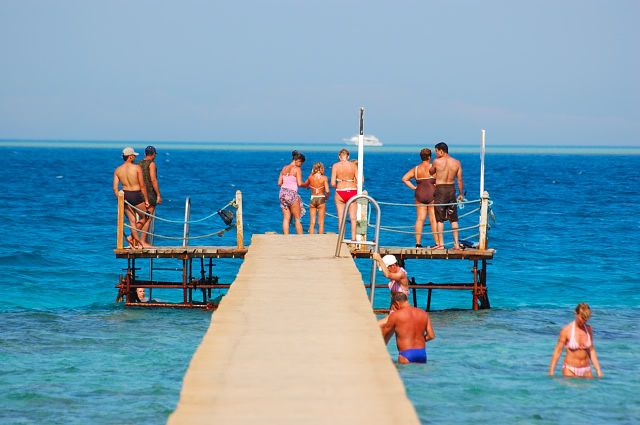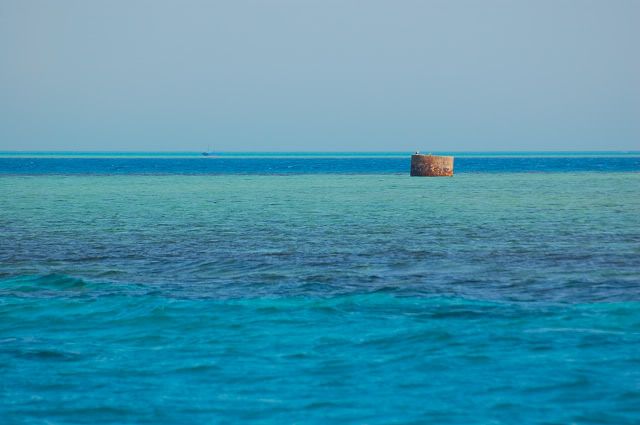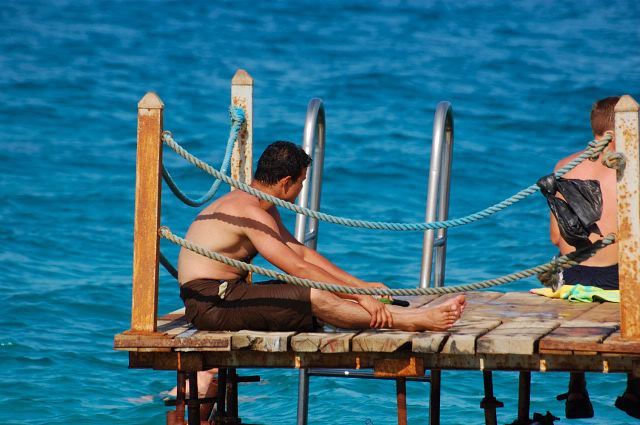 Fixing things...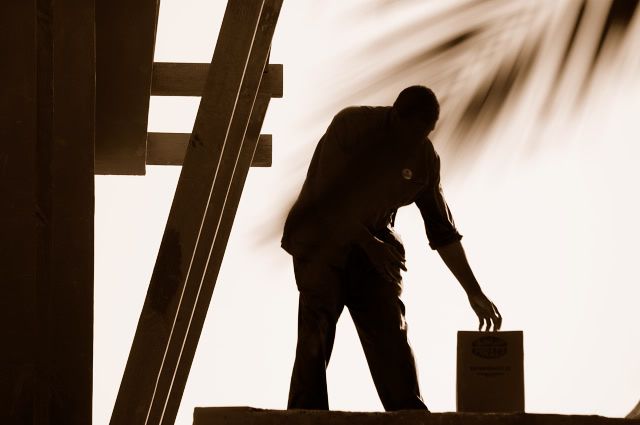 At the beach...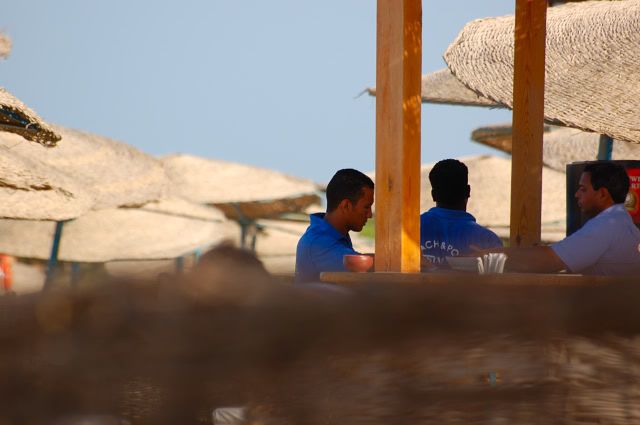 He flew away...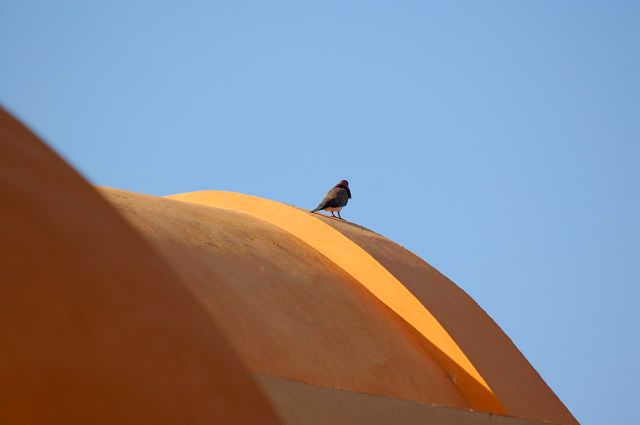 Thanks for reading!!!! Leave comments  
[Edited 2006-08-22 17:44:18]