First of all, I'll start off by saying that this is my first trip report on a.net.
I'm aware of the scarcity of USA-TLV trip reports here on a.net, so I'm happy that I can at least post one.
Alright, so here are it is...
Tuesday, August 15, 2006
CO 84 (EWR-TLV)
STD - 16:05
ATD - 16:27
STA - 9:30 (August 16)
ATA - 9:43
Aircraft - Boeing 777-224ER - Aircraft Reg. - N78003
Flight Time - 10:16
Seat - 17J
Upon arrival at EWR's terminal C, I found myself in a sea of travellers waiting in line to check in to a number of CO's various destinations. I knew that CO's TLV flights had some sort of dedicated check in area, however I couldn't find it, so I didn't even bother searching and got in line. After standing in this line for about twenty minutes, I finally realized I was indeed standing in the wrong line for my flight. It seemed like this line took forever to move. I scanned the airport and there I saw a sign about 50 feet from me that said Tel Aviv and India flights, which was turned backwards. How convenient! Anyway, after seeing this sign, I realized that the passengers waiting in that line fit the stereotype of passengers that would normally travel to TLV. So I left my "old" line and walked over to my "new" line where I checked in for my flight... This line went significantly quicker than the CO "concoction of destinations" line, if you will. I purposely didn't check in on CO's website because it was my first time flying with them. However, I did get the seat I chose on CO's website, 17J, about one month beforehand. Surprisingly, I wasn't even asked any security related questions about my bags.
After I checked in, I walked down a flight of stairs and, for the second time that day, was greeted by a long line of travellers. This time it was the line for TSA's security checkpoint. After about fifteen minutes in that line, I was relieved to finally get to the airside portion of terminal C. Again, this was my first time flying out of C. I was impressed by how modern it looked, at least until I got to my gate area. I didn't go into any shops or duty free stores. Instead, I headed straight to gate 98, where I found a "closed off" kind of area for a second set of security screening. This is because all flights to Tel Aviv, I assume, are under more intense security. I then met fellow a.netter Bill; a flight attendant for CO. Beside him stood Faroukh. Faroukh would fly to TLV that day. They both introduced me to some of the crew. Bill let them know I was an aviation enthusiast, etc., and that I would love to check out the flight deck. They were very nice about it. About ten minutes later, they made their way to the aircraft and I waited around, checking out some other gates and airplanes, made a phone call to my girlfriend and brother, etc. The gates where 98 is are older, I think. Well, they looked that way to me.
I desperately wanted to snap a shot of N78003, but this undercover looking guy came over to me and told me not to. Hmmm. Sorry about that.
It was now time to board, and naturally, BizFirst passengers boarded first, followed by Economy passengers in descending order (of rows, that is). I was one of the last to board because my seat was the second row of Economy class.
Down the jet bridge I went and before entering the aircraft, I did my usual ritual; I placed my right hand on the fuselage. I was greeted at the door by a male, Israeli flight attendant. He didn't really say anything. If I may point out, on both of my CO flights, the attendant at the door doesn't really greet you. Rather they just put their arm towards the aisle or through the galley or towards the front of the airplane (BizFirst). This was on my flight coming back too.
Once I got to my seat, an elderly lady, who spoke no English whatsoever, was already seated in the window seat. I put my bag on the empty seat beside me. I waited for the ISM (International Service Manager), Karol, to come and call me up to the flight deck. Karol had greying blonde hair. She must have been 60 or so. Well after all, this is one of CO's "senior" routes and the youngest of the cabin crew on todays flight must have been no younger that 35. He was working BizFirst and was the second of the two Hebrew speaking attendants on todays flight. Anyway, I went to the flight deck. There, I was happily welcomed by the three pilots who would be flying me to TLV today. Kelly, the third pilot (and a three striped First Officer), stepped out and let me sit in his seat. Rene, our Captain and the other First Officer (forgive me, I forgot his name), spoke to me about my plans in college and stuff... I asked them various questions and they gave me very detailed answers. Rene is a flight instructor in Denver, and he gave me his business card. Maybe I'll visit him and get some lessons. I spoke to the two for a good twenty minutes until the gate agent came into the flight deck, leaned on Rene's seat and said, "Alright Captain, we're all ready." Maybe it was, "you're all ready." Anyway, Captain Rene immediately lifted his leg, which was crossed over the other and said, "OK, lets fly to Tel Aviv". What spirit! I said thank you and asked to come back post flight. They told me to just come right up after we began to deplane in Tel Aviv. I walked back to my seat and sat down. I snapped a few photos. I also took some video clips of the taxi, take off and climb out.
Here's a CO airplane beside ours at EWR:
We taxied for a bit. Here's the video:
http://s109.photobucket.com/albums/n...action=view&current=EWRTaxiing.flv
There was a lot of ground traffic that afternoon at EWR (probably every day around that time?). About fifteen minutes before departure, Captain Rene came on to the intercom and told us we were number eight in line for take off. We slowly made our way up to number one, powered down Runway 22R (from Whiskey), and climbed out of EWR. Here are the clips of the take-off and climbout:
EWR.flv" target=_blank>http://s109.photobucket.com/albums/n...ction=view&current=TakeOff-EWR.flv
http://s109.photobucket.com/albums/n...ion=view&current=ClimboutofEWR.flv
Shortly after take off, the drink service commenced. Here's a picture of the pretzels and Sprite I requested.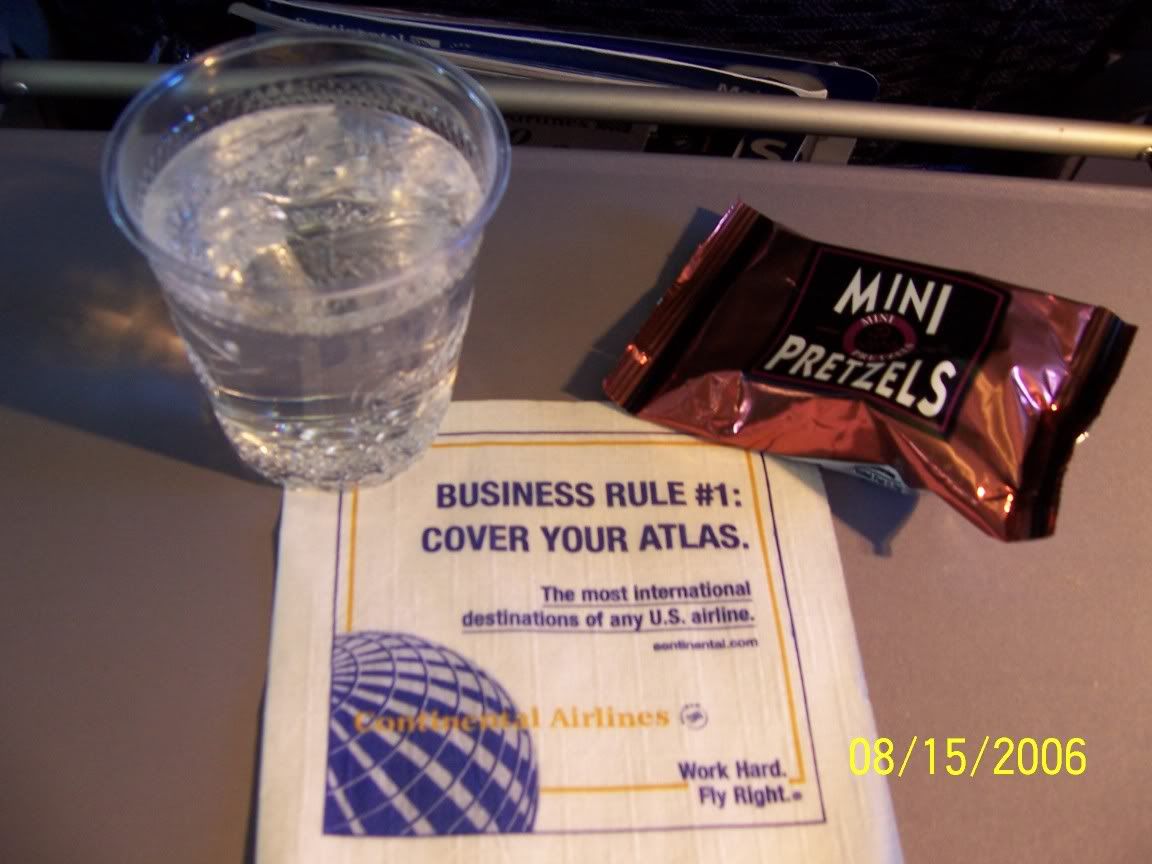 Todays cabin crew was pretty much split down the middle male/female wise. I'd say five men, seven women, to my knowledge. Three men up front in the flight deck (as I said before).
Twenty minutes after the drink service was finished, the dinner service commenced. They offered the usual chicken or beef. I opted for the beef. It had mashed potatos and vegetables beside it, along with a salad, a roll, and this really good brownie bar. Overall, the food was fine.
Here's a photo of it:
After my tray was taken away, I tried to sleep for a bit. I may have slept for about an hour. After that, I watched some TV, played hangman, and walked around and snapped some shots of the cabin. Sorry for the bad quality again.
Here is a shot:
After this, I went to the galley and chatted with Faroukh and Kevin (hmm, I don't think Kevin was his name, but it sounded like that; lets just call him K). They told me about their careers with CO and how much they love it. I showed them my book, "Plane Insanity" and they read through it a bit. They laughed and told me that they had similar encounters, though definitely not all.
K noticed that I didn't have my bookmark and offered to give me one with Christian prayers and an American Flag on top. I gladly accepted it from him. He was married. Faroukh gave me a lot of insight into his career. While I was in the rear of the airplane, I took a few photos of the outer lights on the wings. Sorry for the bad quality and shaking as there was a good deal of turbulence.
This one was somewhere over Italy, when the sun seemed to be coming up:
More random shots at cruising altitude: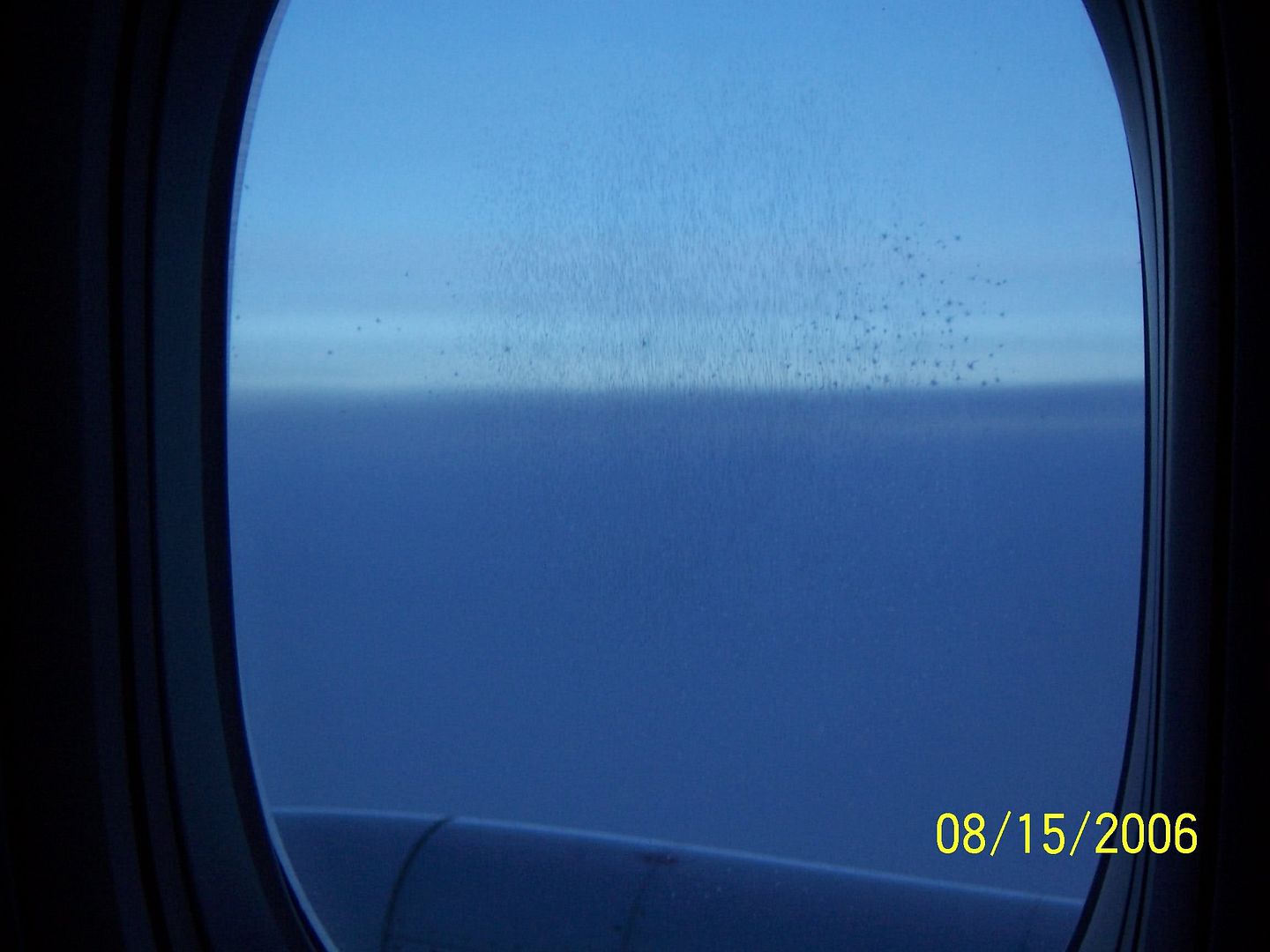 I went back to my seat and doze off for a bit. Shortly after, breakfast was served. They offered cereal or eggs. I took the eggs. It was decent. Sorry, I forgot to take a photo.
About twenty minutes after breakfast was cleaned up, we began our decent into Tel Aviv and made a smooth landing on TLV's Runway 12. Here's a video of the approach, landing and taxiing:
TLV.flv" target=_blank>http://s109.photobucket.com/albums/n...ction=view&current=Landing-TLV.flv
After we taxied to the gate and began to deplane, I went straight up to the flight deck. I thanked the three pilots for a great flight and asked Captain Rene if I could take a few photos of the flight deck. He was more than happy to let me. So I snapped away: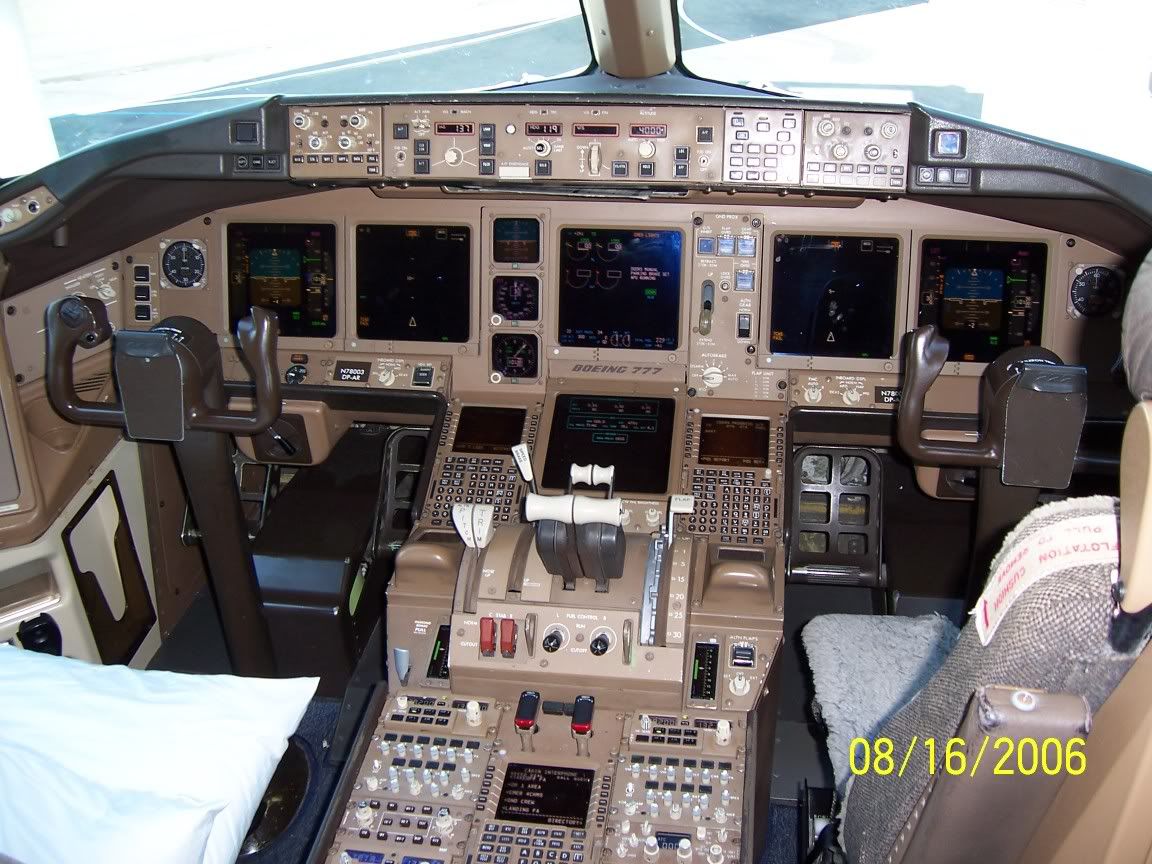 Overall, I was very pleased with my first trip on CO. They truly offer a great product and, on todays flight, I think I got some of the friendliest cabin crew in the industry. I give them a big thumbs up.
I want to post a report for my flight back to EWR and I probably will, however, my camera battery died. I took a few photos of the TLV terminal, on the return, which I will post here. I hope this report was satisfactory and I promise to take better pictures next time. Otherwise, I will most likely post TLV-EWR, without photos, shortly.
Here are some random photos of the TLV terminal (airside):