Airline: Aer Lingus
Aircraft: Airbus A320
Reg.: EI-DEC
Flight: EI 724
Departure: ORK
Arrival: LHR
Date: 24th August 06
After a few days in Ireland visiting family and going on a few day trips it was time to go home. Our flight was at 8.20pm from Cork Airport so we left at around 5pm when my aunt and 7-year-old cousin came to collect us. We sat in the back of my Grandfathers truck with my rally driver aunt at the wheel. The drive took about two hours and my aunt thought she was lost when she saw the new terminal at Cork, she couldn't believe that it was ORK.
We were dropped off at the top of the road so we walked down to the terminal and saw a Ryanair 737-800 with winglets parked up on the left of the terminal. We walked into a rather empty airport, there was a long line for a bmibaby flight and a few people hovering around the aerlingus.com Fast Pass check-in machines but other than that the place was silent. We locked our suitcases and I looked at one of the departure screens. Our flight had just arrived from LHR according to the arrivals screen and had jut appeared on the departures. I checked us in using one of the aerlignus.com self check-in machines and we gave our bags in.
The empty check-desks at ORK, on the right you can see my flights check-in just opening.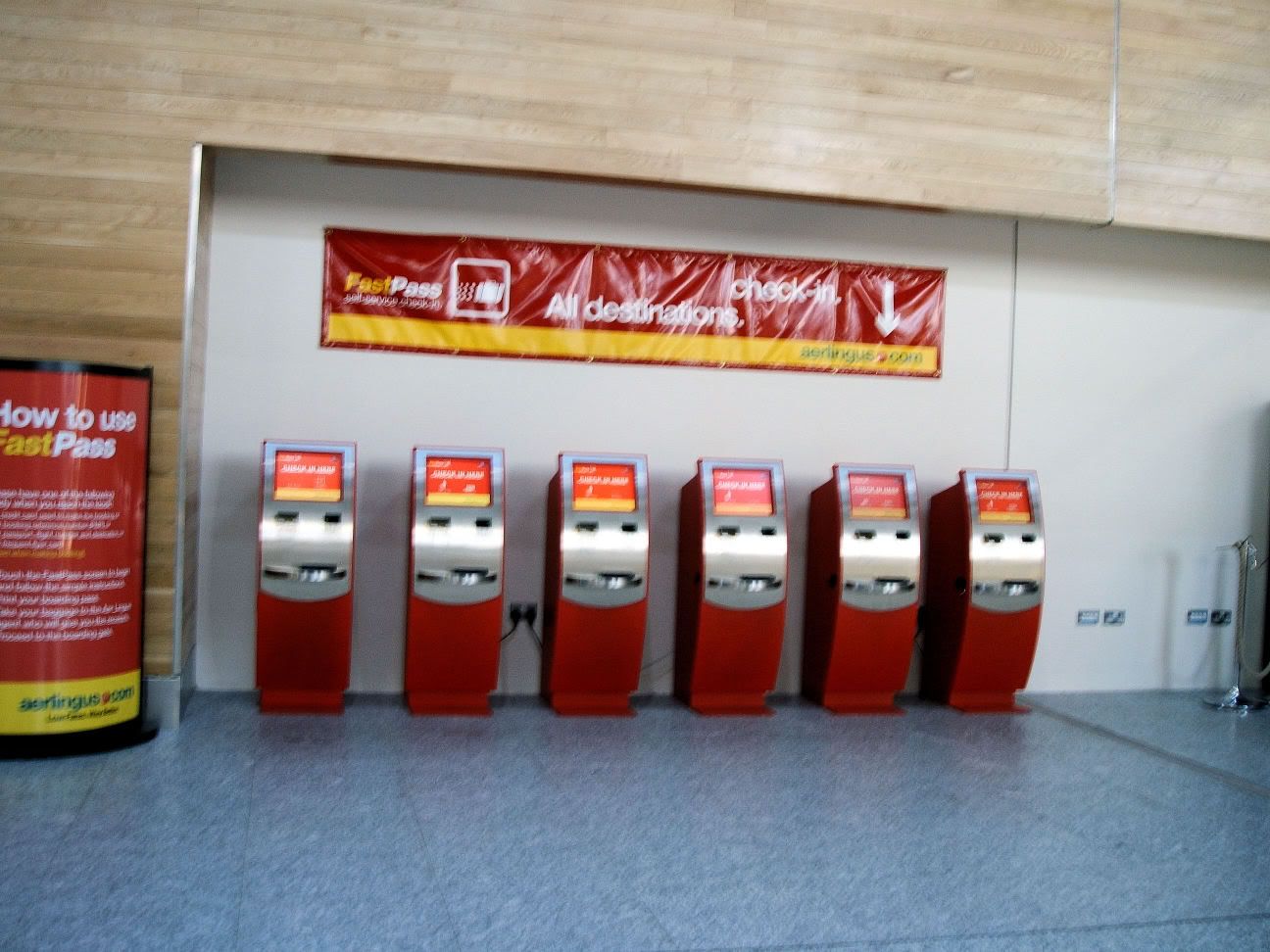 Six of Aer Lingus' fast pass machines with instructions and a banner above it
I wasn't sure what to do after that because it was such a fast check-in, all I could think of was to go get something to eat in one of the new food courts. We went up the escalators and entered a place called the "Food Market" there was some nice things there but I just wanted a large coke with some ice, my Dad had the same. I was able to take in the shape of the new terminal once I had found a seat. The roof curves upward and you can see through the entire airport from any angle.
After our drink and small snack we walked out to security and got our documents ready. Much like LHR we had to take off hats and belts but we were able to keep our shoes on. Many people set the alarm off but of course nothing was found on anyone. The duty free shop is quite big and almost the same as any other shop at Irish airports or on Irish ferries, you tend to get lots of Irish chocolate some model planes and busses T-shirts and teddy bears. My Dad bought a Ryder cup 2006 hat my mum bought a few Irish rag dolls for friends at work I just walked out to the departures lounge where you get some good views of the runway and stands. I watched a Bluebird cargo 737 taxi and take off, a DHL Airbus land and taxi to the cargo area and a Jet2 737 depart. My flight was already at its stand near Gate 4.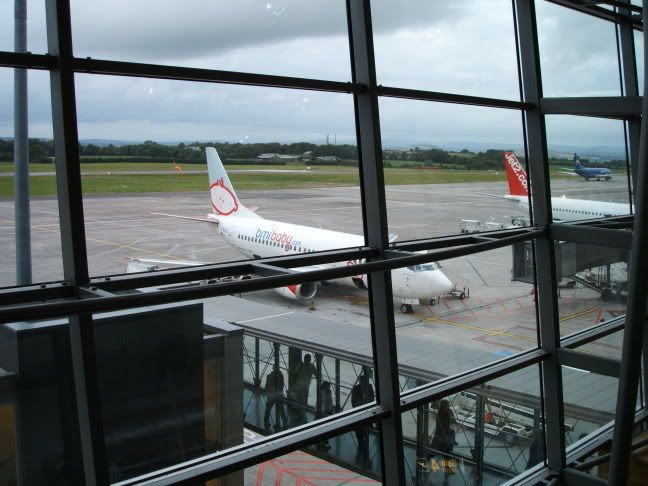 Both bmibaby and Jet2 at ORK
My aircraft with two Aer Lingus F/As standing by the stairs
I was distracted by a sudden shout in my ear from a woman shouting at her young son who was swinging around a post that was holding one of the CCTV cameras up.
We were told to form a line at Gate 4 everyone rushed to the gate and one man managed to throw is mobile phone at the gate agent, it smashed to pieces by her feet so she picked it up for him and put it back together on the desk while the child swinging on the CCTV post was told to get off it by airport staff his mother just walked away in embarrassment!
We were standing in line for ages before we were able to board, my passport was out of date so I was able to use my transport for London oyster card instead. The staff opened the big glass doors for us to make our way down to the small building with a set of stairs that would usually have an air bridge connected to it.
The aircraft was A320 EI-DEC the stairs were connected to the front of the aircraft but the doors were not open yet so we were told to make our way to the rear entrance.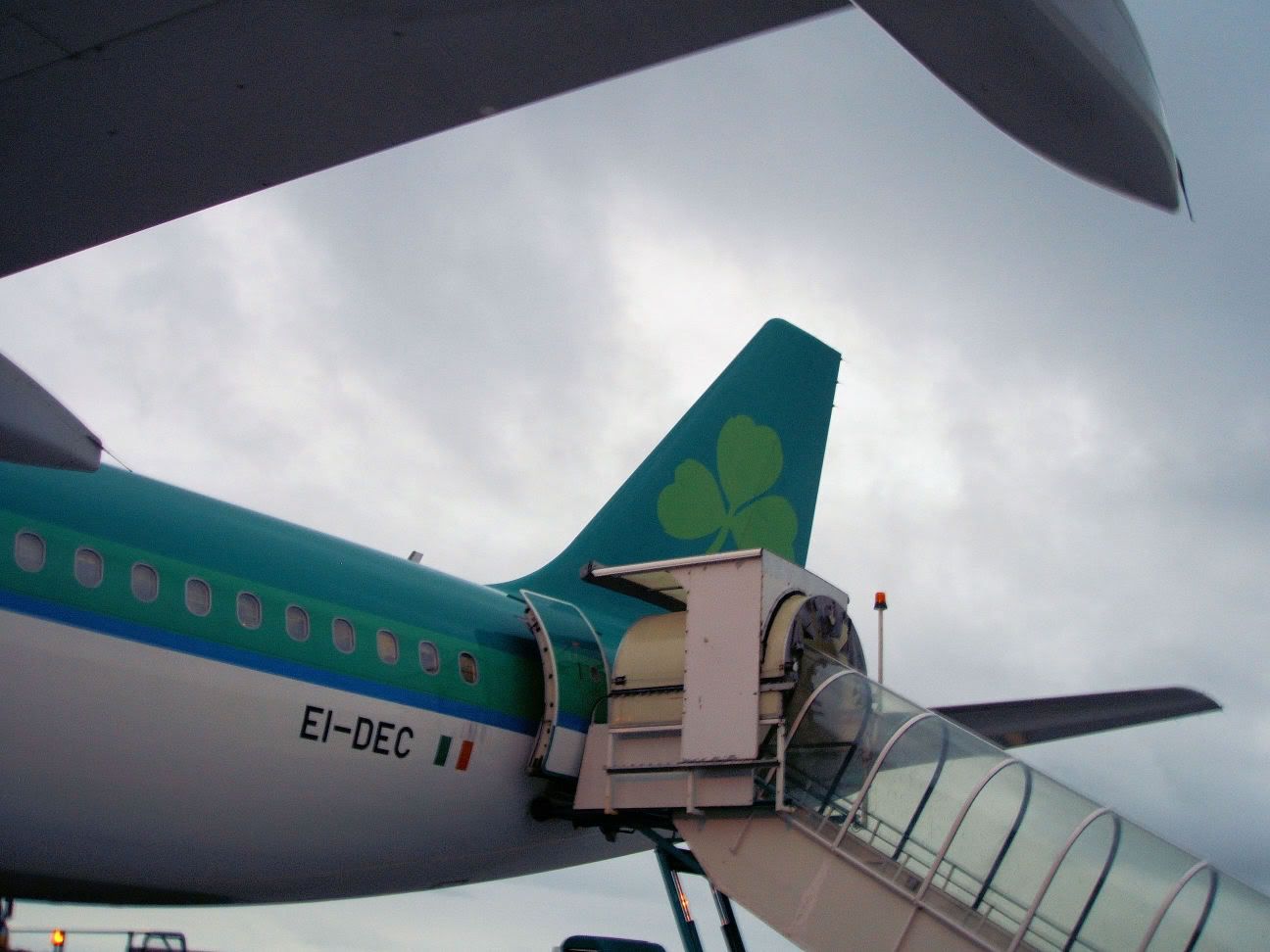 Walking out to the A320
I was greeted by two of Aer Lingus' younger F/As, I walked up the aircraft and was welcomed again by a slightly older F/A who was standing by the over wing exits. As I walked up towards rows 15, 14, 13 the front door opened and passengers started boarding from the front so I just slid into one of the rows and let them paste until there was space for me to get to row 8. As I sat down my mum and dad followed and sat next to me.
in-flight service taken a few days before
One of the F/As was enjoying a hot chocolate at the front of the aircraft when the older F/A came and told her to "drink up will ya!" she finished it and got ready for the safety demo. We were all welcomed on board and the safety demo began, the hot chocolate F/A was going a bit to fast with her signals and slowed down to match the other F/As description she smiled and continued.
The air stairs were pushed back and we were soon on our way. The pilot informed us that the F/O would be flying the aircraft and he will inform us of weather, routing and timing.
Nearly ready for push back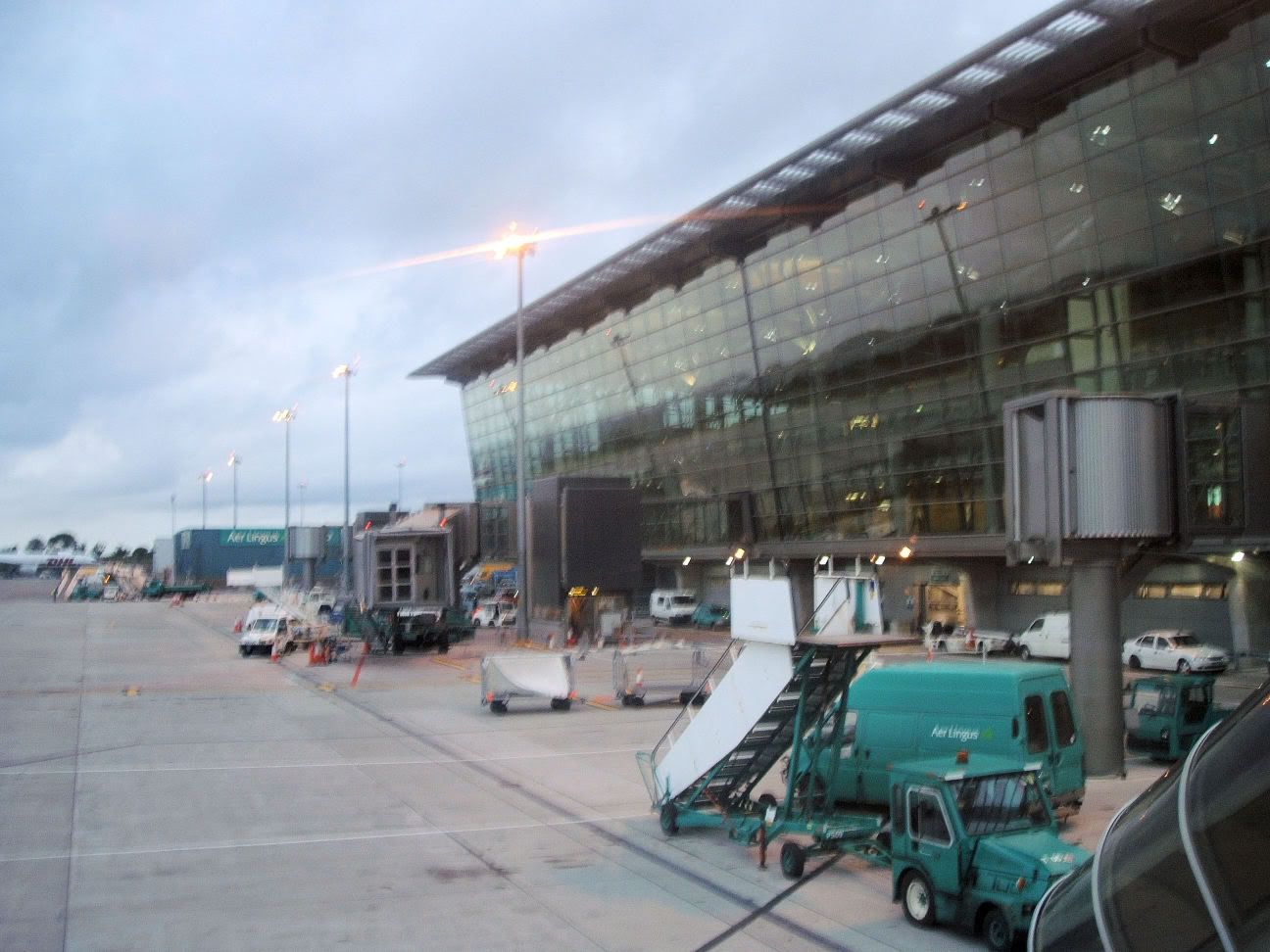 The sole air bridge at ORK is visible along with other parts of the new terminal
We taxied out to runway 17 and we got a great view of the terminal. In front of us was a bmibaby 737-500 it must have had a rejected take-off because it taxied back to the terminal and we waited for another 15 minutes before we could take-off. We finally did start to taxi to the runway, which was now soaked because of sudden rainstorm anyway the engines made a roar, rain shot past the window, the nose lifted off the runway and we climbed above Cork.
The terminal
Seconds after take-off
A few seconds later we turned left and hit a layer of cloud but we soon climbed above that and I watched the sunset behind us. I always manage to see this view and I'm not complaining!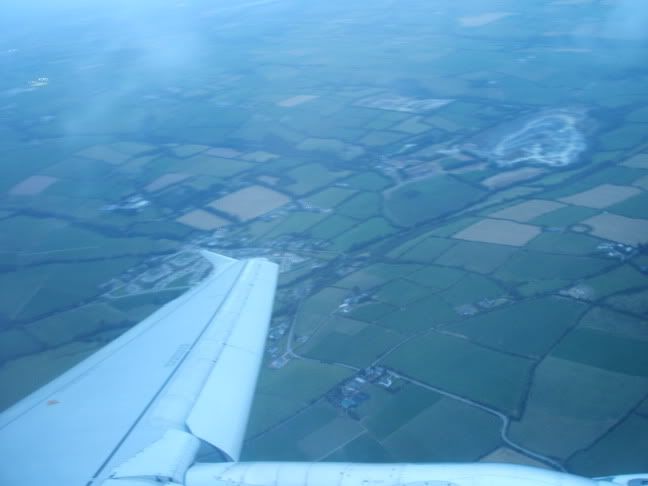 Turning
Nice sunset!!
The view from my seat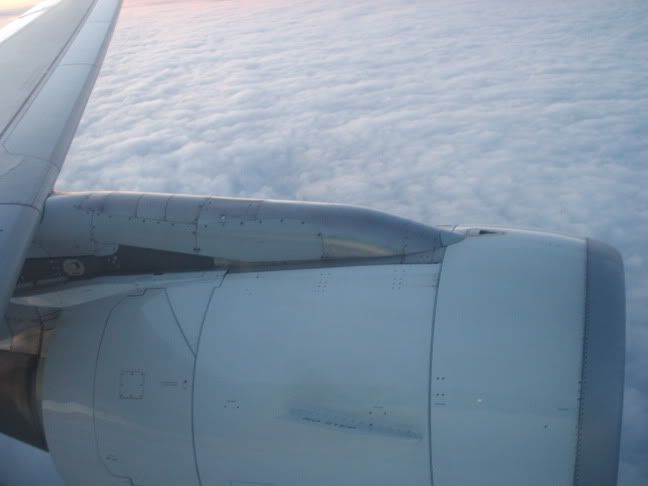 Not as big at a Trent 900 but still cool to be sitting near
The cabin lights came back on and we continued to climb out. Once we levelled off the in-flight service started. I again went for a Coke with ice but this time with a Panini.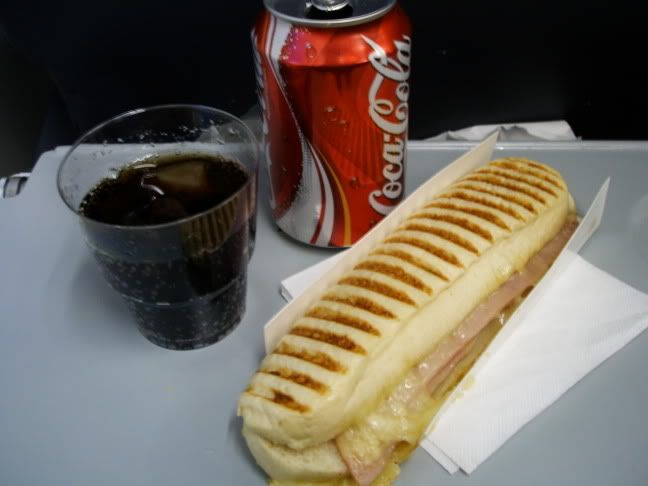 Very nice for €5!
It was nice but pretty hard to get out of the packet because the melted cheese had stuck to it.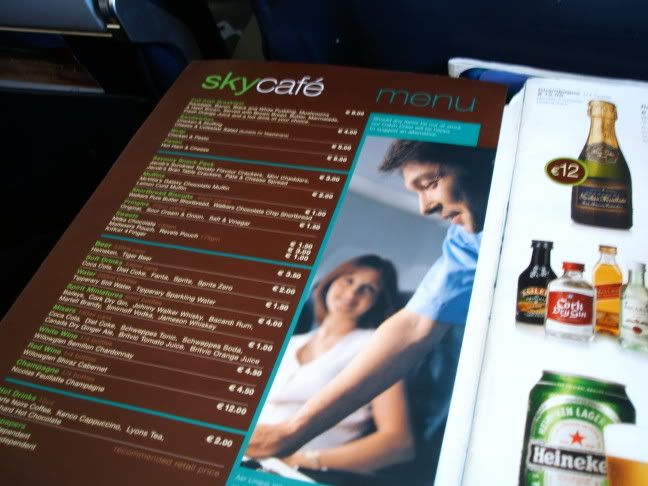 The menu
The F/O informed us that we would be passing over Wales and then we would fly south of London before turning towards LHR. He told us that they had just come from London and the weather had been good we were also told that we were travelling at 550mph! After about 15 minutes we started to descend we passed south of LHR and we were joined by two other aircraft that I could not identify they were just red and green lights passing below us.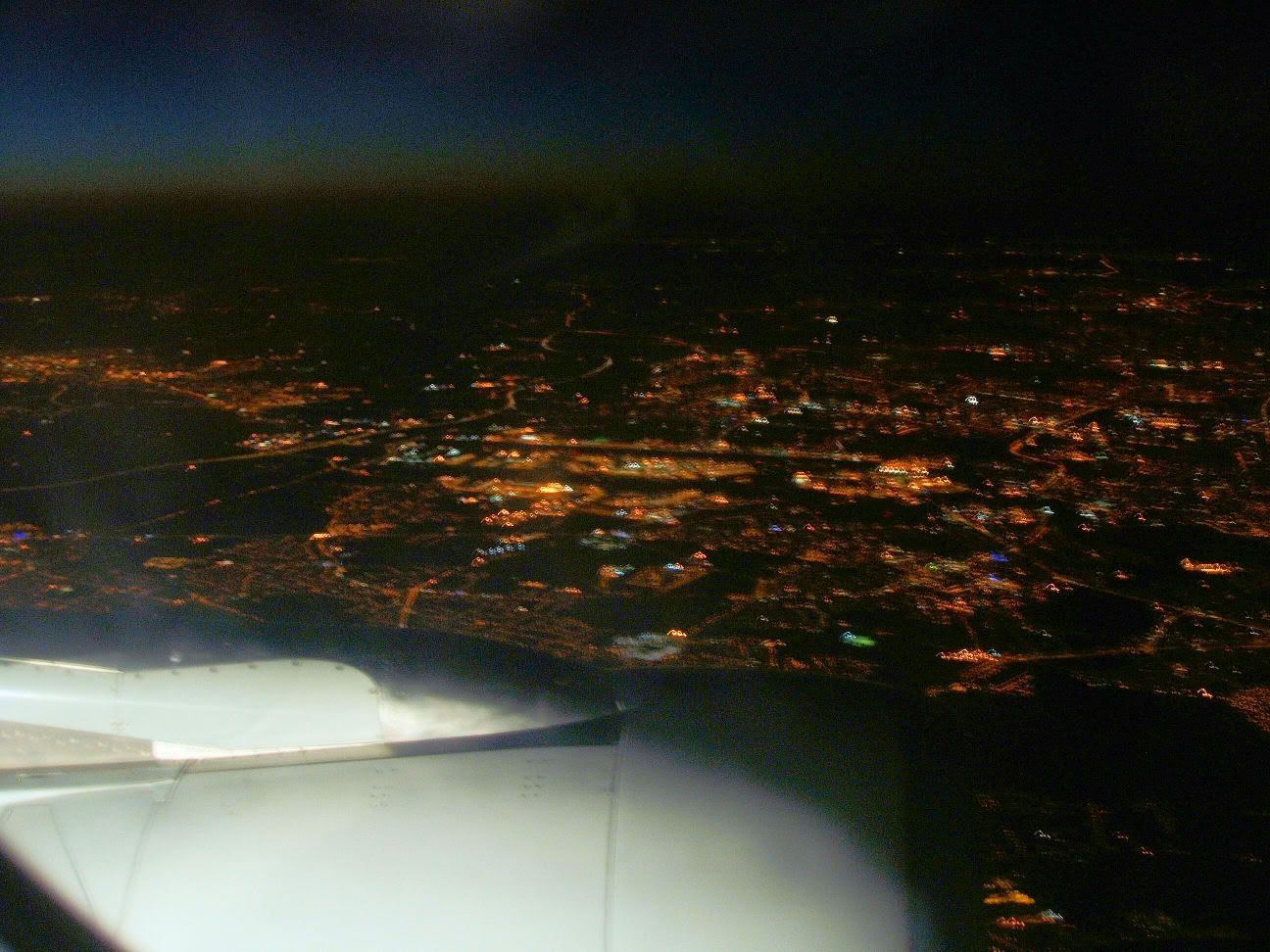 Heathrow at night
The F/O informed us that we would be in a hold for a few minutes after circling for a few minutes we turned over Canary Warf and the Dome before lining up on Runway 27L. It was another few minutes before landing and the lights were once more dimmed and the crew came around to check everyone was strapped in their seats and that the seat was in the up-right position.
My seat, well half of it anyway
We landed at LHR at 9.30 only five minutes late even though we were delayed at ORK by 15. We taxied for a few moments and the F/As told us about aerlingus.com and hertz car hire, we parked besides another Aer Lingus aircraft this time an A321, EI-CPE. We were told by the F/As that because of airport procedure we would all leave the aircraft through the front exit. It took about 30 minutes before we were able to collect our bags because the A321 next to us was from Dublin and had a problem with unloading so bags from the Dublin flight were coming out first and very slowly.
Once we got our bag we walked out and jumped in a taxi back to Harrow, by the time I was home in was 12.30, three hours since landing!
Overall Aer Lingus seem prove their "Low fares. Way better." slogan because they offered some of the lowest fares for a better service than any other airline on similar routes such as easyjet and Ryanair at LGW or STN.