DISCLAIMER: I admit, I'm a slave to the internet and when there are usually opportunities for me to use it in-flight, I try to take it when possible.
Back in May, I was originally planning to do one more trip to the Philippines during the Japanese holiday period known as Golden Week. Due to serious agendas that needed to be done back home in the US, I had to make an emergency trip back to LAX. I was due to depart in the April 20 and arrive back in May 9...a major extension beyond our Golden Week holiday. Since I didn't get back to my dormitory until the day I was to depart, I hastily packed up all my stuff that I wanted to bring back home at literally the last minute. I was originally expecting to be flying JL or NH but was amazed to find that the office staff booked my trip with KE which meant that I would be experiencing the magnificent Incheon International Airport once more.
The headmaster of my school was nice enough to drop me off at the airport bus stop and waited with me until the shuttle arrived. The shuttle itself costs 1000 Yen and takes just about 40 minutes to get to CTS which is considerably shorter than my routine path of taking the subway and JR...I guess I still have that affinity for trains.

KE766 CTS-ICN
20 April 2006
Airbus A330-323X, HL7554
Economy Class
View Large
View Medium


Photo © Rhys Dudley - TeamJetspotter
I headed to the international counters at CTS where I met a small but fast queue. Once up, I requested if I could attempt an upgrade on the CTS-ICN sector (there was no way I could afford upgrading on ICN-LAX) but was informed by the agent that I had a V class ticket at hand which made upgrading near impossible for me. The next best option was that I requested an exit row seat for both my flights in which the agent was able to do.
The KE counters in CTS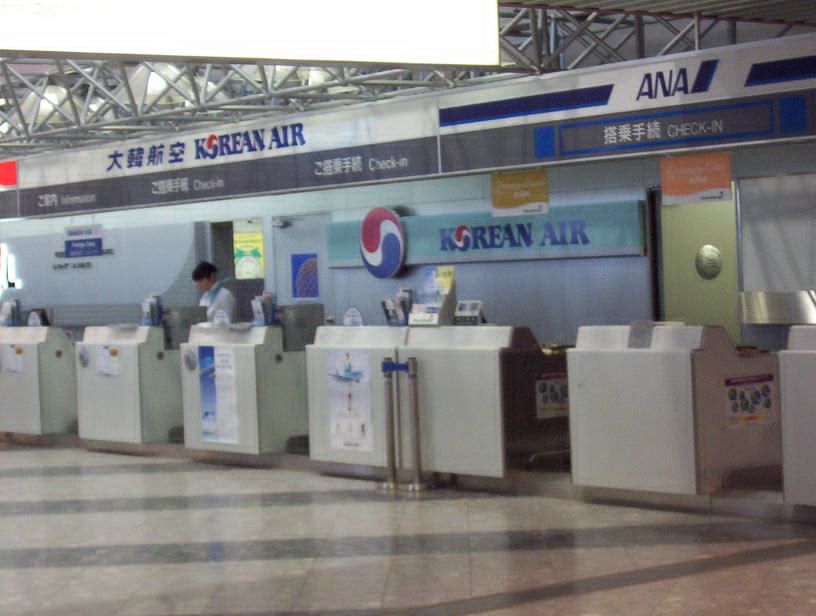 After checking in, I decided to stop by a nice aviation collectibles store called Flyers in the 4th floor of the terminal. After some frequent planespotting trips, I befriended the manager of that store so of course, flying out of CTS was not complete until I made a quick visit.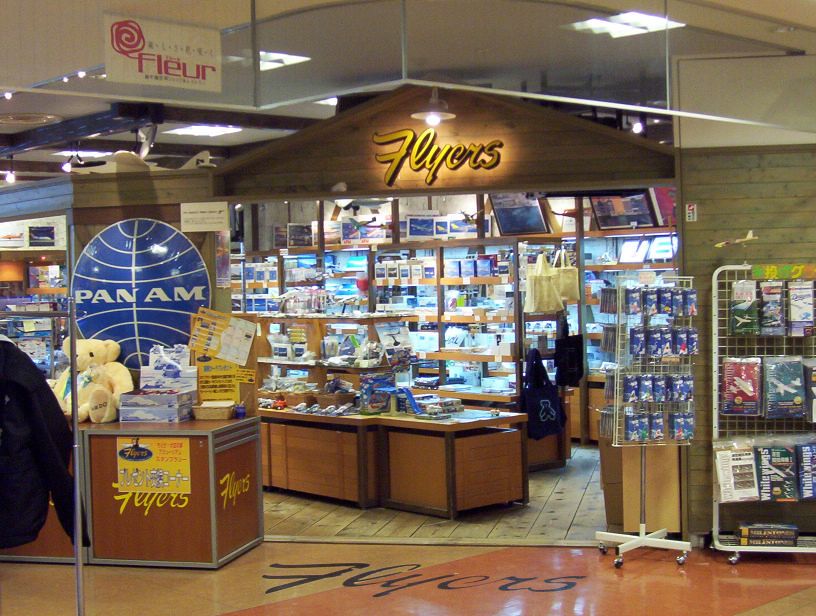 After getting a quick lunch at one of the cafes that faced airside, I rushed down to the security checkpoint of the international gates. One thing that I like about departing and arriving internationally in CTS is that it's a breeze for me to get through this checkpoint and immigration. By the time I made to the gate, most passengers boarded so I rushed to purchase a few boxes of my brother's favorite Japanese snack known as Pocky before heading to the plane.
A view of HL7554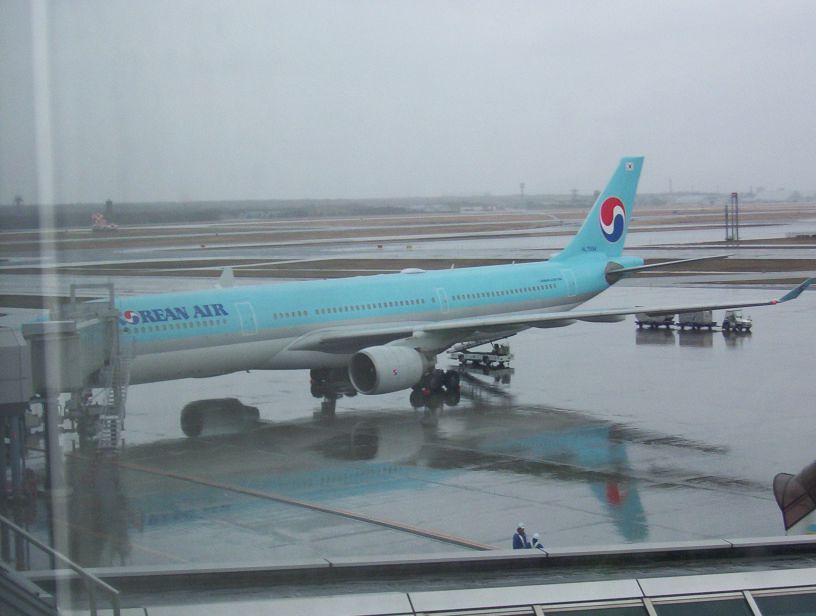 Boarding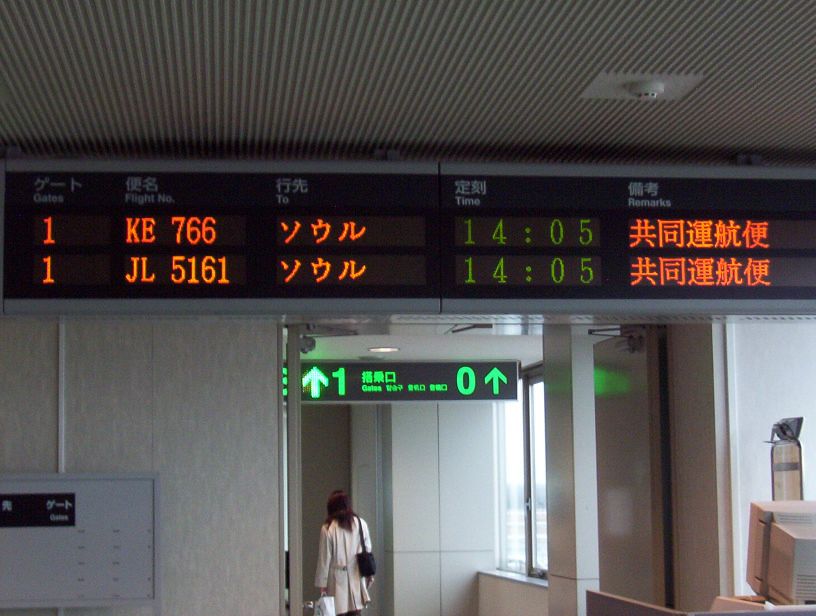 One thing that I found interesting was that newspapers were offered at the jetway instead of inside the aircraft. It was convenient though as I just quickly grabbed the lone copy of the English-language Korea Times. The load on this flight seemed to be pretty light. I caught a glimpse of the Prestige Class cabin and only noticed a single passenger. That surely was a lucky man! Back in Economy, the load seemed to be at around 60%ish. I made my way to seat 56A in which I found out that I had the row to myself on top of the amazing legroom.
JA01HD, HD's 763 promoting Hokkaido's beautiful scenery was sitting right next to us.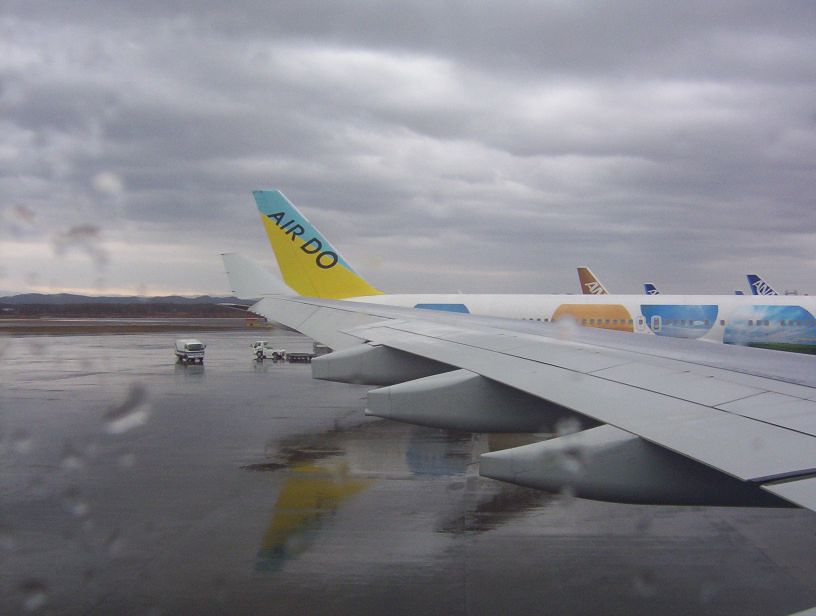 After a slippery takeoff in the light rain, we were soon up in the sunny skies over Hokkaido.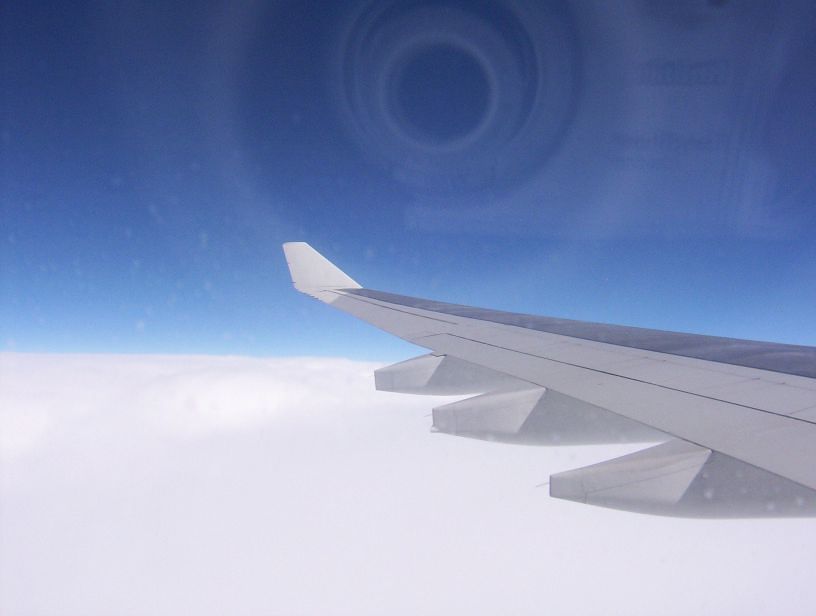 Cruising between Hokkaido and Honshu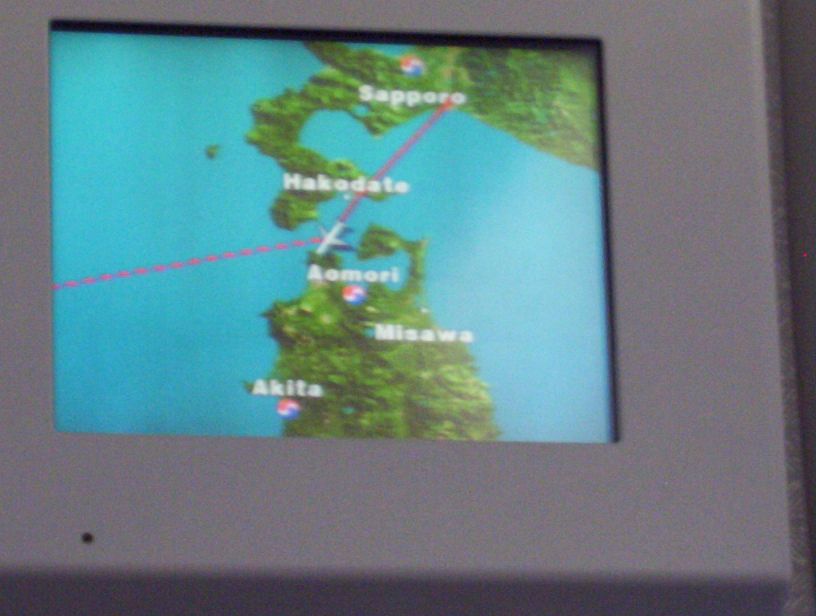 Some 30 minutes after takeoff, the F/As began the meal service.I wasted around 2000 Yen for lunch in CTS only to be reminded that there was an in-flight meal.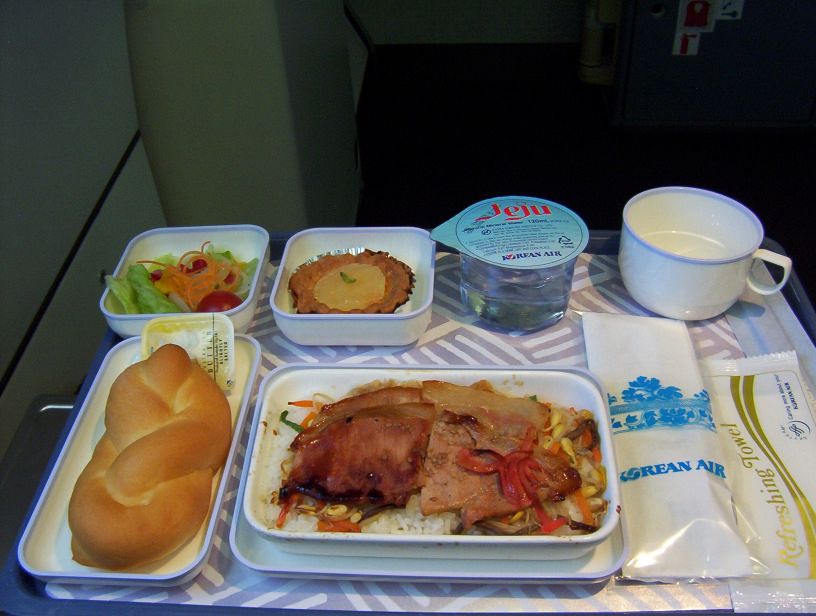 After the trays were picked up, I settled into the Korea Times and KE's Morning Calm magazine and jotted my usual random ideas and notes into my notepad.
My trusty NH notepad and JL Uniball pen. Definitely an improvement over writing aircraft regs on napkins.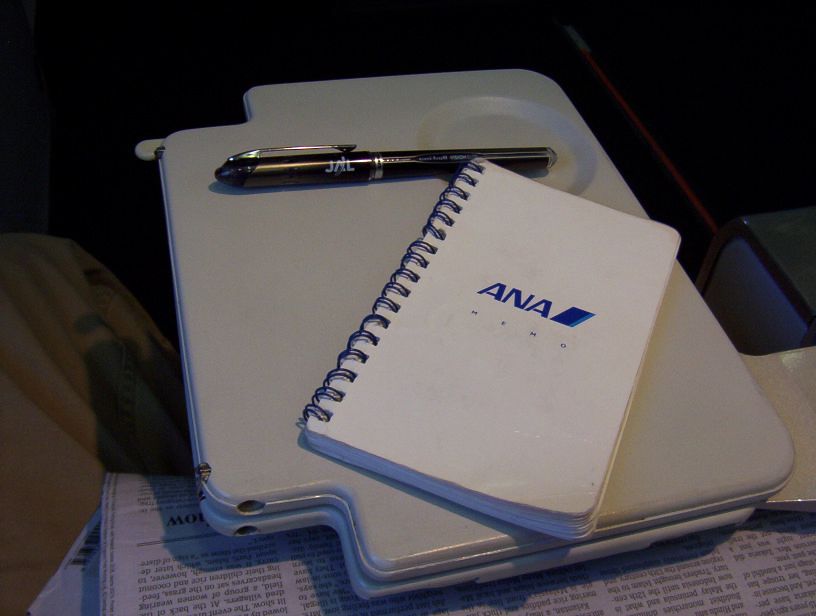 A quick glimpse of the rear Y cabin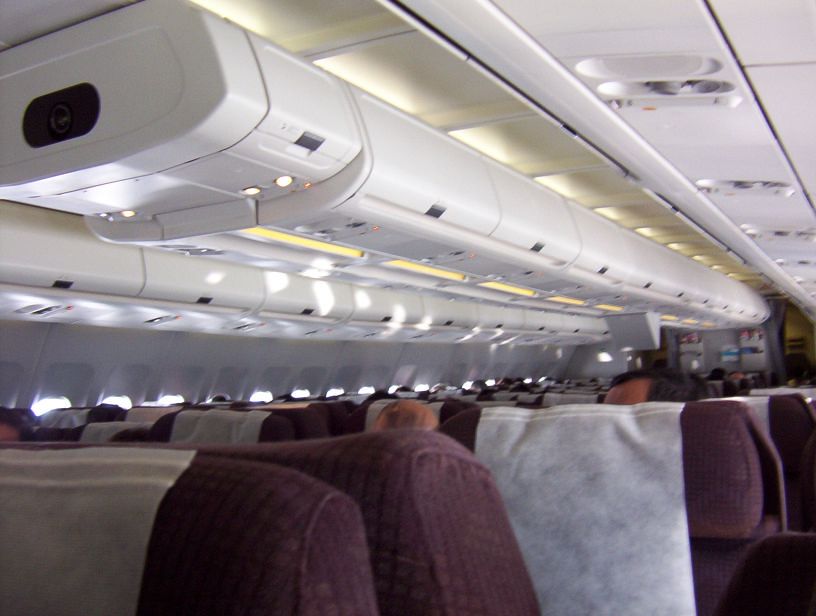 After a quick nap, I looked out the window to see the South Korea right below us. We were already making our quick and somewhat bumpy approach to ICN in the partially cloudy afternoon skies.
Landing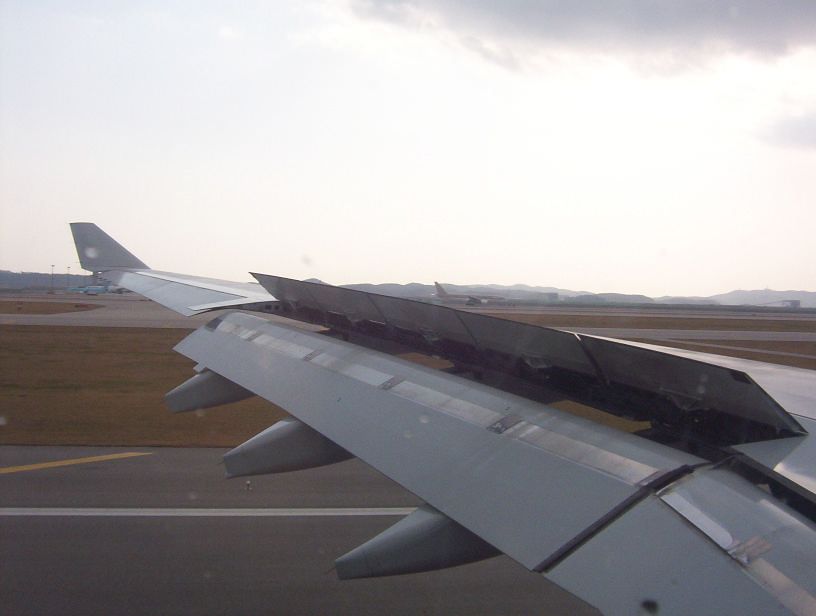 Taxing to the gate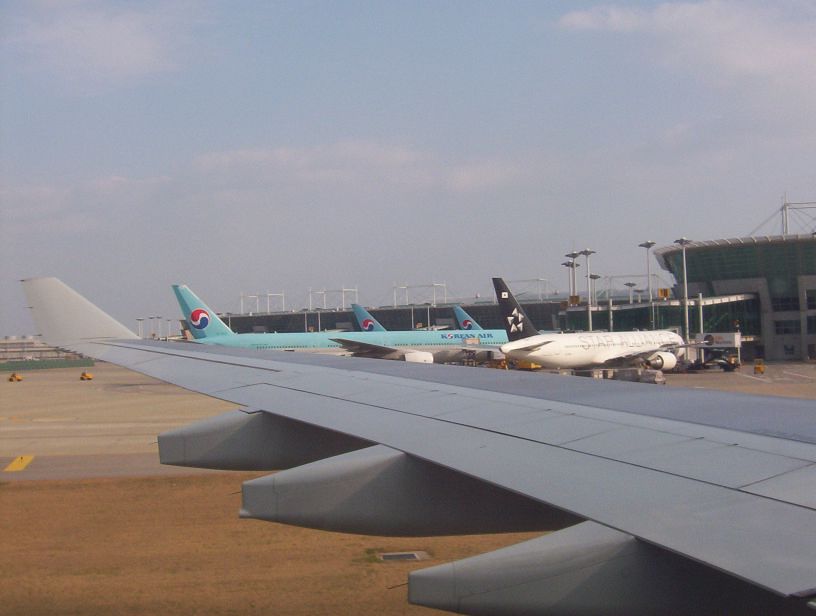 ...and thank you for an excellent flight!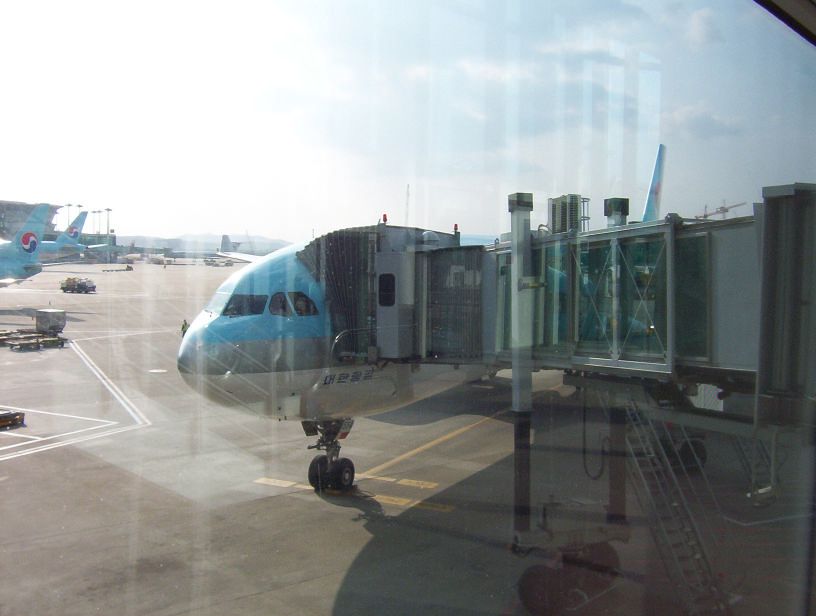 Deciding to make up for my lack of pictures of ICN in my last transit, I decided to go through immigration and check out the terminal before security. The immigration agent was a bit concerned about me missing my connecting flight...which was in 3 hours. After finally getting out of immigration, I was able to wander freely around landside.
Some interior shots of the terminal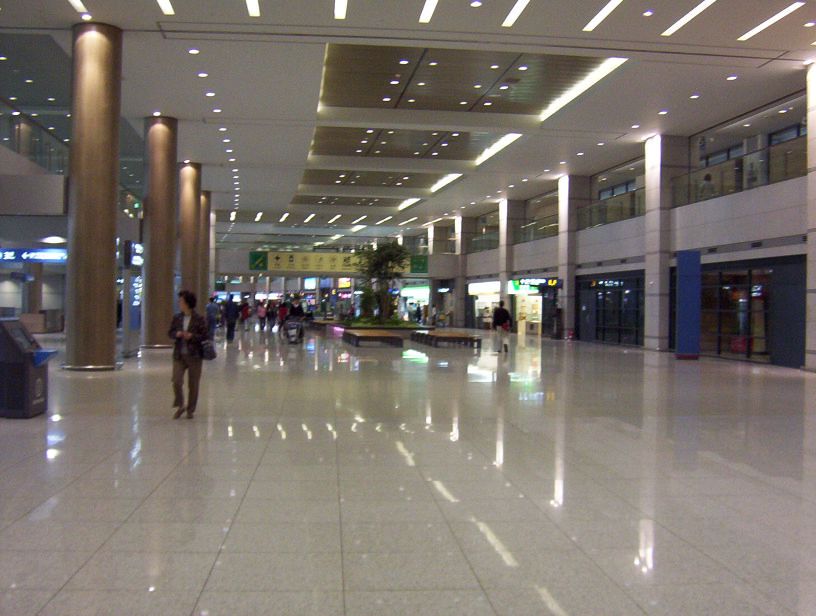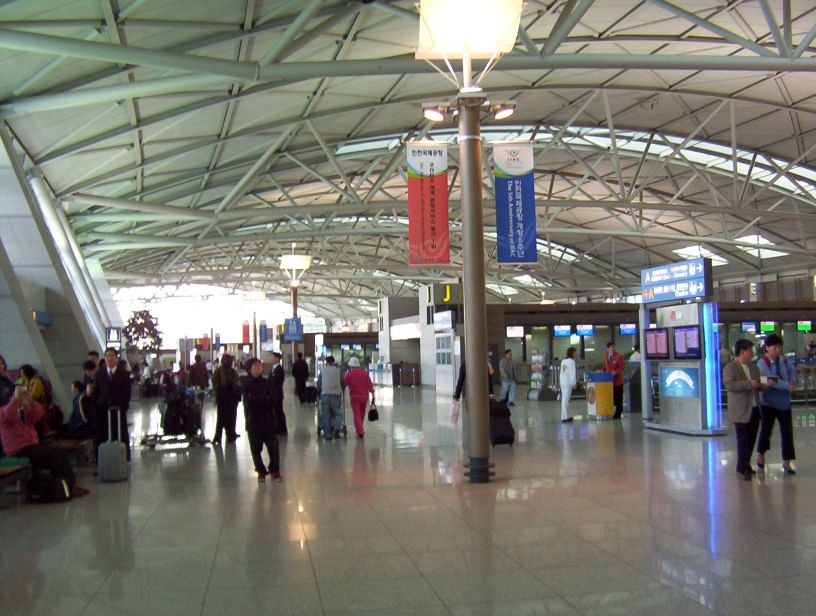 KE011 ICN-LAX
20 April 2006
Boeing 747-4B5, HL7495
Economy Class
View Large
View Medium


Photo © Paul Robbins
After feeding my curiosity for a half an hour, I went back through security and immigration to wait for my flight to LA. Still with alot of time at hand, I decided to do some reading at one of the airport book stores, buying some souveniers for my family (which came in the form of kimchi), and finding a place for me to eat. It's amazing how much indecisiveness can kill time...I wasn't able to make up my mind on where to eat by the time boarding began for KE011.
I LOVE transiting through this airport!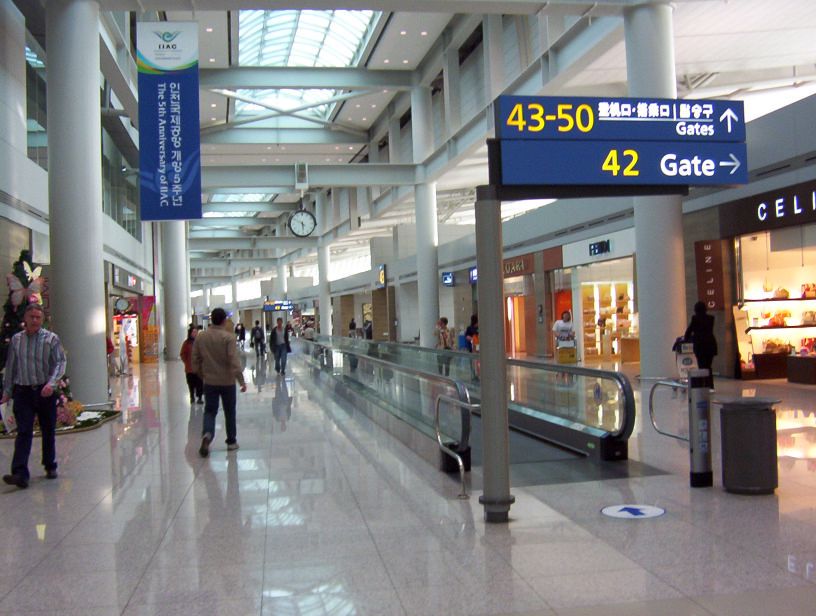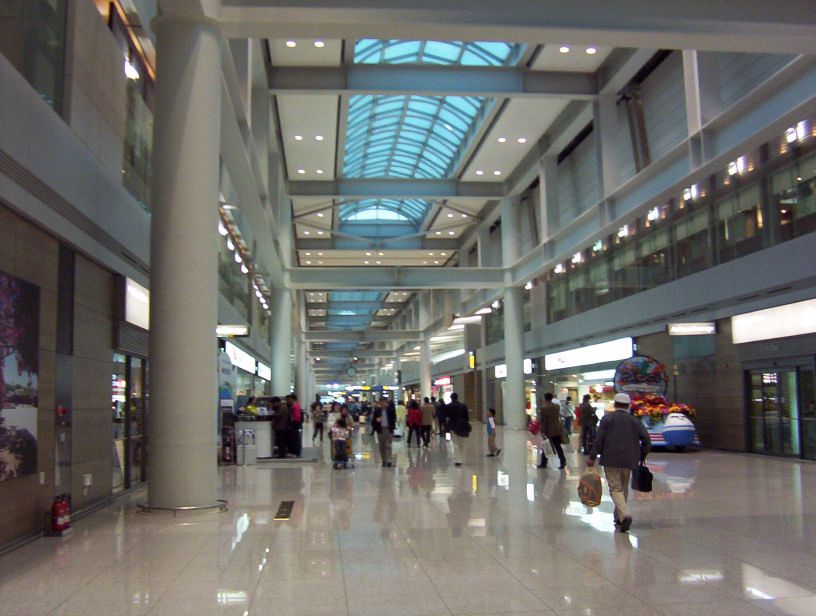 Sunbathing in the afternoon light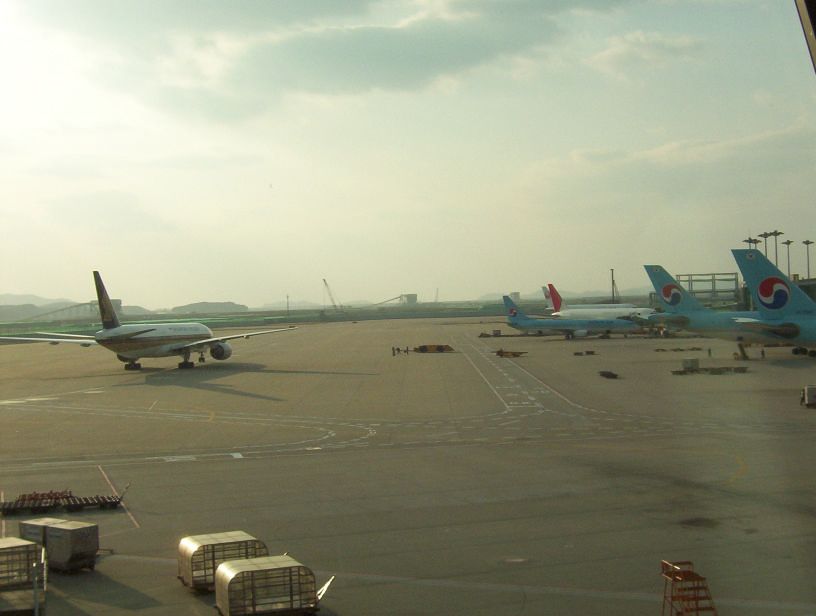 HL7495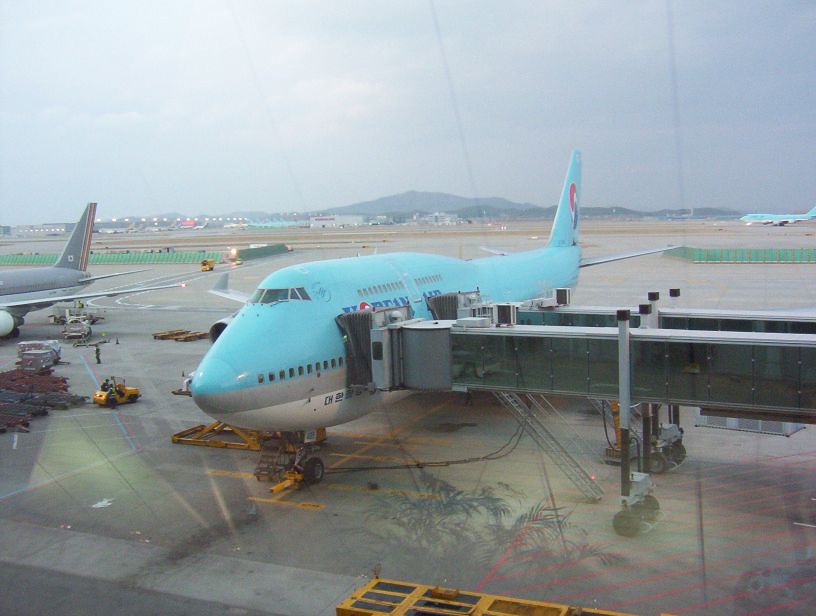 Boarding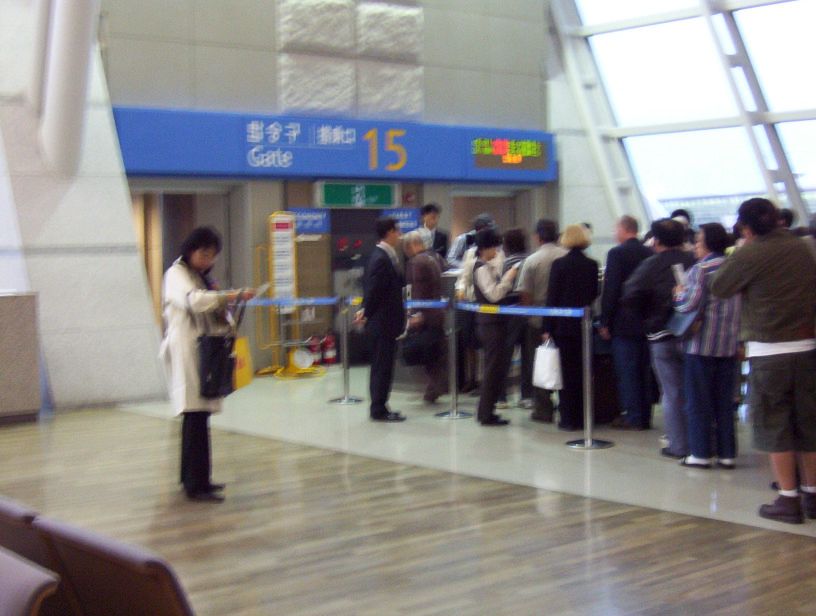 I was holding my breath that somehow our 744 had the new cabin upgrades or at least Connexion service (forget AVOD, gimme in-flight internet:P) but alas, it was the older cabin, and one without the adjustable headrests...man I love those things.
I was assigned to seat 50K which was in the exit row but unfortunately some of that space was taken up by the protrusion in the door for the emergency slide.
OZ 772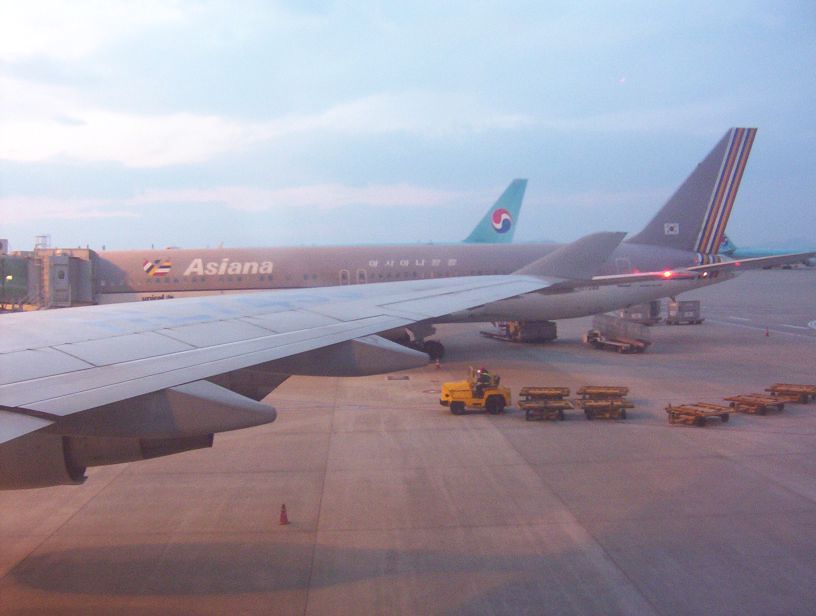 Cabin shot during taxi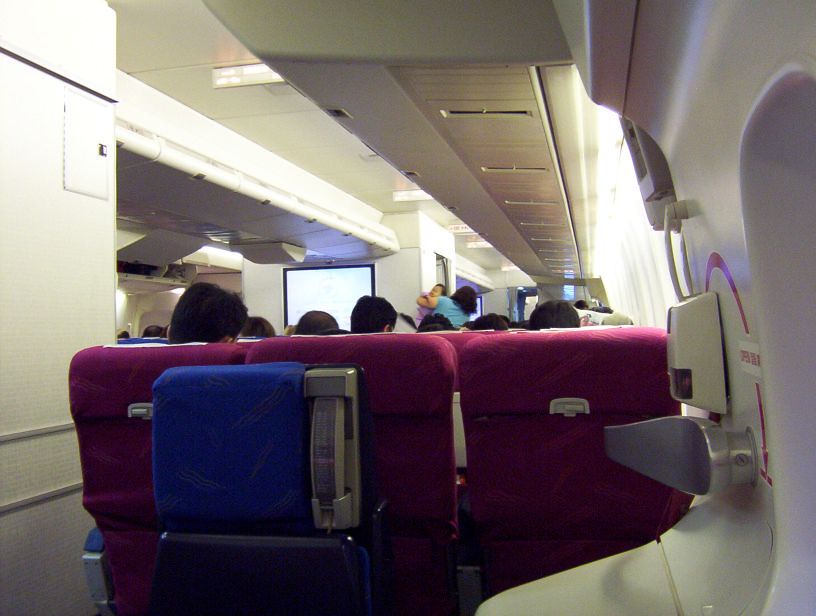 ICN in the evening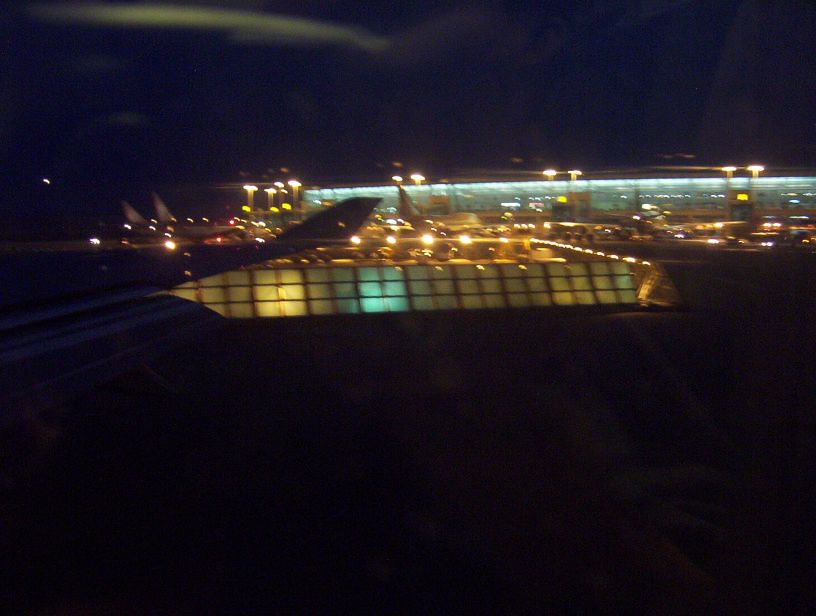 Takeoff went smoothly and once we reached our crusising altitude, I decided to grab my backpack and grab my AP English homework in the form the Ralph Ellison novel
Invisible Man
only to find out that I most likely packed it in my checked-in luggage along with my other reading material. I guess that's what happens when I rush through packing.
This was going to be a pretty tedious flight...
Over Japan one more time before I head home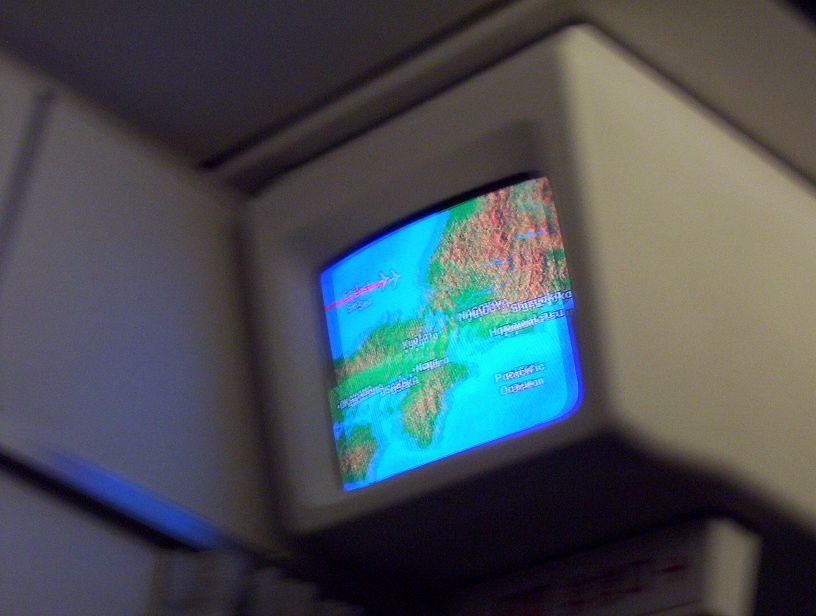 Once the meal cart came, there was only one choice left which was the Bibimbap, a Korean dish which consists of white rice with sauteed and seasoned vegetables, ground beef, a fried egg, and chile pepper paste known as gochujang. I grew to like this in Japan as our canteen staff were Korean and would cook this for our lunches once in a while. This particular Bibimbap was by far the worst I ever had but I guess due to the fact that I was missing the gochujang which I later found out that it was in a tube with the rest of the condiments. The only thing that salvaged the meal was the seaweed soup and the chewy rice cake known as Tteok.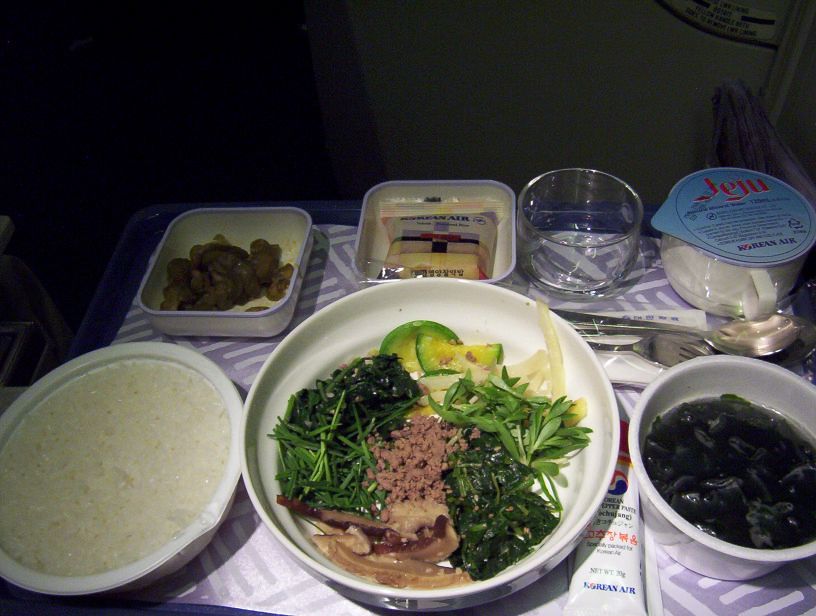 A bit later as I was re-reading the Morning Calm, the F/As were offering beverages and a snack which was a pack of Fishers peanuts. I decided to catch up on some more sleep only to wake up just in time for breakfast which was an omelet with salsa and mushrooms with a side of fresh fruit, a croissant, and yogurt. Except for the salsa, the meal was pretty delicious.
Pretty nice and sunny up here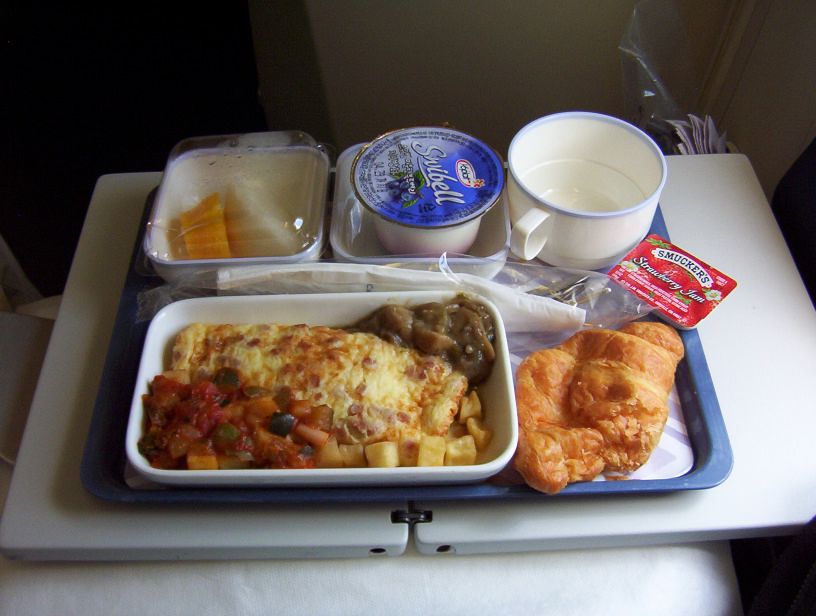 Over California...I'm home again.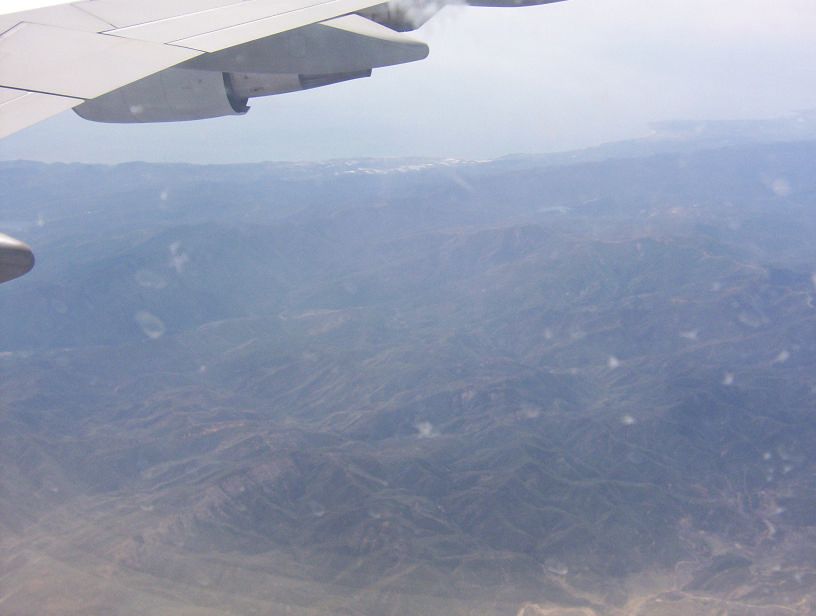 The cabin in daytime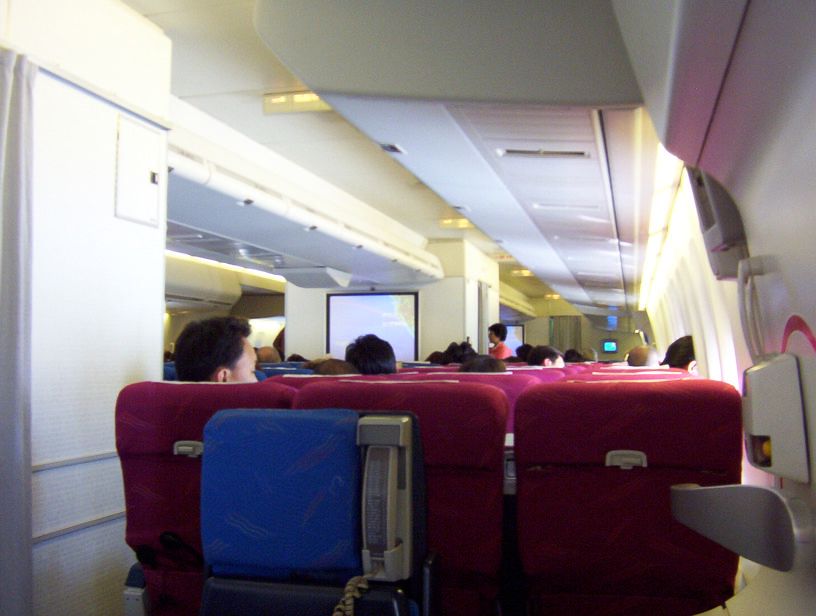 LAX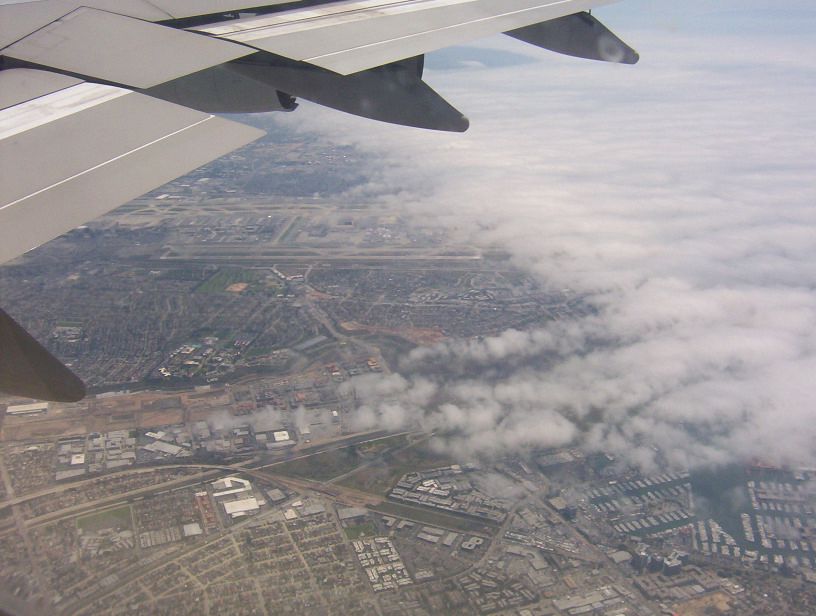 A closer view of the Central Terminal Area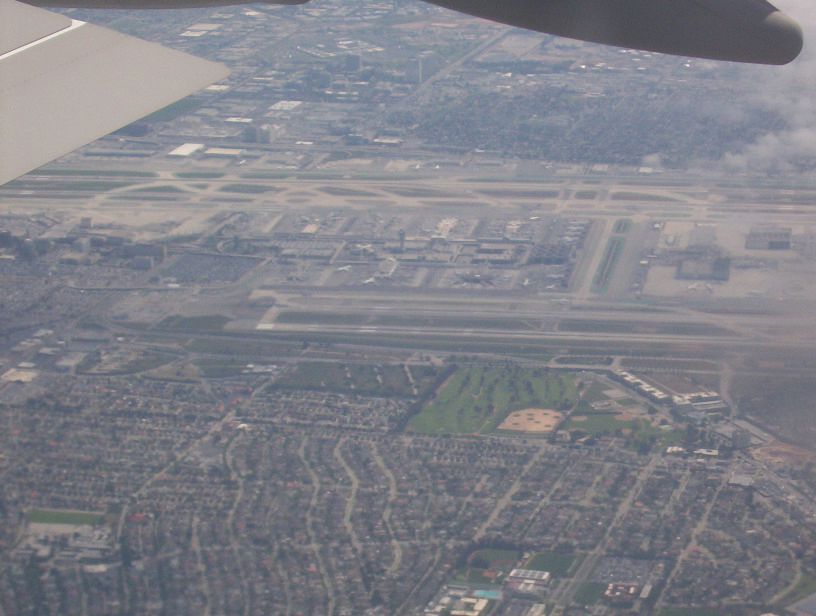 We landed in 24R which gave me another glimpse of the aviation entusiast-favored In-N-Out at Sepulveda. Unfortunately I couldn't get a shot as there was an F/A seated in front of us...the only drawback for me when seated in an exit row...as well as the annoying protrusion.
First time spotting a CC 747
Good to see you again, Wunala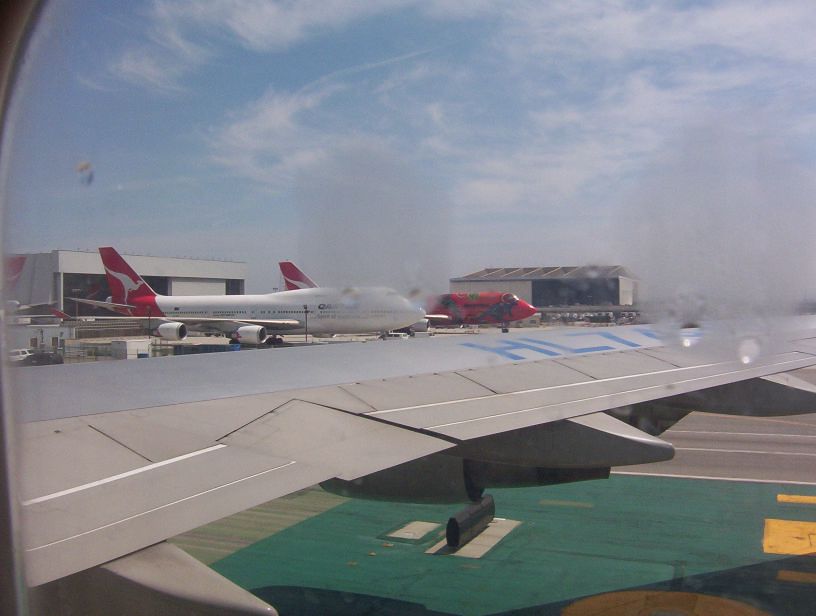 ...and I'll be seeing you back in Japan!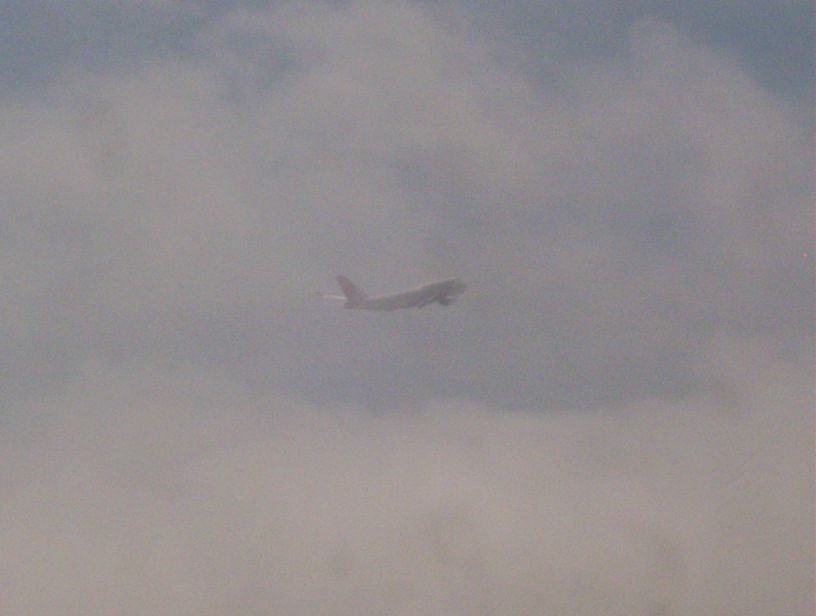 TBIT with CI, FJ, and SQ tails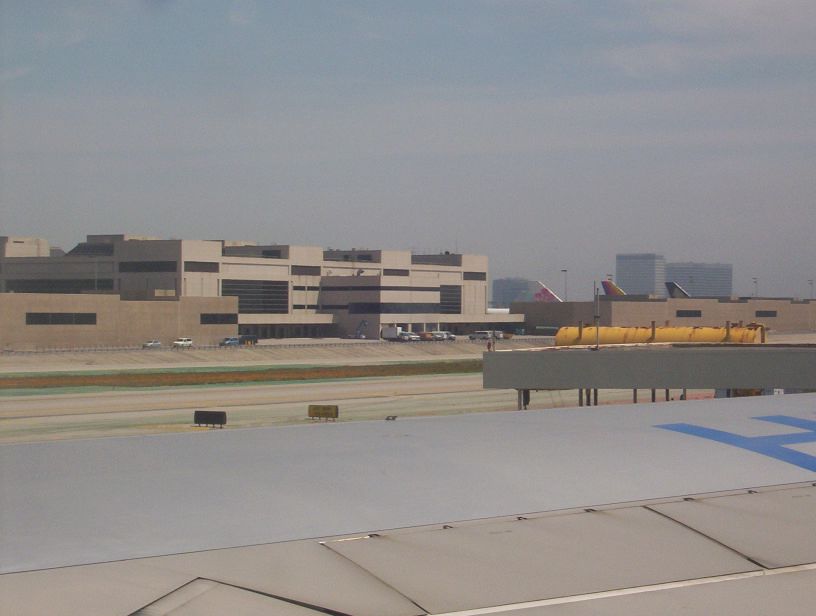 BA 744 as we taxi to our gate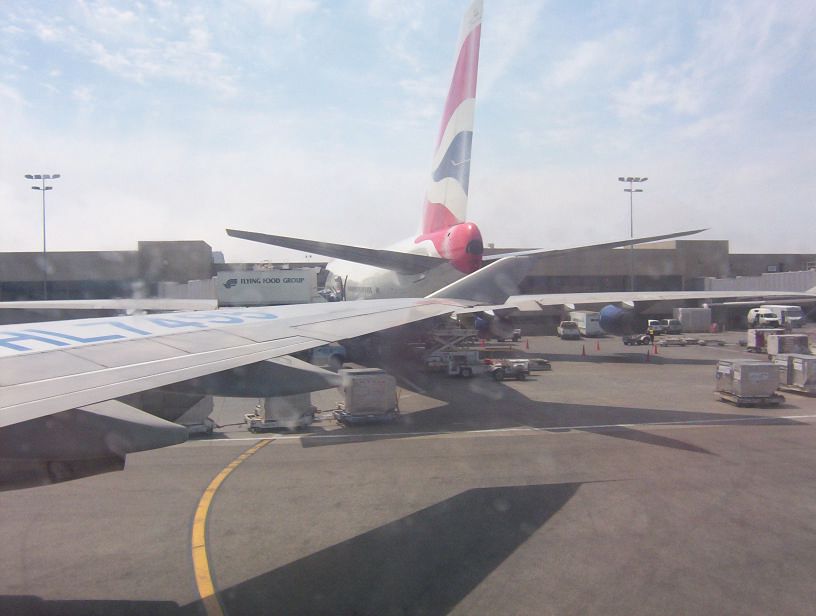 I decided to wait a bit until most of the passengers disemarked before taking a rather quick shot of the empty cabin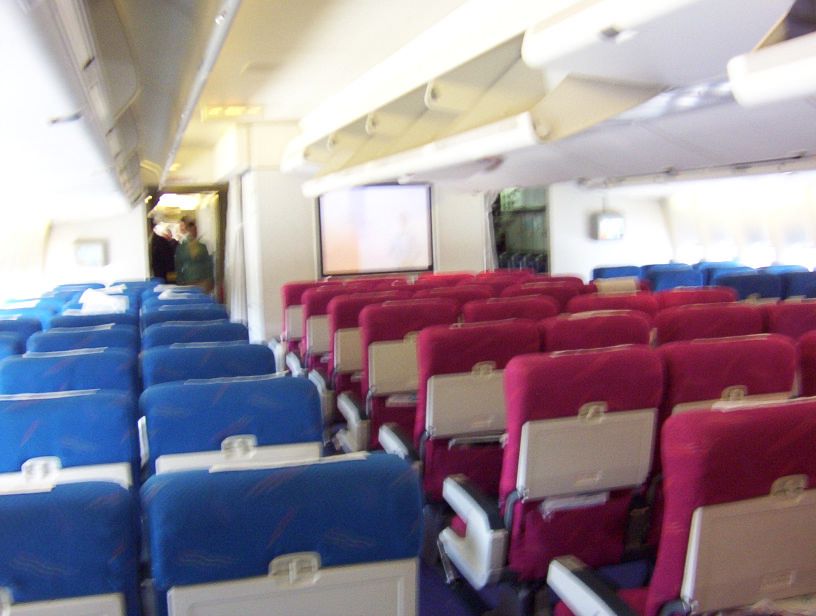 The corridor leading to immigration and the baggage claim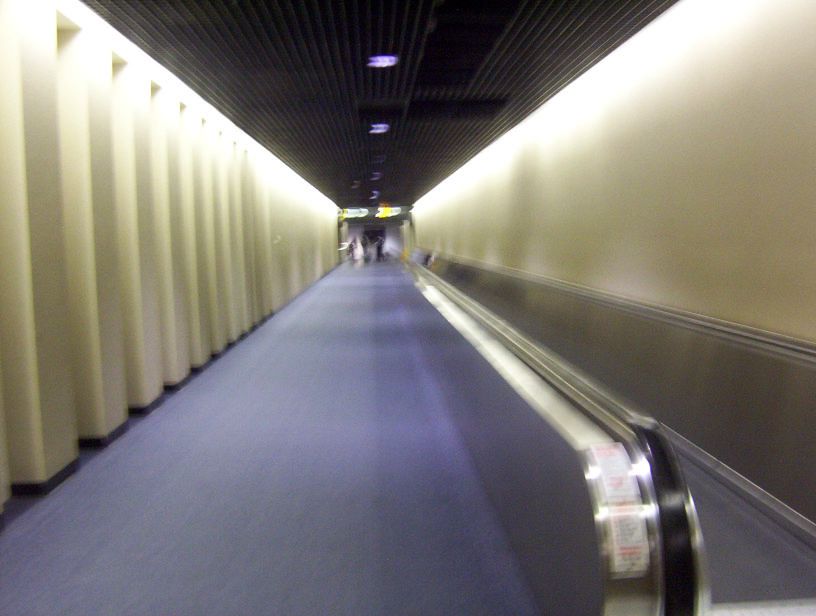 Immigration was amazingly smooth but there was a pretty long queue to pass through customs. Unfortunately the next airport shuttle to PMD was going to be in a couple hours so I instead vouced to try out the Fly Away bus service to Union Station where I could connect with the Metrolink Antelope Valley Line. On the Metrolink ride back home, a few of the commuters noticed that I just came back from abroad and soon we began chatting about opportunties on studying abroad. I guess that's when it finally hit me that was back home.

KE016, LAX-ICN
9 May 2006
Boeing 777-2B5 (First flight on a 777!)
Economy Class
View Large
View Medium


Photo © Oliver Brunke
May 9 finally rolled around and it was finally time for me to return back to Japan. Before I left for LAX, I decided to catch
Benchwarmers
at a local movie theater with some of my old friends in our local theater. My mom escorted me down to LAX and stuck around until I went through security. Again, trying my luck, I tried to get on KE012 as it had Connexion that day but once again, the agent at the counter said it wasn't possible since I was on a V ticket. It was worth trying... One major perk though was that I was going to be flying on a 777 for the first time which definitely brightened up the mood.
KE counters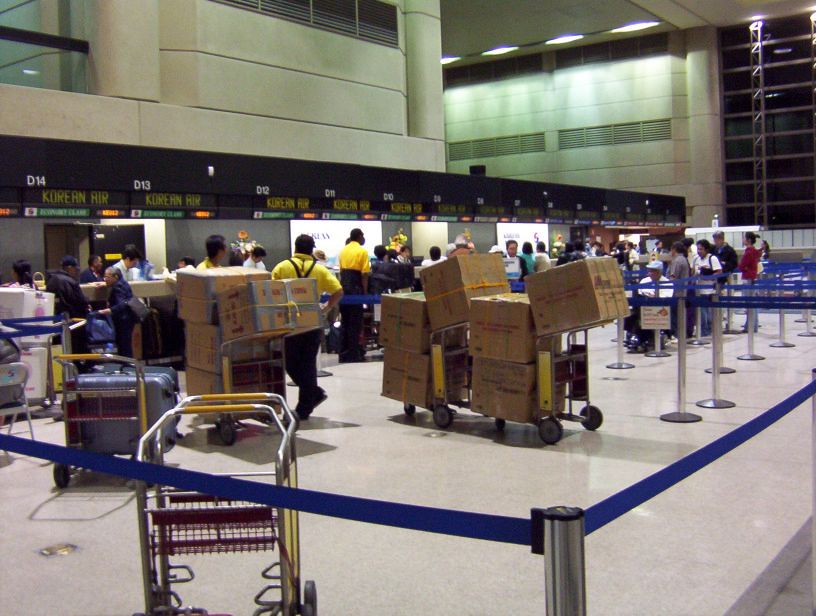 A view of the check-in area of TBIT from the upper mezzanine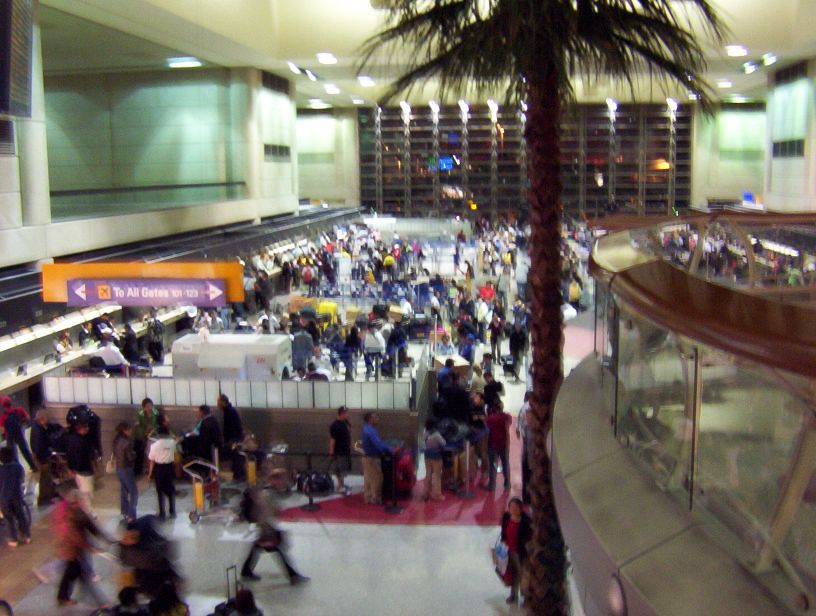 After getting my traditional Chicken Teriyaki bowl from the Hamada Express, I parted with my mom and headed towards security. With PR, TG, BR, CI, as well as another KE flight on the south side for evening departures, the queue for the security checkpoint was pretty long. After passing through that, I went through my usual pining over the PR 744 sitting in the gate where our KE 772 will be at. To kill time, I decided to grab a coffee and sandwich while putting on some Family Guy on my laptop. Finally, after the PR 744 left, our 772 was being towed to the gate after a couple hours, we were finally able to begin.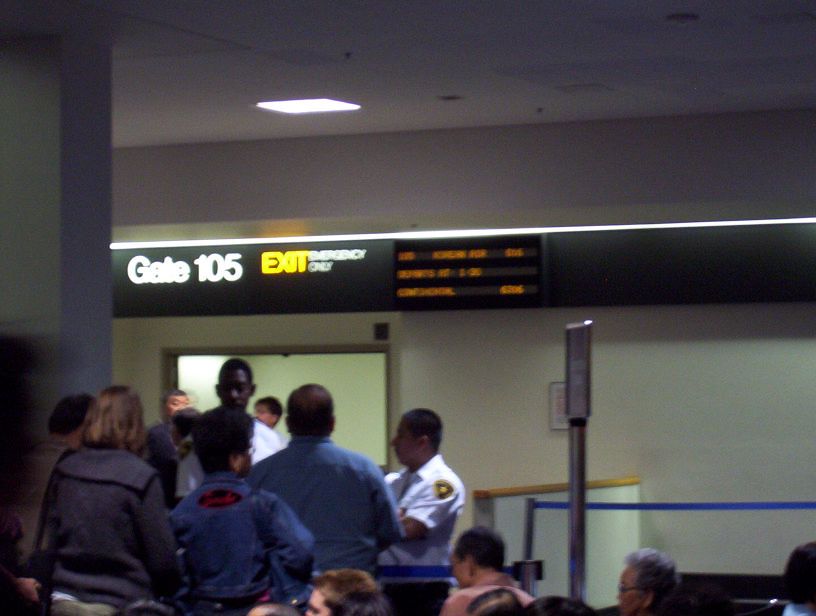 Finally in the cabin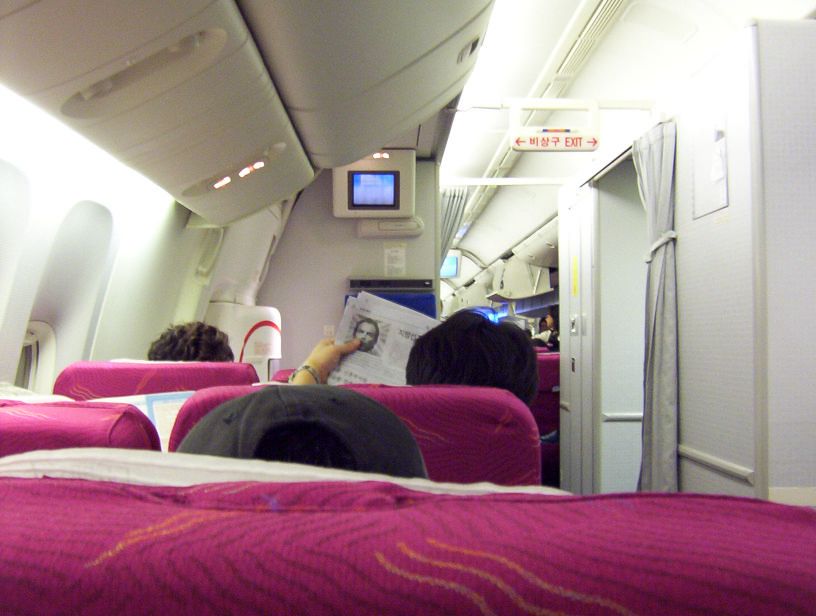 BR 744 right out the window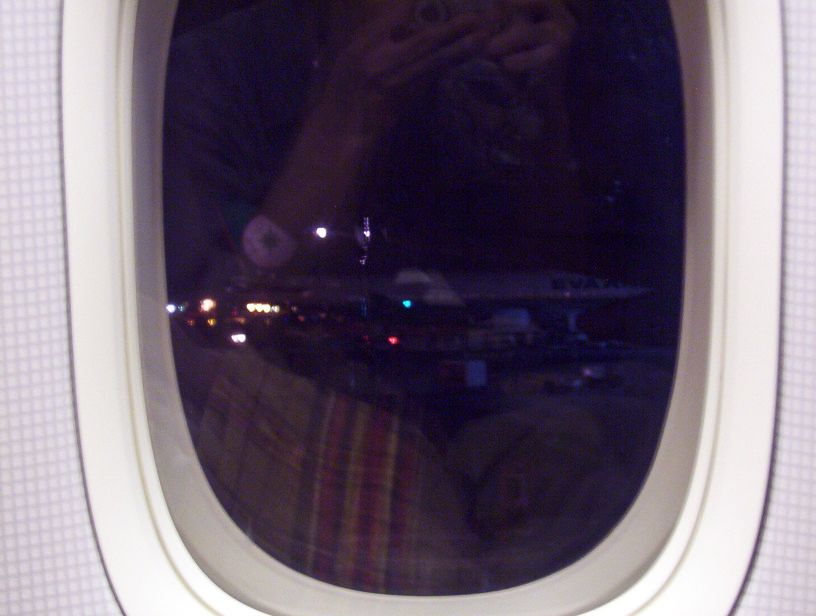 The taxing to 25R was long but nevertheless it was great to taxi by Terminals 4-8 and doing some extra spotting before I leave LAX.
Takeoff went smoothly and pretty excitingly as I was about to take off on my first 777. Upon reaching our cruising altitude, the cabin crew brought out a surprising announcement: our 772 was equipped with Connexion internet service. I immediately got up, pulled out and powered up my laptop and subscribed for the service.
Of course, the first website I went to after subscribing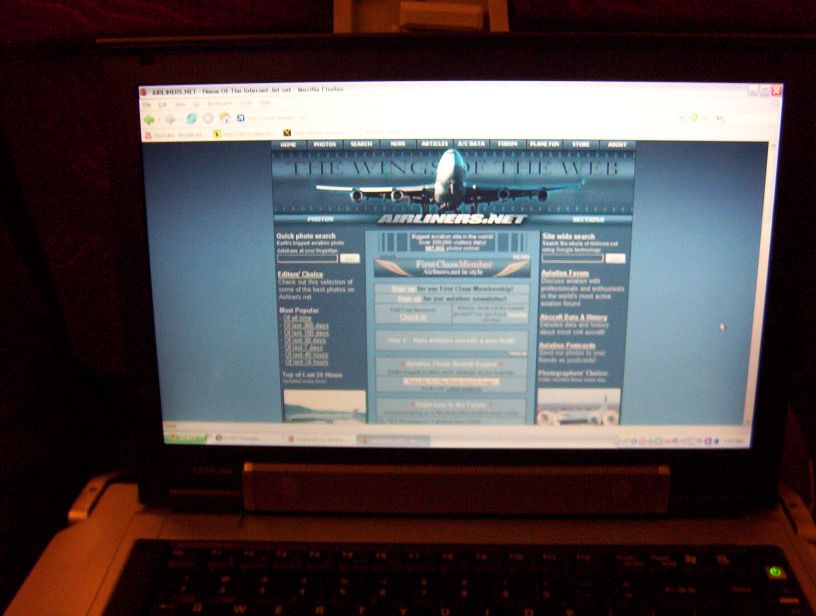 Tracking my flight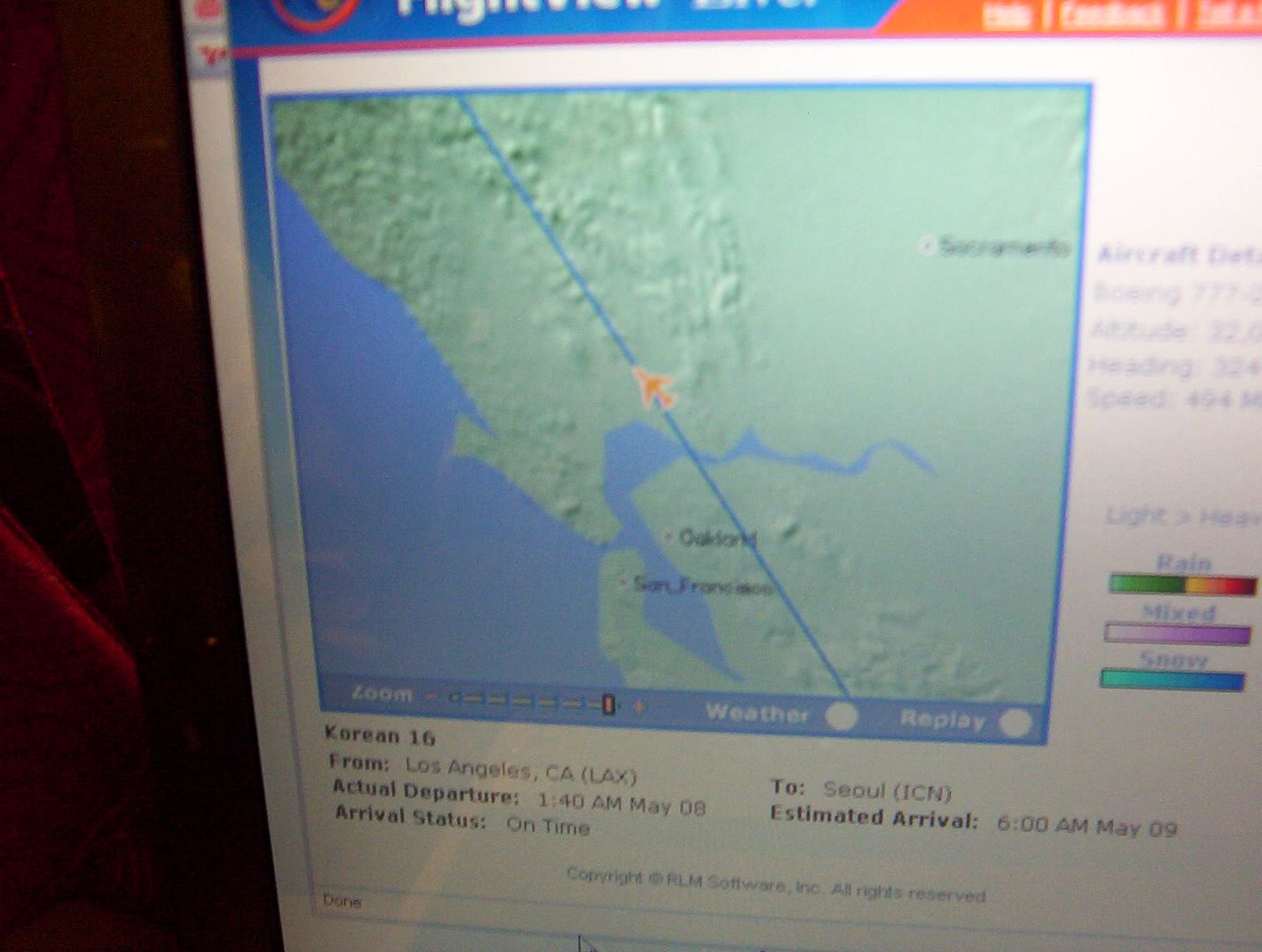 ...vs. Airshow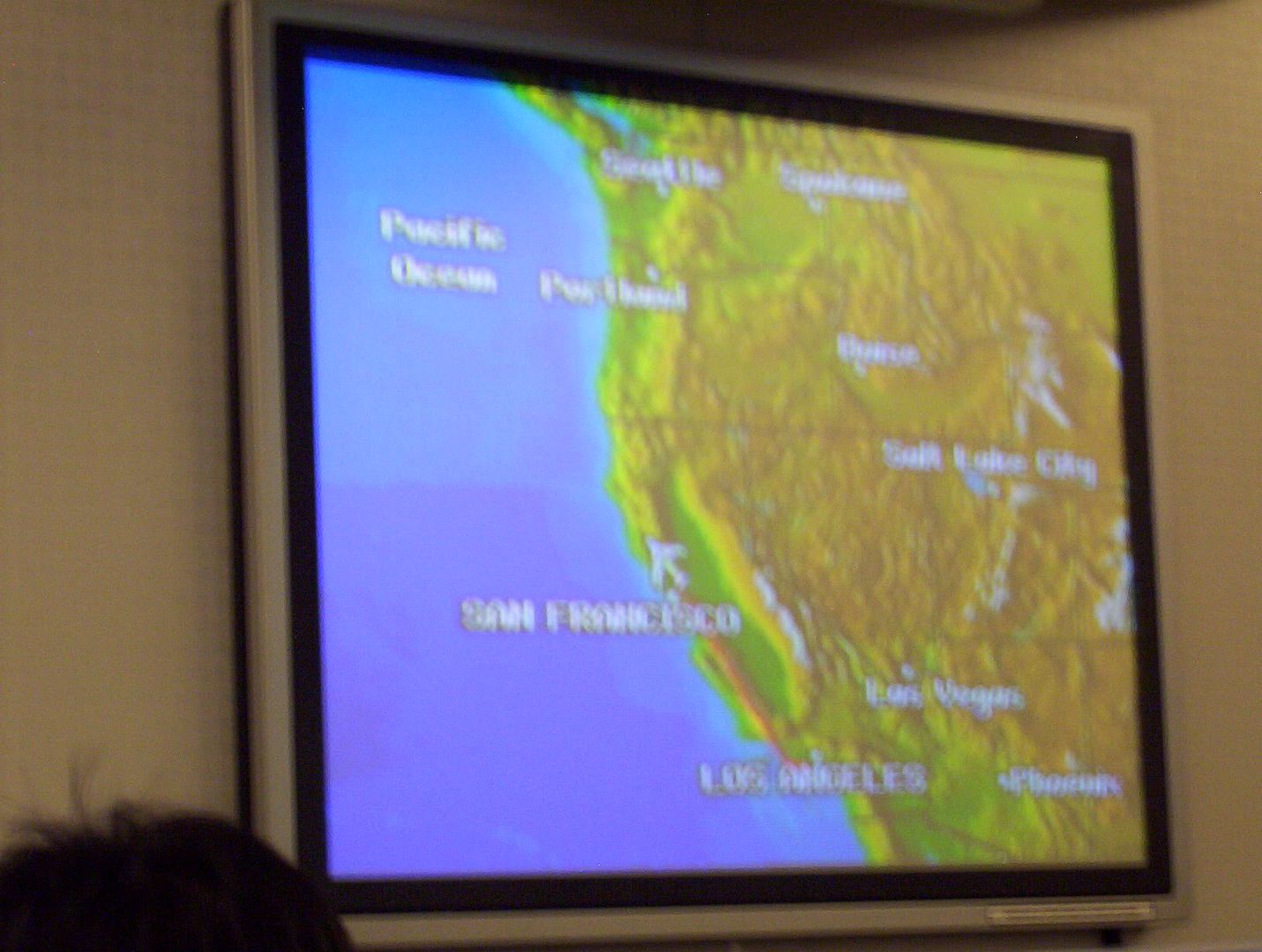 Immediately I began going on MSN and chatting up with friends as time flew by. Meal service seemed to have came pretty fast!
This looks awfully familiar...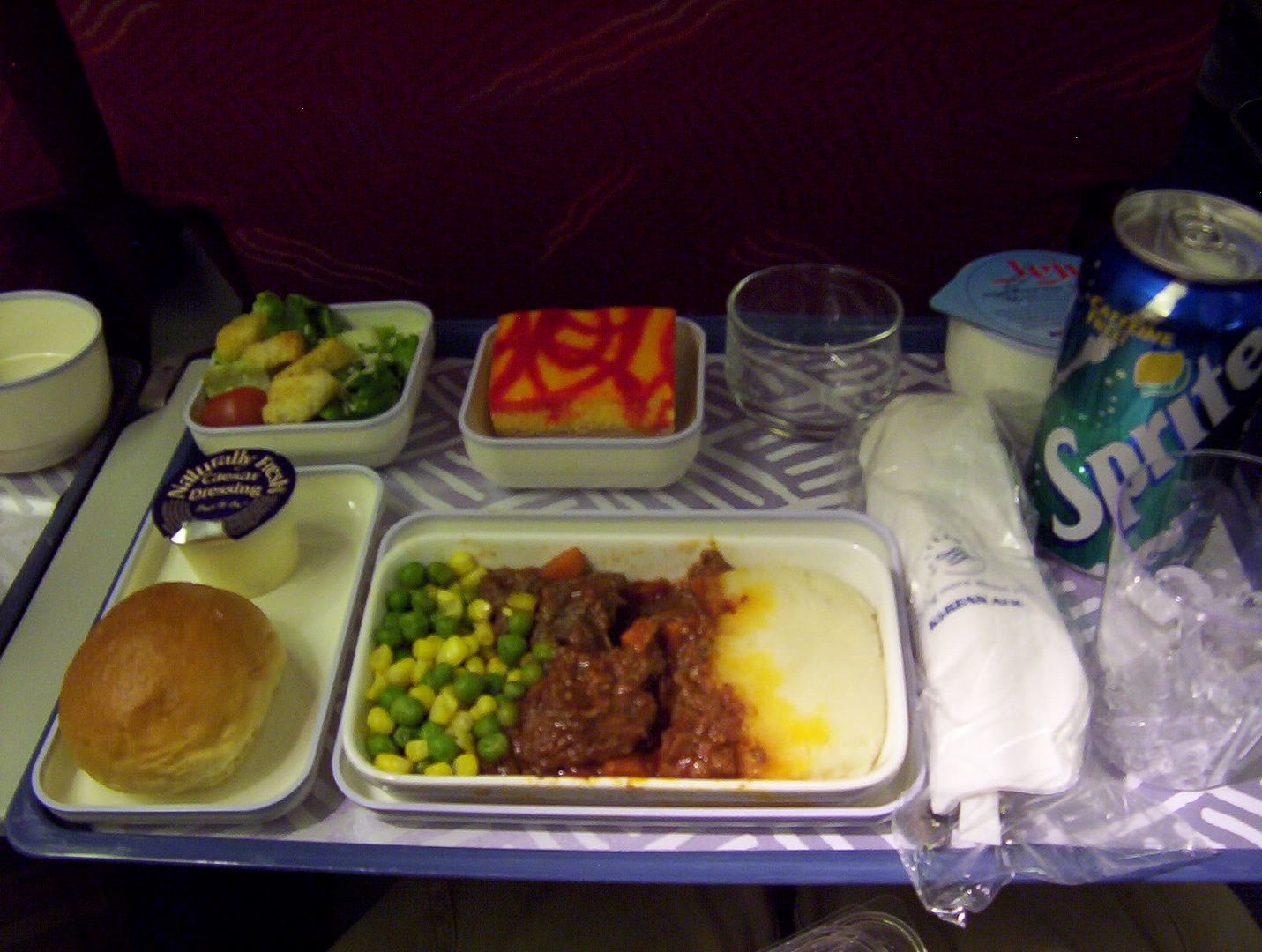 KE012, 28 October 2005...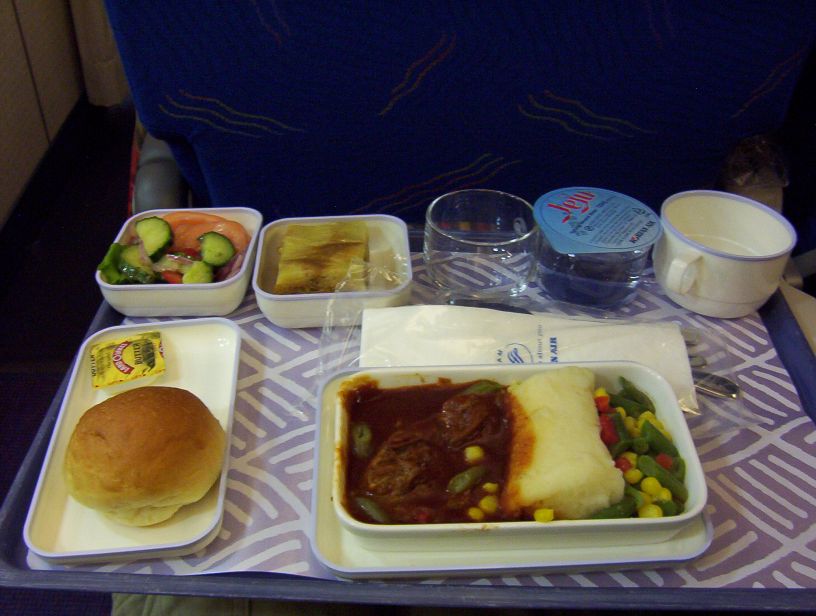 After our trays were picked up, I assisted my seatmate in trying to get her headphones out of the plastic only to find out that her set was broken. Thankfully I had my own pair for my laptop and handed her mine so she could enjoy the IFE. Occasionally I'd pop out of my browsing and check out whats on the main screen. Other than the
SkyTeam commercial
(the YouTube one linked is a tad different from the last one I saw with a different soundtrack), here was an interesting Korean drama that I really enjoyed. Basically it was the usual high school romance but with what seemed to be a bit of a cheezy soundtrack. I inquired with my seatmate and unfortunately she didn't know. I checked out the Morning Calm and IIRC the title was "School Days". I'm still trying to find a torrent of this drama but I'm not having much luck.
Korean drama playing in the mainscreen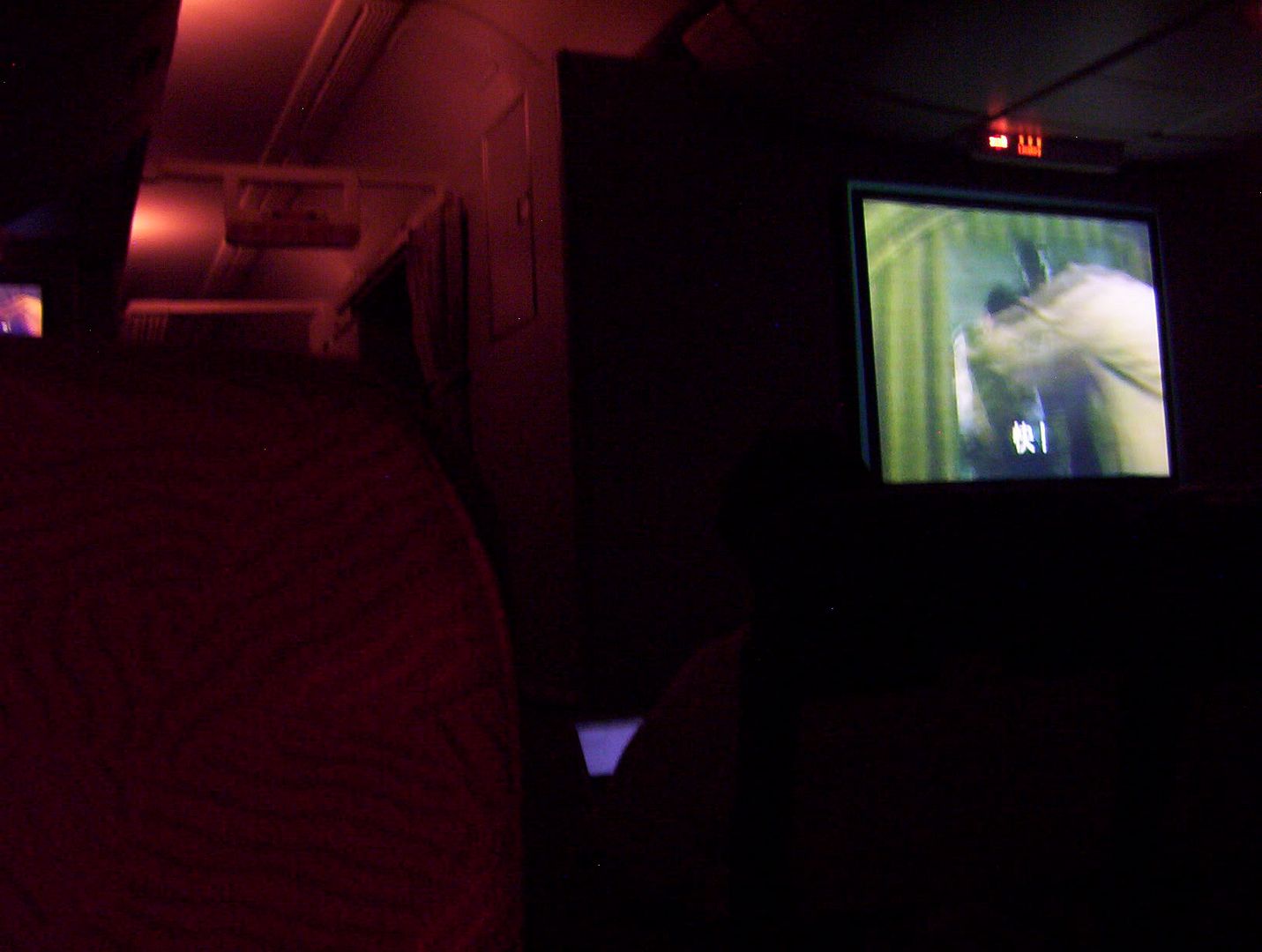 Time continued to fly and before I knew it the F/As began breakfast service. This flight seemed to show how addicted I was to the internet... The flight time is pretty much the average I spend on a day off in front of a PC. Pretty much for the first time, I didn't bother to sleep in a Trans-Pacific flight. I guess one major disadvantage when it comes to me and Connexion...
The early morning sky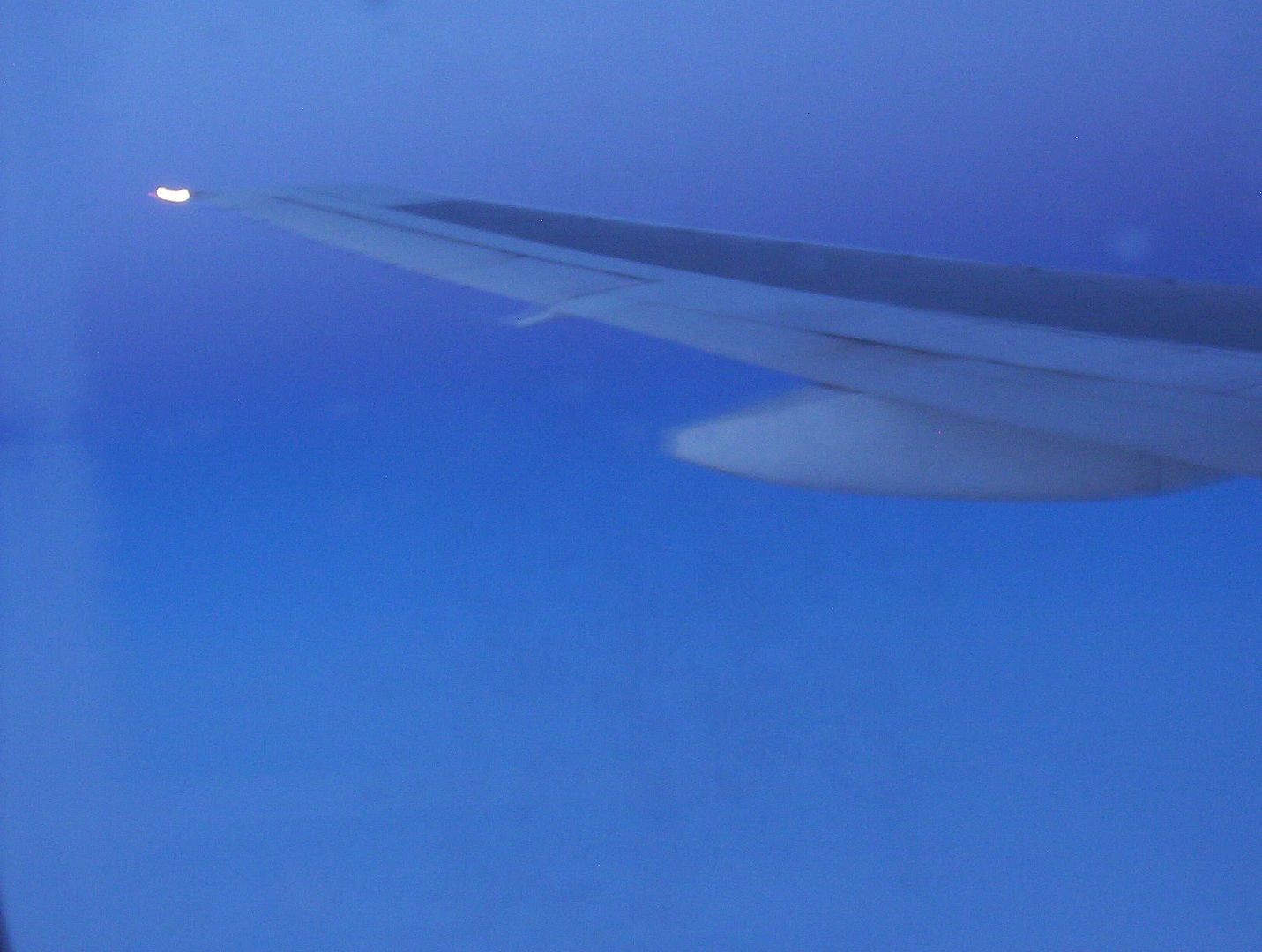 Breakfast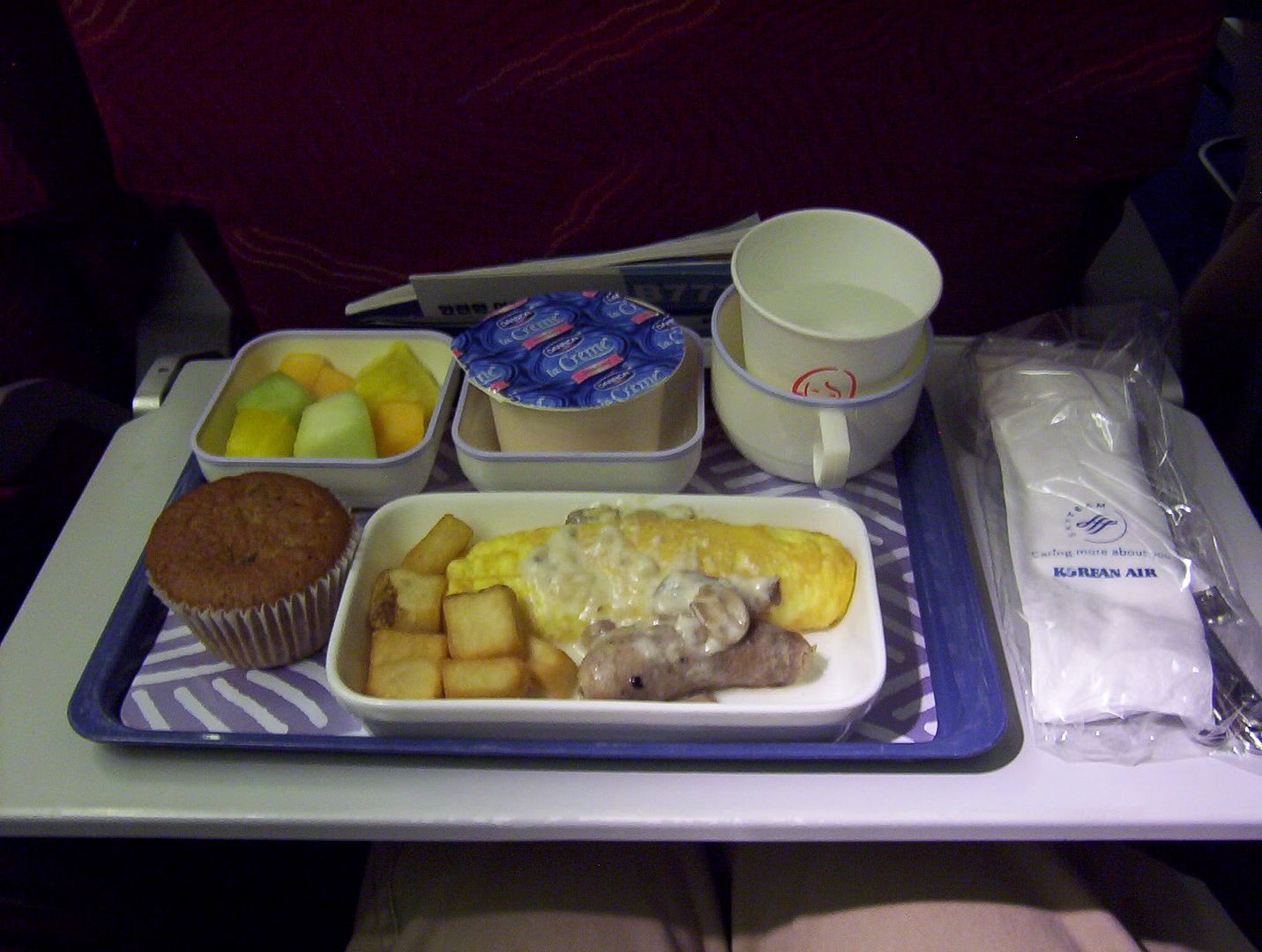 Returning to Japan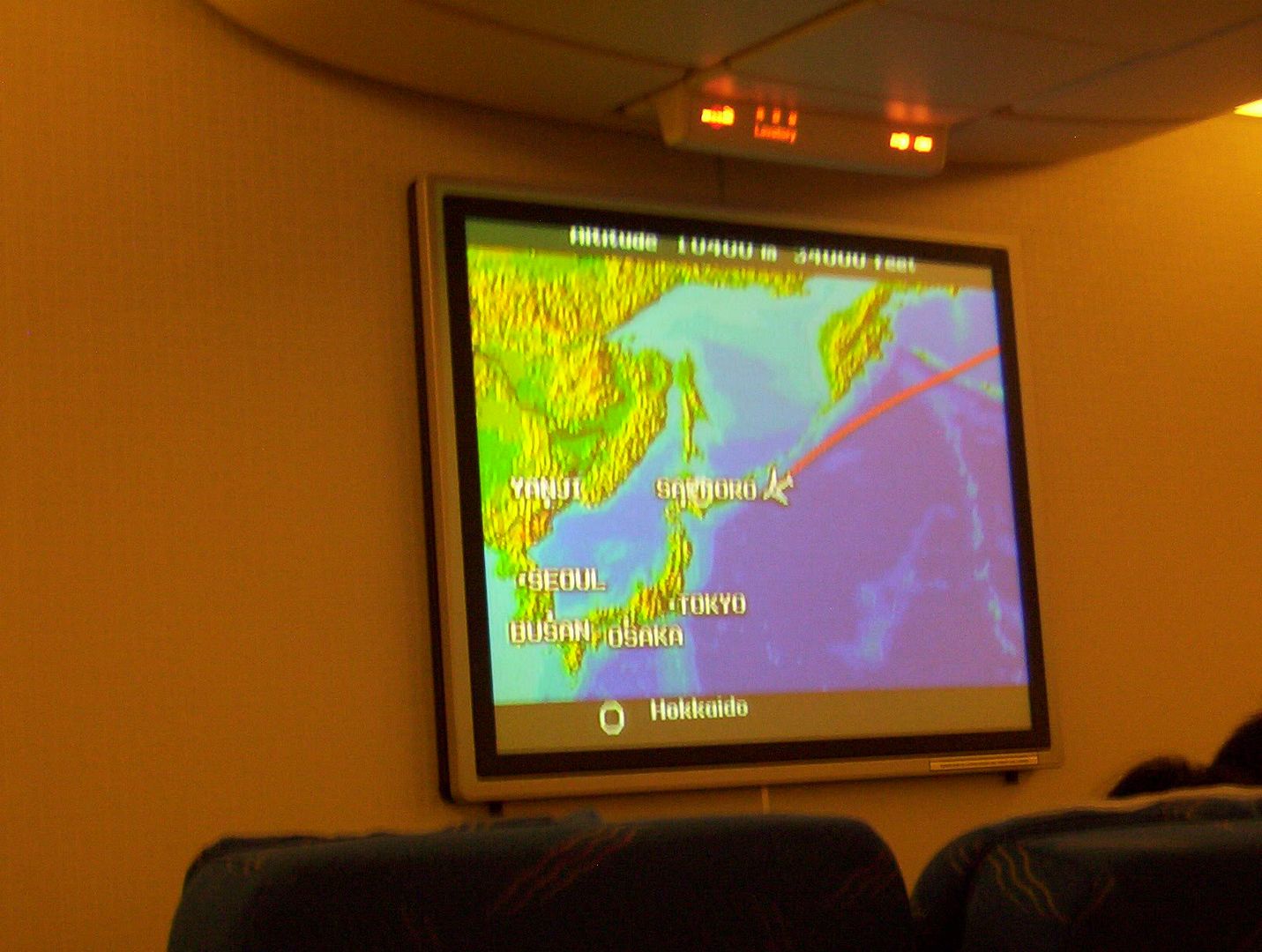 Finally, I succumb to sleep and began to snooze as we approached ICN with the wakeup call being the 777s main gear slamming into the runway.
KE 744 right next to us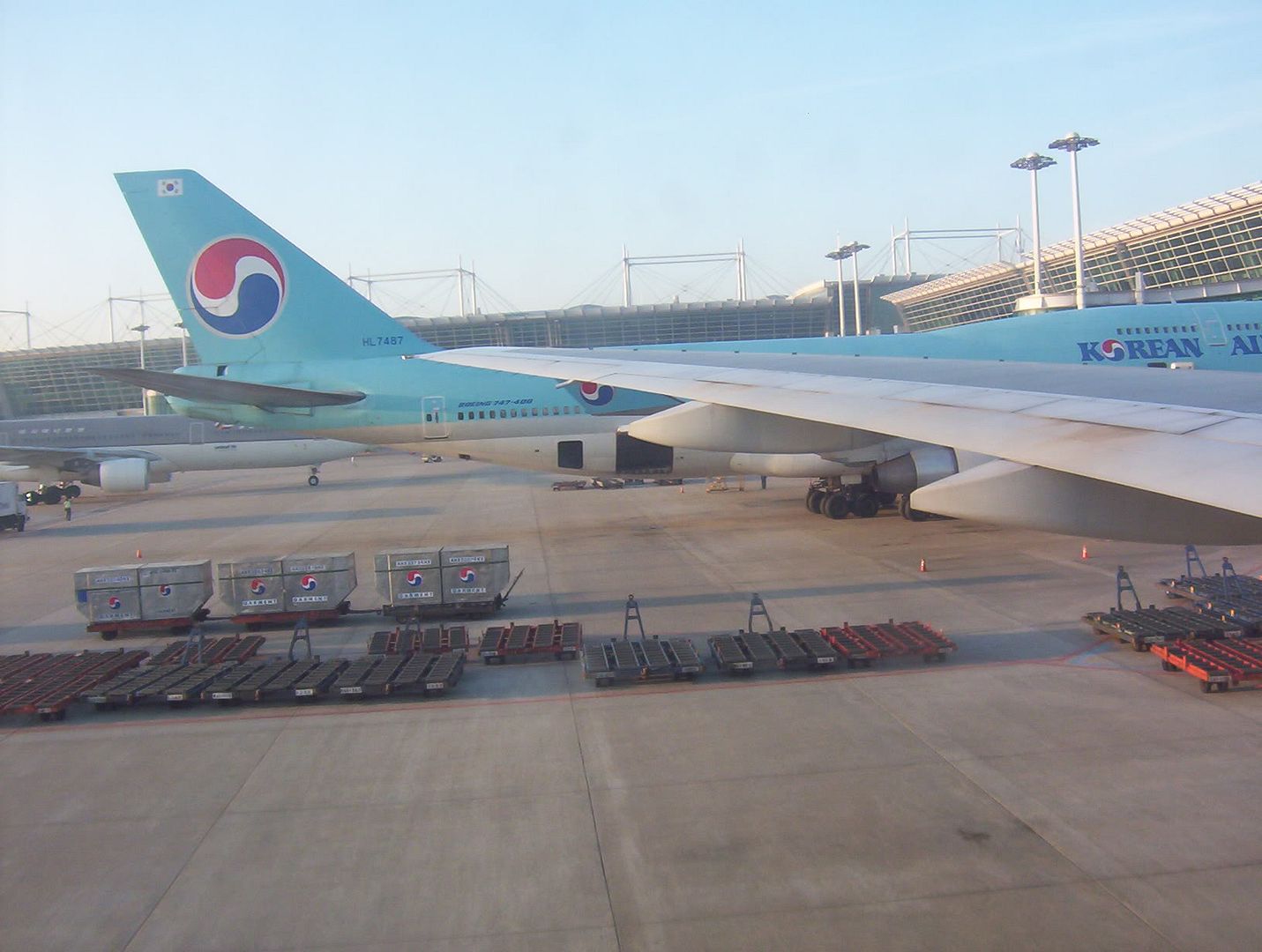 An empty Y cabin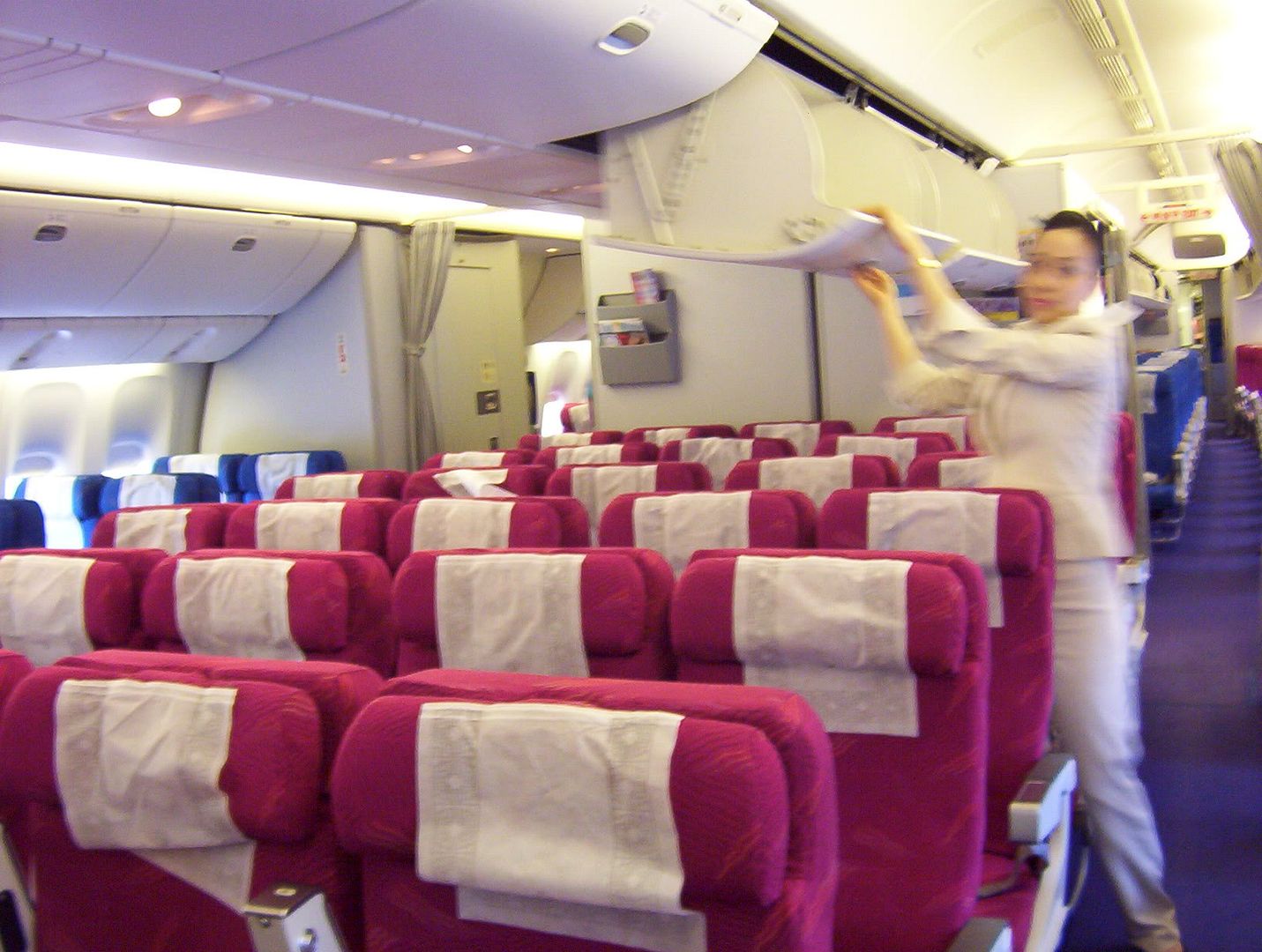 After going through security, I was welcomed by a quiet departure area.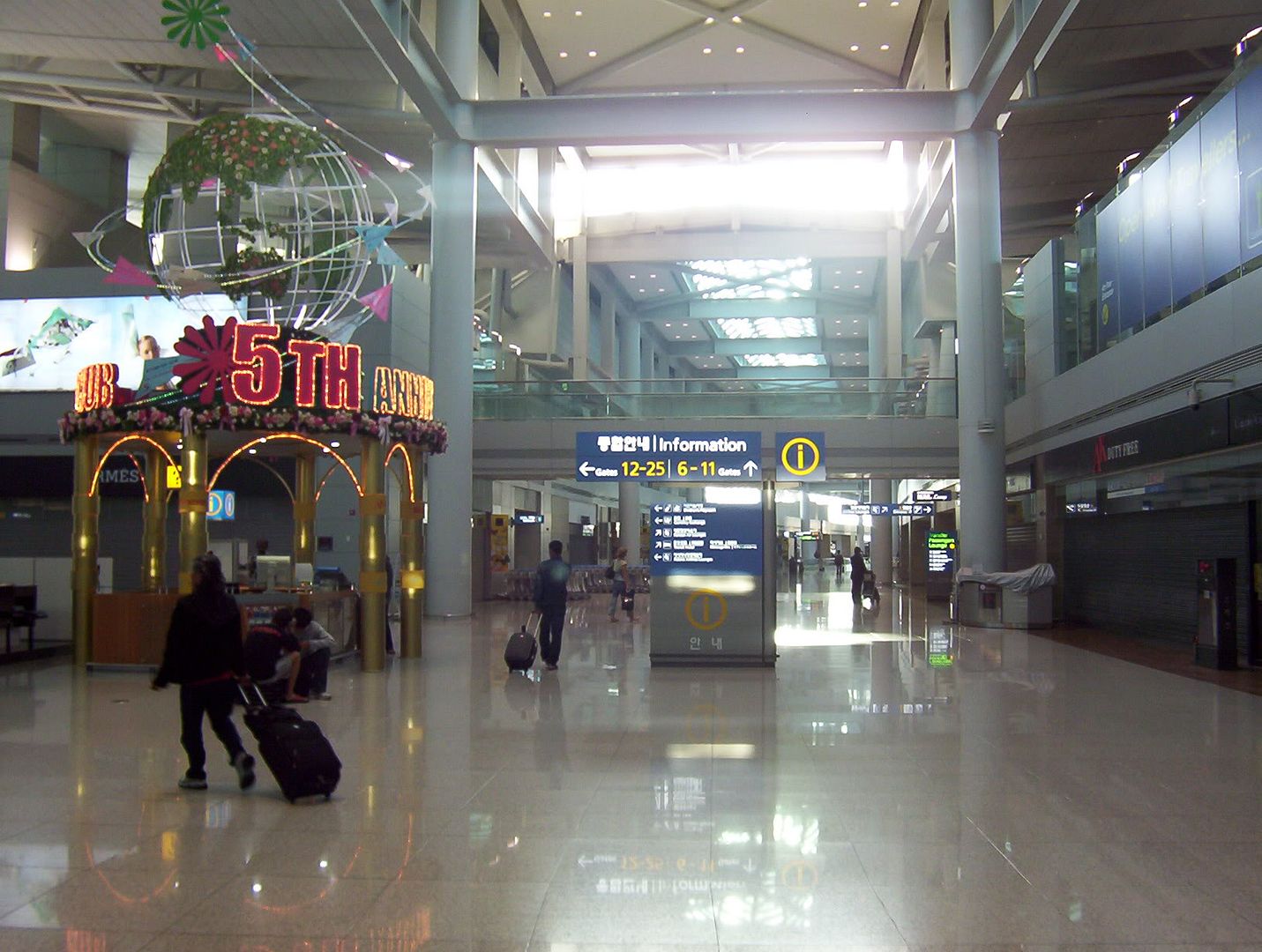 With 5 hours until my flight to CTS, I decided to find a place to sleep. After trying to find an avaliable couch in the transit lounge at the mezzanine level and my lack of sleep getting the best of me, I decided to shell out $50 and try out the transit hotel. Unfortunately the one I first went to was booked so I had to make a long trek to the other side of the terminal where the other hotel was located. The hotel staff was pretty courteous and I was able to head to the room in no time.
Hotel entrance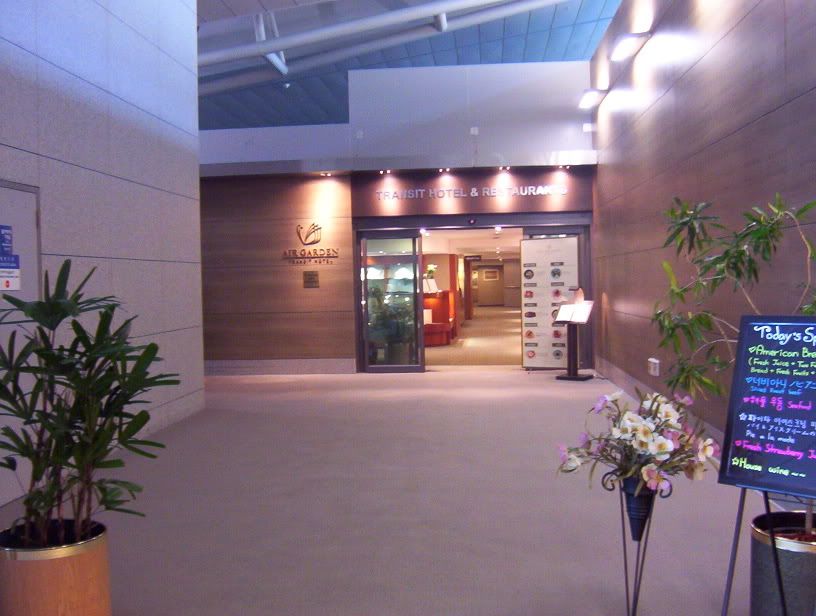 The room itself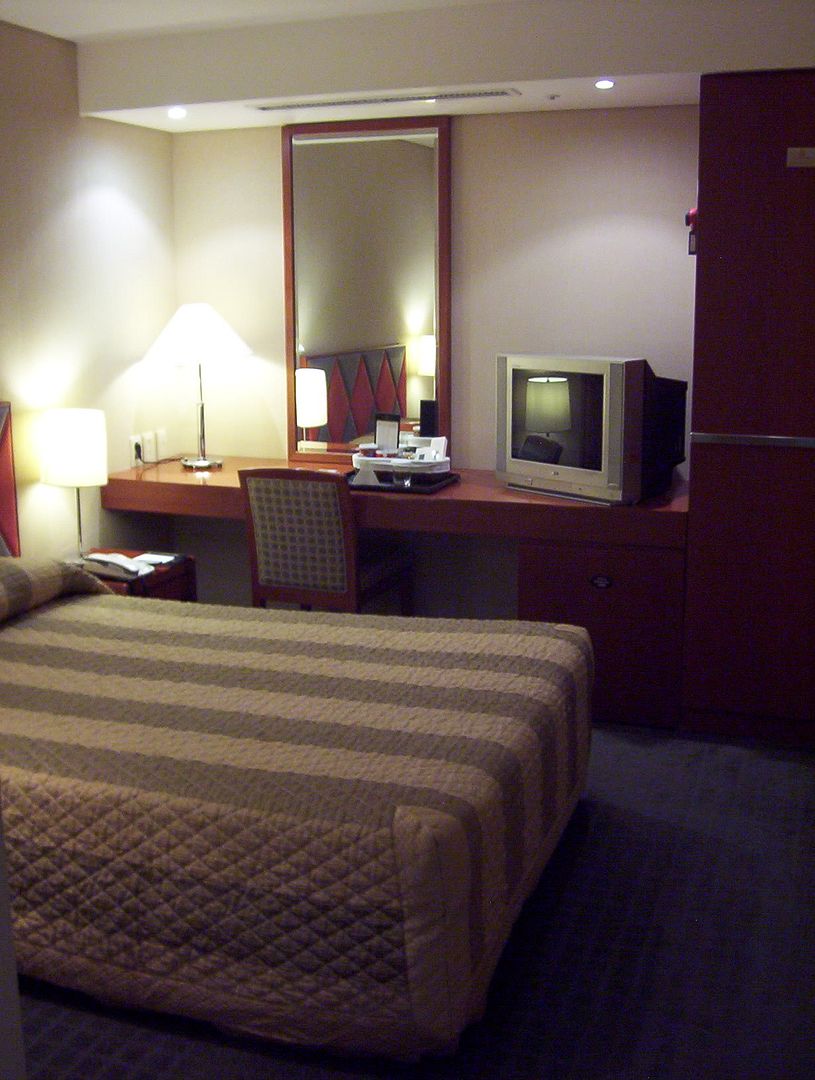 One of these would be nice after a long haul flight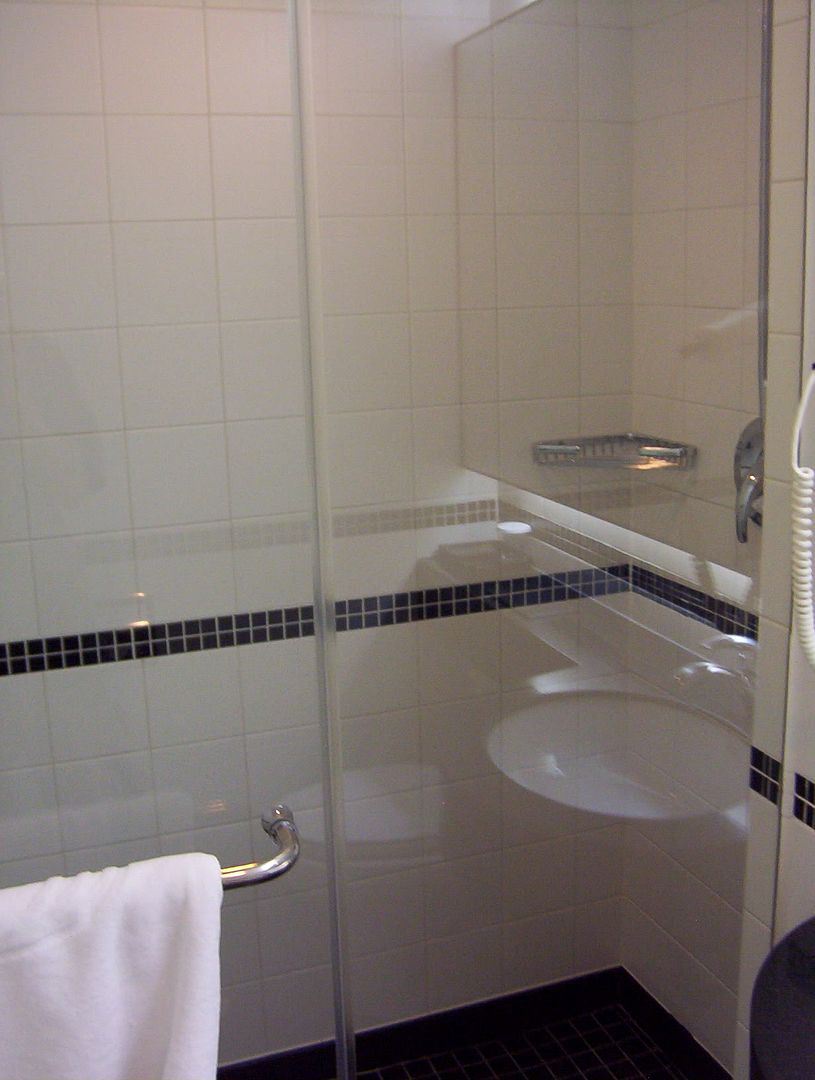 I hopped into bed and attempted to get some sleep in the remaining time before my flight to CTS. After a wake-up call from the staff, I showered, got dressed, and headed back into the terminal. If I only had a longer layover!

KE766 CTS-ICN
20 April 2006
Airbus A330-323X
Economy Class
View Large
View Medium


Photo © Ramon Berk - BerkAviation
I arrived to the gate just in time boarding for KE766 began. It seemed that the load on this flight was going to be high compared to when I flew in from CTS. Boarding itself was once again and I headed to my window seat where I greeted my seatmate. It seemed like a good 10 minutes from when I got into my seat and when the doors were secured.
The A333 that would take us to CTS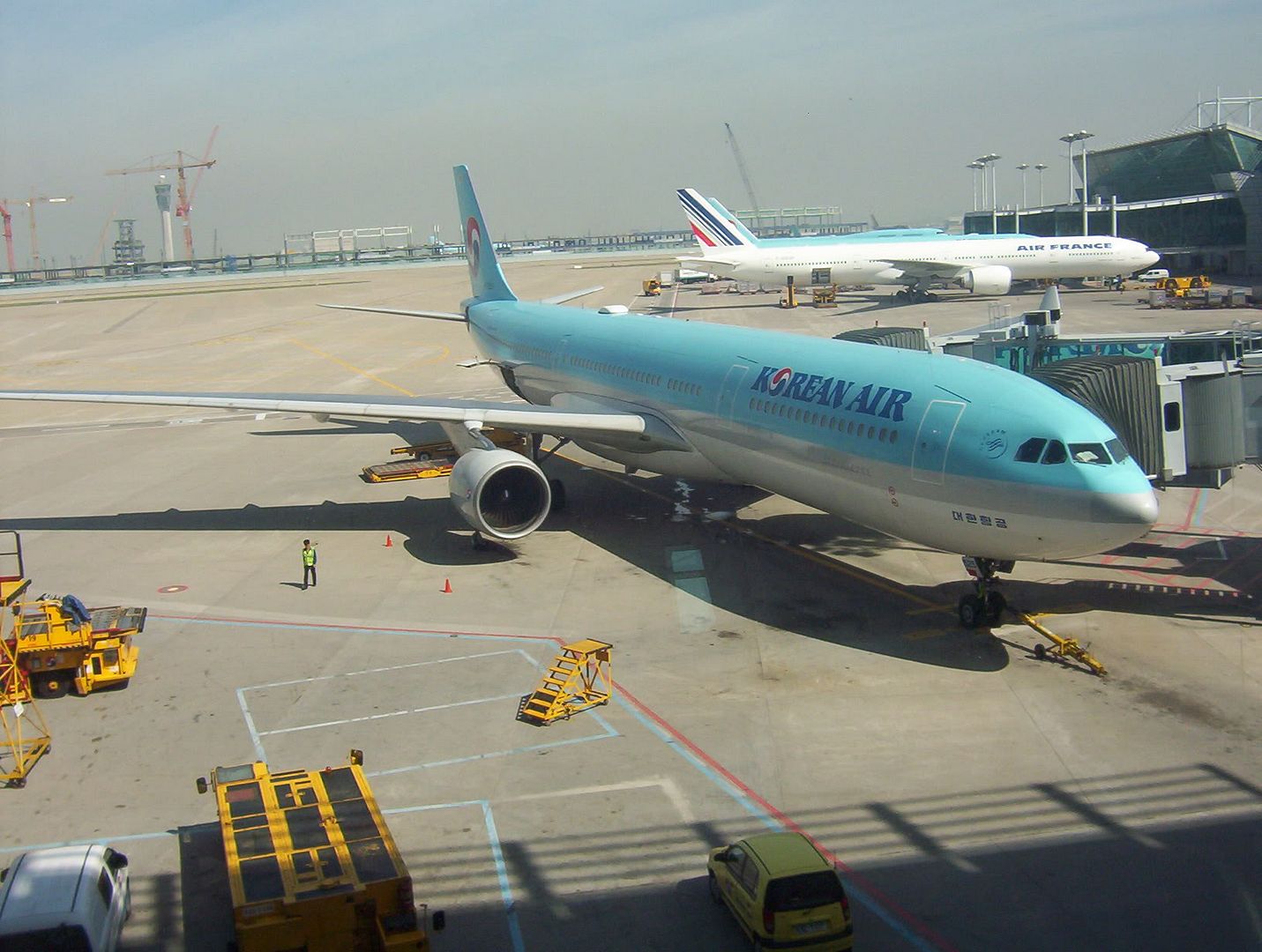 A view of the terminal from my window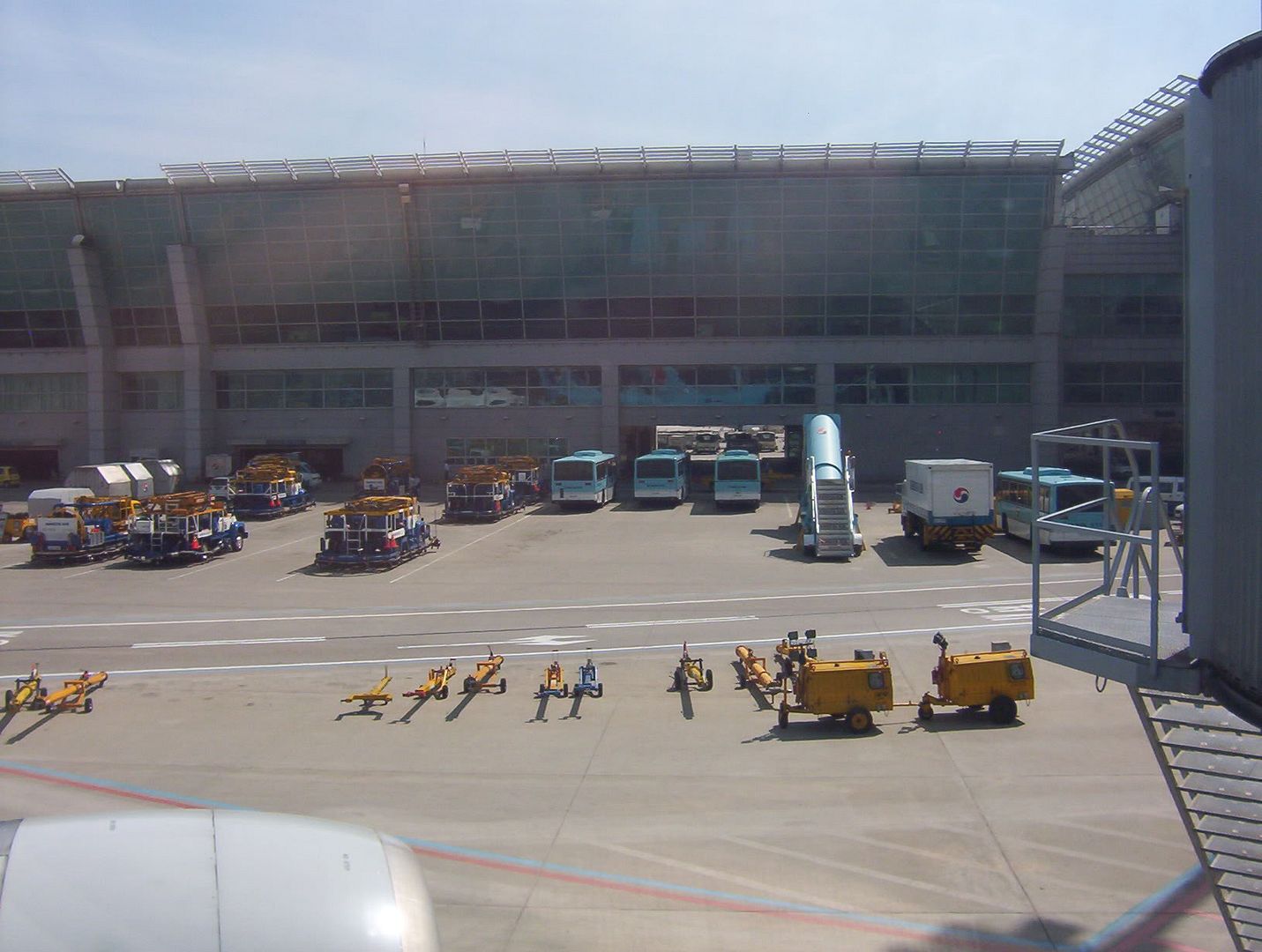 A VN 772 at the gate as we taxied by.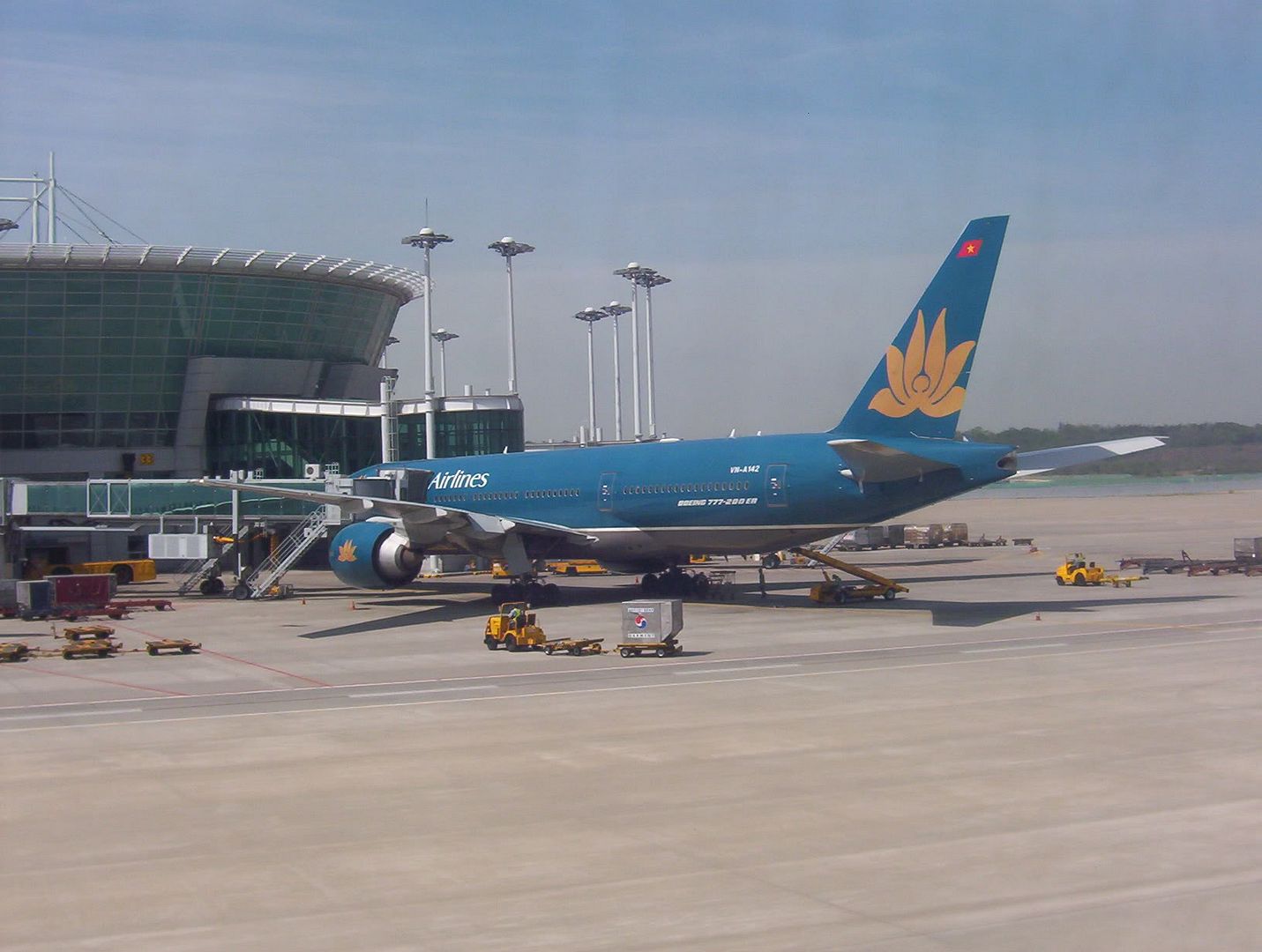 The conga line of KE and OZ a/c we'd be joining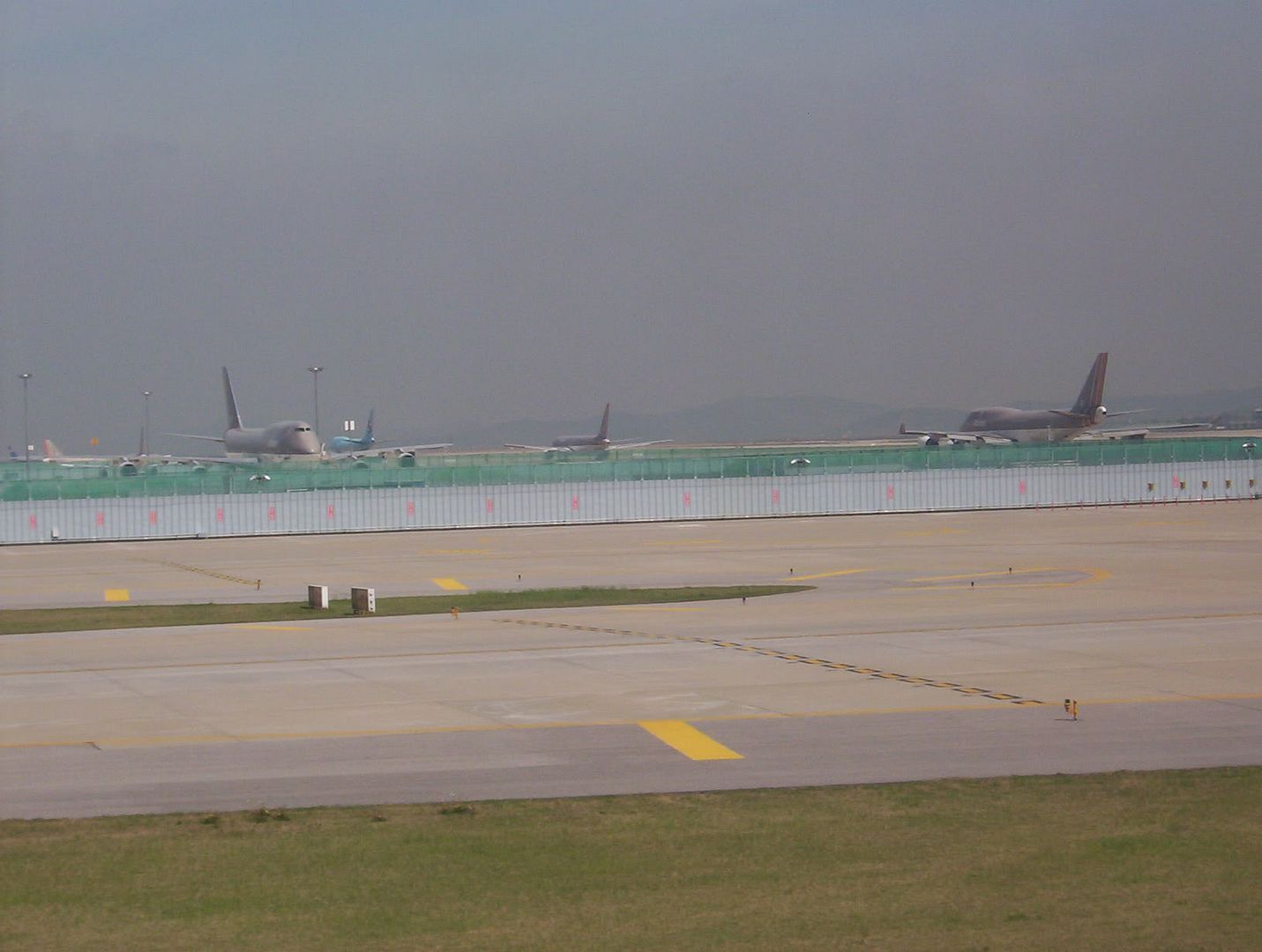 A PB Air 763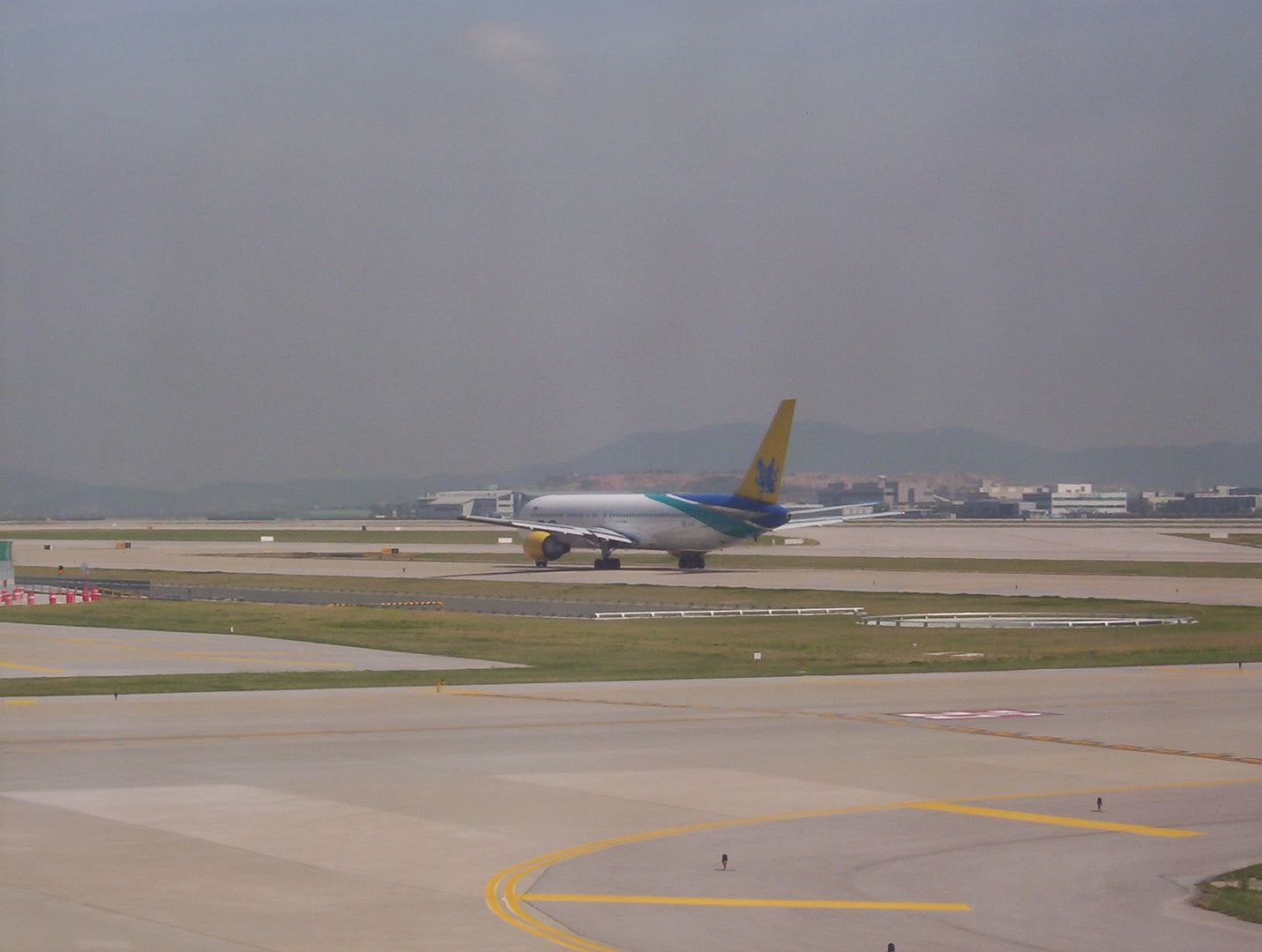 Construction on a new concourse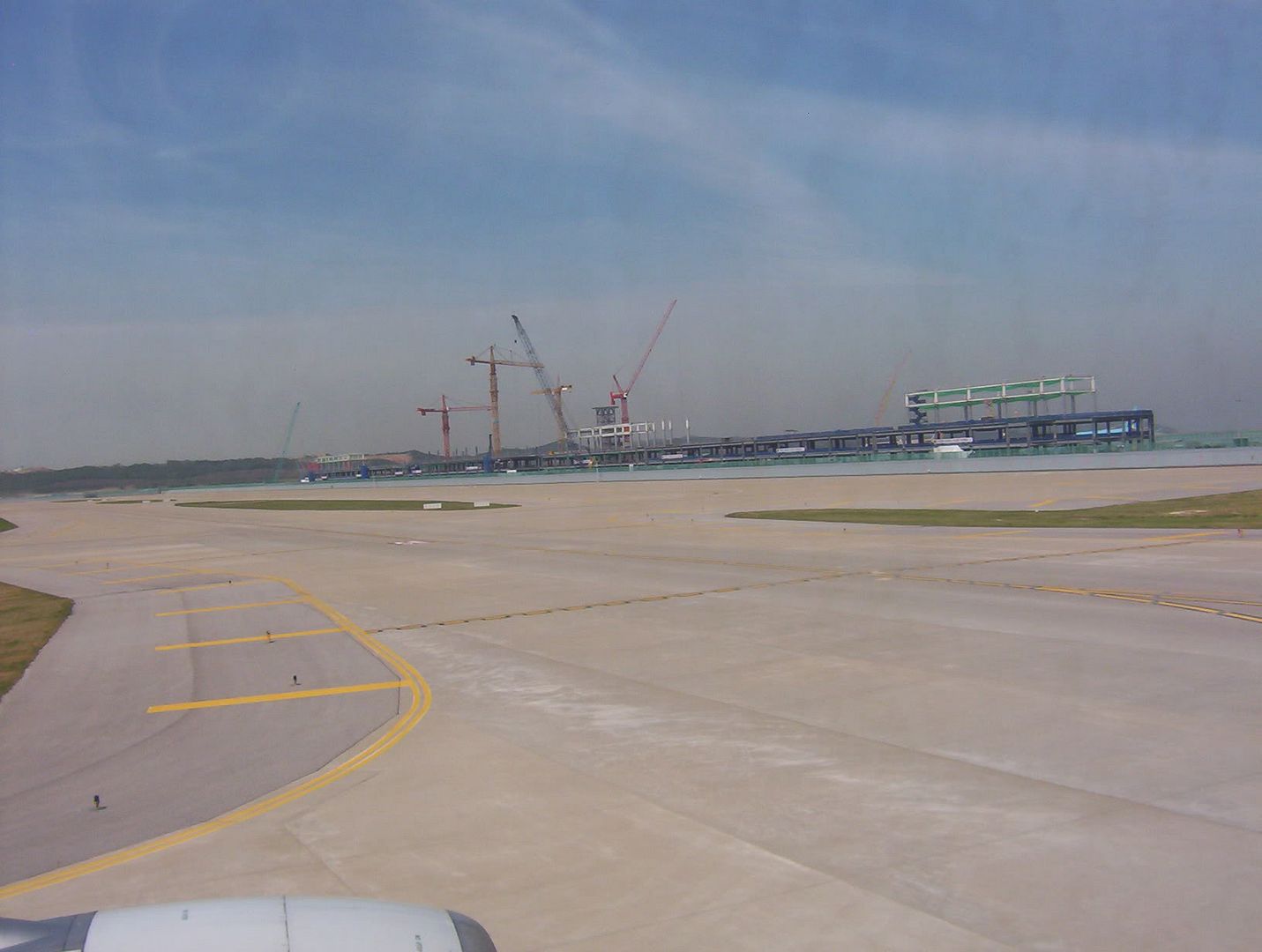 After another smooth takeoff in partially cloudy skies and reaching cruising altitude, the cabin crew makes another surpise and mentions that this A330 is also equipped with Connexion. And when I thought I could finally escape the temptation... Instead of doing some browsing, I was hoping to see how internet gameplay would be like and attempted to load Counterstrike Source on my laptop but unfortunately it had to download a patch which mentioned it would take a 2 hours to download. I finally succumbed to more browsing in Airliners.net where I found TK's
commercial
. Since I loved the soundtrack used, I decided to loop it on Quicktime and kept on replaying it for quite some time...
In the skies over Korea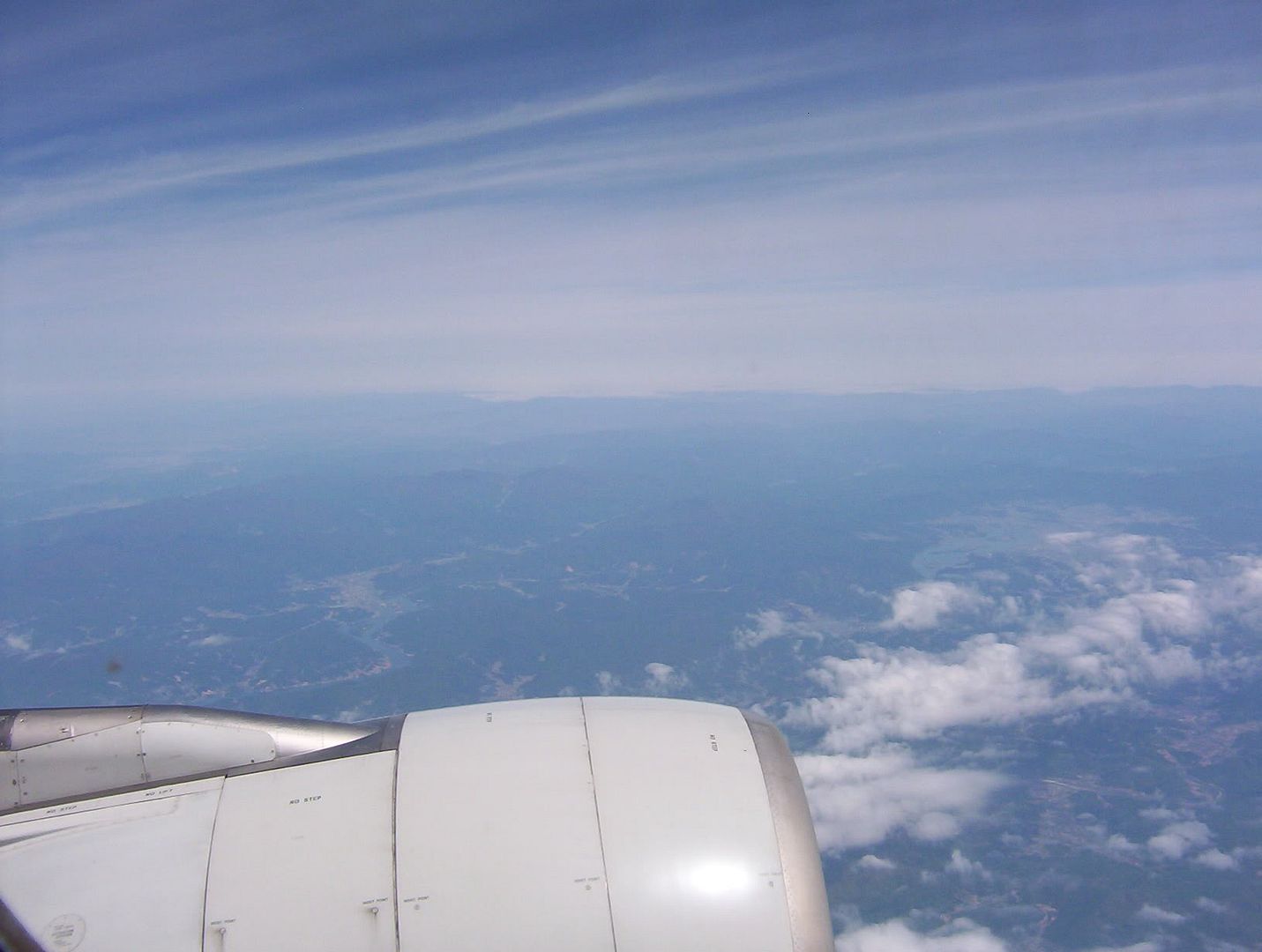 Lunch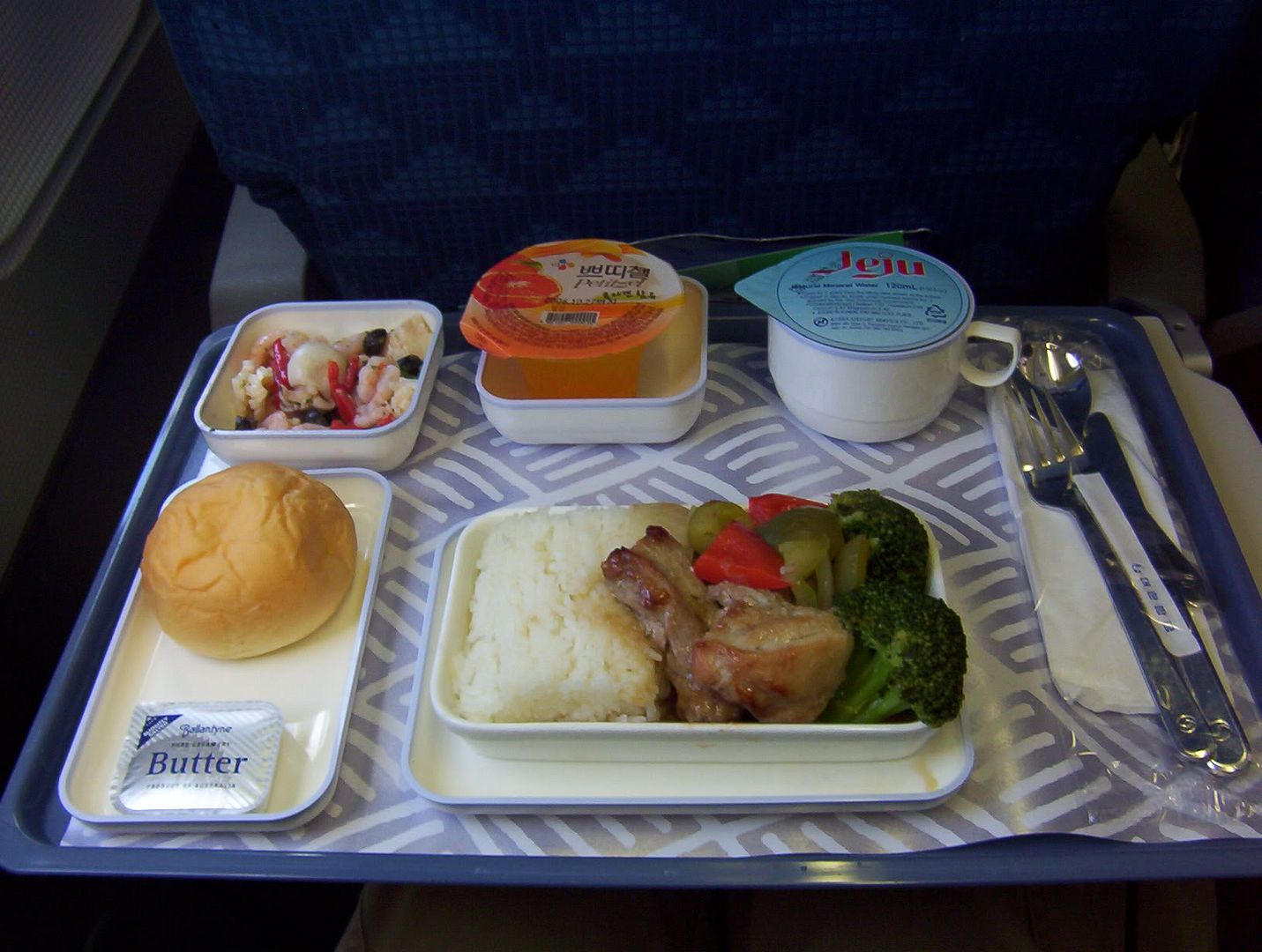 A view of the cabin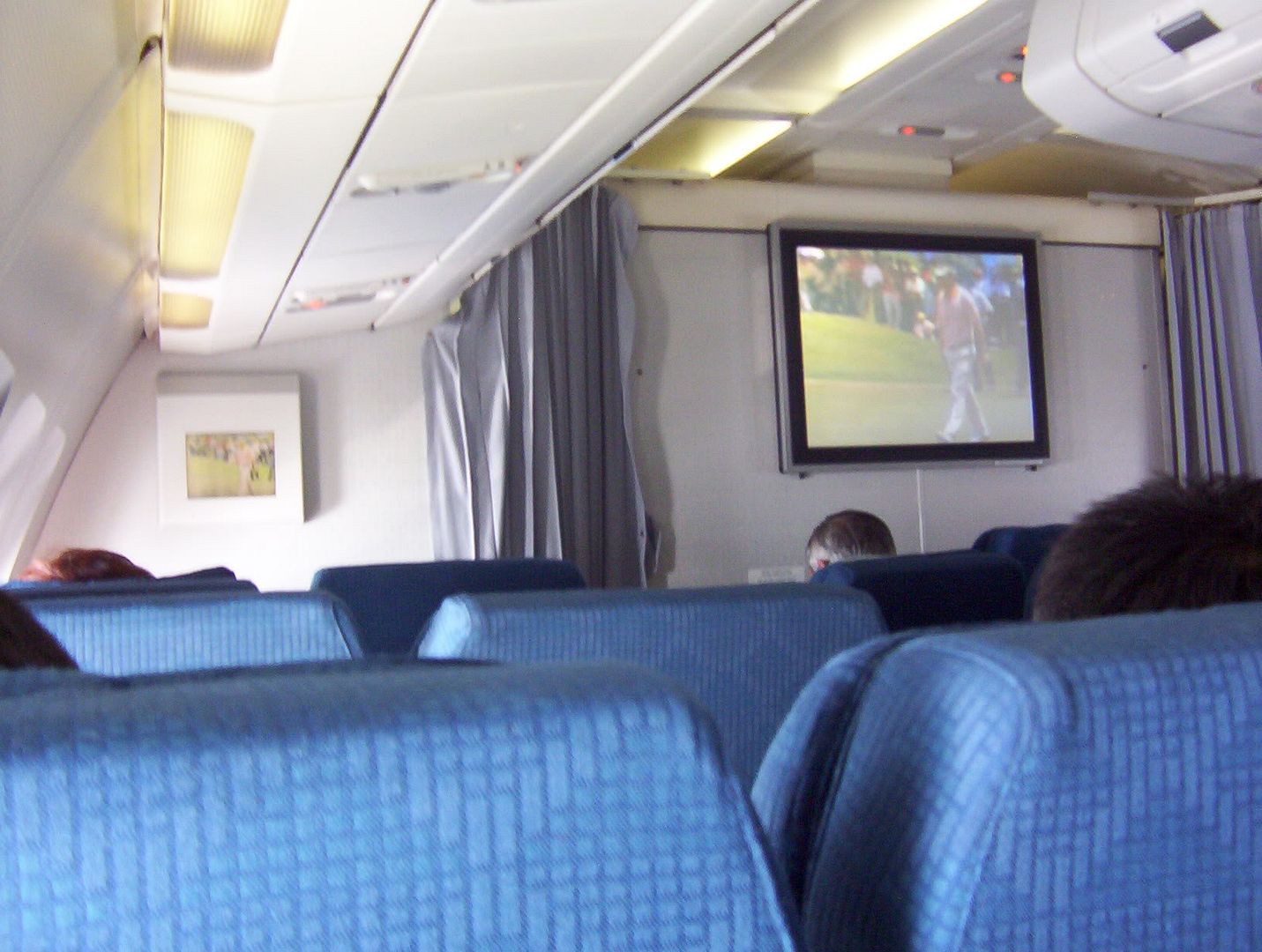 After an excellent meal, I did more catching up on my sleep as I waited for the Counterstrike patch to finish while the TK ad's BGM was still on a loop. I finally woke up only to be welcomed by the Hokkaido countryside once more.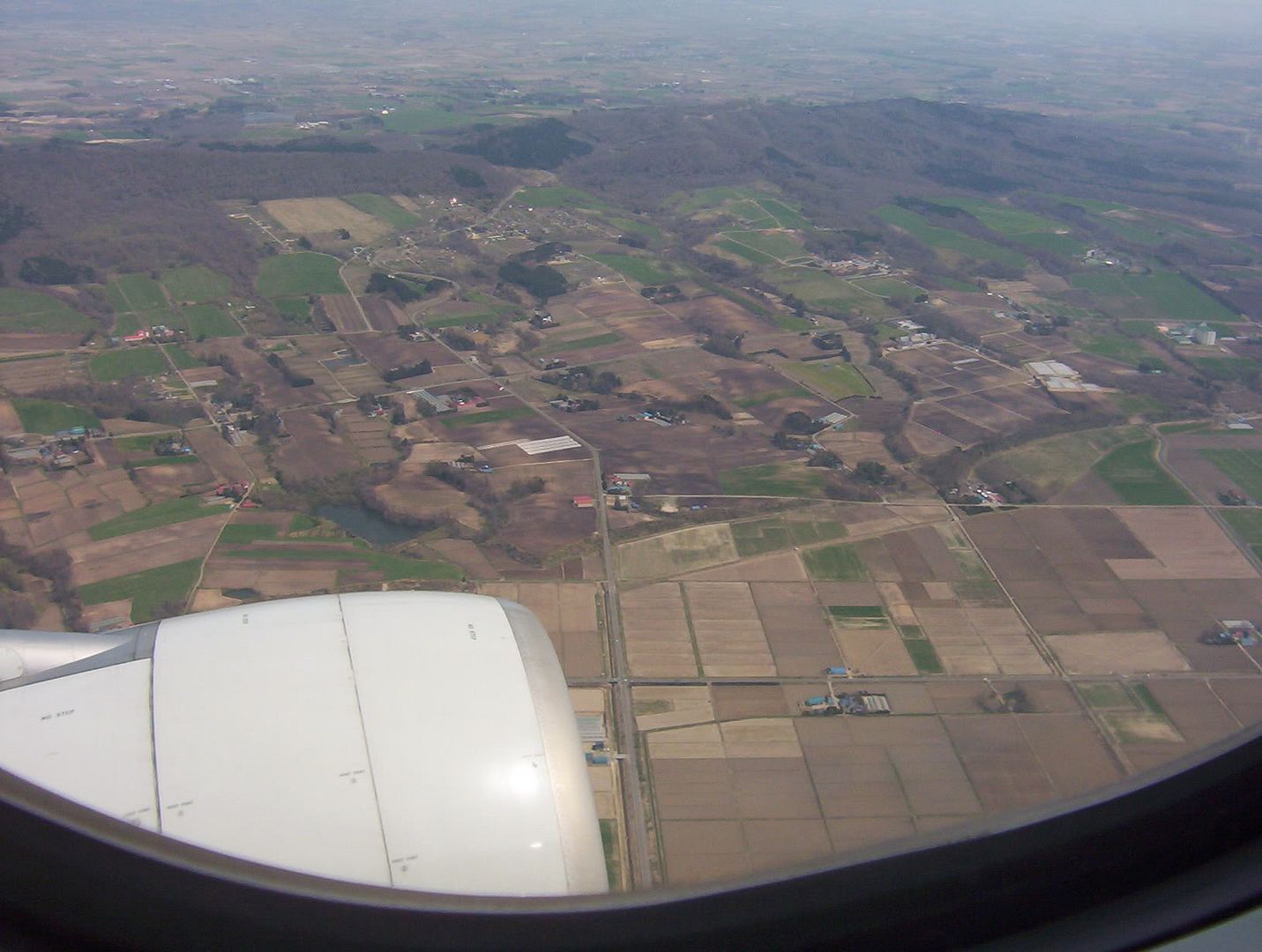 After landing and a quick taxi to our gate, pairs of Japan Air Self Defense Force (JASDF) F-15Js were taking off of Chitose Air Base's runway and was followed by the 747-400 VIP transport. I was only able to get a shot of her after she already climbed up a bit.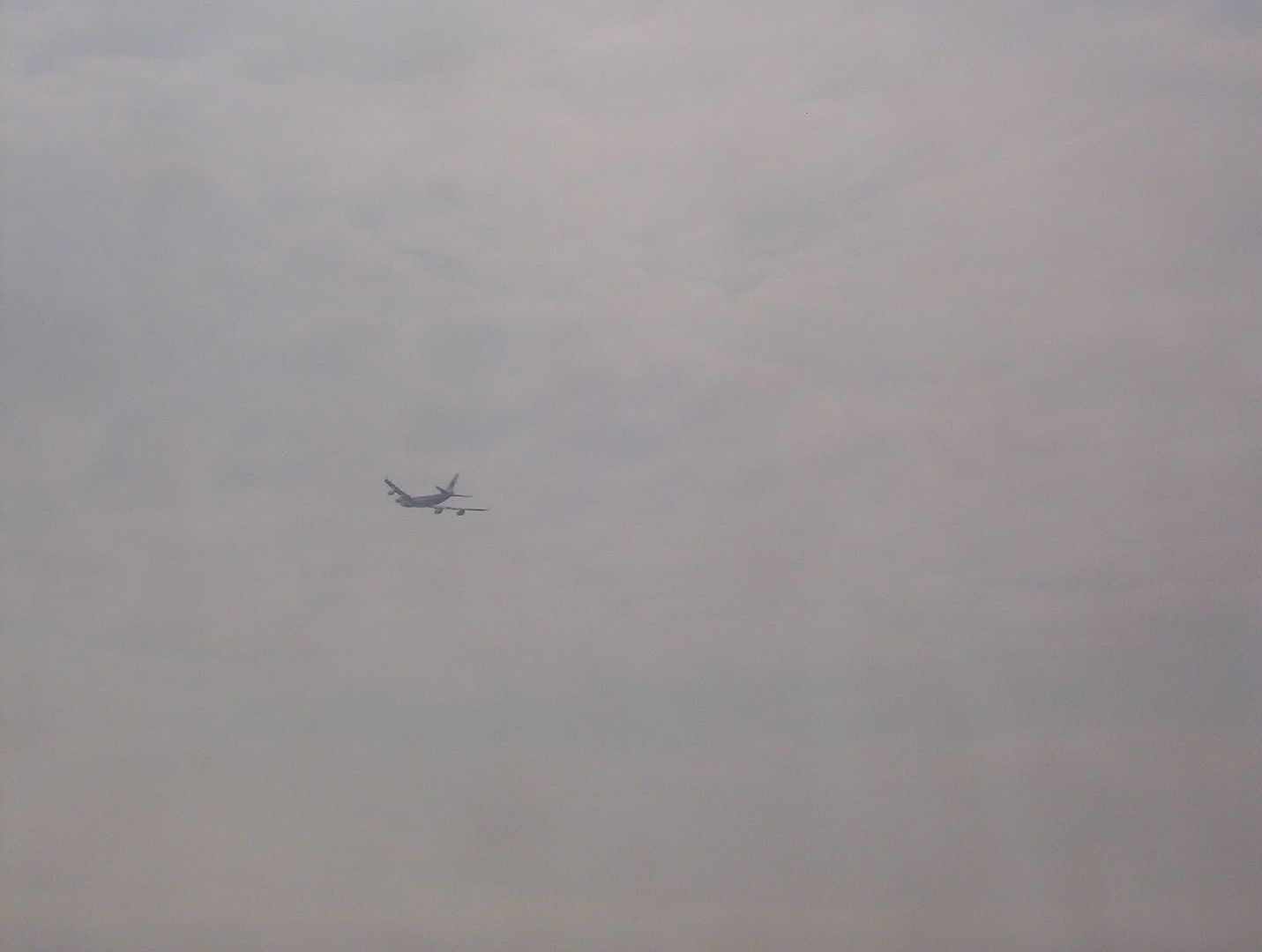 CTS's terminal with some NH metal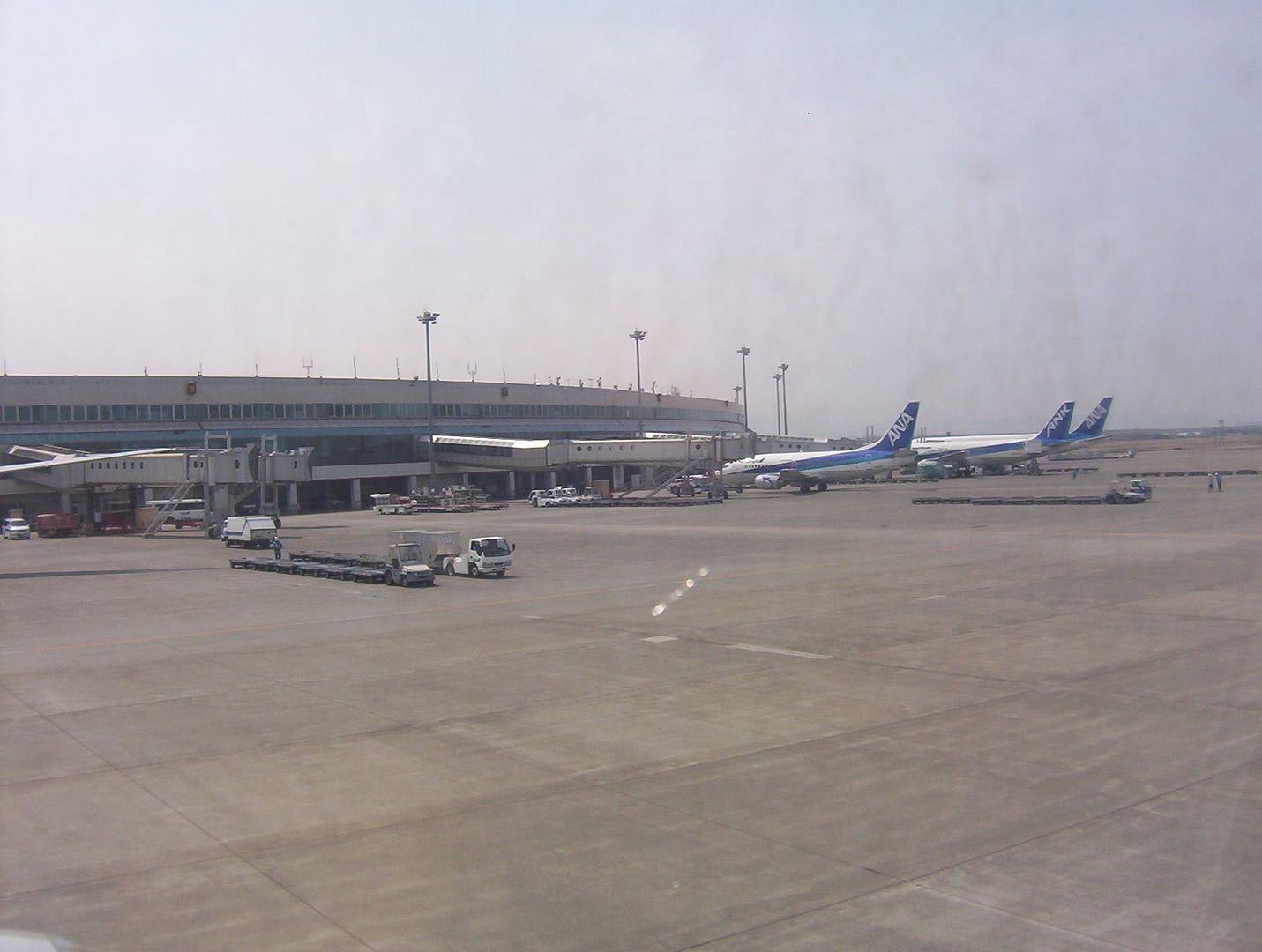 Ramp agent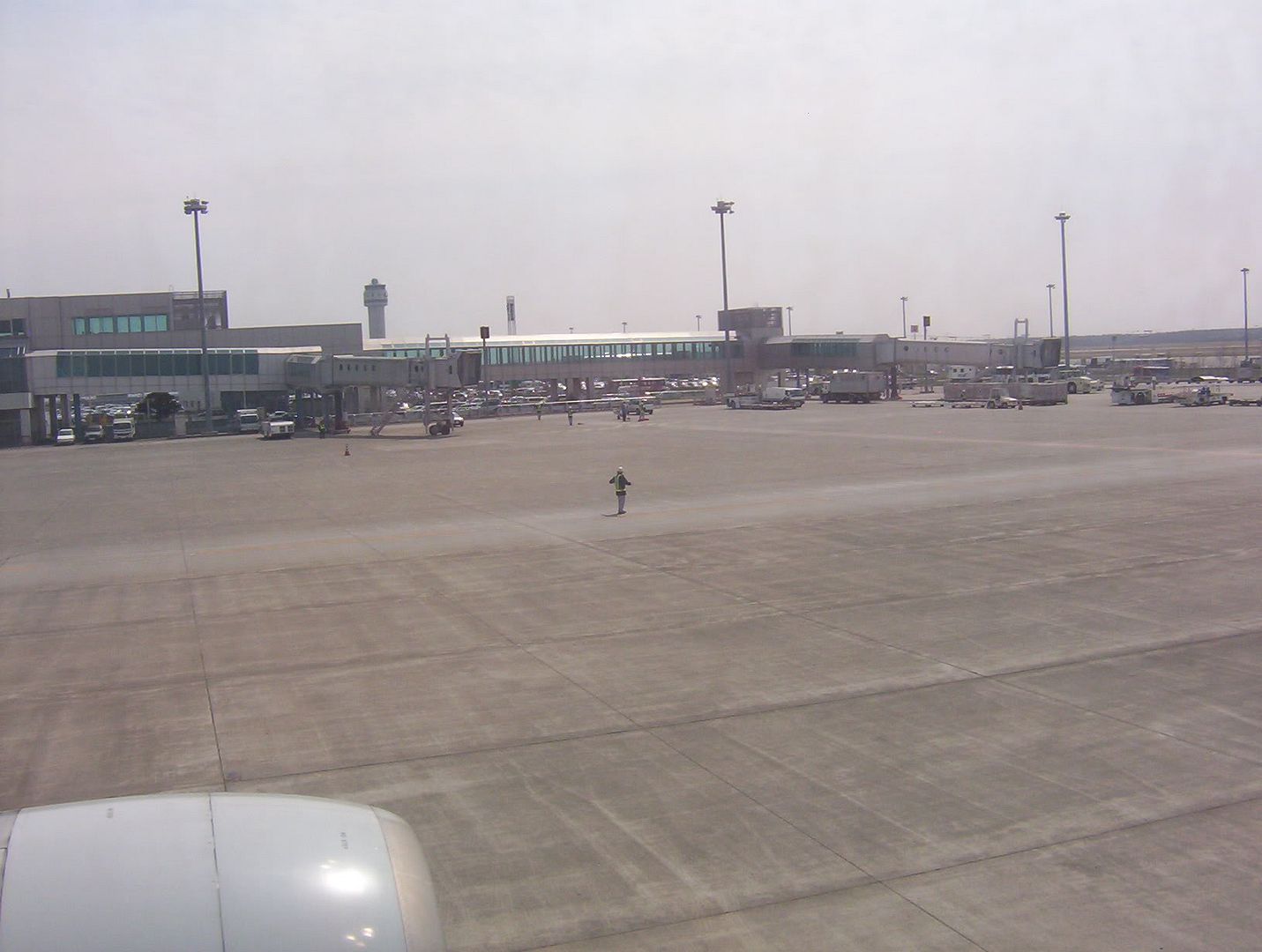 Our A333 as I disemarked.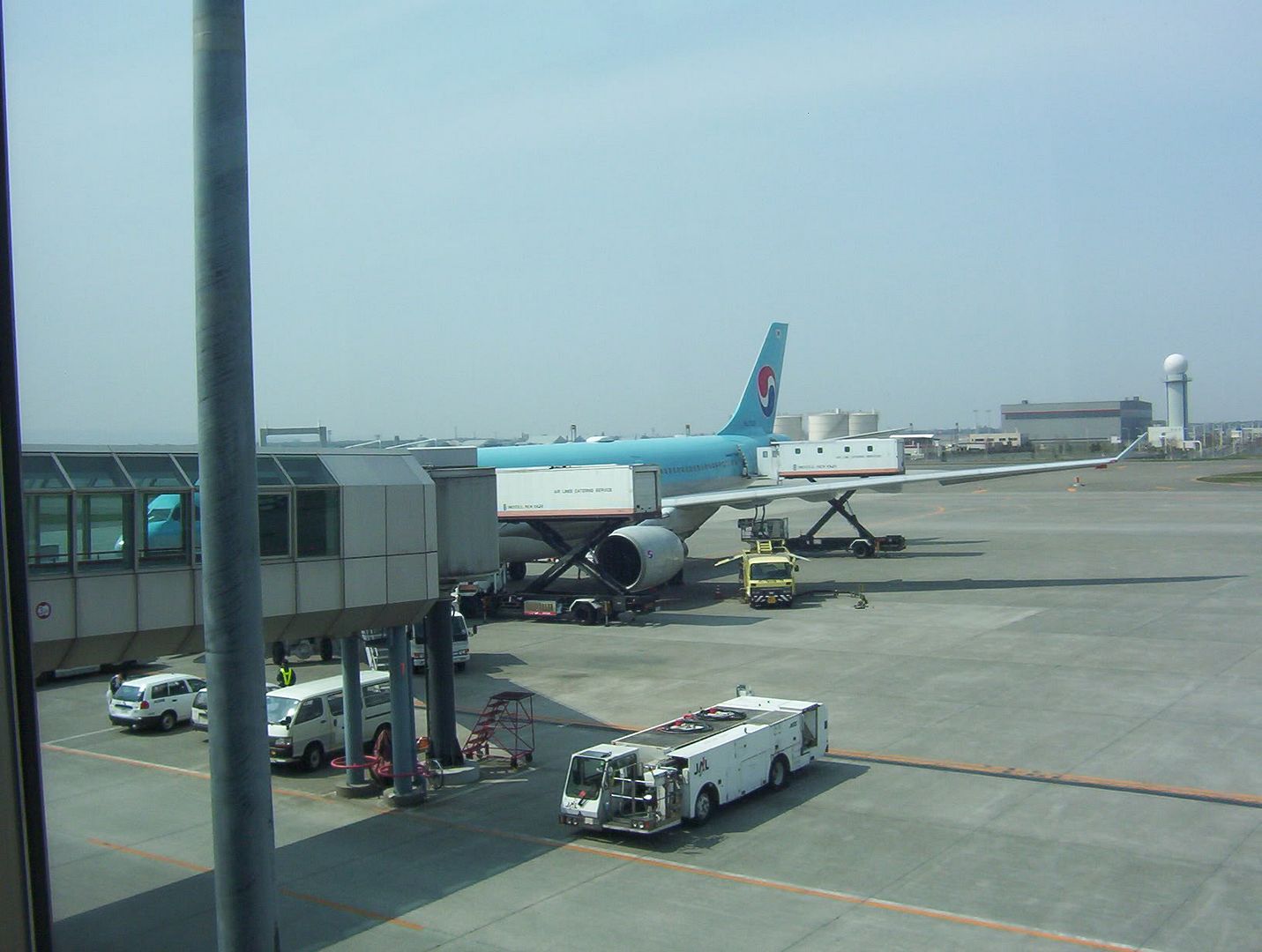 Thankfully I was one of a handful of passengers that was able to use the Japanese citizen/visa lanes as the regular visitor lanes were filled with Korean tourists which made the process a bit smoother. After grabbing my luggage and going through a customs inspection, I was able to catch the shuttle back to the ward where my school was located. After being dropped off and doing a bit of some walking back to the school, I was welcomed back by my friends. As I finish this report, it struck me that the last thing before I began my trip was that I spent some time with some good friends from my old high school and in 32 hours at the moment I arrived back in my home at Sapporo, I was welcomed by the friends I made in Japan. It's just a great feeling to know in this trip, I had people close to me to wish me a safe journey...and to welcome me back home, whether it be Palmdale or Sapporo. I guess this is where I go cheesy and dedicate this report to them.