As I promised in my
last
trip report, here is a trip report from Dubrovnik.
Bjanka, Anja and I were supposed to buy plane tickets ourselves, but Croatia Airlines prize game spoiled our plans.
This year Croatia Airlines is celebrating 15 years of flying under its current name (for a short period of time they were called ZAGAL and they were flying for UPS and transporting exclusively mail).
Croatia Airlines posted prize questions on their website every day from the 5th of May till the 19th of May at 12 o'clock. The person who would e-mail its response quickest would get a free return ticket on one of the domestic lines.
And that's how we played and gained. 
It finally arrived, the 15th of June - the day of our journey.  
Our school finished the day before so we chose the afternoon flight for take off. We didn't want to take earlier flight cause the night before we were celebrating the end of our school year.  
Rijeka and Zagreb are divided by 165 km. We arrived in Zagreb with a new Toyota Yaris who was driven by Bjanka's mother.
We left from Rijeka at 11:30 and arrived at the Zagreb airport Pleso at 13:20.
We then went to the counters to check-in, and after that we decided to rest at a cafe which was located on the 1st floor. We had a view from which we saw the whole apron.
Austrian's plane before returning to Vienna.
We took some pictures of ourselves in front of the board with arrivals and departures cause it was the girls 1st flight with an airplane.
Anja, me and Bjanka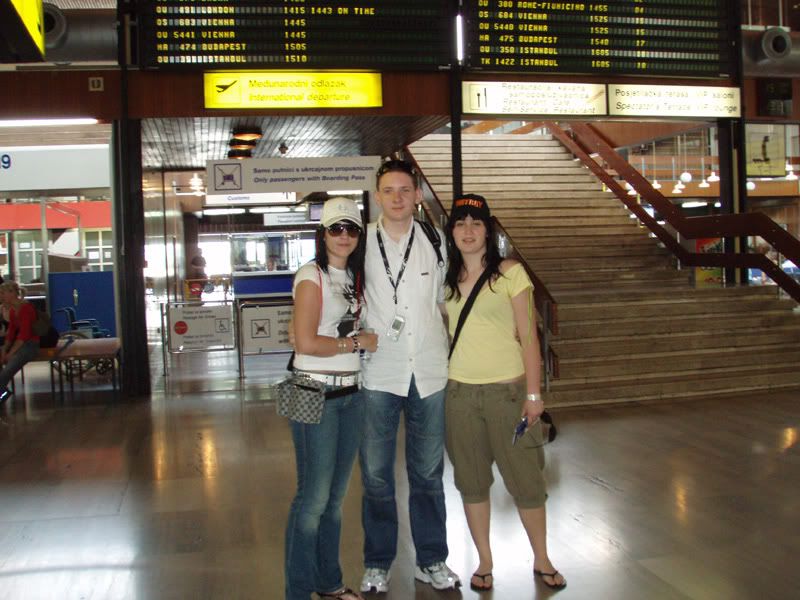 Thursday, 15.06.2006
ZAG (Zagreb - Pleso) - DBV (Dubrovnik - Æilipi)
OU 668 operated by Croatia Airlines
Airbus A319 9A-CTI "Vukovar"
Scheduled: 14.45 // 15.40
Actual: 15.10 // 15.57
Gate: 02
Seat: 20 C
Fare: free, award ticket
Load Factor: 90,15 %
Delivered new to Croatia Airlines: 15.6.1999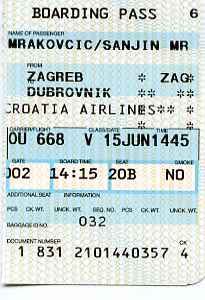 At 14:40 we went towards the waiting room for domestic departures. The waiting room was full because people were waiting to board on their planes for domestic destinations; for Split, which later went to Rome, and for Dubrovnik, our flight.
Airport bus soon arrived and took us to the plane. Boarding began.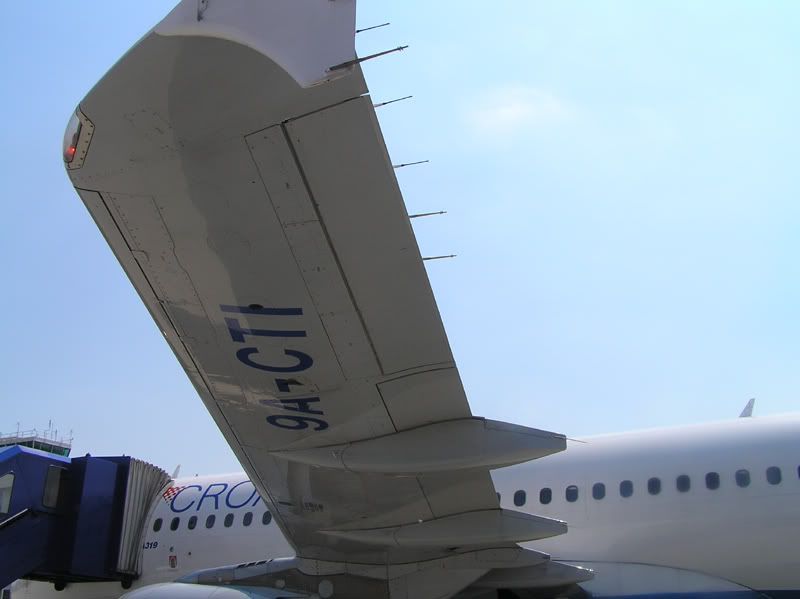 We sat on the seats 20A, 20B and 20C.
After moveable stairs detached from the plane, the security presentation began on the monitors above the seats.
Before taking off, the monitors closed.
We took off from the runway 05 in the North-North East direction. 2 minutes after taking off, the plane turned in the SE direction.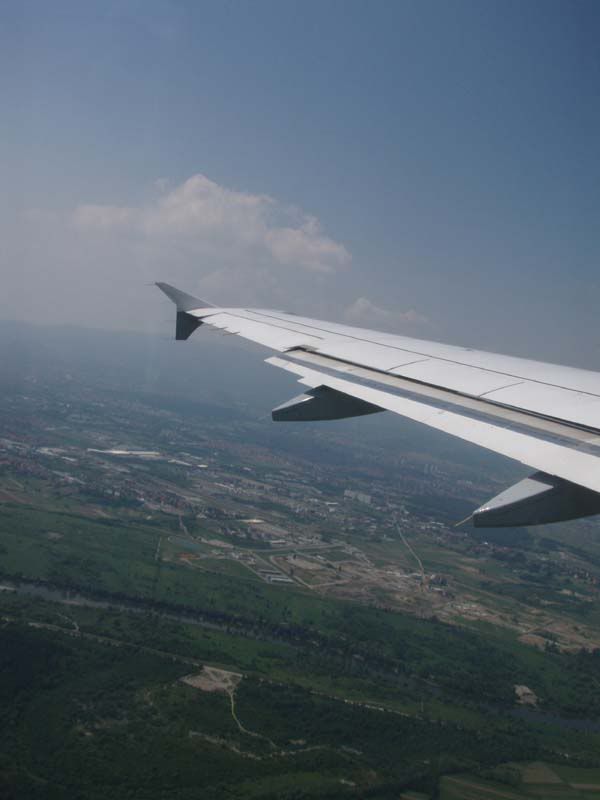 Sign 'Please fasten your seatbelts' went off. Boarding crew (flight attendants) started offering passengers with water and Orbit drops.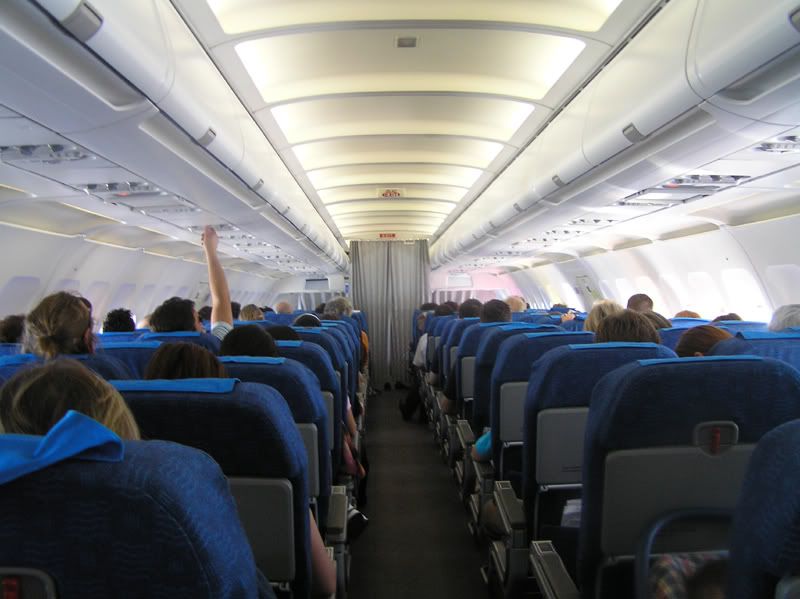 Captain informed us that we will be flying on a height of 8500 meters with a speed of 800 km/h.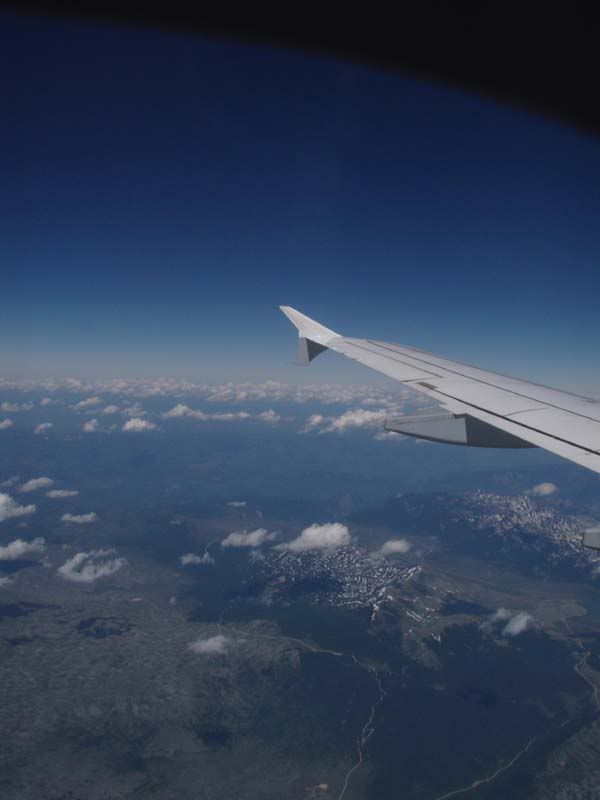 It was a sunny day in Dubrovnik, the temperature was 29 °C and breeze was blowing.
Today's route was Zagreb - Banja Luka – Mostar - peninsula Pelješac -Dubrovnik.
20 minutes after taking off, the plane started slowing down.
River Neretva just few kilometres before its mouth becomes a fertile delta.
Cruiser in Dubrovnik port Gruž.
Before landing on the runway 30, the plane made U-turn. Because of that, we could see the old part of Dubrovnik very clearly.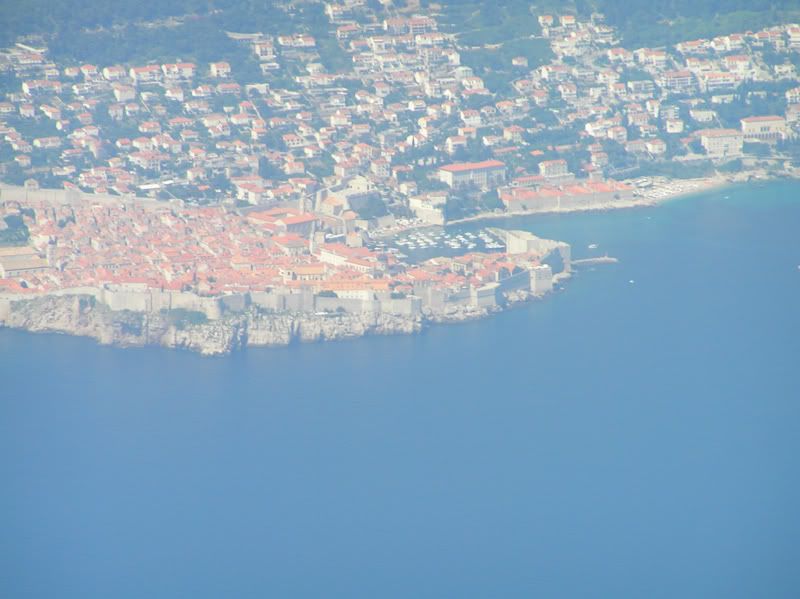 Airport view during turning downwind...
…another Austrian bound to Vienna…
...and turning base.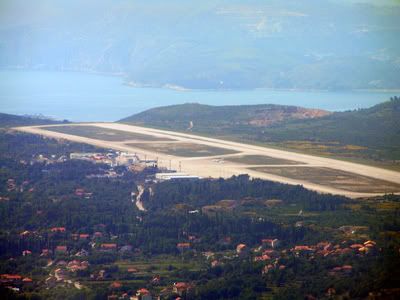 Some general aviation...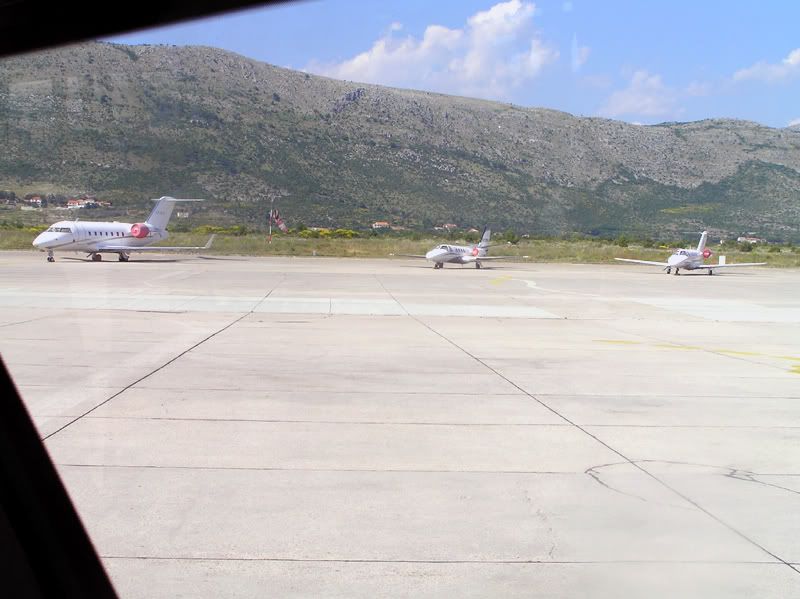 After we left the plane, we got on a bus that drove us to the terminal.
Old (but restored) and new control tower
We only had hand luggage so we walked through the building and took a bus that drove us downtown.
For anybody's information, bus ticket costs 35 kn/4,80 €, and taxi ride costs 200 kn / 27,60 €.
View from the bus.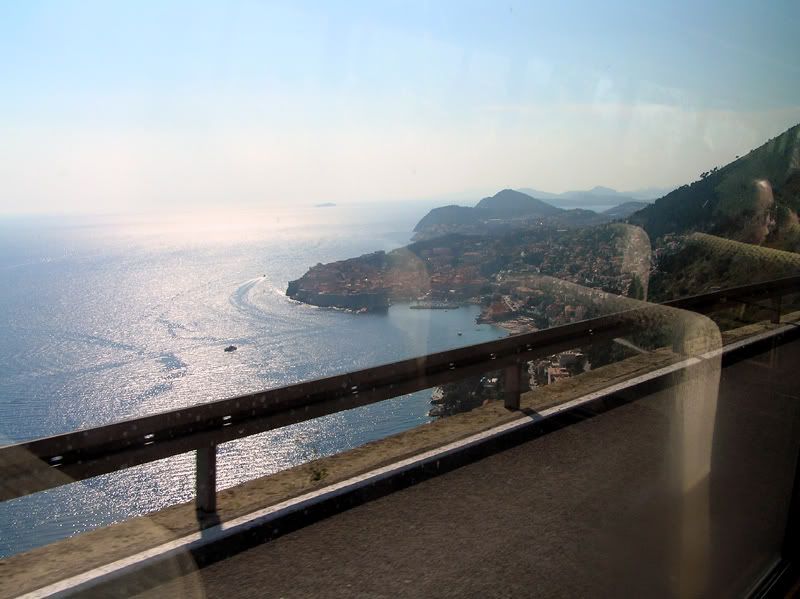 Bus stopped on Pile station in front of the main entrance which led to the old part of town.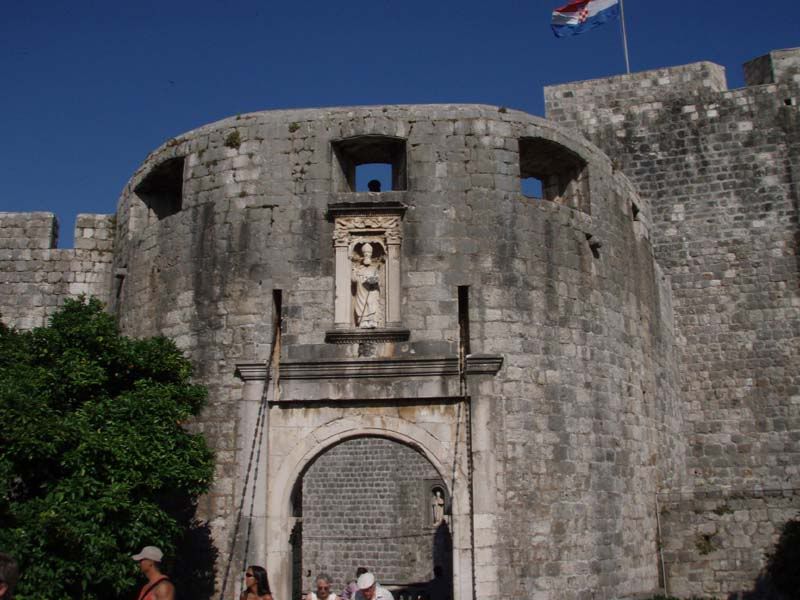 On the entrance there are stairs which lead you to the main square, Stradun.
We were very hungry so we decided to look for a nearby restaurant or a pizza place. There were some restaurants that were located in little and secondary streets near Stradun.
After the three of us had eaten 2 pizzas and 2 portions of lasagnes, we went sightseeing.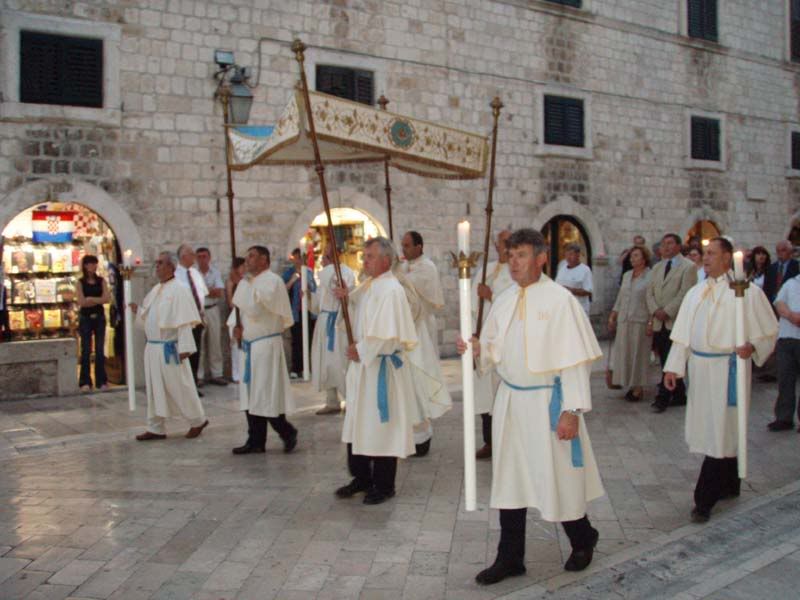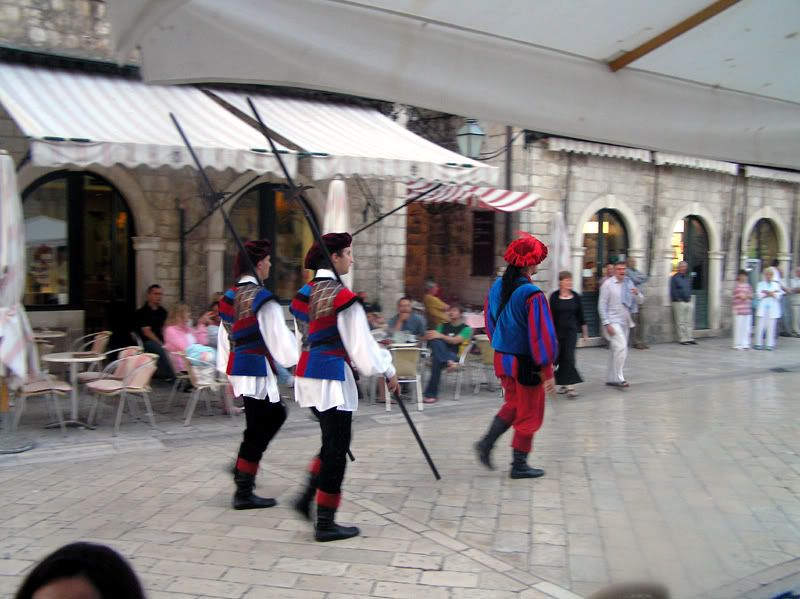 Time flew by so quickly that we forgotten that our bus was on its way to the airport. We took a cab that drove us to the airport.
Thursday, 15.06.2006
DBV (Dubrovnik - Æilipi) - ZAG (Zagreb - Pleso)
OU 657 operated by Croatia Airlines
Airbus A319 9A-CTL "Pula"
Scheduled: 22.00 // 22.55
Actual: 22.00 // 22.47
Gate: 02
Seat: 20 C
Fare: free, award ticket
Load Factor: 72,73 %
Delivered new to Croatia Airlines: 23.6.2000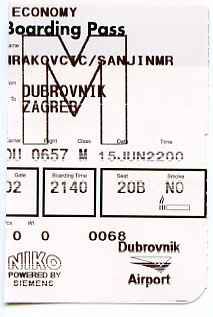 We got to the airport building at 21:20 and went directly towards check-ins.
Because the Zagreb flight was the last flight of the day all of 4 counters were open so each of us went to check-in on their own counter.
We called our parents and told them that we are about to take off.
We then went to the stairs on the right for the 1st floor (stairs to the left lead to international departures).
The announcement was that the boarding will start 20 minutes before taking off, but when we arrived to the security control at 21:25 h, the boarding had already begun. The reason was that our plane for Zagreb arrived earlier from Split, empty.
We were rushing towards boarding gate so I didn't have time to put my belt on until we reached Zagreb.
Bus drove us to our Airbus and we came into the booth first.
We were welcomed by the 2 flight attendants. One of the flight attendants who was standing in front of a seat next to ours smiled at us, so instantly a thought crossed my mind. I asked her if I could go to cockpit when we land in Zagreb.
Guess what she said? «I think that the captain will be very pleased».
The booth started filling slowly and the flight attendant went to the front galley where the captain was situated.
Since I can read from one's mouth very well I found out what flight attendant said to the captain.  
  She said that the boy and 2 girls would like to go into the cockpit.
Captain said «No problem». The flight attendant came and said: «You can go. The captain is waiting for you. »
Pretty excited, we got up from our seats and went forward.
When we got to the kop kit, I saluted co-pilot but the captain was nowhere to be found, so I took his seat. WHAT A FEELING!
I asked the co-pilot when are we going to take off and he said on time.
I told him that I was a spotter so we started chatting about how sometimes people wave at him near the runway. And he would like to wave to them but he can't because he has to have his hands on the commands.
Suddenly the captain appeared on the door. He saluted us. And because I forgot that I was sitting on his place, he asked me: «Where is your seat? ».
I: «20 C»
CAPTAIN: «Wanna drive? »
I: «Sure.  
»
CAPTAIN: «Good. Then you drive and I will go sit with your girls.  
  »
We all took a laugh, saluted them and went back to our seats.
At 10 PM sharp pilot let go the breaks and we started going towards runway 30, then we turned 180° north and soon we were in the air.
When the sign «Please fasten your seatbelts» went off, the flight attendants started serving water and candy.
In the middle of flying, captain said on the PA system: «Anèi (FA), come hear for a minute so you can give me you cell phone number. Tonight we're going out!»
Half of the plane started laughing. And the other half was foreigners who didn't understand a single word.  
We landed in Zagreb some time before regular landing time. We were waited by Bjanka's mother and my father.
I hope you enjoyed this trip report from one of the most beautiful cities in the world.
Cheers!
[Edited 2006-09-03 21:23:55]
[Edited 2006-09-03 21:26:54]