Well here it is, my final flight from Japan, thus ending my experiences of studying abroad. Originally there was a decent airfare for C that was listed in ITA on CTS-TPE with BR and TPE-LAX on SQ. I wanted to take the opporunity to fly BRs new Premium Laurel Class but had my eye at finally flying with SQ and trying out their Spacebed. Unfortunately after several attempts and messups and complications between the travel agents I attempted to book with in both sides of the Pacific (at one point, I was booked 3 seats in the C cabin for the CTS-TPE flight!) as well as the fact that I didn't have my credit card at hand which seemed nessesary for check-in w/ SQ, I decided to just go with CTS-TPE in C while flying to LAX on BR Y with hopes to upgrade to Evergreen Deluxe. The day I left Sapporo was pretty wet, just as the day I arrived for the first time. It really did match my mood as my experience in Japan was about to end.
The shuttle to CTS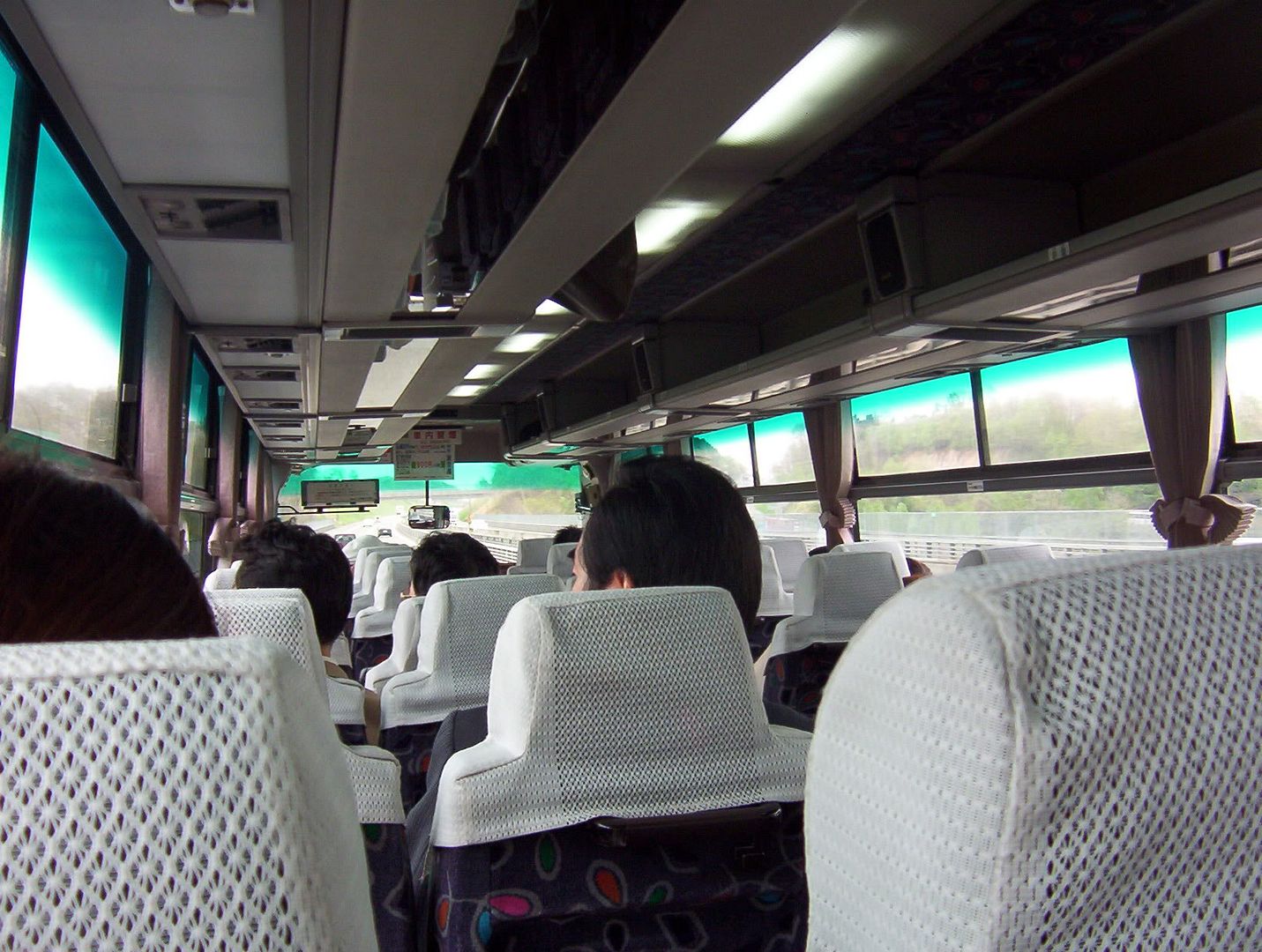 The Hokkaido countryside one last time...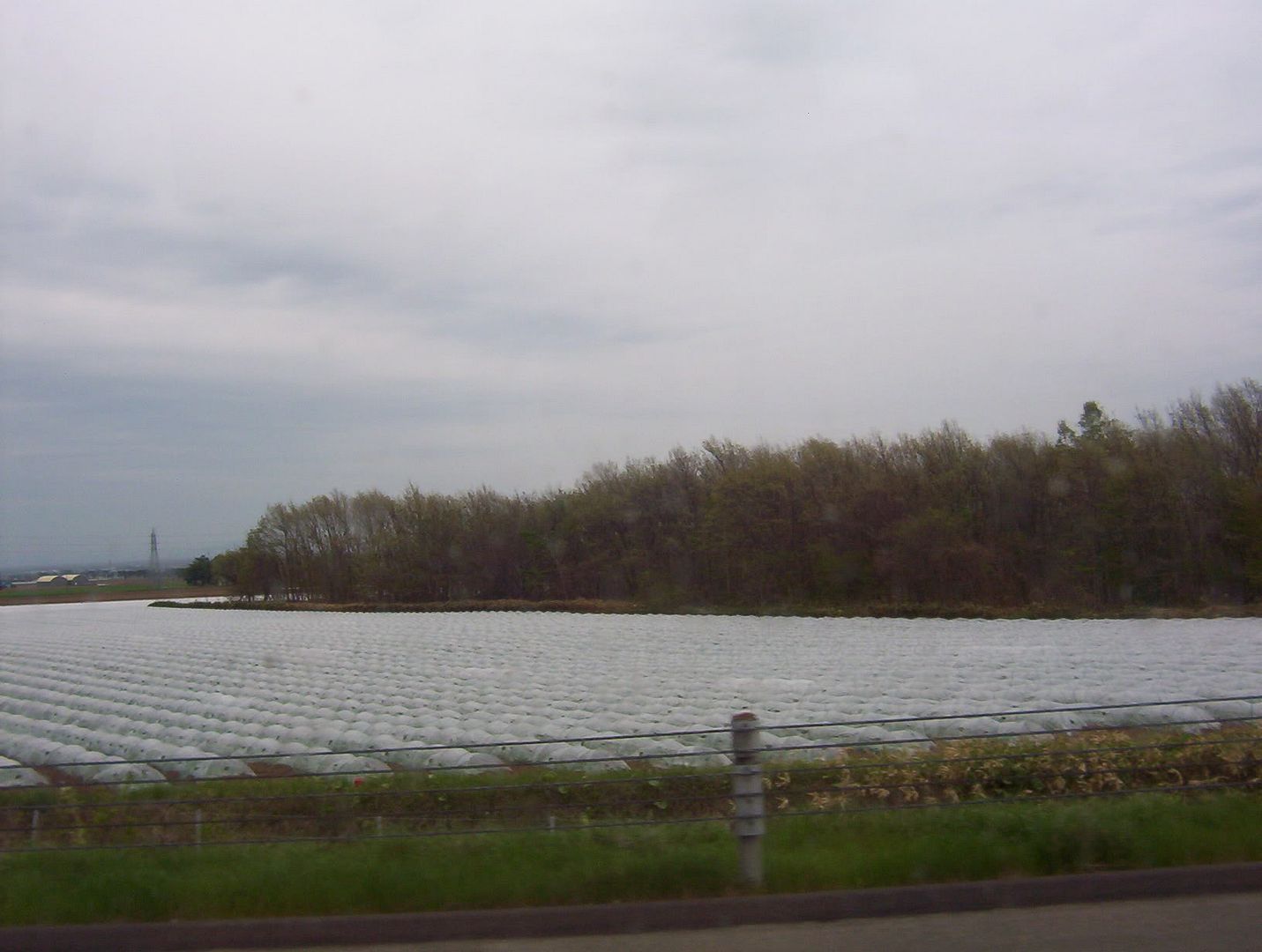 BR0115 CTS-TPE
22 May 2006
Airbus A330-203
Premium Laurel (Business) Class
View Large
View Medium


Photo © Peter Unmuth-VAP
I arrived in the international counters at CTS a bit disoriented and down over the fact that my experience in Japan is ending, lugging with me seriously heavy luggage which kinda dragged the EVA premium check-in mat along...makes me wonder if I really needed to bring all those books with me to Japan.
To add to the stress on dealing with the luggage, the agents were having a hard time trying to see if I would have to pay for the excess weight which wasn't a problem in the CTS-TPE flight but in the TPE-LAX flight as I will be flying in Economy. The agent informed me that wait for at least 10-15 minutes as they called to figure it out and issued me ¥1000 credit (less than 10 USD) for me to use in the airport as BR doesn't offer lounge facilities in CTS. I wandered around the terminal one last time trying to buy some last minute gifts for family before returning to the check-in counters. Once I came back, I was told that I would have to pay ¥20,000 (170 USD) for the overweight luggage. Unfortunately I didn't have anyone around with me to hand over some items to get rid of my excess weight and have them ship to me later so I paid the penalty which left me with only a ¥1000 bill left in my wallet and eliminating the opportunity to upgrade to Evergreen Deluxe in TPE.
BR check-in counters (the counter of the airline my friend's dad used to actually run, SAT which serves Sakhalin island in Russia, can be seen in the background)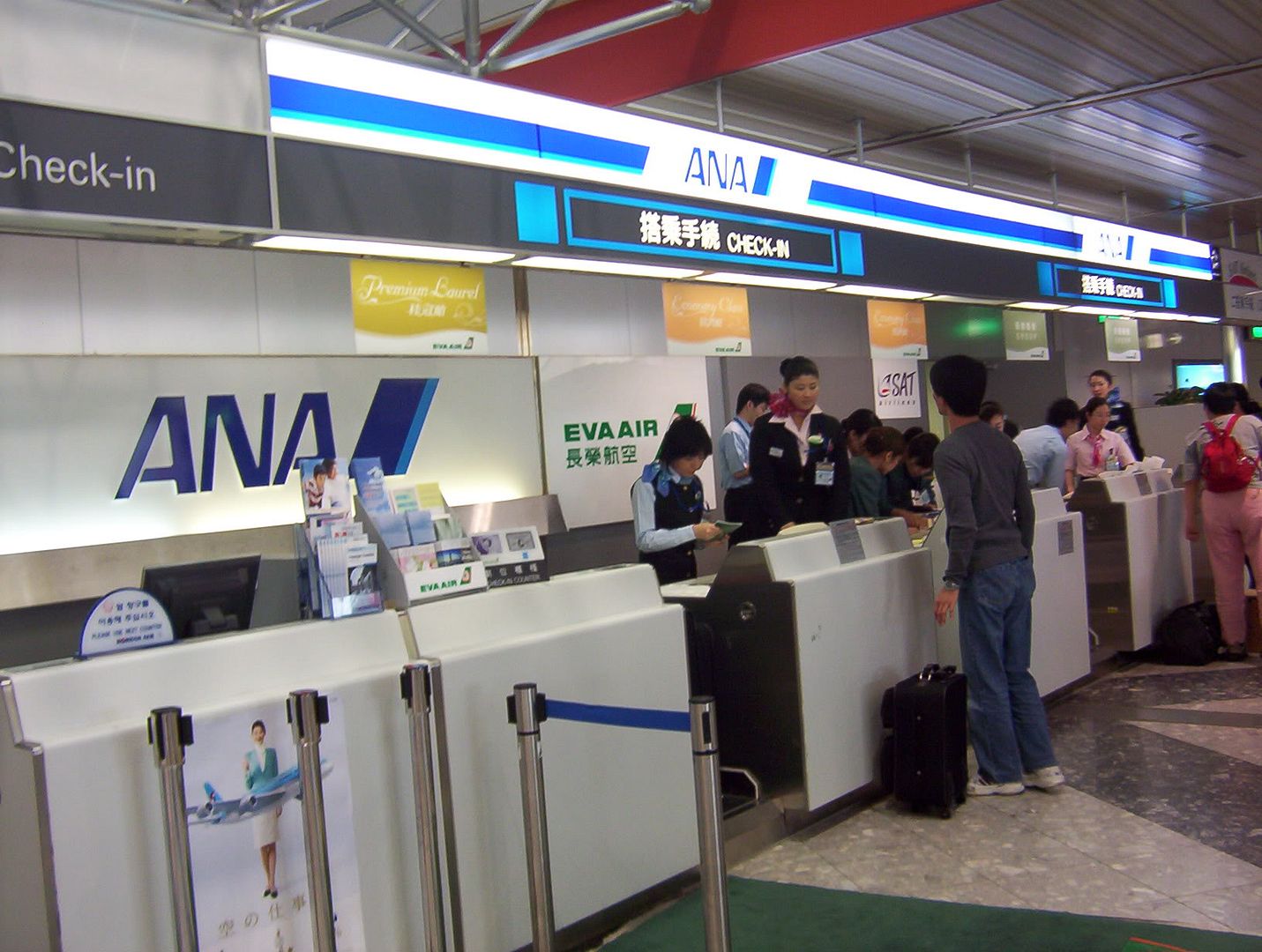 I'll definitely miss this airport.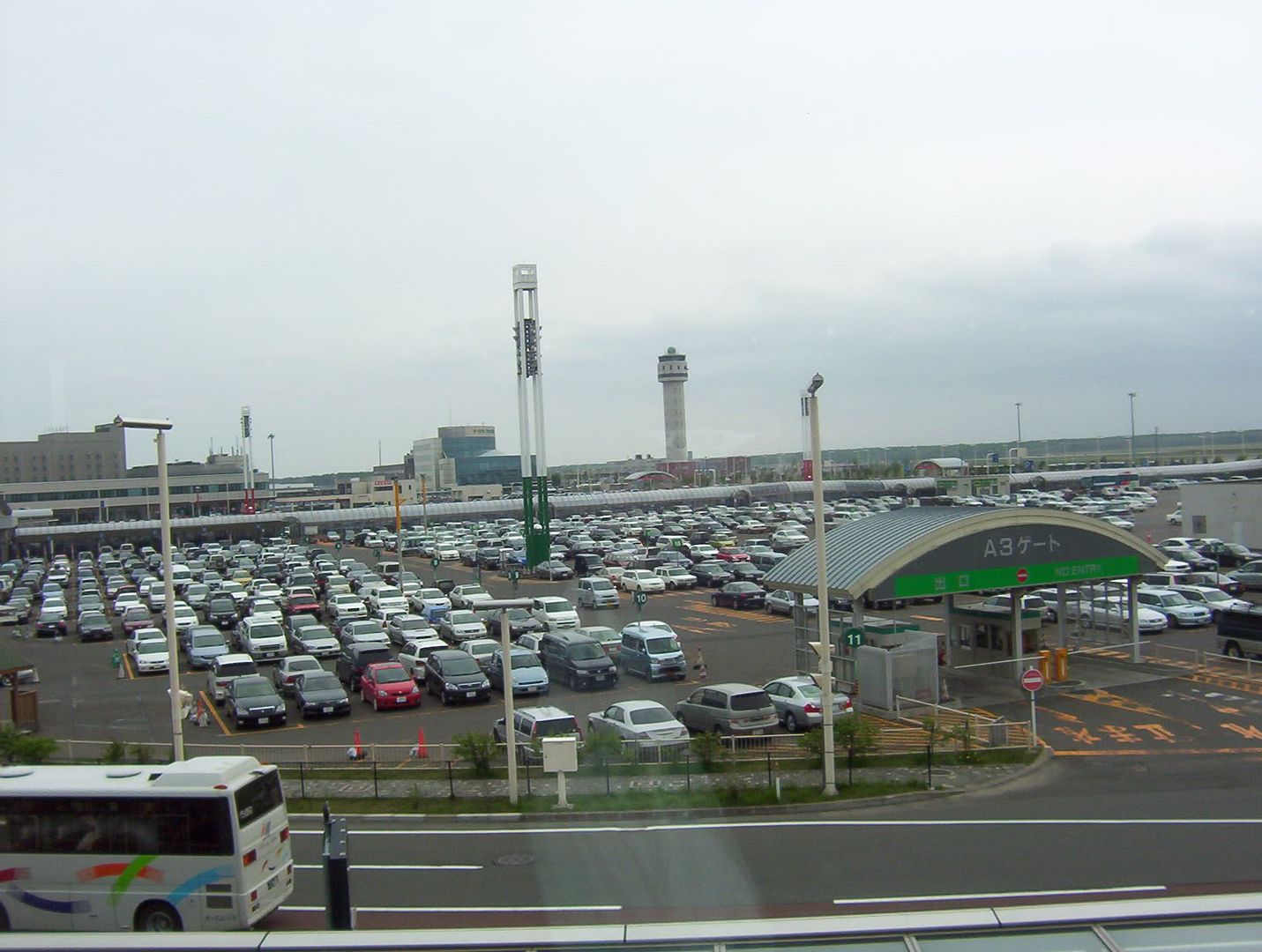 Once again, going through security was painless and I went through immigration which was staffed by a single man where I had to finally surrender my alien registration card (nicknamed "gaijin card" by some). By the time I arrived at the gate, the majority of passengers already boarded which made things a bit easier for boarding. I was welcomed by BR F/As to a nearly empty Premium Laurel Class cabin where I would join only two other passengers. This definitely is no stranger to me as all my international flights out of CTS seemed to have a very light load factor in the premium cabins. The F/As came around to offer the amenity kit and pre-flight drink. I decided to dig into the in-flight reading material packet which included Verve, EVA's in-flight magazine, the IFE guide, Gourmet magazine, and an Asian business magazine (the name keeps on escaping me). So far so good in what was going to be the best business class flight I've had so far. As we were waiting, some F-15Js on Chitose Air Base were taking off by the pair as others landed.
The gate...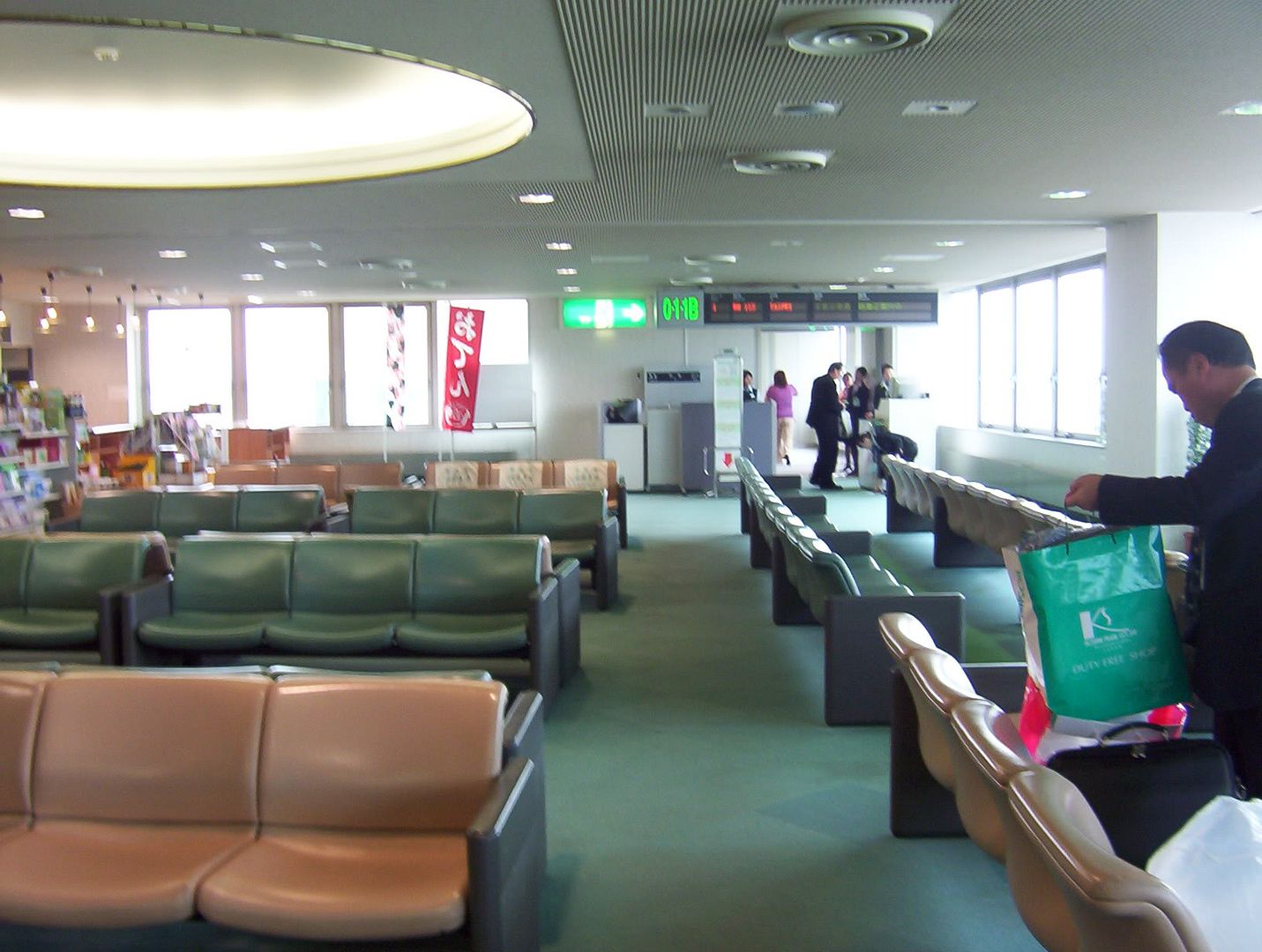 ...and the A332 that would be taking us to TPE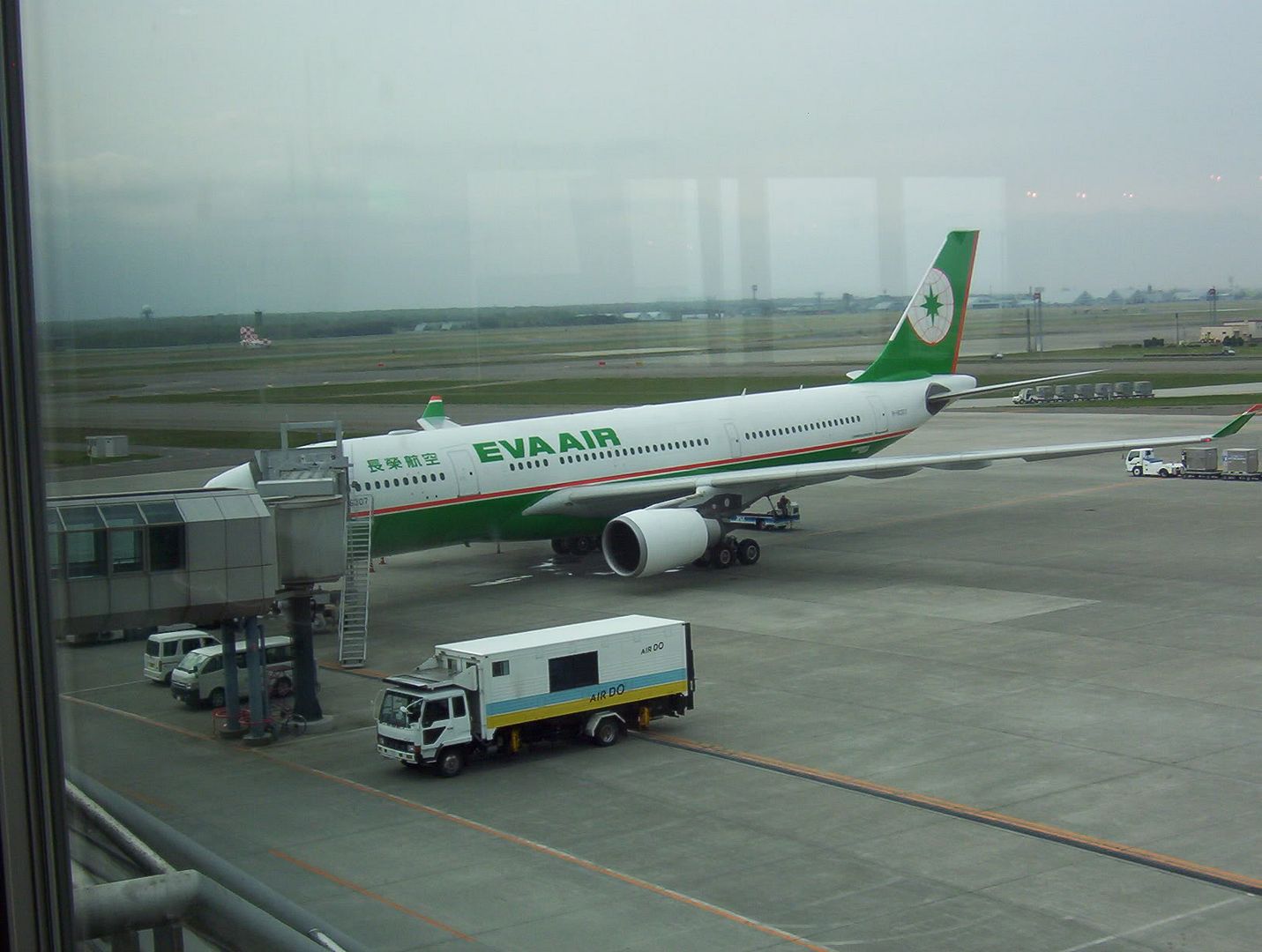 The Premium Laurel Class cabin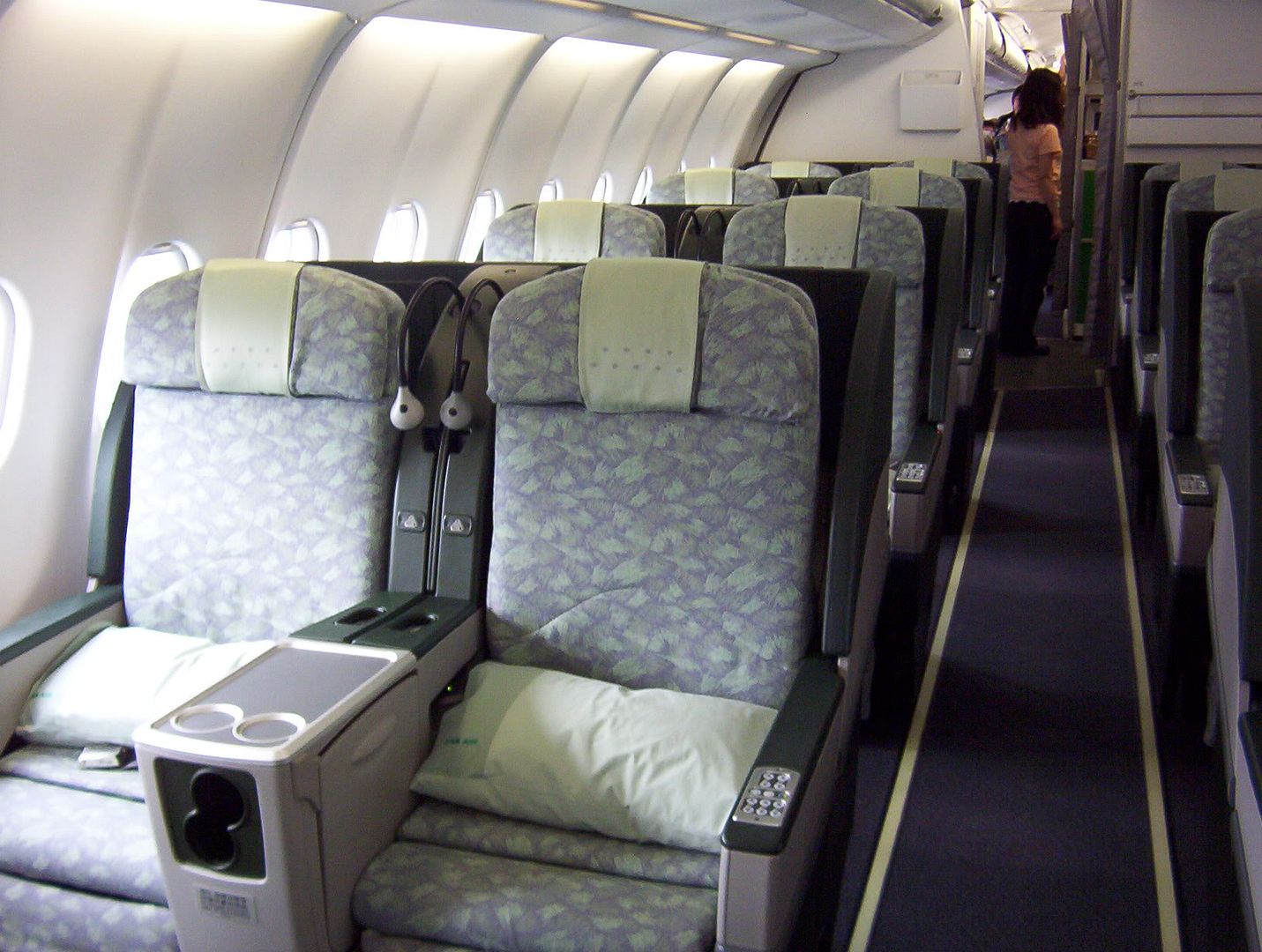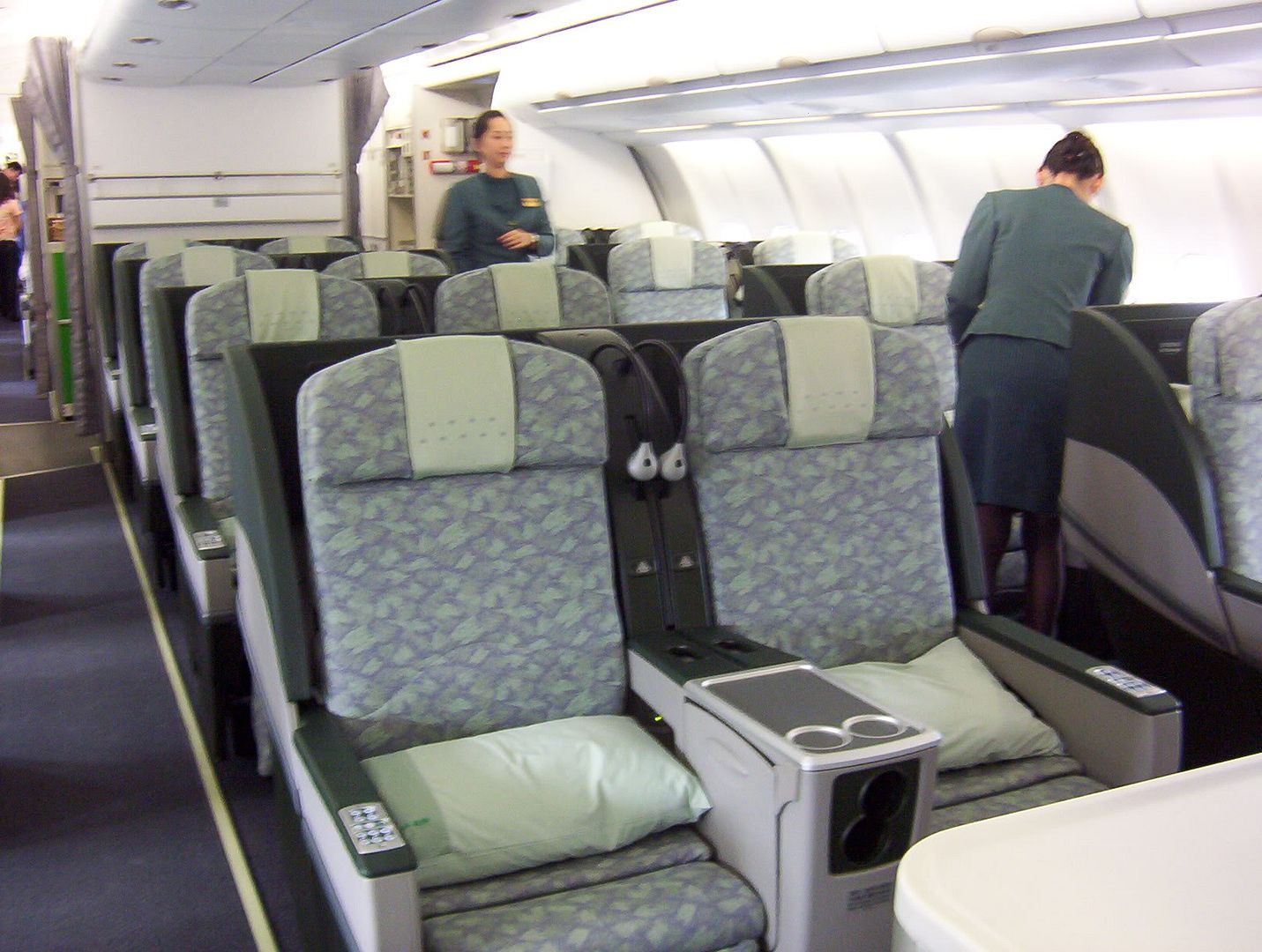 My seat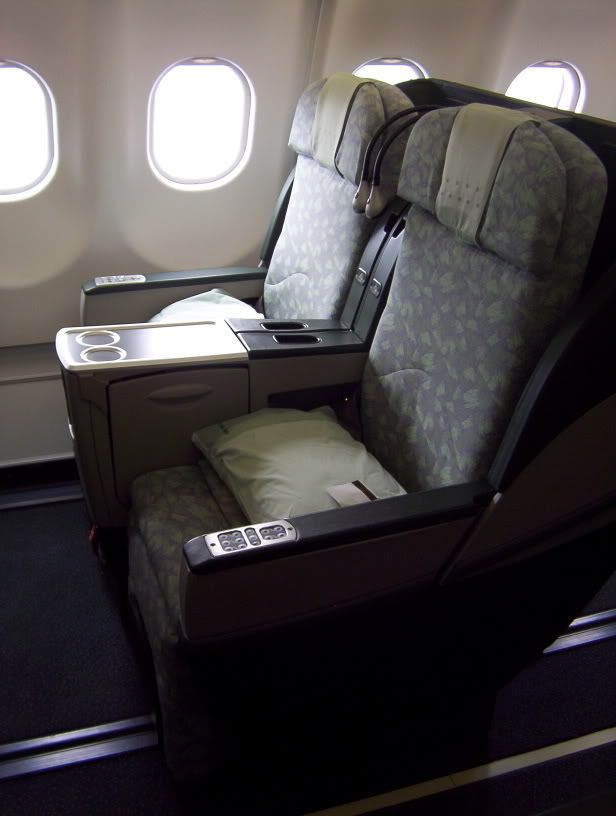 Pre-flight OJ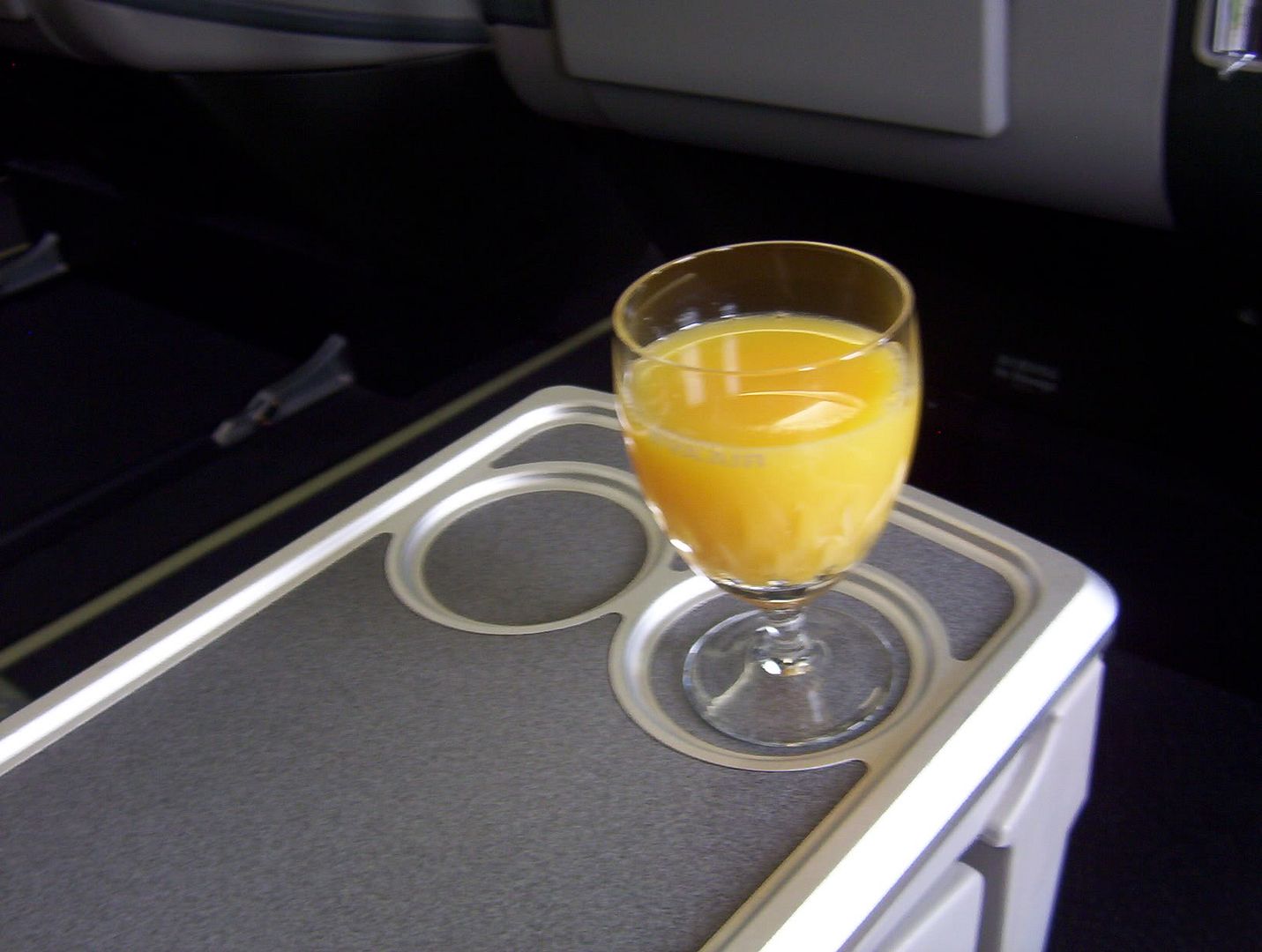 The Taipei Symphony Orchestra playing in the PTV as I settled in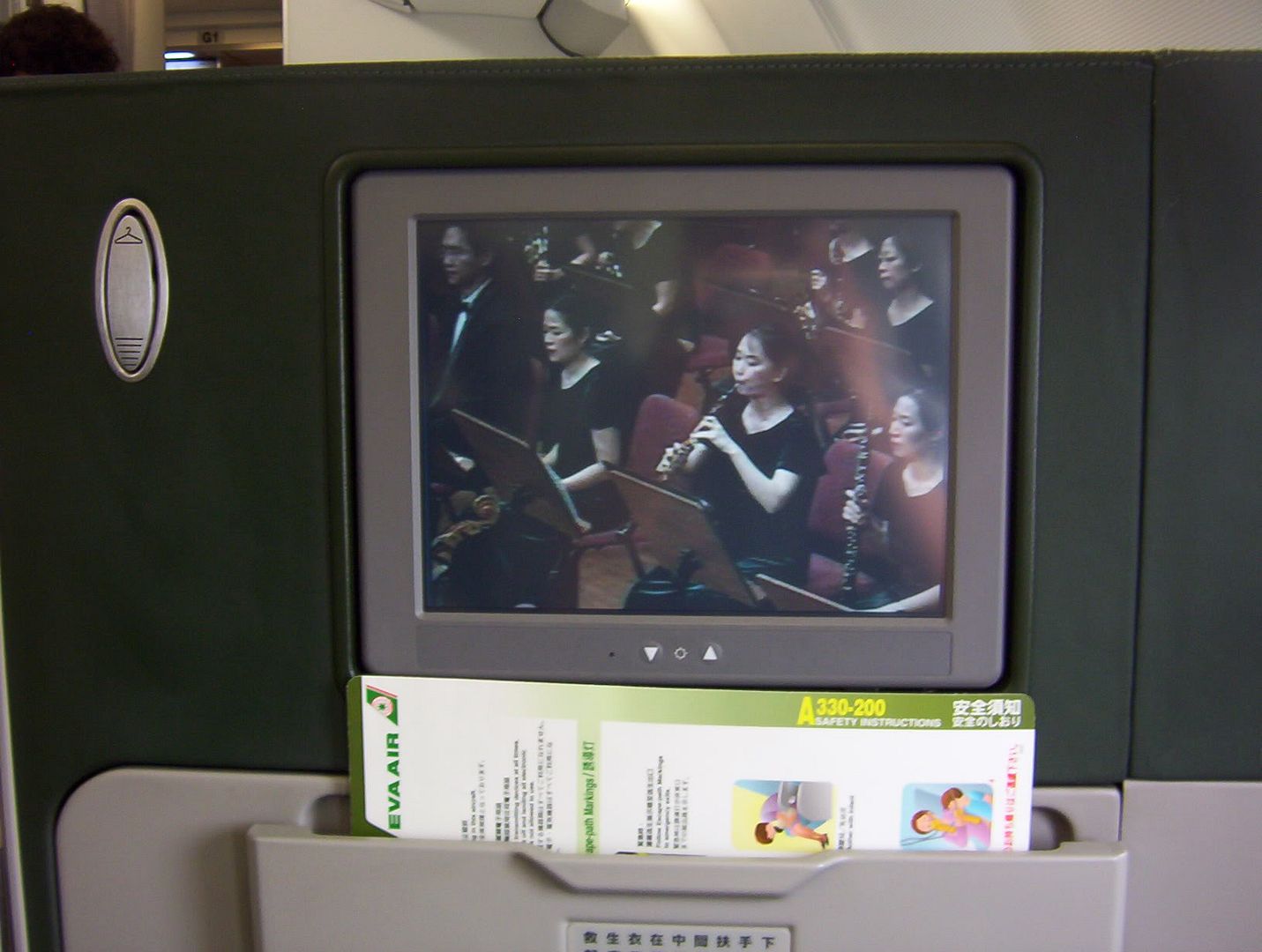 In-flight reading material in a packet and menu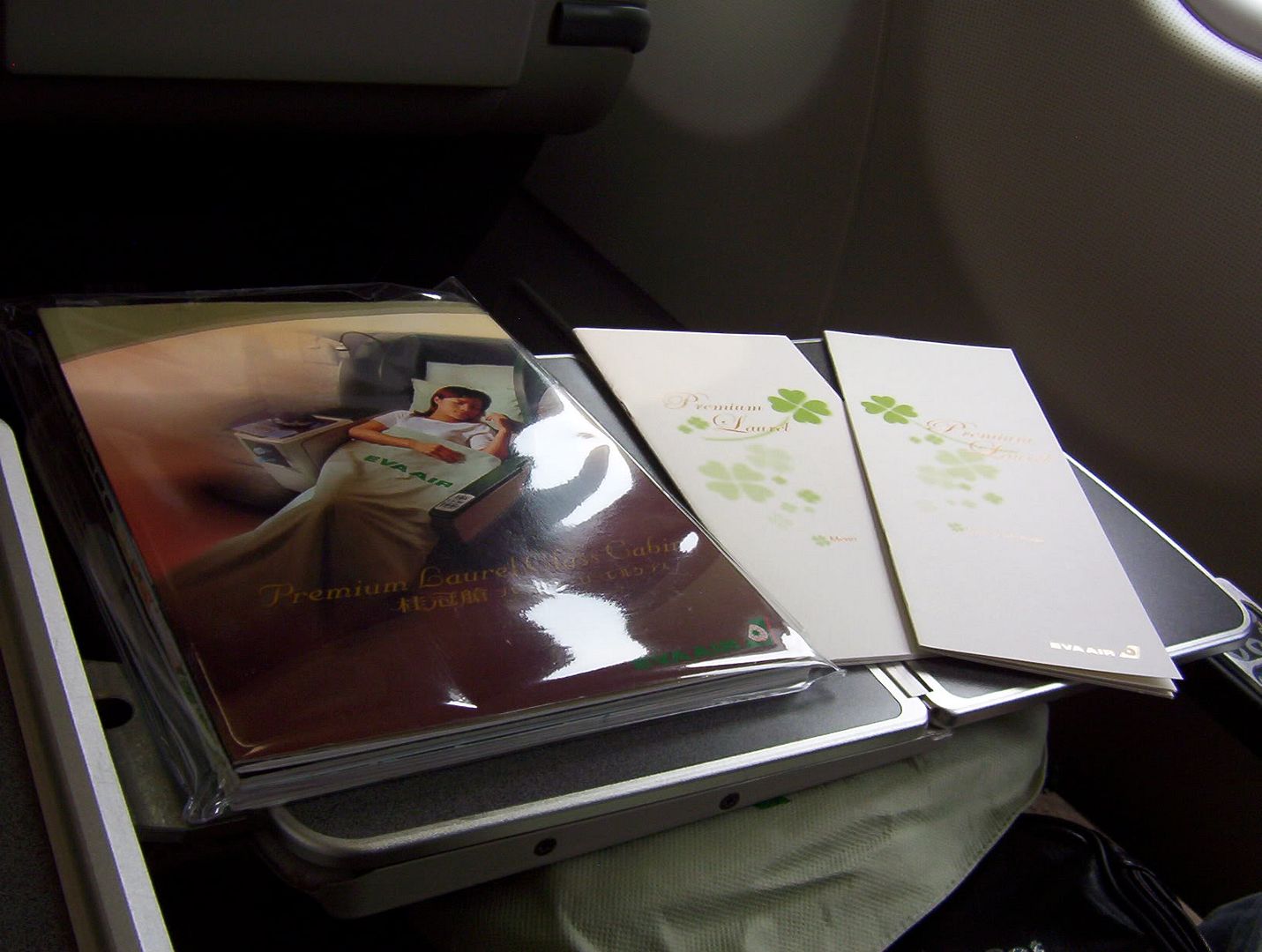 JASDF F-15J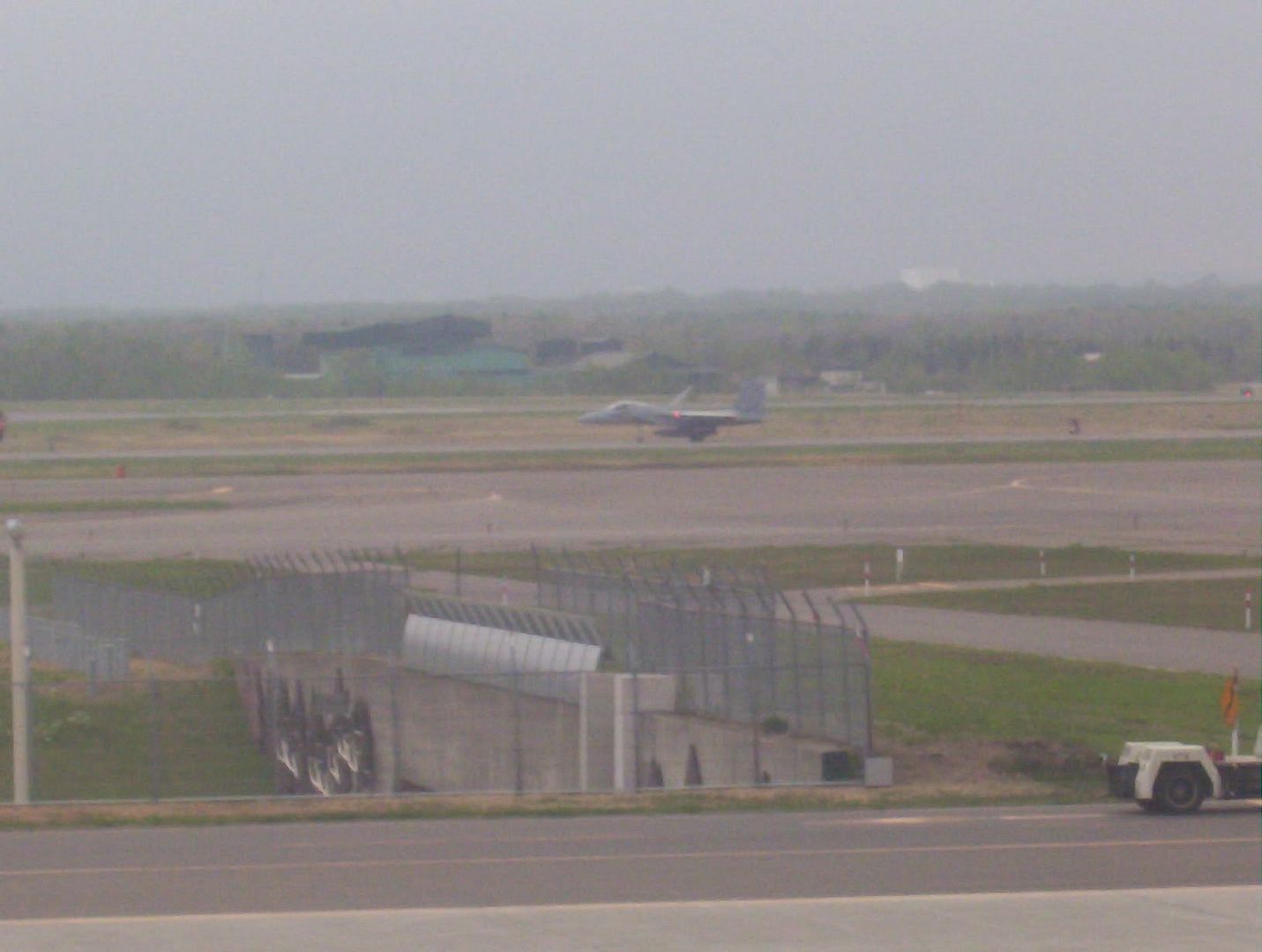 As we taxied out, I took one last look at the terminal and the NH and JL aircraft lined up, including a NH 744D in the latest Pokemon livery. In all but one of my flights in and out of CTS, I ALWAYS ran into this 747! I was definitely going to miss this airport. It had an awesome observation deck where I would take the JR whenever I had the time to planespot, a great aviation memorabilia store with a friendly manager that I grew to become acquainted with, and a load of dining and shopping opportunities.
Safety video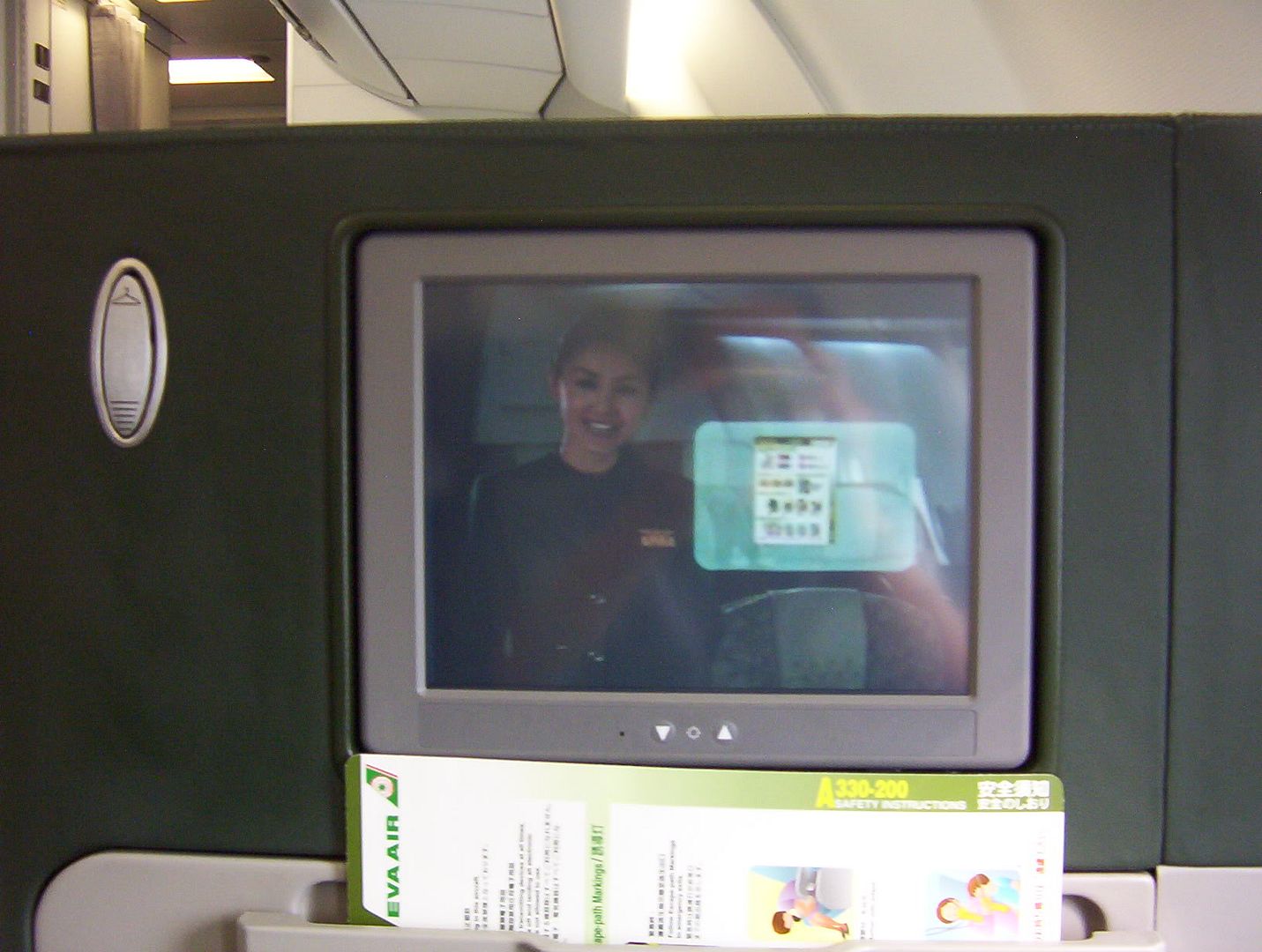 Bye bye Pikachu, maybe I'll see you again in HND.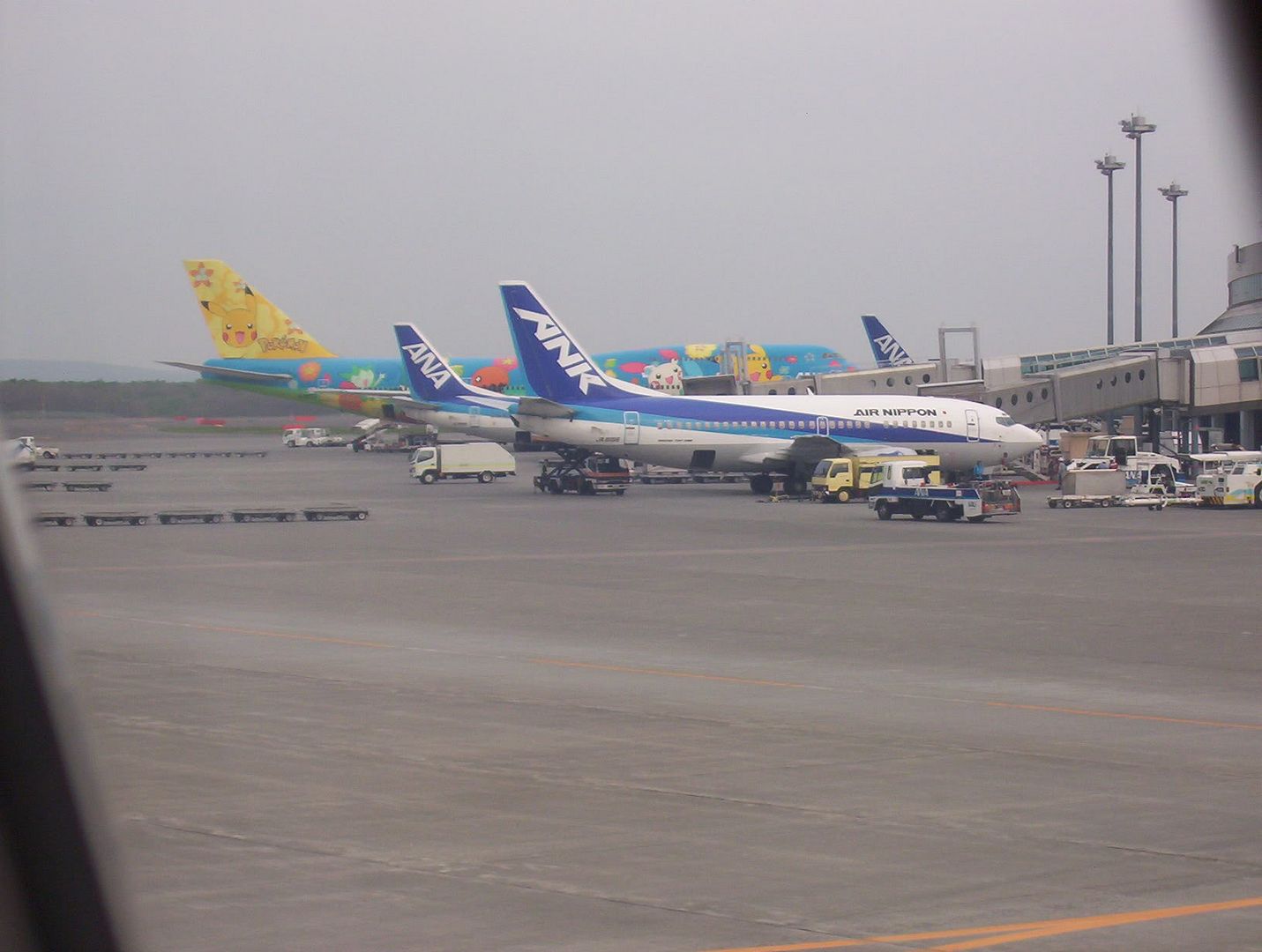 Farewell, CTS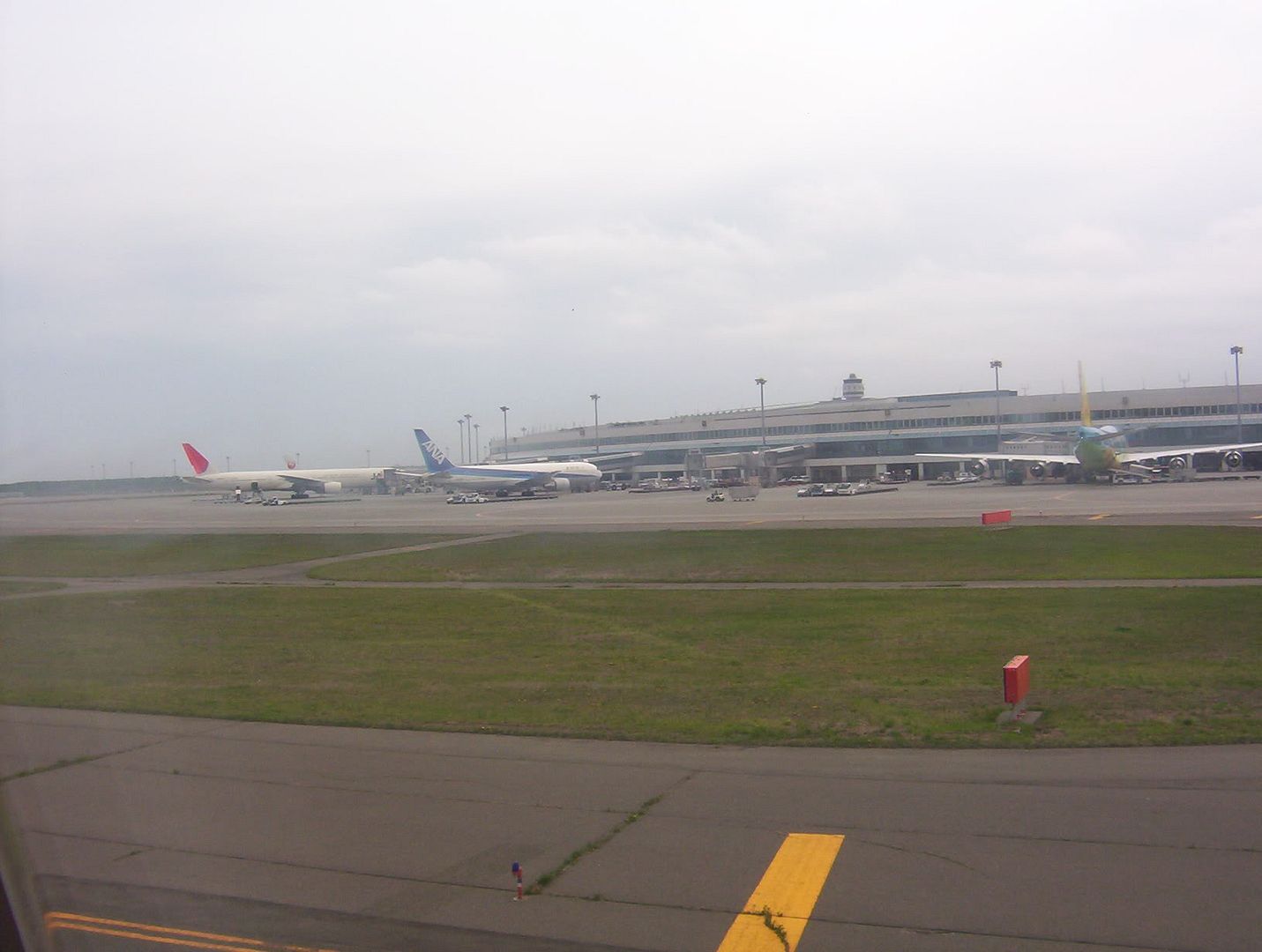 Takeoff was in the same path where I made my first approach to CTS back in October. It was sad to see as I flew over at what one my first glimpses of Hokkaido in which now was my last.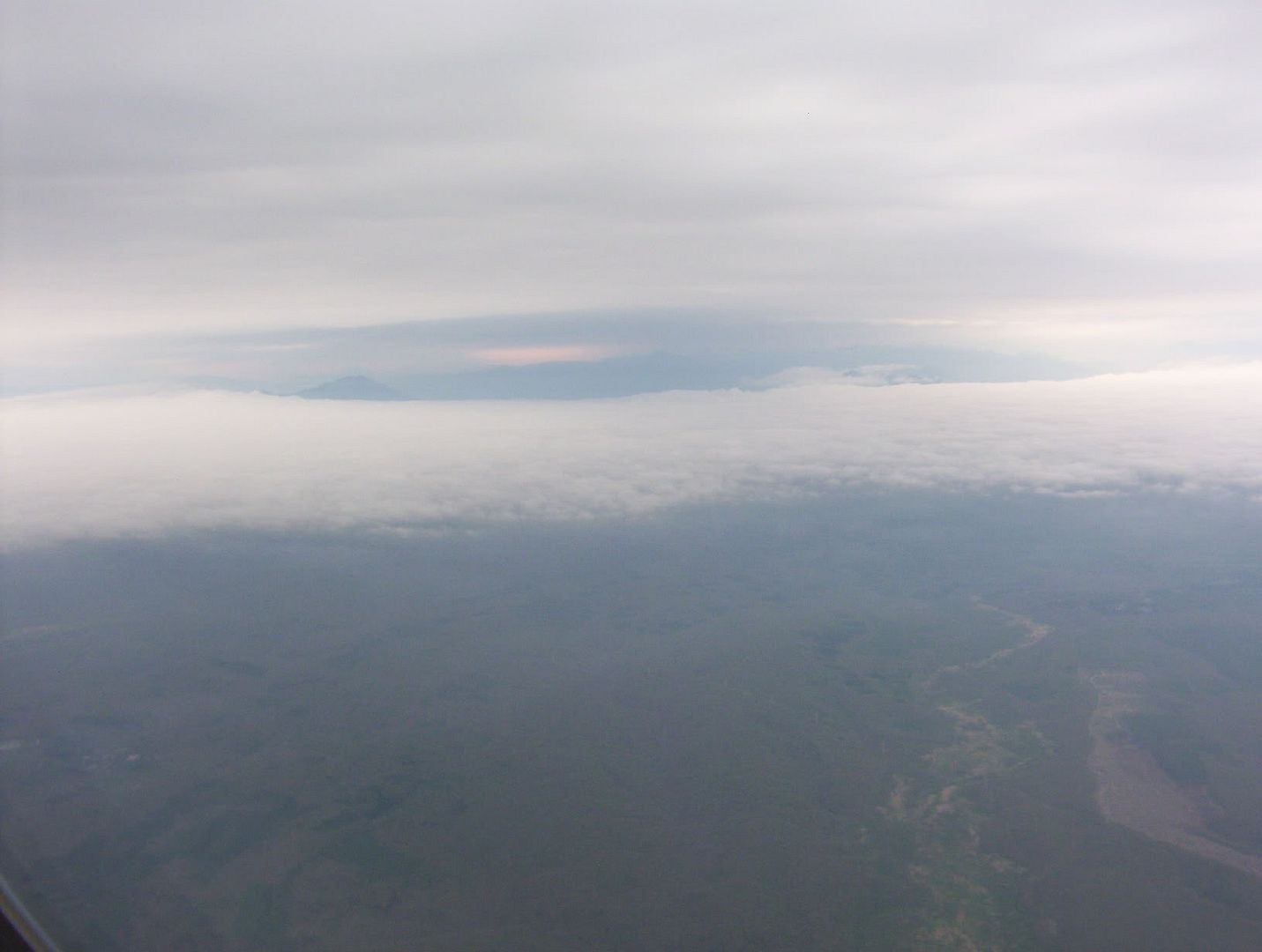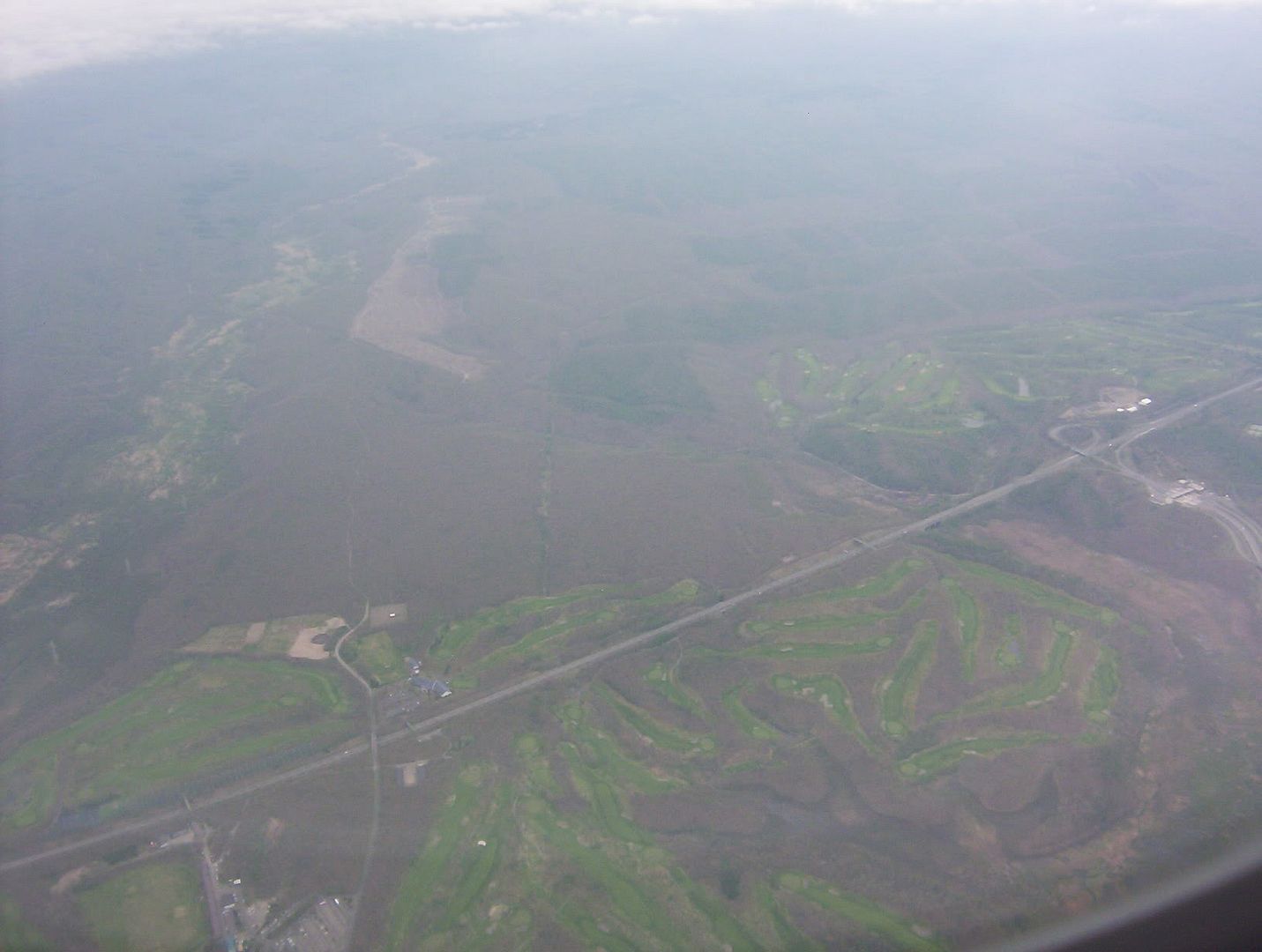 I immediately decided to utilize AVOD a bit to get my mind off the sadness and put on the album November's Chopin by Taiwanese Rap and R&B artist Jay Chou which I first heard on my NW WBC flight to MNL back in March.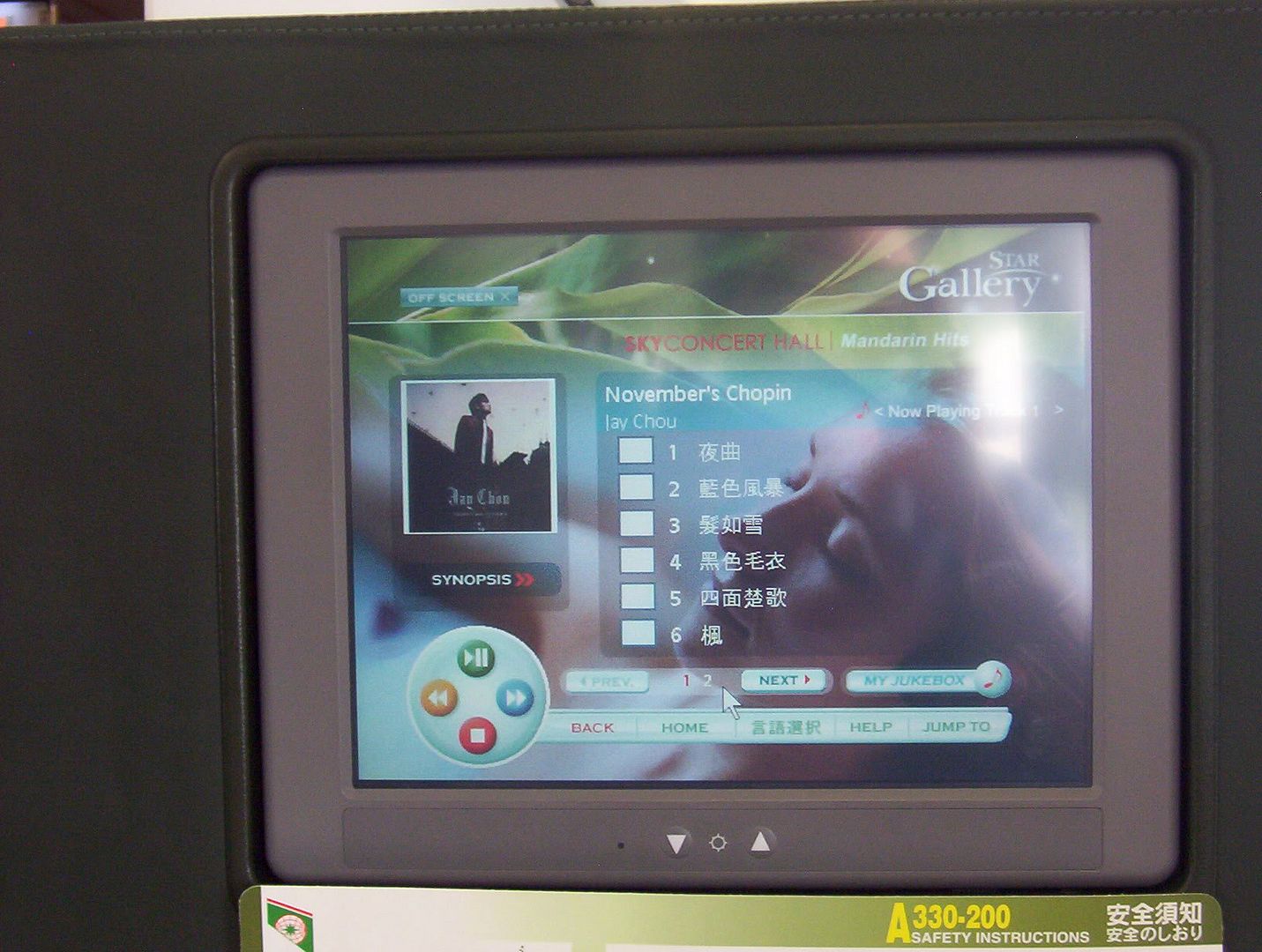 Snack and Sprite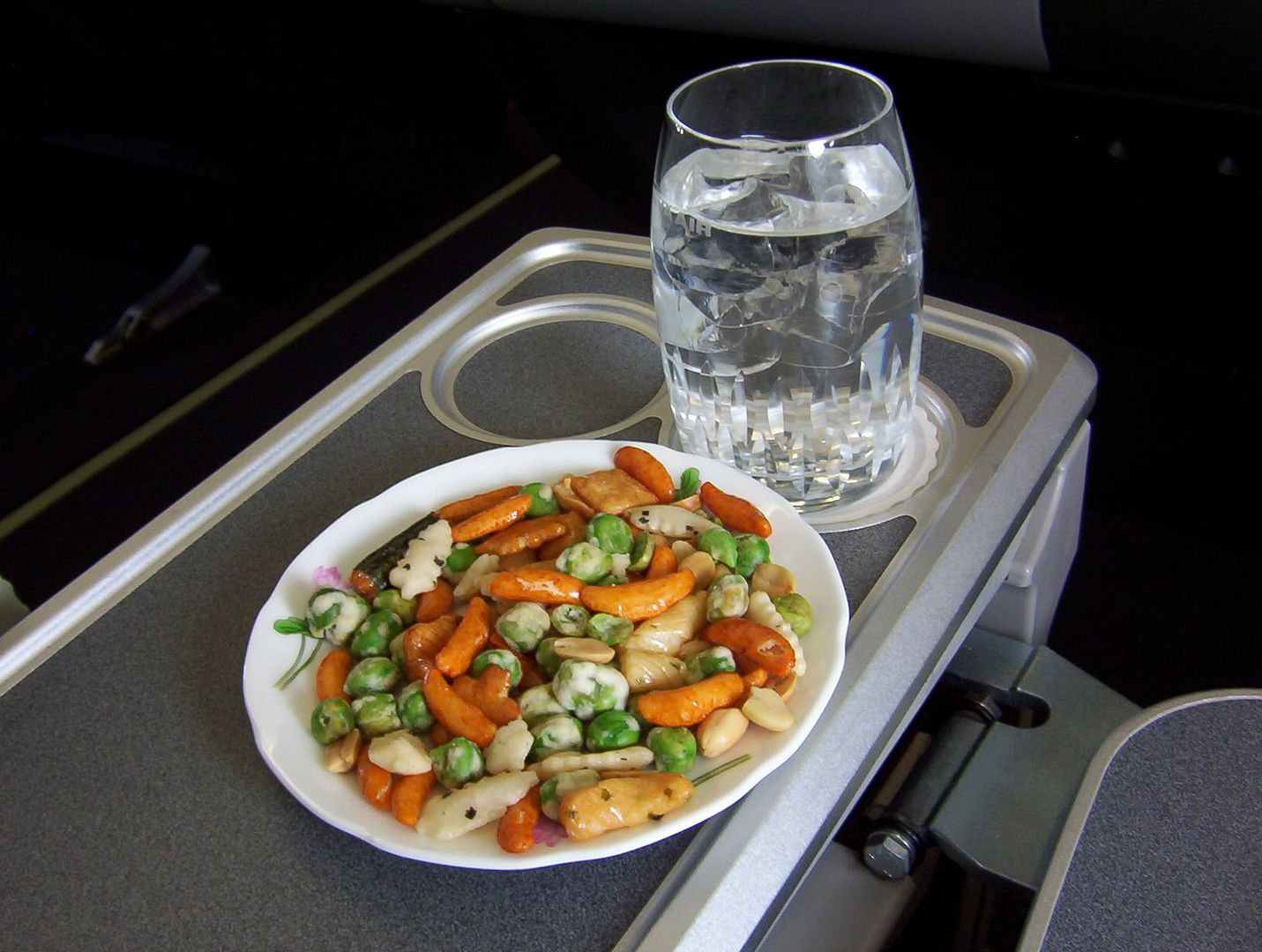 I decided to pull up and check out a farewell gift given to me by my classmates.I didn't have much time to read their notes earlier as I was busy making final preparations for my departure. Definitely did bring a few more tears in my eyes as I looked at their quotes. A note that my Taiwanese friend left was "It's been a great time being with you, even though you don't like EVA." which of course was referring to my joking about the airline. It brought a much-needed smirk to my face as I was in a BR flight reading this.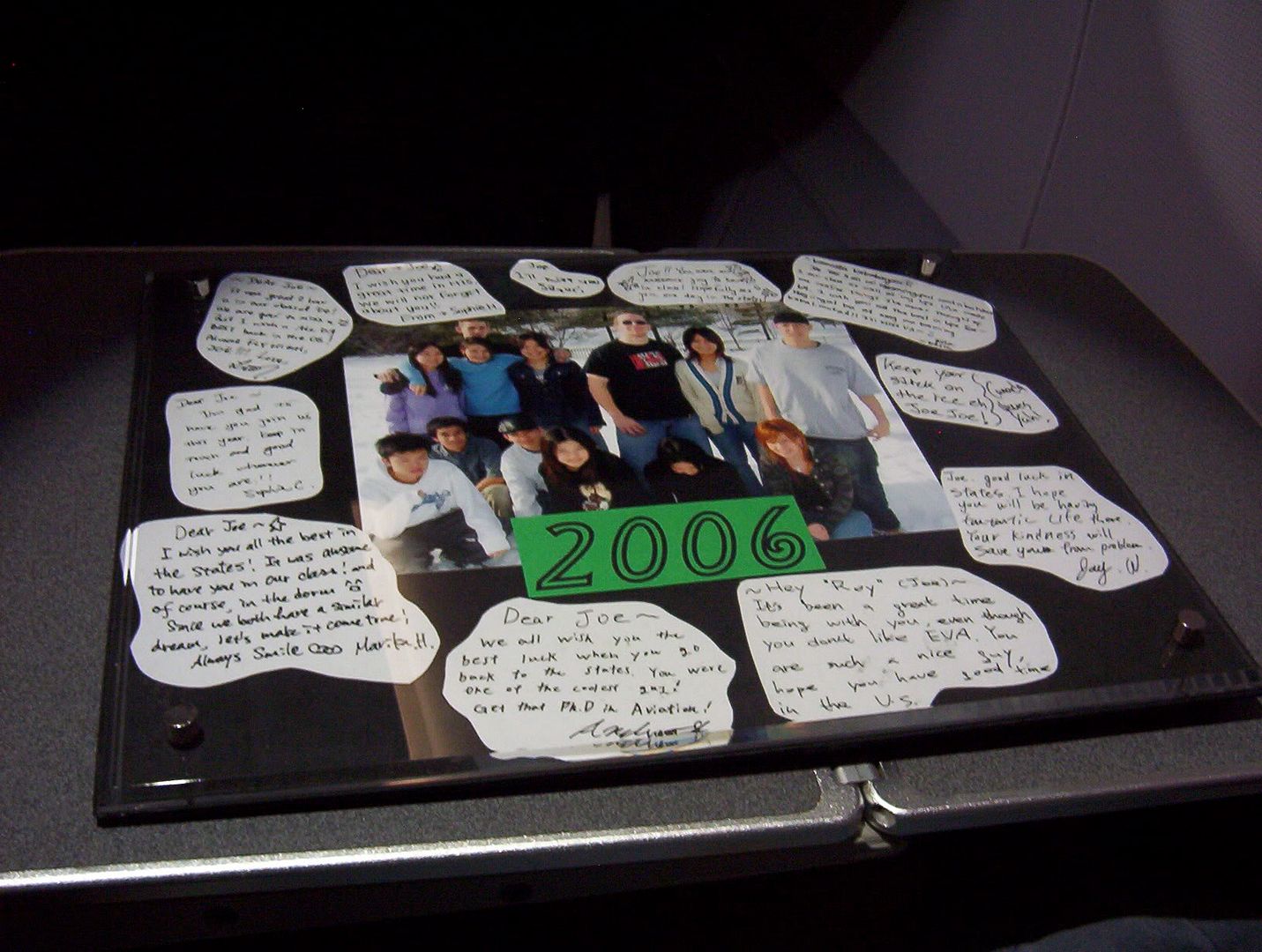 Spring Snow
, a Japanese movie based on the Yukio Mishima novel of the same name. Might as well watch one last Japanese movie as a finale to the experience.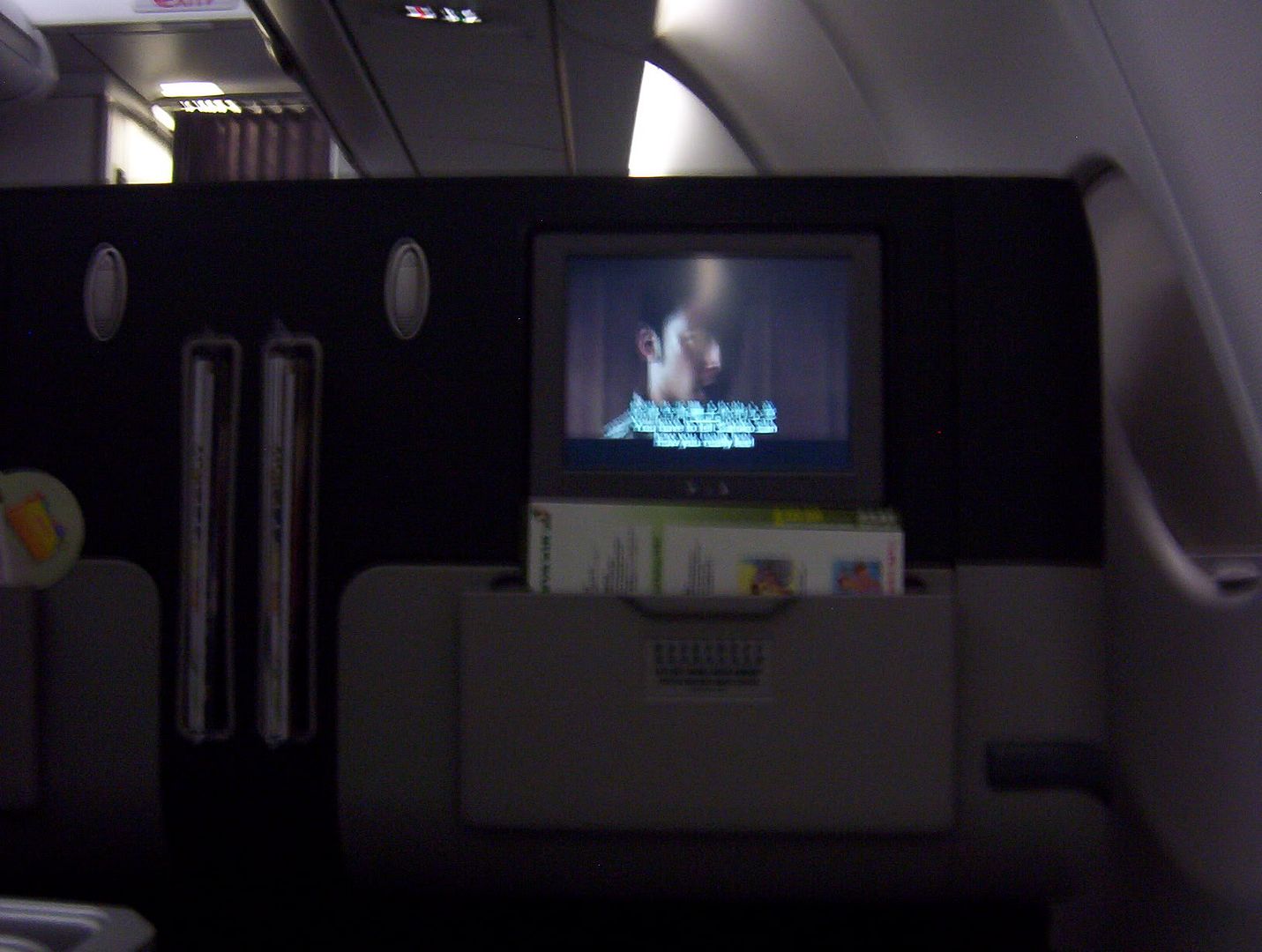 The F/As began to start the dinner service as I began to sink in to
Spring Snow
. There were three choices offered: Japanese, Chinese, and American cuisine. Unfortunately the American choice was already taken up by the other two passengers and the Japanese choice didn't seem to be appealing so I decided to go for Chinese.
The Chinese selection:
Sapporo - Taipei
Marinated Prawn
Chicken Roll
Roasted King Oyster Mushroom

Delicate Seaweed with White Sesame

Relish Chicken Soup

Pork Bun

Juicy Pork Dumpling

Fresh Fruit

Oven Baked Pastry with Taro Paste Filling

Selection of Chinese Tea
The Marinated Prawn, Chicken Roll, Roasted King Oyster Mushroom, Seaweed with White Sesame, and Relish Chicken Soup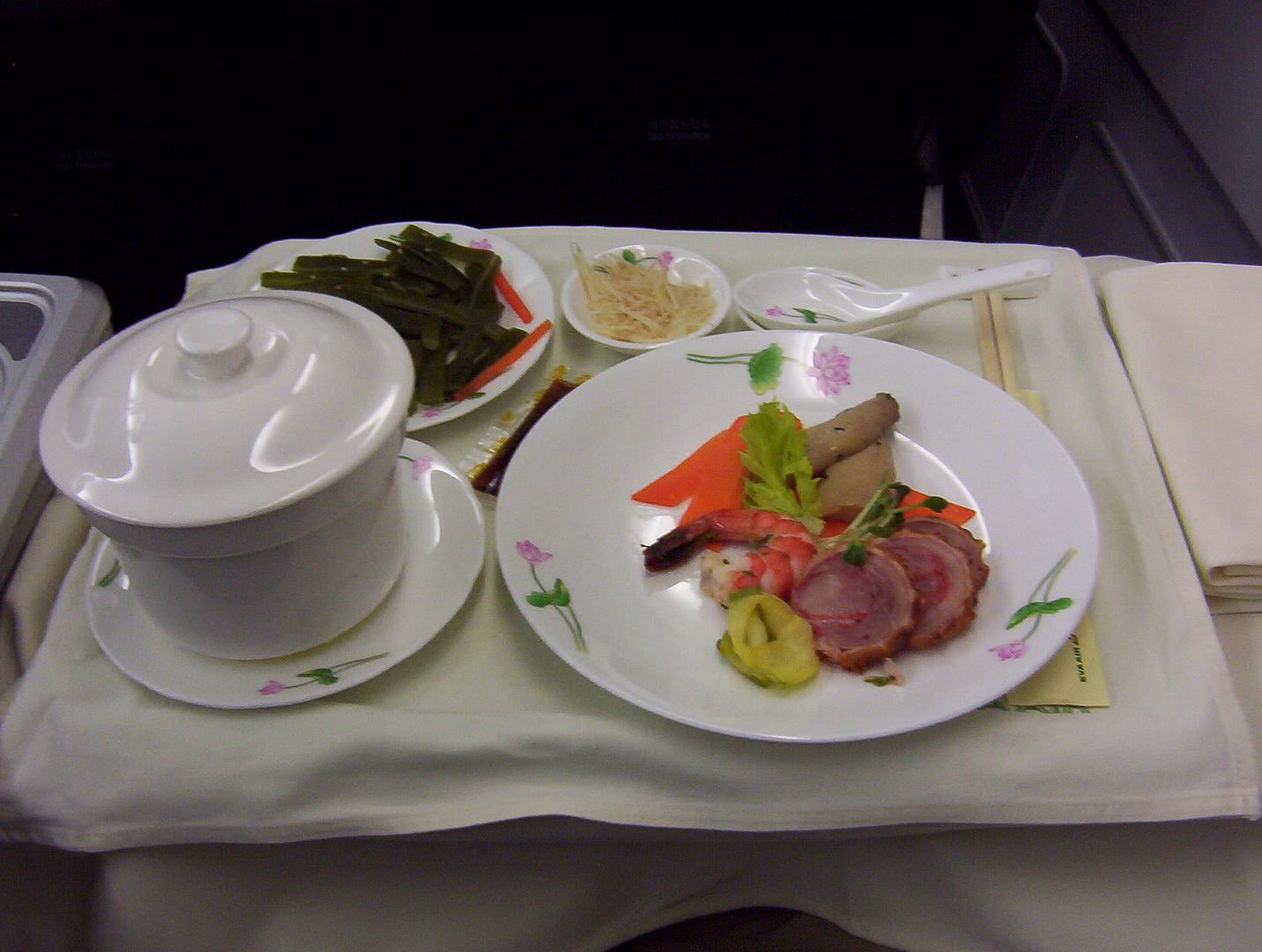 Pork Bun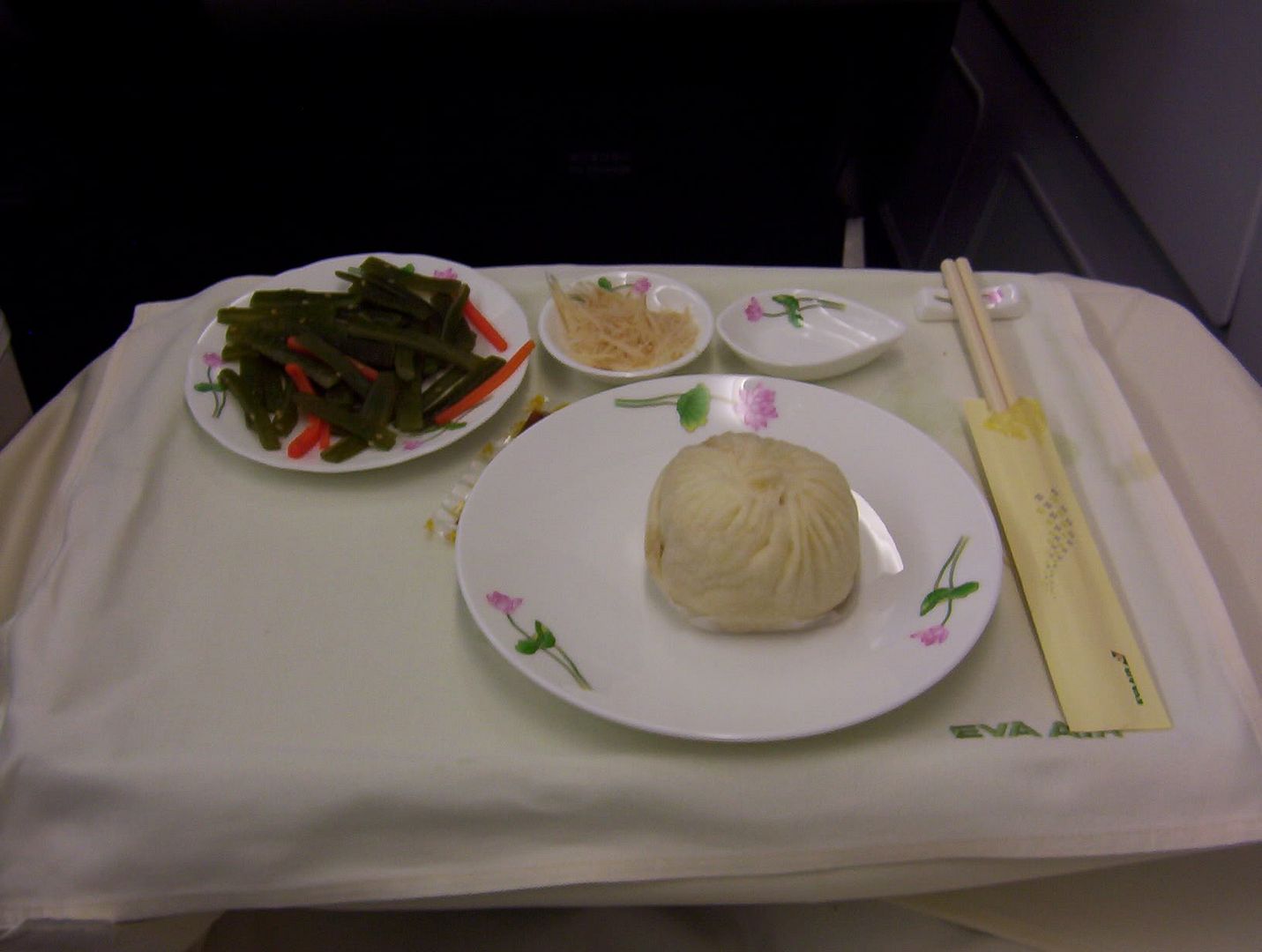 Pork Dumpling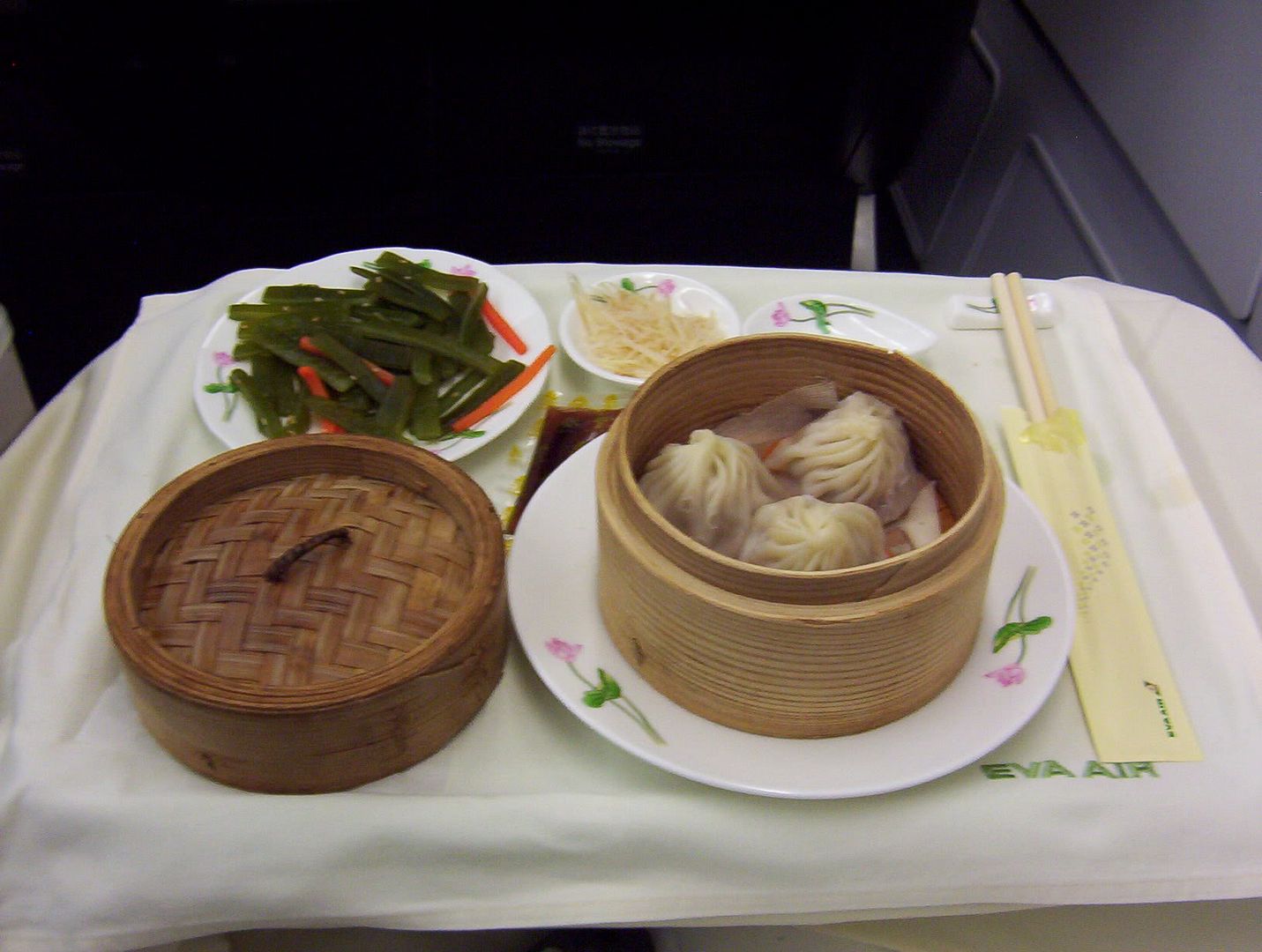 The fresh fruit and pastry (which was VERY good that I requested another
)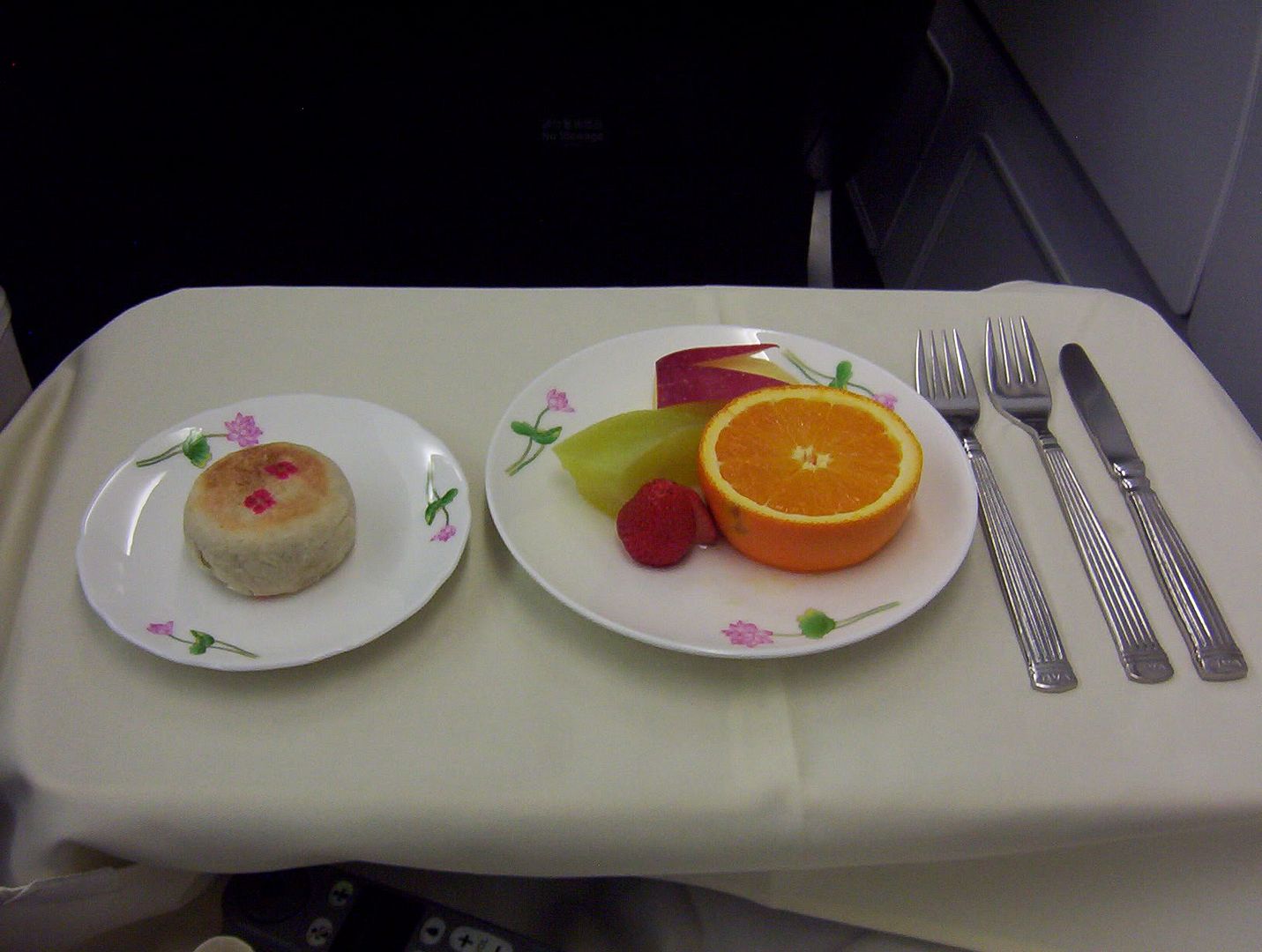 The last setting sun I'll be seeing in Asia for a while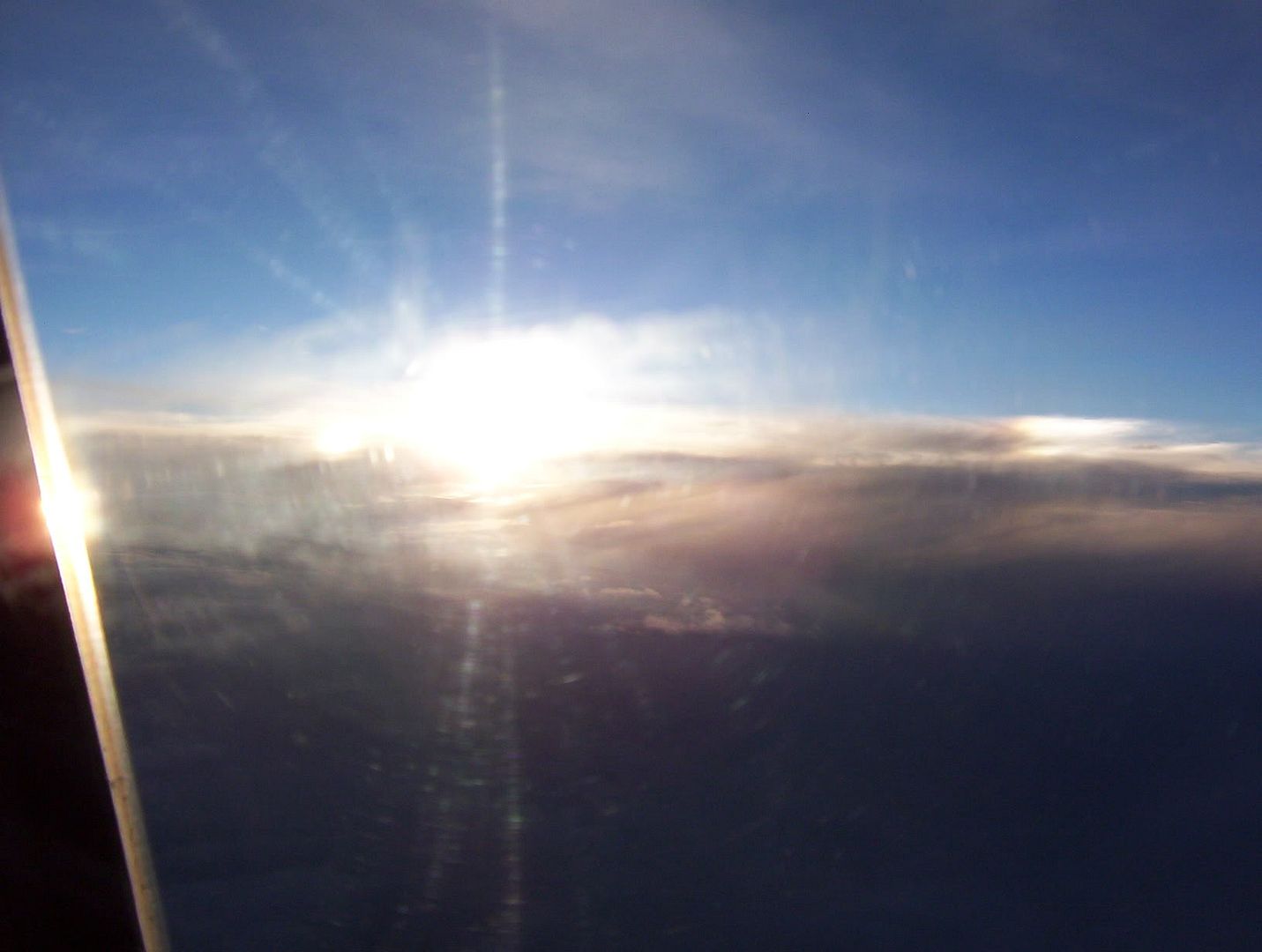 The evening landing in TPE was smooth and I began to catch my first glimpse of Chiang Kai Shek Int'l Airport, populated with Evergreen globes and Plum blossom tails.
Blurry shot of a BR 744 and A332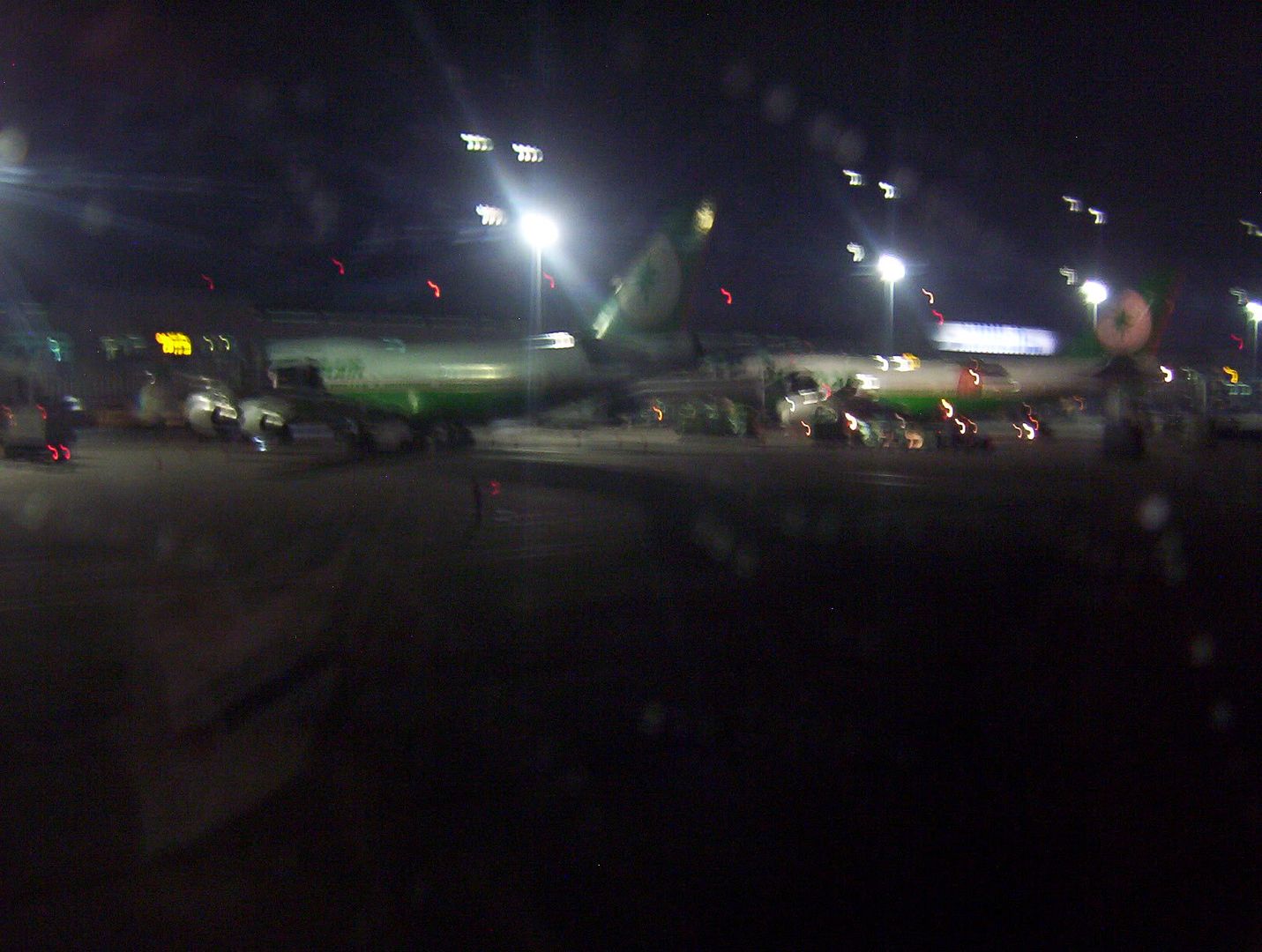 BR 744 right next to us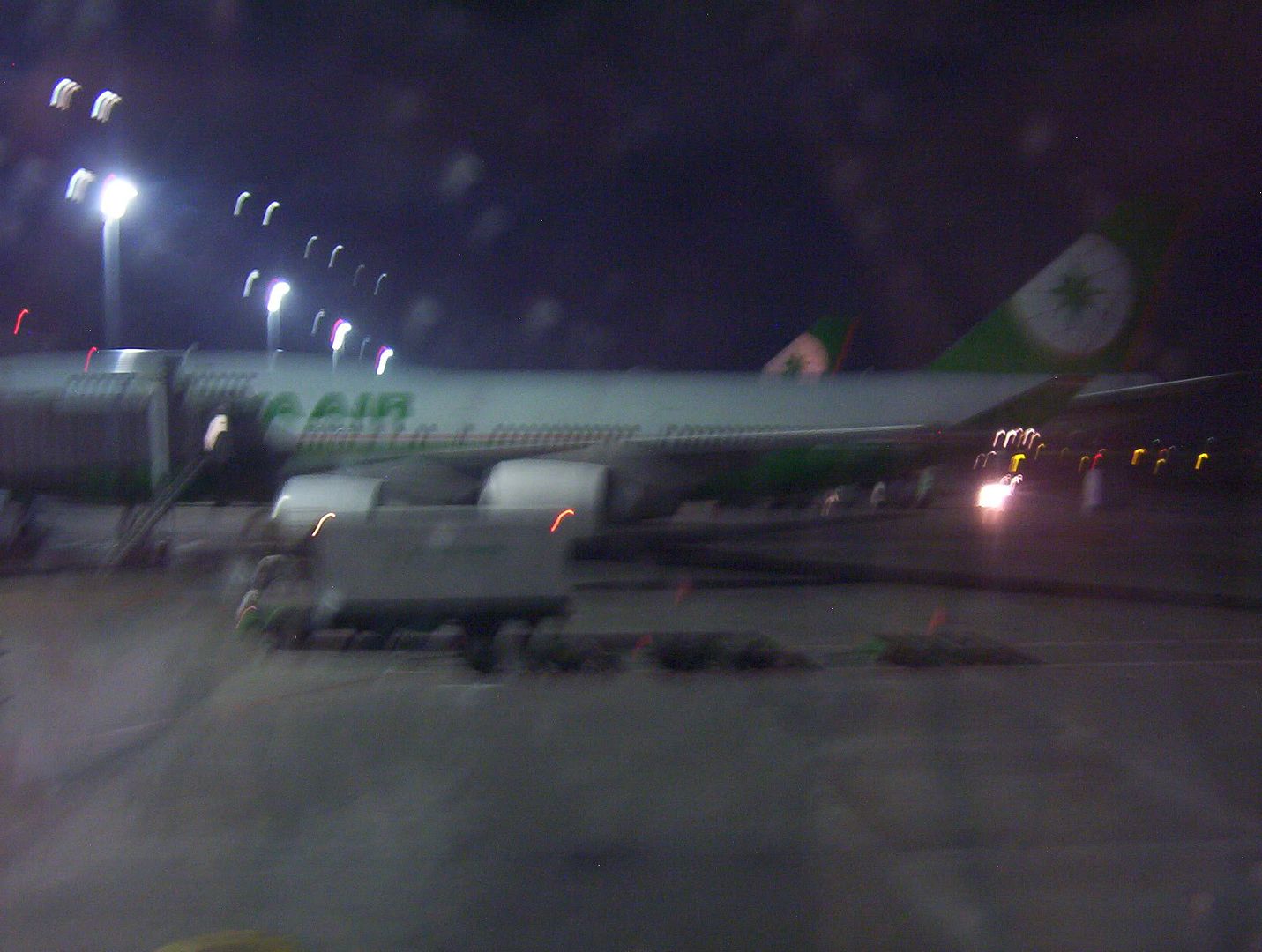 I gave my thanks to the F/As for an excellent flight and disembarked. After going through security, I headed to the BR connection counter in Terminal 2 where they issued me my boarding pass for the LAX flight. I asked how much it was to upgrade to Evergreen Deluxe for that flight and after a few minutes of inquiring with other staff, the agent said it would be $160. Damn, and I spent the majority of my money for that overweight luggage penalty.
Terminal 2 is definitely not like what I've experienced in ICN, KIX, and NGO, but nevertheless is decent, modern, and quiet. I decided to take advantage of the inactivity by finding myself an empty gate area for me to take a quick nap as I waited for my connection flight to LAX.
A couple of shots of Terminal 2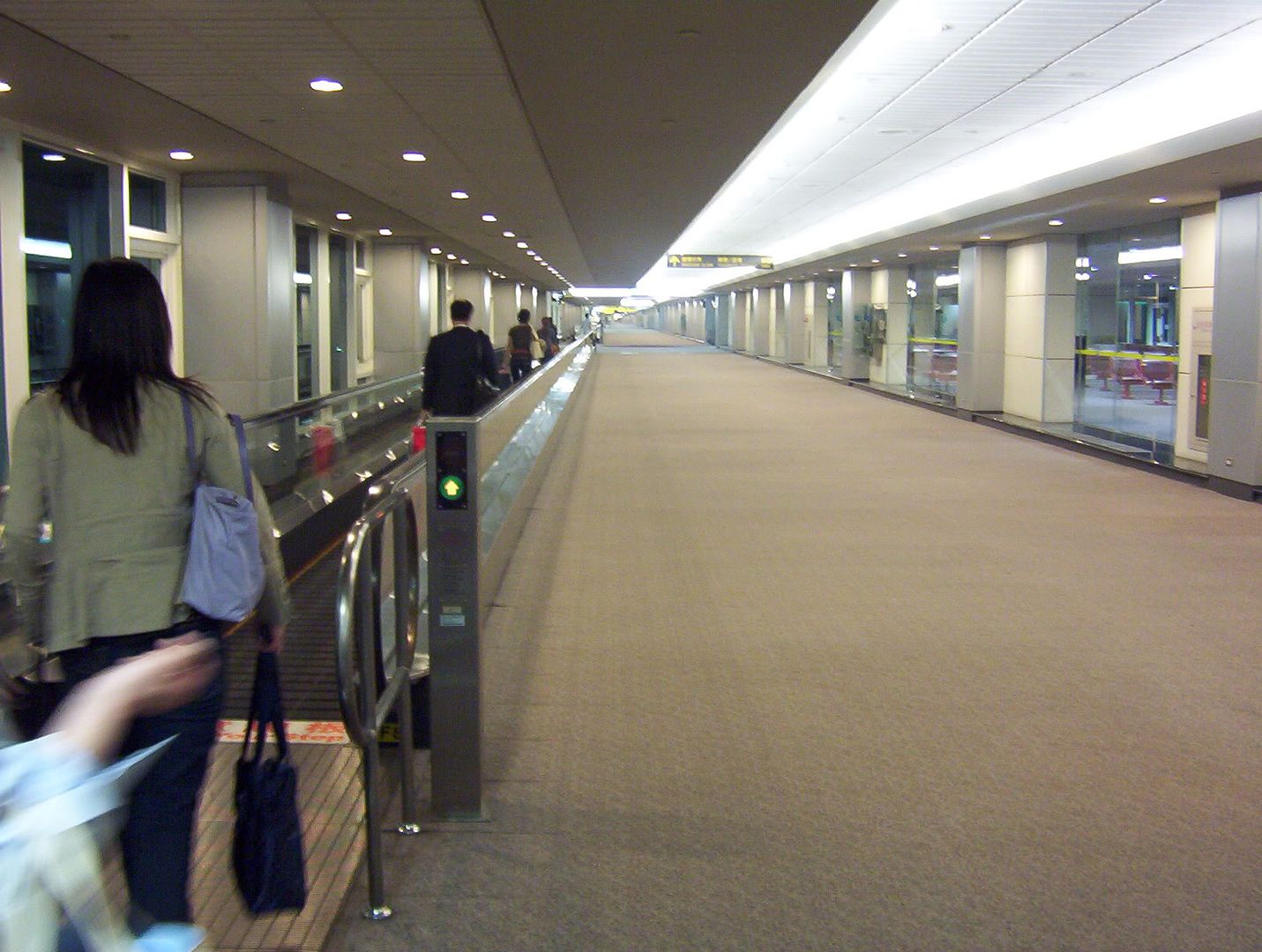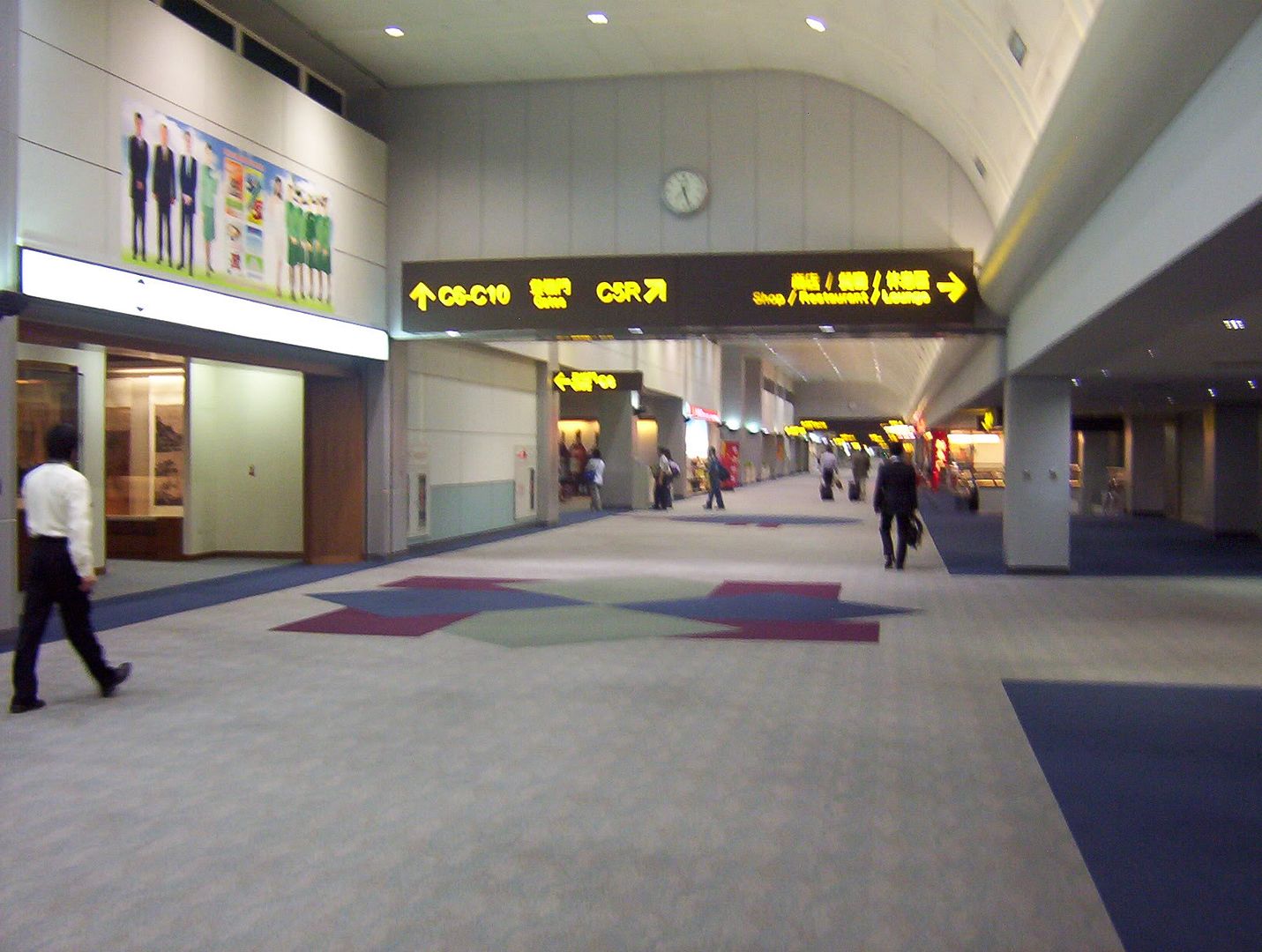 BR0016 TPE-LAX
22 May 2006
Boeing 747-45E
Economy Class
View Large
View Medium


Photo © Marek Wozniak
After some 3 hours of napping in the empty gate area, I woke up to hear what was the final boarding call for BR0016. Of course, I immediately freaked out and sprinted down the terminal to make it to the gate to be greeted by the agent who assured me "Don't worry, you're safe." The flight seemed to have a light load and thankfully there was no one in between my window seatmate and me which made things a bit more comfortable. I spent the majority of this flight asleep or sick to my stomach so I really don't have much photos of it.
A view from my seat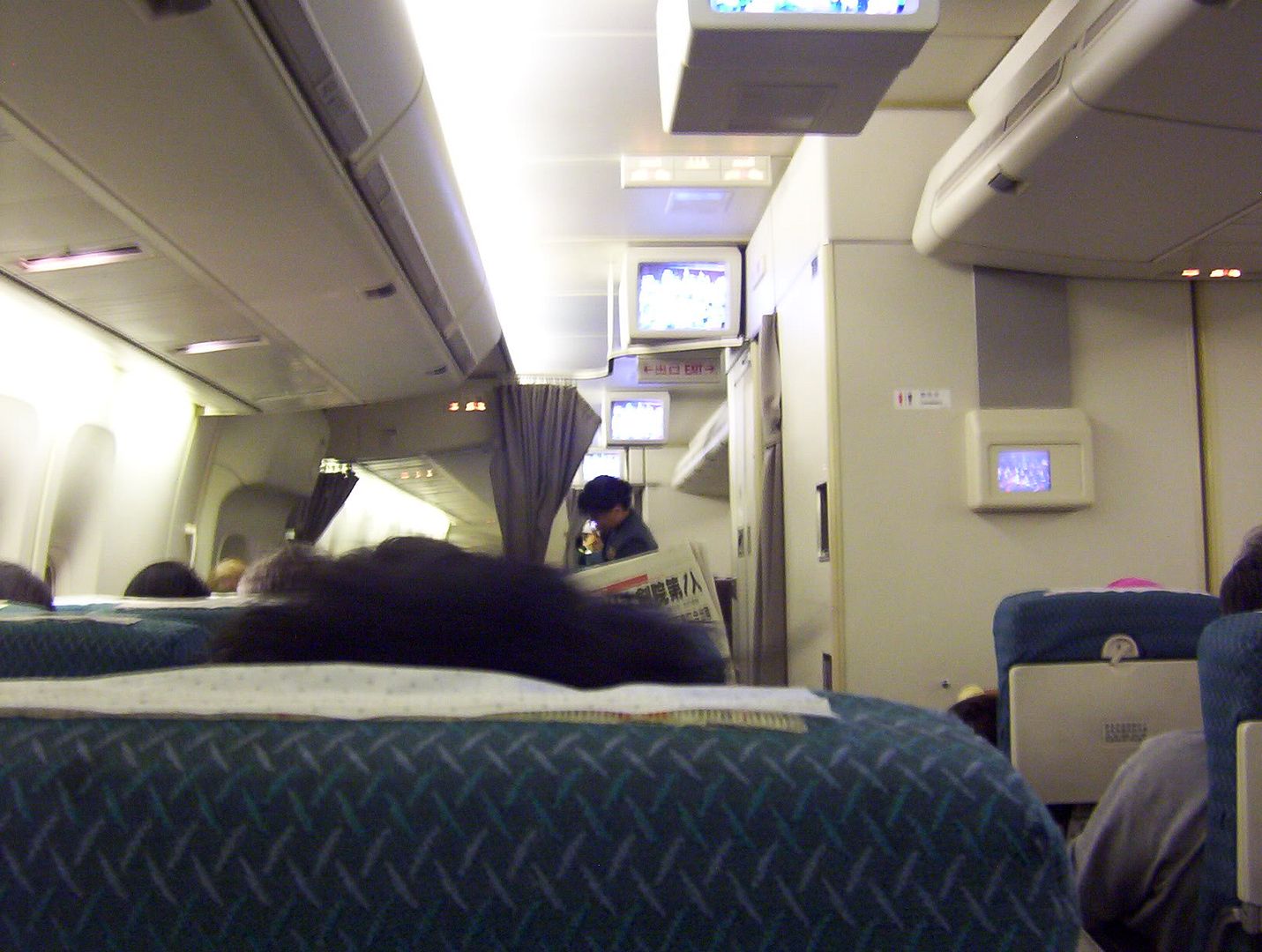 Once we reached our cruising altitude, the F/As came around offering slippers to be used in-flight. Meal service commenced a bit after that.
Definitely can't compare to what I had a few hours ago but nevertheless delicious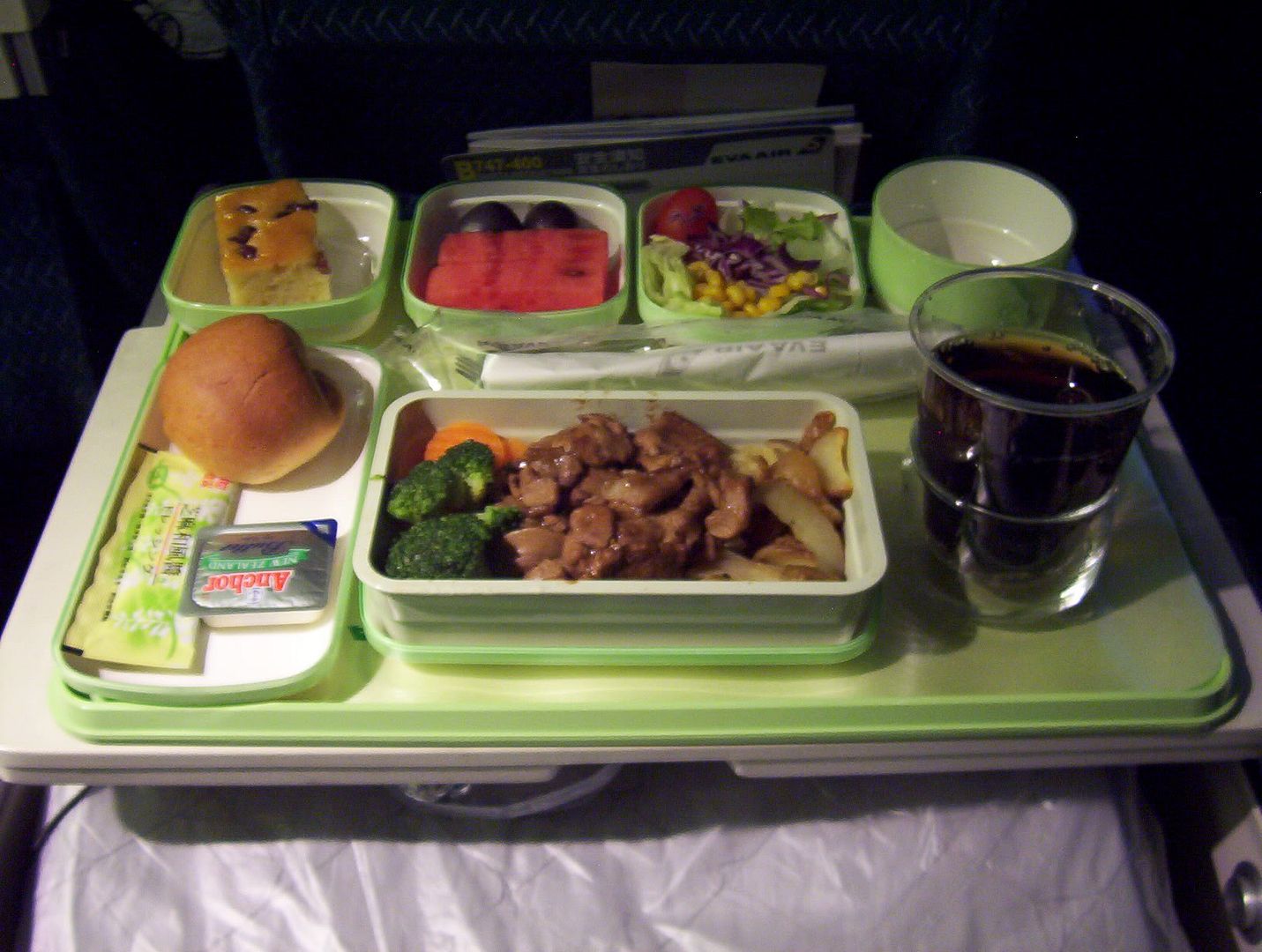 After the F/As picked up our trays, I decided to settle in for what would be a stressful long-haul flight (which is not BR's fault but rather the medication I recently began to take as well as other things....) I woke up midway in the flight with what seemed like heartburn and had to make numerous trips between the lavs.
While making these trips, I began to notice more how light the load was as there were numerous passengers that took advantage of having rows to themselves and taking up the empty seats to lie down. Ugh, it would've been great for me esp. with the sickness I had.
I woke up to find the cabin lights on once more and the F/As doing the last meal service of the flight. For some reason, the sauce used for the beef tasted the same as what I had with the chicken earlier...it was still delicious though I couldn't enjoy it much thanks to my stomach but I loved the cake!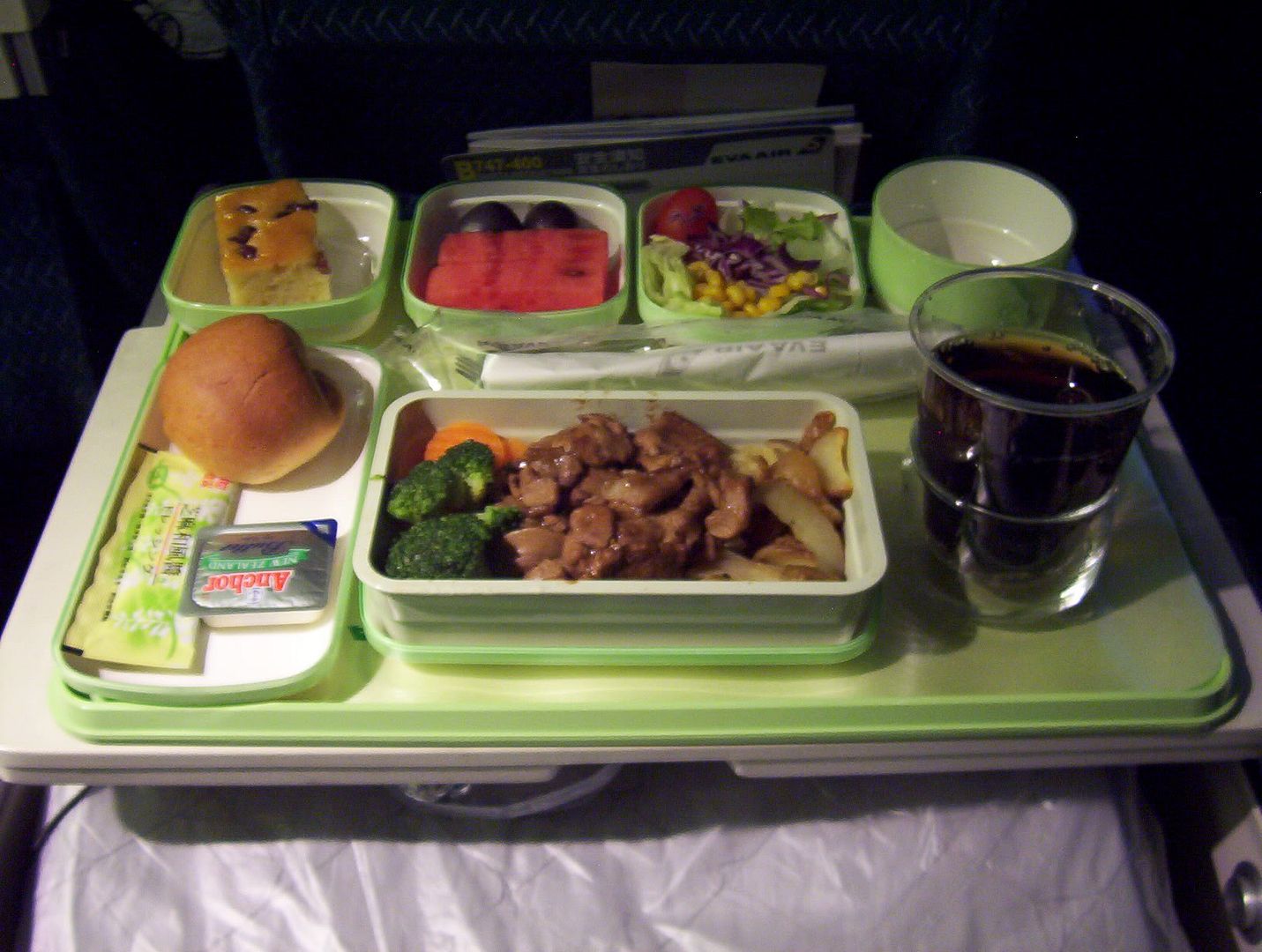 We landed in 25L where our 744 taxied to the south gates of the Tom Bradley Terminal, thus concluding my seven month long experience.
After waiting for much of the passengers to deplane, I asked one of the F/As for the reg of the 747 and was nice enough to give it to me. Going through immigration was pretty messy as we were mixed in with other flights coming from Asia. After grabbing my luggage and going through immigration, I met my parents in the arrival lobby and began our one and a half hour commute back to home.
-----
Well, thanks for reading the last of my series of trip reports revolving around my senior year in Japan! In these seven months alone, I have...
-flew on 4 airlines for the first time (KE, JL, NH, and BR)
-visited 5 airports for the first time (KIX, CTS, ICN, NGO, and TPE).
-flew on the A321, A330, 767 and the 777 for the first time.
-flew the 747 eight times (all -400 w/ KE, JL, NW, and BR), 767 three times (all -300 and in JL), 777 once (-200ER w/ KE), A320 twice (PR), A321 once (NH), A330 four times(1 -200 w/ BR and 3 -300 w/ KE).
-slept in airports for a total of 16 hours.
-in light of all of this, haven't earned elite status thanks to the fact I didn't concentrate on one FFM program...
Someday again, someday...
[Edited 2006-09-04 23:30:57]