Elal Business with surprise! LHR-TLV
Ok so this is the trip report coming back from TLV to LHR.
Flight details: 4th Sept (my bday) T/O 10:15am from Ben-Gurion terminal 3, 777-200, Seat 10G and 2A.....(to be explained)
The trip actually started the night before, elal have a very clever system of checking in luggage the night before which really does help, it means you can arrive at the airport even an hour before the flight. So i went to the Elal early checking which is located in arlozorov in Tel-Aviv, the security is very high there, u have to show passport and ticket before they let you in to the parking area.
As i went in it reminded me of a jungle, it may be a good idea but the service was terrible! They checked my bags and i went to give my suitcases in, i came to approach the desk for business/first and the attendant literally barked at me 'the computers not working - wait'. So I did, eventually she called me over and seemed in a bit better mood. It was chaos there, there were a bunch of French ppl who had overweight luggage, they were willing to pay but only with cash..elal would only accept card, there was shouting, swearing, and luggage carriers behind the desk are just plain rude. I managed to pass through 53kgs, i had 60kgs, but she made me empty the cases abit, i guess she was right. It has its plus sides but the early baggage check in is something i dont think ill do again just because of the chaos and rudeness.
So i got up the next morning at 7:30 and had the cab waiting for me at 8.
Got to the airport in about 15mins and went straight through to hand baggage check. Went straight through to passport control and signed up to the 'quick path' service, basically instead of someone looking at your passport, you put your hand over a fingerprint scanner and swipe a card they gave you, its extremely quick and very useful.
I went through to the King David Lounge which is on arm D. I wasnt sure about how much i liked the lounge, it was very very big with two floors, i prefer i quiet, private enviroment, but i guess each to their own.
Heres a view from the lounge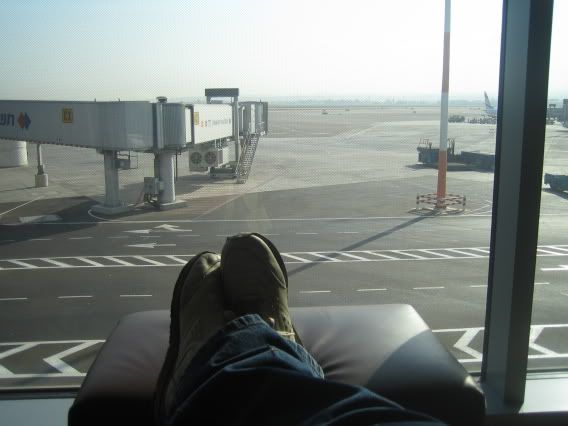 After about an hour and a bit, I went through to board and was shown to my seat 10G which is right at the front with only first class infront of me.
Picture of the legroom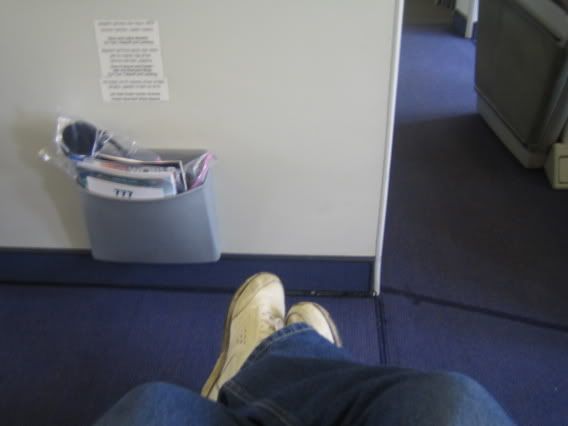 Side view of legroom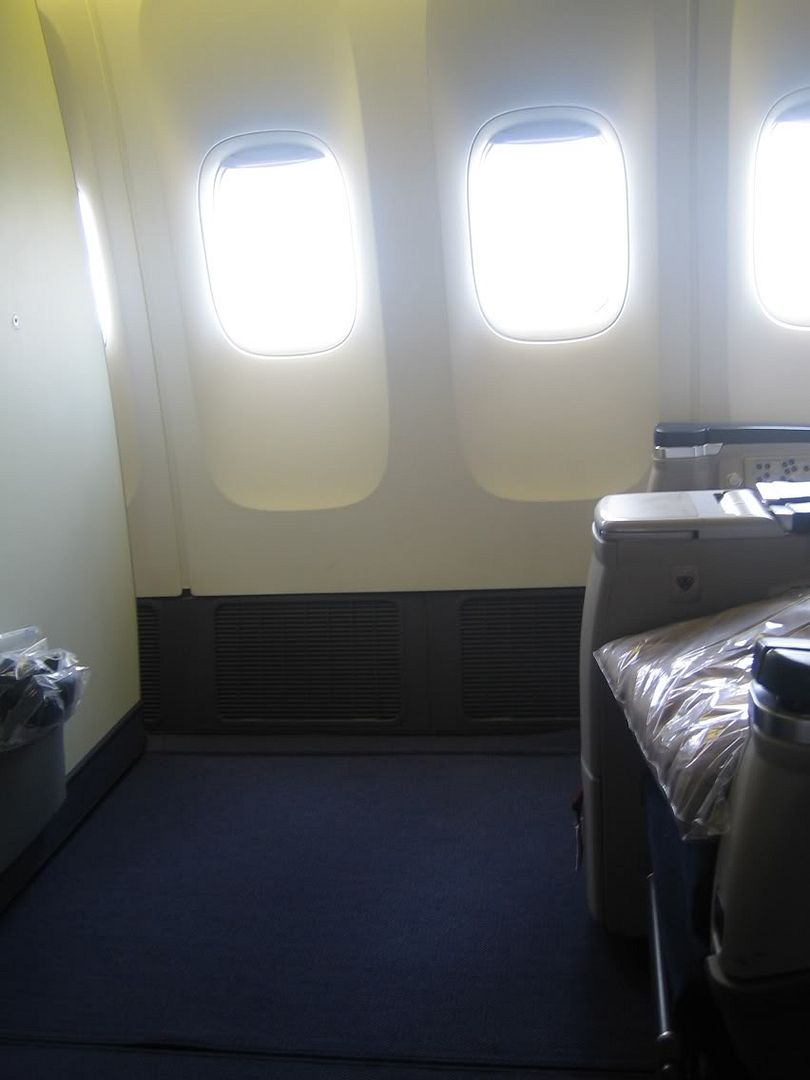 View of first class seat from my seat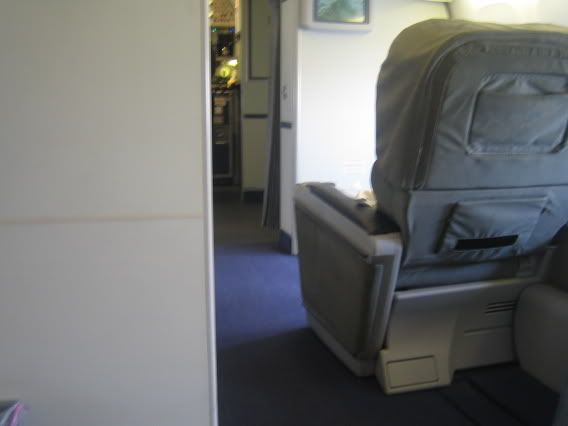 As usual i requested the adapter for my laptop, I own a dell inspiron 6000, a laptop which i wouldve thought is quite popular. The lady bought me the full adapter with six bags in each bag was maybe 20 little adapters which would attach on to the full adapter and power my laptop, she just dumped the six bags on me and told me to find it. After searching through them for about 20 minutes i still couldnt find the right adapter for my laptop. I was ready to explode, i had so much work to do, and was relying on these four hours to work. I posted a thread on the civil aviation post regarding the laptop ports and how annoyed i was with them, whats the deal with these ridiculous EMpower ports??!?
Eventually after half an hour of them trying to find a solution I gave up, i was so annoyed, what was i meant to do? probably 50% of the reason i travel business is to have the facility of using my laptop. The crew really didnt seem like they knew anything about the connections or anything at all to do with the laptop. I was so angry that i couldnt eat and ended up eating an hour later. All this on my birthday!
So after an hour i requested my food and watched Tv on the large Tv monitor, which you have to be a mechanic to work out how to take out/put back.
Picture of the meal.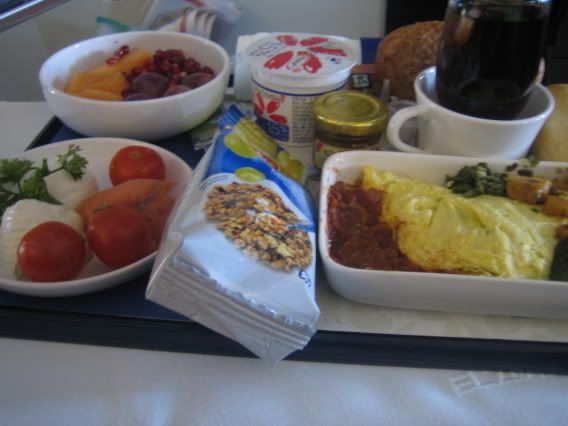 Was nothing special, you'd expect to get somethin abit better then an omlette! 10 minutes into my meal the tv stopped working, i called over a sterwardess and asked her what was wrong, she told me that shed go and restart my system. After about 10 minutes she came back with a look of defeat on her face, as if telling me there was nothing she could do, but she could offer me a seat further back in business which an elal 'employee' was sitting in (im guessing this was an air marshal???) and i couldnt agree, i have a heart like a little girl, i couldnt sit down and watch a movie whilst knowing i made some poor soul sit in a seat with no tv! I was about to hit the roof, she then said to me 'its not your lucky day sir', I replied 'it should be, its my birthday'. She then said 'let me see what i can do'. She came back after 5 minutes with a smile 'sir we'd like to offer you a seat in first class'. Of course i said yes!
Now there are only six seats in first class so it was very quiet and private.
Buttons for first class seat adjustment.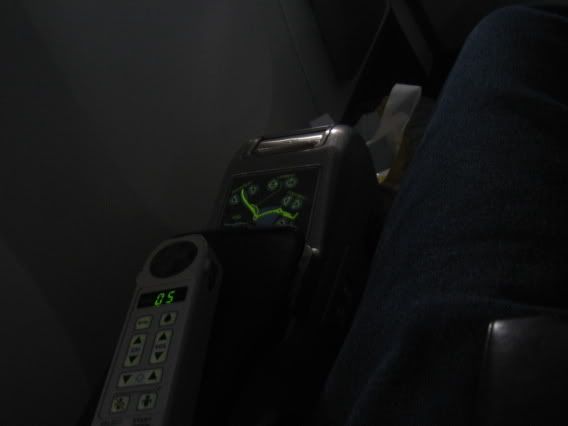 Legroom and large PTV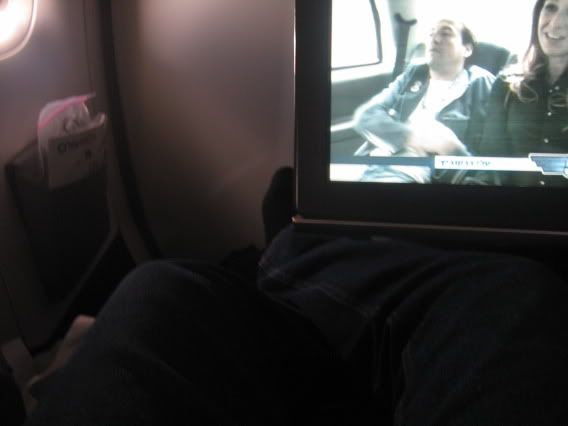 View across at the other five seats (sorry for the darkness, i couldnt really use flash and it was very dark and quiet)
Didnt have much time to judge the service, except the crew in first are older! Had a nice cup of tea and managed to sleep for an hour on a fully flat bed which was really good!
After my sleep i woke up to the announcment that we were approaching dover, managed to get out my camera and capture some spectacular views from over England on the way to land.
Somewhere near the south coast
The Thames!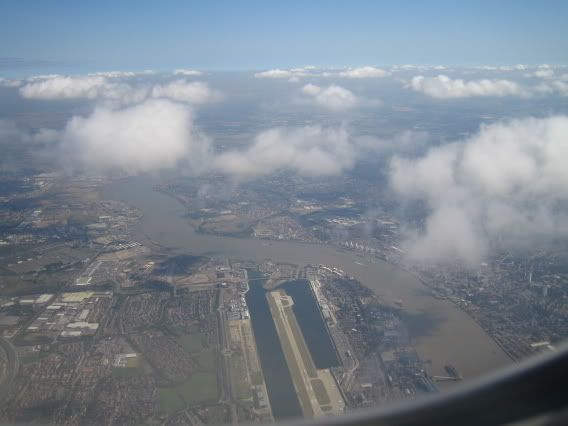 And a video of the landing.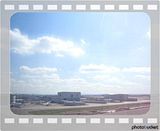 All in all i wasnt happy in the slightest, i couldnt work because they didnt have the adapter for my laptop - which is my main complaint, my tv broke, ok i got moved up to first and thankyou but all i basically got was a bigger chair. The food wasnt good, the crew werent up to scratch.
Im seriously weighing up whether to travel elal again. Wasnt happy.
More trip reports to follow!
Thanx
Joeyby