Hey guys,
This is my first ever trip report so I apologize in advance for the quality of my writing and the length of my report. It's pretty long but I promise it's worth a read! I worked really hard on this to make it as informative and detailed as possible (without TOO much detail). I also included some pictures of my trip along with some pictures of my stay in South Africa. I apologize for the quality of them, I'm not a professional photographer but I hope you like them nonetheless! I also had some take-off and landing videos but I can't figure out how to post them, I tried youtube and it said my videos were greater than 100 megs, so if anyone knows another way please let me know! SA Czech Airlines">OK enough rambling, on to the report.
Thursday June 15, 2006.
About six months prior to this trip, I was at my best friend's house talking to his father who was in the process of starting up a marine aquaculture company in Port Elizabeth, South Africa. I mentioned to him how much I had always wanted to visit Africa since I was a kid, and next thing I knew he was planning my whole summer in South Africa for me! He told me he would pay me to come and work for two months in South Africa (along with my two other friends) so that I could get some experience in the field and make some good money for the two months I would be there. Of course, I didn't turn down this amazing opportunity to visit one of the most incredible continents on earth.
I did a lot of research to find the cheapest fares on the internet (since my parents were nice enough to pay for it). One of my best options was to go through London and spend the night there to catch the next day flight to Johannesburg. This option was appealing because my brother lives in London so I thought I could maybe leave a few days earlier and spend some time visiting with him before I continued on to SA. Well, as luck would have it the hooligan was not going to be in London on those dates because he had plans to go to the World Cup with some friends to see Paraguay play (my family is originally from Paraguay). My next best choice was the direct flight from Dulles onboard South African Airways. I went to the South African Airways website and found a fare that was $300 cheaper than the ones on Orbitz and Expedia. I booked my seat (54 A) and bought the round trip ticket departing June 15 and returning August 16. I chose this fare mostly because it was most affordable ($1,800) and I was really excited to fly on SAA's new service from Washington Dulles. My dad offered to give me some of his United miles so that I could upgrade to Business Class, but when I called United the agent told me that I could only use my United miles to upgrade with Lufthansa. Oh well, I was fine with flying cattle class anyway, I'm still young. Six months later, it was June and I was done with finals and moved back home for the summer. For two weeks I went out and bought new clothes and got my immunizations and bought a brand new camera for my trip. I was so excited to be going to Africa for the first time, that it didn't really hit me that I was going until the night before I left!
On June 14th, the day prior to my departure, I spent basically all day getting things ready and saying goodbye to my friends. I was up until about 2 am packing my things. I went to bed because I knew I had to wake up at 5am so that my mom and sister could take me to the airport. Well my three hours of sleep went by entirely too quickly and before I knew it, my alarm was going off and it was time to get going. I woke up and took a shower and went downstairs to grab a cup of coffee with my dad, who was already awake and getting ready to leave for work that morning. Of course, he always makes sure that I have all my things so he is like my personal checklist, asking me if I had my passport and my travel documents and my medicine, etc. Obviously, I already had everything so I was set to go. We left my house in the DC suburb of North Potomac, MD at 5:45 am for our drive to Dulles, which I was expecting to take about 50 minutes as long as the traffic wasn't too horrendous. Traffic was light at this hour of the morning, but I could see on the Beltway that it was starting to get heavy. We made it to Dulles a little after 6:30 am for the 9:30 am departure and I made my way to the South African Airways check-in counter.
Check- in:
I stood in line with my bags while my mom and sister waited for me to check in. I noticed an African man was unpacking his suitcase and trying to fit his things into another suitcase while his relative stood at the counter arguing with the check-in agent. I was quite a good distance behind them, but I could definitely smell the B.O. and lack of deodorant use coming from those two guys. My mom came up to tell me something and stopped in her tracks when she commented also on how horribly they smelled. There will be more about this guy later on, but for now I'll digress. Anyway, I got to the counter and was checked-in by a nice fellow that proved to be quite helpful. I asked him if there was any window or aisle seats left on the upper deck (this was back when SAA flew the 747 to Dulles). He told me that the only thing they had left were the middle seats on the upper deck. The reason I wanted the upper deck was because SAA has what can be considered an "economy plus" section up there, with 35 inches of seat pitch compared to the 31 inches on the lower deck. Well, I opted to keep my reserved seat of 54 A. I thanked the agent and went to grab some breakfast with my mom and sister before heading through security.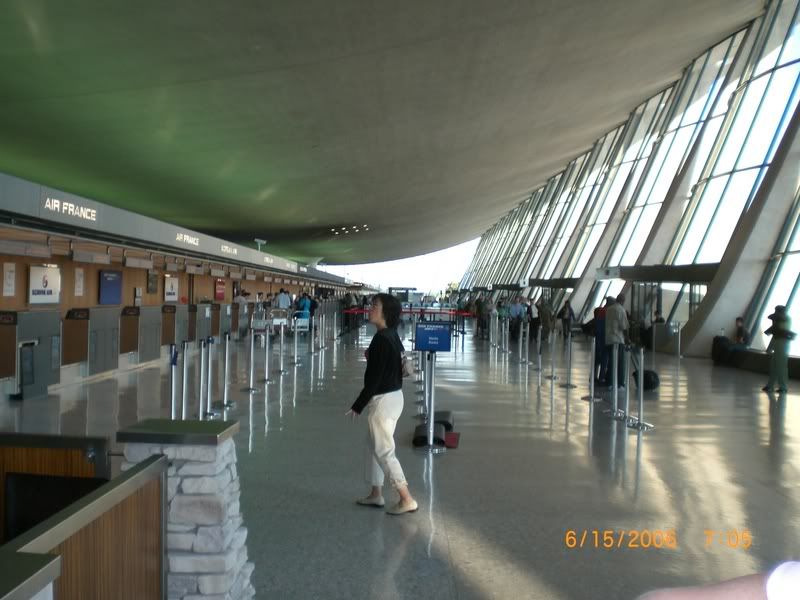 The famous Dulles Terminal near the South African Airways check-in counter
There was this nice little café that I had never noticed before in the check-in terminal at Dulles, but we grabbed some food there and killed some time before I left. I said goodbye to my mom and sister; my mom was obviously sad since I was leaving for two months even though I always leave to go to college, but she's a mom so she gets sad.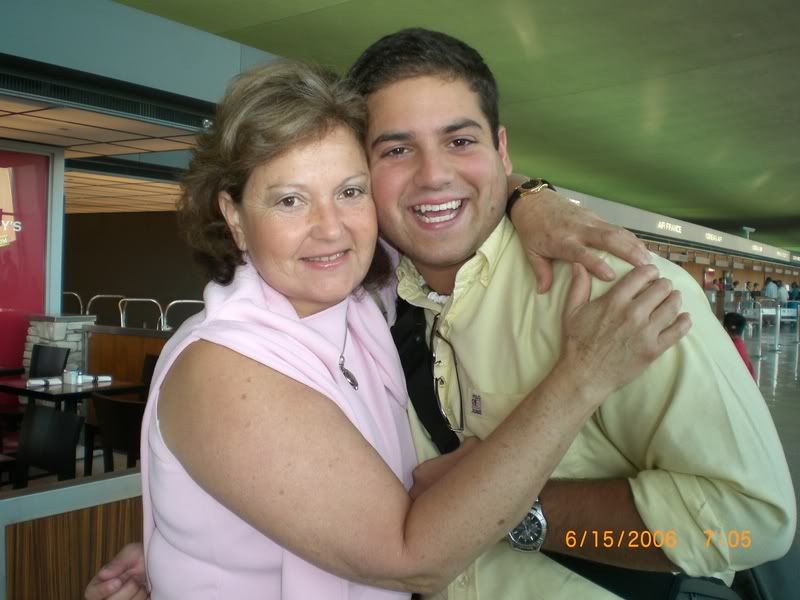 Mom and I saying goodbye!
Security/ Pre-Boarding:
Since it was early in the morning, the security line was pretty big with all the flights leaving for different places. The TACA flight to El Salvador seemed like it would be pretty packed, and there were also passengers traveling to Korea and Tokyo on Korean Air and ANA. United also has flights that leave for Europe early in the morning. Needless to say, Security looked crowded but I made it through in about 20 minutes. The South African flight departs from Dulles' terminal B, so I used the new underground walkway to get to terminal B, which is a whole lot better than using those annoying "mobile lounges".
When I got to the gate, I noticed that the flight looked pretty full. Many of those people were from connecting flights around the U.S. and were catching the SAA flight from Dulles. The gate read, "SAA Flt. 208 to Dakar", and I could hear some people being confused about the flight stopping in Dakar. I knew that the flight would be stopping in Dakar for an hour while they refuel and change crews. Apparently, lots of other people didn't get that memo. I decided to go and buy one of those neck pillows from a newsstand for $9, it was the best 9 bucks I have ever spent. I took a few more minutes walking around and taking pictures of the massive 747 that would be taking me to South Africa. I couldn't do too much walking since I had a backpack and a pretty heavy carry-on bag that I was hauling around everywhere (yeah, I'm one of those passengers that people hate for bringing on large carry-on bags, oh well!).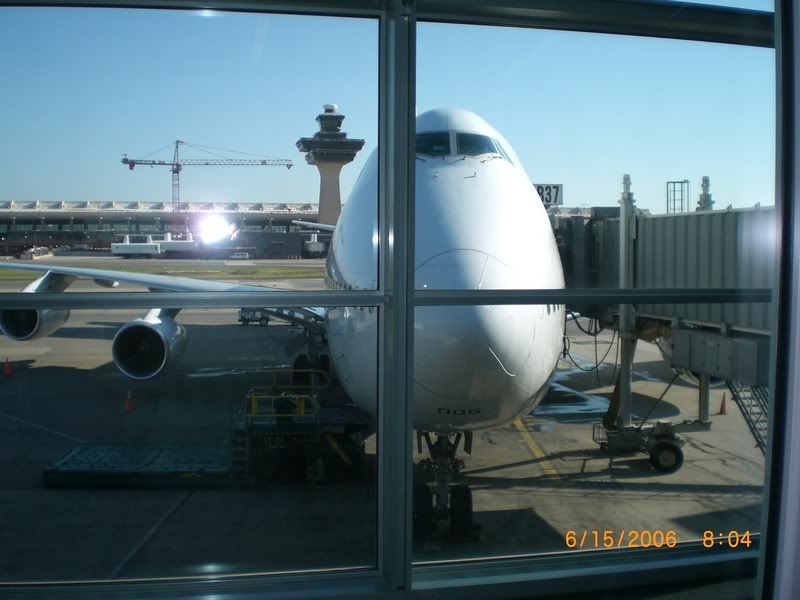 Picture of my ride to Johannesburg...the mighty 747!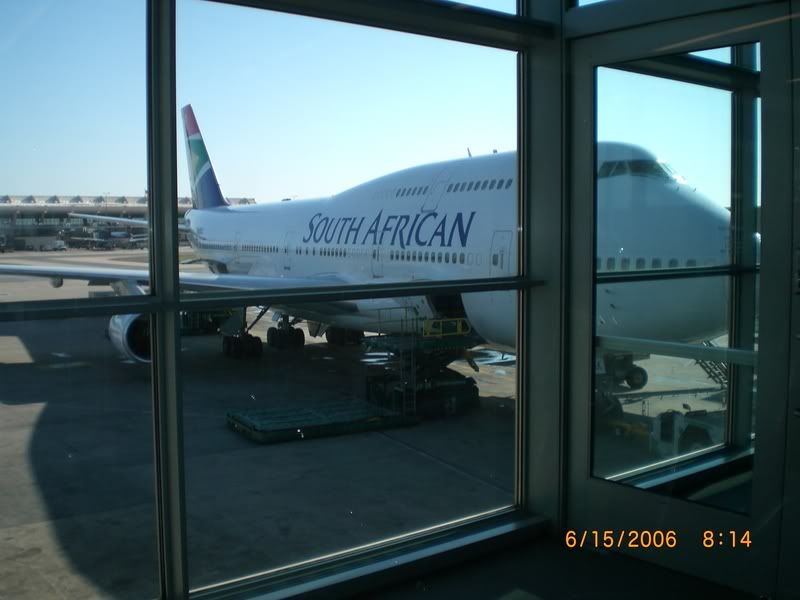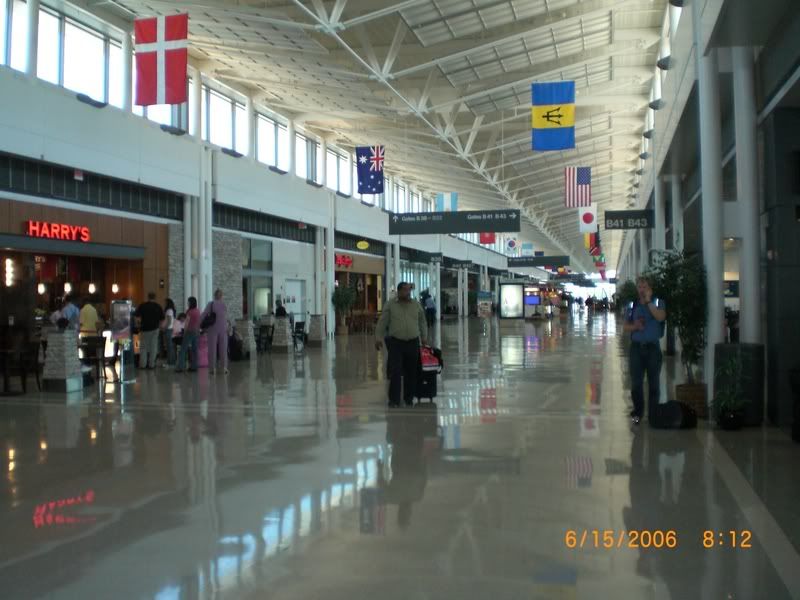 The B terminal at Dulles International Airport...very modern and bright.
The B terminal is where airlines like JetBlue, Delta, and Virgin Atlantic operate out of
South African Airways flight 208
Depart: Washington Dulles (IAD)
Arrive: Johannesburg International (JNB)
Equipment: Boeing 747-400 (Ibhayi)
Boarding
Time went by and before I knew it, they were making the boarding announcement for our flight. I made my way down the jetway, thinking to myself that it was going to be a long 18 hours but at least I could watch some good movies and take some cool pictures. I was greeted by a friendly FA that pointed me towards my seat. I was excited because I hadn't been on a 747 in 7 years, and I was amazed at how huge the plane is on the inside. I found my seat and the lady sitting in the aisle got up to let me by. The two of us sat there in the row of three, praying that no one would come and sit in the middle between us. One thing I quickly noticed as I squeezed into my seat is how tight the legroom was. Even the lady next to me said that she felt like a sardine. We ended up talking for a bit and it turned out she was going to Dakar for a week as part of the "Christian Children's Fund" to do some work.
Tight legroom for the next 18 hours!
Sitting at the gate waiting to pushback
The minutes rolled by and then my worst nightmare came true. Yup, the "B.O. guy" that I saw earlier at the check-in desk came down the aisle and stopped at our row. I looked at the lady with a horrified look on my face. And then the guy said, "Oh, I am the row behind you". We breathed a huge sigh of relief, but little did I know that the smell coming from him was so strong that it would be with me for the whole flight. By this time it was already 9:30, but we were still at the gate. Then 9:45 rolled around and we still sat there. I was reading the "Sawubona" magazine, SAA's onboard magazine when I noticed that the time said 10 am already. The captain never made any announcement for a delay, he just greeted us and welcomed us onboard. At this point I was wondering what was going on, and then I saw the FA's walk around handing out "refreshing towelettes" along with a menu, a travel pouch with all the amenities, and juice. I knew that if they were doing that, it would be a while before we got going. The doors closed and I was extremely happy that no one was sitting next to me. At around 10:15 am, we finally pushed back and got the engines started.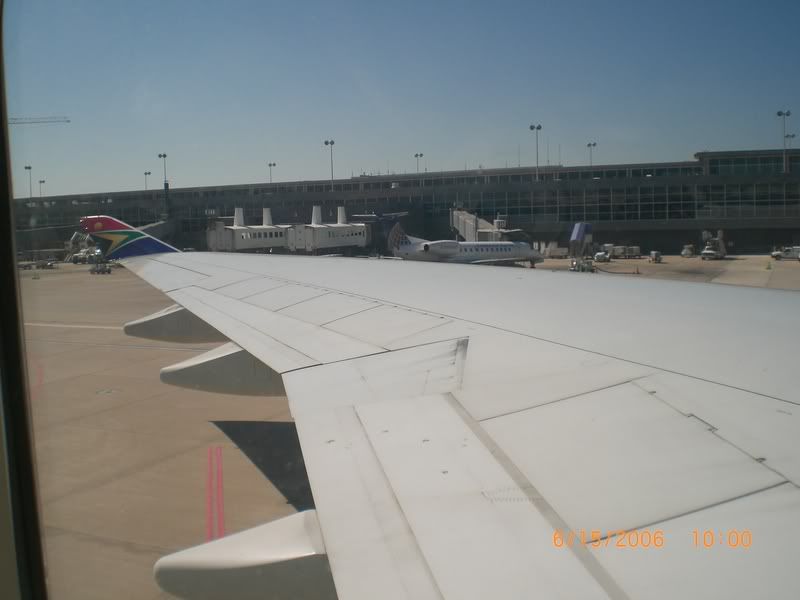 Engine start-up...note the ailerons are up now.
We taxied to the runway and I spotted the Ethiopian 767 as well as the TACA A320 to El Salvador.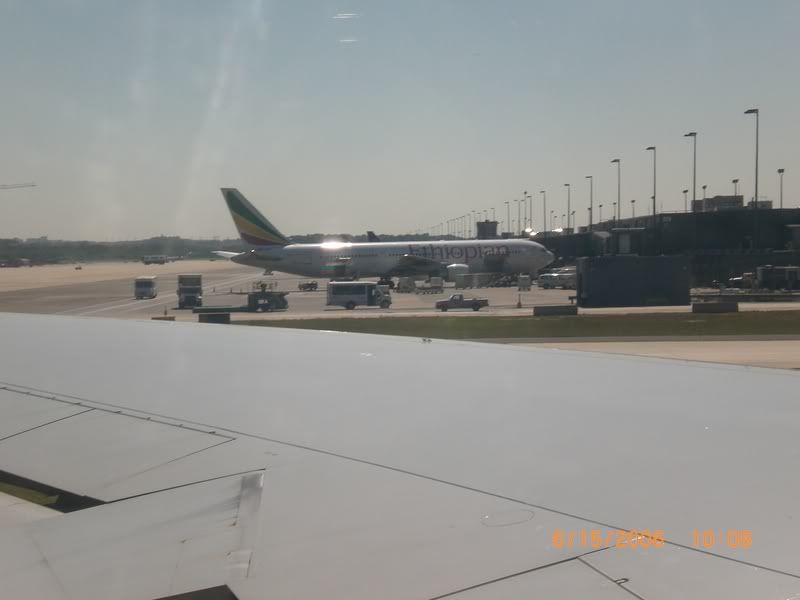 Ethiopian 767 to Rome and Accra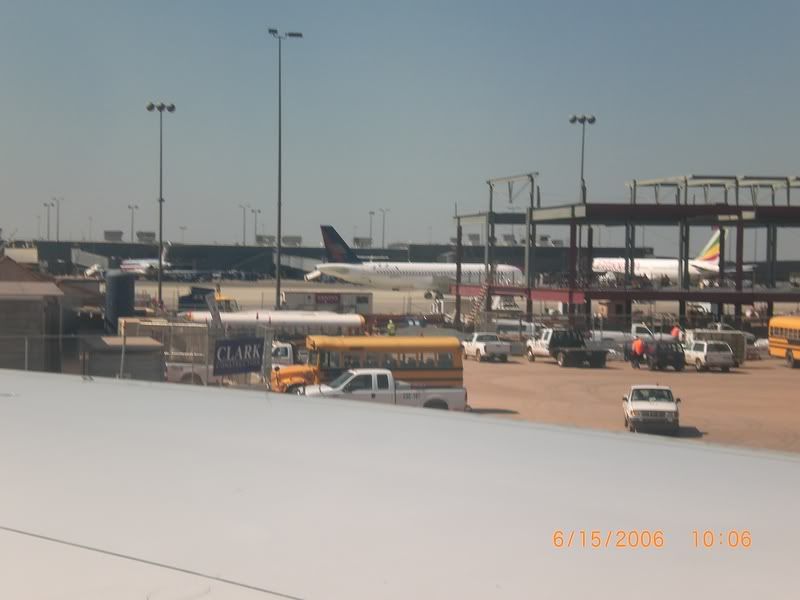 Some traffic at Dulles...the TACA A320 departing to San Salvador
I also saw the usual British Airways and the entire United fleet that dominates Dulles, as well as a bunch of JetBlue planes. We made it onto the runway pretty quickly and started our take-off role, and let me tell you that it was one of the greatest take-offs I have ever experienced. I forgot how powerful the 747 feels thundering down the runway and taking off with loads of fuel and passengers. It was a great feeling.